Timbuk2 Classic Messenger Bag Review
What the Timbuk2 Classic Messenger Bag lacks in structure, it makes up for with a super comfortable shoulder strap and subdued look.
Our Verdict
Unlock the Pro Summary
Save time. Get access to brief summaries of our reviews so you can browse and make decisions more efficiently.
Pros
Comfortable and adjustable shoulder strap
Durable, weather-resistant materials
A fair amount of organization
Cons
Bag gets floppy (especially without a laptop inside)
Not comfortable for heavier loads
Liner pockets can cause the front of the bag to sag when fully packed
Recent Pack Hacker Video
Technical Details
Capacity

21l

Medium size (Comes in four sizes)

Weight (lb)

2 lb (0.9 kg)

Medium size

Dimensions

12.2 in x 18.1 in x 7.09 in (31 x 46 x 18 cm)

Medium size

Notable Materials

Thermoplastic Polyurethane (TPU), Duraflex Hardware, YKK Zippers, CORDURA® Nylon

Manufacturing Country

Vietnam

Laptop Compartment Size

16"

Medium size

Warranty Information
Full Review
Ah, the humble messenger bag. Given the name from their widespread use in the postal services, these bags have since become widely popular for school, commuting, and general everyday use—and after testing the Timbuk2 Classic Messenger Bag for the last two weeks, we understand why.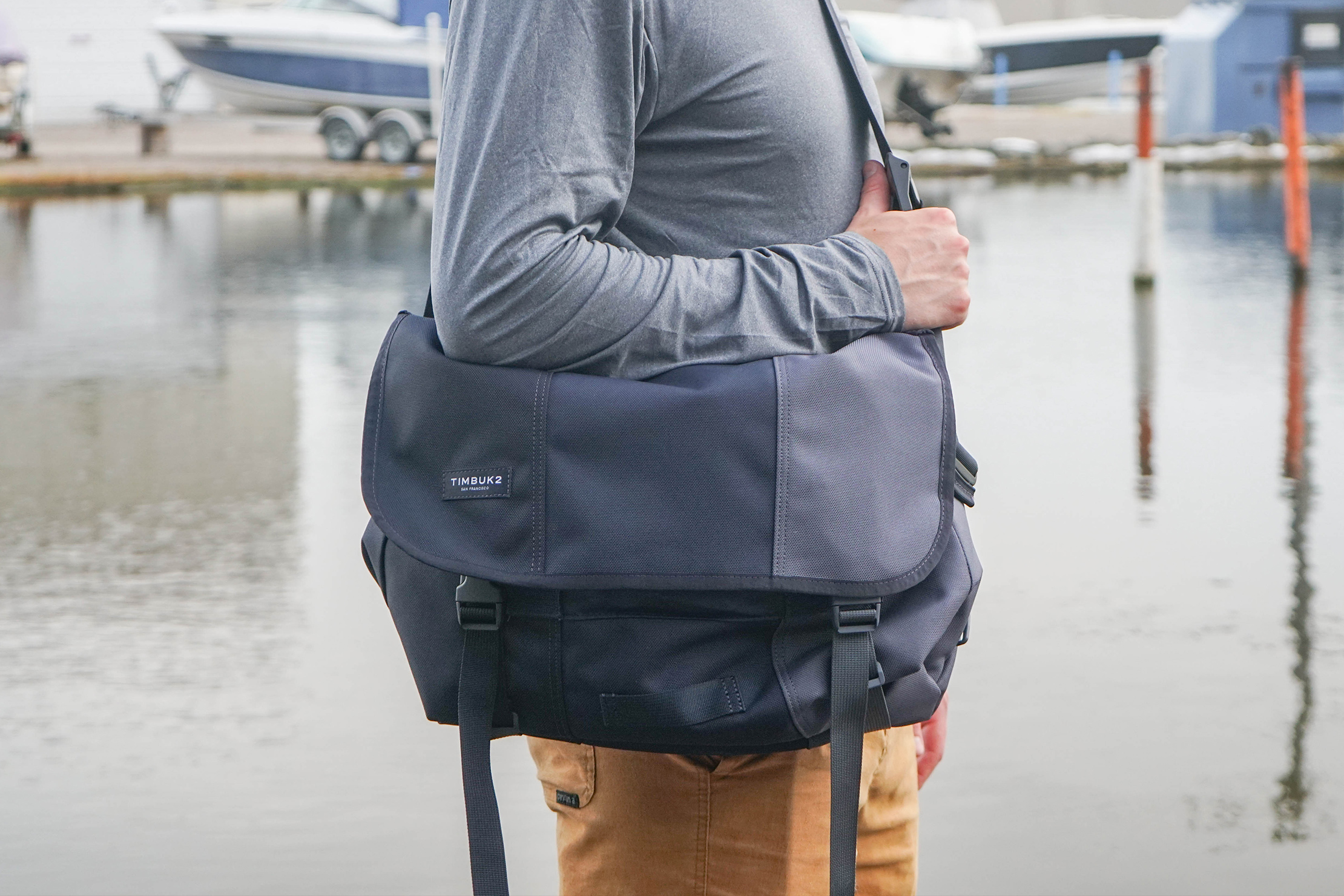 This bag has a super comfortable shoulder strap that's adjustable to whatever level of security you need—whether you're wearing it crossbody or just throwing it over one shoulder. And it has the room to store your everyday essentials while keeping them protected from the elements.
If you're wondering what else we have to say about it, follow us into this review!
Materials & Aesthetic
The Timbuk2 Classic Messenger Bag is just that—a classic messenger bag. We're feeling middle-of-the-road on the look of the bag, and our Instagram poll matches that sentiment. Only about half (54%) of you were fans of the look—so your mileage may vary.
We've been testing the Monsoon colorway, which features side-by-side black, navy blue, and grey fabric—it looks kind of like a more muted version of Neapolitan ice cream. If you're looking for something a little more vibrant, no worries. This bag is available in quite a few different colorways and fabrics at the time of this review.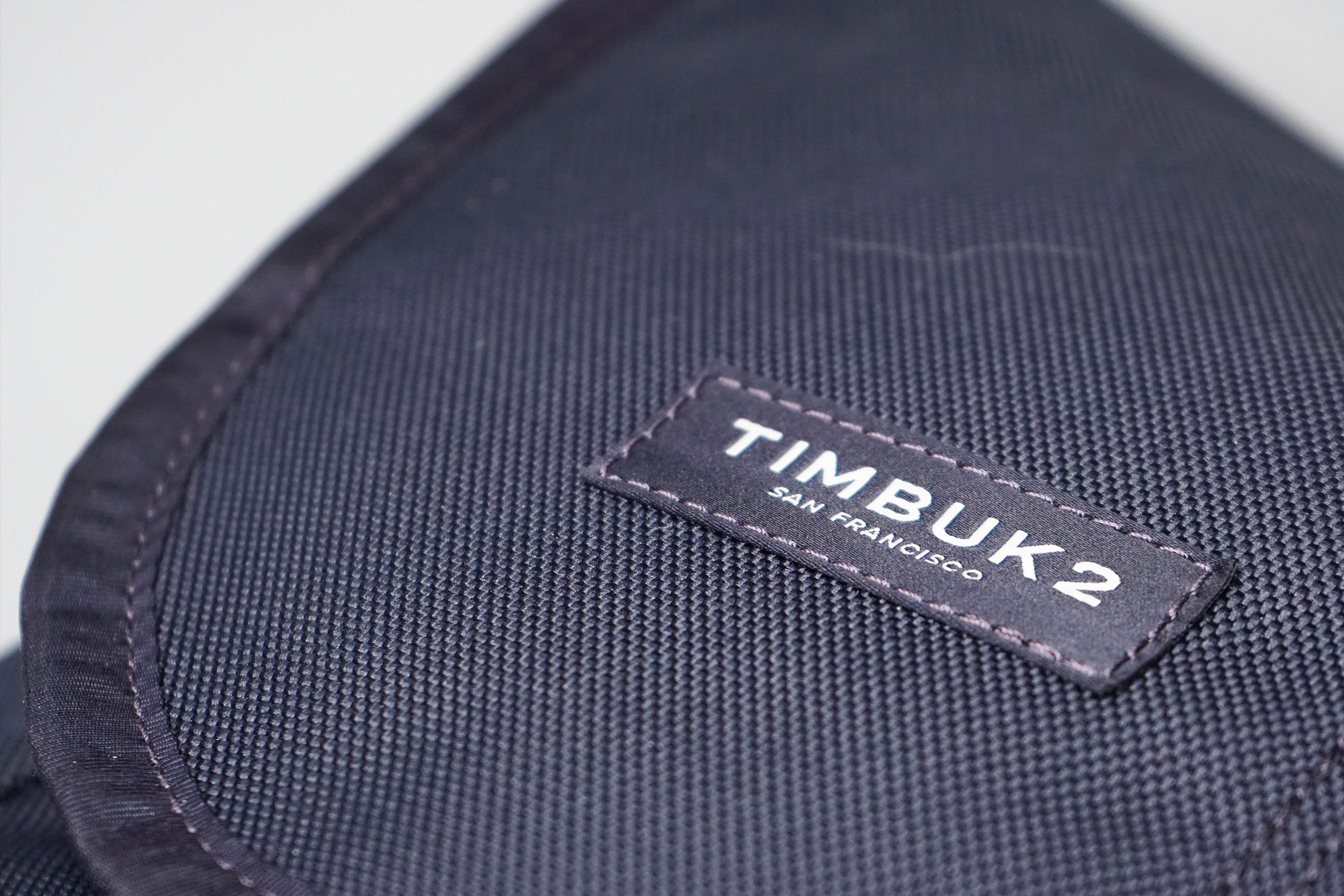 The Timbuk2 wordmark is sewn on the front of this bag on a small, white-on-black tag that's pretty subtle. You'll also spot their logo—a swirl that symbolizes a spinning bike wheel—on one of the shoulder straps and on the end of the front straps. This isn't surprising as Timbuk2 is known for their bike messenger gear. We dig the minimal and purposeful branding.
What is this bag made of, you may be wondering? You'll find durable CORDURA® Nylon fabric with a TPU (thermoplastic polyurethane) coating for added weather-resistance. This bag isn't waterproof by any means, but it'll be fine in drizzly weather.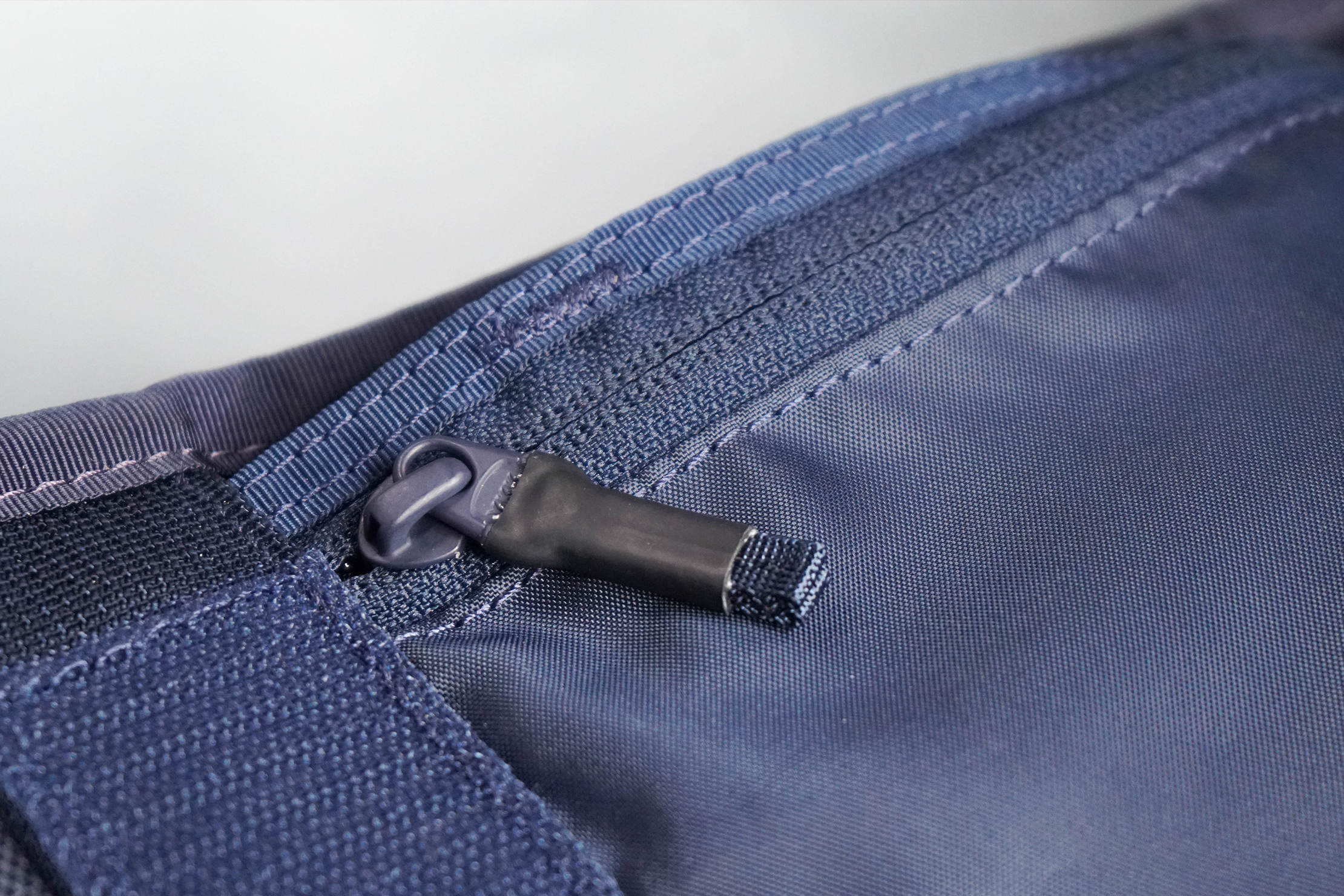 The zippers on this thing come to us from YKK, a brand we have tons of positive experiences testing with. As expected, they've been working smoothly so far during testing.
Then we have some Duraflex hardware—yet another brand we're familiar with. We're happy to report that everything has been working as it should be in this arena, too. No complaints!
External Components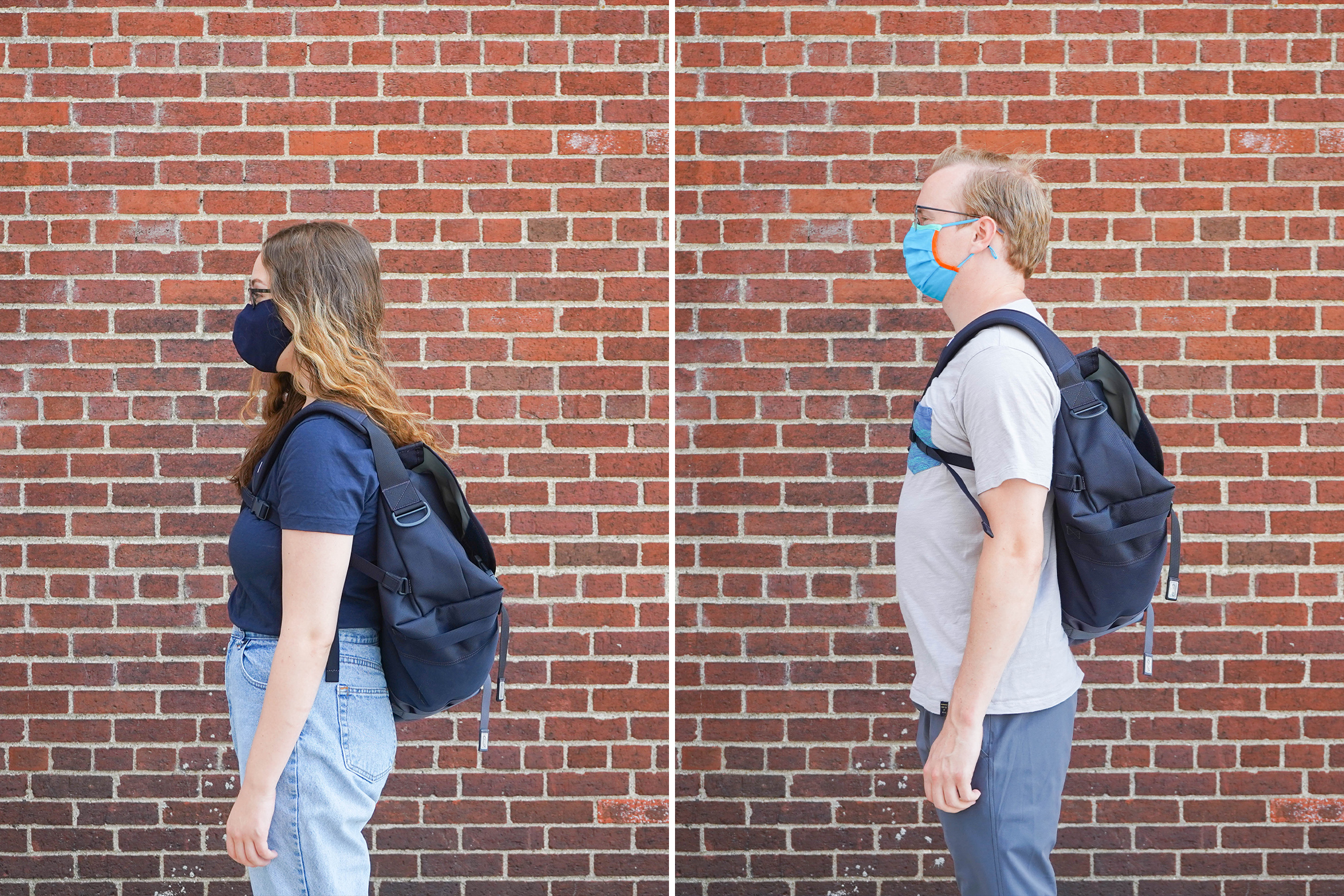 We have quite a few things we need to cover before we get inside this thing. First on the list is the harness system. It fits surprisingly close the body—almost like an actual backpack—and is super comfortable overall. Let's take a closer look.
The shoulder strap has some dense, adjustable padding that's lined with mesh to offer some added breathability. There's also a plastic adjuster at one end you can use to, well, adjust the strap. We've found it loosens easier than it tightens, but you can still create some slack, swing the bag around to grab what you need, and re-secure the strap in a pretty smooth motion.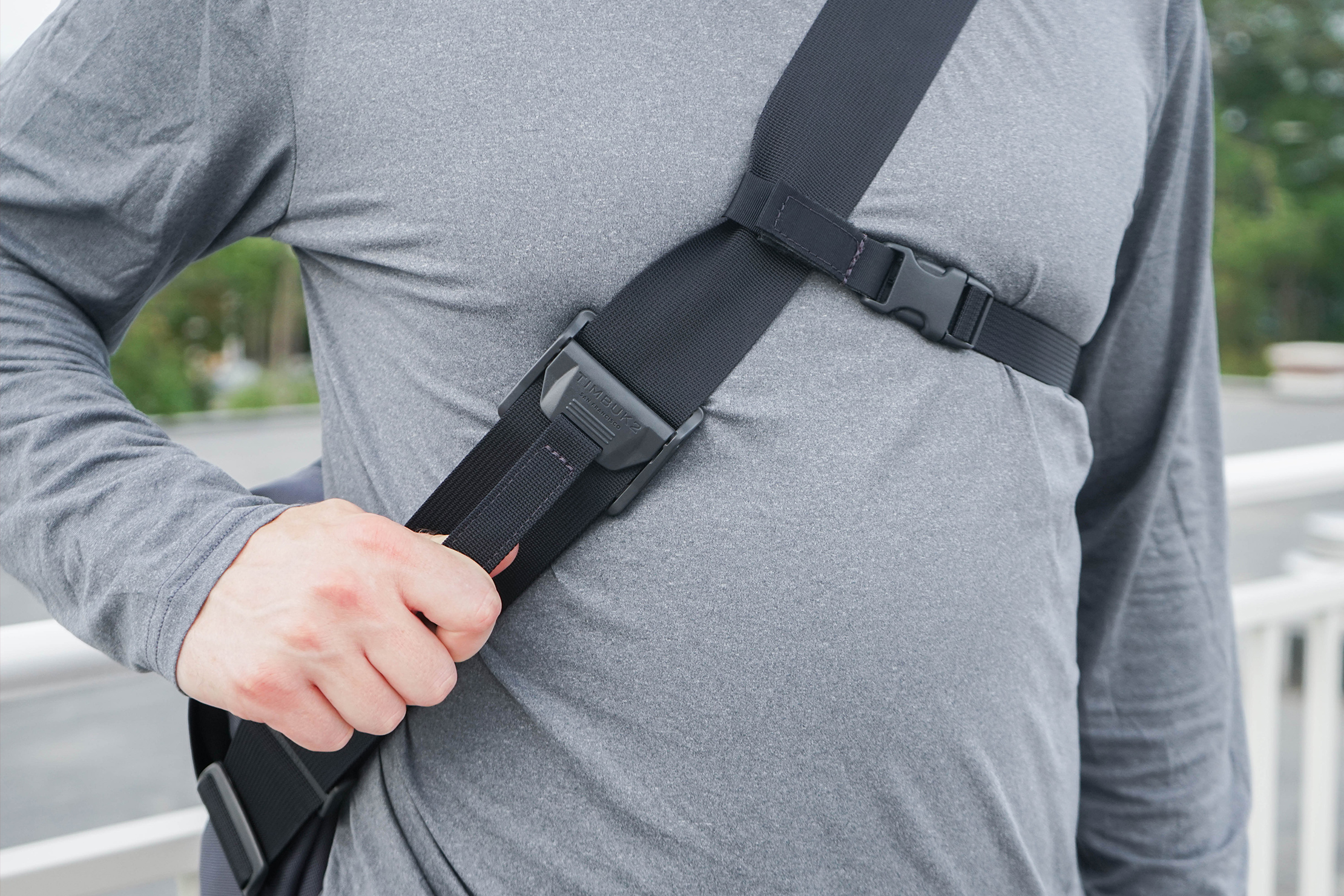 We haven't gotten a ton of use out of this adjuster as this bag also has an accompanying stability strap that, when in use, makes it harder to bring the bag around to the front. We do appreciate how this strap also helps keep this bag close to the body, and the way it distributes weight to promote an even carry—both of which are helpful for activities like riding a bike (or running into work after you hit snooze one too many times).
Although, we're not fans of how it secures to the shoulder strap. It attaches via velcro (like that Ricky Martin song, Livin' La Via Velcro), and when we have this thing fully packed out, the velcro weighs down the shoulder strap wherever it's positioned. It's not a huge deal as it doesn't really affect the carry, but this most likely wouldn't happen if it were secured with something stiffer, like a buckle.
If it's not helpful to you, or just for when you're not using it, there's also velcro at the other end of this stability strap that you can use to remove it entirely. Then you can store it inside the bag so it's out of the way and easy to grab when you're ready for it.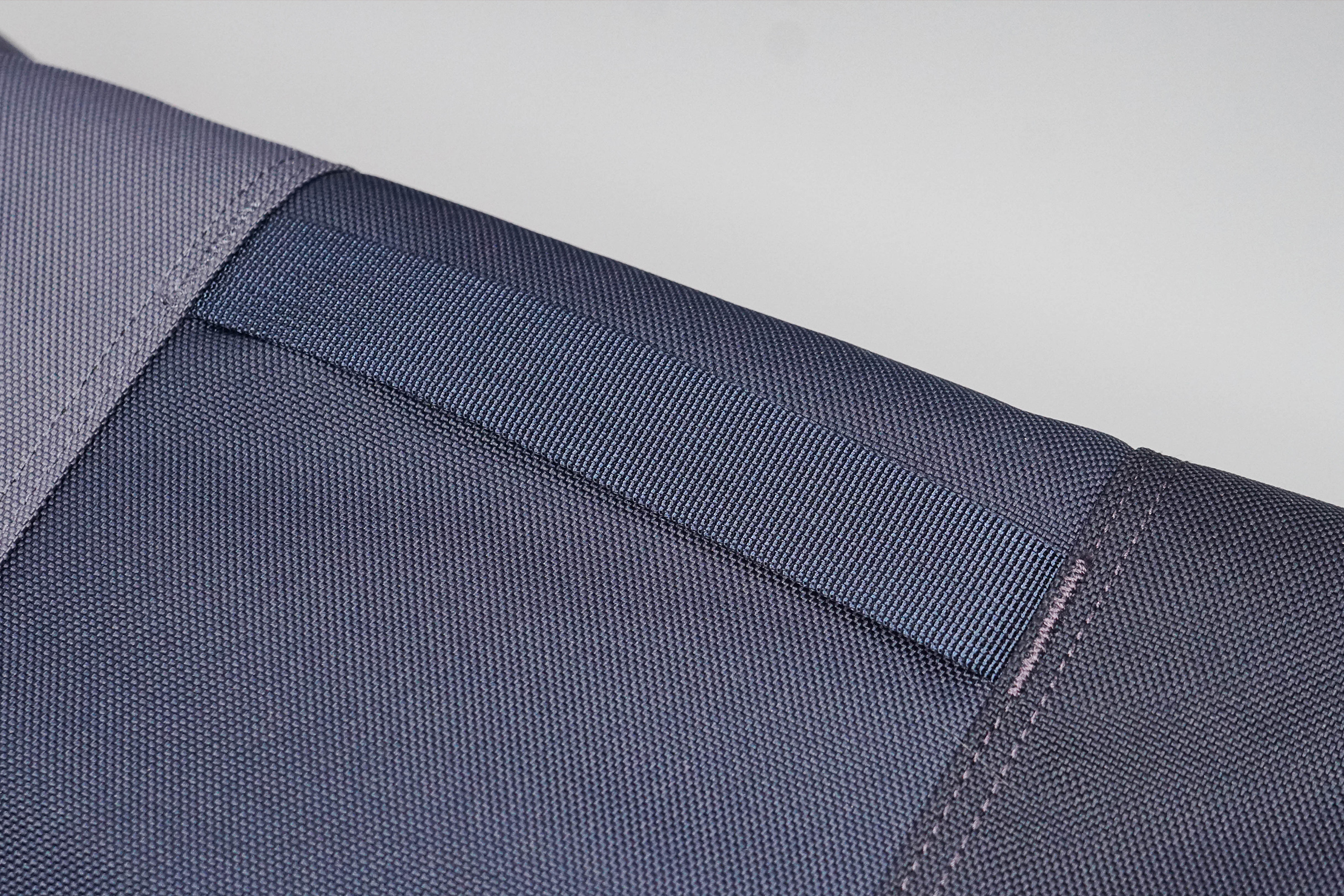 There's also a handle toward the top that's convenient for grabbing the bag. When not in use, this handle stays flat against the back panel and blends in well with the surrounding fabric to keep it as minimal as possible.
Although, it doesn't work well for carrying the bag briefcase-style. As we noted earlier, this bag doesn't have a lot of structure to it—so when you pick it up by this handle, the bag bends inward, and gets pretty floppy. Keeping a laptop inside helps add some structure, but we're not fans of having our expensive tech do that job instead of a frame sheet.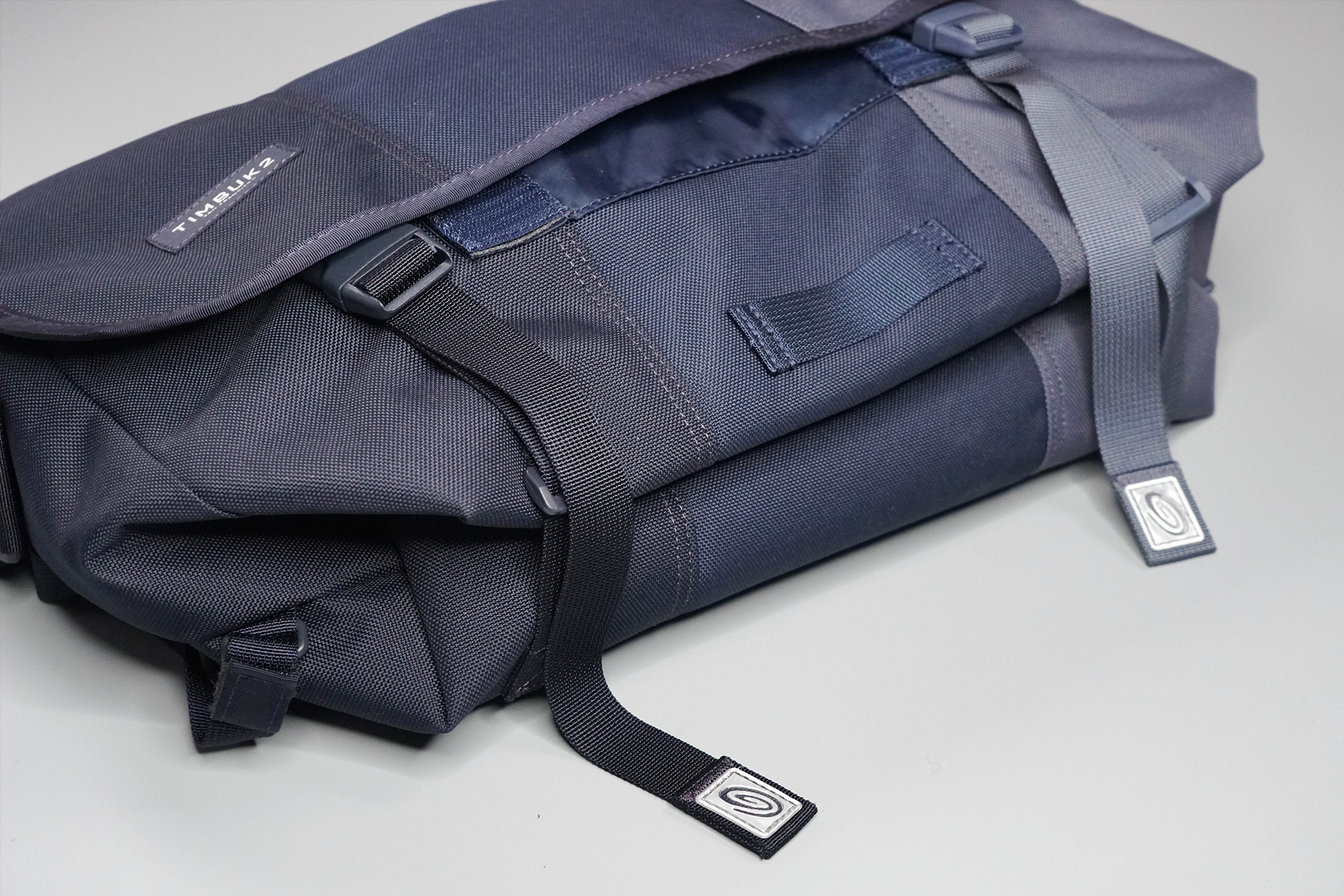 We also want to note the various attachment points available for use. Toward the bottom of the bag on the front is a loop where you can attach a bike light for some added visibility on those late-night rides. Or, clip a carabiner on here to secure your hat when you hit some wind. There's also some plastic hardware on both sides of the bag that work for this, too, if you're looking to attach both of these or other gear.
Last on the list to talk about are the compression straps. They have buckles on one end to help secure the main compartment, and reflectors on the other end to help with visibility on your late night/early morning commutes. They can adjust to accommodate a heavier load when needed, and also work for cinching the bag down when it's not fully packed to keep it as minimal as possible.
Something we noticed that we want to point out is that when you do cinch this bag down, some of the fabric on the bottom of the bag pushes up into the main compartment. If you then have stuff inside, it either falls into the creases of the fabric or pushes it back out, which makes the bag look saggy.
Inside The Bag
We know that the last section was a lot, but we're finally getting inside this thing. So sit back and relax, because pockets are up first.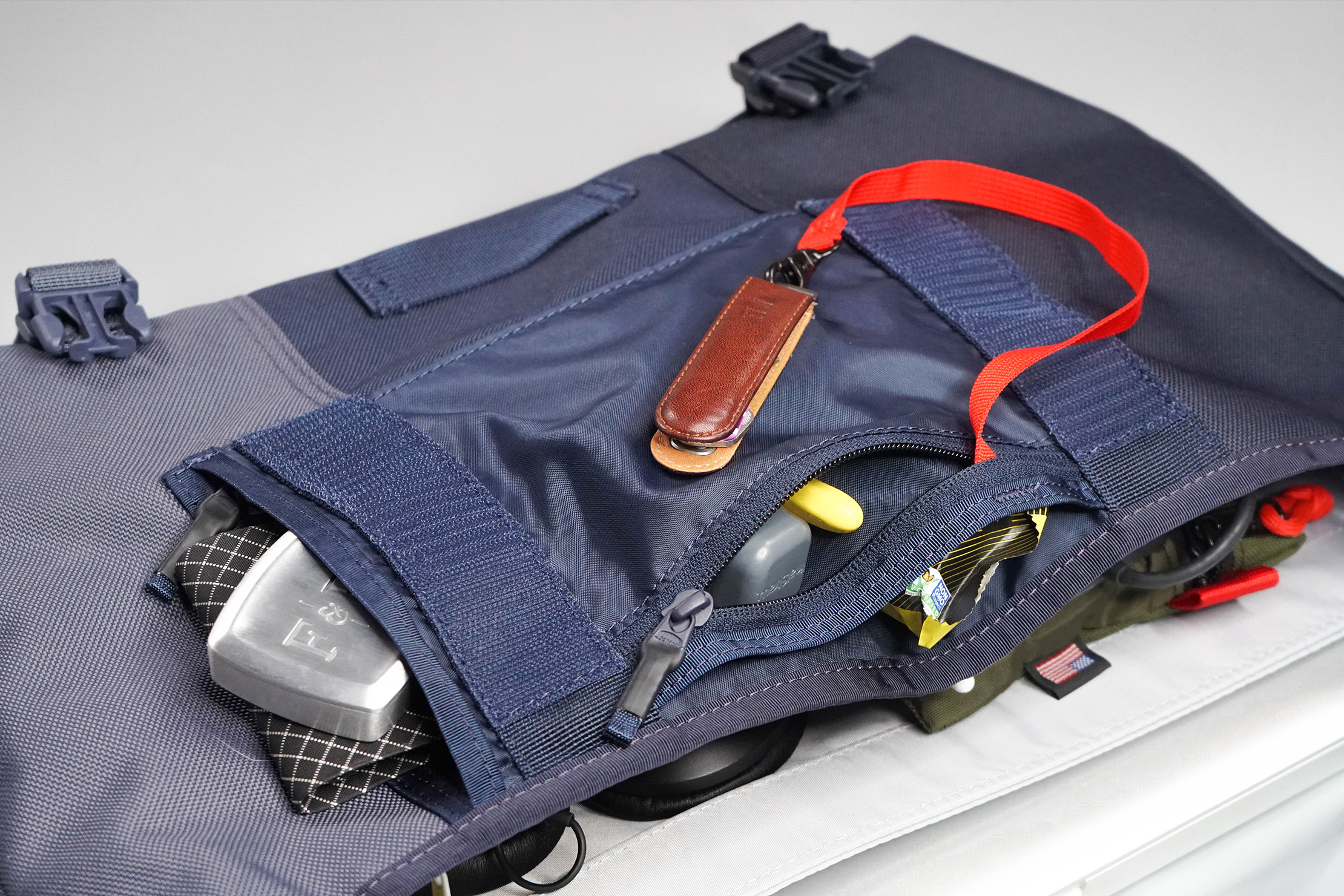 When you first open this bag up, front and center is a small zippered pocket. There's also a key leash in here that's bright red, so it's super easy to spot. The clip is metal and feels robust in hand, so we're not worried about its durability. It feels, and has been, up to the task so far.
The thing we really like about this leash, though, is the length. We've tested lots of key leashes on other bags that are short, so you have to either take off the bag or unclip your keys to unlock your car or door. While this one is long enough that you can reach whatever you're unlocking without having to do either, and we appreciate the convenience it offers.
Behind this pocket is a sleeve that also works for smaller items. Note that it doesn't have a closure of any kind so it's not very secure—meaning you don't want to keep anything too valuable inside.
Both of these pockets sit on top of yet another pocket you can access from a zipper on the side. It's pretty thin, so we haven't been keeping too much inside, other than some Fulton & Roark Solid Cologne to stay fresh throughout the day.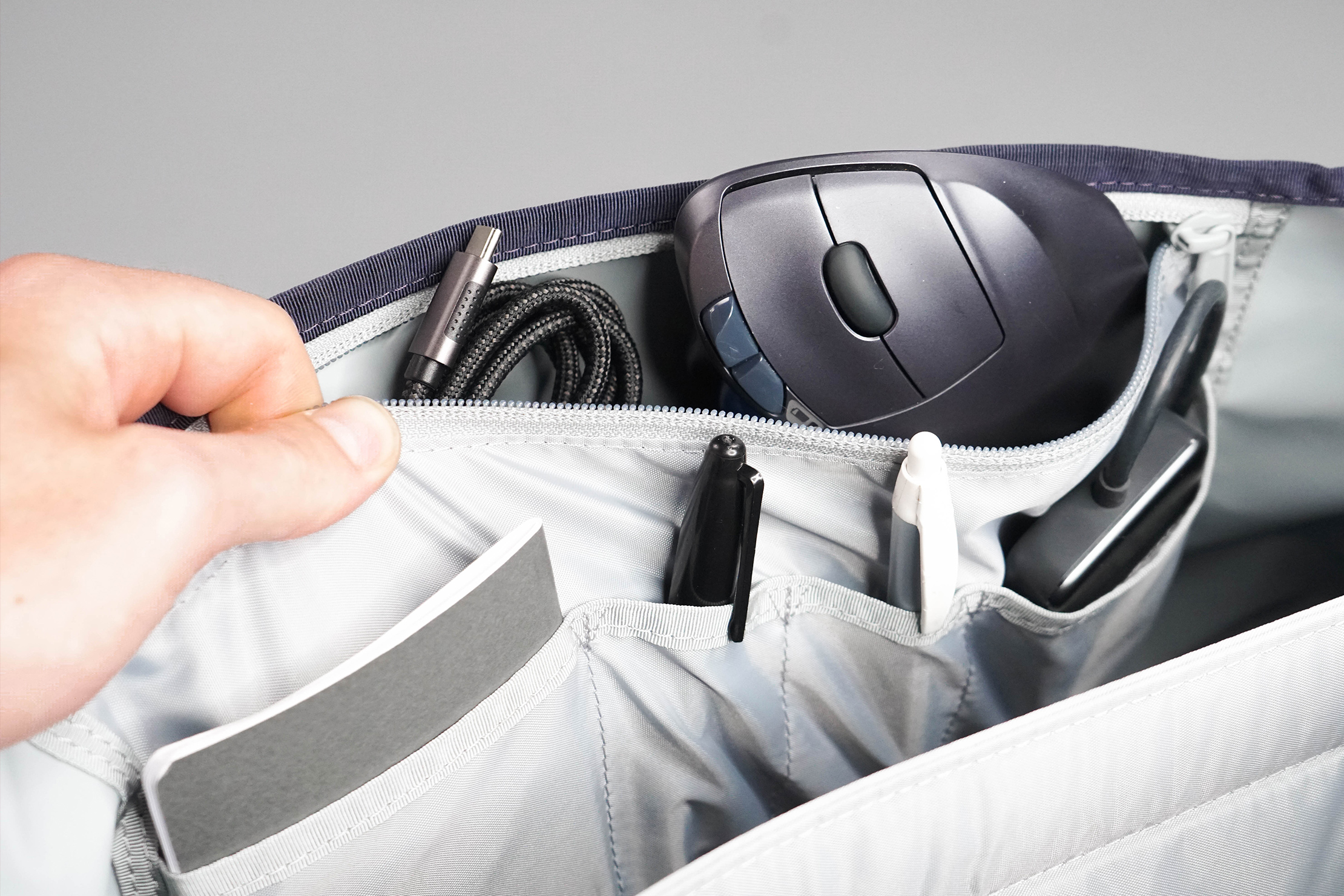 At long last, we have the main compartment. Like we mentioned earlier, you can clip the top flap into place with the buckles on the compression straps for a more secure carry. There's also some velcro on this flap you can use instead that's quicker to disengage for when you're getting stuff in and out throughout the day.
At 9L, it has room for your daily essentials and not much else. In terms of organization, you have some liner pockets against one wall that help segment your smaller gear. There's a bigger pocket on each end where we've been keeping things like a small notebook and an adaptor, as well as two sleeves in the middle for pens, pencils, or even a stylus if you have one.
Behind these pockets is yet another larger zippered pocket that we've been dumping our remaining tech accessories into—chargers, a mouse (the computer kind), and the like. It's the only pocket inside the compartment with any kind of closure, so you'll want to keep your more valuable items in here as it's more secure.
While we like the ample organization, it's all concentrated on one side of the bag. Because of this, the front of the bag sags from the weight of everything inside—and it doesn't look great. It's not the end of the world, we just would've appreciated if these pockets were more evenly dispersed throughout the compartment to better distribute the weight.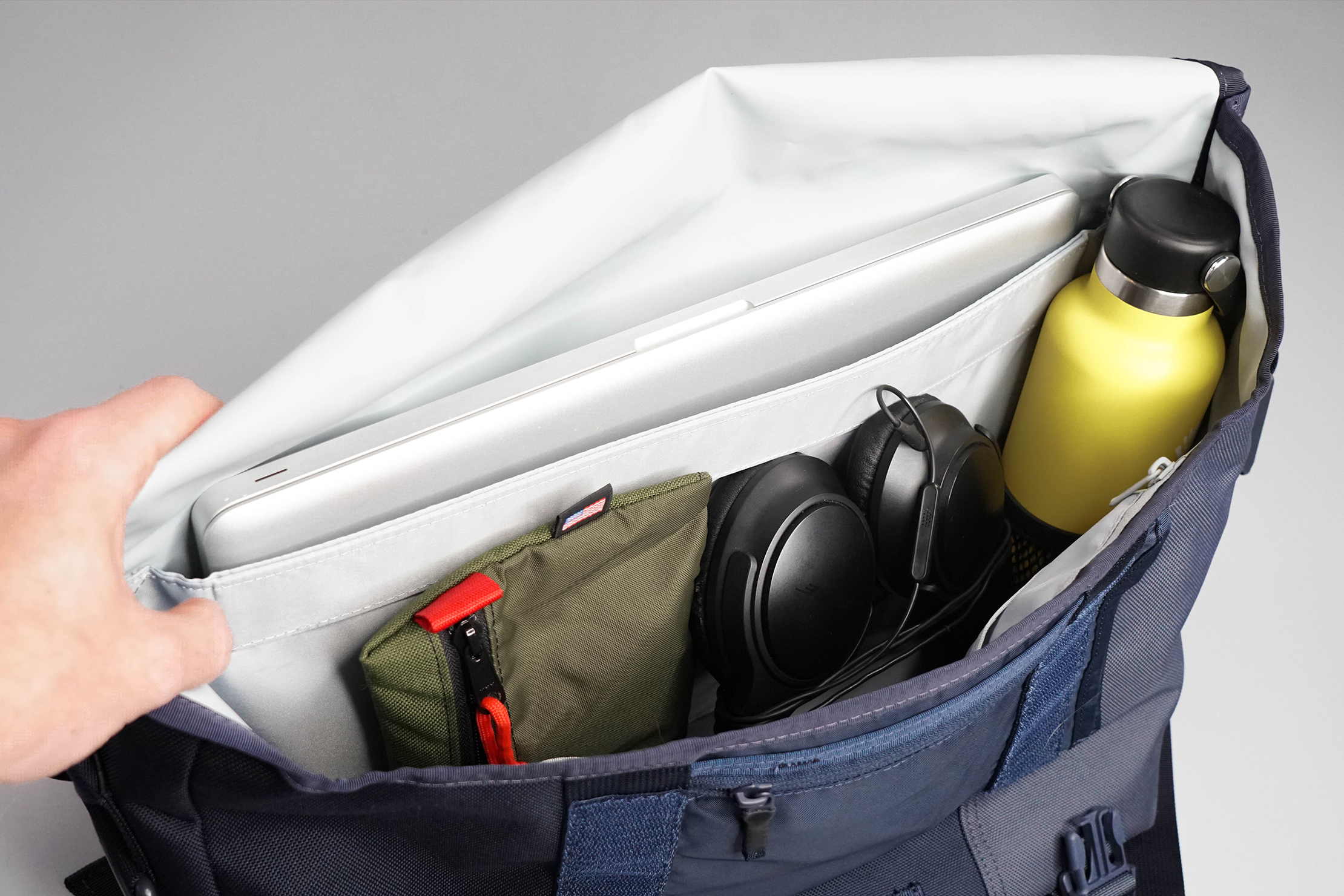 You have not one, but two water bottle pockets inside. One is made with solid liner and isn't quite as flexible, while the other is made of mesh and has more stretch to it. We've been able to fit a Hydro Flask Standard-Mouth Water Bottle with Flex Cap 21 oz inside one of these just fine. Of course, if you're only keeping one bottle with you at a time, you can use the other pocket to secure other larger gear you may have, so it's not getting mixed up with your other stuff.
Then you have some leftover space to store your other gear, like a larger pair of headphones, a light jacket, among other things. If you're looking for even more organization, you can supplement with pouches or packing cubes for your larger items rather than have them free float. Keep in mind that this bag can get uncomfortable when packed too heavily, so you don't want to keep too much in here.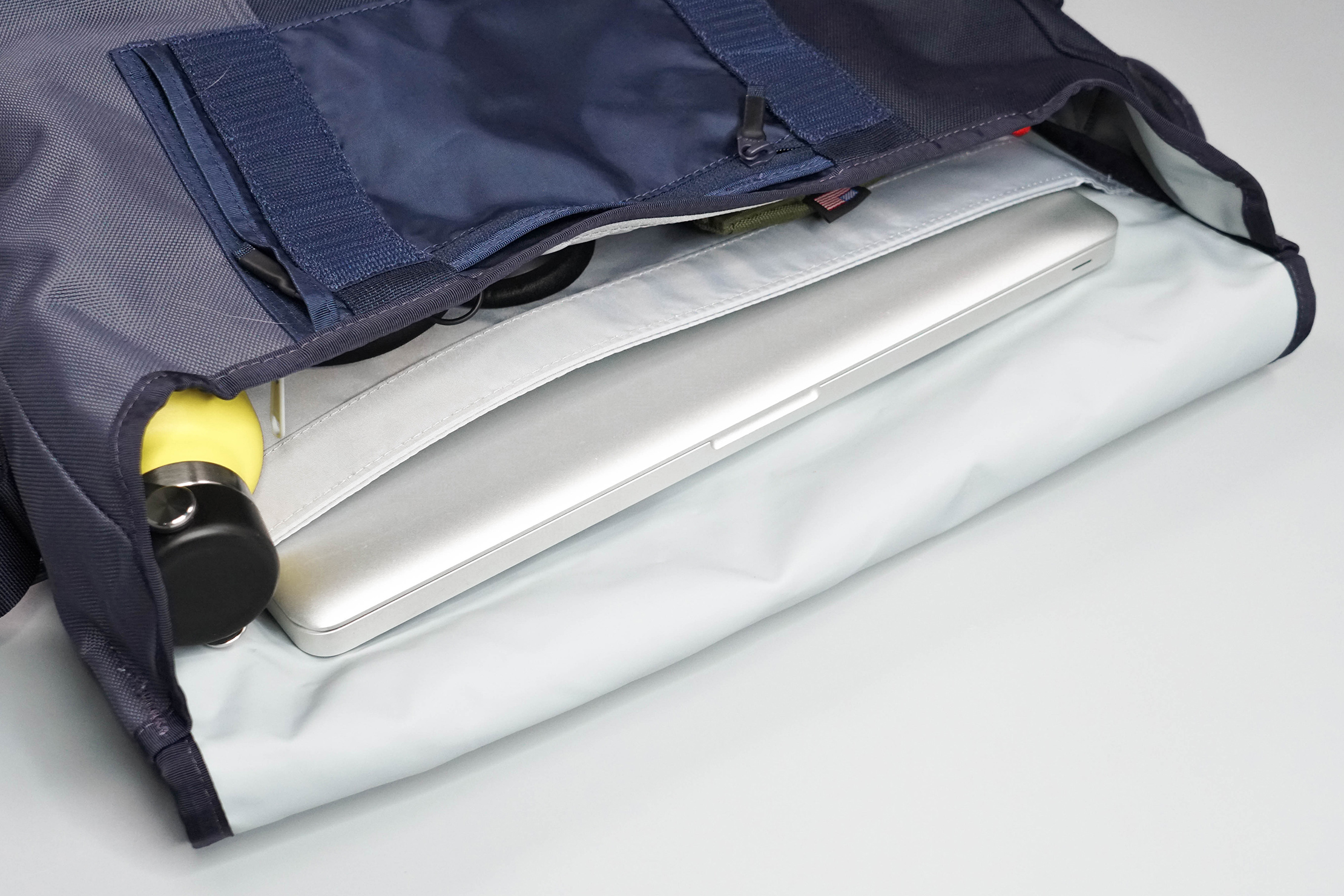 Finally, you'll find the dedicated laptop sleeve that can fit up to a 16" MacBook Pro against the other wall. It's not very heavily padded, and there's no false bottom either, so you're not getting that extra support for your laptop. Because of this (and just in general), we recommend keeping your tech in a protective case. Laptops are expensive and deserved to be taken care of.
Usage Timeline
Initial Usage
Condition: Excellent
Water-resistant and durable materials and construction
Compression straps at the bottom let you size this bag to exactly what you need
Bag doesn't have much structure and seems floppy overall
2 Weeks of Use
Condition: Excellent
The harness system and carry of this bag are amazing however, all the organization in the bag is confined to one small area, so that area can get bulky fast.
Access the Pro Community Discussion
Get your questions about the Timbuk2 Classic Messenger Bag answered from our team and the Pro Community right here on the page. Plus, join discussions with other members about gear, guides, and more.
Other Bags & Luggage Reviews