The North Face Surge Review
The North Face Surge Backpack has a ton of organization and hefty laptop protection. We just wish the pockets were liter independent.
Our Verdict
Unlock the Pro Summary
Save time. Get access to brief summaries of our reviews so you can browse and make decisions more efficiently.
Pros
Lots of organization to play around with
Front vertical pockets are big enough to fit water bottles
Laptop compartment is thoroughly protected
Cons
Compartments eat into each other's storage space when full
Long, stiff back panel can be uncomfortable for shorter wearers
Hard to see items at the bottom of main compartment
Recent Pack Hacker Video
Technical Details
Capacity

31l

Weight (lb)

2.78 lb (1.3 kg)

Dimensions

20 in x 12 in x 7 in (50.8 x 30.5 x 17.8 cm)

Notable Materials

Ripstop Nylon, Polyester, ITW Hardware, YKK Zippers, Duraflex Hardware

Manufacturing Country

Indonesia

Laptop Compartment Size

17"

Warranty Information
Buying Options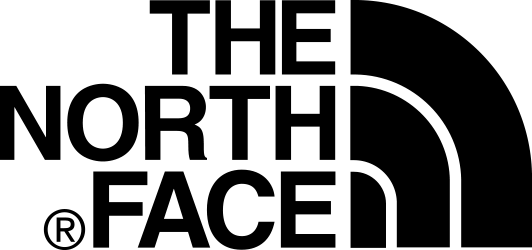 $129.00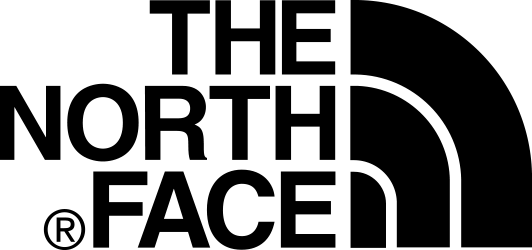 $129.00

$139.00

$139.00
Full Review
The North Face Surge Backpack is a decent option for everyday carry and travel. With The North Face's classic outdoor aesthetic and clean lines, it's just as ready to hit the trail as it is the office. We tested this pack for a month on several camping trips, road trips, and for everyday carry on our work commute. It's seen its fair share of wooded trails, dirt roads, and dusty coffee shop floors, and is still going strong.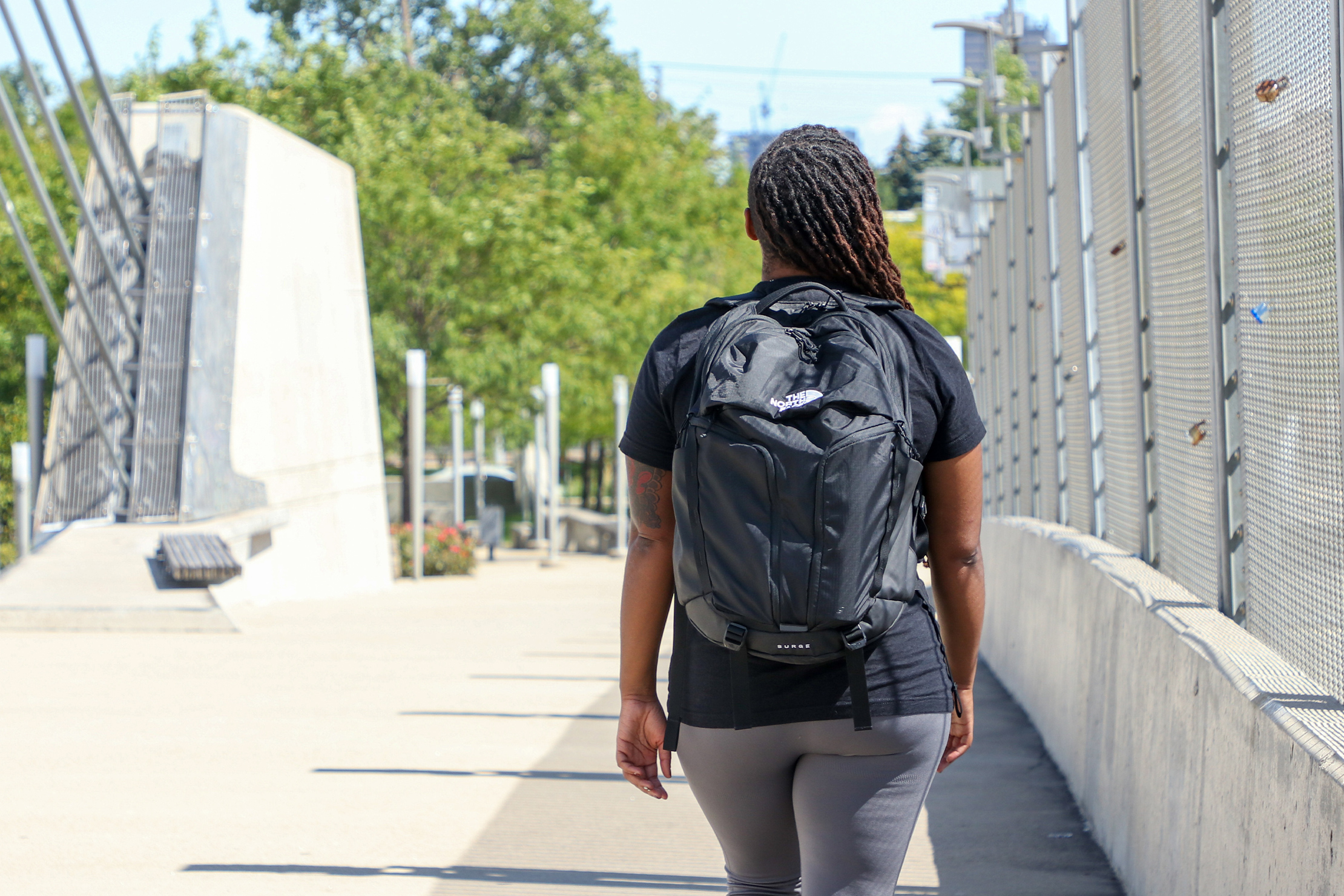 Before we get too deep into it, you should know that the Surge is available in both a men's and women's version. The main difference between the two is that the women's version has a slightly shorter profile making it more ideal for the shorter folks amongst us. The shoulder straps also have a slightly more curved design that's tailored more towards a woman's body. The other internal and external features are the same. We tested the men's version so that's what this review will focus on. Now without further adieu, let's check out the Surge starting with the materials.
Materials & Aesthetic
The main fabric on The North Face Surge Backpack is Ripstop Nylon. The distinctive grid pattern is subtle and adds to the bag's functional, outdoorsy look. Though it's more than just stylish—this square pattern helps prevent any small rips or tears accumulated on your travels from getting any bigger. In the month that we tested this pack, we were fortunate enough not to have any tears at all. That's a great testament to how durable and strong this fabric is (we aren't always the most gentle with our gear).
The lining of the main compartment is polyester, but some of the other pockets and compartments on the bag are lined with fleece. This soft fuzzy material comes in handy for protecting items like sunglasses and the screen of your phone. It's also featured in the laptop compartment to keep your device nice and cozy.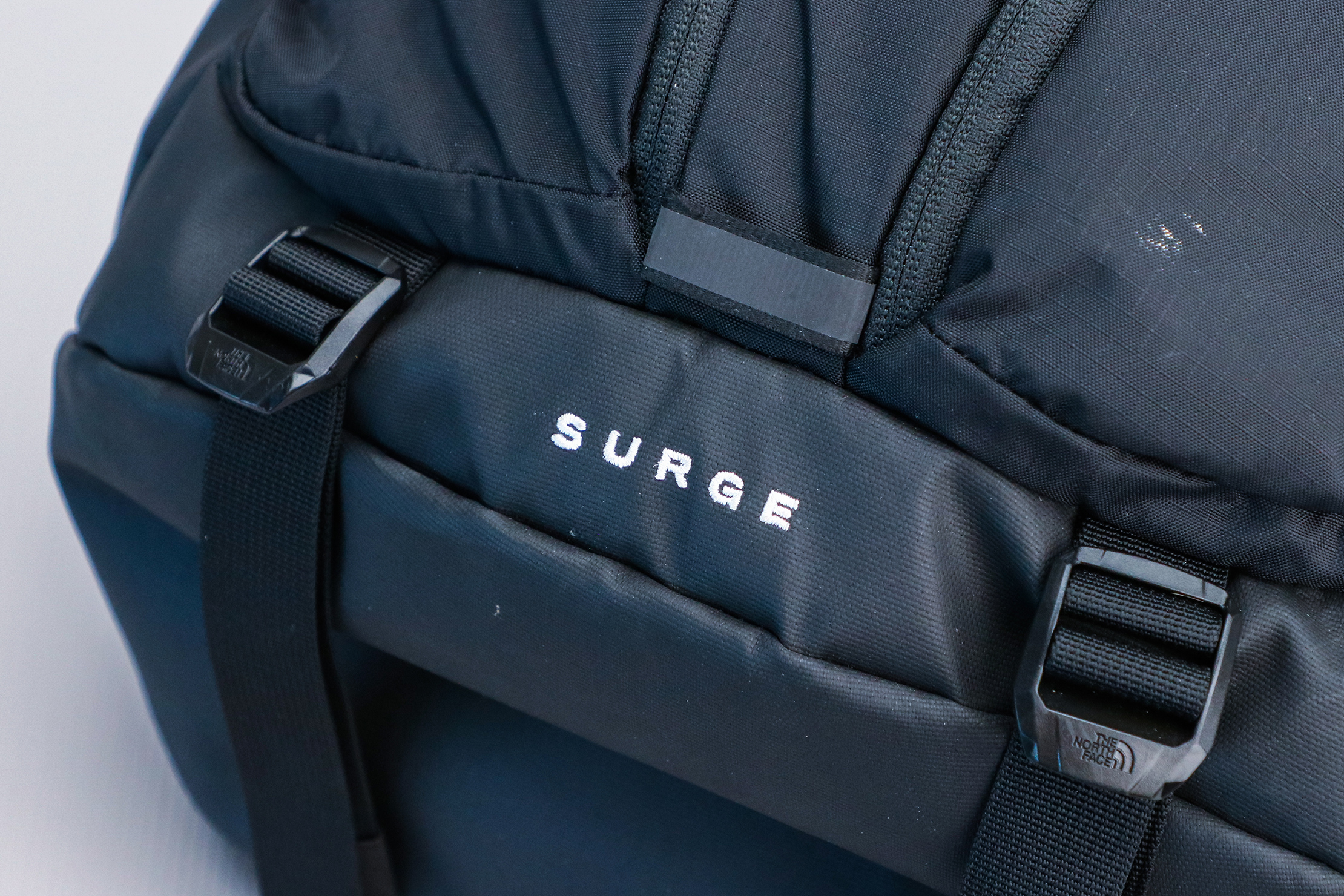 You'll also find The North Face logo smack dab on the center of the bag while the bottom says "Surge." We're not huge fans of lots of branding, and though it isn't terribly subtle here, it's not overly obnoxious either. What's kind of funny is if people around you don't know that Surge is the name of the backpack and instead they think it's one of those encouragement slogans you see in extreme sports. Like when a powerlifter wears a t-shirt that says "don't waste the pain" or "beast." Surge on, friends, surge on.
Beyond the fabric, we weren't surprised to see quality materials on this bag, from the zippers to the hardware. YKK zips are used throughout, with a reverse coil zipper track on most compartments. This helps keep moisture and dust out. The main compartment uses a beefy YKK #10. It's strong but can be a bit sticky, meaning it doesn't always glide open smoothly. The wide, parachute-style zipper pulls help with this since they're easy to grab onto. That said, we like how those wider zipper pulls are only used on the main compartment and laptop compartment as opposed to the entire bag. Due to their size, they stick out quite a bit. We've tested other bags that use them throughout and they can easily disrupt a clean, slick profile.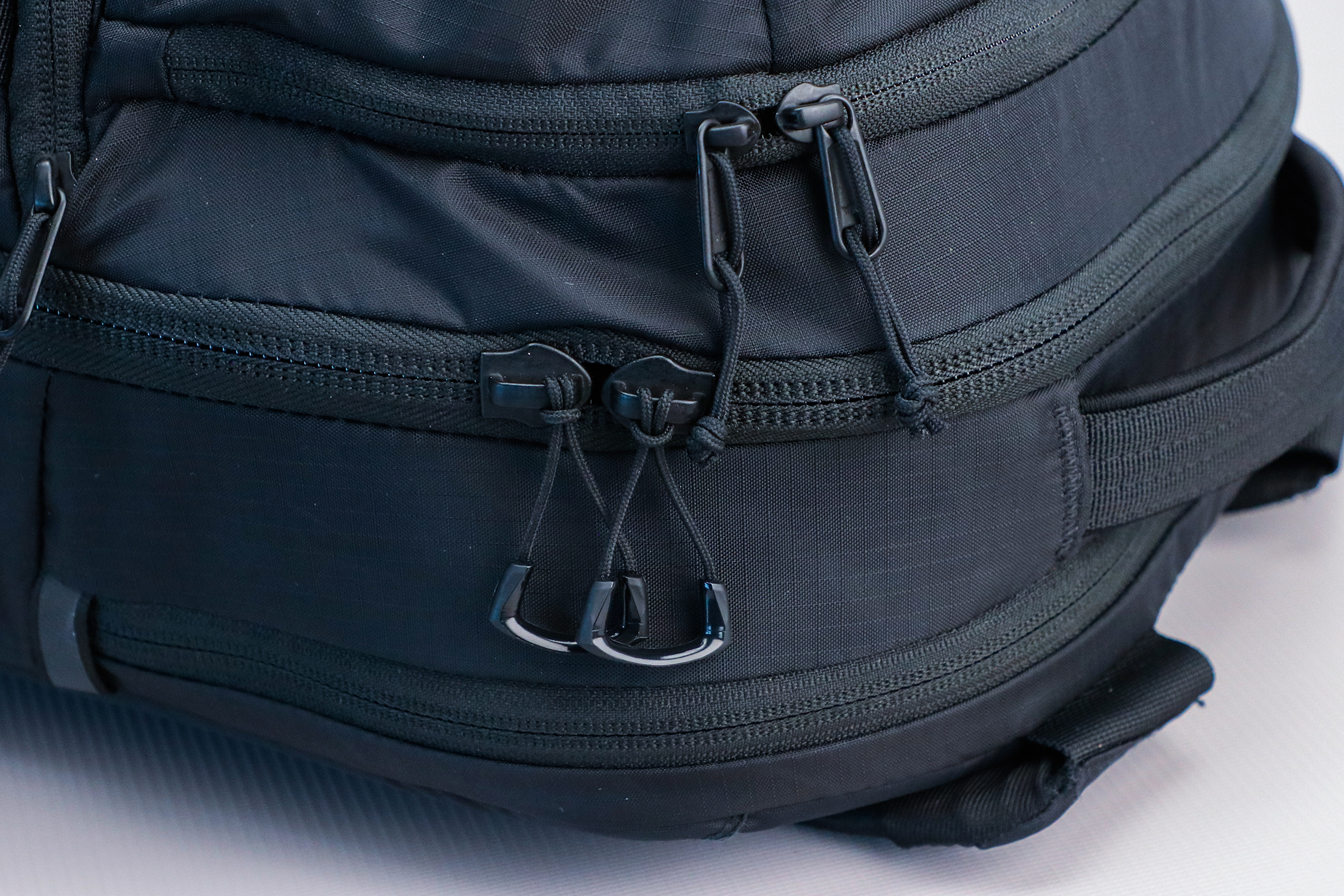 The Surge is available in a few different colors. Of course, we went with black on black (TNF Black to be exact) because that's our M.O. Other options available at the time of this review are TNF Black with an accent color like Pinecone Brown, Dark Sage Green, TNF Navy, and Zinc Grey Dark Heather.
External Components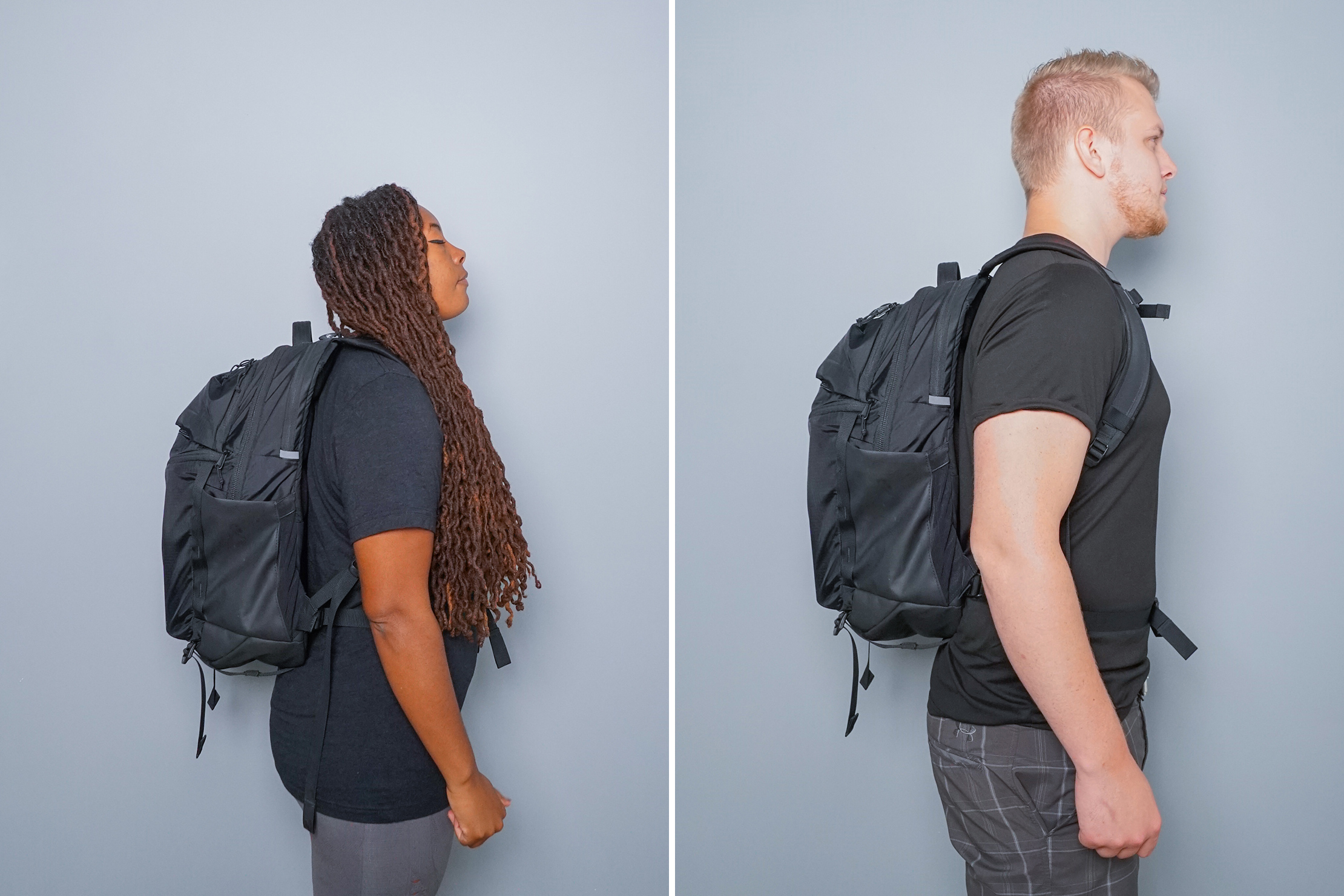 Now that we've covered the materials, let's get into the external components. On the front of the bag there are two rows of daisy chains where you can clip on additional accessories with a carabiner. We used these to attach a Topo Designs Square Bag pouch and it was pretty much perfect. Below that, there are compression straps that you can use to condense the bottom of the bag for everyday carry. We didn't find these to be too necessary since the bag is only 31L with a relatively slim profile in the first place. If you're commuting via crowded train, however, being able to cinch the bag down a bit could come in handy.
On each side of the bag is a stretchy water bottle pocket. They're gusseted with a strip of elastic and panel of stretchy mesh that allows them to stretch pretty wide. These are handy for more than just water bottles, too. We found they make a convenient place for your phone, face masks, keys, and anything else you want quick access to without having to unzip a pocket. The elastic also helps the water bottle pockets stay close to the body of the bag when they're not in use.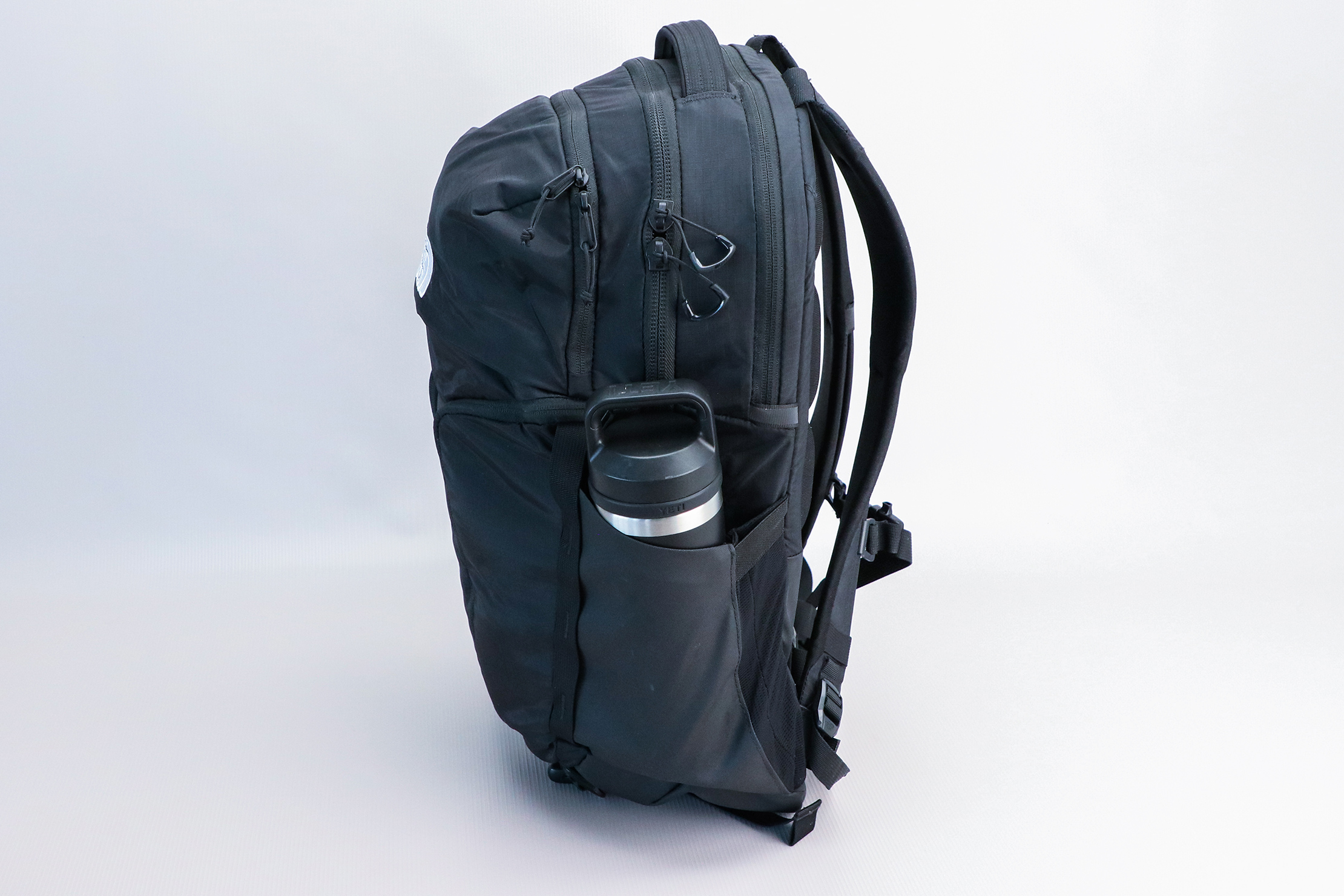 The only downside to these being so stretchy is that sometimes our water bottle straight up slipped out. A few times we bent over to pick something up and were startled by our water bottle hitting the floor. Needless to say, our bottle got quite a few dents. The good news is that there's also a spot for a water bottle inside the bag, but we'll get into that later.
Let's flip the bag around and see what it's working with from behind. Right away, you'll notice a panel that says FlexVent near the middle of the bag. This is The North Face's technology that encompasses the back panel and harness system. It features articulated shoulder straps with a rounded back panel that's densely padded with foam and breathable chemise fabric that keeps your back dry. Apparently, it's certified by the American Chiropractic Association for the lumbar support that it offers and how it reinforces the natural curvature of your spine.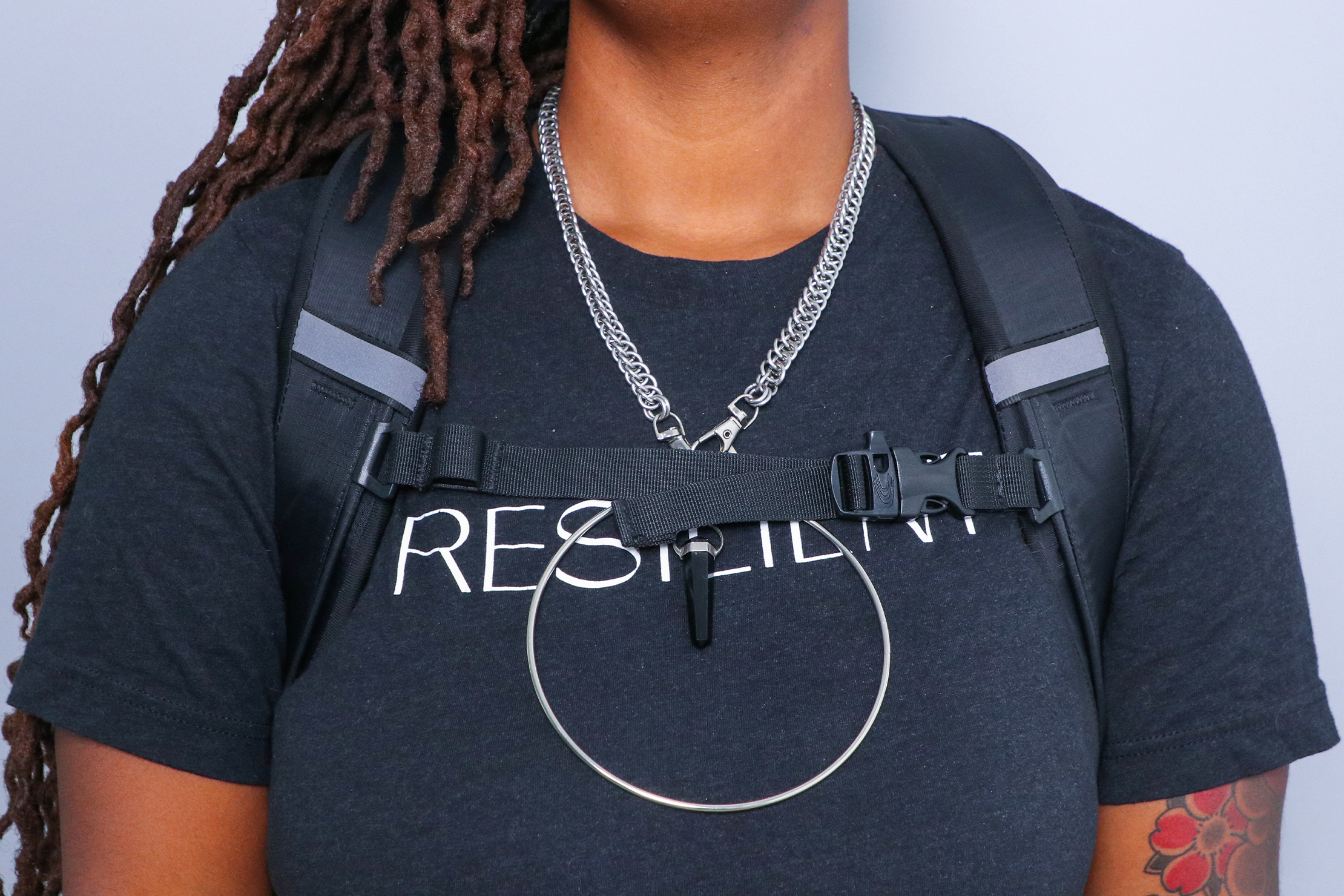 The edgeless shoulder straps are made from the same soft chemise fabric and foam padding. We found them to be very comfortable during testing, even when the bag was fully packed out. There's also a few more attachment loops on the straps if you want to clip on a pouch closer to the front of your body when you're wearing the bag so it's more accessible. We found the sternum strap here to be nice and secure. It slides up or down the length of the strap for easy adjusting, and we didn't have any issues with it falling off and getting lost. It even has a whistle on the buckle, which could come in handy if you run into any bears or unsavory humans in the woods or elsewhere.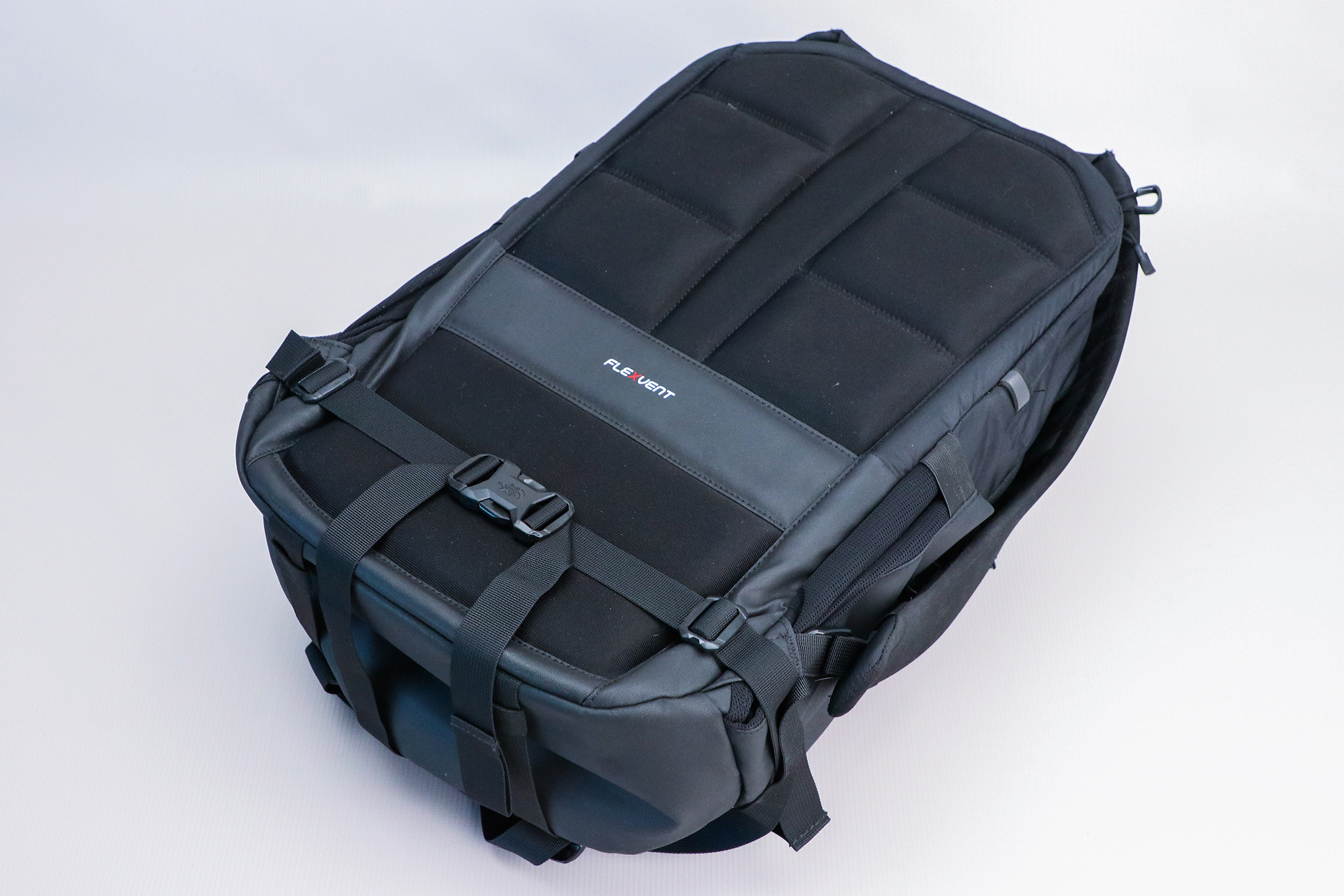 The shoulder straps themselves are comfortable. The lumbar support is also much appreciated for folks who have lower back pain like some of our team members. However, the frame sheet of this bag is quite stiff and hard. It's so hard, in fact, that you can hear it hitting the ground with a loud thud when you set the bag down. We thought the stiffness would soften over time, but it didn't after a month of use. We mentioned before that the back panel of the men's version is longer than the women's. During testing, we noticed that the back panel on this pack felt extra long, so just be aware if you're on the shorter side. Depending on your height and the length of your torso, you may find that it hangs slightly low onto your butt.
At the bottom of the back panel is a hip belt made out of a thin strip of nylon. Since there's no padding, we didn't find it to be too comfortable to wear for extended periods of time. Although, it did help distribute the weight evenly like it's supposed to. Finally, on top of the bag there's a soft handle made of the same cushy foam that's used on the shoulder straps. It's not rough or stiff like the handles we've seen on some other bags. This makes it comfortable to grab out of the overhead bin or off the floor of the coffee shop when you're ready to head out.
Inside The Pack
Now that we've covered the external components, let's open this baby up and get into all the compartments. On the very front you'll notice two long, vertical pockets. Remember when we said there was a space inside The North Face Surge Backpack for a water bottle? Well, here it is. Both pockets are seriously wide and deep. One is completely open, while the other has some organization for smaller items. Once we went on a long hiking trip where we needed to bring lots of water and we were able to carry four bottles between the two actual water bottle pockets and these two on the front. It was glorious, even though we didn't end up drinking them all.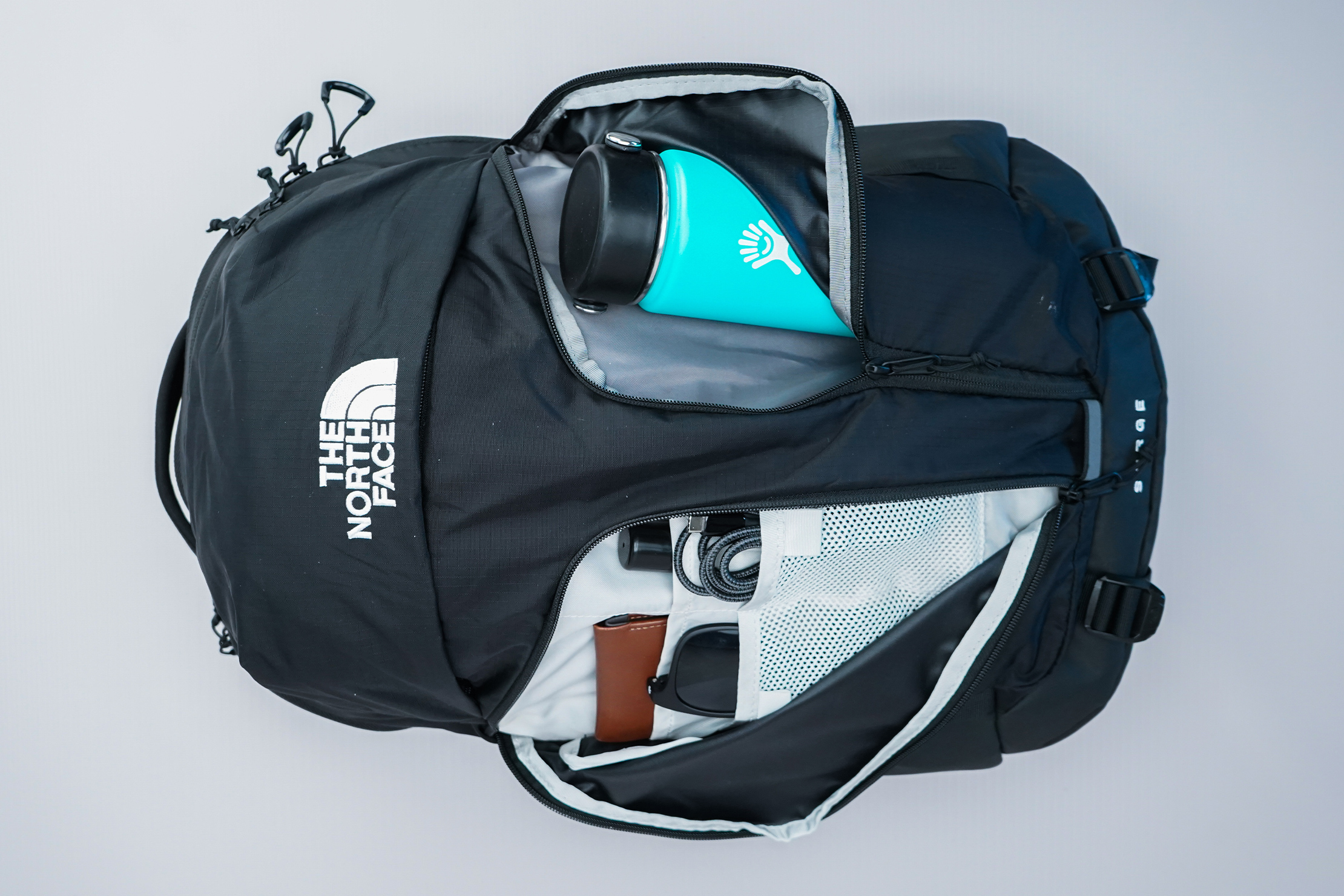 Right behind that is a horizontal fleece-lined pocket that makes a good spot for sunglasses or your phone. We mostly ended up just filling it with snacks, because those are honestly the most important thing to have easy access too. This pocket is also deceptively deep, but you'll want to watch how you pack it in relation to the rest of the pockets (including the vertical ones mentioned above). None of the pockets on this bag are liter independent, which is unfortunate because you can't utilize their full capacity without taking away space from other compartments.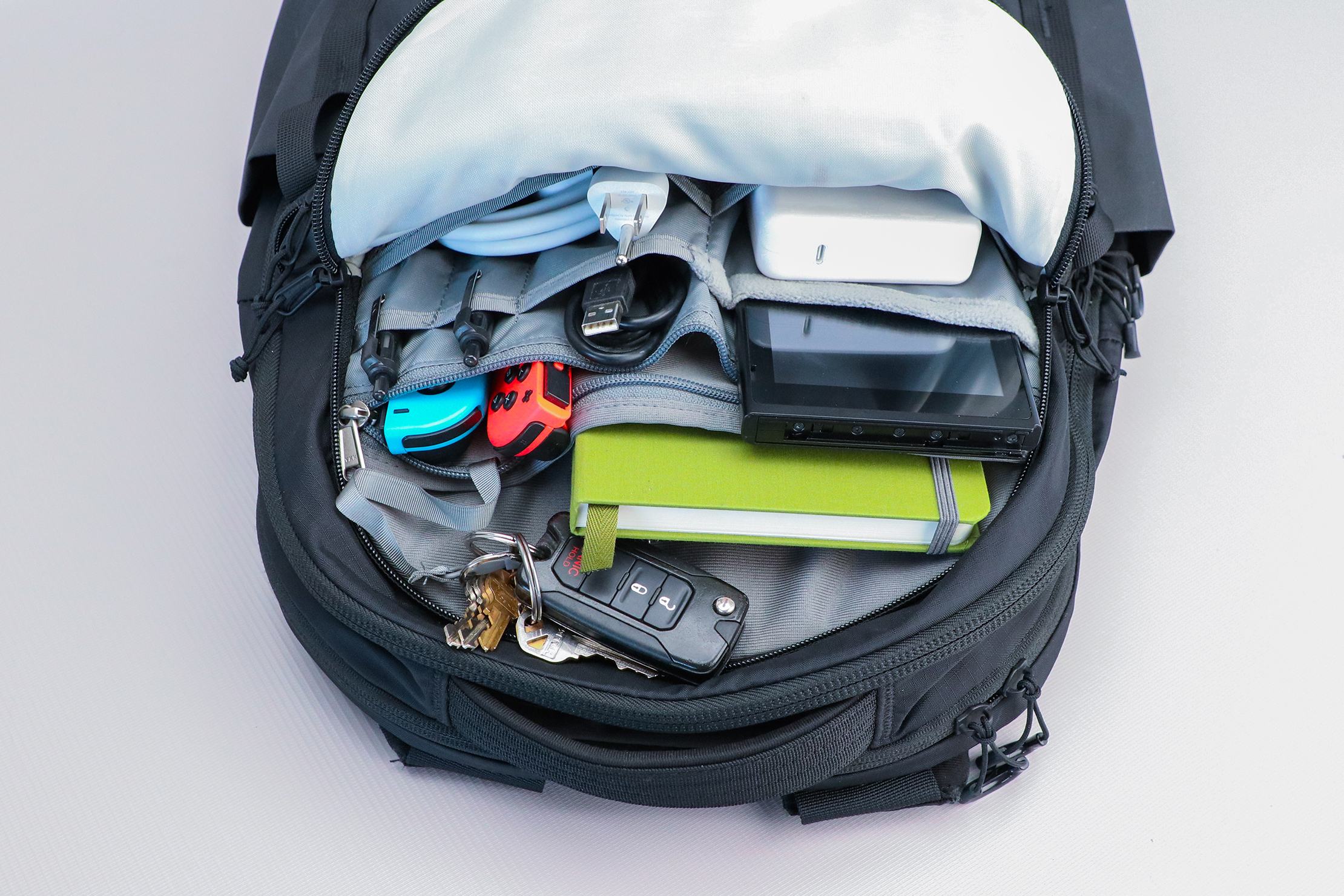 Behind that is yet another pocket. This one-ups the organization game a little bit. Inside there are several mesh pockets, pen slots, and a padded pocket for you to play around with. It makes a good spot for your tech gear and other small items like charging cables and earphones. There's also a key clip inside. This pocket is big enough to fit a large notebook, novel, or even a tablet with the padding to protect it.
Next is the main compartment with the big beefy zippers. There's no organization or additional pockets inside—it's just a completely open space. It's got room for a few packing cubes and pouches for a short trip but can feel a bit spatially challenged. Since this compartment only opens up horseshoe-style and the bag itself has a long profile, it can be difficult to get to items at the bottom of the bag. So you'll have to pack your items vertically for easy access or dig around for a bit. Some strategic packing is necessary here, especially if you plan to pack small organizer pouches.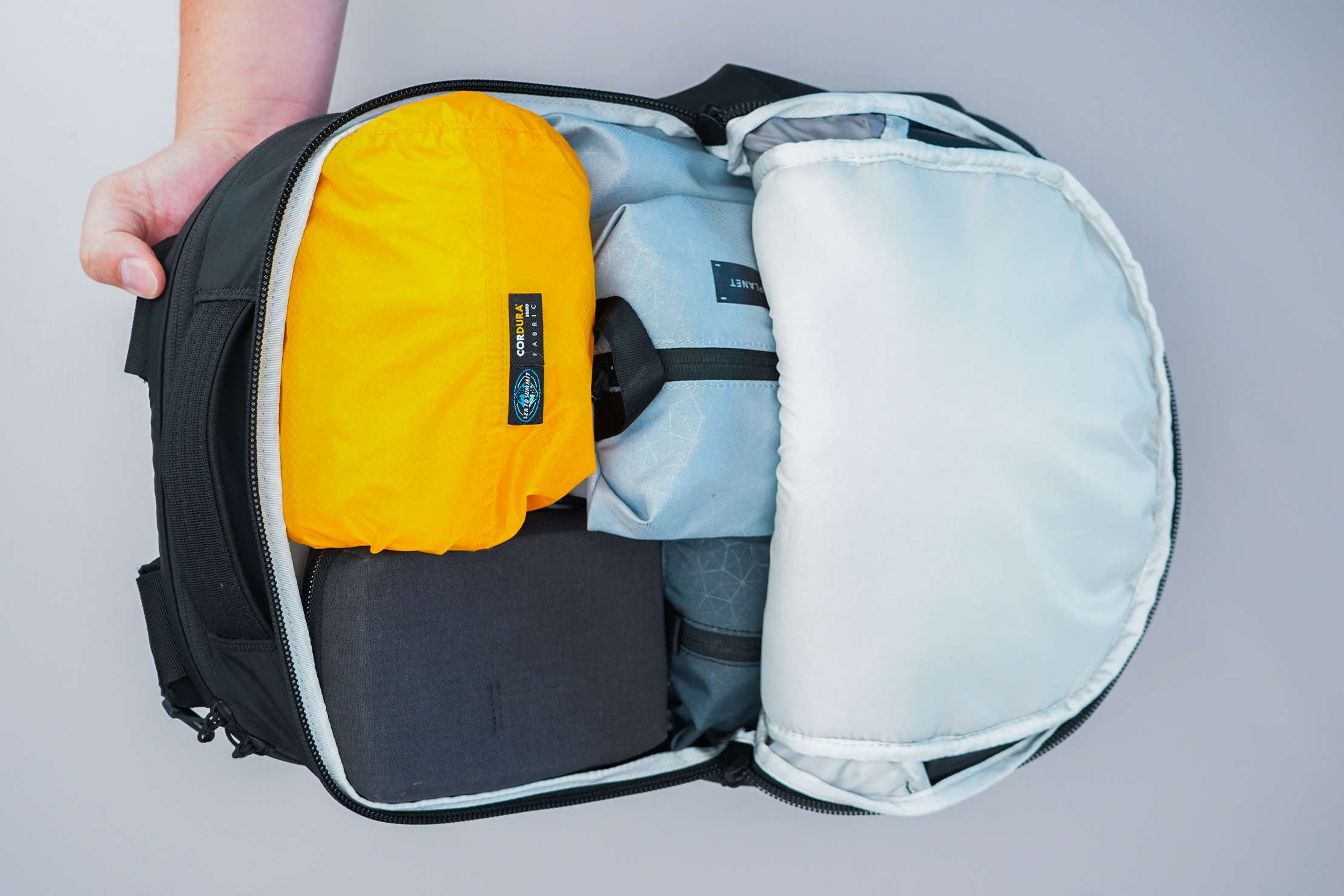 Finally, there's the laptop compartment at the back. We are huge fans of bags with generous false bottoms to protect our precious cargo, and The North Face Surge Backpack delivers. This compartment is densely padded, fleece-lined, and has a spot for your laptop and a tablet. You can also fit magazines, small notebooks, or any flat items in here. Cinching the bag down and just carrying a laptop, notebook, and a few documents during our work commute was pretty convenient.

Overall The North Face Surge Backpack is comfortable and handy for our remote work essentials and weekend adventures. Just resist the urge to fill all the deep pockets because space gets scarce pretty quickly. And if you're on the shorter side, you may want to opt for the women's version, as the sheer length of the men's version can be uncomfortable on a shorter torso.
Usage Timeline
Initial Usage
Condition: Excellent
There's a ton of pockets for organization inside
The back panel is well-padded and has air channels
Comes with a removable waist belt
1 Month of Use
Condition: Excellent
Two vertical front pockets are extremely spacious and can fit a water bottle if you prefer internal water bottle pockets
Actual water bottle pockets are stretchy and wide, making them convenient for your phone or other quick-grab items
Laptop compartment has a generous false bottom, fleece lining, and dense padding to keep your laptop secure
The main compartment is tight, and other pockets eat into it so we found it better not to fill it up too much
Flex Vent back panel is highly padded and breathable, although it is pretty rigid at the bottom
The bag has a long profile, so you may have issues with the hard bottom sticking into your back depending on your height (we did)
Access the Pro Community Discussion
Get your questions about the The North Face Surge answered from our team and the Pro Community right here on the page. Plus, join discussions with other members about gear, guides, and more.
Other Bags & Luggage Reviews