The North Face Kaban Backpack Review
With smart and simple features, The North Face Kaban is a sleek 26L daypack that looks nice and functions well, too.
Our Verdict
Unlock the Pro Summary
Save time. Get access to brief summaries of our reviews so you can browse and make decisions more efficiently.
Pros
Exterior fabric is durable and weather resistant
Streamlined aesthetic and a couple useful external features
Harness system is comfortable without being overkill
Cons
Main compartment zipper pull can get lost; hard to tell apart from other zippers
Laptop compartment does not have a false bottom
Water bottle pockets have no stretch
Recent Pack Hacker Video
Technical Details
Capacity

26l

Weight (lb)

2.6875 lb (1.2 kg)

Denier

900D

Dimensions

19 in x 13 in x 6 in (48.3 x 33 x 15.2 cm)

Notable Materials

Polyester, Thermoplastic Elastomer (TPE), YKK Zippers, Nifco Hardware

Manufacturing Country

Vietnam

Laptop Compartment Size

15"

Warranty Information
Full Review
For everyday carry between home and work or keeping a light load as you travel, it's great to have a bag that looks great and functions smoothly. The North Face Kaban is a 26-liter daypack that offers both—a slick, minimal look and some smart features, too.
We've been testing The North Face Kaban for just over two weeks in Detroit, Michigan. While the California-based brand also offers a charged version of the Kaban—packed with some extra accessories for electronics—we'll be focusing on the regular version in this review.
Let's jump in.
Materials & Aesthetic
The main fabric on The North Face Kaban bag is a 900D polyester with TPE PVC coating. This is the same material that's used on The North Face Base Camp Duffel Bags, which we've also reviewed. We appreciate the weather resistance on this thing—mud and dirt easily wipe off the front of the bag where this coated material is.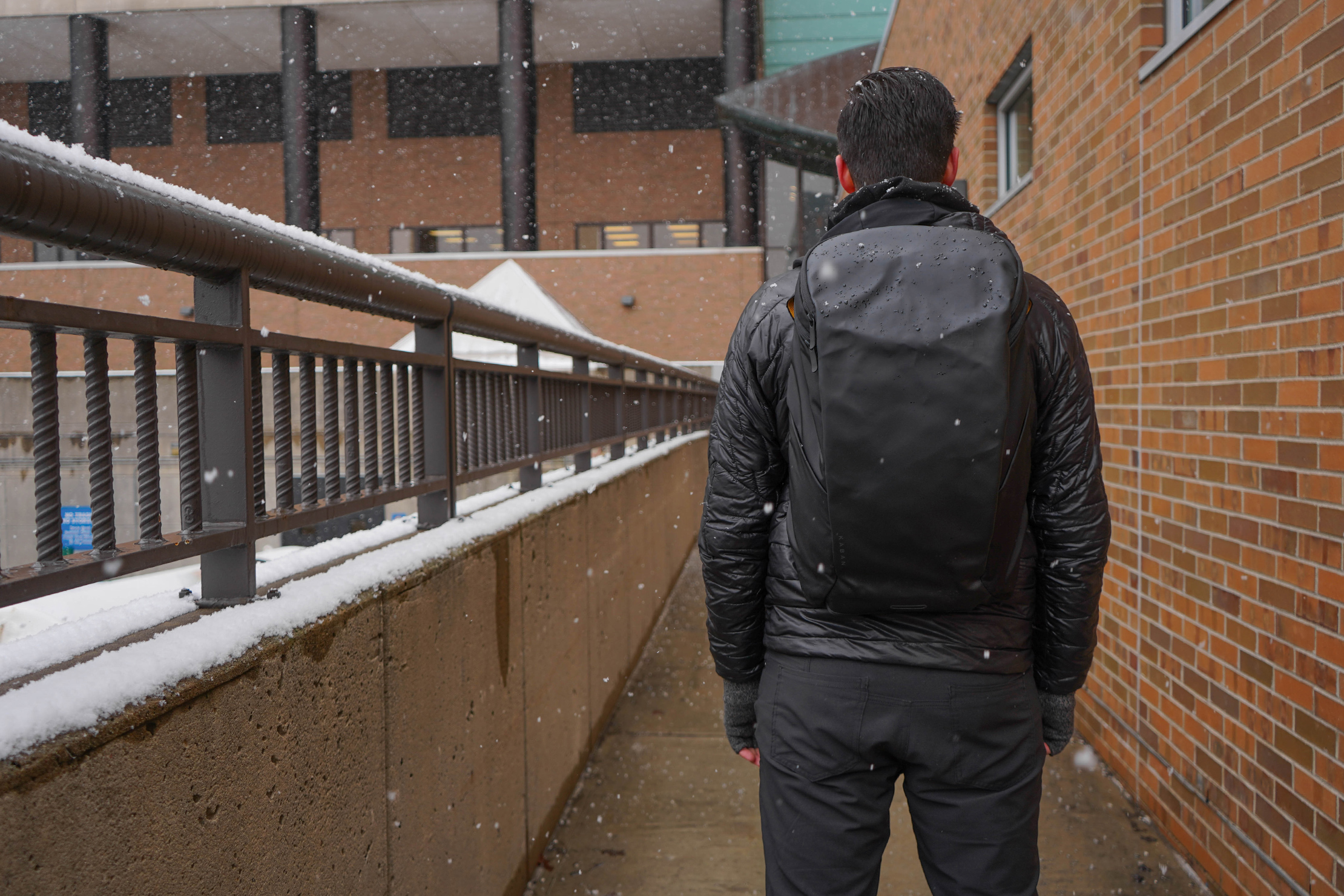 We think this bag looks great, and the verdict on our Instagram was in resounding agreement. Out of 856 votes, 85% liked the look of the Kaban. It's pretty rare to have such a strong response, and it's a great indicator that people love this overall aesthetic.
At the time of this review, the only Kaban colorway available on thenorthface.com is the black version we've been testing. However, we've seen this bag in a bunch of different colorways over the years, too—so keep an eye out.
As far as branding, The North Face Kaban has a black-on-black logo on the front and a similar North Face logo on the front shoulder strap.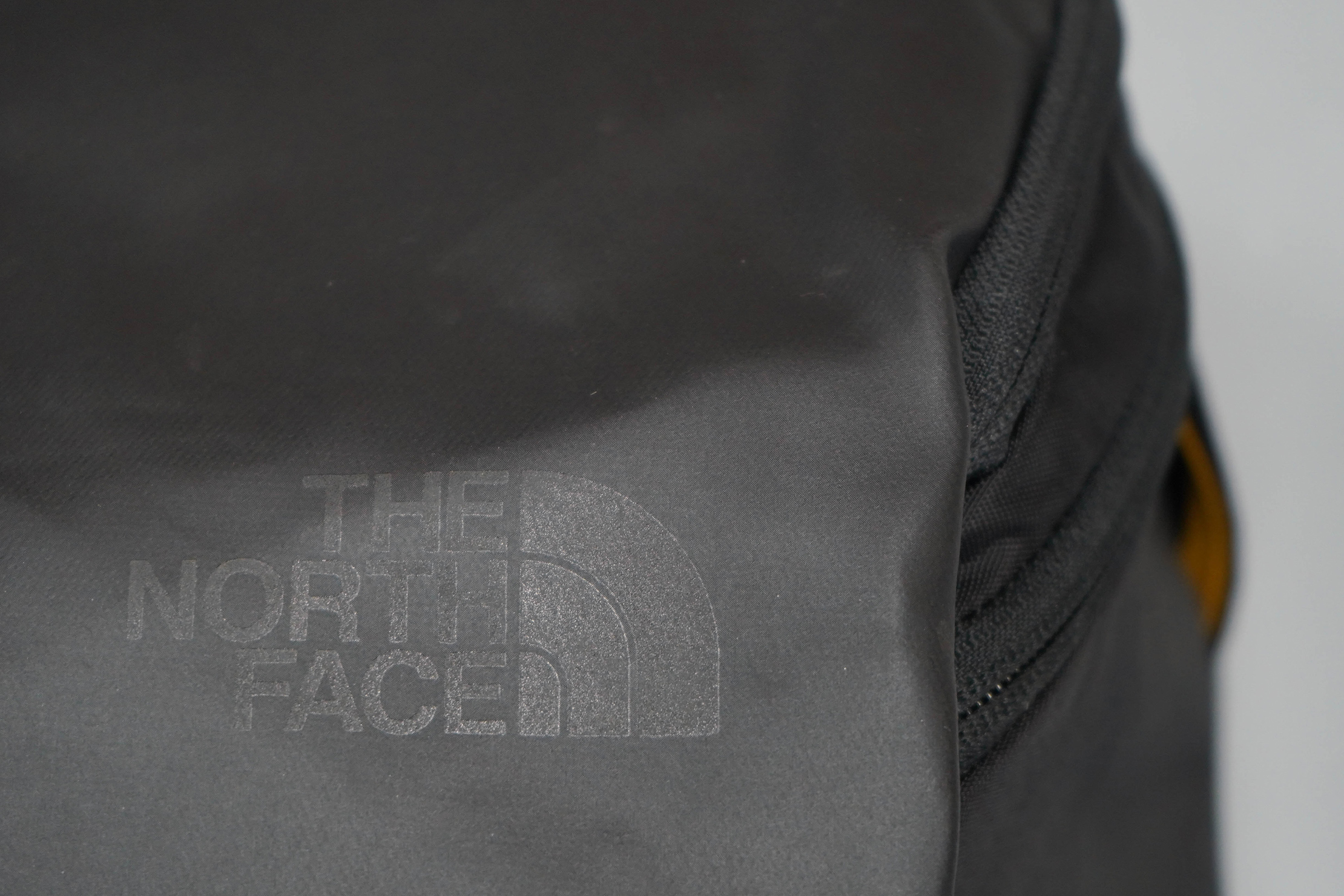 Other materials on the Kaban include durable YKK zippers, which we've found to be a bit jingly. There's also Nifco hardware, which we've had solid experiences with in the past.
Exterior Components
Moving on to the harness system on The North Face Kaban, the straps on this 26L daypack are pretty dense—which is something we always look for in shoulder straps. Although they aren't necessarily soft and there isn't any mesh for airflow, these straps are certainly enough for a pack of this size and plenty comfortable during our testing.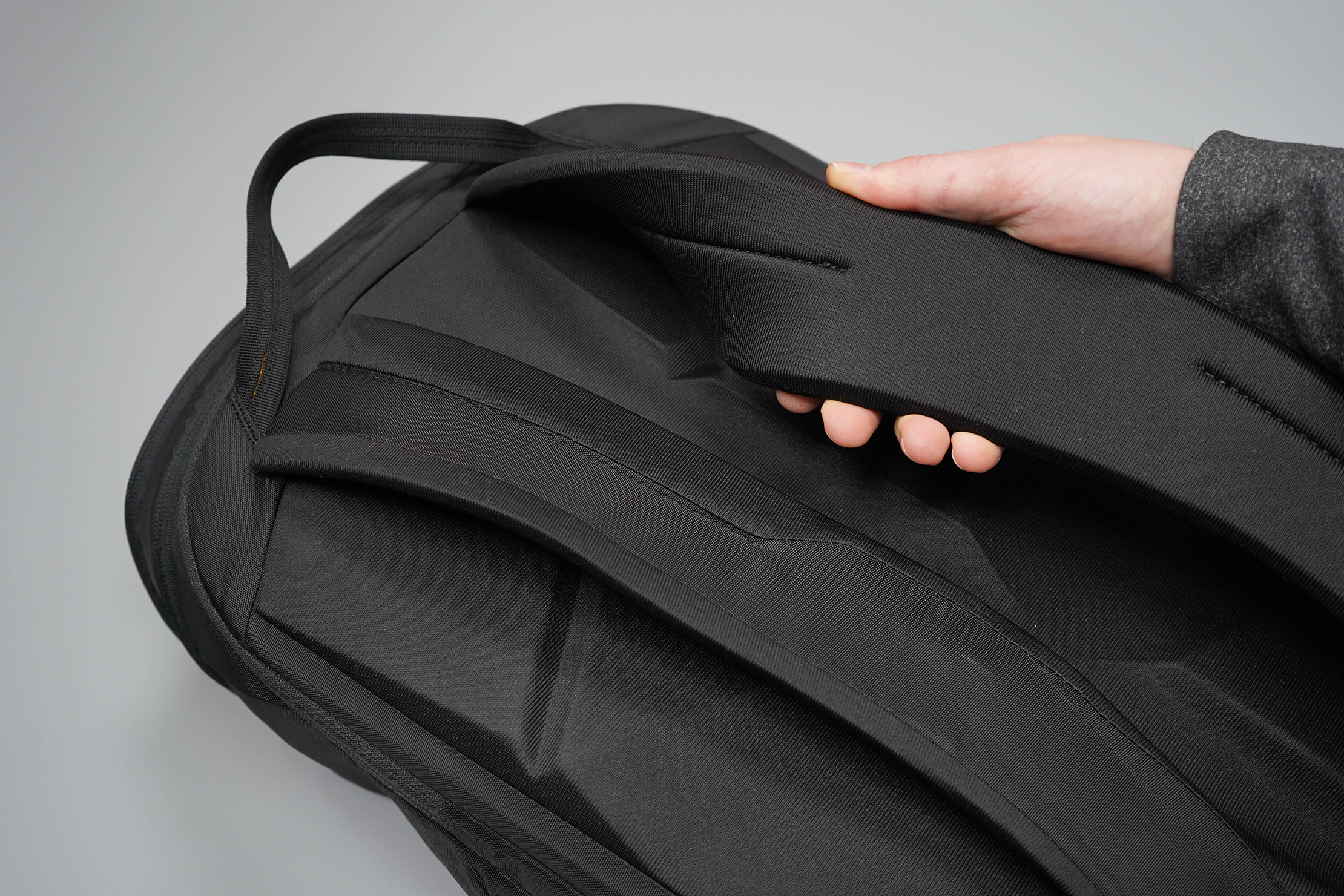 The Kaban features an adjustable sternum strap on a rail, which is nice and easy to position. We like that this strap is covered with 900D polyester and has a stay on the front of it, which makes the fabric get out of the way easily when you're adjusting the strap. We also dig that the webbing is a little bit skinnier, matching the bag's size.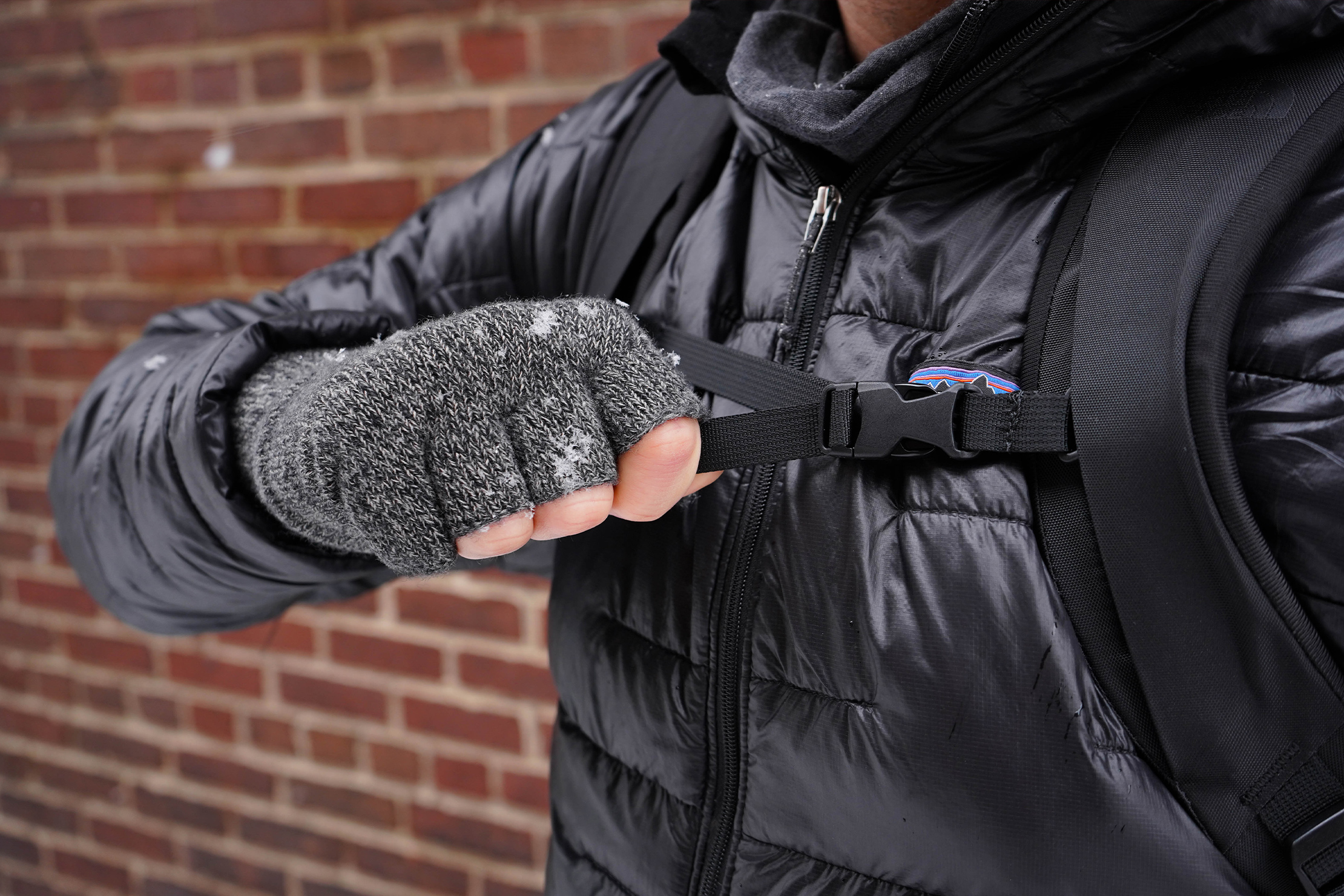 The Kaban uses some nice Nifco strap adjusters, however, there are no elastic loops to manage excess straps.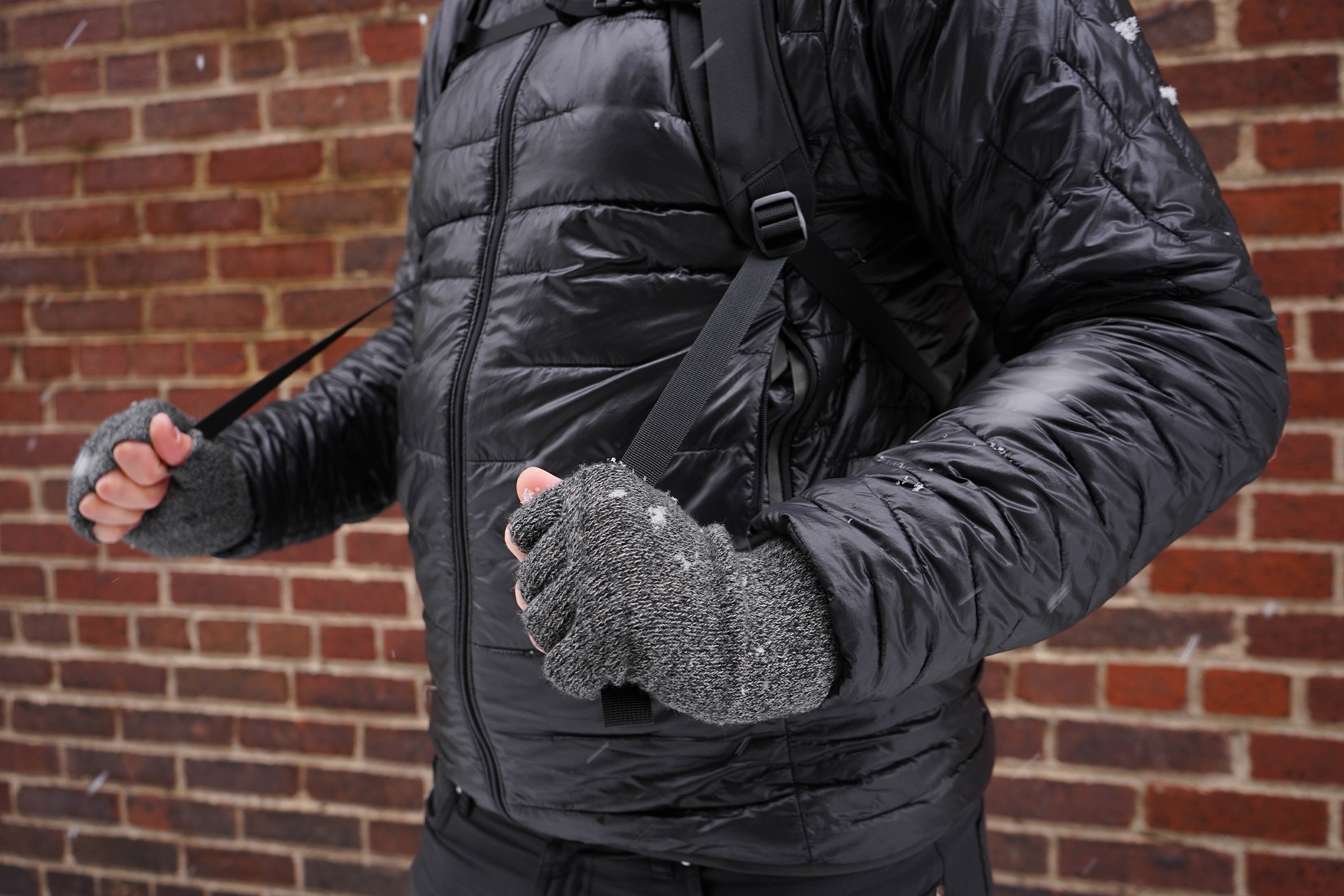 The back panel is pretty stiff and includes some channels here for airflow, but—similar to the straps—there's no mesh on the backside. While our testing has taken place in Detroit, Michigan in the winter, we do know from experience that it's tough to avoid back sweat in warmer climates even on a bag with mesh. We also like that the frame sheet is pretty structured.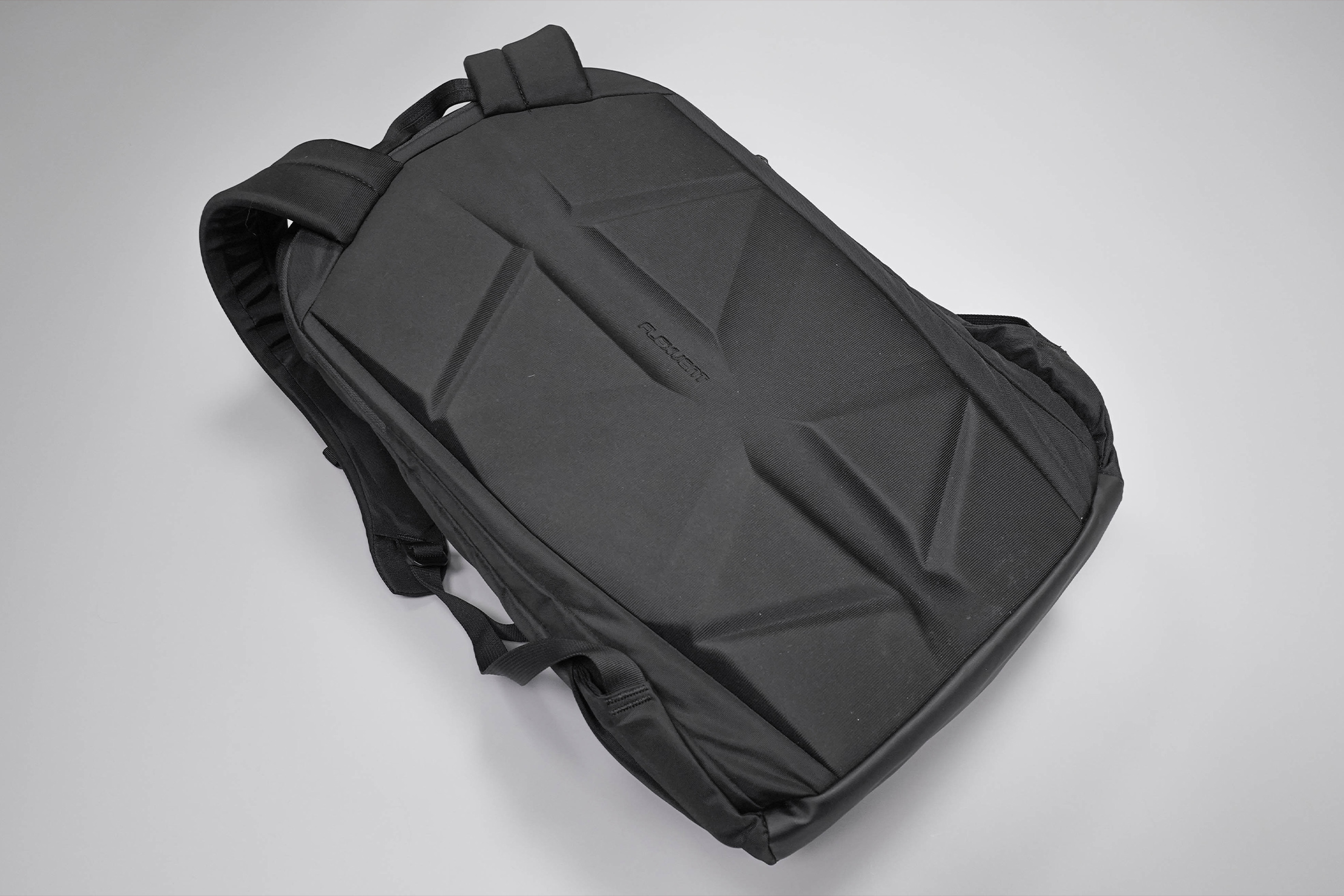 At the top of the Kaban, you'll find a grab handle that's made with some nylon webbing. We like that it's folded over to add a bit of cushion. And we dig that you can see some orange-yellow liner on the inside—a small preview for later when we get into the main compartments of the bag.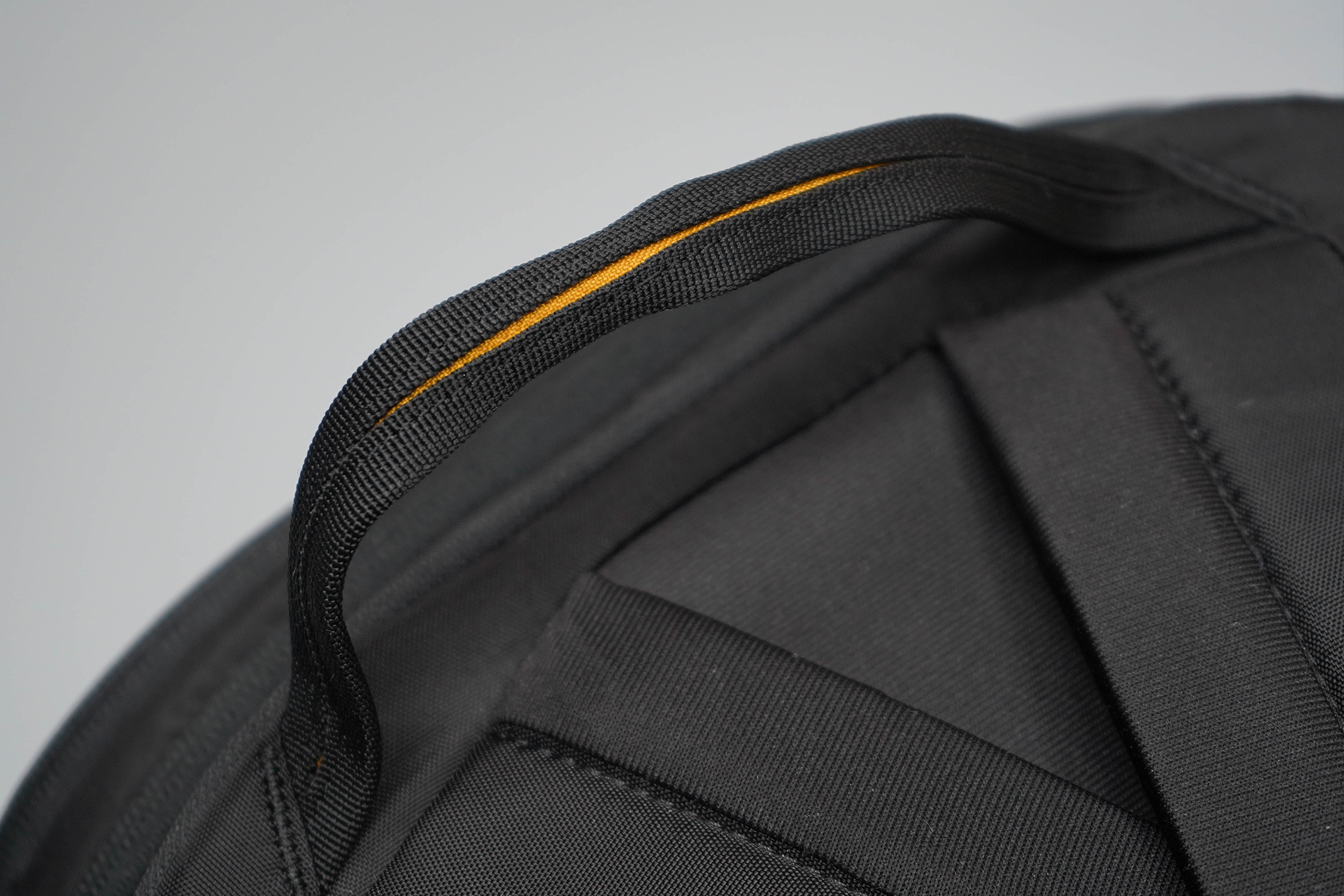 The water bottle pockets on The North Face Kaban look great, however, the lack of stretch means the utility really isn't there. Water bottles can fit inside decently, but they do cut into the main capacity of the bag. It's something to consider if you're planning to fill the bag up completely.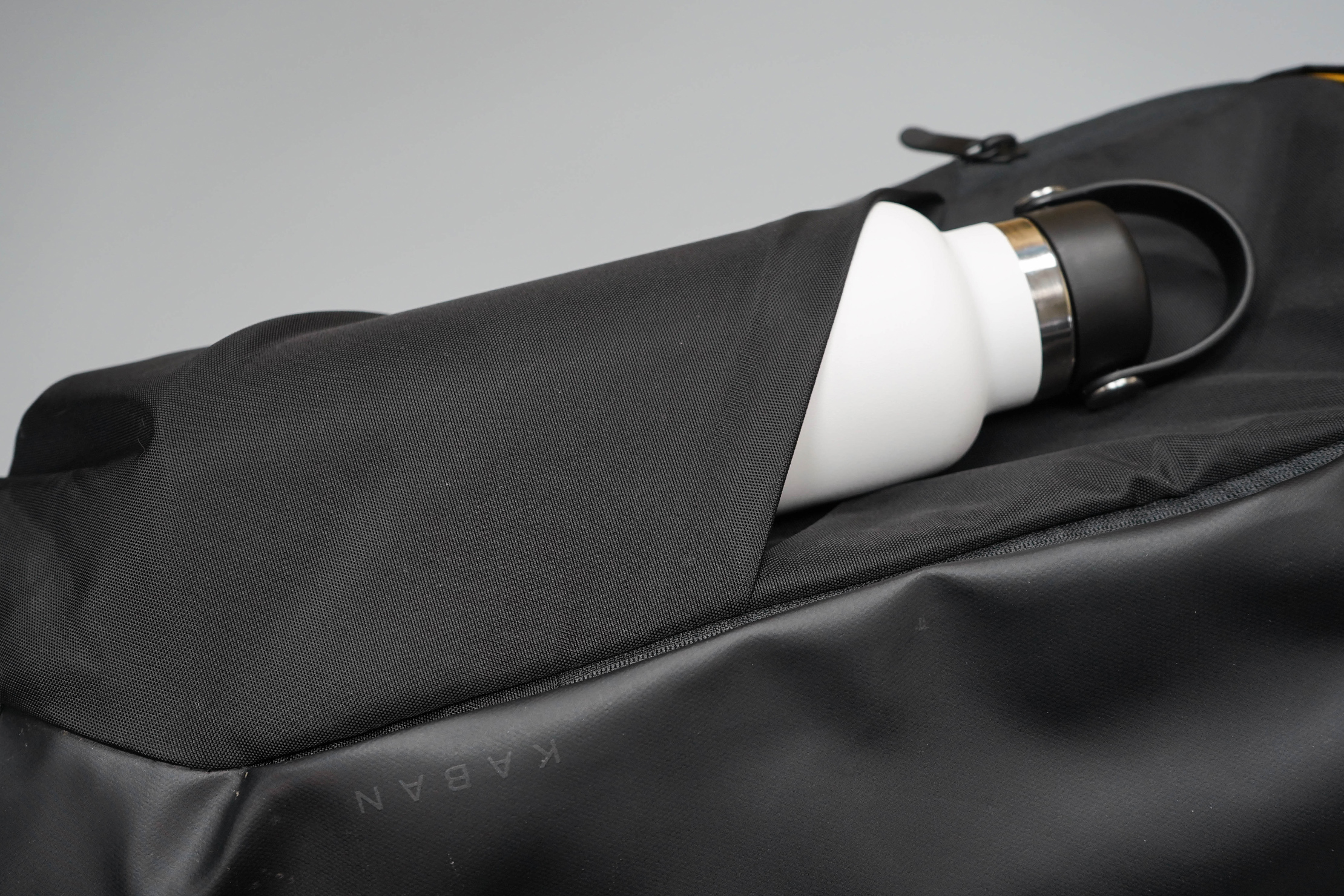 There's a small lash-loop at the bottom of the bag for a bike light or a carabiner. It's there if you choose to use it yet not it's not super-noticeable if you don't. At the top of the bag, two yellow nylon loops are hidden behind a flap but available for hanging a carabiner clip or other accessories. This helps the Kaban keep a nice streamlined look while still providing some functionality.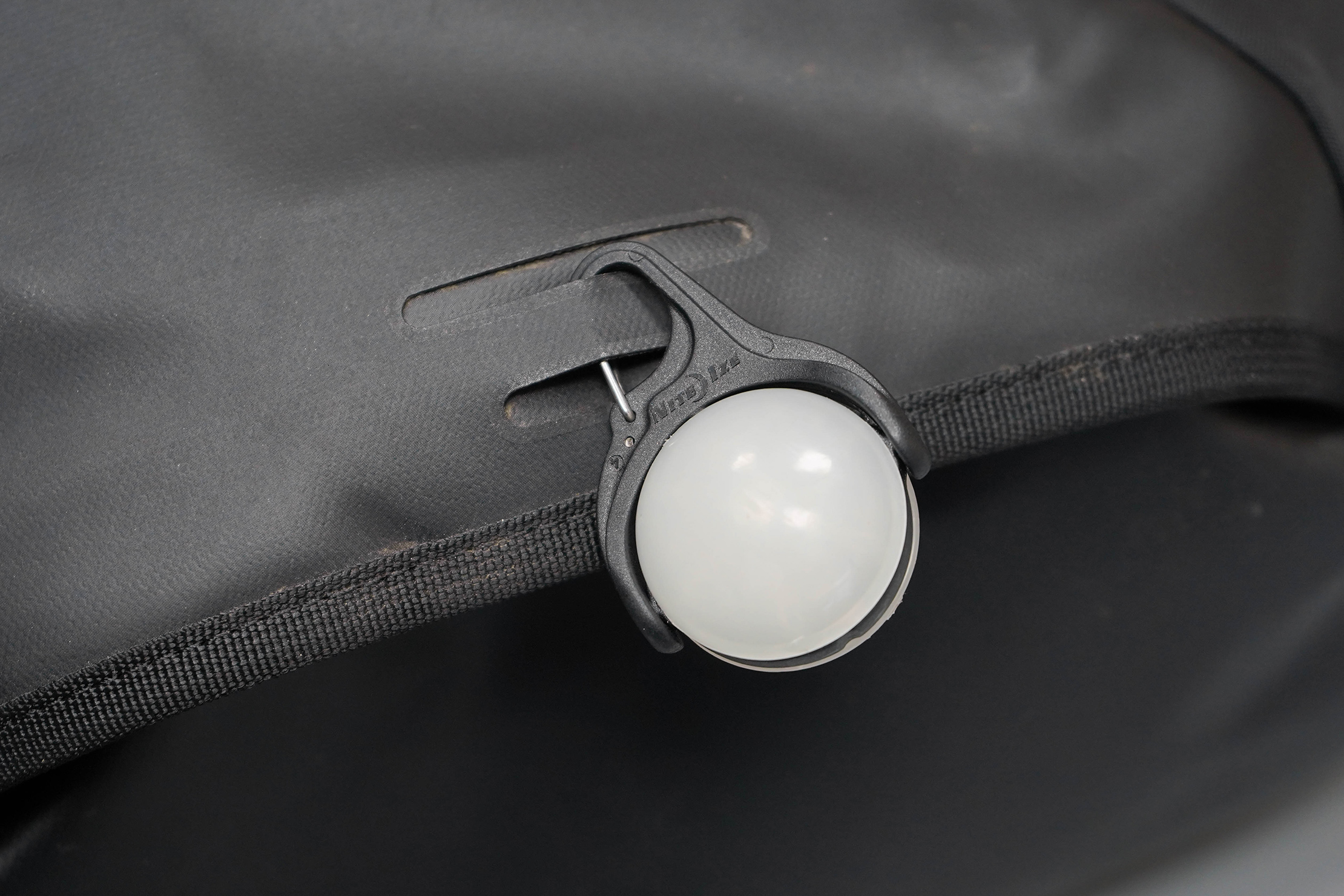 Inside the Pack
Moving on to the interior of The North Face Kaban, the front vertical pocket opens up with a No. 8 YKK zipper to reveal a nice amount of space with a colorful interior pocket. This pocket is great for a small notebook, a sweater, or a thin rain shell jacket. Note that if the bag is full on the inside, you'll see whatever's in this pocket sticking out pretty far.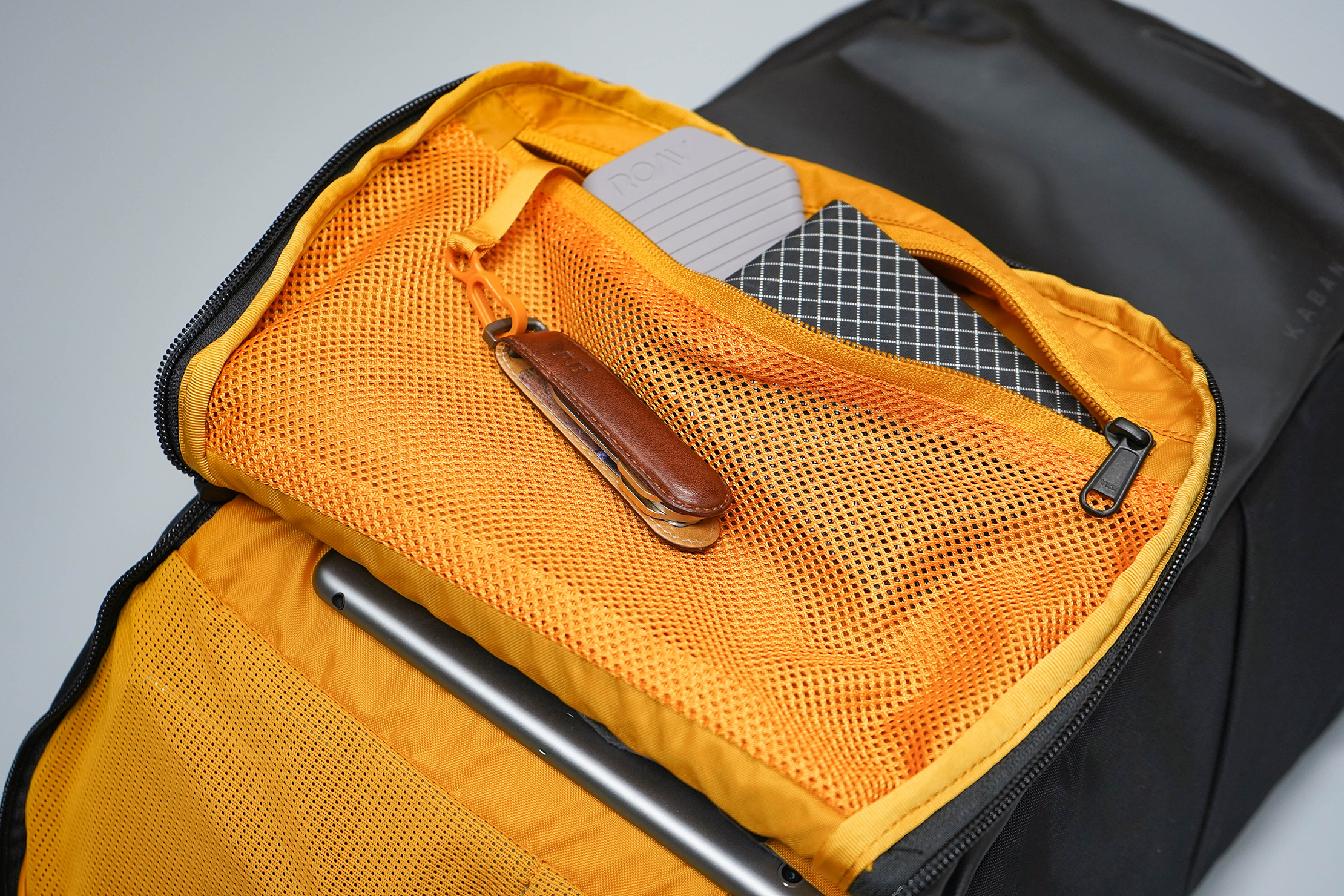 Flipping the bag all the way to the other side is the laptop compartment, where you'll be greeted with that nice, bright-yellow interior that we like so much. It really makes it easier to see your gear inside of this bag. The pocket opens up horseshoe style, and it goes down about one-third of the bag. This pocket gives a little suspension to your laptop, but not quite enough to be considered a false bottom—so if you drop your bag, that laptop is hitting the ground, too.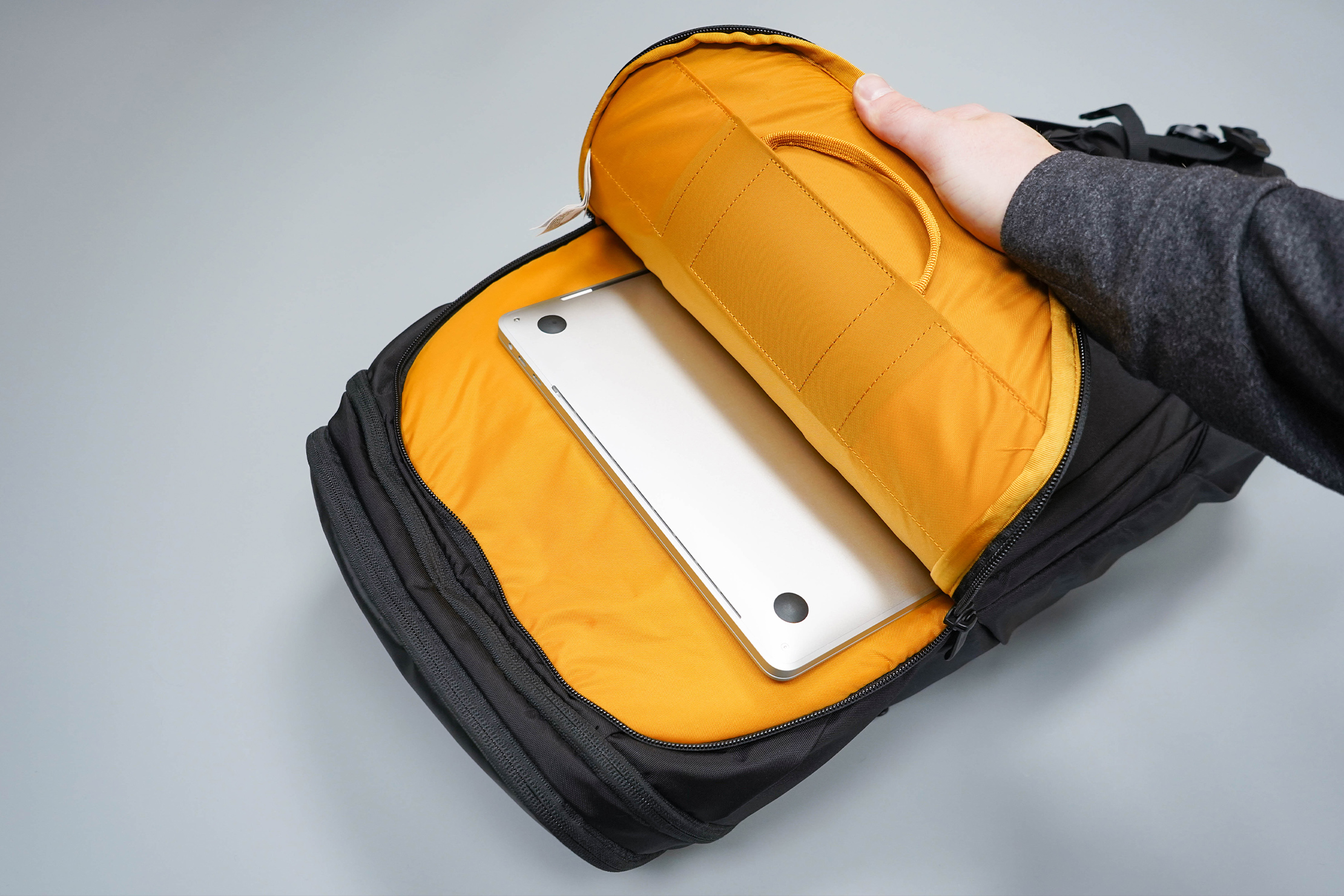 One interesting feature of The North Face Kaban is a handle you can use to pull the laptop up and out of the compartment. We didn't find it to be super useful with 16″, 15″, and 13″ MacBook Pros. It's usually easier to grab the laptop right out of this pocket, making the handle a bit unnecessary. That said, we really like the concept—we just didn't use it much in our testing.
The Kaban's top front pocket has two zipper pulls and it can be unzipped on both sides. The left zipper goes down about a quarter of the bag and the right zipper about three-quarters. This gives you easy access to everything inside.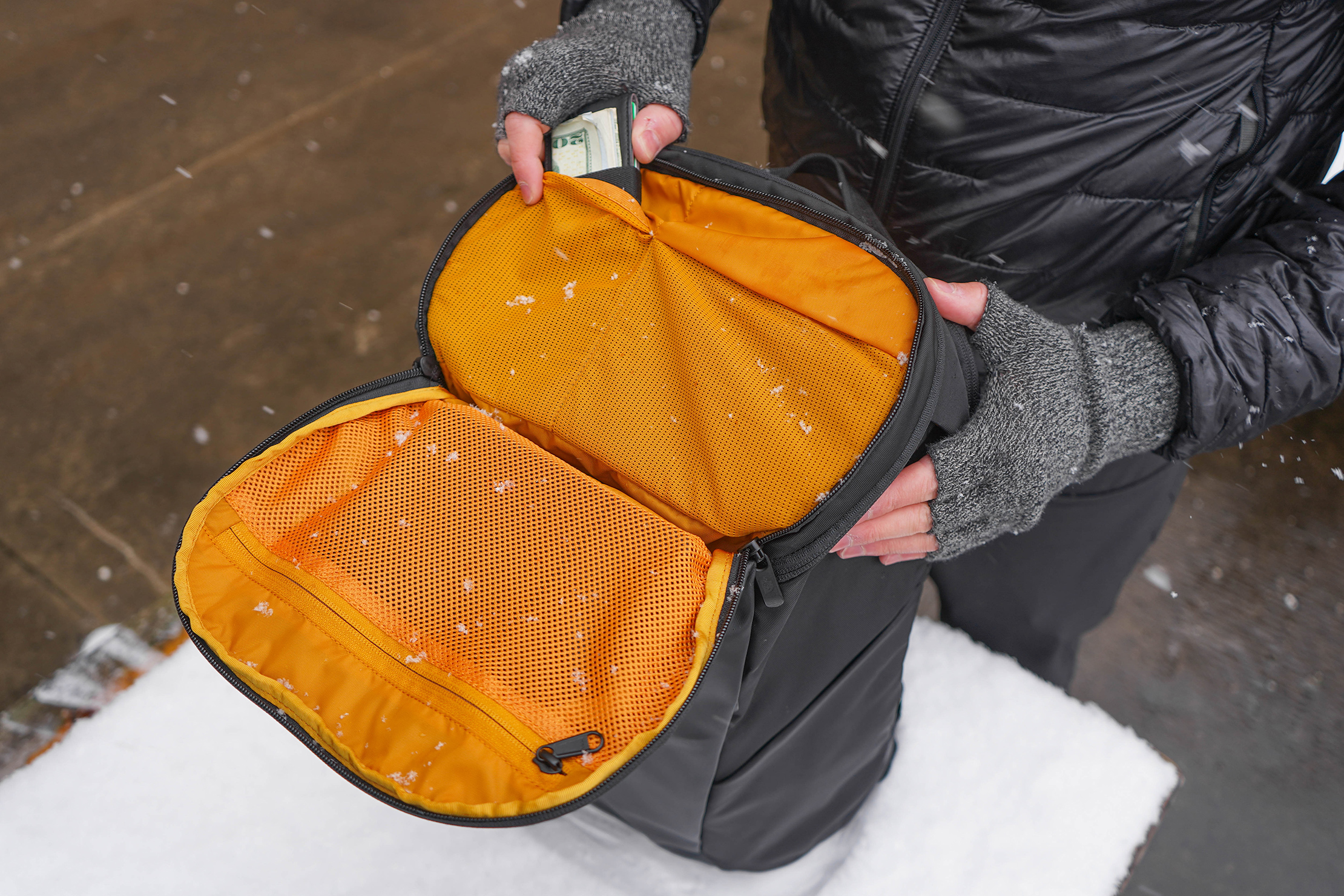 There's a zippered mesh pocket on the front flap with a conveniently located key clip inside. You might consider this section the "quick-access" pocket of the Kaban, although it's not quite as quick to access considering there are two layers of zippers to get there.
Across from that zippered pocket, towards the wearer's back, you'll find a two-thirds and one-third mesh pocket with some elasticity at the top and some fabric that folds over the top. This is a great alternative to a zipper, as it's fast-access but still keeps items secure inside of the bag. This is a great note that other bag companies can take, as we haven't seen this in many other packs. It has the same soft fabric that we've seen in the previous pockets.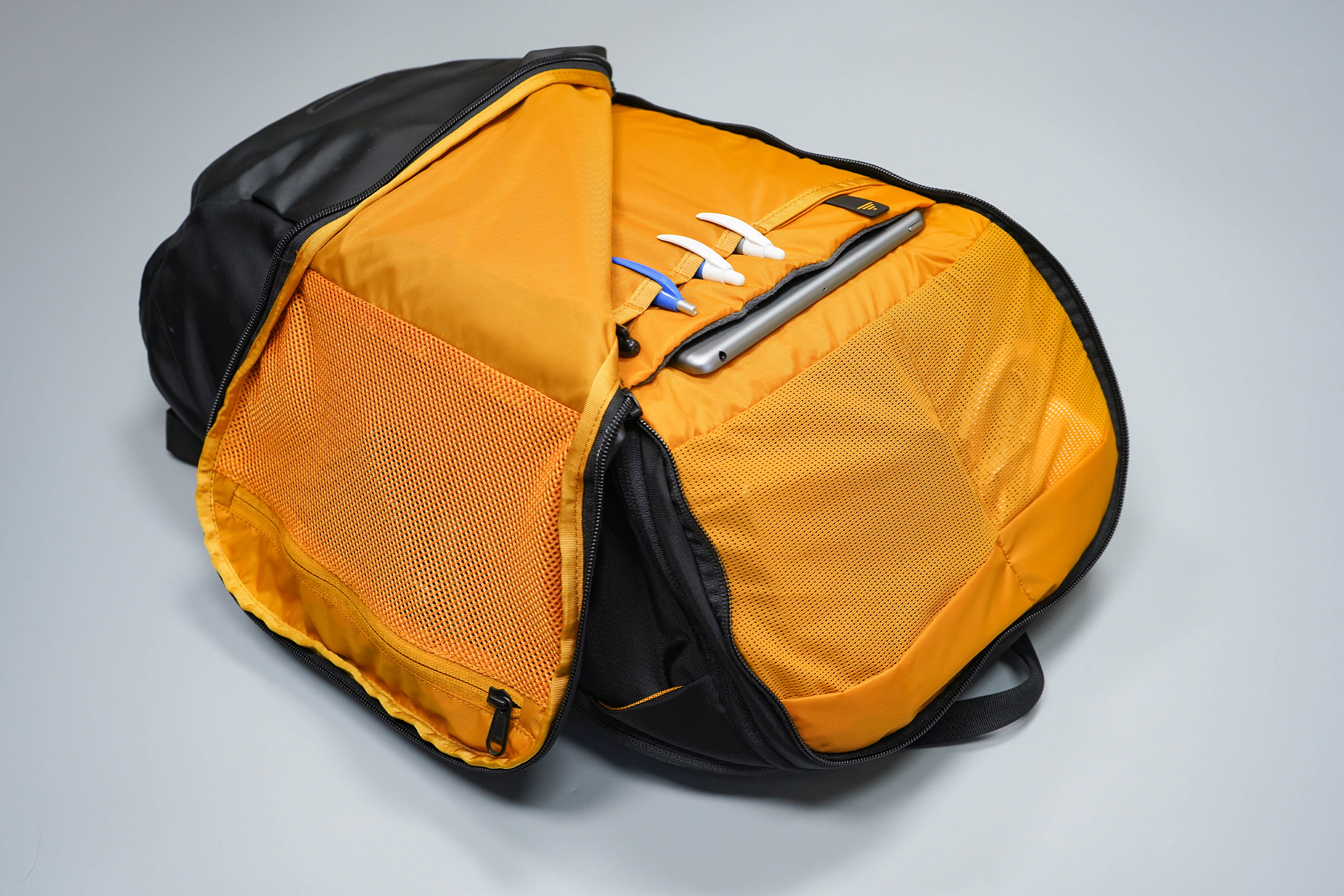 Below the elastic pockets is a bunch more organization—including four pockets for pens, pencils, and styluses (styli?). Next to those four pockets, there's a slightly larger pocket with a soft interior liner that's great for a phone or other electronics. There's also a pull tab, similar to what we described with the laptop compartment. So, the idea is, you can just pull the tab on top to get your item out. We like this idea, but again, it hasn't been too useful in our testing—a plus-sized iPhone with a case can get stuck. But the function works well for smaller phones or electronic accessories, such as a battery pack.
Behind all these pockets is a slightly larger pocket to pop in an iPad or an e-reader that also has that soft interior lining.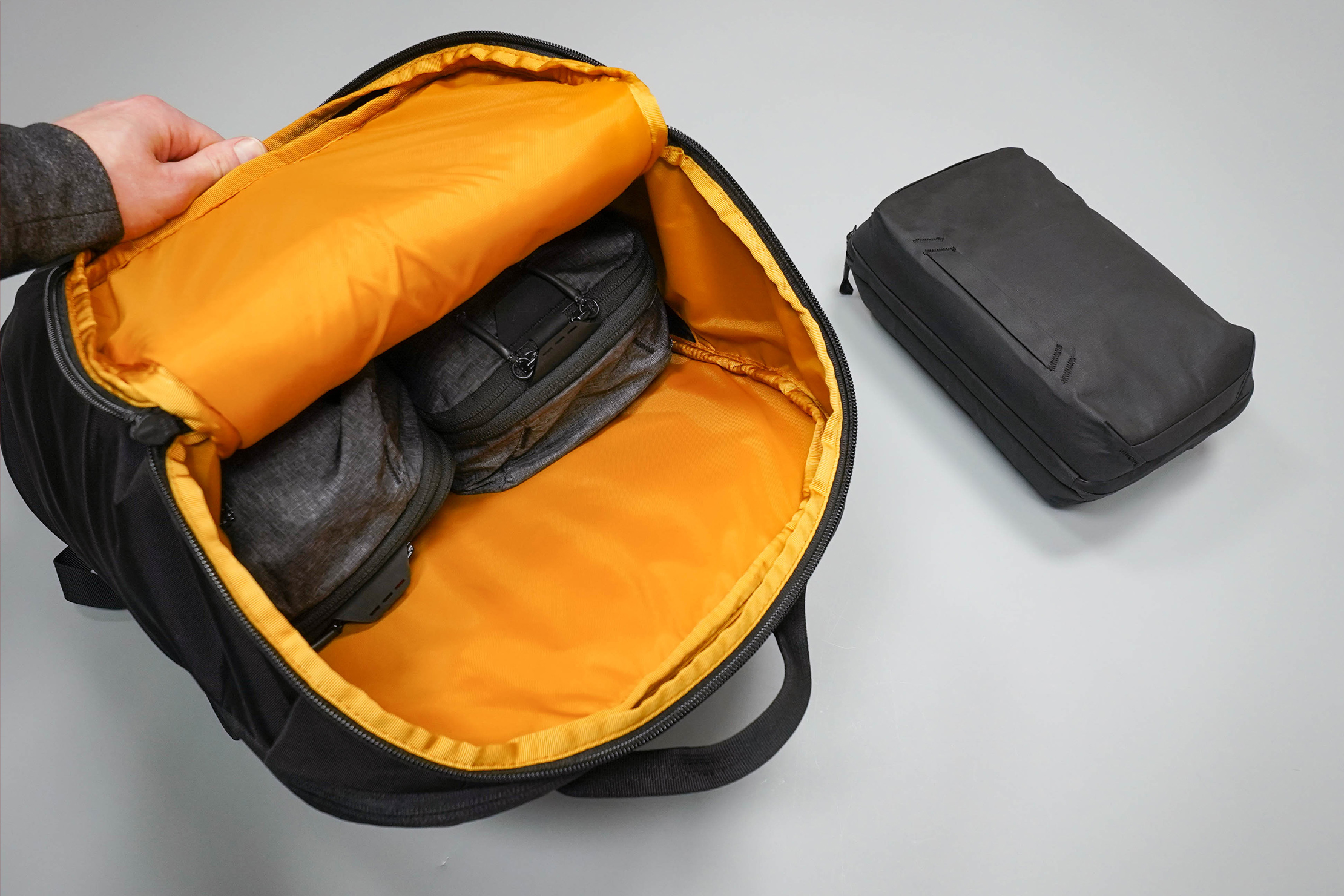 Okay, let's move on to the main compartment. The top of The North Face Kaban folds over, which gives you access to the main compartment of the pack—which is basically a giant bucket.
We have a couple of nitpicks with the zipper. First off, it's hard to tell the zipper apart compared to the other two zippers in the top flap. Second, it's difficult to get behind the fabric of the front pocket in order to access this zipper—it sort of just disappears behind that fabric and there's no big zipper pull to grab. These zippers also jingle around a lot, especially if you have a tall metal water bottle in the water bottle pocket for the zipper to clank against.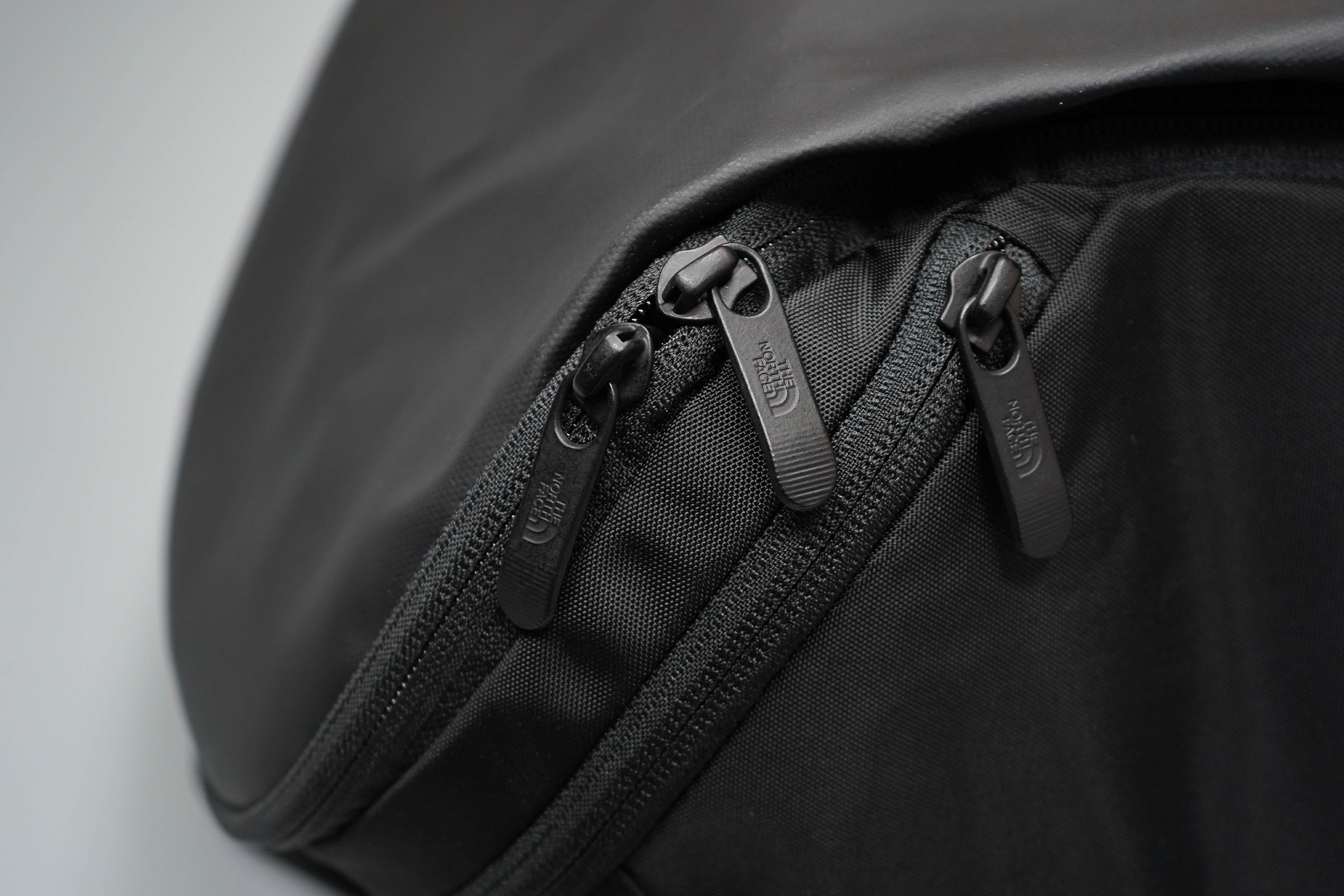 The large bucket opening on The North Face Kaban is going to do really well with organizers, pouches and larger items, whereas smaller items will easily fall to the bottom and get lost. With a compartment like this, it's pretty much a "what you see is what you get" situation.
Durability & Testing
At the time of this review, we've been testing The North Face Kaban for two weeks in Detroit, Michigan. Overall, it's been a pleasure to use, and we've really enjoyed the simple form and function.
The Kaban's front organization pocket is just enough for daily tech gear, and the ample space in the main compartment is good for stuffing in a jacket and larger items. We'd have no problem traveling with this bag for a couple of weeks, as there's plenty of room in the main pockets to slide a couple packing cubes inside and be ready to go.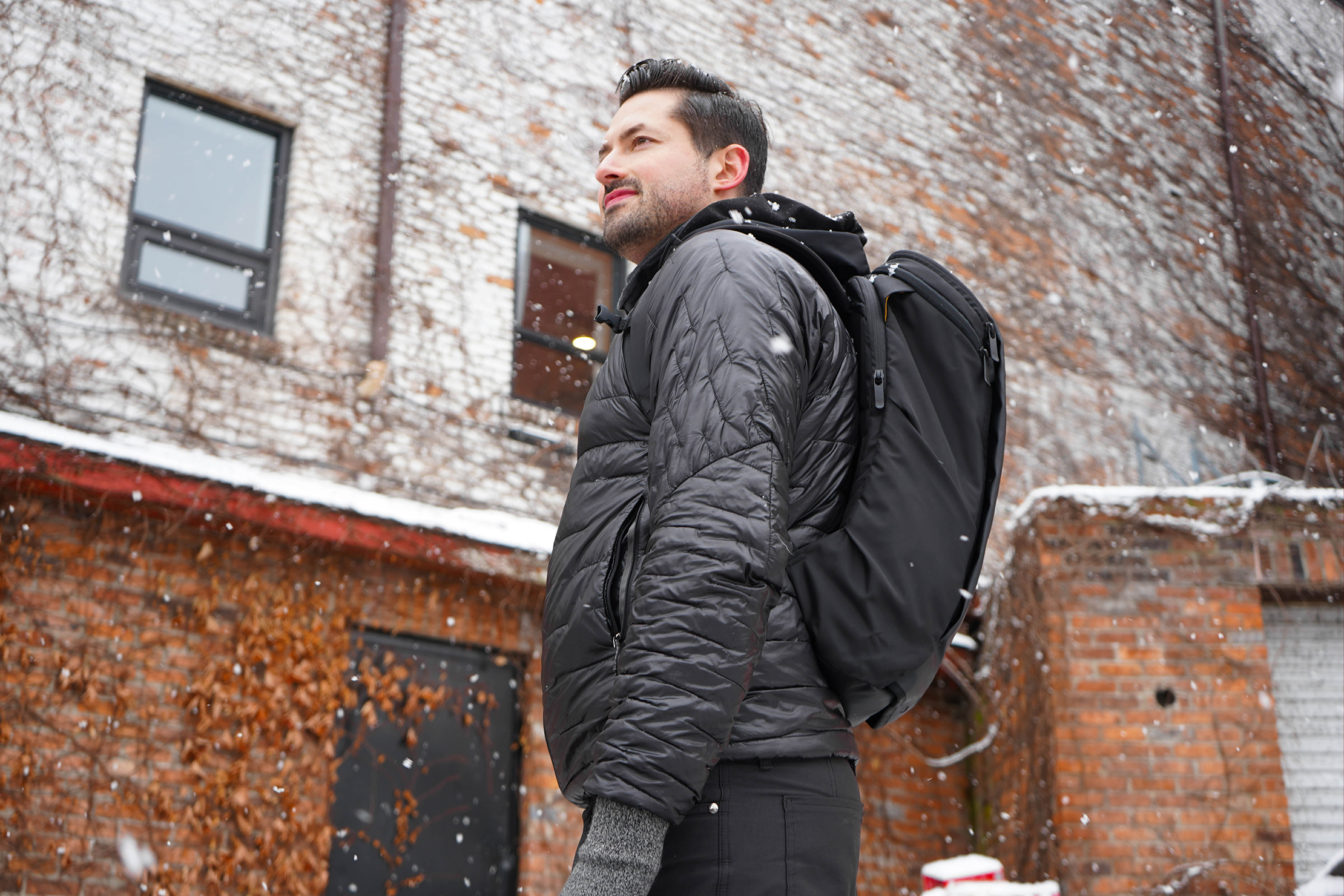 That said, the Kaban feels a little bit smaller than what we've seen in other packs—most of which are clamshell, so the top bucket-style may have something to do with it. This pack doesn't fully open up like we've seen in other bags, but it still feels a little smaller than other 26-liter packs.
Based on our two weeks of testing, there's not a ton to cover on durability. We've ridden with this thing through the snow on a bike—where plenty of dirt, sand, and grime got kicked up on it from the Michigan winter—and everything has wiped off quite well.
Usage Timeline
Initial Usage
Condition: Excellent
Ejector handles on the laptop compartment and phone pocket let your tech sit fully protected inside their pockets but still have easy access to them
We really dig the bright interior, it makes everything easy to see, even at the bottom of this bag
Really thick and densely padded back panel and shoulder straps
2 Weeks of Use
Condition: Excellent
We're loving this bright interior color, which makes everything easy to see—even at the bottom of the bag. The densely-padded back panel and shoulder straps are very comfortable, and dirt wipes off easily. The pack does feel a bit smaller than 26 liters, though.
Access the Pro Community Discussion
Get your questions about the The North Face Kaban Backpack answered from our team and the Pro Community right here on the page. Plus, join discussions with other members about gear, guides, and more.
Other Bags & Luggage Reviews