The North Face Bozer Hip Pack III Review
The 2-liter Bozer Hip Pack III from The North Face punches above its capacity with its spacious cinched compartment. However, overpacking compromises comfort.
Our Verdict
Unlock the Pro Summary
Save time. Get access to brief summaries of our reviews so you can browse and make decisions more efficiently.
Pros
Comfortable to wear around the hip
Cinched compartment has room for a bottle
Can be worn as a sling
Cons
Large bottles can cut into the main compartment
Non-reinforced back panel can warp and compromise comfort
Strap keepers are a little loose and can slip out of place
Recent Pack Hacker Video
Technical Details
100 %
Carry-on Compliance
Capacity

2l

Weight (oz)

4.2 oz (119.1 g)

Denier

600D

Dimensions

10 in x 5.5 in x 3 in (25.4 x 14 x 7.6 cm)

Notable Materials

Recycled Polyester, Polyester, DWR Coating, CORDURA® Ripstop Nylon, Duraflex Hardware, YKK Zippers

Manufacturing Country

Vietnam

Warranty Information
Full Review
Hip packs and slings are the two types of travel gear that first come to mind when thinking of the next step up from pants pockets. For some, this upgrade will serve them well for their day-to-day activities. There's room for everyday carry items like a wallet, smartphone, snacks, and a bunch of keys—and that's pretty much it. However, the 2-liter Bozer Hip Pack III doesn't stop there.

Hydration is important, after all, so The North Face thoughtfully equipped the Bozer with a cinched compartment. It's spacious enough to take in a full-sized water bottle or other bulky items. It's an otherwise simple, straightforward, and comfortable-to-use hip pack, albeit with some compromises here and there. If you're itching to depopulate your pockets of EDC, read on to see if this is the right fit for you.
Materials & Aesthetic
Here at Pack Hacker, we don't try and go out of our way to find styling for styling's sake. We'd much rather have a brand nail the functionality of their gear first than prioritizing aesthetic choices. In this regard, we think The North Face made a somewhat interesting choice. We'll let you in on a little spoiler here: the Bozer does well in terms of practical features. More than that, the brand turned functionality into a centerpiece.

We're talking, of course, about the cinched pocket presented front and center of the Bozer. On the surface, the Bozer is a simple waist pack with a compartment added at the front. That may be an oversimplification, but that's the impression we're getting, and it's not necessarily a bad one. The cinched compartment acts as a big accent piece, bearing a huge The North Face logo and vibrant color(s) depending on the colorway you choose.
There are five to choose from at the time of writing, and in our opinion, each of them is eye-catching in its own way. You have your standard TNF Black with a white logo for fans of the discreet look. If you want just a bit of pop, Pikes Purple colors the cinched compartment and logo in purple. Faded Rose, which is the colorway we have, turns the logo white. Arrowwood Yellow Leopard Print puts a funky-looking yellow-spotted print pattern on the cinched compartment. Then, if you want to go all out with a mad dash of multiple neon colors, there's the Red Orange – Transantarctic Blue combo which, we wouldn't be surprised if it glowed in the dark. It's a healthy amount of options for all sorts of tastes, and hopefully, there's one for everyone.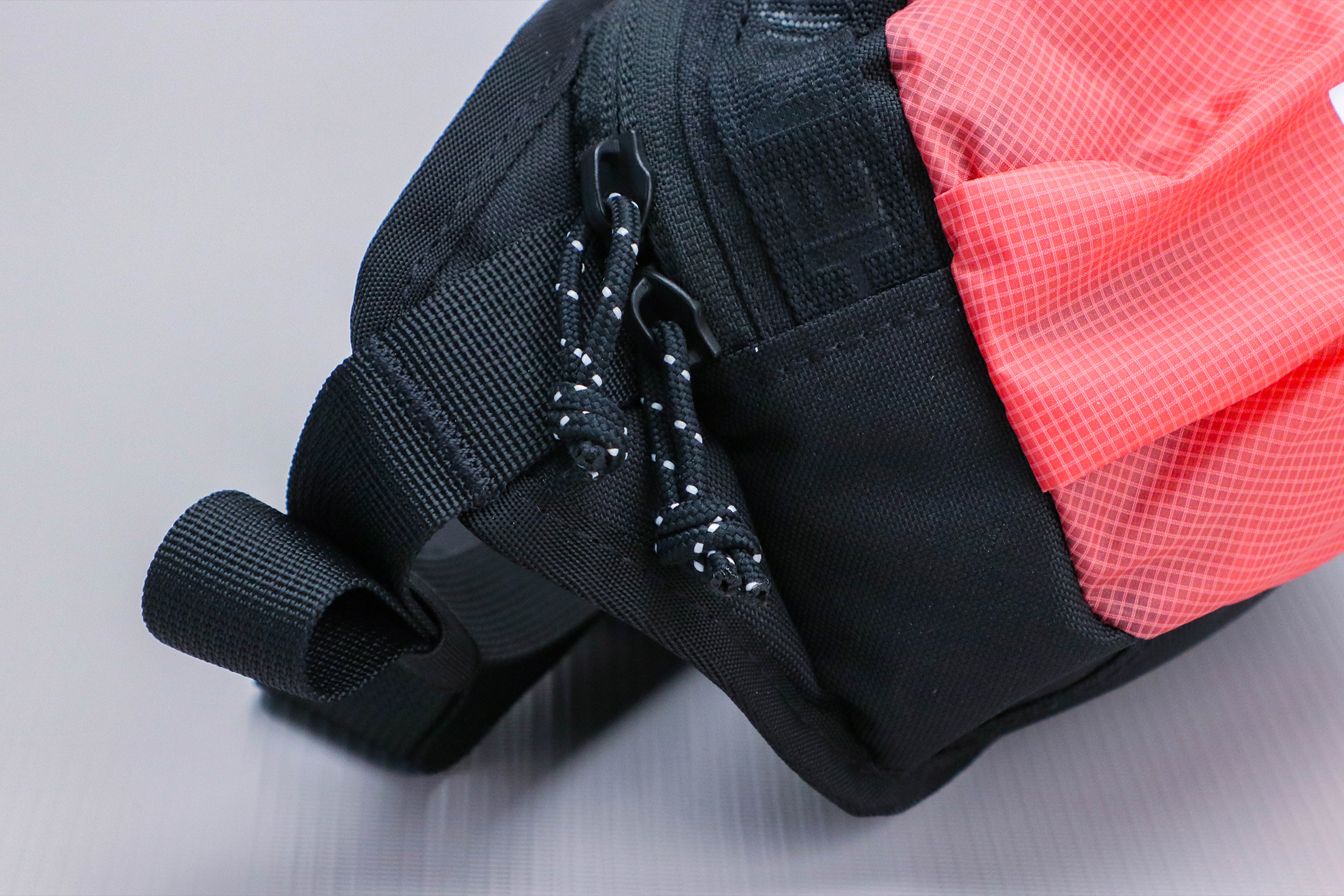 Whether you like the styling or not, though, we're confident in The North Face's choice of materials here. The base of the Bozer is made out of 600D recycled polyester with a durable water-resistant coating. The fabric isn't quite as robust-feeling as nylon, but it is more pliant to wear. The cinched compartment gets the CORDURA Ripstop Nylon treatment. For the uninitiated, ripstop fabric is designed specifically to stop rips and tears thanks to its reinforced grid pattern.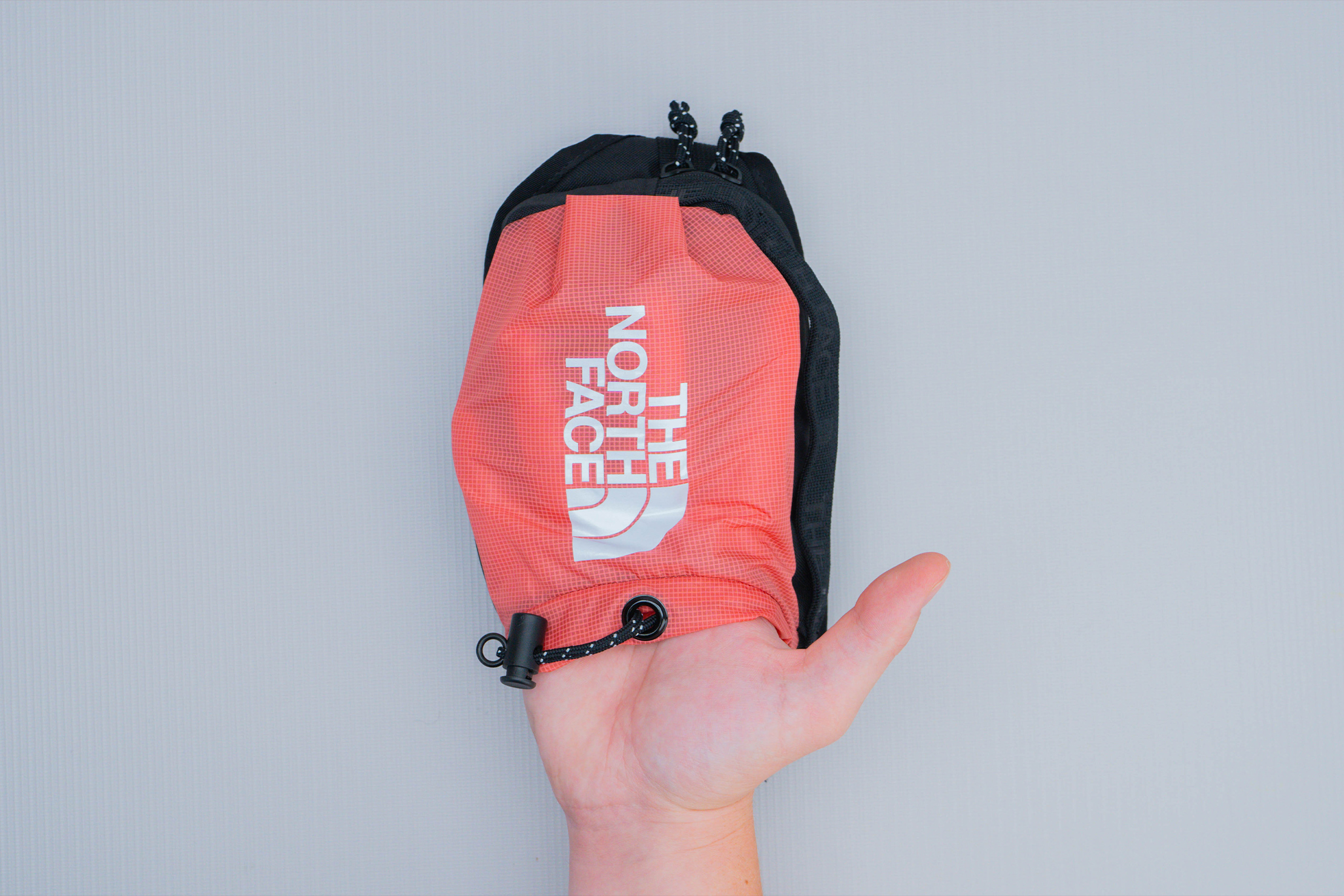 Interestingly, the thin ripstop material isn't completely opaque. There's a bit of translucency going on that lets you see what's inside, and it's more apparent on our sample's light Faded Rose color. Other materials include the reputable duo of YKK zippers and Duraflex hardware, all of which performed without a hitch throughout testing.
External Components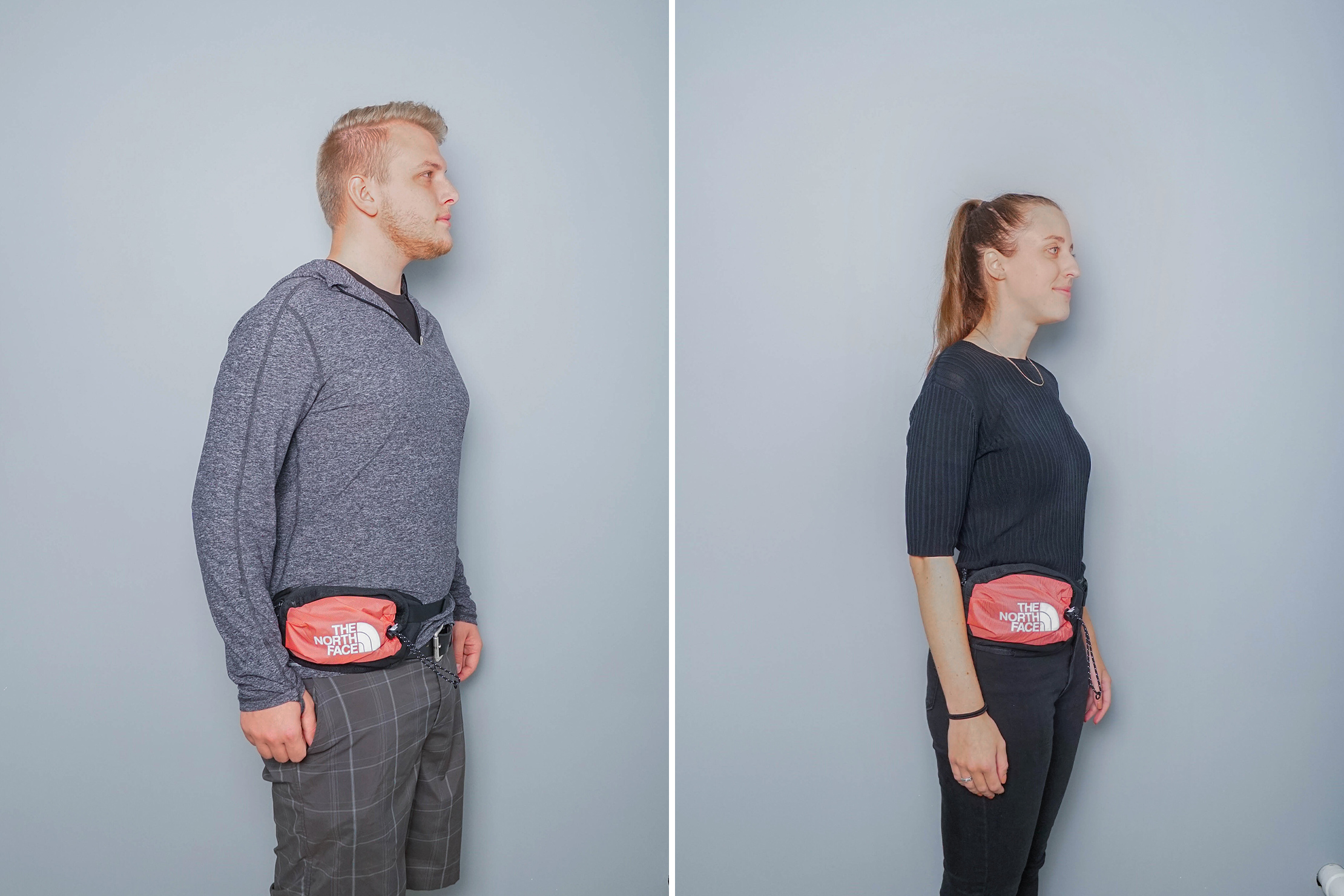 The primary way to carry the Bozer is as a hip pack, hence the full name: Bozer Hip Pack III. To that end, The North Face equipped the Bozer with a straightforward and simple waist strap. There's nothing fancy going on (except for the color, depending on which one you choose); it's just a built-in nylon strap with a center buckle for quickly releasing the pack.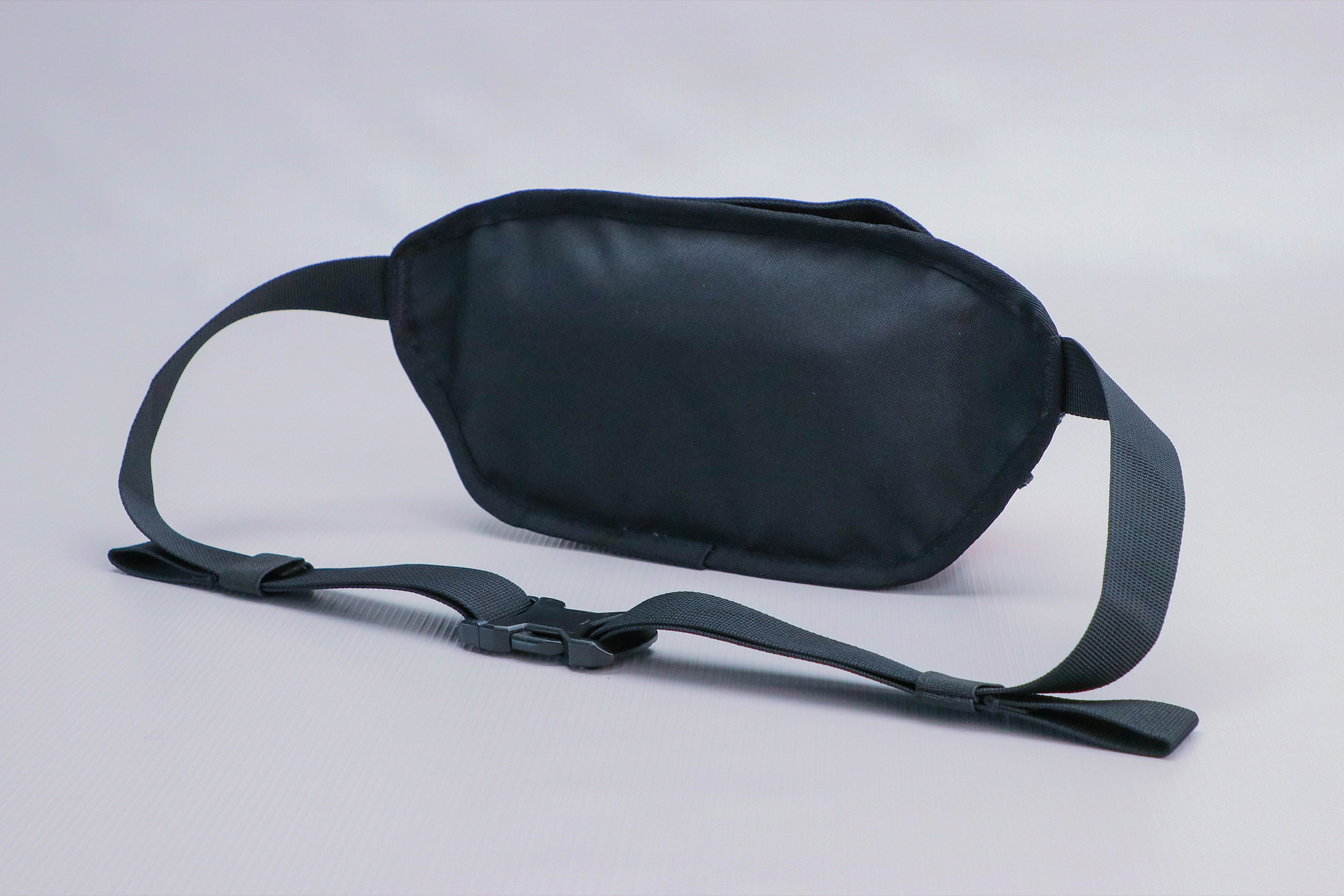 The adjustment is made centrally through the buckle. In our experience, it can be tough to adjust the length of the strap once you're actually wearing the Bozer; it all depends on how the pack's resting on your body. Fortunately, this is the small 2-liter version, so weight's not something that factored majorly into our struggle with the adjustment. Furthermore, adjusting a harness system isn't something you should have to do often once you have it calibrated to your preferred style of carrying. On the other hand, we frequently switched from a sling-style carry to hip pack mode, each requiring a different level of adjustment.
Once we had our fit dialed in, the Bozer wears comfortably in either sling or hip pack modes. The strap is stitched onto wingtips at the edges of the pack. Those wingtips, in turn, wrap subtly around the body for a more comfortable fit. As mentioned earlier, the relatively lightweight recycled polyester is pliant enough to contour around bends to achieve that hugging effect. We'll stop there so as not to oversell how comfortable this is to wear, though, because it isn't perfect.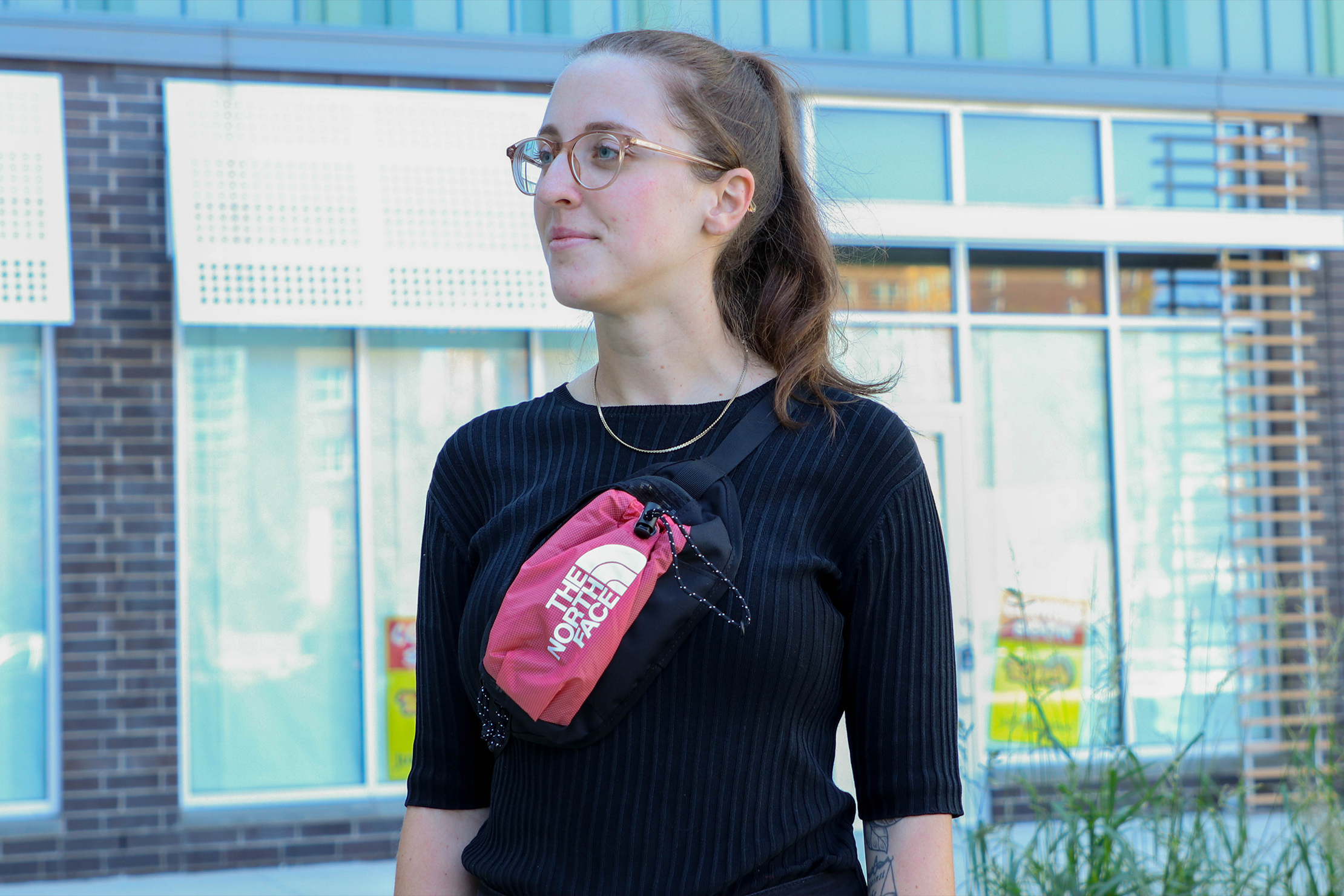 The lack of a padded back panel becomes immediately apparent once the pack is filled and bulging with gear. We'll explain more once we get into the interior of the Bozer, but keep this in mind for now. Further still, heavy items, like a full water bottle, inside the cinched compartment can make the Bozer front-heavy, which affects the carry. Another small but noticeable flaw is that the strap keepers are somewhat loose, allowing them sometimes to slide inwards and letting the slack flap around.
One slightly weird quirk is that we were a bit conscious of how we oriented the Bozer. Between switching from hip pack mode to sling mode, and the many styles within each of those modes, it can get confusing and sometimes will end up upside-down. Fortunately, there's always the logo to indicate if you're wearing the Bozer right. If your friends can read "The North Face," then you're good to go. If you see them tilting their head to read it, then you may want to readjust the pack.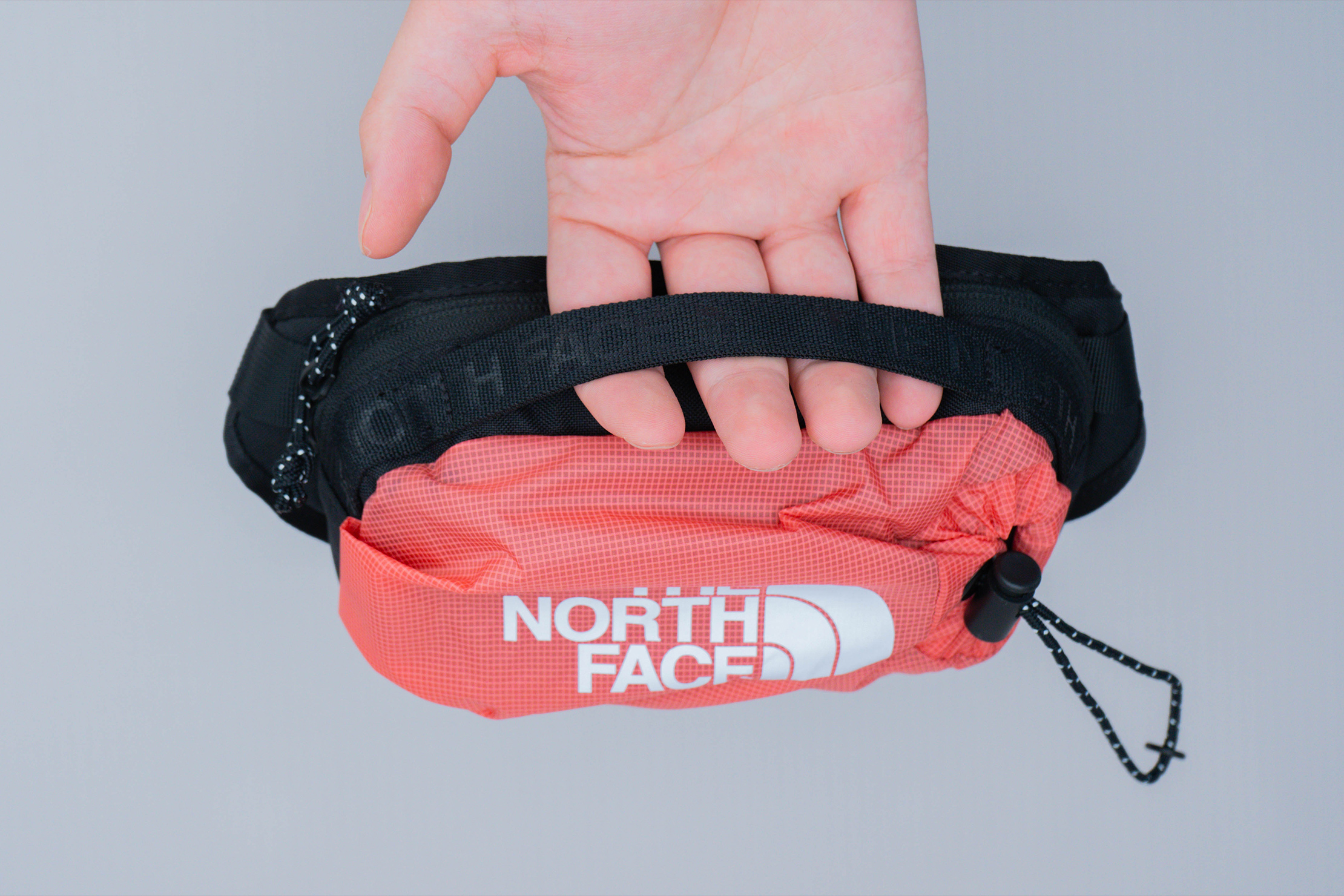 Lastly, there is a carry handle in case you want to use the Bozer as a makeshift pouch. Unfortunately, the straps don't stow away, nor are they removable, so you'll be dragging them along if you're carrying it using the handle. We didn't use it that much, save for times when we moved the Bozer around the table or just moved room-to-room. It does serve an aesthetic purpose, though. Put it under the right light, and you'll notice that there's more branding written across the handle.
Inside The Pack
If there were a quick way to describe the cinched compartment, it would be as a backpack's water bottle pocket. It's simple, spacious, and quite accessible, making it an ideal place for bulky items. In our case, we put our sunglasses inside, complete with its large protective case.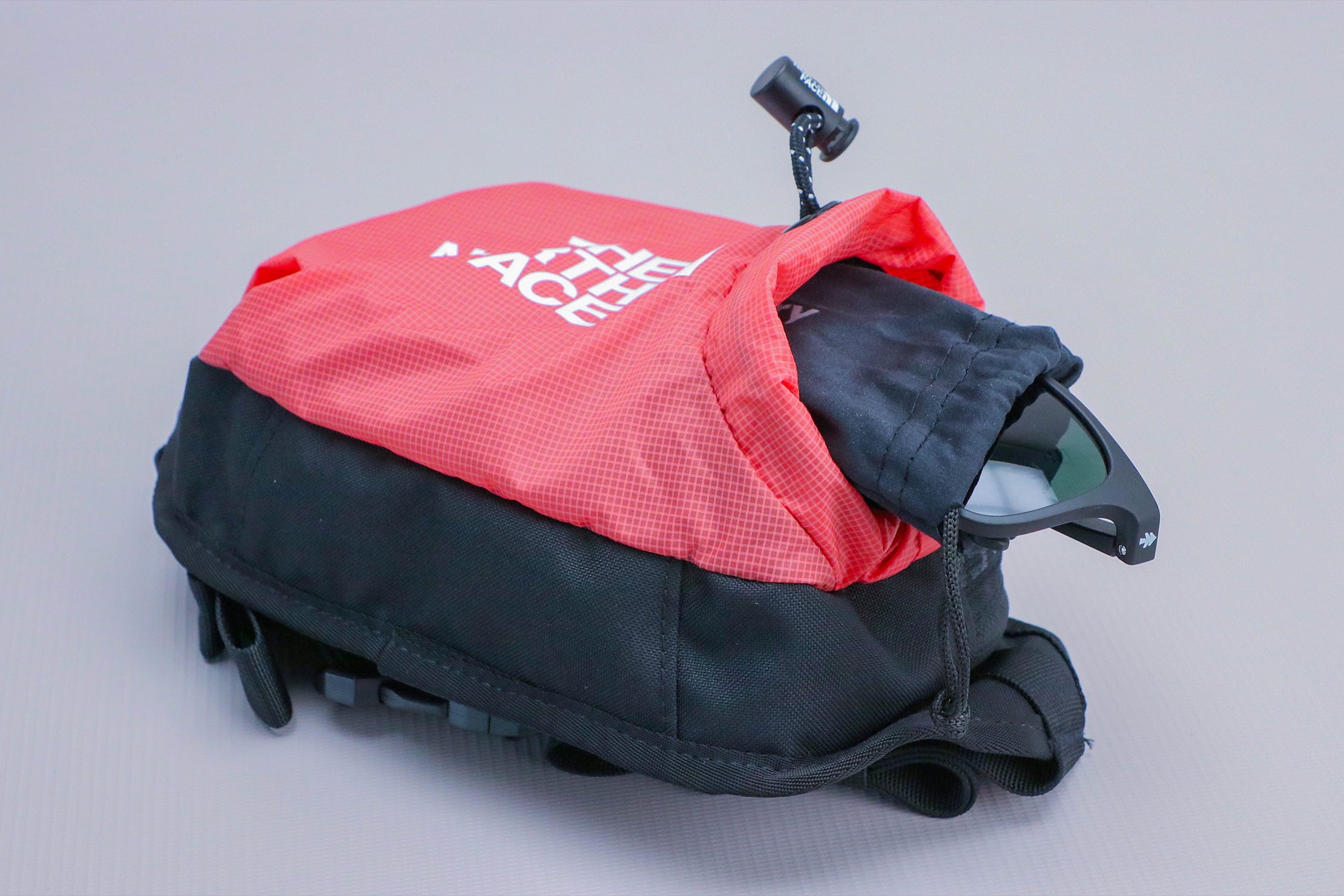 Apart from its somewhat see-through nature, the number one weakness of this pocket is its sideways opening. Wearing the Bozer in hip pack mode, it's tricky to see what exactly what you're reaching for inside. The most optimal way to access the cinched compartment is if you're wearing the pack crossbody-style in front of you, with the opening angled upwards.
Having the cinched compartment angled upwards also makes it an ideal water bottle pocket. Most bottles will fit inside the compartment without a problem, and the cinch will hold them securely. However, some taller bottles can stick out noticeably, and unless the neckline is below the cinch, there's always the risk that a smooth bottle may slip out of the cinch's grasp. As an example, our 17-ounce Chilly's Series 2 Water Bottle fits inside with the neck sinking well below the cinched opening. On the other hand, the 21-ounce Hydro Flask sticks out quite a bit.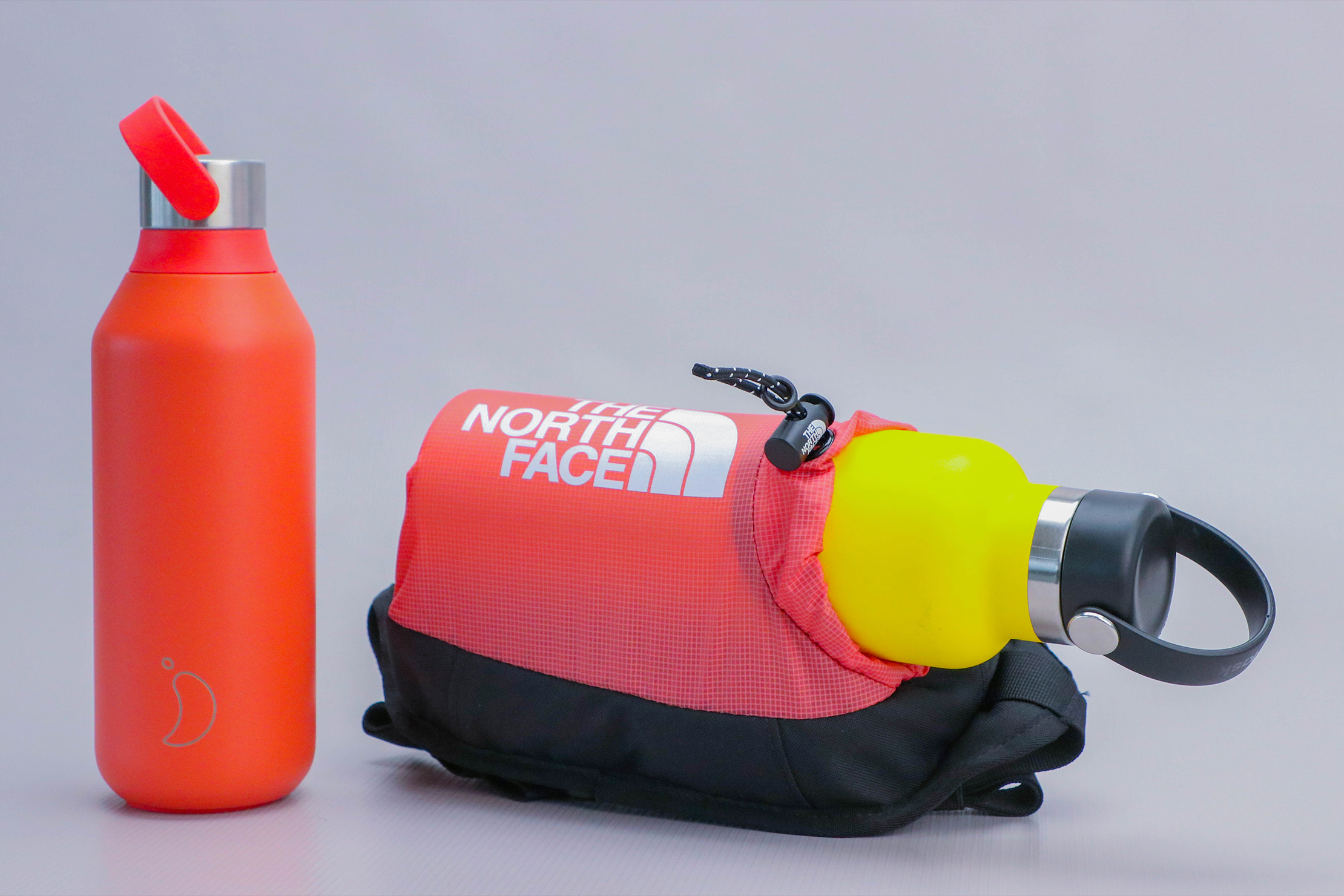 For the most part, we don't have too much trouble keeping bottles inside since the cinch cord is easily adjustable. The North Face thoughtfully placed a circular tip for grabbing onto while tightening the cinch. Cheaper cinches may forgo this simple but useful feature, so we're glad to have it here. One thing to note is that the cinch is somewhat long, but you can easily stuff it inside or loop it around the mouth of your water bottle.
Moving onto the main compartment, this one's more typical of what you'd see on slings and hip packs. Double zippers with paracord pulls guard the opening that spans the entire length of the Bozer. They're easy enough to unzip, and the opening itself provides adequate access for day-to-day use.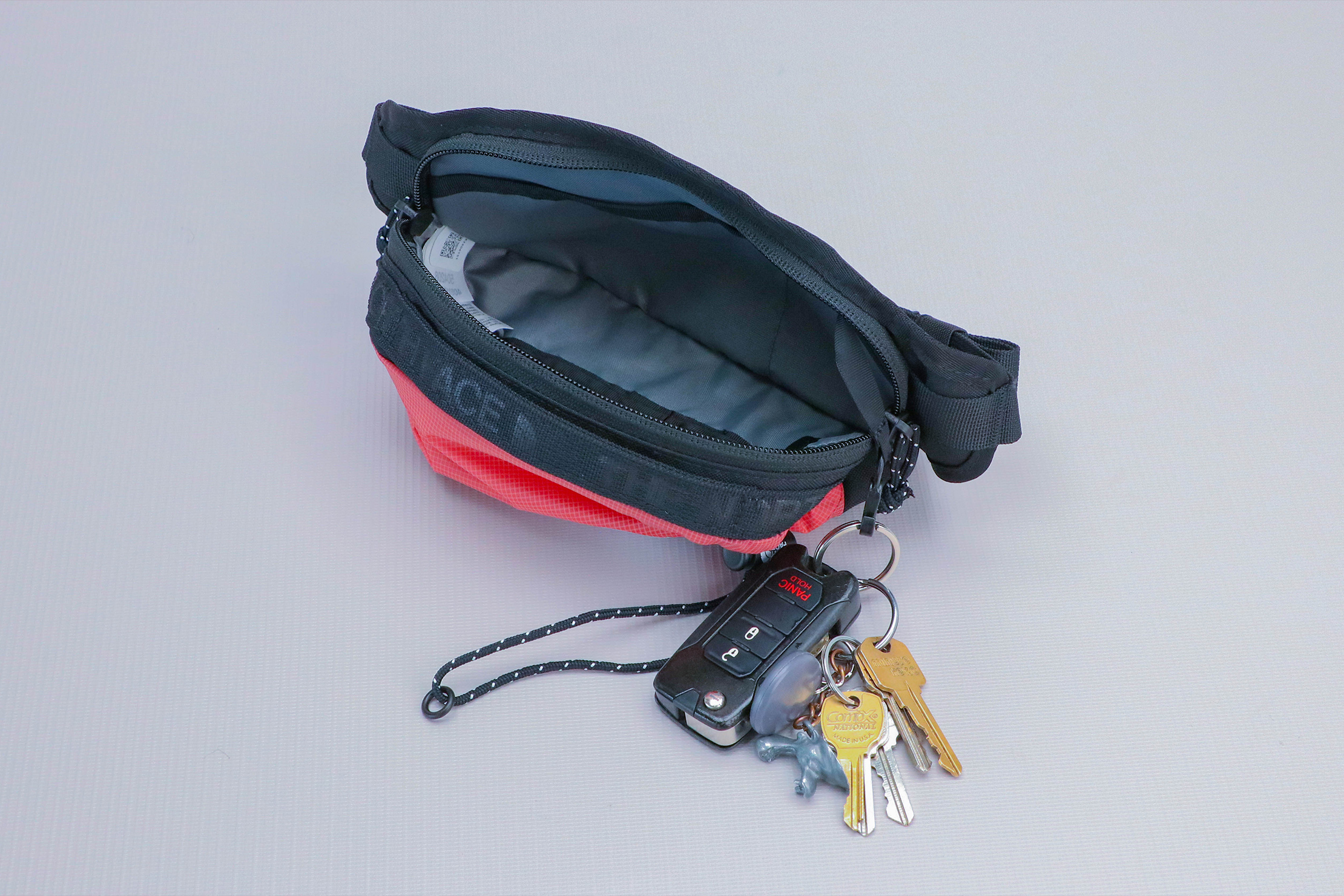 The space inside is about as you'd expect from a 2-liter pouch; not much, but it will do for a bunch of everyday carry items, and it's infinitely preferable to overstuffing your pockets. We were able to fit our thick day-to-day wallet, an iPhone XR, and a bundle of keys composed of house, gate, car keys, plus some keychains.
On the other hand, organization is a bit lacking, with just two liner pockets and a key clip to keep things in order. The key clip is nothing fancy; the leash is quite short, and the plastic clip that holds the keys is minimal. Still, it gets the job of not keeping our keys from tucking itself away into the innermost depths of the pack. The two liner pockets, a wide one and a narrow one, are fit for small accessories. But the lack of a zipper can let things loose with a bit of rough jostling.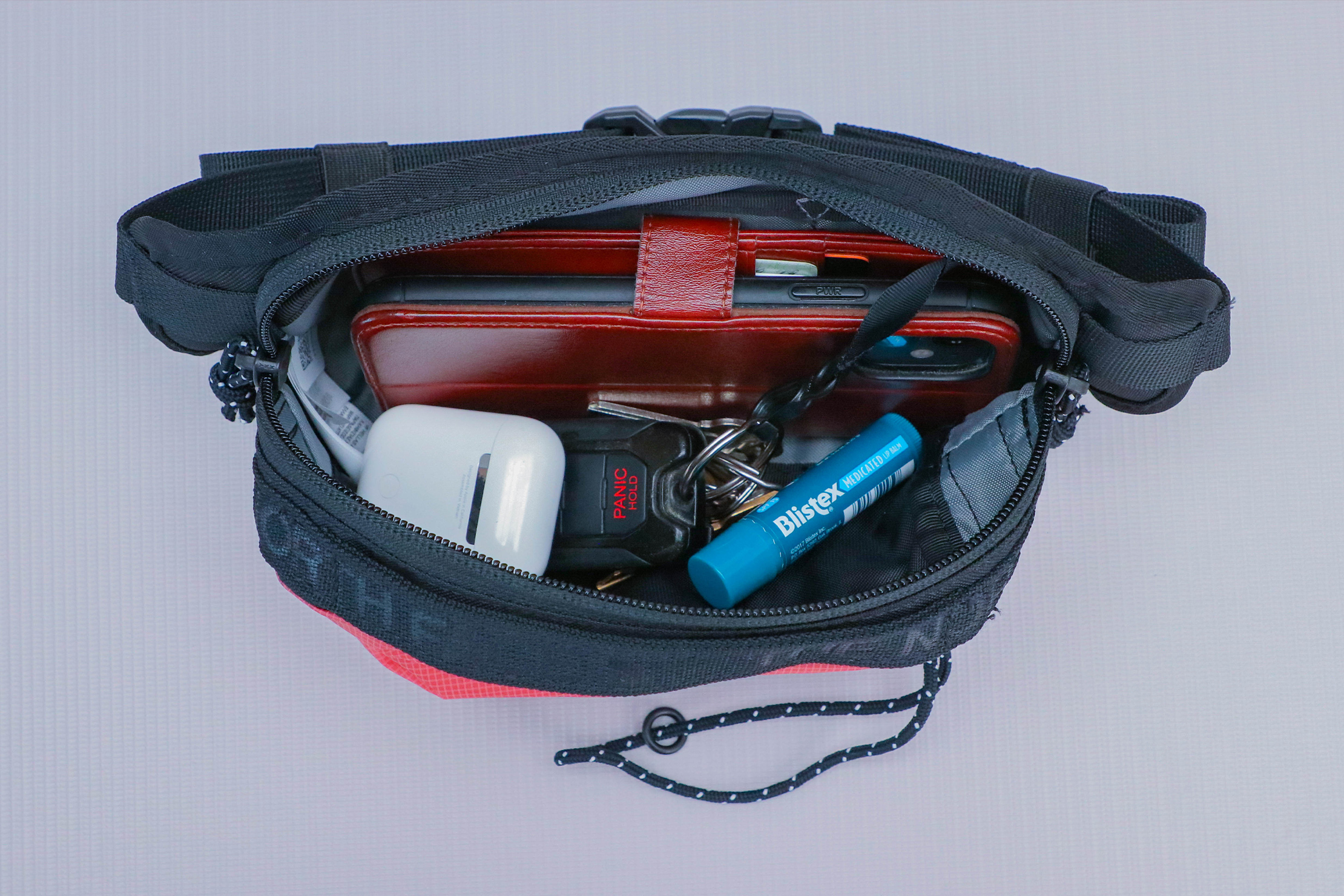 Combined with the cinched compartment, we were able to pack quite a bit in the humble little Bozer. However, we were careful not to overestimate and overpack the Bozer because it does affect carrying comfort. Apart from making the Bozer front-heavy, bottles noticeably cut into the main compartment, which in turn pushes the items inside towards the back. Since the back panel lacks reinforcement or padding, you can actually feel it bulge against you.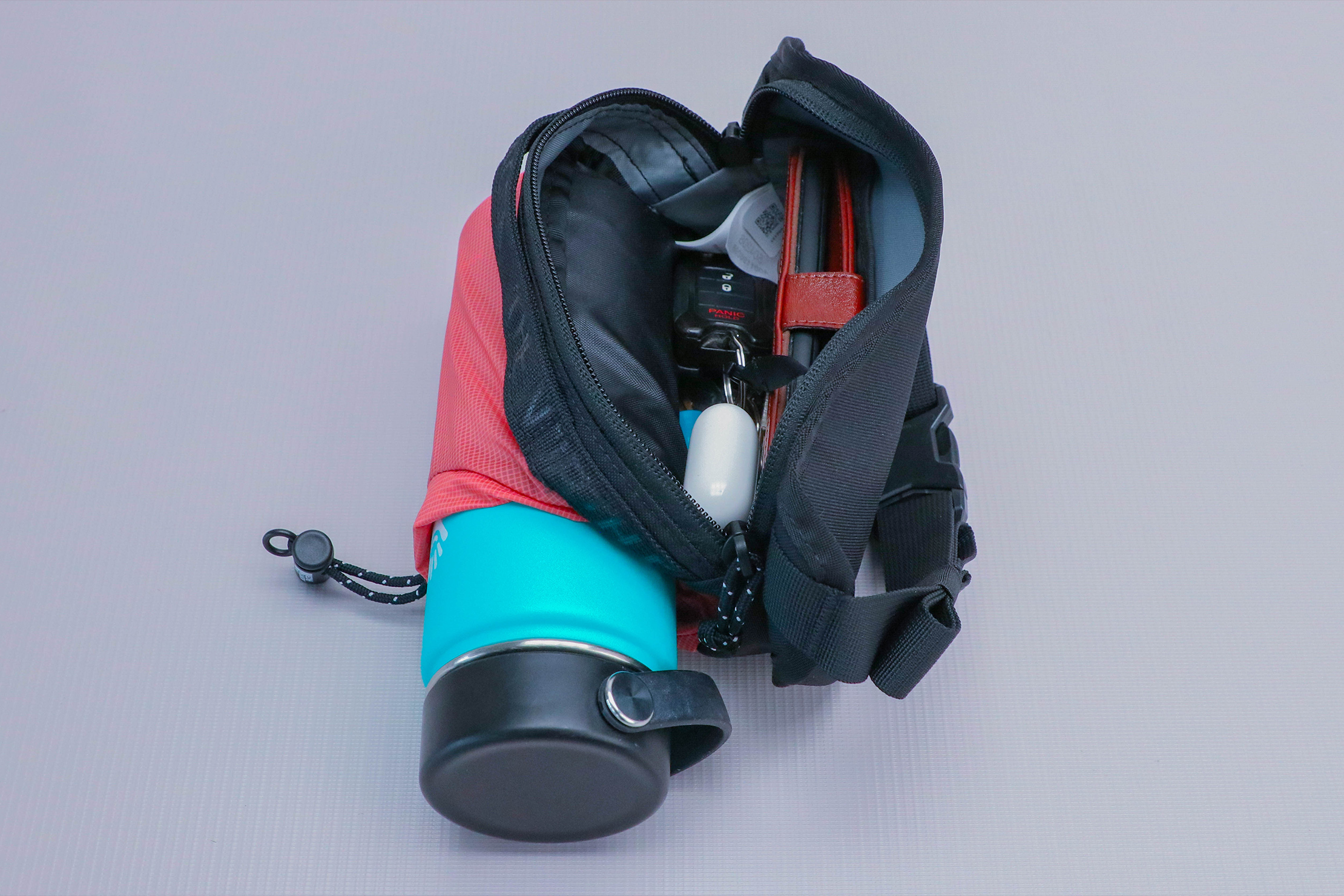 Working with a small hip pack like the Bozer definitely requires a bit of planning. You can chuck in a good amount of gear inside, but overdoing it may lead to a compromise in carrying comfort. Still, the cinched compartment is a unique addition that offers plenty of space to those who need it in a small hip pack. Combined with the versatile carrying styles, getting the comfort dialed in is desirable to make the most out of the Bozer.
Usage Timeline
Initial Usage
Condition: Excellent
Carries waist pack-style or sling-style
Front quick-grab compartment opens via a cinch cord
Relatively flat back panel despite the bulged front
2 Weeks of Use
Condition: Excellent
It sits comfortably as a hip pack but can position awkwardly as a sling
The cinch pocket closes tight for small gear but can be tough for larger things like water bottles
Inside compartment is better for flatter items and can make the pack look/feel chunky when full
Access the Pro Community Discussion
Get your questions about the The North Face Bozer Hip Pack III answered from our team and the Pro Community right here on the page. Plus, join discussions with other members about gear, guides, and more.
Other Bags & Luggage Reviews