The Classic T-Shirt Company Womens Short Sleeve Crew Neck Review
The Classic T-Shirt Company Short Sleeve Crew Neck is comfortably stretchy and a great staple piece, though the material faced some damage and discoloration.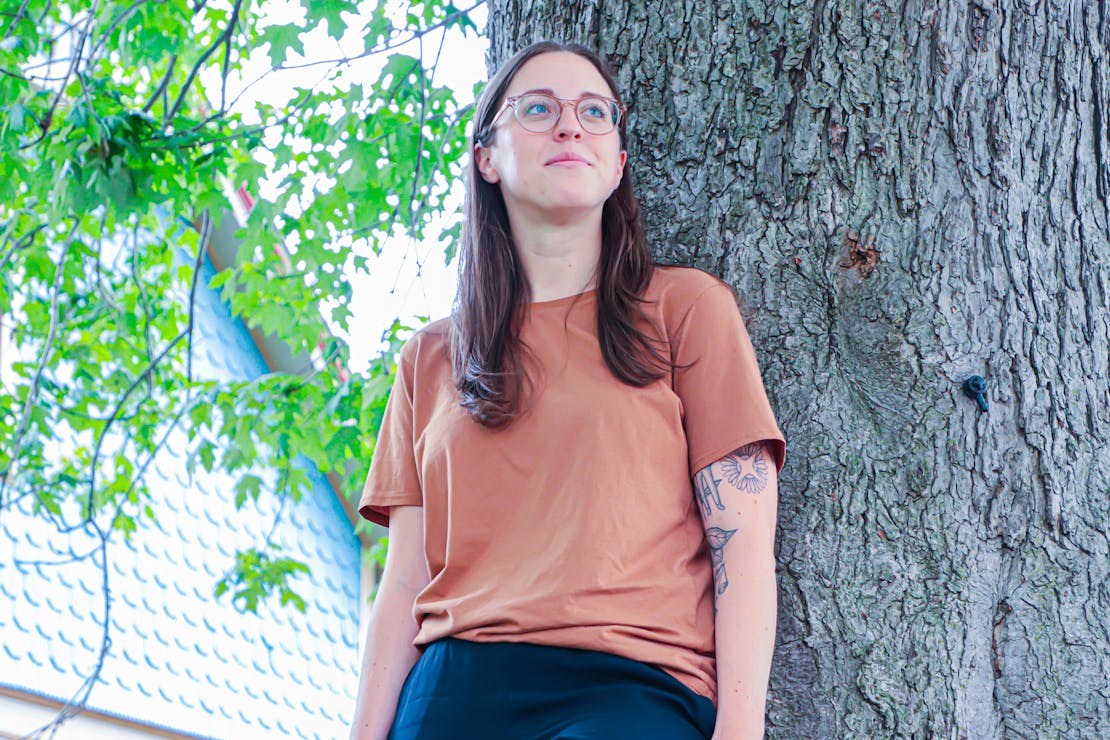 Our Verdict
Unlock the Pro Summary
Save time. Get access to brief summaries of our reviews so you can browse and make decisions more efficiently.
Pros
100% organic cotton is stretchy and breathable
Straight cut but still comfortably roomy
Armpits are fitted but not overly tight
Cons
Material is discolored after wearing tucked in
Minor thread pulling
Wrinkles easily
Recent Pack Hacker Video
Technical Details
Notable Materials

Organic Cotton

Manufacturing Country

United States

Warranty Information
Full Review
A good t-shirt is a closet staple, and when you find one you like, you want it to last forever. However, with quality items often comes a higher price tag. So, how do you know if it's worth the cash? That's where we come in.
The Classic T-Shirt Company Short Sleeve Crew Neck looks like an ordinary shirt, but a few things nudge it toward becoming a wardrobe staple. Between the colorways, material, and fit, we like this t-shirt's reliable style and comfort. That said, we do have a few durability concerns after a month of consistent wear, which doesn't bode well for a lifetime of use. Or, at least a few good years of it, we'd hope.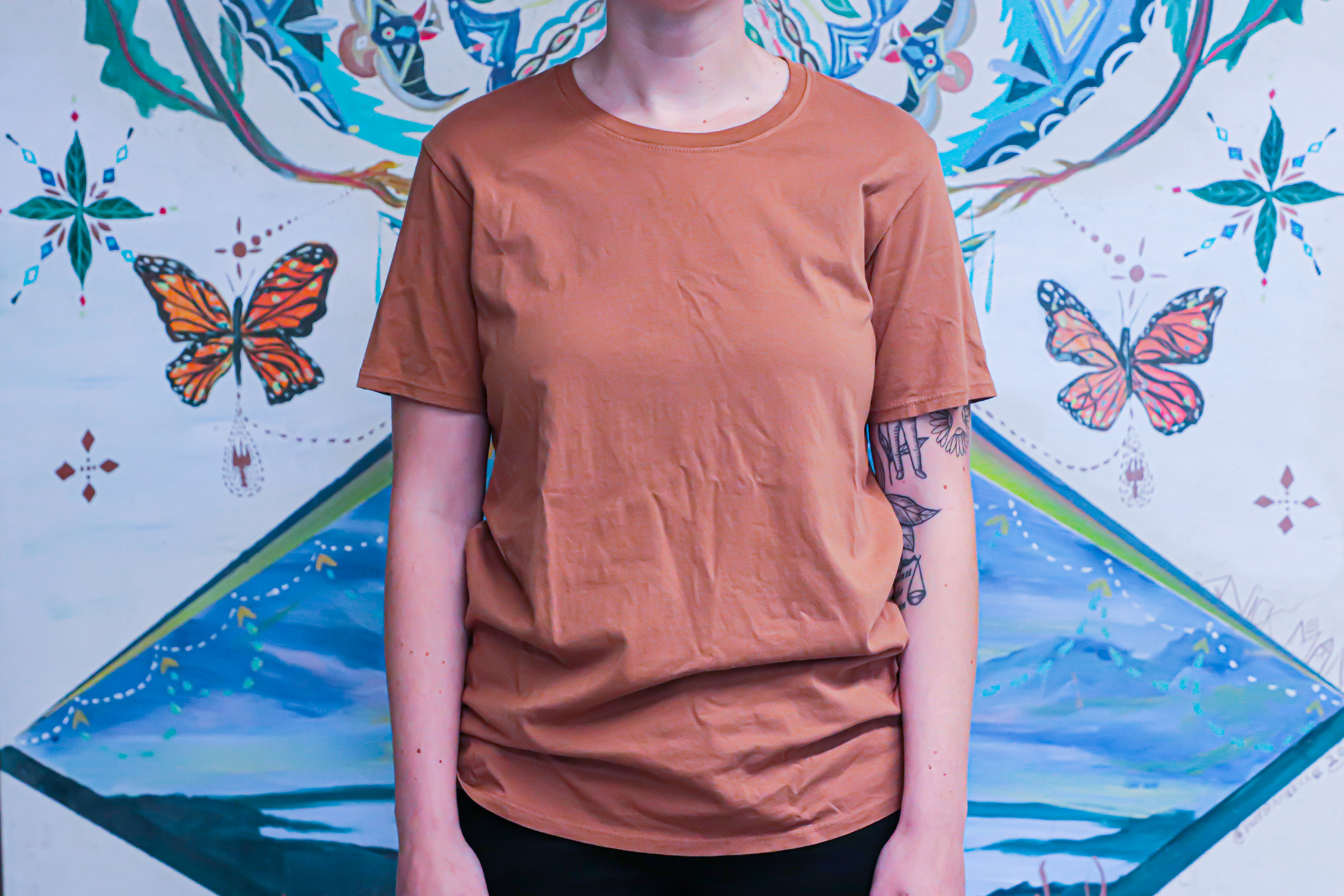 Founders Paul and Olga Garibian used their background in fashion and technology to create a line of classically styled shirts made from organic, ethically sourced materials made right in the United States. When browsing through the website, you'll notice that there are only—you guessed it—classic tees and long sleeve shirts. Even though they only technically sell one type of product, there's enough variation in sleeve length and neckline to cover the basics.
Creating sustainable, socioeconomically-conscious products is one thing, but doing it well is another. While the shirts ring up at a price that Macklemore would scoff at before heading to a thrift store, more and more consumers find it worth investing in clothing items that will last a long time. How did the Short Sleeve Crew Neck hold up to that standard? Read on to find out.
Materials & Aesthetic
This shirt comes in both men's and women's cuts, and we'll discuss the differences between them. However, keep in mind that we did our testing with the women's style, so even though the materials are the same, we can only vouch for the fit on this particular one.
Unlike many women's-specific clothing items, the Classic T-Shirt Company proportions their designs to match the style of a looser men's shirt. This means dropped shoulders, a straight cut fit, slightly longer sleeves, and simple necklines. Apart from missing (or, worst of all, fake) pockets, one of the most common frustrations with women's t-shirts is how difficult it is to find a top that's not skin tight or improperly oversized. We're not knocking either of those styles if that's what you're into, but we've noticed that it's hard to find something in the middle. It's like an elusive, neutrally-shaped unicorn.

When it comes to the men's shirts, the shirt itself is slightly shorter than a standard t-shirt, but the sleeves are a bit longer (similar to the women's). Combined with the straight cut and simple neckline, there's an air of effortless professionalism that comes with this shirt.
Every shirt from The Classic T-Shirt Company is currently made with 100% organic cotton sourced from small farms in India. However, at the time of writing, they have plans to start sourcing from the United States in order to reduce their carbon footprint further. The shirt is pre-shrunk to minimize any laundry mishaps. That said, cotton can be pretty easy to shrink if you don't take care of it right, so it's important to follow their washing instructions (machine wash cold, tumble dry low) to avoid any issues. We personally had none.
The material is soft, but not in the super stretchy way that rayon is. Which makes sense because this shirt is…you know…cotton. However, sometimes shirts can go too far in either direction, becoming so soft that it hugs every curve or so stiff that it's uncomfortable to wear until you get a handful of washes in. This cotton is great at holding its boxy shape while still moving with your body, further adding to the men's style and making it easier to tuck in without it falling awkwardly at the waist.

There's a range of colors, allowing you to choose whatever you think you'd wear the most. After all, this t-shirt is designed to be your go-to, so you want to make sure you're getting something you like. At the time of writing there are 13 colors of this style shirt in particular, all of which are muted tones rather than bright, which we're big fans of here at Pack Hacker.
We recognize that's not everyone's style, though, and it seems as if The Classic T-Shirt Company did too. A few colorways, like sky blue and blush, scratch that loud color itch without being blindingly brilliant. Plus, they have all the same colorways as the women's, because men can rock pastels too. As for our choice, this shirt is in the copper colorway, which we like for its neutral, earthy tones.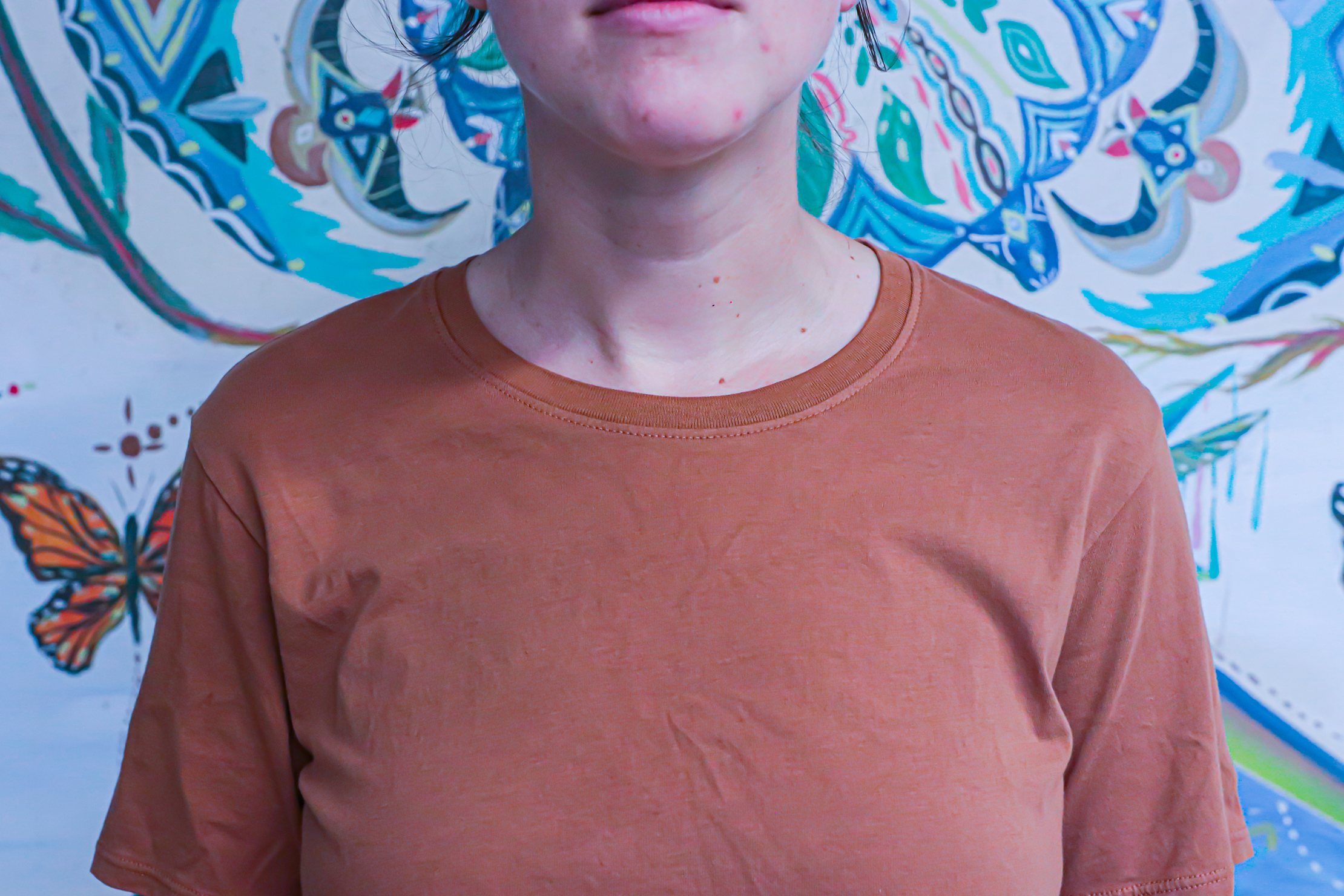 We've mentioned the straight cut fit a few times, but one thing we want to talk about specifically is the armpit area. If you're familiar with women's cut clothing, you understand what we mean when we say that, similar to the shirt's fit, the sleeves also come in to fit closer to the body. This is great if you're into cap sleeves, but not so great if you like to get a bit of a breeze in the armpit area. The Short Sleeve Crew Neck finds a balance here, with sleeves that are slightly longer but not wider, giving you space for air to flow and allowing for more comfortable movement.
The t-shirt fits pretty true to size, so you should be safe ordering whatever you usually wear. However, they recommend going up if you're between sizes. Even if you're not between sizes, the nice thing about this t-shirt is that it's basic enough that you can go up for a looser fit or down for a fitted look.
Durability & Testing
After a month of testing, we did notice a few things that could be cause for concern when it comes to durability. A few threads started to pull up on the sleeves—it almost looks like pilling, which is something you may see in high-wear areas after wearing a shirt to death. However, a lot of these are on top of the shoulders, which sees significantly less friction than other places like the waist (where we also saw some crop up). We can't vouch for whether or not this will become a bigger issue over time, but it's worth noting that after multiple wears and washing, the shirt is starting to develop some imperfections.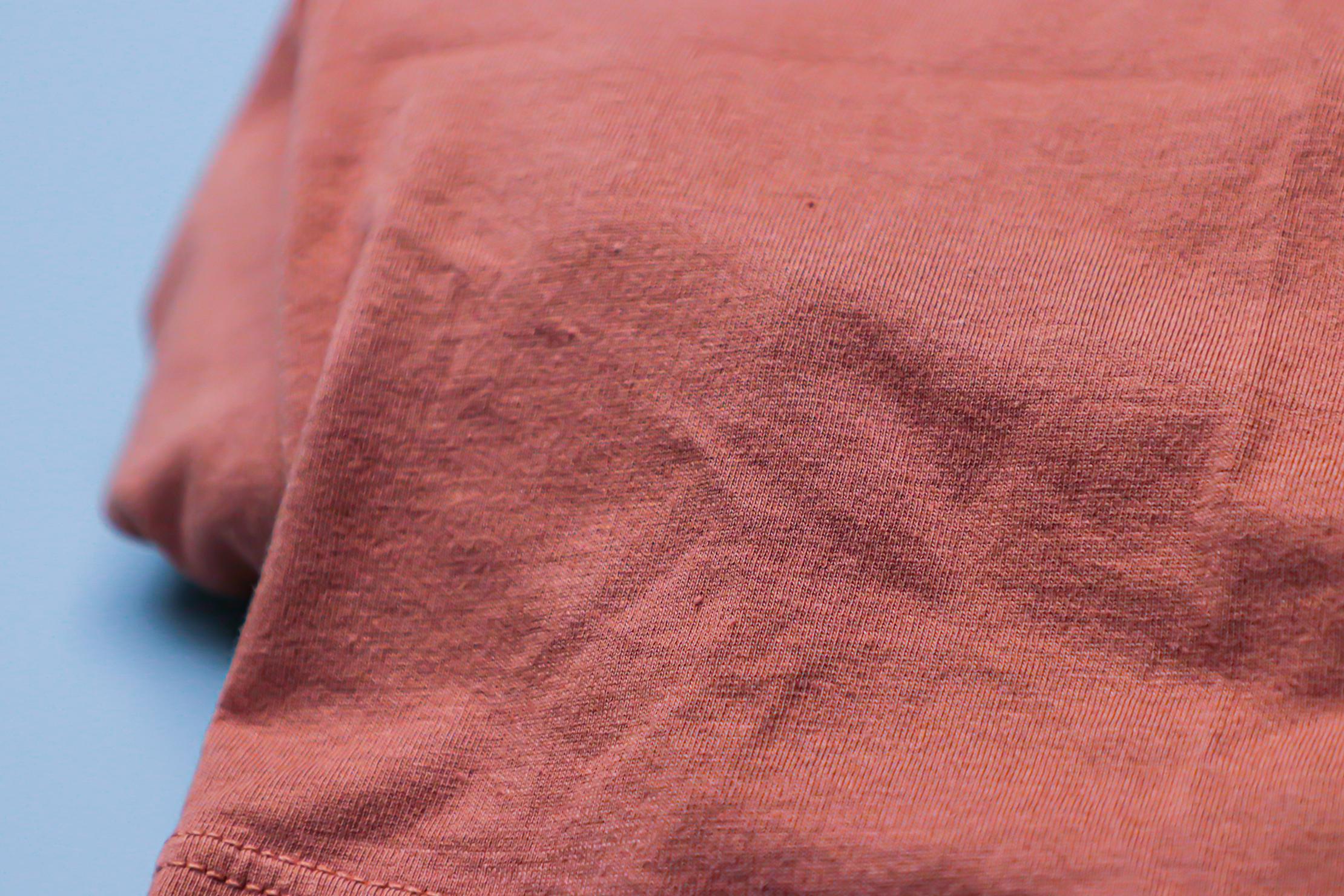 Another thing we want to mention is a slightly larger problem in the scheme of things. Some of us at Pack Hacker are big fans of tucking our shirts all the way in, and after a couple of wears, we noticed that the material was damaged where it came in contact with the inner side of the pants button. Unfortunately, this blemish didn't go away when we washed the shirt, meaning that once the material is damaged (it almost looks like it was crushed), there's possibly no going back.
Granted, we only noticed this after wearing it with one specific pair of pants, and we do have to admit it has some chunky hardware on it. That being said, it does raise concerns about whether or not the shirt could stand up to a belt buckle if it ever comes face to face with one. We're a bit bummed with how it impacted the shirt, and unfortunately it's noticeable enough that we're not so comfortable wearing the shirt untucked anymore. This isn't an issue for those who nearly always keep their shirts tucked, but if we had to do it all over, we'd stay away from tucking altogether just in case.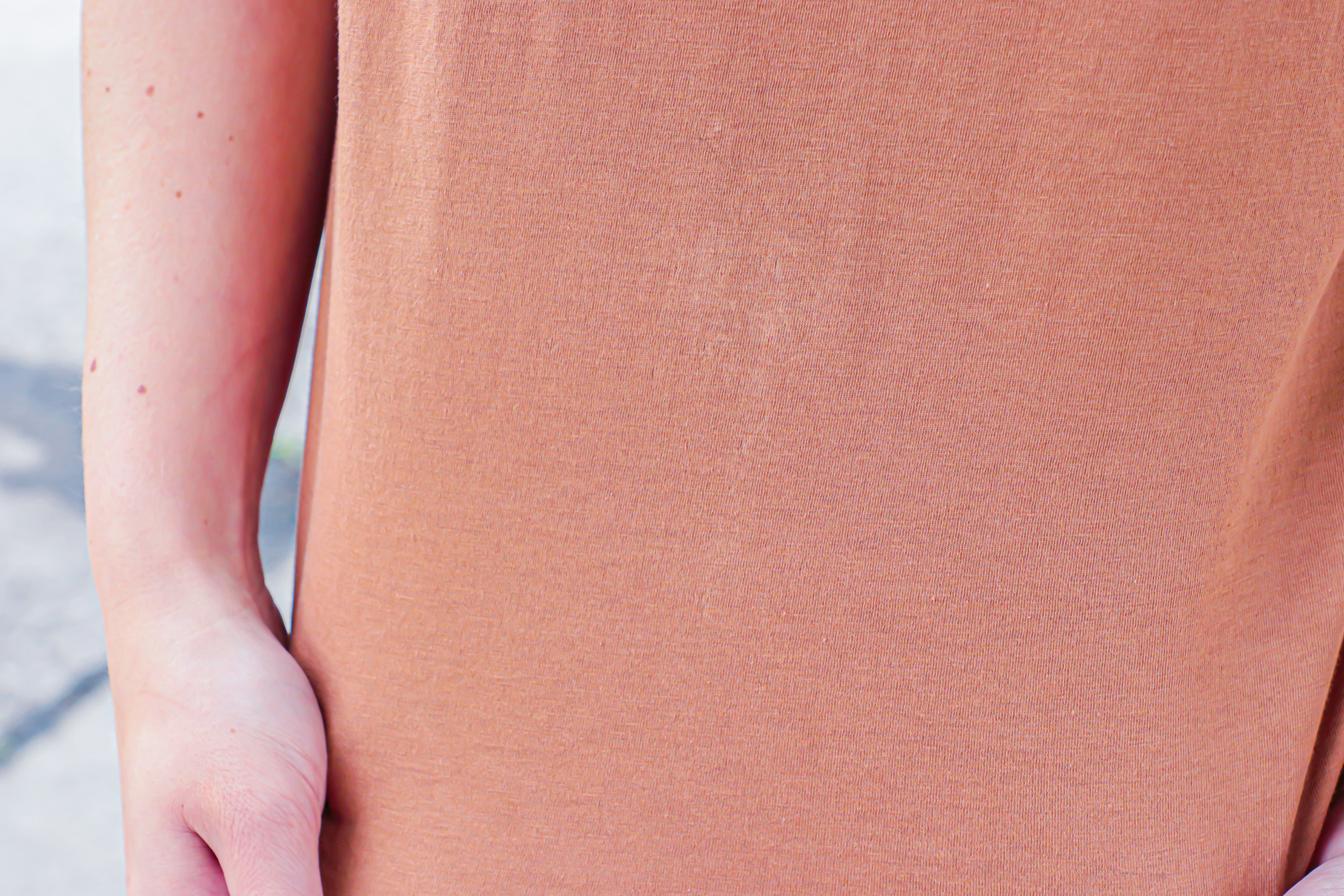 Despite these flaws, we still really enjoy this shirt. It's comfortable, breathable, and overall aesthetically pleasing in a simple way. T-shirts are classics for a reason, and while you can get some super cheap or secondhand, it's worth considering buying sustainable clothing when the option is available. Plus, if you fill your wardrobe with staple pieces you can rely on, that's less work when it comes to creating a list of what to pack two days before you leave (not that we've ever done that, of course). Whether you dress this shirt up with some fun pants, dress it down with sweats or leggings, or wear it every day until people start wondering if you ever wash it, this shirt has your back. Literally.
Usage Timeline
Initial Usage
Condition: Excellent
The fabric feels soft and stretchy, but not overly so
Doesn't feel too warm to wear in hotter temps
So far no loose threads or scratchy stitching
2 Weeks of Use
Condition: Excellent
Sleeves don't cut too far into the armpit, which can sometimes happen with women's crew shirts
Wrinkles easily, but comes out with a quick steam or iron
1 Month of Use
Condition: Good
Material is discolored where it rubbed against a metal pant buckle when tucked in
Small fibers are coming up on the sleeves and at the base of the shirt—you can hardly see them unless you look closely, but we're worried they may get larger over time
Access the Pro Community Discussion
Get your questions about the The Classic T-Shirt Company Womens Short Sleeve Crew Neck answered from our team and the Pro Community right here on the page. Plus, join discussions with other members about gear, guides, and more.
Other Clothing & Accessories Reviews