Teva Original Sandals Review
The Teva Original Sandals are ideal for both wet and dry environments. And while they won't work at formal occasions, they'll fit basically everywhere else.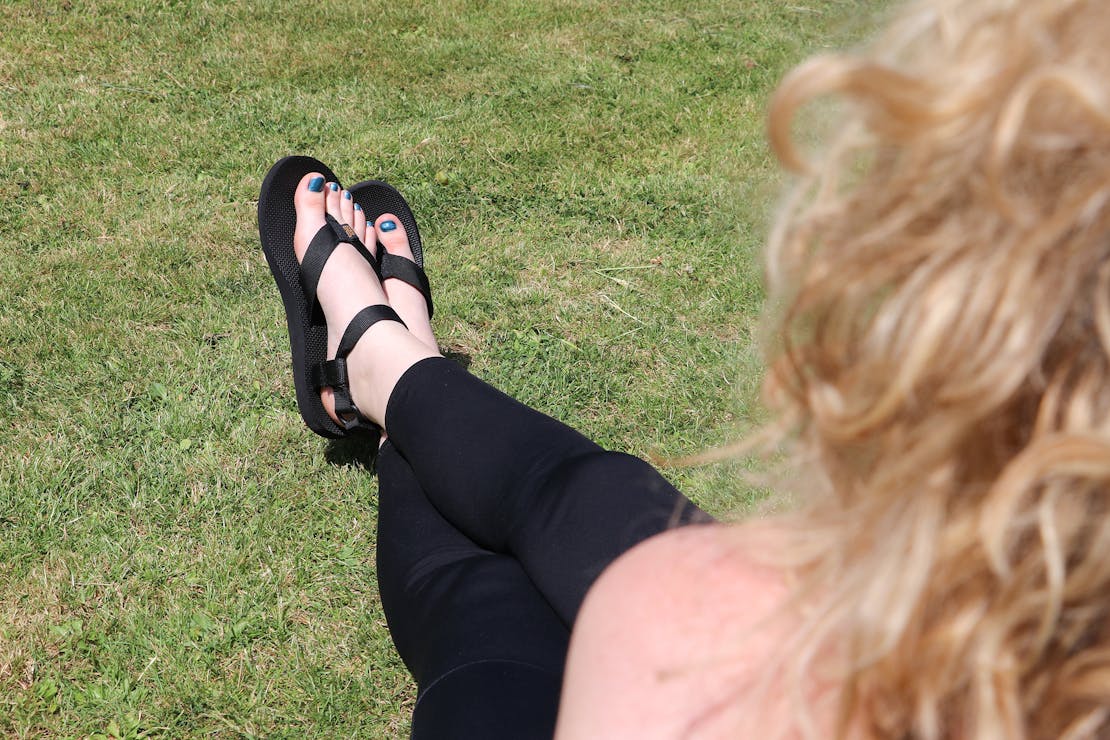 Our Verdict
Unlock the Pro Summary
Save time. Get access to brief summaries of our reviews so you can browse and make decisions more efficiently.
Pros
Great for wet and dry conditions
Comfortable
Adjustable ankle strap
Cons
Toe thong may not be everyone's favorite style
Not dressy enough for formal occasions
The toe thong is not adjustable
Recent Pack Hacker Video
Technical Details
Weight (oz)

10.65 oz (301.9 g)

Notable Materials

Polyester, Rubber, EVA Foam

Manufacturing Country

China

Warranty Information
Buying Options

$55.00
$50.00




Full Review
When you like to travel light, having one pair of shoes that you can wear everywhere is ideal. Although Teva is known for its quality shoes, we weren't initially sure the Teva Women's Original Sandals could be the one. First we had to find out 1) if these sandals would comfortable to wear for long periods of time and 2) how versatile that outdoorsy aesthetic would turn out to be.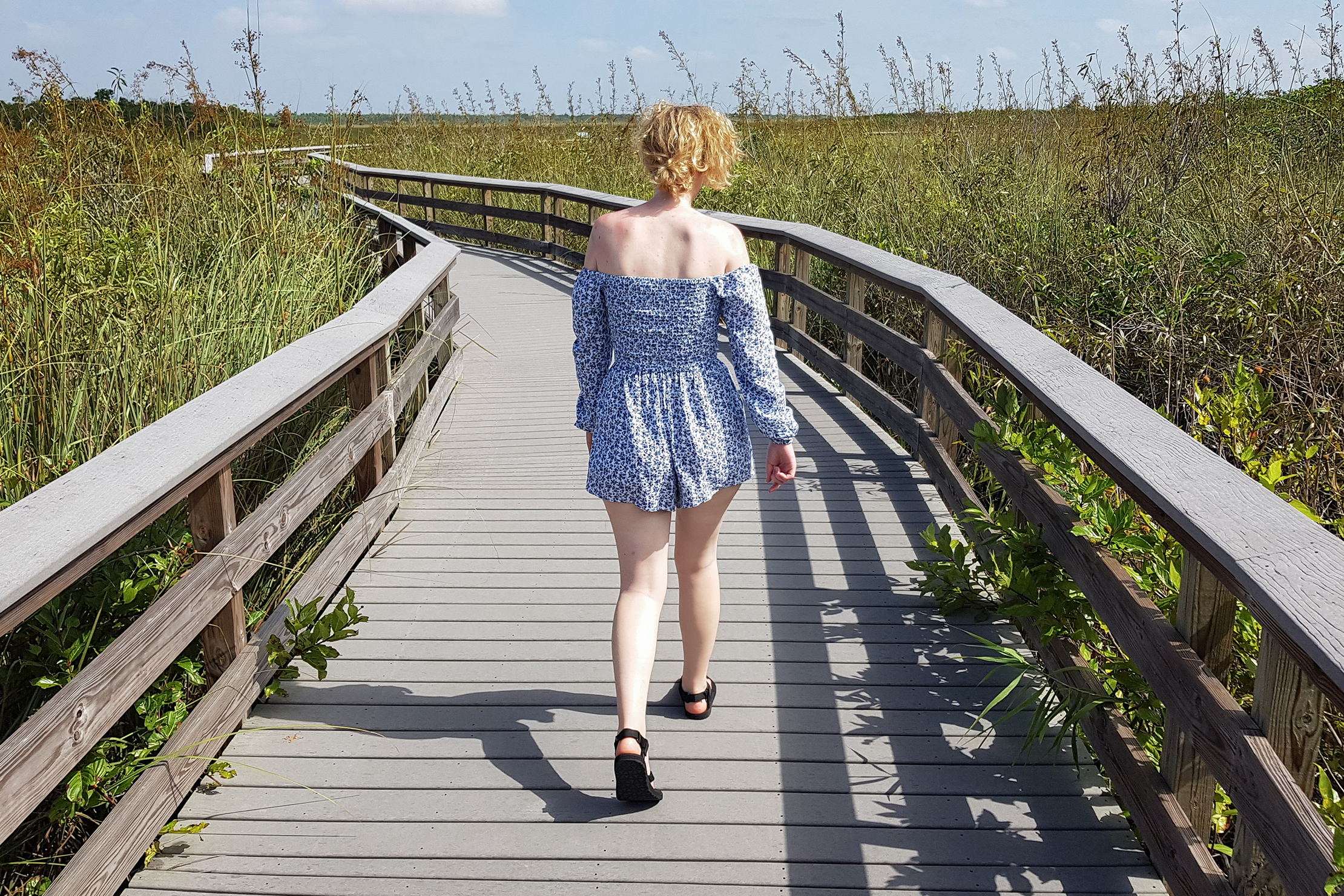 Fortunately, we've been pleasantly surprised and have a lot of great things to say about these shoes. After two months of testing, these sandals have become our go-to for everyday wear. Read on to learn why.
Materials & Aesthetic
With chunky, adjustable straps and a textured footbed, the Teva Original Sandals undoubtedly have an outdoorsy aesthetic. But we think they're still simple enough to rock in a city (although we wouldn't suggest wearing them to a more formal setting).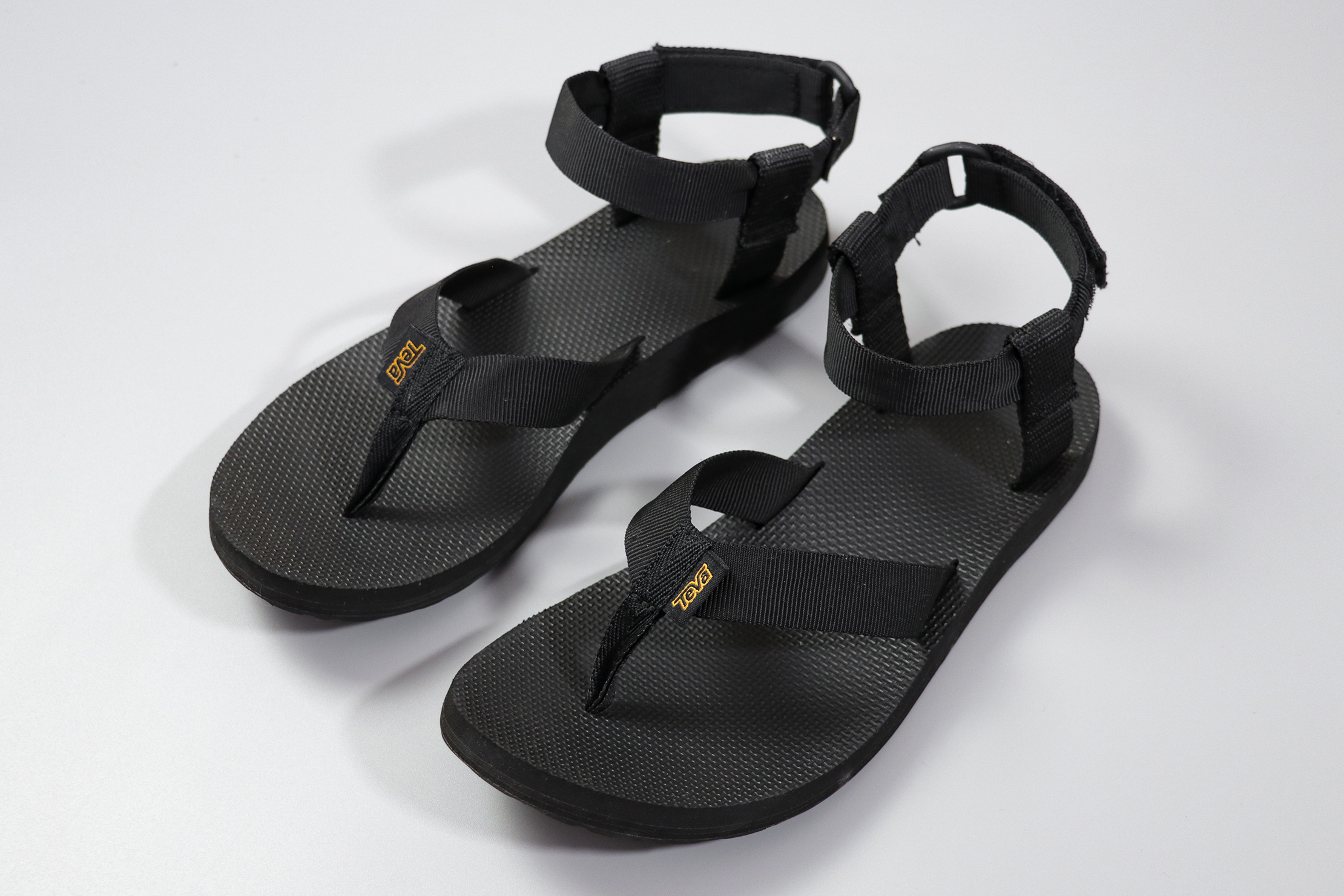 The sandals are available in a wide variety of colorways and patterns on Teva's website, so you'll likely find a pair that meets your style and needs. As per usual, we stuck with black because we're nothing if not predictable and black goes with basically everything.
We've been testing the "Women's Original Sandal," which has a y-shaped slice of fabric between the big and second toes (called a toe thong). If you're opposed to the way that feels, Teva offers the Original Universal Sandals, which are a similar style without the toe thong. Instead, your foot is secured with a strap that goes over the base of all of your toes.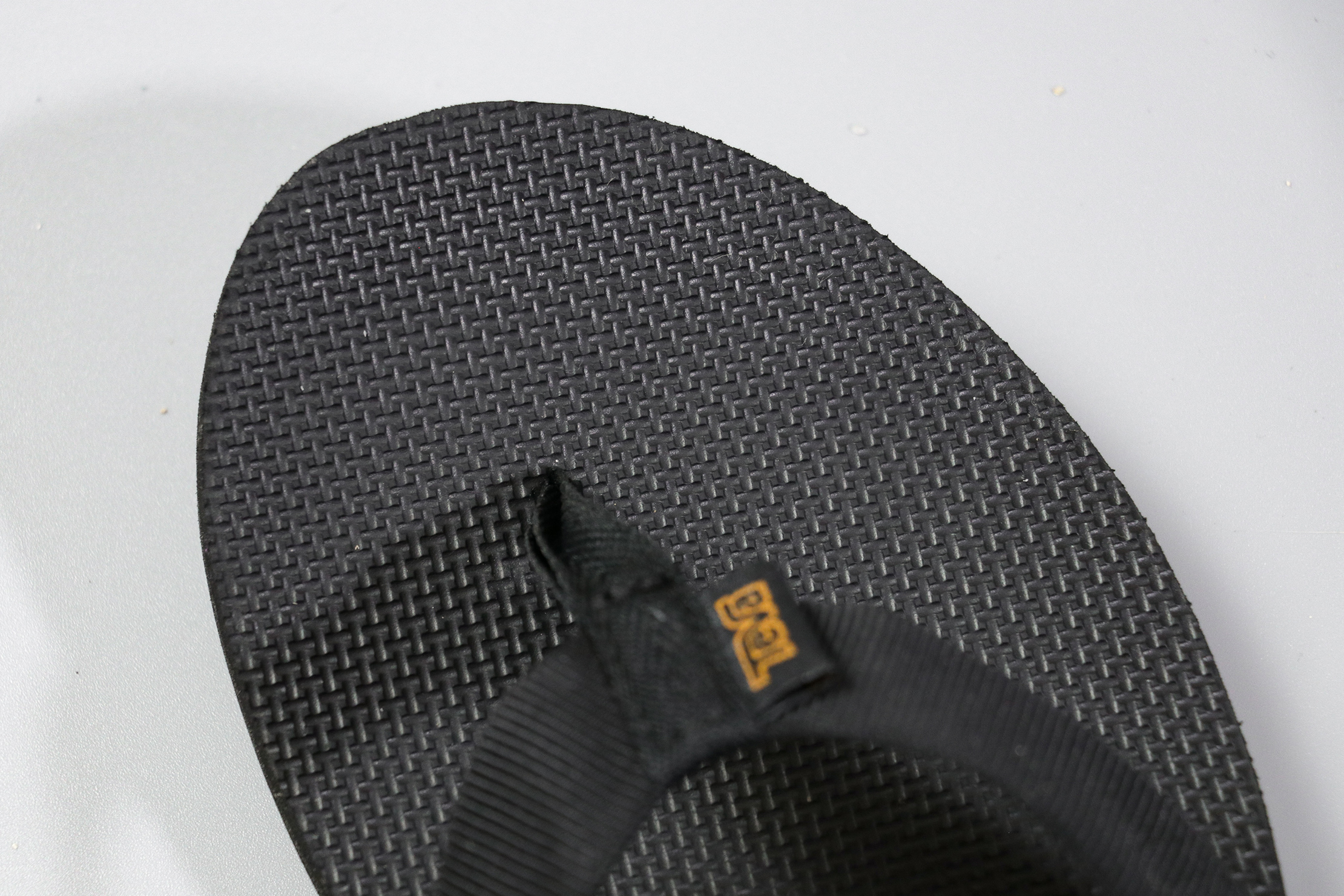 As far as branding goes, you'll find the Teva logo stitched to the webbing that sits on the top of your foot. We're not going to sugarcoat it; this tag is fairly noticeable. And you'll also find their logo stamped on the bottom sole of the shoe, which is typical for shoes in general.
We weren't initially digging the polyester webbing that wraps around the ankle—the straps looked too thick to be comfortable or fashionable. But we were wrong (Bizarre, right? That never happens).
The ankle straps look better on than we thought they would and are quite soft and comfortable. They never rub—even in wet conditions (we'll dive into this deeper below). They're also easy to adjust with velcro.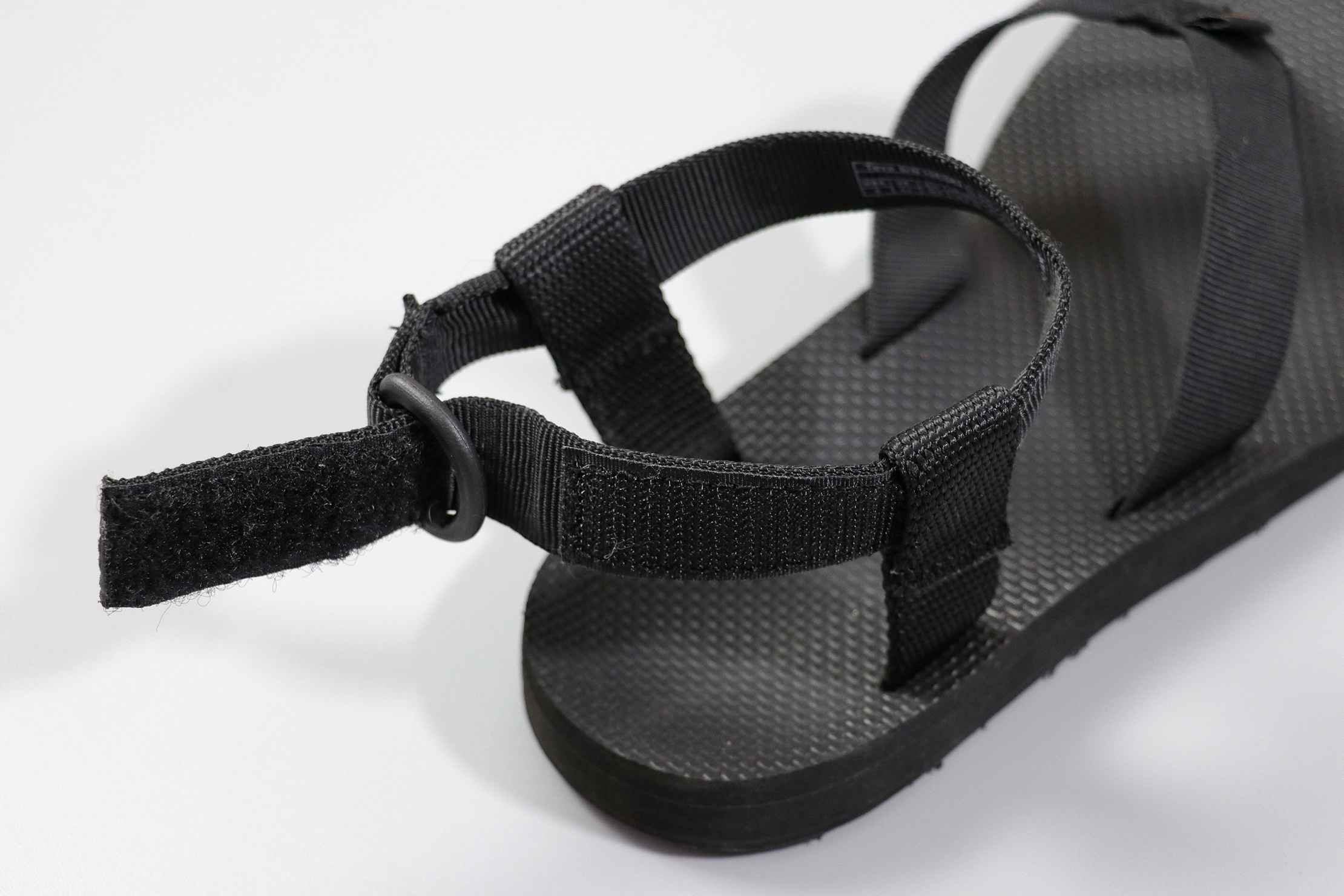 The footbed is made from EVA foam and is also a dream to walk in. They're comfortable even after hours of exploring and the texture holds on to your foot nicely, which we love. The rubber outsole is also super grippy, allowing you to stay upright even when you encounter slippery surfaces—a huge plus for travel, when you never know what you'll be getting yourself into.
Components & Features
As we hinted at above, these sandals are great for both wet and dry conditions. You can traipse through the ocean without losing a shoe (or your balance). The textured foam, toe thong, and ankle strap all contribute to holding your foot in the shoe.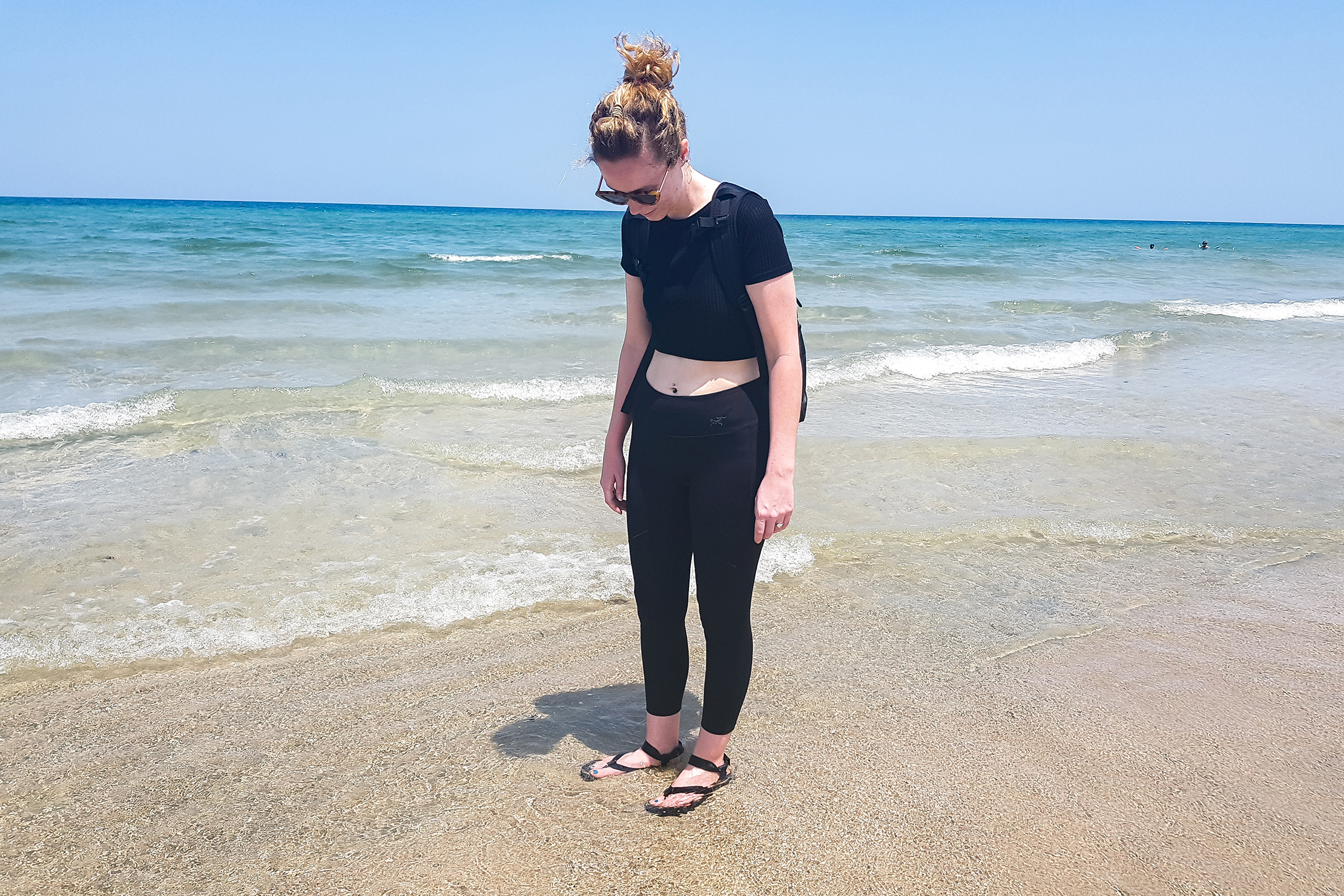 And transitioning off the beach is pretty seamless too. While sand will stick to the sandals, it'll rinse right off. Better yet, the sandals—including the polyester webbing—dry quickly so you won't be stuck with wet shoes and pruney feet all day. And, as we mentioned above, the webbing hasn't rubbed or become uncomfortable.
Sand can get stuck in the velcro, which is harder to wipe off than sand on the shoe's body, but not super difficult either. It just takes a little more time.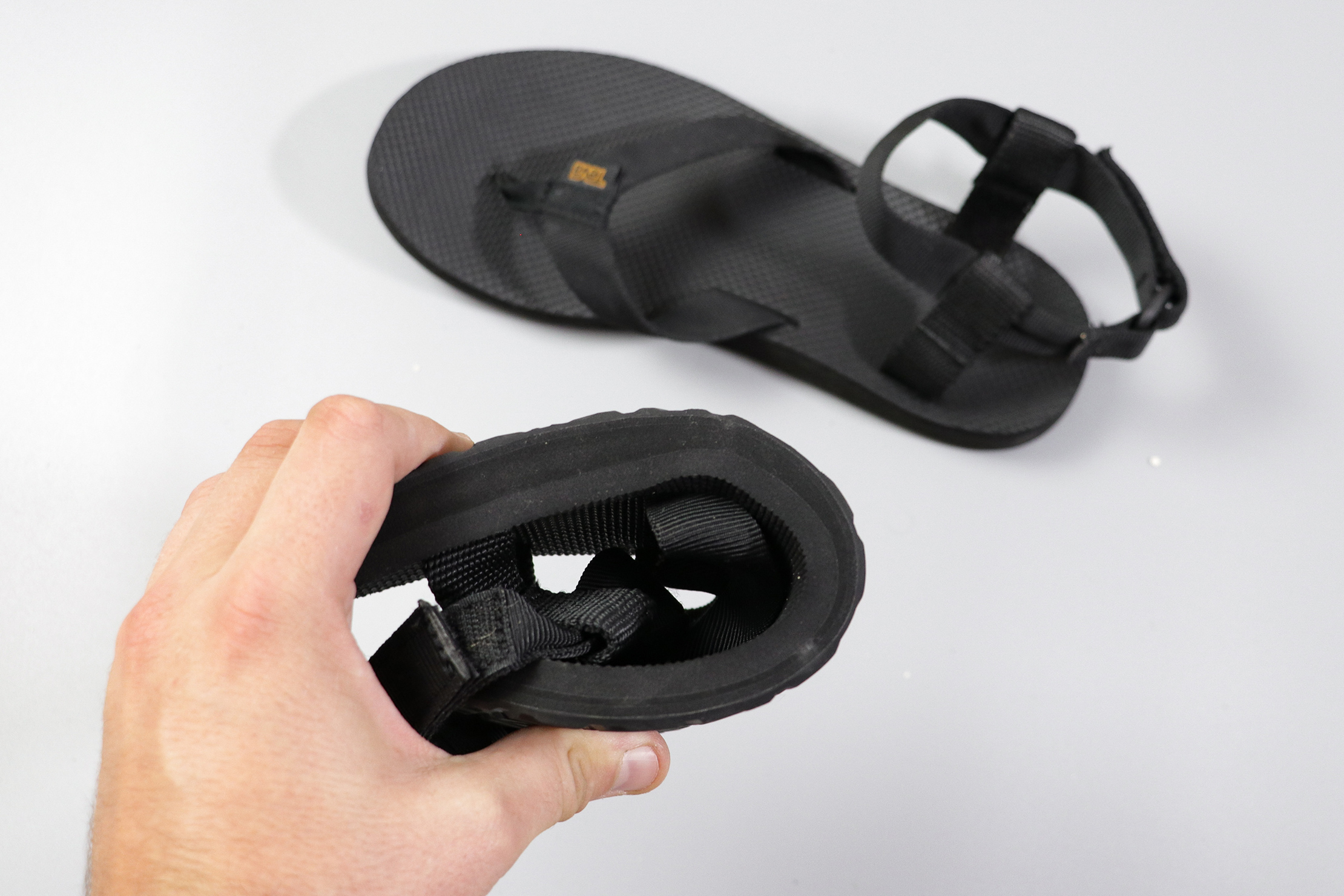 We also have to mention how packable these sandals are. Shoes can be a difficult thing to pack since they tend to take up a decent amount of space—but not these guys. They lay nice and flat, and since they don't weigh too much, they aren't as much of a pain to lug around as other shoes.
One last thing to note, the shoes are quick to get on and off, which is always a major plus in our books. Who likes to spend two minutes putting on and adjusting a shoe? Nobody, that's who.
As we already mentioned, the ankle strap adjusts with velcro, which is a simple and fast process. However, the y-shaped strap that goes over your foot is not adjustable. While this is probably okay for the average person, if you have a super skinny or wide toe-area these shoes may not fit you all that well. In that case, we'd probably suggest the Teva Original Universal Sandals.
Durability & Testing
We've been testing the Teva Women's Original Sandals for a little over two months now in Detroit, Michigan, Miami, Florida, and Essex, England. And they've become our go-to sandals thanks to their versatility and comfort.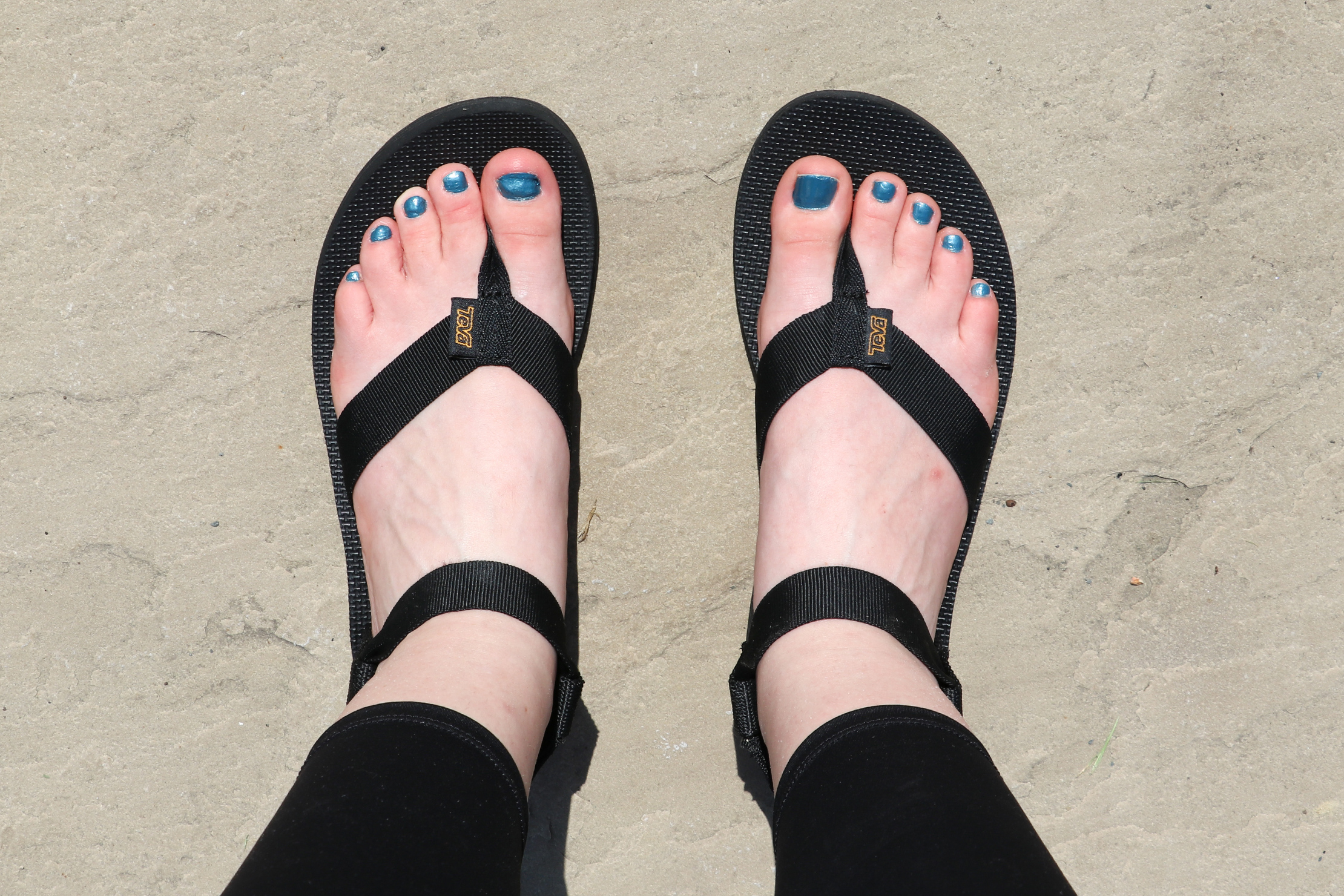 We've noticed a tiny bit of fraying on the webbing, but nothing more than you could reasonably expect. Overall, we've been liking them far more than we thought we would.
Usage Timeline
Initial Usage
Condition: Excellent
A comfortable sandal that can be worn in wet and dry environments – we're digging the versatility here.
Quick and easy to put on and take off.
More of an outdoorsy look.
2 Weeks of Use
Condition: Excellent
Pleasantly surprised by how well these work in the water!
1 Month of Use
Condition: Good
A little bit of fraying along the ankle strap, but nothing major.
2 Months of Use
Condition: Good
These are so comfortable, they've become our go-to sandals.
Access the Pro Community Discussion
Get your questions about the Teva Original Sandals answered from our team and the Pro Community right here on the page. Plus, join discussions with other members about gear, guides, and more.
Other Clothing & Accessories Reviews