Teva ReEMBER Moc Slippers Review
While not the most breathable, the Teva ReEMBER Moc shoes are a comfortable, versatile option for lounging between indoor use and outdoor adventures.
Our Verdict
Unlock the Pro Summary
Save time. Get access to brief summaries of our reviews so you can browse and make decisions more efficiently.
Pros
Comfortable, well-structured fit
The collapsable heel makes for easy on and off
Works well for both indoor and outdoor use
Cons
No breathability—feet can get sweaty
Only available in full sizes
The external fabric has sustained a tear after two months into testing (merely aesthetic damage so far)
Recent Pack Hacker Video
Technical Details
Notable Materials

Ripstop Polyester, Microfiber, EVA Foam, Polyurethane, Rubber

Manufacturing Country

Vietnam

Warranty Information
Full Review
Teva's journey began back in 1984, intending to create footwear that not only allows people to travel comfortably in styles that suit them but that's also better for the environment; their ReEMBER Moc slipper embodies this sentiment well.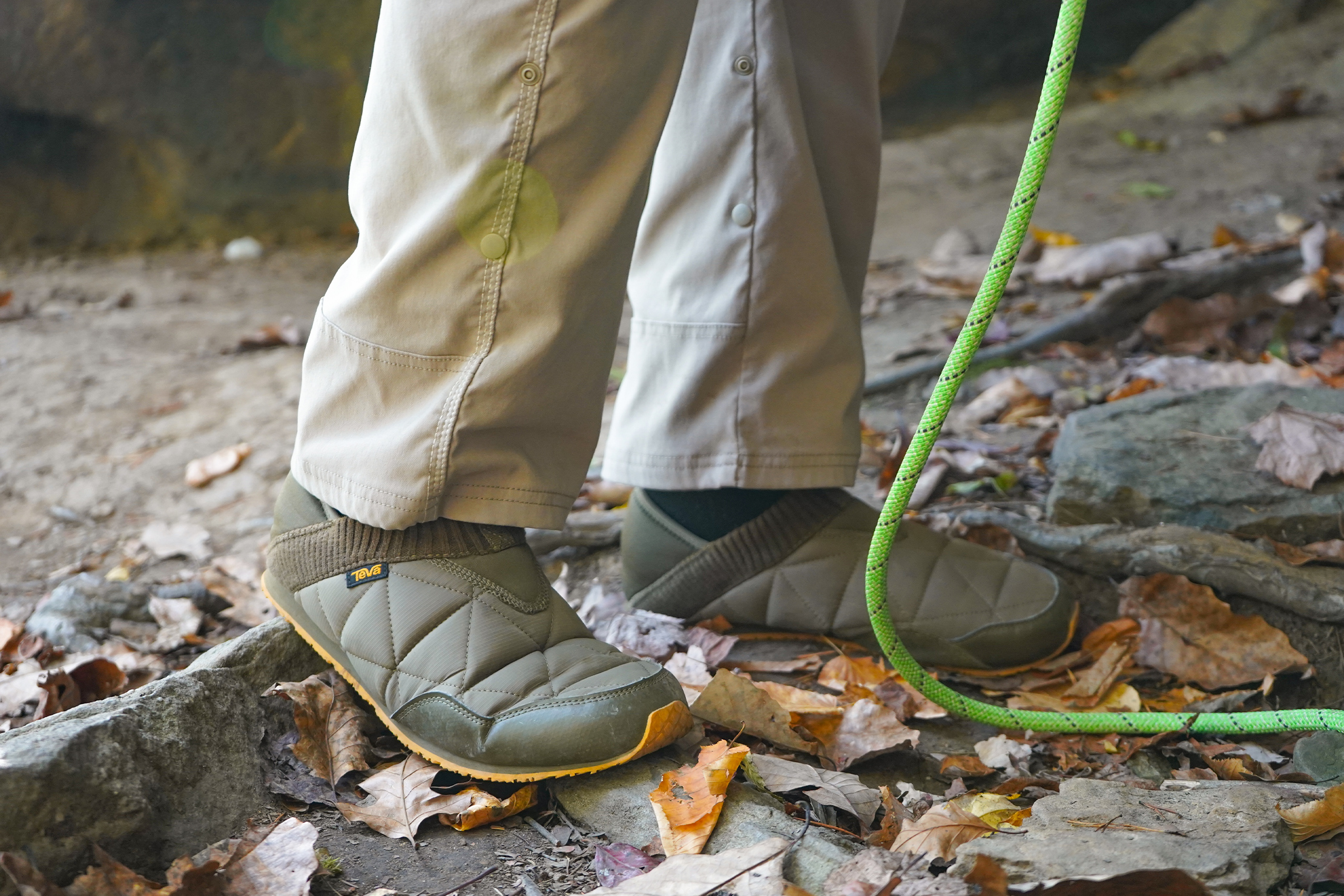 The ReEMBER Moc stands out from other slippers in its versatility. It transitions effortlessly between indoor and outdoor use without sacrificing any comfort and performs well in both settings. Whether you need to keep your feet warm when working remotely or between your outdoor explorations, these things will do the trick (although we do have a few things to note when wearing them out and about).
Before we go any further, we want to clarify that we've been testing the Men's version of this slipper, which is what we'll be focusing on in the review. There's also a Women's, Infant (for any babies who happened upon this site by accident), Little Kid, and Big Kid version available at the time of this review.
In typical Pack Hacker fashion, we really put tested the limits of these slippers in our testing phase, and you can read all about it in the review below. Check it out!
Fit, Fabric, & Features
You won't find an excess of branding on this slipper, just a yellowish-orange Teva logo on a small black tag sewn to the side. It's not flashy, but it does add a little bit of brightness, along with the similarly-colored bottom tread (which we'll talk about later on).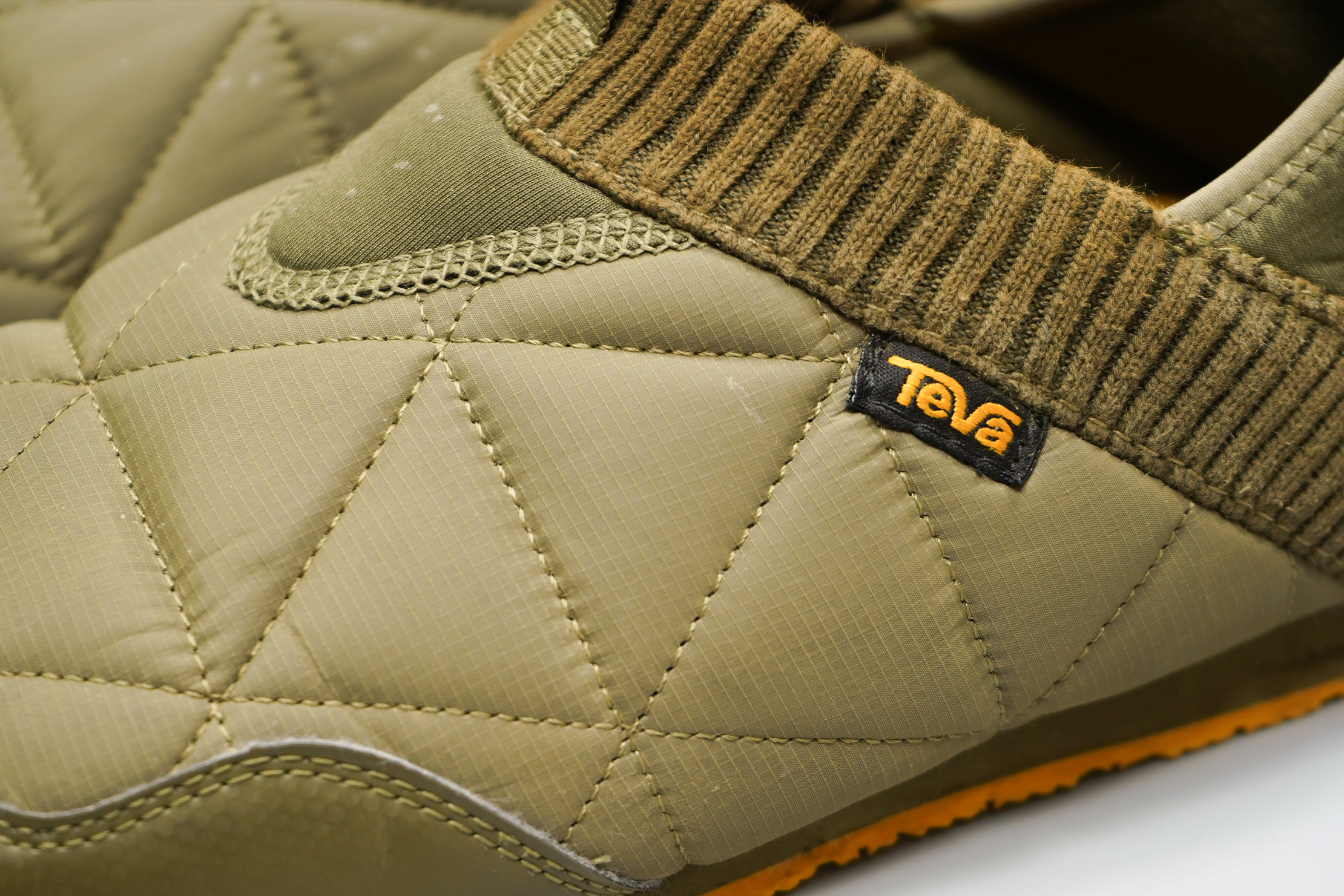 The Teva ReEMBER Moc features a ripstop polyester material on the outside that looks soft and plushy to the eye but is actually rather stiff in hand. It's also treated with a water-resistant coating to help keep your feet dry in a light drizzle, but we don't recommend stomping through any puddles in these bad boys. Bonus: if you encounter a spill, we've found coffee stains to easily wipe off during our testing.
You'll also spot some leather accents toward the toe that not only add a sophisticated touch on otherwise outdoorsy footwear but help create some structure at the front of the slipper—plus, it all comes from Leather Working Group-certified tanneries, meaning it gets the sustainable, eco-groovy stamp of approval. This addition creates an environmentally-conscious, sturdier barrier between the sides of your feet and the outside world.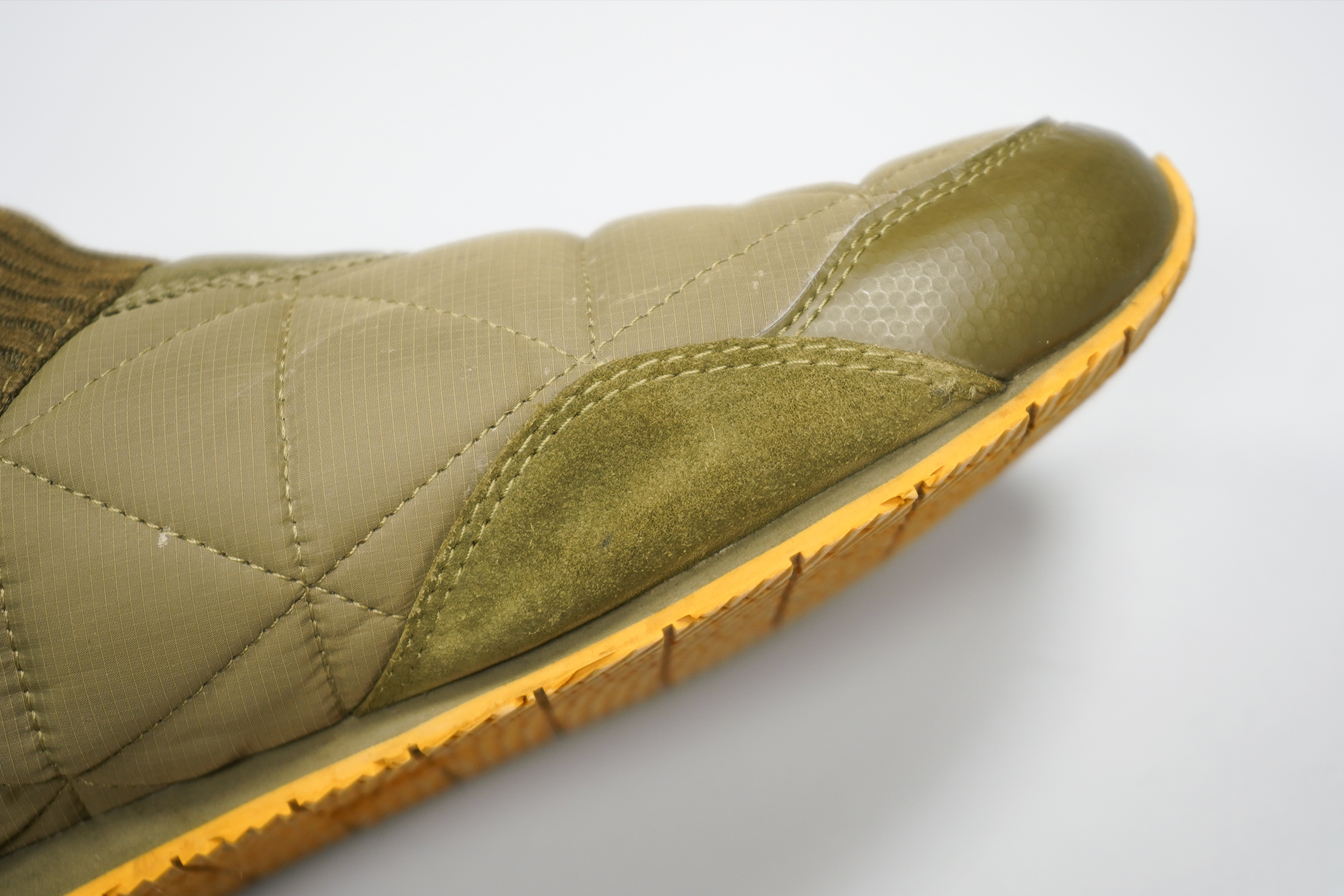 Overall, the material has held up decently well during our month of testing. The only note we have is a small tear on the outside of one of the slippers—it's only on the surface so far as the tear hasn't created a hole to the inside, making it purely aesthetic damage. That said, we'll keep an eye on it and the rest of the shoe and update the Usage Timeline below with any developments.
There's even a version of the ReEMBER Moc with wool fabric on the outside if you're looking for something to keep your feet extra toasty. Not to mention, this shoe comes in a plethora of different colorways—there's everything from patterns, to heritage hues, to brighter shades depending on your style.
Moving toward the back, this slipper's heel is collapsable, making it super easy to get your foot in and out. It's also done a pretty good job keeping the foot secure on both shorter and longer treks. We did encounter some mud on our hikes through the New River Gorge in West Virginia, where either slipper got stuck, and the accompanying heel slipped out. We wouldn't consider this shoe the most ideal for the trail for this (and other) reasons, but besides that, they've performed surprisingly well.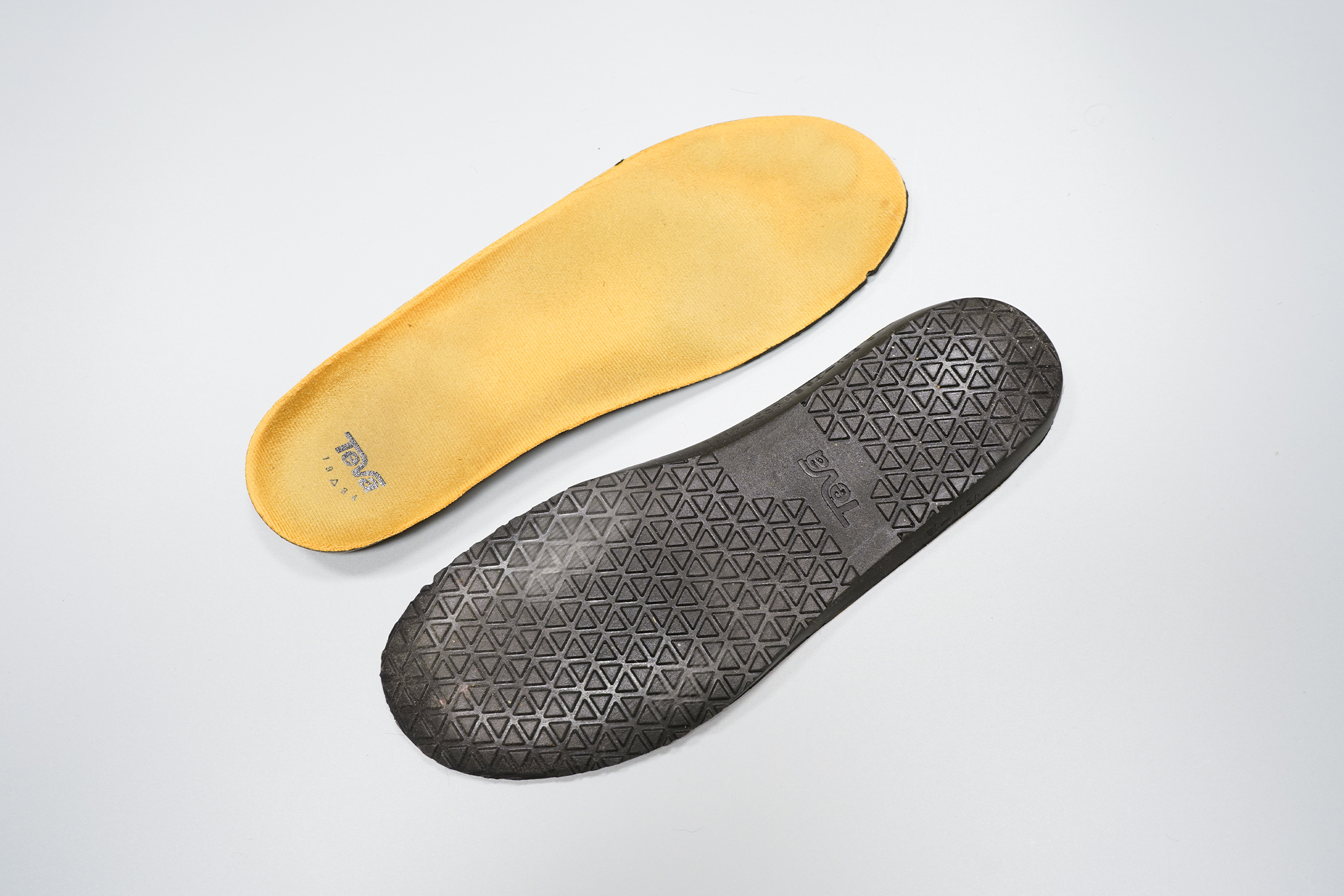 Let's talk about the inside of this thing for a second, where your foot goes. It has a PU insole that, like the rest of the interior, is lined with microfiber that feels nice and soft when you're sporting this slipper with no socks. This insole can also be removed if and when you want to wash it to keep the inside of the slipper fresh.
Teva claims to use an Aegis® antimicrobial treatment to help deter odor, too, which is much appreciated when your feet get sweaty in shoes that don't have any air ports like these. Overall, these slippers have done an excellent job keeping our feet comfortable and toasty in chillier temperatures.
Most of the cushioning for this slipper comes from the EVA foam midsole. This midsole isn't super thick like what you'll find on most athletic shoes, but it's enough to keep your feet comfortably supported with each step. We haven't noticed any wear and tear here, like what we've experienced with certain shoes in the past, which is also a good sign.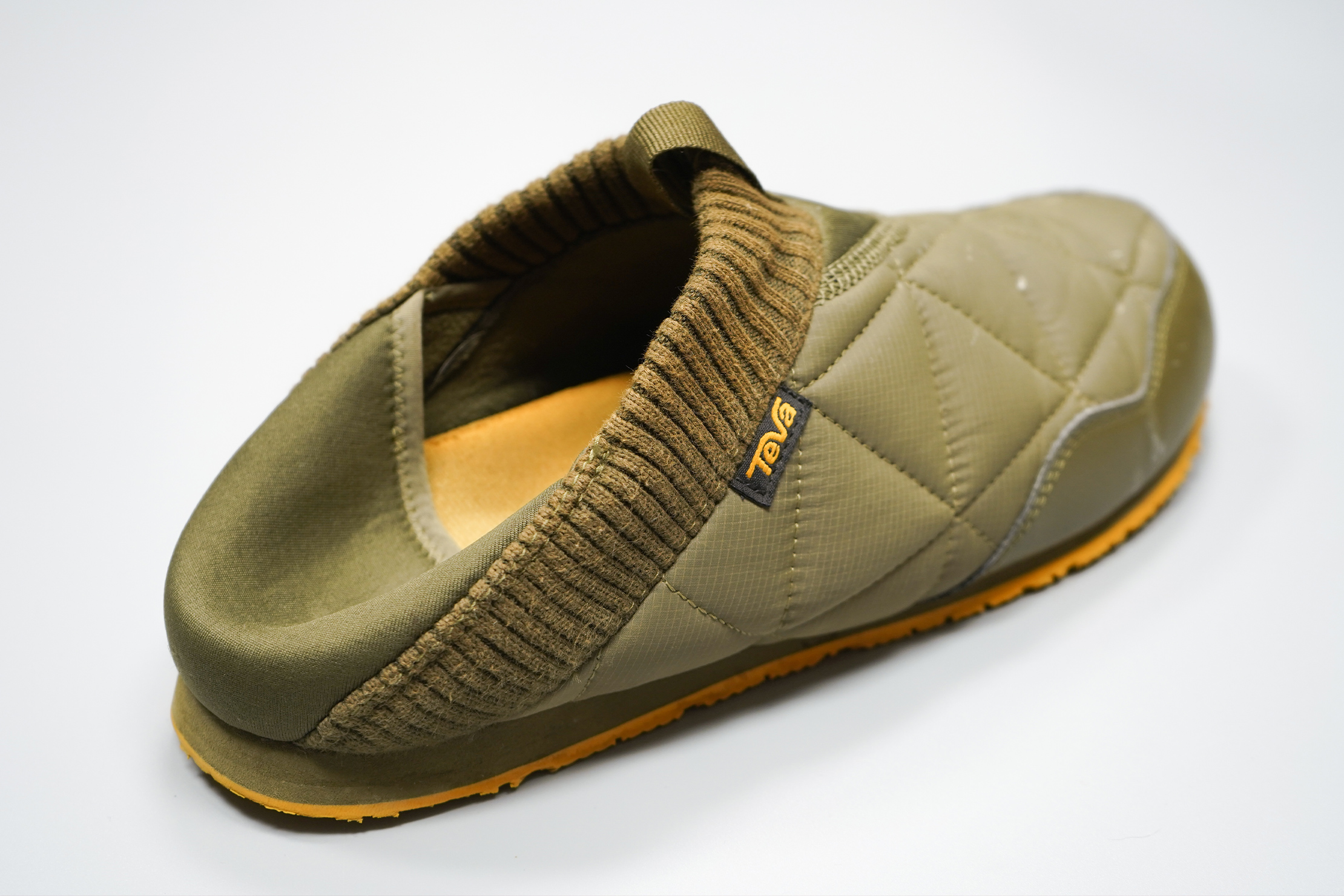 To round it all off, the slipper features a rubber tread on the bottom to help you grip the everyday surfaces you encounter—grass, gravel, dirt, even the carpet or wood floors in your home. Like we touched on before, we've been testing these slippers both indoors and outdoors, and this tread is enough to tackle shorter hikes but isn't overkill when you're just lounging around the house.
Now that we've covered the individual components, it's time to discuss this slipper's overall fit. The ReEMBER Moc is only available in full sizes at the time of this review, so you're going to have to size up or down if you're usually in-between, depending on what's usually most comfortable for you. For reference, some of our team members usually wear a 9.5, but found a size 9 in this slipper to be a bit too small—because of this, we opted for size 10 for testing. Since it is, in fact, a slipper (or a moccasin, hence the "Moc" in its name), we felt a little looser was better than a little too tight.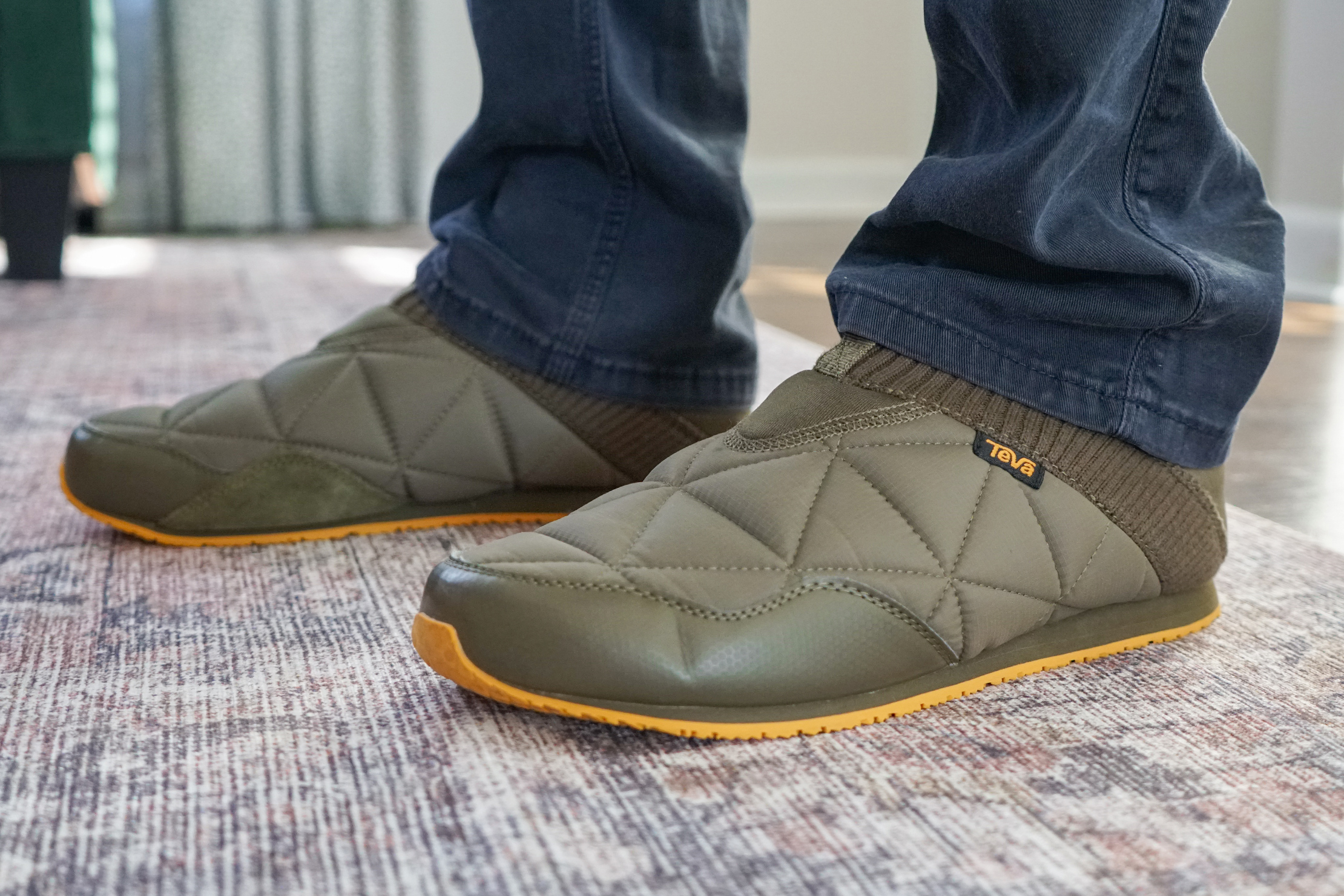 Altogether, we've had a great experience testing these slippers both around the house and between our outdoor activities. If you're looking to take these along with you in your travel pack to use when you reach your destination, they're not entirely collapsable. So, they may take up more room than you'd like, but you may find that their comfort and overall durability are worth the extra space and weight—your mileage may vary.
Usage Timeline
Initial Usage
Condition: Excellent
Soft inside is very comfortable and the outside is durable and water-resistant
Heels fold down to convert them into slip-on slippers
Slippers are very warm, looking forward to using them in the winter
2 Weeks of Use
Condition: Excellent
These have become our go-to work from home shoes, they are comfortable and cozy to wear around the house and the thick sole makes them great for quick trips to the mailbox, garbage, or even the grocery store if you're feeling bold. The thing that really separates these from other slippers is the waterproof and durable exterior. We've worn these in the rain, gardening, and even while doing some light woodworking—water and dirt run right off making them easy to clean. We will definitely be bringing these with us on our next camping trip.
1 Month of Use
Condition: Excellent


We have put these through the wringer. We brought them on a rock climbing trip to the New River Gorge in West Virginia to wear while we weren't climbing. This involved hiking, climbing over boulders, and even some small repelling. They were comfortable to wear and kept our feet dry, but there were a few muddy spots on the trail where they got a little stuck and our heels slipped out. For the next time out we would bring some boots to do the muddy hikes but absolutely still bring these out for hanging out at the wall and belaying. There was a small tear in the fabric after all this adventuring but it's mostly surface damage. It would take a lot to completely put these out of commission.


2 Months of Use
Condition: Excellent
These have been keeping our feet warm as we've been wearing these around the house and we've worn them out while running errands because we completely forgot we weren't wearing "real" shoes. No new damage or anything to report.
Access the Pro Community Discussion
Get your questions about the Teva ReEMBER Moc Slippers answered from our team and the Pro Community right here on the page. Plus, join discussions with other members about gear, guides, and more.
Other Clothing & Accessories Reviews