Skechers GOwalk 4 Travel Shoes Review
Although Skechers may not be known for their cutting-edge fashion, they've made some big strides in the travel world with their latest travel shoe—the GOwalk 4.
Our Verdict
Unlock the Pro Summary
Save time. Get access to brief summaries of our reviews so you can browse and make decisions more efficiently.
Pros
Extremely comfortable
Aesthetic works with most clothes and environments
Great for travel
Cons
Don't offer any protection
Confusing product list on the Skechers website
Small stones can get stuck in the sole
Recent Pack Hacker Video
Technical Details
Weight (oz)

5.25 oz (148.8 g)

Per Size 7 Shoe

Manufacturing Country

Vietnam
Full Review
When you think about the world's most fashionable brands, let's be honest, Skechers isn't going to be at the top of your list. The footwear company has always put performance and comfort before cutting-edge fashion—allowing a certain "comfortable Mom and Dad shoe" stigma to arise—which, to be fair, has worked out very well for them, considering they've become a global juggernaut with over 2500 stores in 160 countries.
Skechers is slowly but surely paving its way to youthful and modern popularity with innovative designs and celebrity campaigns featuring the likes of Camila Cabello—you know, the one with the catchy "Havana" song. And with fashion lifestyle stores like Urban Outfitters now carrying their shoes, it's safe to say that Skechers is finally on trend.
So… Skechers is a global brand, renowned for their comfort and performance, getting their toes wet in the fashion world. Yet, we are all left asking one thing: "BUT DO THEY MAKE A TRAVEL SHOE?"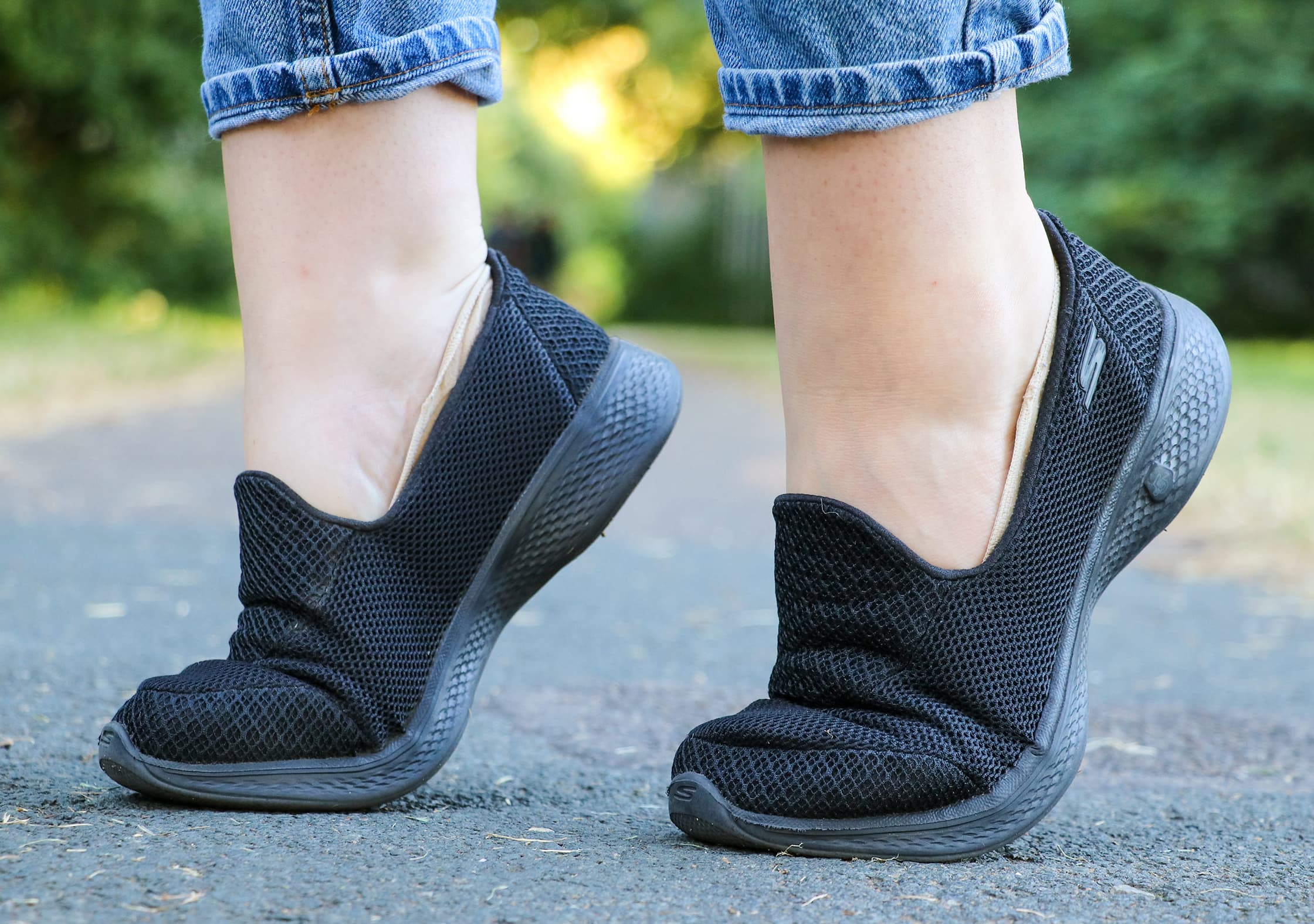 We are happy to confirm that, YES! THEY DO! It's called the GOwalk.
In this review, we're going to be checking out the Skechers GOwalk 4's—the latest iteration of their travel shoe—which we have been testing for the last two months. Oh, and we've previously tested the GOwalk 3's for over a year, across seventeen countries, in various climates and terrains—so we like to think we know the Skechers GOwalk series pretty well.
Aesthetic & Style
Before we get into how good these things look, we first need to discuss the different styles of Skechers GOwalk 4's on offer, and unfortunately, it does get a bit complicated. Skechers' naming structure and website do get confusing at times, and it's something we'd like to see them simplify and make more streamlined—because there's not just one style of GOwalk 4… (wait for it) … There's eight. Yes, eight different styles of the same shoe.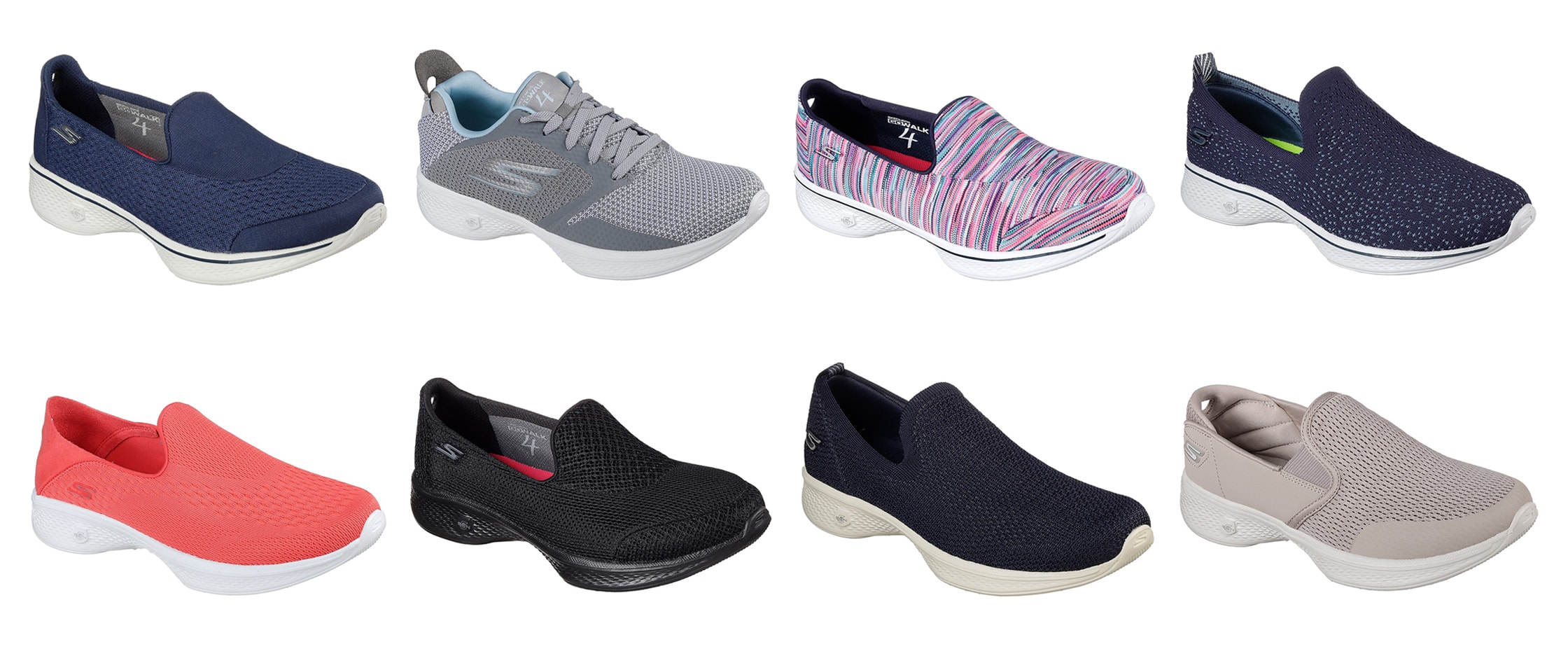 Thankfully, other than one of the versions being laced, they're all minor aesthetic differences—so you're free to choose whatever pair you like the look of most. We went with the "Propel" version.
The Skechers GOwalk 4's are available in a few different colors—black, blue, beige, red, and purple—but as always, black is probably your safest bet. It's the color that will go with most clothes, and is least likely to show dirt or stains—a win-win, and ideal for travel!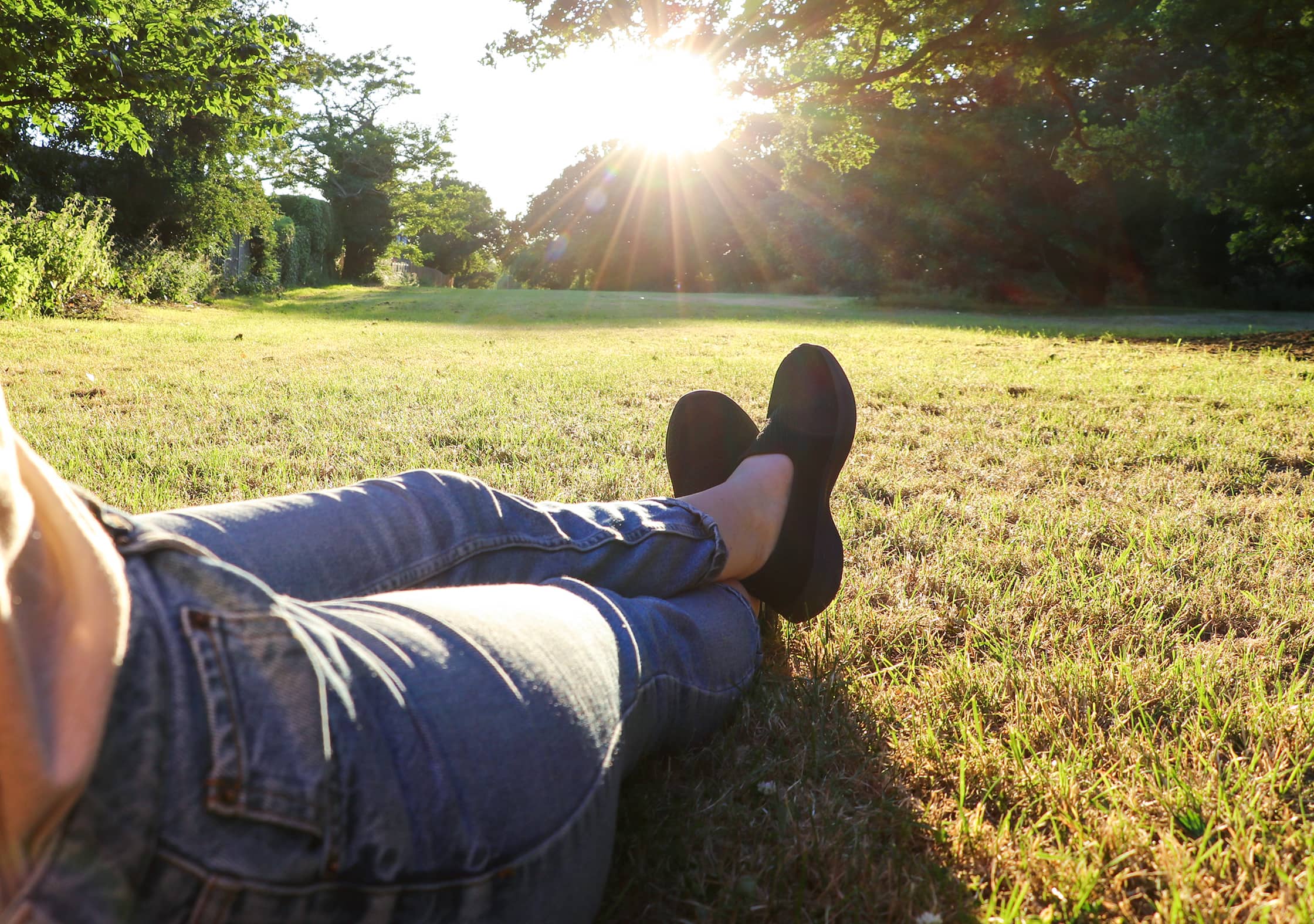 We like the sleek and minimalist style of the GOwalk 4's, and because they're so neutral, we've found you can pull them off in plenty of different environments. Whether you're feeling like a fashionista around the streets of Paris or power walking through the countryside, these shoes are going to fit right in with your style. Due to their streamlined look, they'll work with pants, dresses, or skirts, which is a huge bonus for travel. Anytime you can find one pair of shoes that goes with everything, you're onto a winner.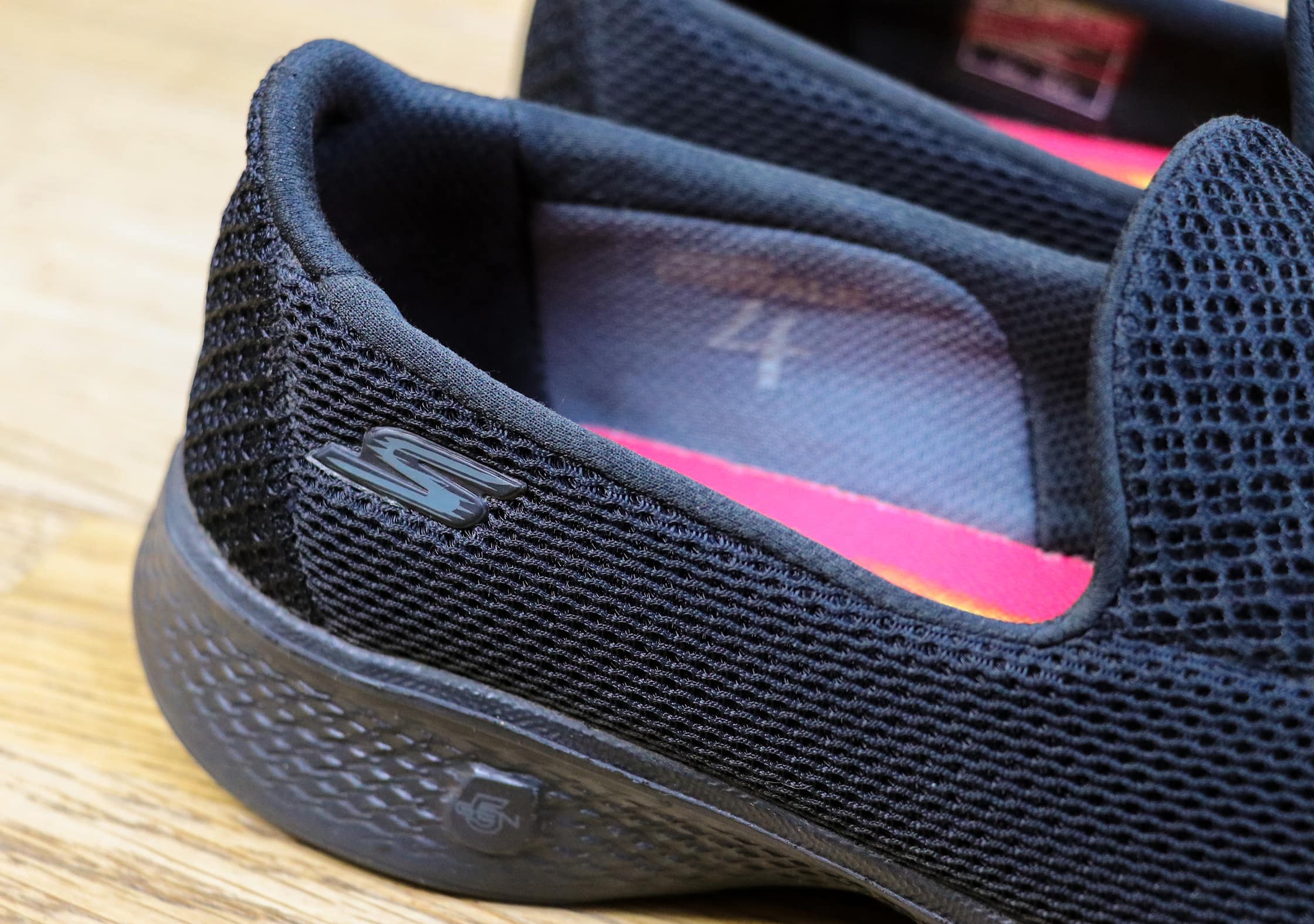 Skechers has given the GOwalk 4's some pretty discreet branding. We like the subtle "S" logo on the side—perfect if you're not a full Skechers convert just yet. The branding complements the sleek and simple design of these shoes and doesn't overpower what these shoes are made for, performance and comfort. And let's be honest here, you might not want everyone to know you're rocking a pair of Skechers. We get it, and it would appear the folks over at Skechers do as well.
We're big fans of the slip-on style of these shoes, which works really well for quickly getting in and out of the house, popping your shoes off in the airport security line, or having to take your shoes off at a Buddhist temple in South East Asia (which happens to us more often than you might think).
Now, let's settle one thing. When it comes to slip-on footwear, there's always a fear that your feet are going to slide out due to the lack of laces. We're happy to report that this has never happened to us—and as long as you buy the right size, it shouldn't happen to you either.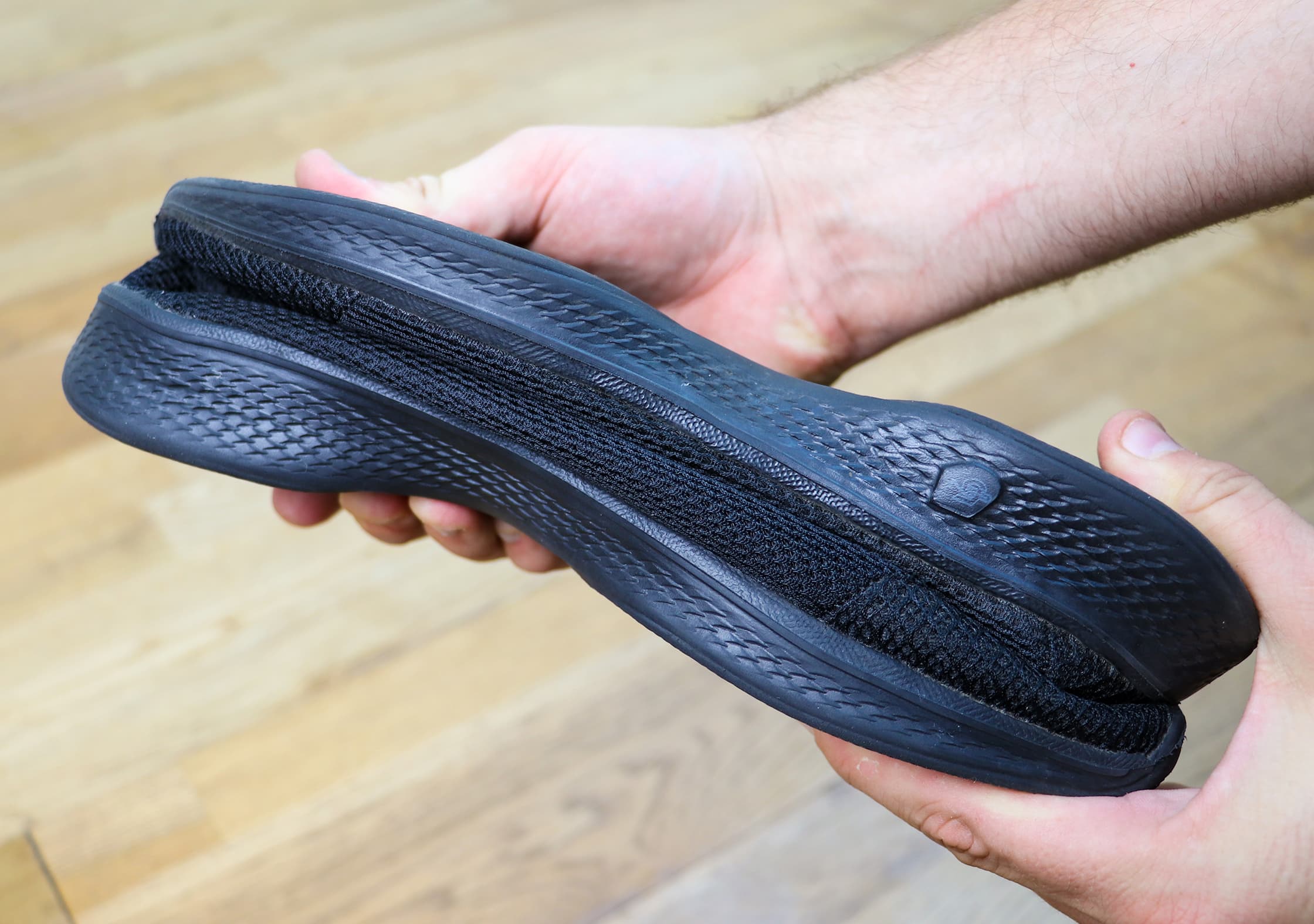 Per shoe, these things come in at a remarkably lightweight 5.25oz—for a size 7. Does it get any better for travel? Yes! They can also be packed flat. That's right, because of the soft mesh on top, the Skechers GOwalk 4's will lay pretty flat inside a pack—this will save you a lot of space inside your bag.
Comfort & Technology
It's hard to know where to begin here, as the sneaker engineers (which is definitely a real profession) over at Skechers have put some crazy tech into these things. Some of the website jargon is a bit too much for our liking, but it all comes together to create one of the most comfortable shoes we've tested yet. Seriously, we can't oversell just how incredibly comfortable these shoes are. During testing, we covered about 60km in three days with the all-black Propel versions, and never encountered even a hint of discomfort. So why are the Skechers GOwalk 4's just so darn comfy? Well, let's take a second to cut through the jargon.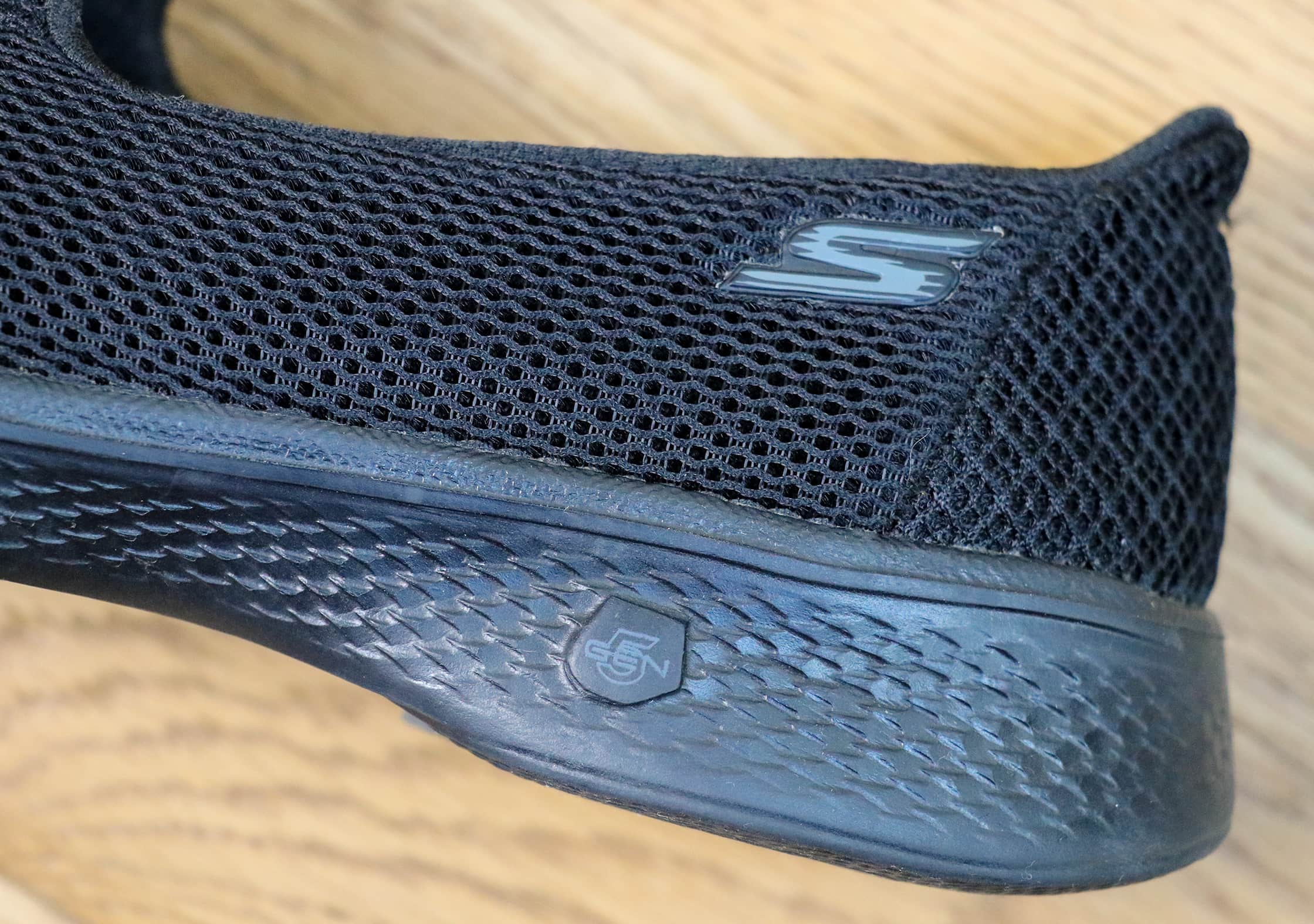 The soles feature "innovative and highly responsive 5GEN® midsole cushioning that is designed to provide a high energy return on every step," (we warned you about the jargon) which means that the shoe is easy to walk in, with minimal effort and impact on your feet. We can 100% vouch for that.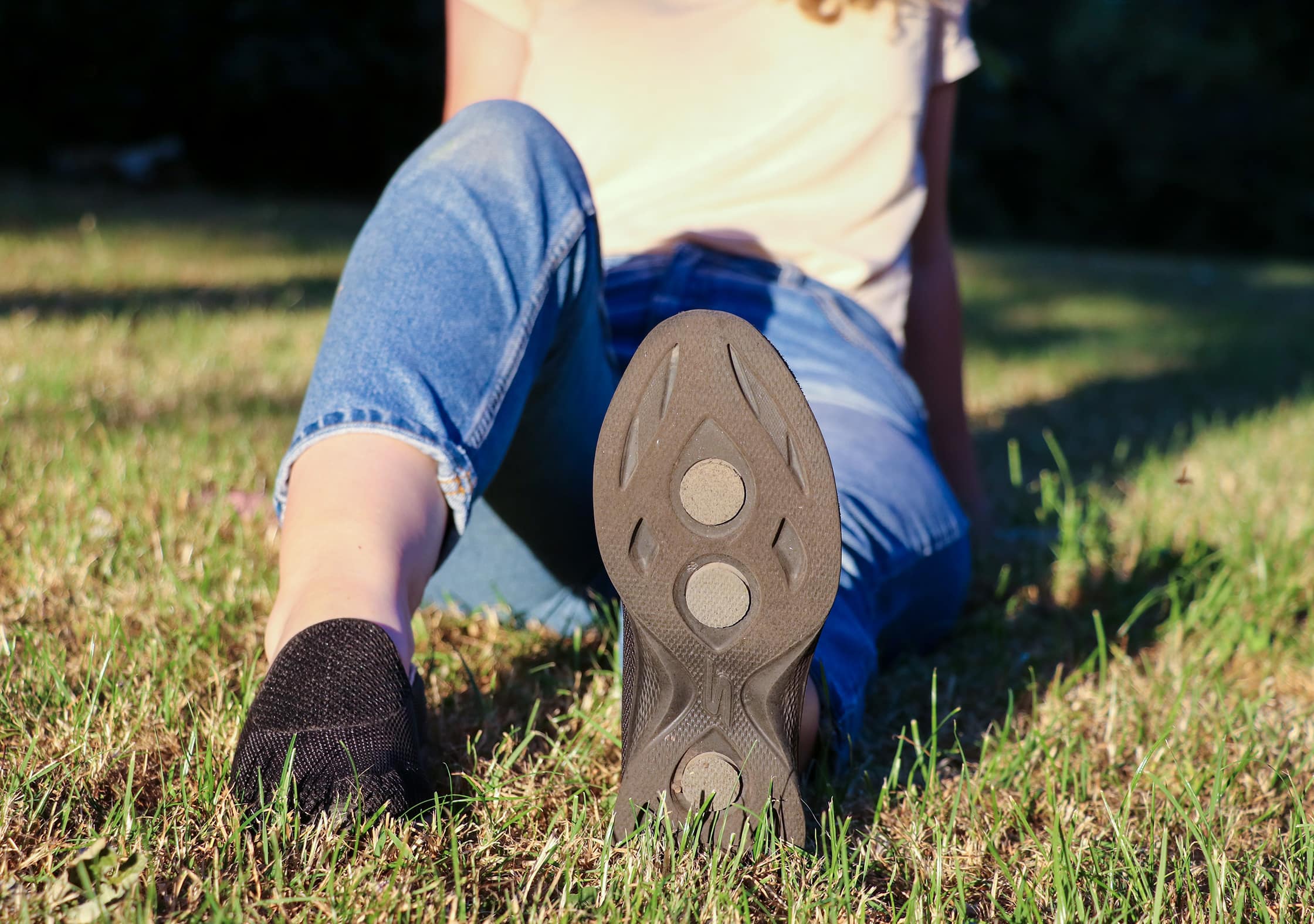 Next up are the "Goga Pillars®," that, at first glance, look pretty weird. They're pillars (shocker) on the bottom of the shoe to cushion any hard impacts—and from what we can tell, they do the job very well.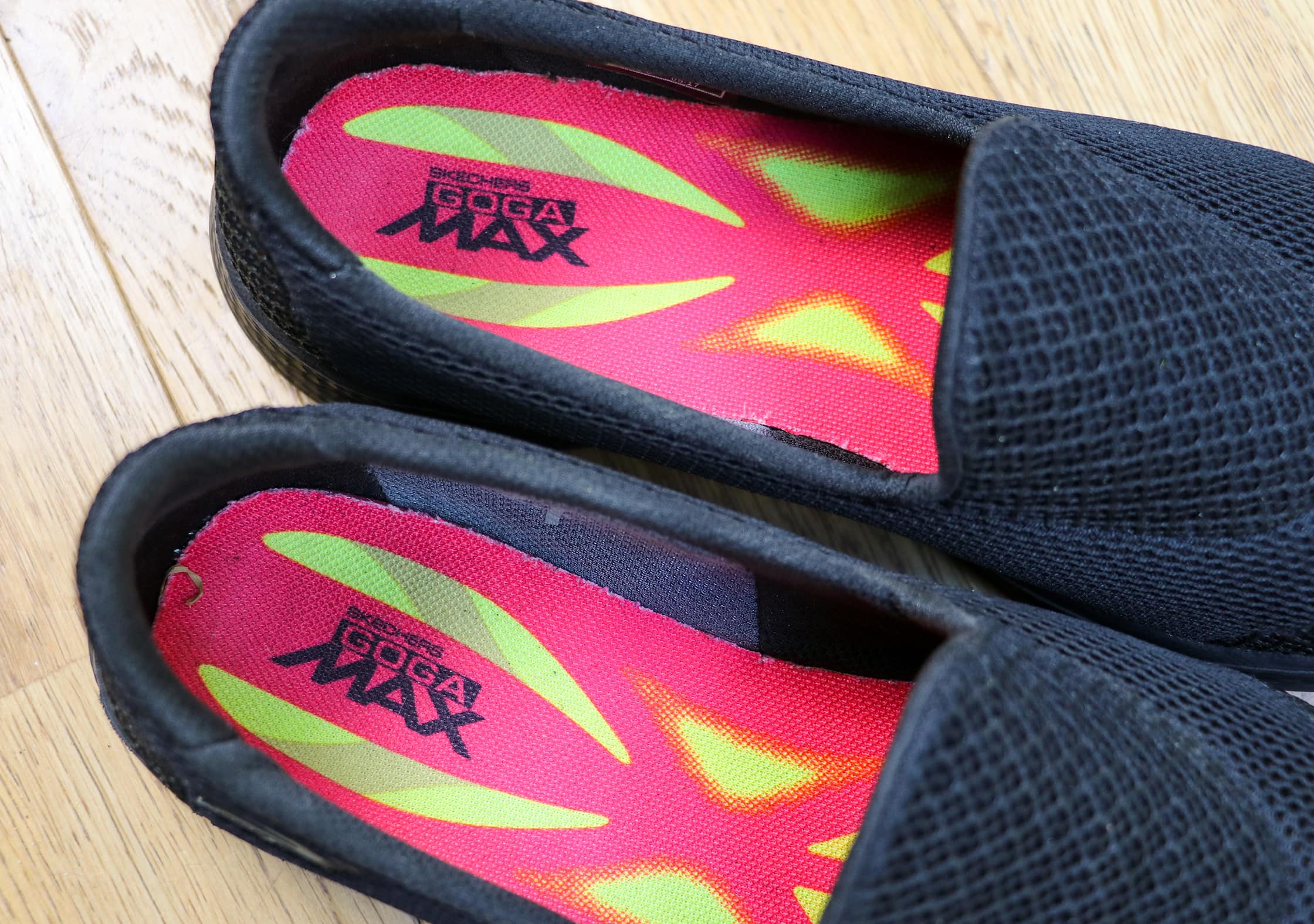 Moving inside the shoe, you'll find the "new Skechers Goga Max® insole for next-generation cushioning and support." Although this is a completely ridiculous way to describe the inside of a shoe, it does actually live up to the hype—to put it simply, it's effectively memory foam for your feet!
Ever wondered what it would be like to walk on memory foam? We'll give you a hint: IT'S AMAZING.
There's no fancy name for the next bit of tech, but it's impressive none the less. The mesh on the outside of the shoe is "engineered to naturally expand with your foot while you walk." (See? Sneaker engineers are a real thing!) Our GOwalk 4's have never rubbed or caused any friction, so this mesh appears to be doing exactly what it should be. The mesh not only allows a comfortable fit, but it's also highly breathable, keeping your feet cool even in warm climates.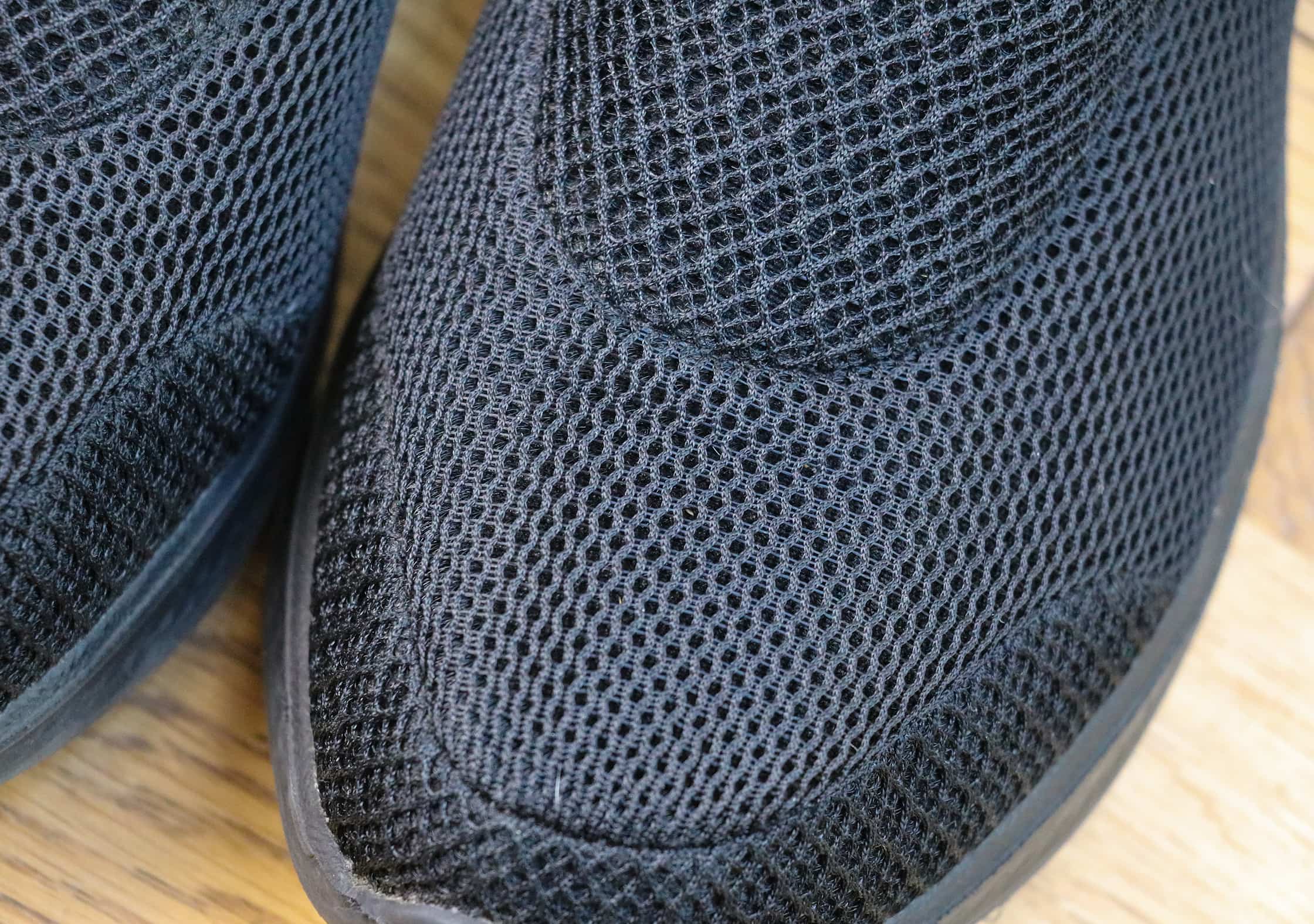 But let's be real here—regardless of how breathable your shoe is, feet still sweat. Fortunately, Skechers do have some fancy tech to keep your shoes smelling fresh—a bamboo-lined footbed for antibacterial odor control. This keeps your shoes smelling fresh due to an antimicrobial bio-agent called "bamboo kun," which is found naturally in bamboo fibers. Honestly, even after walking all day, every day, these shoes have never smelled. We really loved to see this, because there are few things worse than having to put smelly shoes into a backpack—unless you love the smell of gross shoes. We most certainly do not.
GOwalk 3 Vs GOwalk 4
As we mentioned earlier, we've been testing the new GOwalk 4's for the last couple of months, and have previously tested the GOwalk 3's for over a year—so we know them both pretty well. For the most part, they are very similar, but there are a few differences that we'll get into—all of which, in our opinion, improve the shoe.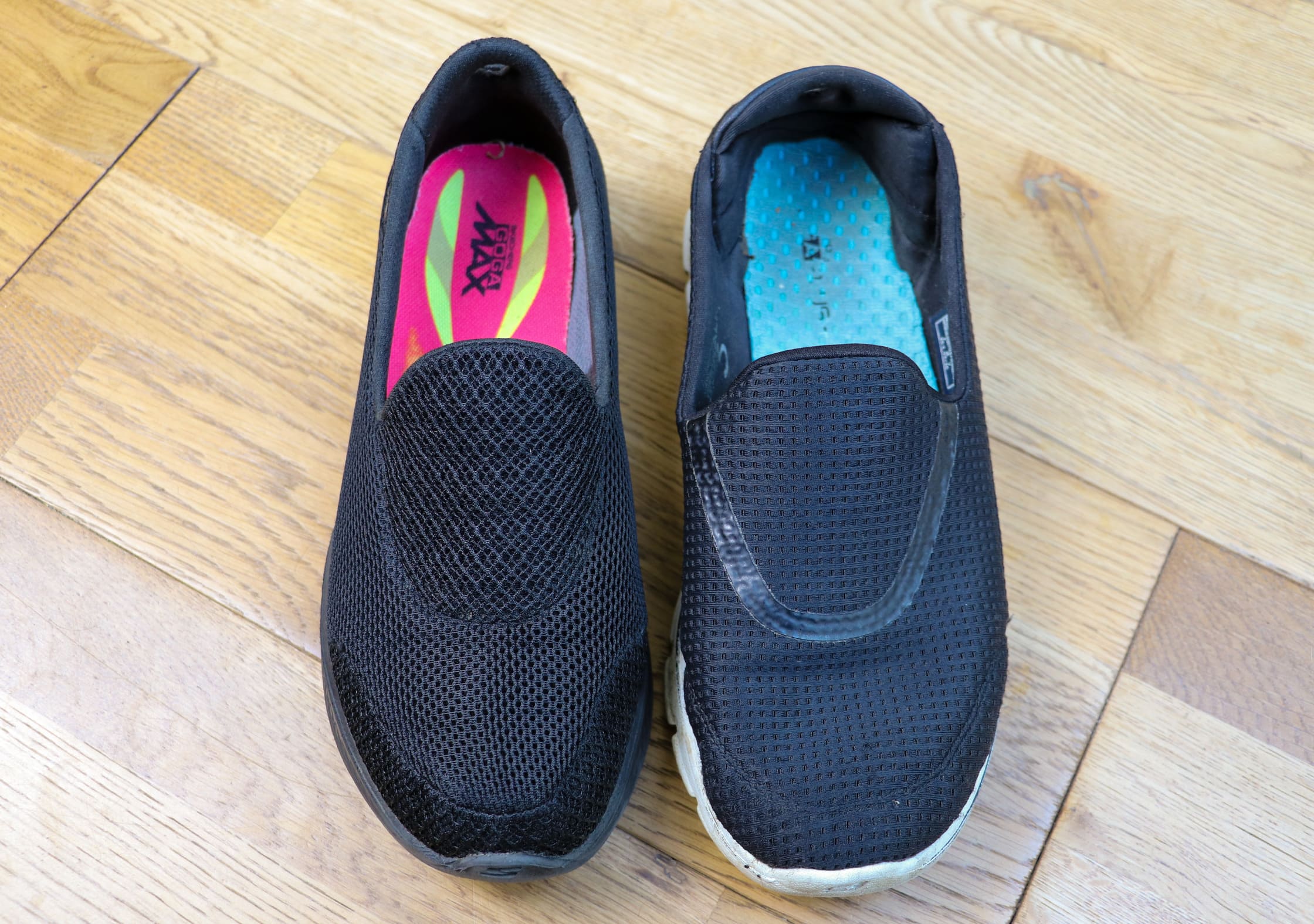 The main difference between the two versions is the width of the shoe. The GOwalk 3's are a lot wider than the GOwalk 4's. This is largely down to the redesigned Goga Pillars®, which allow a more streamlined design without compromising comfort. The narrower style is definitely more modern and fashionable, which is nice. (Remember before when we said that Skechers was becoming more fashionable? This is evident here.) With the GOwalk 3's, you did have a tendency to feel somewhat self-conscious in a fashion-oriented city like Tokyo or Singapore. The 3's did feel a tad clumpy and uncool, but the GOwalk 4's have improved quite a bit in this regard.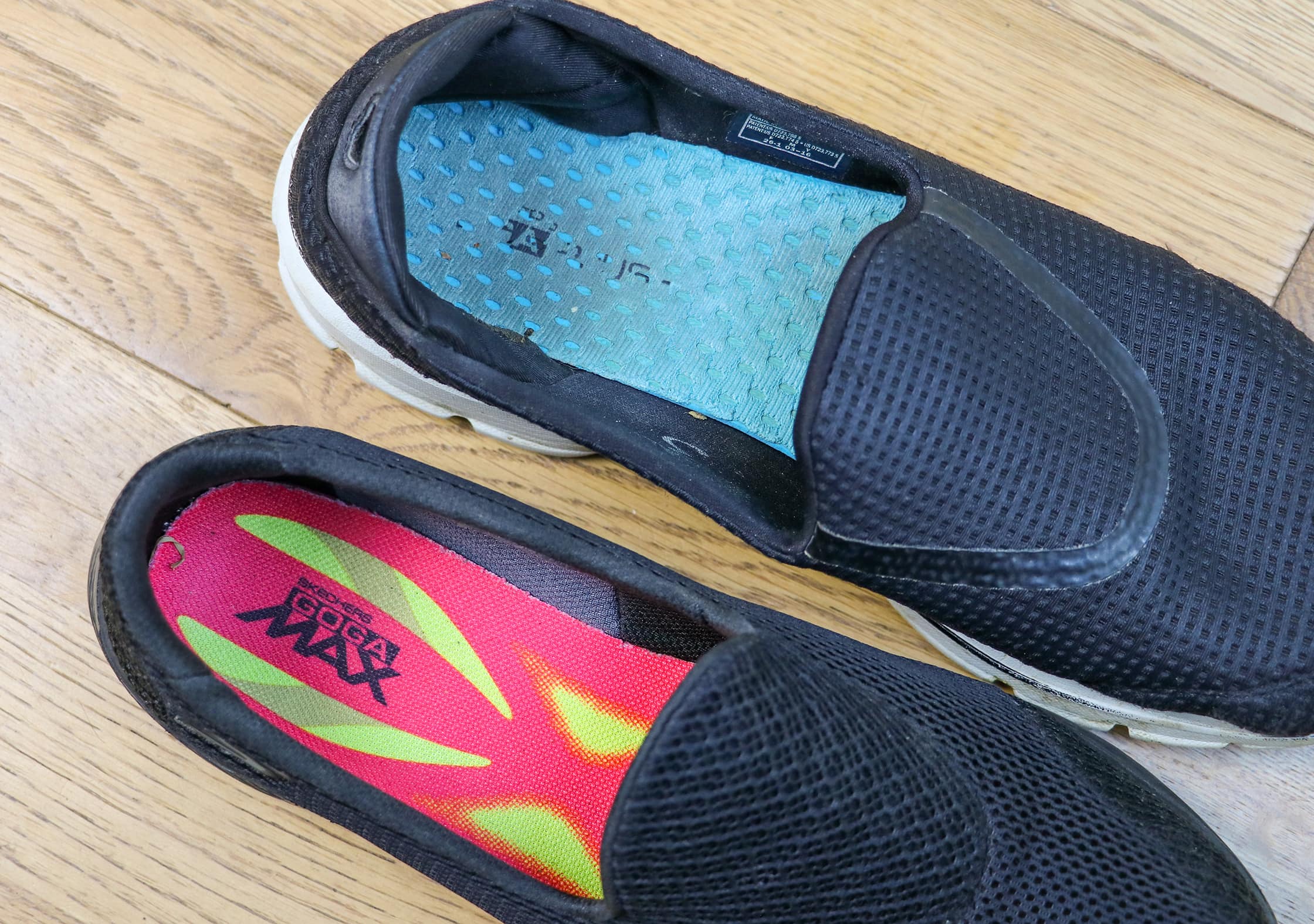 Another difference between the two is the new Goga Max® insoles in the GOwalk 4's. Now the GOwalk 3 insoles were still incredibly comfortable, but somehow the Goga Max® is even better—there's not a huge difference, but in our opinion, there is an improvement. We've also found the GOwalk 4's tend to smell a lot less than the previous iteration—that bamboo-lined inner sole must be doing the trick.
One significant improvement over the GOwalk 3's is the way the new GOwalk 4's repel water. This isn't to say these shoes are waterproof—because they are a far cry from it—but they are a lot more water-resistant. The GOwalk 3's used to soak up water and get soggy, whereas the GOwalk 4's have been able to stay relatively dry in all situations so far.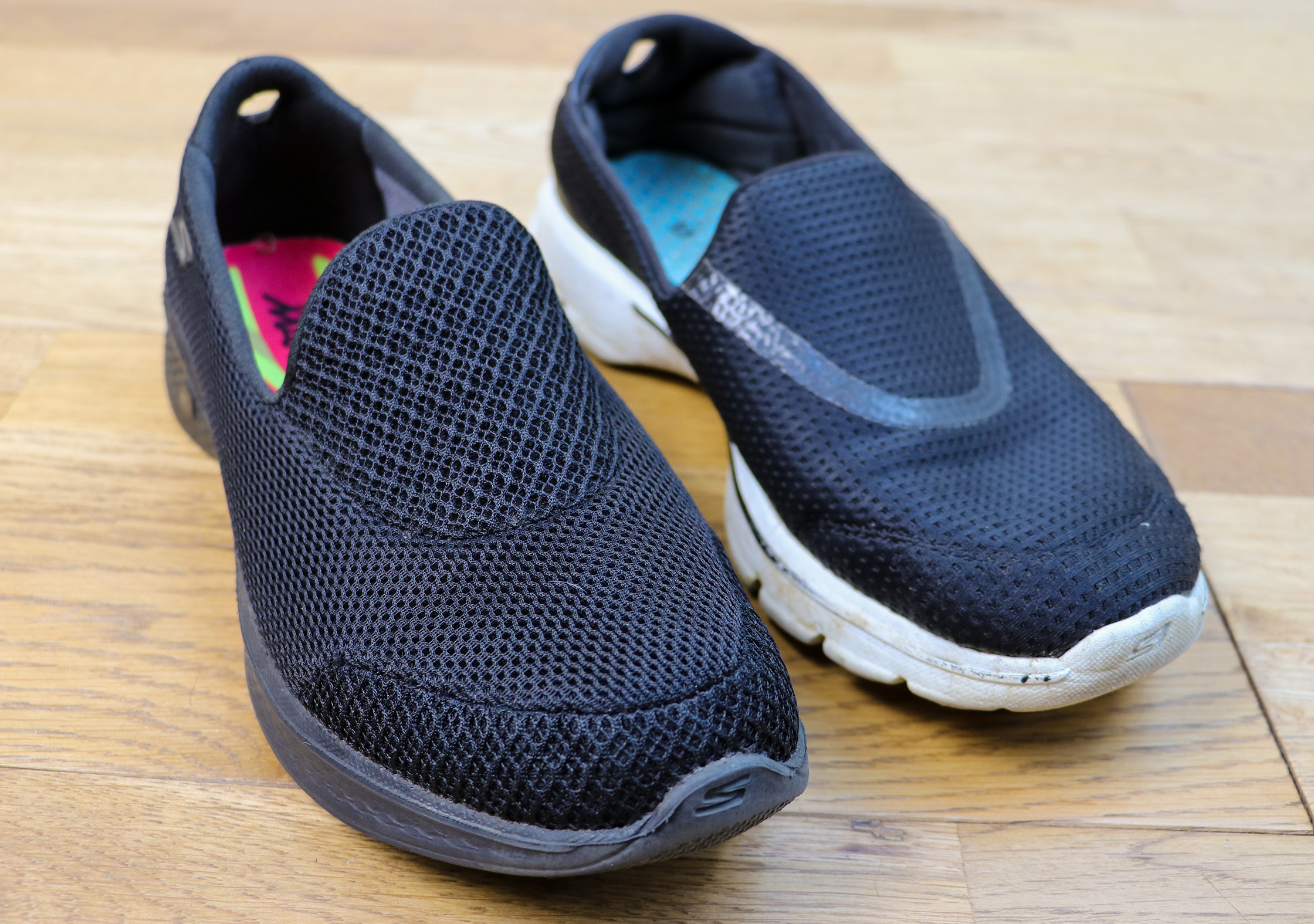 The next thing to note is that the GOwalk 4's have kept their shape a lot better than the GOwalk 3's. This may be down to the improved mesh on the outside, but it could also just be due to the fact we've tested the GOwalk 3's for a lot longer. If we're honest, we think it's a combination of both, but we do feel like the GOwalk 4's are going to hold up better over time. Be sure to check out the usage timeline below to see how they get on.
In our opinion, all of the changes that Skechers has made to the GOwalk 4's have been an improvement. This may not be the case for everyone though, judging by this question left on the Skechers website: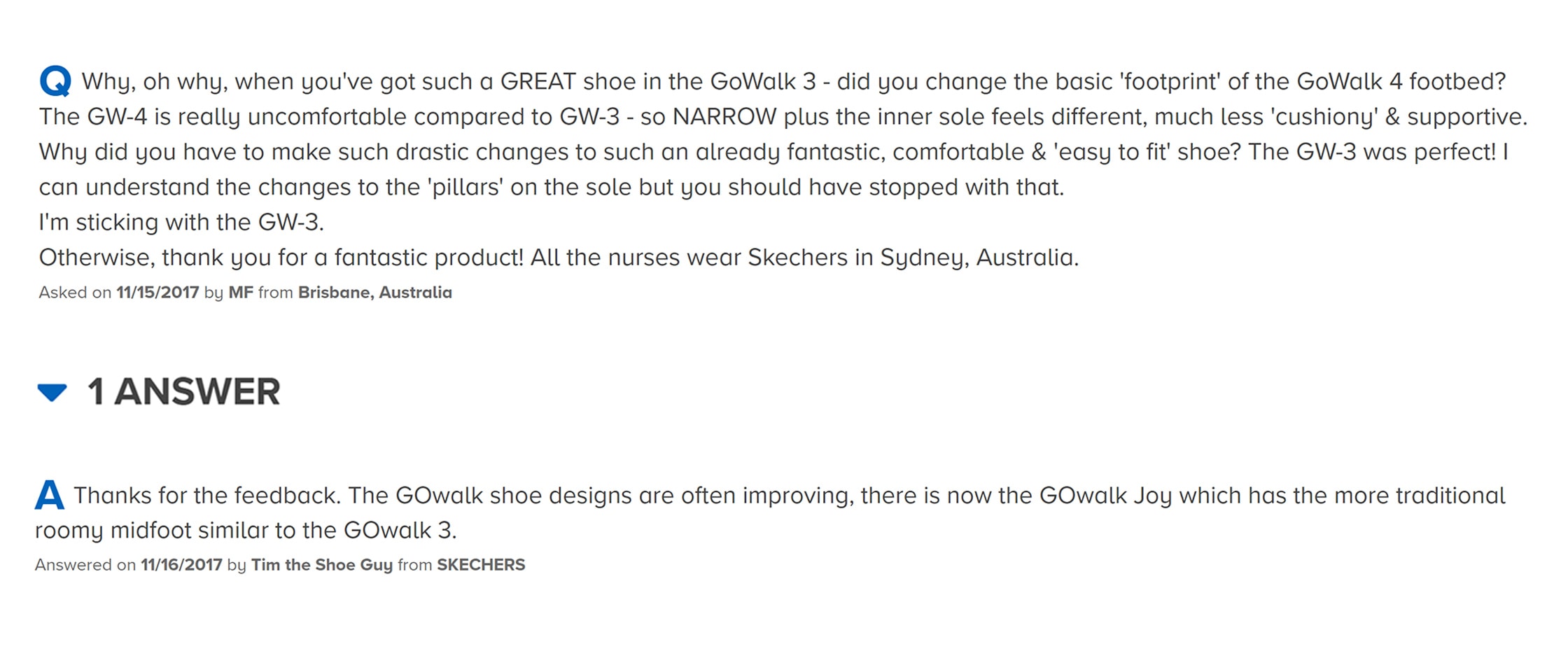 "Why, oh why, when you've got such a GREAT shoe in the GoWalk 3 – did you change the basic footprint of the GoWalk 4 footbed? The GW-4 is really uncomfortable compared to GW-3 – so NARROW plus the inner sole feels different, much less cushiony & supportive. Why did you have to make such drastic changes to such an already fantastic, comfortable & easy to fit shoe? The GW-3 was perfect! I can understand the changes to the pillars on the sole but you should have stopped with that."
To which Skechers replied:
"Thanks for the feedback. The GOwalk shoe designs are often improving, there is now the GOwalk Joy which has the more traditional roomy midfoot similar to the GOwalk 3."
This goes to show that different styles suit different people. It's great to see that Skechers has noted this too, and responded by bringing out the GOwalk Joy. Plus, the "Propel" and "Gifted" versions of the GOwalk 4 come in a wide version now, too. As if there weren't enough styles to keep track of.
Durability & Testing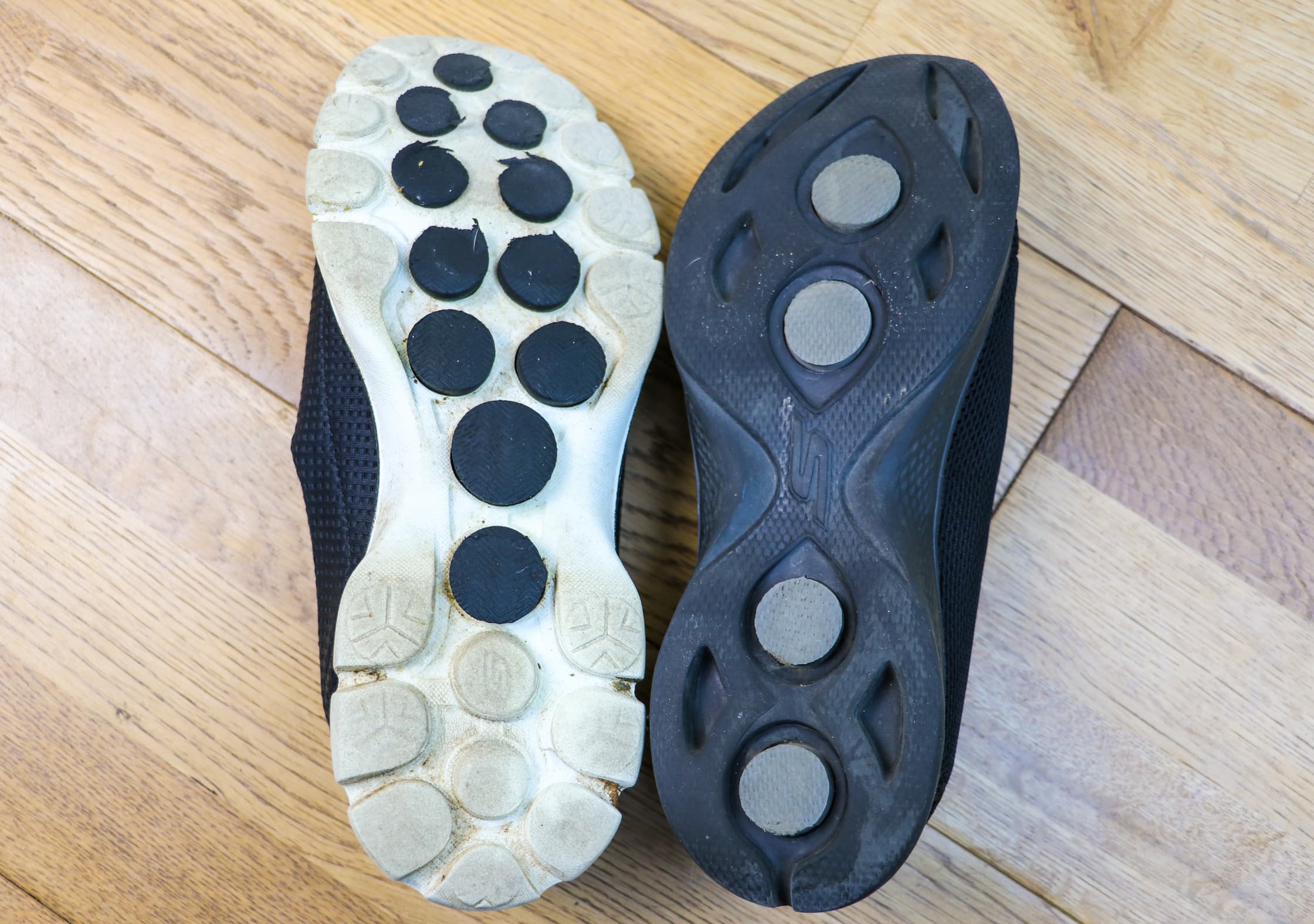 After two months of testing, our GOwalk 4's have held up very well—which is not surprising, after how well our previous GOwalk 3's held up. We did notice some discoloration on the GOwalk 3's white sole after a while, which is why we went with the all-black version of the GOwalk 4's. The black sole helps with keeping these shoes looking fresh and clean, especially when you're on the road.
If you do find the need to wash out your sneaks, Skechers says to use a damp cloth, which works well. Even though we've never needed to for the GOwalk 4's (because they always smell so fresh), we have previously put the GOwalk 3's into a washing machine—on a cold, gentle cycle—with no side effects, other than beautifully clean, odor-free shoes.
Now, the Skechers GOwalk 4's are incredibly comfortable—we may have mentioned that a few times already—and made of some super lightweight materials, but because of this, they lack protection. If you drop something on your foot, hit something hard, or someone stands on it, it's going to hurt. These are anomalies, but it's worth taking into consideration. If you need a pair of shoes that are going to protect your feet from a hazard, these are not the shoes for you.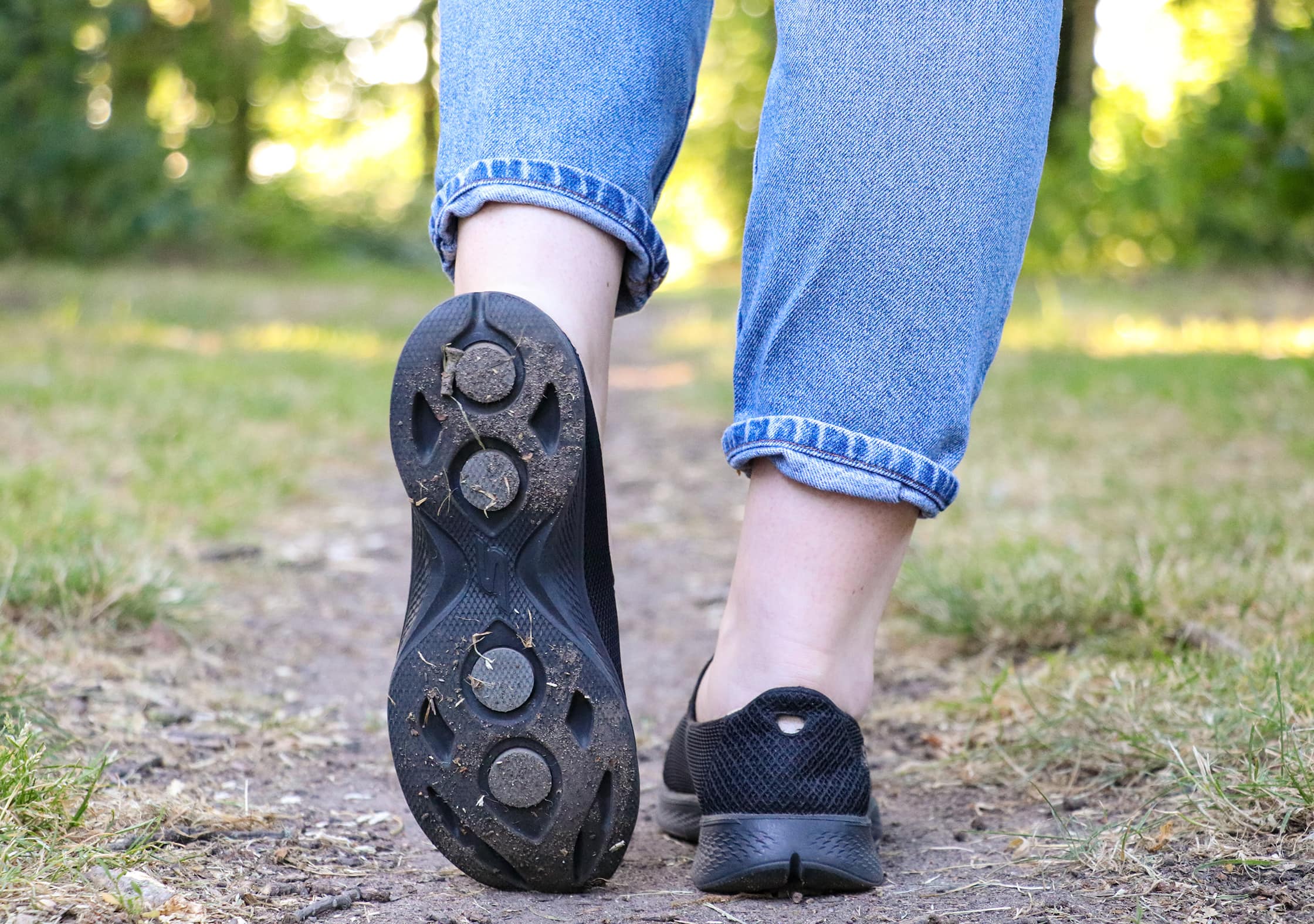 Another nitpick—and this one is a small one—is the fact that on occasion, gravel and small stones can get stuck in between the pillars on the sole. This doesn't necessarily cause much discomfort, and they're easy to remove—but it's a tad annoying when it happens.
All in all, these are a great pair of travel shoes. They are super comfortable, they'll go with everything, and they can be packed flat! If you're in the market for a pair of shoes to accompany your travels around the world, the Skechers GOwalk 4's would make for a fantastic choice.
Usage Timeline
Initial Usage
Condition: Excellent
They're a lot more streamlined and clean-cut than the previous iteration. Love the look—the all-black color goes well with everything.
1 Month of Use
Condition: Excellent
Noticed that small stones can get stuck in the soles, but other than that these shoes are great.
2 Months of Use
Condition: Excellent
Even after spending all day walking, these shoes are still comfy.
Access the Pro Community Discussion
Get your questions about the Skechers GOwalk 4 Travel Shoes answered from our team and the Pro Community right here on the page. Plus, join discussions with other members about gear, guides, and more.
Other Clothing & Accessories Reviews