Sea to Summit Garment Mesh Bag Review
The Sea to Summit Travelling Light Garment Mesh Bags come in three sizes, use lightweight materials, and are flexible enough to handle anything you pack.
Our Verdict
Unlock the Pro Summary
Save time. Get access to brief summaries of our reviews so you can browse and make decisions more efficiently.
Pros
Extraordinarily lightweight and durable materials
Two zipper heads make it easier to access stowed gear
Holes in Hypalon tabs allow you attach them to a bag
Cons
Unbranded zippers don't feel the sturdiest
Awkward material tag on the front
Need another size between medium and large
Recent Pack Hacker Video
Technical Details
Capacity

11l

(medium) | 4L (small)

Weight (oz)

3.68 oz (104.3 g)

(large) | 2.8 oz (medium) | 1.9 oz (small)

Dimensions

15.7 in x 11.8 in x 3.5 in (39.9 x 30 x 8.9 cm)

(large) | 14 in x 10 in x 4 in (medium) | 10 in x 7 in x 4 in (small)

Notable Materials

CORDURA® Nylon, Unbranded Zippers

Manufacturing Country

China

Warranty Information
Full Review
Upon first inspection, the Sea to Summit Travelling Light Garment Mesh Bag is nothing special. Even with the double L, these cubes are simple. However, that might not be a bad thing. They're crafted from extraordinarily lightweight materials, have durable accents, and fold up tiny. We're amped to see how these things perform on a trip, so let's dive in!
External Components
The primary material utilized on these packing cubes is Ultra-Sil CORDURA nylon. It's durable and lightweight but can be loud when not in use. The noise isn't an issue if you're using them, but it can be annoying when storing them for later use.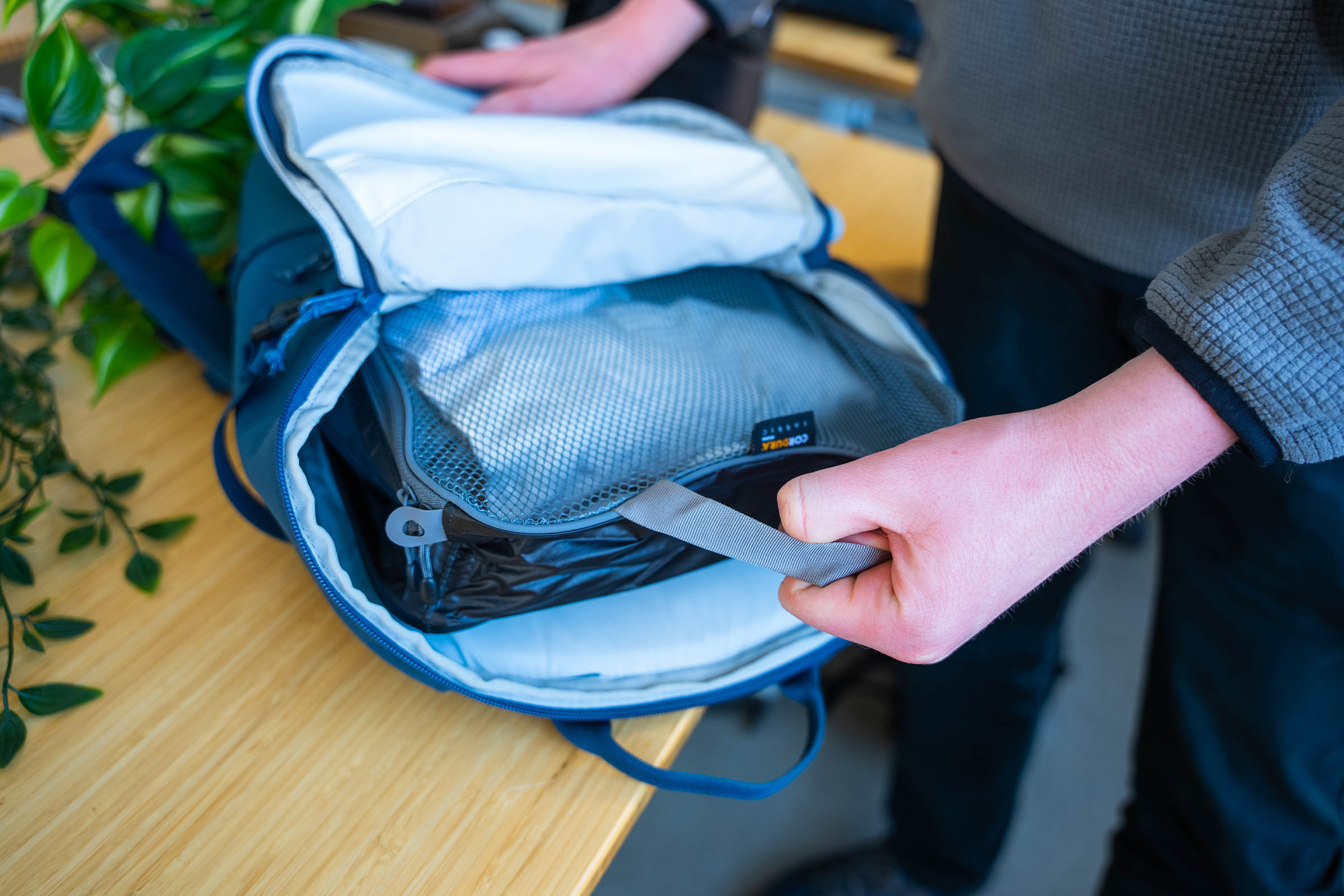 The zippers are unbranded yet holding up well. There are two heads, so you can close them anywhere you'd like on the track. This is helpful if you want to grab things in and out of the cubes while they're in your travel backpack. To do so, leave the zipper heads near where the opening on your pack is.
The pulls are crafted from a paracord-like material and have a small plastic tab on the end. They can be challenging to grasp, especially with large hands, although we don't mind their size. Their petiteness cuts out weight, and every ounce counts when boarding a flight with strict weight restrictions.
At both ends of the zipper track, there are small Hypalon grab tags, ​​which help when opening and closing the zipper, especially with a stuffed bag. A small hole in the tag lets you loop something through it to attach it inside your pack or to another piece of gear. We don't recommend hanging the pouches from it, though the Hypalon is quite strong.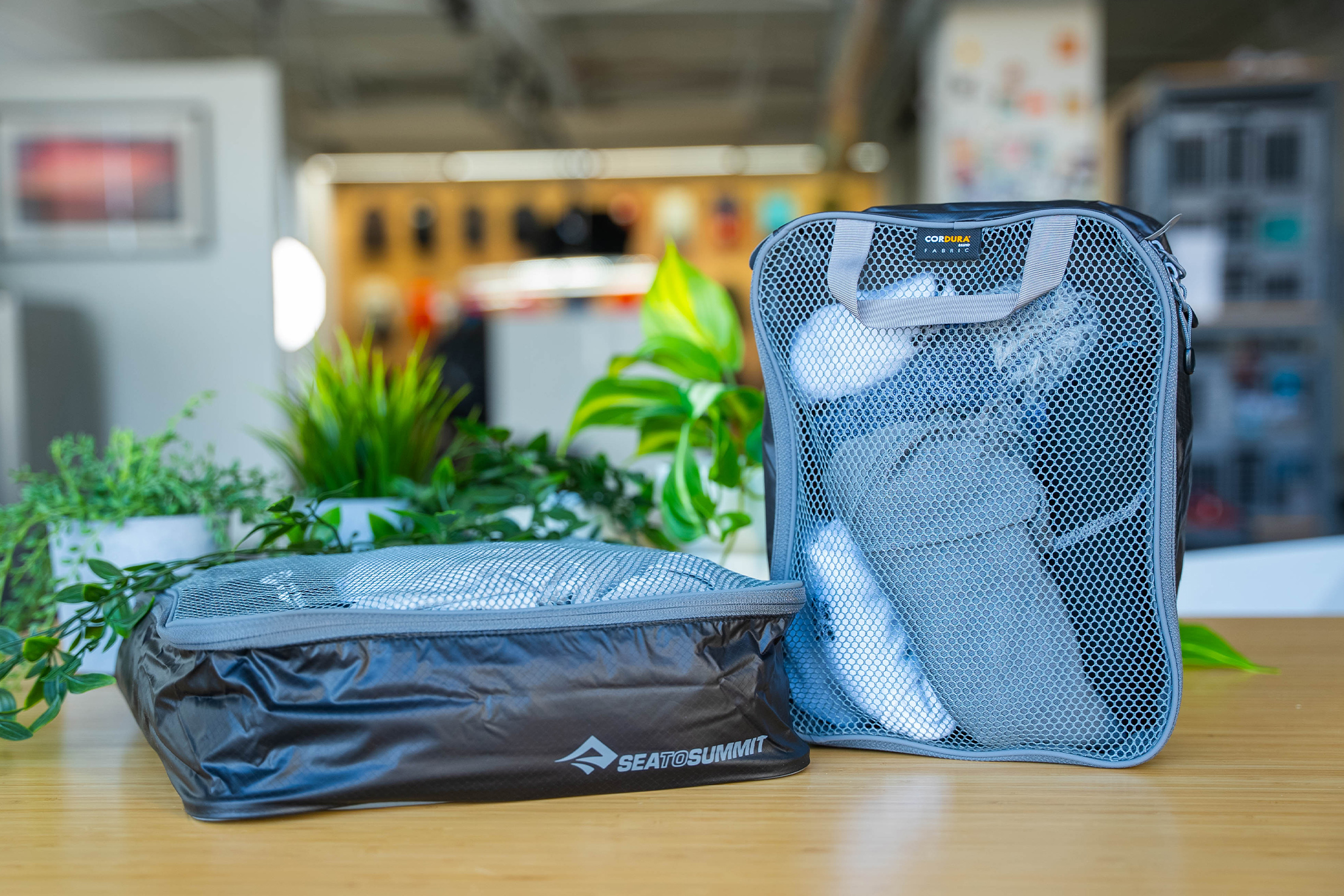 A top handle on the bag helps you grab it out of your daypack or travel backpack and carry it where you need, whether you're staying somewhere with shared accommodations or need to shift gear from one pack to another. The handle has no padding or aeration, although we don't miss it. It works and doesn't weigh the cubes down.
The material on the bottom is thicker, which is helpful as this is where most of the weight from your clothing rests when your pack isn't in motion. The sides are made of a lightweight material that folds down quickly, and the top is mesh. You can see what's packed inside, and it allows the clothing to breathe. If you toss something damp inside, it won't be stinky by the time you get to your next destination. However, it could get on the clothing if something leaks inside your pack.
Before we hop inside, there's a CORDURA tag on the top of the cubes. It's minimalistic yet feels out of place on the front. The Sea To Summit logo is on the bottom (on the lightweight fabric). This placement feels more organic and isn't as noticeable.
Inside The Bag
Inside, the zipper track runs around three of the bag's four sides so they open like a clamshell, enabling you to get into the nitty-gritty of organizing your clothing withouth disturbing it once it's in place. If you had to reach in from the top to grab some socks, you might upset your T-shirts, and nobody likes an upset T-shirt.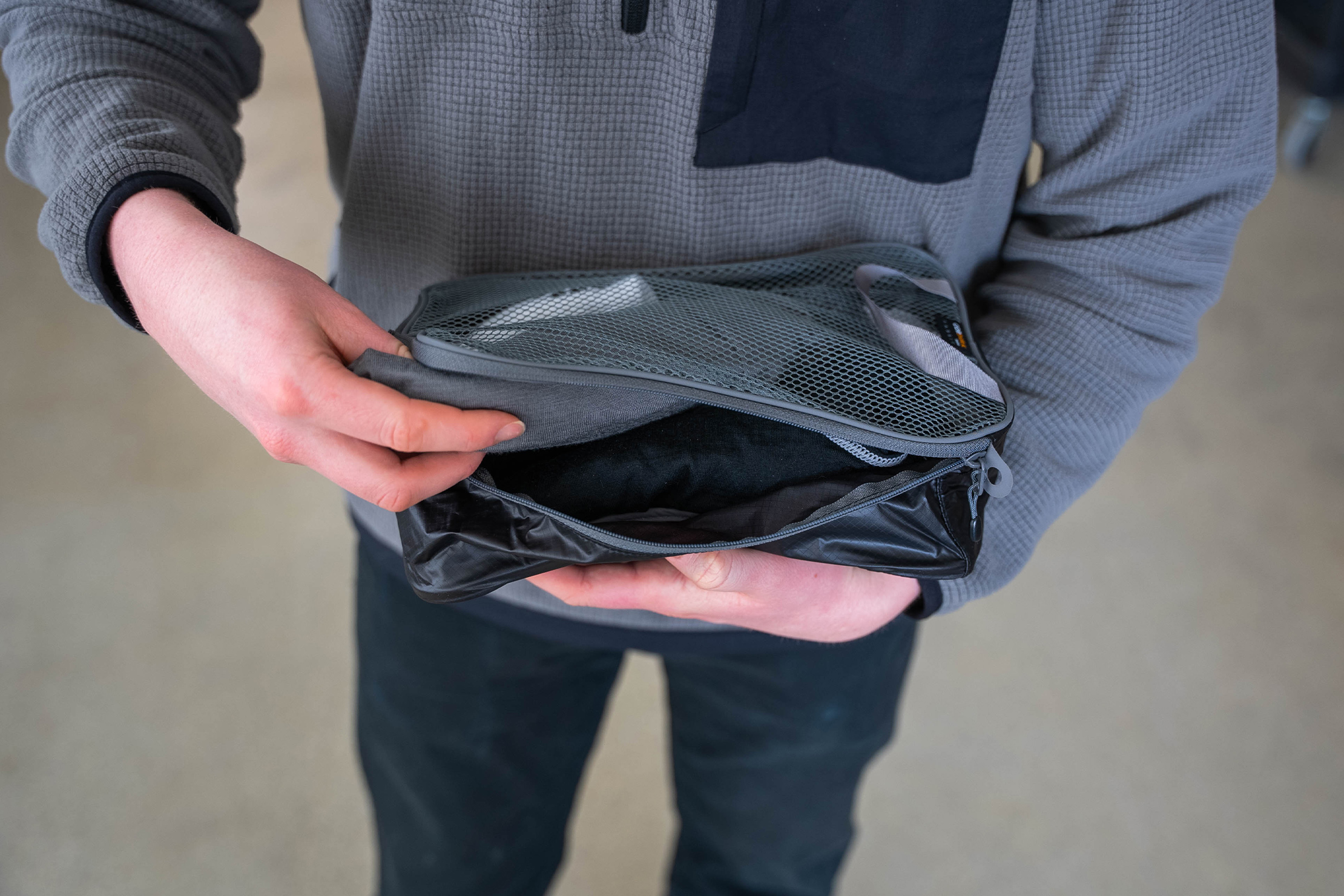 If you don't have the cube packed full, the flexible material on the sides takes the shape of what's inside it, so there isn't wasted space. The Sea to Summit Travelling Light Garment Mesh Bag isn't compressible, though.
There are three size options, so you've got a few options and combinations to choose from.
The small size is excellent for socks, underwear, and other small pieces of clothing like a sports bra or stretchy knee brace (we see you, Osgood Schlatter disease).
The medium offering is perfect for all your not-upset T-shirts, long sleeves, and lightweight bottoms like joggers, shorts, or a swimsuit.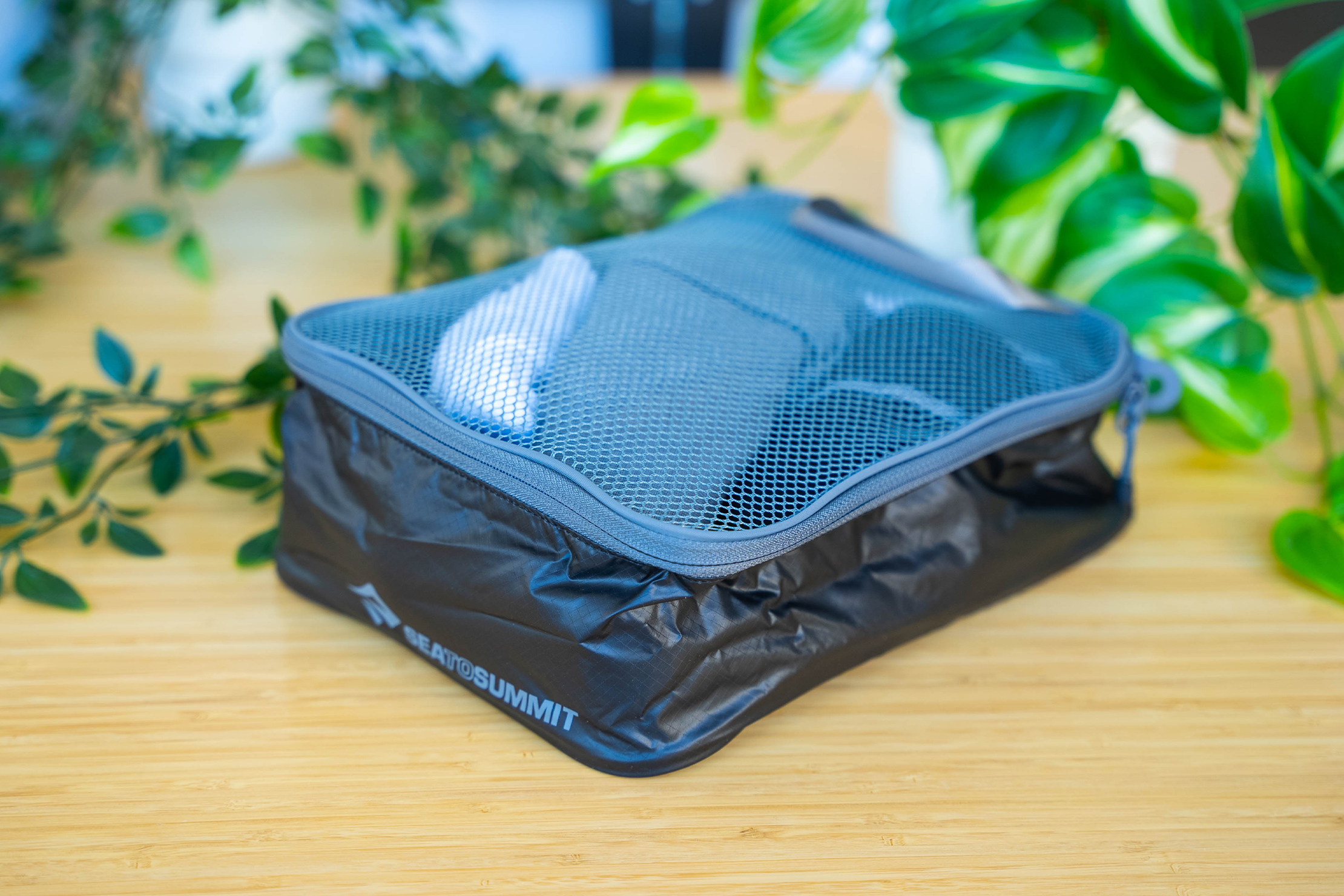 The large size is one of the biggest packing cubes we've come across as of the time of writing. Measuring 16 by 12 by 4 inches (40.64 by 30.48 by 10.16 centimeters), you can easily stow bulkier sweatshirts, heavier pants, or a packable jacket inside. Two-dimensionally speaking, the small and medium cubes can roughly fit within the footprint of the large; this thing is big!
However, that size comes at a cost. It isn't going to fit inside a smaller travel backpack and is a no-go for daypacks. If you pack smart, the small and medium cubes are an excellent fit for a weekend trip or even a week-long vacation.
The large option works well for your checked luggage. Or, if you like to adventure after work, go to the gym often, or keep an extra set of clothing with you at all times, it's a good size for stowing in your trunk for safe keeping.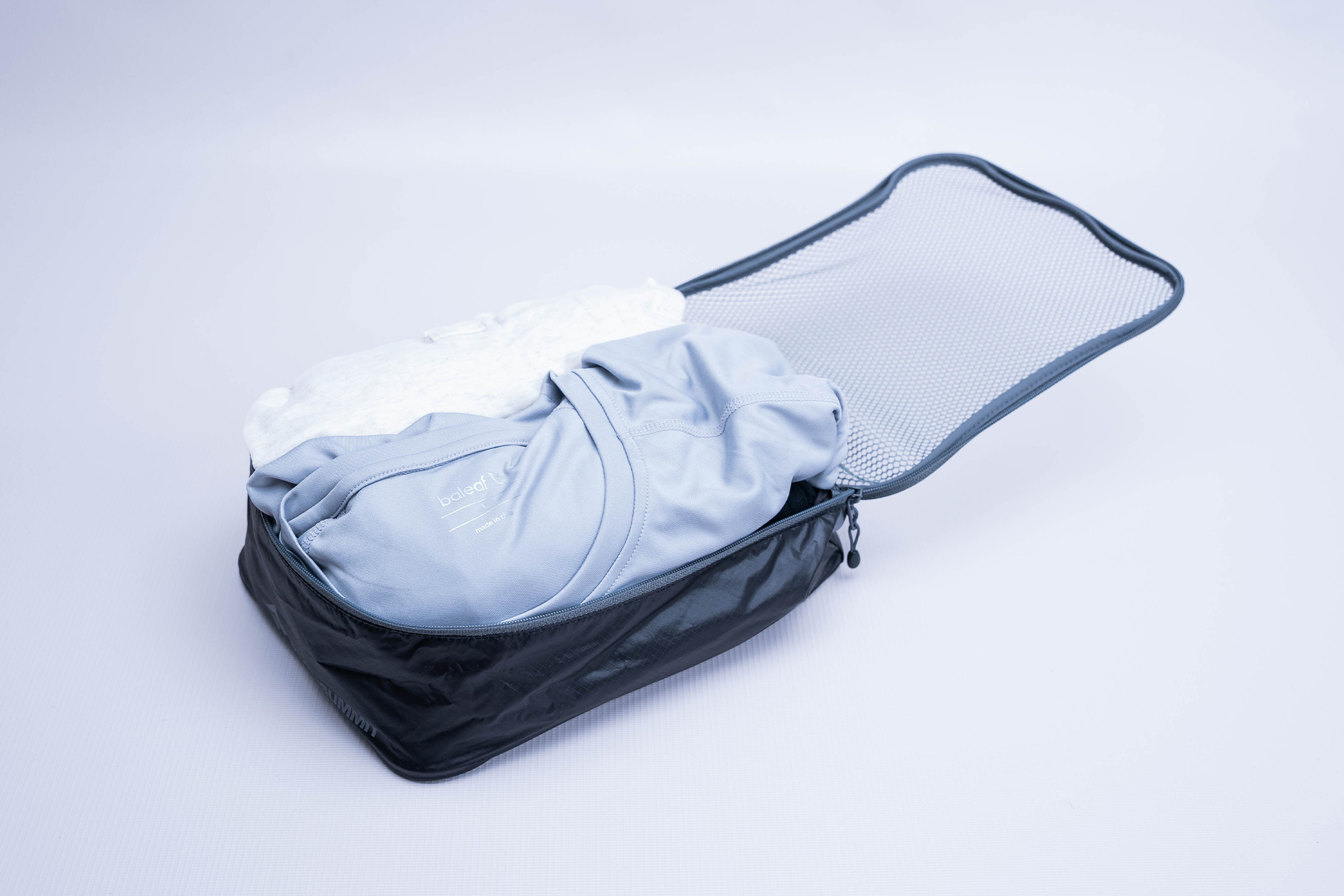 Overall, there isn't anything revolutionary about these packing cubes. However, they pack down extraordinarily small when not in use, mold to whatever you place inside them, and can be combined to be your next trip companion.
Usage Timeline
Initial Usage
Condition: Excellent
Extraordinarily lightweight and packable when not in use
The unbranded zippers give us worries about long-term
The materials are thin but feel durable
2 Weeks of Use
Condition: Excellent
The lightweight materials fit around what you put inside, large or small
No issues with the durability of the materials or hardware
The large cube feels a bit too big but will work for unique situations
Access the Pro Community Discussion
Get your questions about the Sea to Summit Garment Mesh Bag answered from our team and the Pro Community right here on the page. Plus, join discussions with other members about gear, guides, and more.
Other Organizers & Pouches Reviews