Scrubba Wash Bag Mini Review
The Scrubba Wash Bag Mini has all of the benefits of the original size—convenience and packability—but, unsurprisingly, has an even more limited load.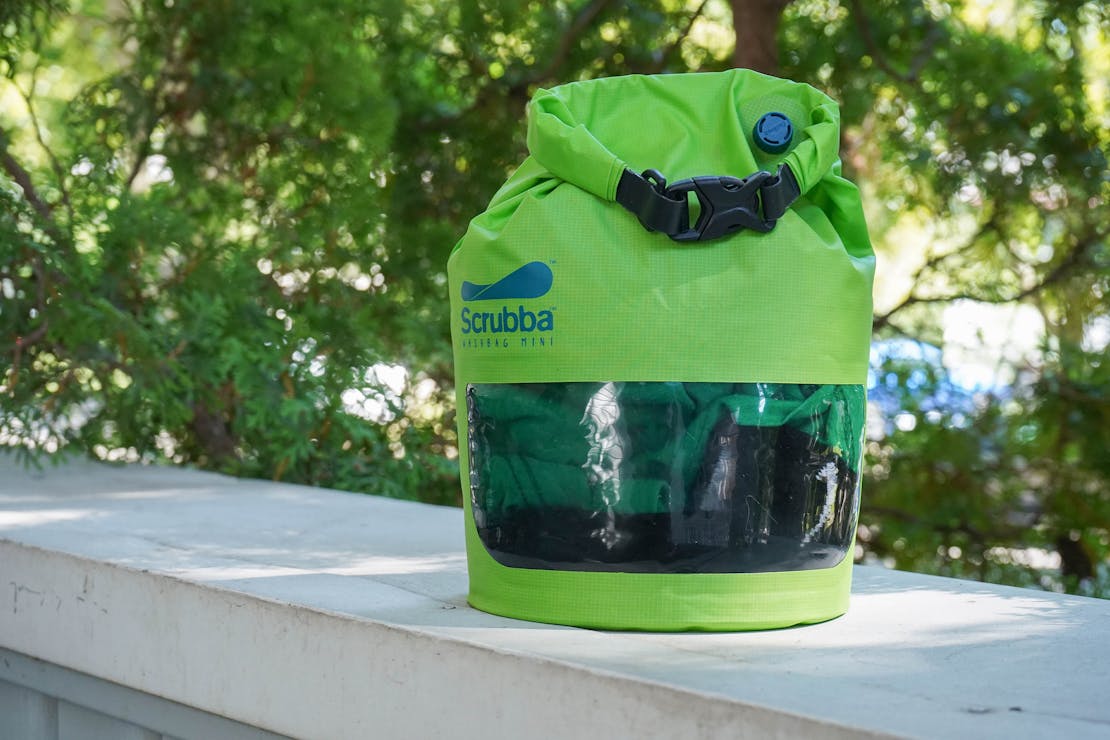 Our Verdict
Unlock the Pro Summary
Save time. Get access to brief summaries of our reviews so you can browse and make decisions more efficiently.
Pros
Lightweight and compact
Made of durable materials
Cleans clothes effectively
Cons
Although high-quality, it feels plastic-y and (somewhat) cheap
Has a small interior capacity
Won't work well for bulkier items
Recent Pack Hacker Video
Technical Details
Weight (oz)

2.5 oz (70.9 g)

Dimensions

14.5 in x 9 in x 5.5 in (36.8 x 22.9 x 14 cm)

Notable Materials

Nylon, Thermoplastic Polyurethane (TPU)

Manufacturing Country

China

Warranty Information
Full Review
There are moments when you can get away with wearing a shirt past its prime, cleanliness wise—like when you're camping, city strolling, or if you just #DGAF. The same cannot be said for undergarments.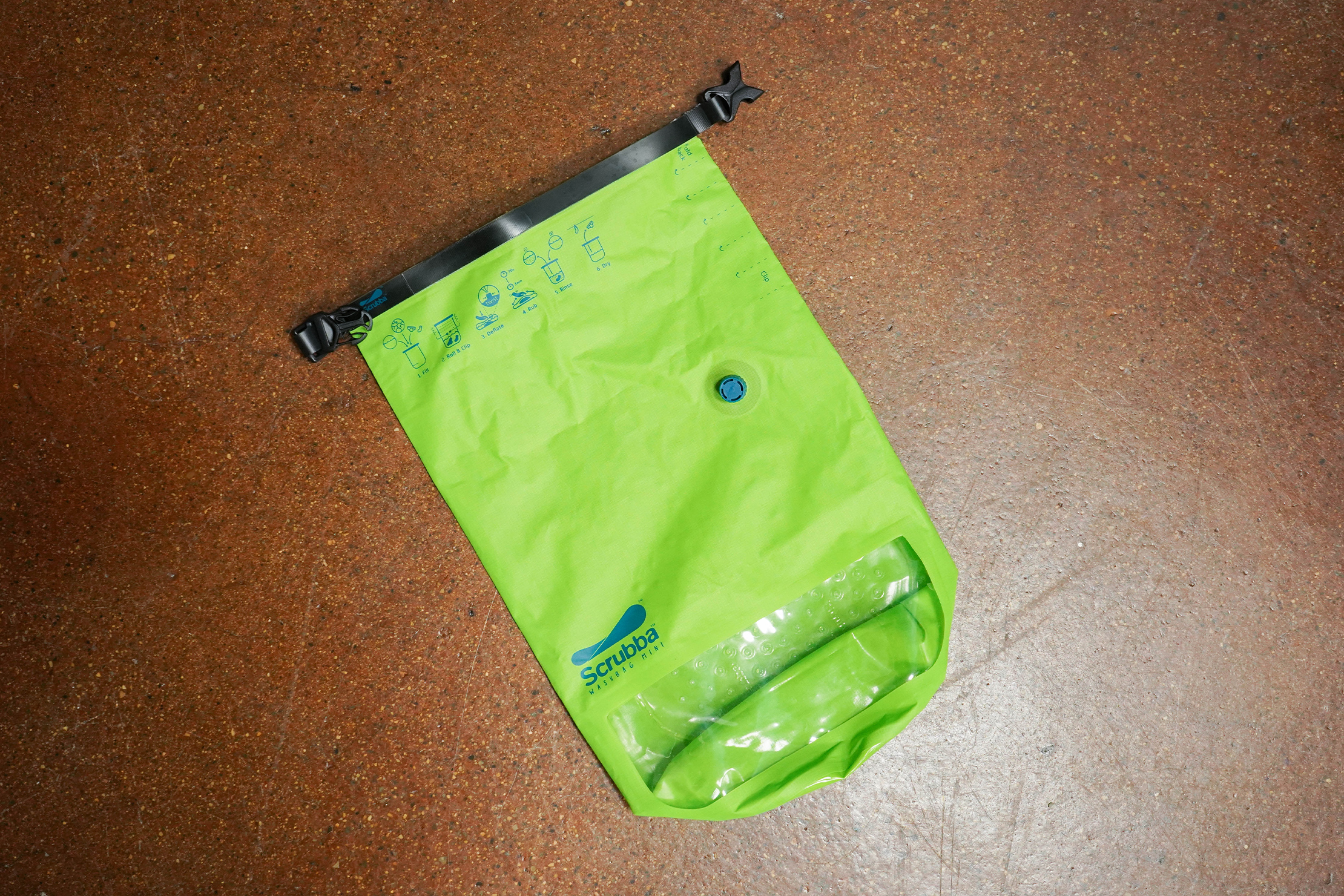 Which is why we've been excited to test the Scrubba Wash Bag Mini, a portable garment-washing bag that is made specifically for "socks and jocks." And, yes, "jocks" means precisely what you think it means. We've been pleasantly surprised by how useful the original version of the Scrubba Wash Bag has been and wanted to dive into the newest, cutest version.
So, how has it been? Let's find out.
Materials & Aesthetic
The Scrubba Wash Bag Mini looks like a miniature version of the original (has your mind just been blown or what?). At 2.05 oz, it's about half the weight of the original and way more compact, which is great for travel. However, it also means you can't wash a lot of clothes with it. Seriously—this little guy will only hold a shirt (maybe two depending on how big your shirts are) or a few pairs of socks and jocks.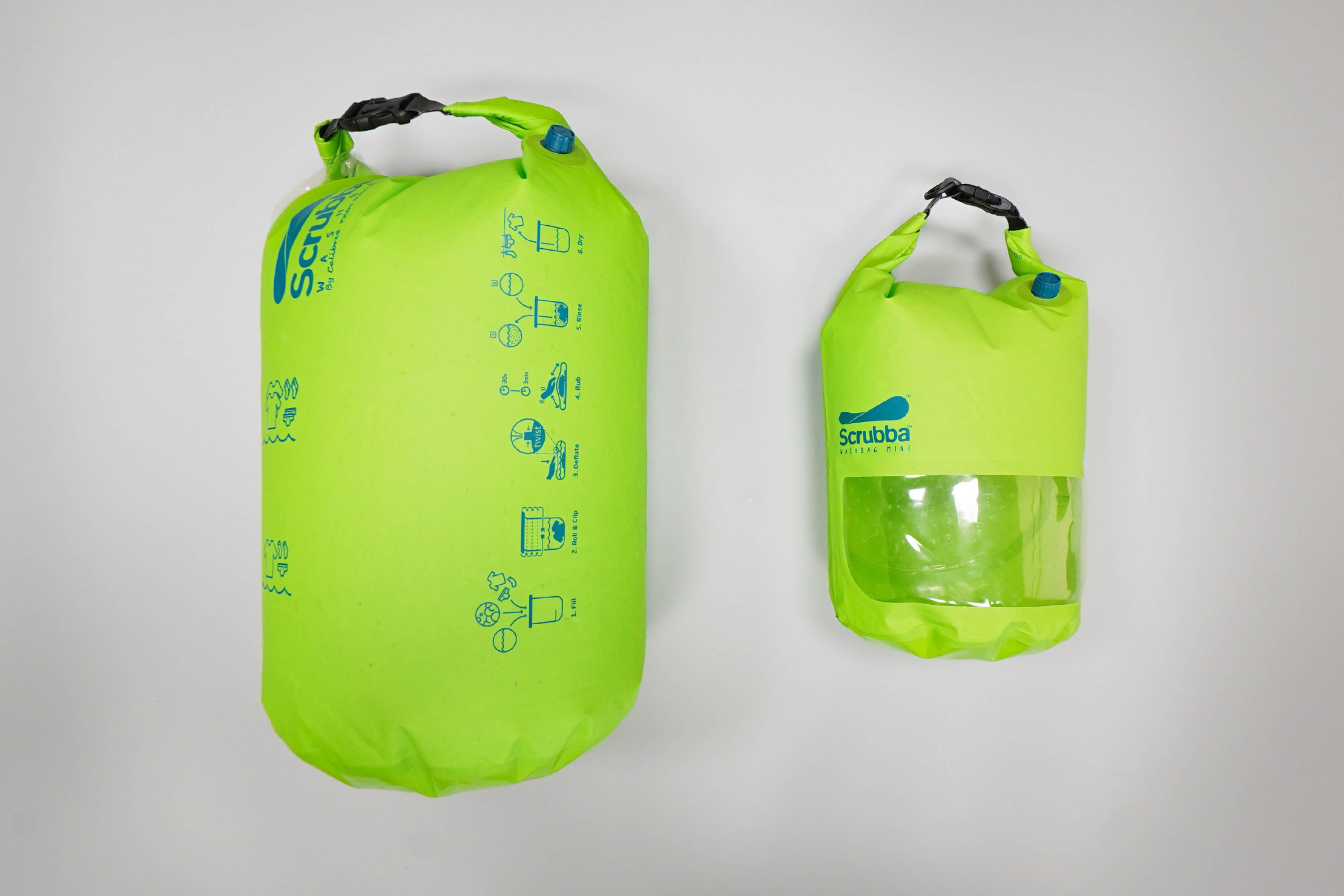 Other than its size, this thing is the twin of the original version. There are some nodules on the interior washboard, it has the same window to see what's going on as you're washing, the same exterior valve, the same overall drybag aesthetic… We've even been testing it in the same lime green colorway.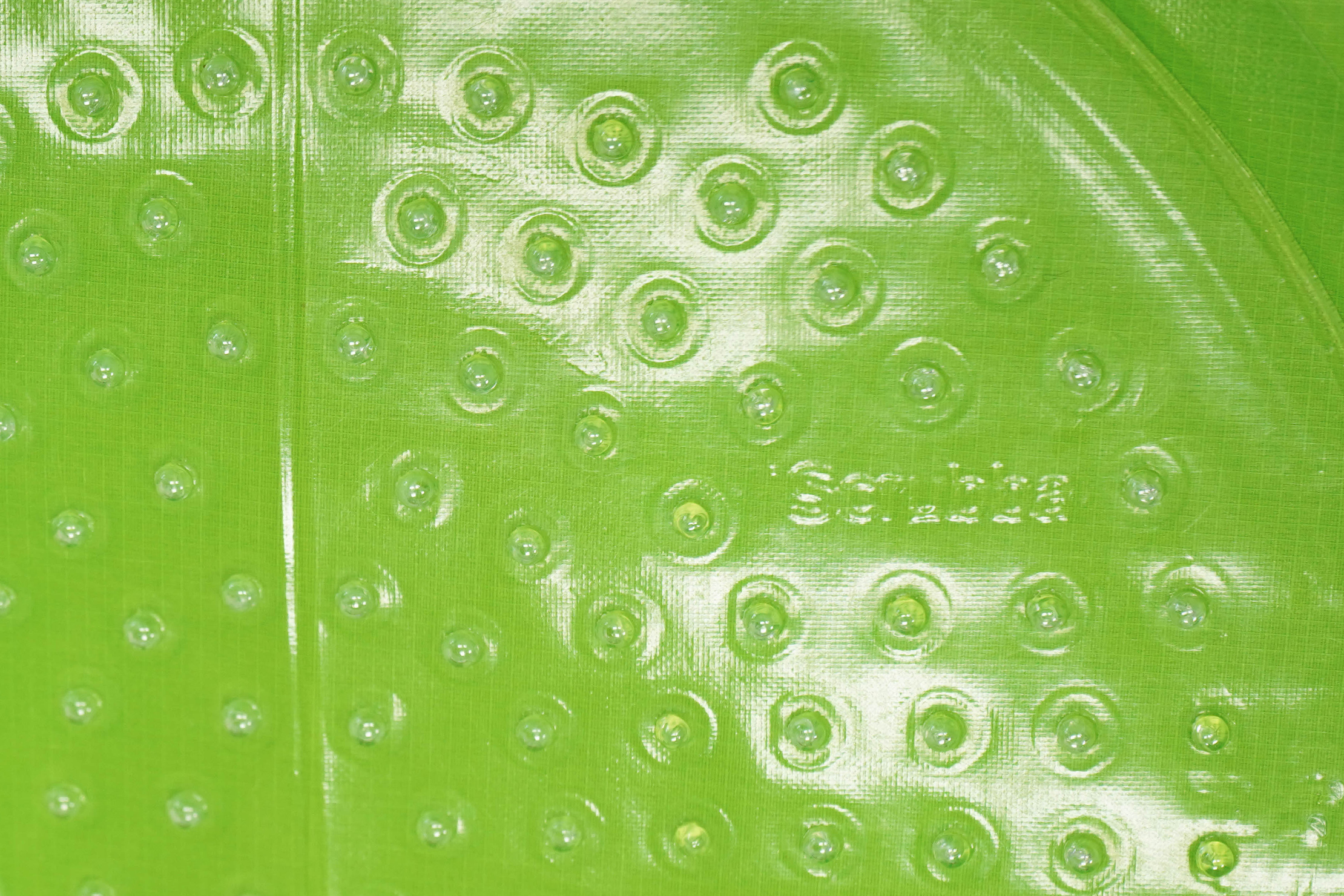 It's also made of the same 40D Nylon with TPU coating. You're probably somewhat familiar with nylon (or, at least, have used nylon products even if you didn't know it). It's a common fabric that manages to be durable without being bulky and heavy. The "40D" qualifier refers to its denier, which is a measurement of the weight and thickness of fabric. Without getting too technical—the bigger the number, the thicker the fabric. Because it needs to keep the water from leaking out of the bag, this nylon is decently thick.
As for the TPU coating—TPU stands for thermoplastic polyurethane—all you need to know is it's used for waterproofing, plus it helps make things resistant to tears, abrasions, and overall wear.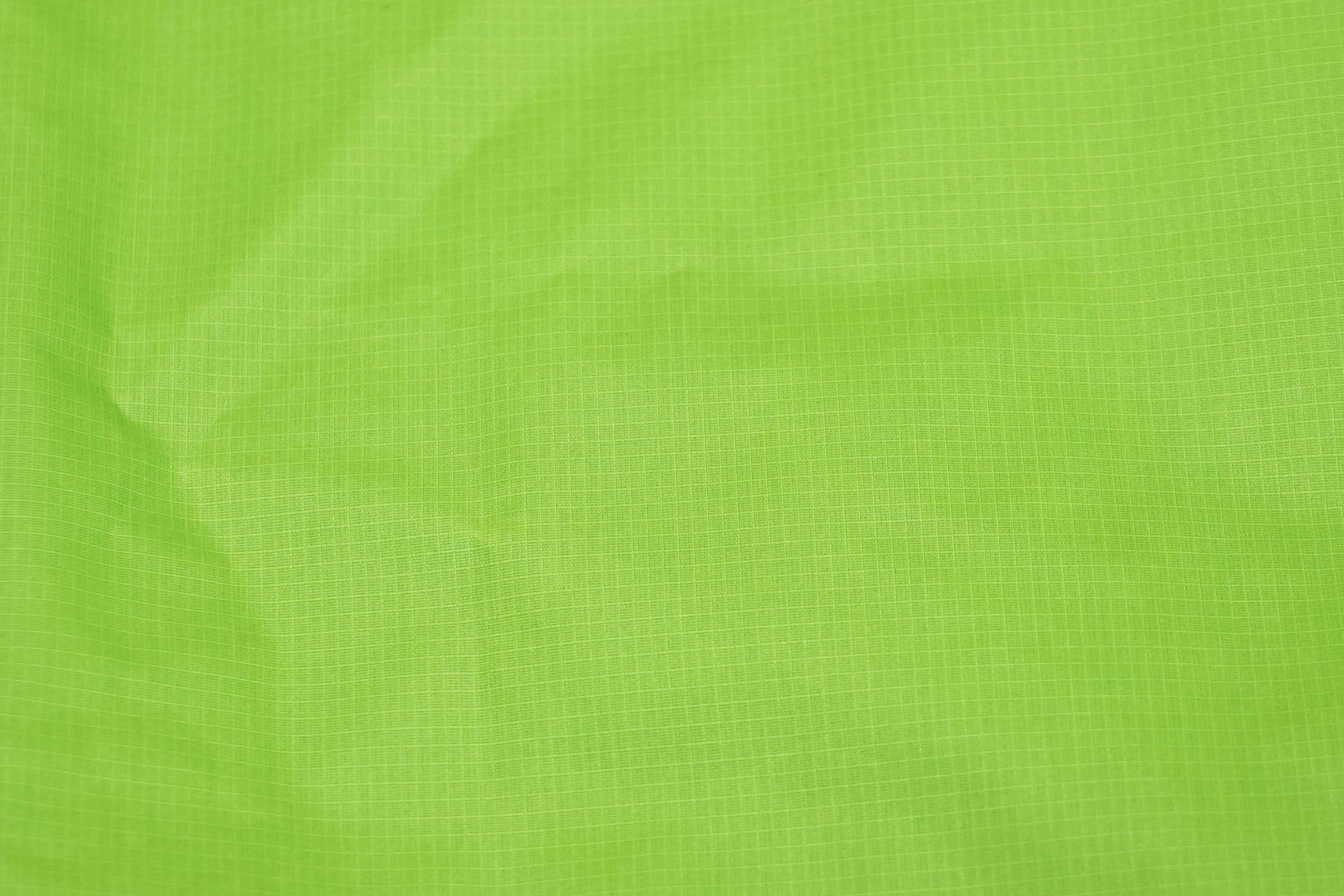 Unfortunately, 40D Nylon with TPU coating feels, in this case, rather cheap. To be clear, it's not cheap and should last you a long time, but it's a bit disappointing when you first get your hands on it. Trust us, though, it'll do you a whole lot better than a plastic bag.
Usage & Benefits
Obviously, the number one benefit of owning a Scrubba Wash Bag is being able to wash your clothes pretty much anywhere. Even if you have a sink available to use, they're not always the biggest, don't always have a plug, and can be grimy. Plus, standing hunched over a sink, scrubbing your clothes with your hands can get uncomfortable real quick.

Moreover, a Scrubba Wash Bag can go where sinks can't—the great outdoors. Washing your clothes in a stream or river, while totally romanticized, isn't actually that great for the environment (shocker, right?). As long as you use environmentally-friendly soap, and are sure to dump your gray water at least 200 feet from waterways, the Scrubba is a much more eco-groovy choice.
Now, you can always wash your clothes in a regular dry bag as opposed to the Scrubba. You just fill it with soap, water, and your clothing and swish it all around. But we've found the internal washboard in the Scrubba to give our clothing a deeper clean and it takes less work too. The air valve is also helpful, allowing us to easily dispel air without having to roll it out—like you have to do on a regular dry bag.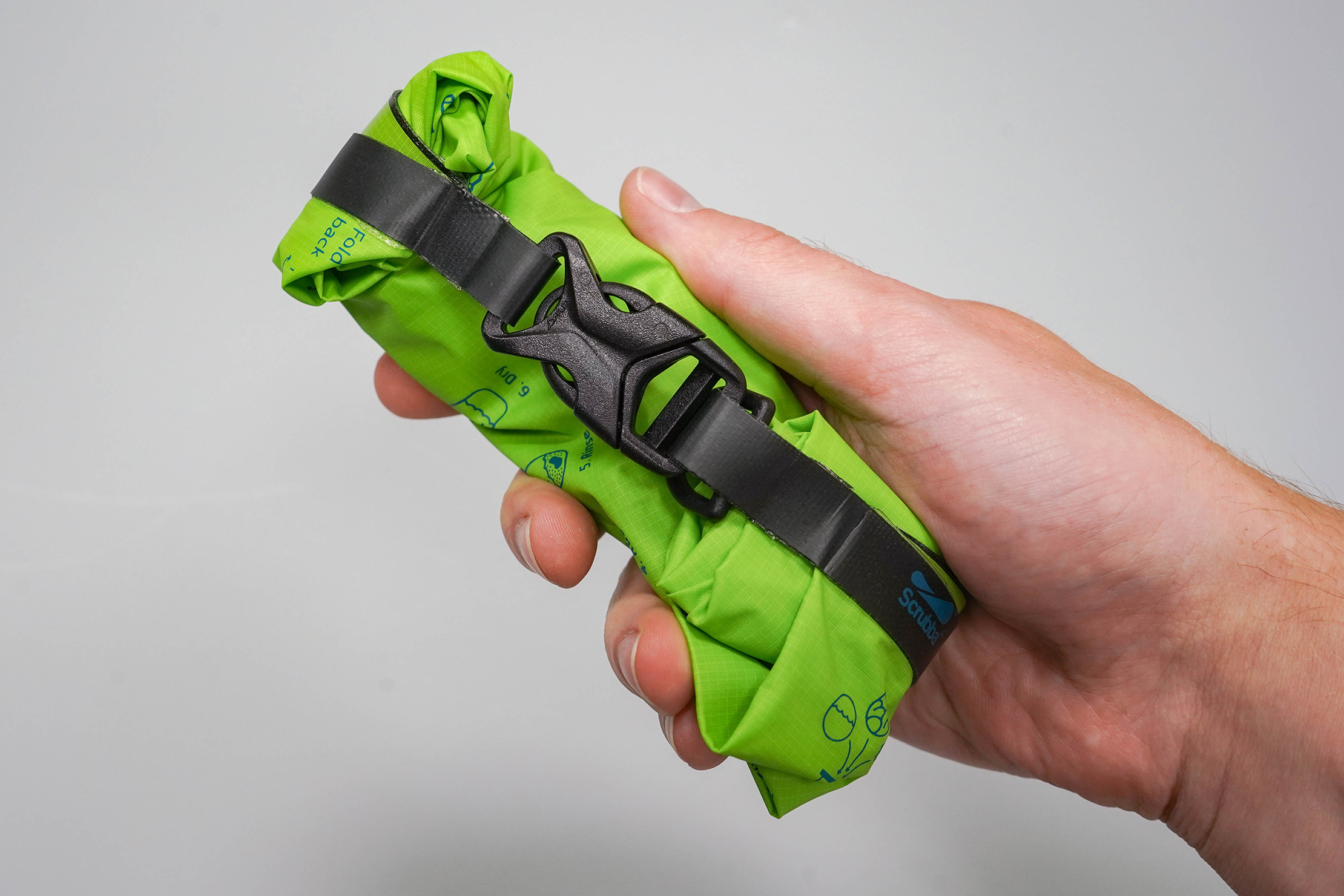 The added benefit of the Mini is that it's incredibly packable, meaning you'll hardly notice its weight. And, as we already said, while you can squeeze more wears than you probably should out of t-shirts and pants, doing the same with underwear is just…not hygienic (this is our subtle way of saying "disgusting"). If you bring the Scrubba Mini with you on your adventures, you're ensuring that you'll always be able to wear squeaky-clean undergarments.
We go into detail about how to wash your clothes with the Scrubba Wash Bag in our review of the original version. Plus, it's written right on the bag in a clear, easy-to-understand format (unlike all those symbols on clothing tags that you need a PhD to understand). So, for brevity's sake, we'll be quick describing it here.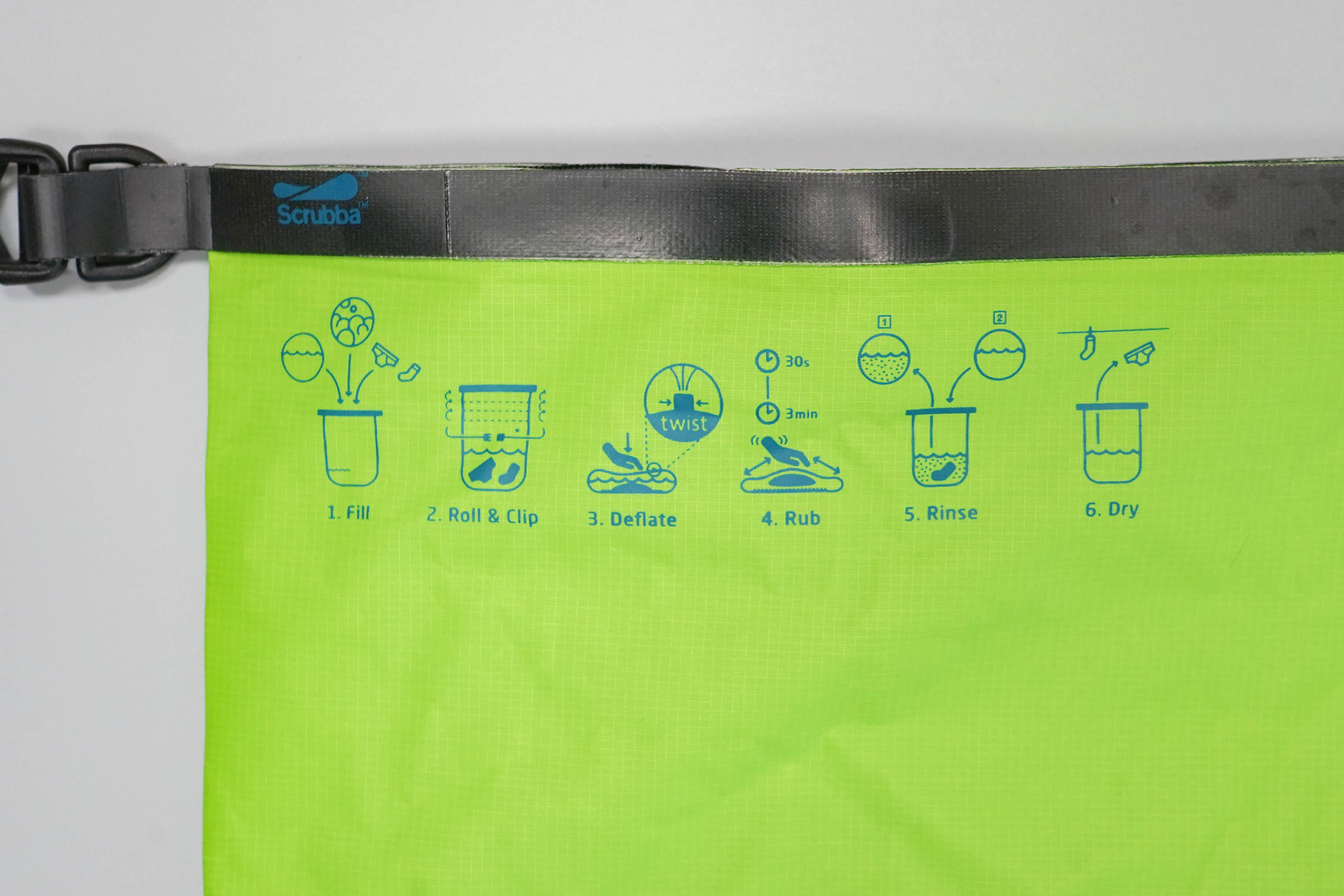 You start by filling the bag with soap, clothes, and water. Then, you roll it up, clip it, and deflate it. At this point, it is INCREDIBLY IMPORTANT that you close the air vent after deflating. (Can you tell that we speak from experience here? You really don't want to forget this step.) From there, you can scrub, rinse, and then hang your clothes up to dry.
A few tips:
Don't go wild with the soap, unless you want to spend forever rinsing and re-rinsing.
Don't fill the bag with too many clothes. That'll prevent them from actually getting clean.
Close the vent after deflating the bag…unless you want to spray yourself and your surrounding environment with soapy, dirty water.
After washing, you can squeeze some water out of the clothes by rolling them inside the bag.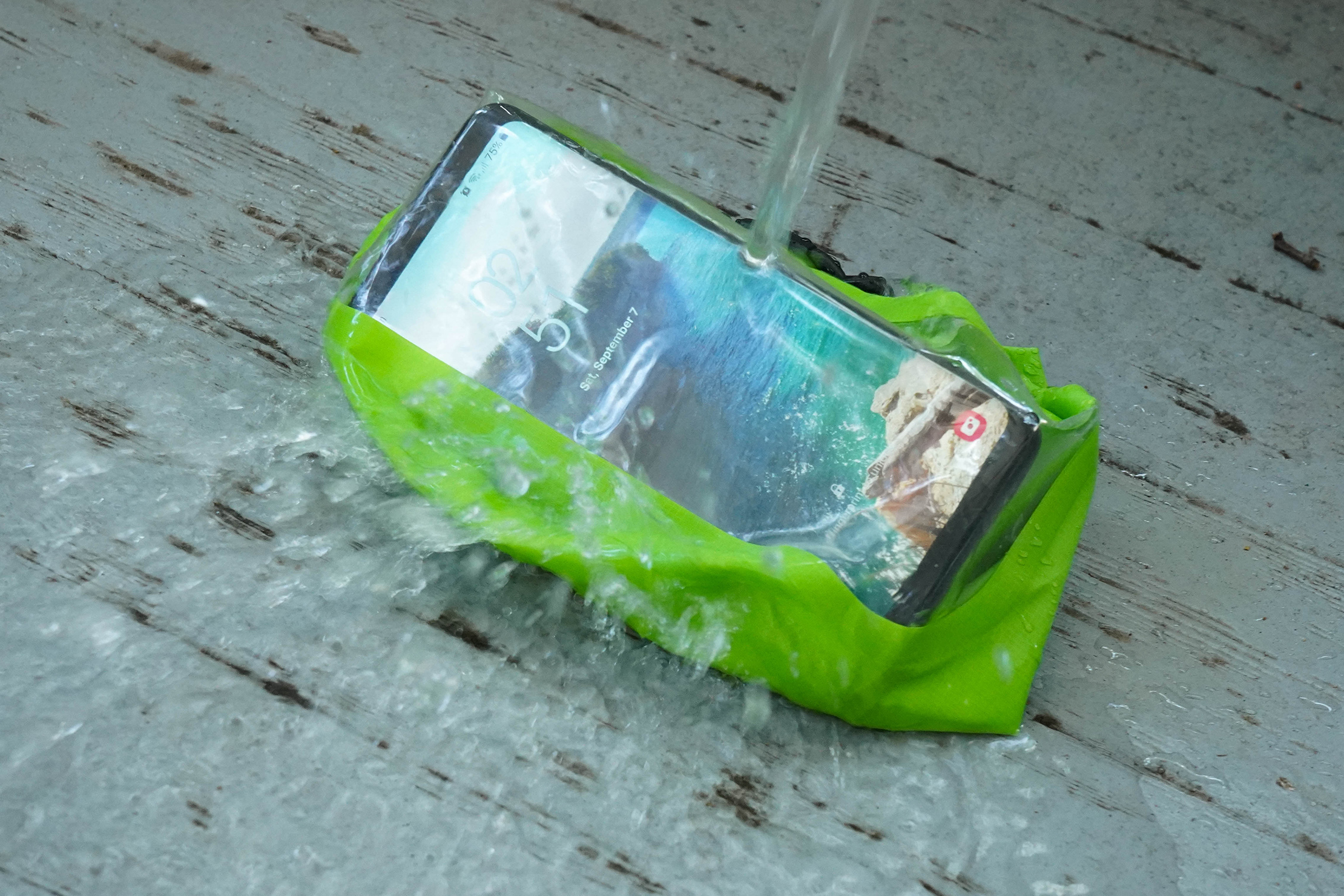 The Scrubba Wash Bag Mini also has the benefit of being a regular ole' dry bag, meaning you get all of those functions too—storing dry clothes, protecting electronics like your phone, or keeping wet clothes separate from all of your other stuff. A nifty D-ring on the exterior of the bag also means it's easy to clip to the exterior of your backpack.
Durability & Testing
Like we mentioned earlier, this thing doesn't exactly feel durable. Your first thought upon receiving it might be a deflated, "oh." BUT—and this is important—that feeling is just a feeling. The reality is, the Scrubba Wash Bag Mini has been designed to last for years. We've been testing ours for about a month now and have no durability issues to report.
We've found the Scrubba Wash Bag to be quite useful, but for our specific use-cases, the Mini is just a little too small. We'd rather deal with the extra bulk of the original than be frustrated when the Mini doesn't fit all we need. (And it's not like the original Scrubba is enormous or anything.)
Whether or not you'll prefer the Mini over the original—or find either helpful—depends on what kind of traveling you do. If you're usually in Airbnbs with access to washing machines, the Scrubba Wash Bag will probably be a waste of your money (unless handwashing is a hobby of yours). But if your adventures take you to remote places for long periods of time—and you don't need the capacity of the original—the Scrubba Wash Bag Mini could change your life (or, you know, make washing clothes a bit easier).
Usage Timeline
Initial Usage
Condition: Excellent
The Mini version is much smaller and lighter, but this also means it limits how much you can wash at once
The internal washboard is super handy for scrubbing your clothes while keeping your hands dry
The extra instructions on the wash bag will make the washing process easier and more 'watertight' (see what we did there?)
2 Weeks of Use
Condition: Excellent
Tiny interior capacity—a bathing suit fills it up about a third of the way.
1 Month of Use
Condition: Excellent
No durability issues to report!
Access the Pro Community Discussion
Get your questions about the Scrubba Wash Bag Mini answered from our team and the Pro Community right here on the page. Plus, join discussions with other members about gear, guides, and more.
Other Miscellaneous Reviews