Rough Enough Tool Bag Pouch & Big Pencil Case Review
The Rough Enough Tool Bag Pouch is can be used as a pencil case, tech kit, or dopp kit. Its durability and reasonable price point make it a win-win.
Our Verdict
Unlock the Pro Summary
Save time. Get access to brief summaries of our reviews so you can browse and make decisions more efficiently.
Pros
Rugged, durable materials
Can be used as a tech pouch, dopp kit, and beyond
Big enough to fit a Nintendo Switch
Cons
Lack of structure can cave in when not full
Fabric attracts lint and dust easily
Inner pocket can cause front flap to bulge
Recent Pack Hacker Video
Technical Details
Denier

1000D

Weight (oz)

3 oz (85 g)

Dimensions

9.45 in x 4.33 in x 1.7 in (24 x 11 x 4.3 cm)

Notable Materials

CORDURA® Nylon, YKK Zippers, Duraflex Hardware

Warranty Information
Full Review
Is your pencil case rough enough to handle all the turbulence of life's adventures? It could be if it were the Rough Enough Small Tool Bag Pouch Zipper Big Pencil Case Box. Yes, that is a heck of a mouthful, but at least you know what you're getting into. It is a tool bag pouch that can be used as a pencil case that does, in fact, feature a zipper. Despite the awkward name, this is a highly versatile carrying case with tons of space that can be used in almost any way imaginable.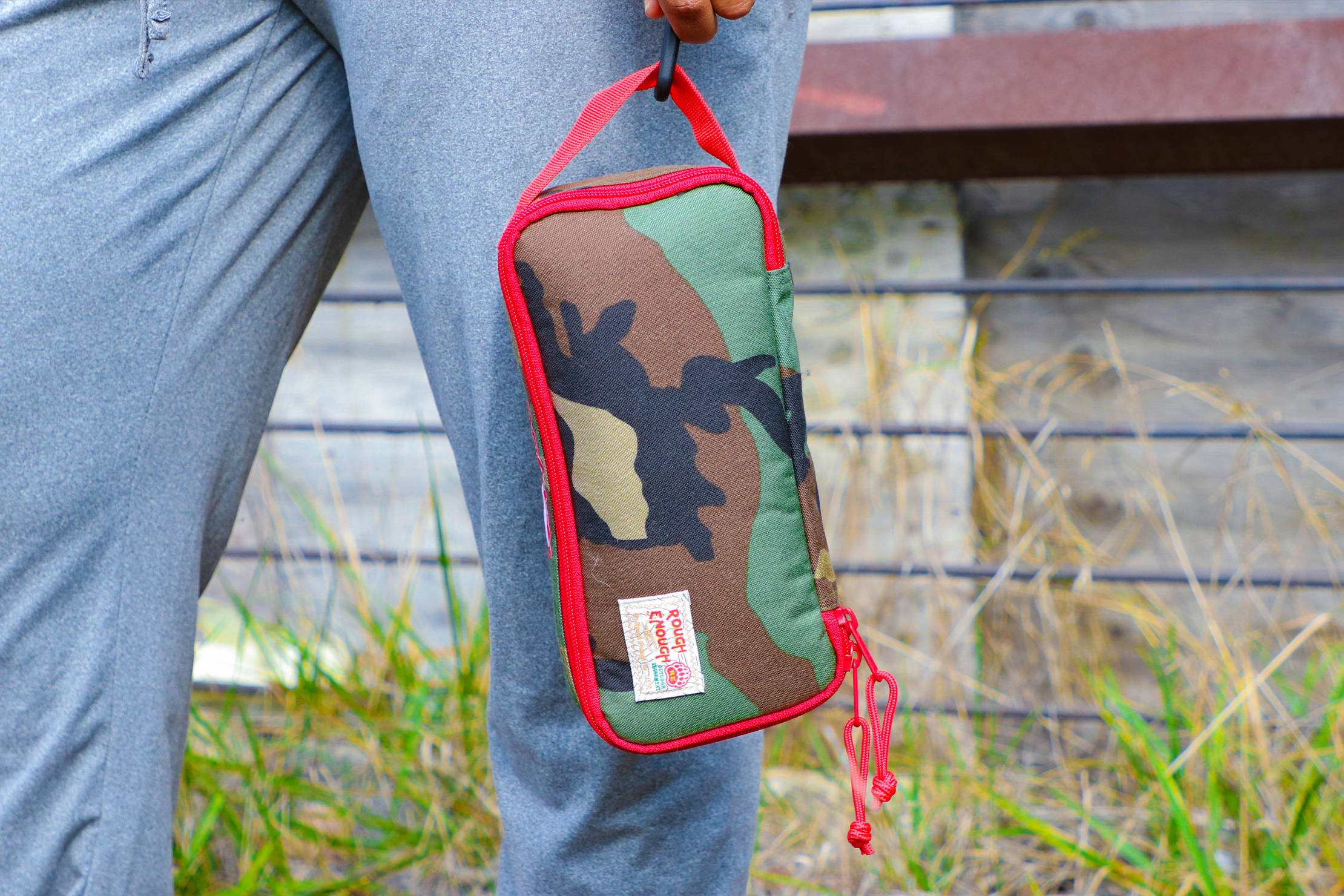 Want a tech pouch to keep your electronics organized? Check. Need something slick to carry your Nintendo Switch? No problem. Simply looking for something to carry pencils and pens for those late-night study sessions? Say no more. It could even work as a minimalist toiletry bag or snack bag. On top of all that, it's made of durable, high-quality materials that should survive the apocalypse (although we hope we never have to find out). It isn't without its flaws, however, which will all be discussed in this review.
Materials & Aesthetic
The Rough Enough Small Tool Bag Pouch Zipper Big Pencil Case Box is made of a thick 1000D Cordura fabric. It's a hefty, resilient material that Rough Enough describes as "durable, versatile, rugged, water repellent, super lightweight, stretchy, breathable, tough, and burly." That's right, tough and burly. This is serious stuff here! Marketing aside, Cordura is a pretty durable fabric that is highly resistant to abrasions and tears.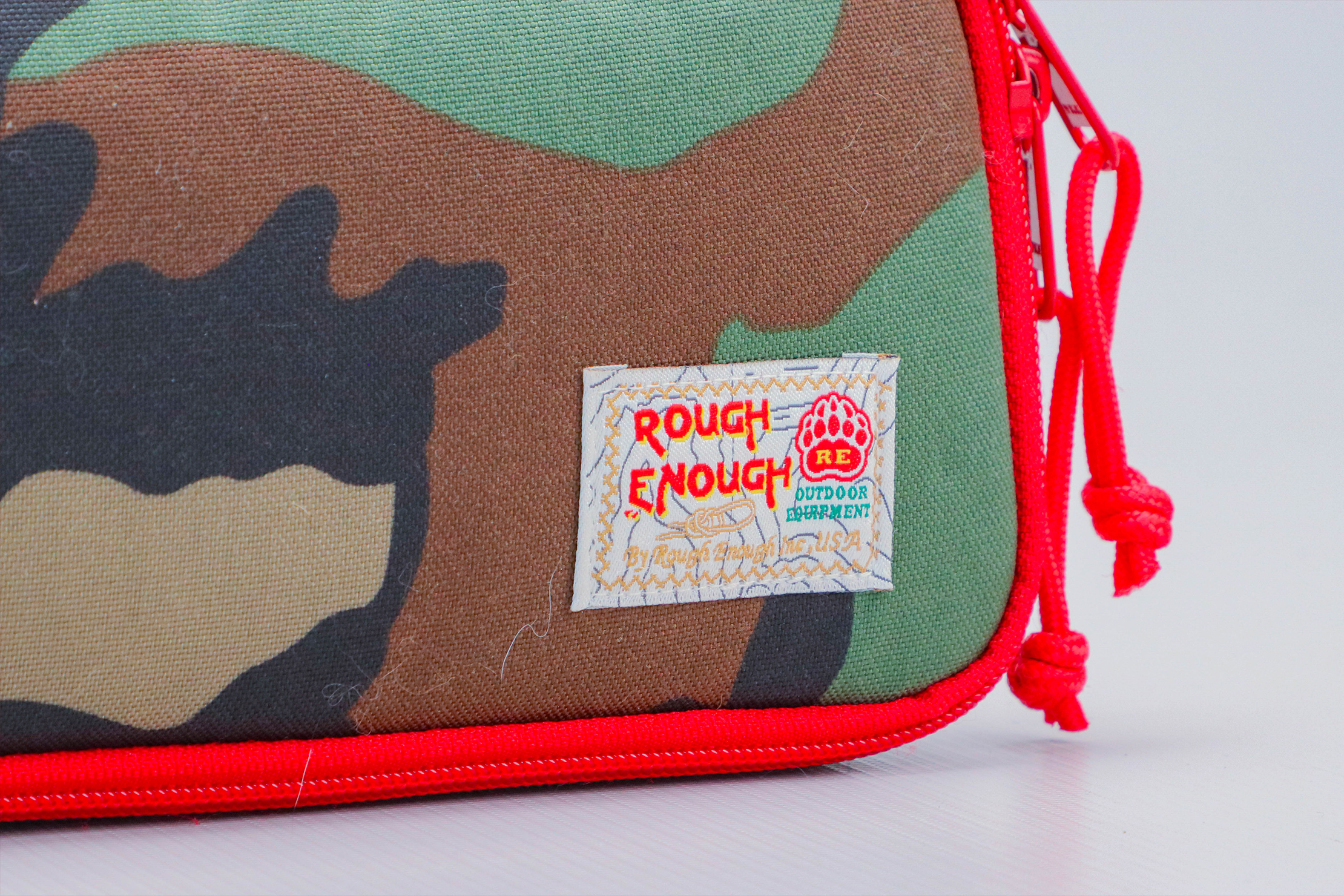 Before we continue, we're going to give this pouch a nickname. How about, Rough Enough Small Tool Bag Pouch? Yeah, let's go with that. At the time of this review, the Small Tool Bag Pouch is available in Black, Army Green, and Camo. Never ones to turn down a good camo, that's what we went with. When paired with our Tom Bihn Truckasana (also in camo) and Carhartt WIP Essentials Bag (yep, more camo) we're practically invisible. The camo version of this pouch does include a pop of color with its bright red trim, YKK zippers, and interior liner.
Cordura fabric and YKK zippers are marks of a quality product in our book, but they often come with a higher price tag. We're pretty impressed so far with how Rough Enough incorporates these quality materials while still keeping the cost of their products relatively low. We've almost never had an issue with YKK zippers breaking during our travels, and the long paracord zipper pulls on this pouch make it a cinch to open.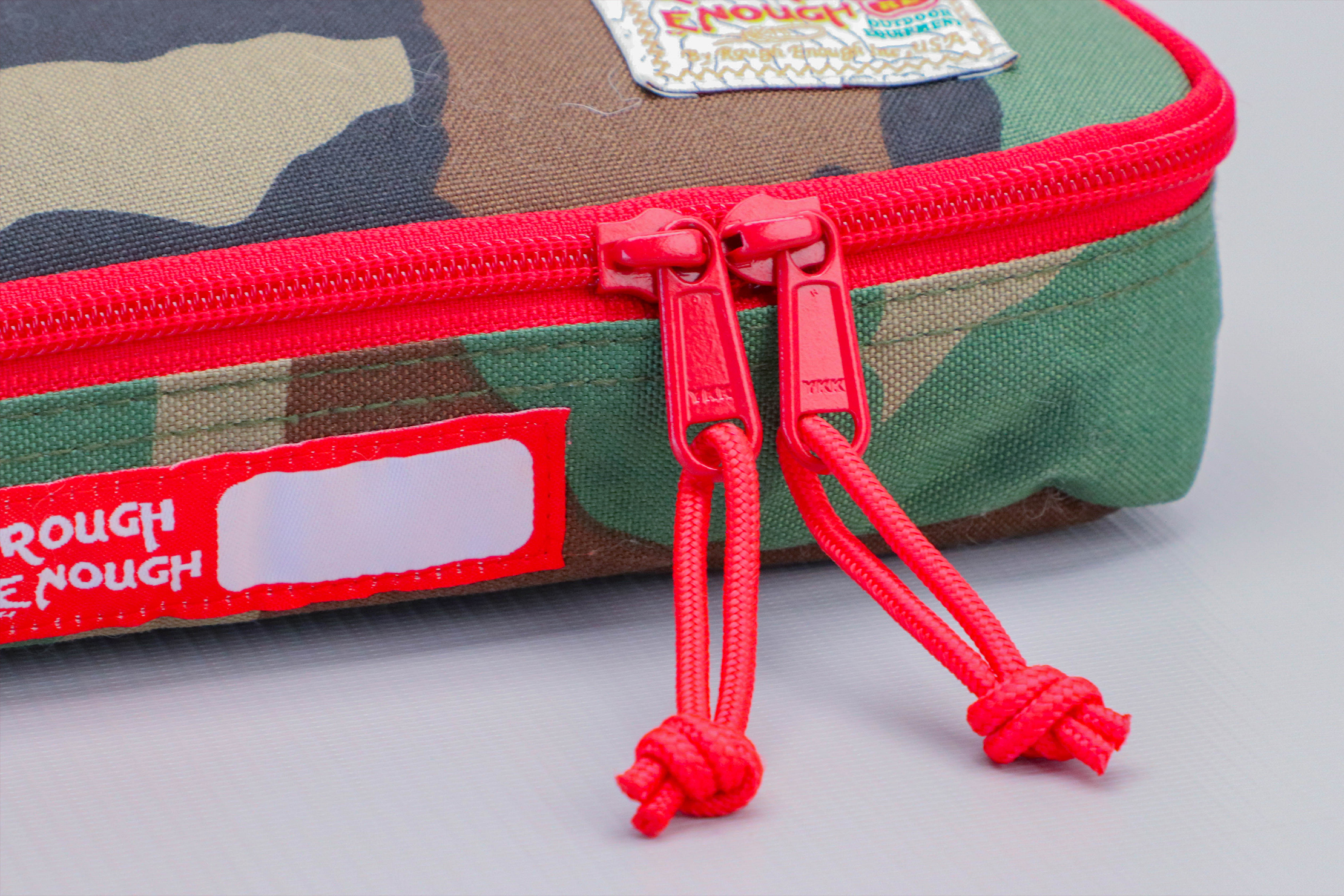 The only downside to the material itself is that it has a tendency to attract lint, dust, and pet hair more than other fabrics. You'll probably want to keep a lint roller handy in your closet to clean it up every now and then, especially if you have furry friends at home. The front of the pouch also has a Rough Enough logo patch, which we feel cheapens the look of it. It's not huge, but the woven patch has quite a few slogans and logos on it, which are kind of muddy and difficult to read. We typically prefer clean and minimal branding, so this is a minor nitpick that comes down to personal preference. It doesn't affect the pouch itself, which we found to be incredibly useful. Let's get more into that in the next section.
Features & Usage
In the long front edge of the pouch, there's another patch with white space for you to write your name. This is a nice touch if you're using this as a pencil case in school or if you just want everyone to know this pouch is yours. On one of the short ends, there's also a nylon handle that makes it convenient to pull out of your bag or luggage with ease. You could also use it to carry the pouch if, for example, you're using it as a toiletry bag on a camping trip and need to carry it to the restroom.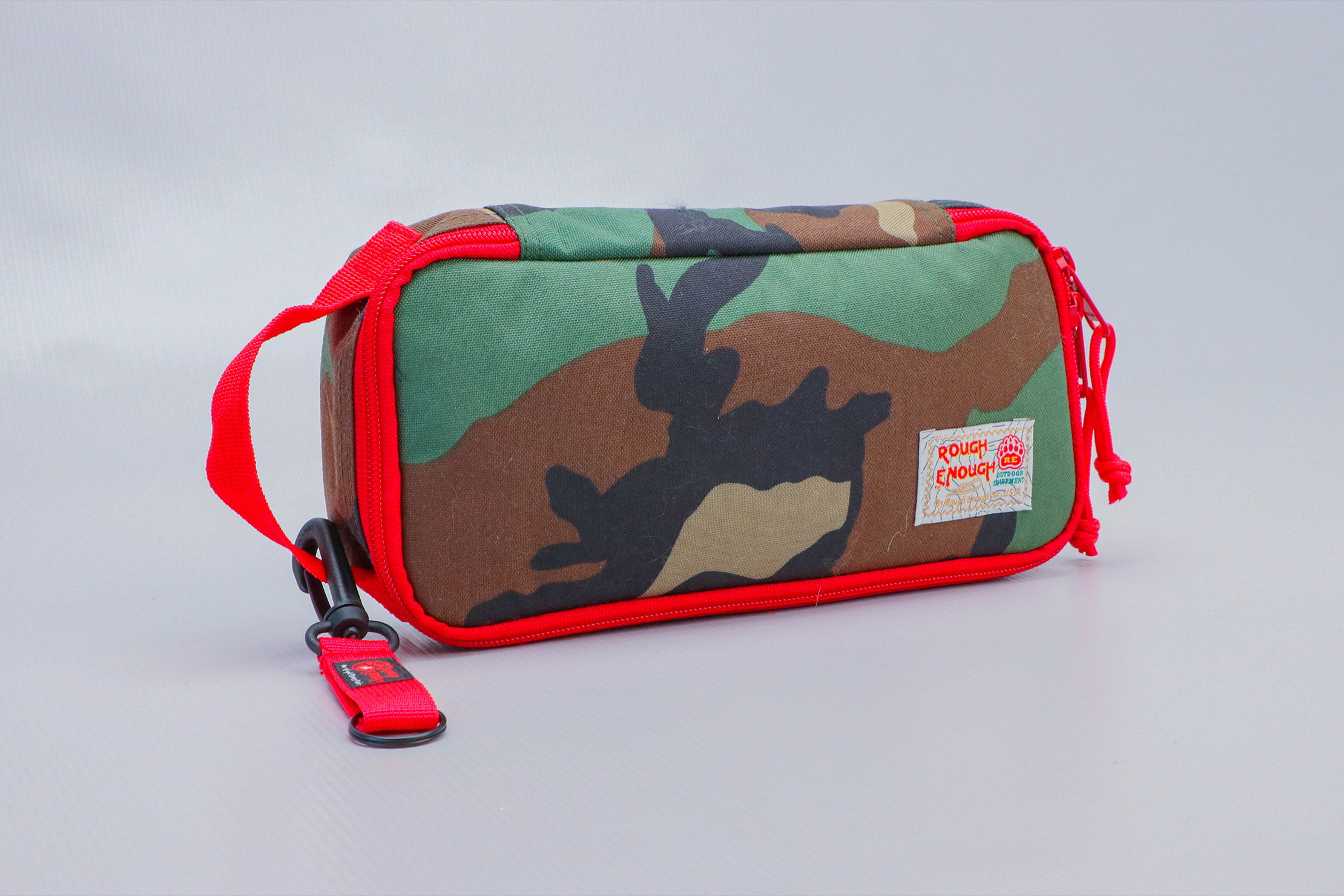 The pouch also comes with a detachable keychain that has another write-in patch. We didn't find ourselves utilizing this much, as the pouch is a bit big to attach to your keys and we're not sure why you'd want to do that anyway. It is a nice additional accessory that you can use with other small pouches or clip your keys to your belt loop, however.
On the inside, there are two main features—a mesh pocket and an open compartment. The pouch opens up clamshell, so it's easy to see everything you've got packed inside. You can fit a lot in here, too. Rough Enough says the bucket main compartment can fit up to 100 pencils! We don't own that many pencils, so we couldn't test that exact number, however, it was nowhere close to full with around 10 highlighters and pens inside. That 100 pencil estimate may not be an exaggeration after all.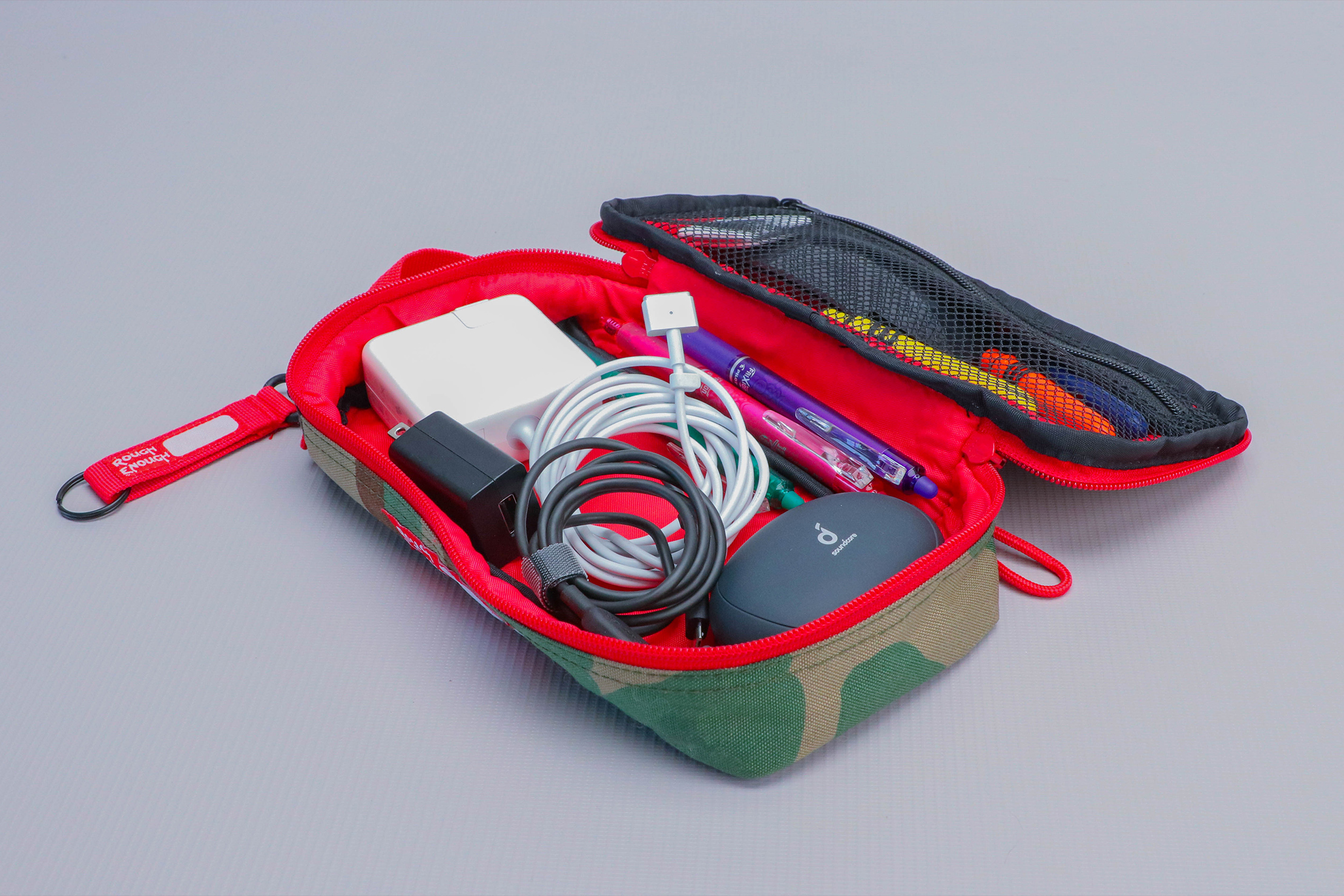 You'll also notice that there's some foam padding all around the sides, top, and bottom of the pouch. This helps keep your items protected so they won't get crushed inside your bag underneath other stuff. This is especially handy if you're using the pouch for fragile electronics.
We used the pouch mainly as a tech kit/pencil case hybrid with writing utensils and cables in the open space. In the mesh pocket, we put things like earbuds, a mouse, USB adapters, and the like. It isn't too organized with only a single pocket, but you can use VELCRO Brand Cable Ties or rubber bands to keep your cables in check and clean things up a bit inside. Just be careful about stuffing the mesh pocket too full, as it can cause the top of the pouch to bulge. Another small con we noticed is that the pouch isn't very structured and can cave flat when it isn't full. Both of those things are very minor nitpicks, however, in a pouch that was otherwise convenient and durable.
Usage Timeline
Initial Usage
Condition: Excellent
Good accessibility via a fully clamshell opening
Bright red inside fabric contrasts nicely
Fits a Nintendo Switch inside
2 Weeks of Use
Condition: Excellent
Material is sturdy and durable but attracts a lot of pet hair and dust
Lots of space inside for a variety of items like writing utensils, tech gear, and toiletries
Mesh pocket is nice and wide and can accommodate lots of smaller items
Sometimes top flap can bulge outwards if packed too full
Access the Pro Community Discussion
Get your questions about the Rough Enough Tool Bag Pouch & Big Pencil Case answered from our team and the Pro Community right here on the page. Plus, join discussions with other members about gear, guides, and more.
Other Organizers & Pouches Reviews