Carhartt Essentials Bag Review
The Carhartt WIP Essentials Bag is a durable crossbody bag that can stand up to everyday carry. Some of the pockets are a bit tight, though.
Our Verdict
Unlock the Pro Summary
Save time. Get access to brief summaries of our reviews so you can browse and make decisions more efficiently.
Pros
Multiple compartments to organize everyday gear
Great weather resistance in rain
Durable, sturdy construction
Cons
Front VELCRO pocket is too small for most smartphones
Bag is rigid and heavy even when not full
Vertical pocket is tight and hard to get your hand in
Recent Pack Hacker Video
Technical Details
100 %
Carry-on Compliance
Capacity

1.7l

Denier

250D

Weight (oz)

11 oz (311.8 g)

Dimensions

6.7 in x 6.5 in x 2.4 in (17 x 16.5 x 6.1 cm)

Notable Materials

Polyester, YKK Zippers

Manufacturing Country

Cambodia

Warranty Information
Full Review
We are fans of sling bags here at Pack Hacker. If nothing else, they make an incredibly convenient pocket dump while going through the TSA line at the airport. They sometimes get a bad rap as being the complete opposite of fashionable and unhip to wear while you're out and about exploring, let alone day-to-day. That's where the Carhartt WIP Essentials Bag comes in—it has all the functionality we love about slings while being low-key and blending into city streets effortlessly.

It has two compartments for your everyday essentials with a few pockets on the front for smaller items. Our main gripe with this little bag is that the front pockets are smaller than we expected and can be very tight to access depending on what you want to put inside. In general, we found the bag to be sturdy, durable, and reliable throughout the two weeks that we tested it. Let's get into all the little details about this trusty everyday companion, starting off with the materials.
Materials & Aesthetic
We started off telling you how we're generally fans of slings, but we're also fans of Carhartt. They're a well-known brand that produces dependable outerwear for the working class like hefty jackets and boots. They also make gear for outdoor adventures like backpacks, duffels, and beyond. Their general aesthetic is rugged and reliable since the gear is mostly geared towards manual laborers. Bonus points for being headquartered in Michigan where Pack Hacker is located. Cheers neighbors!
The WIP line is separate from Carhartt's original lineup and makes their more robust gear accessible for everyday use. So instead of a heavy duty coat that's meant to keep fishermen dry on choppy seas, the WIP line makes a more lightweight version. This doesn't mean the products are not durable, however.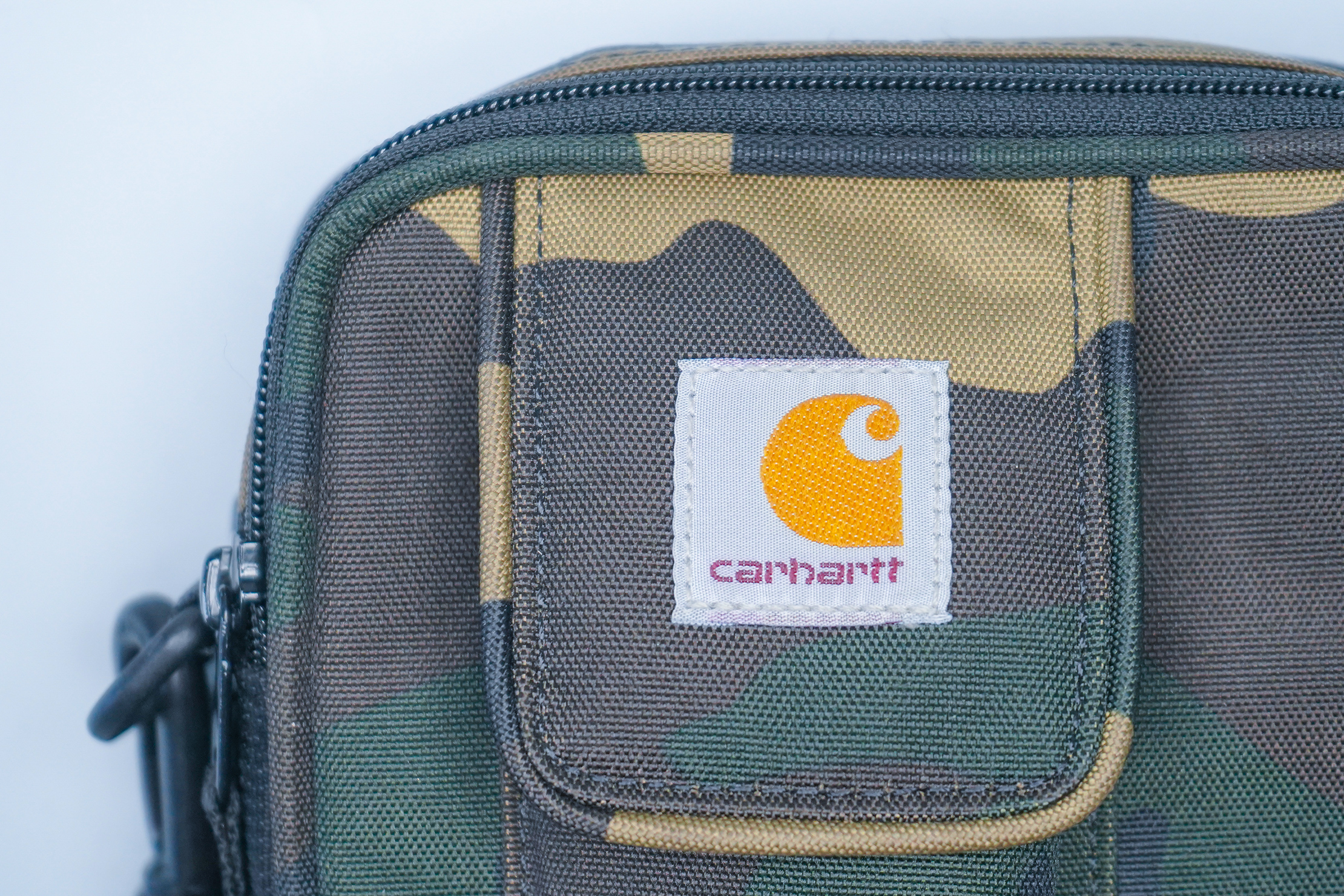 When presented with the option to choose something camo we tend to take it, so that's the color we went with here. The bag is available in more subtle colors, though, like Dark Navy, Black, and Hamilton Brown. The bag is made of a thick polyester duck canvas. This material is often used on Carhartt products, but it's slightly thinner in the WIP line. And we do mean slightly. The material is still rigid, which makes the bag relatively stiff, helping it hold its shape. The bag also feels pretty heavy even when it's empty so it will add some extra weight if you're planning on packing it in your travel backpack to use as a daily driver for adventures after you've arrived.
This material also has a water repellent coating that we can verify works well if you get caught in a downpour. We had some pretty strange weather during our testing period that included several days of sporadic, heavy rain. Getting caught in it was no fun, but nothing inside the Carhartt WIP Essentials Bag got wet in the dash from the car to the building. Now, we can't say for certain whether it will be as effective if you somehow end up stuck outside for hours in a torrential downpour, but the bag's got your back in heavy rain for at least a little while.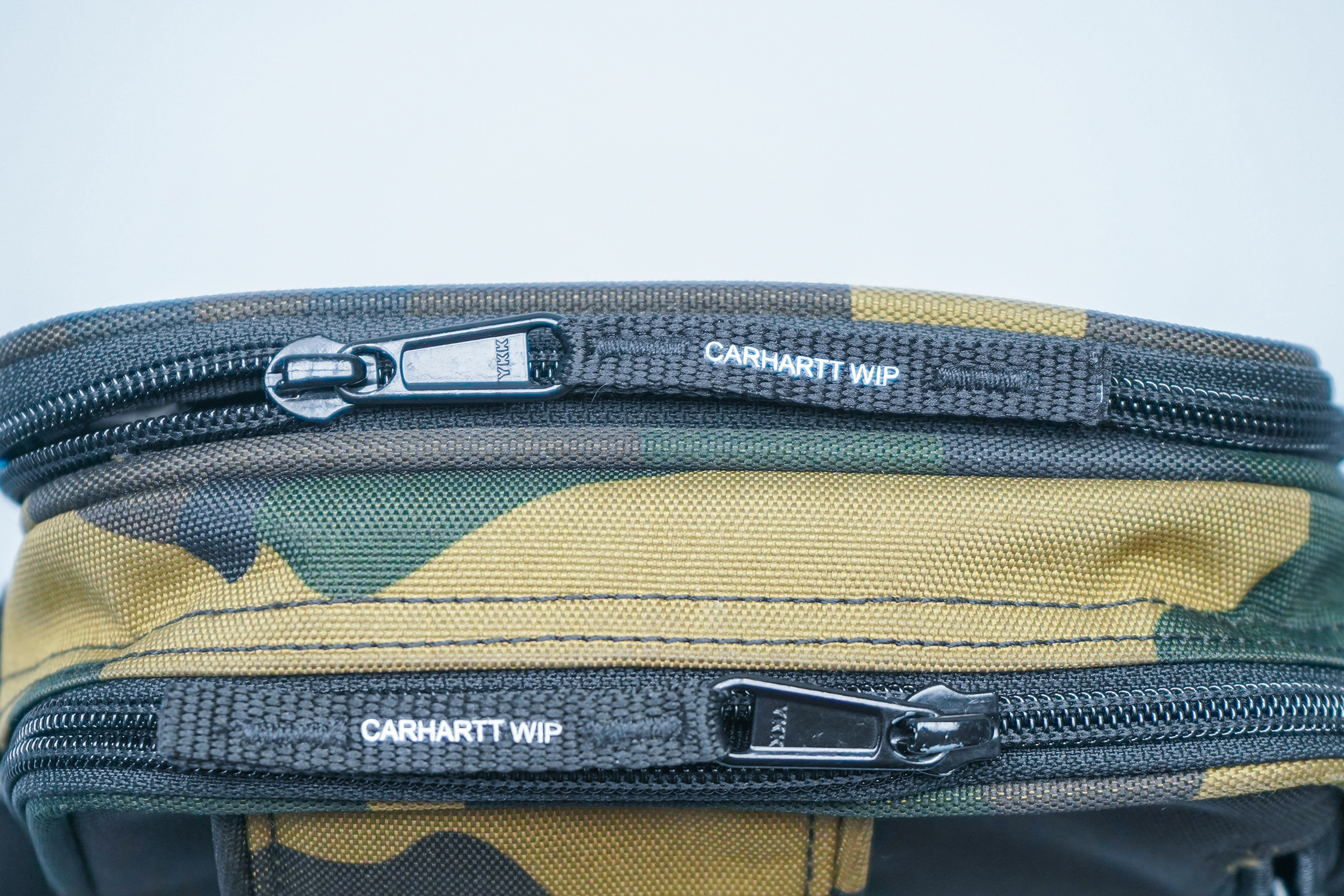 YKK zippers #5 are also used throughout the bag, which makes us feel pretty confident about its quality. Though we have noticed a bit of chipping on the zippers themselves, we haven't had any issues with the zippers breaking (which would suck). Although, the zipper on the back compartment can be a little bit sticky when going around the corners because the fabric is so stiff.
They're accompanied by long, nylon zipper pulls to give you some grip and help make the zipping experience breezier. "Carhartt WIP" is printed on the zipper pulls, too. We typically prefer products with more subtle branding, but it is what it is. The front pocket has an old school woven Carhartt logo, which we dig.
Features & Usage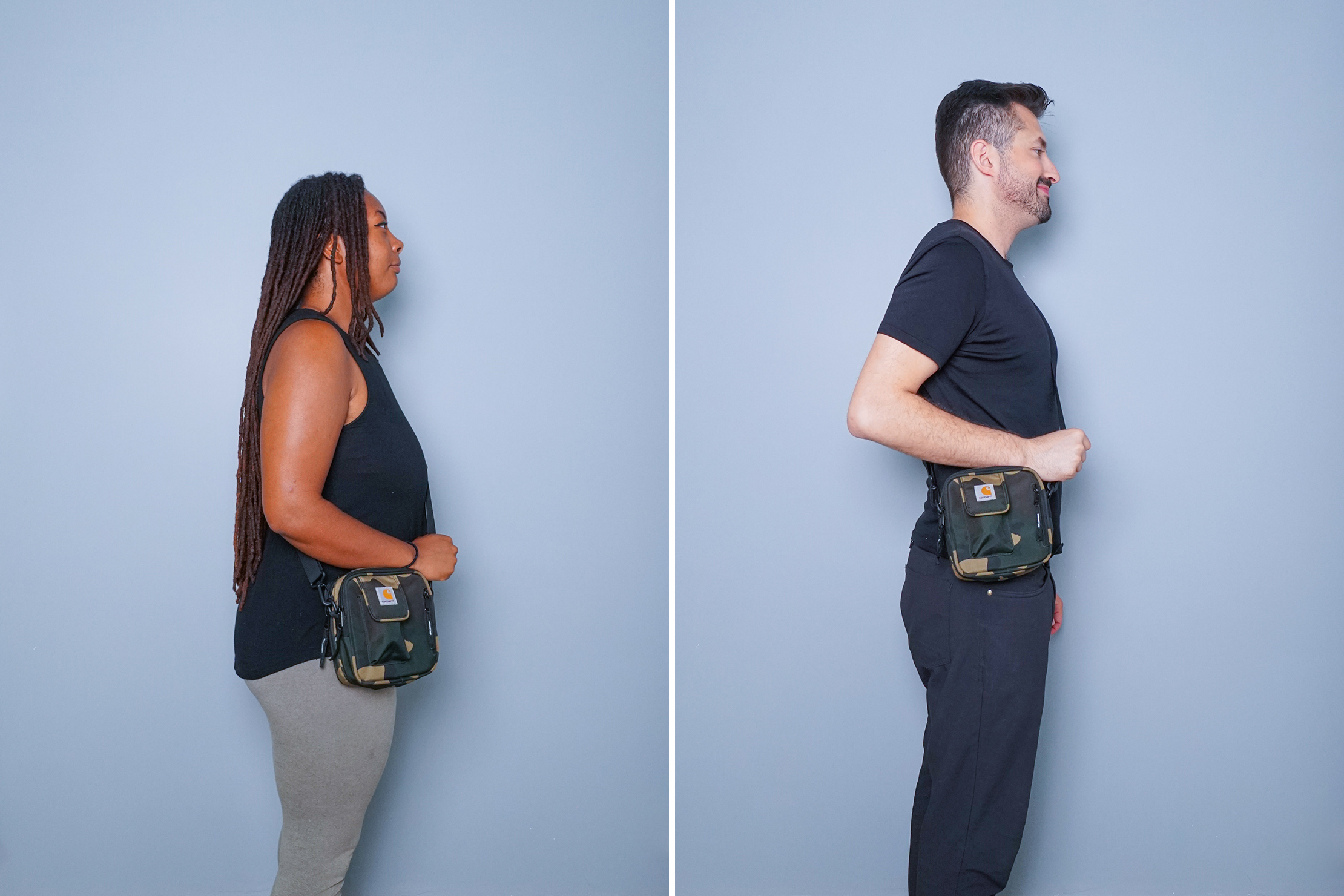 On the front of this bag are two pockets—one small one with a velcro closure and another zippered one. At first we thought the velcro pocket would be big enough to hold a phone since it's slender and kind of shaped like one. But unless you have a Nokia phone from 2008, it's unlikely it will fit in here. And hey, if you do have one, we aren't knocking you; this pocket just didn't work for us with an iPhone 12. In the end, we ended up putting a small Matador Ultralight Travel Towel inside to wipe sweat away on hot days and it fit perfectly. You could also put any small bits in here like gum, hair ties, or emergency medicine. Whatever floats your boat.
Behind the VELCRO pocket is a zippered vertical pocket. This one is better suited for small flat items like a subway card, credit card, or boarding pass (folded in half). Similar to the velcro pocket, however, this one is also fairly small. Even if you put your credit card in here, it's so tight that it makes fitting your hand inside to grab it uncomfortable. The opening is fairly narrow, despite the pocket itself spanning the entire front of the bag. So when sticking your hand inside, you end up scraping it up against the zipper, especially to reach something all the way on the other side.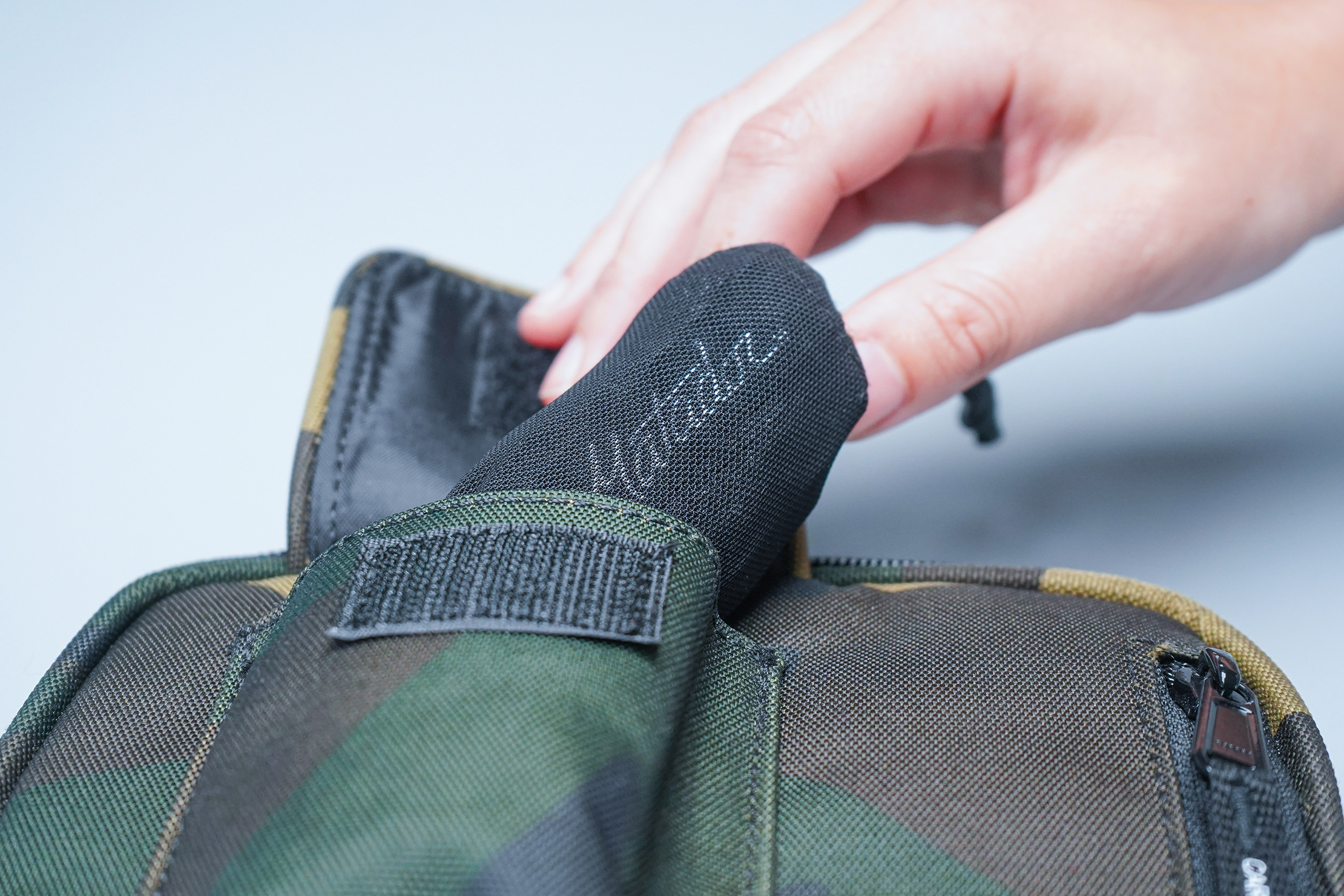 The pockets inside the bag are much more functional and spacious. There are two main compartments with one being slightly smaller than the other. Both open up horseshoe style, but since they are so small, you can still easily see everything inside. The first compartment has a decent amount of space for your phone, keys, and wallet. At the back of this compartment is another, flat zippered pocket. We found this to be a better spot for cash, cards you want quick access to, and a boarding pass than the front pocket.
The secondary compartment is slightly less spacious than the first one, but as long as it isn't packed too full, it doesn't really eat into space from the main compartment. We were able to fit a Skyroam Solis Lite hotspot to stay connected on the go, a face mask, and a pair of earbuds inside. While the lack of internal organization may bother some folks, we found this actually made it perfectly suited for dumping your pockets out at the airport. You can also carry a small pouch inside if you really want to, but we didn't find this to be necessary as the two separate compartments act as a divider for you to organize your stuff.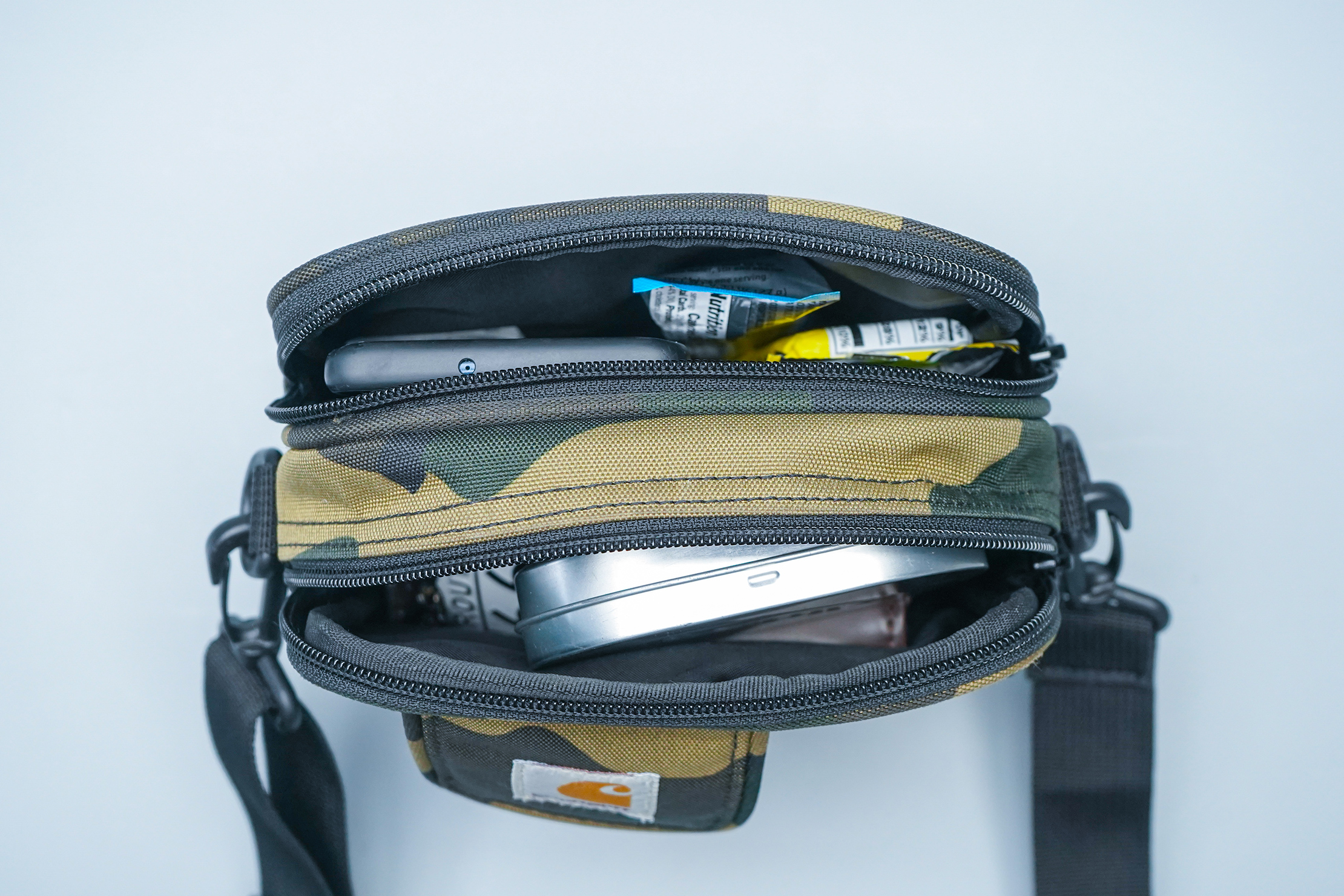 So, whether you want a sling to hold your important stuff while getting through the TSA line, a small bag to use while you're discovering a new metropolis, or just something for your daily essentials, the Carhartt WIP Essentials Bag has you covered. It is in the name after all. We just wish those front pockets were a bit bigger and not so tight to access.
Usage Timeline
Initial Usage
Condition: Excellent
Good structure on all sides
Sturdy construction
2 Weeks of Use
Condition: Excellent
Front pocket is very small and tight
Bag is very durable and hefty with nice weather resistance
Very convenient for day-to-day items
Two compartments are fairly spacious for size of the bag
Access the Pro Community Discussion
Get your questions about the Carhartt Essentials Bag answered from our team and the Pro Community right here on the page. Plus, join discussions with other members about gear, guides, and more.
Other Bags & Luggage Reviews