Remote Equipment Charlie 25 Review
The Remote Equipment Charlie 25 is a versatile pack for your daily commute and outdoor adventures alike—as long as you don't mind some dangling straps.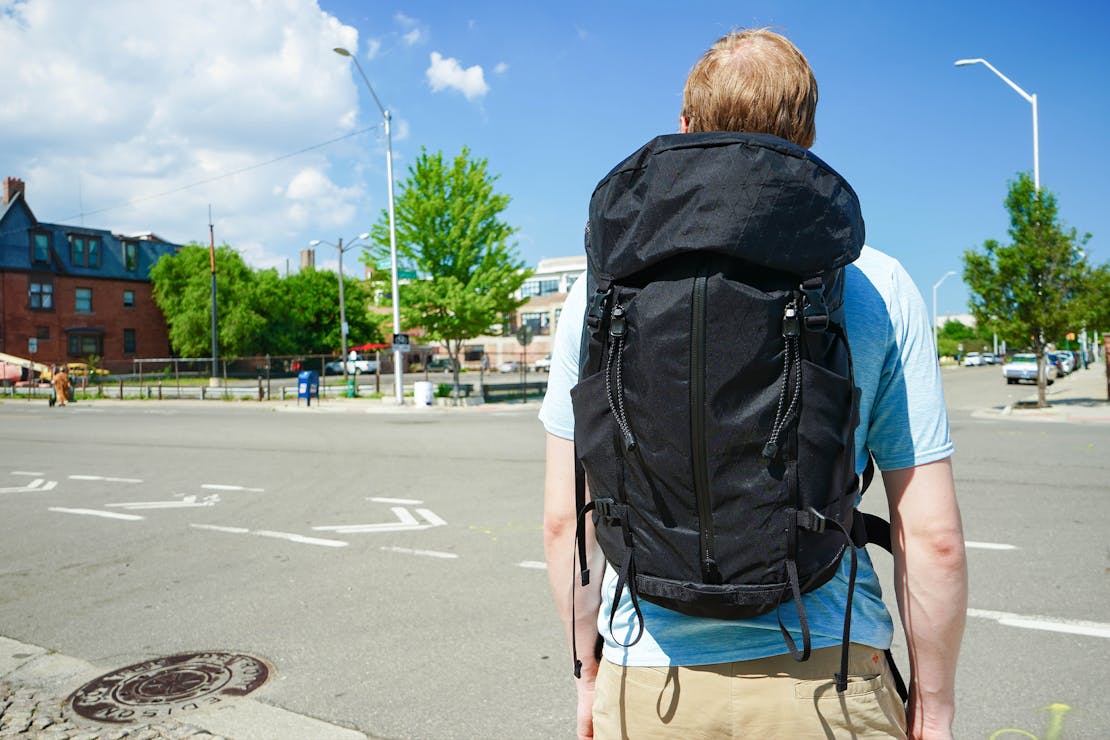 Our Verdict
Unlock the Pro Summary
Save time. Get access to brief summaries of our reviews so you can browse and make decisions more efficiently.
Pros
Comfortable carry
Durable, water-resistant fabric
Versatile, customizable organization
Cons
Lots of dangling straps
Interior pockets can make it hard to access gear in the main compartment (unless packed with smaller items)
Sternum strap is not attached very securely to the bag
Technical Details
84 %
Carry-On Compliance (Beta)
Capacity

25l

Weight (lb)

2.19 lb (1 kg)

Denier

210D

Dimensions

21 in x 11 in x 6.5 in (53.3 x 27.9 x 16.5 cm)

Notable Materials

X-Pac, Spectra Fiber, Polyethylene, Polyester, Nylon, ITW Hardware, Duraflex Hardware, Nifco Hardware, YKK Zippers

Manufacturing Country

Vietnam

Laptop Compartment Size

16"
Full Review
Remote Equipment is a brand that roots itself in the on-going process of creating increasingly functional gear—their mission is to make gear that keeps you packed and prepared through any and all environments.

Enter the Remote Equipment Charlie 25. It's designed to be a one-stop-shop for all of your bag needs—its features and organization work for your everyday commute, out on the trail, and everywhere else you need to go.
At the time of this review, the Charlie 25 is Remote Equipment's newest pack—and we've been testing a pre-production sample for two weeks. We have a lot to cover, so let's get into the review.
Materials & Aesthetic
The branding on this bag appears in a couple of places. You'll find the white-on-black Remote Equipment logo tag on both of the removable pouches (which we'll talk about more later on), at the bottom of the bag, and also against the back wall of the main compartment.

All of these are pretty subtle, with the main compartment tag sticking out the most—it has information regarding the bag's material, where the brand is stationed, as well as information regarding who to contact if the bag is damaged or needs to be recycled. We think this is a nice touch—not only does Remote Equipment want to give you all the features you need in one bag, but also all the information you need to appreciate and preserve it.
At the time of this review, the Remote Equipment Charlie 25 is only available in one colorway, and that's black. But we're okay with this as we think the subtle branding and color preserve the bag's serious-yet-rugged vibe.

This pack is made with durable VX21 X-PAC fabric, which has a thicker 210D nylon face than other variations of the material to better protect against abrasion. We haven't had any scratches or scuffs so far in our testing, so it's doing its job. It's also highly water-resistant and lightweight—so you'll be fine if caught in some rainy weather and it won't weigh you down.

The cinch top of the bag is made of 210D nylon that is reinforced with Spectra® Fiber, which is a similar material to Dyneema®. Not only is it lightweight, but it also has exceptional tensile strength and gives this part of the bag some extra rip stopping capabilities. We appreciate the extra durability here since this cinch top is high-traffic—meaning you'll be in and out of it a lot. It has taken some time for us to break in the cinch maneuver as the fabric surrounding it is fairly stiff at first, but we've got it working smoothly now.

Adding to this bag's weather-resistance are the AquaGuard® YKK zippers, which have been working smoothly in our testing. We've had issues with AquaGuard® zippers sticking or being stiff around corners on other bags, but on the Charlie 25, they zip along a straight line, so no issues there.
You'll also find hardware from ITW, Nifco, and Duraflex in the form of G-hooks, buckles, and adjustment points, respectively. All three are trusted brands and everything is working as it should.
External Components
There's a lot going on with the outside of this pack, and we're going to cover all of it—so get comfortable. Ready? Good. Let's start with the harness system.

The shoulder straps on here are nice and padded with a dual-density foam, which is made from laminating both high and low-density foam together. Basically, the firmer side takes all the force while the softer side cushions the blow, making them super comfortable. You'll also notice some structure on the outside of the straps (the part facing up, not touching your shoulders) which helps distribute the weight of the pack. Plus, they have some curvature to them that keeps them close to the body, and not jostling around as we walk, which we've appreciated during testing. And they're lined with mesh that offers some breathability as well.
At the top of the shoulder straps, you'll find load lifters that you can adjust to bring the top part of the bag closer to your body—this, in conjunction with the rest of the harness system, helps make for more even weight distribution.

As for the sternum strap, it's adjustable to five different heights, so you can move it to whichever it feels comfortable. While the adjustability works well, we're not huge fans of how it's attached. It's not very secure. We've had issues with this style of attachment coming undone on other bags in the past (we've lost a couple of sternum straps this way). It hasn't happened with this pack yet, but it's something to note.

The waist strap on this thing is pretty simple. It's essentially just a piece of nylon webbing (there's no padding or anything like that). We didn't get too much use of it during our testing as it sits a little high—it goes across the stomach rather than the waist, making it more of a gut strap. Of course, your mileage may vary depending on your body type. We've tested this waist strap on smaller frames and it hasn't been as big of an issue for our team members with shorter torsos. That said, we have found that gives some extra support and weight distribution if you can get it adjusted right.

This waist strap is secured with a buckle that can be adjusted from both sides and has strap keepers to help give it a clean look. Although this bag as a whole doesn't offer much of a #DangleFreeExperience as there are a lot of straps and zippers throughout. The trade-off here is that the straps are necessary for all the attachments and features—even with strap keepers, it's still pretty dangly.

Like the shoulder straps, the back panel is also densely padded, making it very comfortable to wear. There's a high-density polyethylene frame sheet in here that gives the bag structure, so it's not limp against your back. The back panel also has a low point in the middle that creates a channel to encourage more airflow. And it's lined with the same mesh as the shoulder straps to keep swamp back at bay (albeit, not entirely—it's a persistent one, that swamp back).

On the front, you'll find a compression strap that runs vertically along the bag. The strap clips to an attachment loop at the bottom and stretches across the top, where it buckles into place. We haven't had much use for it in our testing, but if you're trying to keep things as minimal as possible, this strap can help you cinch the bag down a touch. You can also remove it when not in use.

There are daisy chains that run along each side of the front of the pack, offering some external attachment points. Attached to each daisy chain, you'll find a reflective cord. If you're taking the Charlie 25 out on the trails, you can use this cord in conjunction with loops at the bottom of the pack to carry trekking poles. And, since they're reflective, they add some extra visibility if you're out and about when the sun is not. Even though we're not typically carrying trekking poles around the city, we've kept them on for that added visibility. There are also three other attachment points at the very bottom that can accommodate a bike light for those late-night rides.

There are also two large, elastic water bottle pockets on the outside of the bag. We've been carrying the Hydro Flask Standard-Mouth Water Bottle with Flex Cap 21oz in here, but they have some flexibility to fit something a little bigger, too.
Inside the Pack
Whew. Okay, all done with the outside—now, we're going in.
This bag's standard capacity is 25L, but can shrink to as low as 20L and expand as high as 30L+—this is partially thanks to the expandable cinch opening, as well as the removable brain. If you're not familiar, the brain is basically a lid that sits at the very top of the bag, above the main compartment. It's attached via straps that buckle on both the front and back of the bag, which you can use to extend the bag's height—if you raise the height and expand the cinch, you increase the amount of storage for your stuff and vise versa.
This feature is more common on backpacking-specific bags, but its application here is part of what makes this bag great for a variety of use cases—>f you're just carrying around the essentials, you can remove the brain to keep it at 20L. If you're going for a multi-day trip and need to bring the necessary gear along, keep the brain on and use it to expand to 30L so you've got all the room you need.

The brain itself has some storage capability as well. On the bottom side is a zippered mesh pocket. This works for flatter items, though we don't recommend putting paper or anything else you don't want to get wet in here. While it's protected by the top of the brain, there's nothing that covers the pocket from the bottom—so it's possible rain can get in through the gaps between the brain and the bag, depending on how you have it packed out.

On the outside of the brain is another zippered pocket that's pretty deep. And it has a bright white interior so it's easy to see everything that's inside, which we dig. There's also a key clip in here with a red band that's a quick find when you're looking for it. The clip itself is plastic but feels sturdy in the hand.

There are a few ways to get inside this bag. The first is the cinch opening at the top that we mentioned earlier. There's a red pull that you can tug on to loosen it up, which has worked well during our testing. And for when you need to close it, you can hold the pull with one hand while you tug on the toggle with the other. The pull's bright red color makes it easy to spot, so we're not fumbling for it every time we need to get inside.
Depending on how you have the bag packed, this top opening may or may not be very quick to access. For example, if you have a jacket inside the main compartment right on top, it's relatively easy to pull out. However, if you're looking to grab something that's toward the bottom or tucked into an internal organization pocket (which we'll cover in a minute), it's a bit harder to do so this way.

The good news here is that you can also get into the main compartment by unzipping the zipper that runs down the front of the bag. Or, you can grab the two loops at the top on either side and pull on them to rip the zipper open—both ways will open the bag up in folds and give you the most unrestricted access.

Once you do have it opened up, you're met with two sleeves directly in the middle of the bag. One is a laptop sleeve large enough to fit a 16" MacBook Pro. While there's not much padding on the interior of the bag to protect the laptop, the stiff frame sheet inside the back panel gives the laptop something sturdy to lie against, so we haven't been too worried about it. As for the other sleeve, it can accommodate a tablet, documents, a notebook, or other flat items. It's in front of the laptop sleeve (and frame sheet) so it has some structure as well. Still, we almost always recommend keeping your tech in protective cases, just in case.

Above these sleeves is a loop that can be used to attach up to a 3L bladder. You'll find ports above this loop on either side so you can choose which side you want your drinking tube to come out from. Once it's outside of the bag, you can also slip the tube into the loops on the shoulder straps, so it's not flailing around whenever you're on the move.
We haven't gotten much use out of it in our testing but if you're someone who favors hands-free hydration, you'll appreciate this integration. (Yeah, it rhymes.) However, note that when you do use the bladder, it sits inside the laptop sleeve—so you won't have room for both. (You probably don't want to keep water that close to your tech anyway.)

On either side of the bag is a medium-sized zippered mesh pocket that we've been storing our smaller gear in—some Fulton & Roark Solid Cologne, a watch, sunglasses, among other things. But you'll want to be careful with how you pack these pockets. When you have too much stuff inside, they get bulky and take up space from the center of the bag, which makes it difficult to get to anything you have packed at the bottom of the main compartment.

There's also some hidden organization inside this main compartment. The side panels open up via velcro to reveal sleeves that essentially divide the space into three sections if you're looking to compartmentalize your gear. They're also ideal spots to store the Org Kits. What are Org Kits, you ask? They're the two accessory pouches that integrate with the Charlie 25. You can use them to organize (which is what "org" is short for) all kinds of gear—use them as a Dopp kit, tech pouch, or whatever you need. Just note that, at the time of this review, you'll have to pick them up separately.

Now, we'll talk about these pouches in a minute, but first, we want to note that when both the Org Kits are in the hidden pockets, they take up about two-thirds of the main compartment. If you'd prefer more room inside, you can attach the Org Kits to the outside of the pack.
On each side of the bag, you'll find compression straps with G-hooks at the end. Run these straps through the loops on the Org Kits and you're good to go. We're usually skeptical of G-hook attachments (especially on backpack straps) as there's not much stopping them from slipping loose, but these hooks have been surprisingly secure—we've even had trouble trying to get them off.

Something else to note—when the Org Kits are attached to the outside, it's very difficult to use the water bottle pockets, which may or may not be an issue for you. The best set up for us has been to keep one Org Kit on the exterior of the pack, and one stashed in the main compartment. This way you have easy access to one water bottle pocket and can still take advantage of some external storage.

Okay—let's open up one of these Org Kits, shall we? On the left side, you have a medium-sized zippered mesh pouch that can store things like chargers, cables, power banks, and the like. In the middle are a series of elastic loops that are great for slipping some pens, a stylus, or even smaller cables into—this crafty use of space is similar to what we've seen in the Bellroy Tech Kit but on a larger scale.
On the right side, are two smaller mesh pockets. We've been keeping a laptop charger and mouse in here, but they can also work for your other chargers and accessories—the elastic at the top is tight so our accessories aren't jostling out or around either. On the outside, these pouches also have a flat pocket you can use to store smaller gear—for our purposes, we've been stashing a weight scale inside (for all of our pack-weighing needs).

Both of the Org Kits are structured the same. We've been using one to keep our tech gear organized (as you probably guessed above), and the other one as a make-shift camera cube. The two mesh pockets on the right side of the pouch can hold a smaller, back-up camera (Sony a6500) and a lens while we've been keeping some SD cards and the like in the long zippered pocket. But don't stop there—if you have other gear that works well with this organization, great! You do you. The pouches are made with the same X-PAC fabric as the body of the bag which is durable, but thin—because of this, we've elected to keep the pouch with our camera gear stashed inside for safer keeping.

As far as durability is concerned, everything is holding up nicely. Like we mentioned earlier, we haven't noticed any holes, scratches, or anything out of the ordinary as of yet.
Usage Timeline
Initial Usage
Condition: Excellent
Capacity can expand or compress from around 20-30 L depending on the combination of cinch-top, top brain, and Org Kits
Materials are lightweight, water-resistant, and incredibly durable
This bag is versatile and can be used as an outdoor trekking bag just as well as an EDC tech bag
2 Weeks of Use
Condition: Excellent
This is a super versatile bag! It's great for urban or outdoor travel and can be used as a 20L pack up to 30L+ pack depending on how you compress it, which has come in handy. We like that it can be a sleek, slim pack, or fully accessorized with exterior components. The harness system is supremely comfortable even when fully loaded, thanks to the thick padding and great structure in the back panel and shoulder straps. No durability issues so far—we've been enjoying using this bag during testing.
Access the Pro Community Discussion
Get your questions about the Remote Equipment Charlie 25 answered from our team and the Pro Community right here on the page. Plus, join discussions with other members about gear, guides, and more.
Other Bags & Luggage Reviews