Patagonia Ultralight Black Hole Sling 8L Review
The Patagonia Ultralight Black Hole Sling 8L is slim, lightweight, and easily compressible—we just wish you could switch the carry between shoulders.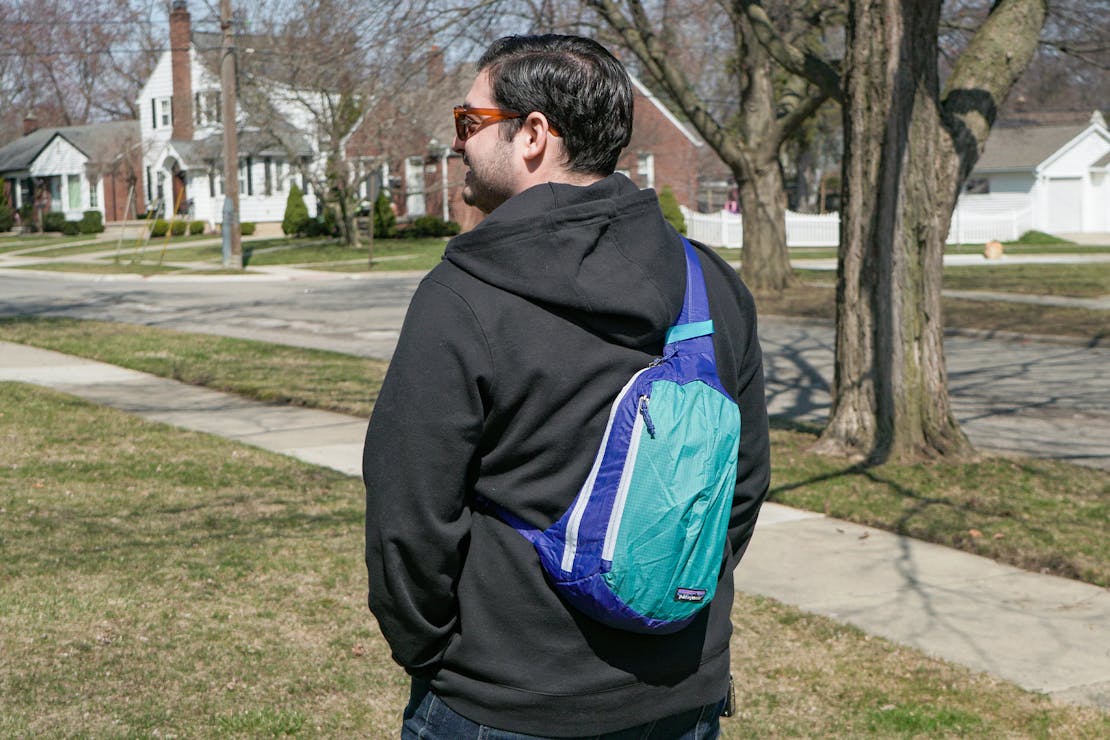 Our Verdict
Unlock the Pro Summary
Save time. Get access to brief summaries of our reviews so you can browse and make decisions more efficiently.
Pros
Lightweight, compressible
Durable and water-resistant materials
Phone pocket is super convenient
Cons
Shoulder strap an only be worn on one shoulder
Not much organization (especially for smaller items)
Can feel floppy at times
Technical Details
98 %
Carry-On Compliance (Beta)
Capacity

8l

Weight (oz)

6.7 oz (189.9 gm)

Denier

70D

Dimensions

13.4 in x 10.25 in x 3 in (34 x 26 x 7.6 cm)

Notable Materials

Ripstop Nylon, Silicone, Polyurethane, Polyester, DWR Coating

Manufacturing Country

Vietnam

Warranty Information
Full Review
Patagonia's Black Hole collection includes bags of all different shapes, sizes, and aesthetics—some that are great for extended travel, everyday bags, even for your shorter ventures, like heading out on a walk or a quick trip to the store.

That's where the Patagonia Ultralight Black Hole Sling 8L shines most—quick trips. Its one-shoulder carry isn't super comfortable for long travel spouts, but if you're just heading to the park for the afternoon or need to run a few errands, it's comfortable enough. And at 8L, it has the space to hold all the gear you need to do so.
We've gone on all kinds of walks and errands with this sling during our month of testing, so let's talk about it.
Materials & Aesthetic

The classic Patagonia logo appears on this sling's main strap as well as on the bottom, right-hand side of the front pocket. It's a nice, subtle accent—people will know you're wearing Patagonia, but this branding isn't screaming it from the rooftops. At the time of this review, the Patagonia Ultralight Black Hole Sling 8L is available in five different colorways—and we've been digging the outdoorsy aesthetic of the Cobalt Blue colorway we've been testing.

This sling's body is made of the ultralight material you'll see on bags in Patagonia's Ultralight Black Hole line—it's made of recycled 70D ripstop nylon that's coated on the front with silicone and on the back with polyurethane. Plus, it's bluesign® approved. And the lining is 200D recycled polyester with a similar polyurethane coating as the body, and DWR finish. We know, that all sounds complicated. To put it simply, this bag is durable and water-resistant, so you should be okay in rougher weather—and it's manufactured with the environment in mind, so you can feel good about wearing.

We (accidentally) put this material's water resistance to the test with an incident involving a water bottle leak inside the pack—not a huge spill or anything, but we're happy to report that water beads off the material instead of soaking through. It also dries pretty quickly (meaning you should be fine if you get caught in some rain).
Wrapping up materials, you'll find some YKK zippers on here with corded zipper pulls that match the color of the bag—the pulls are easy to grab and everything has been working smoothly in our testing so far.
External Components
First, we want to note that the Patagonia Ultralight Black Hole Sling 8L compresses into one of its pockets. So you can stash it away for later use (either inside a larger travel bag or for storage at home). When it's all packed, you'll see a picture of what the sling looks like as well as the Patagonia logo in white lettering on the outside. And on top of the pouch is a strap that you can hook through a loop to operate as a handle to carry with or hang it by. This strap also acts as a key clip when the bag is in use.

We've found that unpacking this bag is not the easiest maneuver—though it's much quicker on here than the Patagonia Black Hole Duffle Bag 40L. Because of this, we've mostly been keeping the sling out and assembled. It's pretty slim and lightweight as is so we haven't needed to compress it too often.

Now that we've got it out, we can go over the exterior—starting with the shoulder strap. It's pretty nicely padded—nothing too crazy, but since it's only an 8L bag you don't need a ton. It's also lined with mesh that keeps the air flowing and you comfortable. But one of the first things we noticed is this strap's odd shape. It starts pretty wide at the top of the bag, gradually gets slimmer in the middle, and then widens again toward the bottom—this asymmetrical construction is designed to keep the sling close to the body.
Something to note—you can only wear this sling across one shoulder, so it can get uncomfortable after a while. We've found that it's more comfortable to wear when it's lower down on our backs, but as a result, the bag often feels like it's falling backward or needs to be readjusted. We had a similar issue of not being able to swap shoulders with Patagonia's Atom Sling. We said it then and we'll say it now—we'd love a solve that allows us to switch up our carry once and a while.
Now, we've found that you can switch this thing to your left shoulder to give your right shoulder a break. Sort of. Since you're not wearing the bag crossbody, you have to hook your thumb in the strap to keep it secure—like a late 90s backpack-strap-over-one-shoulder vibe. It kind of works, but we wouldn't recommend carrying it this way for long distances.

There are two loops on this strap—one at the top and one at the bottom. You can use these to clip on other accessories with a carabiner, like a water bottle. Although (and we've also discussed this in the Atom Sling review) unless your water bottle is incredibly lightweight, strapping it here will only weigh you down. So we've mainly been using them as a way to sling the bag forward for when we need to get inside—just slip your finger or thumb through and pull. (It's a very effortless, cool-guy kind of motion.)

There's also an elastic strap keeper on here to help give us that #DangleFreeExperience. The tag end of the strap is turned upward, preventing it from slipping out of the elastic (which has happened with the keepers on other sling bags we've tested, rendering them useless). We dig this small-but-thoughtful design detail.

On the front of the strap is a mesh sleeve with elastic at the top that fits an iPhone XS like a glove—so it should work for most smartphones. And when you do have your phone in here, we've found it almost acts as a counterweight to balance out the load in your bag and give you a more even carry.

At the end of the strap is a plastic ITW buckle you can clip and unclip with ease. It has stayed secure so far in our testing and allows you to take the sling on and off quickly without having to slip yourself in and out of it every time. But if you'd rather do it that way, all the more power to you—we just want to let you know it's there if you need it.

And finally, the padded back panel's mesh lining is similar to what you'll find on the shoulder strap. There are no real air channels on here, but we don't need anything too intense for a bag of this size. While we can't say we're always completely dry of sweat, we're not drowning in it either. The panel also works to give the bag a little bit of structure, so it's not just a saggy sack.
Inside the Sling
There's not much going on inside this sling. First up, you have a medium-sized zippered pocket on the front that's great for storing a notebook, your planner, maybe a snack or two. And it makes for quick access—you can just slide the bag to the front, grab, and go.

Open that pocket up, and inside you'll find the smaller pocket that the bag stores into. When the bag isn't compressed, this can hold smaller items you don't want mixing in with your other stuff—like keys and a wallet—so there is some level of organization in here. And it's zippered to keep things from spilling out.
We've mostly just been leaving this smaller pocket open and relying on the main pocket zipper to secure our stuff—the pocket itself is tight, though, so you don't have a ton of room to throw stuff inside anyway. It's also slow to access, so even if you can fit one or two things inside, it's going to be a hassle to get to them.

As we mentioned earlier, the clip that operates as a handle when the sling is compressed works as a key clip once it's opened up. It's plastic so it may not be as durable as a metal clip, but it feels strong in the hand. It's also not super handy as you have to go through two zippers to get to it. And the leash that it's on is pretty short so you have to do that awkward bend over whatever you're trying to open thing. The bright side is this pocket-inside-a-pocket keeps your keys more secure than if the attachment was in a quick-grab pocket on the outside of the bag (where it would be easier for the wrong person to grab them).

Moving on to the main compartment. It's pretty roomy and has zero organization inside, which works well for your bigger and bulkier items. We've been able to fit a jacket and a water bottle (or two) in here no problem. Some other things you could fit—an umbrella, your lunch box, your newest library haul. However, we think it could still use some more internal organization for smaller stuff (which you can always create with pouches, too, if it works for your gear).
Durability & Testing
We've taken the Patagonia Ultralight Black Hole Sling 8L on some pretty long walks (three to five miles) a couple of times a week, as well as strolls with the dogs and trips to the store for a month now—basically wherever we went, it went. We've found that the sling starts to get uncomfortable after a while, which you kind of have to power through since you can't switch shoulders.

We like that we can throw some bulkier items in here, like a jacket or water bottle, but this sling does not work as well for smaller stuff. You can still stash your smaller gear in pouches and add some compartmentalization that way, but we would appreciate some more organization integrated into the sling.
Durability-wise, everything is holding up nicely. No tears, punctures, or loose threads to share.
Usage Timeline
Initial Usage
Condition: Excellent
Same general design as the Atom Sling but more minimalist
Two compartment internal organization
Back panel and shoulder strap still have some pretty decent padding for a lightweight sling
2 Weeks of Use
Condition: Excellent
Been loading this sling up and taking it on long walks with the dogs (like three to five miles). It has a decent amount of organization—especially if you have larger items like a packable jacket and water bottle. Since it can only be worn on one shoulder, it tends to get uncomfortable after a while. Also, we've noticed that it seems to be more comfortable when riding a little lower on the back.
1 Month of Use
Condition: Excellent
Been digging the mesh pocket on the shoulder strap—it fits an iPhone XS like a glove. We've also had an incident with a leaking water bottle inside the pack. Not a huge spill or anything, but we're happy to report that the water beaded off the material instead of soaking through. Flipped the sling inside out and it dried pretty quick.

Access the Pro Community Discussion
Get your questions about the Patagonia Ultralight Black Hole Sling 8L answered from our team and the Pro Community right here on the page. Plus, join discussions with other members about gear, guides, and more.
Other Bags & Luggage Reviews