Patagonia Paxat Backpack 32L Review
Accessibility feels a little clunky with Patagonia's Paxat Backpack 32L. But, it has the hallmarks of a travel backpack at a size you can daily drive.
Our Verdict
Unlock the Pro Summary
Save time. Get access to brief summaries of our reviews so you can browse and make decisions more efficiently.
Pros
Compression and load lifter straps help balance fit
Good size for a daypack-travel backpack hybrid
Laptop sleeve doubles as a hydration pack pocket
Cons
Accessibility is clunky in areas like the main and laptop compartments
Shoulder straps are a bit on the stiff side
G-hook on front mesh pocket is difficult to unhook
Recent Pack Hacker Video
Technical Details
Capacity

32l

Weight (lb)

1.9 lb (0.9 kg)

Denier

630D

Dimensions

20 in x 12 in x 9 in (50.8 x 30.5 x 22.9 cm)

Notable Materials

Recycled Nylon, Recycled Polyester, YKK Zippers, Duraflex Hardware, Polyurethane, DWR Coating

Manufacturing Country

Vietnam

Laptop Compartment Size

15"

Warranty Information
Full Review
Patagonia. It's a brand named after one of the most diverse places in South America, perhaps even the world. If you've ever been to Patagonia (or at least watched a documentary featuring it), you'll know how breathtaking the sights and views are. Mountains, glaciers, forests, deserts, rivers, lakes—you name it, it's probably there. As such, the Patagonia brand's gear is suitably adventurous in nature, including, but not limited to, their travel backpacks.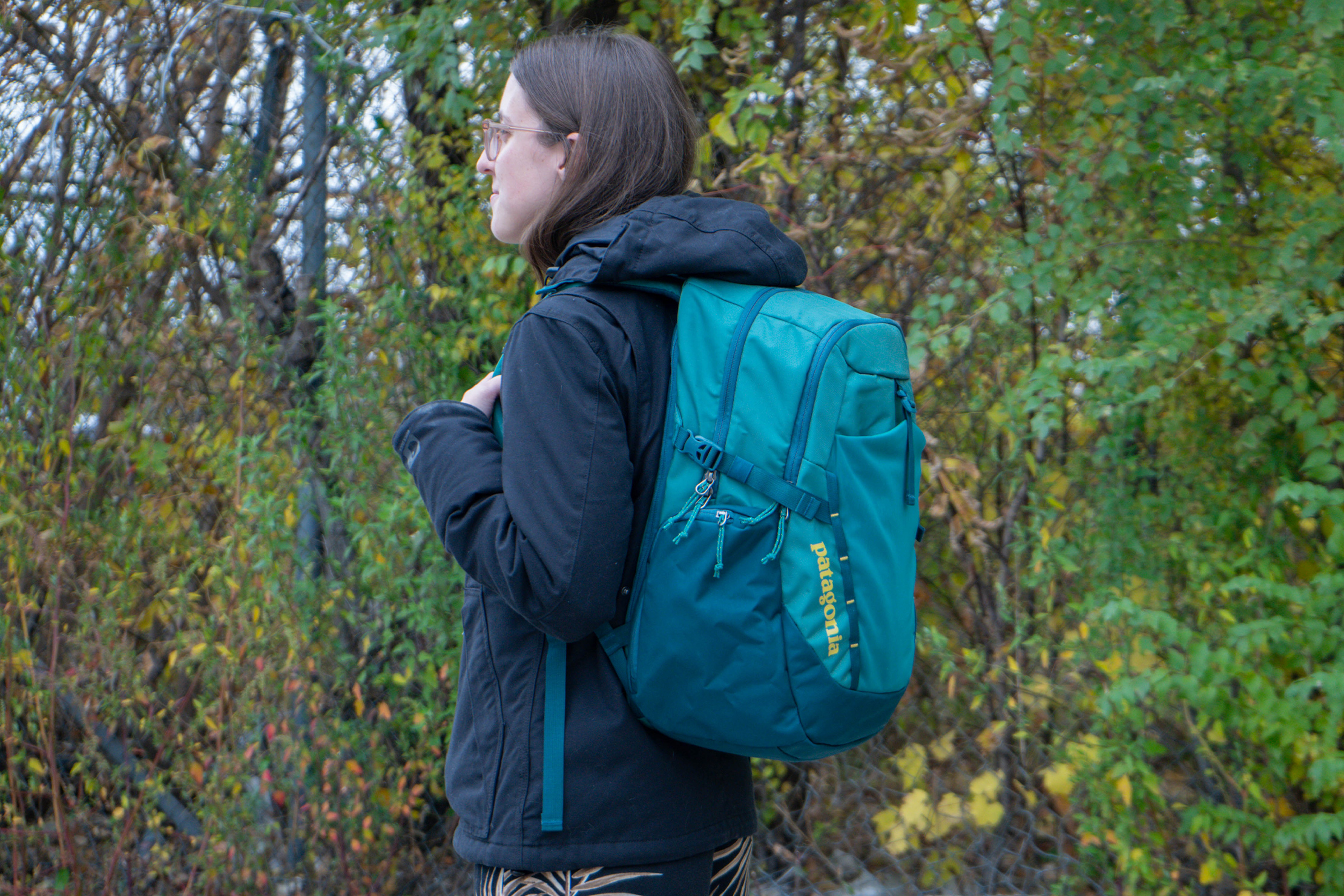 The Paxat Backpack 32L is among their offerings, and it is quite flexible in our books. At 32 liters (hence the name), we're able to use it as a daypack, but with the functionality of a travel backpack. It has compression straps, load lifters, support for a hydration pack, and enough organization for the many snacks you'll want on your adventure, urban or otherwise. There's a ton of features in this backpack, so let's dig in.
Materials & Aesthetic
The way the Paxat looks gives away just how much of an adventurer's backpack it is. There's a whole lot going from whatever angle we shoot it from. There are straps, creases, buckles, and at least three shades of aquamarine; four if you count the yellowish branding Patagonia applied at the front. When it comes to styling, we'll admit that we often lean towards the tamer and subdued side of things, hence why we usually pick black colorways. The busy aesthetics of the Borealis Green here is eye-catching, though we wouldn't say no to the classier New Navy.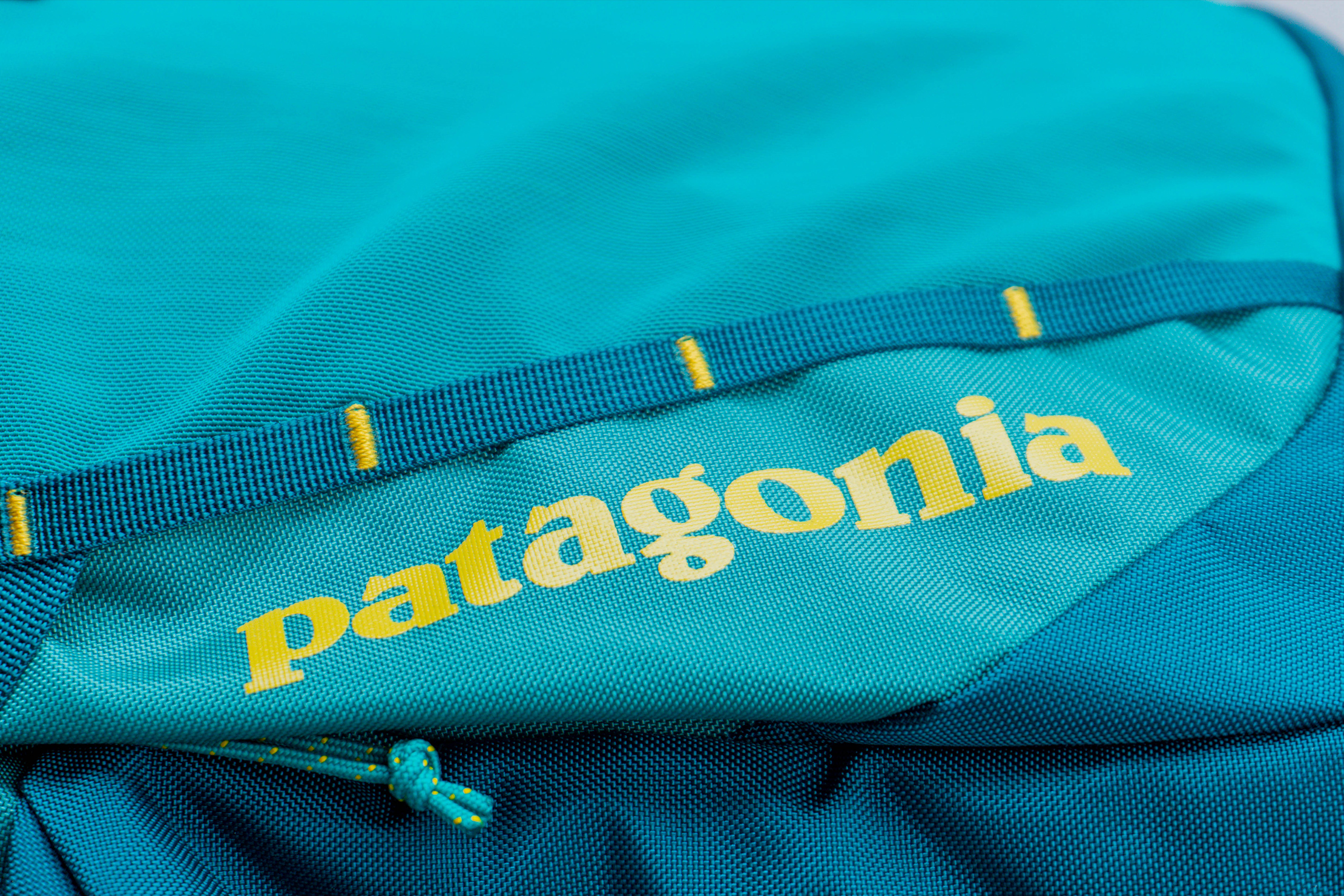 Both colorways are available at the time of writing. Whichever you choose, though, you're still getting quite a busy-looking bag. The good news is that most of the bits and bobs dotting the bag are functional, not superfluous. For example, the yellow stitching at the front is for the daisy chain of loops. The cord pulls ensure the YKK zippers are even easier to zip and unzip. Finally, the Duraflex clips, buckles, and adjusters—as many as they are—perform their respective functions without issue.
Despite the multiple shades of colors, the Paxat's fabric is uniformly 630D 50% recycled nylon on the outside. A combination of PU (polyurethane) coating and DWR (durable water repellent) finish gives it some weather resistance. On the inside, the liner fabric is 200D recycled polyester, and it's a fairly bright fabric too. Mind you, the liner fabric's color varies depending on the colorway.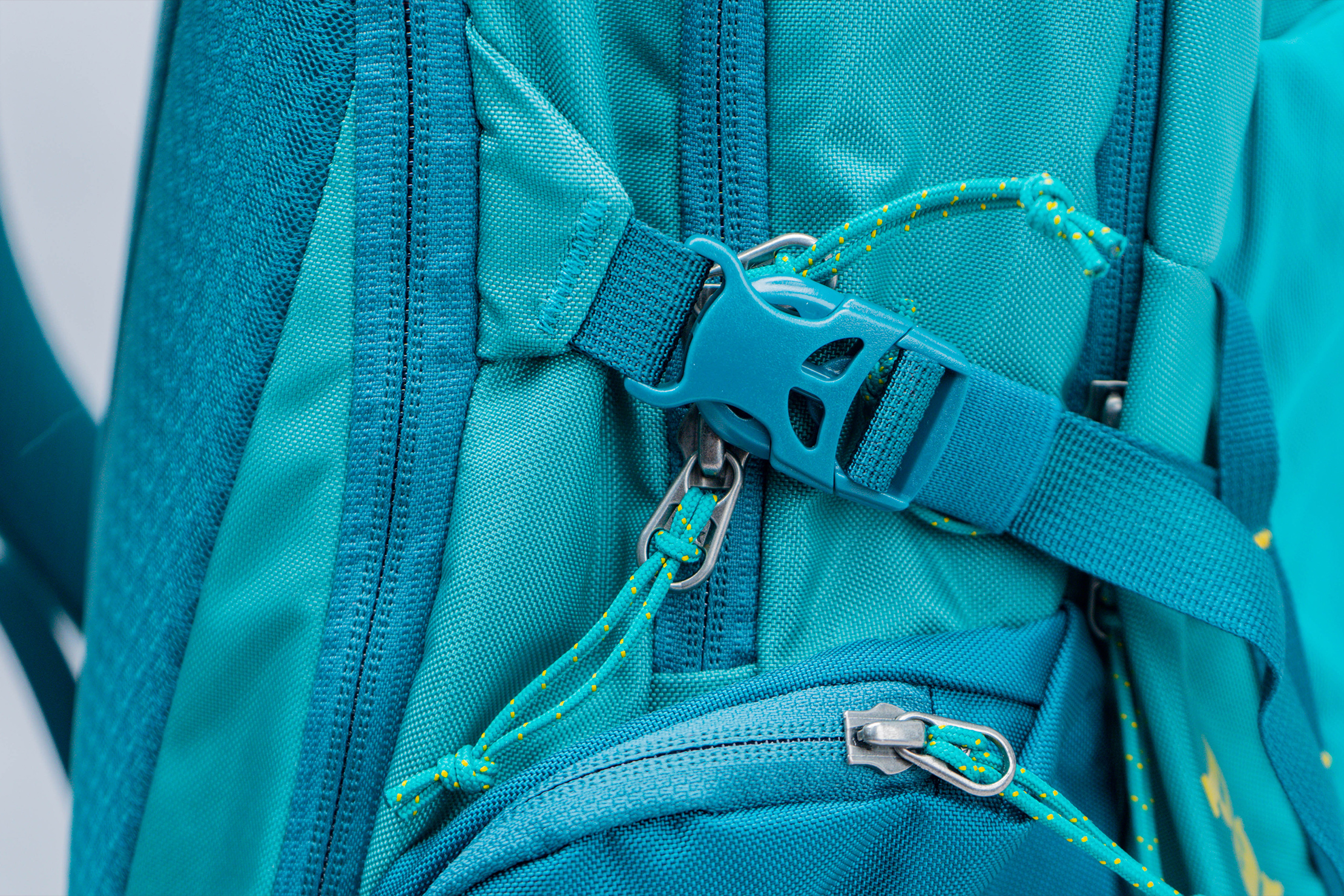 Build quality-wise, the Paxat is as robust and sturdy as we've come to expect of Patagonia's gear. There isn't a single thread out of place after our weeks of testing. The coating on the fabric works as expected, too, as we haven't seen any staining thus far. If anything, we wish the Paxat's materials broke in a little more, particularly the shoulder straps.
External Components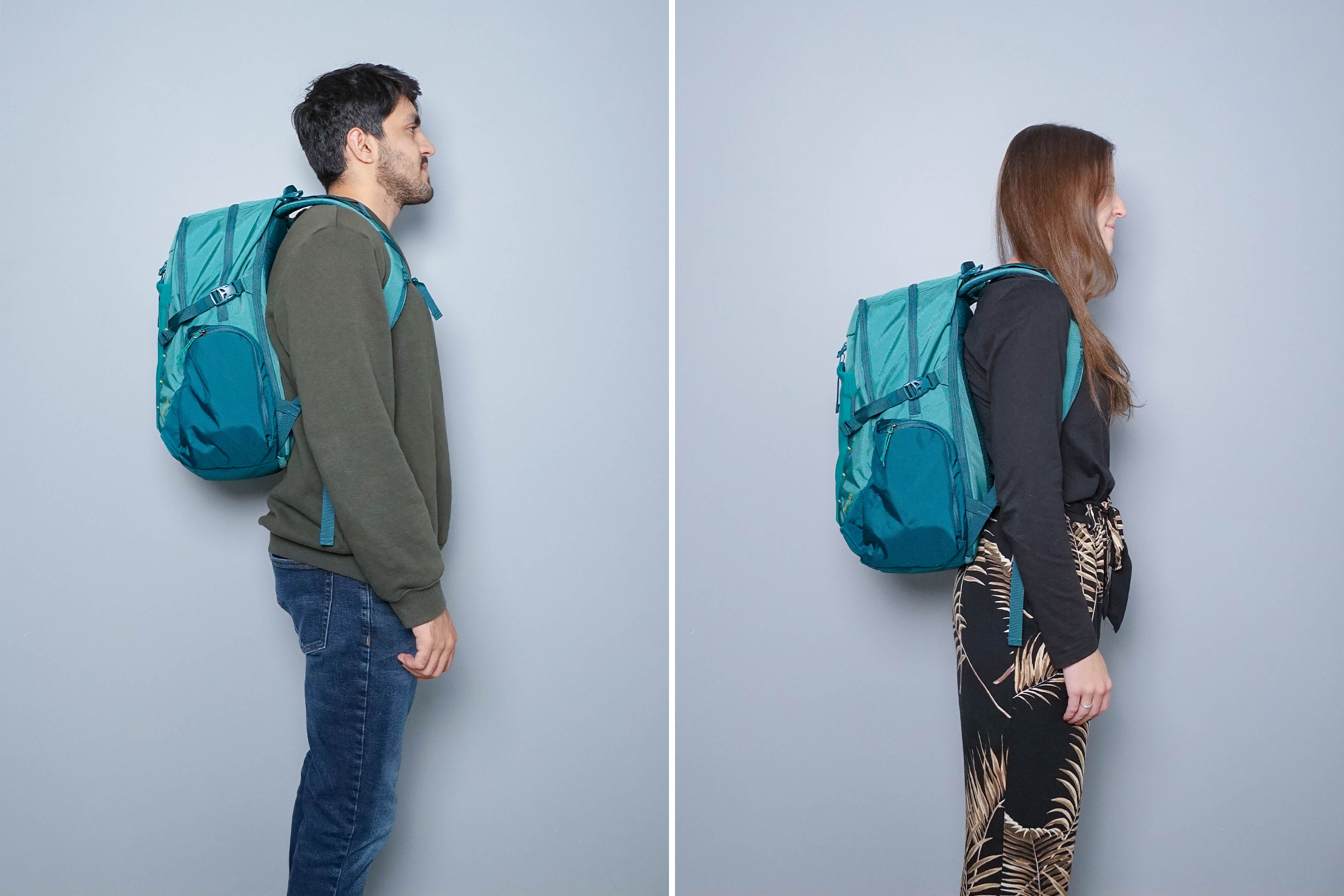 Strictly speaking, the Paxat is a comfortable backpack to carry around even when fully packed out. At 32 liters, it certainly isn't the biggest bag we've carried on our backs. However, there is a healthy amount of padding on the back panel. The material has mesh for breathability, so the thickness isn't suffocating even after a full day of walking around with it. Where the Paxat gave us pause is with its shoulder straps.

The padding is similar to the back panel's, thick and meshed. But unlike the back panel, the padding here is a bit stiffer. At first, we thought that this stiffness would be uncomfortable in the long term, but we haven't felt that way even after a few weeks of testing. What helps is that the shoulder straps are well-equipped, coming with load lifters and a sternum strap.
Load lifters are nice to have on large backpacks, as they can help shift the weight up, prevent sagging, and make for a more comfortable carry. On the 32-liter Paxat, though, we mostly left it untouched after just a tweak or two to the fit. At the very least, it's there in case you're packing something heavier than clothes, like rock samples or your paperweight collection.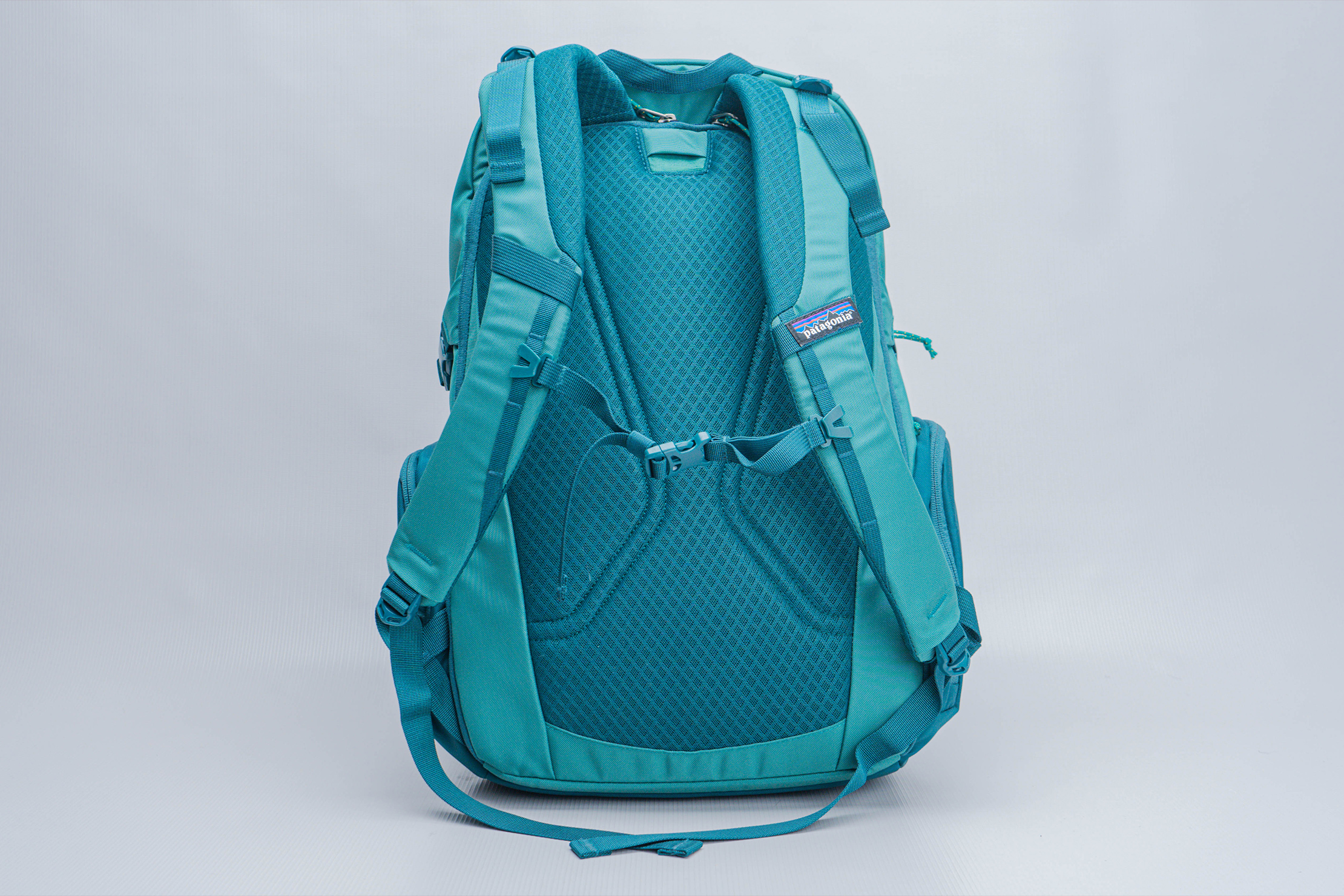 On the other hand, the sternum strap is something we use a lot more often. Unfortunately, it on the Paxat isn't the smoothest to operate. It's a hook-on style that attaches to a daisy chain of loops along the shoulder straps. Sometimes we have to pry the clips slightly with our fingers so we can detach them. Thankfully, the locking clip is a simple side release buckle that's simple and hassle-free to use.
For an even tighter fit, the Paxat also comes with a pair of compression straps, one on each side. These really come in handy for cinching down the bag and minimizing sloshing around. On the flip side, the straps' placement puts them in the way of the main compartment's zippers. They rob about two inches of the compartment's opening, which doesn't sound like much. However, we can feel the impact on accessibility as we're digging through the 32-liters of storage. The good news is that these straps come with side release buckles for quickly getting them out of the way. Even better, the straps' slack is kept in check by strap keepers, helping the Paxat achieve a bit of neatness despite its busyness.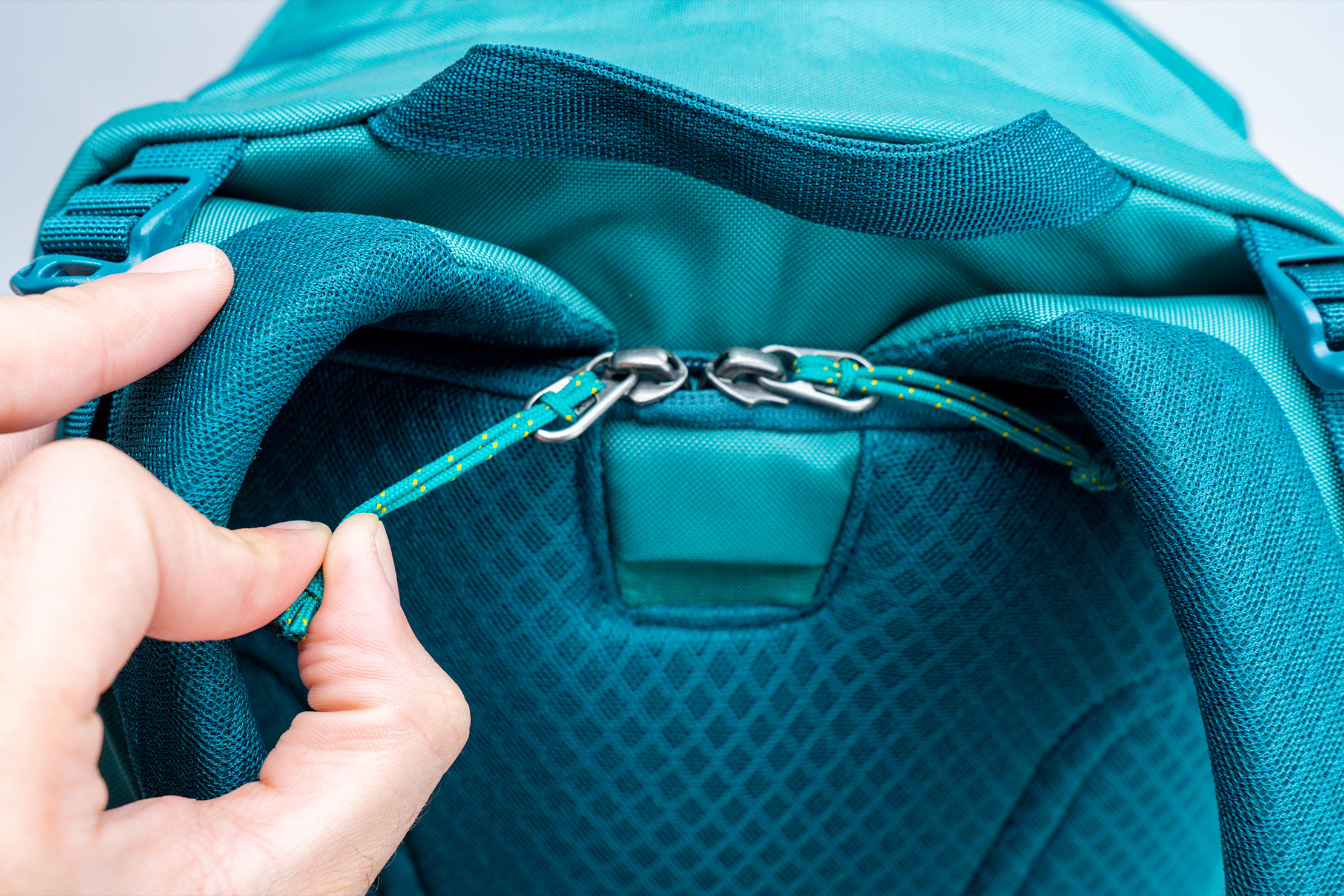 There is also a simple nylon handle at the top. Rarely do backpacks go without one of these, and the Paxat—thankfully—isn't one of these rarities. The handle is relatively thin, though it's folded and stitched to give it some thickness. We find it useful for hanging the bag on pegs or quickly grabbing and shuffling it around a room, but not for carrying over an extended period.
The Paxat has two side pockets for water bottles, both of which are zippered. This offers good flexibility, as being zippered means they can also be used for quick-grab items. The zippers open from top to bottom, which allows tall bottles like our 18-ounce Hydro Flask to fit, although the mouth sticks out at the top. A neat detail is the gusset in these pockets. They help keep the pockets from fully splitting open when they're unzipped. As mentioned, we use one of the pockets for our bottle and the other for quick-grab items—definitely digging the flexibility here.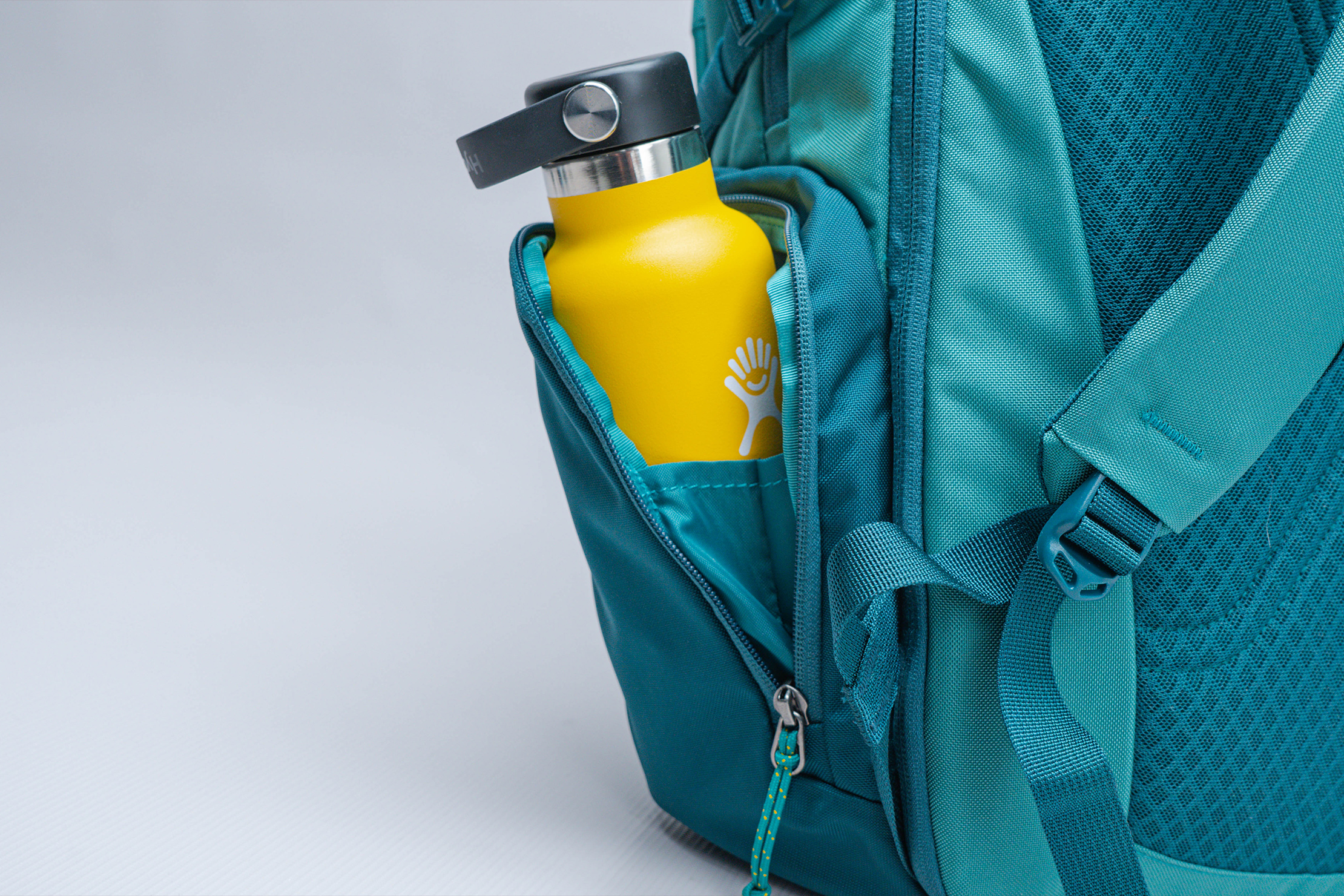 At the front of the Paxat is a mesh pocket, flanked on each side by daisy-chained loops. We don't really use these loops because the Paxat already has an abundance of pockets for organizing small accessories. That said, hanging accessories can be quite useful when trekking through the great outdoors. It's much less of a hassle to take something off a carabiner than going through pockets, after all.
Inside The Backpack
On that note, the quickest pocket to access on the Paxat is undoubtedly the front mesh pocket. Its material is stretchy, giving it flexible volume for bulky items like jackets. The pocket's secured by a G-hook, which we found to be tricky to use at times. The hook and loop are a bit tight, which is great for keeping the pocket secure. The downside is overall slow accessibility. So much so that we opt to put smaller items like gloves instead of jackets in this pocket. This way, we avoid having to do and undo the G-hook altogether each time.

Next up is the front compartment. This is where a bulk of our accessories and everyday carry items go. Accessibility to this compartment is great, as it opens horseshoe-style, and it's unimpeded by the compression straps we mentioned earlier. In terms of space, there's a lot of volume to work with here. We're able to fit a tech pouch and a packable tote in the open space. On top of that, there's a good mix of different pockets for separating items and organizing them.
At the rearmost of the compartment is a zippered pocket for frequently accessed items that also need some security. For us, that's the likes of passports, tickets, and IDs—travel documents that, in general, are slim enough to fit inside. In front of this pocket is a soft-lined slip pocket for fragile items like phones or a pair of sunglasses. Next to that is a wide mesh pocket with a built-in key strap. Sadly, the strap itself is short, so we have to detach our keys each time we have to unlock a door.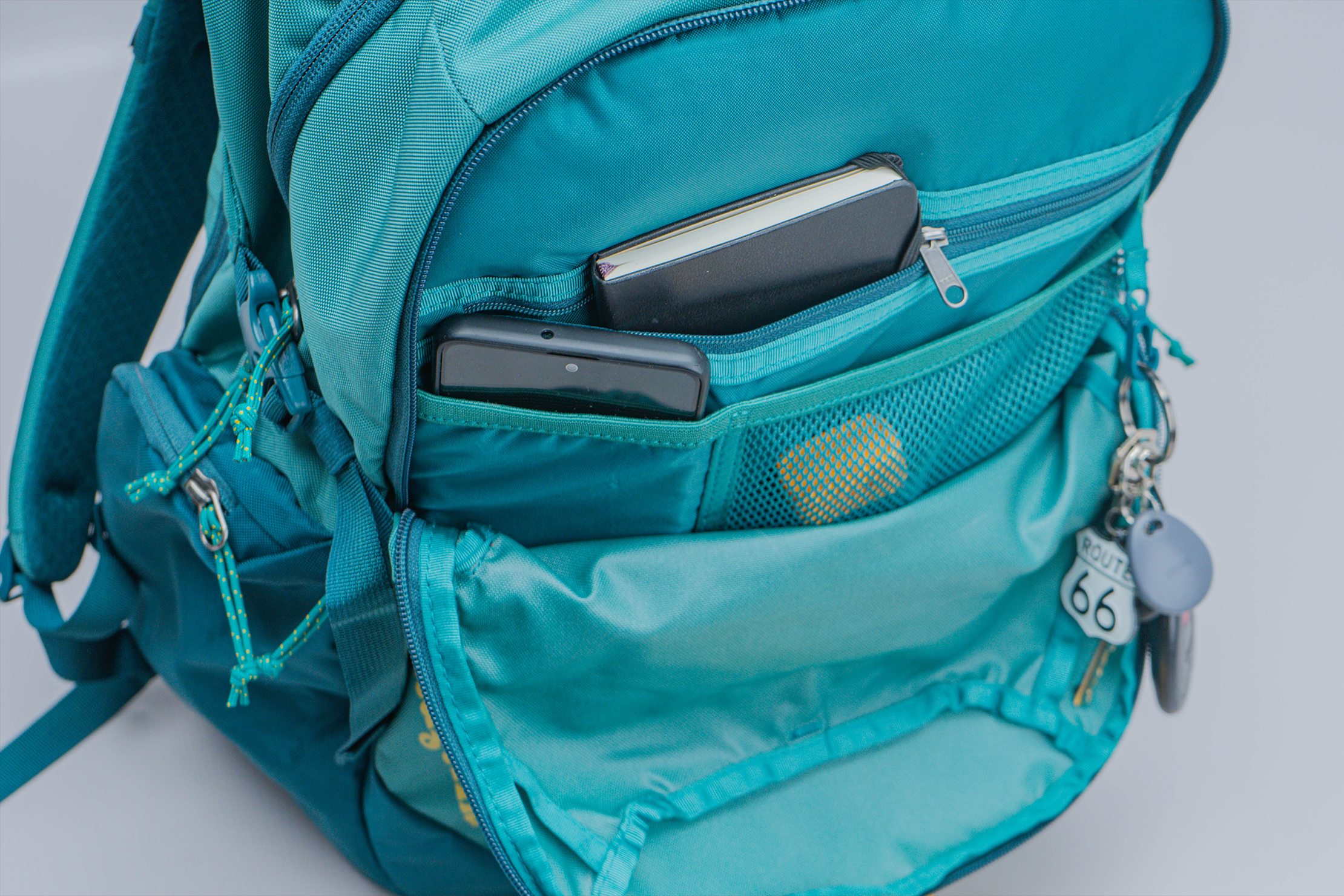 Moving onto the main compartment, it's a horseshoe-style opening. Like we mentioned earlier, the compression straps get in the way. It's especially noticeable when the bag's fully packed out, and we need all the space available to quickly dig through our clothes inside. But the available space inside is quite generous. The floor space and sides are nicely squared off, making stuffing packing cubes and pouches easier. We're able to pack a weekend's stay worth of clothing, with a lot of headroom to spare; enough for a toiletry bag like the Away Small Toiletry Bag.
In case you're not a fan of toiletry bags or separate pouches, the Paxat's main compartment has a zippered pocket at the front. The space inside is fairly minimal, so it's going to fit mostly travel-sized toiletries. Towards the rear of the main compartment is a tablet pocket, which is also fit for small-sized documents. We use it for our compact keyboard, though, as the laptop compartment is mostly just for laptops.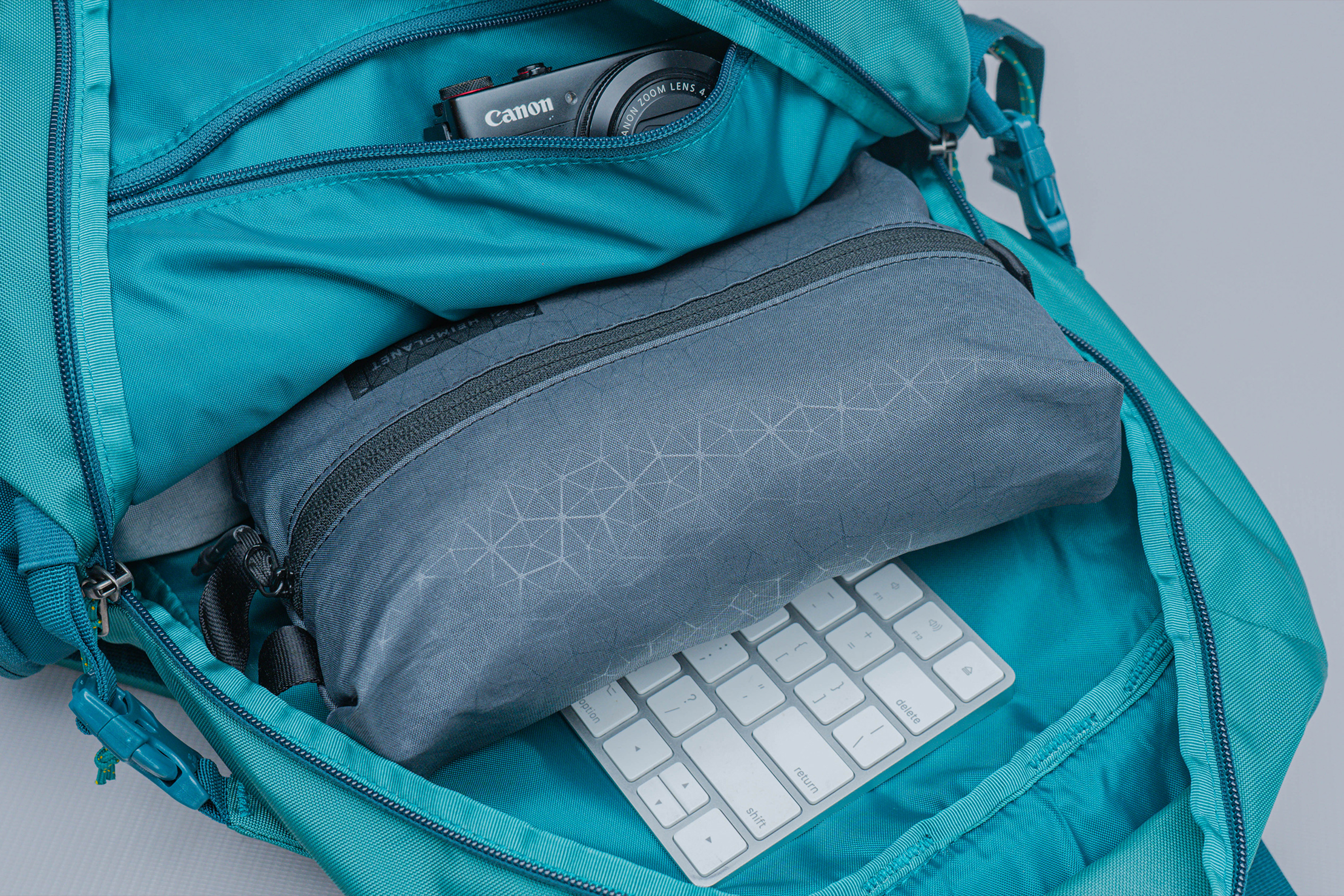 The last of the major compartments on the Paxat is the laptop compartment. Yes, it's a separate compartment, which can be a huge plus since it bypasses the main compartment. Inside, the sleeve has a diagonal cut opening, a sizable false bottom, and a buckle to keep things secure. Just above the buckle is a small pass-through for a bladder—the laptop compartment also doubles as a hydration pack pocket. Needless to say, you'll have to leave the laptop at home or at the campsite if you opt for that.
Unfortunately, the flaw of the laptop compartment is that the shoulder straps go over its opening. It is a clamshell-style opening, with the zippers zipping down to the bottom sides. We technically only have to open the top portion and unbuckle the clip to get to our laptop, but again, we have to get the shoulder straps out of the way first before we can take our laptop out.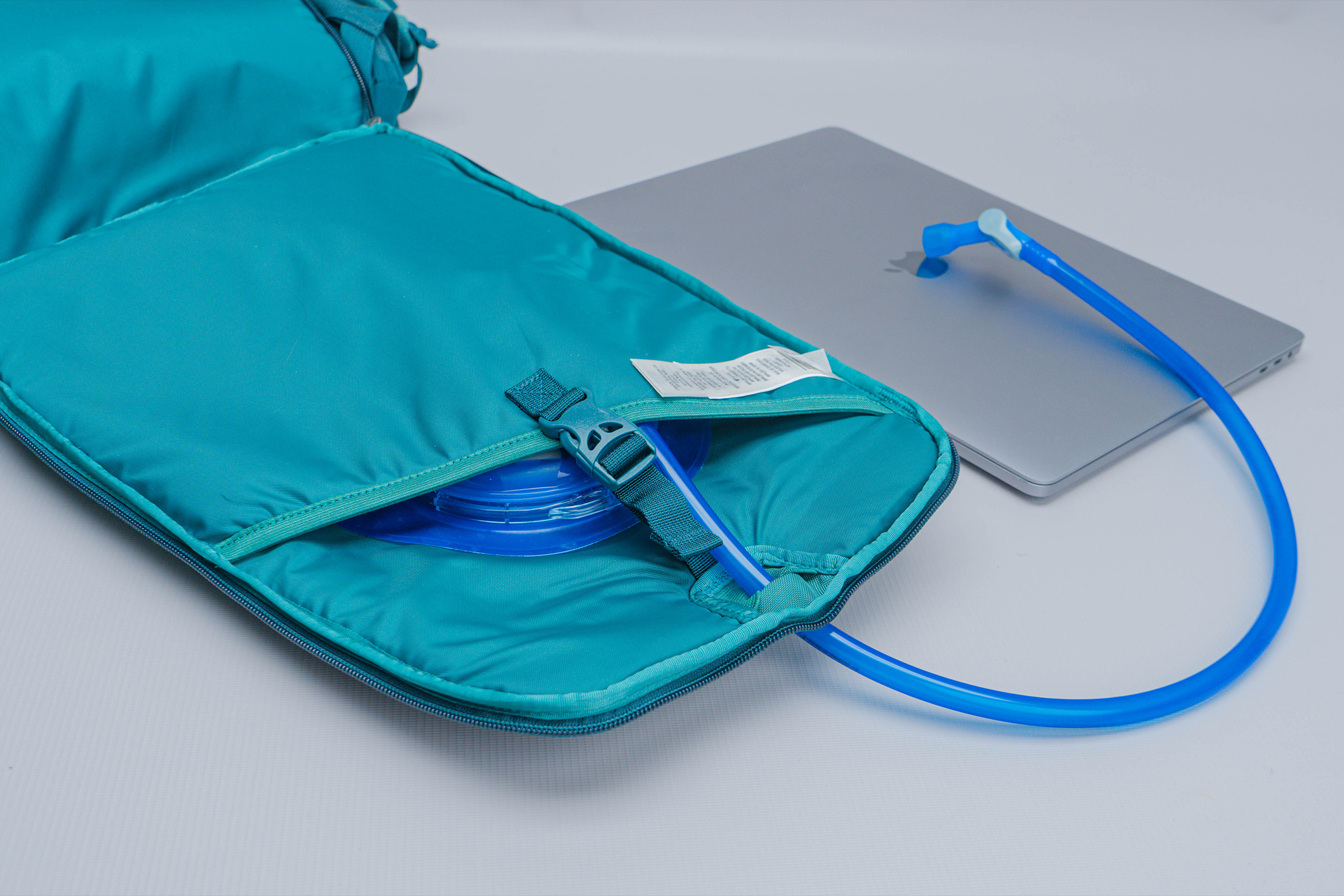 As a backpack, the Paxat strikes a nice balance between being a large daypack and a small travel bag. We're able to seamlessly switch between those two functionalities without feeling majorly let down in either. When it comes to accessibility, though, the overall impression is somewhat clunky because of the straps; we wish things were quicker and more convenient. It's not the biggest deal-breaker ever—just something worth noting, as the flexibility of the Paxat's role means frequently accessing its compartments is a big factor.
Usage Timeline
Initial Usage
Condition: Excellent
Laptop compartment opens fully clamshell-style
Shoulder straps are densely padded
Main compartment has a substantial floor for even thick packing cubes
2 Weeks of Use
Condition: Excellent
No blemishes or loose threads to be found
Can be a bit fussy to get into the laptop compartment
Mesh stash pocket is similarly clunky to open
Main compartment super roomy—enough to pack everything for a long weekend
Zippered side pockets are a bit too small for larger water bottles
Access the Pro Community Discussion
Get your questions about the Patagonia Paxat Backpack 32L answered from our team and the Pro Community right here on the page. Plus, join discussions with other members about gear, guides, and more.
Other Bags & Luggage Reviews