Patagonia Arbor Roll Top Pack 30L Review
The Patagonia Arbor Roll Top Pack 30L's soft structure and size impact carrying comfort, but its strength lies in its capacity.
Our Verdict
Unlock the Pro Summary
Save time. Get access to brief summaries of our reviews so you can browse and make decisions more efficiently.
Pros
Eco-friendly 100% recycled main fabric
Roomy main and front compartments
Laptop sleeve has its own opening
Cons
Structure too soft for its 30-liter size
Main compartment's opening too narrow for its depth
Water bottle pockets lack grip
Recent Pack Hacker Video
Technical Details
Capacity

30l

Weight (lb)

1.45 lb (0.7 kg)

Denier

600D

Dimensions

20.25 in x 11.5 in x 6.5 in (51.4 x 29.2 x 16.5 cm)

Height extends to 27"

Notable Materials

Recycled Polyester, DWR Coating, Polyurethane

Manufacturing Country

Vietnam

Laptop Compartment Size

15"

Warranty Information
Full Review
Patagonia is one of those brands whose gear we generally tend to find quite capable. They're not perfect by any means (what brand is, anyway?), but their outdoorsy designs are typically safe bets if you want a good all-rounder bag. Unfortunately, we couldn't quite feel the same with the Arbor Roll Top Pack 30L.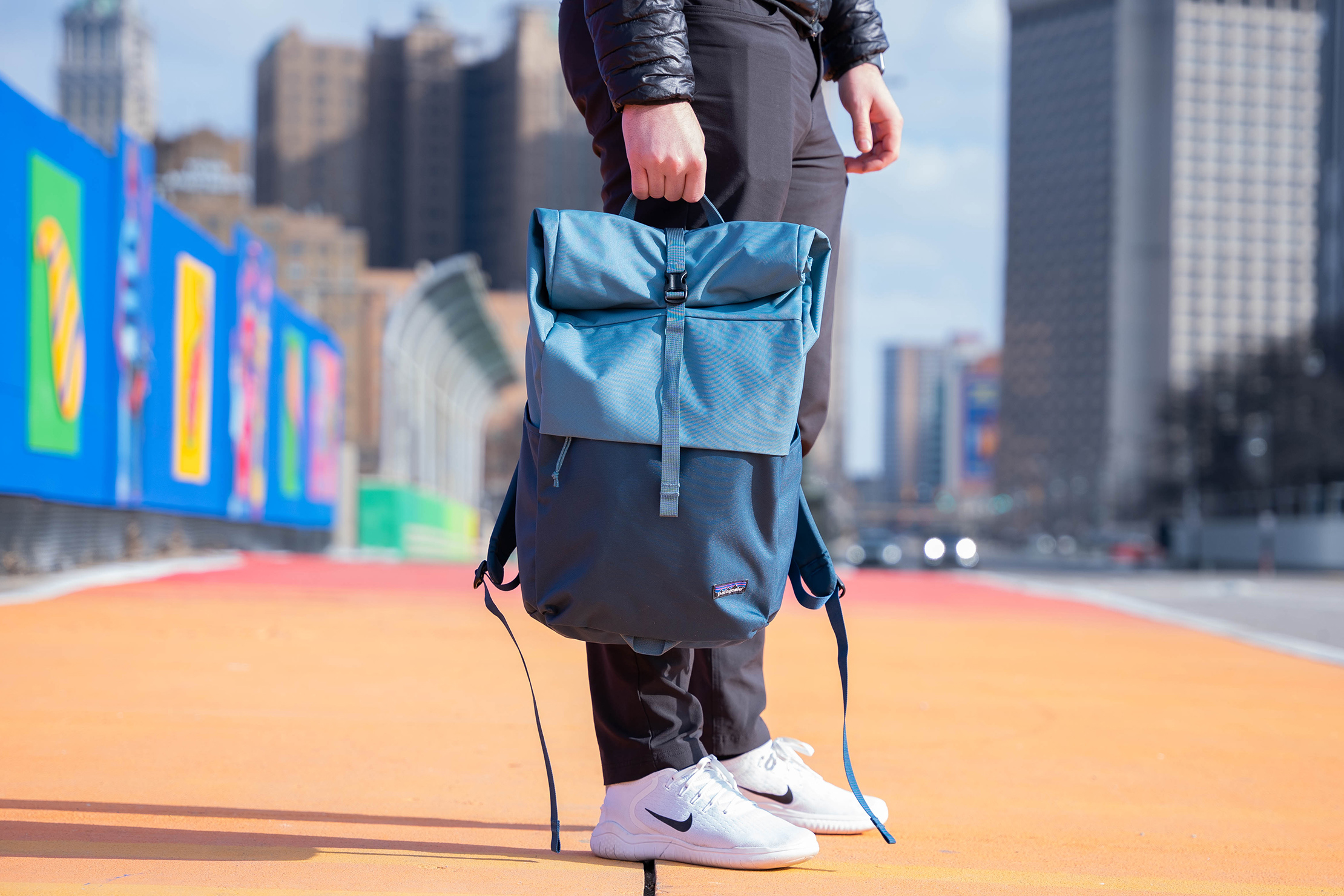 It has the simplicity of an everyday backpack, from its minimal organization to its shoulder strap-only harness system. However, its soft structure and accessibility woes greatly impact performance. Still, its 30-liter size can excel for light travel purposes, so it's still worth checking out—and that's exactly what we're doing in this review.
Materials & Aesthetic
The Arbor Roll Top has a squarish profile to go with its rolltop design, though the main fabric's soft structure rounds its outline quite a bit, so it's not boxy by any means. Spoiler: this softness plays a huge role in how this bag performs overall. Style-wise, though, it's not really the shape of the structure that drives the Arbor Roll Top's appeal. Patagonia cleverly split the two halves to create a two-tone design. The Abalone Blue colorway, which we have here, doesn't do this much justice, but the other options do.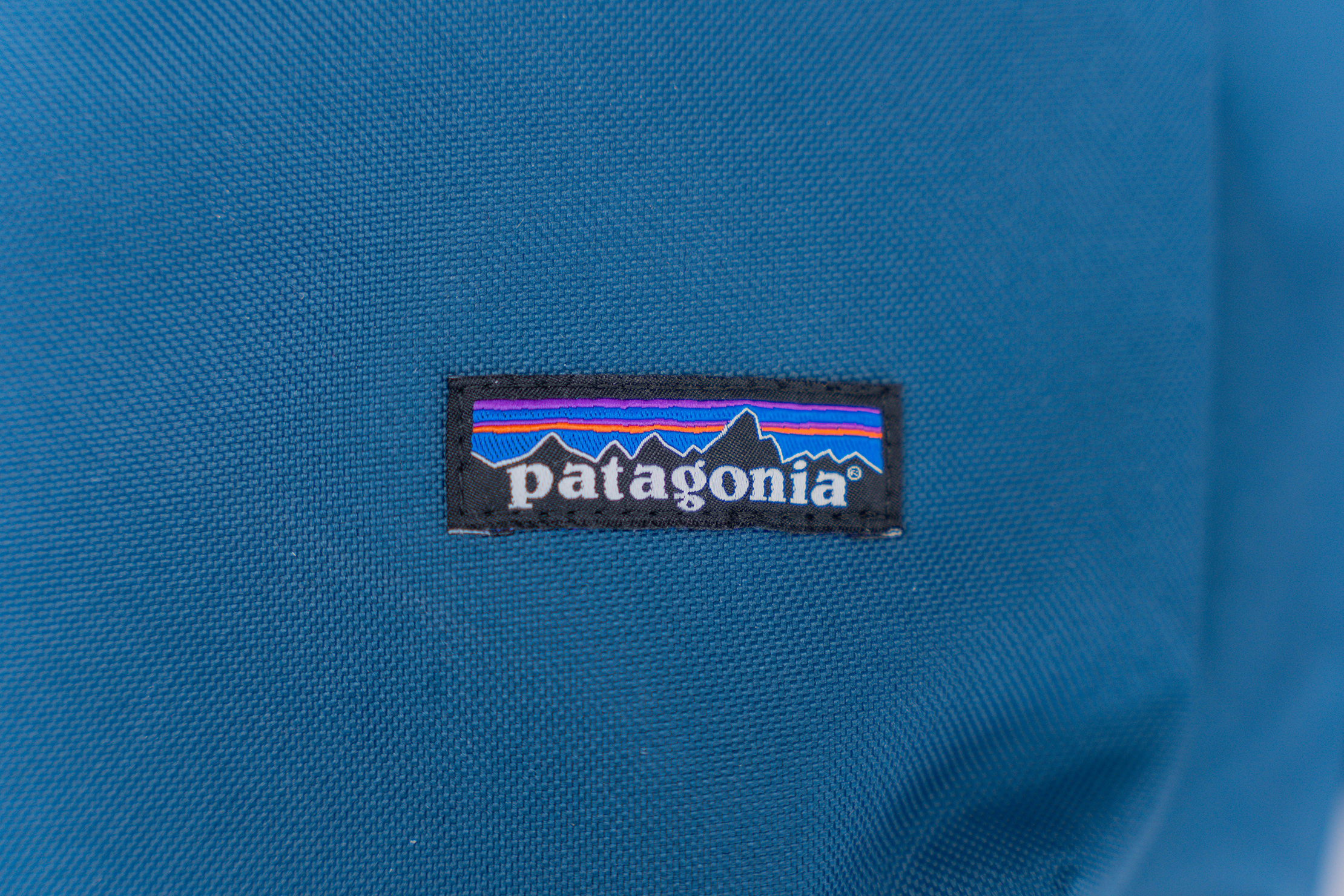 At the time of writing, there are only two colorways available: the jazzy-looking Paintbrush Red version and the even jazzier-looking Hut to Hut Multi: New Navy version. The latter option can be polarizing with all of its squiggly lines, but hey, to each their own, right? At the very least, looks don't affect how well a bag performs. Plus, the Arbor Roll Top is packing quality materials, as expected from the brand.
The main fabric is 100% recycled polyester—good news for environmentally conscious buyers. Polyester is typically a lot softer than nylon, but good polyester like this still endures the wear and tear of day-to-day use. We've yet to spot any noteworthy damage on our sample, like tears or loose threads. The fabric is also coated with a DWR (durable water repellent) finish that adds a layer of protection against splashes. Mind you, DWR coatings don't make a bag waterproof, just more water-resistant.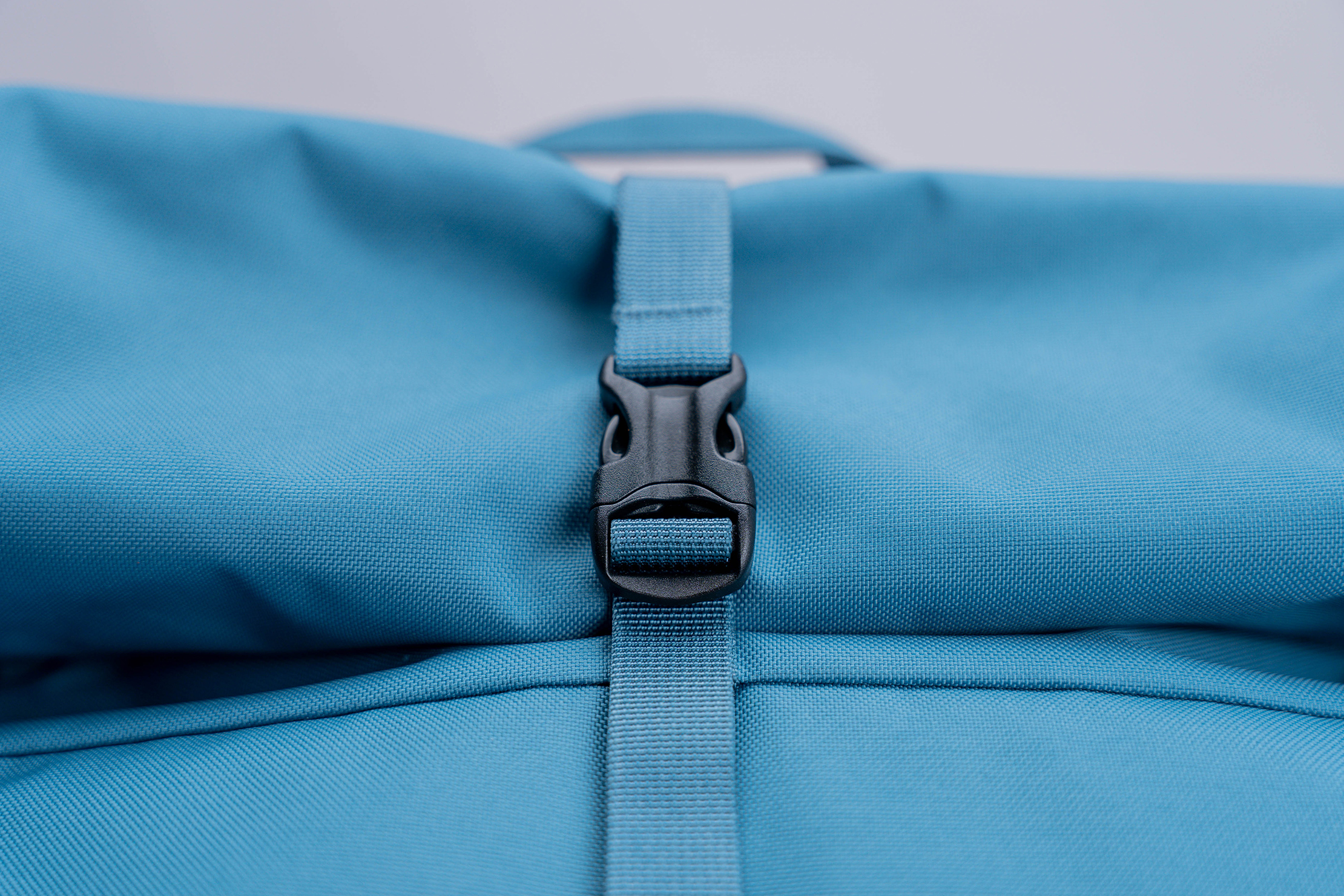 The Arbor Roll Top's hardware also proves reliable. The buckles and zippers are Duraflex and YKK-branded, respectively, and both are well-regarded names. Different rolltop bags come with different means to lock down their rolls. As for the Arbor Roll Top, it has a single buckle on a rather thin-looking strap. Fortunately, this singular buckle works well, and so too do the YKK zippers of the front pocket and laptop compartment.
External Components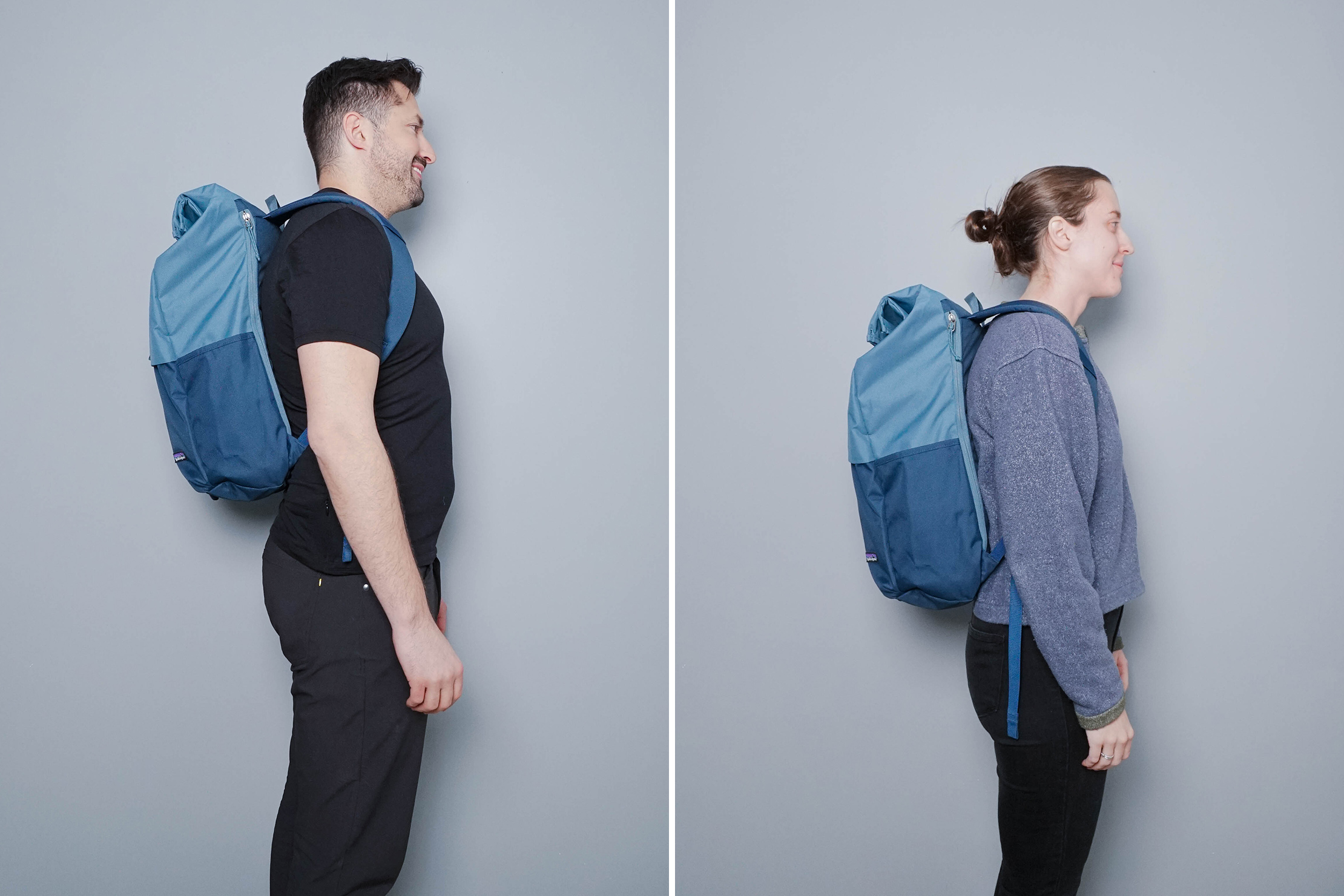 The Arbor Roll Top sits at a rated capacity of 30 liters—relatively big for an everyday carry bag and adequate for light travel. The accompanying harness system seems almost too simple, though. There's a pair of shoulder straps, a top nylon handle, and that's pretty much it. There are no load lifters, hip belts, or even a sternum strap to assist. Additionally, we also notice the lack of strap keepers, which we've seen in previous Arbor bags, so we're sad to see them not make it here as well.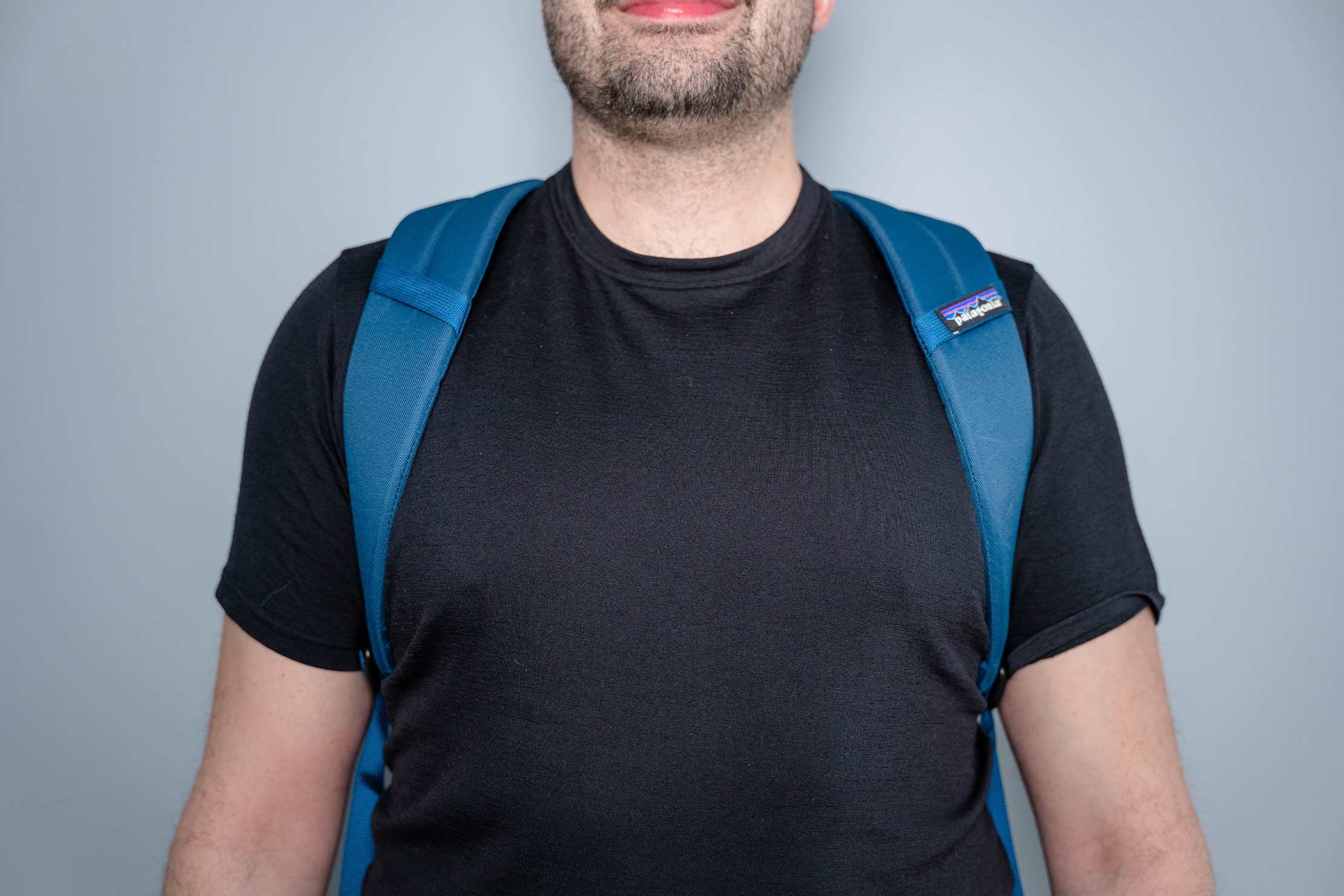 The shoulder straps by themselves handle our everyday load comfortably. We don't always have the bag fully packed to the brim, just a few packing cubes, a laptop, a water bottle, and a bunch of accessories. With this kind of heft, the contoured shoulder straps distribute the weight evenly, cushioned by a layer of thick padding.
The bag's soft structure is somewhat mitigated by the back panel's non-meshed foam padding. In terms of comfort, this means that our back isn't up against the hard surface of our laptop. That said, this doesn't help all that much since the soft polyester's bagginess wins over the padding's rigidity, compromising the way the bag carries. Items in the main compartment sag and push towards the bottom while simultaneously pushing our laptop upwards. This also curves the upper portion of the back panel awkwardly, making the overall experience less than stellar.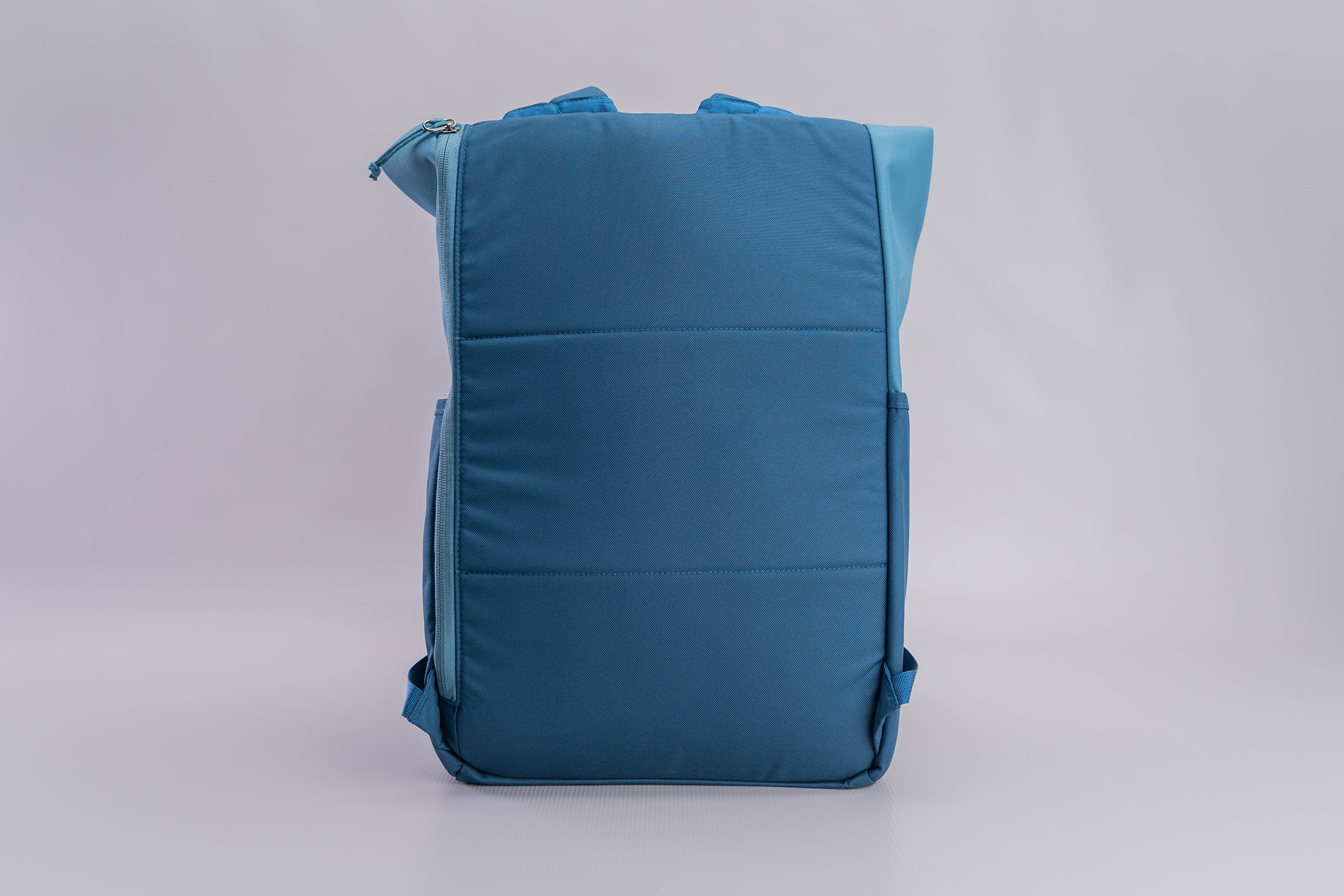 We're also not super stoked about the Arbor Roll Top's water bottle pockets. These pockets lack any elasticity to help them grip bottles firmly. We've seen other backpacks, even from Patagonia, come with better-designed water bottle pockets. Some are gusseted, elasticated, zippered, or even magnetized. To be fair, they do go deep enough that slender bottles like our 18-ounce Hydro Flask sit pretty securely—that is, until the bag is tipped over and the smooth-surfaced bottle slides out. On the other hand, our 32-ounce Nalgene Wide Mouth Tritan bottle fares better since its bigger size sits more flush against the fabric.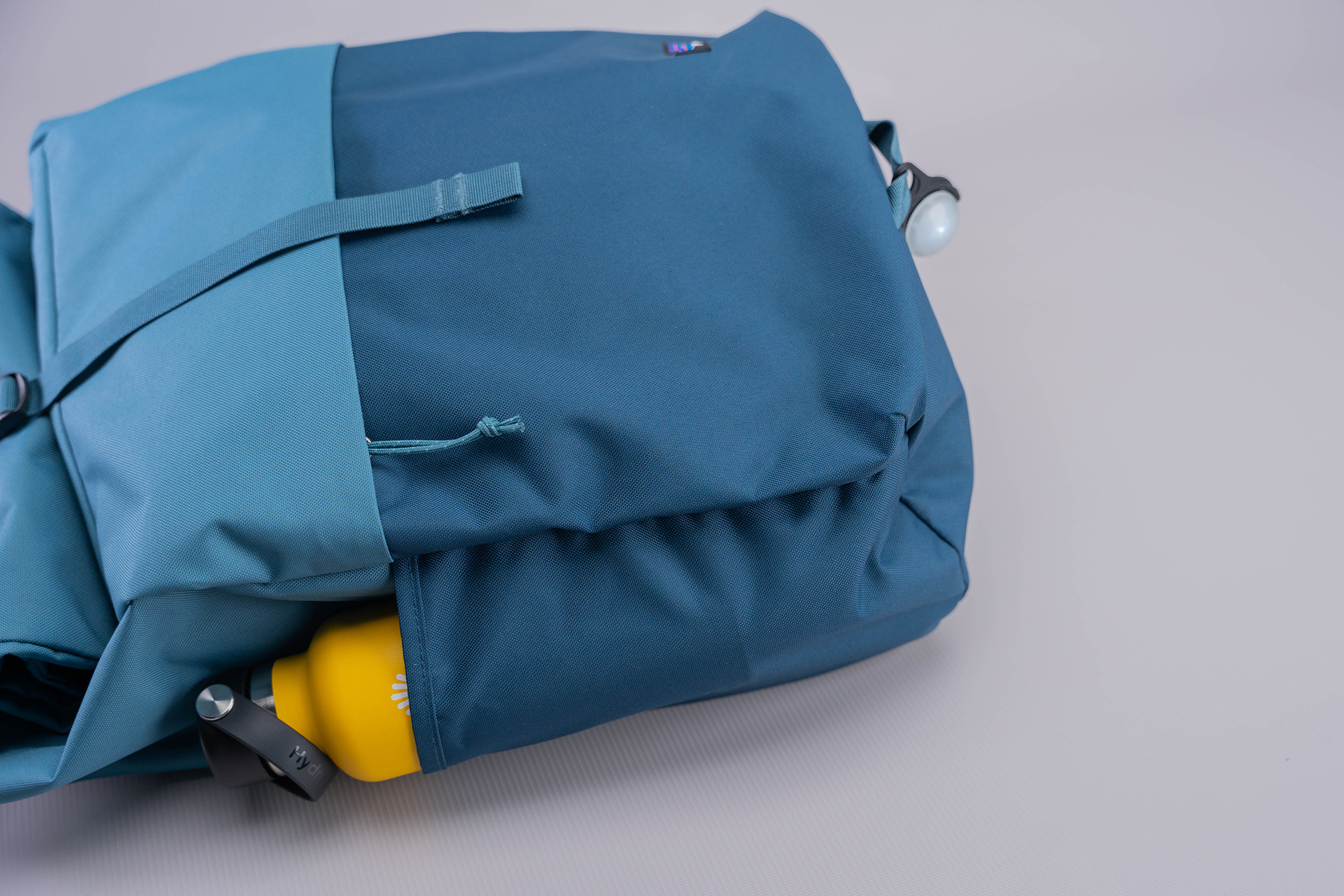 Lastly, there's also a small nylon loop at the front of the bag near the bottom. This is handy for hanging accessories like a bike light or reflector. Keep in mind, though, that low-hanging accessories can make the bag feel droopy noticeably if they're heavy enough. You can also hang some on the shoulder straps, which each have a loop, so you have visibility both at the front and back.
Inside The Pack
The Arbor Roll Top's front pocket matches the bag's total size and capacity; that is to say that the front pocket is very spacious. Before we get into how much space there is, we first have to note how subtly hidden the pocket's opening is. It's shrouded by a gusset that marks the border between the two shades of the bag's fabric. If not for the small cord pull of the zipper peeking out, it's relatively easy to miss it—hooray for security!

To put just how roomy the front pocket is into perspective, we're able to fit a slim but still big Aer Slim Pouch inside. This is in addition to our wallet, smartphone, and a few other everyday carry items like our keys (attached to the built-in key clip) and Zippo. There's still room to spare, mostly in the upper portion where there's a lot of headroom, though small accessories can be hard to find in there. We would have liked to see smaller pockets or dividers for better organization with this much space available. As it stands, it's easy for items to get all mixed up and hide away in deep corners.
Moving onto the Arbor Roll Top's defining feature, the way Patagonia implements the rolltop closure design is pretty standard. As a quick refresher, rolltop bags have excess fabric that forms the main compartment's opening. This is rolled neatly and further cinched down through other means like a clip, buckle, cinch cord, or otherwise. The rim of the opening is reinforced with a rigid material to aid with rolling and unrolling.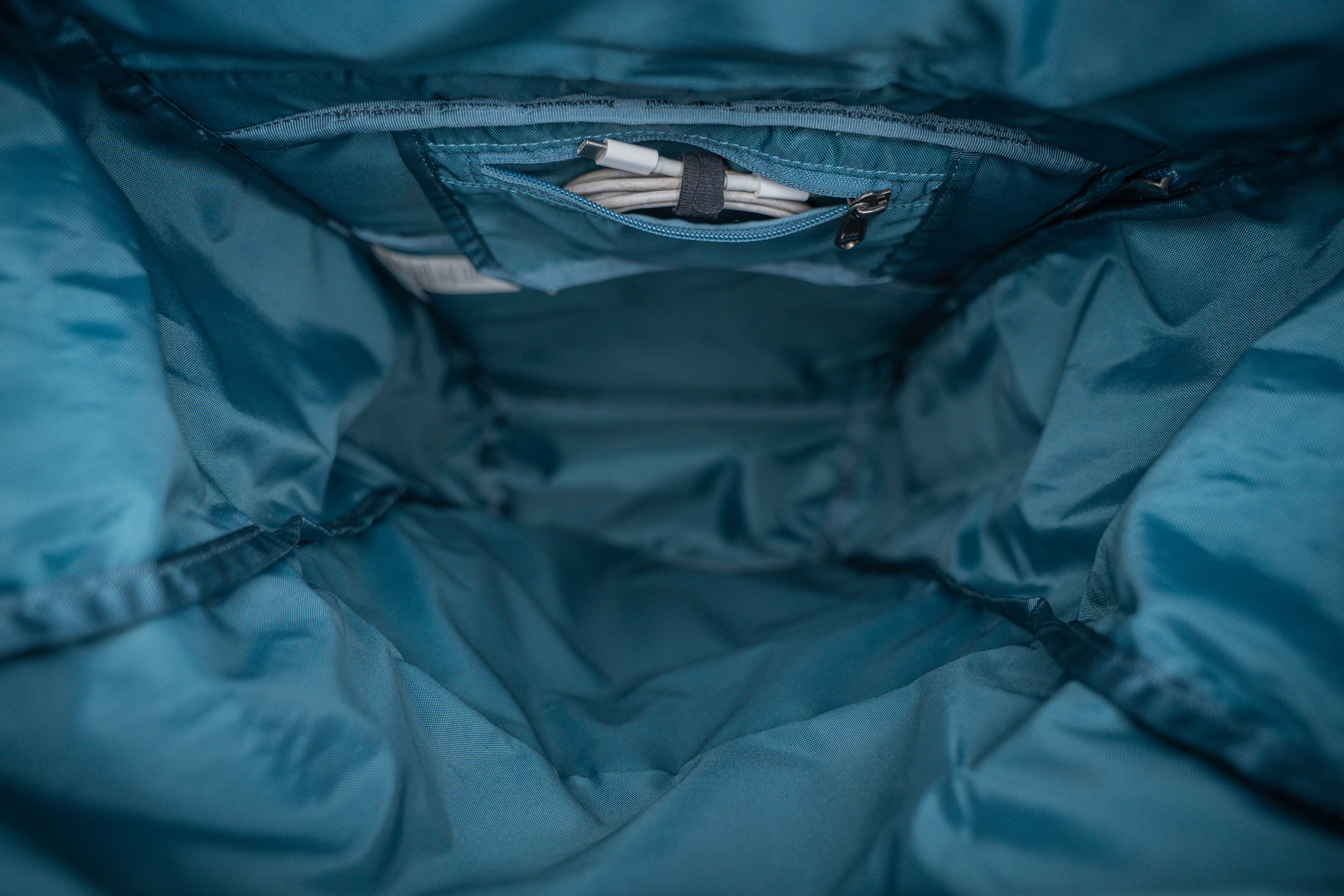 Some rolltop bags use a combination of buckles and other fasteners, but the Arbor Roll Top only uses a strap with a buckle. The issue with this strap is that the roll is still noticeably loose even when it's fully tightened down. Not to mention that the extra slack flaps around freely due to the lack of a strap keeper or a place to stow it.
We find the opening itself to be narrow relative to how deep the bag is. Remember, this is a 30-liter backpack, so it has a lot of depth to it. Rolltops aren't the quickest when it comes to main compartment accessibility, and this narrow opening compounds it. Everyday carry isn't this bag's strong suit, especially if main compartment access is a top priority. On the flip side, the roominess and the fact that it carries most optimally when fully packed out make it more ideal for light travel.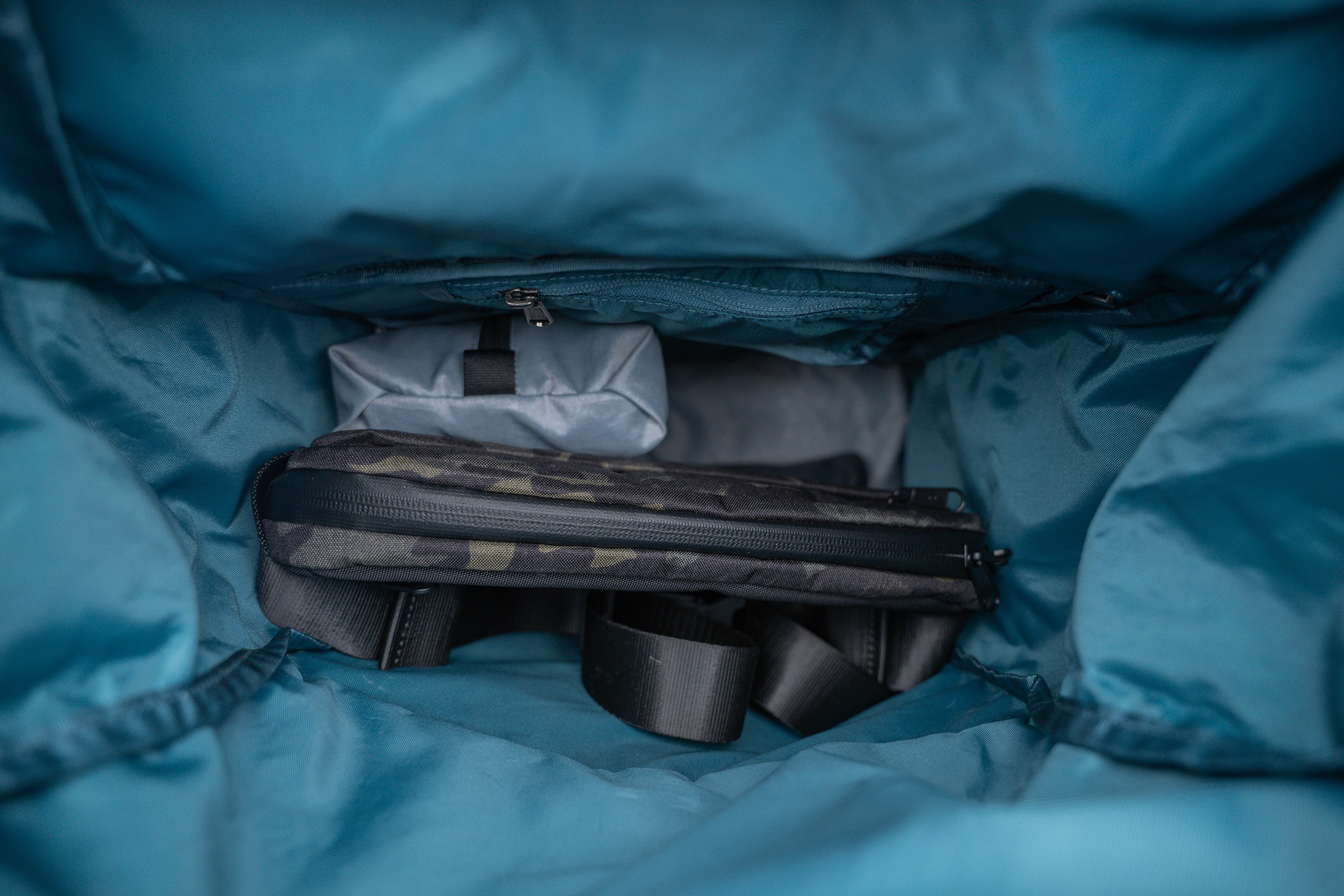 Inside, we're able to fit three packing cubes side by side along with our laptop and smaller, less frequently used accessories. We put these accessories inside the small zippered pocket just above the built-in laptop sleeve. It has just enough space to fit our pack of gum but isn't big enough to hold our iPhone 13 Pro Max.
Going back to that laptop sleeve we just mentioned, you don't have to fret that it's inside the main compartment. It has its own dedicated opening found at the side of the back panel; no need to go through the rolltop each time you need to take your laptop out. Good thing, too, since the zippered pocket above it needs to be flipped out of the way each time if you're taking it out via the main compartment. The sleeve features some padding, both at the back and at the front side, so you won't have to rely on clothes to absorb minor impacts.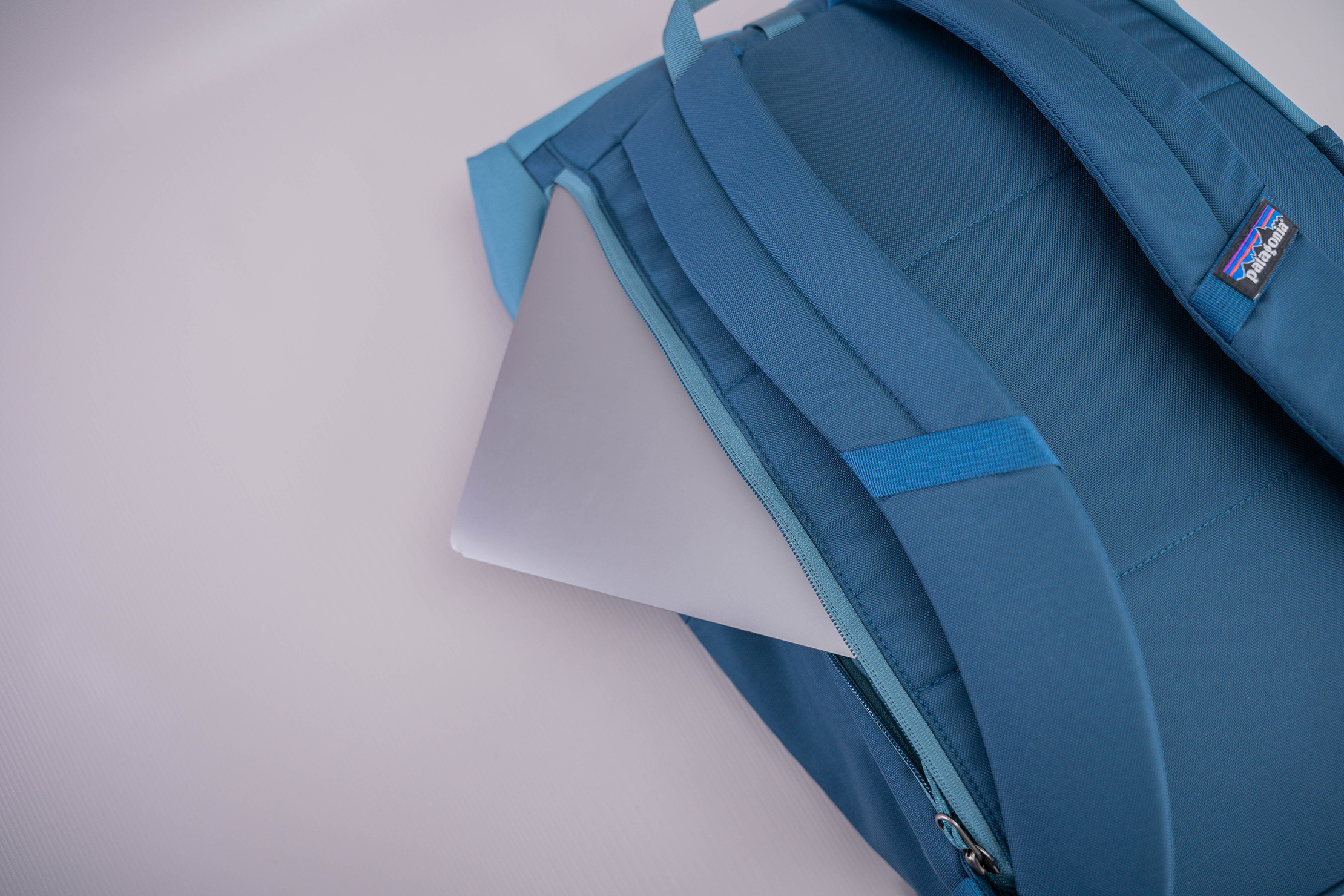 Some bags are just hit or miss, and unfortunately, the Arbor Roll Top misses a lot more than it hits. Its soft structuredness stands out to us as its main weakness, causing issues in carrying comfort. We still think it's a capable rolltop backpack for light travel, and its 30-liter capacity comes in handy. As an everyday backpack, though, something smaller will perform better.
Usage Timeline
Initial Usage
Condition: Excellent
Squared-off shape should be packing cube-friendly
The main compartment is quite deep, though most rolltops are
The laptop compartment is separate, so we don't have to roll and unroll each time we need our laptop
2 Weeks of Use
Condition: Excellent
Bag doesn't offer much organization—packing cubes and pouches are a must
Bottom of the pack can sag below the laptop, causing uncomfortable carry
Pack is hard to access, and the rolltop has a hard time staying down with the adjustment strap
Water bottle pockets are deep but don't offer any elasticity to keep bottles locked into place
Access the Pro Community Discussion
Get your questions about the Patagonia Arbor Roll Top Pack 30L answered from our team and the Pro Community right here on the page. Plus, join discussions with other members about gear, guides, and more.
Other Bags & Luggage Reviews