Pacsafe Metrosafe X Commuter Backpack Review
Pacsafe's Metrosafe X Commuter Backpack features a ton of organization options, but the sideways layout has a negative effect on weight balance.
Our Verdict
Unlock the Pro Summary
Save time. Get access to brief summaries of our reviews so you can browse and make decisions more efficiently.
Pros
Handy security features also beef up build quality
Comfortable harness system despite connected design
High level of organization inside
Cons
Items in the quick access pocket can be felt through the back panel
Jingly zippers unless you lock them
Sideways layout is less streamlined in backpack form
Recent Pack Hacker Video
Technical Details
Capacity

18l

Weight (lb)

2.25 lb (1 kg)

Denier

600D

Dimensions

17.3 in x 11.8 in x 3.9 in (43.9 x 30 x 9.9 cm)

Notable Materials

Polyester, YKK Zippers, KCC Zippers

Manufacturing Country

Thailand

Laptop Compartment Size

16"

Warranty Information
Full Review
Get up to 15% off Pacsafe • Join Pack Hacker Pro
Pacsafe's gear is always bristling with security—that much is already a given to anyone who's already familiar with the brand. For those who aren't, though, you'll have to look a bit closer to appreciate those extra details. Features like their eXomesh, Carrysafe slashguard straps, and PopNLock buckles may sound gimmicky, but they do work and provide that extra peace of mind when traveling.
The extra layer of security on a backpack is reassuring, but how's the backpack itself? After all, an abundance of toppings does not a good pizza make, and the logic applies to backpacks as well.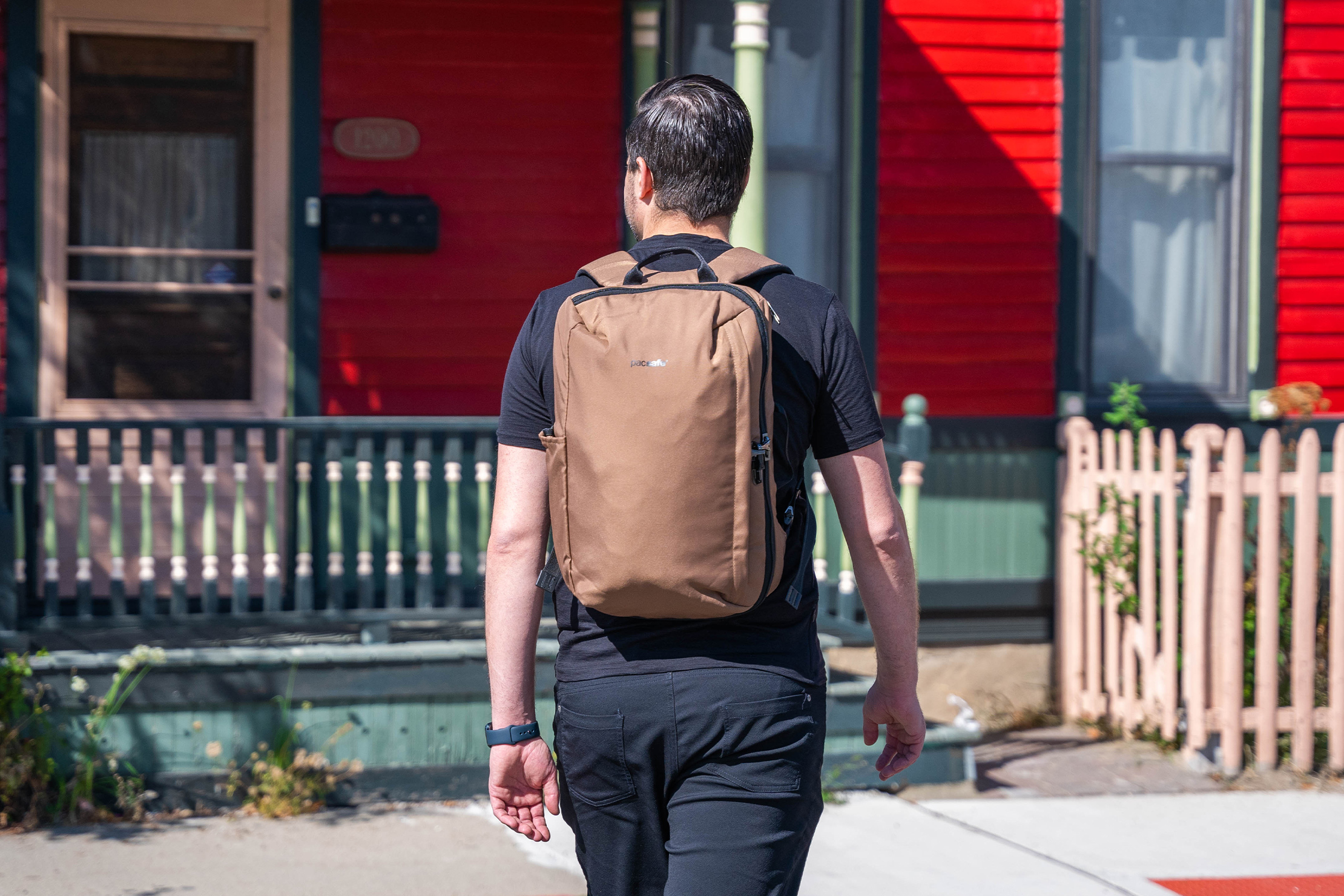 The Metrosafe X Commuter Backpack has all of the standard Pacsafe features we just mentioned and more. However, we can't help but feel that its layout and organization are unbalanced—literally. The interior is set up like a briefcase, meaning everything is sideways, which clashes with the bag being a backpack. It takes some tweaking and smart packing to get the comfort just right. When you do get it right, though, it's a very capable commuter backpack.
External Components
We start with the tiniest of things on most backpacks: the zippers. The first thing that caught our attention about the zippers is that Pacsafe's using a mix of KCC and YKK zippers; KCC for the lockable ones and YKKs for the others. We can only speculate why they'd do it this way, but what's more important is that all of the zippers feel durable. It's not like there's a drastic difference in quality between any of the zippers.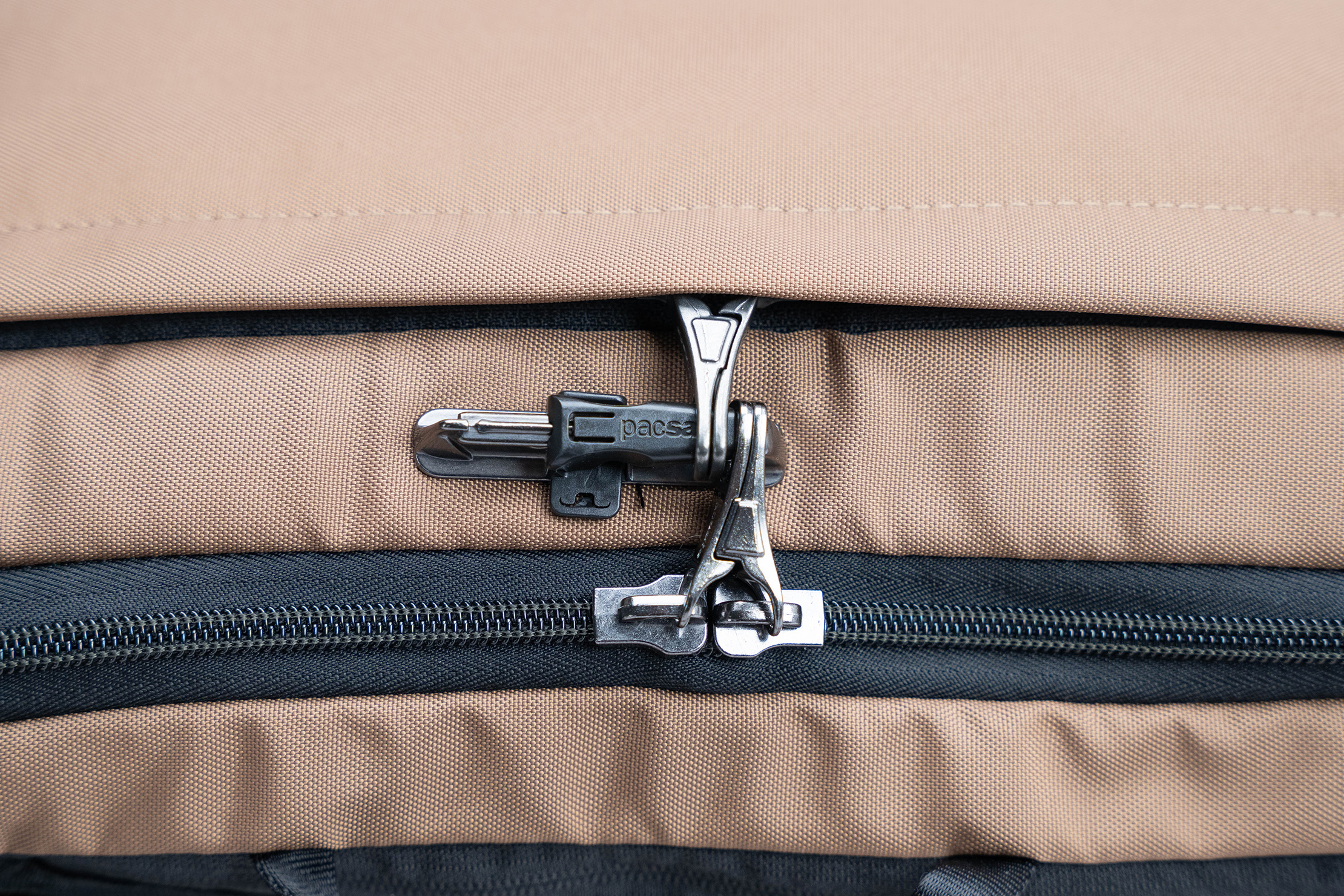 Both the main compartment and front pocket's set of zippers interlock. In turn, these interlocked zippers can then hook onto the Roobar sport locking system found in the middle of the bag's right side. To open or close it, you need to push the tab in or out, and that allows you to slide the lock. It's not as secure as a combination lock, but it's enough of a deterrent against thieves who would need to figure out how it works first.
We'd keep the zippers interlocked and in the Roobar, by the way. They're quite jingly if you leave them hanging freely, which can get quite annoying as you're walking around.

There's also an underlying layer of metal mesh beneath the bag's fabric. Pacsafe calls this their eXomesh, and it makes the bag resistant to slashes—a less-than-elegant solution by thieves who don't bother with subtlety. You'd think that this layer would make the bag cumbersome, but it doesn't, and it's practically unnoticeable from the outside.
Oh, the zippers are puncture-resistant, too, so Pacsafe has thought the security out pretty well.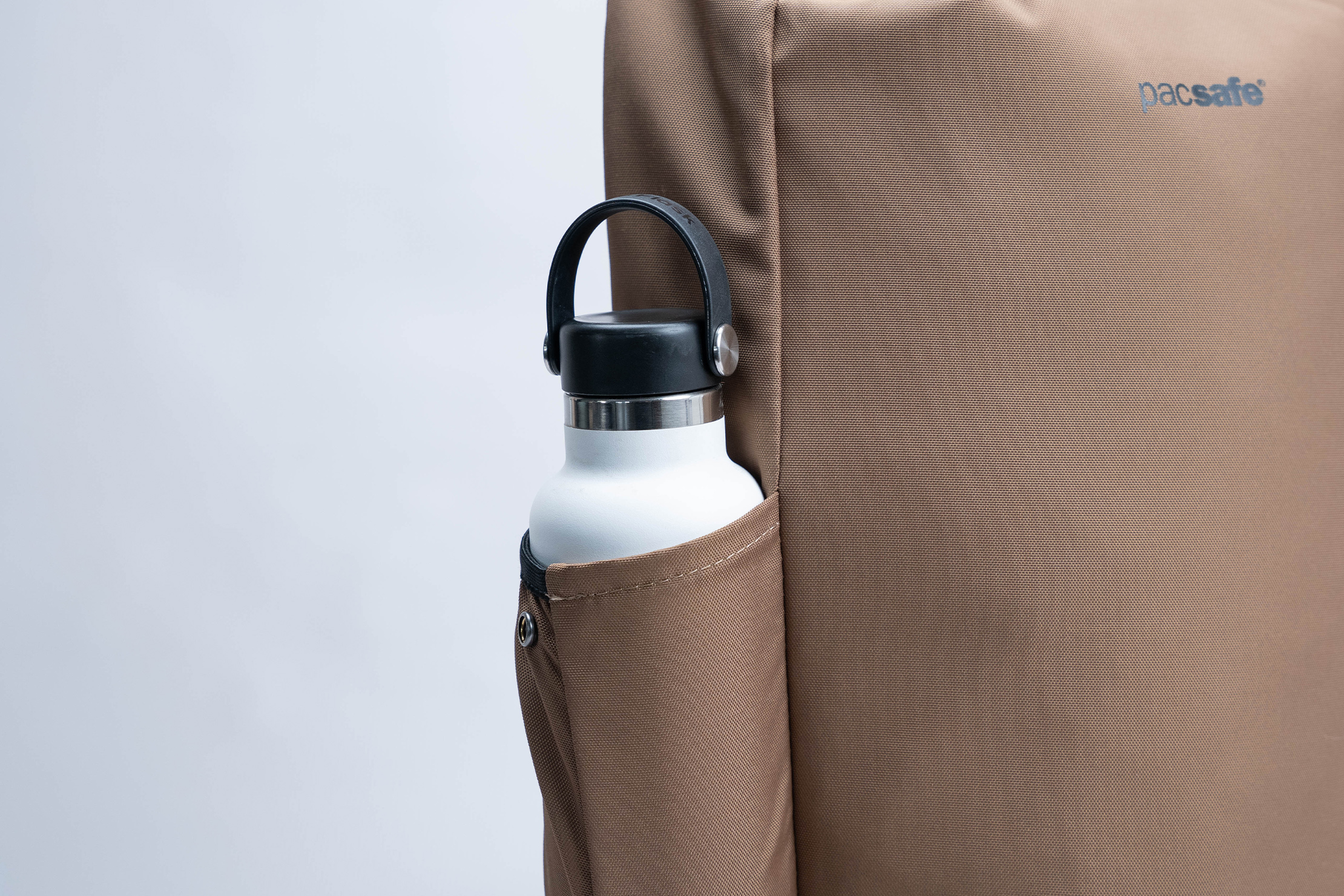 On the left side is a water bottle pocket. It fits a 21-ounce Hydro Flask, grabbing onto it with a fairly firm grip. That said, we think it could use a bit more stretchiness to accommodate slightly wider bottles. If you don't feel like carrying a bottle around, you can also cinch the pocket down by using the snap fastener.
There are two carry handles, one at the top and one on the right side. Both are fairly thin, though the top handle is folded to give it some extra thickness. Meanwhile, the side handle is just a straight strip of nylon. These handles won't provide good comfort for long periods of carrying, so the shoulder straps are still the way to go.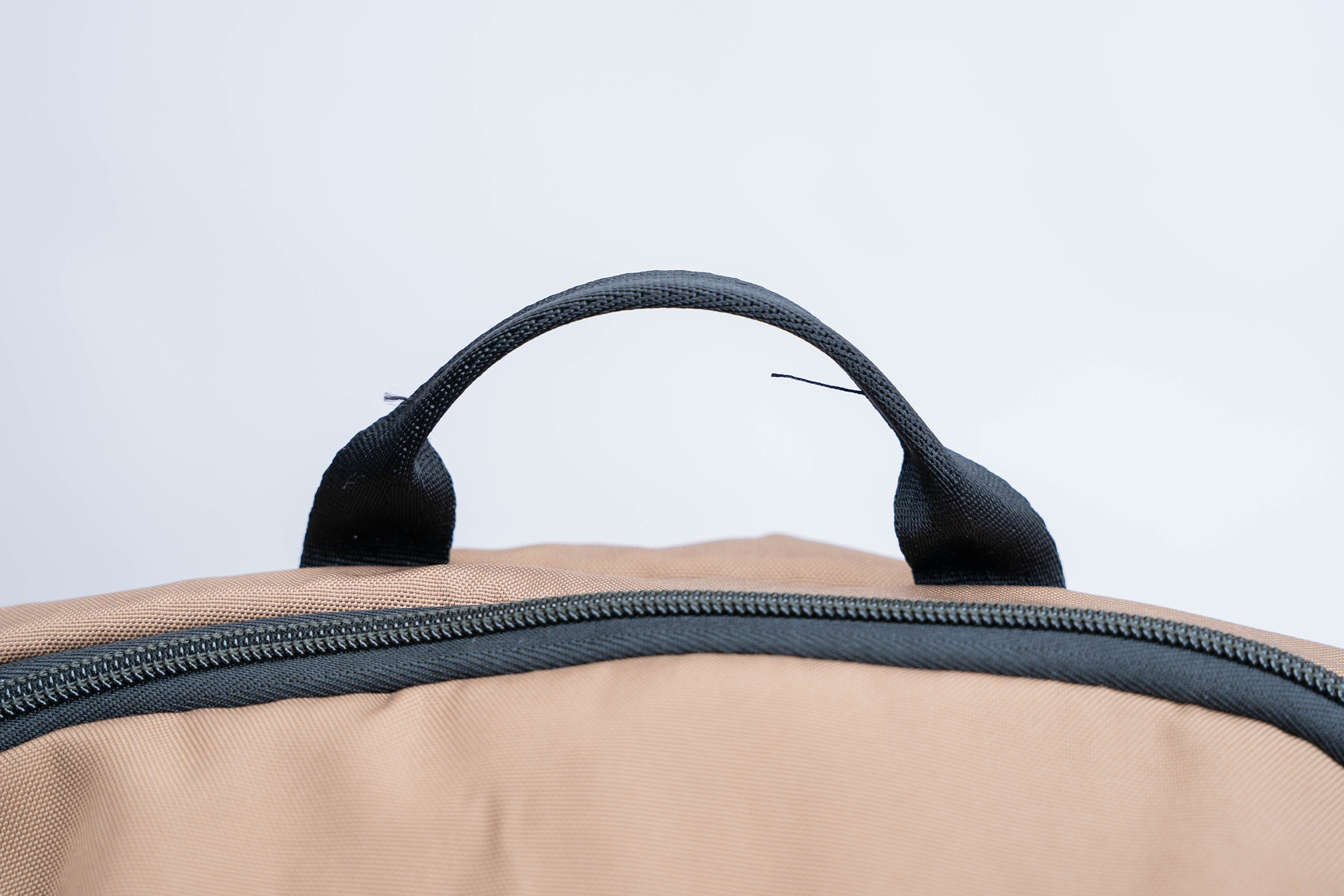 On that note, the bag's pair of shoulder straps are connected at the top like a collar. We're usually put off by this design since it typically doesn't offer as much flexibility to the individual straps. In the case of the Metrosafe X Commuter Backpack, though, it doesn't feel restricting around the shoulders, even broad ones. We can move about just as well as we would with backpacks that don't have connected shoulder straps.
The shoulder straps and the back panel feature ample padding, but there's no mesh that allows a great degree of breathability. To be fair, the fabric's weave isn't too choked either, but it's still no match for actual mesh. Most of the ventilation comes courtesy of the large air channel that runs down the length of the back panel. All of that said, nothing really prevents a sweaty back when it gets hot enough, so we won't put too much criticism in this regard.
There's also a luggage pass-through built into the back panel's air channel. It sits the bag horizontally on rolling luggage. We usually point this out with some apprehension since most backpacks' layouts are tuned vertically, but that's not the case with the Metrosafe X Backpack.
As for the harness system's extra features, there are some hiding in plain sight.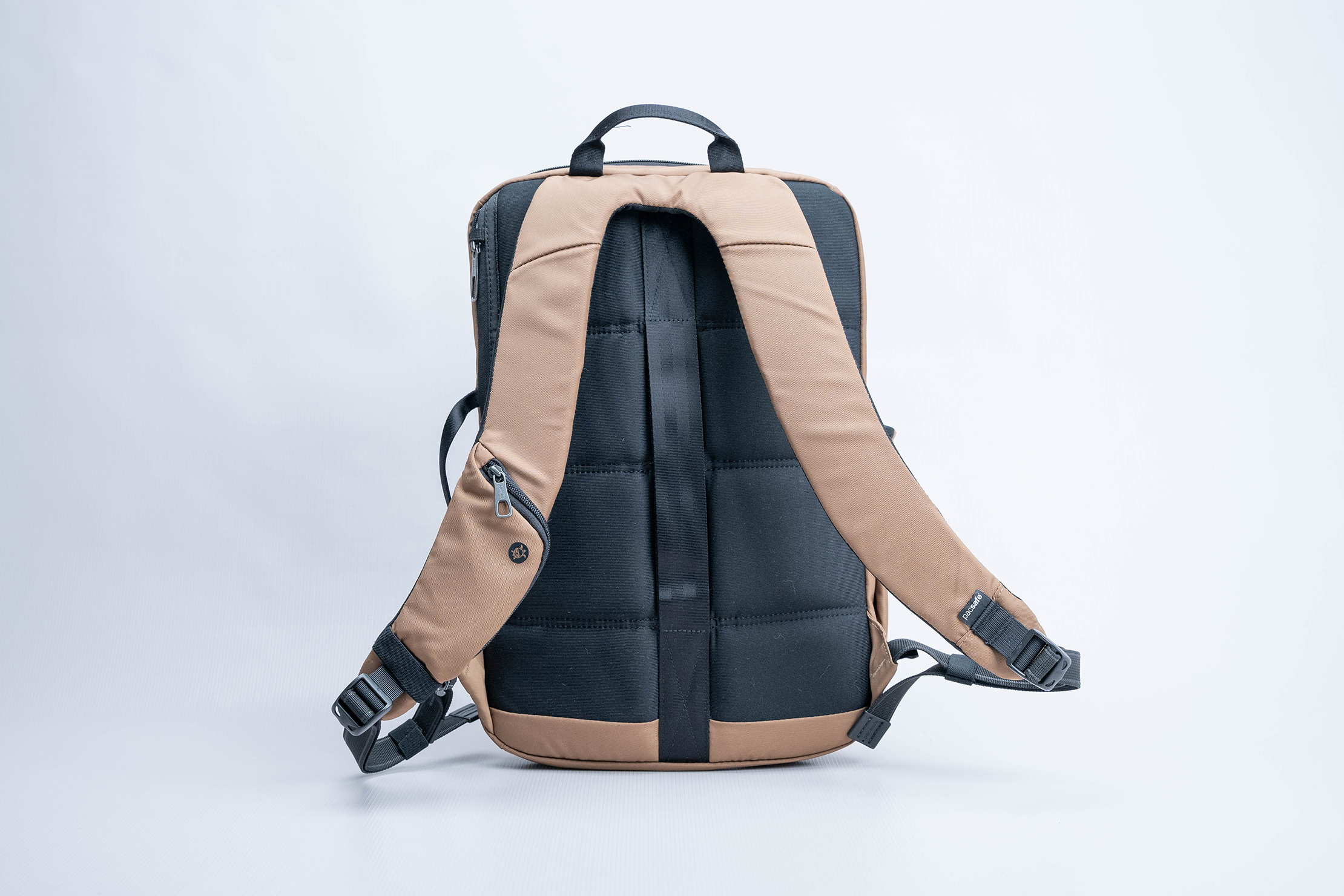 First things first: there's no sternum strap, but that's fine by us. The Metrosafe X Backpack's 18-liter size doesn't really necessitate one. Plus, you really wouldn't want an overabundance of straps when you're going through a busy commute.
Other extras include an elastic loop on the right shoulder strap where you can attach an accessory like a carabiner and a small zippered pocket. We're glad to see the inclusion of the latter since it's particularly handy for commutes where we need quick access to tickets and transit cards. The gusseted design means you can fit a fair amount of cash, cards, and tickets, too.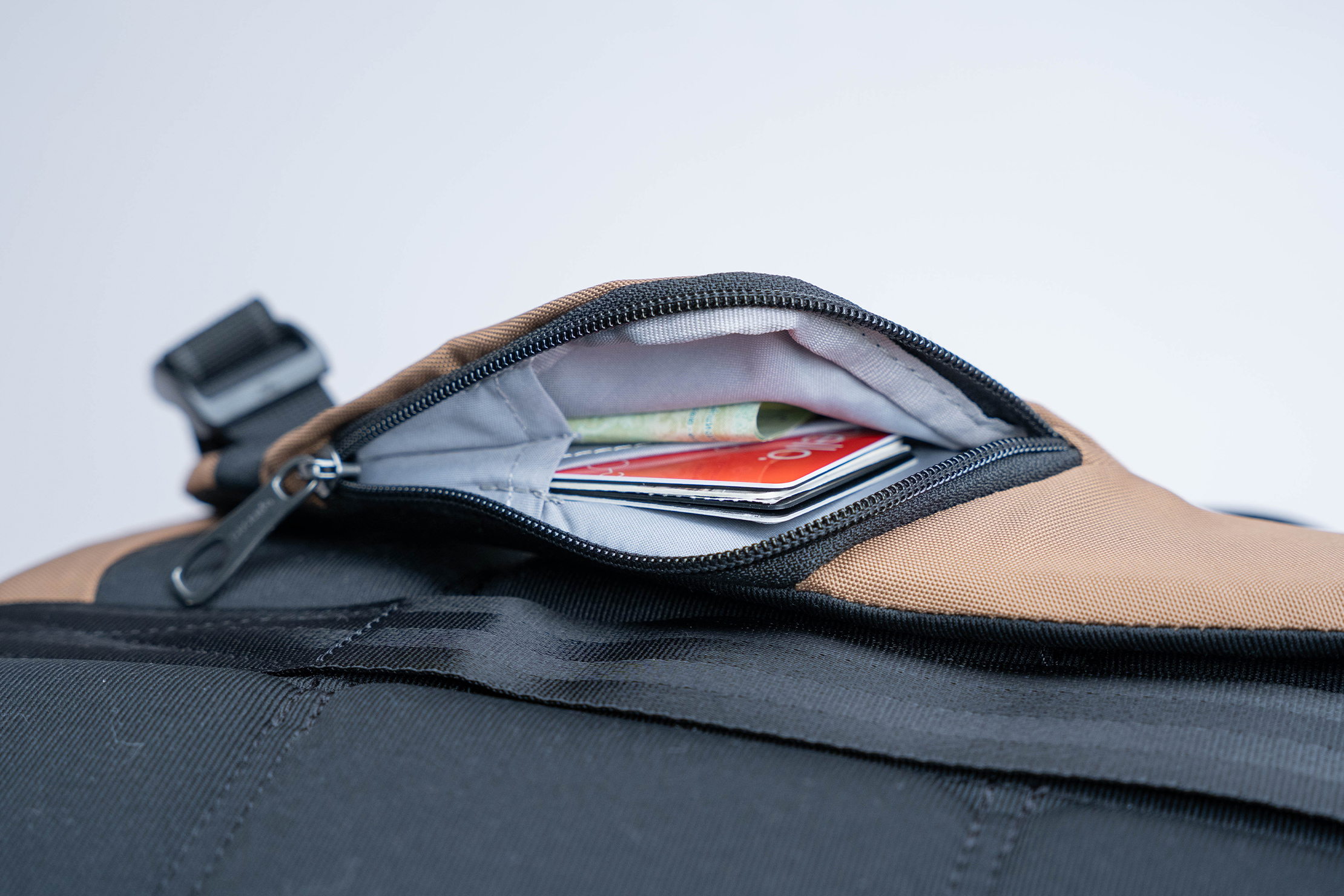 We mostly use this pocket for receipts and paper tickets. Anything that's very stiff, like thick PVC-based cards or those metal ones Apple and American Express provide, has an impact on comfort. You can feel them on your shoulder, straightening out the otherwise soft and flexible strap.
Now for the security features. The left shoulder strap can detach from the bottom through its PopNLock buckle. Why would you want to undo just this one shoulder strap? It's not for stowage like you would with other backpacks with detachable straps. Rather, it's so that you can affix the strap around a solid fixture like a lamp post on a park bench.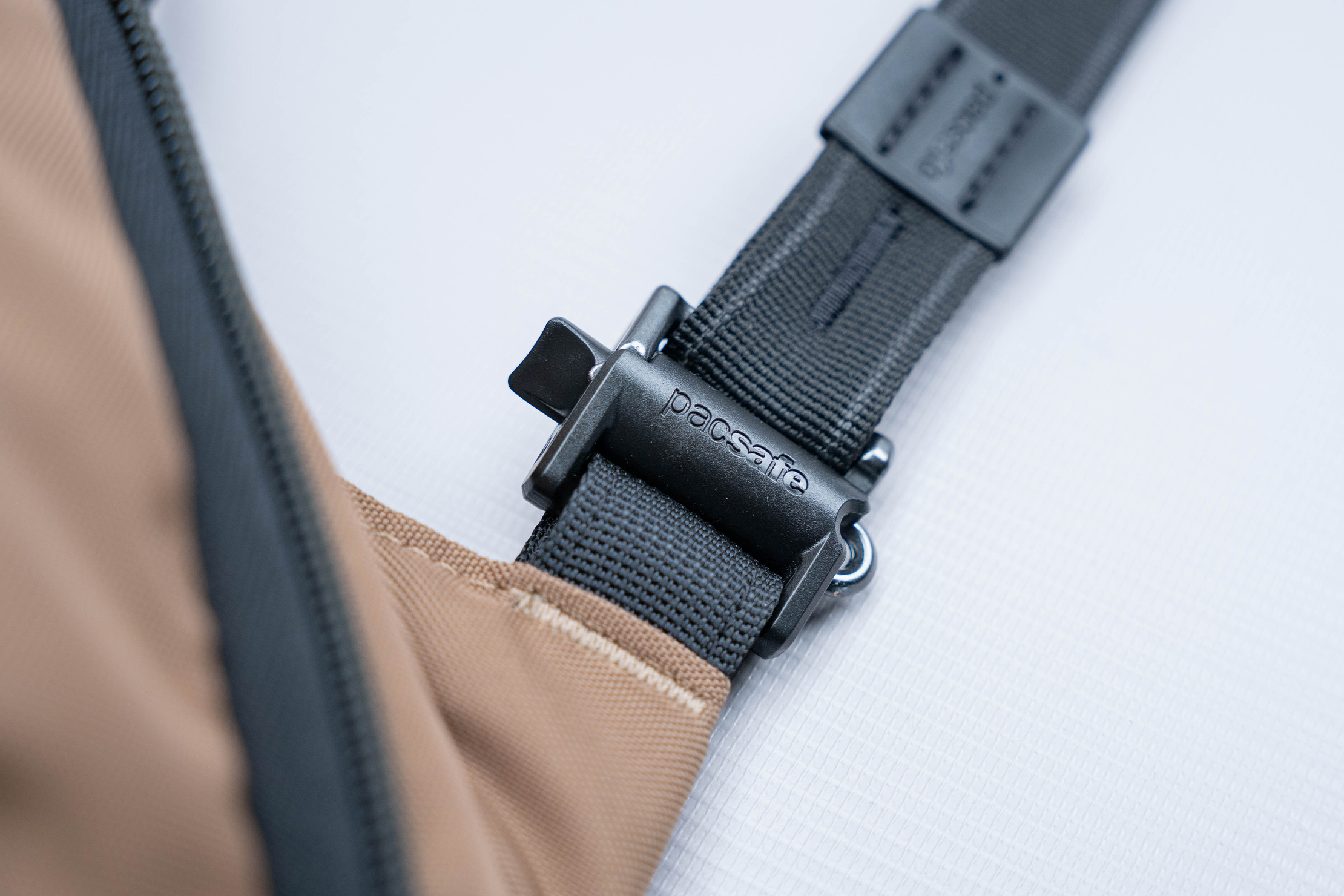 The adjustment straps (also called their Carrysafe slasguard strap) are quite thick because of the metal reinforcement underneath. They seem too thick for the plastic hardware accompanying them. In practice, though, the straps slide well enough that we don't find them particularly difficult to adjust, even while wearing the bag.
Fit Notes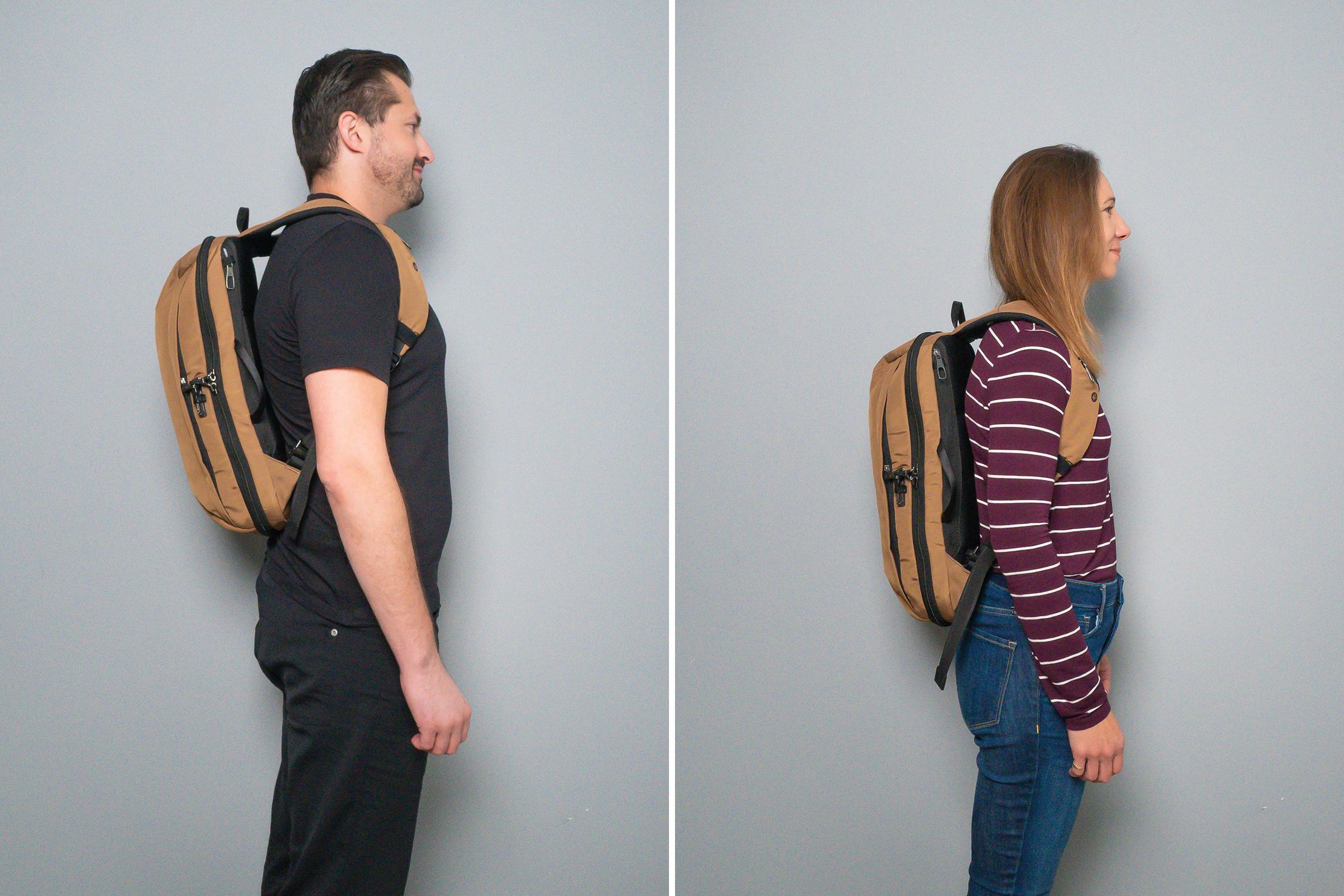 You'd think the Metrosafe X Backpack would look more punk, tech, and urban than the typical daypack. It does if you opt for the sleek black colorway. However, if you go with the tan option like the one we have, you get a more heritage vibe that, honestly, suits the minimalist design at the front. The denim colorway option isn't bad either if you're the type to go all in with denim jeans or overalls.
18 liters doesn't seem all that much, and Pacsafe does a good job making sure they didn't squander away that advantage. All of that volume is spread out evenly into a rectangular shape that sits in a relatively low profile. What that means is there's very minimal sag, and the pack doesn't feel like it's dragging behind you.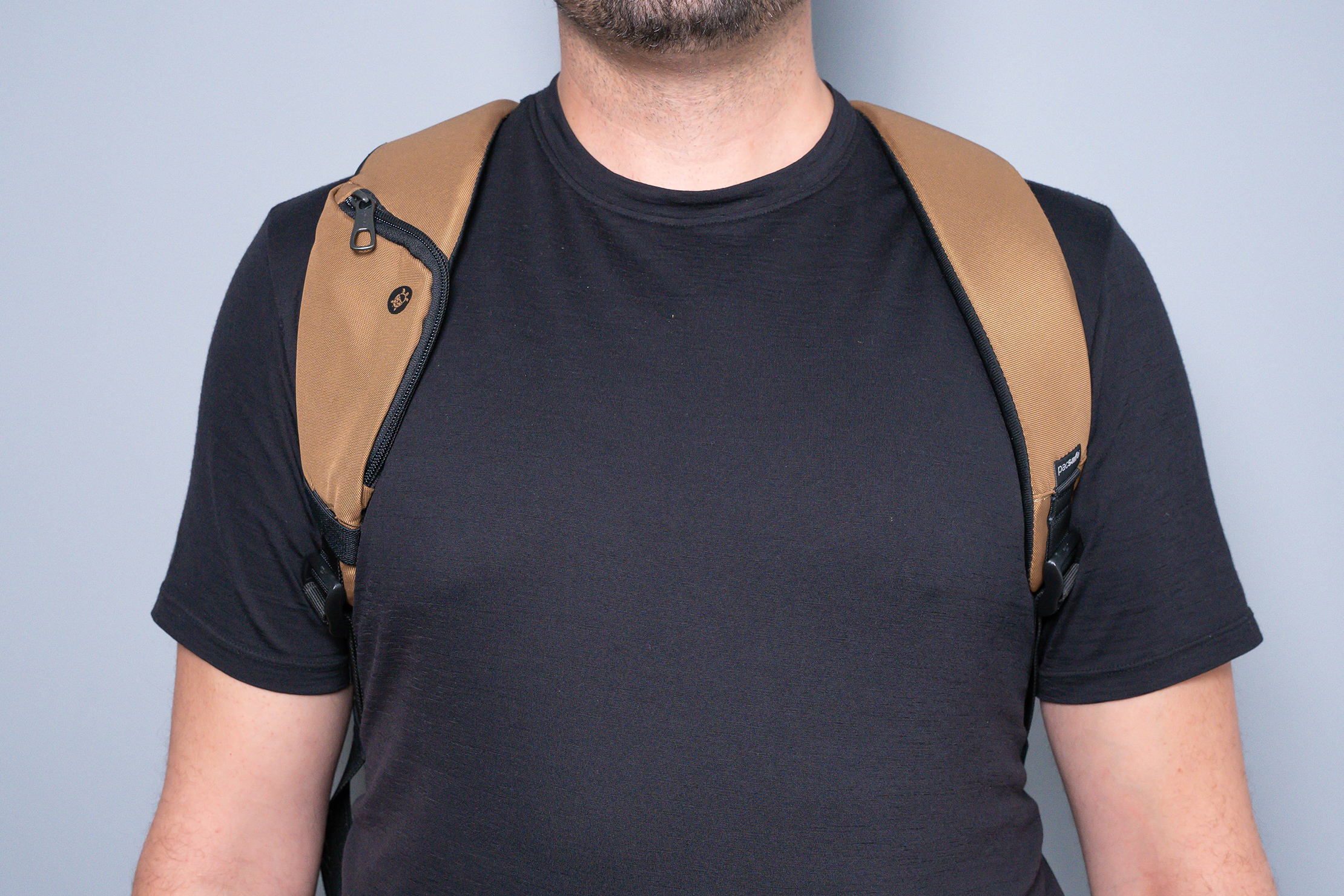 As mentioned earlier, connected shoulder straps usually don't sit well with us. Those with broad frames will know when shoulder straps struggle to move independently when they're stretched out, so having them connected can exacerbate the problem. Fortunately, the Metrosafe X Backpack doesn't feel constrained to move with in spite of this design.
The padding feels soft, and there's enough of the material to cushion the 18 liters worth of gear we have inside. The only snag with the straps' comfort is when we put a metal card in the shoulder strap pocket. The pocket itself lands between the armpit and the front of the shoulder—a curved area. Naturally, a straight metal card will act like a splint in that position, so we recommend using the pocket for only flexible items like paper tickets and receipts.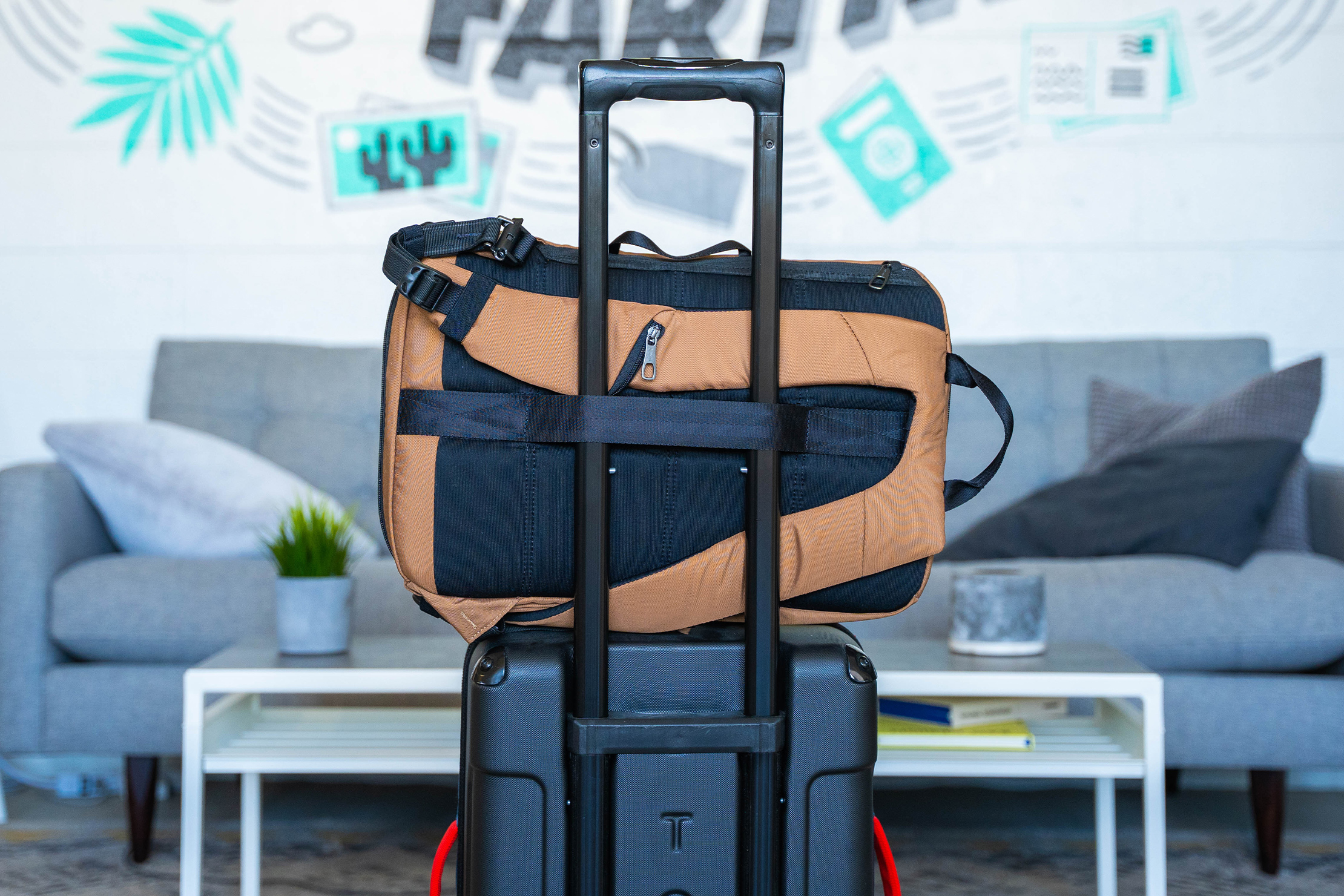 The back panel does a good job of cushioning the bag as well. However, there is a pocket in the upper half that can jut out when it's packed out. It's noticeable enough to feel on the upper quadrant of your back. Still, if you watch out for it (and avoid putting a metal card in the shoulder strap pocket), the Metrosafe X Backpack can still be a comfortable carry.
Oddly enough, the Metrosafe X Backpack does have some issues when it comes to weight balance. It'll be more obvious why once we have a look at the main compartment. But the tl;dr for now is that most of the bag's weight is biased towards the left side. This means a heavier feeling on that half, especially if you have a full water bottle in the pocket. Fortunately, you can compensate for this with a tighter adjustment on the left shoulder strap.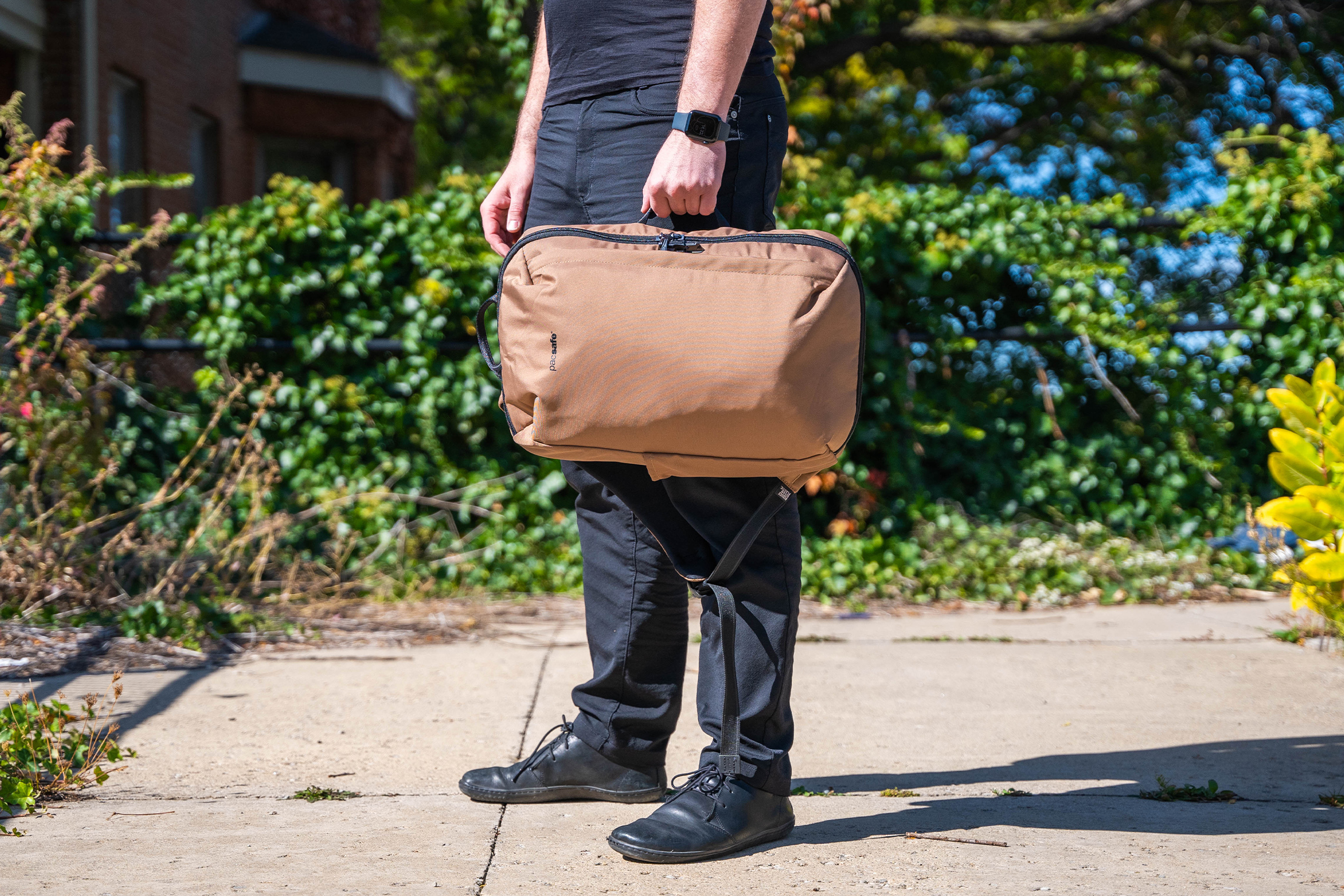 You can also carry the Metrosafe X Backpack like a briefcase if you use the side handle. Admittedly, the thin handle isn't very comfortable to hold for a long time, so it's definitely not a full-time carrying solution like the shoulder straps. However, unlike other backpacks that have side handles, the Metrosafe X Backpack has its internal organization sideways as well. In other words, the layout still makes sense if you carry it by the handle.
Inside The Backpack
The first of these pockets that are also sideways is the front pocket. It gets a pair of KCC zippers that can be interlocked and hooked onto the Roobar sport locking system. Again, it's worth noting that it has two zippers, whereas other backpacks' front pockets typically have just one. Not only does this allow the zippers to be locked into the Roobar, but it also gives you some flexibility as to the size of the opening you want to have.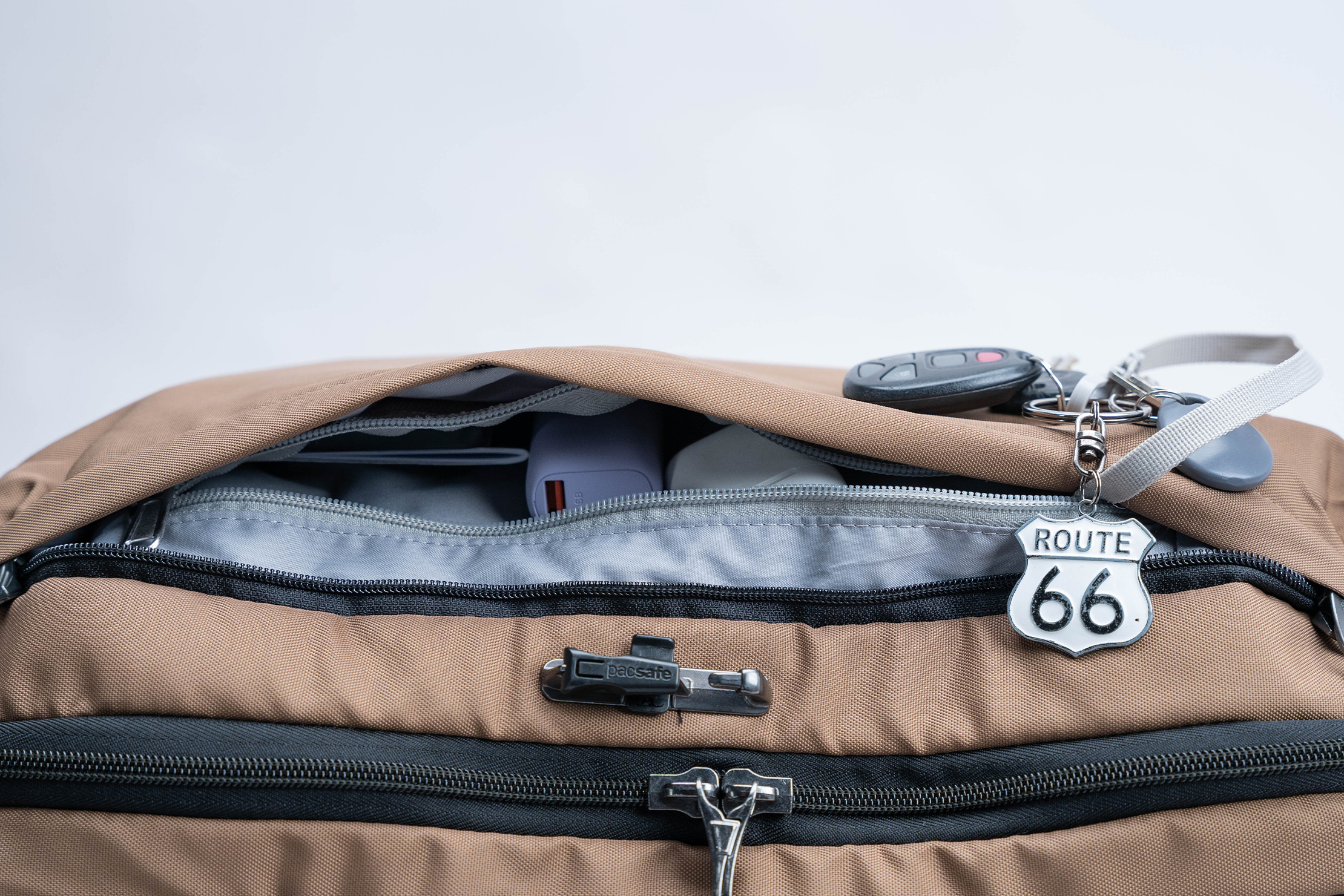 It's a big open space inside in terms of coverage, spanning almost the entire front of the bag. There's a zippered mesh divider pocket so you can store gear separately. There's even a relatively long key leash so your keys don't get lost in the mix.
The pocket's weakness is that it lacks smaller pockets for tiny items. If you throw in something small like wireless earphones, or some thumb drives, there's a chance they'll burrow into the deep corners where the bag's curvature will obscure them. Flat items like travel-sized keyboards or notebooks are a much better fit for this kind of pocket.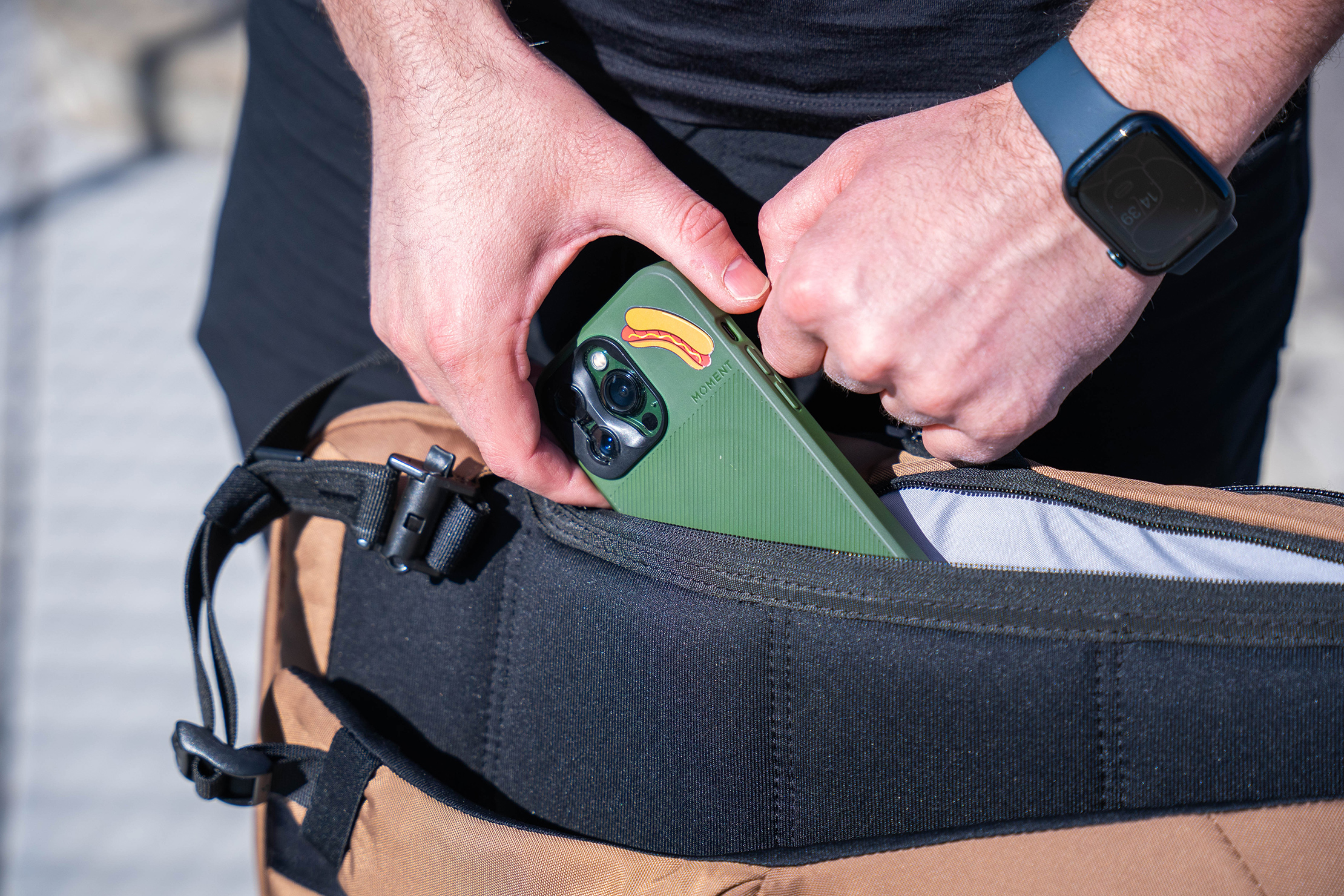 Ideally, we want a pocket that's much quicker to access, one that can handle smaller items better than the front pocket. Luckily, there is a pocket that's built into the back panel, located on the upper left side. This pocket also opens sideways, and as far as security features go, there's only a loop to stop the zipper from being quickly unzipped. Granted, it's a speed bump to an otherwise quick-to-access pocket, but it's easier to undo compared to the Roobar.
This is the same pocket that we mentioned earlier that can jut out from the back panel. You'd think this only happens if we put something bulky like a massage ball, but even a relatively slim iPhone 13 Pro Max makes a noticeable impact. We're much more used to pockets like these being laptop compartments, and we'd argue those are better in terms of comfort as well since a laptop feels more uniform against your back versus a smartphone or a wallet.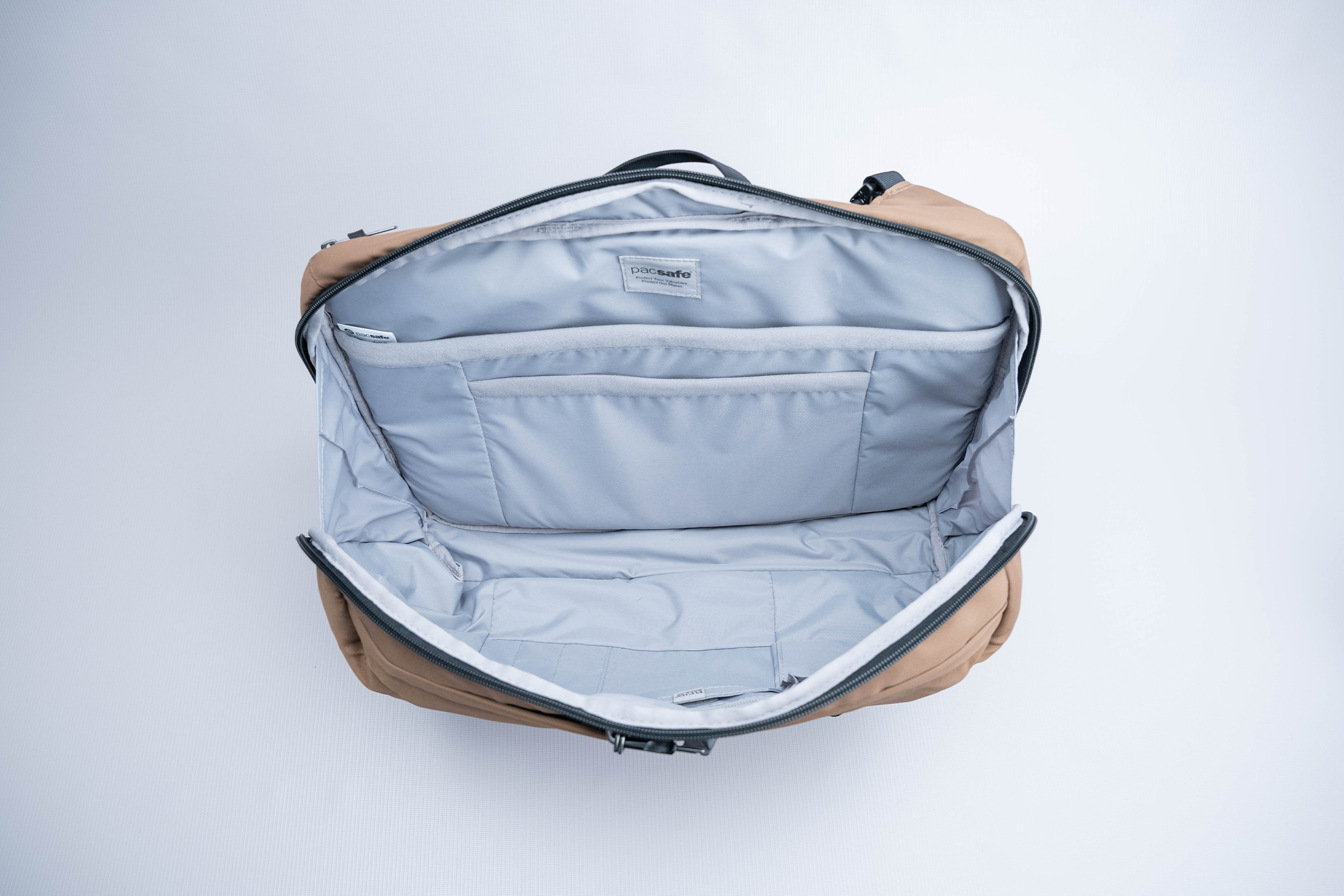 We've gone through two pockets, both of which open sideways. So, can you guess which direction the main compartment opens? Yep, sideways as well! You're not getting a cookie for guessing that correctly, though.
The main compartments' KCC zippers unzip around three out of its four sides, giving you a clamshell opening—almost. There are gussets at the side that stop it from fully opening like a luggage bag. The resulting opening is more like a scaled-up standing desk pouch like the ALPAKA Elements Tech Case or, if you want a more one-to-one comparison, the Elements Tech Brief.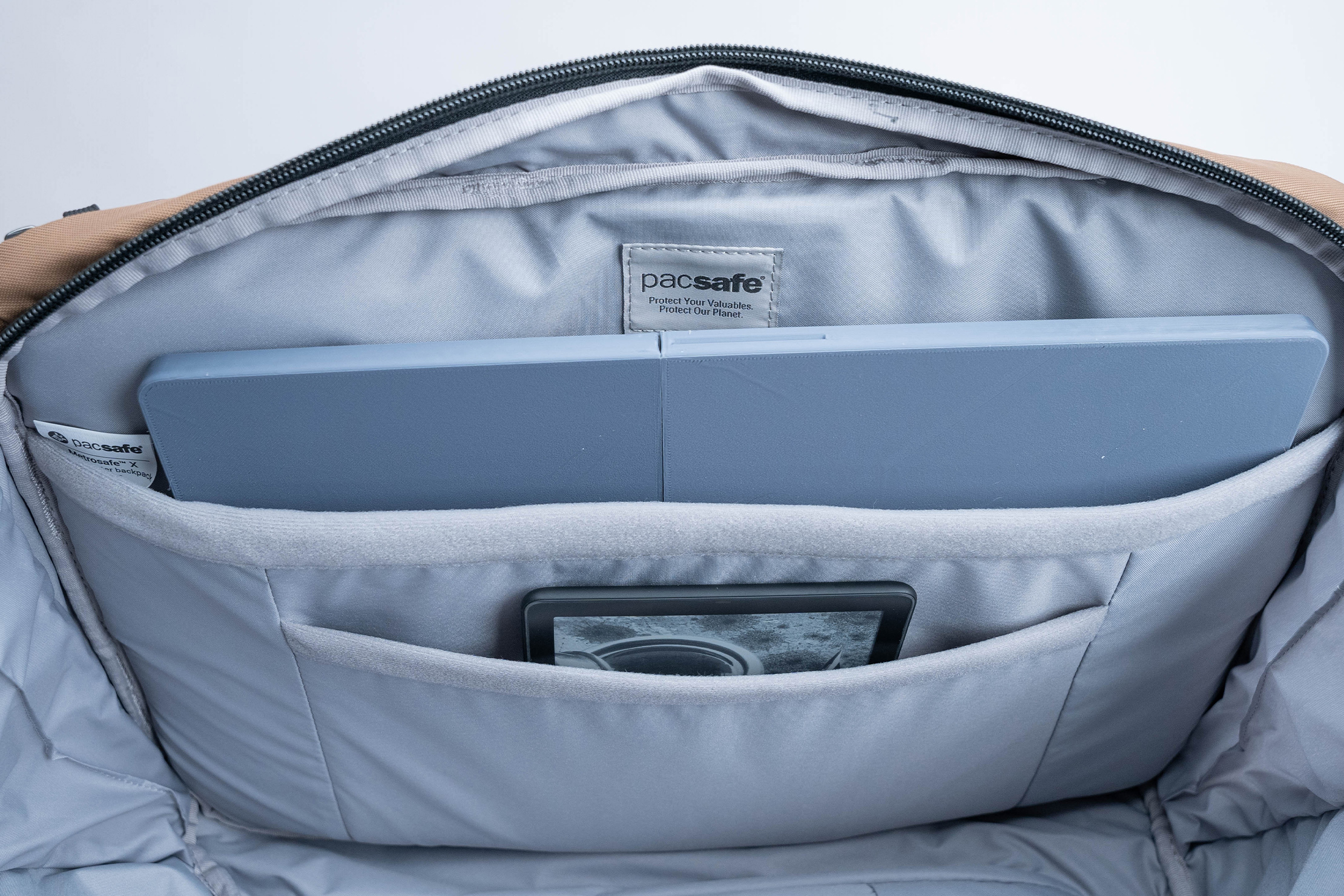 The interior is laden with pockets, both at the front and at the back area. In the middle is an open space where you can put most of your bulky items. We usually put packing cubes and pouches here, but the Metrosafe X Backpack doesn't have a ton of space to begin with. A fully stuffed packing cube is enough to bulk out the bag's front. It gets worse once you start to fill out the pockets as well.
The front of the main compartment gets the bulk of the organization options. In the middle is Pacsafe's passport-sized RFIDsafe pocket (it protects against skimmers), complete with a hook and loop closure. Flanking it to the left is a liner pocket, also with a hook and loop closure, and to its right is a narrower liner pocket with two pen slots in front.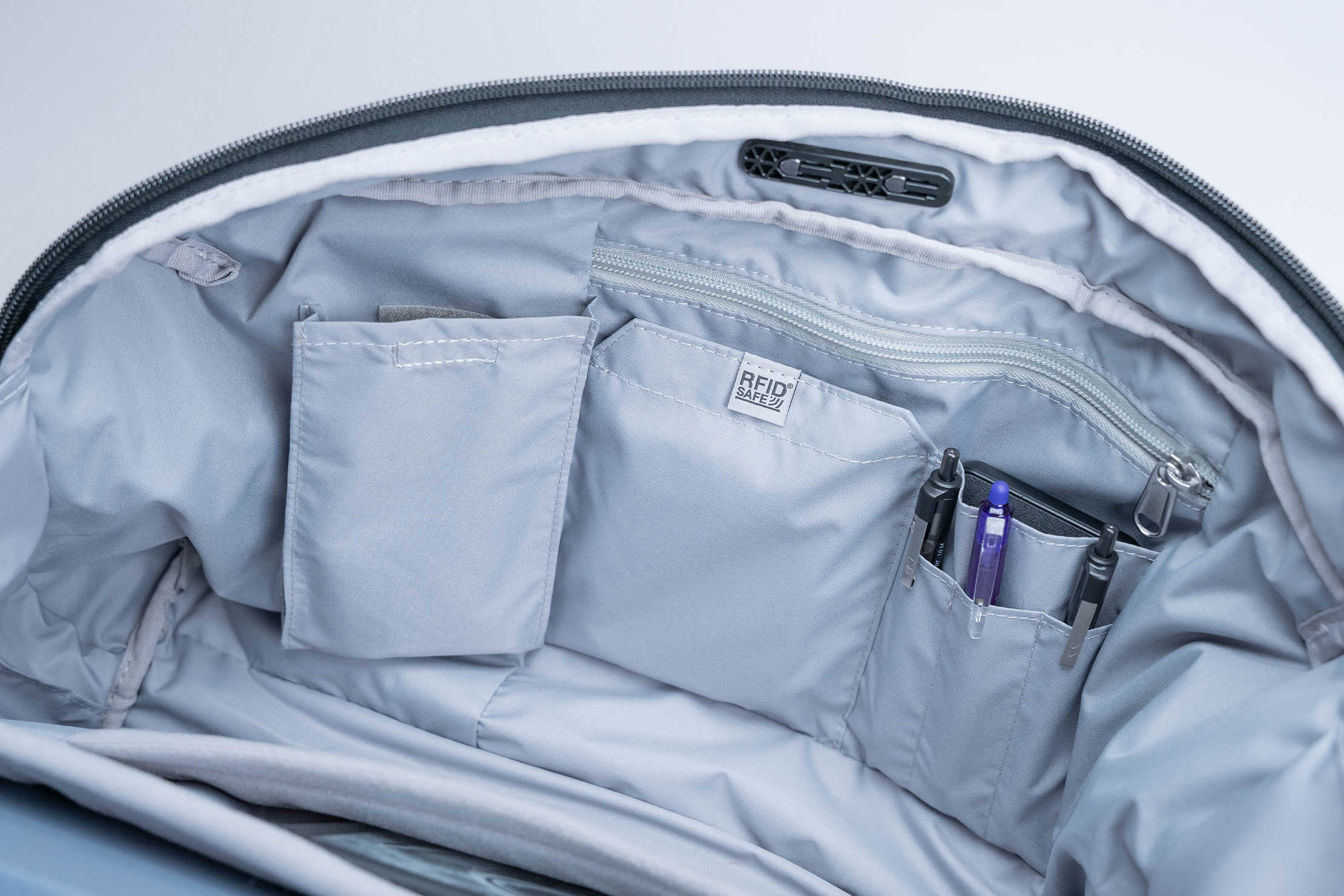 Above those is a zippered pocket which we use as a dump pocket for all the tech accessories we carry. Bulky items like charging adapters, cables, and dongles go in here. These bulky items are partly the reason why the front pocket gets squeezed in.
At the back is a padded 16-inch laptop sleeve, plus a smaller sleeve directly in front for a tablet. The layout isn't too strange if you're looking at it from a briefcase perspective. However, once you notice that most of the pockets are located near the bottom, then you'll realize why there are some balancing issues mentioned earlier in the fit notes section.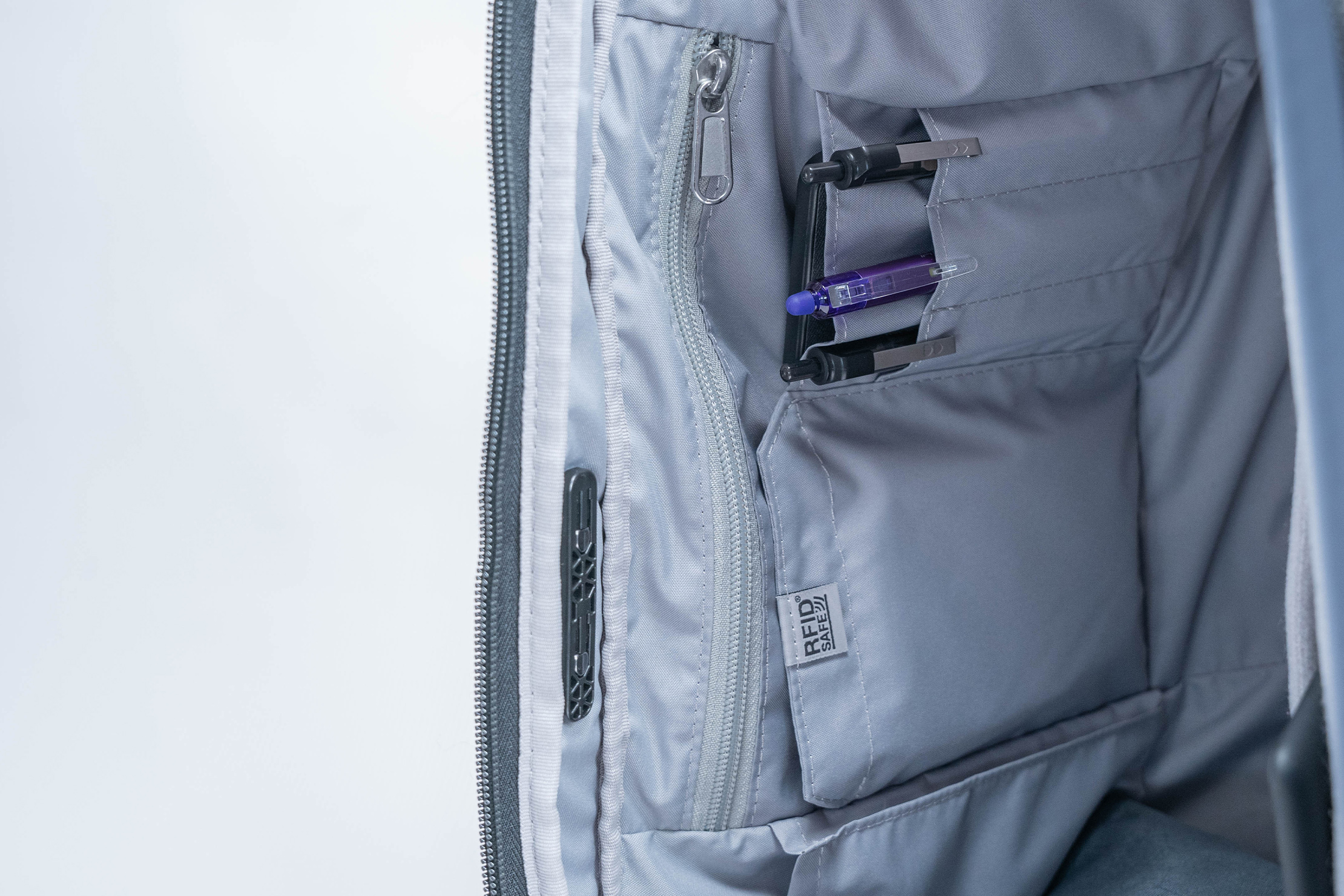 In day-to-day usage, the sideways organization has other side-effects other than on handling. Pens may slip out of the slots, for example, and so can the tablet we have in the sleeve. This is what tends to happen when you put sideways organization on a backpack that's typically carried vertically. Thankfully, most of the pockets aren't loose or have loop and hook closures to prevent this from happening.
On some level, we can't help but feel like the Metrosafe X Backpack behaves more like a briefcase than a backpack. Its layout is reminiscent of briefcases and messenger bags we've tested before. Comfort-wise it'll take you some tweaking of the harness system to make it handle more (comfortably) like a backpack. Then there's the space. If you load up every pocket and area with gear, it's quite easy to overly bulk the bag. If you do, then that also impacts comfort.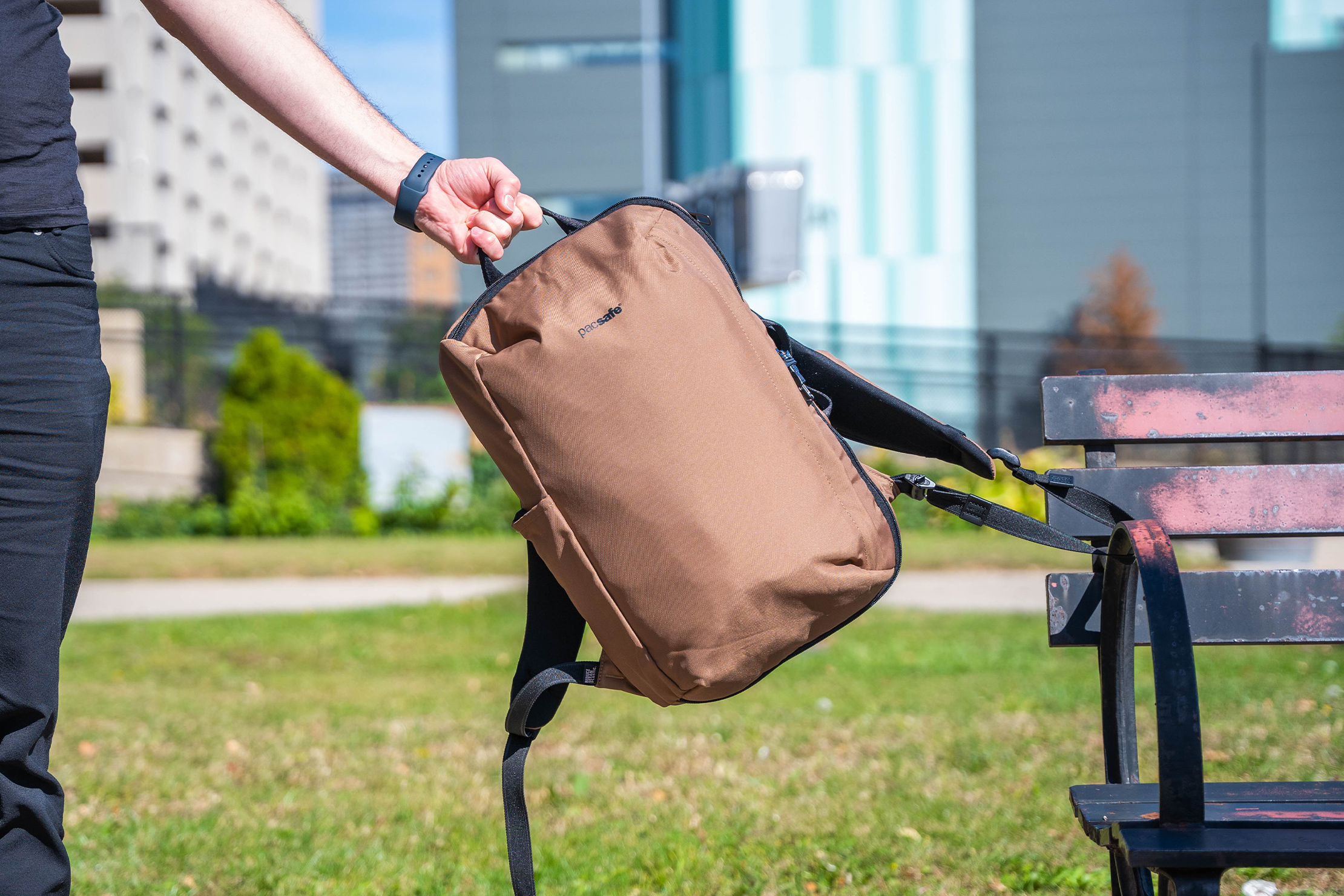 Overall, you get a commuter backpack that has the solid quality and security features Pacsafe is known for, more than enough internal organization, and is easy to carry—some out-of-the-box tweaking and smart packing required.
Usage Timeline
Initial Usage
Condition: Excellent
Curious to see how the sideways organization holds up when the bag is worn on the back
Very comfy fit once it's adjusted right
We always enjoy exploring Pacsafe's security features
2 Weeks of Use
Condition: Excellent
Pen falls out of organizer often—great admin panel area otherwise
It's easy to make one side of the bag heavier than the other with where the pockets are positioned
Comfortable fit
Always enjoy testing the security features Pacsafe offers
Access the Pro Community Discussion
Get your questions about the Pacsafe Metrosafe X Commuter Backpack answered from our team and the Pro Community right here on the page. Plus, join discussions with other members about gear, guides, and more.
Other Bags & Luggage Reviews