Owala SmoothSip Coffee Tumbler 20oz Review
The Owala SmoothSip Coffee Tumbler is a pleasure to drink from and easy to open, although you can't seal the splash-resistant top.
Our Verdict
Unlock the Pro Summary
Save time. Get access to brief summaries of our reviews so you can browse and make decisions more efficiently.
Pros
Simple and smooth to open and close
Fits in most cup holders
Powder coating shows no scratches after 2 weeks
Cons
Not leak-proof
Occasional metallic aftertaste
Needs immediate washing to prevent lingering odors and taste transfer
Recent Pack Hacker Video
Technical Details
Capacity

20oz

Weight (oz)

12.15 oz (344.4 g)

Dimensions

7.72 in x 3.73 in (19.6 x 9.5 cm)

Notable Materials

Stainless Steel, Plastic

Manufacturing Country

China

Warranty Information
Full Review
What are you looking for in a coffee mug? Perhaps you want something easy to sip from that keeps your brew hot for hours and has a decent capacity. With the SmoothSip Coffee Tumbler, Owala lays it all out on the table. This splash-resistant (they are very straightforward about this) tumbler can hold a lot of caffeine … er, coffee. It also aims to keep your java at the perfect temperature for sipping through its "silky smooth" lid (their words, not ours … for now!).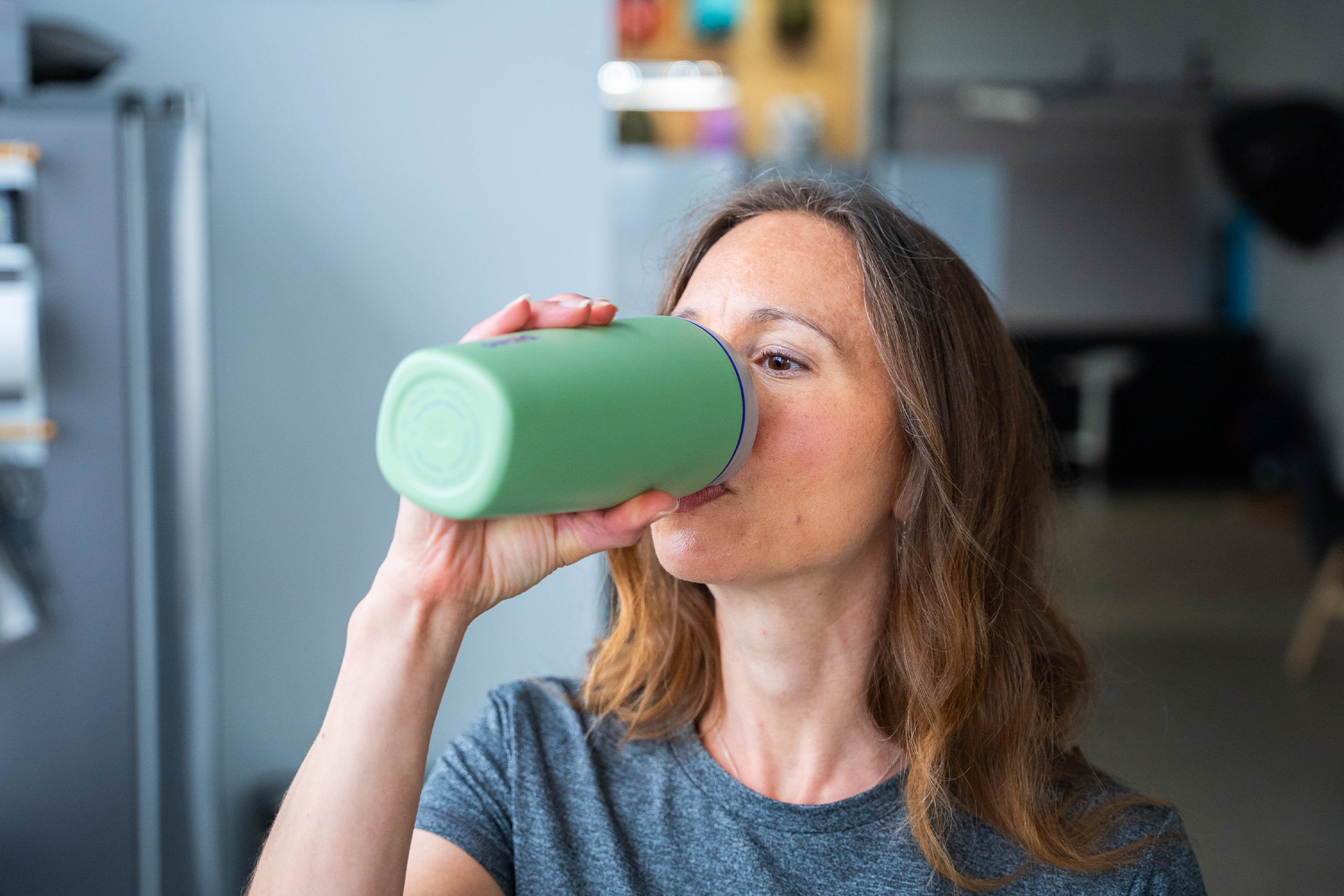 That's quite a few bold statements, so does the Owala SmoothSip Coffee Tumbler live up to its own hype? Put on a pot, and let's find out!
The Rundown
You shouldn't judge a book by its cover, but we're starting with the looks of Owala's SmoothSip Coffee Tumbler. This stainless steel insulated mug has a nice powder-coat finish that's pleasant to hold and has held up to scratches, even though we continually find keys ending up in the same hand as the mug—whoops! Thankfully, this Hip Cactus has no battle scars to show for our error after the testing period, so we have high hopes for its longevity. There are no scrapes or scuffs on the bottom, either, which we've seen happen to the powder coating on other stainless steel mugs.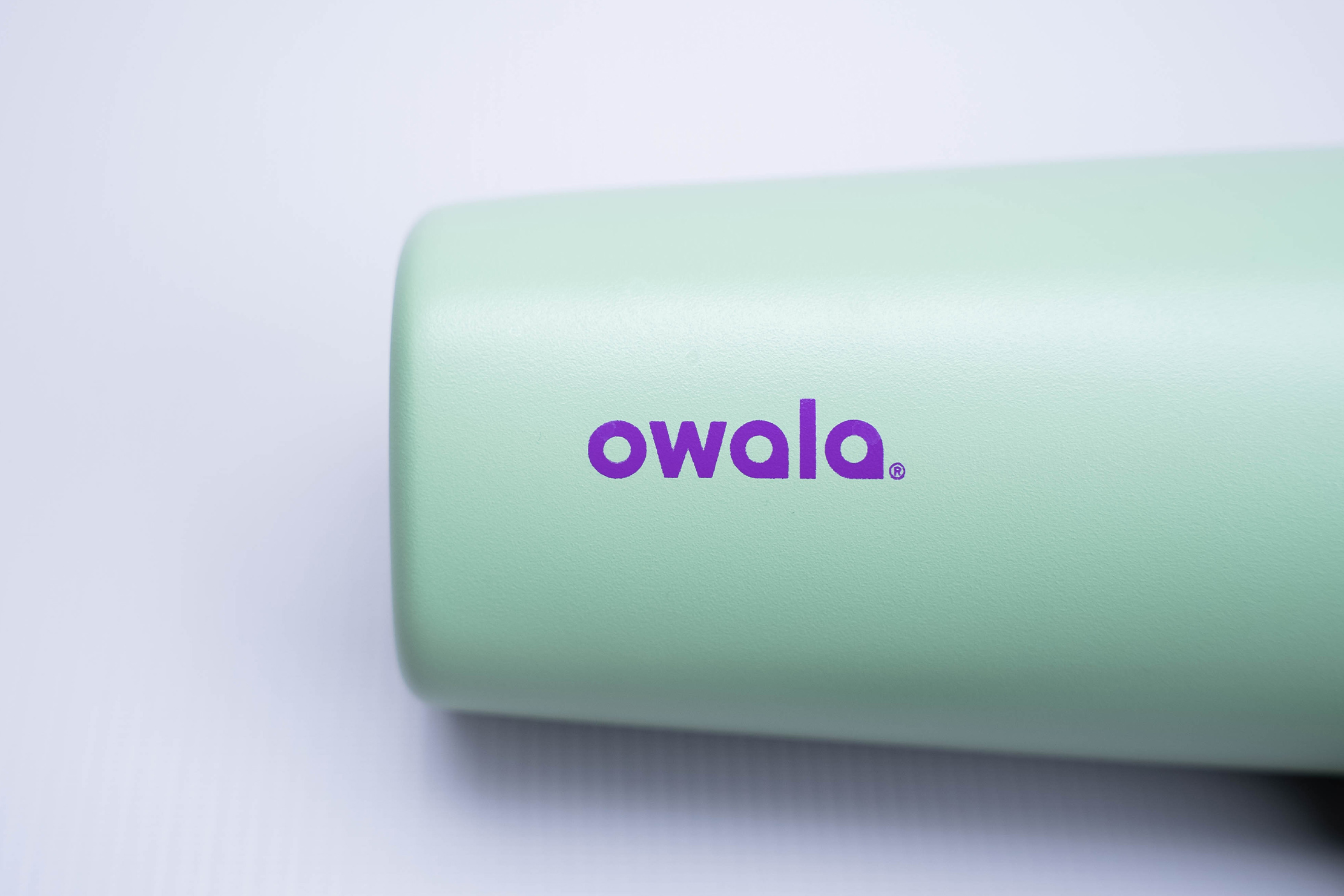 Speaking of Hip Cactus, no, that's not our new favorite cover band; it's the name of the colorway we're testing. It's a, well, cactus-y green with a few pops of purple on the branding and the seal around the lid. The lid is a greige (grayish-beige), and the same lid is also on the Telescope Tales colorway. We're not making these names up, folks. That's Owala's way of saying black with an orange seal and the brand name in blue. You can also pick the tumbler up in Watermelon Breeze (Barbie pink with a black lid, a tan seal, and white brand name) and Cloudscape (very light gray or offwhite with a black lid, a teal seal, and Owala in tan).
Whichever fun name speaks to you, you'll get a BPA-free, stain-and-odor-resistant stainless steel insulated bottle that's a soft-cornered square on the bottom and round on top. It has a 20-ounce capacity, so you can have Starbucks pour your grande Caramel Macchiato in without a problem, or you can order a venti Americano since you won't have to leave room for that beautiful whipped cream swirl on top.
Pausing now for your Starbucks run. You're welcome.
Seriously, speaking as copious coffee consumers, we think this is a nice capacity for a coffee tumbler. You won't have to chug a mug before heading out to the airport to stave off a caffeine headache since this will hold about two cuppa to kick your day off right.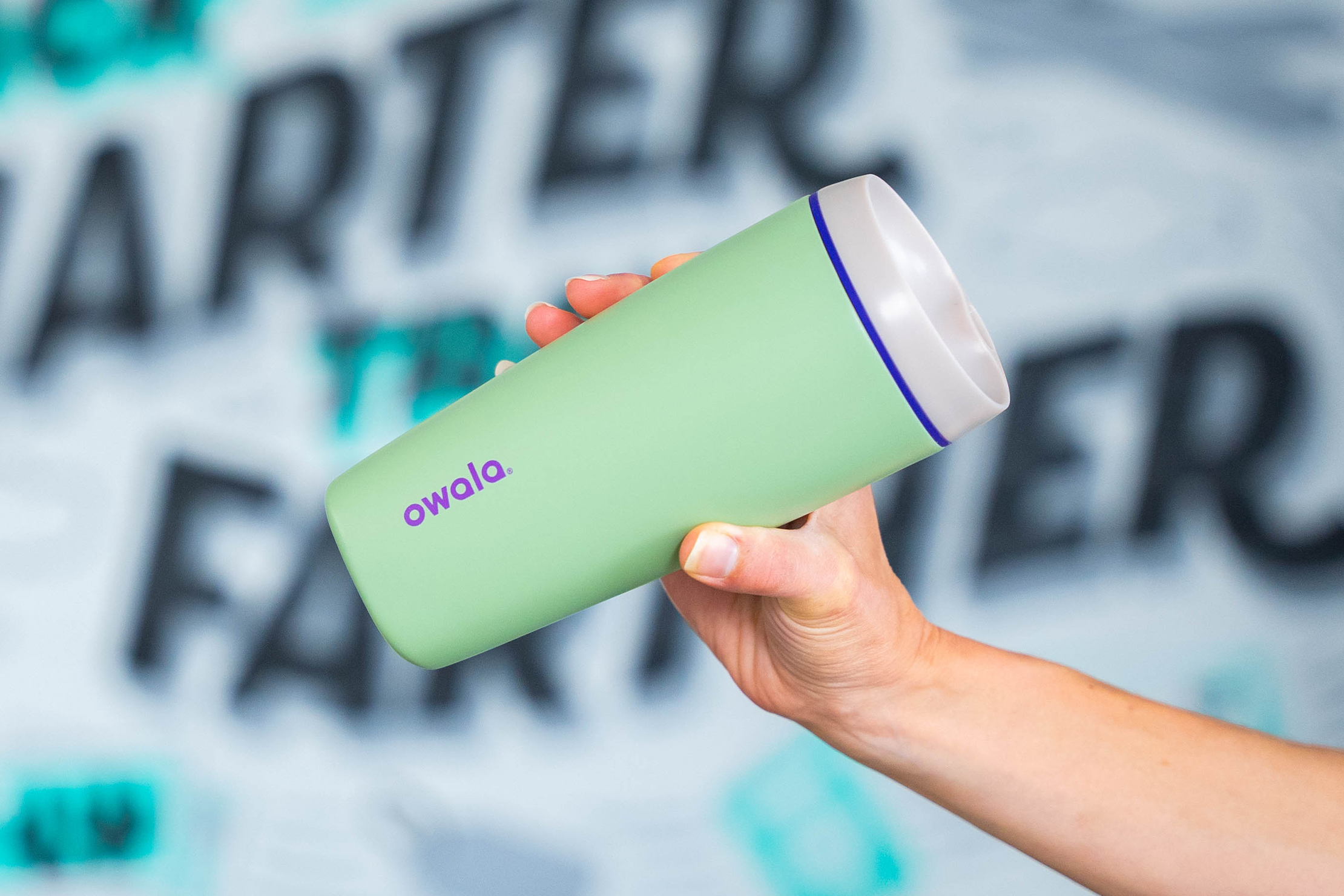 Owala claims the SmoothSip will keep drinks toasty warm for up to 6 hours and cool for up to 24. While some of us can't imagine how your morning brew could ever sit around that long, we did put it to the test and found that to be accurate. Beverages are definitely still hot after 3-4 hours and warm enough to drink at the 6-hour mark. The insulation also performs well on the cool side, as long as you start with an icy cold beverage and don't expect to find ice inside the next day.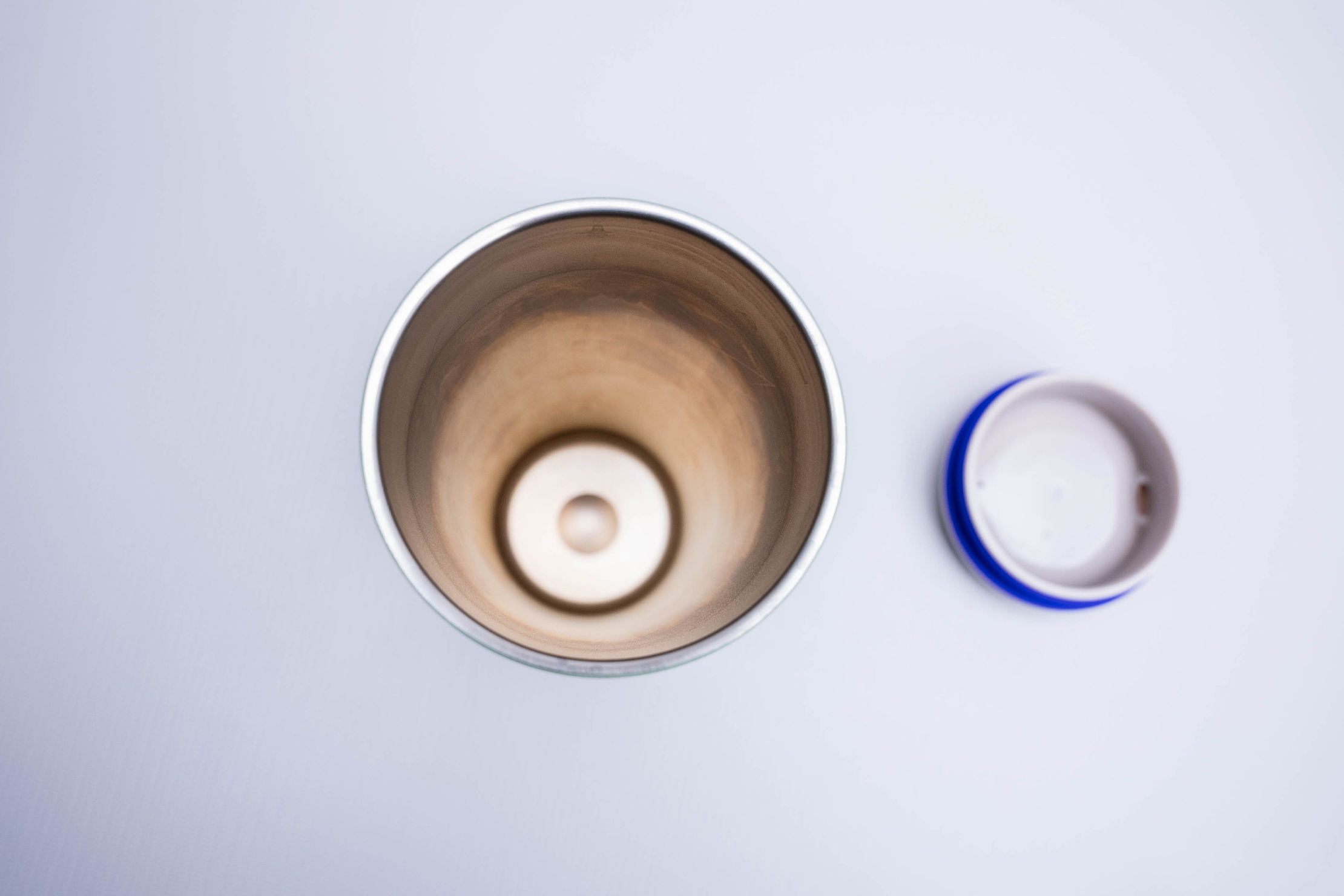 The tumbler is also designed to be stain-and odor-resistant, which we find mostly true. When you finish your morning coffee and want to start drinking your eight daily cups of water, you don't have a lingering taste of your brew as long as you wash the cup first.

That's key; just giving it a quick rinse won't cut it. However, we did find the mug held onto the taste of tea for a few days after steeping a bag inside just once. It has dissipated with washing and refilling with coffee, but we thought it was something to mention. Of course, maybe this shouldn't be surprising—this is a Coffee Tumbler, after all. Why would you put tea inside?
Now, onto the lid. It's hard to describe except to remind you of Owala's own claim that it's "silky smooth." We tend to agree with that bold claim and find the sipping experience pretty incredible. An indentation near the spout lets you get a good seal with your lips, and the venting hole is far enough away from your face when you sip that you don't bump it with your nose. Since we've had that experience with other travel mugs, resulting in a dog's-wet-nose feel, we were happy to avoid that this time around.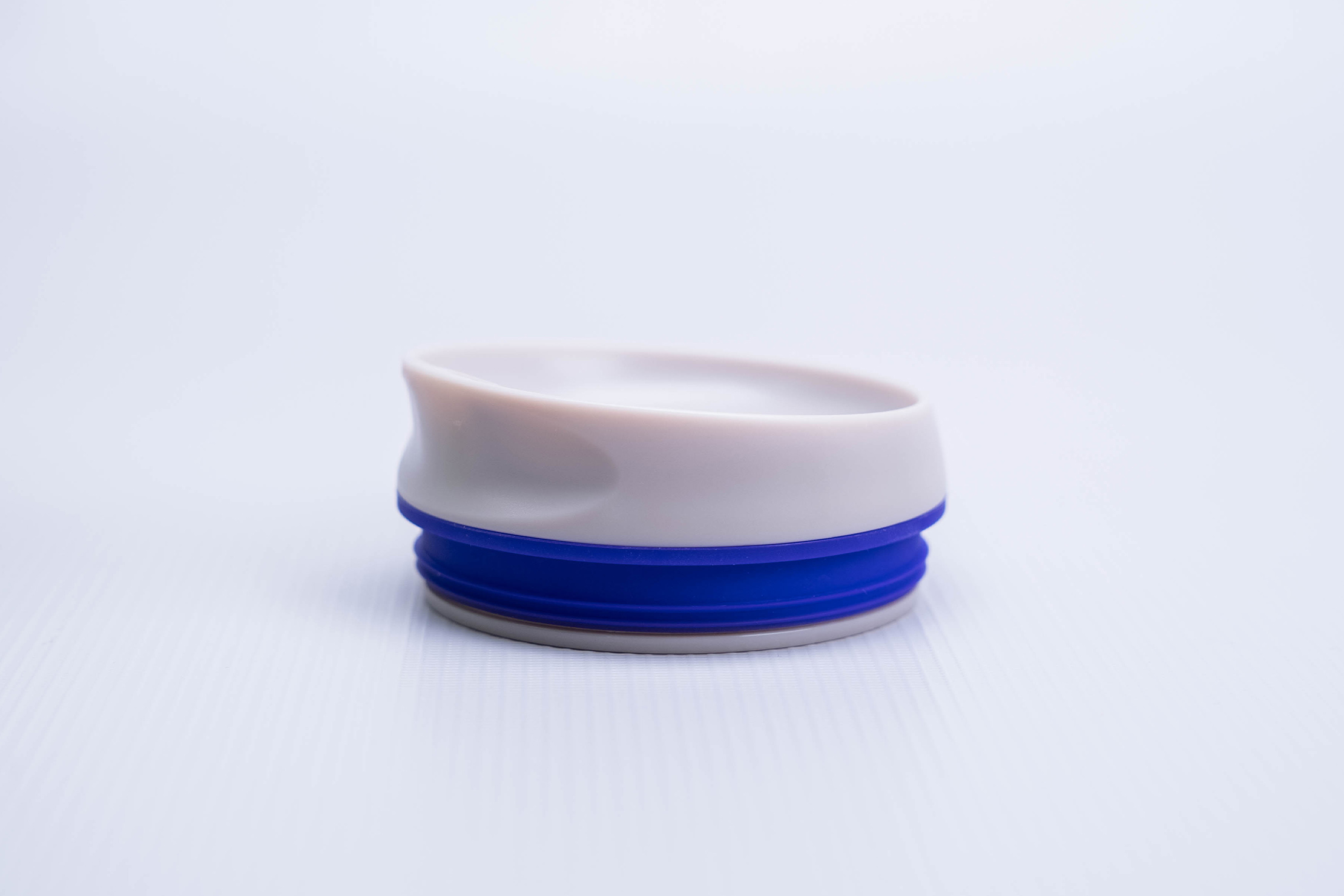 Now for the only drawback: this is a splash-resistant mug. You can bound up the stairs without it sloshing out of the spout, but if you knock it over, your coffee will spill. However, Owala is very upfront with this, so if you bought it thinking it was leakproof, you need to read a little more carefully. Of course, if you're reading this, hello Choir! We'll stop preaching.
There is a silicone-like seal around the bottom of the lid, which you can pull off for cleaning if you so choose. The lid is the only part of the mug that's OK to put in the dishwasher since the stainless steel finish will wear faster if you don't wash it by hand.
The lid itself is easy to remove—you pull it off and push it back on. That's it; no screwing required.
Packability
As we alluded to above, this isn't a mug you'd want to slide into your daypack's travel water bottle pocket, at least not with liquid inside. Once you've finished your coffee, tea, water, or whatever still beverage you prefer (carbonation is not recommended), feel free to slide it inside. That makes it a good companion for flying since you'll have to have it empty before going through security anyway. Then you can stop at Starbucks for an eco-friendly refill. (No, Starbucks hasn't sponsored this post.)
It is pretty lightweight, though, so if you want to carry it while taking a sunrise stroll, it won't weigh you down. It's easy to slip into a cup holder while you drive, too, and since you don't have to open the top to take a sip, we think it's a great road trip companion.
Quick Comparison
Of course, the big question is, why should you get the Owala SmoothSip instead of another coffee tumbler? To answer that, we've pulled out two other insulated mugs: the Klean Kanteen Rise Tumbler 16 oz and the Purist Collective Maker Mug 10 oz, with the Scope Top.
The Klean Kanteen Rise Tumbler holds a good amount of coffee, like the SmoothSip. On the other hand, some over-caffeinated testers here at Pack Hacker find the 10 oz capacity of the Purist Collective Maker Mug just too small.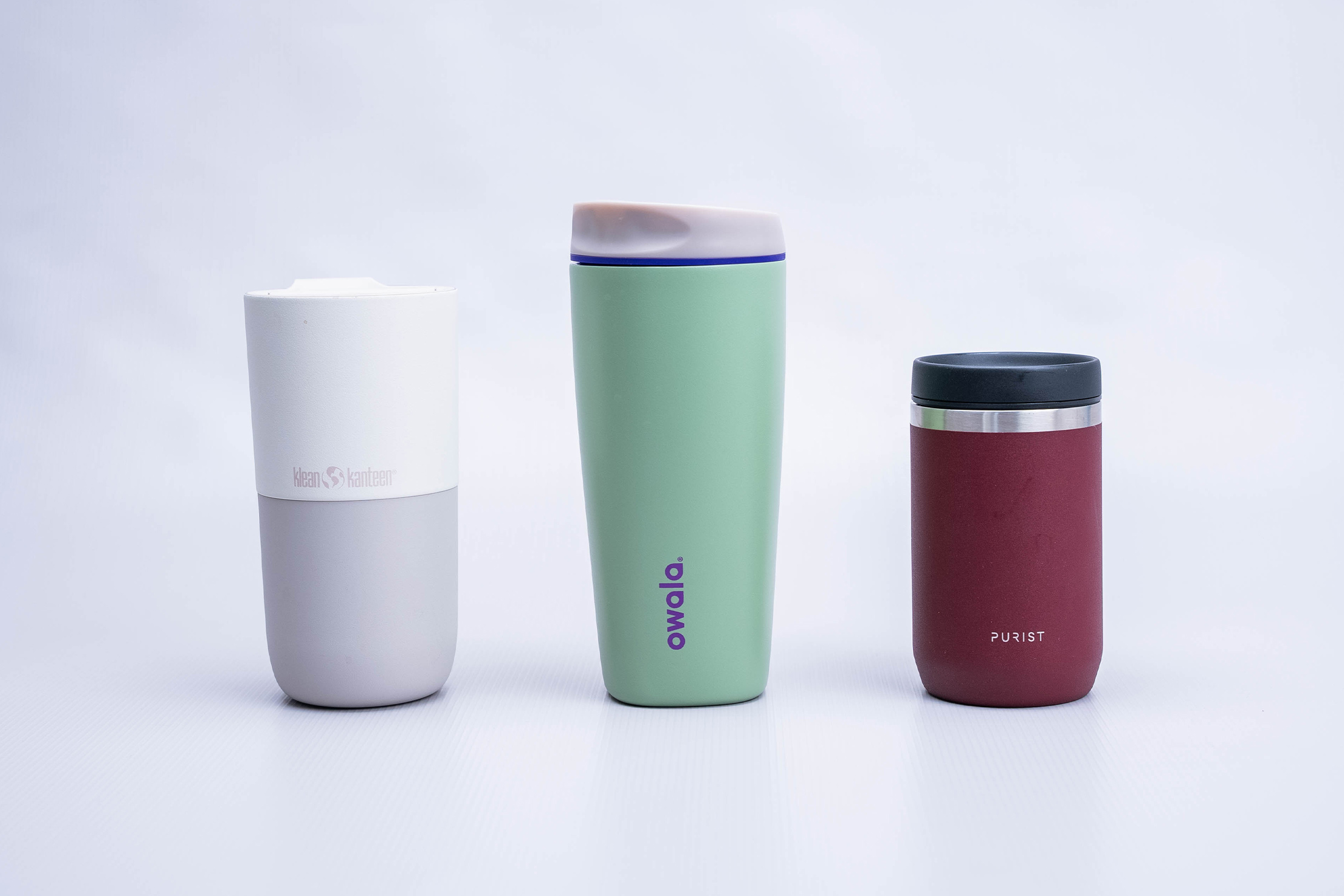 If you're sipping a morning espresso, however, or don't mind refilling your cup a few times, the microscopic glass coating covering the Purist Collective's stainless steel does the best job out of these three mugs of providing a clean taste, even as you switch beverages. On the other hand, the Klean Kanteen wasn't as clean, and we found that after a short time, scents got stuck in the lid, even after washing it. Luckily, we don't find that happening as much with the Owala SmoothSip, although you do occasionally get a stainless steel taste if you use the tumbler for water.
Actually taking a drink is a different experience between the mugs, though. The SmoothSip provides a smooth sipping experience, with a drink flowing nicely out of the lid when you take a sip. While some mugs can get stuck, per se, if the aeration hole gets plugged, that was never the case with the Owala.
The Purist Collective is also nice to drink from, although you have to turn the top to open the sipping lid, so it's harder to do one-handed. On the other hand, the lid of the Klean Kanteen is easy to flip open, but the cover for the spout sticks up too much from the cap when you do so, and any condensation sticks to your nose when you take a sip. While we like our sweet puppies to have wet noses, it's not something most people like when it happens to them.
All in all, if you're looking for a comfortable-to-hold, easy-to-drink-from mug to hold a decent amount of coffee on your morning commute or while checking for hatching turtles at sunrise on Kiawah Island, and you don't need to toss it in a bag where it could spill on your gear, the pleasant drink you take from the Owala SmoothSip Coffee Tumbler may be just what you're looking for.
Usage Timeline
Initial Usage
Condition: Excellent
Interested to try the unique lid design
Hip Cactus colorway is really fun
Plenty of capacity for coffee connoisseurs
2 Weeks of Use
Condition: Excellent
Appreciate the minimal taste transfer between drinks
Beverage flows easily from spout
Super smooth lid is great to drink from
Access the Pro Community Discussion
Get your questions about the Owala SmoothSip Coffee Tumbler 20oz answered from our team and the Pro Community right here on the page. Plus, join discussions with other members about gear, guides, and more.
Other Miscellaneous Reviews