Outlier Futureworks Review
Lightweight and comfortable, The Outlier Futureworks are a solid pair of travel pants, although we wish they were more breathable!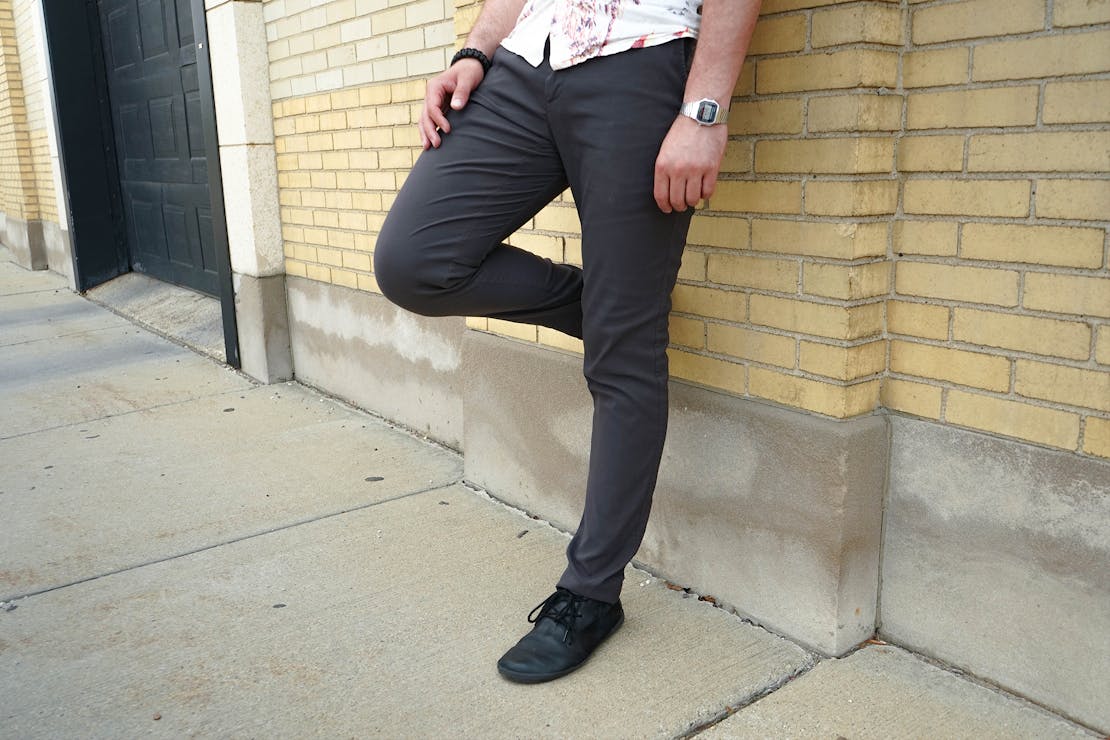 Our Verdict
Unlock the Pro Summary
Save time. Get access to brief summaries of our reviews so you can browse and make decisions more efficiently.
Pros
Comfortable
Professional when paired with the proper shirt
Work well in both hot and cold weather
Cons
The chino-style fit won't work for everyone
Not super stretchy
Could be more breathable
Recent Pack Hacker Video
Technical Details
Notable Materials

Nylon, Elastane

Manufacturing Country

Portugal

Warranty Information
Full Review
We're always excited to get our hands on Outlier gear since the folks over there are dedicated to making innovative, technical clothing that is ideal for travel. Plus, we're big fans of the Outlier Slim Dungarees—they're one of our highest rated products of all time—and have wanted to see how the Outlier Futureworks, which have a more chino-feel to them, compare.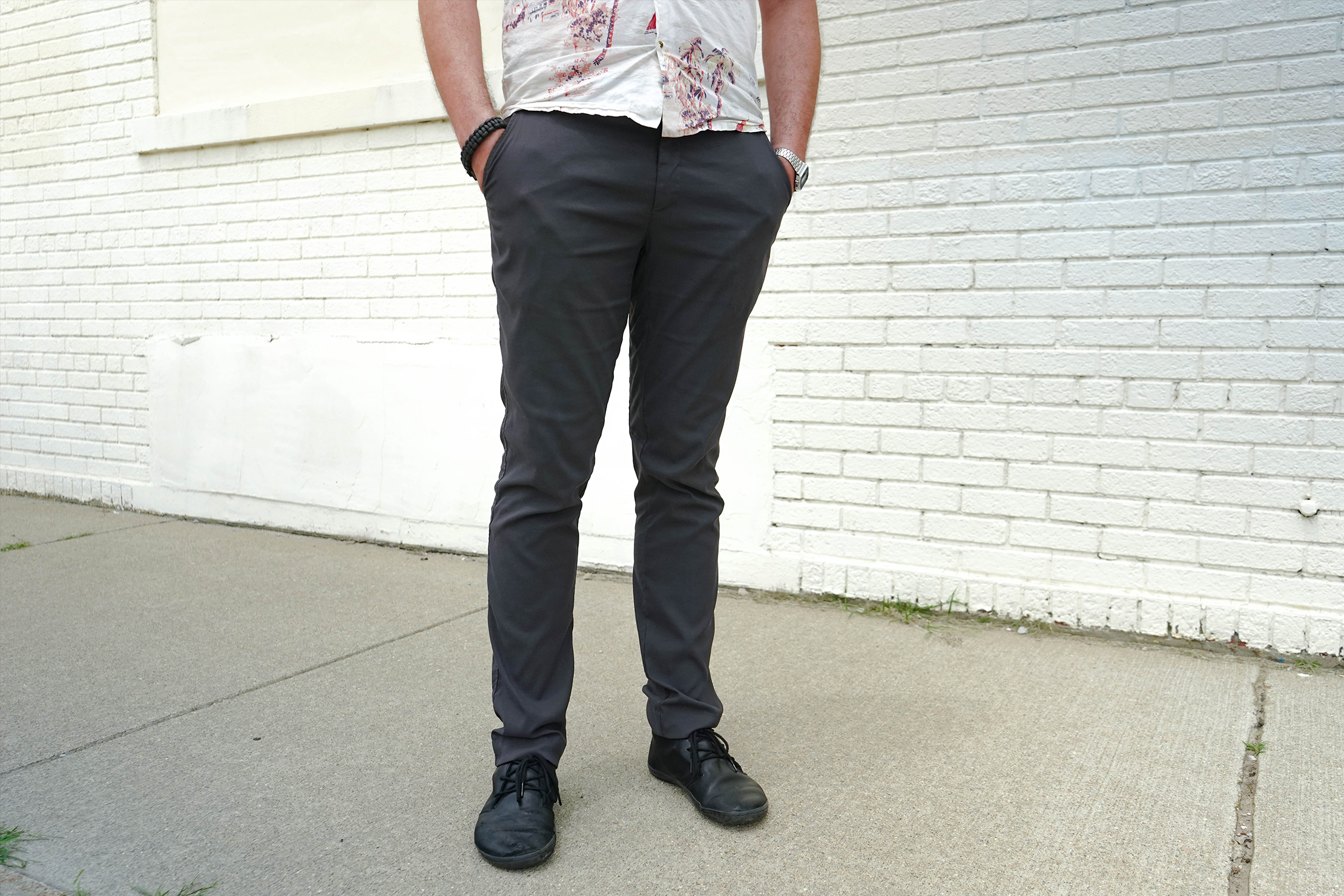 After three months of testing, we've concluded that while we prefer the Dungarees, the Futureworks are still a great pair of pants to take around the world. Let's get into the review to see how and why we came to that conclusion.
Fabric & Fit
The Outlier Futureworks fit like chinos and have an overall sophisticated aesthetic, especially when paired with a nice shirt and pair of shoes. At the time of this review, there are nine colorways to choose from and, in typical Pack Hacker style, we've been testing the Phantom Gray. We've been enjoying this color because 1) what a name, right? 2) it goes with basically everything, and 3) it hides dirt really well.
Unfortunately, this gray does not turn you into an actual phantom, which we're pretty disappointed about. What gives, Outlier?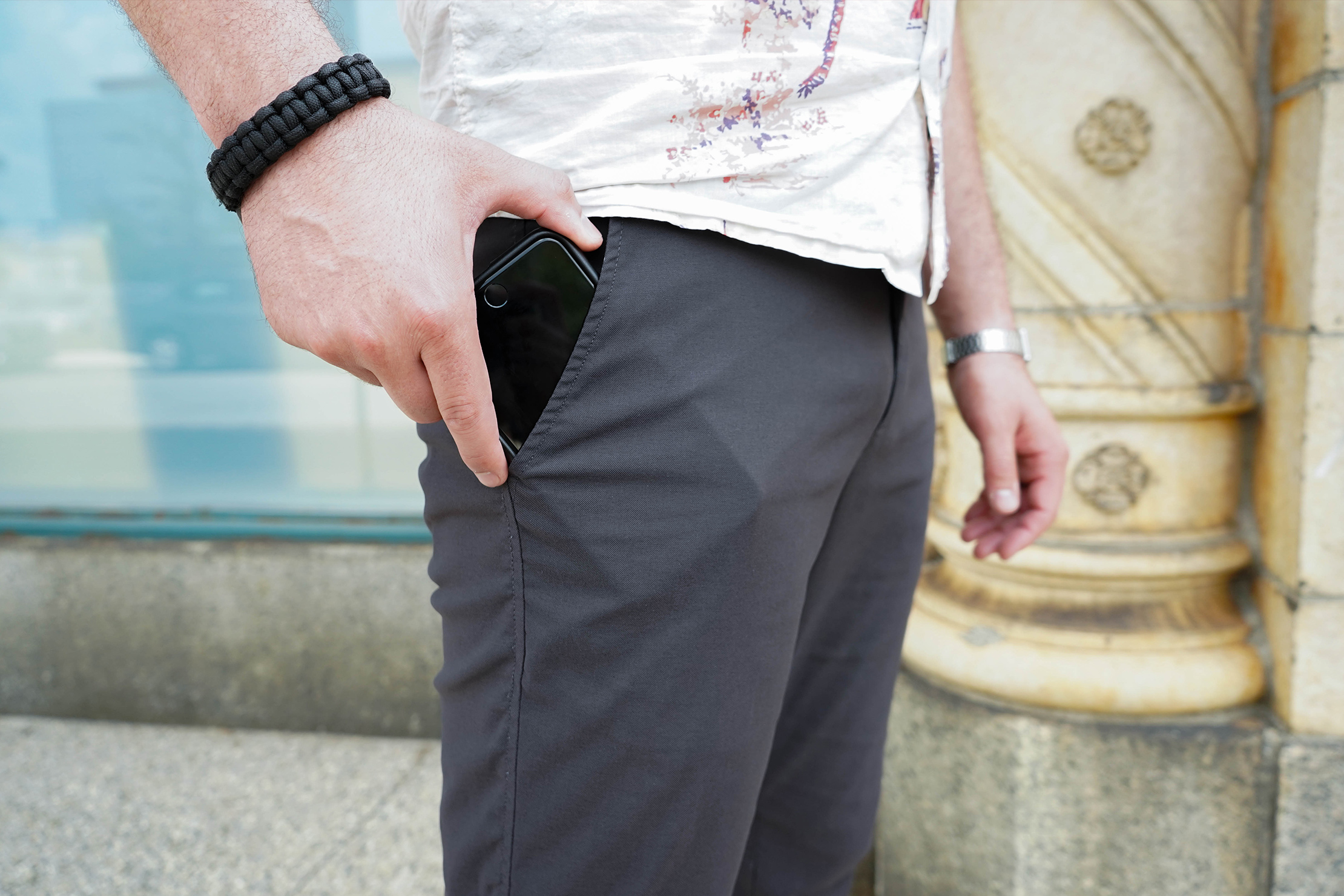 The four pockets aren't particularly noteworthy, although they are deep and roomy enough that you won't have to worry about your phone or cash slipping out, which is always a plus for travel. There might be nothing worse than realizing something important fell out of your pocket, especially when in a foreign country.
We also have to say that we really appreciate how "un-noteworthy" these pockets are. Some technical pants go overboard with zippered or secret pockets, making these normal ones…refreshing. Our hats off to you, Outlier.
As per usual with Outlier, the fabric of the pants isn't regular fabric, it's cool fabric. Now, we should warn you that discussing Outlier materials can often feel like enrolling in a college-level chemistry class, so hold on, because we're about to get all kinds of technical.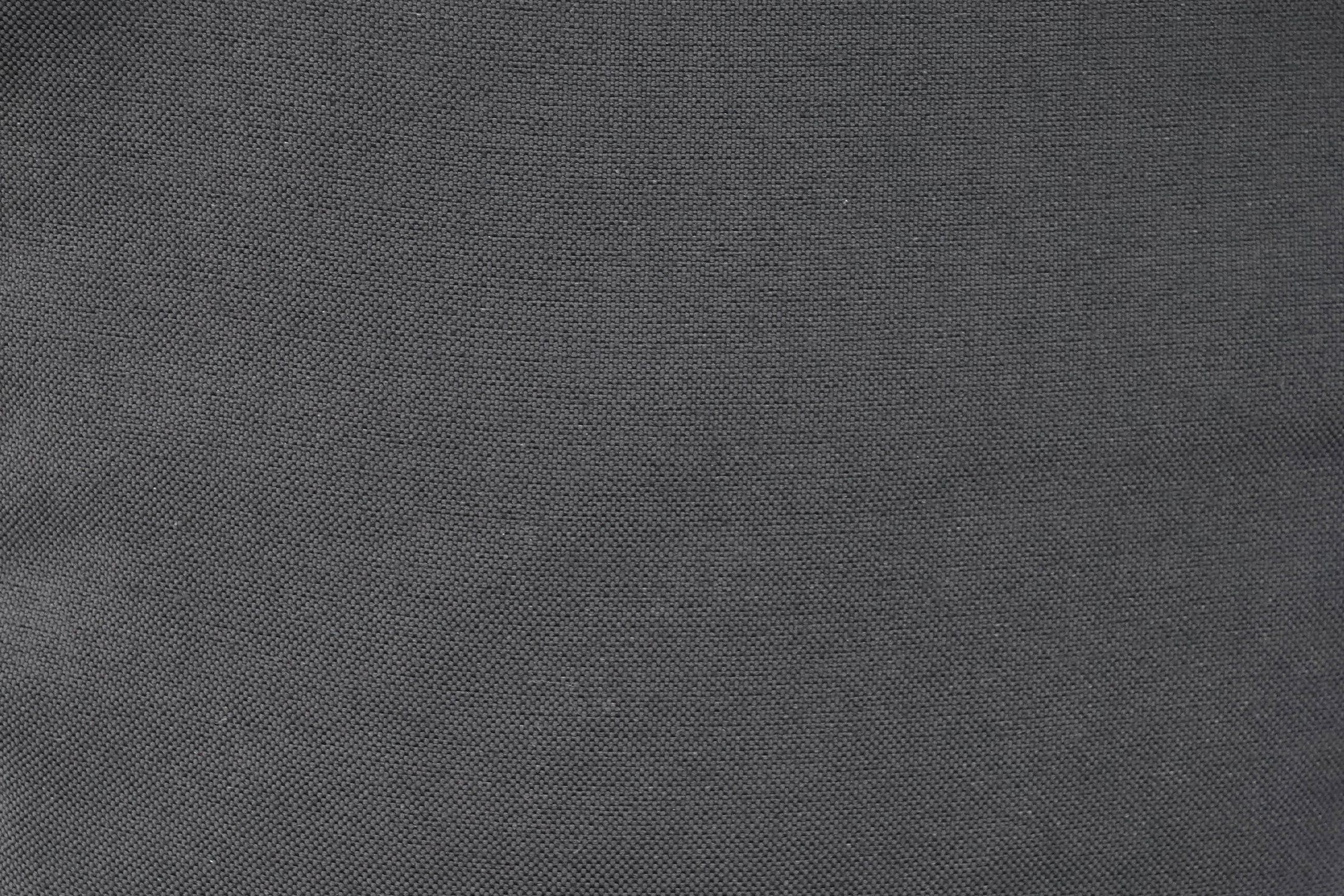 The Outlier Futureworks are made from the company's signature F.Cloth, a 200GSM blend of 3% elastane and 97% nylon 6,6. Nylon usually has a silent 6 on the end, denoting the fact that its made from a single carbon monomer with 6 carbon atoms, and the additional 6 represents a second 6-carbon monomer, making the fabric that much stronger (See? Chemistry class). Outlier also says the nylon 6,6 creates a more "matte" look to the pants, which helps with that air of professionalism the pants give off.
GSM, which stands for grams per square meter, measures the weight of a fabric. The higher the GSM, the denser the fabric. At 200GSM, these pants are lightweight, but by no means skimpy.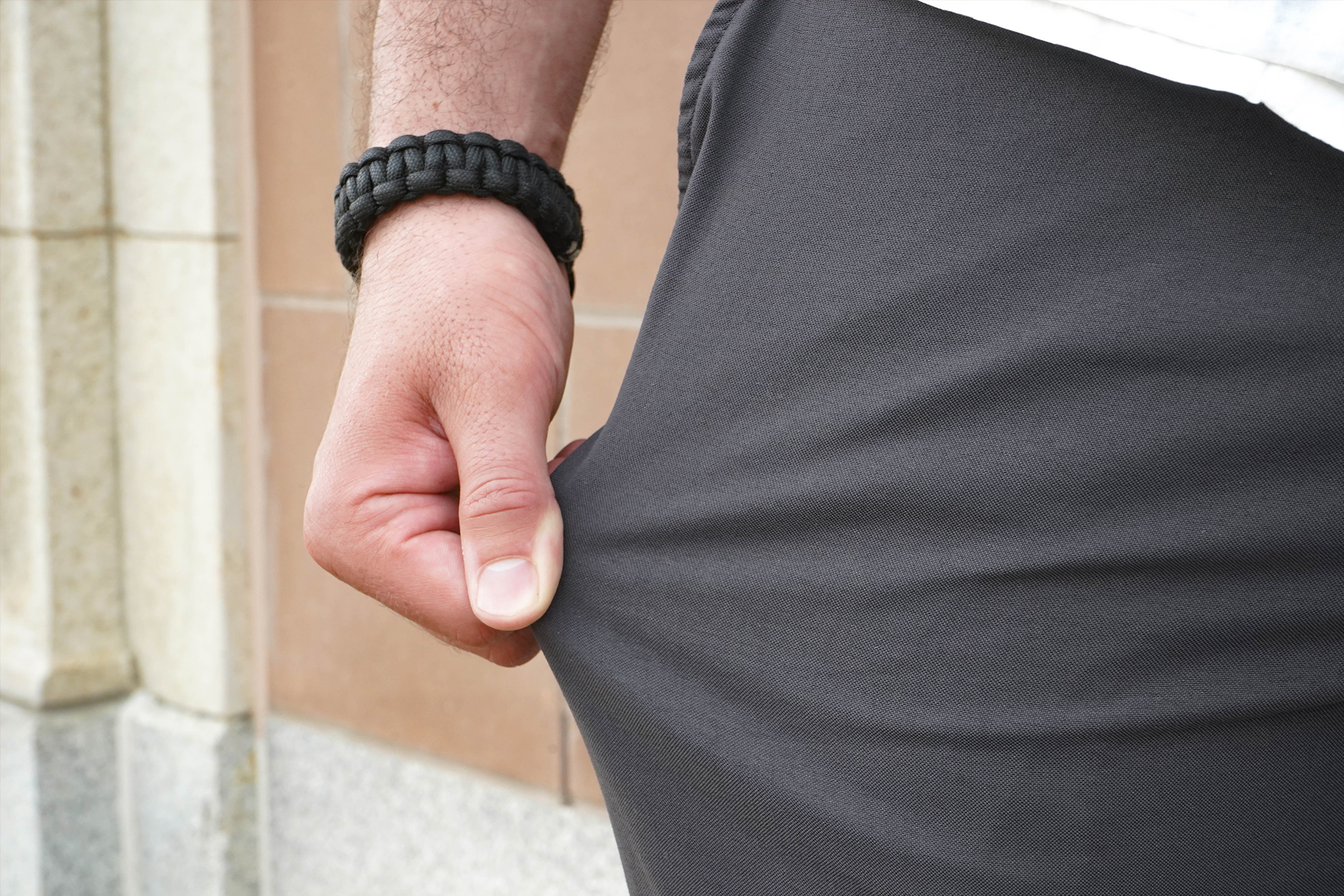 The fabric also has a two-way horizontal stretch, which is not quite as nice as four-way stretch, and as such, we've found the pants to be a bit stiff in the waist. Still, there's enough stretch to be comfortable. You might not be able to practice kick-boxing in the Futureworks, but you'll be able to get around.
The pants are also breathable and moisture-wicking, which means they do well in the heat—to an extent. You'll probably still be hot in 100+ degree (Fahrenheit) weather, but we're not sure there's a pair of pants out there where that wouldn't be the case.
The pants are also thick enough to work decently well in the cold. Although, if it's the everything-hurts kind of cold, you'll probably want to opt for additional base-layer. The pants are loose enough that layering won't be a problem.
Durability & Testing
We've been testing Outlier's Futureworks for about three months now, and as we mentioned above, we don't think they're quite as good as Outlier's Slim Dungarees. The Dungarees are softer, and they wear nicer, dry faster, and repel dirt and grime better than the Futureworks.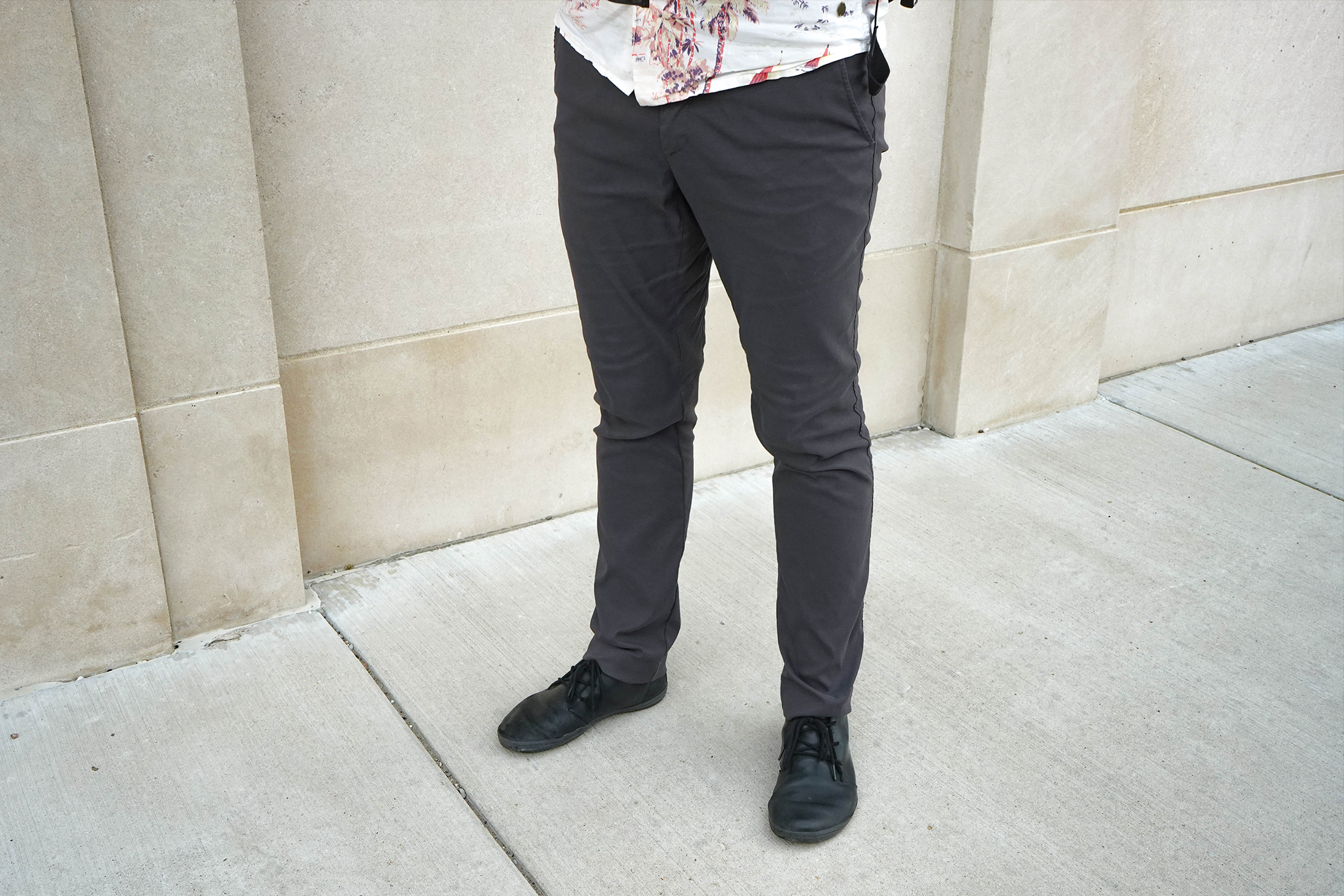 That's not to say the Futureworks aren't a great pair of travel pants. As we've said, they're breathable, lightweight, and look more professional than the Dungarees. In fact, some people may prefer the Futureworks chinos aesthetic over the Dungarees slimmer fit.
As far as durability goes, the Futureworks have held up nicely…except for a few little pulls on the seat of the pants after a run-in with a rough metal chair. Now, we understand we're partially to blame here and most pants other than jeans would've likely suffered a similar fate. But when you're traveling, you're likely to run into all sorts of different chairs and surfaces. And we think it would be nice to have a pair of pants that could stand up to all of them.
Usage Timeline
Initial Usage
Condition: Excellent
1 Month of Use
Condition: Excellent
2 Months of Use
Condition: Good
After sitting in a metal chair, the seat of the pants got a few small tears. While we're partially to blame, we're still disappointed.

3 Months of Use
Condition: Good
Prefer the Slim Dungarees overall, but these pants aren't bad
Access the Pro Community Discussion
Get your questions about the Outlier Futureworks answered from our team and the Pro Community right here on the page. Plus, join discussions with other members about gear, guides, and more.
Other Clothing & Accessories Reviews