Osprey Transporter 40 Review
The Osprey Transporter 40 claims to be a "brilliant all-round travel pack," but it falls short in a few key areas. While we like the hideaway harness system and compression cube, the lack of a water bottle pocket and laptop compartment prove tough to deal with in a real-world environment.
Our Verdict
Unlock the Pro Summary
Save time. Get access to brief summaries of our reviews so you can browse and make decisions more efficiently.
Pros
Quick and efficient hideaway harness system.
Good range of color choices.
Can be packed away in a compression cube.
Cons
No laptop compartment or water bottle pocket.
No hard back panel or option for a hip belt.
The TPU Coating on the exterior scratches off.
Recent Pack Hacker Video
Technical Details
Capacity

40l

Weight (lb)

2.65 lb (1.2 kg)

Dimensions

21 in x 12 in x 10.5 in (53.3 x 30.5 x 26.7 cm)

Notable Materials

Nylon, Thermoplastic Polyurethane (TPU), YKK Buckles, YKK Zippers, Woojin Hardware, ITW Hardware

Manufacturing Country

Vietnam

Warranty Information
Full Review
In this review, we'll be taking a look at the Osprey Transporter 40, a carry-on compliant travel duffel that can also be carried as a backpack or a messenger bag.
Osprey is a huge brand available all around the world, and you've probably come across them in the wild. In fact, we've tested the Osprey Farpoint 40 for nearly two years around Asia, and it's one of our highest rated packs.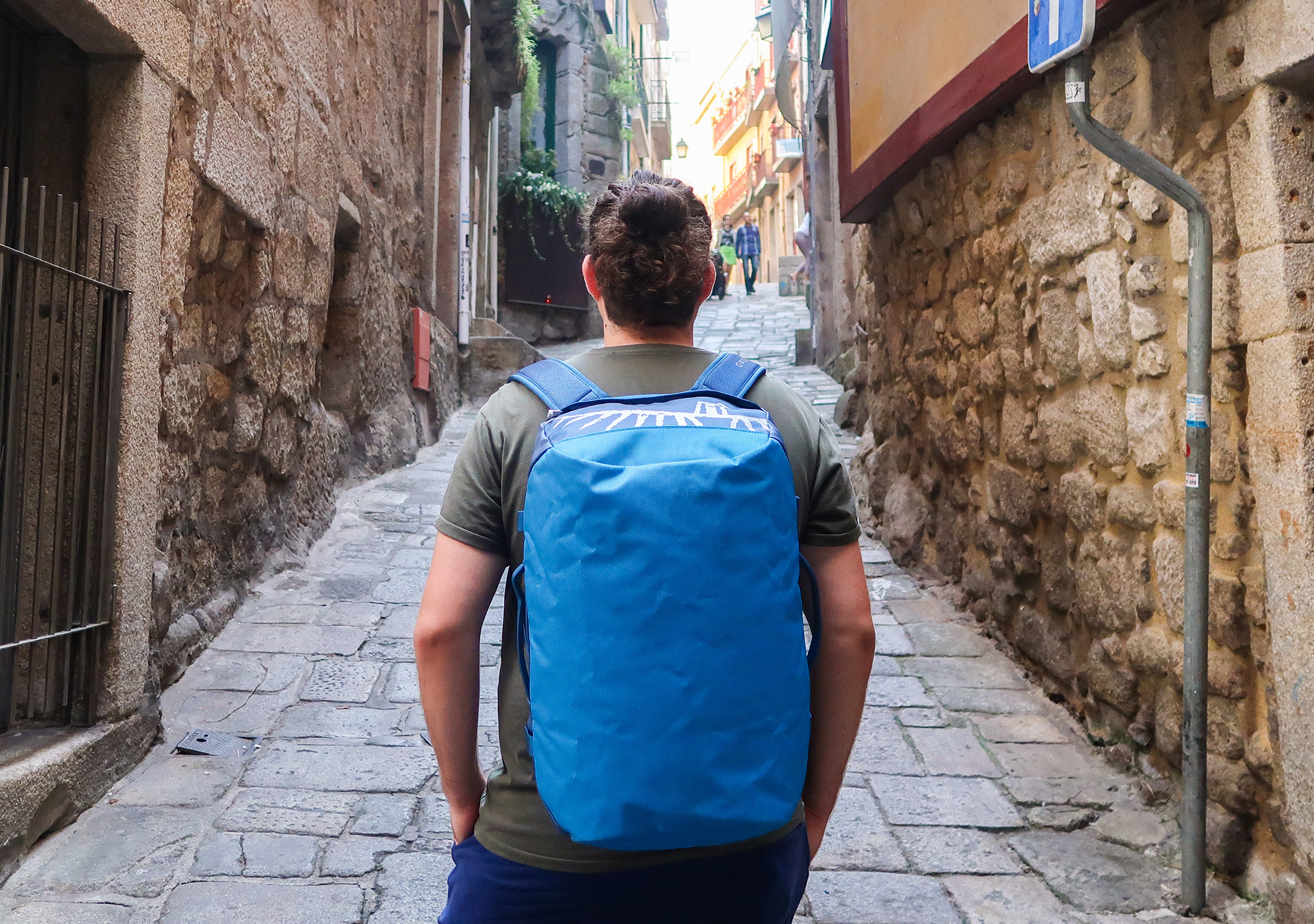 At the time of this review, we've been testing the Osprey Transporter for four months, and it's seen use on planes and trains in Portugal and road-trips around the UK. Osprey says "the Transporter is a brilliant all-round travel pack," so let's dive right in and find out.
Material & Aesthetic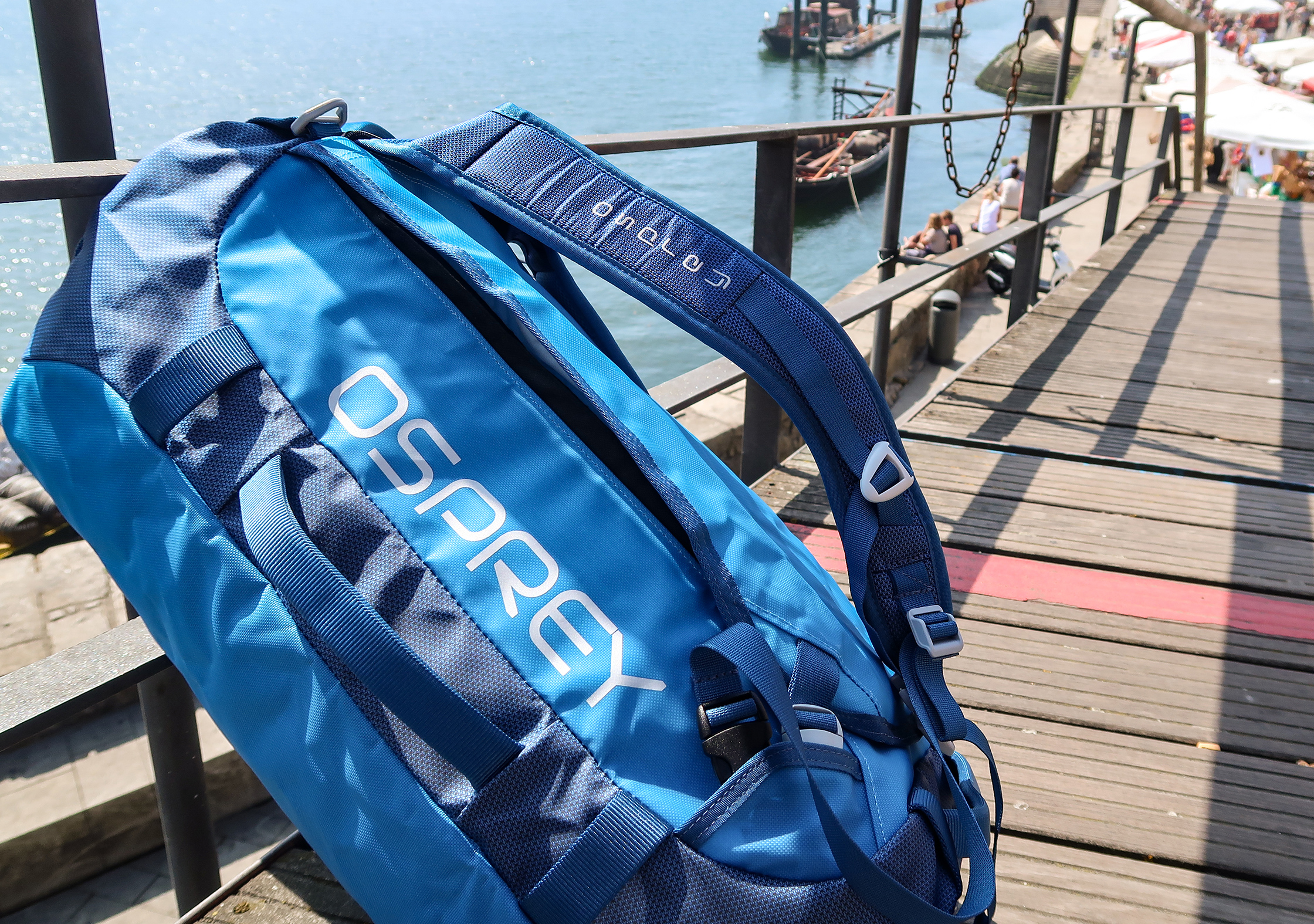 The aesthetic of this bag is tough to put into any one category—it's certainly not rocking an urban style and it doesn't quite fit into the travel backpack or hiking mold either. We're not in love with the look of this thing, but we don't necessarily dislike it either. Out of 362 people from our Instagram audience, 58% gave it the thumbs up. While it's not universally loved, the majority of people think it looks pretty good.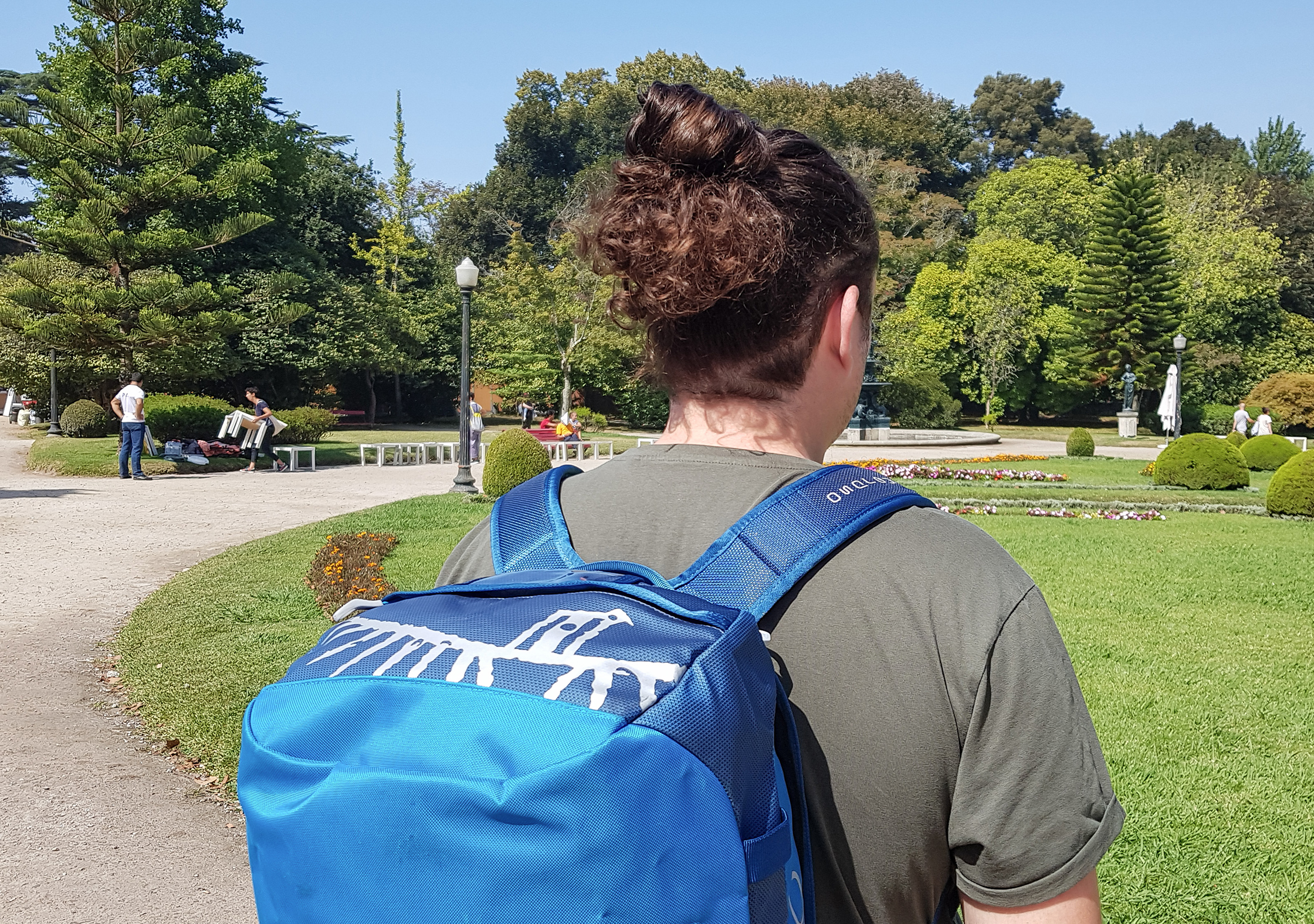 There is branding all over the Transporter—which is typical Osprey pack—and we think it definitely harms the aesthetic. There are big logos on the top and back of the pack (seriously, you can't miss them), the brand name is on both sides and shoulder straps, and the product name is on the bottom. We're pretty sure if there were any more branding on this pack it would look like a European football jersey. (We're exaggerating a tad here, but it is a bit overkill.)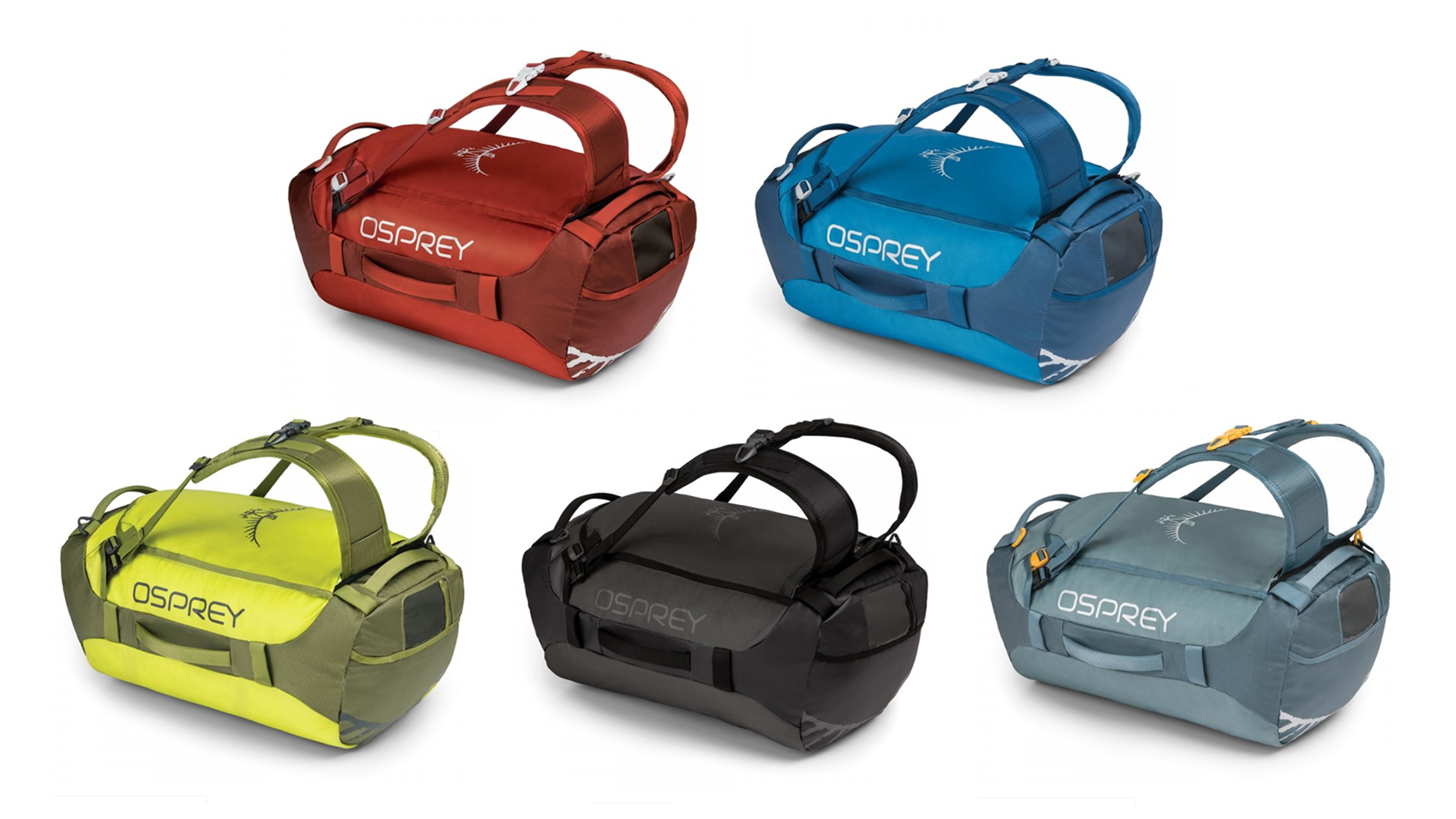 Now it's time for our favorite part of any Osprey review—the color names! The Transporter 40 is available in keystone grey, kingfisher blue, ruffian red, sub lime, and black. We're not going to lie, plain "black" is disappointing, but you better believe the likes of "sub lime" and "ruffian red" make up for it. The blue, red, and lime are perfect for people who want a bold "hey look at me" color, while the black and grey are great for the more inconspicuous out there.
We went with the Transporter 40—as in, 40 liters—because it's carry-on compliant for most airlines, but it's important to note that Osprey does sell a 65L, 95L, and 130L version. The Transporter 40 is already a big bag to carry on your back, and the 130L size is over three times as big!
(We'll let that settle in for a moment.)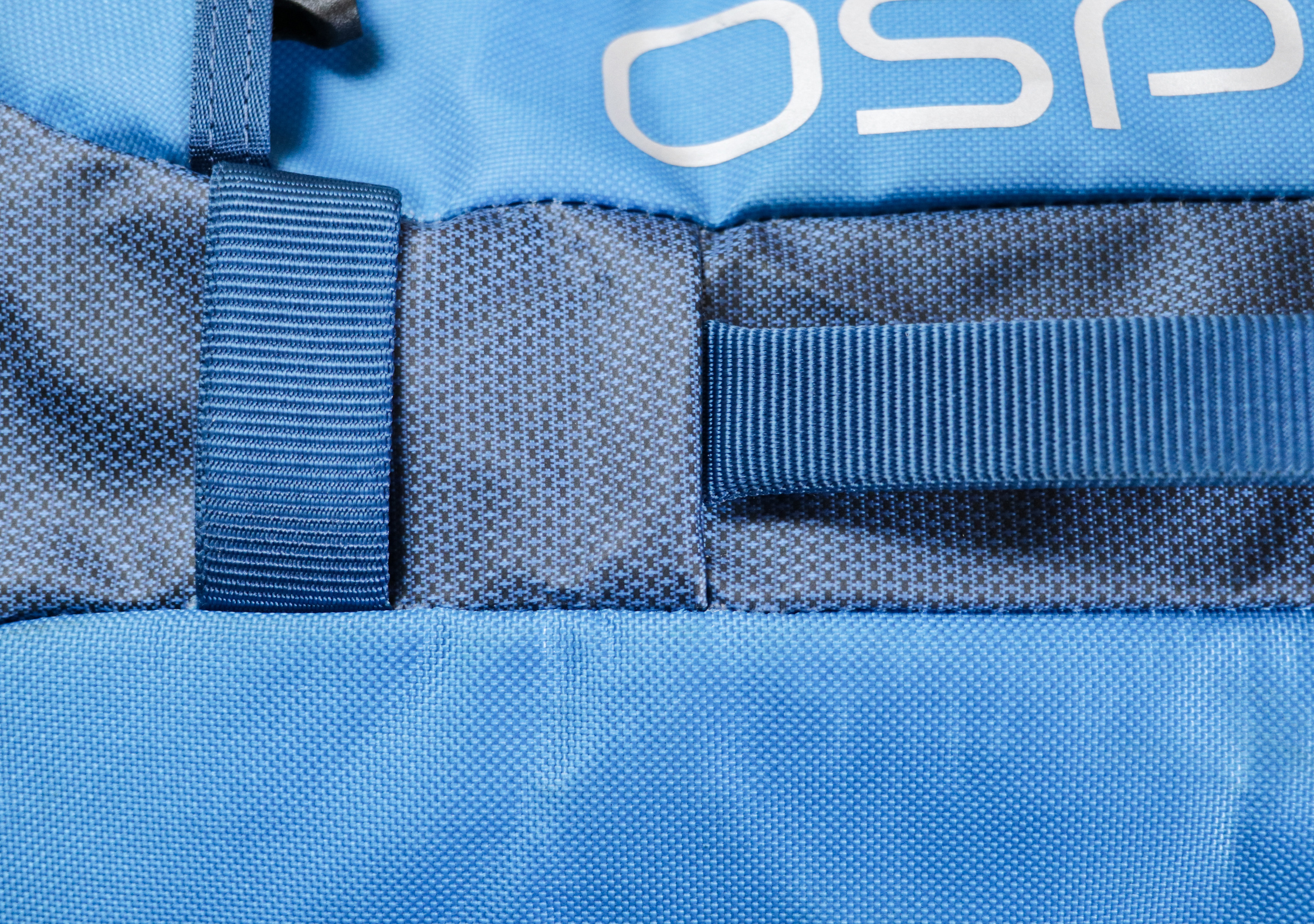 Moving on to the materials, the Osprey Transporter is made of 800D Nylon that's been coated with TPU (thermoplastic polyurethane) for additional weather resistance. The top of the bag—the part that sits against your back—has TPU coating on the outside, whereas the bottom of the bag has the coating on the inside. This has been done because the bottom of the bag is likely to come into contact with the floor, and TPU can be scratched off.
We actually know, for a fact, that this particular TPU can be easily scratched off because that's exactly what happened on the top of our bag! Osprey has tried to be clever here, but it just hasn't worked in practice. And after only four months of use, we're left with a backpack that has permanent marks on the material and decreased weather resistance. Not good.
Unfortunately, it doesn't get much better when it comes to how the materials feel. TPU is plastic, so the top of the bag feels like, well, plastic. If you're after a luxurious pack that will feel smooth and supple to the touch, this isn't it. Additionally, we've found that the material has a tendency to crease, like a shirt that's stuffed into the bottom of a bag. Walking around with a creased backpack won't give the best impression, and while the material is weather resistant—as long as the TPU doesn't scratch off—we're largely disappointed.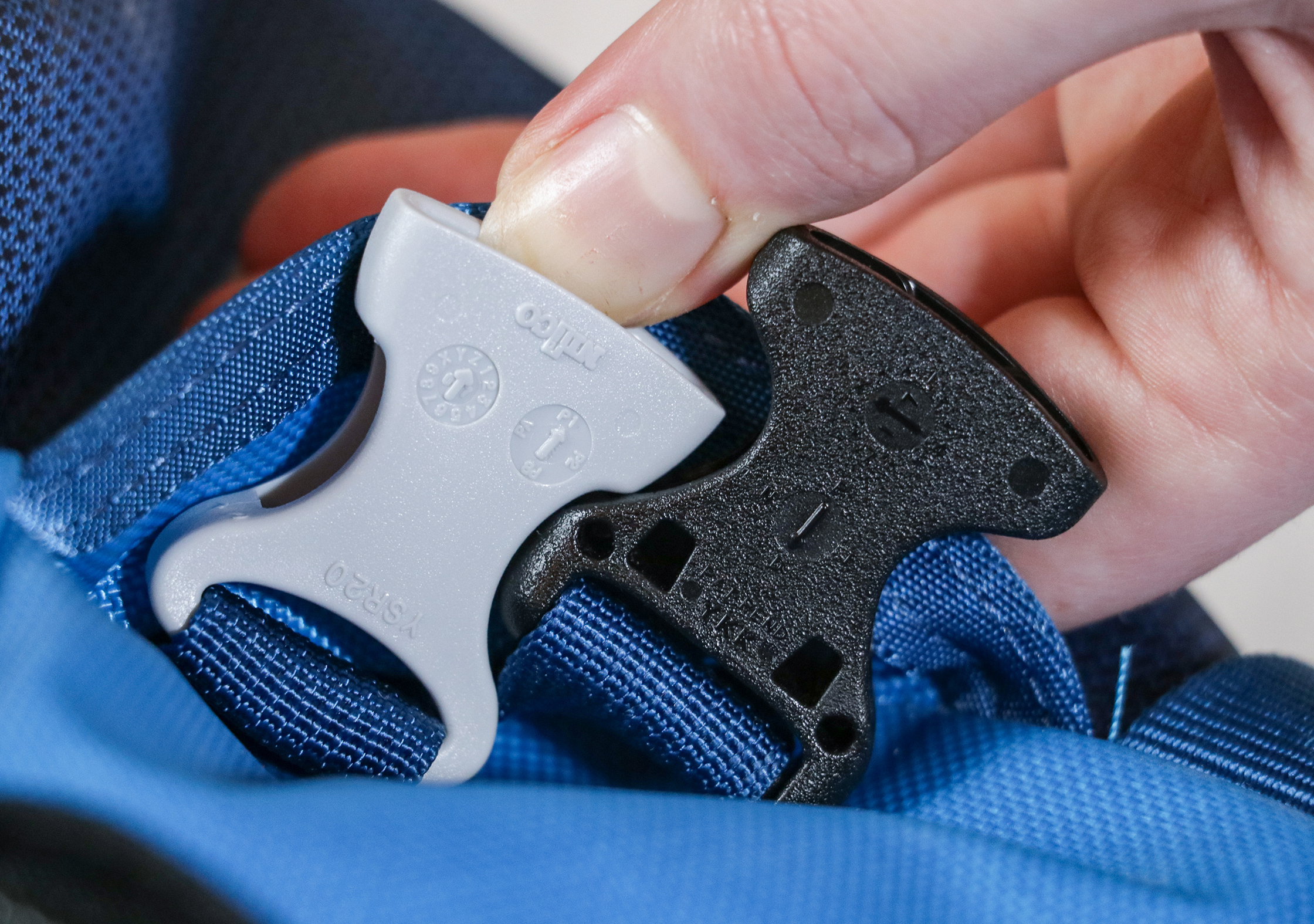 There are a ton of plastic buckles on the Osprey Transporter, and they're all from different manufacturers—such as ITW, Nifco, Woojin, and YKK. We're not quite sure why Osprey has opted for so many different buckles, but they're all from quality brands and have worked well in testing.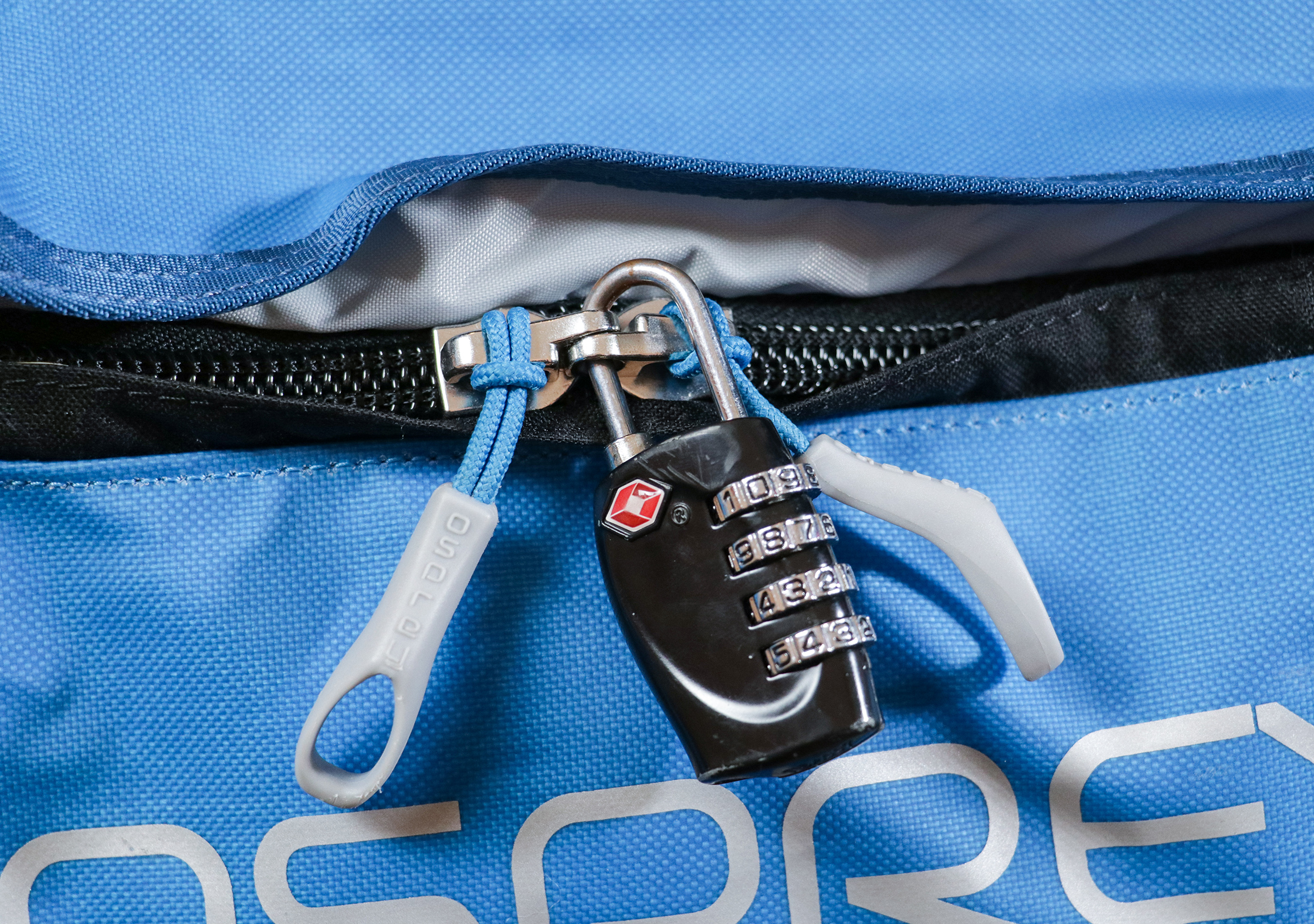 In contrast, Osprey has used exclusively YKK zippers. This Japanese manufacturer makes some of the best zippers in the game, so we think they've made a great choice here. The zipper on the main opening is a big and sturdy #10, which is also lockable with a padlock. The external pocket at the top and the hideaway harness system compartment feature a "still pretty big" #8 zipper, and the internal mesh pocket is a #5. Finally, there's a lip of material over both the external zippers, so they're safeguarded against any potential downpours.
External Components
As we mentioned at the beginning of this review, the Osprey Transporter 40 can be carried as a duffel, backpack, and messenger bag. We're always skeptical of bags that offer different styles of carry—as opposed to focusing on doing one really well—so let's find out how the Transporter fared.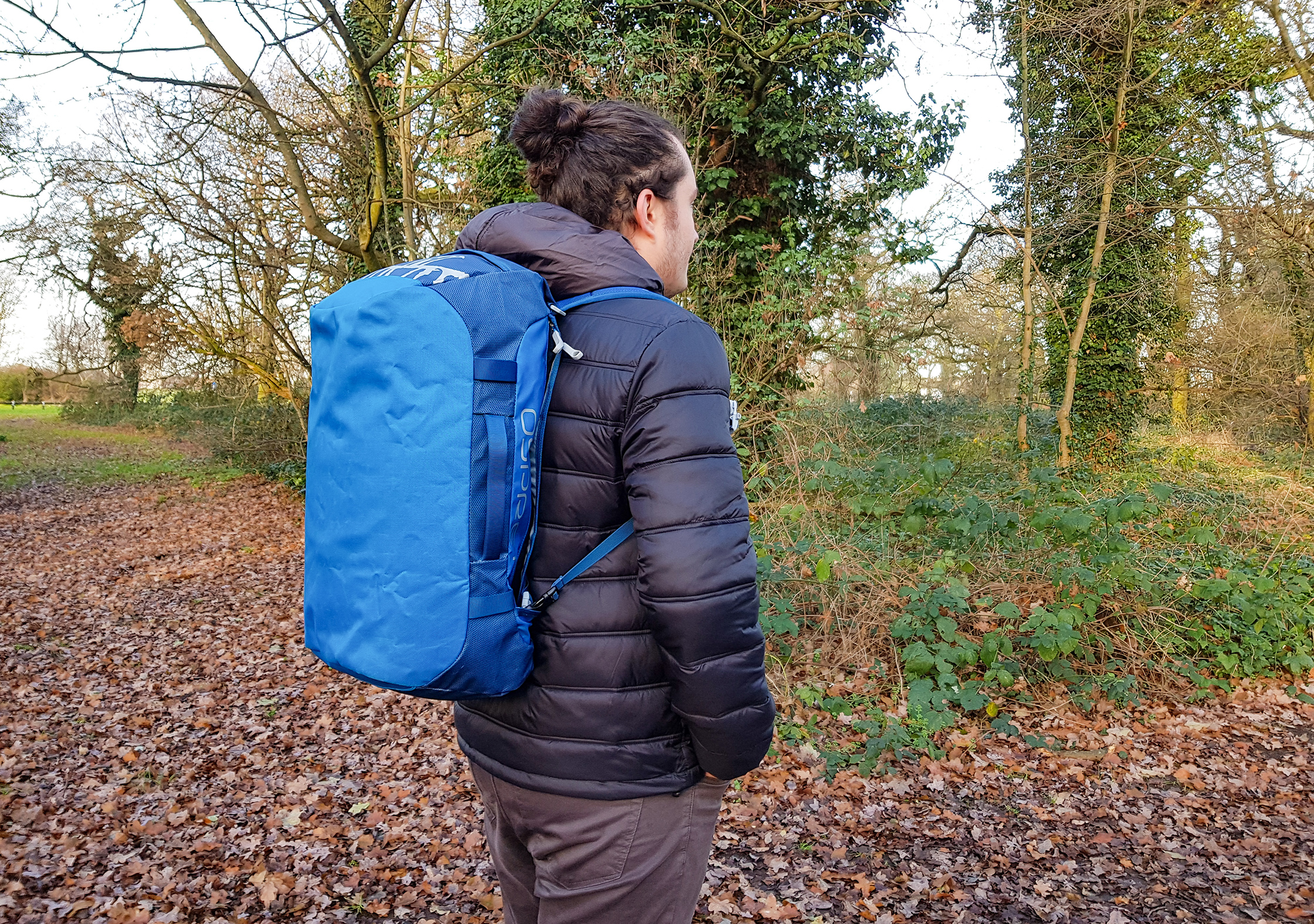 First, if you're filling this pack to the brim, you should be carrying it as a backpack. It's simple math—spreading the load over two shoulders is better than one. The straps are well padded and slightly curved, which give it a comfortable carry overall. There's also a detachable sternum strap with a whistle, in case you ever need it in an emergency (hopefully you won't).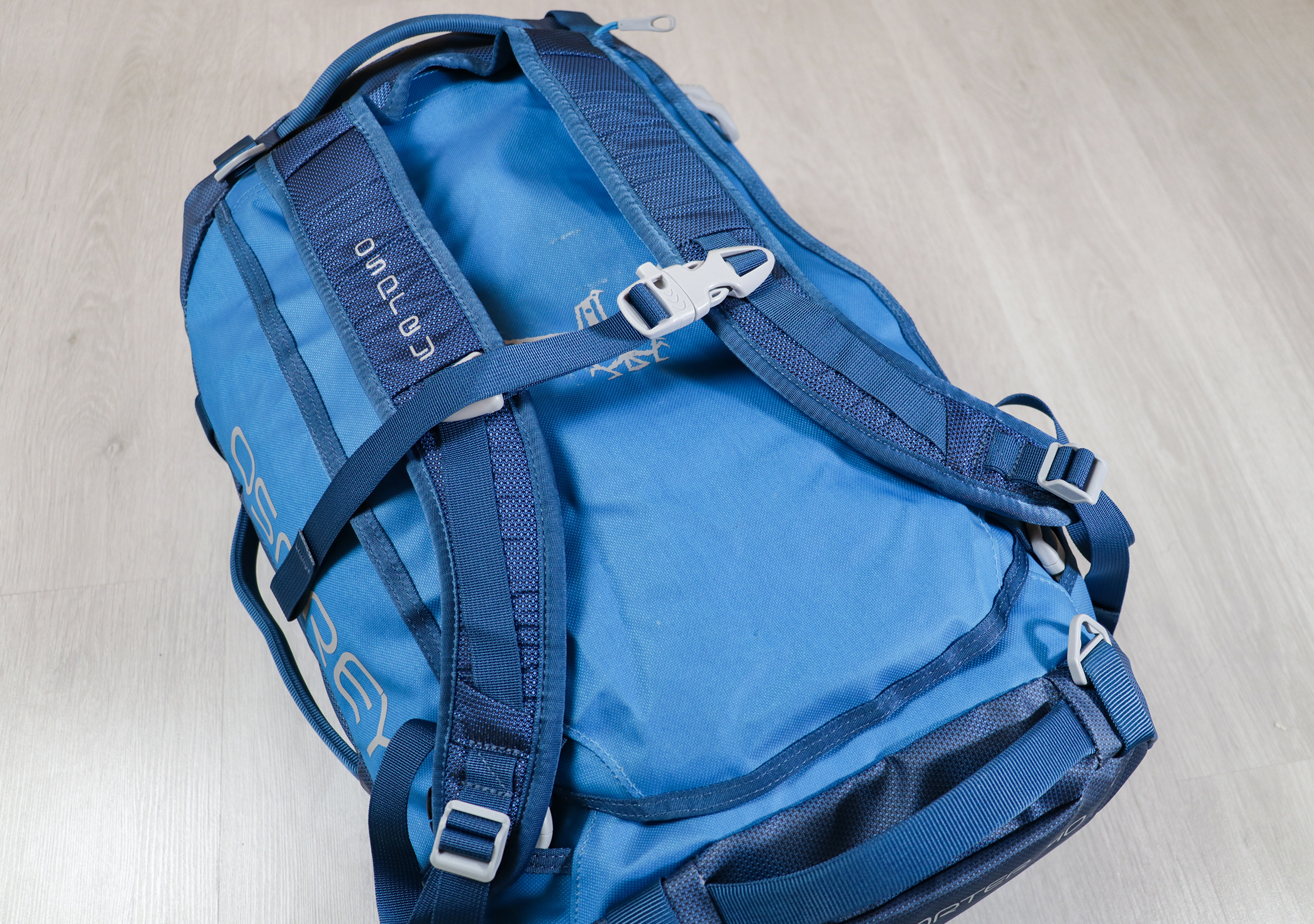 However, while the backpack style carry is best for heavy loads, it's far from perfect. There's no back panel, so the bag has a tendency to slouch on your back. And we'd highly recommend not putting any pointy objects inside…unless you like the feeling of being poked in the back repeatedly. (It's not a great feeling, FYI.) There is also no hip belt, which is a shame as it would've helped take a fair amount of strain off your shoulders.
Ending on a few positive notes, we'll first mention that we are digging the hideaway harness system. Simply unbuckle the bottom of the straps and slide them into the sleeve inside the lid. It's easy, efficient, and takes no time at all—which is exactly what we look for in a hideaway system.
Second, the Osprey Transporter transitions from a backpack to a duffel incredibly quickly. Take the bag off your back and hold the shoulder straps like a duffel, it doesn't get much quicker than that.
It's important to note that these are shoulder straps first, and duffel handles second, so a few compromises have been made. First, the bottom of the shoulder straps doesn't form a proper handle, so they're not the easiest things to actually hold, which is a pretty significant drawback. And second, the straps are attached to the top and bottom of the bag, as opposed to each side like a traditional duffel, so it doesn't balance the weight as well as you'd expect.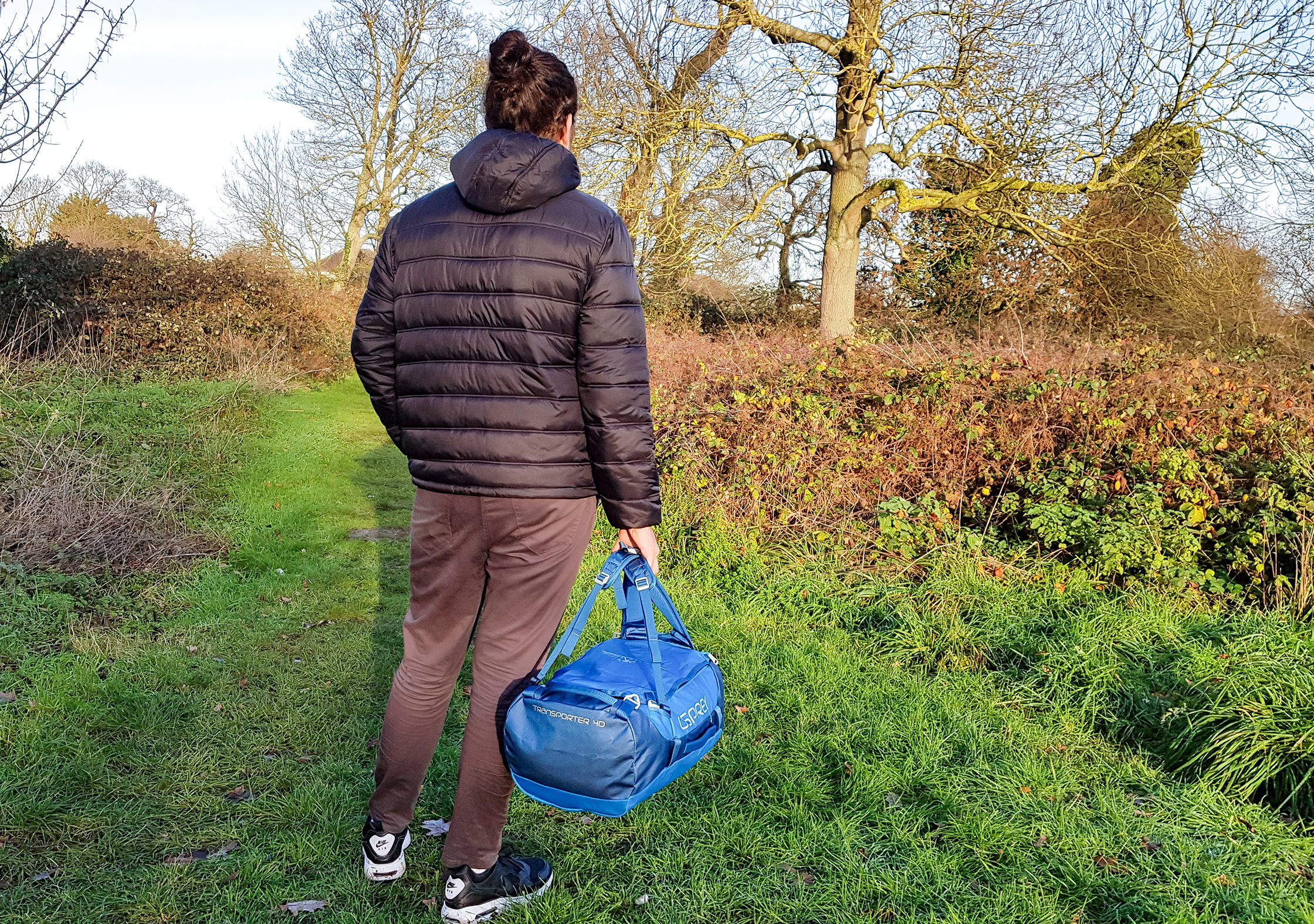 The duffel style carry is usable and will work in a pinch, but we'd recommend putting this thing on your back if you plan on walking for more than a couple minutes.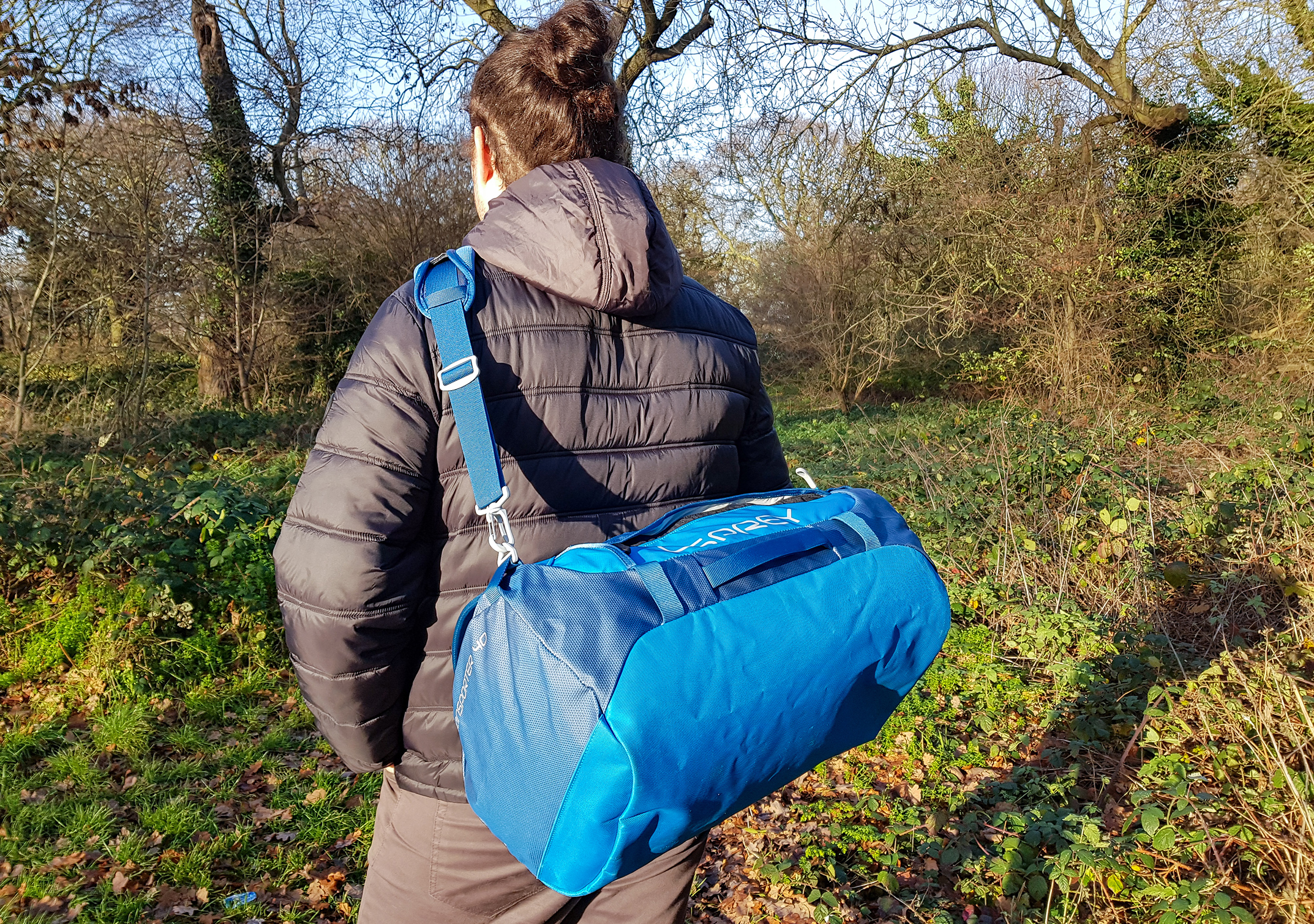 And finally, Osprey provides an attachable shoulder strap that can turn the Transporter 40 into a messenger bag. We like to keep this strap in the hideaway harness sleeve so it's always there if we need it, but you can opt to leave it at home if it's not your thing. To attach the strap, simply clip the carabiners on each end to the attachment points on either side of the bag. It's nice and straight-forward.
The messenger style strap features a padded sleeve so it sits comfortably on your shoulder, and we were surprised at how often we used it. It's easier to sling on than a backpack, and as long as the bag isn't too heavy, it's a great alternative carry option.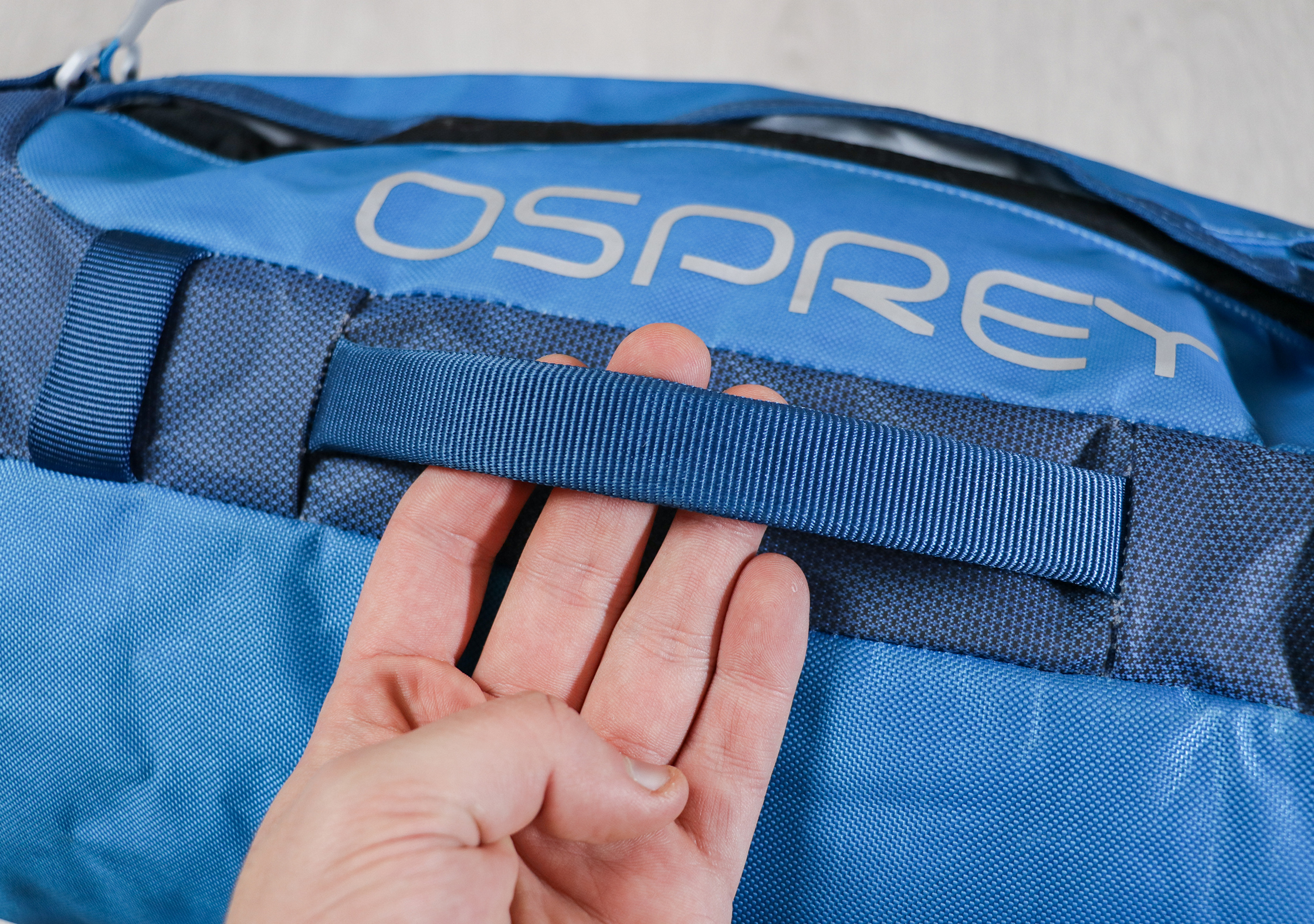 Other than the three carry styles mentioned above, there are four quick-grab handles on each side of this thing. They are padded, comfortable to hold and come in handy when you're lifting the pack into an overhead locker or hauling it into or out of the trunk of a car.
We do have one final note. As we all know, it's important to stay hydrated when you're on the road, but Osprey (sadly) didn't get the memo, as there's no water bottle pocket on the Transporter 40. We feel like this could have been easily implemented for such a large bag, and it's a real shame there isn't one. You can attach a water bottle to one of the attachment points on the outside of the bag or put one down the hideaway harness sleeve, but they're less than ideal solutions.
Inside The Pack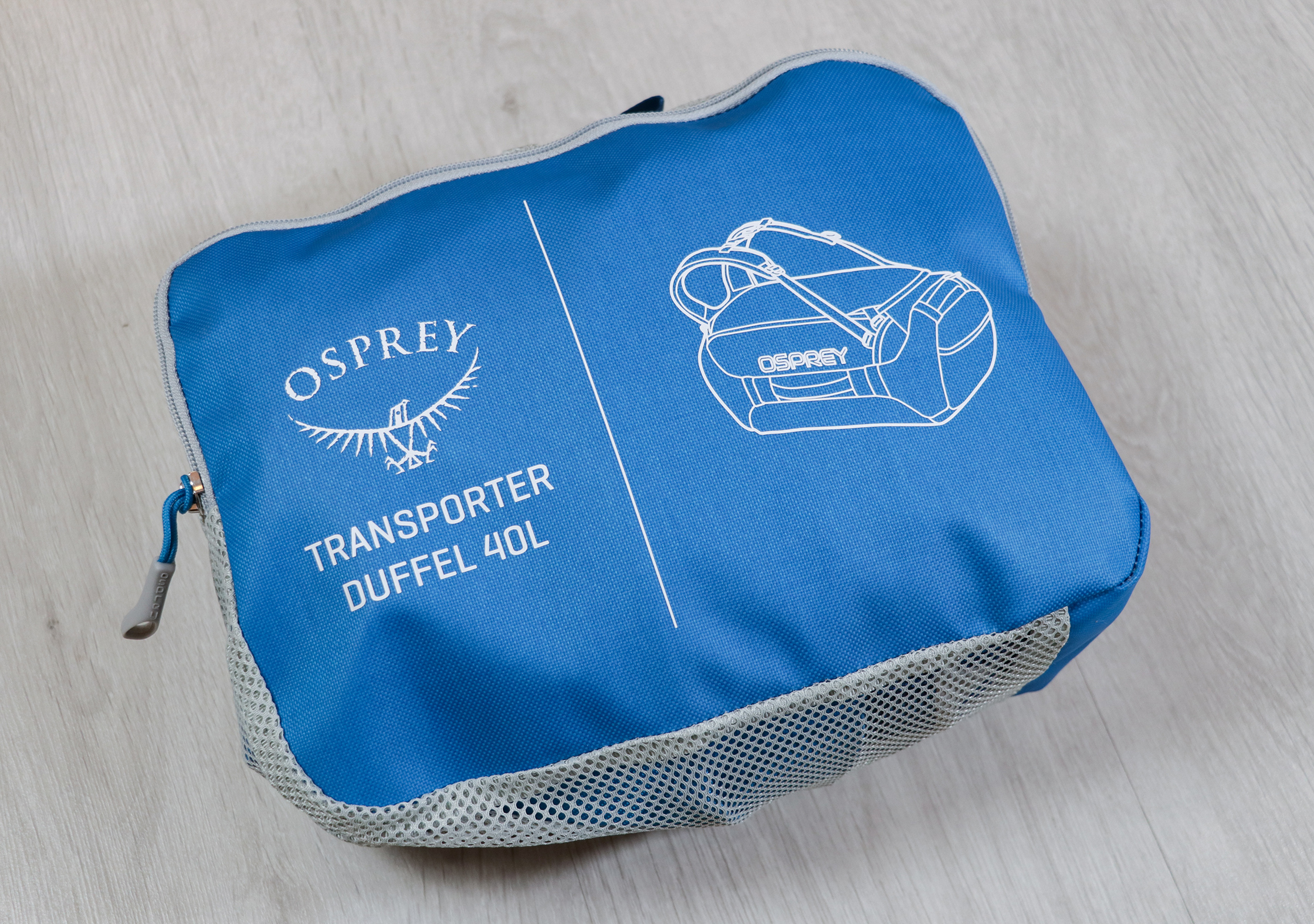 Before we move inside the main pack, we have to talk about the cube that the Transporter 40 compresses into. That's right, this 40L bag is packable!
The compression cube isn't the smallest—it comes in at 11" wide, 8.5" tall, and 4" deep—but it gives you the option to pack this thing inside another pack, and we like that. The benefits of this depend heavily on your use-case, but there are a few advantages we're really digging. For instance, you can put this cube at the bottom of your one bag travel pack, and then fill it up with gifts for friends (or yourself) and check it in on your way back home. You can also leave it in the trunk of your car or at work and have a 40L pack at your disposable whenever you need it.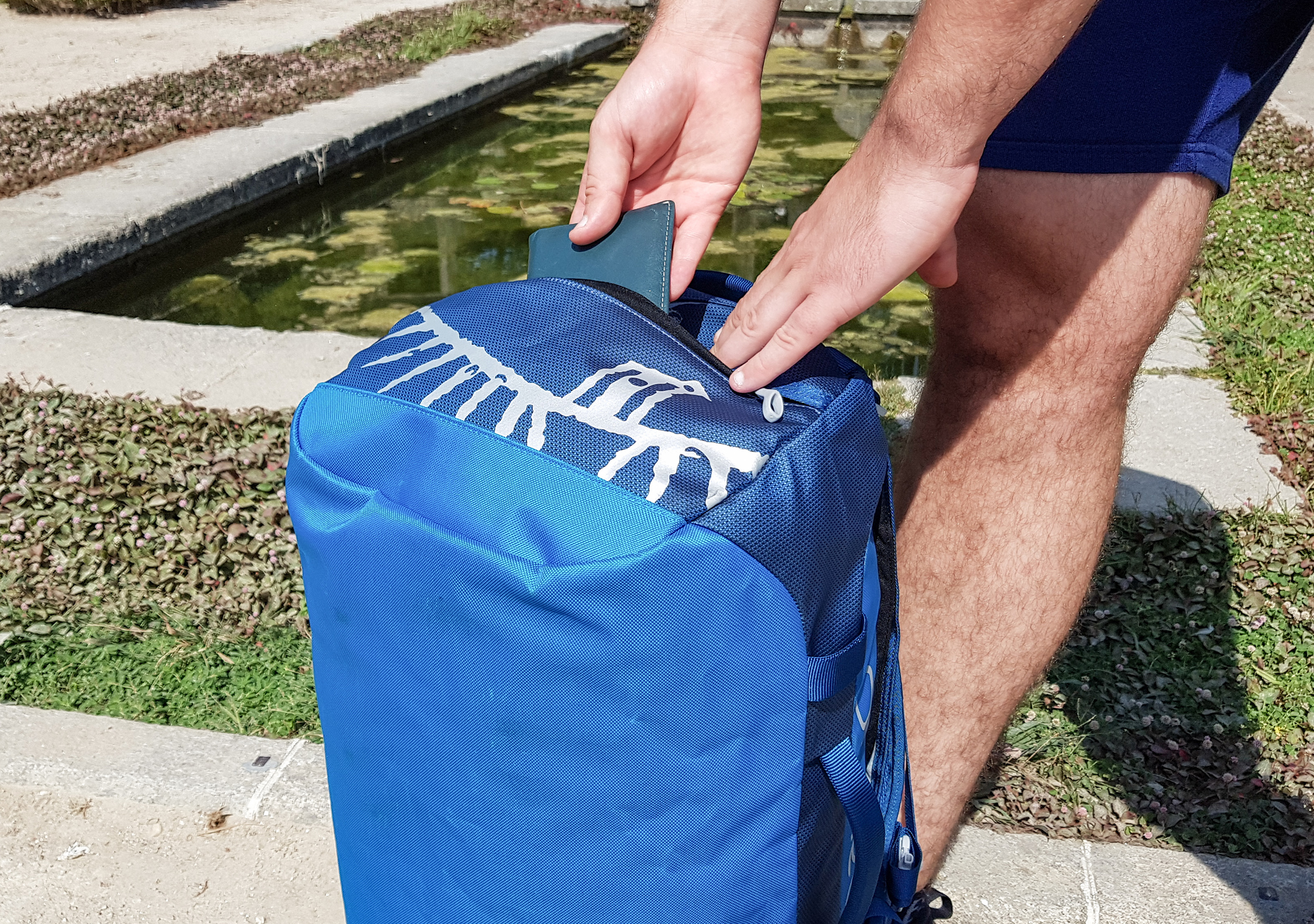 Moving back to the Transporter itself, there is a large quick-grab pocket on the top. This is nothing fancy, but it does the job well. And it's a great place to store your phone, wallet, and passport. There is an ID card holder on the front as well, which is a nice addition and could be a life-saver if you ever lose this thing.
Now it's time to undo the buckles at the bottom, unzip that large u-shaped lid, and take a look inside the main compartment.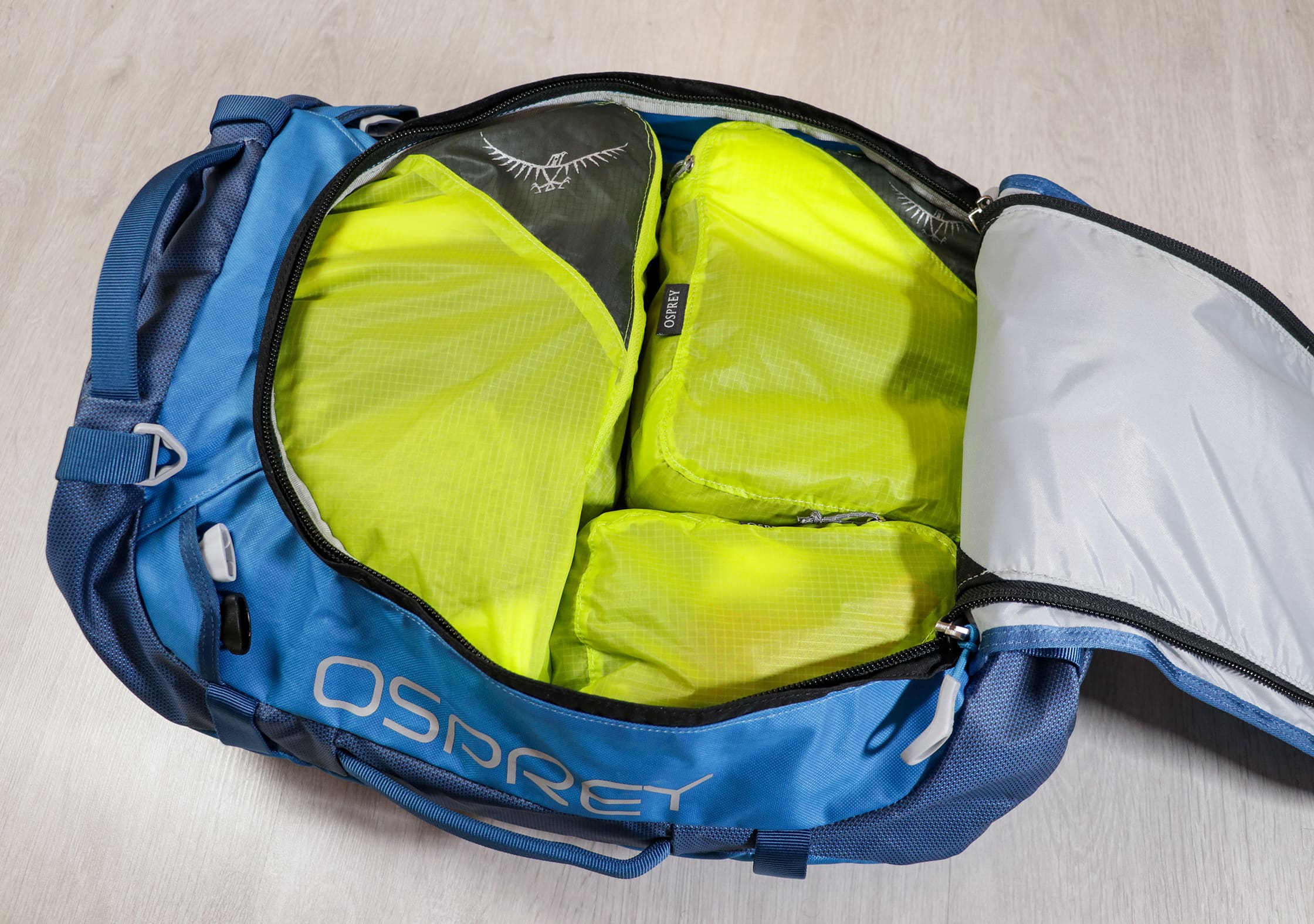 The Transporter 40 is essentially a large 40L bucket you can throw a load of gear into. It's easy to pack and maximize all the space inside, but we'd still recommend using packing cubes to compartmentalize everything and increase organization. Additionally, there are two compression straps that will help hold everything together, and while we didn't utilize them too often, they are nice to have.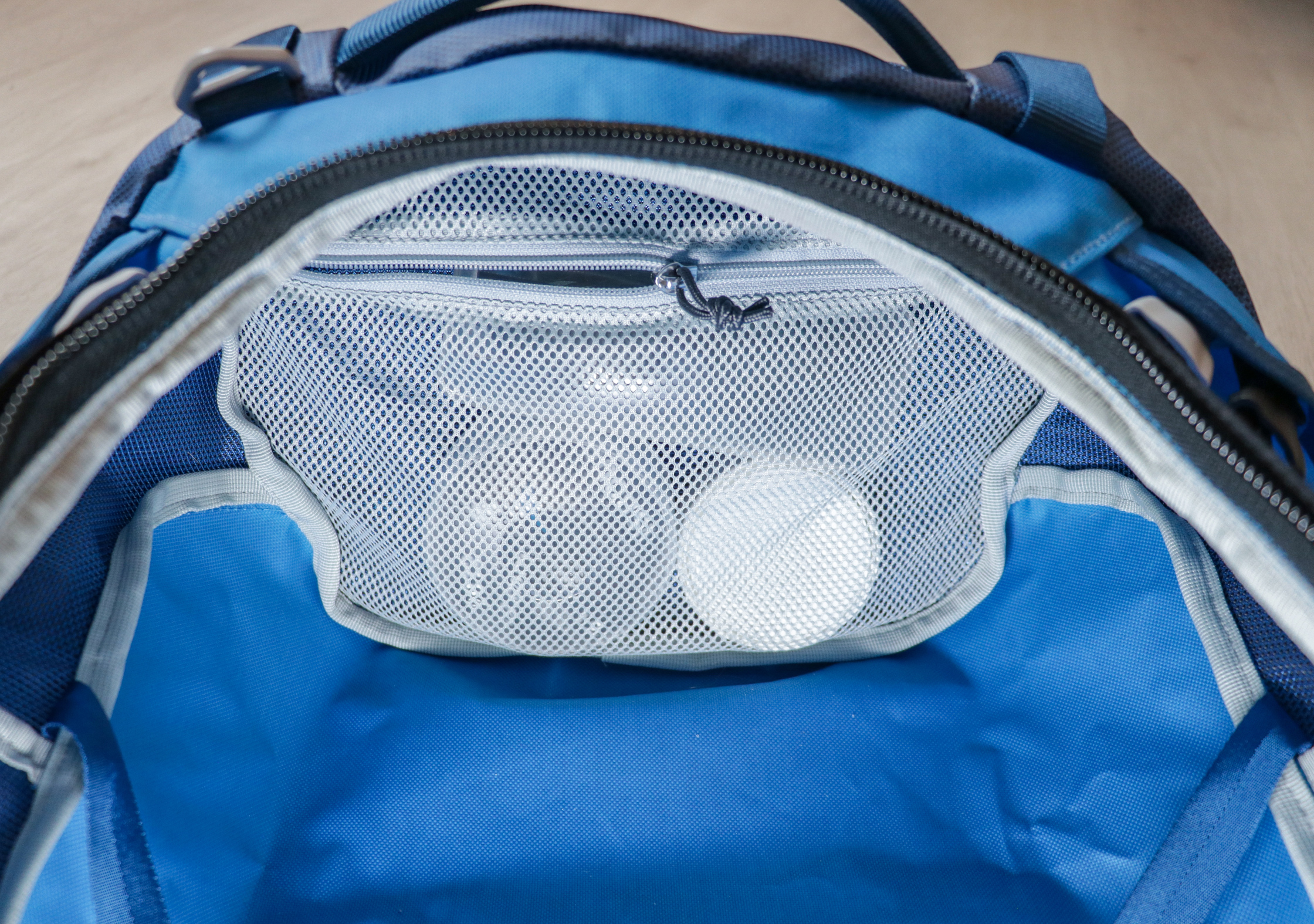 Wrapping up the inside of this pack, there is a zippered mesh pocket at the bottom. This is great for smaller items you don't want getting lost inside the larger compartment. We used it to hold our sunglasses and Humangear GoTubb's.
"Hold up, what about the laptop compartment!?" Oh…well, there isn't one. So if you travel with a laptop, this likely isn't the bag for you. The main compartment is plenty big enough to fit even the largest of laptops, but there's no protection and it's a pain to take out if it's under a load of gear. We wouldn't recommend it. Disappointing, to say the least.
Durability & Testing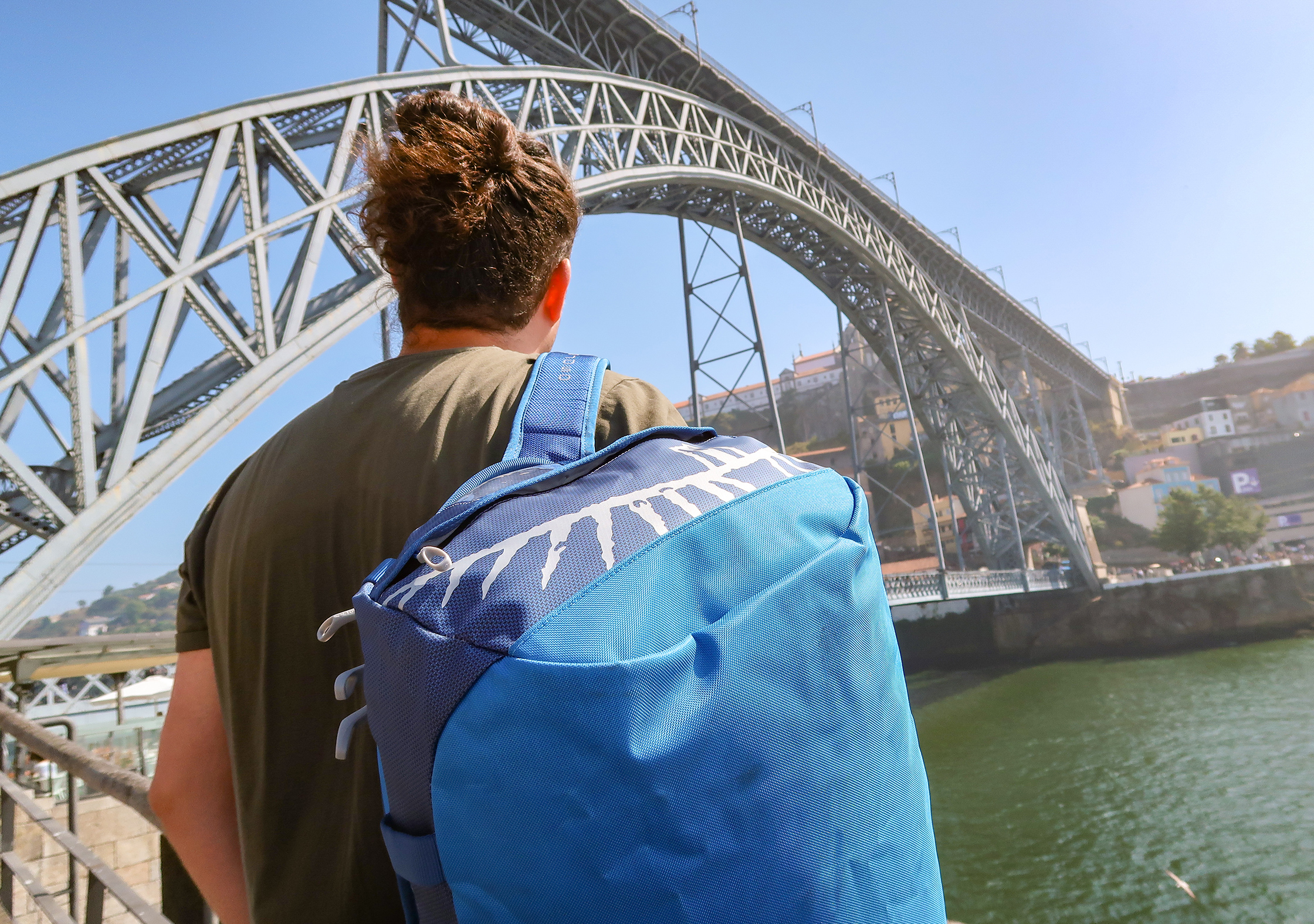 We've been testing the Osprey Transporter 40 for the last four months, and it's seen use around the UK and the Portuguese cities of Porto and Lisbon. We haven't been easy on it either, as it's been in thrown in the trunk of a car, placed in overhead storage on a train, crammed into a locker at the gym, and even checked into the hold of an international flight. (Yes, despite what you might think, we occasionally need to check a bag.)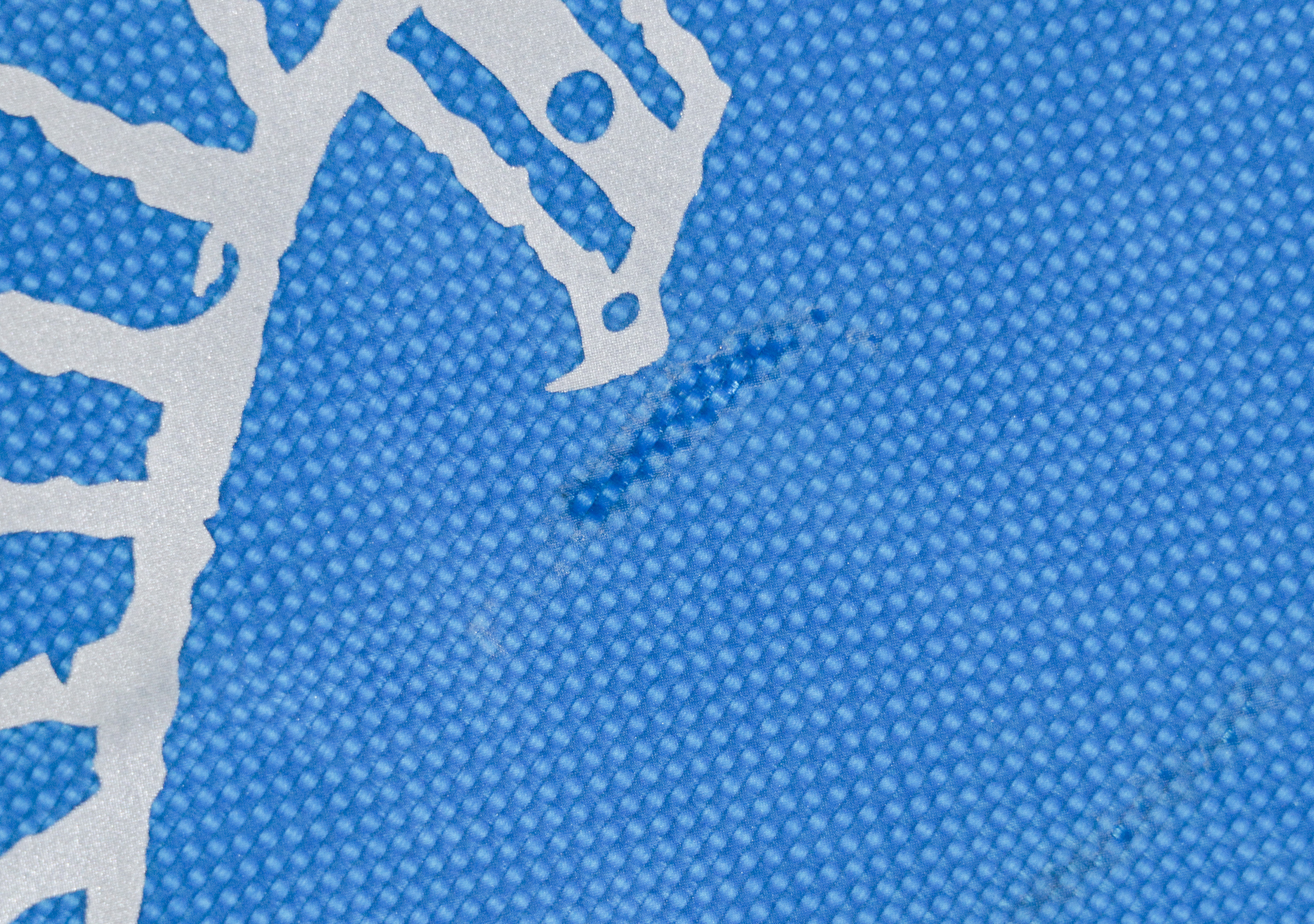 Overall, the craftsmanship is solid and the components come together well, but the durability is a real worry. And in just four months, the TPU coating has started to scratch off, leaving marks around the pack and heavily affecting its weather resistance. The durability of other Osprey gear we've tested has never been a concern, so we're pretty surprised by this. And for a bag claiming to be a "brilliant all-round travel pack," it's just not good enough.
Usage Timeline
Initial Usage
Condition: Excellent
Loving the compression cube, but the materials don't feel great.
1 Month of Use
Condition: Good
Worked great as a gear hauler on a trip to Portugal. No laptop compartment is a real issue though.
2 Months of Use
Condition: Fine
The TPU has started to scratch off, not good.
3 Months of Use
Condition: Fine
Noticed a few more marks on the TPU, it's not looking great.
Access the Pro Community Discussion
Get your questions about the Osprey Transporter 40 answered from our team and the Pro Community right here on the page. Plus, join discussions with other members about gear, guides, and more.
Other Bags & Luggage Reviews