Ogio Shadow Flux 420 Backpack Review
The Ogio Shadow Flux 420 Backpack has a sleek look and plenty of organization—although the main compartment is a little tight.
Our Verdict
Unlock the Pro Summary
Save time. Get access to brief summaries of our reviews so you can browse and make decisions more efficiently.
Pros
Streamlined aesthetic
Comfortable harness system
Digging the top quick-grab pocket, which has a hard shell to protect fragile gear
Cons
Can be difficult to access the bottom of the main compartment
Materials don't feel premium
When the top quick-grab pocket is full, the hard shell can get in the way of the zipper
Technical Details
88 %
Carry-On Compliance (Beta)
Capacity

20l

Weight (lb)

1.9 lb (0.9 kg)

Dimensions

19 in x 12.5 in x 8 in (48.3 x 31.8 x 20.3 cm)

Notable Materials

YKK Zippers, Polyester, Polyurethane, Faspros

Manufacturing Country

Philippines

Laptop Compartment Size

15"

Warranty Information
Full Review
The Ogio Shadow Flux 420 Backpack is nothing special. That's not to say it's bad, but you won't find any innovative features on this 20L daypack. It's just a solid, ordinary backpack that should treat you well for the daily grind.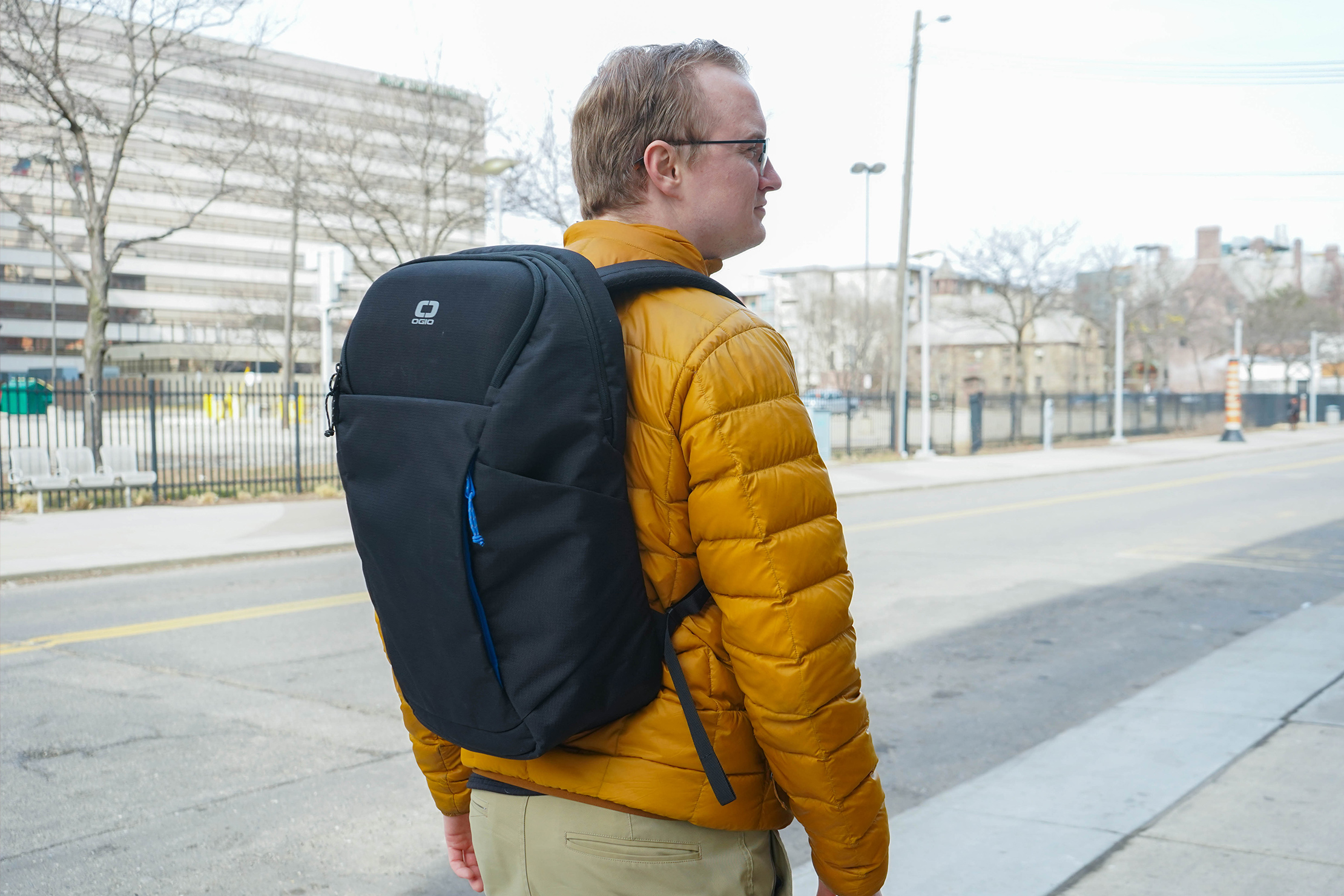 So let's dive straight into the full review.
Materials & Aesthetic
We're digging the overall look of the Ogio Shadow Flux 420 Backpack, which is a departure from Ogio's usual aesthetic. The Shadow Flux 420 is sleek, streamlined, and minimalistic. And, at the time of this review, it's only available in black. We don't mind—more often than not, we go for a black backpack, anyway. But if you prefer brighter colors, you may be disappointed with your lack of options.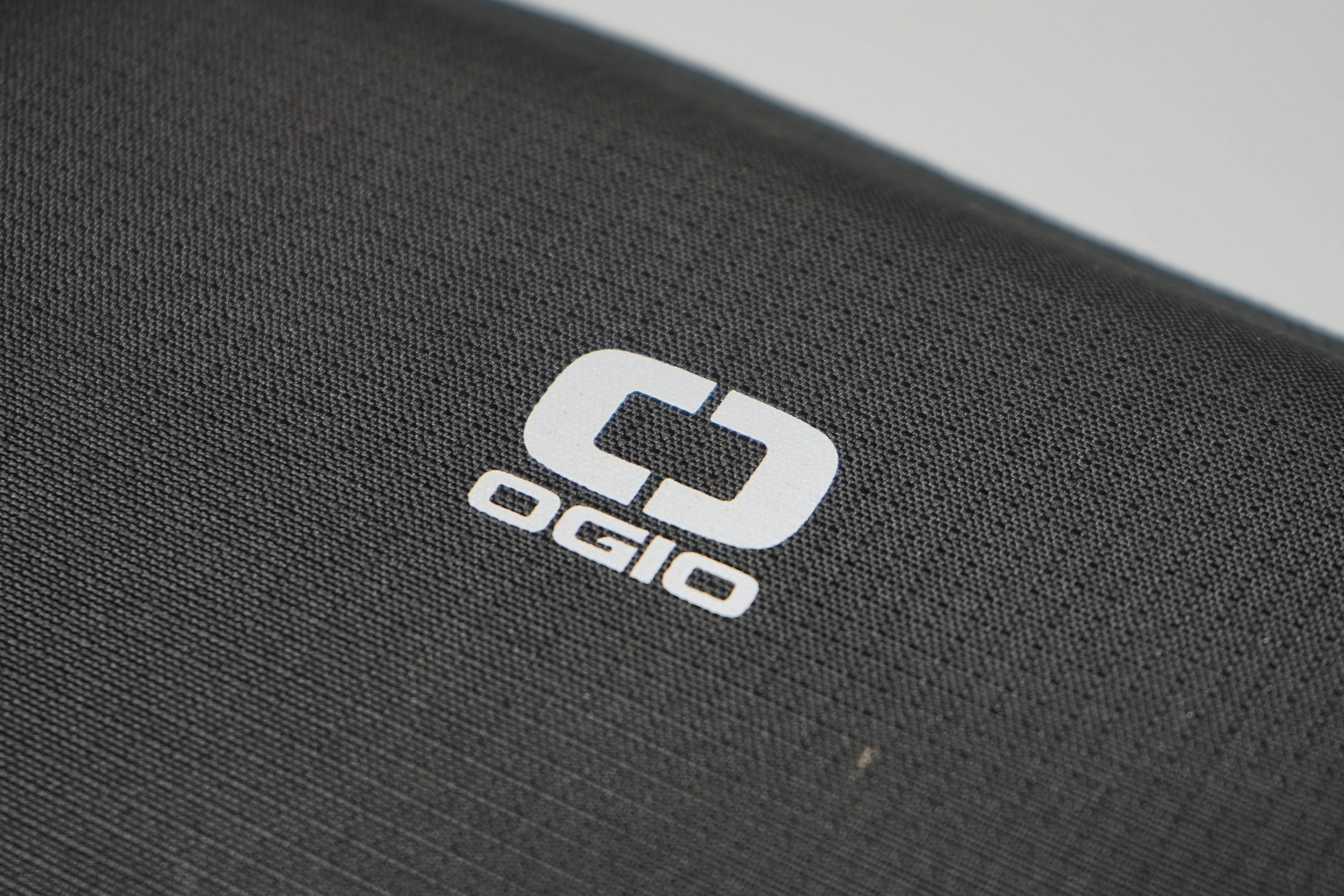 The branding is also fairly subdued. And we like the fact that the front logo is reflective for all of your late-night adventures
This bag is made of polyester and appears to have a ripstop pattern (but your mileage may vary on whether or not it will actually stop rips from spreading). To be frank, the fabric doesn't feel too premium. But it's not so bad in that it feels like it'll disintegrate in your hands.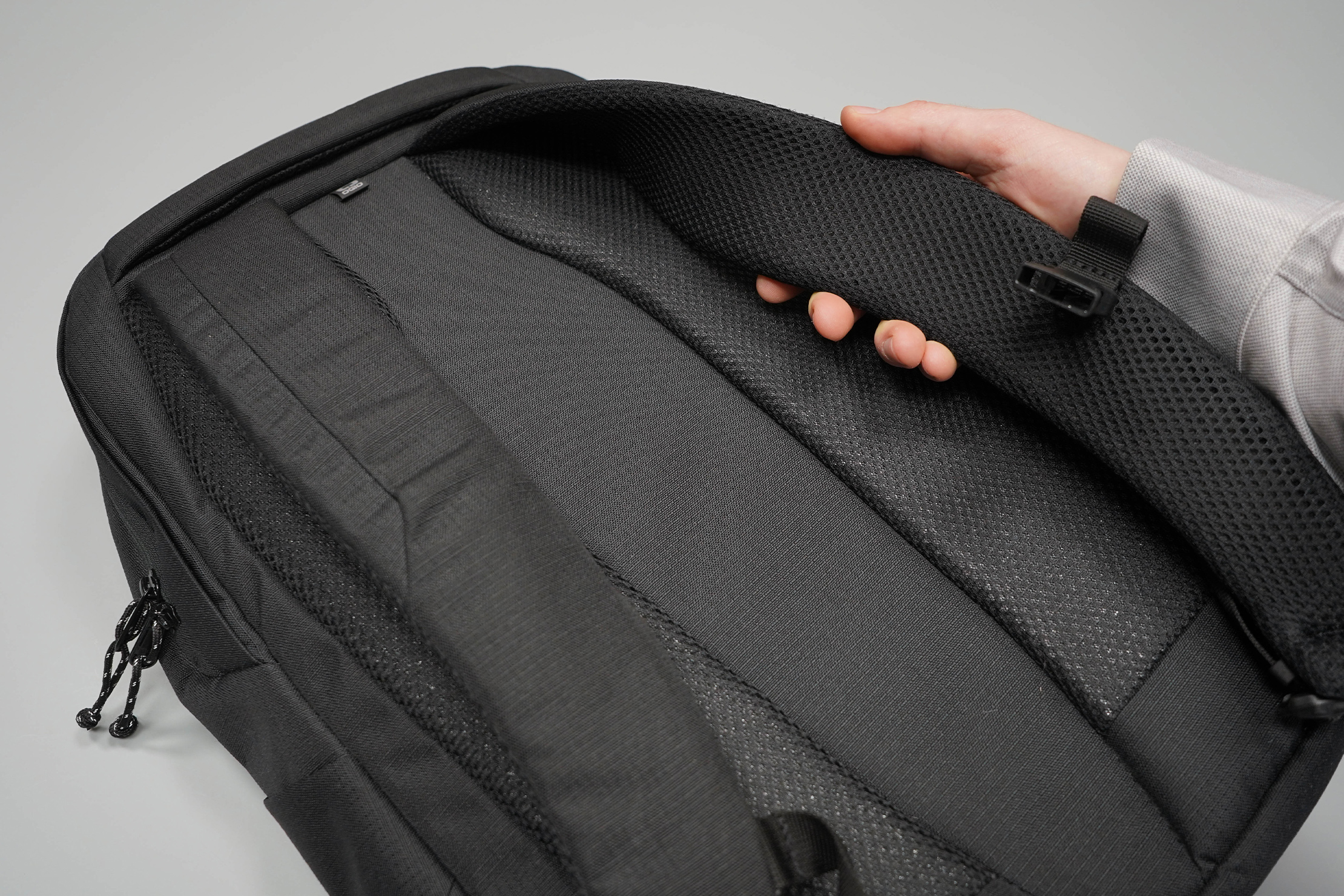 The mesh padding you'll find on the shoulder straps and back panel also doesn't feel luxurious. In fact, the mesh feels like it consists of ground-up plastic—it makes a crinkly sound when you rub it. (To be clear, we're not saying the mesh is made up of ground-up plastic. We're only saying what it sounds and feels like.)
That said, the mesh actually wears rather comfortably, which we'll talk more about in the next section.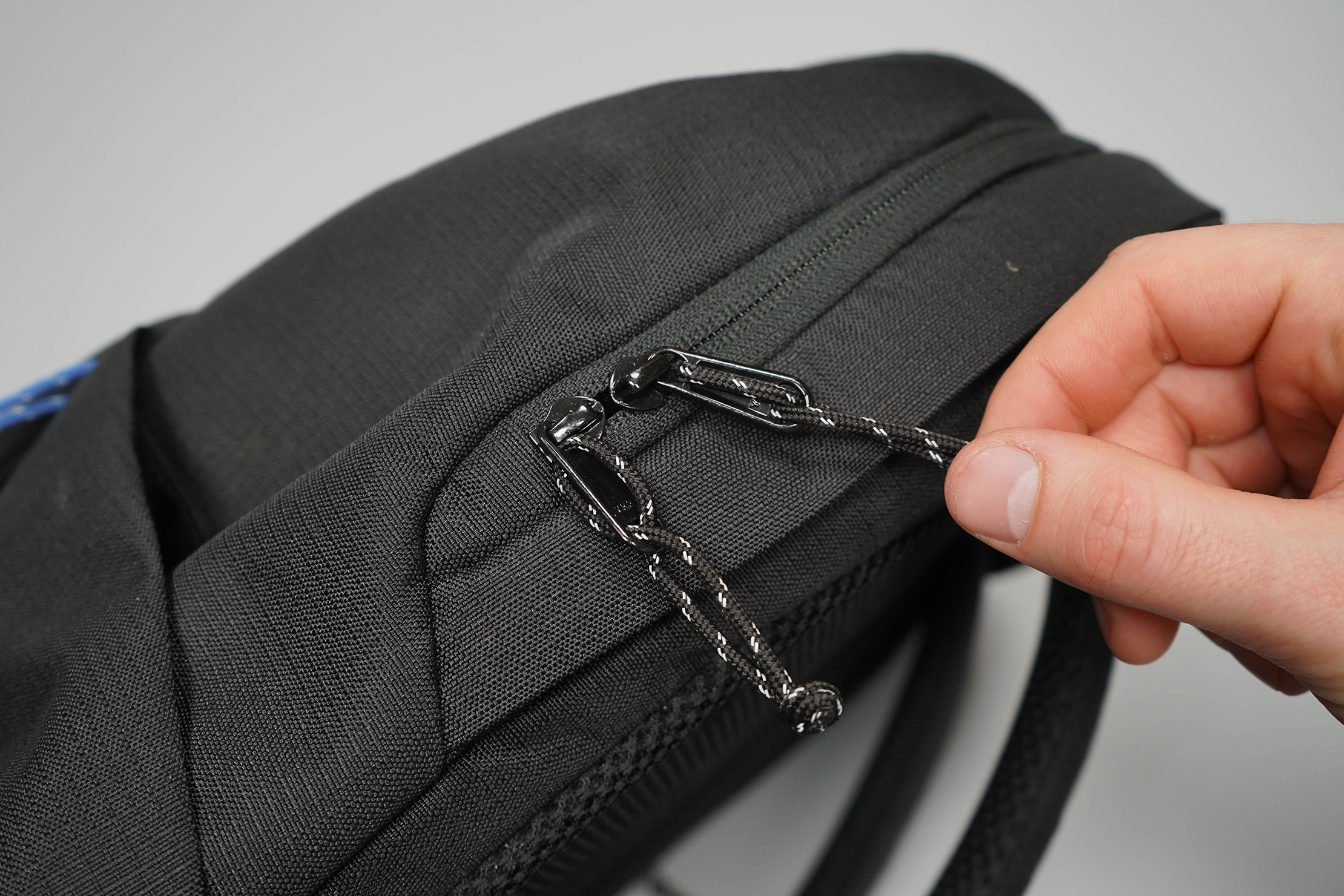 The Shadow Flux 420 features durable YKK zippers, a brand we've had great experiences with. And the hardware is a mix of FasPros and YKK, so you should be all set there.
External Components
As we said, the Shadow Flux 420 is a streamlined pack, so there's not much going on externally.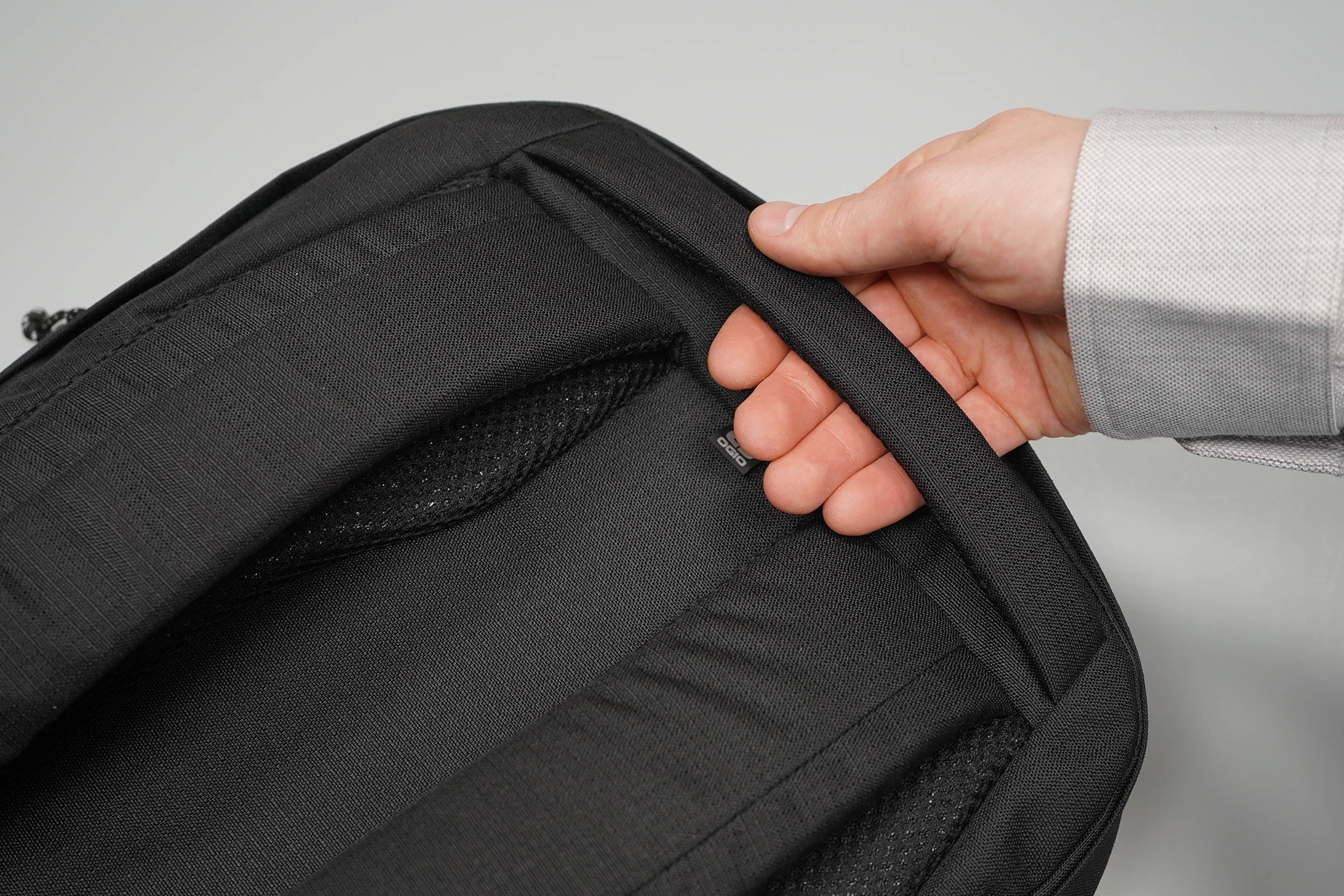 There's a grab handle for hanging this pack up or maneuvering it around, although its positioning is kind of…annoying. The way it's angled means that the pack tilts back when you're holding it. We wish the handle sat more straight up and down or, at the very least, was angled a little more toward the top. Still, it's nicely padded and comfortable to grab.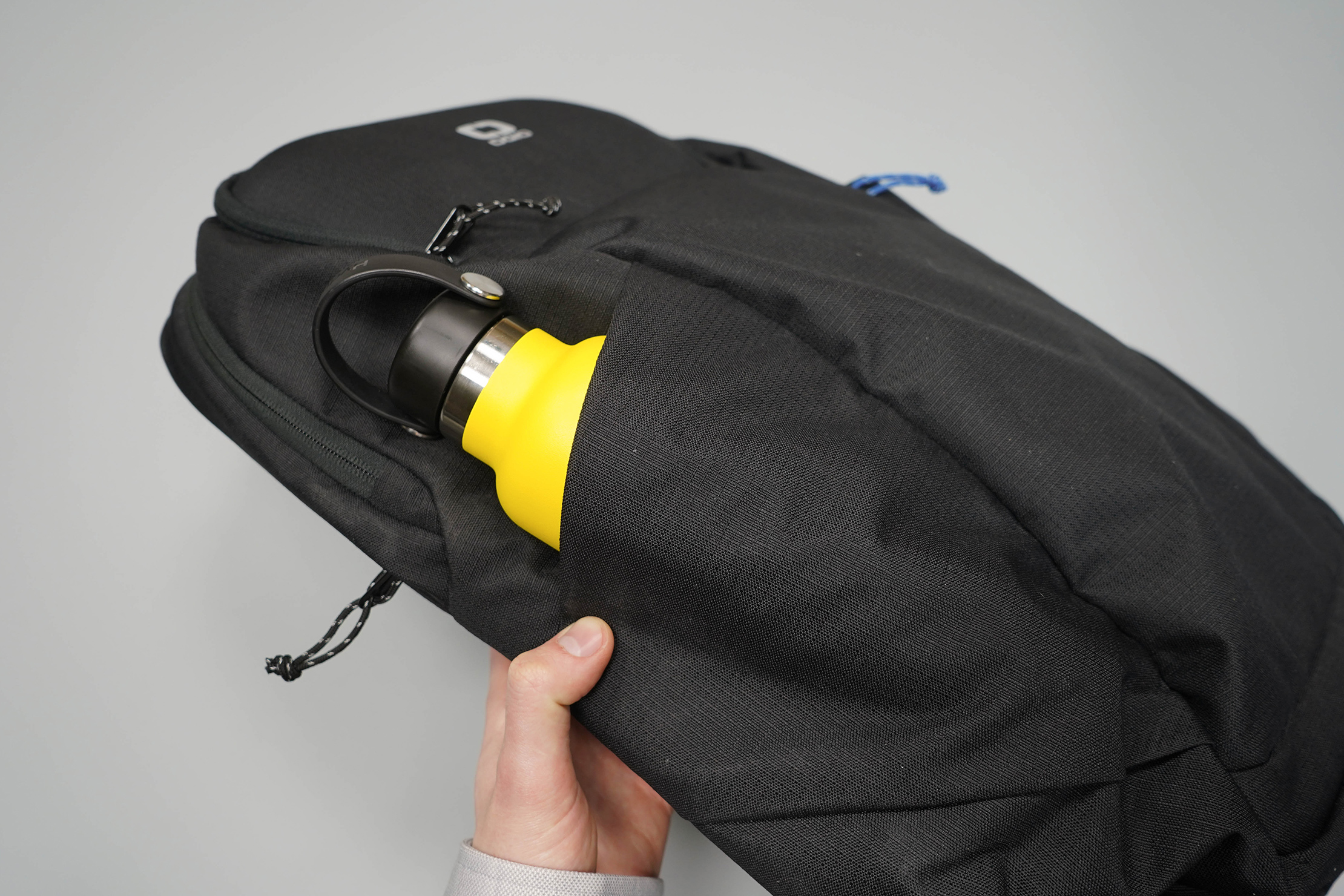 This pack features two water bottle pockets, which is definitely a huge plus. Throughout testing, we've enjoyed not having to choose between carrying around a thermos of coffee and a bottle of water. Mostly because when a choice has to be made, coffee usually wins and that's probably not-so-great health-wise. These pockets don't stretch much, so we've had trouble fitting larger bottles (like a 32oz Hydro Flask) when the pack is full. We've had better luck fitting an 18oz YETI Rambler or other bottles of a similar size.
And that brings us to the harness system. Like the pack itself, the harness system is nothing fancy, but it works for a pack of this size. While the mesh on the straps and back panel feels meh in the hand, it's comfortable against your back and shoulders.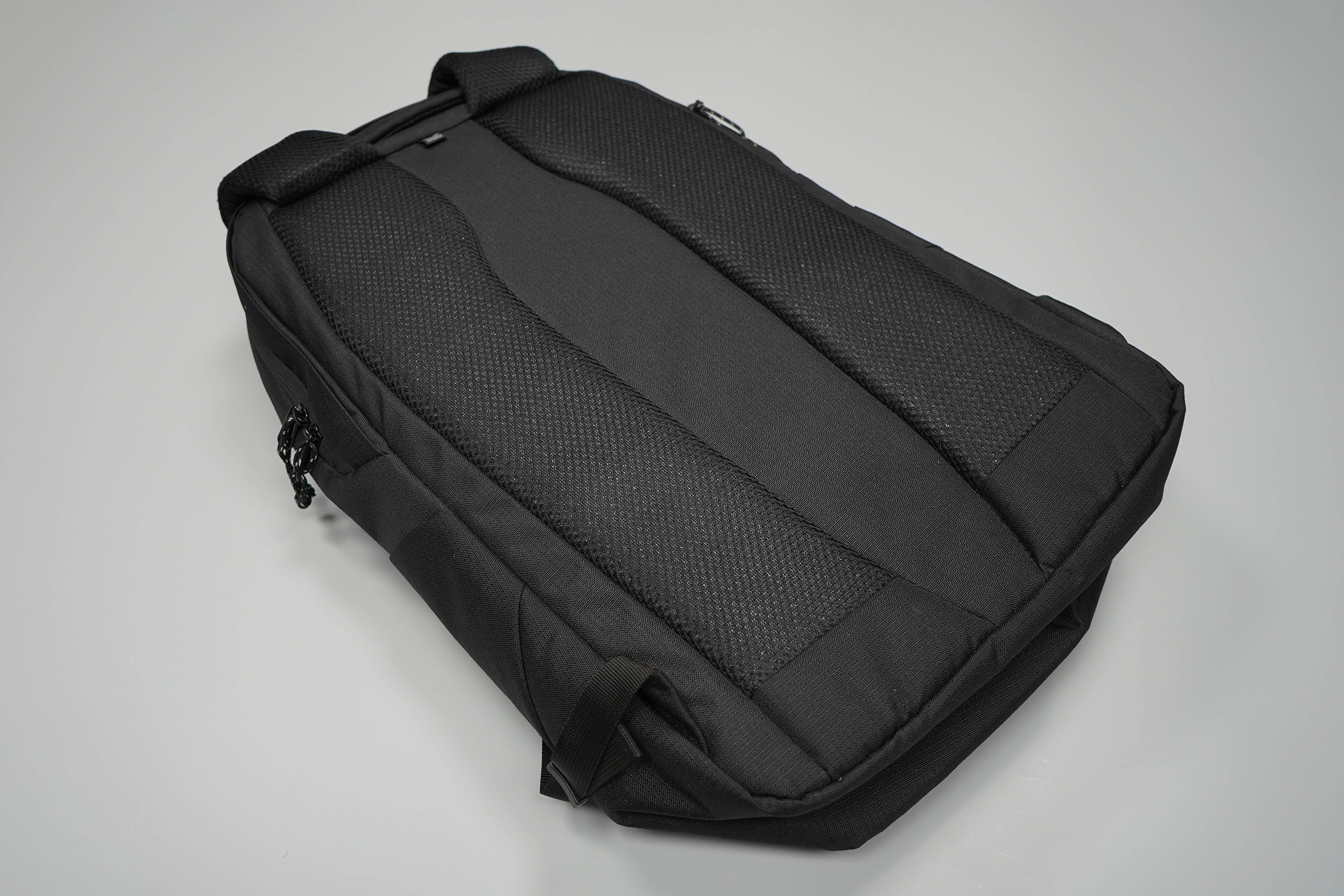 The shoulder straps are nice, thick, and contoured to your body. And there are air channels on the back panel to keep sweat at bay.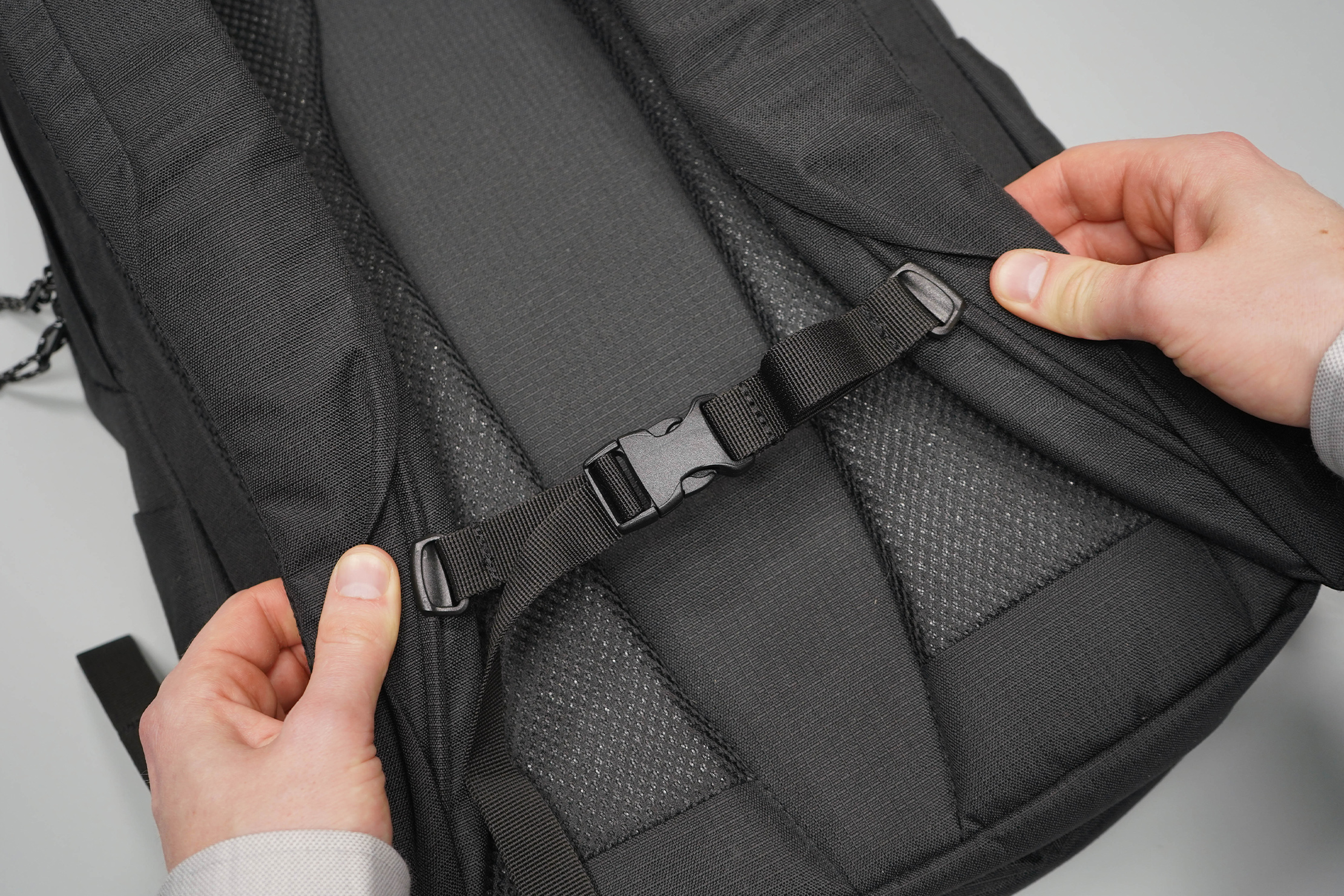 We're fans of the sternum strap, which is adjustable via a rail—meaning you can get it exactly where you want it. It's also covered by a strip of fabric, helping create the pack's overall sleek look.
Inside the Pack
Let's mix things up and start at the back of the pack, shall we?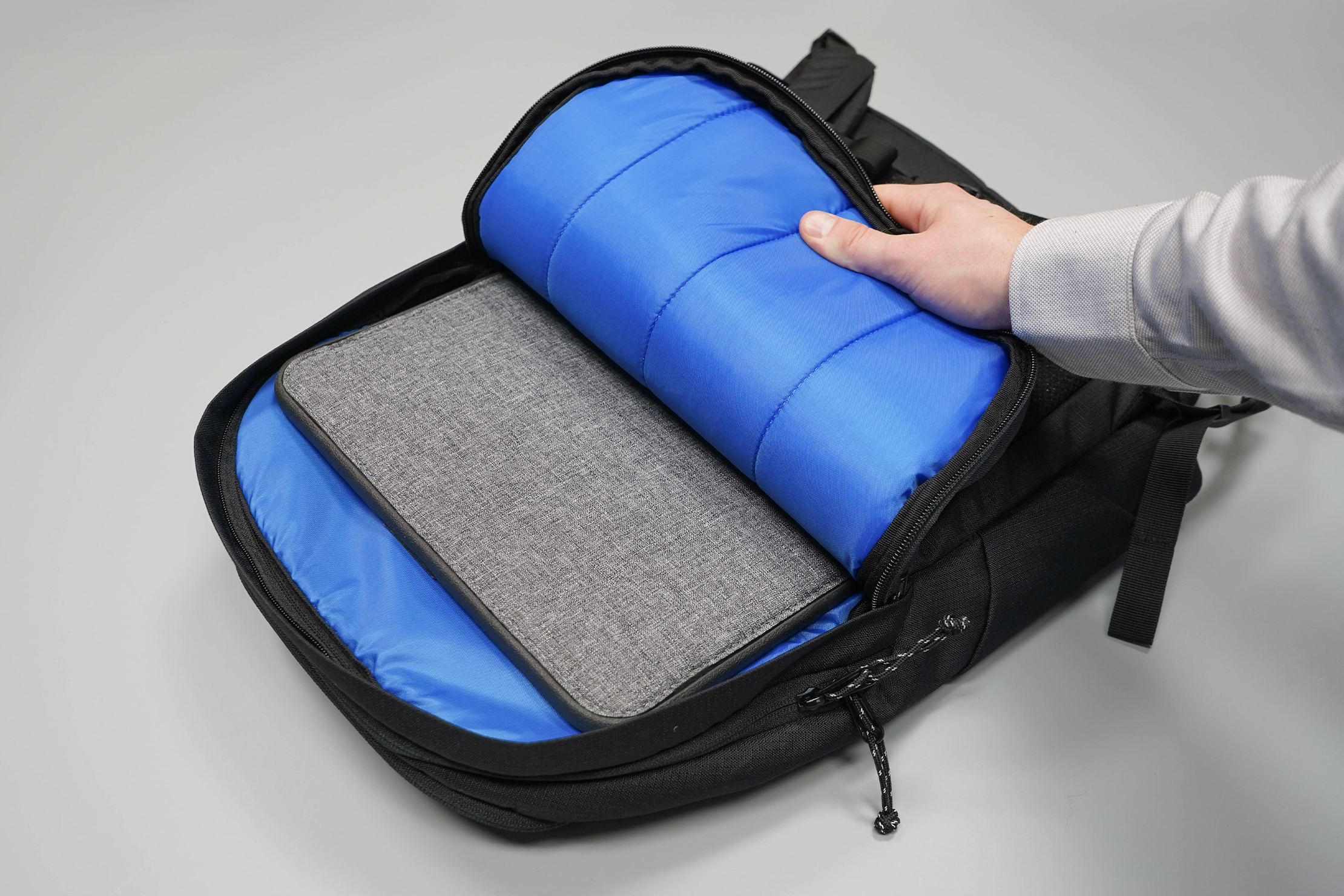 The laptop compartment is rather spacious and will fit up to a 15'' laptop. It has decently thick padding and a false bottom, albeit barely. We'd prefer a more substantial false bottom to further protect a laptop against unexpected drops. As it stands, we don't trust carrying a laptop in this pocket without a case (but we tend to prefer laptop cases anyway).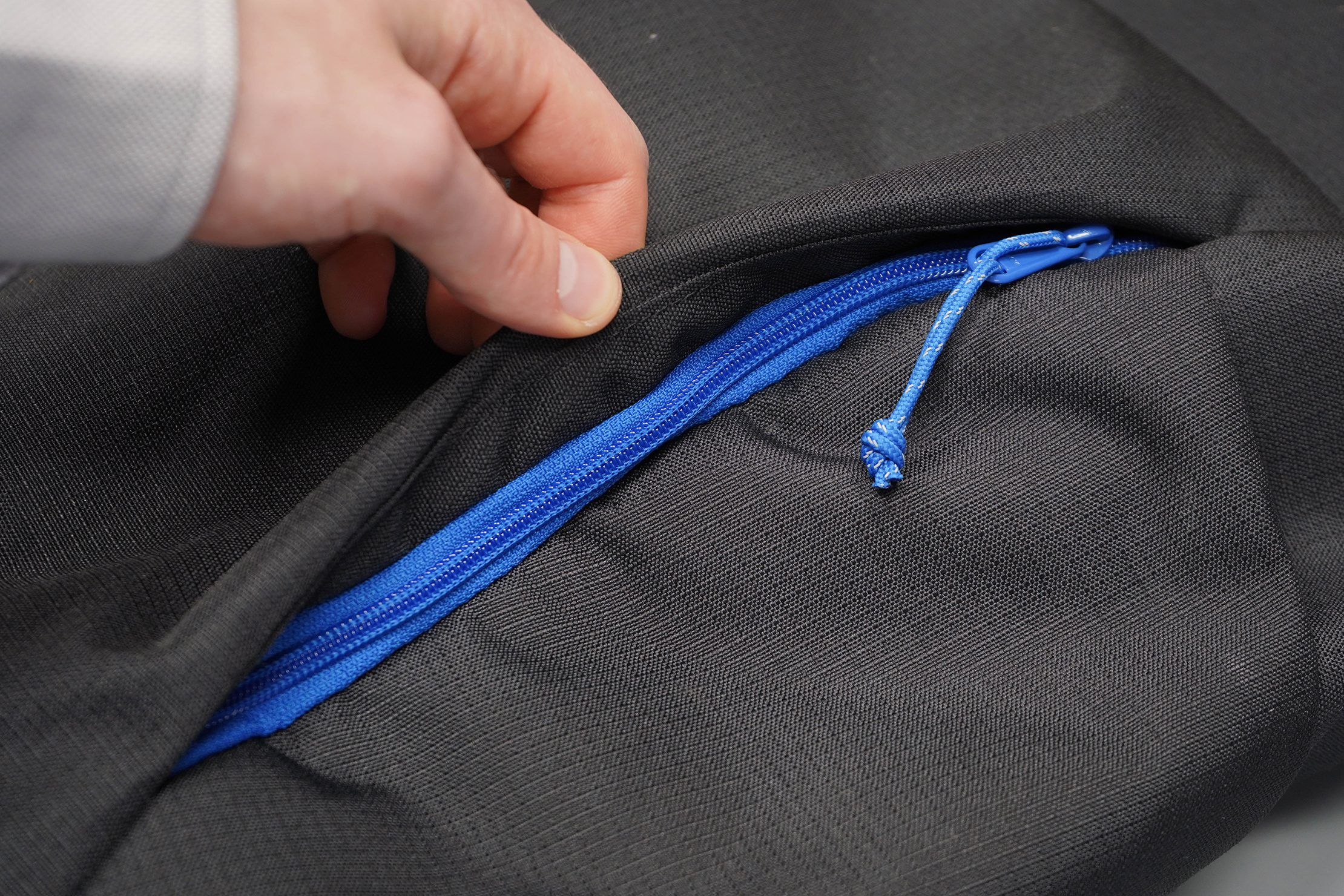 The laptop compartment has a bright blue lining that matches the zipper track and zipper pull on the front vertical pocket. We're not sure if the folks at Ogio were implying that your tech accessories should go in this front vertical pocket as some sort of organizational system (all of your tech gear will be in the "blue" compartments, while everything else will be kept elsewhere) or if it was designed this way to add some color.
While we like the blue in the laptop compartment, we're not wild about it on the front zipper. Mostly because it makes it super easy for pickpockets to spot the zipper and thus get into the pocket. While that's not a huge deal, it's something worth noting.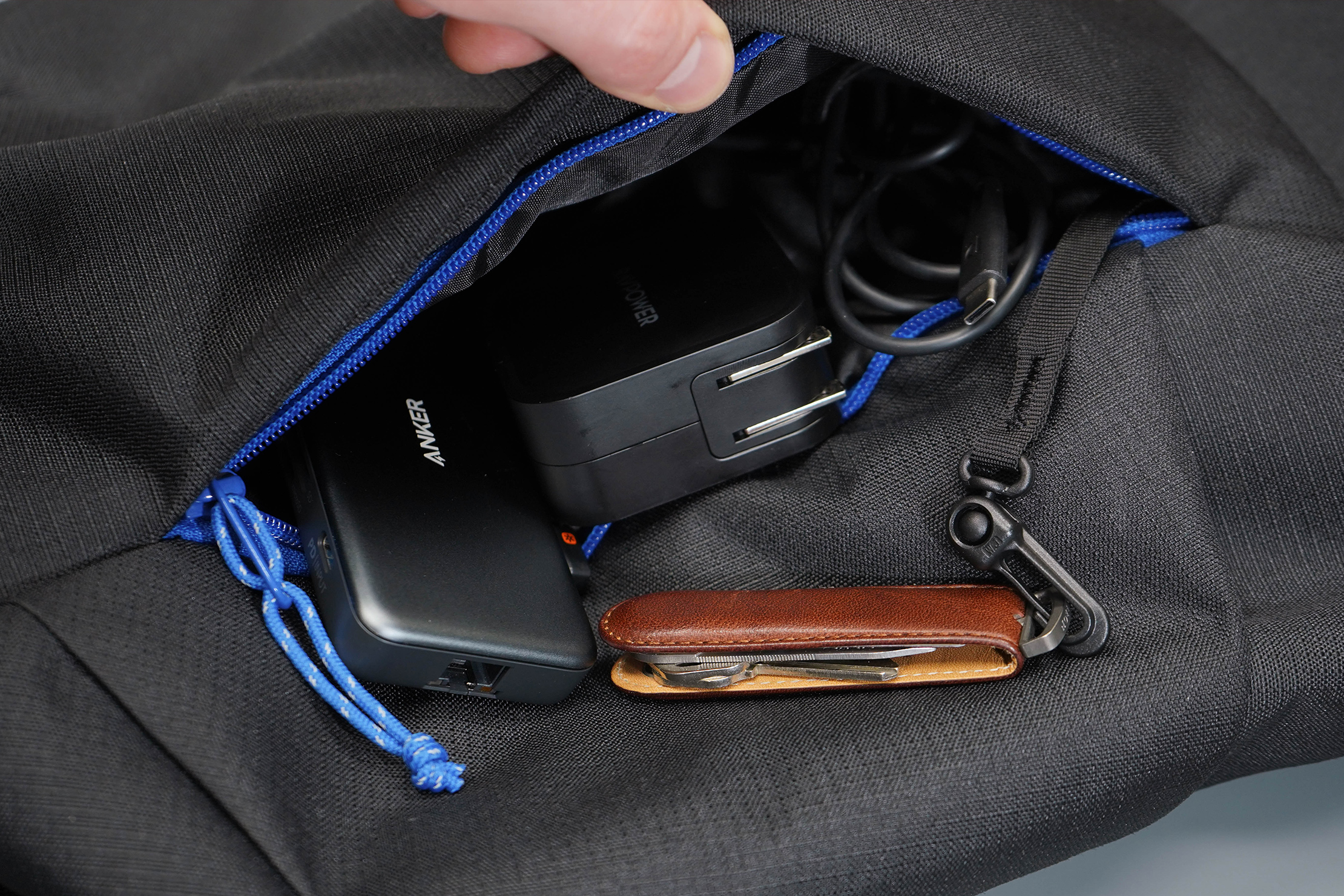 Alright—let's dive into the front vertical pocket. Like all vertical pockets, any small stuff will likely end up in a pile at the bottom of this thing. But it's easy to access when you swing the backpack off of your shoulder to the front of your body. So keep that in mind. Inside, it has a 360° YKK key clip, which is quite high-quality and a nice touch.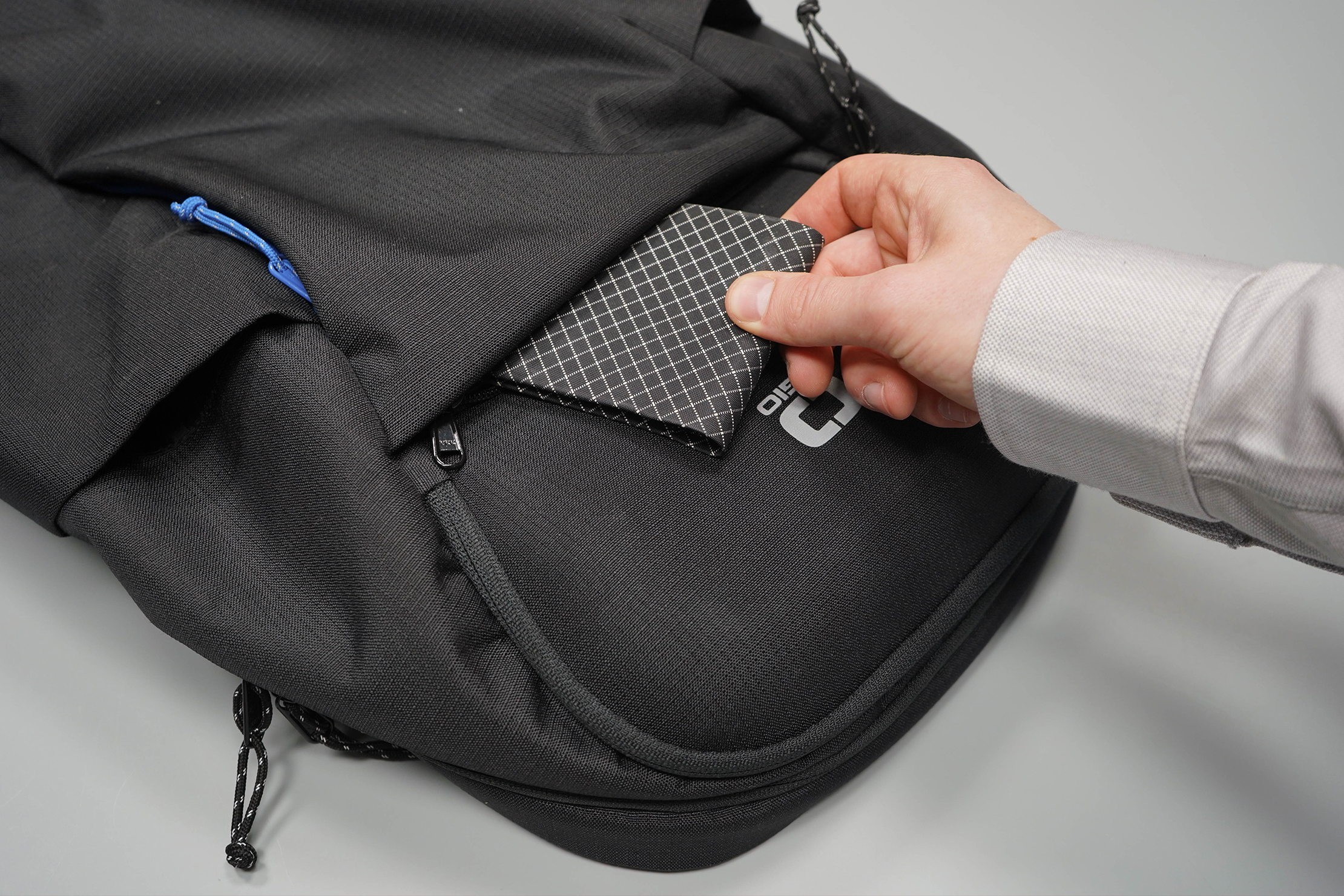 Above that, there's a quick-grab pocket. The opening isn't very wide, so it's been a little difficult to get our hands into it, but the pocket has a good amount of depth. It does share some of the same area as the aforementioned vertical pocket, so when you fill this pack up, they battle each other for space.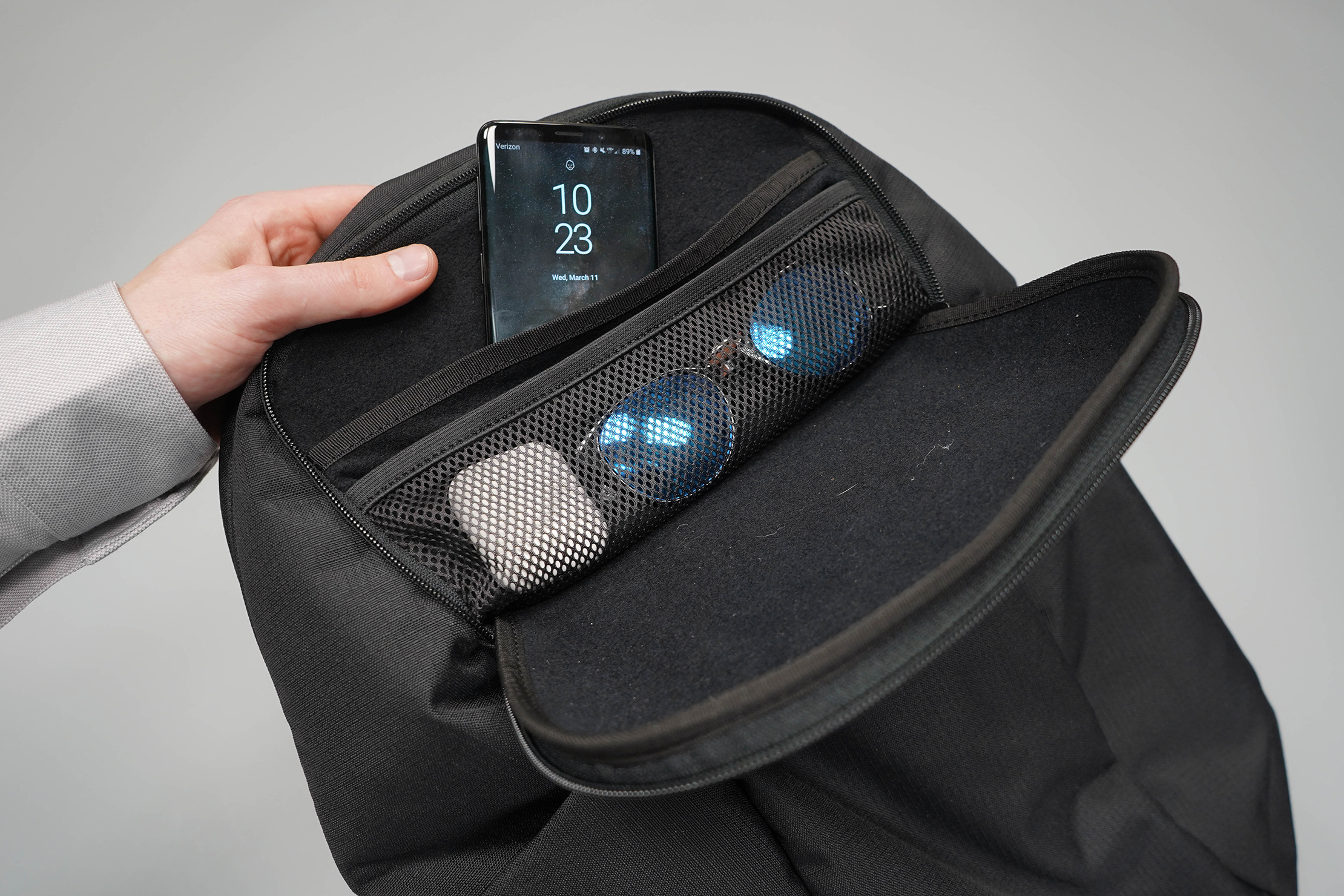 And above that, there's another quick-grab pocket, but this one has a hard shell to protect its contents. It's not made of steel or anything, but it should keep your valuables intact. It has a ridiculously soft lining and a long mesh pocket, so it's a great place to stash your phone, sunglasses, framed photo of your dog, etc.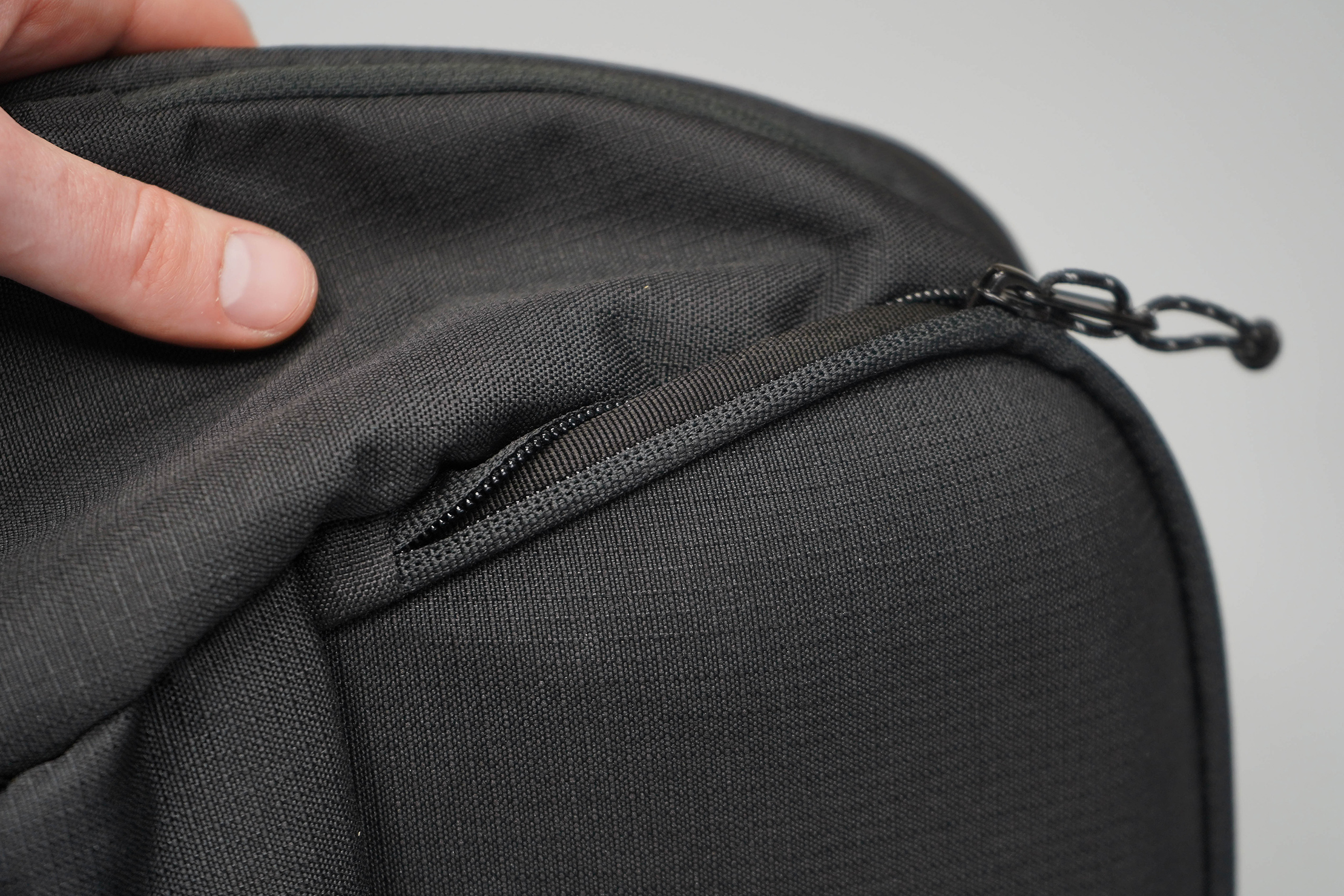 When the pocket is fully packed out, the lip of the shell sticks out past the zipper, making it difficult to zip up. It's not the end of the world—all you have to do to fix it is push the shell back in—but it's also worth pointing out.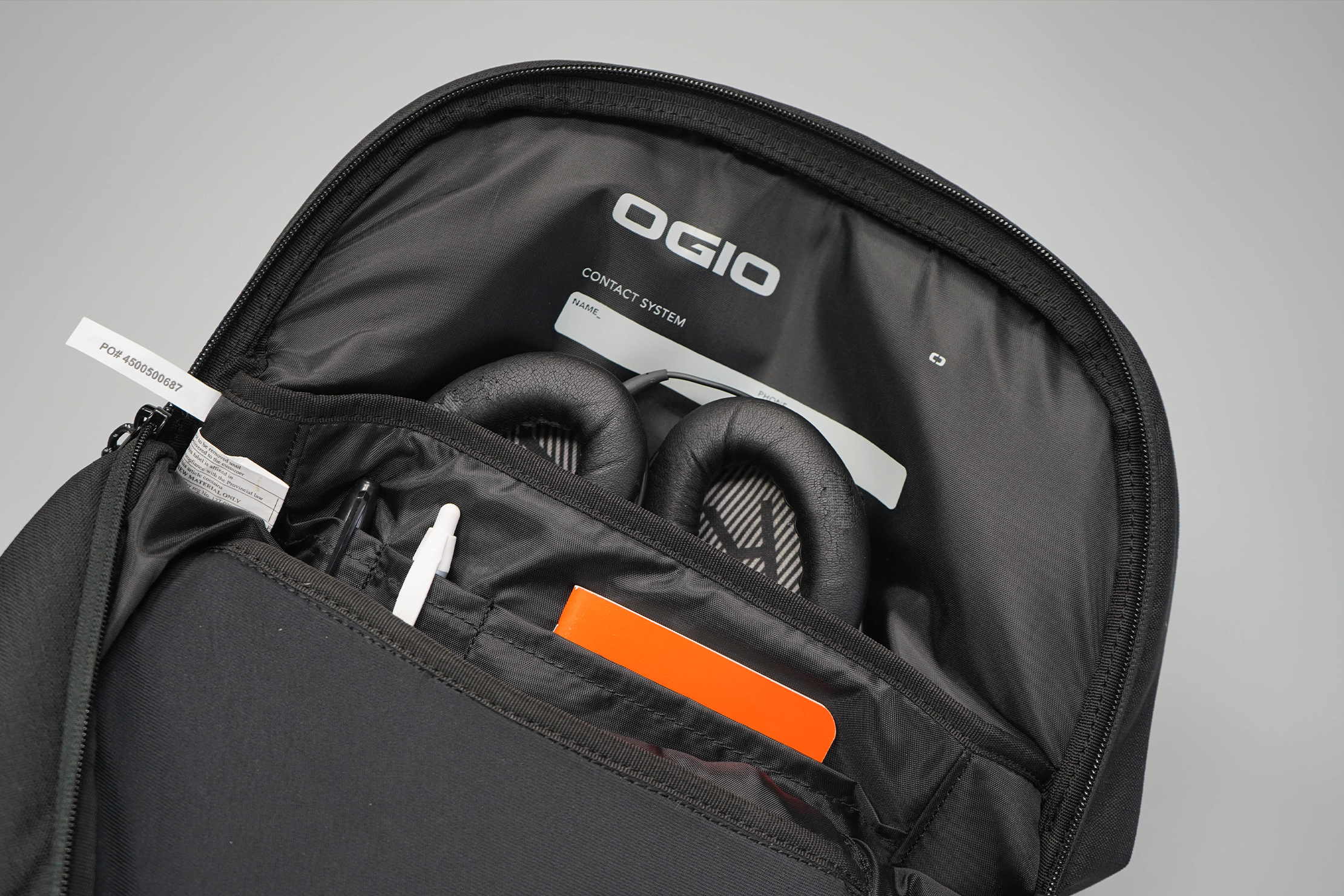 And last, but certainly not least, there's the main compartment—which opens horseshoe-style. Inside, there's a padded sleeve for a second laptop, a tablet, notebook, documents, or whatever else. There's also a liner pocket for smaller notebooks and a pen pocket that'll actually fit two pens (or one Tide To Go Pen). Additionally, there's a spot for you to write your name and phone number, just in case you lose the pack.

The compartment itself is a little tight space-wise. And it's really difficult to access the bottom of it, particularly when you've filled up the other pockets on this pack (the front pockets push into the main compartment, essentially creating a shelf that blocks off the bottom of this compartment).
If you try and bend the main compartment open a little bit more, the hard shell of the quick-grab pocket juts into the space, denying you access. Needless to say, we don't suggest putting anything at the bottom of this compartment that you use frequently.
Durability & Testing
We've been testing the Shadow Flux 420 Backpack for three weeks as a daily driver in Detroit, Michigan. We're not overly impressed or disappointed with this 20L daypack—we'd describe it as "okay." It's been solid enough, but there's not anything innovative going on. And, durability-wise, everything is looking good so far.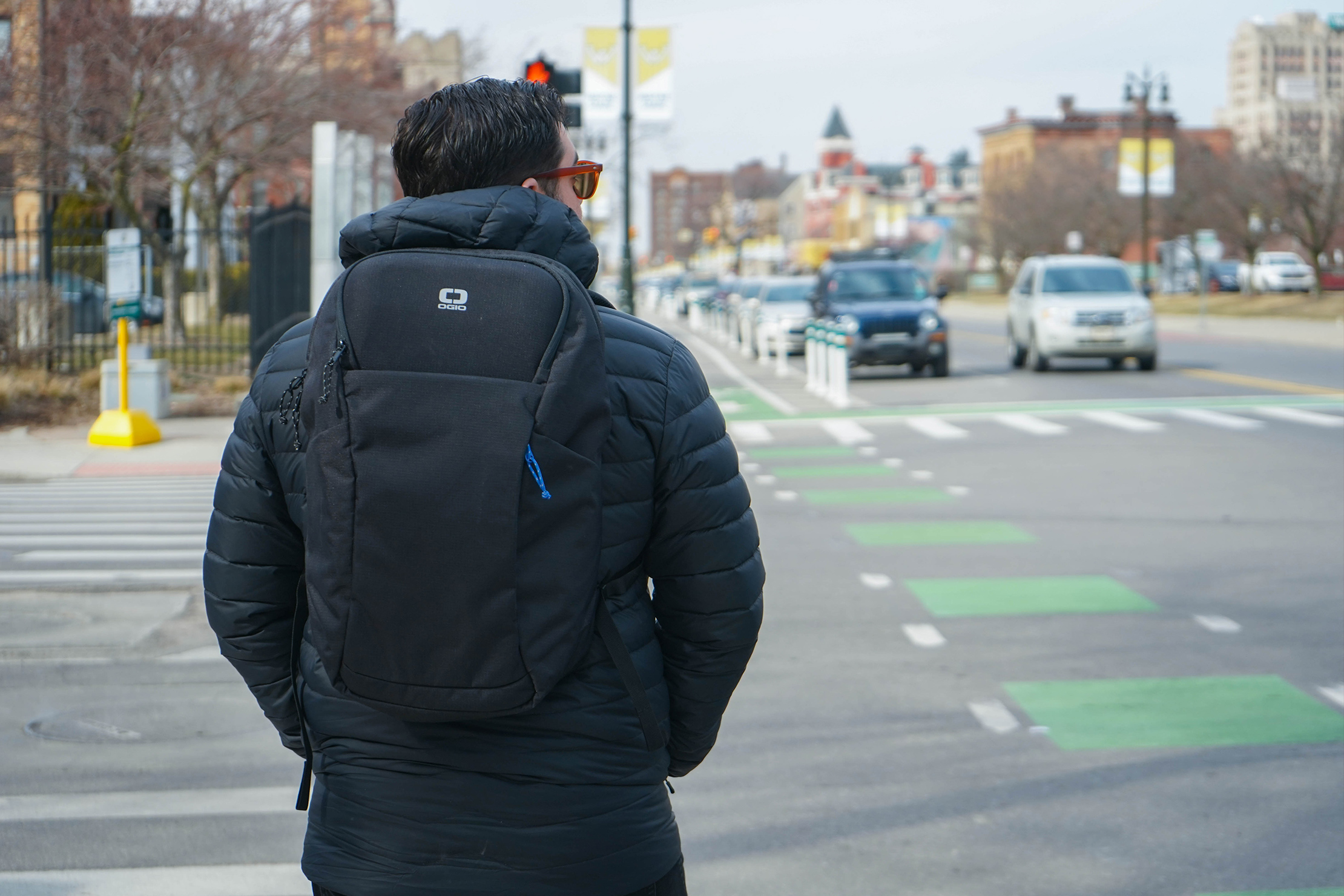 Overall, if you're looking for a pack that'll get the job done at a reasonable price point—and you don't plan on putting it through the wringer—then the Shadow Flux 420 may be a solid pick for you.
Usage Timeline
Initial Usage
Condition: Excellent
Top quick-grab pocket has a hard shell and a soft interior, making it great for phones or other electronics
We like the sleek and simple style of this bag
Pretty solid carry, plenty of padding on the back panel
2 Weeks of Use
Condition: Excellent
Liking this bag more than we thought we would, its a comfortable carry and has enough room for all our EDC stuff and more
The two quick grab pockets on the middle of the bag share the same space so they can interfere with each other
Also the hardshell of the top quick-grab pocket can get in the way of the zipper if it's full
Access the Pro Community Discussion
Get your questions about the Ogio Shadow Flux 420 Backpack answered from our team and the Pro Community right here on the page. Plus, join discussions with other members about gear, guides, and more.
Other Bags & Luggage Reviews