NOMATIC Travel Pack Review
The NOMATIC Travel Pack is a 20- to 30-liter expandable backpack that looks good but lacks some functionality where it matters most.
Our Verdict
Unlock the Pro Summary
Save time. Get access to brief summaries of our reviews so you can browse and make decisions more efficiently.
Pros
Streamlined and low-profile look
Magnetic water bottle pockets are a clever addition
Expandability adds quite a bit of versatility
Cons
Uncomfortable harness system, especially if the bag is fully loaded
Difficult to use all of the internal organization
Holistically, the features don't feel super cohesive
Recent Pack Hacker Video
Technical Details
Capacity

30l

Expanded, 20L not expanded

Weight (lb)

4.16 lb (1.9 kg)

Dimensions

18.5 in x 12 in x 9.5 in (47 x 30.5 x 24.1 cm)

Expanded

Notable Materials

Woojin Hardware, Zoom Zippers, Tarpaulin, YKK Zippers

Manufacturing Country

Vietnam

Laptop Compartment Size

15"

Warranty Information
Buying Options
$299.99
$299.99
Full Review
Get up to 20% off NOMATIC • Join Pack Hacker Pro
NOMATIC, as you may or may not know, is a Kickstarter-launched brand that set out to make the "most functional travel bag ever." And they have a new contender up for consideration.
The NOMATIC Travel Pack is a 20- to 30-liter expandable backpack that offers a smooth, streamlined look and some clear upgrades over the NOMATIC Travel Bag we reviewed previously (not confusing at all, right?)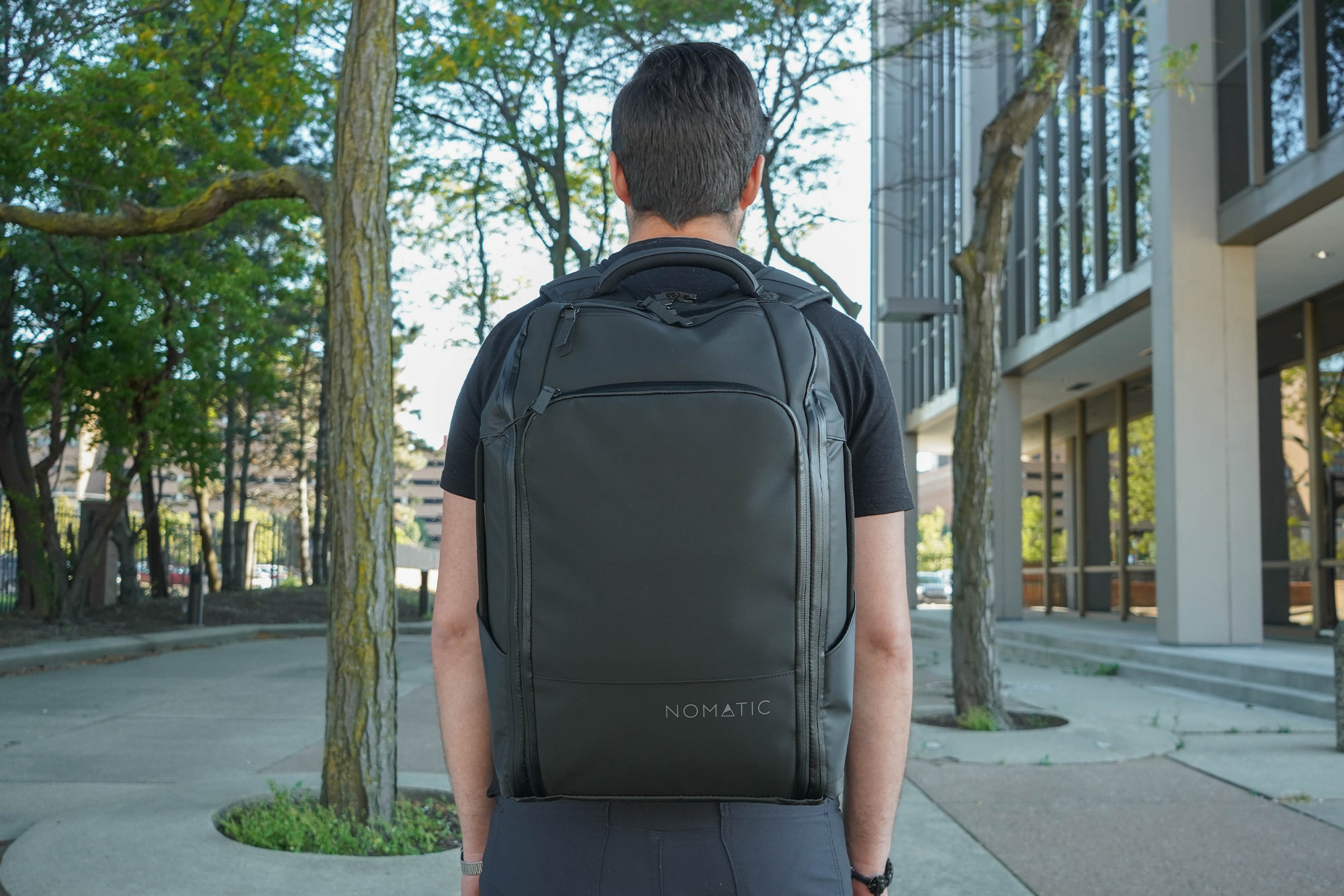 To make matters slightly more confusing, the NOMATIC Travel Pack (that's pack, not bag) we're reviewing also has some improvements over its original version. This new version of the pack was released in August 2019 with some minor tweaks compared to the previous edition—at the time of this review, it's the latest version available.
So, does the NOMATIC Travel Pack come closer to that "most functional" goal the Utah-based company is going for? Well, we've been testing it for three weeks in Detroit, Michigan, so let's take a look.
Materials & Aesthetic
The newer version of the NOMATIC Travel Pack has a much cleaner and more subdued look, which we dig.
The pack's exterior features a tarpaulin material, which—in our experience—tends to scuff and mark up more than other materials on the market (like nylon or polyester). That said, this tarpaulin feels a little more high-quality than the original Travel Pack. It's rubbery but less slippery. It's also less shiny, which gives this bag a more subdued aesthetic. Overall, it just feels better—so this is a welcomed upgrade.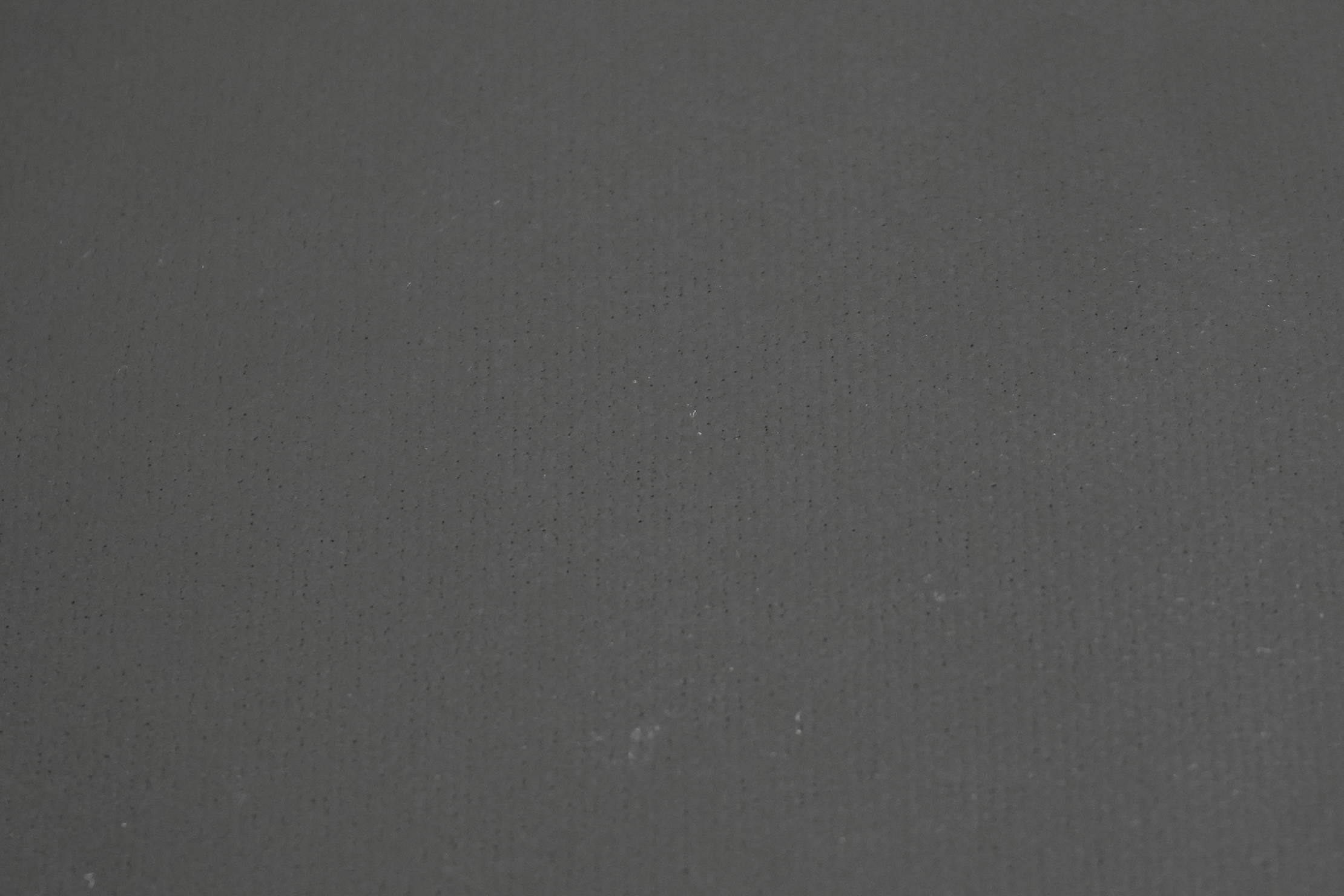 At the time of this review, the only colorway available on the NOMATIC Travel Pack is black—and if you know us, you know we're totally okay with that.
When it comes to branding, there's a simple NOMATIC logo on the front of the pack, another on the shoulder strap, back panel, and a couple of other places. Do you remember the triangle pattern on the front of the original Travel Pack? Well, it's gone in this update. The team was split here at Pack Hacker HQ about the looks of the triangles, but there's no denying this all-black version with minimal branding is a much cleaner look.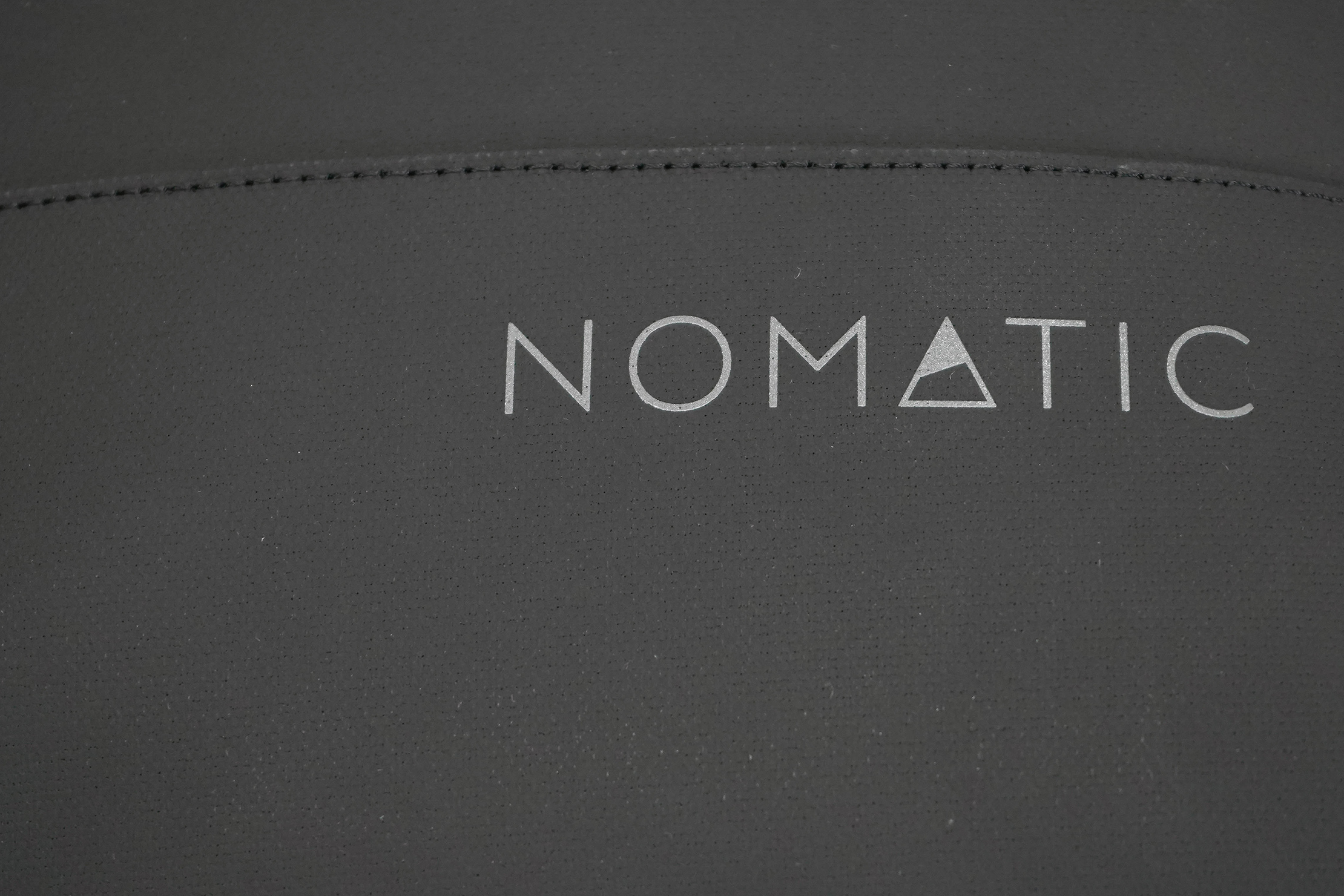 Beauty is always in the eyes of the beholder, so we polled our Instagram audience about this pack's aesthetic. Over half gave it the thumbs up—and if you want to give your opinion in future polls, follow @packhacker on Instagram.
Wrapping up the materials on the NOMATIC Travel Pack, we have durable Wujin hardware on the strap adjusters and buckles. And you'll notice a mix of weatherproof Zoom zippers and YKK zippers (more on these zipper choices later).
External Components
The harness system on the NOMATIC Travel Pack is a classic "good news, bad news" situation.
The shoulder straps are mediocre, with limited padding that isn't very dense. Now, the straps are decently thick, but it's not necessarily the thickness that makes straps comfortable. It's more about the foam density which is lacking in these straps—meaning the pack can get uncomfortable while carrying a heavy load.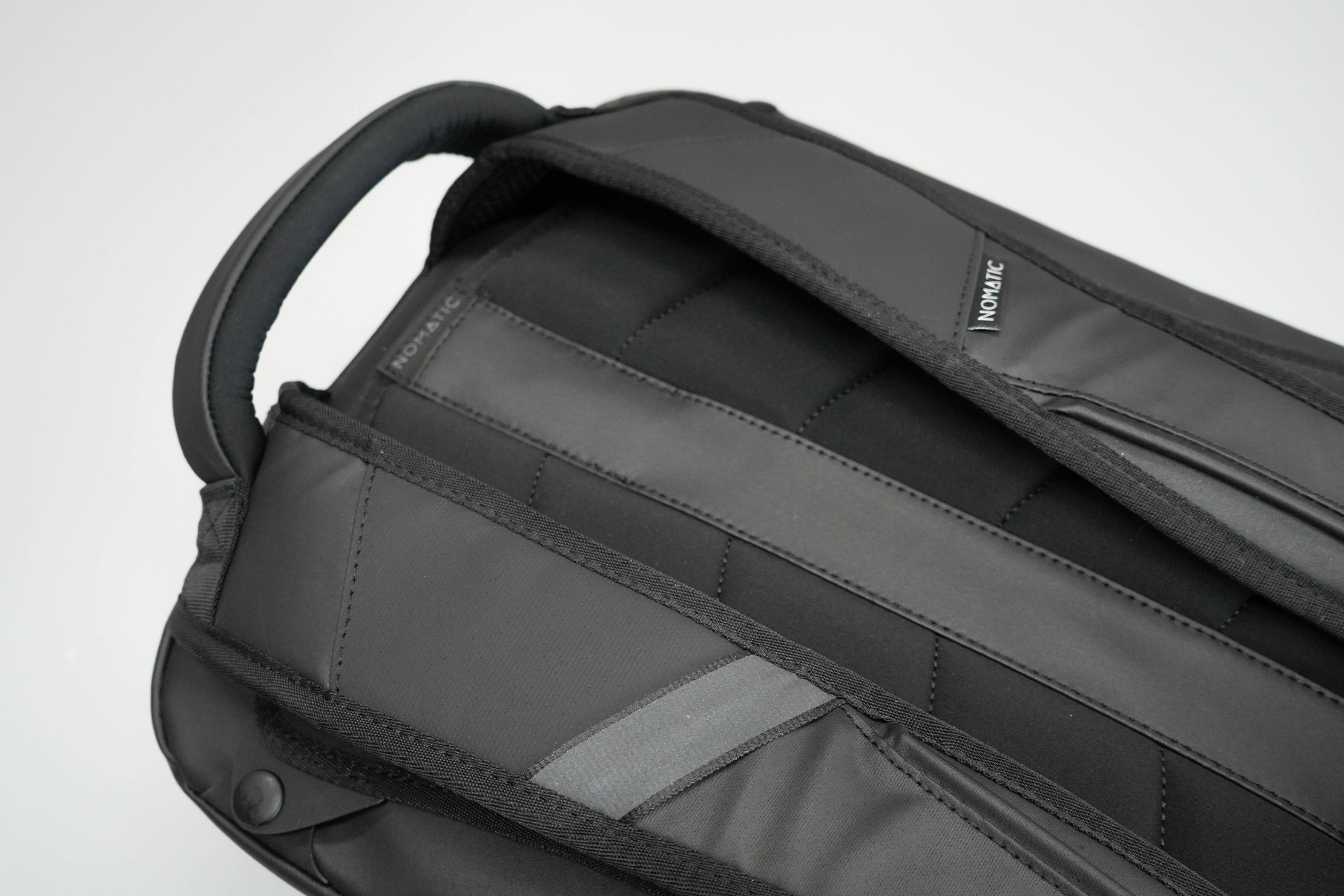 This isn't a huge deal if you're using the Travel Pack in the 20-liter mode as an everyday carry, but you'll want to keep this in mind if you're planning to expand the bag to 30-liters, load it with heavy gear, and use it as a full-blown one-bag travel backpack. If that's the case, you're going to feel that weight on your shoulders more than we'd like.
The sternum strap on this backpack is adjustable and detachable. It's smooth to slide up and down and does not come off easily—which means it's less likely to get lost. The sternum strap also has some elastic which flexes while you walk to add comfort—a small but always-appreciated feature.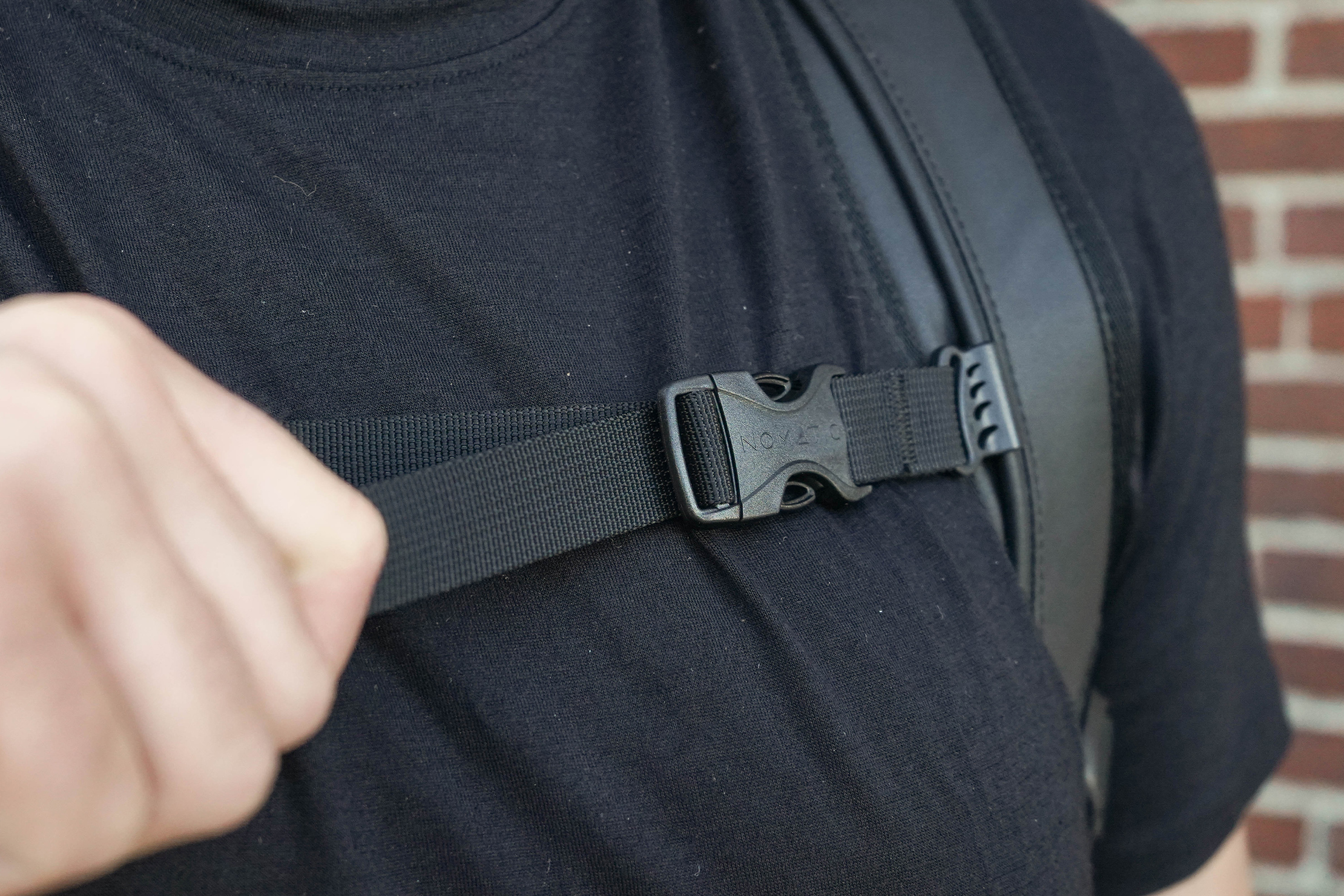 The shoulder strap adjusters on the NOMATIC Travel Pack are pretty standard. The materials are durable and you can tighten and loosen them as needed. The only thing we wish this pack had here would be some elastic keepers to manage the excess strap.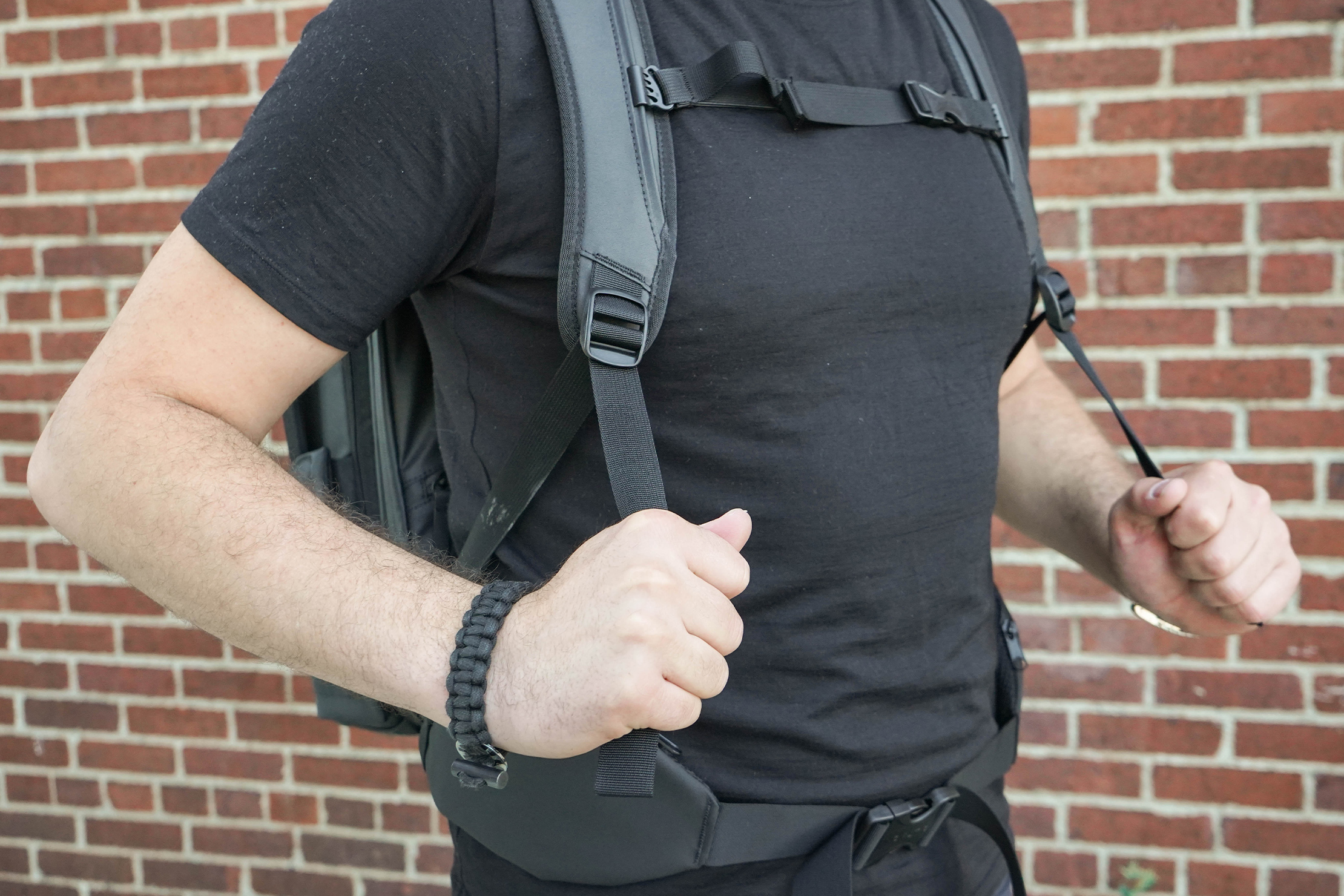 At the bottom of the Travel Pack's harness system, you'll find two rubbery-like Hypalon attachment points for a hip belt. These little loops don't get in the way as is, but they can also be tucked under the back panel when not in use.
While the hip belt itself is on the bulky side, we like the functionality. Plus, it makes the NOMATIC Travel Pack more comfortable to carry when loaded out. We dig how it attaches with metal buckles and it has some handy pockets for smaller, flatter items.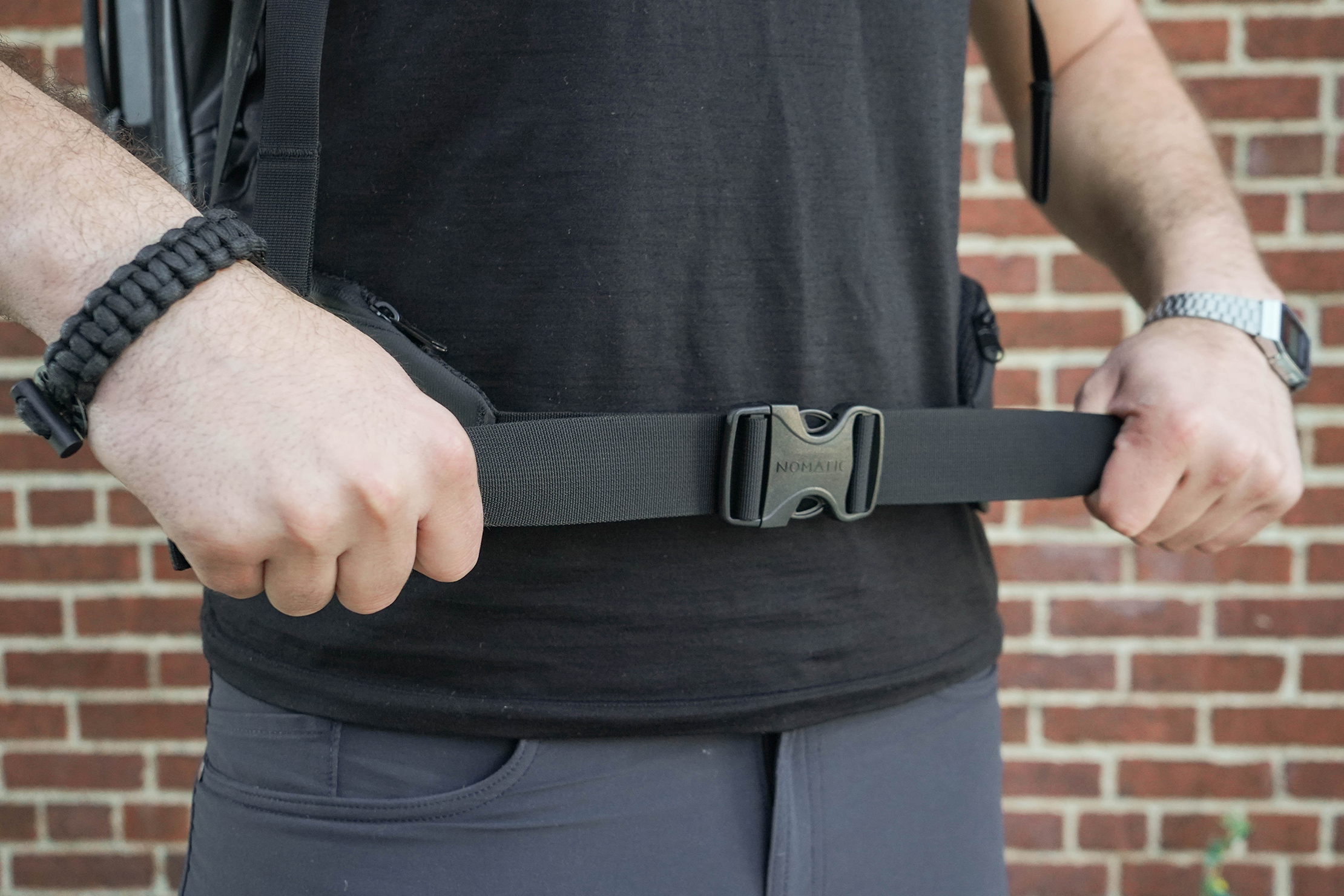 There's a padded grab handle at the top—much more padded than the shoulder straps. It would have been nice if the folks at NOMATIC swapped some of this padding into the shoulder straps to make them more comfortable. But instead, we get a comfortable handle.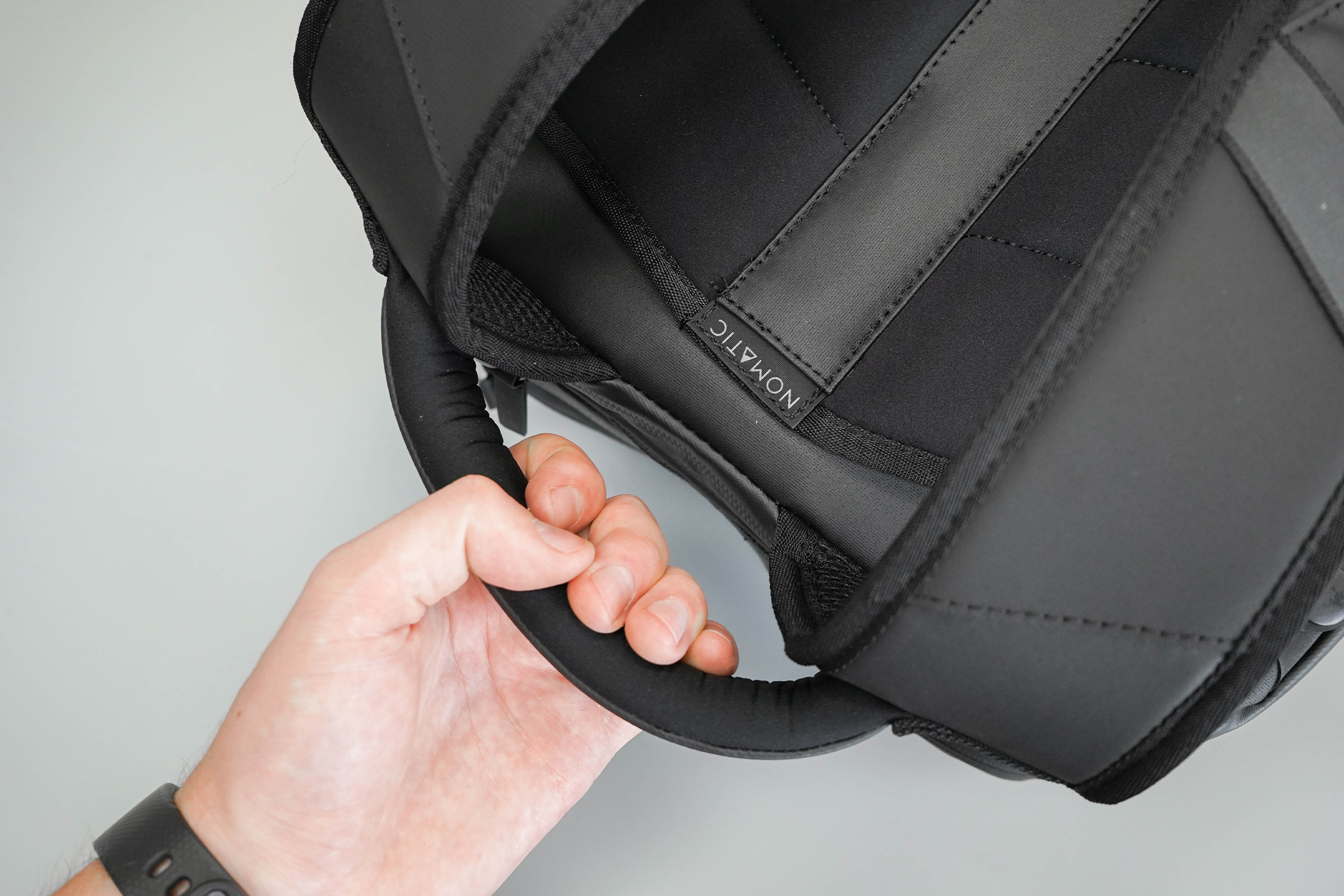 Since this handle is anchored between the two shoulder straps, it can be a little bit unwieldy to pick up and carry (compared to a bag-mounted handle). Because of all the zippers, there's really no place to attach the handle to the bag—so this will have to do.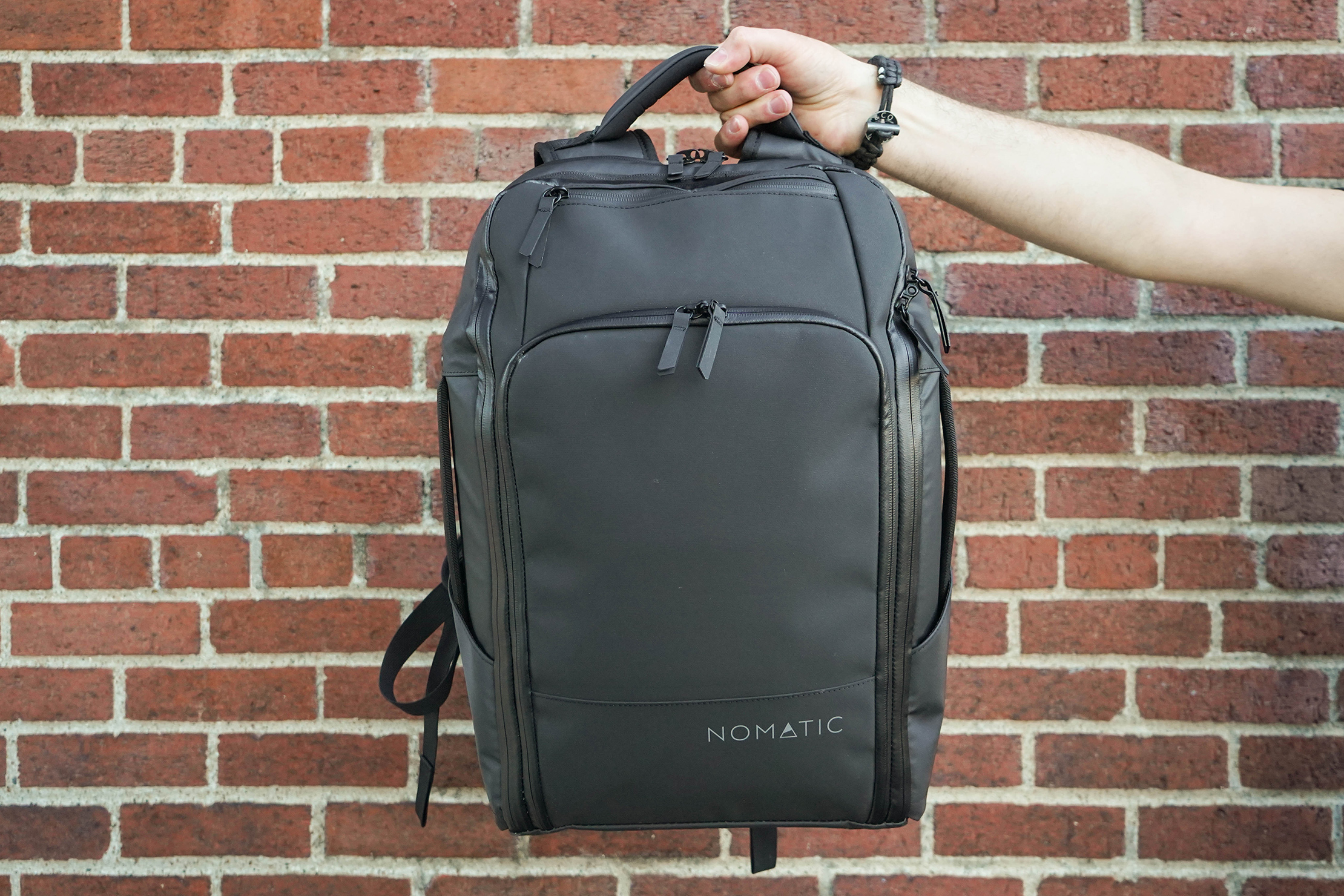 Moving on to the back panel of the NOMATIC Travel Pack, you'll find some decent padding and a semi-rigid frame sheet that gives this bag structure.


Speaking of structure, this bag stands up by itself thanks to its foam padding and boxy shape. We know this is a key consideration for a lot of people—including all of you who specifically ask us to find bags that stand up (hi there!)—so it's definitely worth mentioning.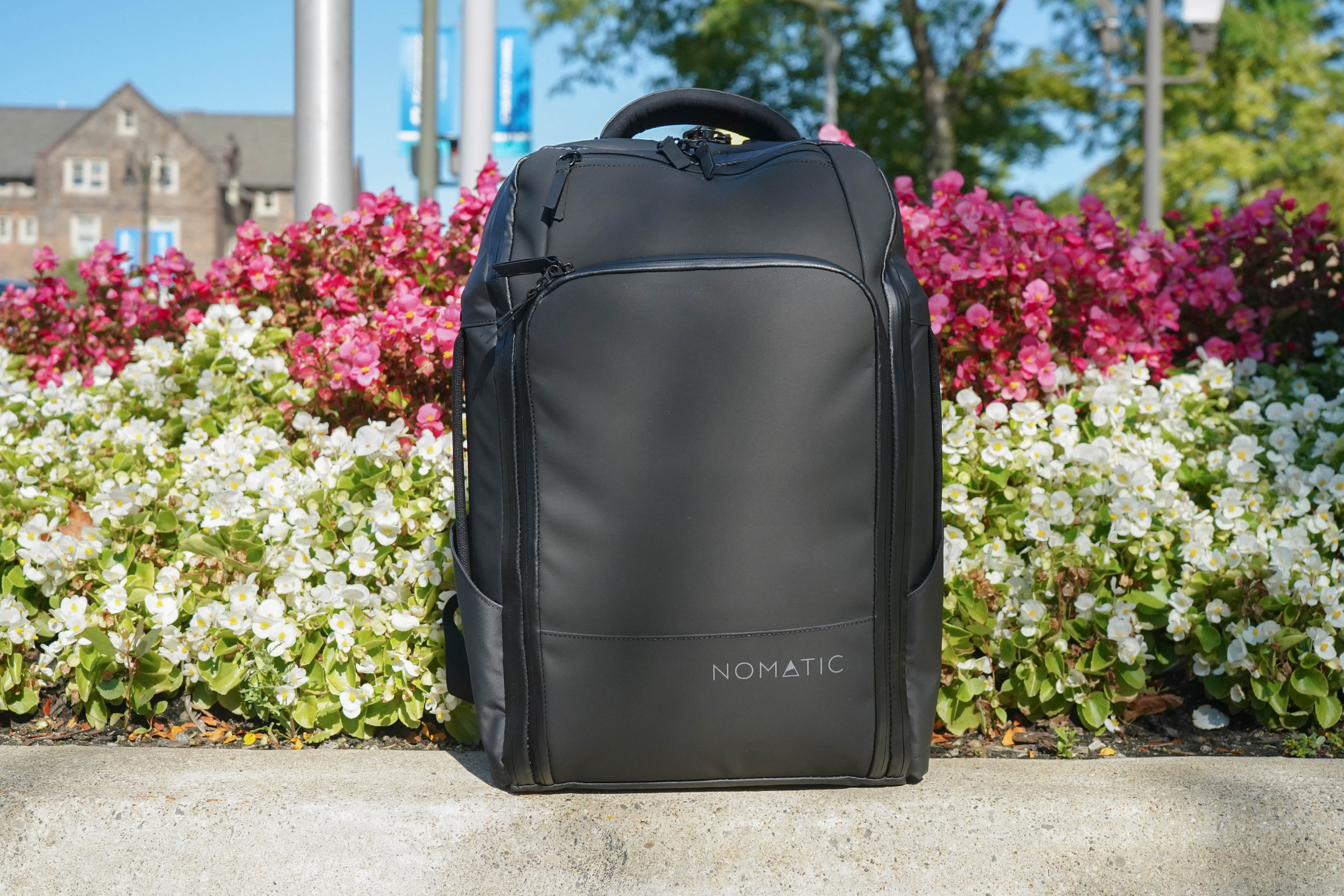 The back panel, which also has a small channel for airflow, unbuttons to give you a place to hide the straps. It does take a little longer than we'd like to unbutton, tuck away the straps, and rebutton this panel. It sounds nitpicky, we know, but when you use a pack that does this well you notice. That said, if you take your time with the NOMATIC Travel Pack, the straps hide away nicely.
Almost done with External Components, we promise.
The NOMATIC Travel Pack has a luggage pass-through at the back, which is great if you're wheeling roller luggage around the airport too.
Each side of this pack has both a water bottle holder and a side handle. The water bottle pockets are expandable thanks to a stretchy mesh that opens up to fit a larger water bottle. And magnets (which are always fun) keep the pocket nice and sleek when it's not in use.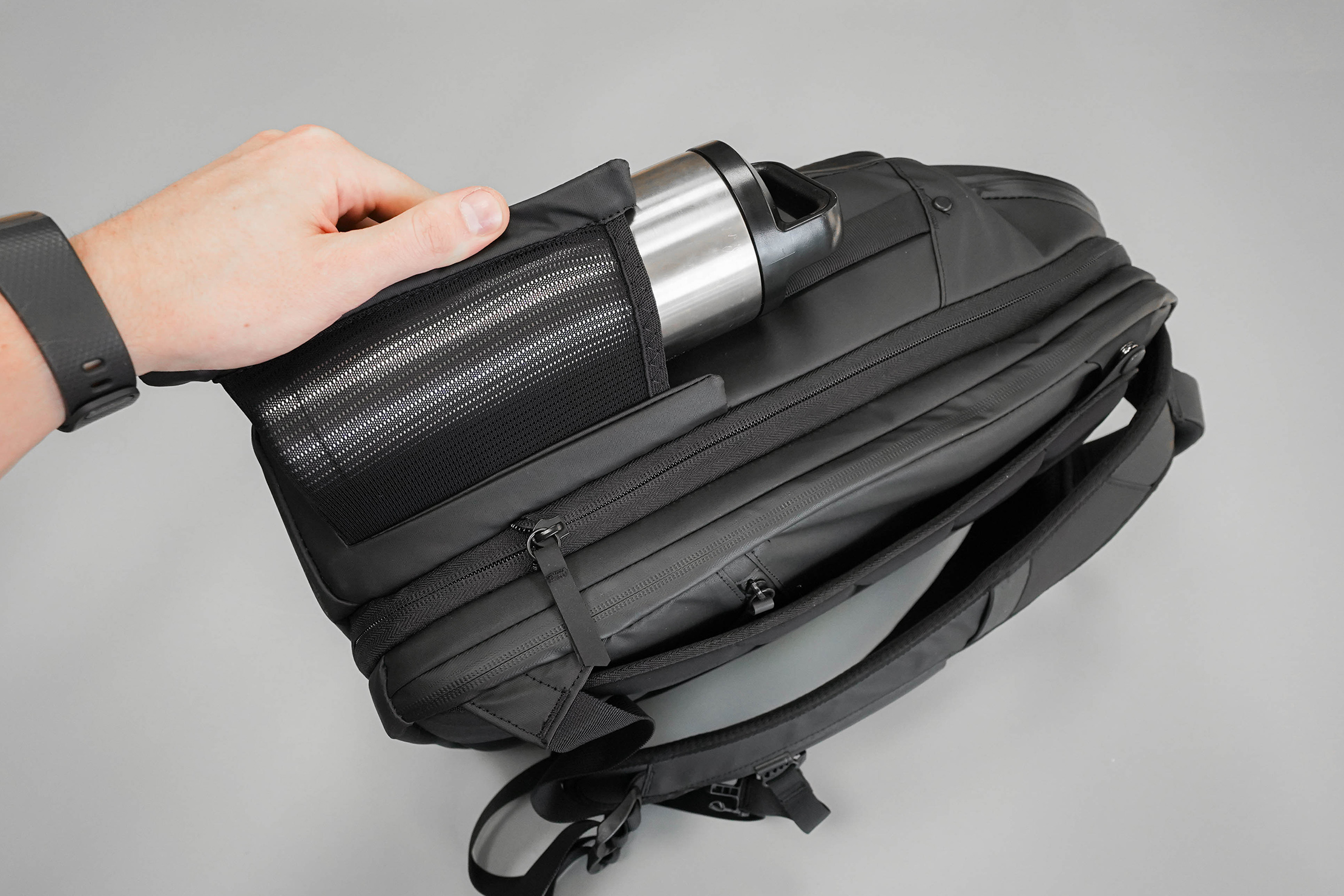 The side handles are low-profile but work pretty well to grab the bag when you're on the go. Plus, they're attached to internal stays which help the pack keep its structure. We will note, however, that using the side handles can be more difficult when the water bottle pockets are in-use as there not much room for your hand.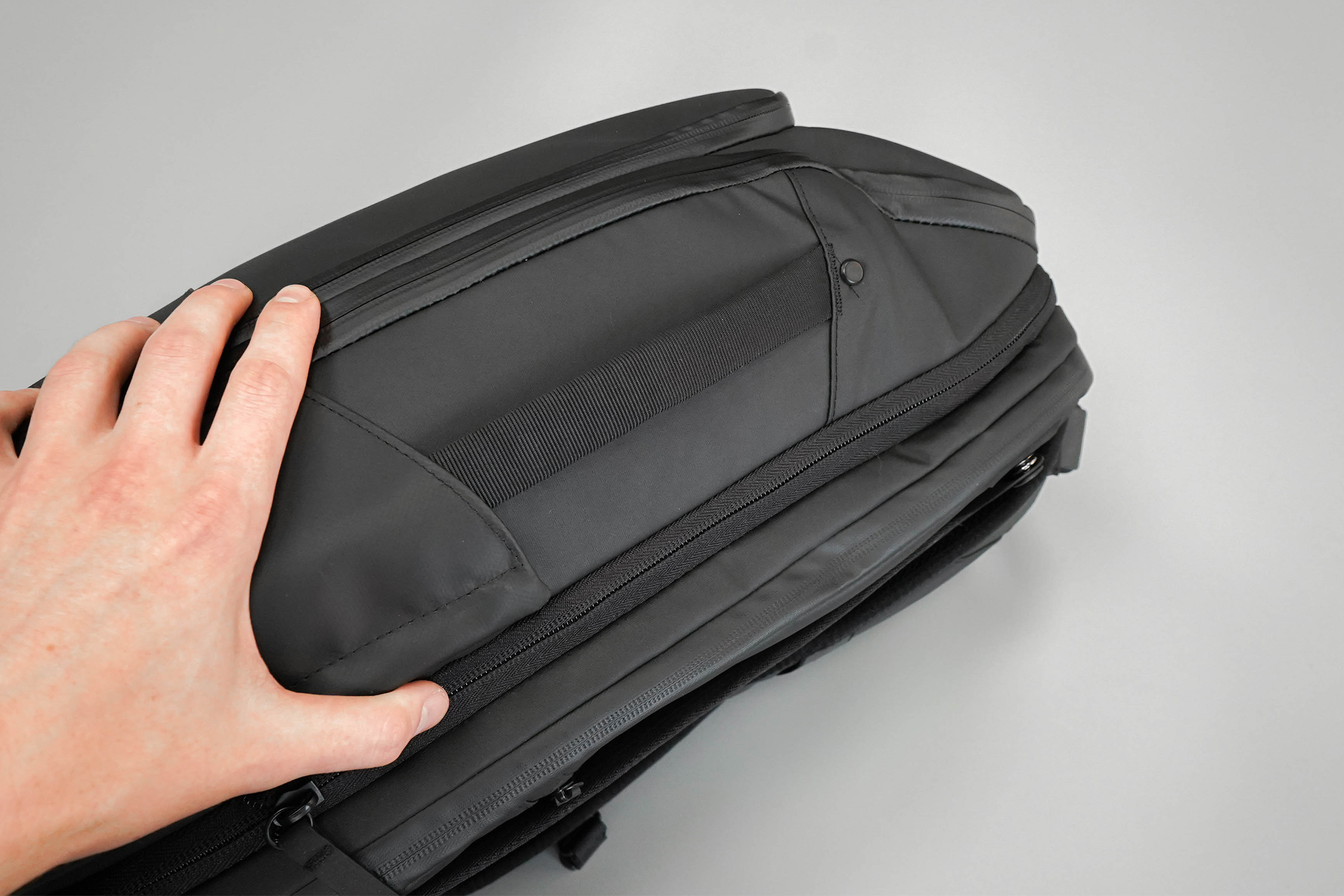 Inside the Pack
The NOMATIC Travel Pack has a lot of interior features, so grab a beverage of choice and get comfortable. Ready? Let's go.
First things first, there's a small hidden zipper pocket on the backside of the pack, behind the frame sheet. It's a little difficult to access, but that's a good thing—your passport, or valuables like cash and credit cards, will be safe from pickpockets.

Next up is a quick-grab pocket at the top that's perfectly-sized for smartphones or sunglasses. It's easy to access and lined with a soft material that shouldn't scratch your screen or lenses.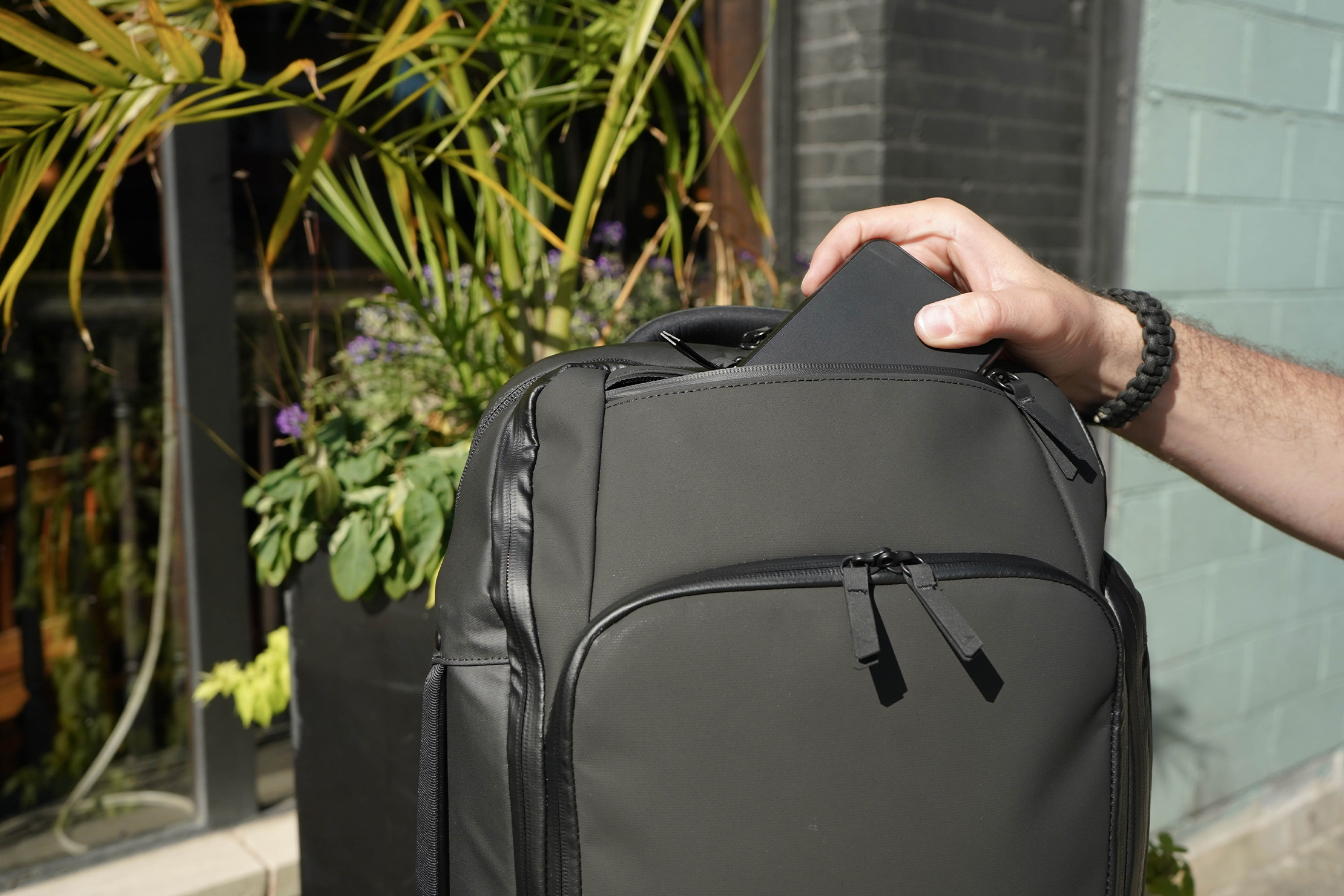 There's also a cord pass-through here that can be used to charge your phone if you want to have a battery bank inside the main compartment of the bag.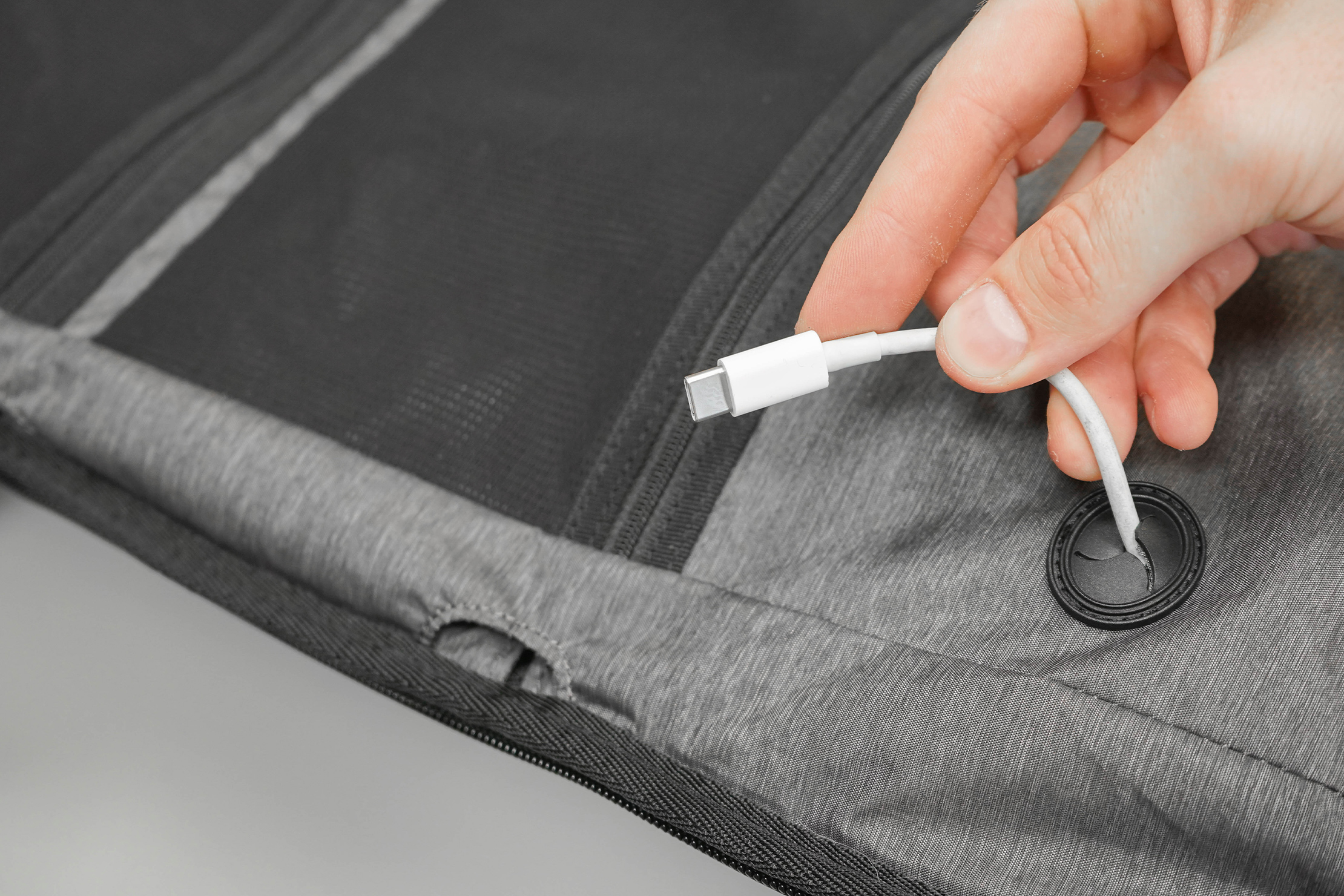 Just below that quick-grab pocket, you'll find a large U-shaped pocket that peels open and gives you a ton of organization options. On the previous version of the Travel Pack, we had issues with the gussets—which keep this flap from opening all the way—getting caught in the zipper, but, so far, we haven't had any issues on this new version.
Those gussets are made from the same material as the lining—which is another noteworthy upgrade from the original version. The new liner material is a heathered gray fabric that looks more polished and feels a bit better in the hand too (compared to the original version).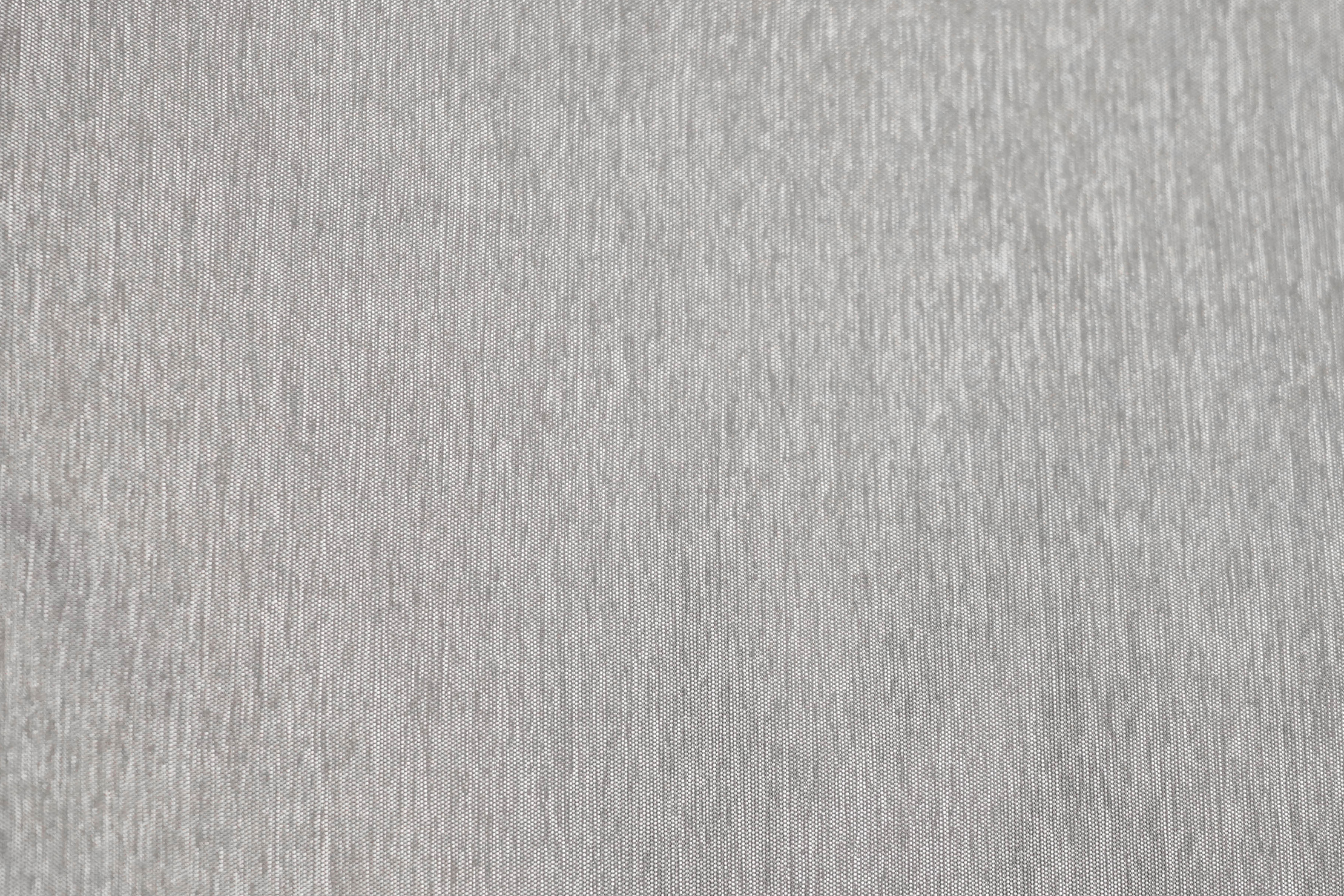 Inside the front flap of the U-shaped pocket, you'll find a zippered RFID pocket at the top, which covers about half of the flap. Below that pocket, there's a smaller zippered pocket, two sleeves for pens, pencils, or styluses (styli?), and two mesh liner pockets.
On the other side of this compartment, there are four mesh pockets—two rows of two—and a flat liner pocket that's a good size for a laptop charger or medium-sized notebook. All of the mesh pockets are stretchy with elastic at the top to keep your gear organized.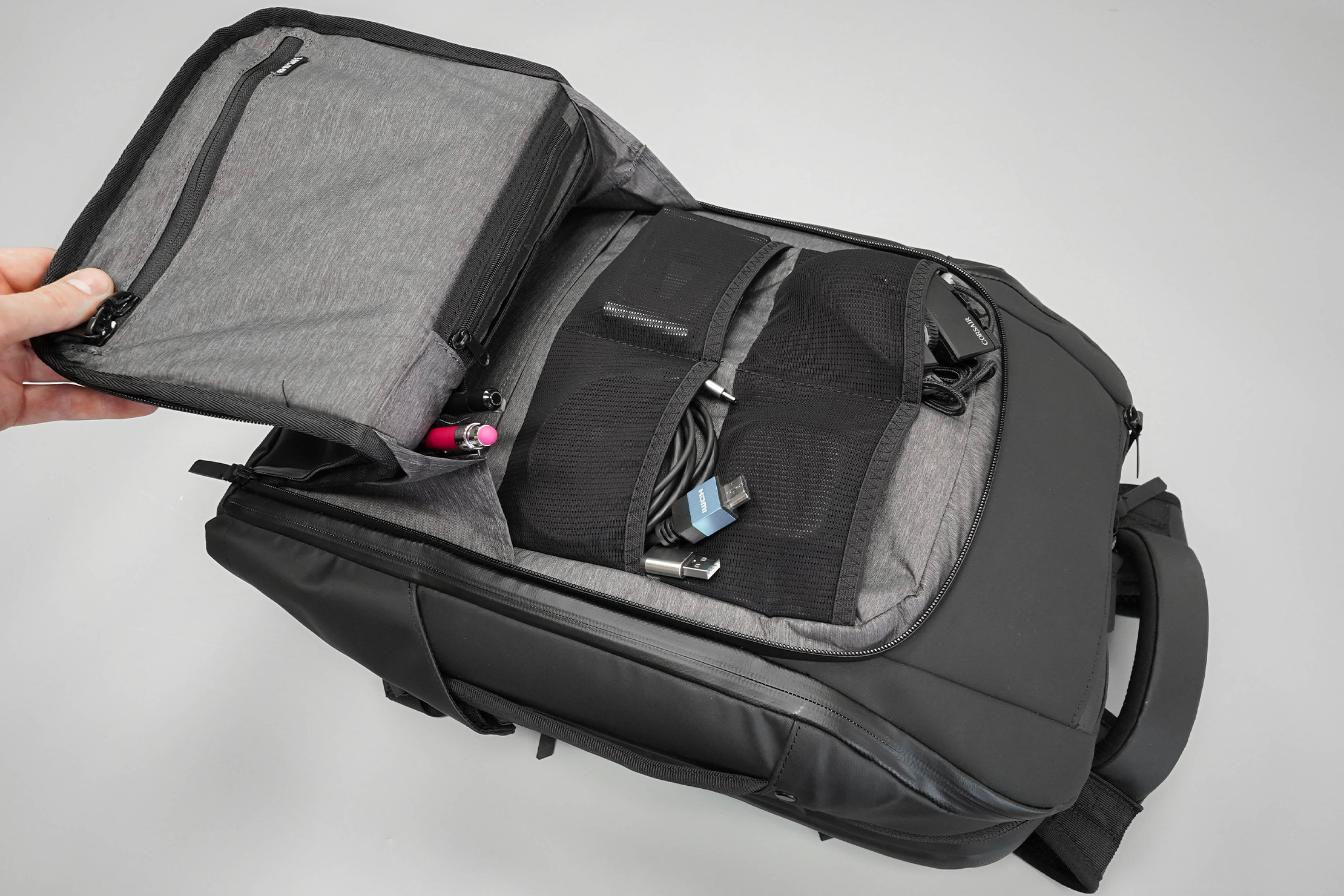 Although the engineering here does seem a bit overkill, these options could be great if you want to pick and choose how you compartmentalize your gear. And, the good news is, everything lays flat so it's out of the way if you're not using it.
Before we jump into the laptop compartment, let's talk zippers (#zippertalk).
We're surprised to see that the folks at NOMATIC used Zoom zippers for the laptop compartment. One of the big upgrades on this new Travel Pack is the use of YKK zippers—but they're not used throughout. The laptop compartment is arguably one of the most important parts of the bag—it attaches the harness system to the rest of the bag—so it seems like YKK would have been a better choice here. While all zipper brands can break, we've generally had better luck with YKK than with Zoom.

Okay, are you ready to get back to pockets?
The laptop compartment completely opens up clamshell-style. You could theoretically keep your laptop in the bag when going through airport security—though it's ultimately up to the TSA agent whether or not they'll allow it.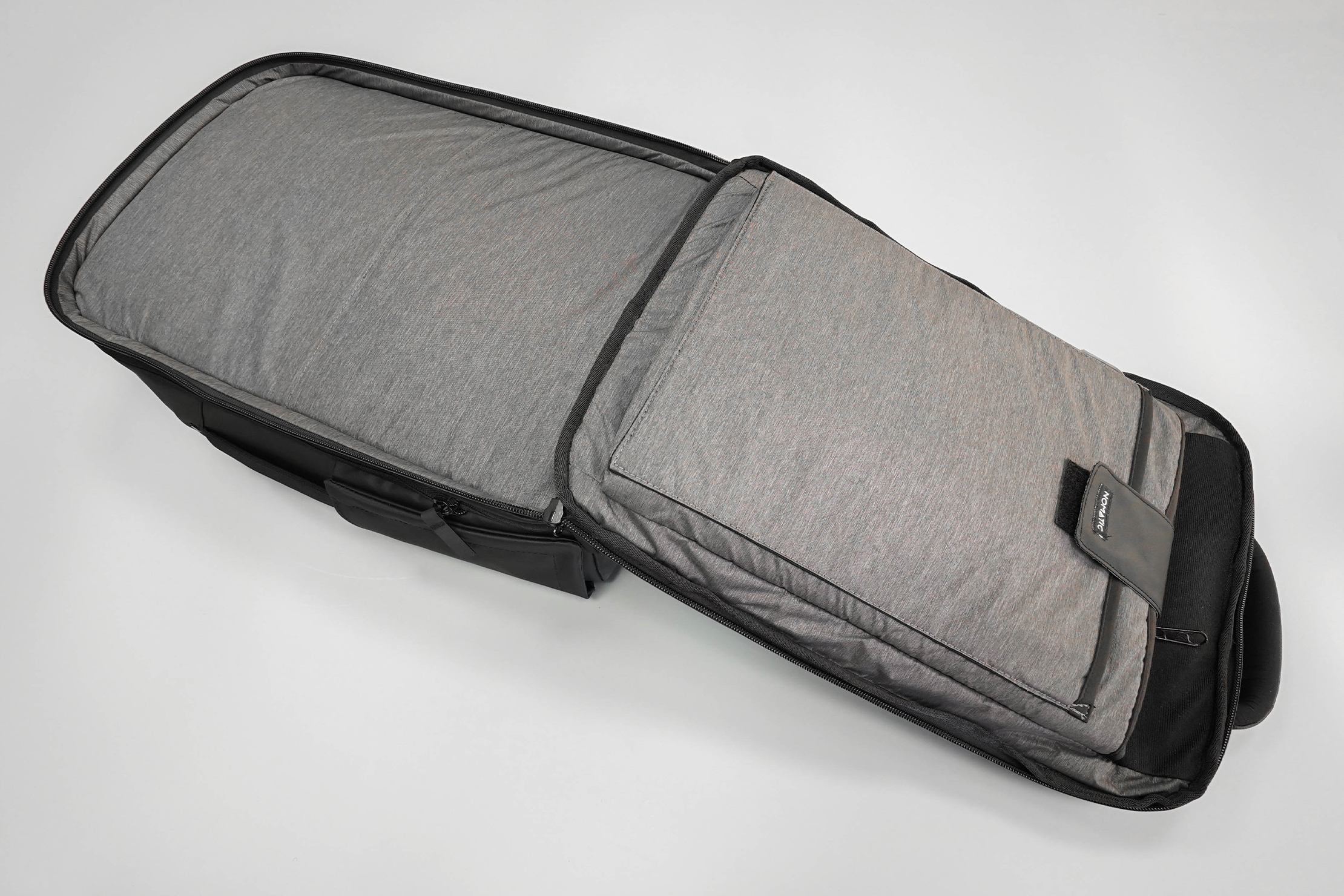 The laptop sleeve itself has a false bottom, which means your laptop is more protected from unexpected drops. And that's exactly what we like to see.
In front of the laptop sleeve, you'll find a tablet pocket. Both sections have a soft lining and a Velcro closure to keep your gear secure. On the opposite side of this compartment, there's a divider pocket that's a good place for travel documents or other flat items.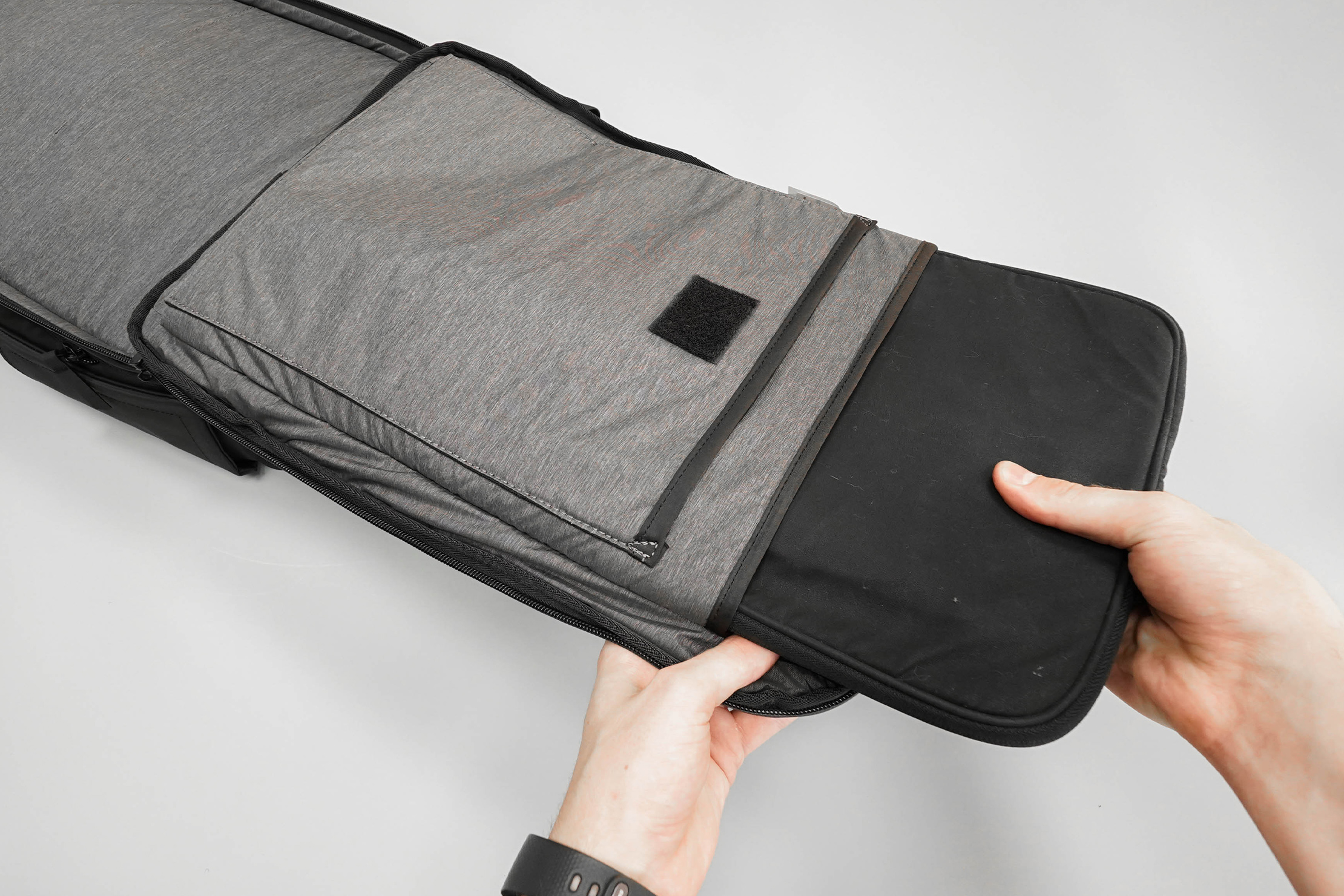 On to the main compartment of the NOMATIC Travel Pack—which opens clamshell (are you sensing a theme?). First, you'll see the cord pass-through we mentioned earlier at the top of the front flap that goes into the quick-grab pocket. Then, below that, you get two zippered mesh pockets which are a pretty good size for chargers, cords, or other tech.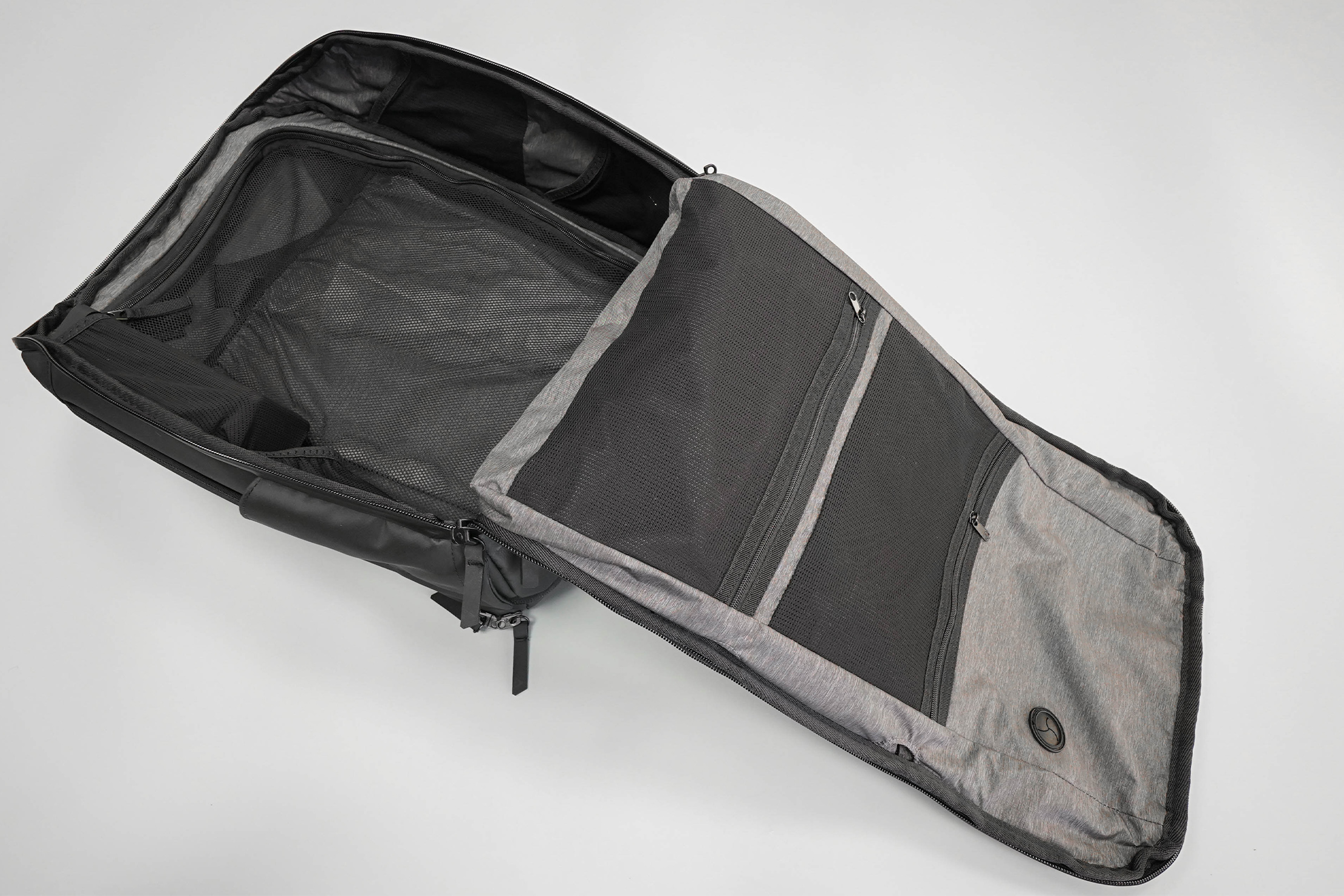 Inside this main compartment, there are four mesh pockets on the sides: two on the right and two on the left. The mesh pockets on the left are a little bit larger and can fit the included sunglasses case.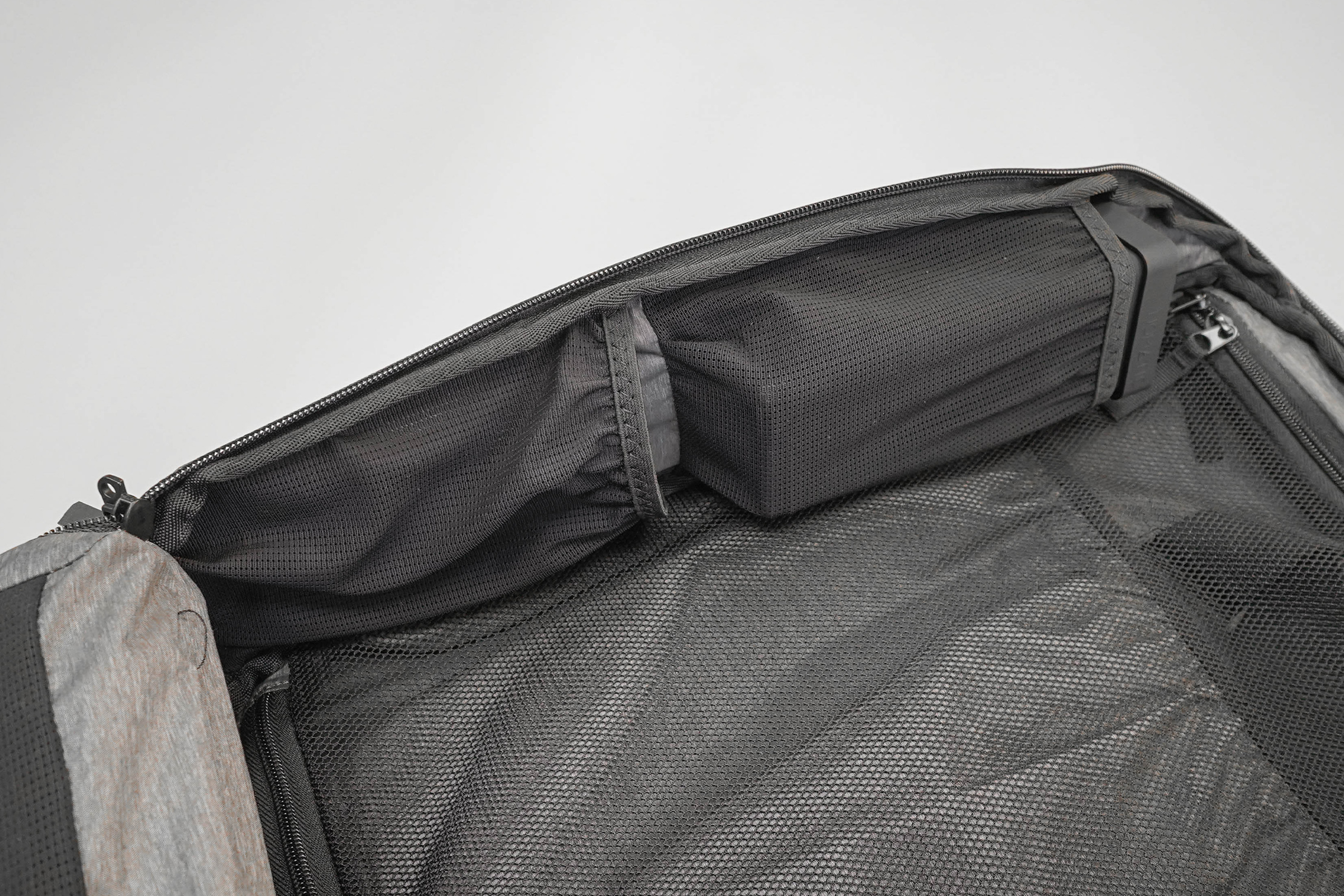 The sunglasses case feels a bit cheap, although it does a decent job of keeping your sunglasses safe. If you have the case in that left-side pocket, it does stick out and obstructs you from using the full width of the main compartment. Not a deal-breaker, but something to keep in mind.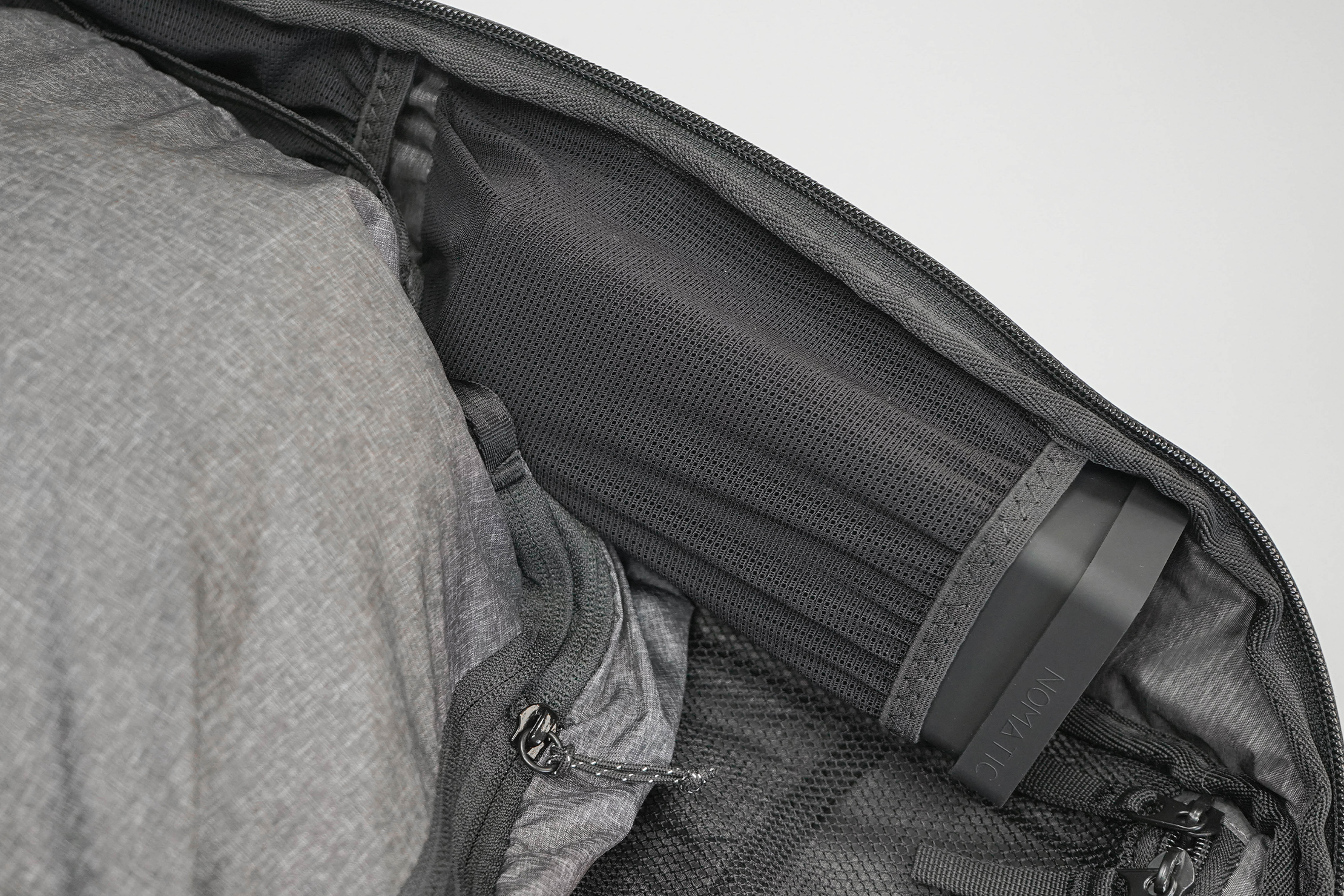 The mesh pockets on the right are smaller with a slanted opening. Plus, the bottom pocket has a retractable key leash, so you don't have to unhook your keys every time you need to open a door.
The best part of all this organization? It gets out of the way if you don't need it. Even the retractable key leash can be removed.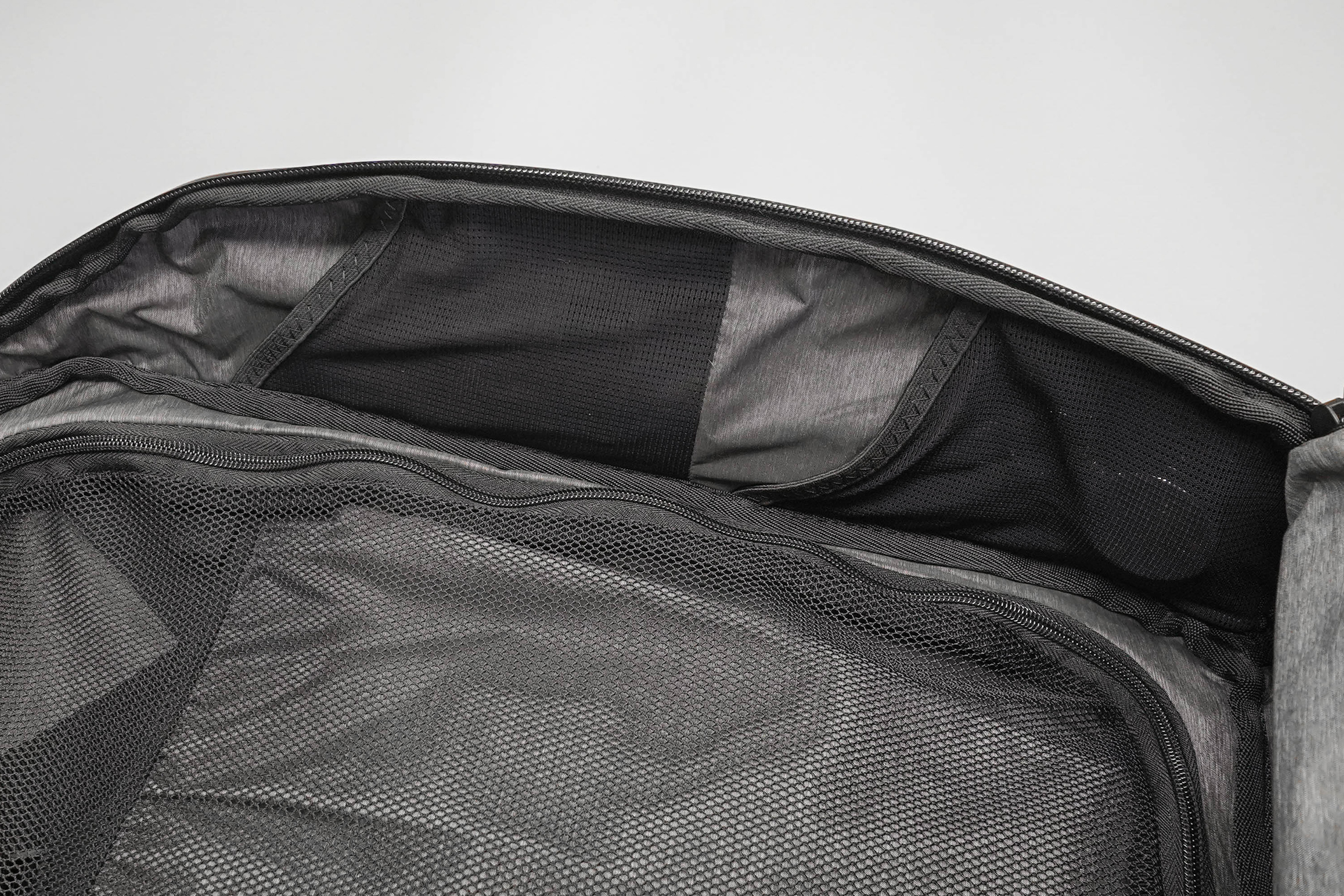 Okay, here we are. The part you've all been waiting for…expanded mode!
To put the NOMATIC Travel Pack into expanded mode, you unzip the zipper that's right in the middle of the bag. That's it—you now have a 30-liter pack.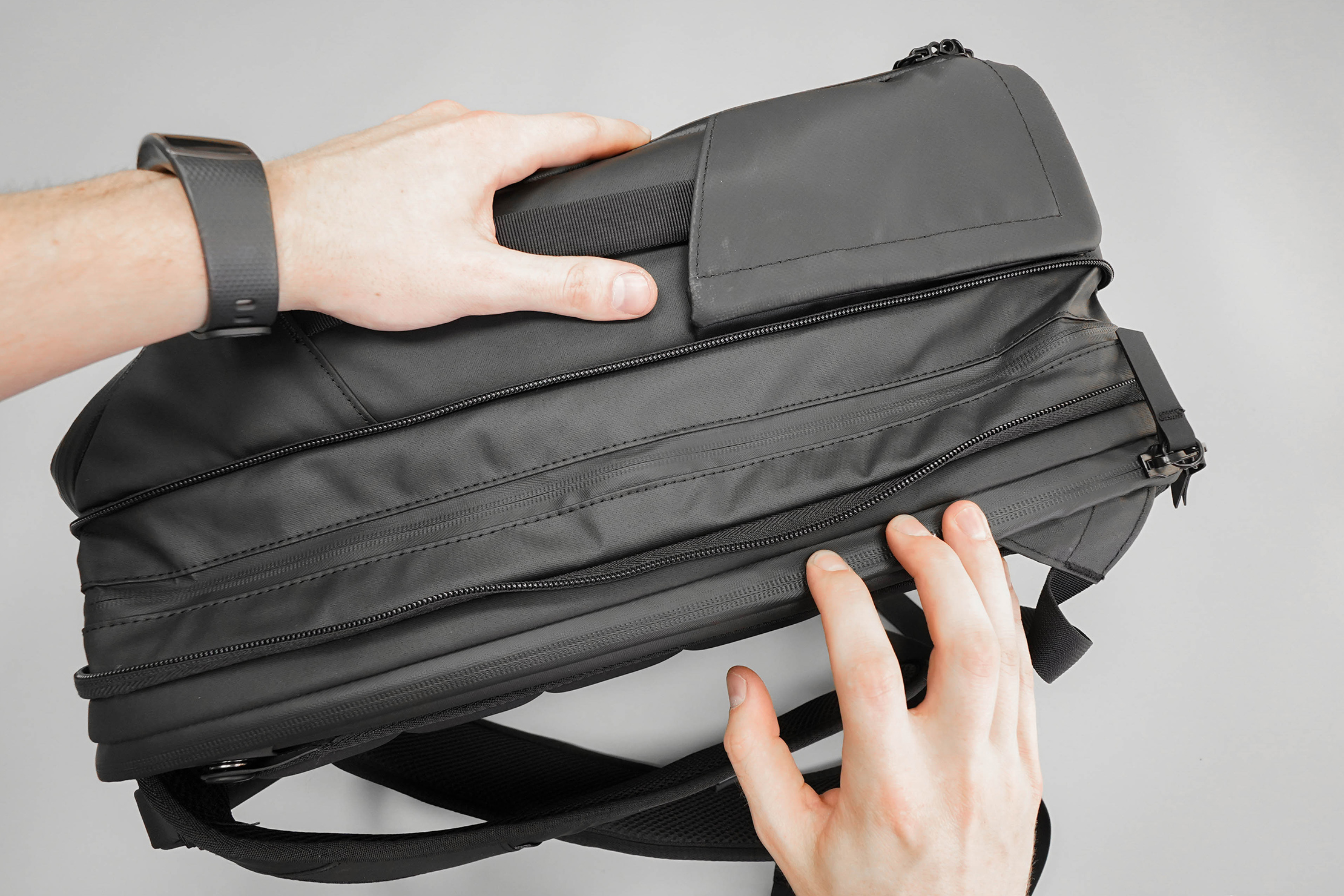 Now that it's expanded, you'll see another zipper that opens up the expanded main capacity (you guessed it) clamshell-style. This part of the bag is not really accessible when it's compressed.
Pro Tip: this is a perfect place to store the hip belt when you're not using it. That way, you'll have it stashed away for everyday carry, but ready-to-go when you expand the bag and use it for travel.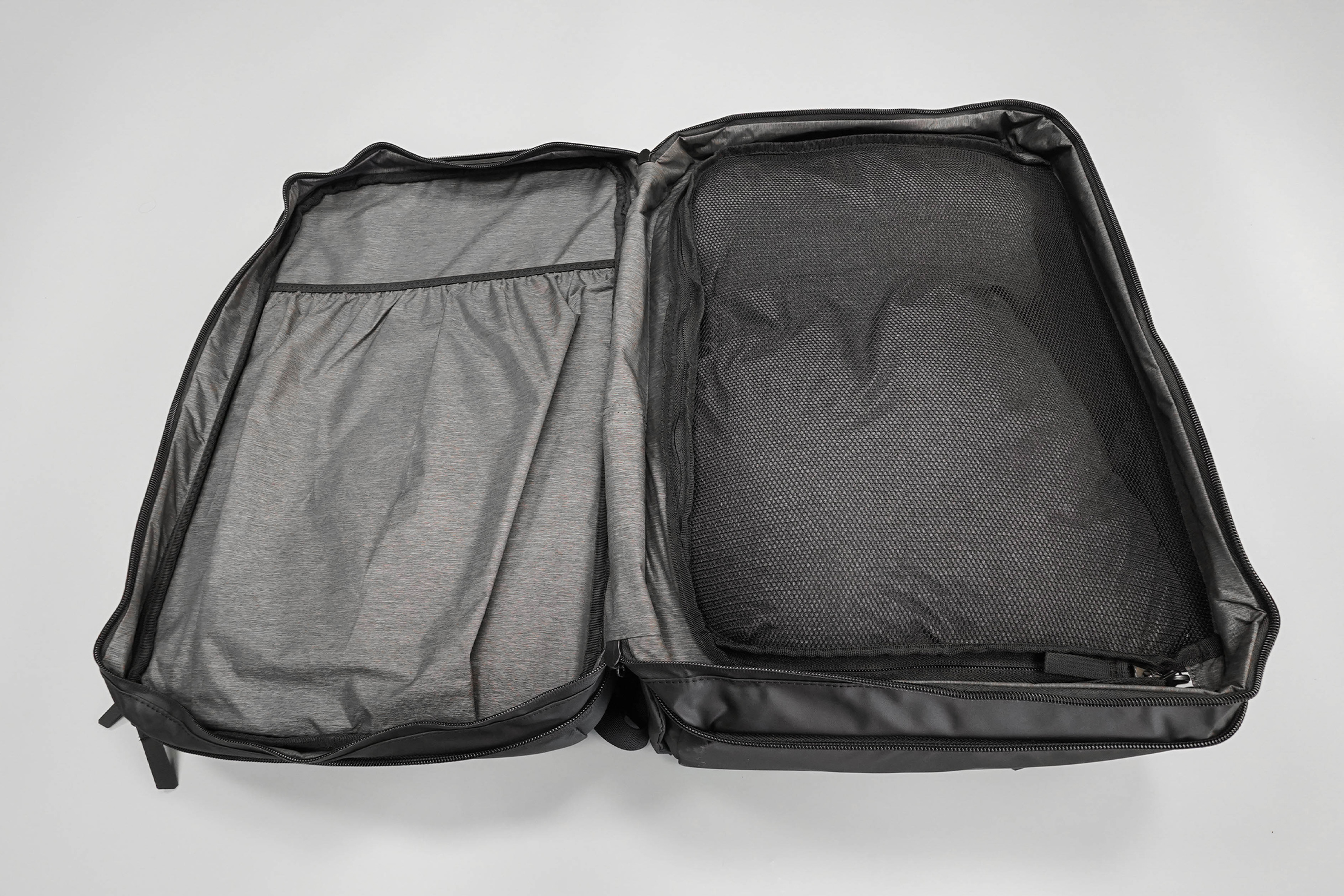 This expanded main compartment has a large mesh divider pocket on one side—which opens into the main compartment we just talked about—and a semi-elastic liner pocket on the other. Besides that, it's pretty much a big empty space, which is great for filling with packing cubes.

If you like, you can keep this mesh part completely unzipped to have access to both sides of the bag at all times (like if you want to use packing cubes, for example). There's no easy way to hide the mesh if you do keep it open but it hasn't been an issue for us. If you prefer a bag that does this really well, check out the Peak Design Travel Backpack.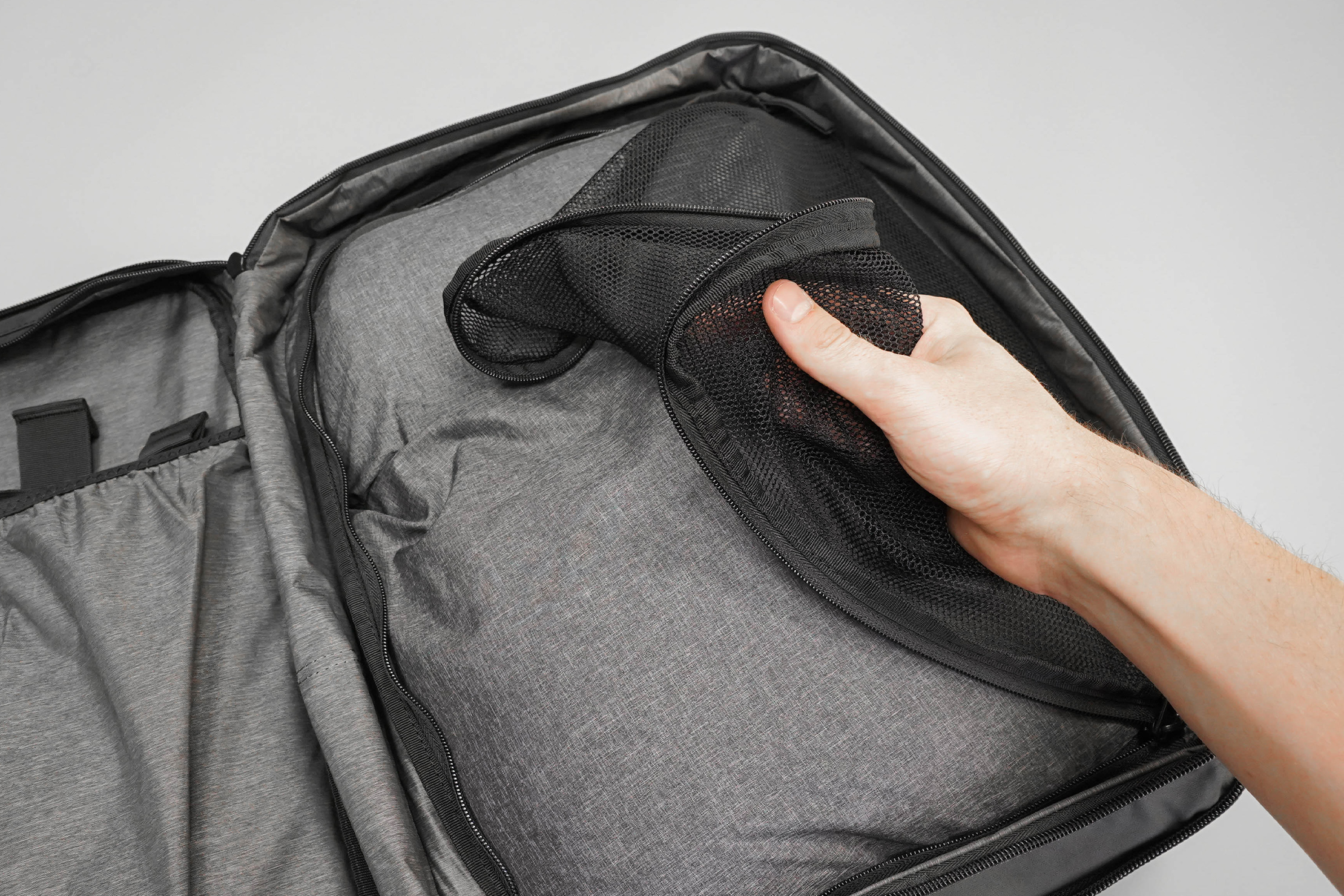 Durability & Testing
A couple of our team members have been testing the Nomatic Travel Pack around Detroit, Michigan for about three weeks.
From a usage perspective, it's been going pretty well overall. While we're digging some of the pockets and organization, the design and functionality is a bit of overkill in some areas.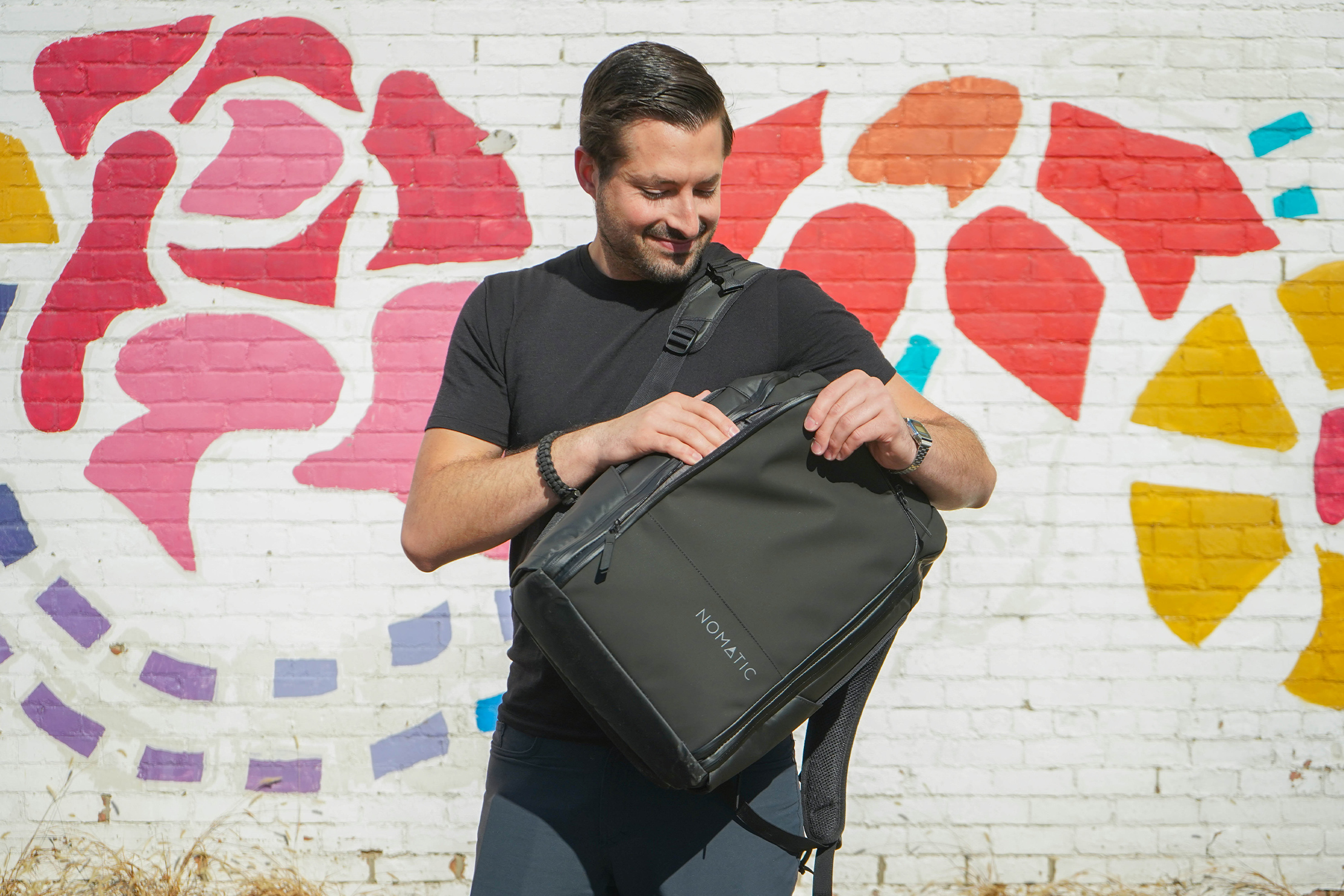 As for durability, we've noticed some marks and scratches on the tarpaulin. This isn't necessarily the NOMATIC Travel Pack exclusively, but rather a potential issue with any bag that uses this material on the exterior.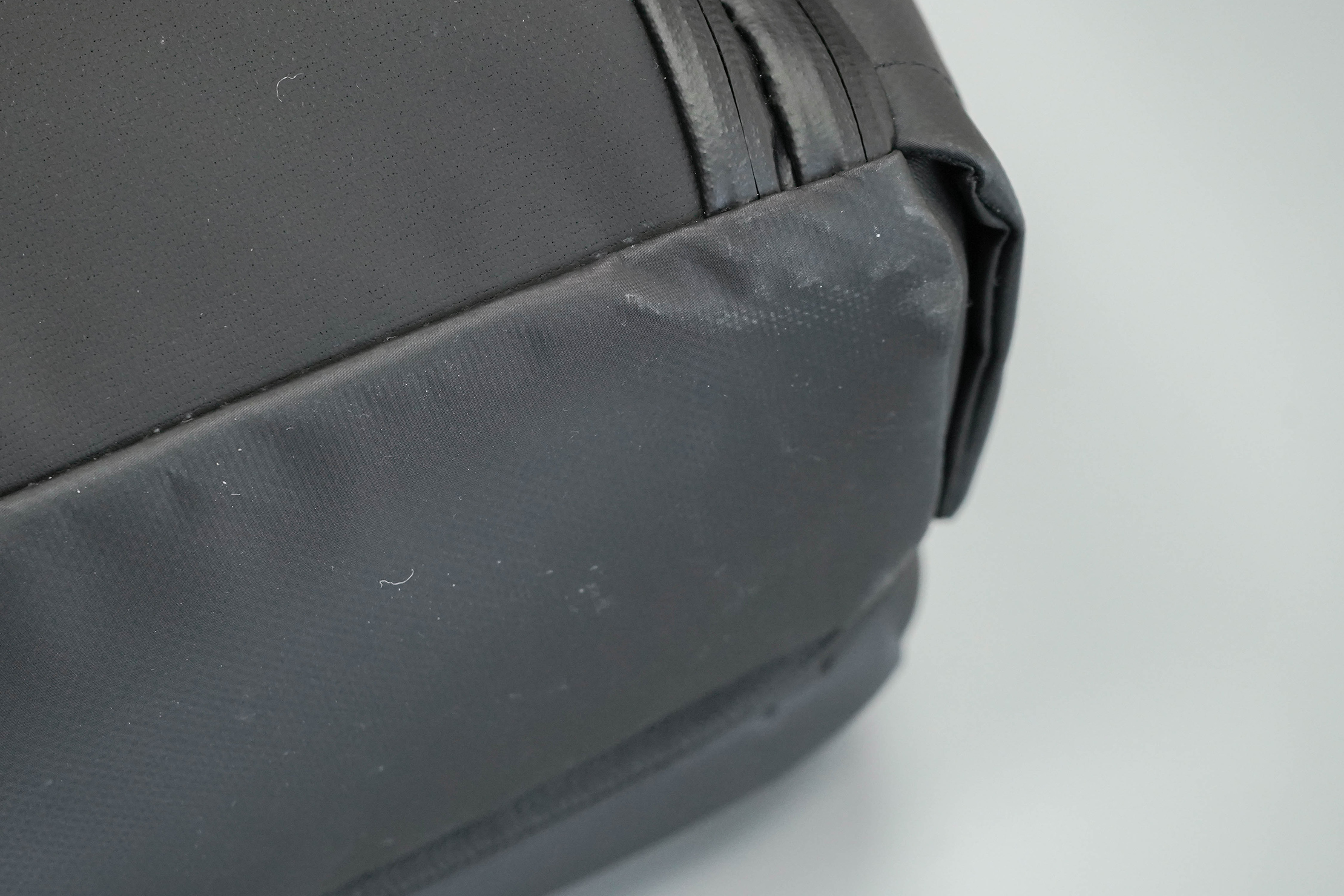 We like the idea of expandability, but it has to be functional too. This expandable feature on the NOMATIC Travel Pack is an appreciated design feature, but when you go from the 20- to 30-liter mode, it gets chunky and unwieldy. For everyday carry in the 20-liter mode, everything feels pretty slick. When expanded to 30 liters and full of heavy gear, the harness system gets more uncomfortable and the bag gets bulky and harder to manage.
Usage Timeline
Initial Usage
Condition: Excellent
Tons of pockets of all different sizes all over this bag
Padded, floating laptop sleeve has its own compartment for quick access
Expandable zipper lets you switch between having a 20L and 30L bag
2 Weeks of Use
Condition: Excellent
Impressed by all of the organization, but it may be overkill
Laptop sleeve feels secure thanks to the false bottom
Uncomfortable carry when fully loaded
Access the Pro Community Discussion
Get your questions about the NOMATIC Travel Pack answered from our team and the Pro Community right here on the page. Plus, join discussions with other members about gear, guides, and more.
Other Bags & Luggage Reviews