NOMATIC Compression Packing Cubes Review
Organize your clothing with the NOMATIC Compression Packing Cubes, which have mesh windows that keep things airy and ensure you know what you've got on hand.
Our Verdict
Unlock the Pro Summary
Save time. Get access to brief summaries of our reviews so you can browse and make decisions more efficiently.
Pros
Mesh promotes airflow to prevent smells
Three sizes for different kinds of clothing
Durable materials look professional
Cons
Unbranded zippers give us durability concerns
No internal organization
Easy to open the wrong zipper
Recent Pack Hacker Video
Technical Details
Capacity

10l

large (5L compressed) | 5.5L medium (2.5L compressed) | 4L small (1.5L compressed)

Weight (oz)

4.2 oz (119.1 g)

Small

Weight (oz)

5.05 oz (143.2 g)

Medium

Weight (oz)

6.25 oz (177.2 g)

Large

Dimensions

11.5 in x 11.5 in x 5 in (29.2 x 29.2 x 12.7 cm)

large | 11.5 in x 7.75 in x 5 in medium | 7.75 in x 7.75 in x 5 in small

Notable Materials

Unbranded Zippers

Manufacturing Country

Vietnam

Warranty Information
Buying Options
$39.99
$29.99
Full Review
Get up to 20% off NOMATIC • Join Pack Hacker Pro
Packing cubes are a great way to ensure your clothing stays organized and contained while traveling to, around, and from your destination. However, not all cubes are the same. Upon first glance, this offering from NOMATIC looks and feels like a quality travel companion, though a few minor details make us curious to see how they handle the road. Let's dive in!
External Components
While we're not confident about what material NOMATIC used to make these cubes, an educated guess is a ripstop nylon. The material is durable and feels nice in your hand while protecting your clothing. The accent material is mesh to enable airflow. We dig this because, often, while traveling, you need to get up and go before your clothing is all the way dry. This way, damp clothing can breathe and not get stinky.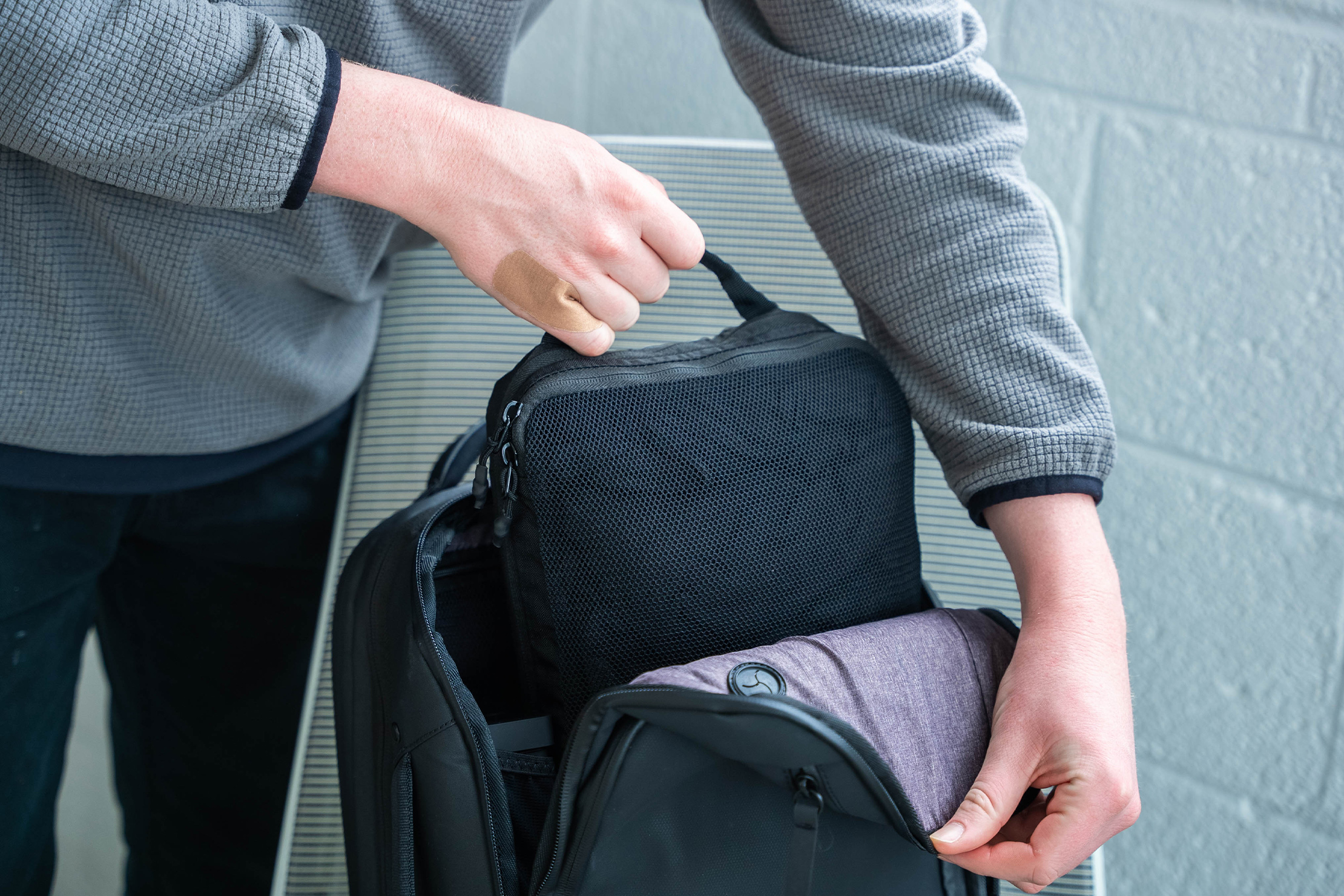 The cubes have a top handle, which is a worthy addition, especially on the larger model. It's large enough that it can be hard to carry with one hand, yet it allows you to tote all of them with one arm, leaving your other appendage free to drink a coffee, make a phone call, or give a rad person you meet on your journey a high five. That said, we're not sure why you're carrying your packing cubes around, so the handles aren't overly necessary and are more for quick grabs than anything.
The zippers on these cubes are unbranded and perform well. We're worried about the longevity of the compression zipper, though since the head is tasked with the tough job of compressing and holding a fair amount of clothing, and we worry that a potentially sub-par zipper could eventually fail. So far, we're happy to report that we haven't had any issues. Check the usage timeline below for updates!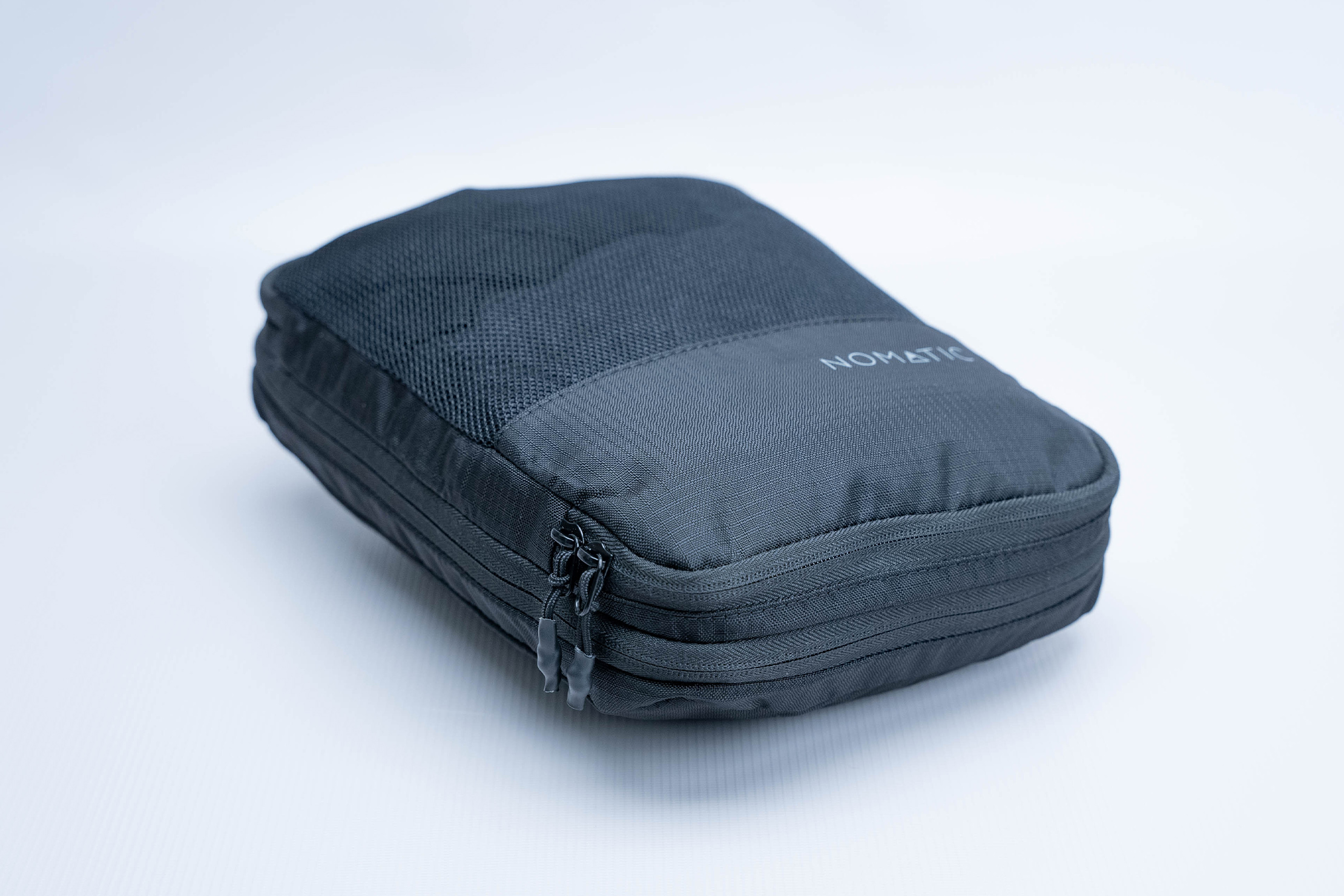 All around, these compression packing cubes are sleek. As of the time of this review, they only come in black, which might not strike every traveler's fancy. However, their minimalistic design fits in with most pack-outs, regardless of your travel backpack or daypack. The logo isn't in your face, the mesh adds a nice accent, and the ripstop feels premium in your hand.
Inside The Packing Cube
These cubes' interior isn't revolutionary, and that's okay. There isn't any internal organization; it's just an ample open space, which allows you to get into the nitty gritty of sorting your clothing, and you don't have to use segmentation you don't want. Conversely, you might want to go with something different if you love having a home for everything.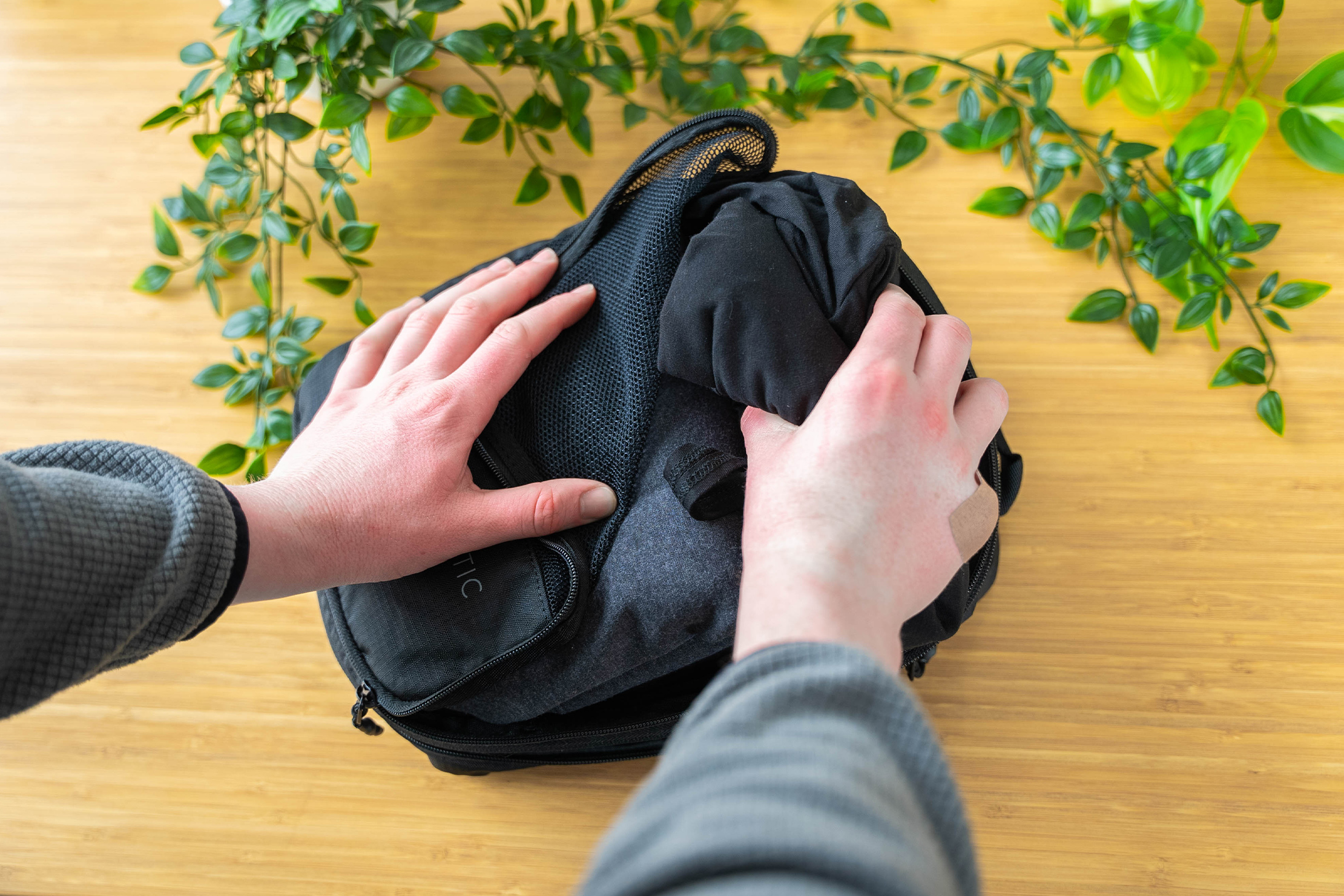 When accessing the main compartment, it's easy to mistake the zippers. They're identical, so it isn't uncommon to accidentally open the compression zipper a quarter of the way before realizing what you've done. It's not an issue; it's just something we noticed in testing that's worth noting.
There are three different-size compression cubes available. We've got all three, which makes for a stellar set of cubes. The small or medium will fit inside a daypack without issue, while the large one feels more at home in a travel backpack.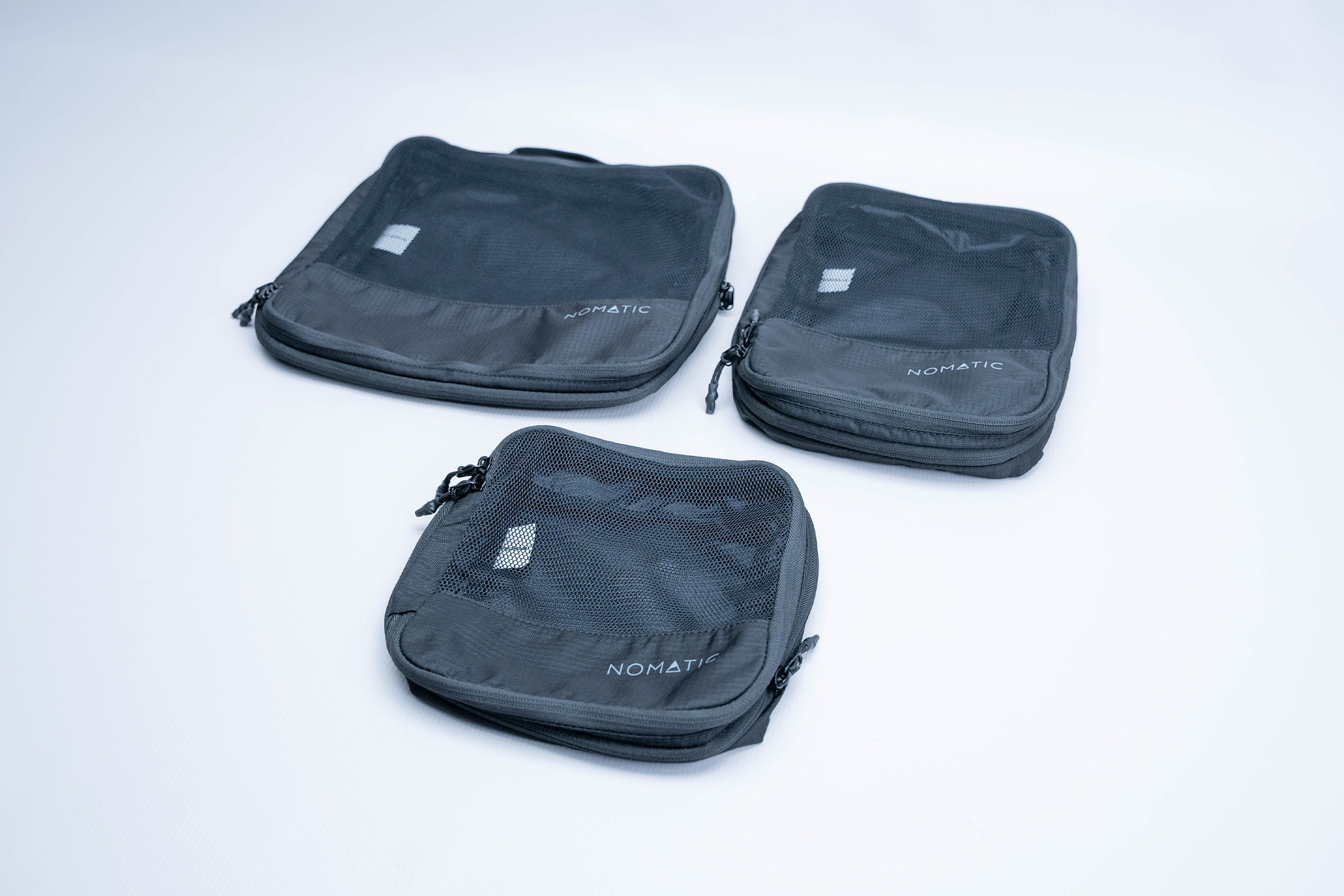 Because of the mesh, you can see what's inside the cubes. You can't see everything, but there's enough of a window to identify which cube is which. The sizes are different enough to tell them apart when they're next to each other, although it isn't as easy when isolated. Being able to see inside puts an end to any confusion.
When closing the cubes, start by zipping up the main compartment. Then, move on to the compression track. It can be challenging to get started, yet things are pretty smooth once you get the ball rolling. You can use one hand to close the zipper and the other to hold together the track in front of it. Or, use your second hand to push down on your clothing to condense them for a smooth ride.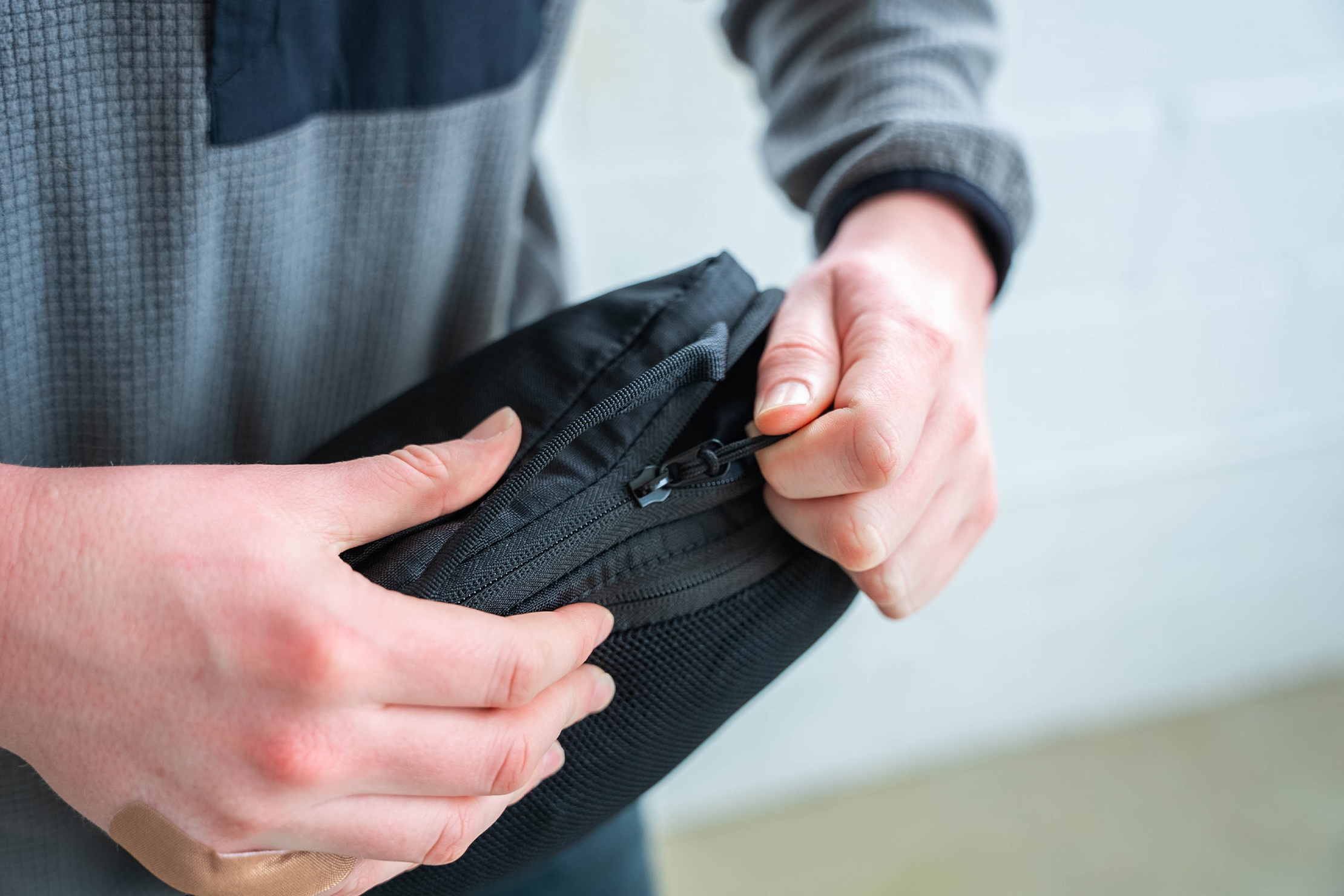 You can get a sound system for organizing your clothing if you have all three cubes. Socks, underwear, shorts, and accessories do well in the small cube. The medium cube is suitable for thinner pants, shirts, and long sleeves. The large cube is great for use as an overflow area for larger pants, sweatshirts, and anything else you may have purchased on your trip.
At the end of the day, the NOMATIC Packing Cubes do what they're supposed to do. They don't offer anything revolutionary or save a ton of weight, yet they work, and that's what matters.
Usage Timeline
Initial Usage
Condition: Excellent
Zippers are unbranded but feel sturdy and up to the task
Mesh feels durable and will enable airflow
We dig the different size options for each kind of gear
2 Weeks of Use
Condition: Excellent
No issues with the materials—everything has held up well
The unbranded zippers have performed well
We dig the top handle, especially for carrying the larger cube
Access the Pro Community Discussion
Get your questions about the NOMATIC Compression Packing Cubes answered from our team and the Pro Community right here on the page. Plus, join discussions with other members about gear, guides, and more.
Other Organizers & Pouches Reviews