NITECORE BP18 Commuter Backpack Review
The NITECORE BP18 Commuter Backpack looks sleek, has two gear access points, and seamlessly transitions from a daypack to a crossbody bag.
Our Verdict
Unlock the Pro Summary
Save time. Get access to brief summaries of our reviews so you can browse and make decisions more efficiently.
Pros
Two access points for gear, depending on what you're grabbing
Materials are durable and fairly lightweight for deiner
Can transition into a crossbody bag
Cons
Shoulder straps can be uncomfortable when fully packed
Not much internal organization for those who desire it
Materials pick up pet hair and dust easily
Recent Pack Hacker Video
Technical Details
Capacity

18l

Weight (lb)

1.6 lb (0.7 kg)

Denier

500D

Dimensions

18.5 in x 9.4 in x 6.3 in (47 x 23.9 x 16 cm)

Notable Materials

Nylon, Polyester, DWR Coating, YKK Zippers, Duraflex Hardware

Manufacturing Country

China

Laptop Compartment Size

14"

Warranty Information
Full Review
Get up to 15% off NITECORE • Join Pack Hacker Pro
At the time of writing, we haven't reviewed any NITECORE backpacks. We've reviewed their flashlights and battery banks with high praises, but we're curious whether they can transition from tiny tech to tiny bags without any hiccups. Without further ado, let's dive in!
External Components
The NITECORE BP18 Commuter Backpack is crafted from 500D nylon. It feels durable but isn't overly heavy, which is a nice middle-ground. The exterior has a dirt and water-resistant coating, which works quite well. It can survive in light rain for enough time to get to your destination, and even if you're getting dunked on like a kindergartener in the NBA, your gear should be safe so long as you can get to cover fairly quickly.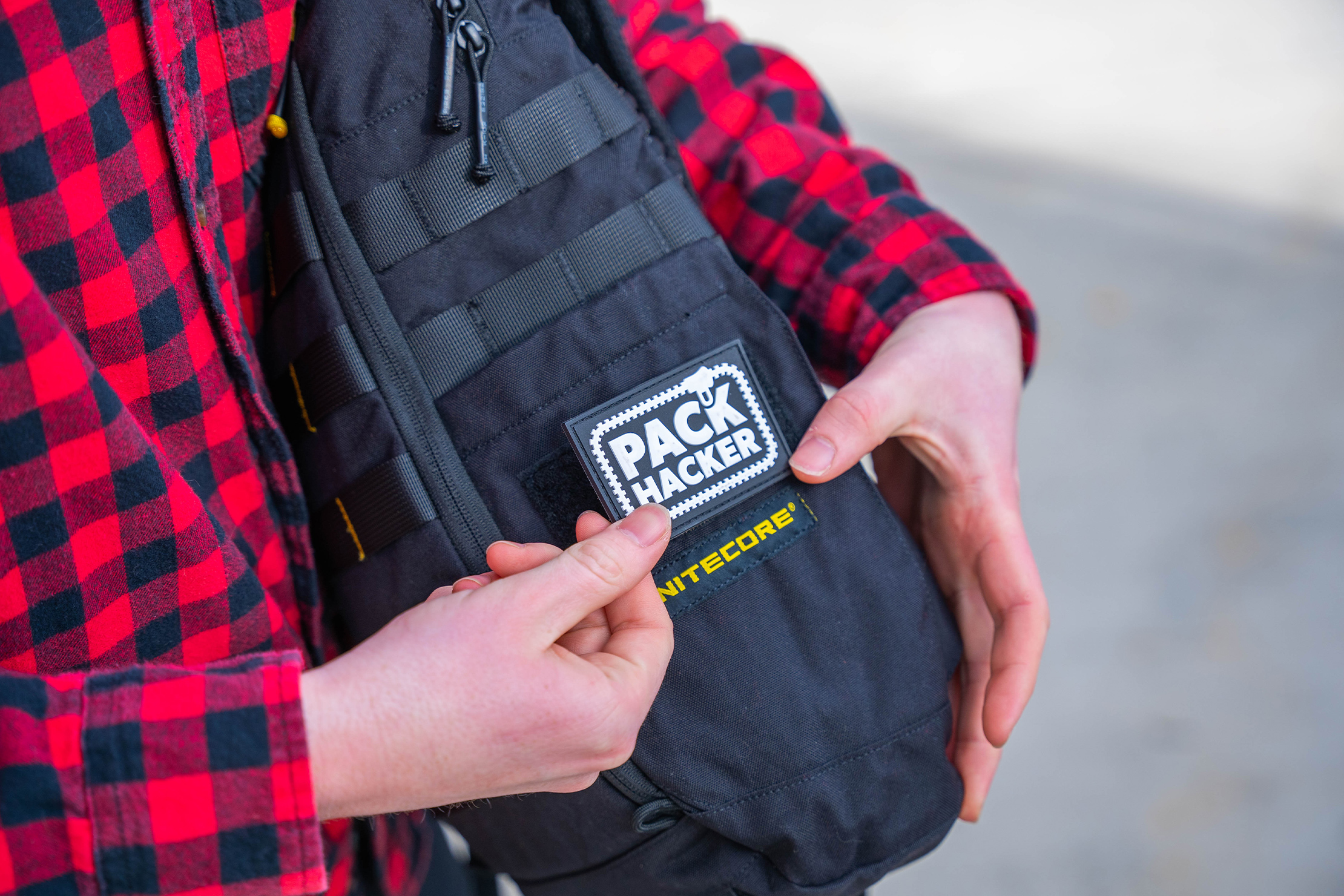 The materials tend to pick up pet hair and dust reasonably easily, but they come off quickly with a lint roller or piece of tape. If your pet has black hair, it won't be as noticeable. White hair is hard to miss, though.
As we alluded to with the mention of pet hair, this thing comes in black. It's almost entirely black, apart from a few splotches of yellow. These offer a nice contrast and are only on one side of the pack. Even the zipper pull on that side is yellow instead of black, which is neat attention to detail. There is a hook and loop receiver on the top of the pack and one on each water bottle pocket so you can attach a patch.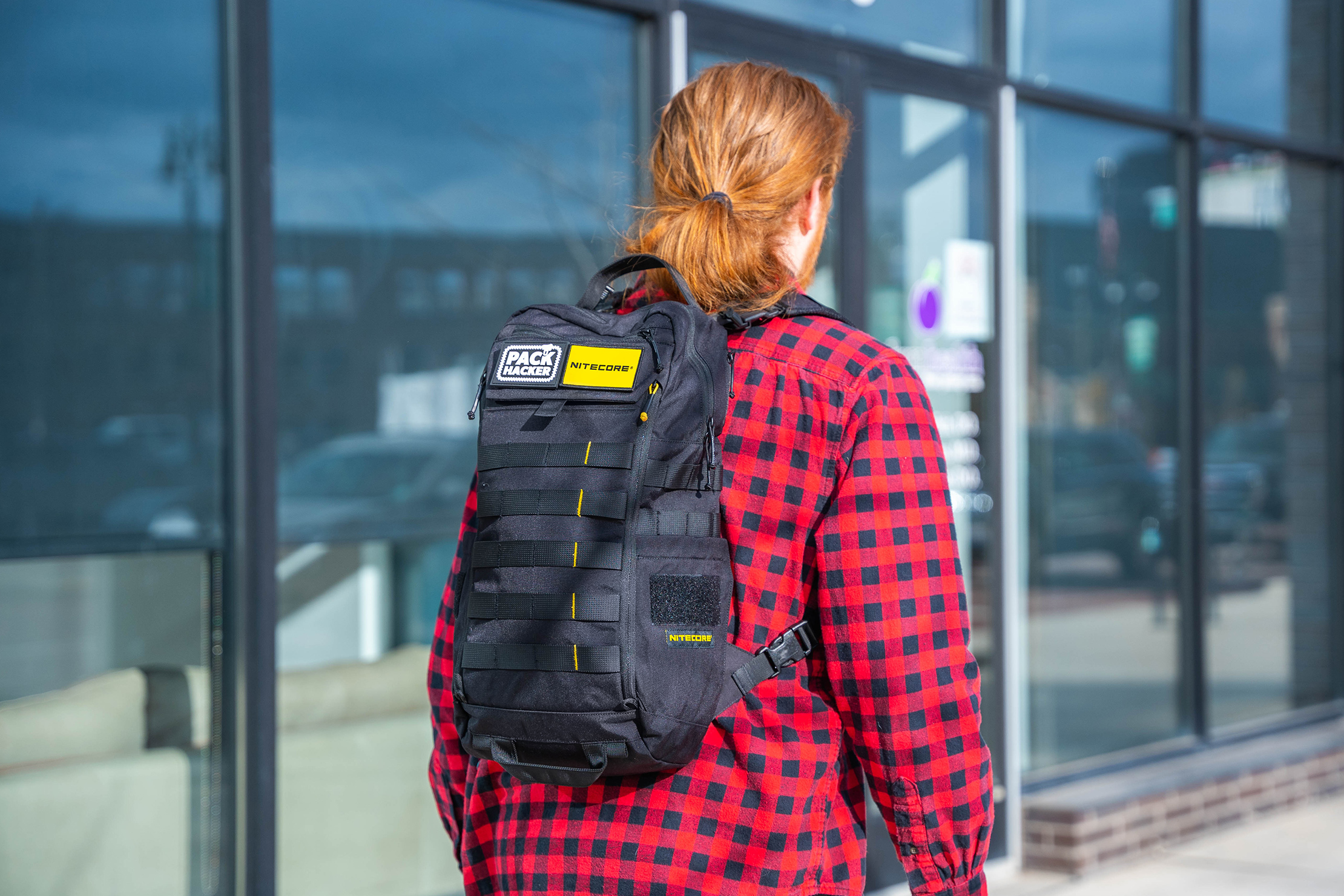 Regarding hardware, the BP18 has YKK zippers throughout its construction, and the straps utilize Duraflex buckles and adjusters. If you've read Pack Hacker reviews in the past, you know how we feel about both those brands. If this is your first time—YKK and Duraflex are two of the best in the business in terms of hardware, and neither presents any issues for this pack.
There are attachment points in the form of molle webbing all over this pack's front and some above the water bottle pockets, too. This enables you to attach pouches and other pieces of gear on the exterior and not take up valuable space inside the daypack. This thing comes in at just 18 liters, so you may be looking for extra room. The molle enables you to do that and offers a tactical look.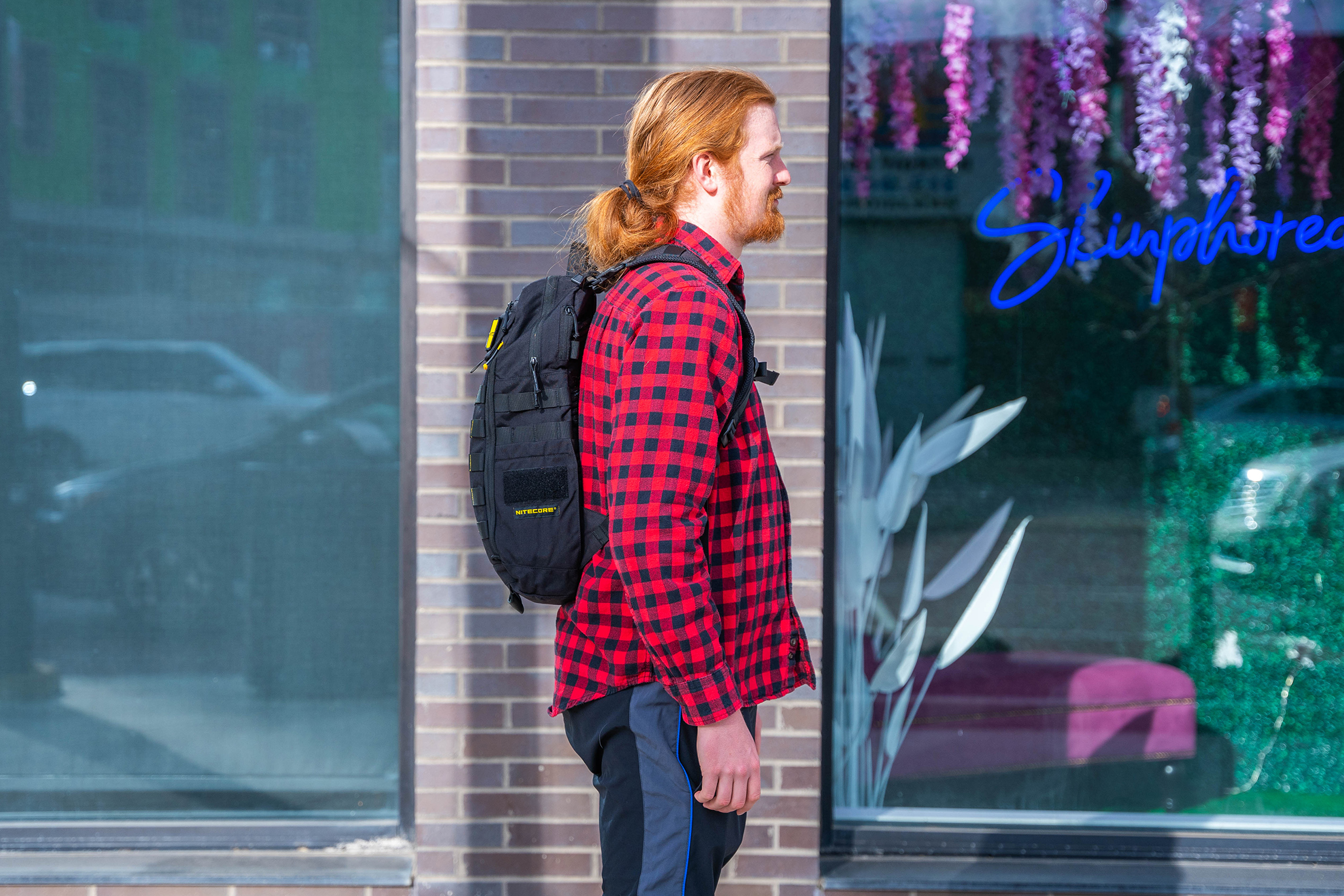 There are water bottle pockets on both sides that fasten with elastic. We can fit a 32 OZ Nalgene bottle here, but smaller models are better suited. When you have the pack full, sliding a large bottle can be difficult, but it is possible. If your big bottle has an attachment dohickey on the top, you can use it to clip the bottle onto the molle webbing just above the pocket for extra security.
Last, let's chat about the handles. There's one on the top and bottom, which we dig for several reasons.
First, you can use both to carry the pack when it's open. We'll get into this later on, but one of the ways you can open the main compartment is a clamshell opening, so you can leave it open and carry the pack around. We've seen this on other bags in the past, namely the Shimoda Explore V2, and it's handy to have in the field and when organizing your gear at the hotel.
Second, this makes grabbing the pack from either end a lot easier. Again, as we'll get into, the shoulder straps are removable, so you can use this pack without them as a large packing cube for your car or larger travel backpack. Once you arrive, grab the pack from the front or back with the handle, throw the shoulder straps back on, and you've got a daypack at your service.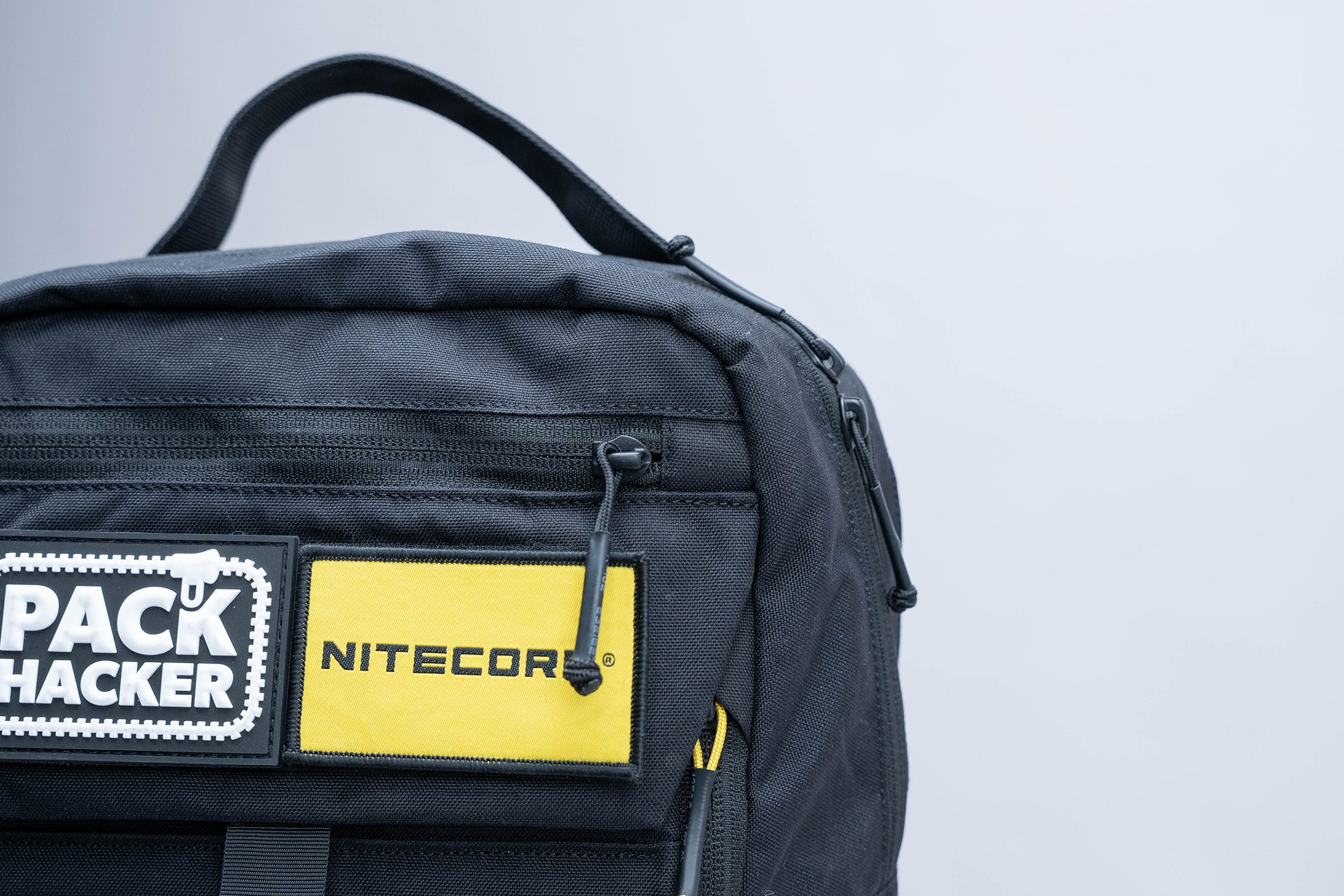 Lastly, erm… we've only got two reasons to share. It does look cool with two handles, though. Is that reason enough?
Fit Notes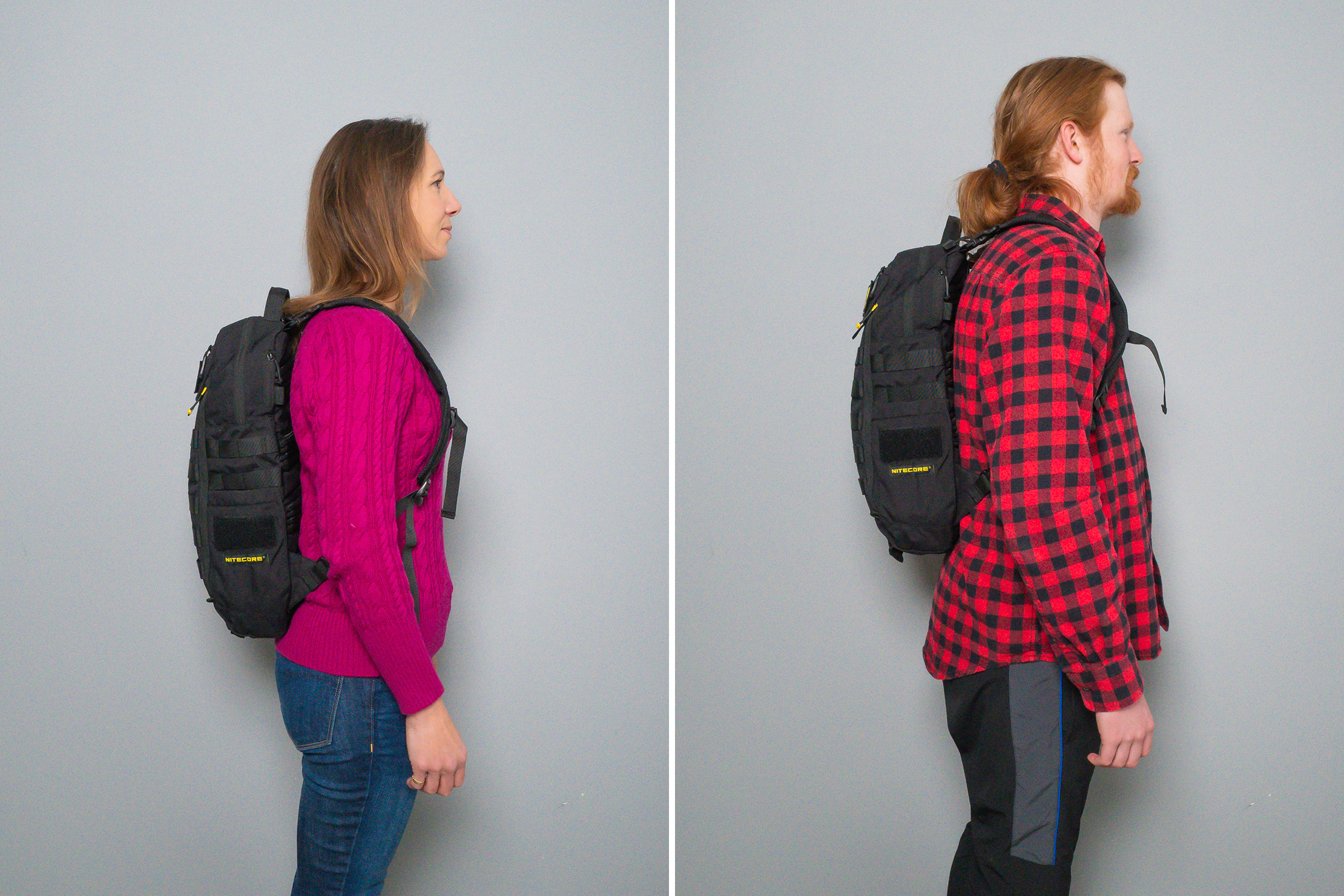 The shoulder straps on the pack are a straight line—there is no curve or shape. As mentioned above, they're completely removable. Some users note that the top buckle is noticeable on their shoulders. It isn't uncomfortable, but it's not ideal.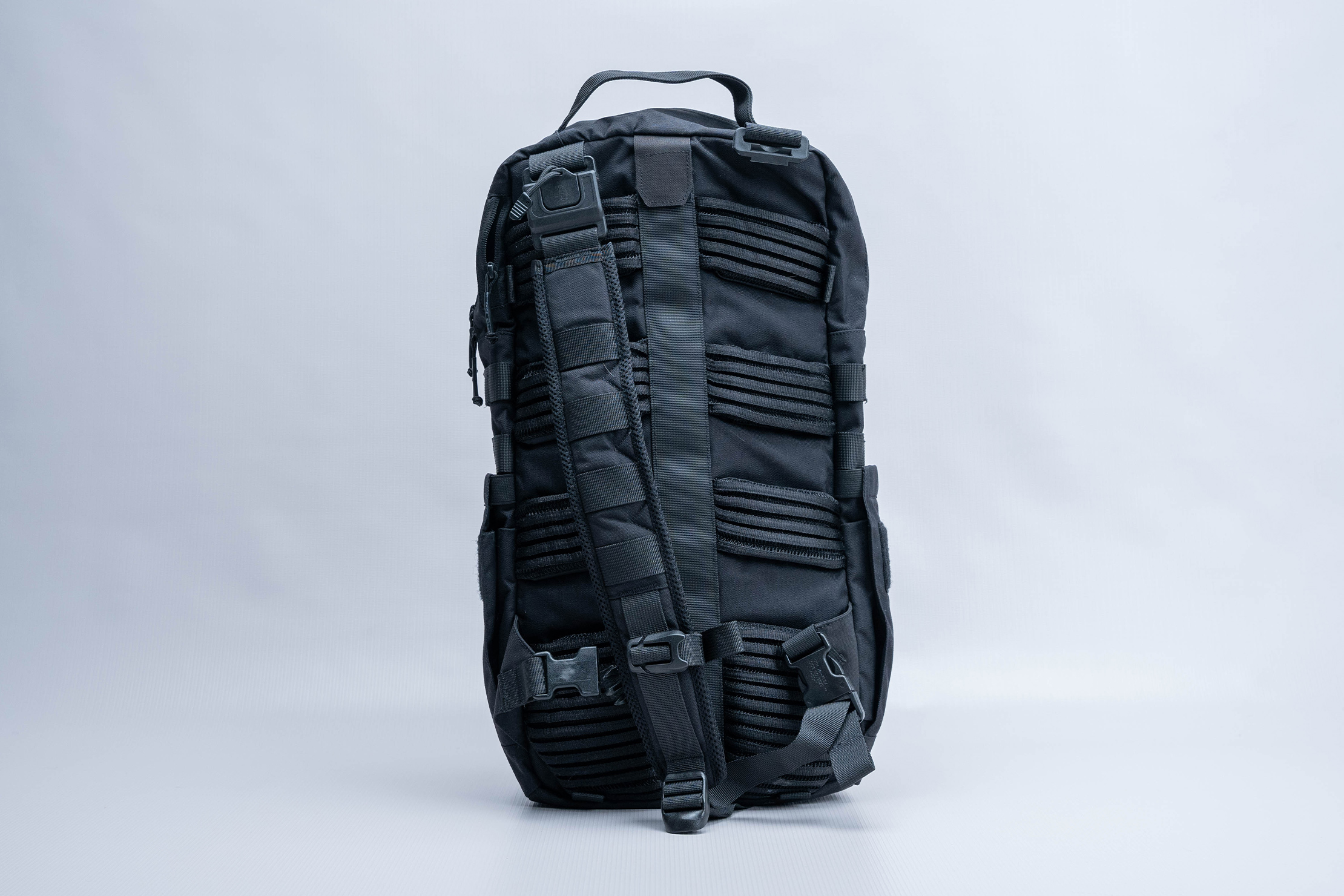 If you remove just one shoulder strap, move the bottom buckle from the remaining, and shift it across the pack, you can wear the BP18 as a cross-body bag. When packed lightly, it's comfortable and is a unique method of transportation for your gear. It looks pretty rad—but once you fill it up, the strap digs into your shoulder, and you can feel the weight on your lower back. It's an excellent inclusion, especially if you like to switch things up from time to time. It's a backpack and a sling!
The sternum strap is on a rail, so you can make micro-adjustments. The rail isn't as long as others we've seen, so depending on how you like to wear your pack, you might be unable to find the perfect sweet spot. If you don't want to use the strap—after all, this is just an 18-liter pack—you can remove it entirely.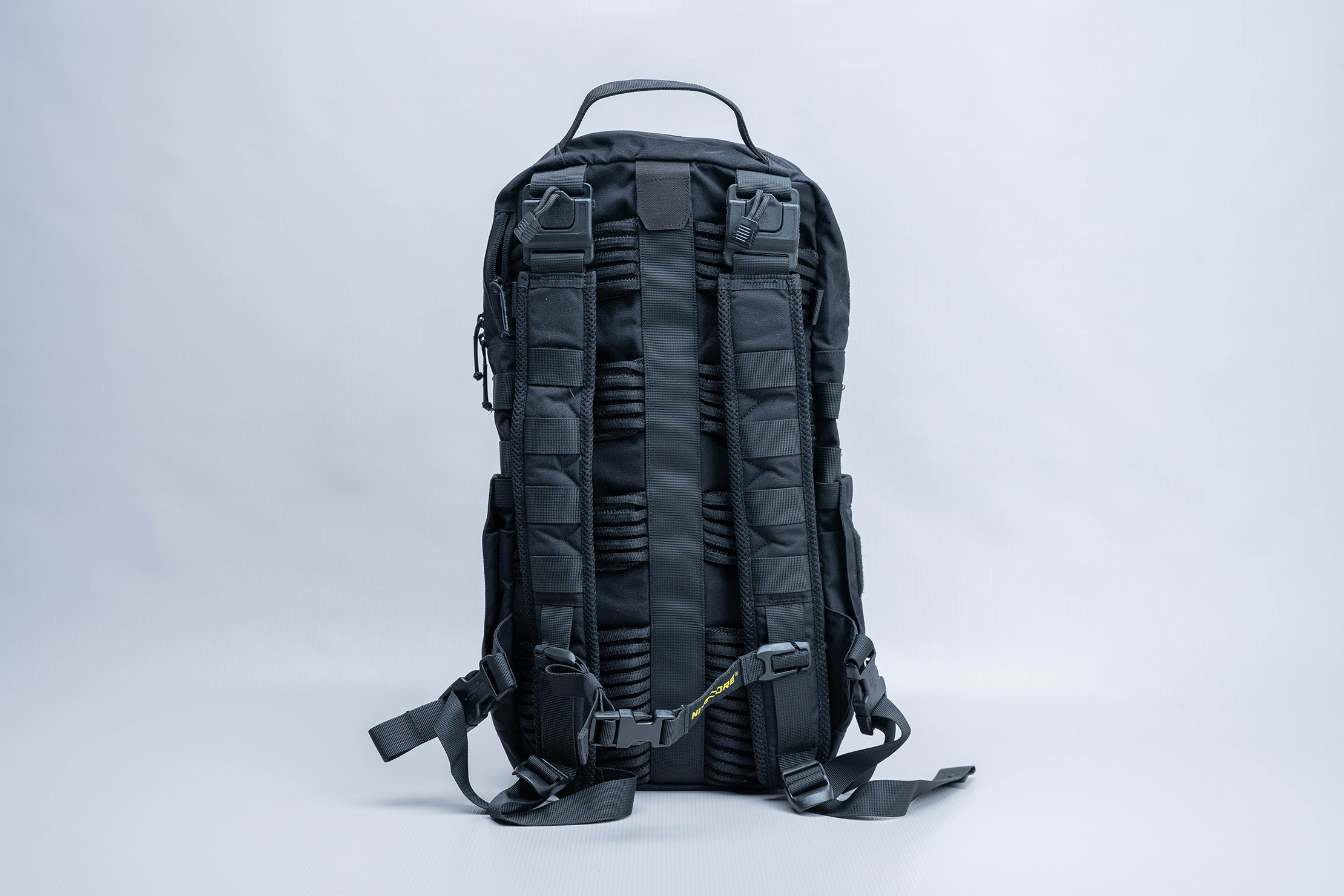 The back panel has ample padding and large channels for airflow. How it's designed almost feels like dense sponges placed throughout the pack. When you aren't completely loaded up, it's comfortable and airy. When you fill-up the pack, it's still airy, but you can feel the padded sections, and it isn't as comfortable. In most cases, it works well, and you shouldn't have an issue so long as the pack isn't overloaded.
Inside The Pack
There's just one secondary compartment to comment on—a quick access pocket on the top of the pack. It's a perfect size for a few snacks, your wallet, or a phone. Some larger-sized phones or those with large cases may struggle to fit inside, but a standard iPhone works without an issue. It shares space with the main compartment, so it's harder to access it when things are fully loaded. The pocket's location on the top of the pack is convenient for grabbing a snack, answering a call, or grabbing some money while exploring a new city.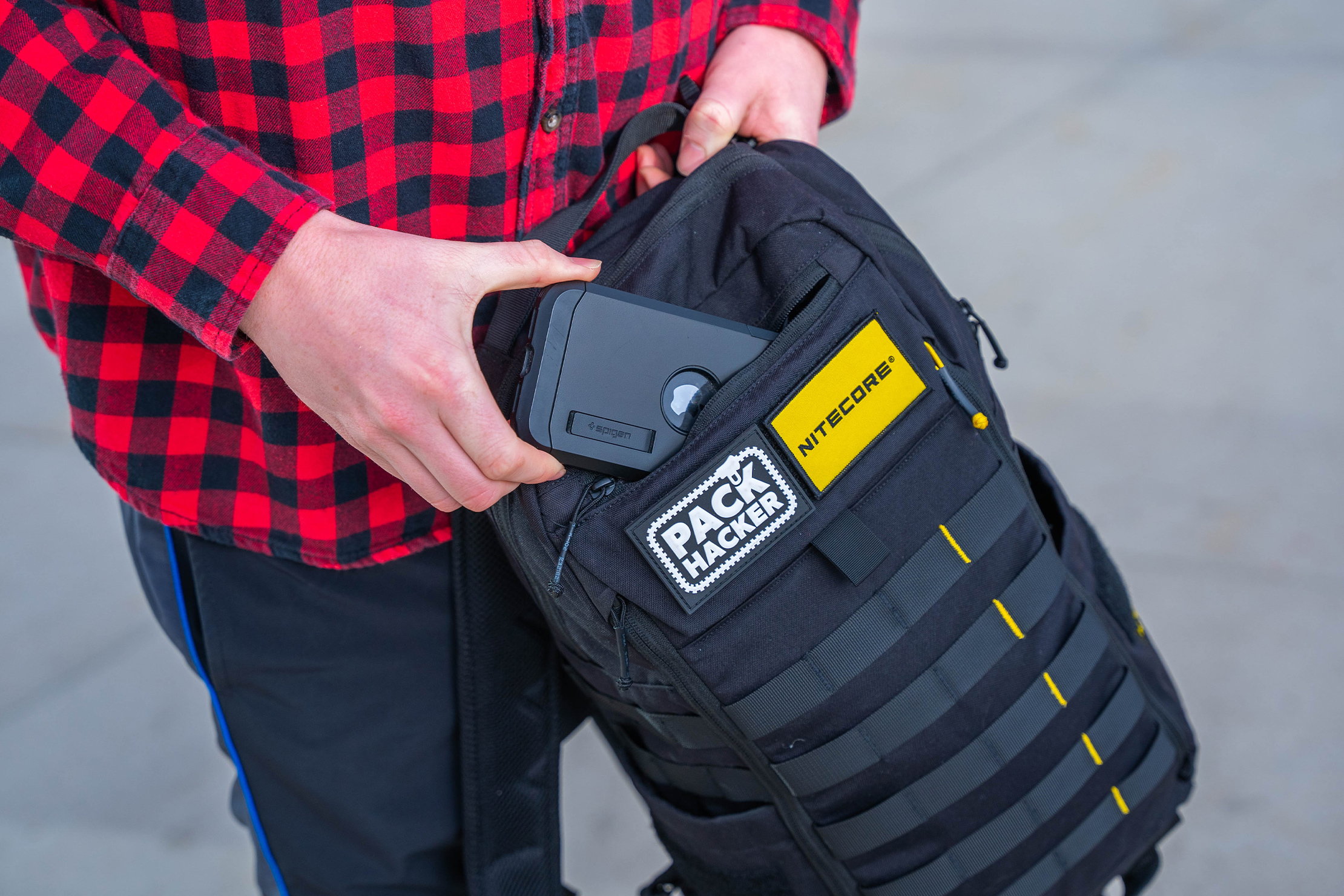 The main compartment is accessible in two ways. First, a top zipper runs just around the corner of the top of the pack. This is good for grabbing gear you know is stacked on the top or accessing your laptop in the sleeve. If you want to get gear on the bottom of the pack, it's hard to do because you have to reach your hand into the abyss blindly. The addition of this access point is excellent for quick access to top-loaded gear and your laptop.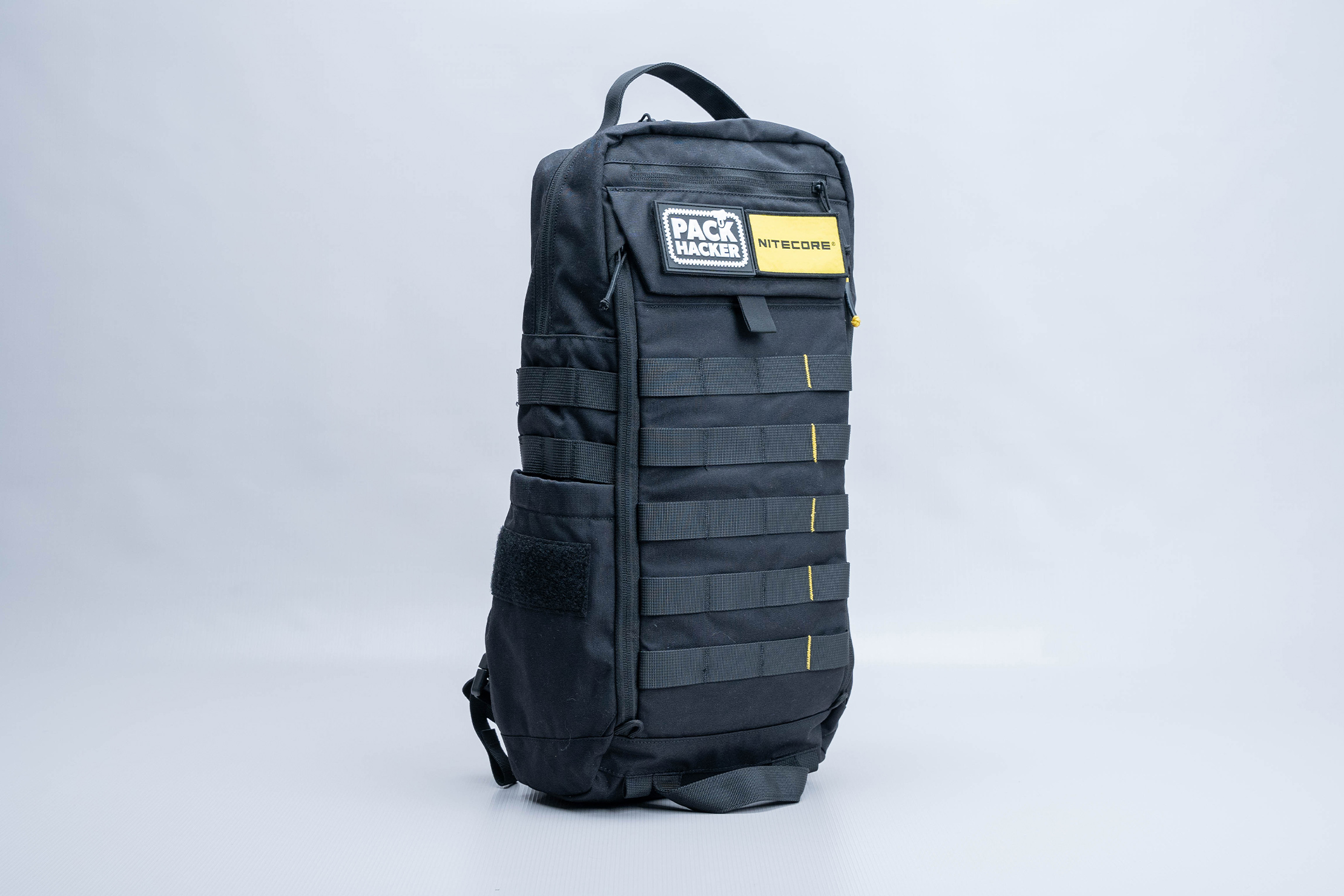 The second access point is via a clamshell opening on the pack's front. There are two zippers on either side and a hook and loop fastener tongue to secure the top. Using this method, you can see the entire main compartment to organize or find gear quickly. Plus, when you have it open, you can use the two handles to move the pack, as we mentioned earlier.
The main compartment has little organization. At just 18 liters, it isn't missed much. The laptop sleeve can fit up to a 15-inch MacBook Pro. If you have a computer that's wider than that, you may only be able to fit the advertised 14-inch.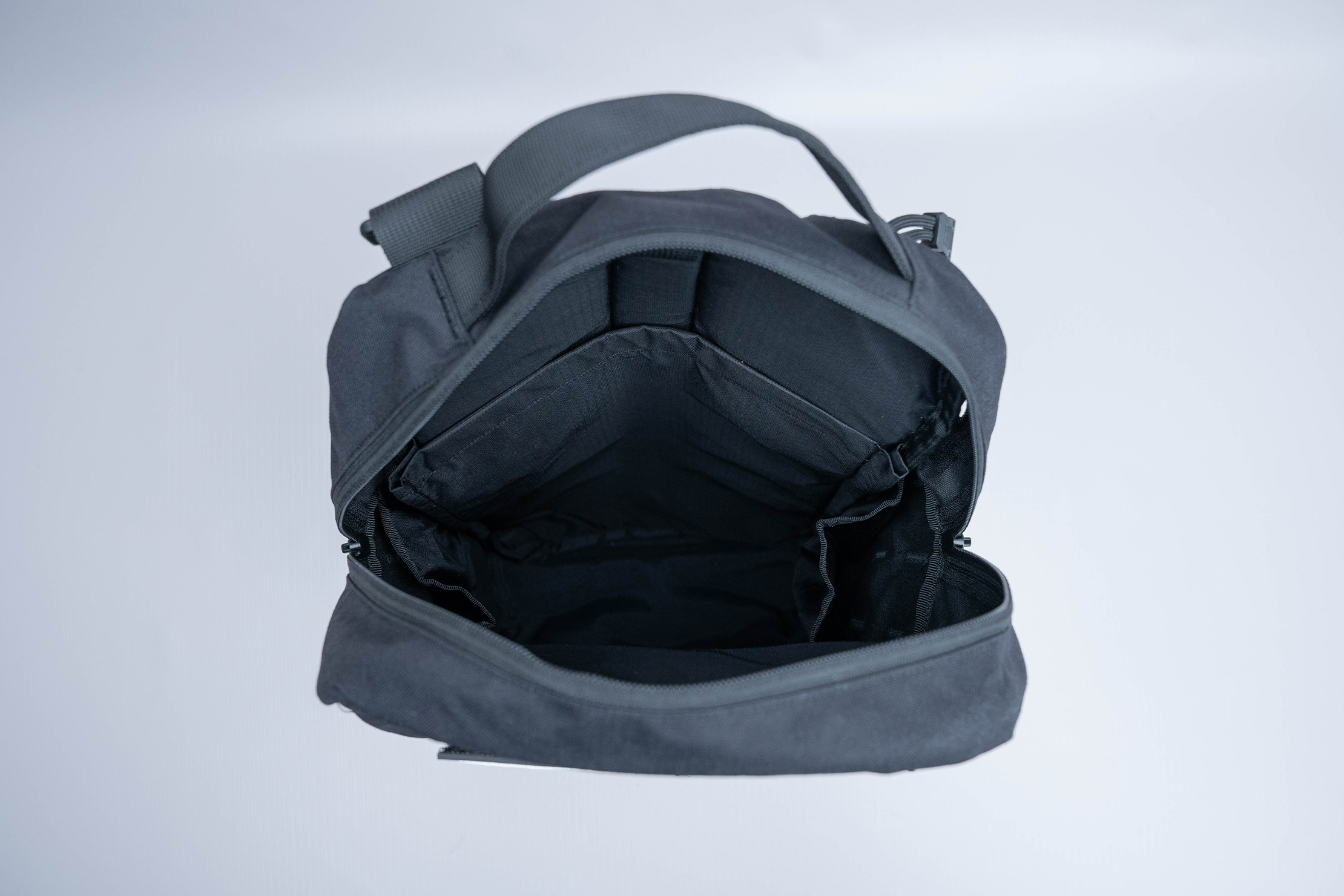 The laptop sleeve can also be used for a water bladder, and there's a port to the exterior of the pack in the top corner. It uses a zipper, which gives us concerns that it may damage the hose. You can also use this port to run a cable out of the bag.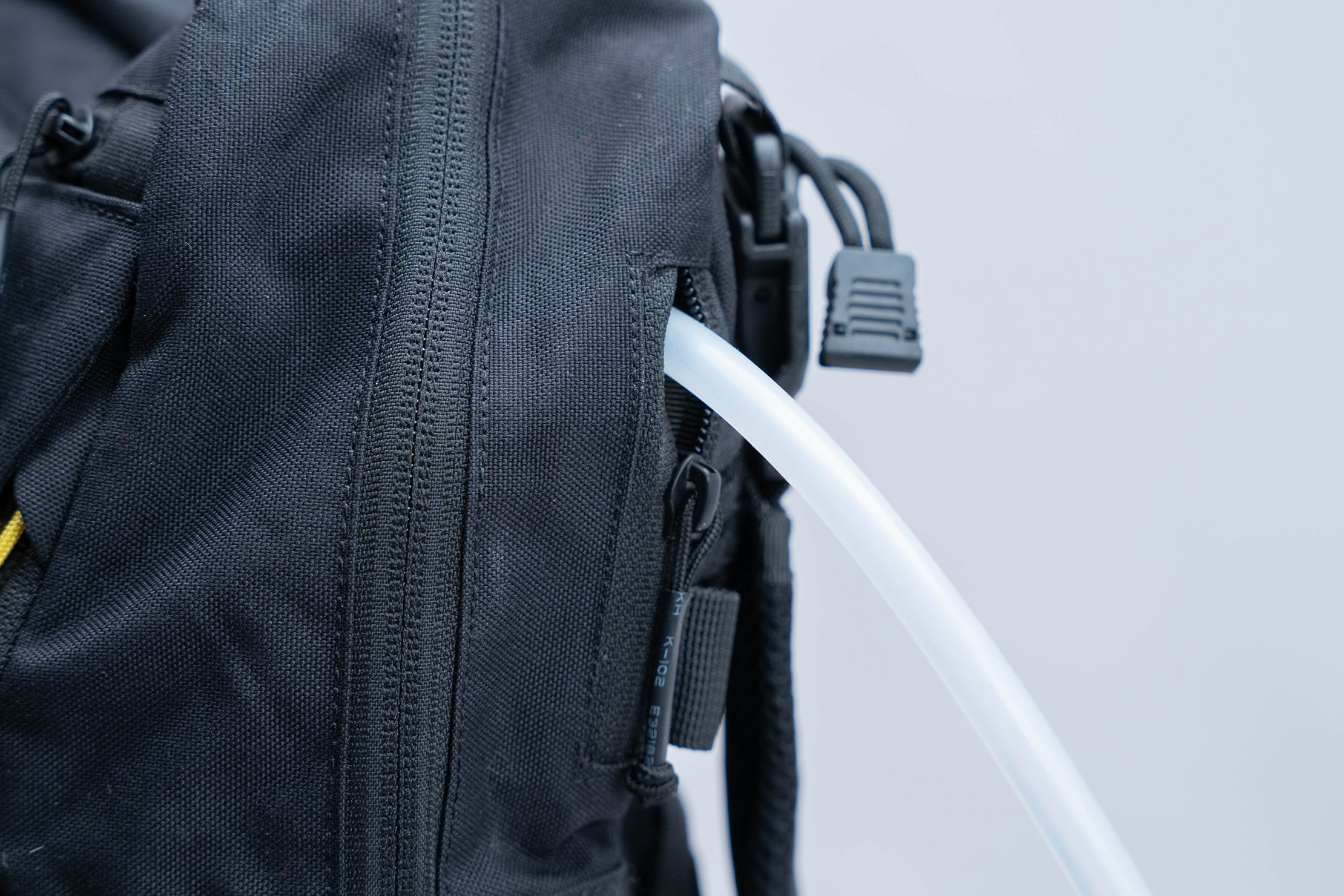 There are two side pockets, one on the left and the other on the right. They don't have a topper and are a convenient spot to lock down smaller gear you don't want floating around the main compartment.
The flap that opens to enable access to the main compartment when you use the clamshell opening has a hook and loop receiver on it. You can attach pouches, patches, or other gear to secure it inside the main compartment. When you open the clamshell opening, it will come with the tongue, so heavy-duty items aren't a great idea.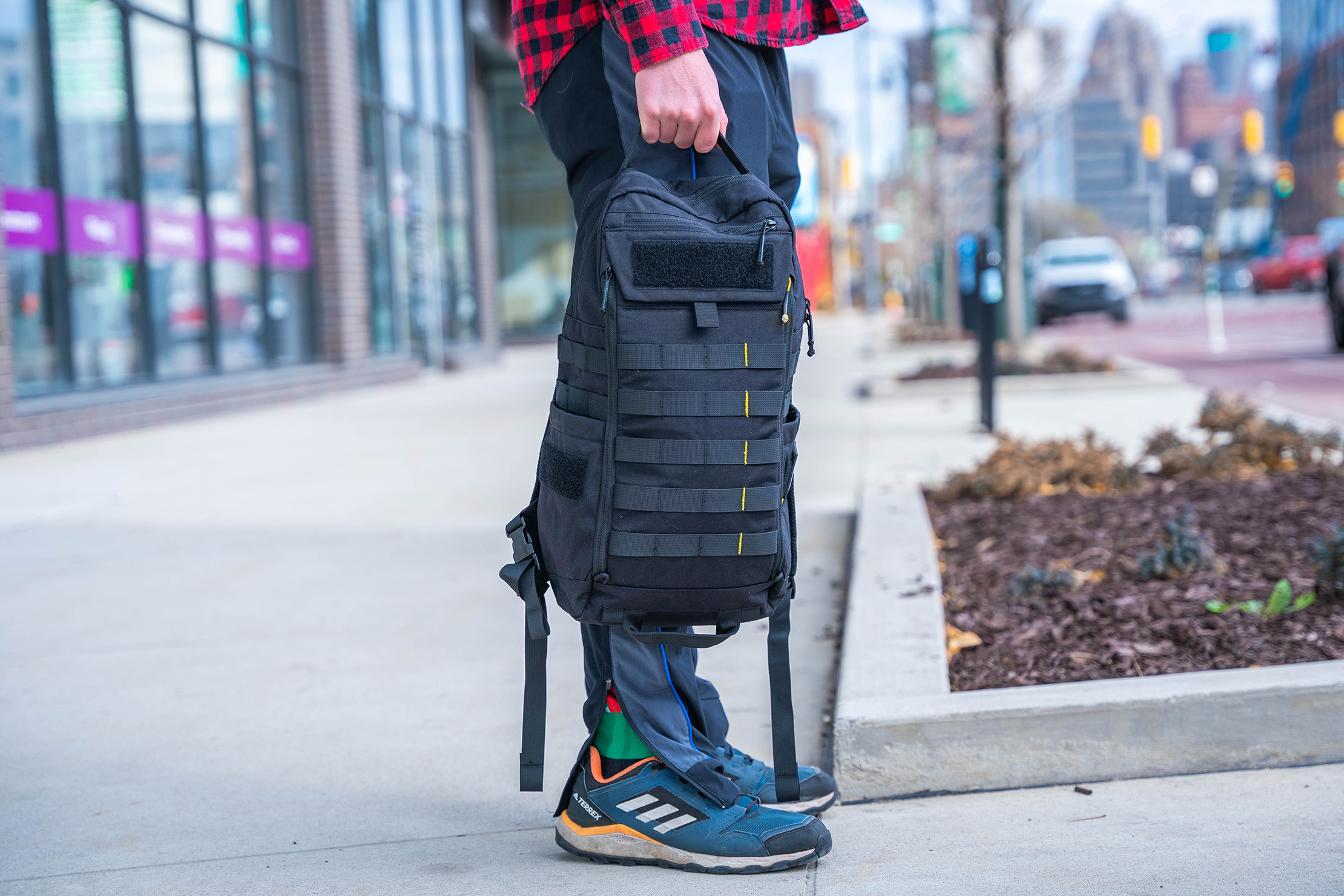 Overall, this pack has a great look and feel. It's small enough to be inconspicuous but has enough space and is modular enough to do the job for you regarding everyday carry and short trips around the city. The real question is, what patch should you put on when you get it?
Usage Timeline
Initial Usage
Condition: Excellent
Design is sleek and yellow accents offer a pop of color
Nylon feels thick and durable
The harness system is unique, but we're curious how comfortable it is
2 Weeks of Use
Condition: Excellent
No issues with the main pack material in terms of durability
Hardware is holding up well—both the YKK zippers and Duraflex hardware
Materials can pick up pet hair and other dust but are easy to clean
Access the Pro Community Discussion
Get your questions about the NITECORE BP18 Commuter Backpack answered from our team and the Pro Community right here on the page. Plus, join discussions with other members about gear, guides, and more.
Other Bags & Luggage Reviews