Mystery Ranch Scree 32 Review
The Mystery Ranch Scree 32 excels at travel and rugged adventures due to its comfortable harness system but is plagued by its hiking look while in urban environments.
Our Verdict
Unlock the Pro Summary
Save time. Get access to brief summaries of our reviews so you can browse and make decisions more efficiently.
Pros
Lots of exterior attachment points for extra gear
Three-zip main compartment makes access easy
Back panel has ample padding and aeration for comfort
Cons
Lots of loose strap materials on the exterior
Not much organization in the main compartment, so small items can get lost
Has a hiking pack look and feel even without hip belt and sternum strap
Recent Pack Hacker Video
Technical Details
Capacity

32l

Weight (lb)

2.8 lb (1.3 kg)

Dimensions

22 in x 11.5 in x 9 in (55.9 x 29.2 x 22.9 cm)

Notable Materials

ROBIC®, Nylon, YKK Zippers, Duraflex Hardware

Manufacturing Country

Vietnam

Warranty Information
Full Review
The Mystery Ranch Scree 32 is billed as a pack that can do it all. This pack has big shoes to fill, from long day hikes in the wilderness to traveling across the country with friends. Typically, a bag that can do everything doesn't necessarily do it all well, as corners have to be cut to ensure well-roundedness. Or, it excels at one thing, and others are mere afterthoughts. We're curious how the Scree stands up to the challenge, so let's find out!
External Components
At first glance, you can tell a lot is going on regarding this pack's exterior. To kick things off, the primary pack material is 210D robic nylon. This fabric is extraordinarily lightweight but offers excellent durability whether you're trekking across an unfamiliar city or a 10+ mile trail. It's also relatively water resistant, which will keep your gear dry unless you're getting absolutely dumped on.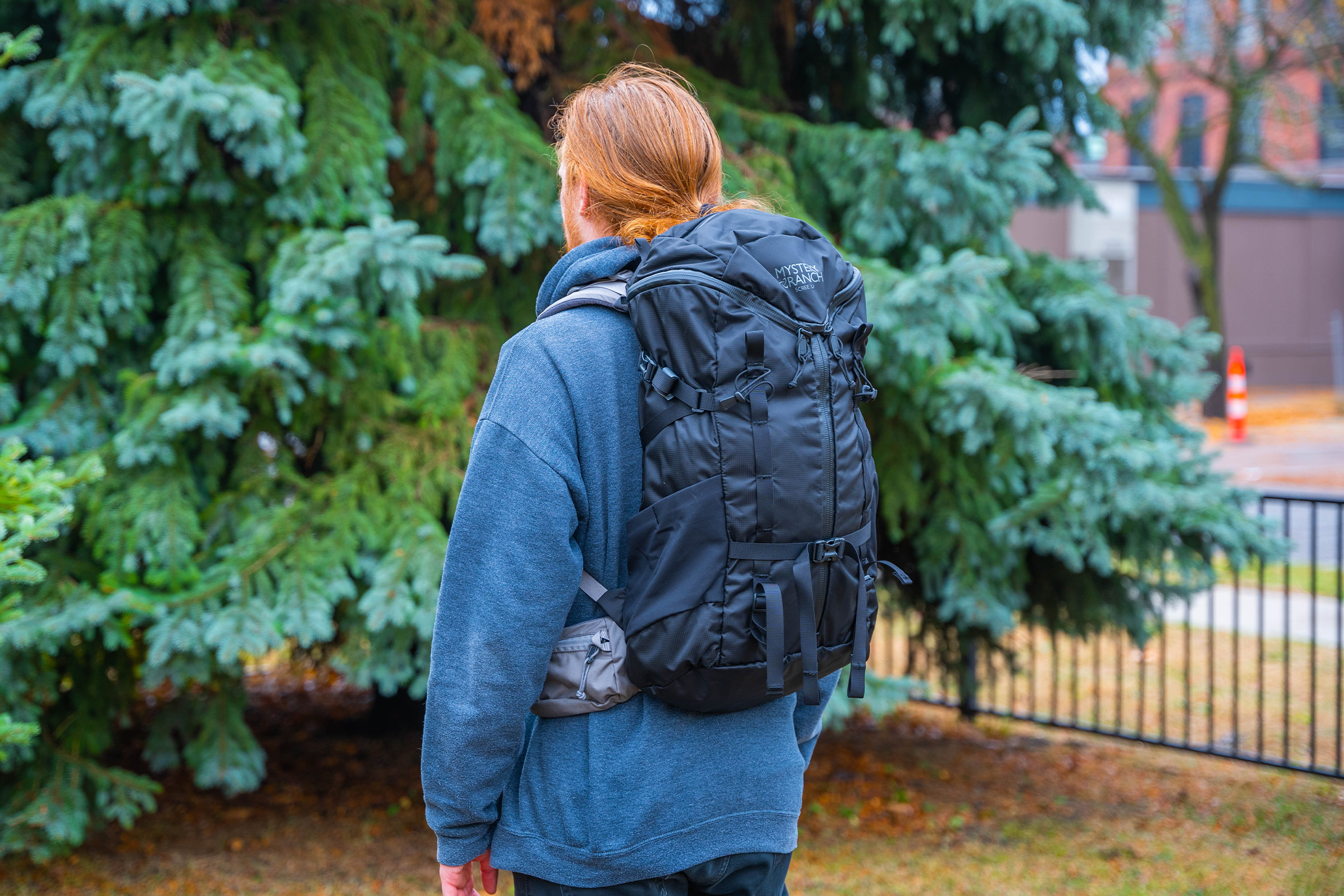 Another critical aspect of keeping your gear dry is Mystery Ranch's choice of zippers. There are YKK models throughout this pack, and every external zipper has an AquaGuard water-resistant finish. There are quite a few places that would be vulnerable to water if they had not made this choice—so it's worth a head nod that they did. There's a small metal pull with a paracord-like material wrapped around it. There's a knot on the end, which helps if you're wearing gloves or the weather is wet.
Every zipper track has a small loop on each end that assists in opening the zip. This is especially helpful for the main compartment zippers—a beefy 10RC model. However, we appreciate the inclusion when it comes to the smaller secondary compartment zippers too, which are 8RC models.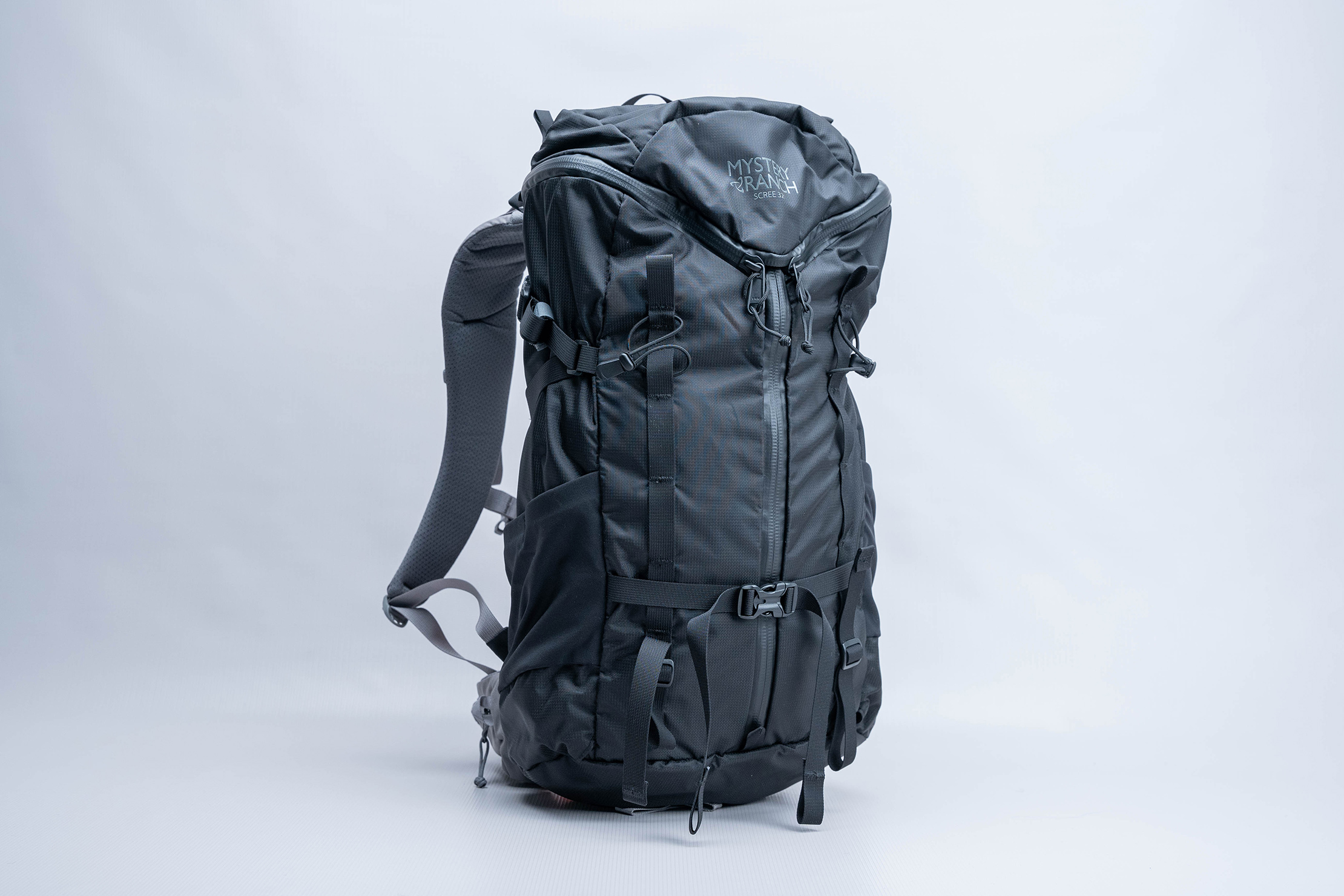 The hardware is from Duraflex and is up to snuff as far as we're concerned. They aren't so heavy as to weigh the pack's harness system down, but they are adequately durable and snappy in use.
There are two capable water bottle pockets on either side of the pack. They're crafted from a stretchy mesh material that transitions into the main pack fabric on the bottom. This offers durability where it counts and elastic to hold your bottle in place. You can fit a 32-Ounce Nalgene bottle here without issue, which makes this a perfect daypack for hikes, crossing an arid city, or for those who generally like to stay hydrated. A small hole on the bottom of each pocket allows excess or condensated water to escape, ensuring it doesn't end up inside.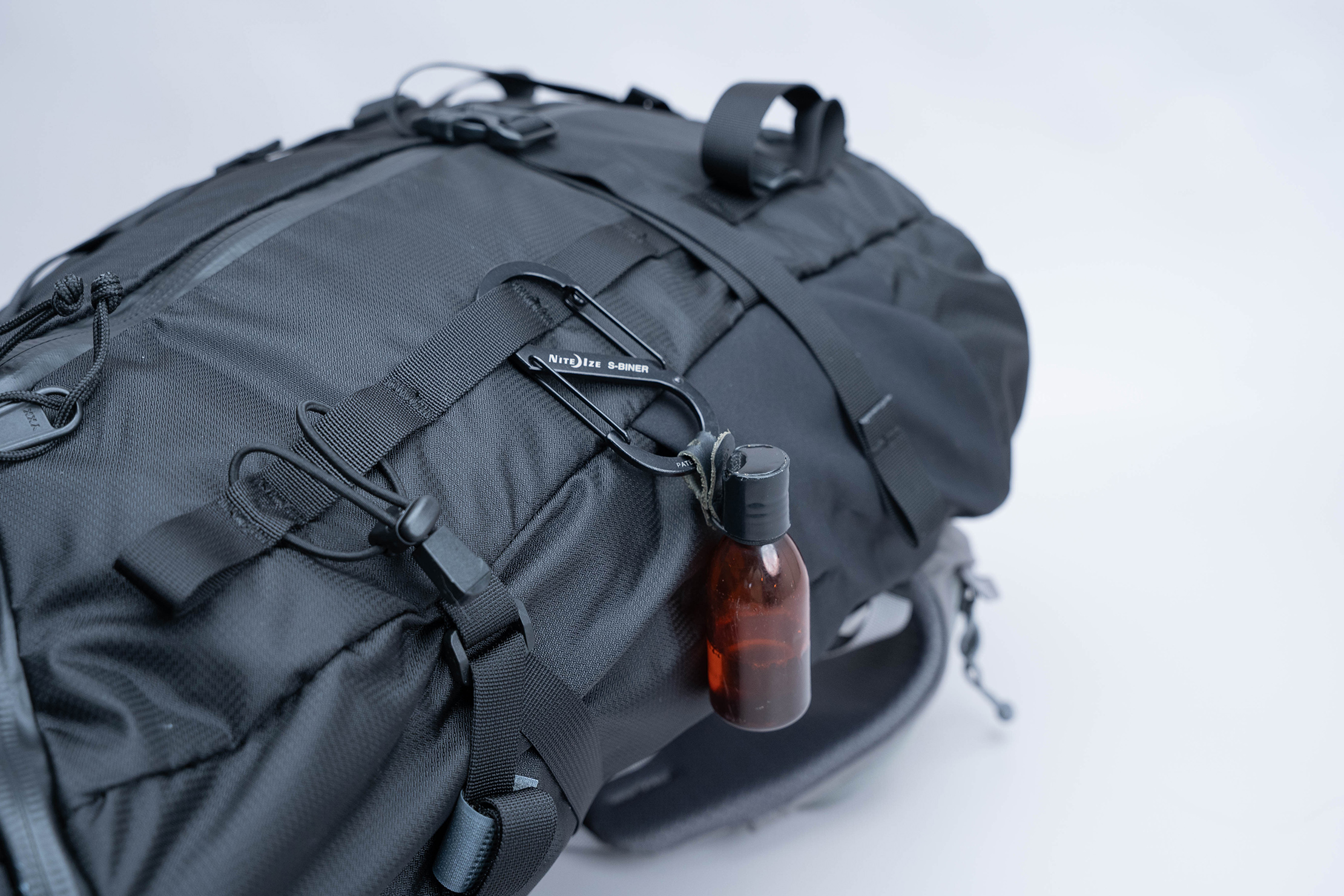 Towards the center of the pack from there, we've got two daisy chains, one on either side of the main compartment zipper. This is handy for attaching gear with a carabiner like the Nite Ize S-Biner, but there's more than meets the eye initially. The top portion has a small piece of elastic with a plastic adjustor, and there's a strap adjustor on the bottom of the daisy chain. This is for attaching a trekking pole or other long item which integrates nicely into the pack without being too obvious. Although this pack was designed for many uses, it blends in well within whatever task is at hand, which we dig.
A large compression strap runs across the front of the pack to tighten things you've got attached to the front side and to cinch down the pack's size. We dig the placement of this strap because it isn't too high up, so you can still adequately access the main compartment. If it were much higher, you wouldn't be able to.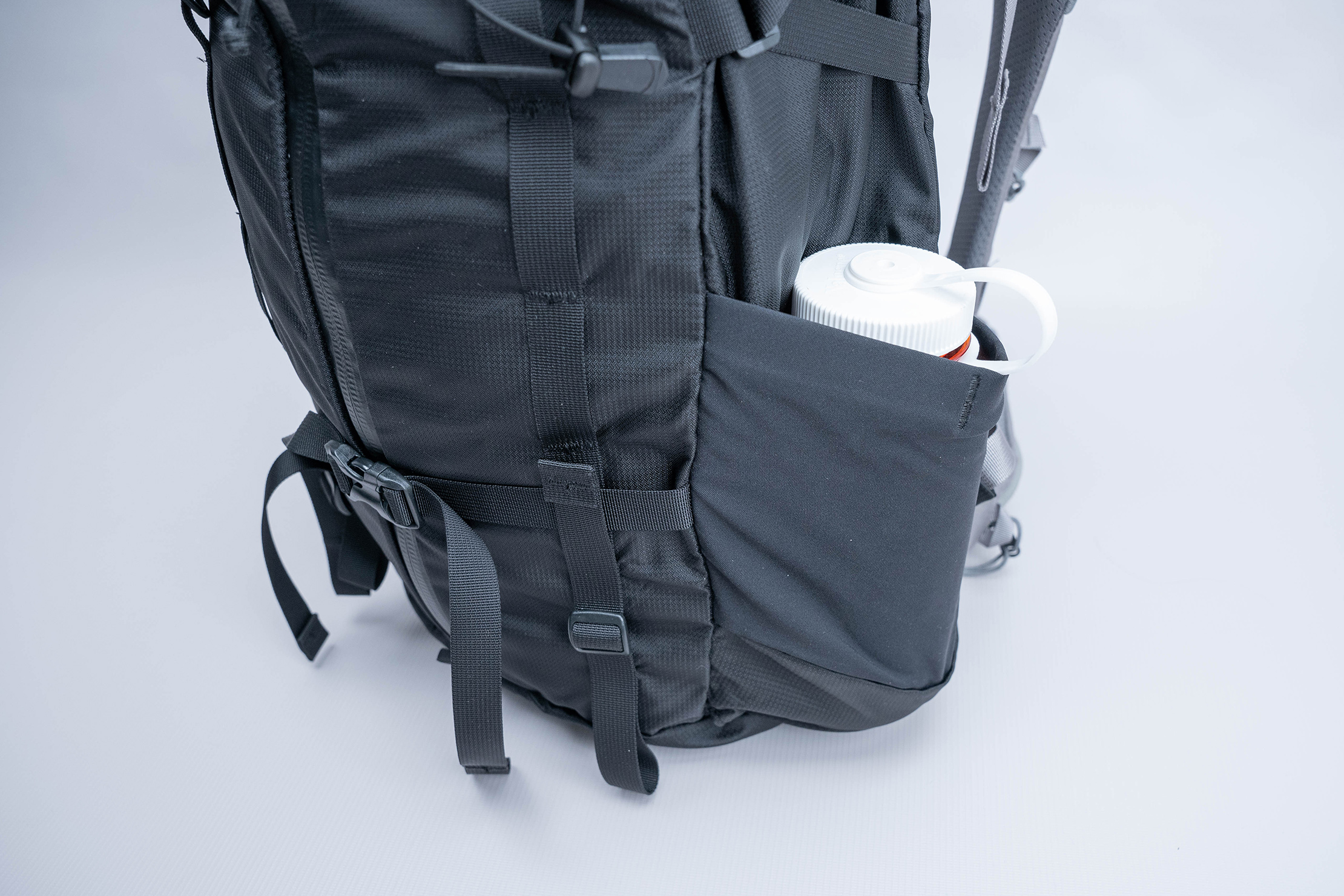 We've got two more compression straps on this pack—one above each of the water bottle pockets. They utilize a V-shaped design that offers a ton of compression capabilities. There's often a lot of leftover strap material, but each side has a hook-and-loop fastener strap keeper to manage it. This is the only place on the pack with a strap keeper, so other areas can have excess straps when cinched down.
Last but certainly not least, there's a carry handle on the top side of the pack. It isn't much to write home about—no padding or aeration to speak of, but it's durable and can be grasped quickly if you need to make a quick getaway from a bear on the trail or a Mariachi band on the subway. There's an ambidextrous port below that for a water bladder, but we'll talk more about that later.
Fit Notes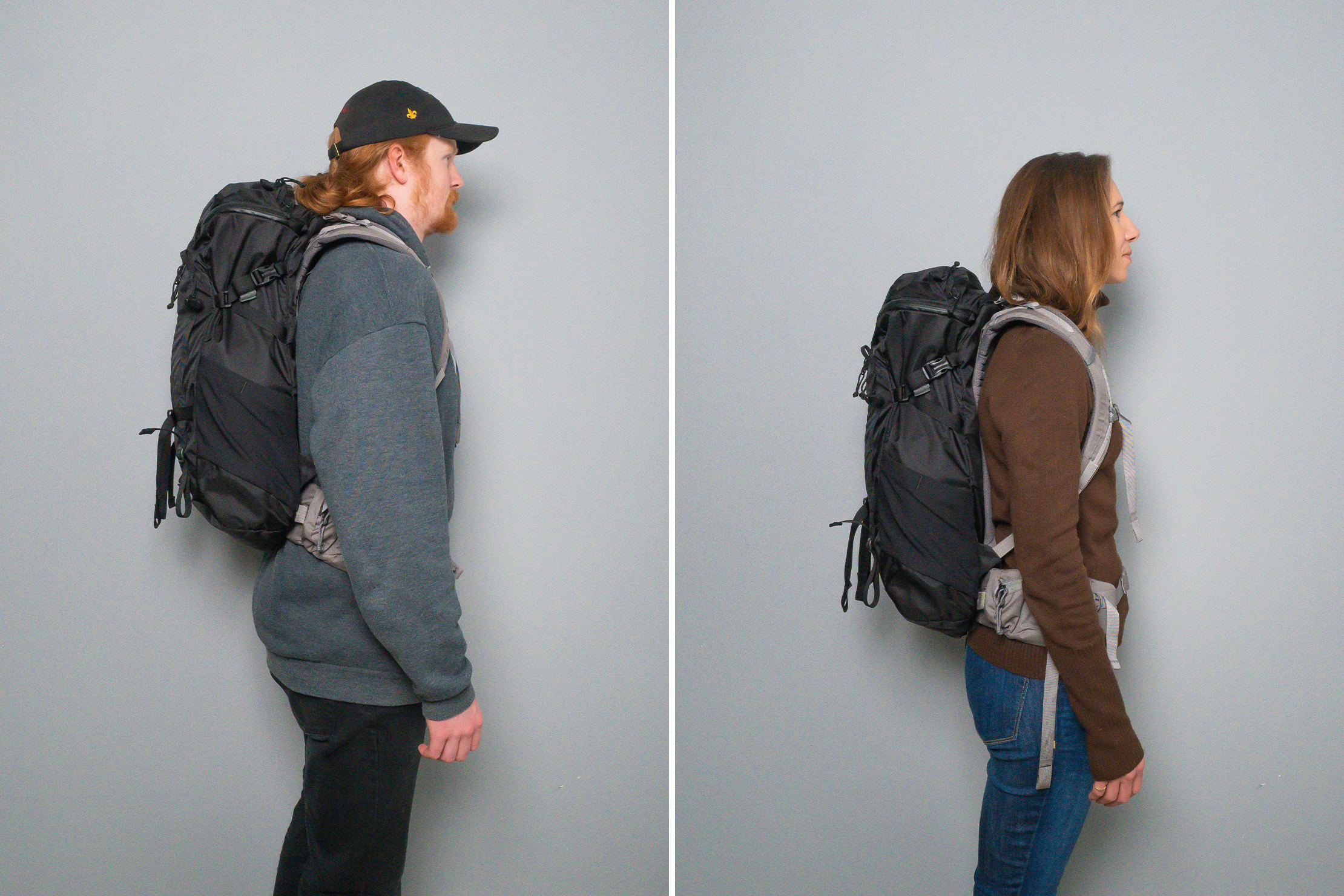 If you thought a lot was happening regarding the external components, oh baby, are you in for a treat! We should start by saying that this pack comes in two sizes. The Small/Medium size is for torso lengths between 15 and 20 inches (38 — 51 cm), and the Large/Extra Large size is for torso lengths between 17 and 24 inches (43 — 61 cm). You might think those seem like huge variables in terms of torso length, and you'd be correct. The harness system on both models is adjustable—which is why it can handle various torso sizes.
The best way to adjust it is to undo the hook and loop fastener that hides the frame sheet. It's located behind the back panel and is accessible from the top, just below the ambidextrous water bladder port. Grab the Mystery Ranch tag and pull up to unhook it. From there, you should see the top of the rigid plastic frame sheet. Slide that out and push it between the hook and loop fastener you can see and the primary pack material. You can use your hands to do this, too, but using the frame sheet keeps your hands from getting poked.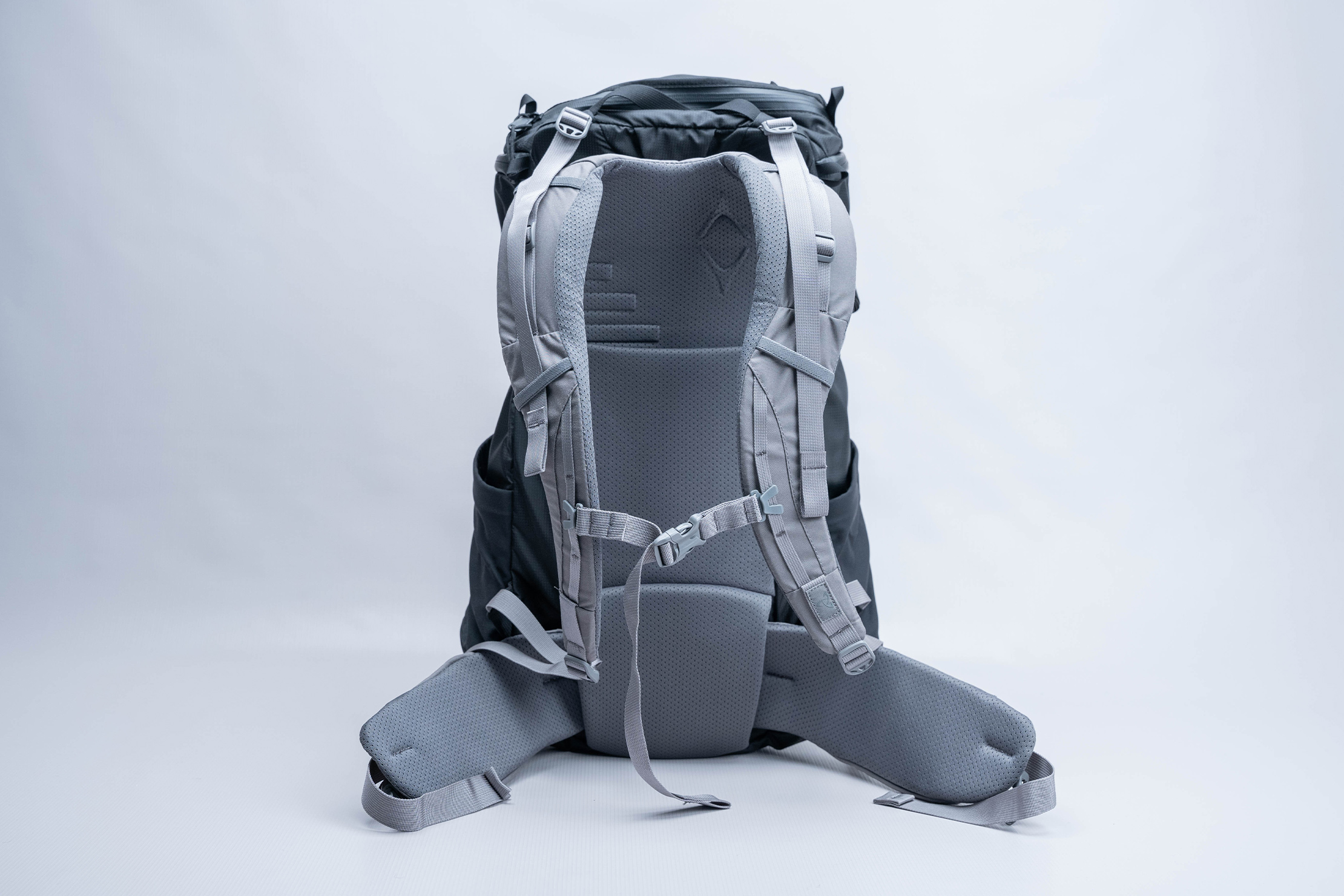 Once you've unsecured the fastener, you can adjust the back panel to your desired height. Don't forget to replace the frame sheet after, as it is instrumental in displacing weight to keep the pack comfortable.
The shoulder straps, back panel, and hip belt all share the same aeration. It's highly breathable and promotes airflow, which is excellent for long hikes and treks across the city.
All three areas are padded but to different thicknesses. The back panel and hip belt have the least padding, followed by the shoulder straps, and the most padded area is the lower lumbar support. They all have enough cushion to stay comfortable, whether you're walking for an hour or seven.
The hip belt is removable and attaches via a hook-and-loop fastener behind the lower lumbar support. It's a huge and structured belt, which is great for hiking but might be a little for commuting in an urban environment. Small zippered pockets on either side are a perfect size for a snack or small tools. In addition to attaching with a hook and loop fastener, gatekeeper clips are on either side to ensure it doesn't come off when you don't want it to.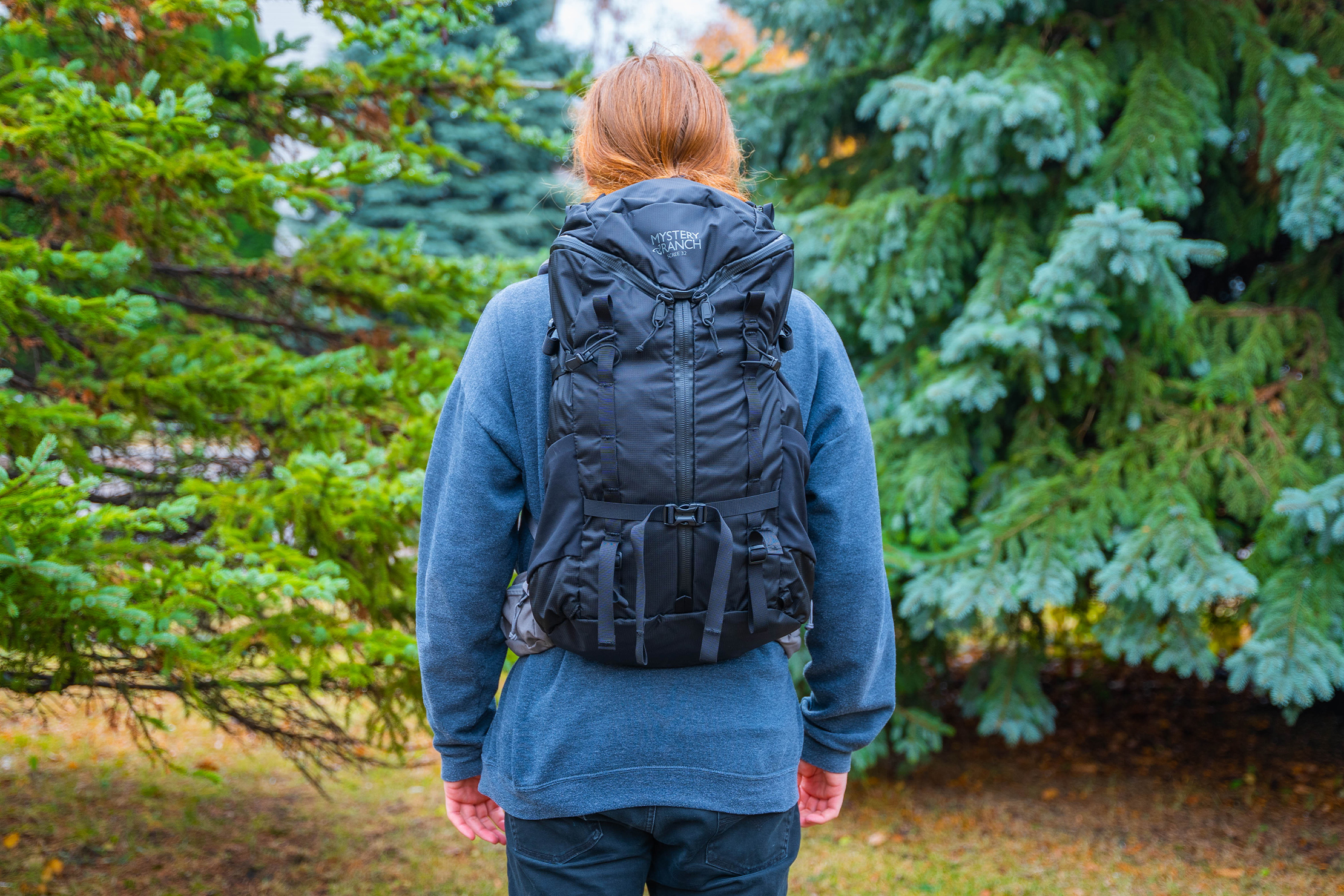 The shoulder straps are shaped like an S and are pretty comfortable. The sternum strap is on a ladder system with a rail at each rung, so you can make micro-adjustments, but it won't slide down too far if you accidentally put weight on it. Similarly to the hip belt, the sternum strap is removable for those who don't feel the need to strap their sternum.
There's a small elastic loop just above the sternum strap ladder to hold your water bladder hose nozzle in place, so you can always access it. In addition, it's a stellar spot for a pair of sunglasses—so long as you aren't scrambling across a rocky mountain top.
At the top of this complex system, we've got load lifters which are great for shifting weight around the pack. With so many other ways to ensure that things stay comfortable, the load lifters might seem supplemental, but after a long day walking or hiking with a full pack, they can be the savior you need. It's crazy what a slight adjustment can make for your comfort, and this pack certainly shows that.
Inside The Pack
The pack has two secondary compartments on the top side of the pack. The more forward facing one is smaller and is a perfect spot for your phone or similar-shaped items. There isn't much room here for things other than that.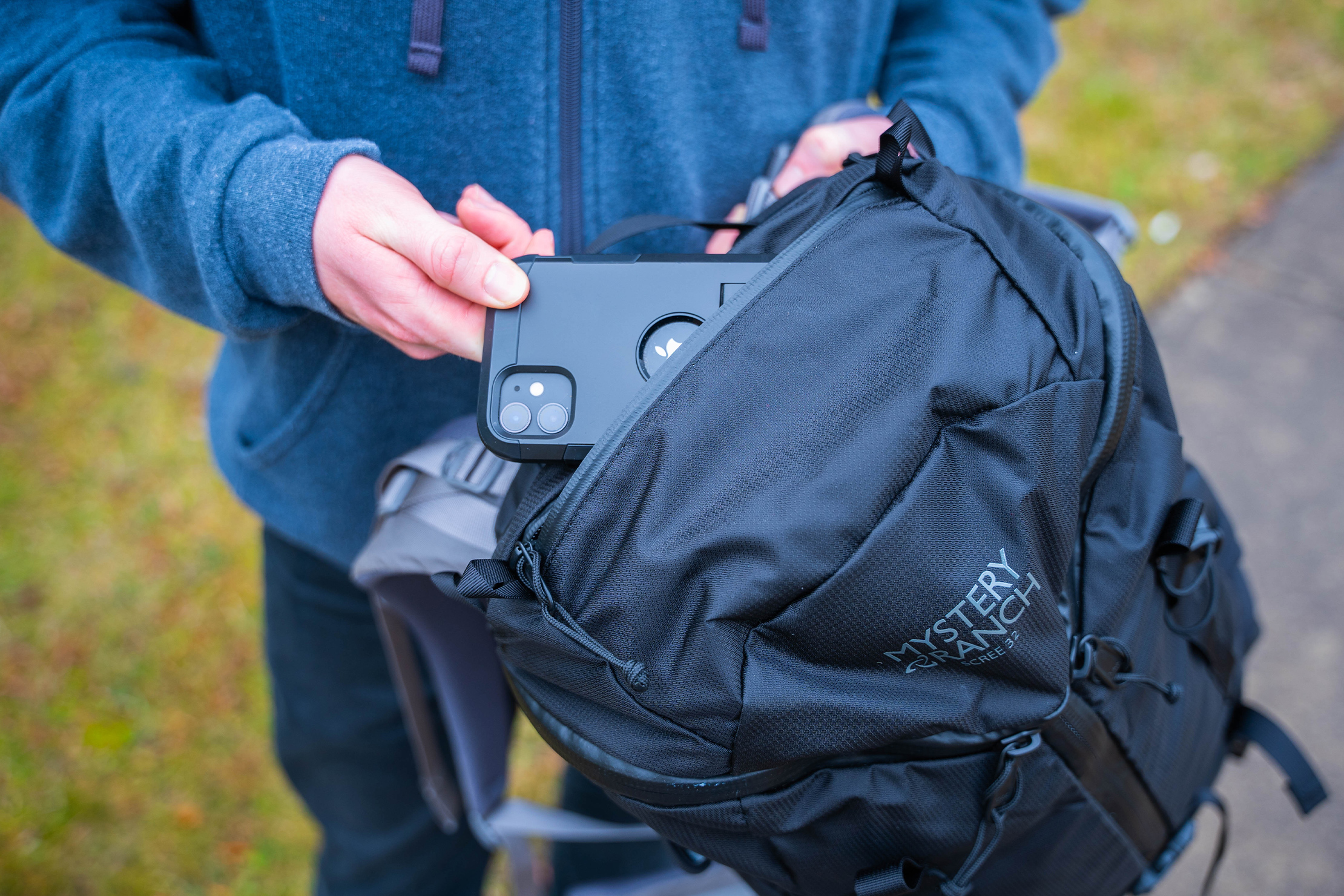 The second pocket is a bit larger. We liked to keep an Instax Mini here with a few packs of film to document things on our travels, but you could fit a lot more than that if you wanted to. It spans most of the pack's lid and has structured mesh on the backside. You can see what's inside when you open the main compartment, which we like. If you open the main compartment to look for something and can't find it, you can also see what's stowed in the top pocket. You can't access it, but it makes searching for gear easier. If you were to throw something wet inside the pocket it would drip into the main compartment, so that's important to keep in mind.
Now, onto the main compartment. This pack utilizes Mystery Ranch's signature three-zip design. If you don't have experience with this method of opening a pack, it can take some getting used to. Basically, there's a top lid that has two zippers. They meet in the center but don't close completely. Behind that, there's a zipper that runs vertically down the pack and extends past where the two lip zippers meet to ensure no water makes it inside. As we stated above, this design takes some getting used to but offers complete access to the pack for packing it and seeing where your gear is once you arrive.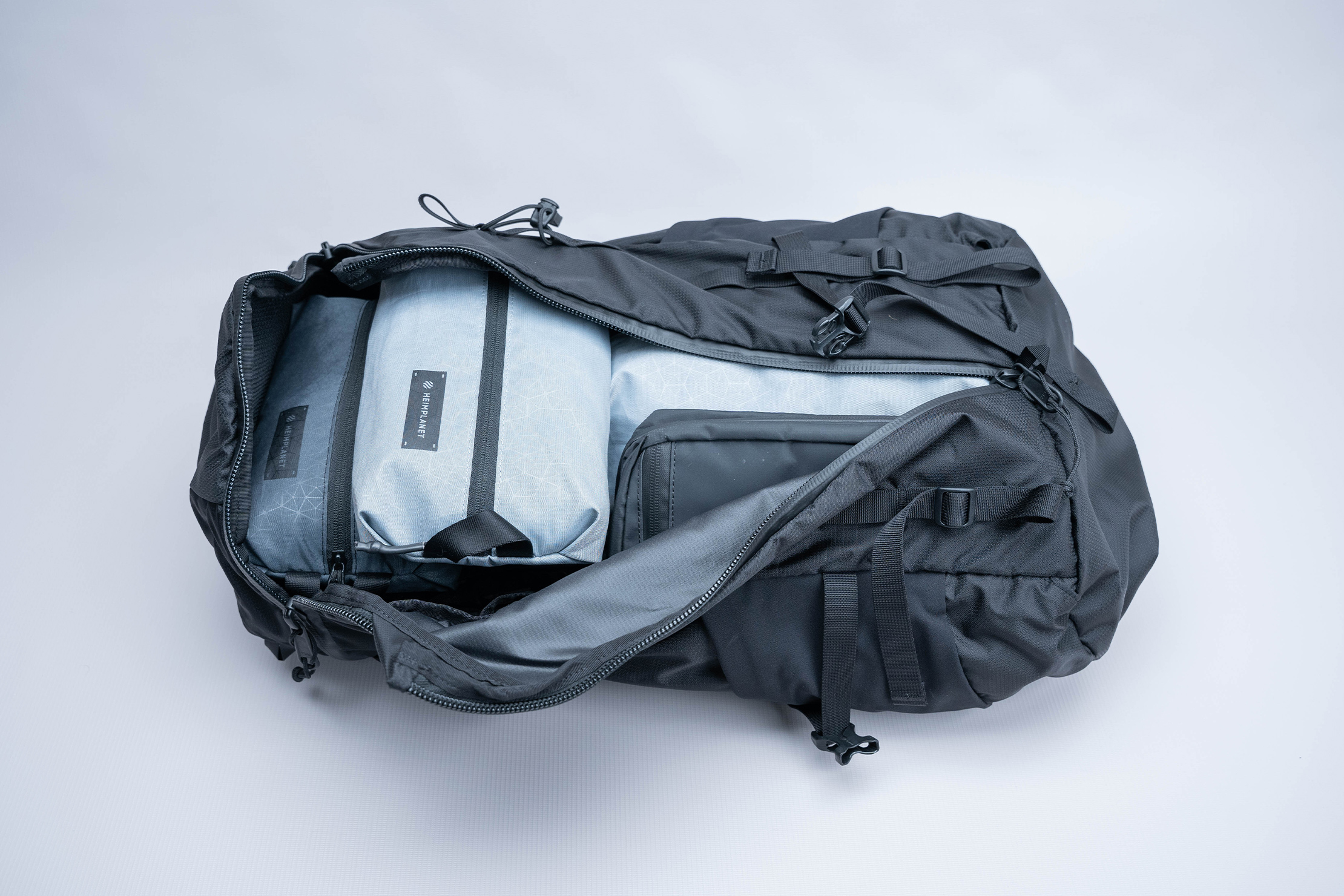 We've got three places to stow gear here, and the rest is a free for all. Because of this largely untapped space, it's a good idea to use pouches and packing cubes here. It's easy to keep things organized so long as everything is in its proper place, and without some sort of segmentation, it's easy for small gear to get lost.
On the pack's back wall is a liner pocket with an elastic topper. It goes almost all the way down the backside so that you can stow a water bladder. The elastic is tight, and there's a small loop at the top so you can hold the bag up, so it doesn't bunch down at the bottom. If you don't use a water bladder, you can stow a small tablet, notebook, or book here.
Above the water bladder pocket is a hook-and-loop fastener that hides away a second frame sheet. This one is foam, not hard plastic like the exterior one, and extends for most of the pack's height. It's also removable, but we find no reason to remove it.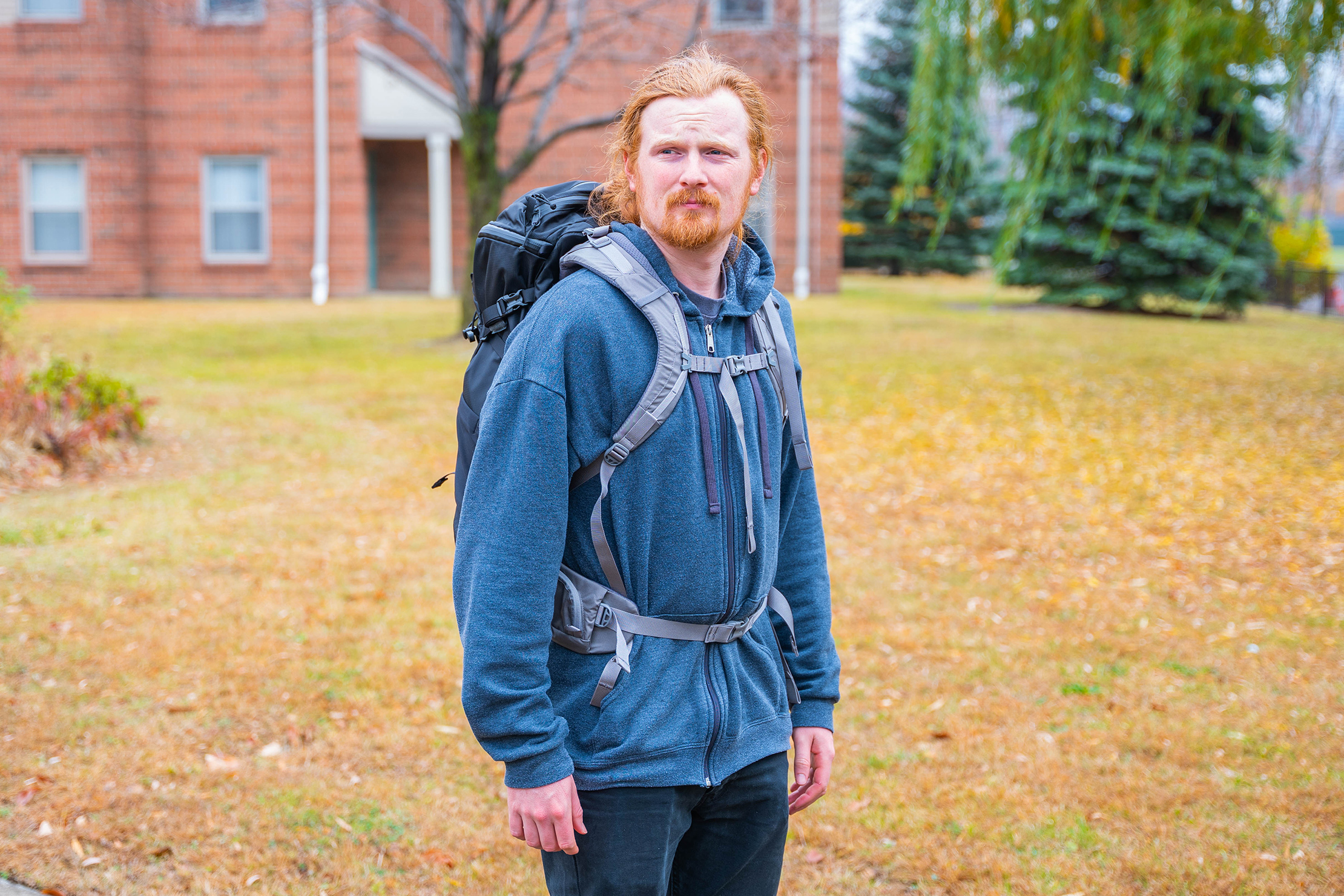 The two other pockets are between the left and right flaps of the backpack. They're basic liner pockets that can hold a fair amount of gear and don't have a top closure. At first inspection, they seem unneeded and in the way; however, they make the main compartment feel less unorganized. They come in handy for rugged adventures because you can stow items you always want to know the location of here, and this can be applied to travel uses as well.
Overall, we're amped with how the Mystery Ranch Scree 32 performs. This backpack can do it all, but we must admit, it always feels like you're about to go for a long hike. It has extraordinarily comfortable features, but it doesn't have a ton of organization for travel. If you're willing to use packing cubes and other organizers to make up the difference, it'll suit you well; if not, this might not be the pack for you.
Usage Timeline
Initial Usage
Condition: Excellent
Robic nylon is durable yet lightweight
Ample padding on the shoulder straps and back panel, but we're curious how it handles urban environments
Lots of places for organization—you can take off the hip belt, add a water bladder, and stow gear in the top pockets
2 Weeks of Use
Condition: Excellent
Materials have held up and show no signs of wear
Water resistance holds up well due to a combination of fabric and zippers
Lots of excess straps around the pack, which can look goofy
Access the Pro Community Discussion
Get your questions about the Mystery Ranch Scree 32 answered from our team and the Pro Community right here on the page. Plus, join discussions with other members about gear, guides, and more.
Other Bags & Luggage Reviews