MODL Outdoors Infinity Tool Review
The MODL Outdoors Infinity Tool may not have the spring-loaded convenience of a carabiner, but its flexible design makes it a lot more versatile.
Our Verdict
Unlock the Pro Summary
Save time. Get access to brief summaries of our reviews so you can browse and make decisions more efficiently.
Pros
Securely wraps and cinches around irregular shapes
Can be daisy-chained together for bigger gear
Easy to pack thanks to its slim and flexible design
Cons
Adjustment not as granular as a zip tie
More fiddly to engage and disengage than a carabiner
Possibility of misplacing the metal lock
Recent Pack Hacker Video
Technical Details
Weight (oz)

.95 oz (26.9 g)

Dimensions

16 in (40.6 cm)

Length | 8-inch Length

Notable Materials

Stainless Steel, Silicone

Manufacturing Country

China

Warranty Information
Full Review
Attaching gear externally has always been one of those hacks that looks easy to pull off but hard to commit to. You have to have the right backpack, the right gear, and the right hardware to attach those two together. Fortunately, there are plenty of options out there, and in this review, we'll be taking a look at one of them.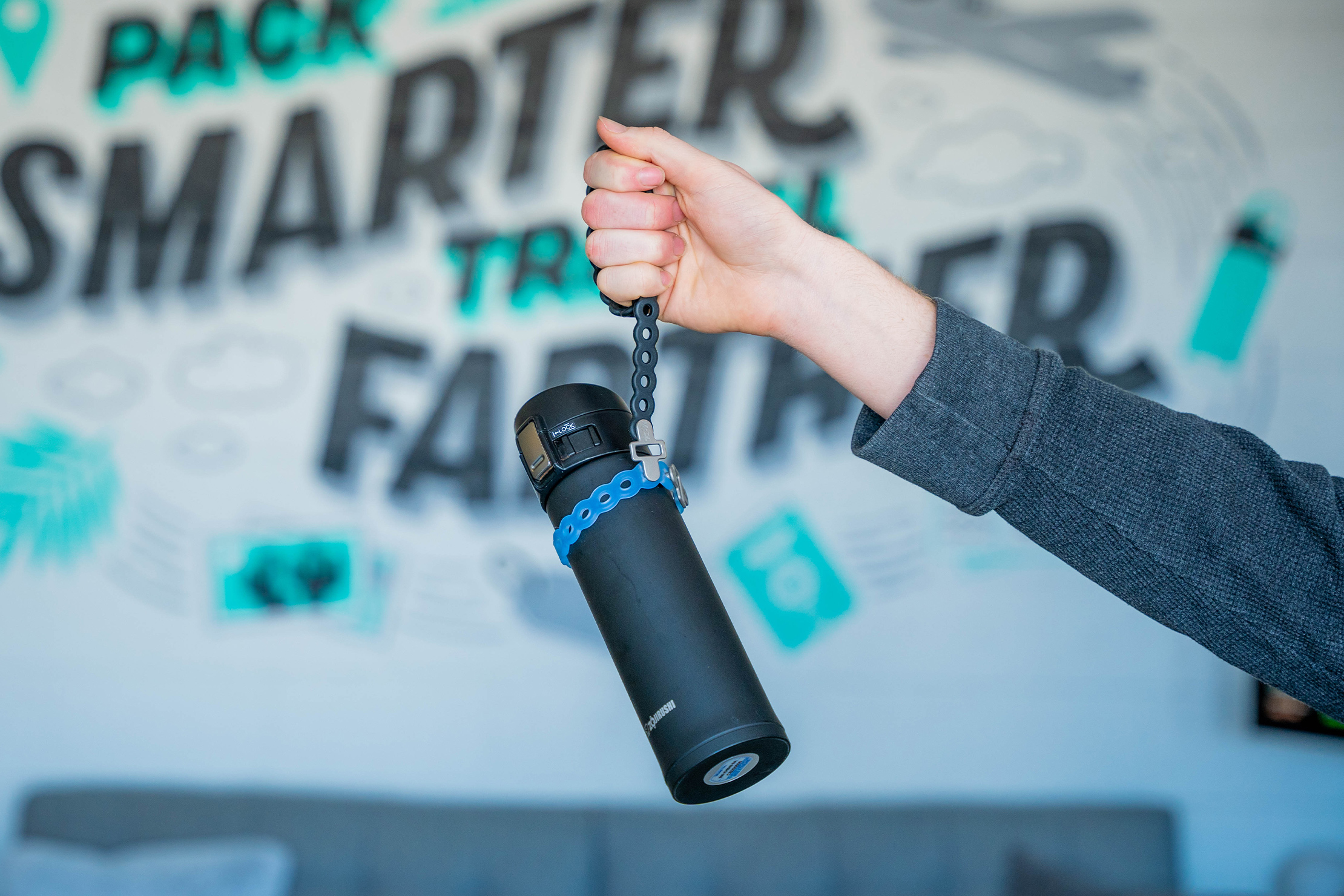 We've always been fans of carabiners here at Pack Hacker, but MODL Outdoors' Infinity Tool is a bit different, to say the least. Instead of a carabiner with a plastic or metal construction, or a nylon strap with buckles, the brand decided silicone is the way to go, and we like where it got them. The Infinity Tool is flexible, easy to adjust, and arguably pleasing to look at. That said, what other use cases are there for this funky-looking gadget? Let's find out.
The Rundown
First, let's do a quick run-down of the materials involved here. The Infinity Tool is primarily made of Platinum Silicone, which they say is food-grade. This is an interesting in-between of a metal carabiner and a nylon strap; leaps and bounds more flexible than the former, but not as flexible as the latter. Each comes with a lock made out of 304 stainless steel, which is also food-grade.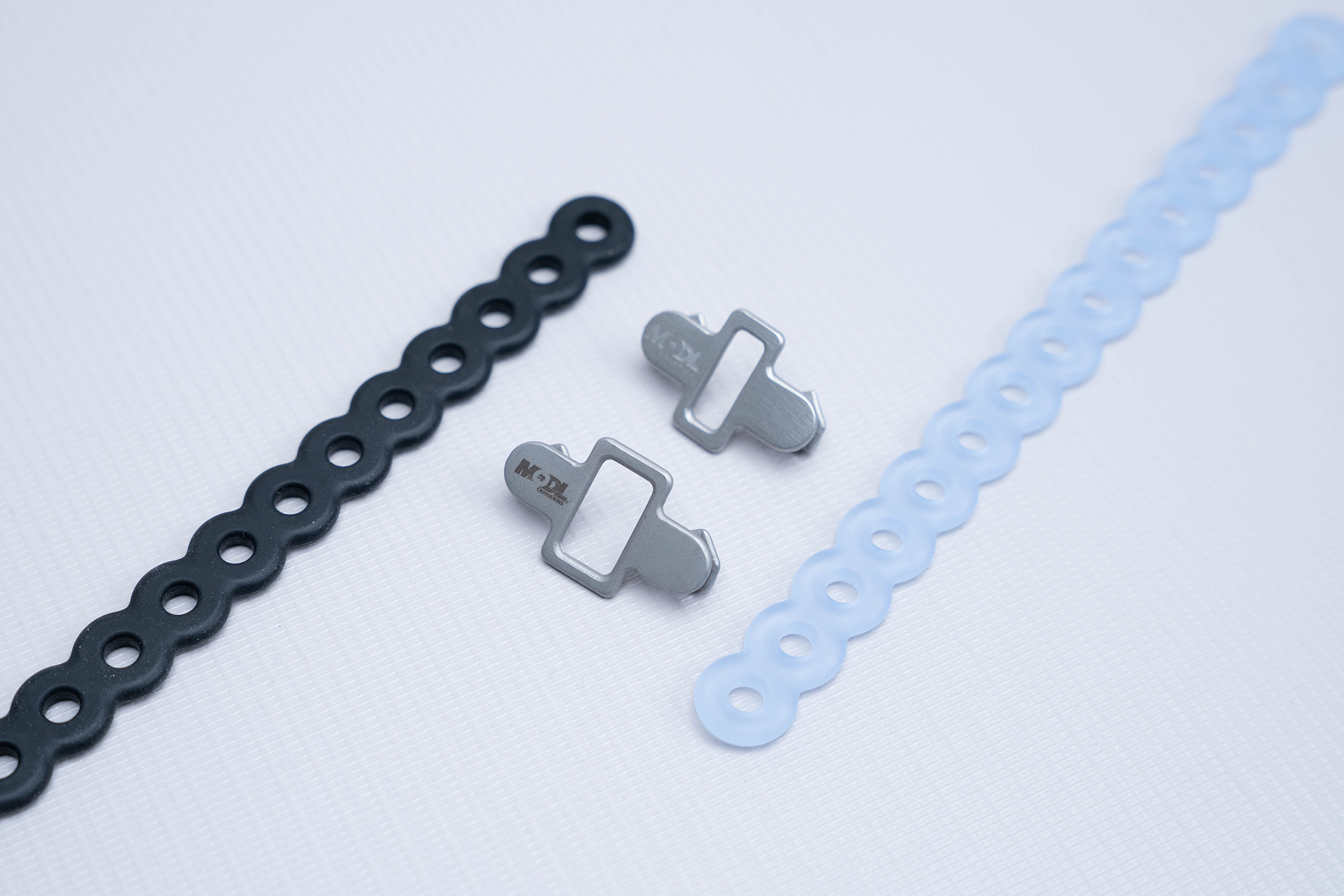 The Infinity Tool comes in two sizes: 8 inches and 16 inches long. There are also three colorways to choose from at the time of writing, namely Black, Glacier, and Ultraviolet. We're not too concerned with the aesthetics of these since they are tools. More importantly, the sizes do matter. However, in case either size doesn't seem to suit your needs, you can daisy-chain them to form longer ones.
The idea behind the Infinity Tool is fairly simple, as some of you may have already guessed how it functions. At its simplest, you use the metal studs to lock the strap into itself, using the series of holes as adjustment points. This very basic and easy-to-understand design encourages you to play around with it since the strap is reversible and flexible. If you want something more advanced, you can start daisy-chaining straps together. There's also a hole between the two metal studs where you can thread the strap. This allows you to really cinch it down around whatever you have it attached to.
All of that said, what are its real-life applications? For starters, we use it to tie heavy and bulky gear to backpacks with external attachment points. Something like a yoga mat or dirty sneakers need robust straps to be attached securely, and the Infinity tool does the job well. Bike helmets can also be attached, but keep in mind that the Infinity Tool isn't a security lock, so don't leave it strapped to your bike.
We also daisy-chained a 16-inch and 8-inch variant together to form a makeshift sternum strap. Yes, it looks quite janky, and it's not as comfortable as a purpose-designed sternum strap. However, it does a good enough job of pulling a backpack's load closer, so it's still handy, nevertheless.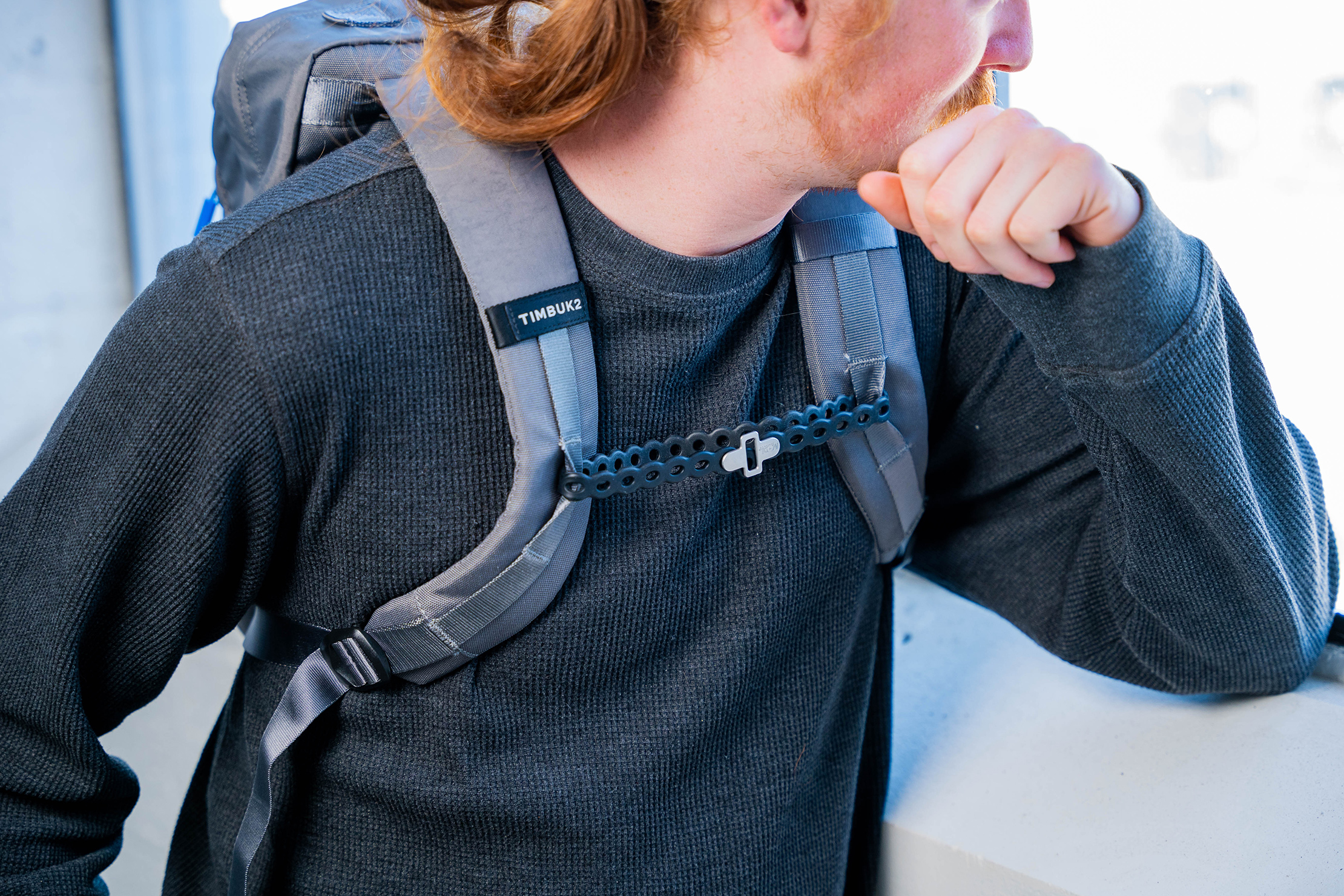 Those with legions of cables in their tech kits will know the pain of working with them, especially if you frequently work from home. It doesn't take long before a co-working table can turn into a spaghetti of a mess if you don't cable manage. Zip ties would be the obvious solution, but their one-time use makes them quite wasteful. Fortunately, the Infinity Tool works pretty much like a reusable zip tie, albeit bulkier and with less granular adjustment.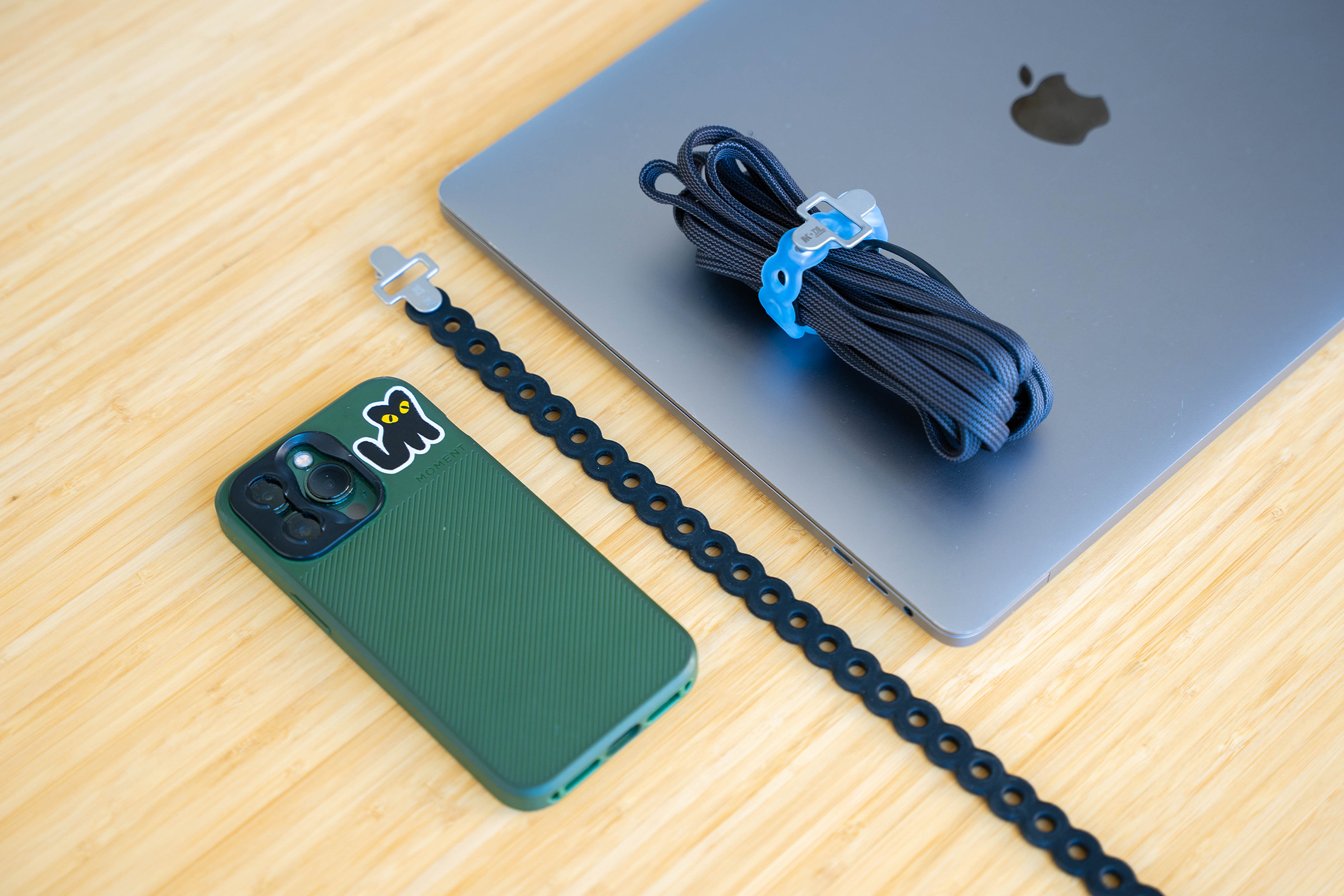 We can go on and on with numerous use cases for the Infinity Tool, but it basically boils down to strapping two things together.
Packability
Since the Infinity Tool is quite thin and flexible, it's very easy to store, as you can imagine. It's really no challenge to slip two or three of these in a packed-out bag or pouch. You can go full-on pragmatic and hang them freely off your bag's attachment points or even wrap them around.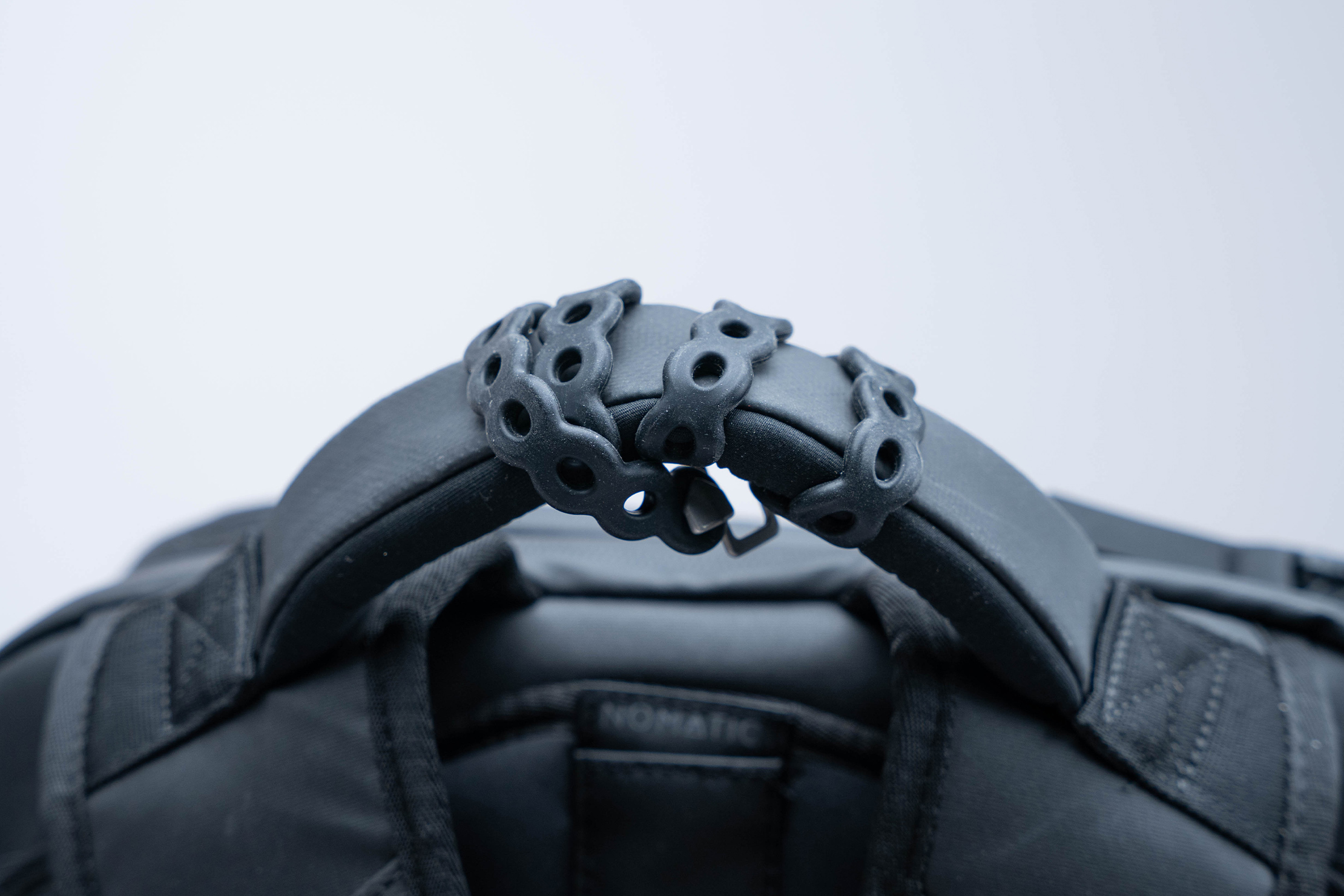 Alternatively, you can wear the 8-inch variant as a bracelet. How's that for packability? You don't even need pockets for this. That said, your mileage may vary since the 8-inch model seems to be maxing out on some of the Pack Hacker crew's arms.
Quick Comparison
The question now is, why use the Infinity Tool over carabiners like the Nite Ize S-Biner or Heroclip Hybrid Carabiner Clip? Firstly, the silicone material is easier to work with since it's flexible. You can't wrap a carabiner around a yoga mat, for example. Plus, if you're using it to attach gear that's easily scratched, soft silicone is less likely to cause damage than bare metal.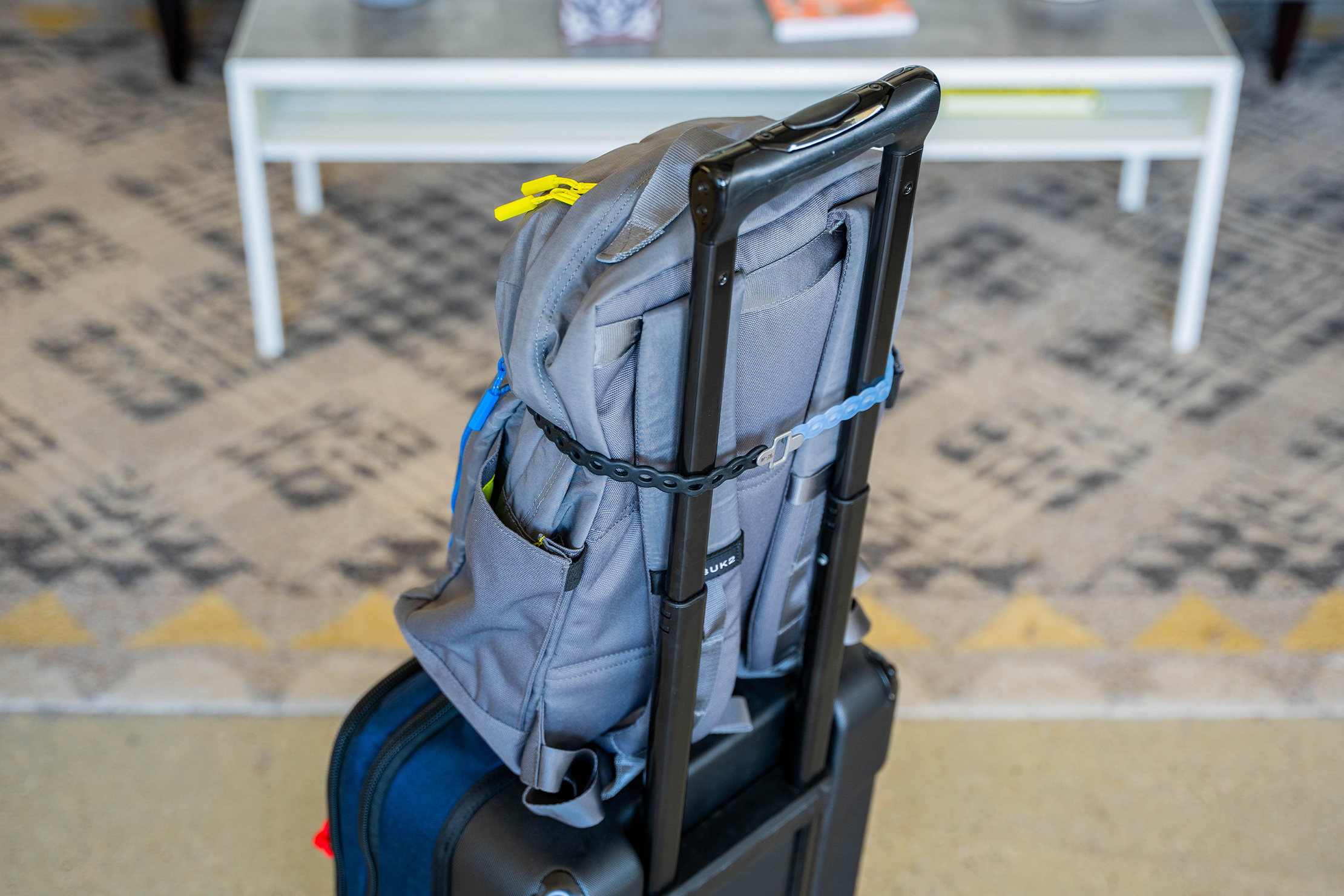 On the other hand, while the Infinity Tool isn't difficult to lock and unlock, it's still not as convenient to operate as the spring-loaded gates of carabiners. That said, the Infinity Tool has the edge in terms of versatility.
If you're curious about size comparisons, we have the image below to compare. More so than the size, the flexibility of the Infinity Tool makes them arguably easier to pack than a similarly-sized rigid carabiner.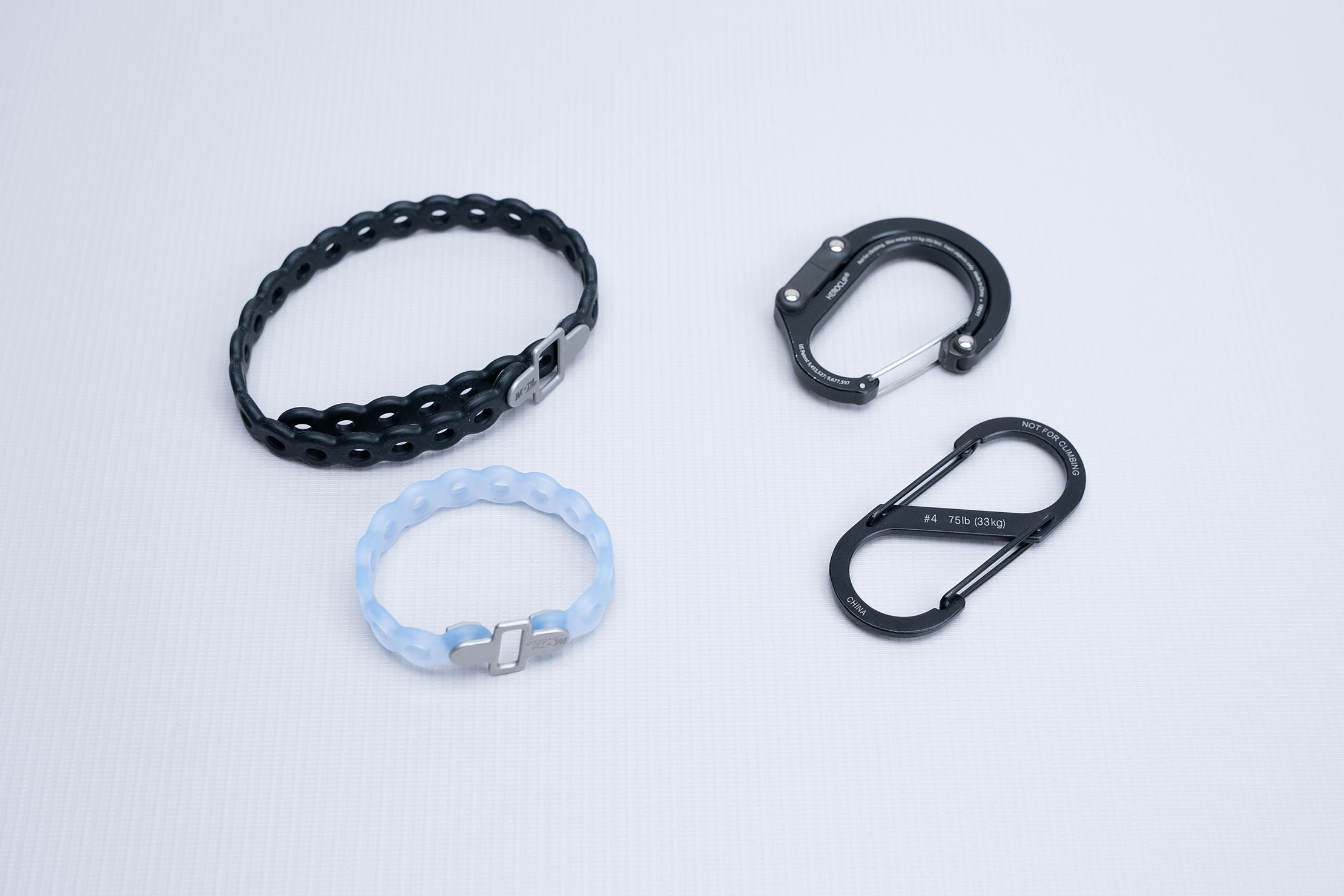 We really dig the versatility the Infinity Tool offers and its easy-to-understand design. Some creativity is required to take further advantage of its functionality, but it's proven useful even with just the basics.
Usage Timeline
Initial Usage
Condition: Excellent
Fun to fidget around with
Excited to see what utility we can find with this in the testing phase
Kinda feels like a reusable zip tie
2 Weeks of Use
Condition: Excellent
Smaller version fits on Tom's wrist just barely—may not be suitable for thicker wrists
Found that wrapping it a couple of times around a backpack strap is a great way to store it
This can easily be used in place of a carabiner and can be more versatile as well
Access the Pro Community Discussion
Get your questions about the MODL Outdoors Infinity Tool answered from our team and the Pro Community right here on the page. Plus, join discussions with other members about gear, guides, and more.
Other Miscellaneous Reviews