Matador Droplet Water-Resistant Stuff Sack Review
Matador's Droplet Water-Resistant Stuff Sack loses the water droplet look of the original, but the gains in ease of compressibility make the trade worth it.
Our Verdict
Unlock the Pro Summary
Save time. Get access to brief summaries of our reviews so you can browse and make decisions more efficiently.
Pros
Uses light but durable ripstop nylon
Can be carried as a compact keychain accessory
Easier to stow than the previous version
Cons
Not completely submersible
Not much extra space for sharing
Still requires notable effort to compress
Recent Pack Hacker Video
Technical Details
Capacity

2.5l

Weight (oz)

.8 oz (22.7 g)

Dimensions

2.5 in x 1.2 in (6.4 x 3 cm)

Packed | 9.0 in x 6.5 in x 3.25 in - Unpacked

Notable Materials

Ripstop Nylon, Polyurethane, Silicone, Stainless Steel

Warranty Information
Full Review
Get up to 20% off Matador • Join Pack Hacker Pro
Matador's Droplet Packable Dry Bag was a concept we really liked: a very compressible backup bag that you could use to keep dry items dry or wet items sealed away. It also didn't hurt that it came in a rather cutesy water droplet case, though it made compression trickier than we liked.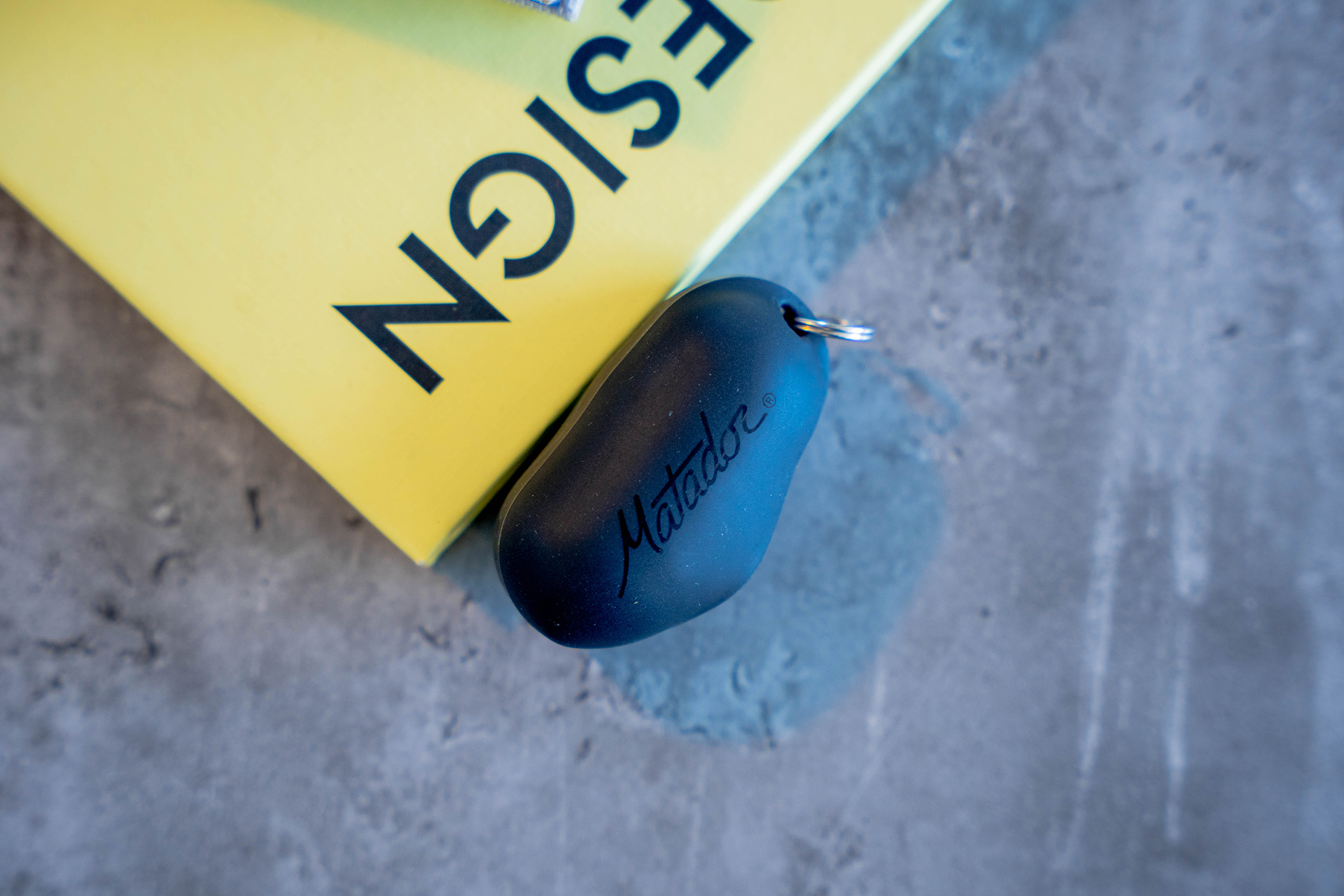 Now, Matador has spruced up the idea and polished some of the rougher edges with the newest iteration. Improvements include a more robust cinch cord, a rounded base, and a redesigned case that ditches the water droplet look for a more practical capsule design. The overall result? It's a much more pragmatic backup bag, one that's executed better at the cost of (some) aesthetic appeal.
Materials & Aesthetic
The Droplet sees a significant shift in its aesthetic design. Gone is the signature—and adorable—water droplet look of the old Droplet Packable Dry Bag. Instead, the Droplet Stuff Sack makes do with a capsule design that's arguably more mundane. We kind of miss the old design because it makes for a fun keychain accessory. It's not that the new one is ugly; it's just less fun in our eyes. However, there is a solid justification for this drastic change (more on that later).
For colorways, you get a choice of either black or blue. We chose the black one for this review because it's stealthier. The blue option is noticeably tamer compared to the old version. It's a lot more pastel than vibrant, and the shade of blue between the bag and the capsule is visibly different.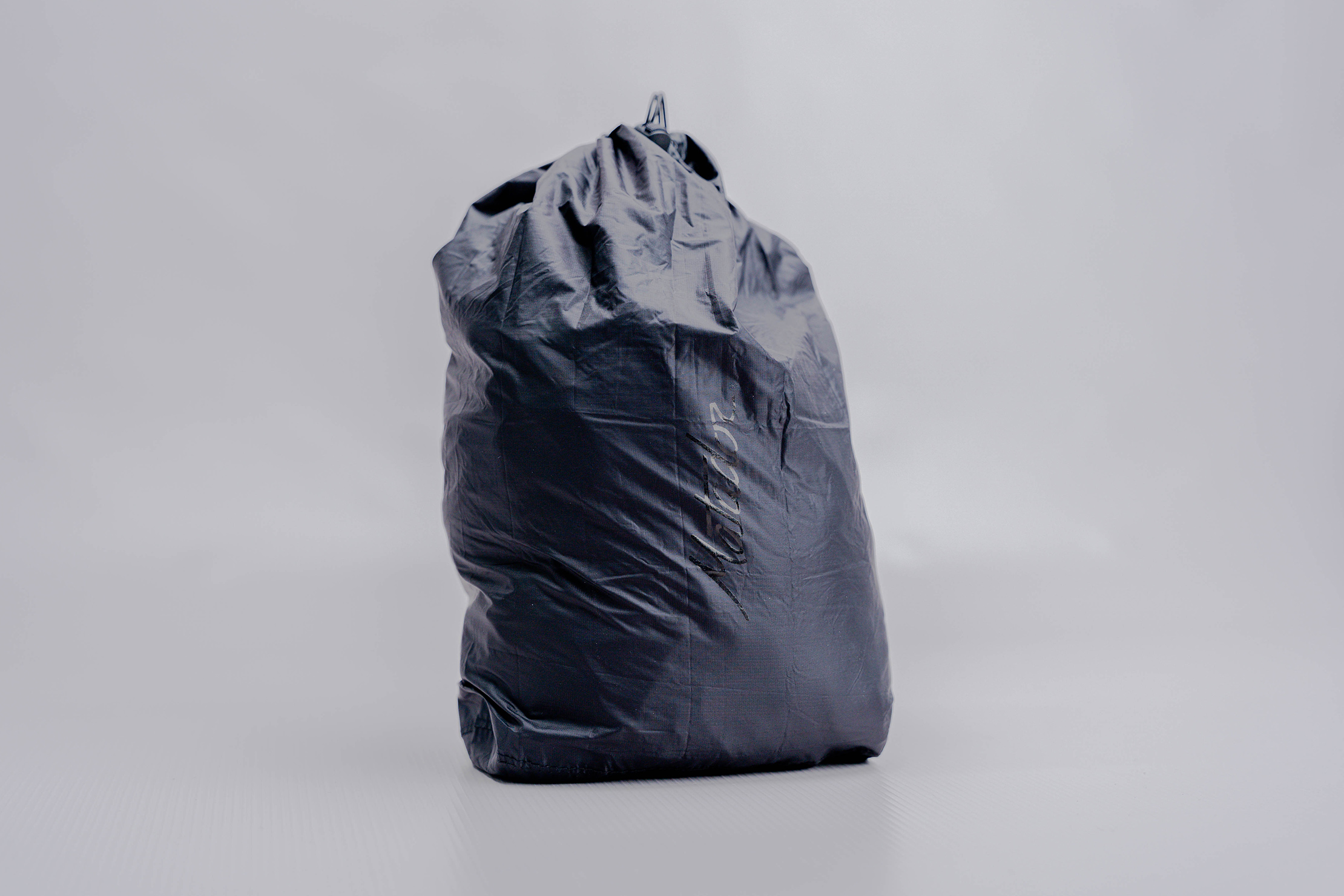 The case's material remains the same silicone, and so does the stainless steel keyring. However, another major change Matador implements with the Droplet Stuff Sack is the switch to ripstop nylon. The previous version used ripstop polyester, a lighter material compared to the nylon equivalent. This change increases the bag's durability, though we didn't really have any major complaints with the ripstop polyester of the old one.
The ripstop nylon is a 20-denier fabric—one of the lightest deniers we've seen—and it's appropriate given the Droplet Stuff Sack's intended use as a packable bag (lighter fabric is easier to compress, after all). It's also coated with a polyurethane coating to give it additional water resistance. It's waterproof enough for storing wet swimwear, but it's not a fully-submersible bag because of its cinch cord closure.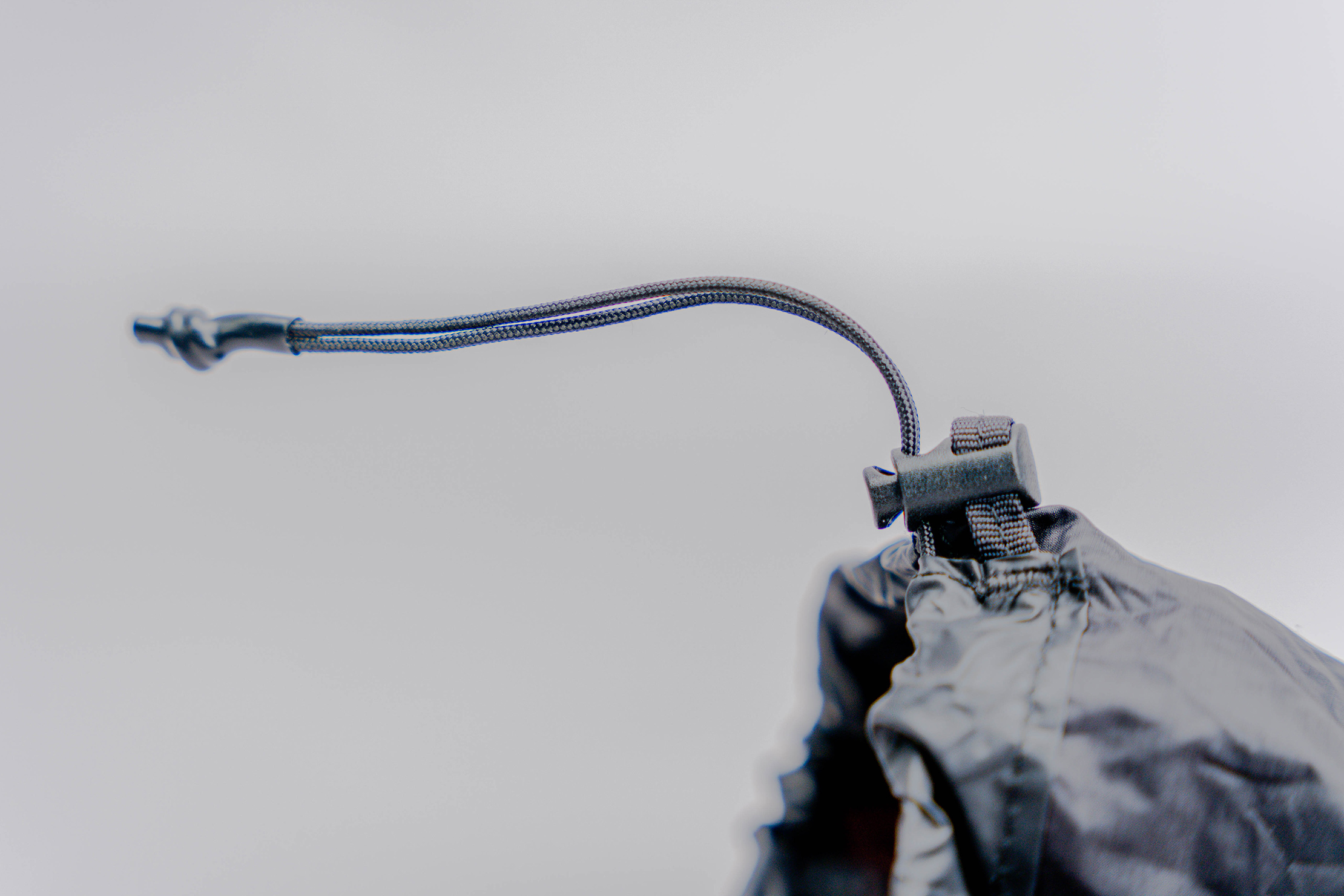 The cinch cord also receives a minor update. The cord now feels much sturdier, and the ends are heat-shrunk for added protection. We noted in the previous version that, while it remained functional, its thin construction doesn't really scream confidence. Mind you, the cinch cord on the Droplet Stuff Sack is still relatively thin, but at least it's at a more robust level than before.
Usage & Features
One of the Droplet Stuff Sack's key improvements over its predecessor is its more rounded base. In the previous Droplet, the bag had a straight-seamed floor, the kind you typically see with simpler sack-like designs. The advantage of a rounded base is two-fold: it helps the bag stand on its own and maximizes volume around the bottom.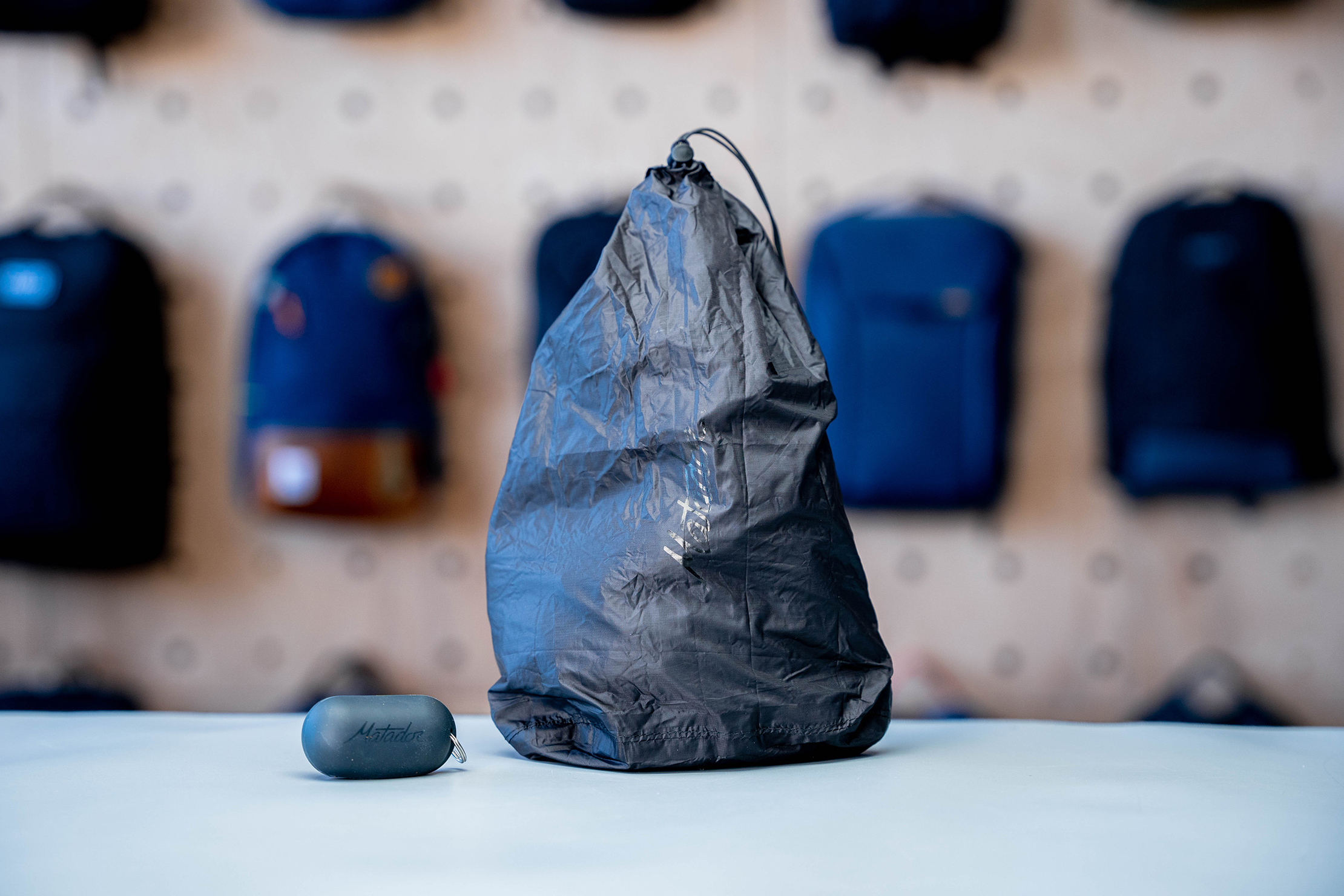 One of the notable spec changes between the old and new Droplets is that the new is 500 mL smaller in capacity (2.5L vs. the old 3L). That said, because of the much more rounded base, we feel that the trade-off is minimal and not perceptible.
Stuffing the bag with clothes (damp or otherwise) is a touch easier this time around. The opening now comes with a nylon tab, so you can pull the opening apart more easily. Because the cinch cord is also now built better, we can confidently tug on it more firmly than before.
As for compression, this is where the new capsule shape shines. The process is simple enough: fold the bag into thirds from each side until the middle, then roll it up as tightly as possible. Stowing the rolled-up bag into the capsule's opening is significantly easier than before. This more than makes up for the loss of the water droplet shape; however, it does still take some fiddling because of the compact size of the silicone capsule and sack.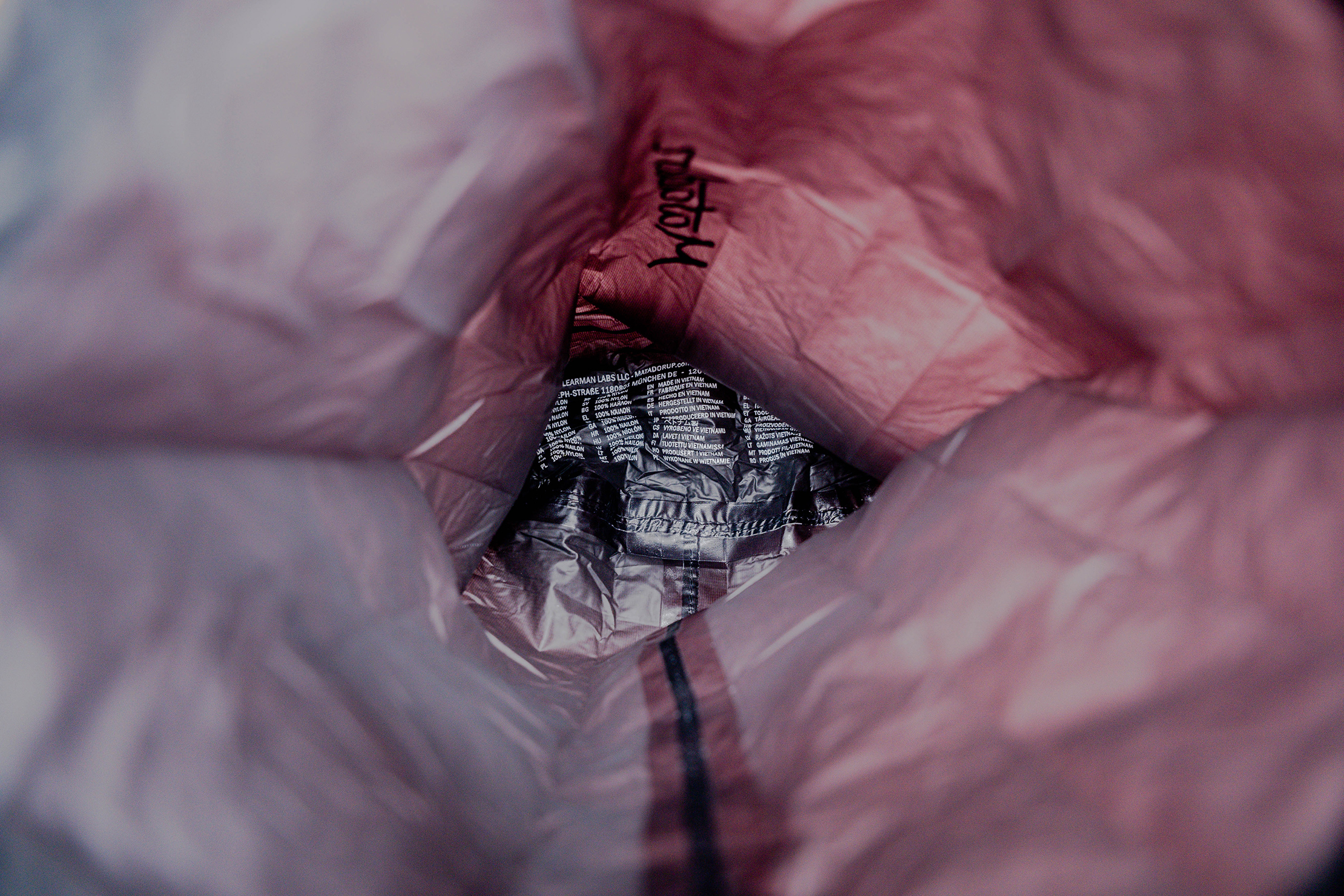 To be clear, the Droplet Stuff Sack isn't the type of bag for day-to-day use like a daypack or a sling. It's meant as a backup bag for dirty clothes or storing items that might get wet. For example, you may want to put all the everyday carry items in your pocket in the Droplet while you're kayaking. Even though it's not 100% waterproof, it provides enough protection for such use cases.
It's a convenient tool because it's a neat little keychain accessory 99% of the time and a handy backup bag for an impulsive trip to a waterfall—it's all about preparedness. We also want to note that the 2.5-liter capacity leaves little spare room for sharing if you're traveling with a buddy. Plus, there are no additional pockets or dividers inside, so you'll have to use an additional resealable bag if you need to put both wet clothes and EDC items inside the bag.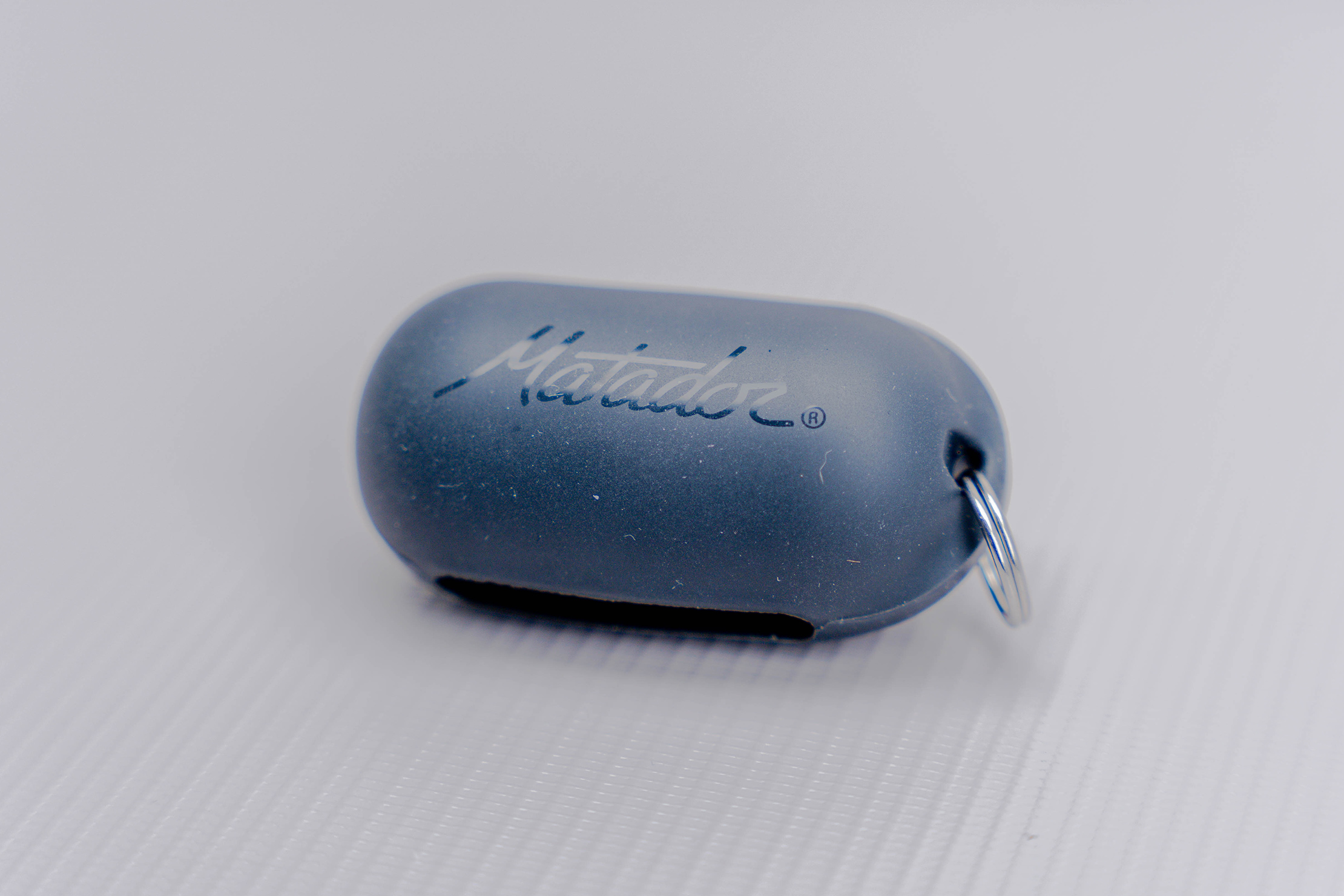 If you're coming from the original Droplet Packable Dry Bag, you might not find the new one compelling enough—unless the cinch cord has already frayed. Once you get past the visual changes, the Droplet Stuff Sack is clearly the more capable backup bag in terms of build quality and ease of use—one that stays out of the way when you don't need it but is always there when you do.
Usage Timeline
Initial Usage
Condition: Excellent
About as small as their Packable Dry Bag
Stuffing the bag back into the pod still needs some practice
Bag itself is just big enough for one's own wet swimwear
2 Weeks of Use
Condition: Excellent
Rounded bottom gives it a natural base
Cinch cord closure is much more secure compared to the first iteration
Easier to pack into silicone storage container, though it's still a bit fussy
Access the Pro Community Discussion
Get your questions about the Matador Droplet Water-Resistant Stuff Sack answered from our team and the Pro Community right here on the page. Plus, join discussions with other members about gear, guides, and more.
Other Organizers & Pouches Reviews