Matador Camera Base Layer Review
If you're looking for some lightweight protection for your camera—and you aren't going to be carrying additional lenses or spare batteries—the Matador Camera Base Layer may just be the perfect fit for you.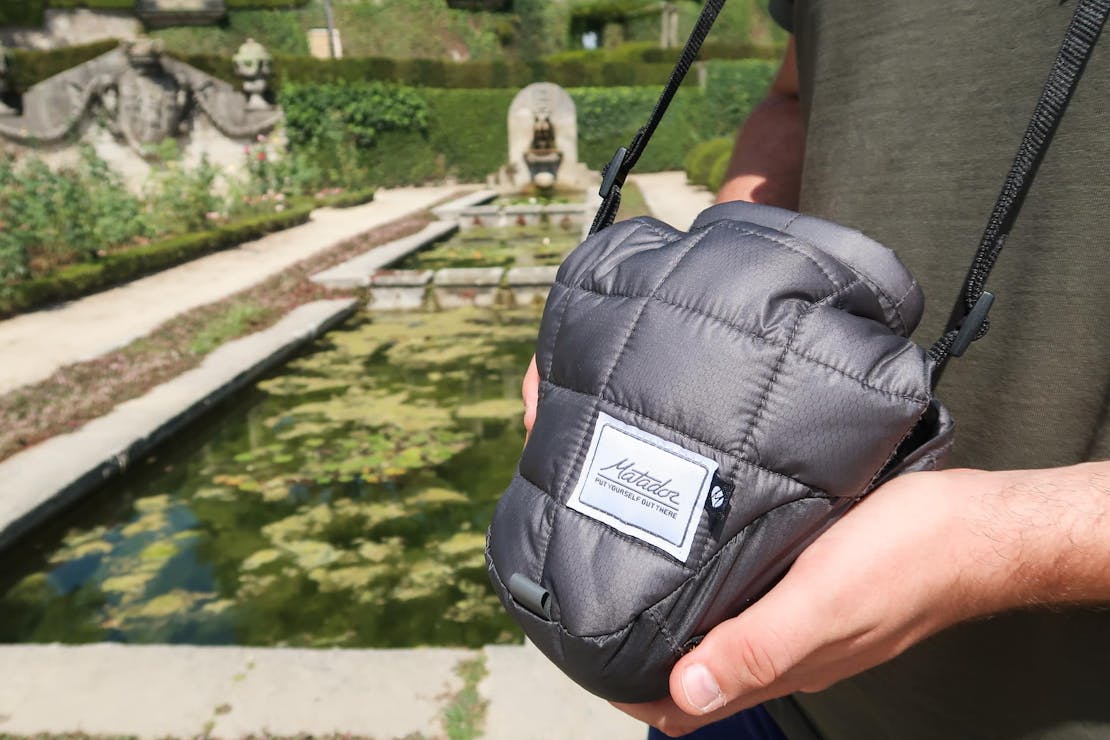 Our Verdict
Unlock the Pro Summary
Save time. Get access to brief summaries of our reviews so you can browse and make decisions more efficiently.
Pros
Quick and easy to use.
Waterproof rainfly attachment is great.
The Sorona® synthetic down does a good job of protecting your camera.
Cons
Shoddy craftsmanship.
It's awkward to know where to put it when you take it off.
Only fits your camera, no room for additional equipment like spare batteries.
Recent Pack Hacker Video
Technical Details
Weight (oz)

3 oz (85 g)

Dimensions

12 in x 8.5 in x 2 in (30.5 x 21.6 x 5.1 cm)

(will fit cameras up to 7" x 6" x 5")

Notable Materials

CORDURA® Ripstop Polyester, YKK Buckles, Hypalon®, Polymer Fabric

Manufacturing Country

China

Warranty Information
Full Review
Get up to 20% off Matador • Join Pack Hacker Pro
The Matador Camera Base Layer is designed to protect your camera from the elements when you're out and about—it's like a Patagonia Micro Puff… but for your camera. And if there's one thing all photographers can agree on, it's that protecting your camera is serious business. The Base Layer works around your existing camera strap and will fit most DSLR and Mirrorless camera/lens combinations.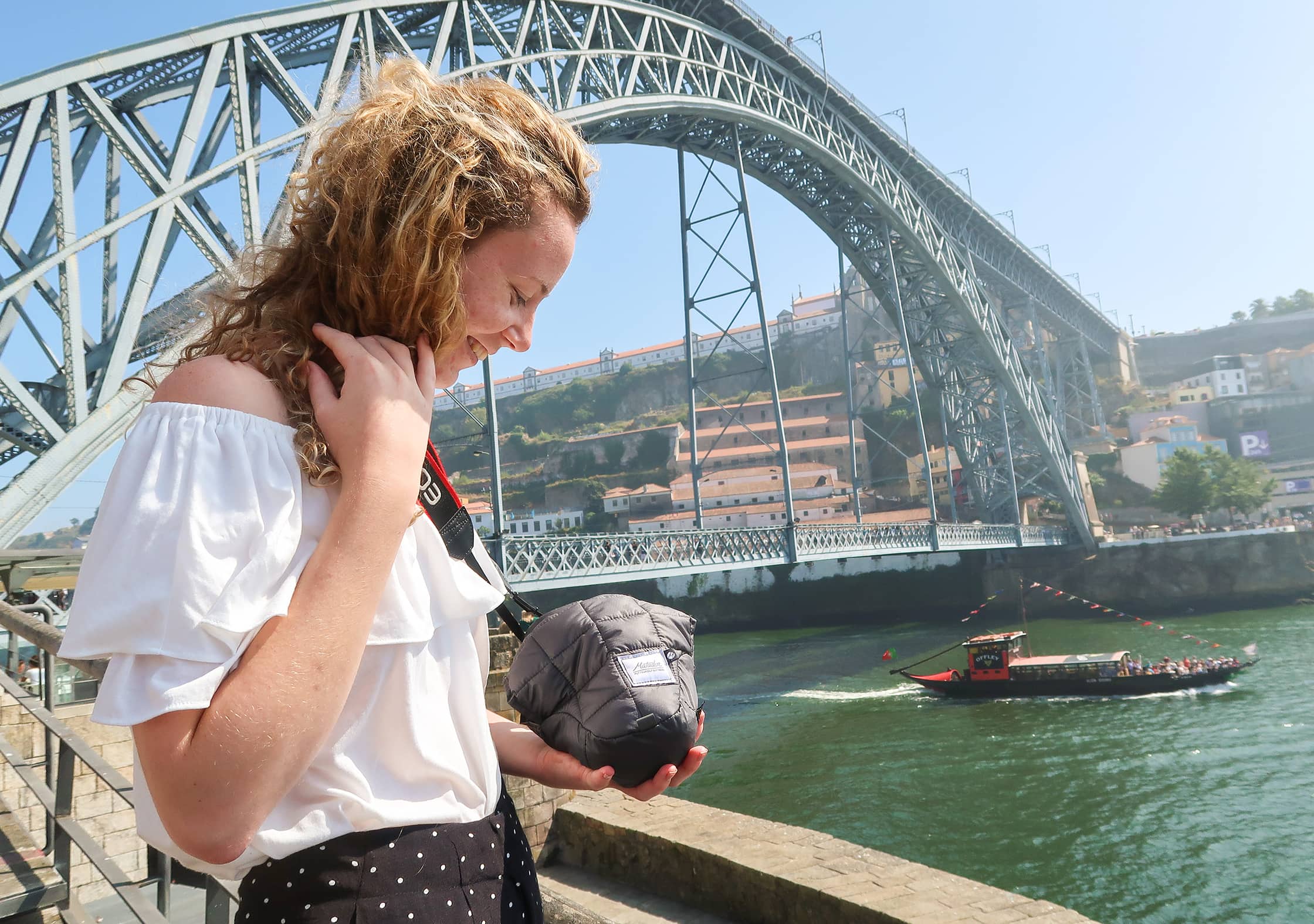 This interesting camera sleeve product and concept from Matador certainly is intriguing, but how well will it work in testing? And is it something you really need? Let's find out.
Material & Aesthetic
The Camera Base Layer shares a similar outdoorsy aesthetic to most of the other Matador products we've reviewed—like the DL16 and Hip Pack. We're fans of the overall look, and it'll fit in with most environments.
There is only one color option available, which is a nice unisex gray. However, the rainfly—which we'll get into later—is dark blue, giving this thing a nice pop of color. There is a lovely white fabric logo on the front too, it certainly improves the look and we like it.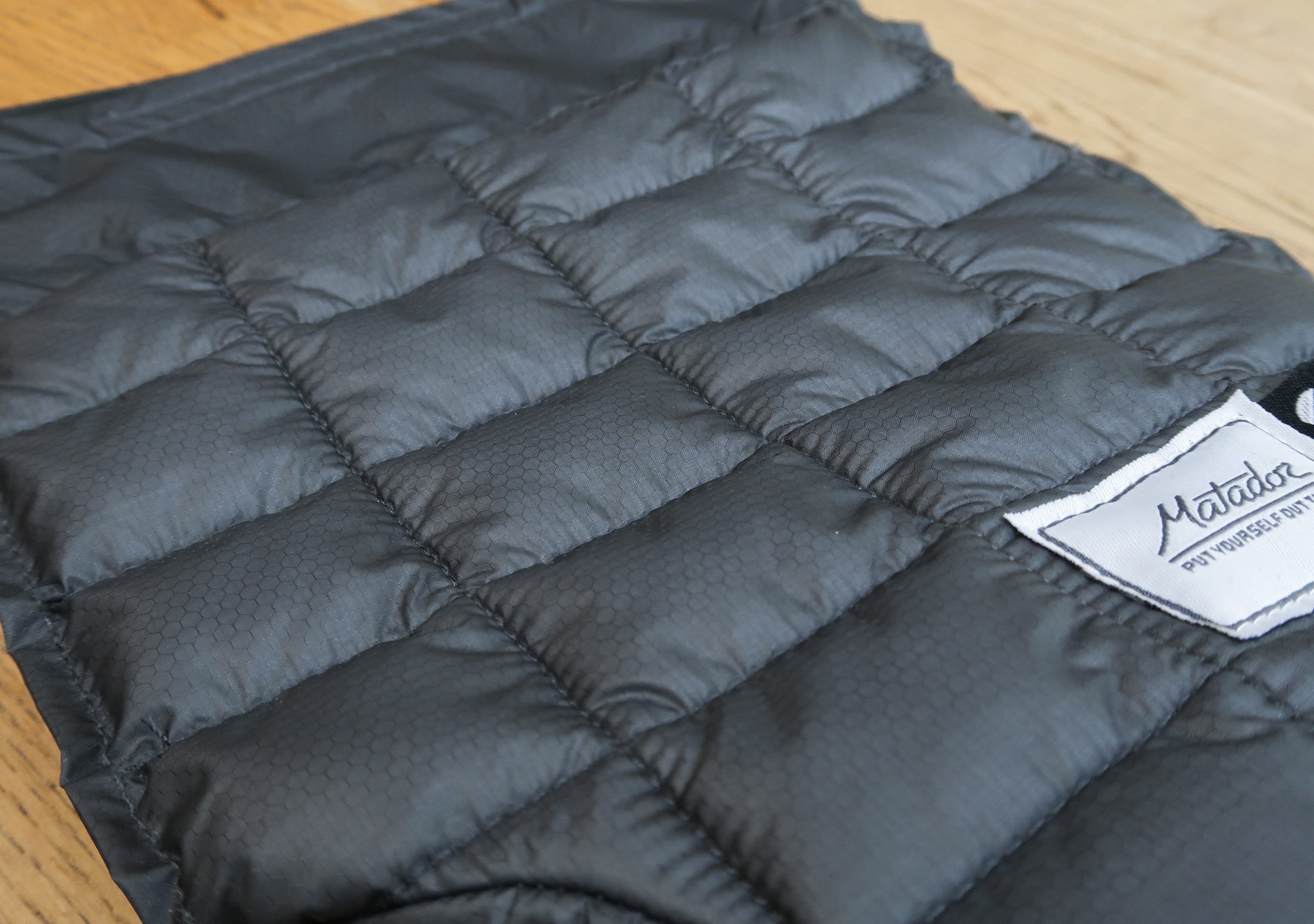 The technical shell—Matador's fancy name for the stitched squares on the outside—is a 30D CORDURA® ripstop polyester material which is really just a lightweight, rip-resistant fabric. But that's not all—because each square is filled with Sorona® synthetic down. This is what protects your camera from bumps and scratches. And Matador gets a big thumbs up from us by choosing to use synthetic down, we like animal-free products where possible.
The integrated rainfly is made of waterproof ripstop nylon—and seeing as we're never content with simply being told something is weather-resistant, we put it to the test. We've tested lots of waterproof Matador gear before, so we were confident enough to test this thing first time round with our actual camera inside. (Plus, we live for danger.) Thankfully, after pouring a load of water over it, the contents remained dry! Whew.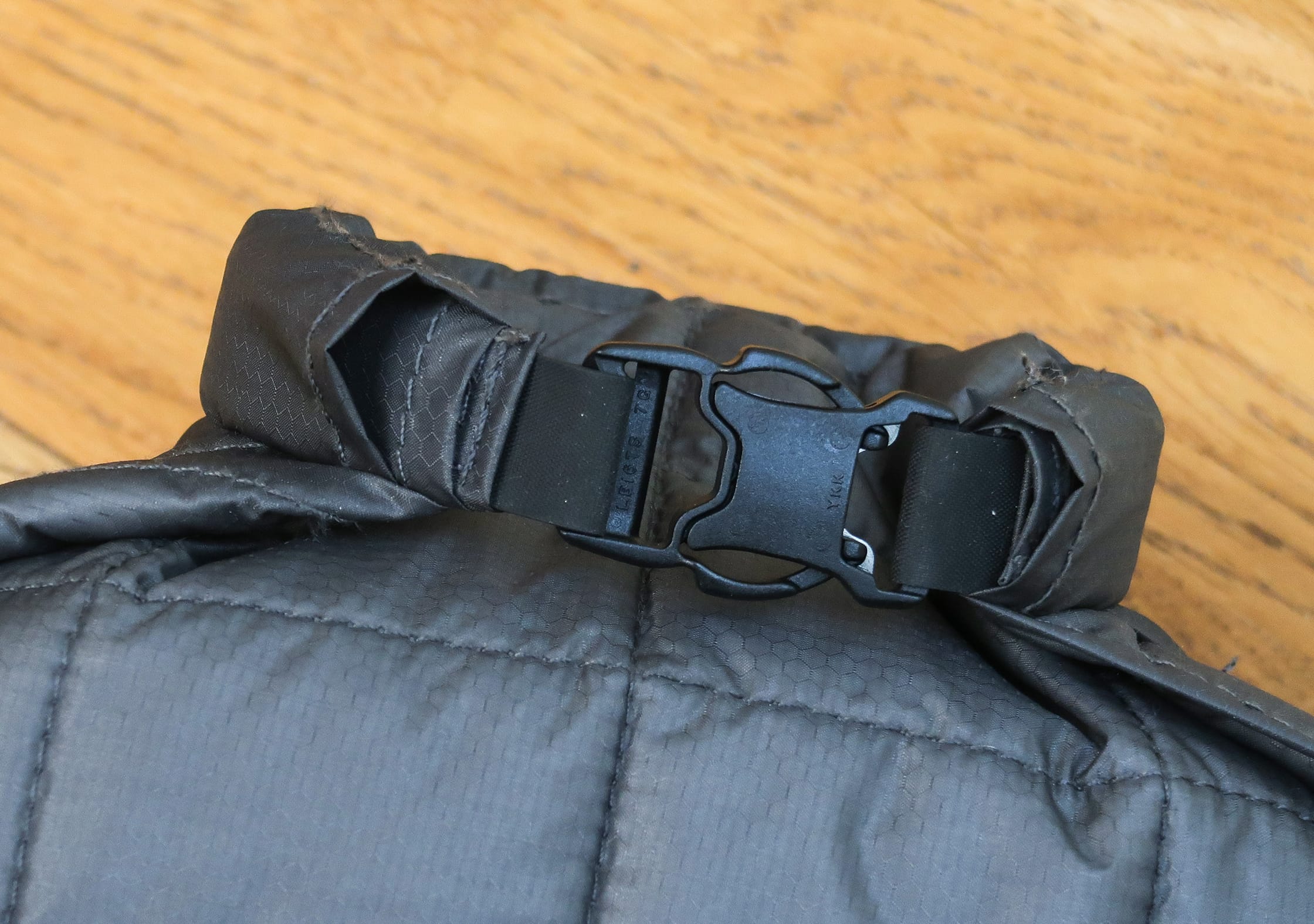 Rounding off the materials, the rolltop buckle is YKK, and it has a row of Hypalon at the top, so it's easy to secure and roll down. If you've never come across Hypalon before, it's a synthetic rubber made of chlorinated and sulfonated polyethylene. Basically, it's the stuff that a lot of inflatable rubber boats are made of—so it's pretty solid.
Usage
The Matador Camera Base Layer is pretty straightforward to use, and we're confident that anyone can become a master in no time. With a camera around your neck, all you need to do is pull the base layer over, roll the top down—making sure the straps are going through the sides—and lock the buckle in. You can do this when the camera isn't around your neck, but we found it a bit more fiddly that way.
Putting the base layer on is quick and easy, but what's really impressive is how fast you can take it off. Just unclip the buckle, and using the pull tab conveniently located at the bottom, pull it off—the whole thing can be done in under a second. You'll be the fastest camera-slinger in the west!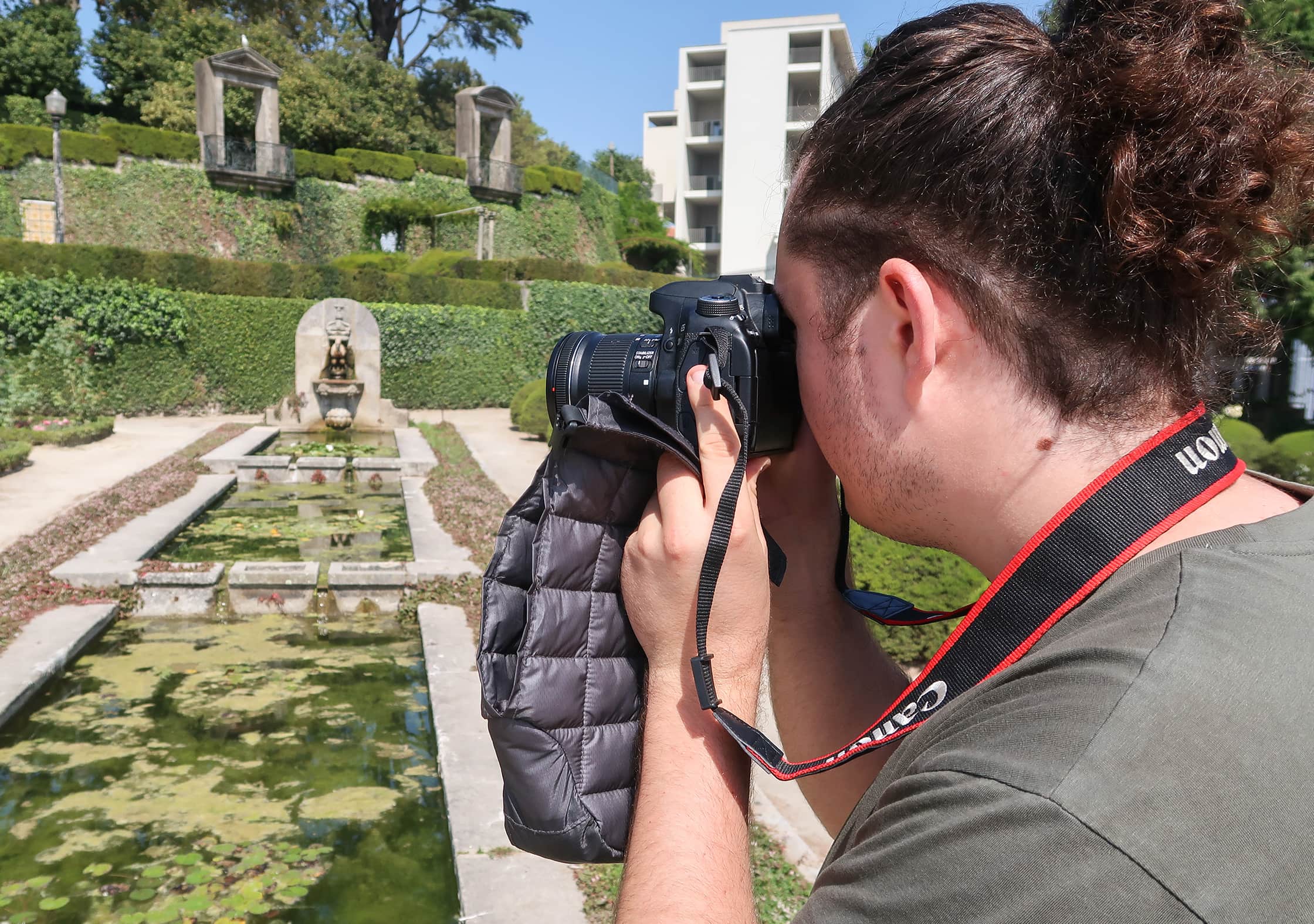 When the base layer is detached, it is a bit difficult to figure out where to put it. But there are a few options. You can either hold it—a tad awkwardly—in your hand if you need to get the shot quickly, or you can attach it to your belt loop/bag via the roll top buckle, if you've got a bit more time.
Moving on, there is a rainfly that's neatly tucked away in a fold at the bottom. Simply pull it out and lift it over the base layer, then roll down the top and secure it with the buckle. This is a bit trickier to roll down because there are no holes for the straps to go through, but you do get the hang of it after a while.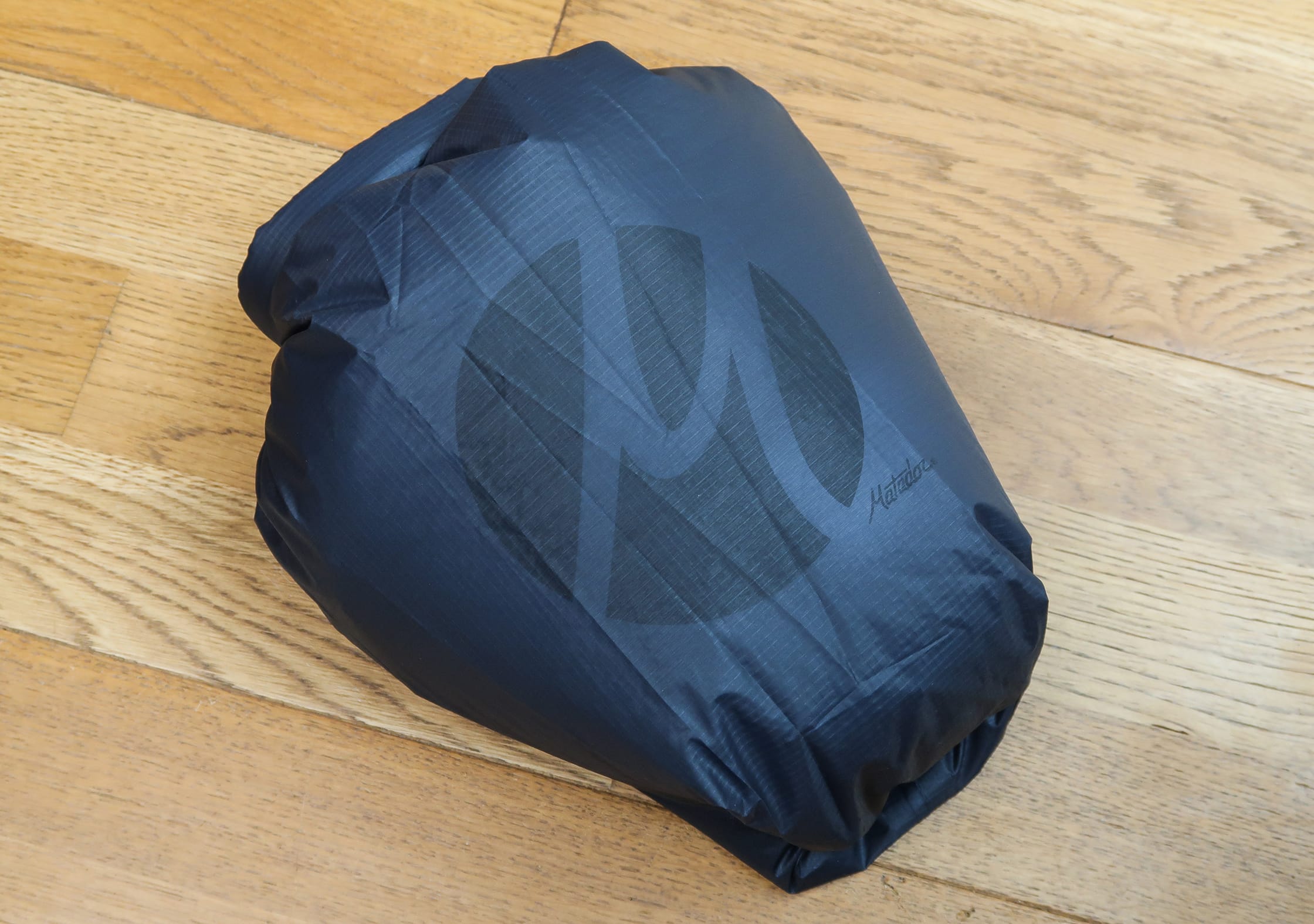 You can tuck the whole strap into the base layer, but you then lose the ability to carry this thing around your neck. You definitely want to make sure you're securing the rolltop correctly, or else you might have some issues. Just make sure it's lined up at the top, rolled down at least three times, and feels tight and secure.
Durability and Testing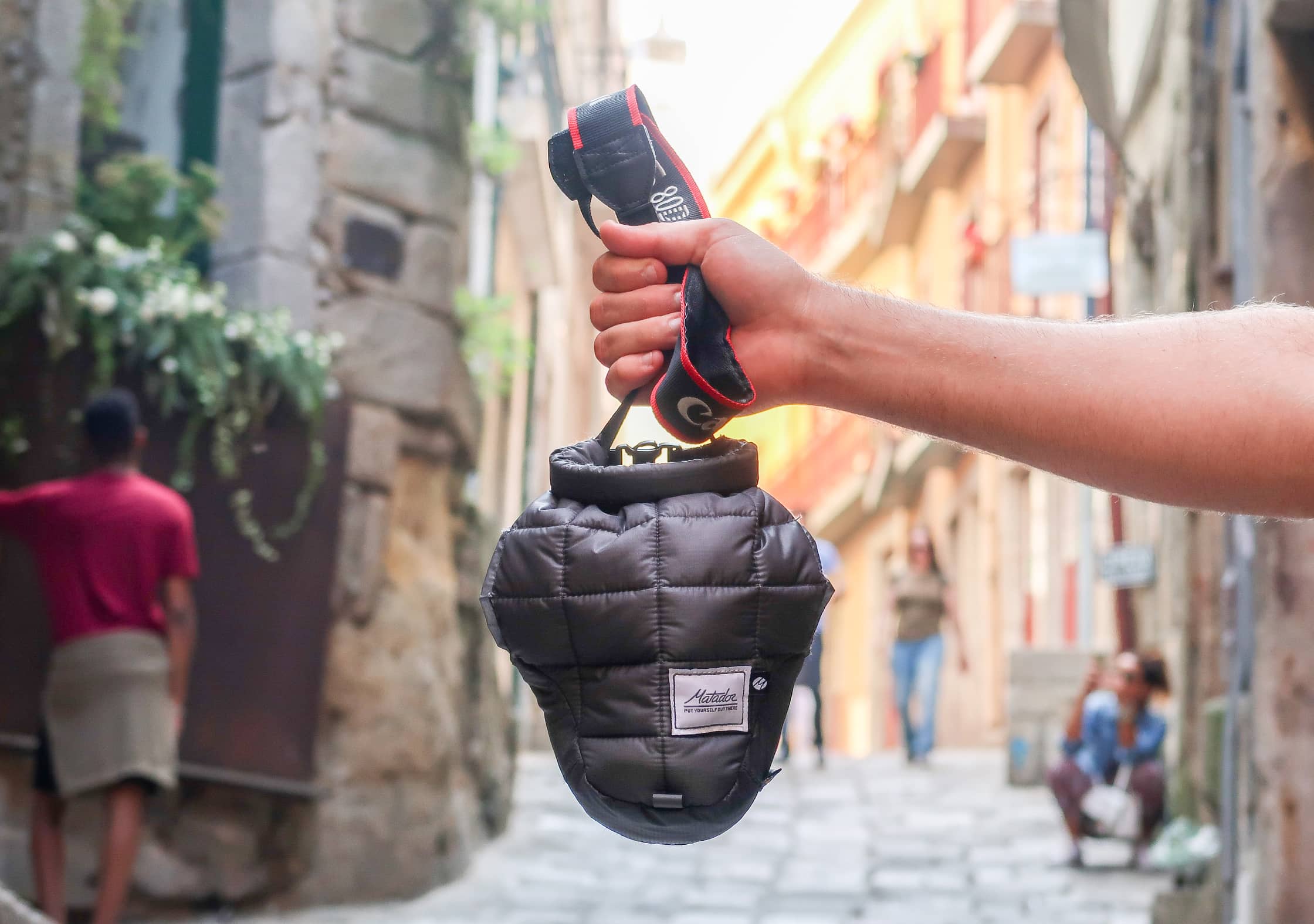 We've been testing the Matador Camera Base Layer for three months now, and during that time it's seen use in the USA, UK, and Portugal. We have no durability issues as of yet, but there are a few things we're keeping an eye on.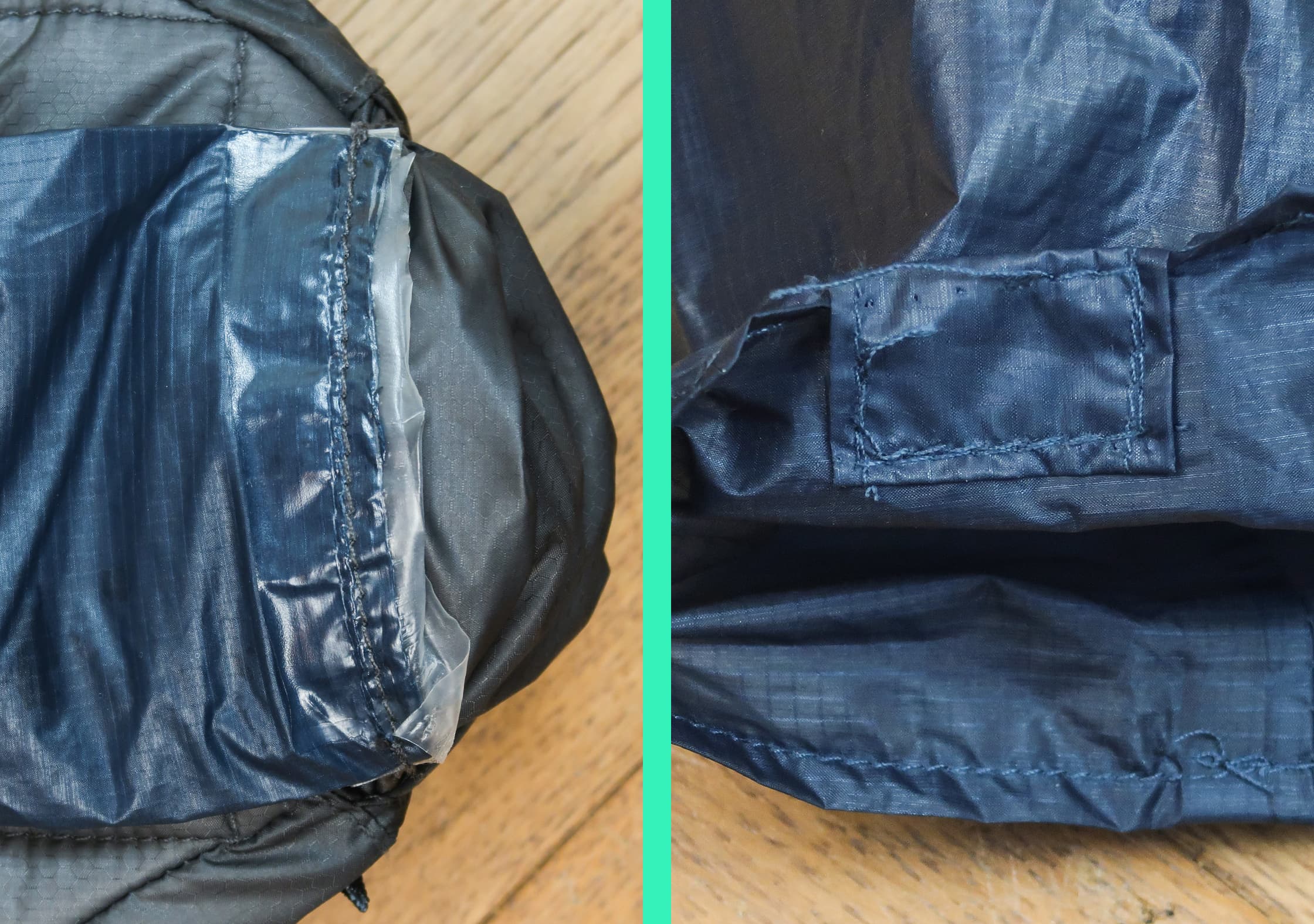 First of all, the stitching is incredibly sloppy in places, with loose threads cropping up all over the place. Secondly, the attachment point between the rainfly and technical shell is straight up shoddy—it feels secure, but the craftsmanship is disappointing. And finally, while the rainfly fabric is waterproof, it is incredibly thin, so any abrasion on the outside could affect its ability to keep your camera dry.
In testing, we've enjoyed using the Matador Camera Base Layer, but have found its function a tad too niche for our liking. The reality is that for most trips you're going to need additional lenses, spare batteries, SD cards and so on. So, this thing really only works if you're just taking your camera—though Matador does also make a Lens Base Layer. If that's your style, then the Matador Camera Base Layer could be a perfect fit for your camera needs. If not, we'd recommend taking a look at an internal camera bag, like the versatile and multi-functional F-Stop ICU.
With all that said, the Base Layer does truly excel while adventuring out into rainier climates. We know a lot of photographers that will bring an independent dry sack on shoots, so having an integrated rainfly on this thing really does help.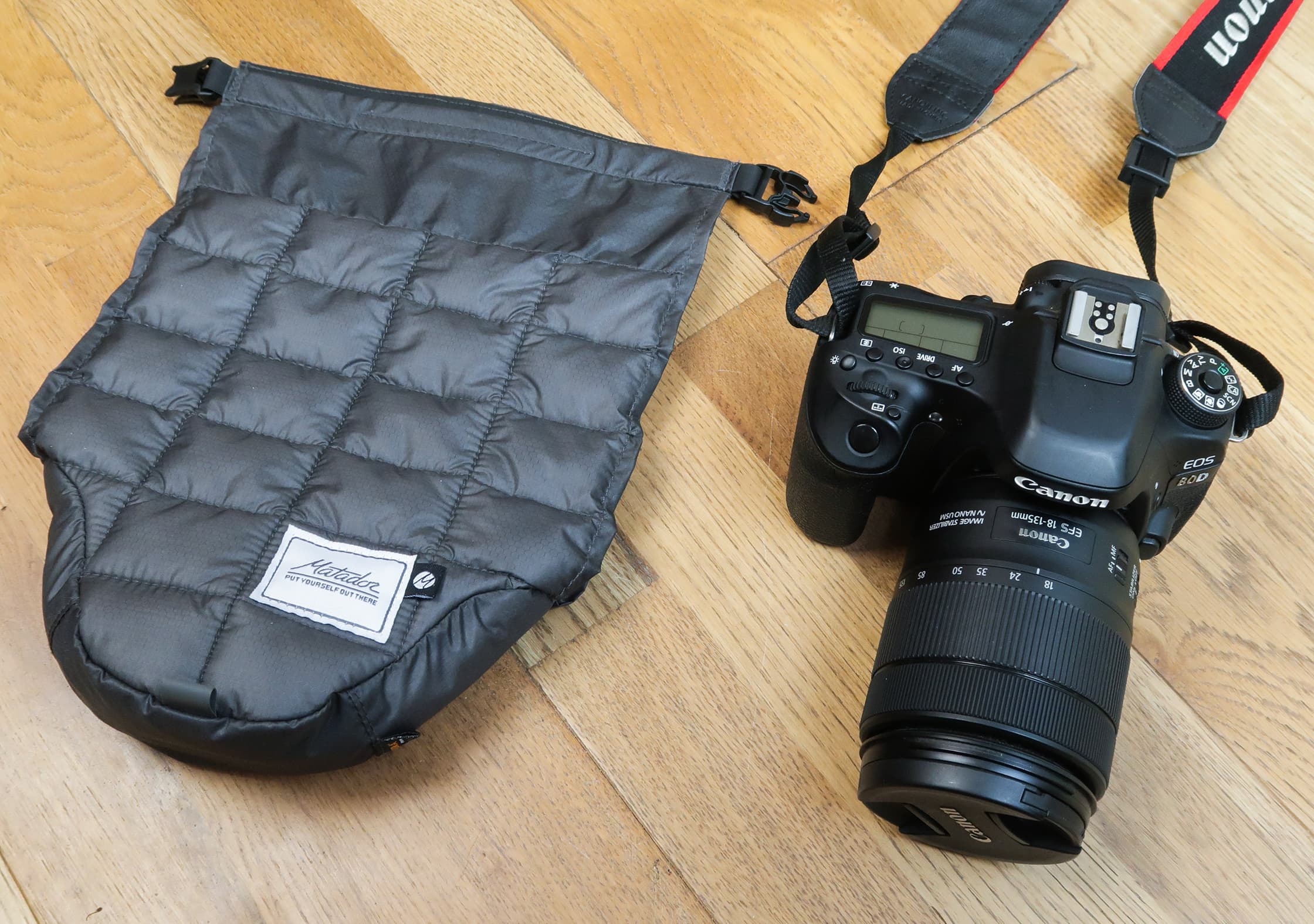 Matador advertises the size as "one size fits most," and the maximum camera dimensions allowed are 6" wide, 5" high, and 7" long (including lens). The rolltop design means this thing will provide a snug fit for either a smaller mirrorless camera or larger DSLR. While you can get away with a full-frame DSLR—like the Canon 5D—we found our mid-sized Canon 80D, with an 18-135mm lens, to be the maximum size we felt comfortable with. It's also important to note that there is a gap in the sides for the straps to come through, and the larger the camera, the more significant the gap—meaning your camera isn't as well protected as it should be.
Usage Timeline
Initial Usage
Condition: Excellent
Easy to use straight away.
1 Month of Use
Condition: Excellent
The rainfly attachment is awesome.
2 Months of Use
Condition: Good
Struggling to find a use for this thing when we need additional equipment on shoots.
3 Months of Use
Condition: Fine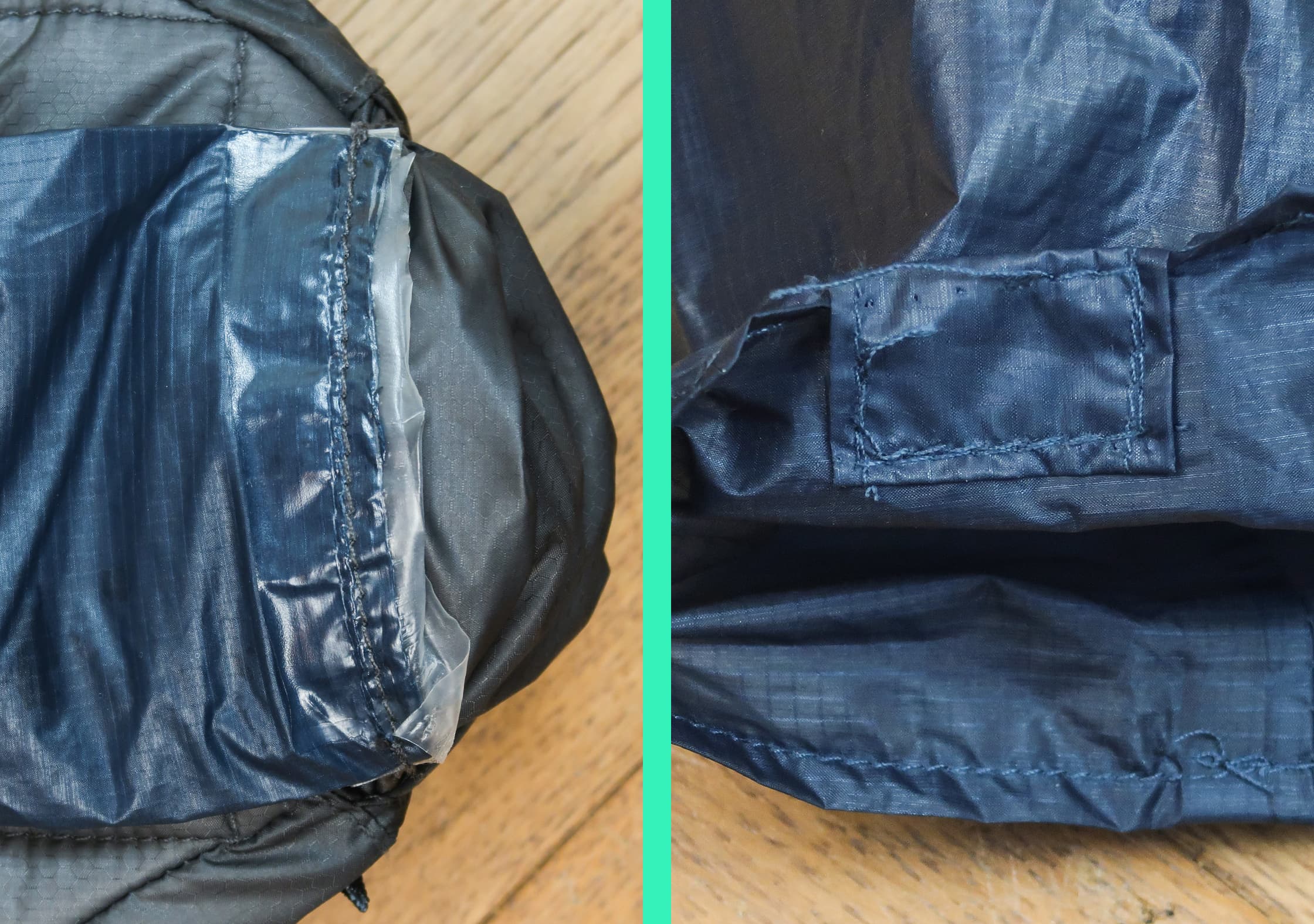 Showing its poor craftsmanship with loose threads cropping up all over the place.
Access the Pro Community Discussion
Get your questions about the Matador Camera Base Layer answered from our team and the Pro Community right here on the page. Plus, join discussions with other members about gear, guides, and more.
Other Organizers & Pouches Reviews