Lykka Kvarting Insulated Coffee Mug Review
Shaking the Lykka Kvarting Insulated Coffee Mug allows you to feel the temperature of your drinks—convenient when you need to warm up or cool down on a trip.
Our Verdict
Unlock the Pro Summary
Save time. Get access to brief summaries of our reviews so you can browse and make decisions more efficiently.
Pros
Heat exchange technology warms or cools your hands
Large capacity for its overall size
Fits in shallow bottle pockets
Cons
Scratches relatively easily
Leaks" heat when accidentally shaken
On the small side for cold beverages
Recent Pack Hacker Video
Technical Details
Capacity

14oz

Weight (oz)

8.7 oz (246.6 g)

Dimensions

2.75 in x 2.75 in x 6.25 in (7 x 7 x 15.9 cm)

Notable Materials

Stainless Steel, Plastic

Manufacturing Country

China

Warranty Information
Full Review
Insulated bottles are super handy for anyone who wants to save on drinks while traveling. Why spend extra on overpriced beverages at the airport when you can make your favorites at home, where the magic of vacuum insulation keeps 'em nice and warm (or cool)? It's simple tech, but what if we told you someone made it even better?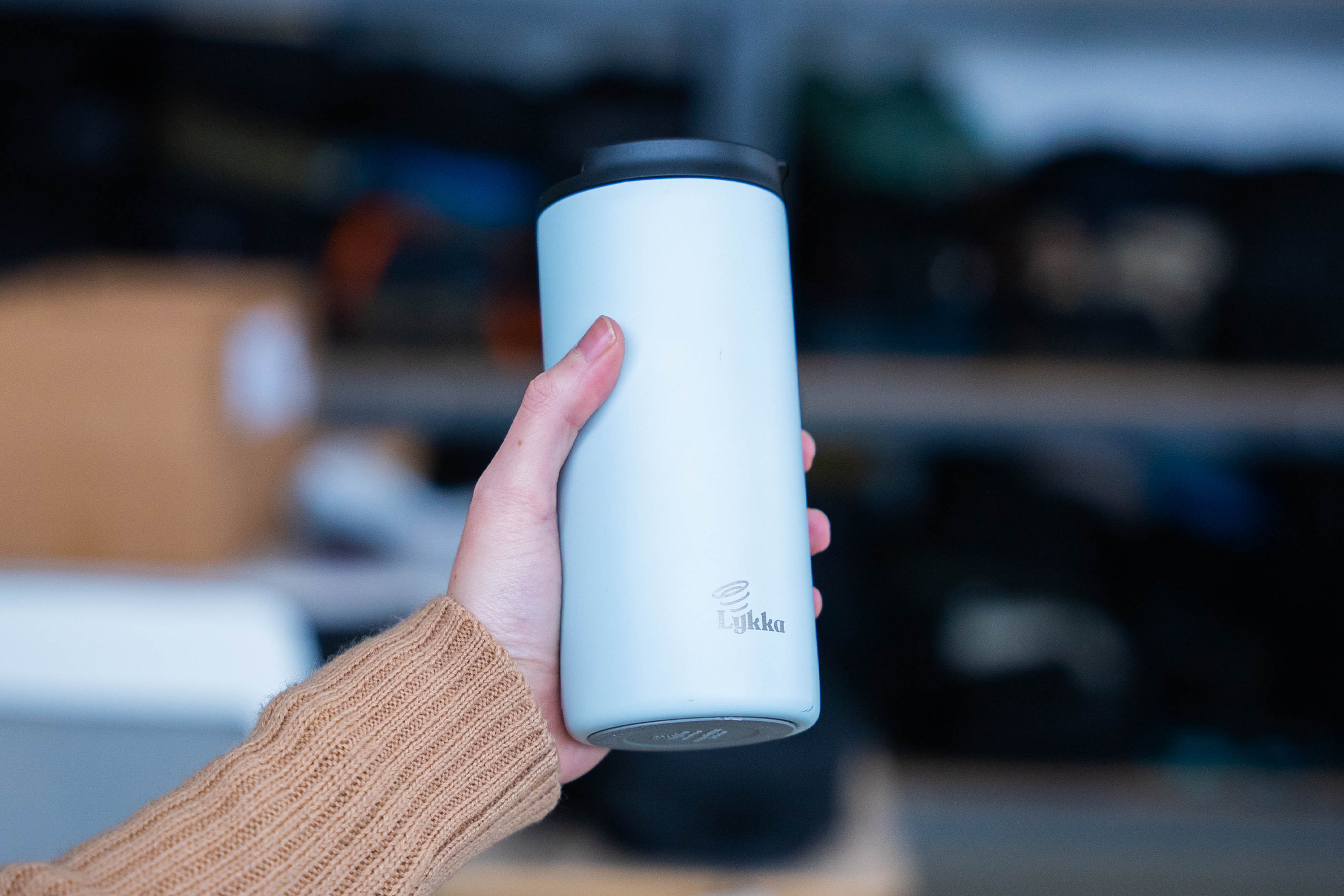 What makes Lykka unique as a brand is that they put the same tech used in heat exchangers into their insulated bottles. Just give the Kvarting Insulated Coffee Mug a good shake, and the temperature of your drink begins to exude out of its body—pretty neat, huh? If you think that's interesting, let's dive in and see what else is going on with this bottle.
The Rundown
Let's start by taking a look around the Kvarting itself. Sadly, we'll have to point out some scratch marks we got relatively early in the testing process. There were at least two noticeable ones right off the bat, which is a shame since we're rather fond of the Snowy Blue colorway we're sampling here. The good news is that these scratches are only superficial and haven't affected the performance of the Kvarting in any meaningful way.
By the way, it's also available in Lykka Orange, which goes super well with pumpkin spice drinks.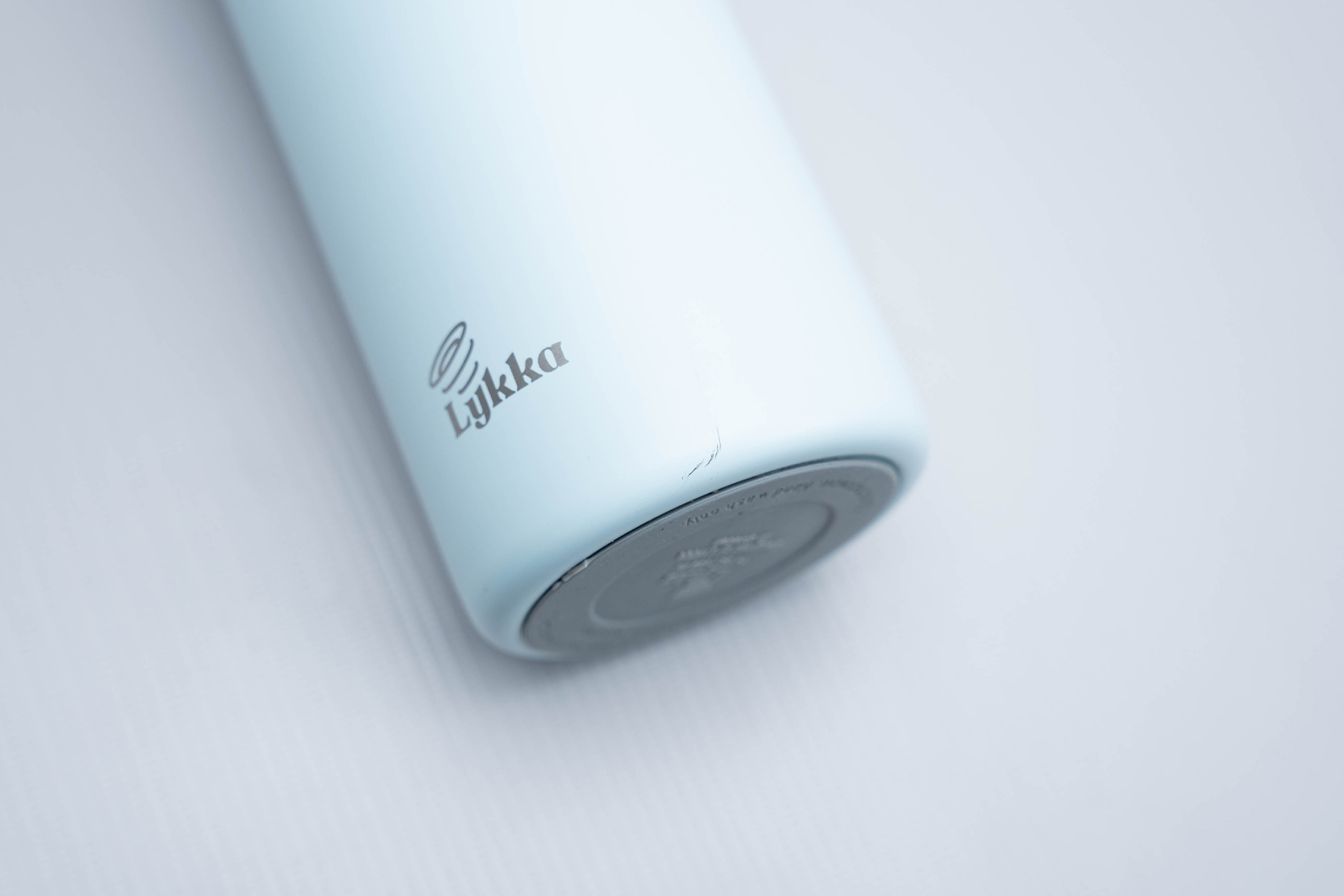 The cap is noteworthy in and of itself since it's quite thin and well-made. It uses a simple flip-up lid that snaps open and close, and you really have to use some force if you want to open it. That's good news since lids that snap without a dedicated lock tend to worry us that they might open by accident, and that's not the case with the Kvarting. The spout itself is easy to drink and pour from, so you don't have to twist the entire cap off to do so, either.
Even better news: twisting the cap reveals a wide and uniform opening, great news for anyone who struggles with putting ice cubes into slim-necked bottles. In fact, we noticed that the wall of the Kvarting is suspiciously thin despite having fancy heat exchanger tech built into it. Perhaps the tech is located between the floor and the base? We can't say for sure.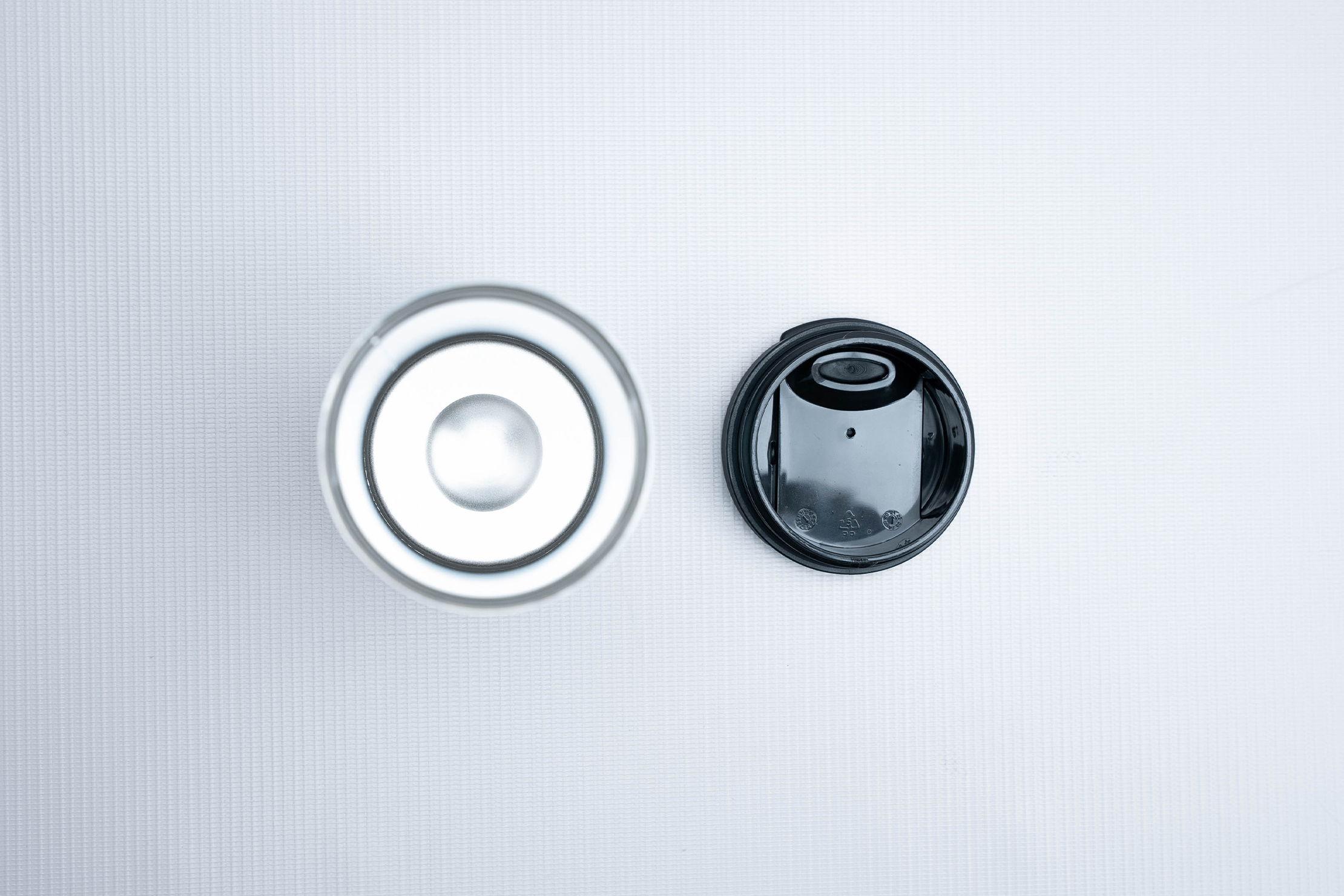 Bonus points: the wide opening and two-part composition of the Kvarting make it super easy to clean and maintain by handwashing. Lykka's warranty section explicitly states not to put their products through a dishwasher, in case you were wondering.
So, what kind of alien magic is Lykka putting in their bottles? It's their patented "HNC Transmit Technology," which, in turn, is based on Alfa Laval's heat exchange technology. Unfortunately, Lykka doesn't get more specific than that, and Alfa Laval seems to focus on large-scale commercial applications of their heat exchangers. That's okay since we're not here to bore you with complicated thermodynamics discussions. No, you wanna know if it actually works, right?
Simply put, it absolutely works. You put in a cold or a hot drink, shake the bottle, and the heat of the warm drink begins to permeate around the bottle's body, or you'll feel the coolness of a cold beverage on your hand (which is heat leaving your hands). Oh, and no batteries or external power are involved, in case you're wondering.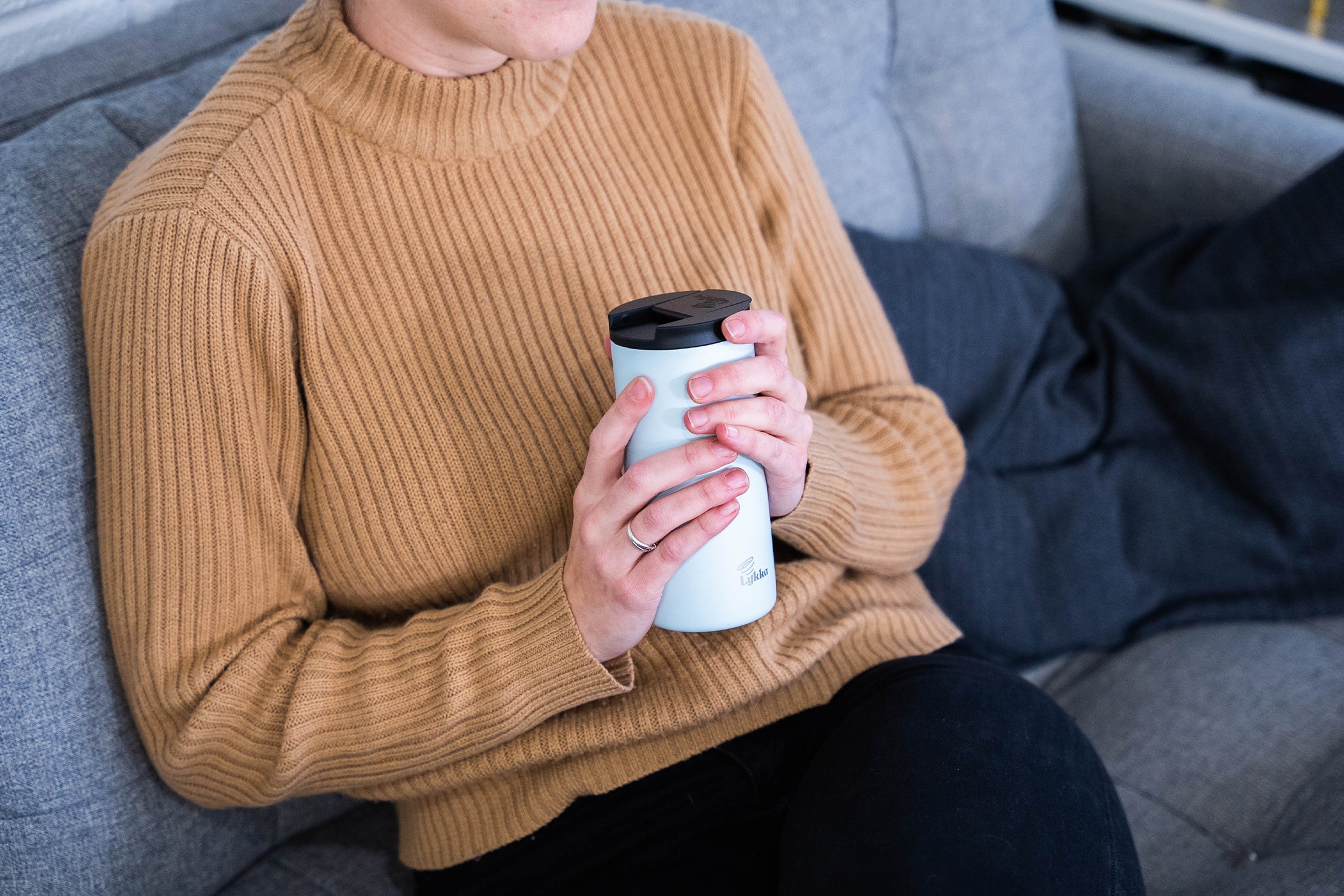 Of course, this heat doesn't just come out of nowhere, meaning your drink will bleed its heat quickly if you're continuously shaking the Kvarting. To stop the heat loss, just leave it idle. Unfortunately, this does mean accidental shaking can lead to your hot drinks' heat "leaking" out without your knowledge. You're just going to have to be careful to avoid that.
Packability
The Kvarting's small size is ideal for many backpacks we test. Sometimes we test packs with relatively small bottle pockets, the kind that's too shallow for a slender bottle like the 21-ounce Hydro Flask we usually use. The Kvarting is two-thirds of the capacity, and sometimes we'd rather have a smaller bottle than a taller one that might go AWOL if it slips out by accident.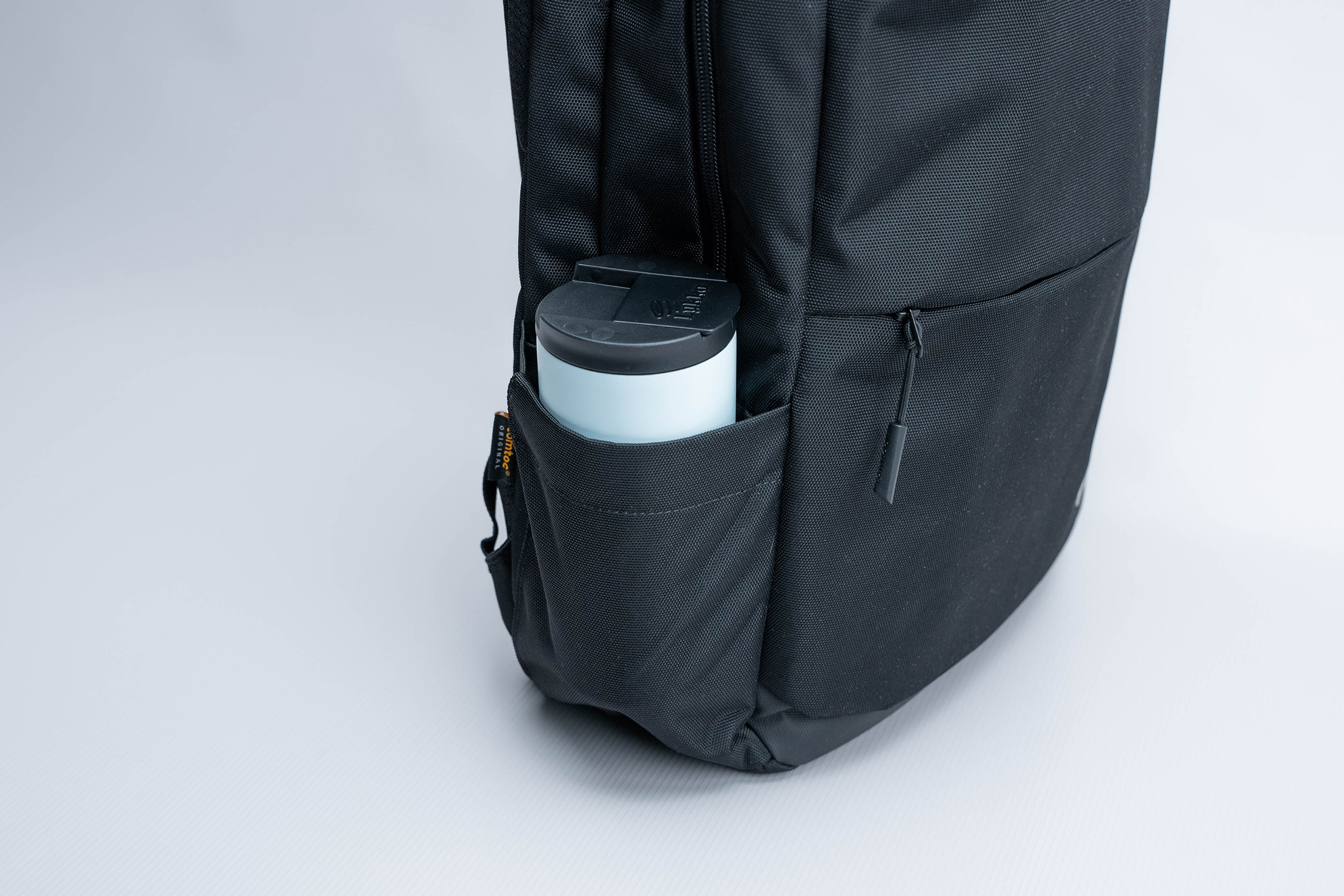 The low-profile lid and thin walls of the Kvarting keep its size down relative to its capacity, making it possible to carry in large slings like the Bellroy Venture Sling 9L. Just keep in mind that the lid may close with a reassuring stiffness, but it still lacks a lock, so spills are still within the realm of possibility.
Quick Comparison
For its capacity and size, the Kvarting Insulated Coffee Mug is quite small, and at just 14 ounces, this is not a hydration pack you can rely on in marathons. Nope, this really is meant for hot drinks that you sip frugally on those cold mornings at an empty terminal. Cold drinks work too, though we feel that most people gulp those down too fast for the 14-ounce capacity to be worth it.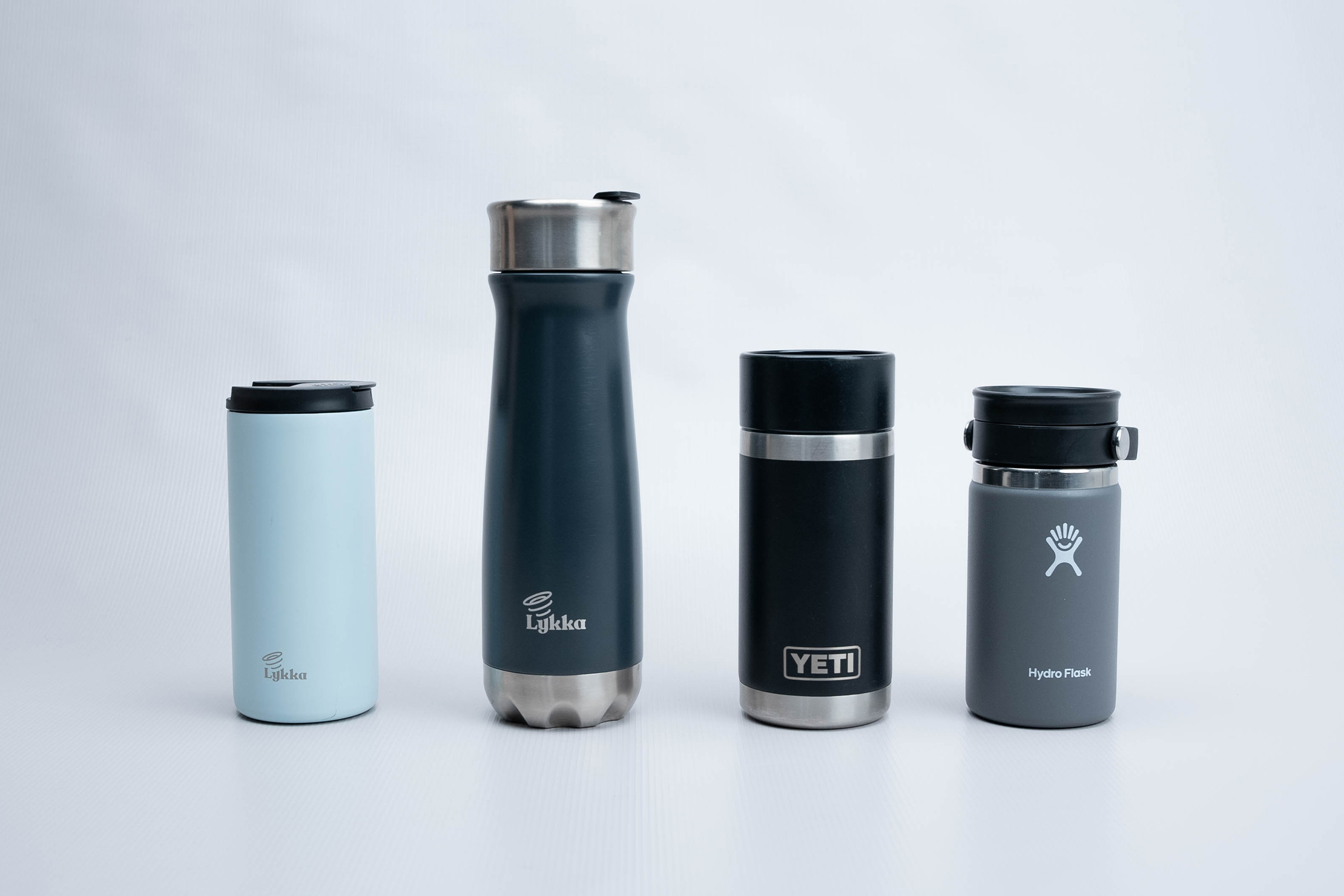 Alternatives include Lykka's own The Original Lykka Bottle. At 21 ounces, it's 50% larger in capacity, which gives you more swigs of cold drinks at the cost of extra height and a more irregular shape. If you're looking for similarly sized alternatives, there's the 12-ounce Hydro Flask. However, the thick cap of the Hydro Flask takes away two precious ounces of capacity in exchange for a more secure lid and a handle. There's also the YETI Rambler 12 oz. It's larger and heavier, though it insulates drinks for longer.
Usage Timeline
Initial Usage
Condition: Excellent
Digging the sleek design and colorways
Lid feels super secure
Interested to see how the "magic" happens
2 Weeks of Use
Condition: Good
Developed a decent amount of scratches pretty quickly, though they seem to be superficial
Digging the silicone base
Size is comfortable in hand and fits great in a pocket
1 Month of Use
Condition: Good
Lid feels very secure, and we've had no issues with leaking
A few more scratches have appeared, though they're still superficial
Access the Pro Community Discussion
Get your questions about the Lykka Kvarting Insulated Coffee Mug answered from our team and the Pro Community right here on the page. Plus, join discussions with other members about gear, guides, and more.
Other Miscellaneous Reviews