lululemon Cruiser Large Backpack 28L Review
Organizing gear is a breeze with lululemon's Cruiser Large Backpack 28L, though its stowable strap and basket for a yoga mat feel like afterthoughts.
Our Verdict
Unlock the Pro Summary
Save time. Get access to brief summaries of our reviews so you can browse and make decisions more efficiently.
Pros
Sheer number of pockets is great for organizing gear
Harness system relatively comfortable despite its thin padding
Laptop compartment's sizeable false bottom good for protection
Cons
Stowable strap and basket feel like afterthoughts
Compartments push against each other, making everything feel cramped
No dedicated water bottle pocket despite an abundance of other pockets
Recent Pack Hacker Video
Technical Details
Capacity

28l

Weight (lb)

2.3 lb (1 kg)

Dimensions

19 in x 11 in x 7.5 in (48.3 x 27.9 x 19.1 cm)

Notable Materials

Polyester, Nylon, Lycra, Polyurethane, Duraflex Hardware, YKK Zippers

Laptop Compartment Size

16"

Warranty Information
Full Review
lululemon touts the Cruiser Large Backpack 28L as a backpack that can cruise effortlessly from work to workout. It's not uncommon for brands to design their gear to have flexible functionality. We're all for it if it means we don't have to switch bags whenever we feel like doing something else. However, like all ideas, the execution is just as important as the idea itself.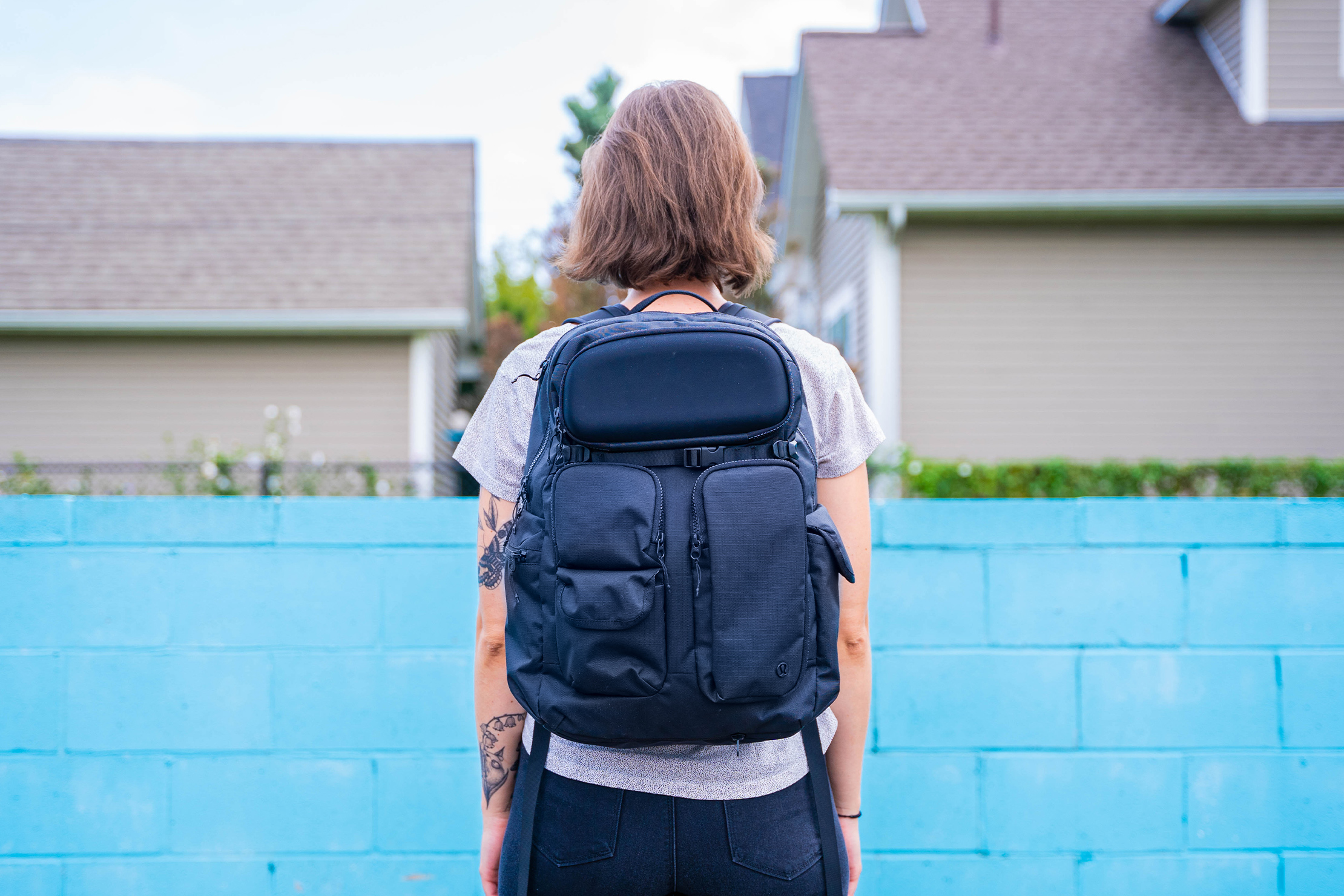 In the case of the Cruiser, we just don't think that it reaches its goal. Yes, the stowable strap and basket for a yoga mat work. But the way it looks and affects the bag's functionality makes it feel like an afterthought. It also lacks a dedicated water bottle pocket, despite having many pockets for almost everything else—great for organizing gear, sans a bottle.
External Components
Let's start with the basic features of the Cruiser. Up at the top, you get a simple nylon handle that's useful for hanging the bag on shallow hooks and pegs. Comfort isn't really its specialty, given its relative thinness, but it will get the job done for carrying the bag over short distances across a busy gym.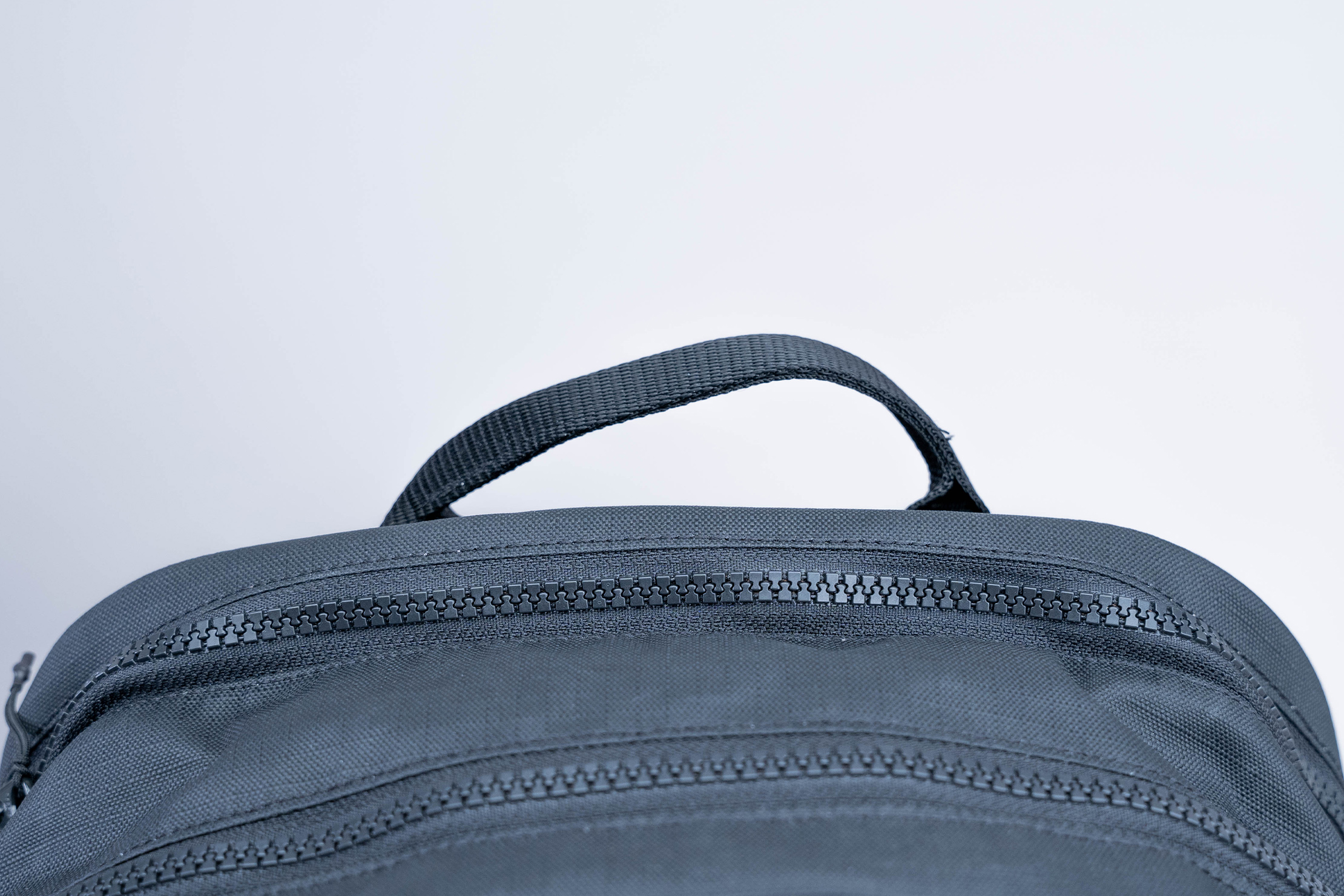 The zippers are from YKK, makers of very reputable hardware for many brands. We haven't had any issues with the ones on the Cruiser in terms of reliability, and they've zipped and unzipped consistently. However, the pulls lululemon went for are quite thin, while the metal pulls are already quite stubby. This makes unzipping feel clunkier than what you'd expect of YKK zippers, which goes to show that zipper pulls are just as important as the zipper itself.
Now let's talk about the single biggest feature of the Cruiser, and that's the stowable strap and basket—lululemon doesn't really have a catchier name for it.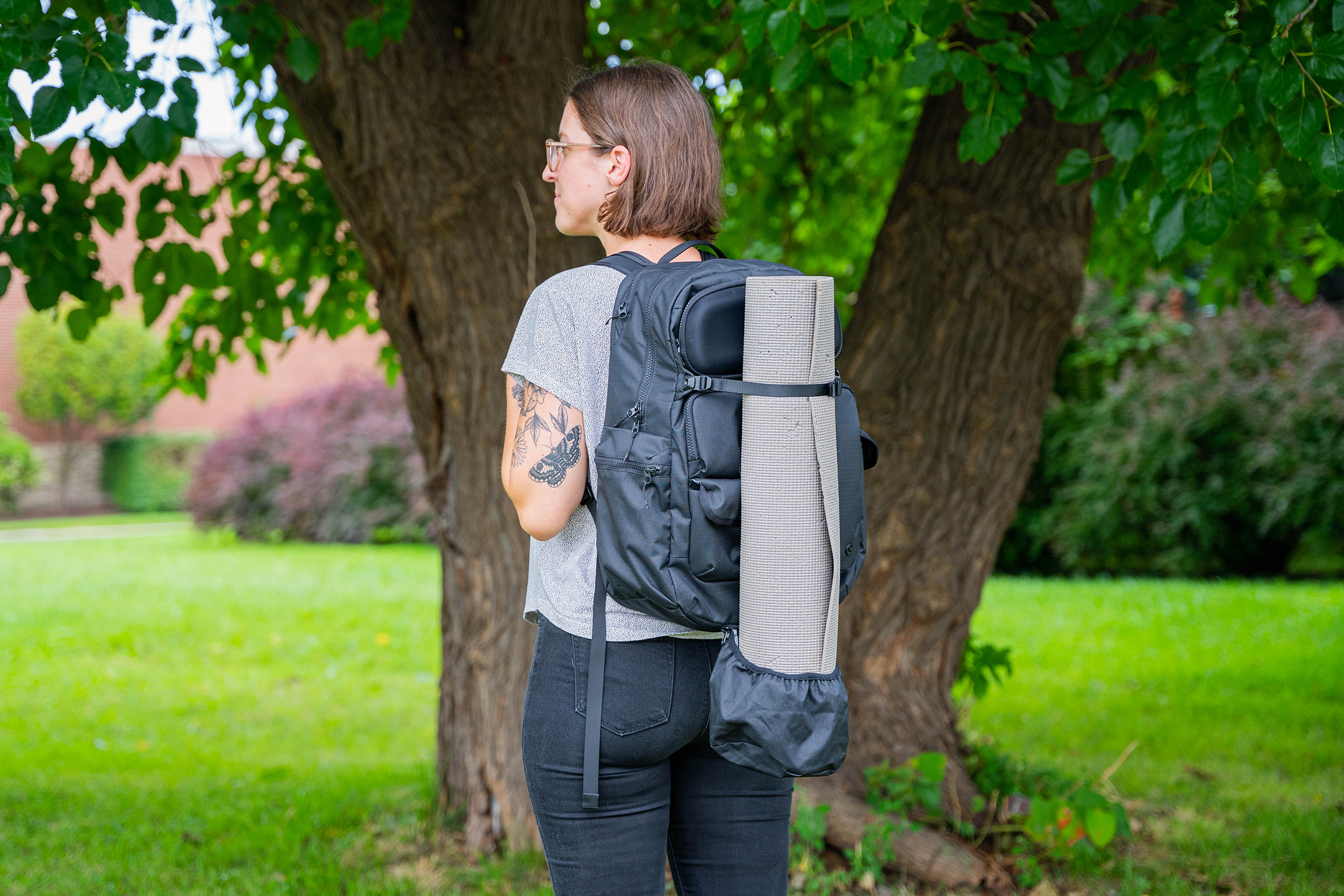 There are two parts to this system. The first is a removable horizontal strap that runs between the sunglasses pocket and the lower front compartment, and the second is the elasticized stowaway basket at the bottom. The tl;dr on how it works is that the basket acts as a pouch to catch the bottom end of your yoga mat while the strap cinches it against the Cruiser.
You're probably looking at one of our many excellent pictures of it right now and thinking that the whole setup doesn't look particularly clean, and we're with you on that. That said, we can excuse not-so-clean looks if the functionality more than makes up for it. The bad news is that the stowable strap and basket don't really work all that well.
Our main gripe is that the basket juts out from the bottom. This prevents the bag from sitting upright, and you'll have to lay it on its side unless you take the yoga mat out. In case you're wondering, other backpacks' attachment systems for bulky gear like this consist of bottom straps that cinch a yoga mat horizontally along the bottom. An approach like this still lets a bag sit upright.
It's also worth noting that the strap lululemon used here is near maxed out trying to cinch our yoga mat down. Granted, our yoga mat is relatively thick, but keep that in mind in case yours looks thicker than ours.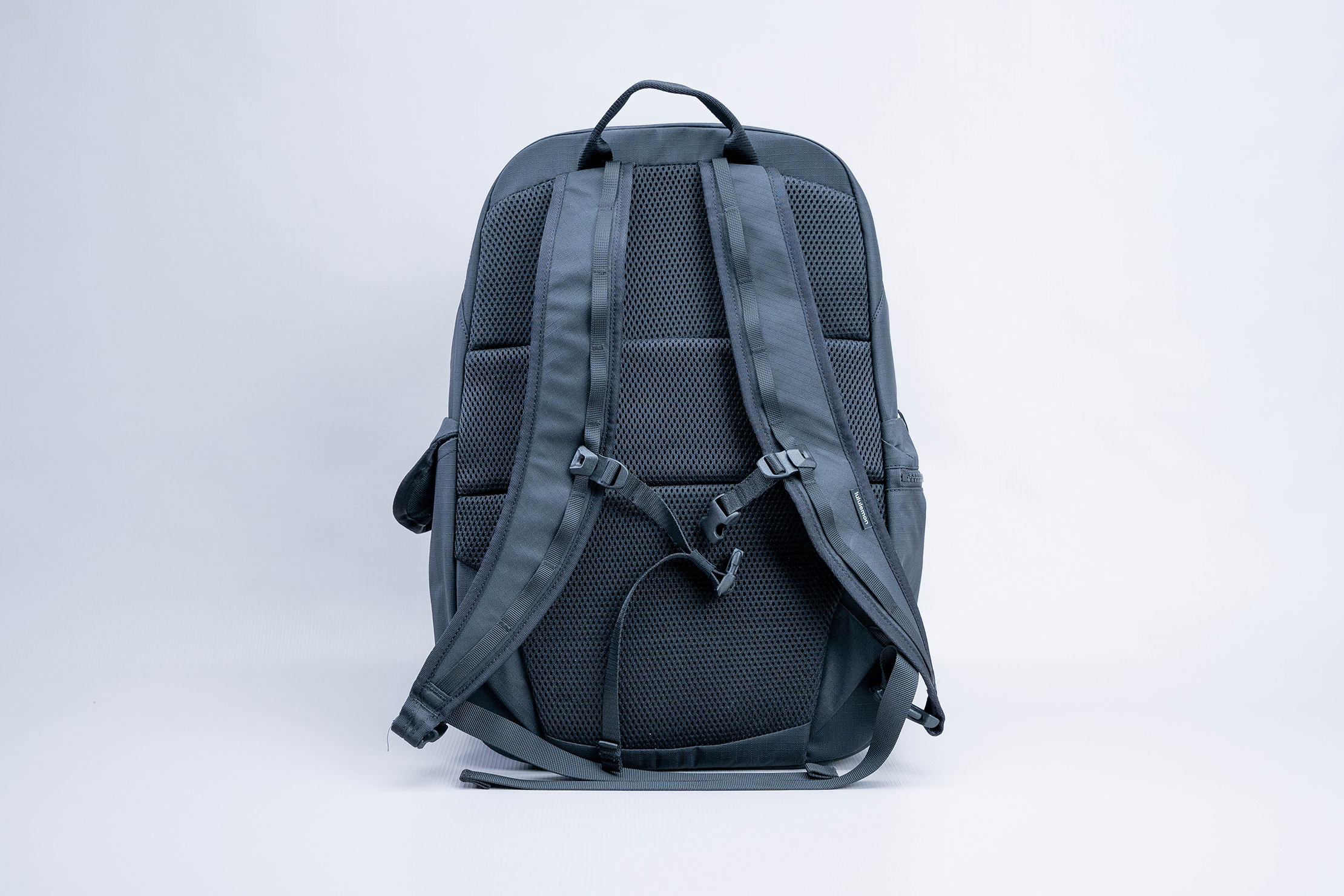 At 28 liters, the Cruiser isn't exactly a featherweight among backpacks, especially once it's fully loaded, yoga mat included. Despite the largeness, we're surprised to find shoulder straps that don't have a ton of padding. The width of the straps is sufficient to distribute the weight, but there's not a ton of cushioning.
Loops line the entire length of each shoulder strap. You can mount the included sternum strap on any of them, even diagonally, if you really want or need to. Admittedly, this isn't our favorite kind of mounting for a sternum strap. We prefer them to slide along a long rail for very granular adjustments.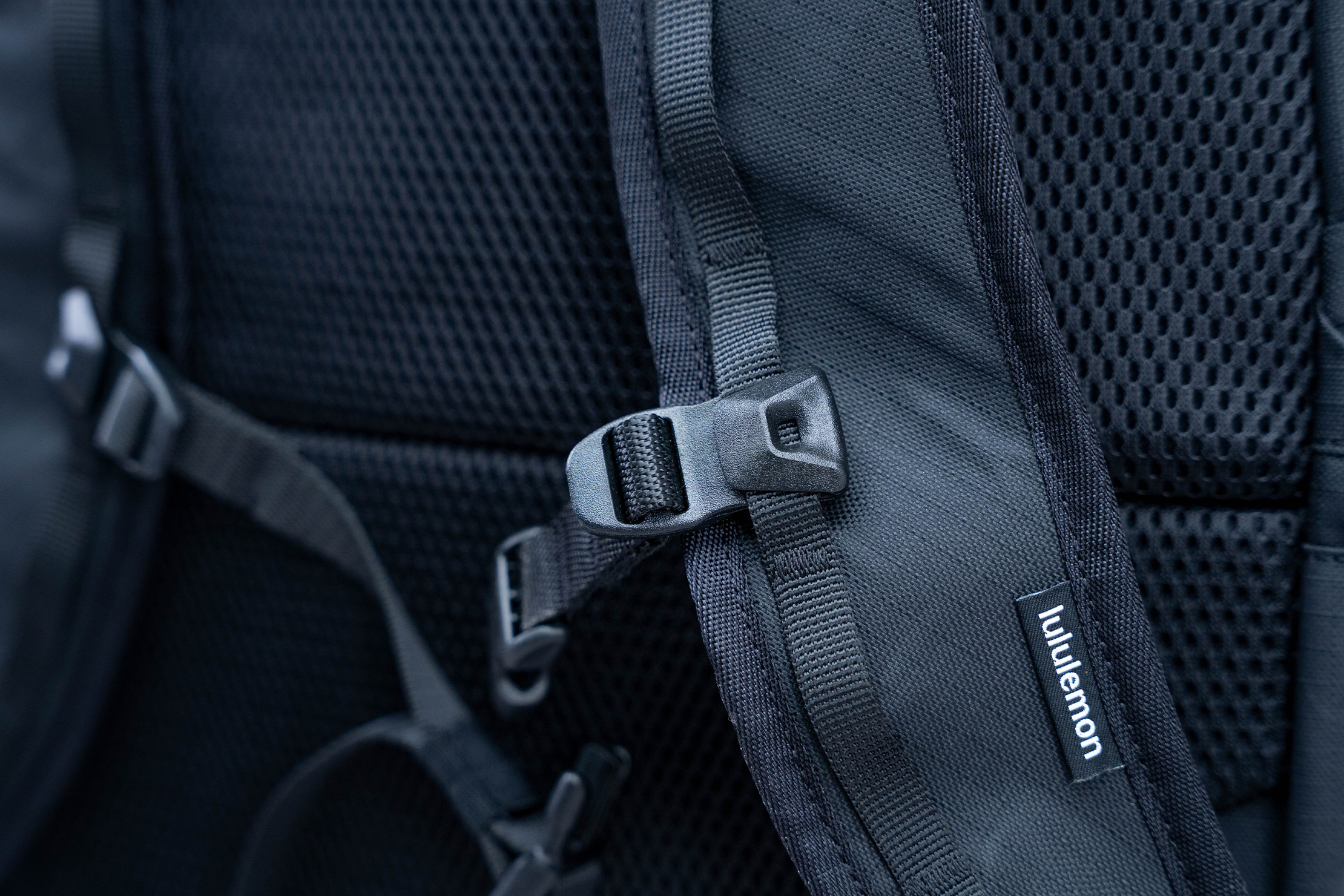 Since there are a ton of loops, though, this is arguably the next best thing. Additionally, this does mean you get a lot of options for mounting accessories like carabiners, key chains, accessory straps, or even pouches.
Interestingly, the shoulder straps can be detached from the bottom via buckles, presumably so they can be secured around a fixture for security. The problem is that the buckles don't have any security features, unlike Pacsafe's solutions, so they're not quite secure in general.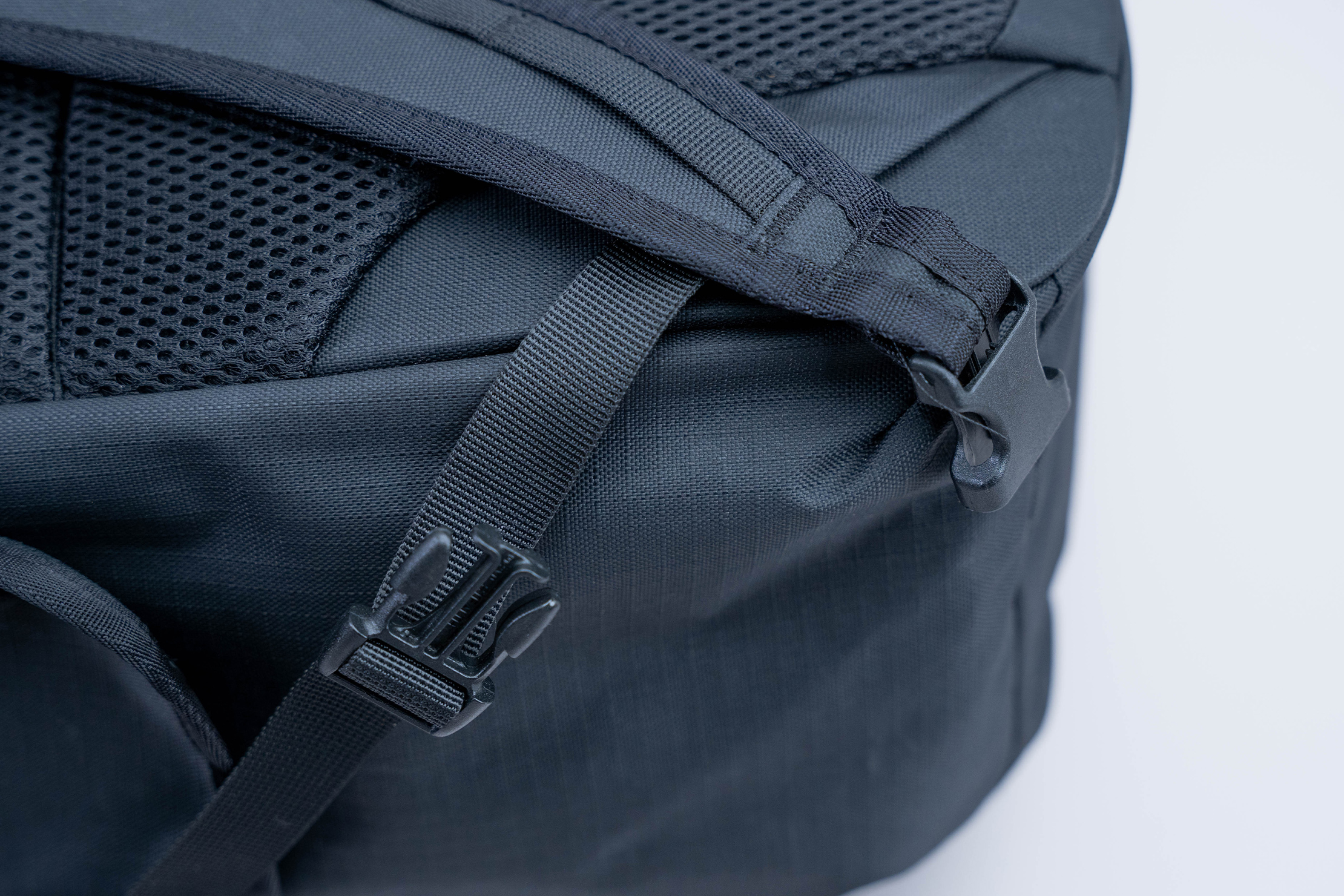 If you're wondering if the detachable feature is so that you can stow away the straps, then you may be correct. You can, technically, tuck the straps into the luggage pass-through, but then you'll have to contend with dangling straps (there are no strap keepers, by the way). Overall, we're not quite sure about the execution of this feature, but it doesn't affect the Cruiser's overall functionality either.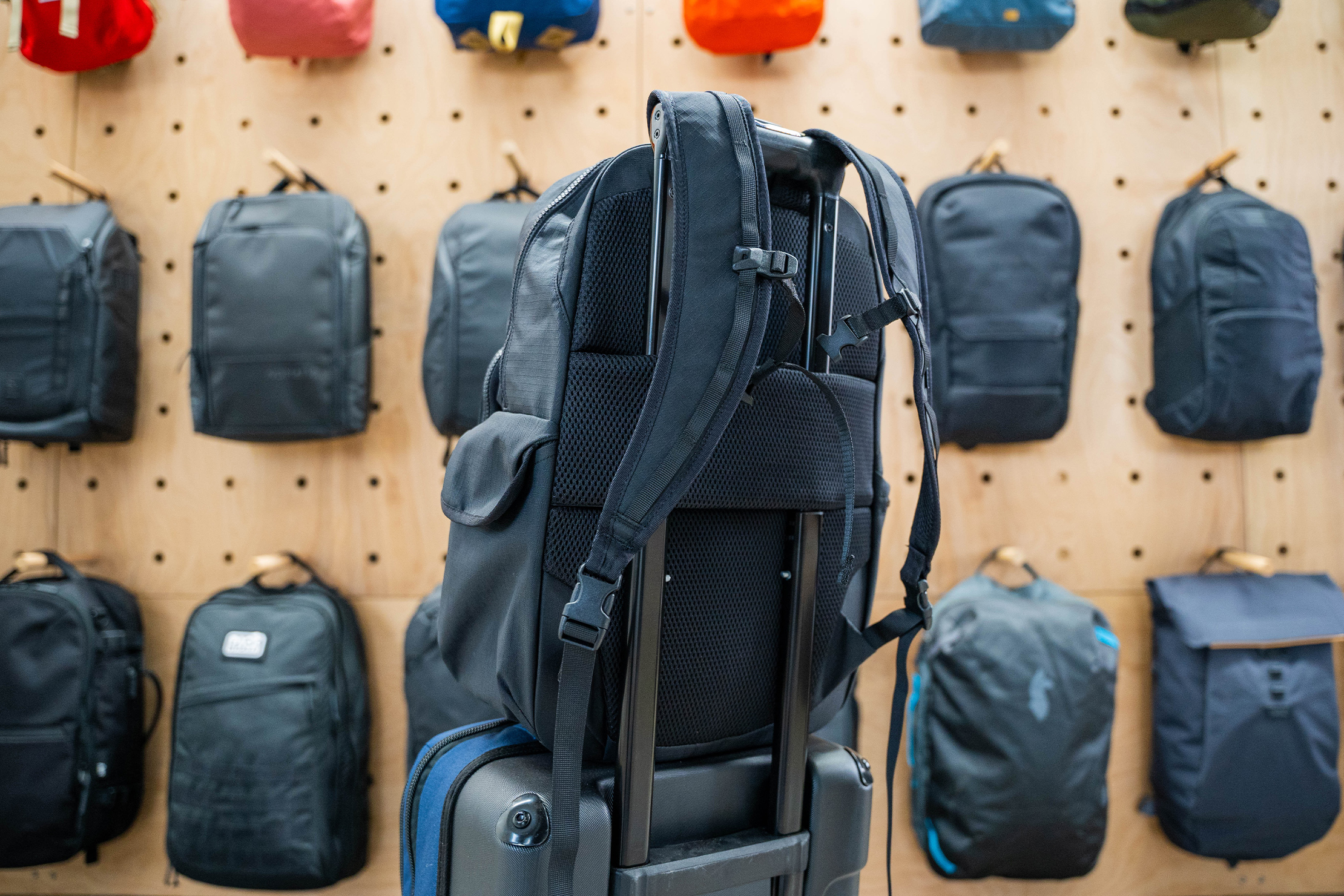 The back panel features the aforementioned luggage pass-through. It's not noticeable at first since lululemon did a pretty good job blending it in as a meshed foam panel. The amount of cushioning is enough for a comfortable fit, while the mesh's coverage is more than enough to keep things breathable. The usual disclaimer applies: no amount of mesh can prevent a swampy back if it gets hot enough.
Fit Notes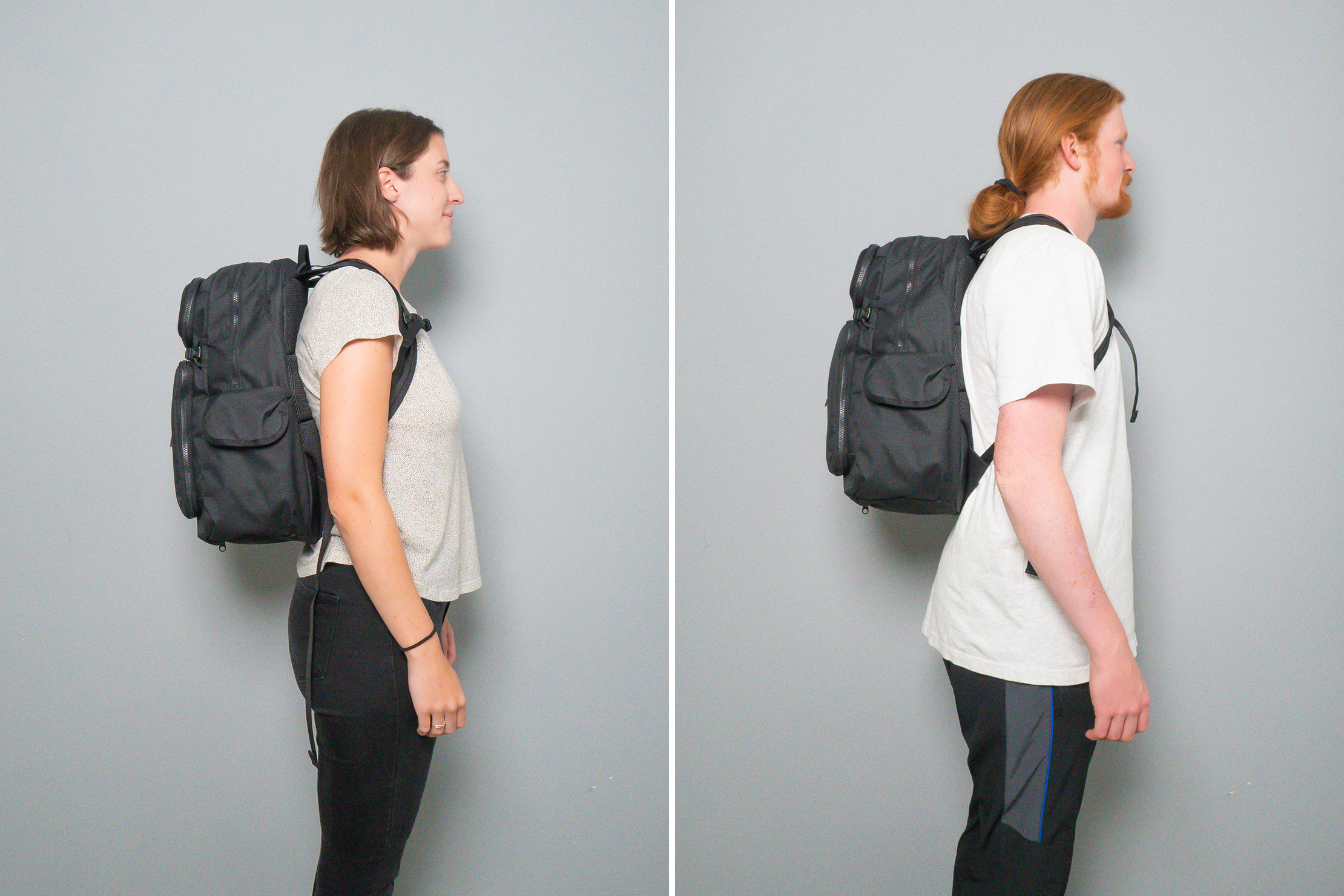 Without the stowable strap and basket in use, the Cruiser looks more or less like your typical daypack. The compartmentalized exterior looks similar to that of the TUMI Brief Pack. Overall, though, the all-black exterior keeps the aesthetic clean.
With a yoga mat strapped to the back, however, the looks take a turn for the worse. You can judge the look for yourself. However, for us, the setup makes it seem like an afterthought, especially when you look closer and see that our yoga mat is curving due to the bag being packed out. Fortunately, yoga mats can take quite a beating, so we won't deduct any points there.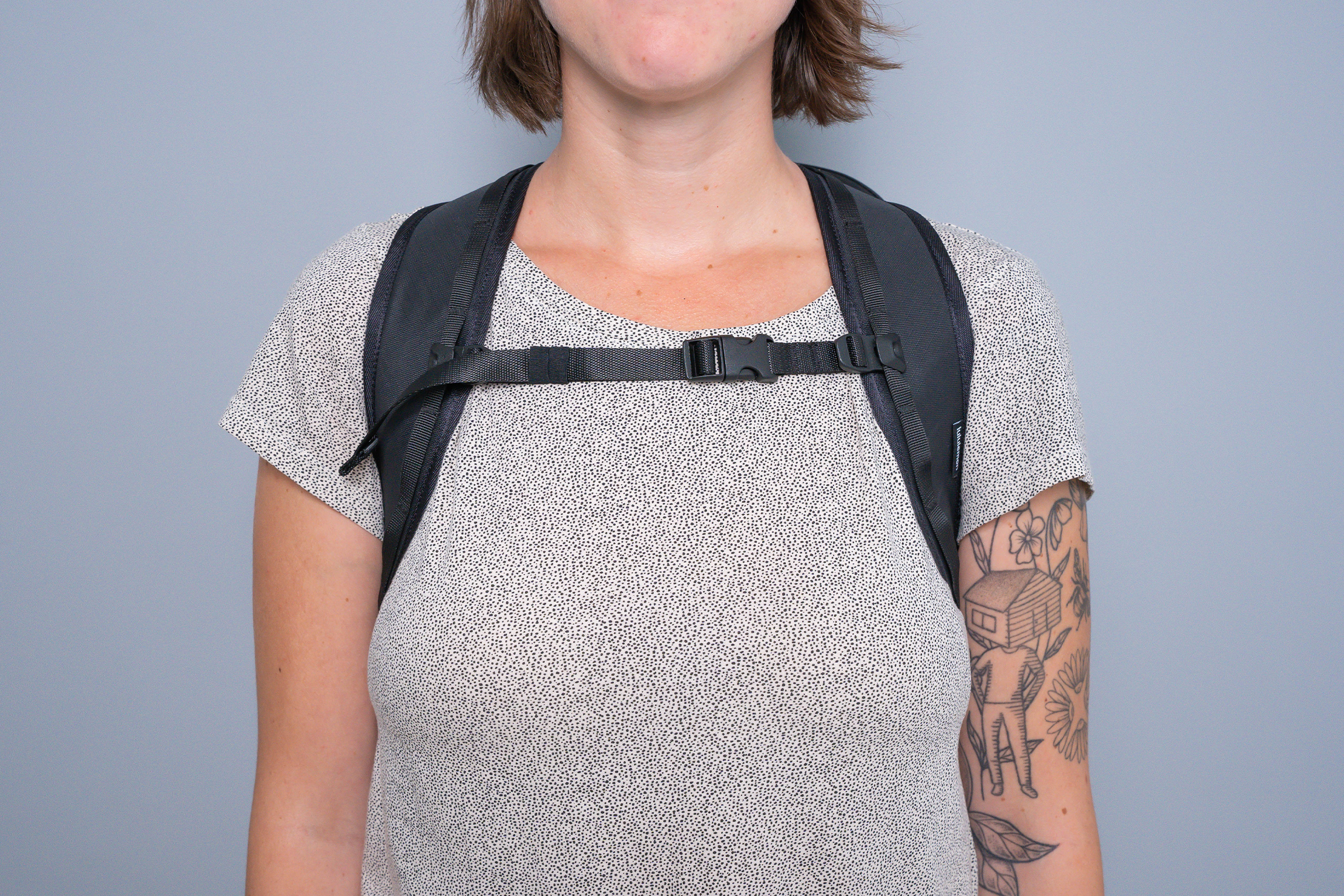 The overall fit is, despite the shoulder straps' thin padding, still quite comfortable. Keep in mind that this is a 28-liter backpack packed out with a yoga mat, and the harness system is still able to cope relatively well. That said, we found ourselves using the sternum strap more often than we'd do with other backpacks just to tame the load better.
There is a very small backward shift in weight once you attach a yoga mat. However, we'd say you'll feel more conscious about the look of the setup versus the feel of the fit. Worse still, it also makes sitting down a challenge since there's an overhang at the back to keep track of.
Inside The Backpack
As you can see, the Cruiser has an abundance of secondary storage all around it. Starting with the left side, there's a zippered pouch with a built-in key leash inside. There's room for other small gear, but we'd rather keep this pocket solely for our keys to avoid scratching anything else.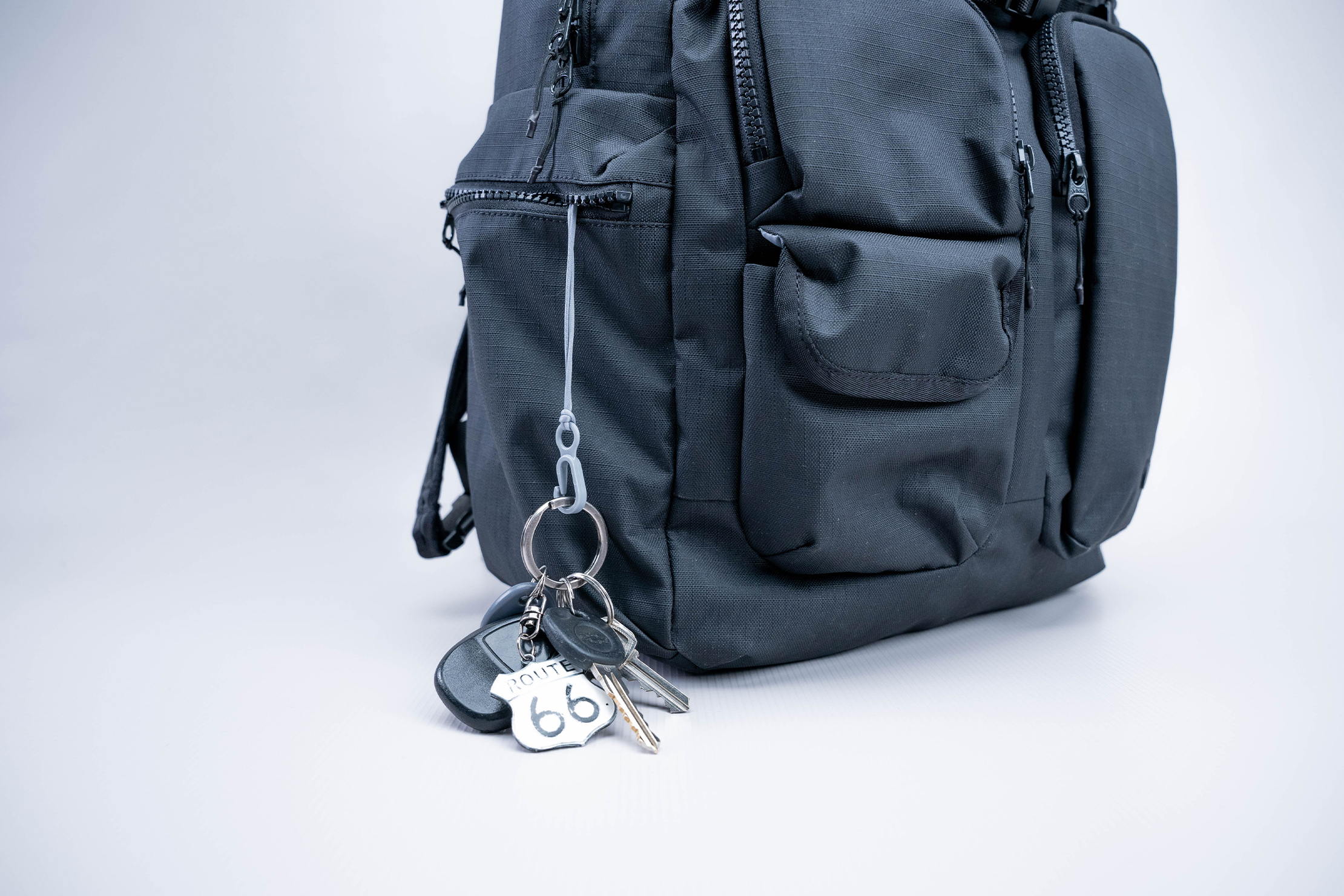 Speaking of scratches, the pocket on the opposite side is lined with a soft felt-like material to avoid those. It's secured via a magnetic snap fastener that makes access much quicker. This is where we put our smartphone since most yoga pants don't have pockets. Sunglasses are also welcome here, but those get their own pocket at the front.
Oh, in case you were wondering, no, neither side pocket can fit a bottle. They're relatively spacious if you're storing everyday carry gear, but they're not quite big enough even for a small 18-ounce Hydro Flask. The lack of a dedicated water bottle pocket is rather confusing since there's a clear focus on using the Cruiser for yoga, especially when you consider the huge amount of pockets for everything else.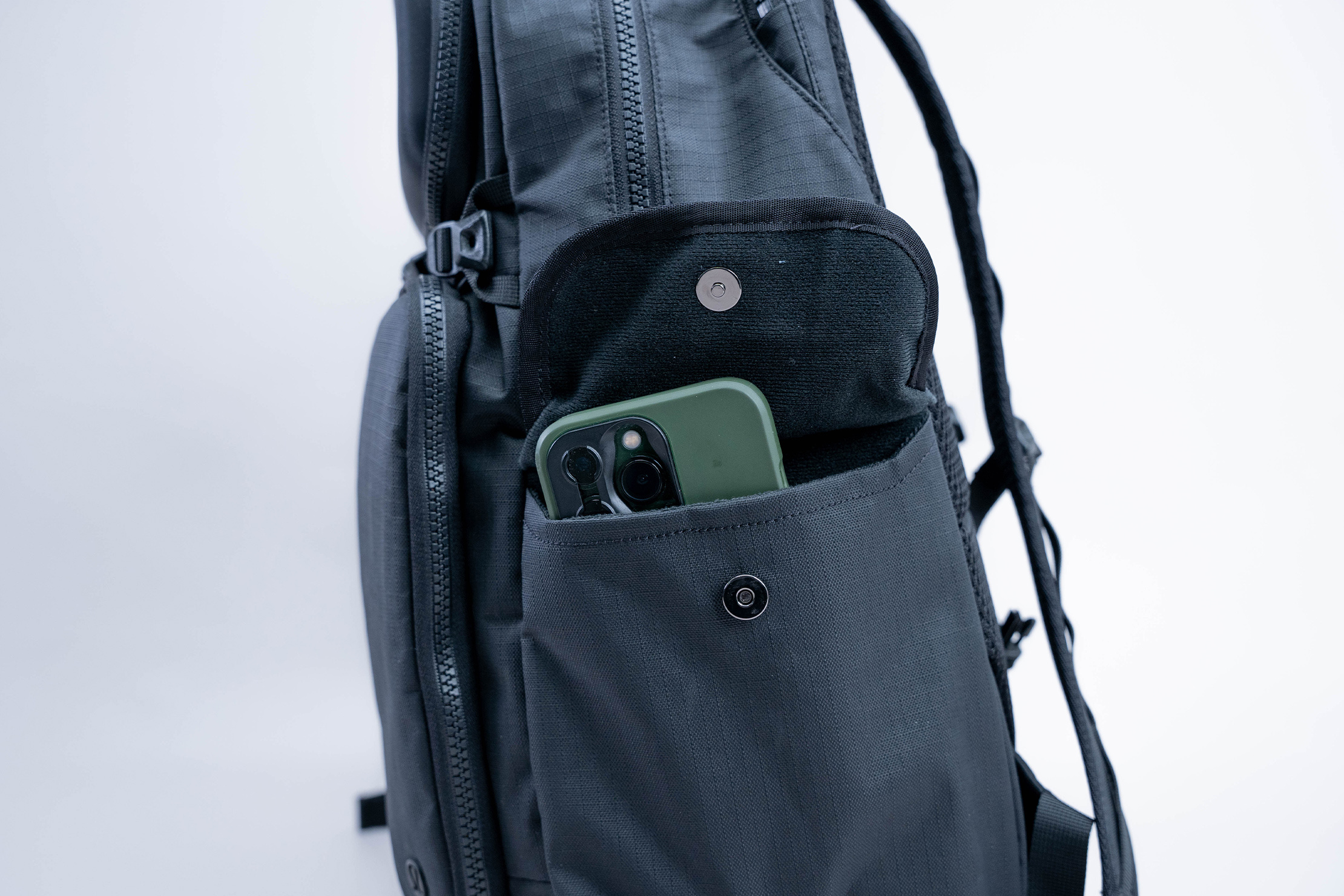 The top pocket at the front is reserved for our sunglasses because of its soft liner. That said, it's very overkill for our single pair since there's enough room here for two or maybe even three. The front portion is a rigid shell and completely folds down like a shelf. We feel like it may accidentally fold over and spill our sunglasses out, but that hasn't happened thus far. Fortunately, the pocket has two zippers, so you have the option to open it only partially to prevent gear from spilling out.
It's also worth noting that because of the top pocket's rigid shell, our yoga mat gets good support from it. Otherwise, we think that the curving we mentioned earlier would look worse.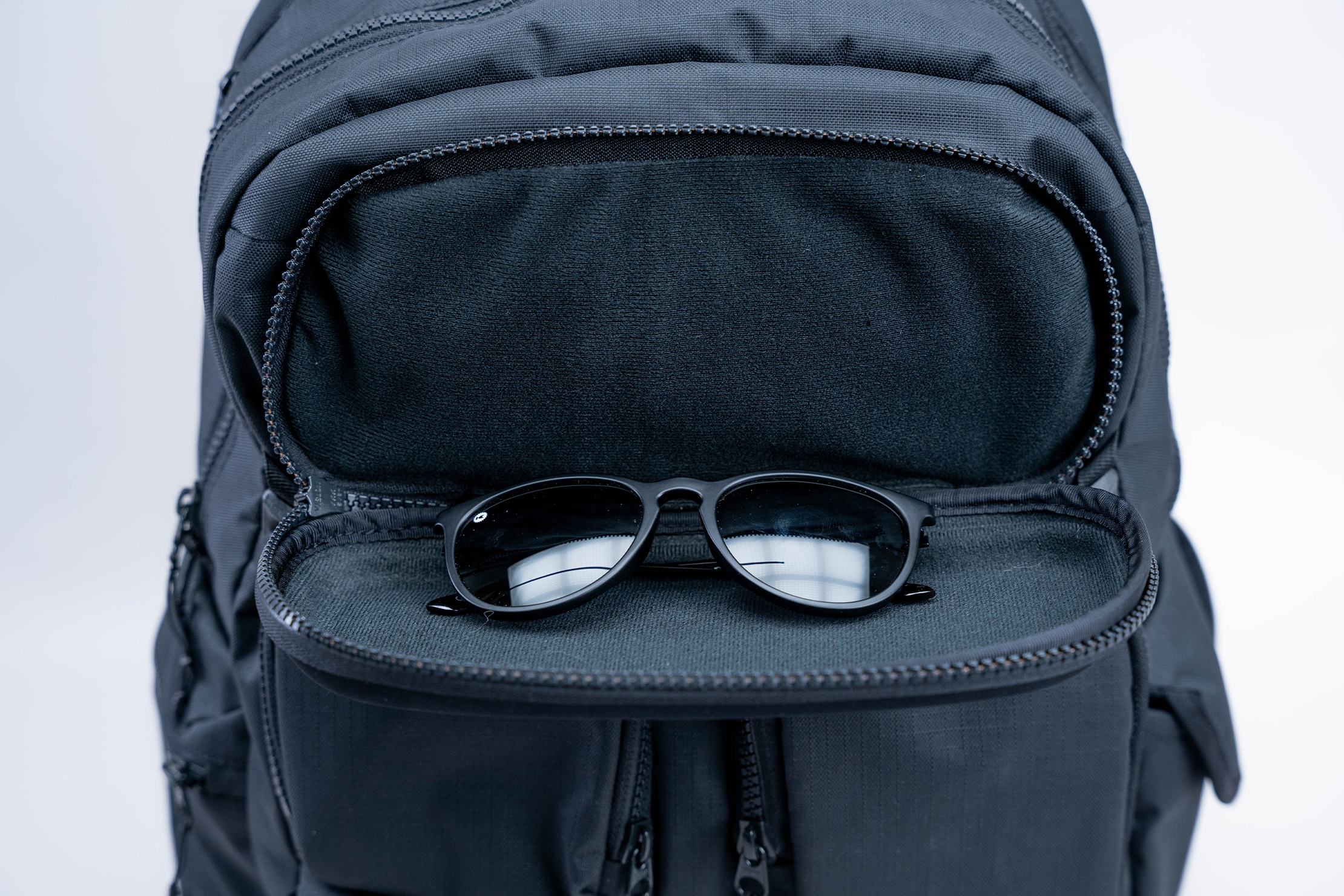 Below the top pocket are three more pockets to play around with. On the left are two smaller pockets stacked on top of each other. The upper one opens horseshoe-style with a mesh pocket inside to hold small accessories. Using the mesh inside is almost a must since anything not held down can fall out of the large opening.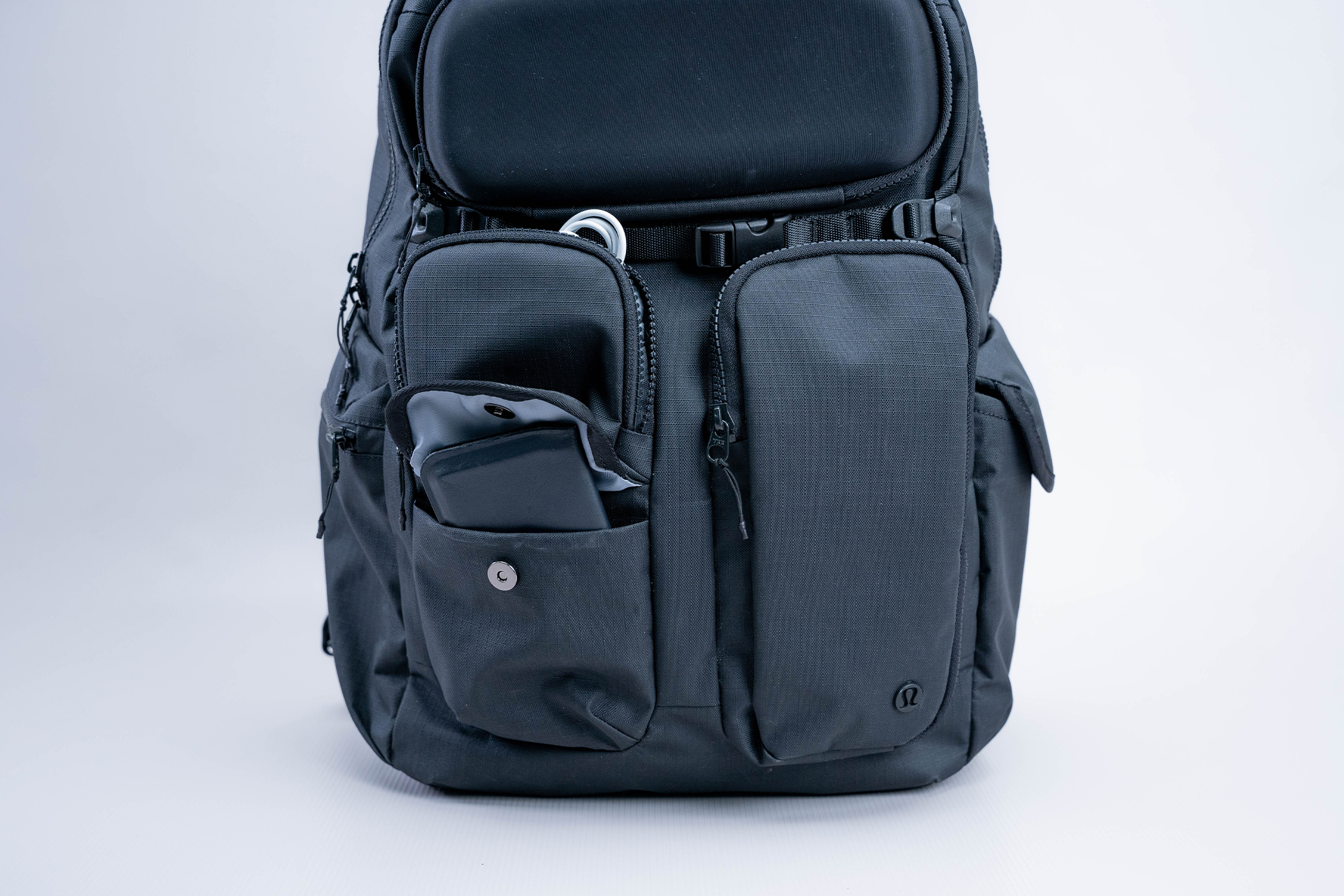 The other small pocket below is secured by a magnetic snap fastener similar to the one on the right side pocket. Access can be tricky since it's a top-down opening that's right up against the small upper pocket. Fortunately, it's the right size for our wallet, so it only really needs to hold one item for us that's easy to pull out.
Lastly, on the front is a tall vertical pocket. The way it opens is quite unique, zipping and unfolding diagonally to reveal pen loops, a liner pocket, and a mesh pocket inside.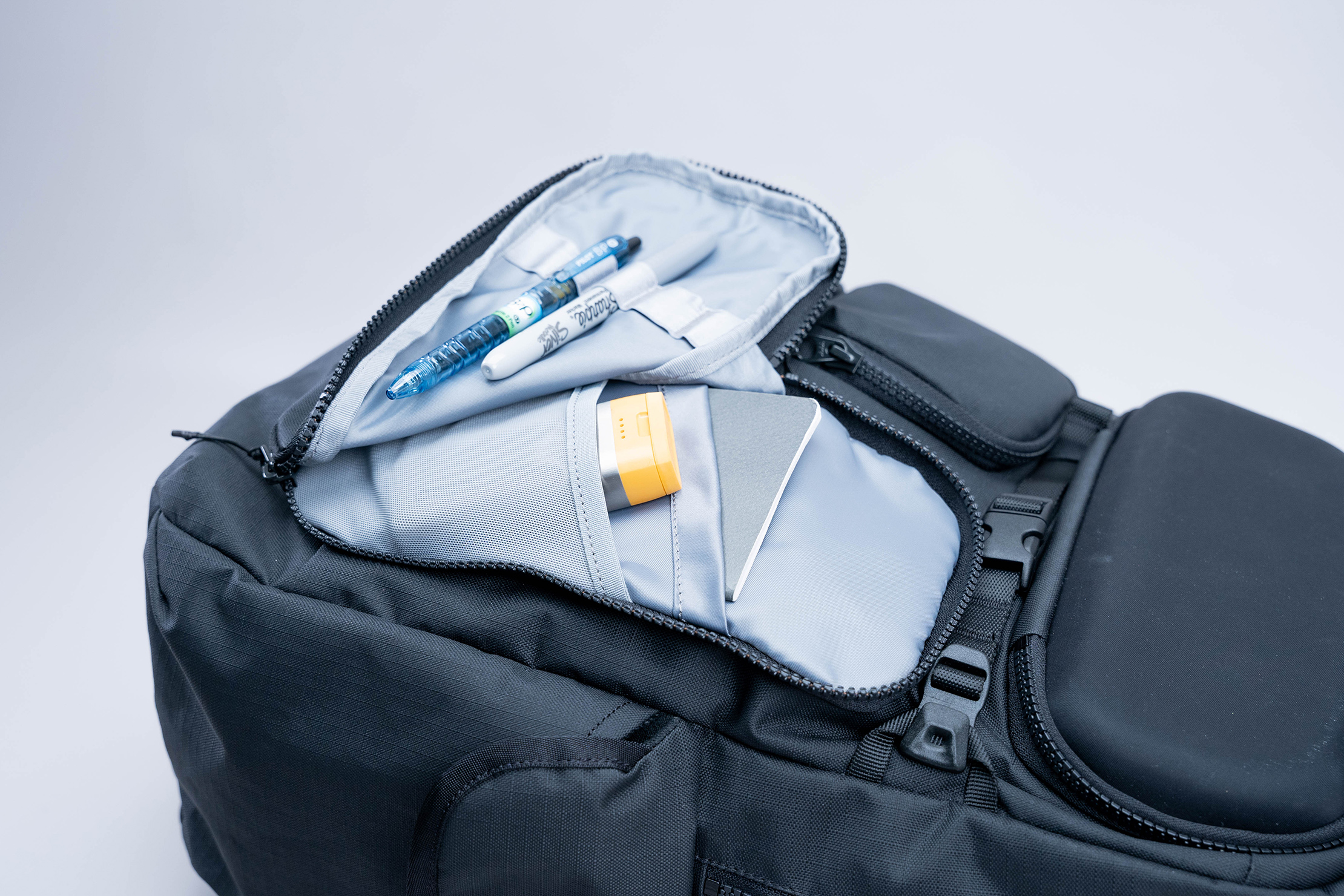 The Cruiser has a dedicated laptop compartment that opens from the top. The zippers go partially down the sides, giving a fair amount of access. Inside, there's a sleeve for a laptop and a divider for other devices like a travel keyboard. Getting a laptop in and out can get tricky, however, because of two factors.
First, the Cruiser's frame sheet has a tendency to curve inwards, making it feel tighter than necessary. Second, once the main compartment gets packed out, the bulk tends to shift towards the laptop compartment. In other words, the compartment gets squeezed in from both sides, hence trickier accessibility.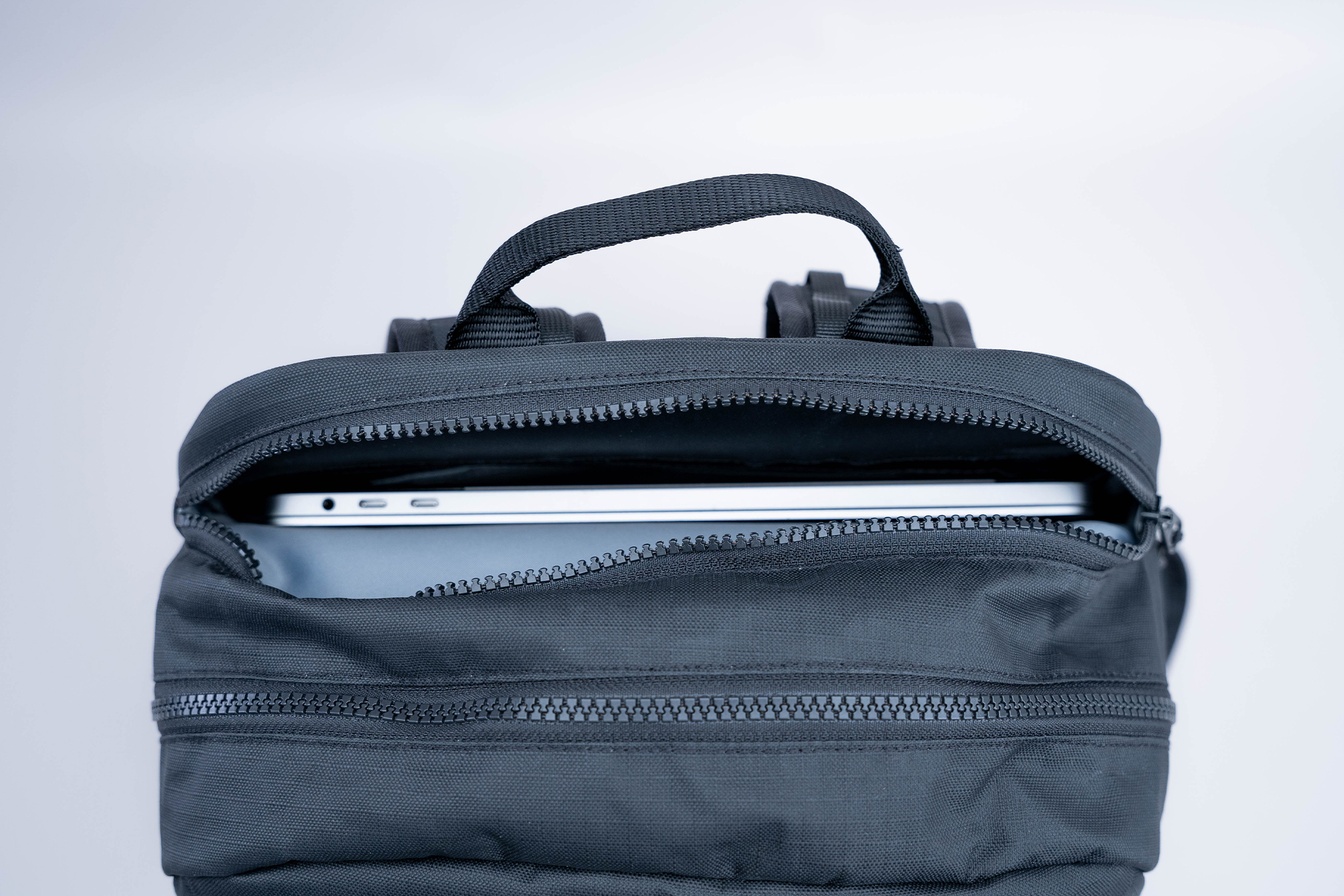 The good news is that the laptop compartment is relatively well-protected. Apart from the padding, the false bottom is quite large. Coupled with the fairly rigid frame sheet, you get good protection against minor shocks.
First things first before we get into the main compartment: yes, the Cruiser can stand on its own. That is, of course, if the stowable strap and basket aren't in use. We like that it can stand on its own because it complements the bag's many secondary pockets, making them easier to access.

Of course, it also helps with main compartment access. The opening is, like much of the bag's other compartments, horseshoe-style. This grants you a decent amount of accessibility to the interior. However, the main compartment's layout makes this somewhat of a challenge as well.
On the front side is a zippered compartment with a vertical zippered opening. It's a good spot for really bulky gear, like used clothing or gym shoes, further highlighting the bag's work-to-gym design philosophy. Getting shoes in and out requires you to take bulky gear out of the main area to make the process as easy as possible. This really does max out the capabilities of the main compartment's horseshoe-style opening, though, and it makes us wish it were clamshell-style instead.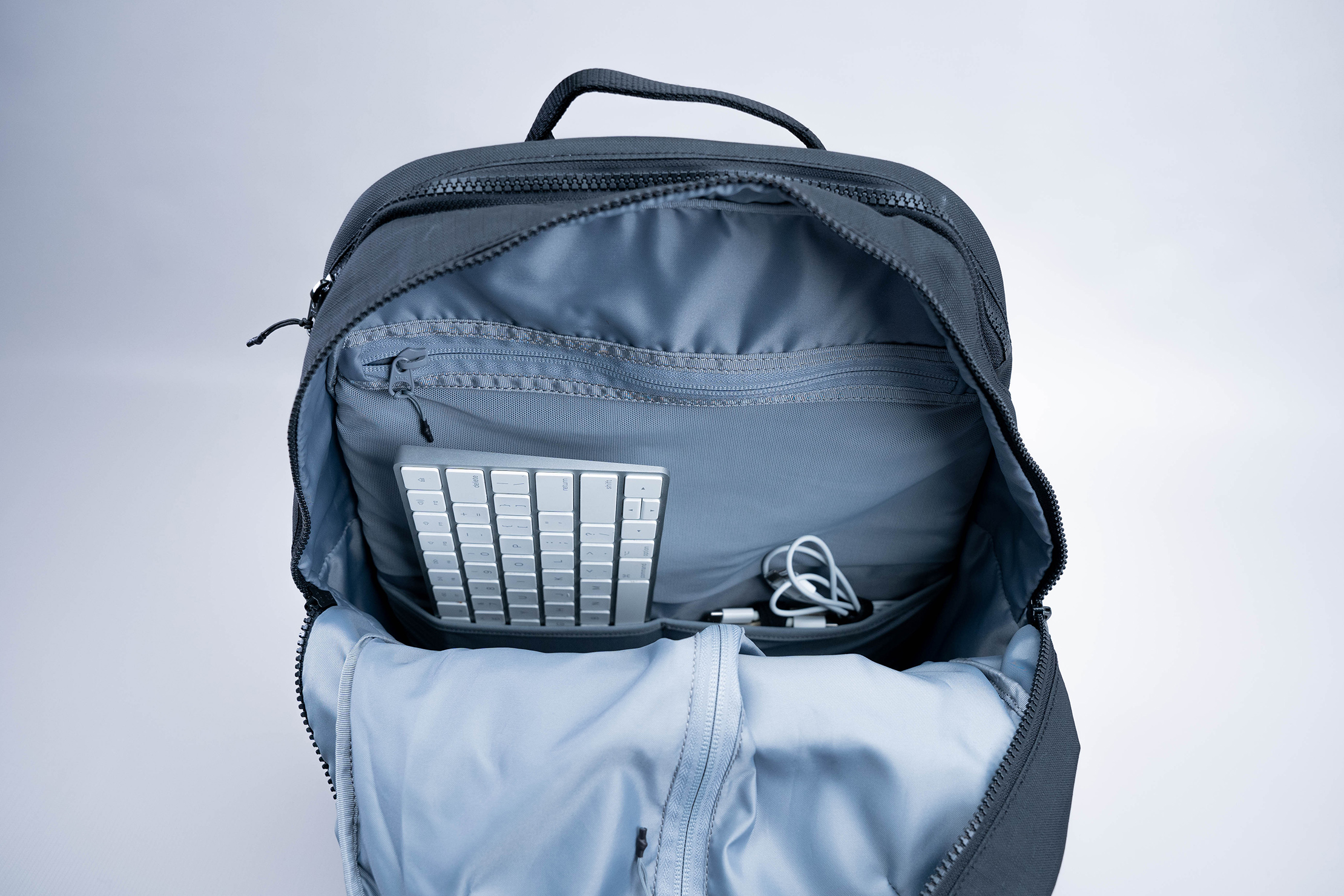 Even if you don't use the shoe compartment, it leaves a lot of baggy fabric just free-floating, making the 28-liter Cruiser feel more cramped than it actually is. The good news is that there is a decent amount of room to use inside. Packing cubes, pouches, and similarly bulky clothing fit inside well, provided nothing is in the way.
Moreover, there are also some means of getting gear organized. At the back are a zippered sleeve pocket and two liner pockets. All three pockets are located at the back, with the latter two being tricky to access since they're along the bottom. Consequently, we end up using the zippered pocket the most since that's nearer the top.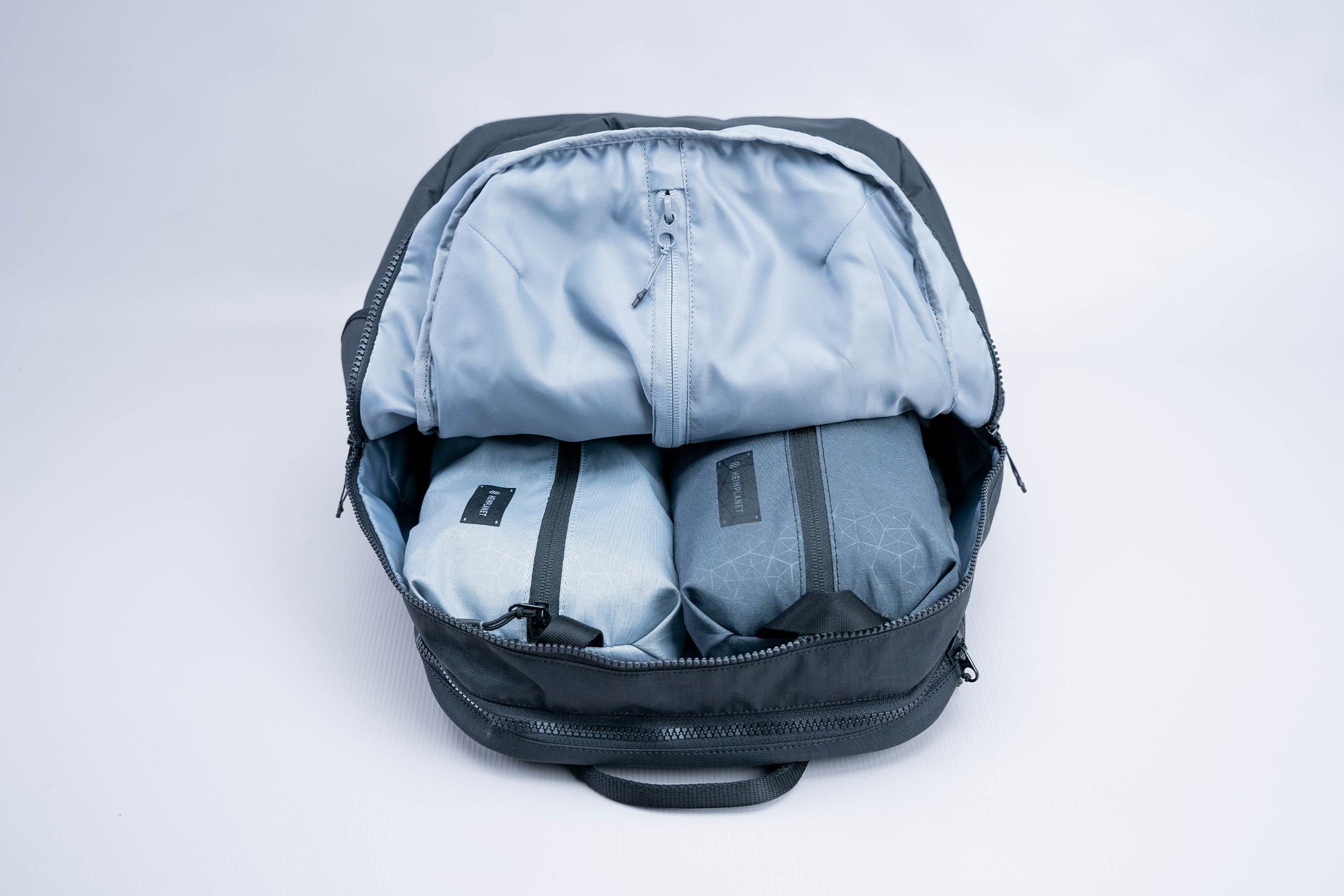 lululemon throws a lot of features on the Cruiser, chief among them the stowable strap and basket and pockets—lots and lots of pockets. While this does make the Cruiser a feature-rich backpack, the execution feels rough around the edges, making it more about quantity rather than quality. Folks looking for a sheer number of pockets for organization are in for a treat, but more polish is needed in some other regards.
Usage Timeline
Initial Usage
Condition: Excellent
The structured sunglasses pocket is an interesting touch
So many external pockets for organization
Back panel frame is stiff but comfortable
2 Weeks of Use
Condition: Excellent
Huge sunglasses pocket feels like overkill but helps with stability when carrying a yoga mat
Some pockets open wide, which is handy for access but puts gear at risk of falling out
Two side pockets are incredibly roomy
Materials feel durable, though the shape can cave in when not fully packed
Access the Pro Community Discussion
Get your questions about the lululemon Cruiser Large Backpack 28L answered from our team and the Pro Community right here on the page. Plus, join discussions with other members about gear, guides, and more.
Other Bags & Luggage Reviews