Lowepro Trekker Lite HP 100 Review
The Lowepro Trekker Lite HP 100 makes it easy to get your camera from Point A to Point B without much fuss, although the styling might not be for everyone.
Our Verdict
Unlock the Pro Summary
Save time. Get access to brief summaries of our reviews so you can browse and make decisions more efficiently.
Pros
Enough space for a point-and-shoot or small mirrorless camera
Durable and recycled materials
Enough segmentation to organize your photo gear
Cons
Exterior design feels dated
Can be uncomfortable due to lack of strap padding or aeration
Hard to manipulate strap keepers on tripod straps
Recent Pack Hacker Video
Technical Details
100 %
Carry-on Compliance
Capacity

2l

Weight (oz)

9.88 oz (280.1 g)

Dimensions

9.45 in x 3.94 in x 6.69 in (24 x 10 x 17 cm)

Notable Materials

Ripstop Polyester, Recycled Polyester, Polyester, YKK Zippers, Duraflex Hardware

Manufacturing Country

China

Warranty Information
Full Review
The Lowepro Trekker Lite HP 100 is a small pack that can make carrying a camera easier. While we think that's great, we're curious about how well it performs while traveling and how quickly we can access a camera when the moment is perfect. Let's dive in!
External Components
The exterior materials are recycled 300D ripstop polyester and 600D solution-dyed polyester. Although these fabrics don't have a special designation, it's positive to see Lowepro making moves to reduce the negative impacts of their products.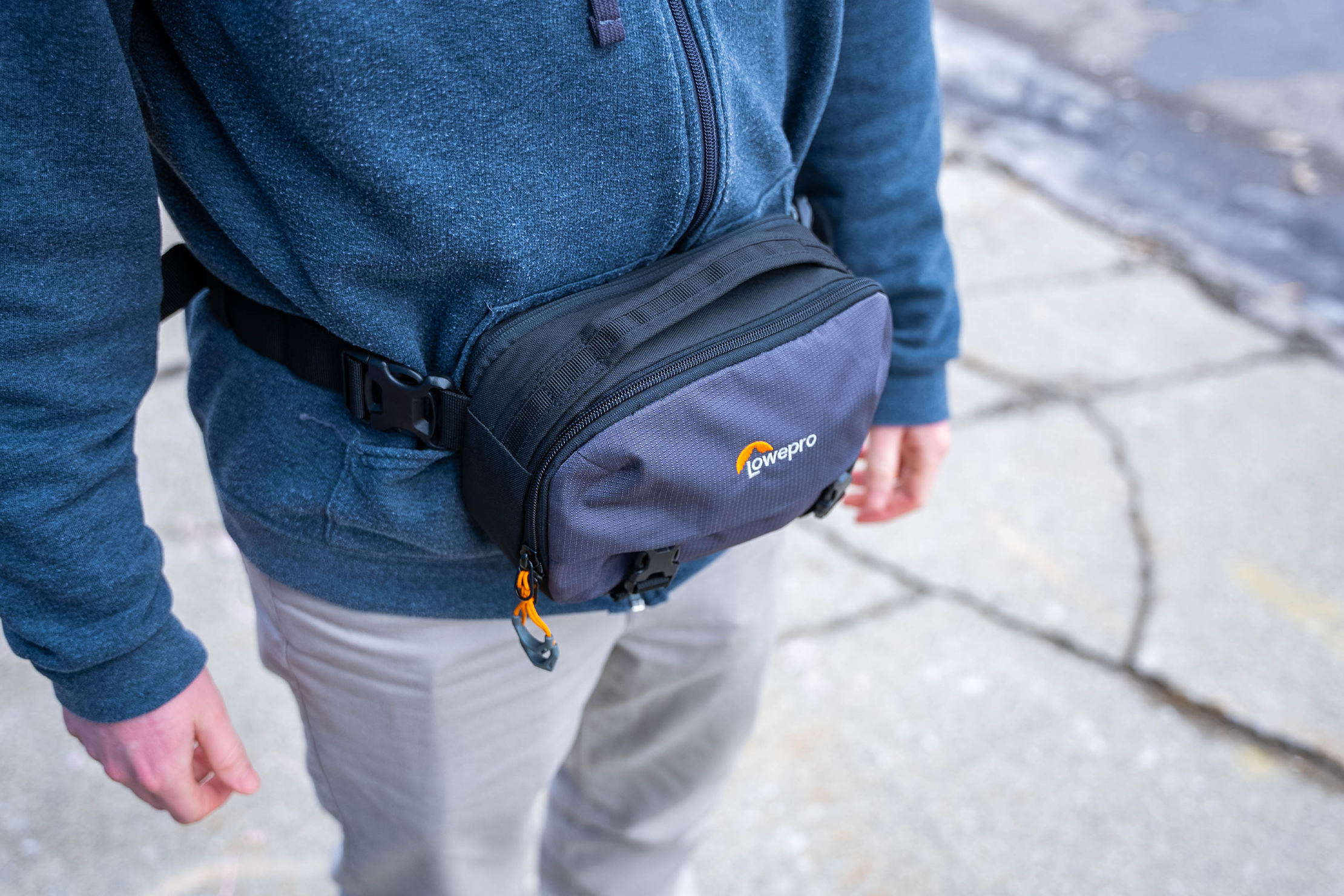 The interior is a 200D recycled polyester, which we'll get to later.
The sling utilizes YKK zippers, which work as well as we'd expect them to. The pulls are loops with hard plastic ends that are easy to hold.
A top handle on the pack makes it easy to grab onto or hold in transit. If you're on a location shooting, you can hang onto the bag with the handle while moving around if you prefer.
Two straps on the bottom secure with snappy Duraflex buckles that don't pop open when you don't want them to.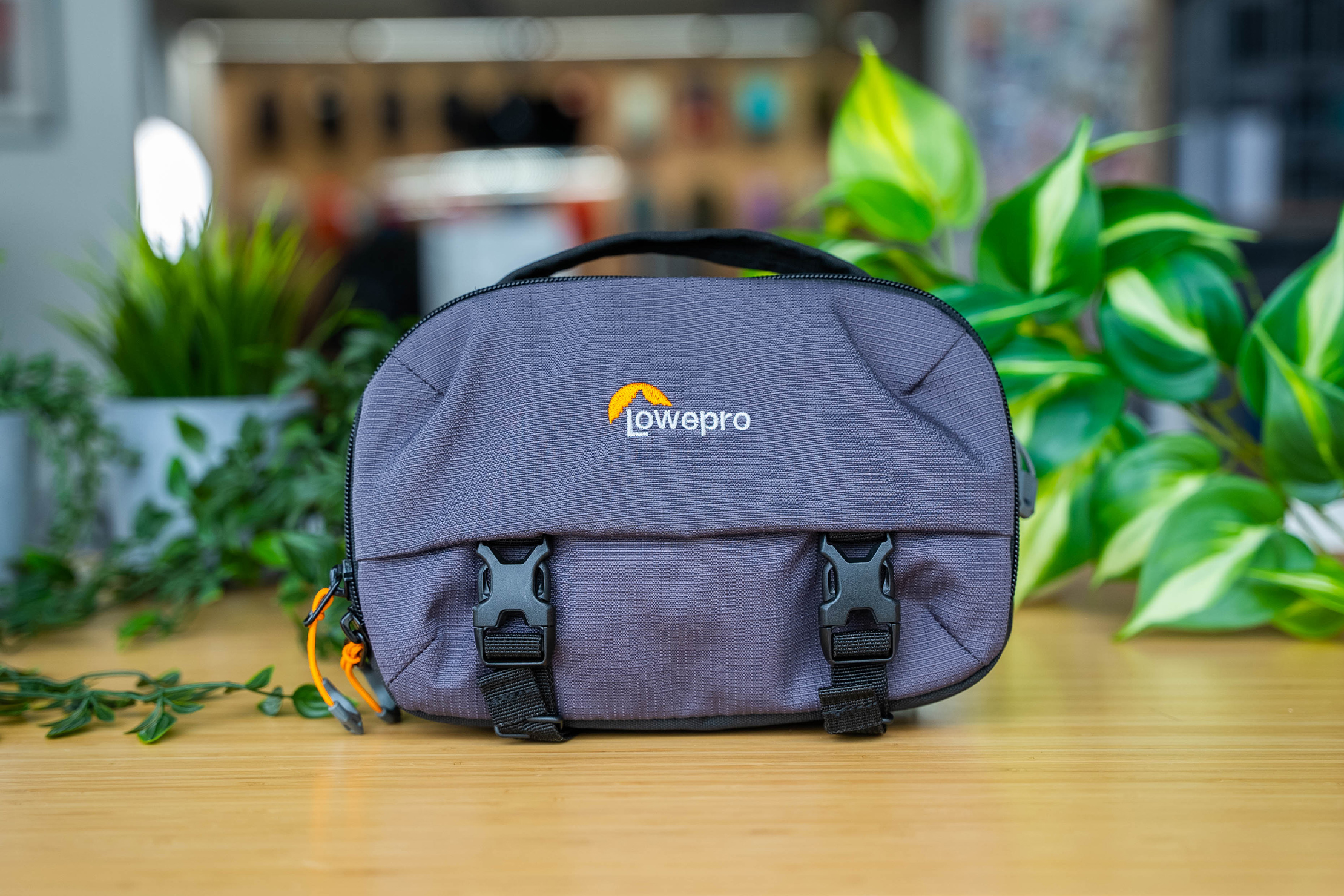 You can use them for stowing a small travel tripod or other small gear that won't fit inside the pack. How heavy the item you attach can affect how you carry it. A lot of weight will make it sag and potentially make it uncomfortable.
The strap keeper is made of metal and feels like a sturdy unfolded paper clip. It's hard to adjust, although that isn't always a bad thing. If you always stow the same item there, this will hold the strap in position, so you don't have to adjust it every time. If you rotate what goes here, it can be slightly annoying.
Fit Notes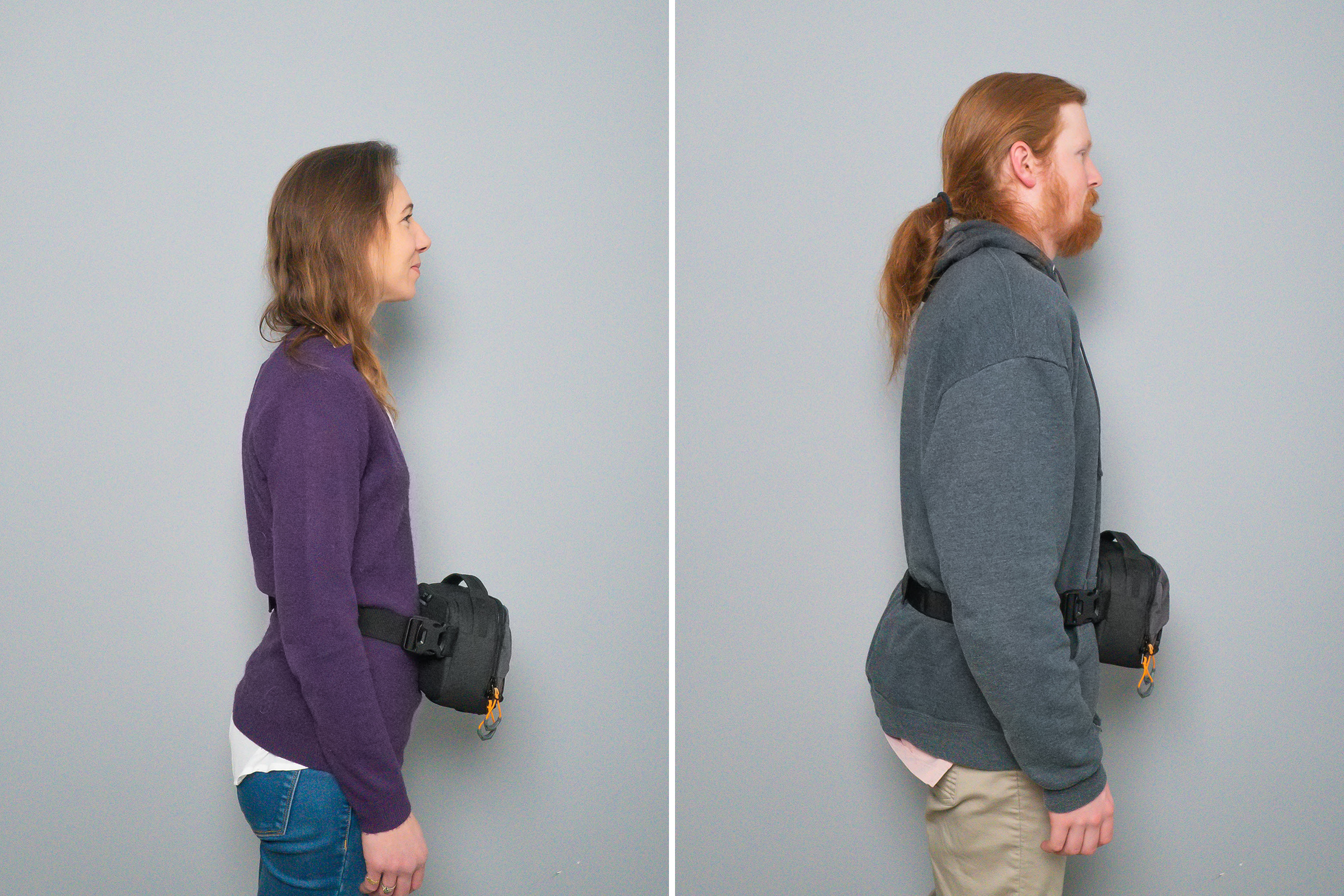 The strap doesn't have any padding or aeration. For a standard carry, this isn't a worry. The sling isn't heavy, so it won't dig in or get too sweaty. The larger your camera, the more you will notice the lack of padding. Some mirrorless cameras are incredibly dense, so they'll fit inside but add a lot of weight.
The buckle on the strap is from Duraflex and is easy to attach and detach, though it doesn't pop open unexpectedly. There are strap keepers on both sides, which keep things tidy.
The back panel has a fair amount of padding but lacks aeration, which can get warm on hot days. The padding is firm, so you can't feel items inside the sling poking through.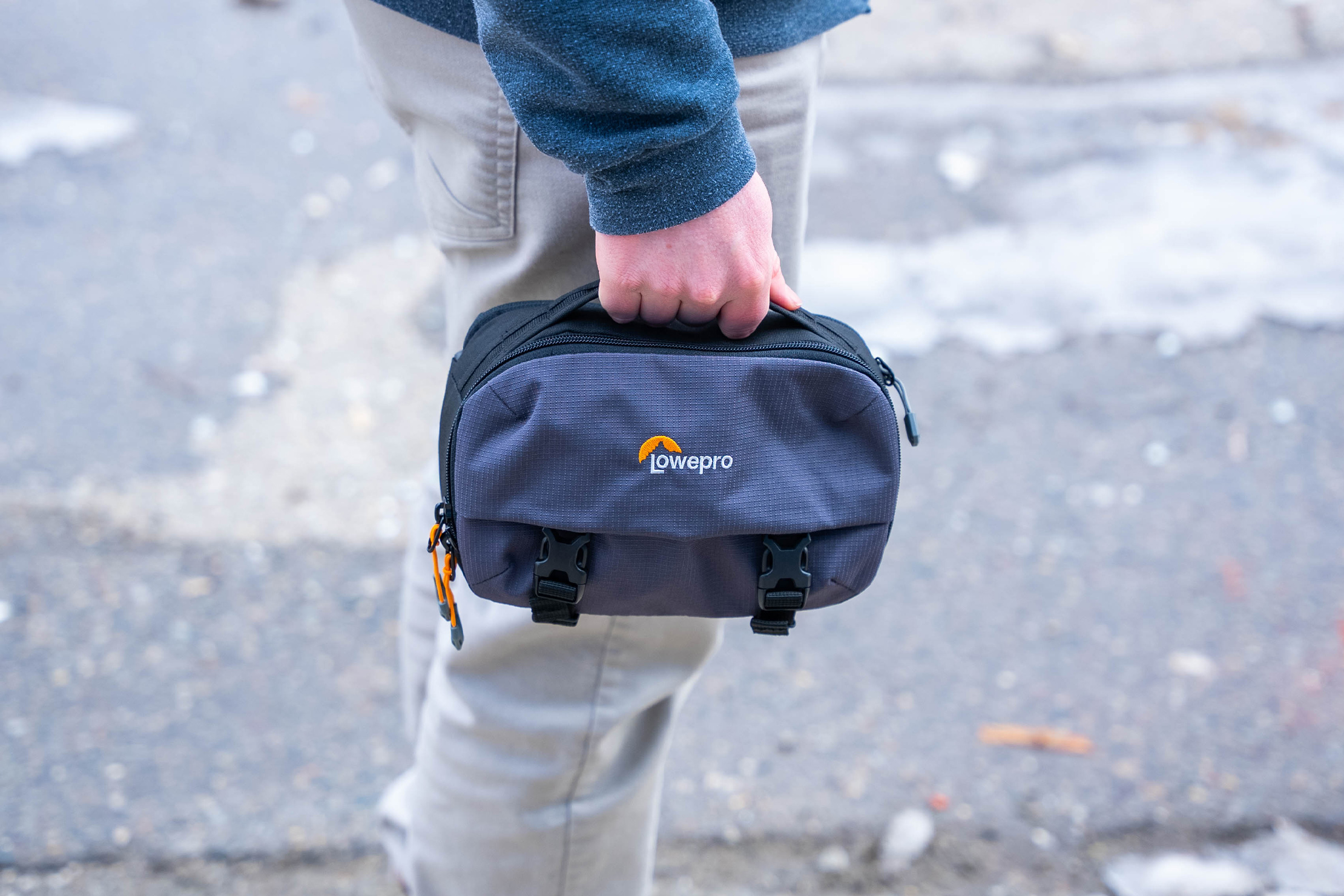 You can wear the pack as a crossbody or a hip pack. You'll notice the weight more in crossbody mode if you have a heavy camera, which can cause the sling to slide down to your side. If you wear it in hip-pack mode, this isn't an issue. It'll weigh more, but it won't slide around.
Inside The Sling
First, let's dive into the hidden pocket on the back panel.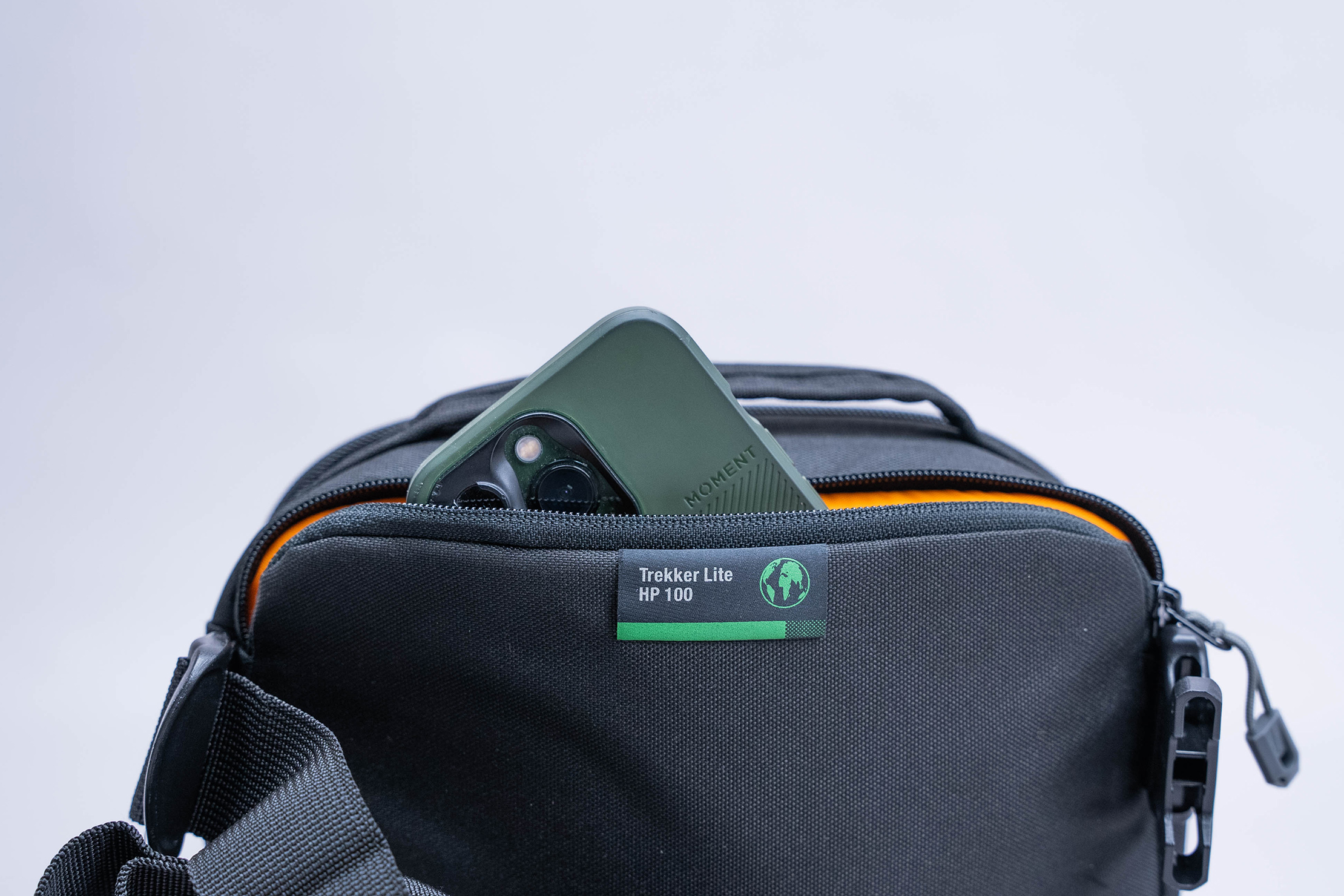 To be fair, it isn't really hidden. Even though the zipper is out in the open, the pocket is very low-key. A hidden pocket sounds more fun than a low-key pocket, so let's roll with it. It's a simple spot without any organization that works well for your phone or passport. Anything thicker or more oblong will be felt through the back panel while wearing the pack.
The main compartment has a lot going on, and we're here for it. The zipper opens roughly 65% of the way around the front of the pack so that you can get into the nitty gritty of organizing.
The flap has a large liner pocket with a key ring attached, and it's a good spot for larger items you want to lock down or keep away from the rest of the gear in the main compartment.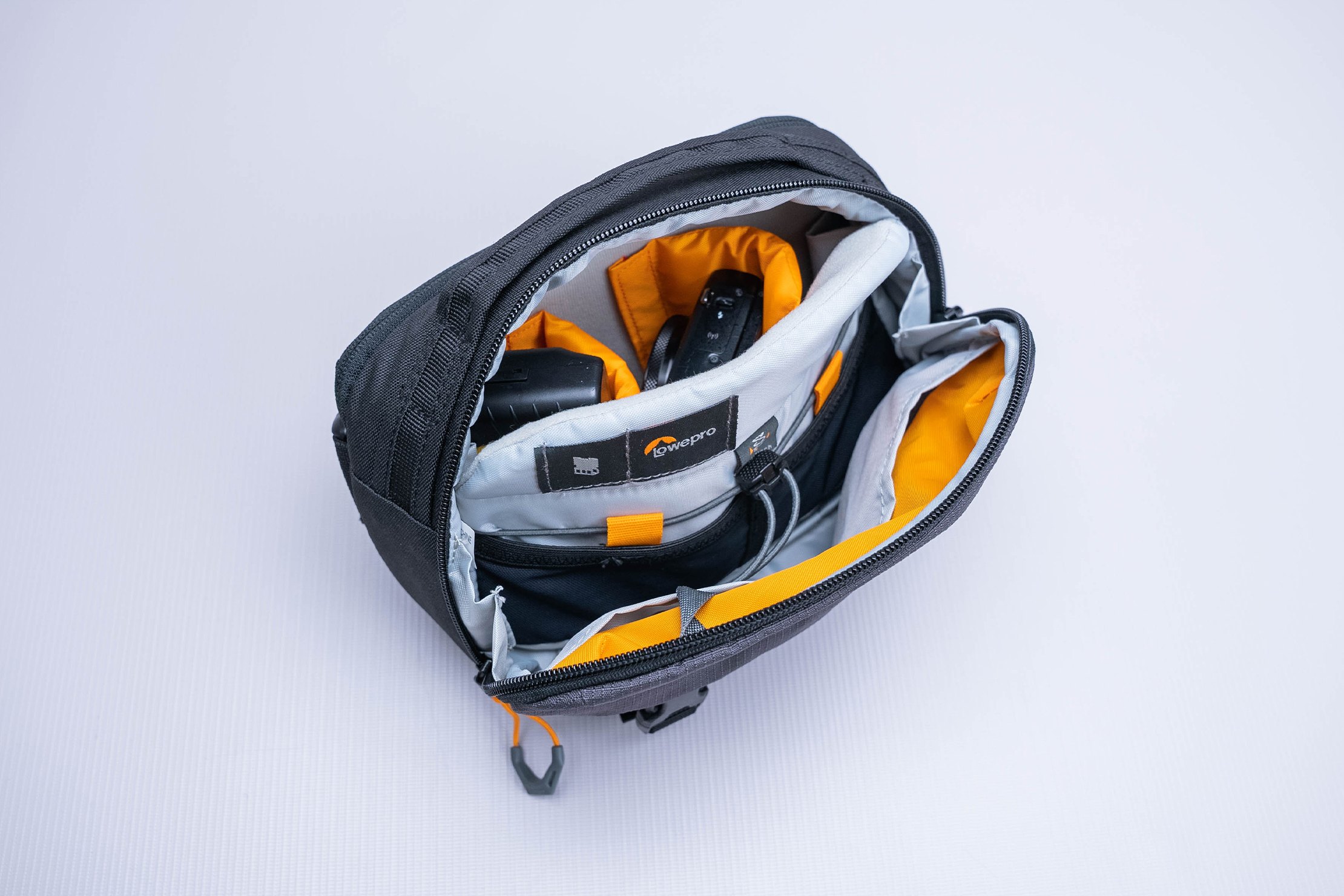 Opposite that, there are two mesh pockets with orange tabs on the top so you can grab them quickly. They're an excellent spot to stow batteries, filters, or other camera gear. There's a cinch cord above the pockets to tie down the larger items you want to store in the pockets, though it isn't terribly helpful in use.
The camera storage area is hidden and low-key, which is even neater than the other compartment we went over earlier. There's a divider behind the two mesh pockets we just mentioned and a large storage area after that. The top part folds down, making accessing this part of the pack easier.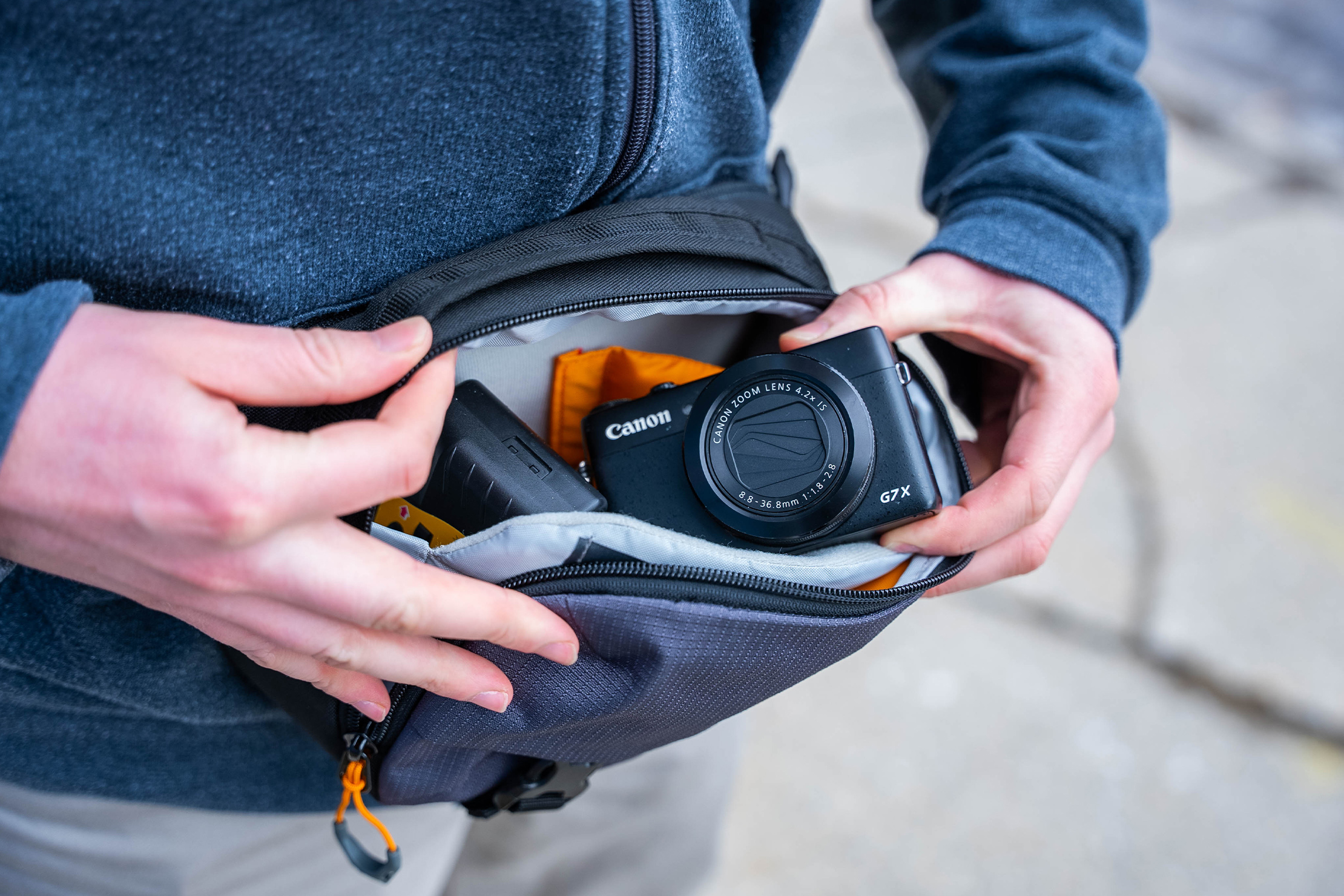 The camera area is ultra-padded and utilizes soft materials to ensure your gear stays scratch-free. The sling comes with two dividers that secure with hook-and-loop fasteners, which you're probably familiar with if you've used a camera daypack before. They can be used to divide gear to ensure your camera body and lenses aren't jostling about randomly.
You can stow a point-and-shoot camera here with extra goodies, and larger models fit here too. A Fuji X100 series camera slots in without issue; even a Fuji X-T series or a similar-sized mirrorless camera will also work. However, if you opt to stow a multi-lens camera, there isn't enough space for additional big lenses. A large zoom lens would monopolize the space.
If you're okay carrying your camera outside the sling, you could load this area with lenses and accessories. With your camera on one shoulder, you can have everything you'd typically need a backpack for inside this sling. Two-shouldering can be awkward, although it allows you to bring a ton of camera gear without much fuss, which works well at locations that allow slings but not backpacks.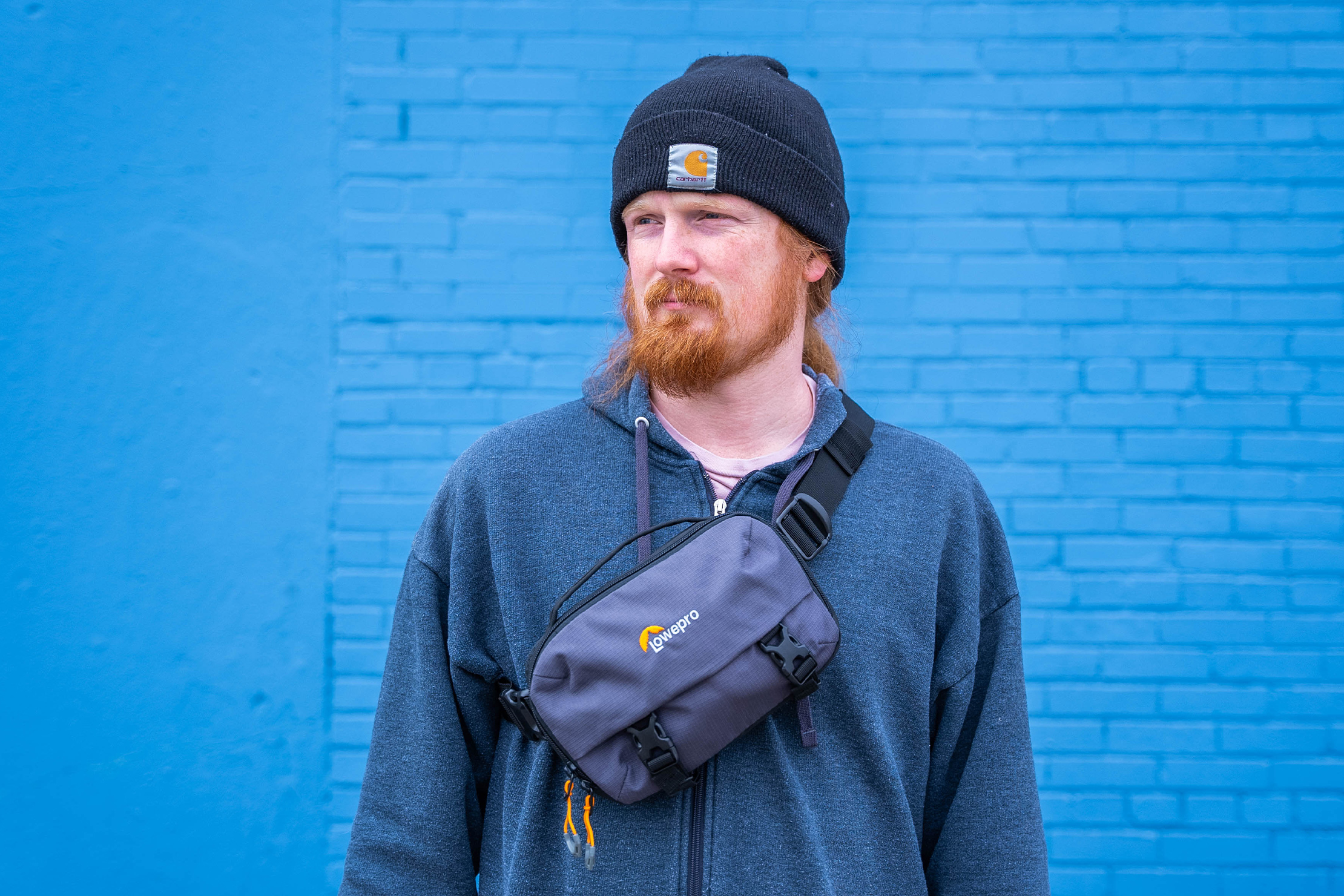 Overall, we dig how well this thing carries camera gear. However, we don't love the look. It is practical—you'll be able to get your gear there, but it looks like a camera sling your dad might wear. That's not a dig at your dad; it just isn't as sleek as other offerings from Peak Design and other companies. At a much more affordable price, the Lowepro Trekker Lite HP 100 is an excellent option for those just getting into the camera sling game.
Usage Timeline
Initial Usage
Condition: Excellent
Camera storage is secure but easy to access
Not much padding on the back panel and no aeration
Strap keepers are unique but may be hard to manipulate
2 Weeks of Use
Condition: Excellent
No issues with the materials—they've held up well
The strap can be uncomfortable when carrying a heavy camera but works well most of the time
We dig the zipper pulls; they're durable and easy to grab onto
Access the Pro Community Discussion
Get your questions about the Lowepro Trekker Lite HP 100 answered from our team and the Pro Community right here on the page. Plus, join discussions with other members about gear, guides, and more.
Other Bags & Luggage Reviews