Long Weekend Monterey Sling Review
The Long Weekend Monterey Sling excels for hobbyist photographers, and dual exterior pockets and a simple main compartment translate well into travel use.
Our Verdict
Unlock the Pro Summary
Save time. Get access to brief summaries of our reviews so you can browse and make decisions more efficiently.
Pros
Style blends into both urban and rural environments
Exterior pockets have more depth than we've seen from other slings
Main compartment offers simplicity that doesn't get in your way
Cons
Lack of aeration on strap and back panel may get warm in hot weather
Can be hard to find a use for smallest exterior pocket
Material isn't very water resistant, so gear might get wet
Recent Pack Hacker Video
Technical Details
100 %
Carry-on Compliance
Capacity

2l

Weight (lb)

0.25 lb (0.1 kg)

Dimensions

11 in x 5 in x 3.4 in (27.9 x 12.7 x 8.6 cm)

Notable Materials

Nylon, Ripstop, YKK Zippers, Woojin Hardware

Manufacturing Country

Vietnam

Warranty Information
Full Review
The Long Weekend Monterey Sling is created in tandem with Moment and photographer, videographer, and YouTuber Willem Verbeeck. The Monterey Sling looks quite similar to the Santa Fe Shoulder Bag, just in a smaller package and slightly different strap. Although it's designed for film photographers, we're amped to give this thing a go for both shooting and general travel.
External Components
The exterior is crafted from a soft yet durable material that feels like nylon. The accent material is a nylon-like ripstop and resembles wind pants in texture. Both materials are rugged enough for most adventures but don't hold up terribly well in the rain.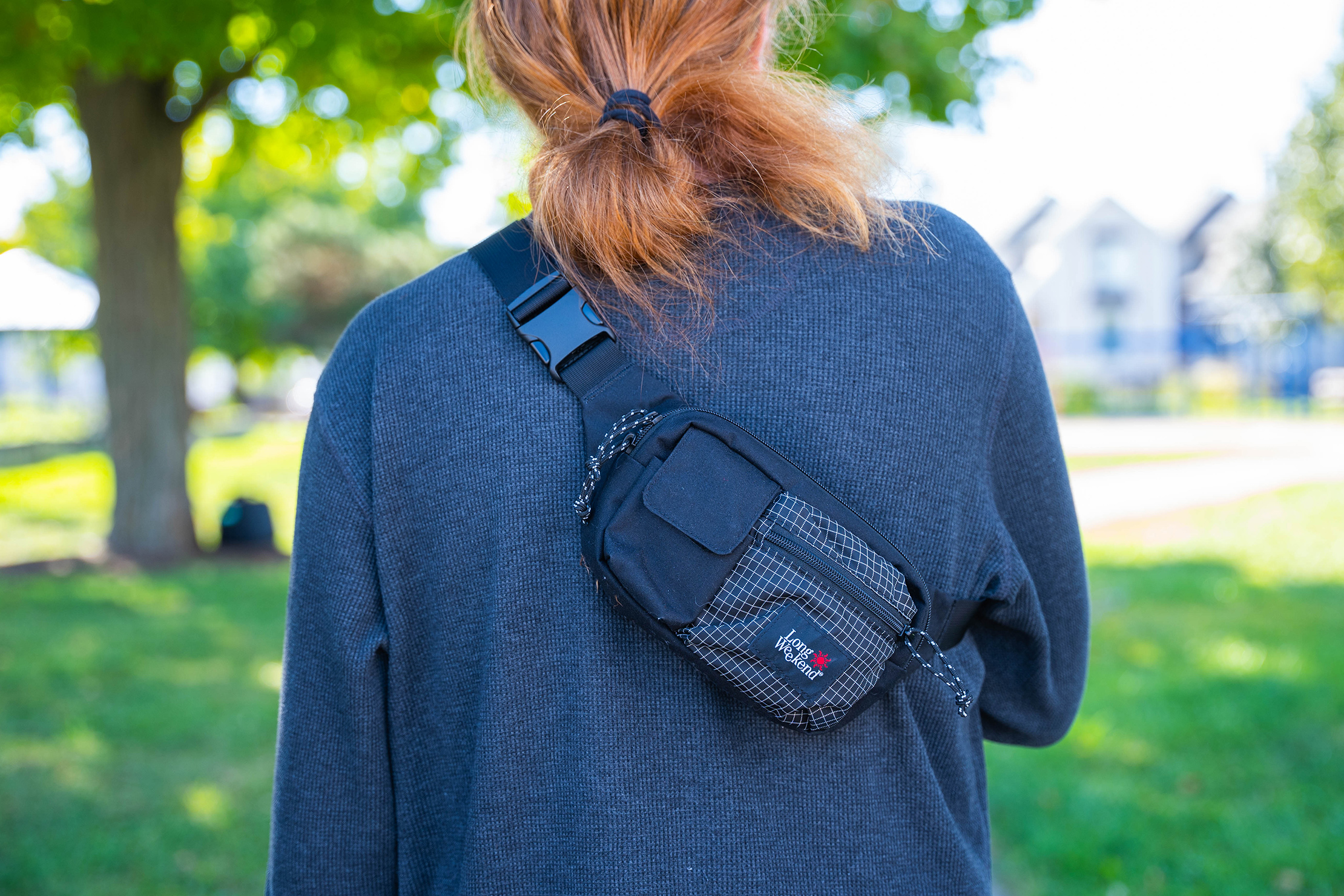 The contrast between the two materials is nice. However, it might be a little too busy for folks who like to keep things plain. There's a Long Weekend logo on the ripstop half of the sling, which has a classic look and feels straight out of the 1990s. However, we recognize the style may not be everyone's taste.
We've got YKK zippers throughout the pack, located in two separate places. We have no issues with the zips; they open smoothly, even around corners.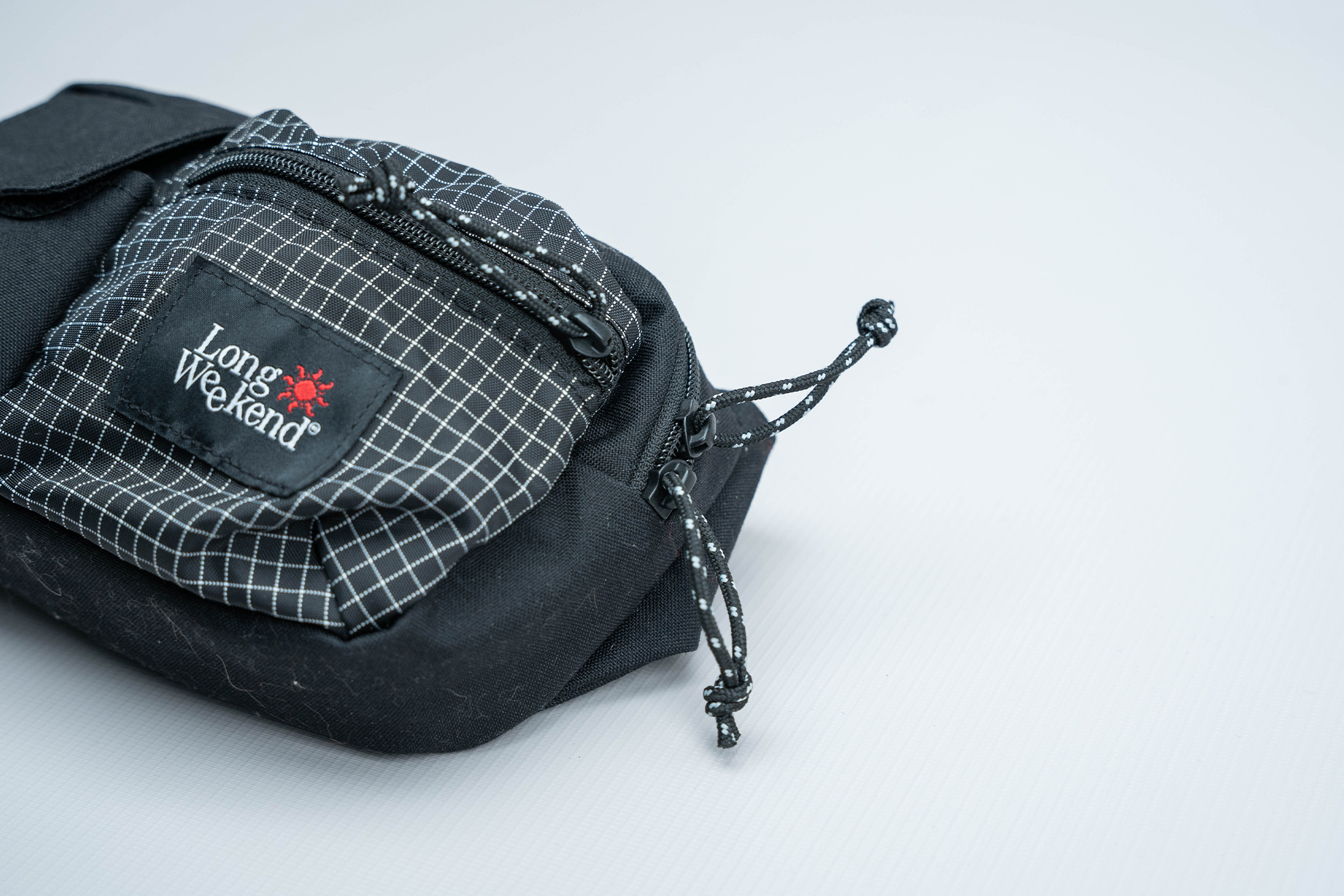 The zipper pulls are crafted from a paracord-like material and have a knot on the end. This makes it easy to grasp them, even in inclement weather. They're black with white speckles, which contrasts nicely with the black primary pack material and matches the ripstop section.
The buckle that secures the strap is from Woojin and is quality all around. One could argue that it's a little large for the job that it's tasked with, but it isn't so large that it gets in the way, so we don't mind it. It is snappy to open and close and won't pop open when you don't want it to.
Fit Notes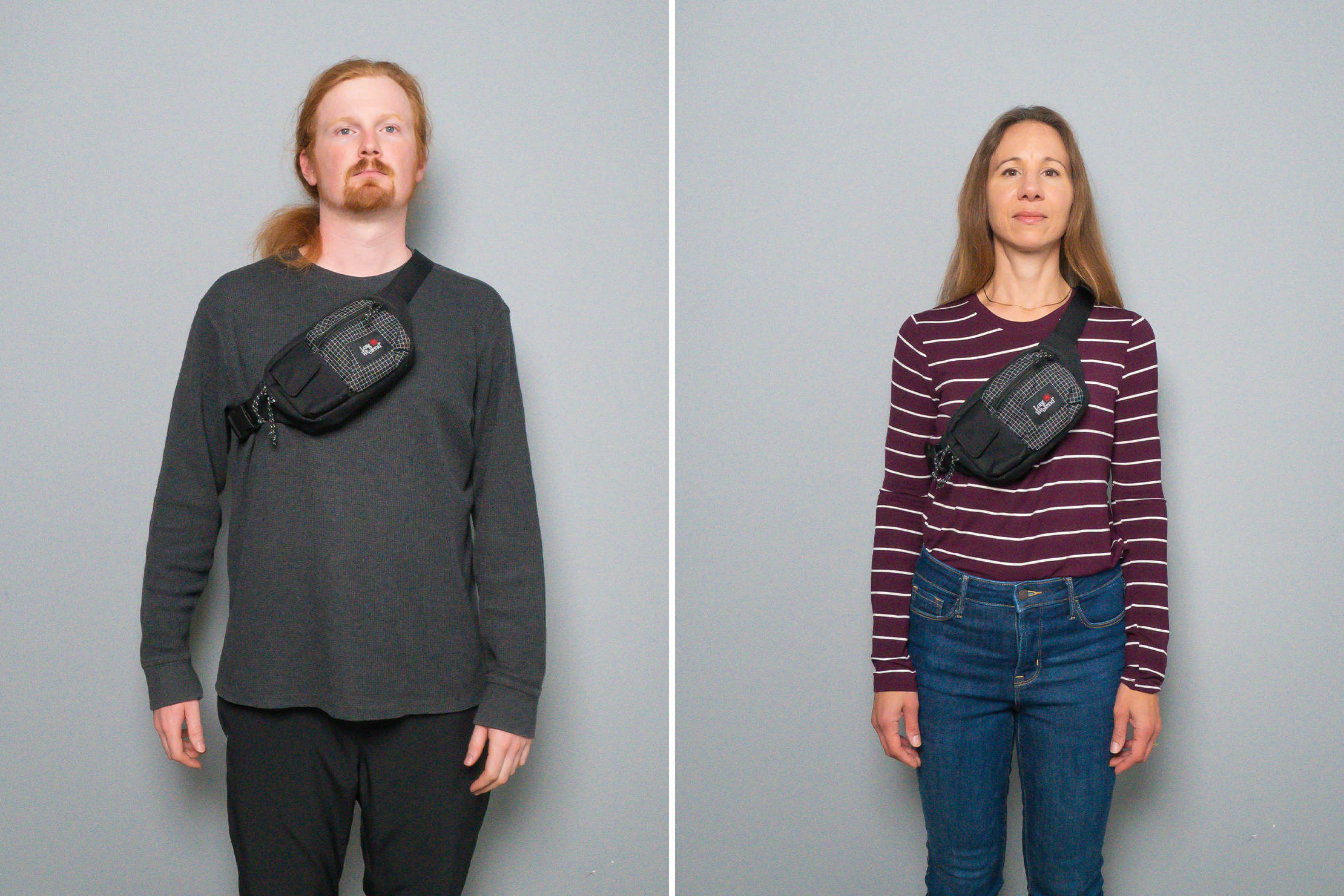 This sling is comfortable no matter how you try to wear it. Well, it isn't so great as a necklace, but you get the point. The strap doesn't have any padding or aeration, but for such a small sling, we don't miss it. If you're wearing a thinner t-shirt or a tank top, you might feel it a little more, but not in a way that could be described as painful. Plus, there's an elastic strap keeper to ensure everything stays organized, which we dig.
There isn't any padding or aeration on the back panel either, but similarly to the strap, this isn't an issue for its size. All around, the back panel is comfortable. Unless you're carrying something oddly shaped in the main compartment, nothing pokes through, either.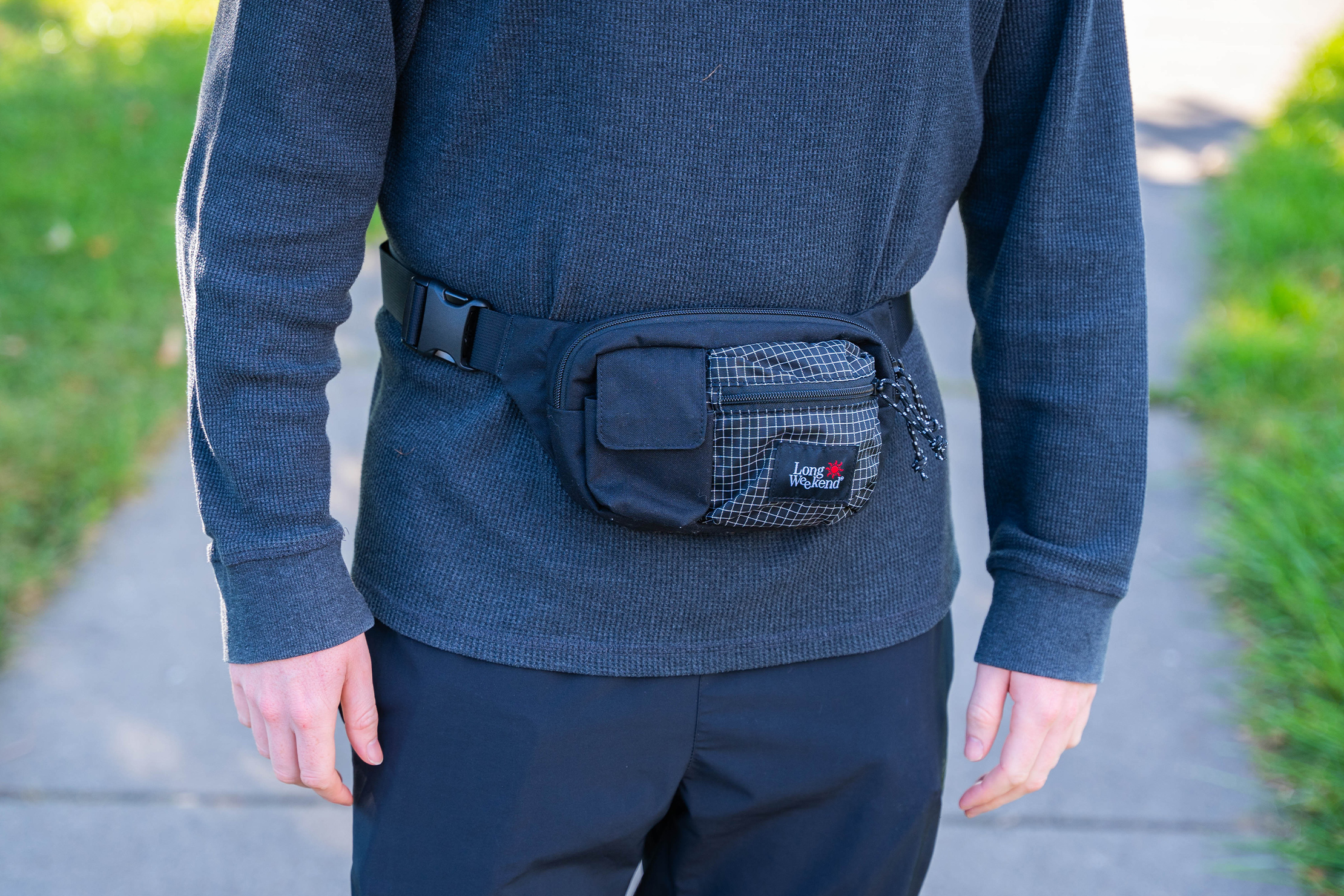 You can wear it comfortably on your front or back, and transitioning between the two is easy. If you wear it on your front, you have quick access to everything inside—whether that be your light meter and film or daily essentials like your phone and wallet.
While wearing it on your front, it doesn't feel in the way because of its small size, which we dig. If it does bother you, transition it to wear it on your back. We think this is a more comfortable carry, and it's out of the way entirely. When you need another roll of Portra to achieve maximum tones, whip it forward and grab what you need to get the job done.
Inside The Sling
There are two outer pockets on the Long Weekend Monterey Sling. The first is a zippered pocket that utilizes the ripstop material we mentioned earlier. It's wide enough to fit a boxed roll of 120 or three cased rolls of 35mm films. For non-film shooters, this is a good spot for your wallet, keys, gum, or other daily use items you need frequently. It's also an excellent spot to lock down smaller gear you don't want to fish around for in the main compartment.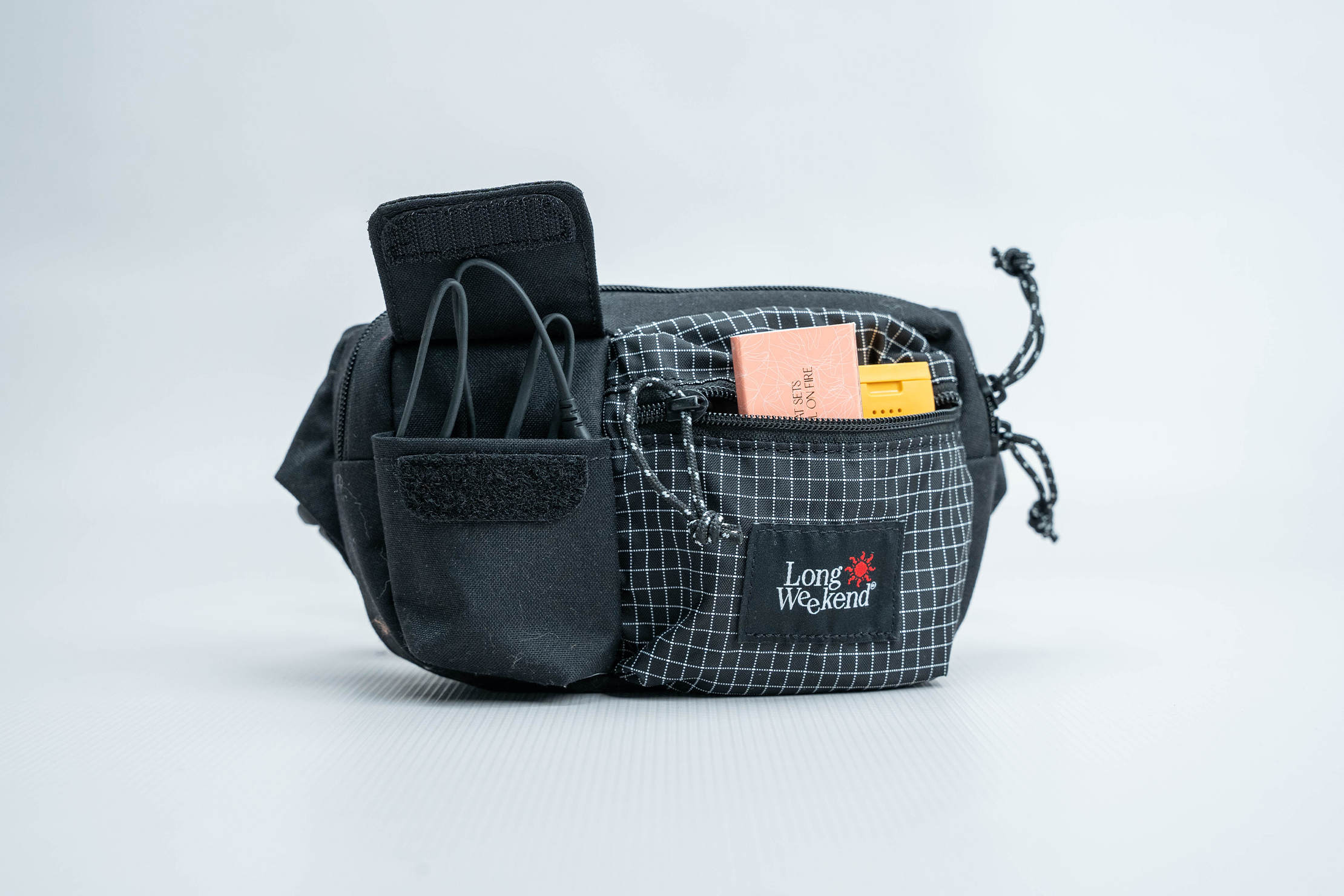 The second outer pocket is smaller and secured with a hook and loop fastener. It's a perfect fit for your AirPods case, or if you shoot film, two cased rolls of 35mm film stacked on top of each other. If you have a lens with a small filter size, you may be able to fit a few of those here. Apart from that, it's hard to find a use for this pocket. You can throw small gear in here, but there aren't many items we need access to on the outside of the sling at a moment's notice that don't already fit in the zippered front pocket. That being said, the hook and loop fastener is sturdy and doesn't pop open when you don't want it to.
The main compartment is quite simple but effective. There's a large open area to stow your EDC gear or a small compact camera, and a liner pocket on the backside to lock down flat items. This is a good spot for your phone, a notebook for taking notes on your photography, a passport, or a small light meter. We could squeeze a cased Minolta Auto Meter IIIF here, but it's tight.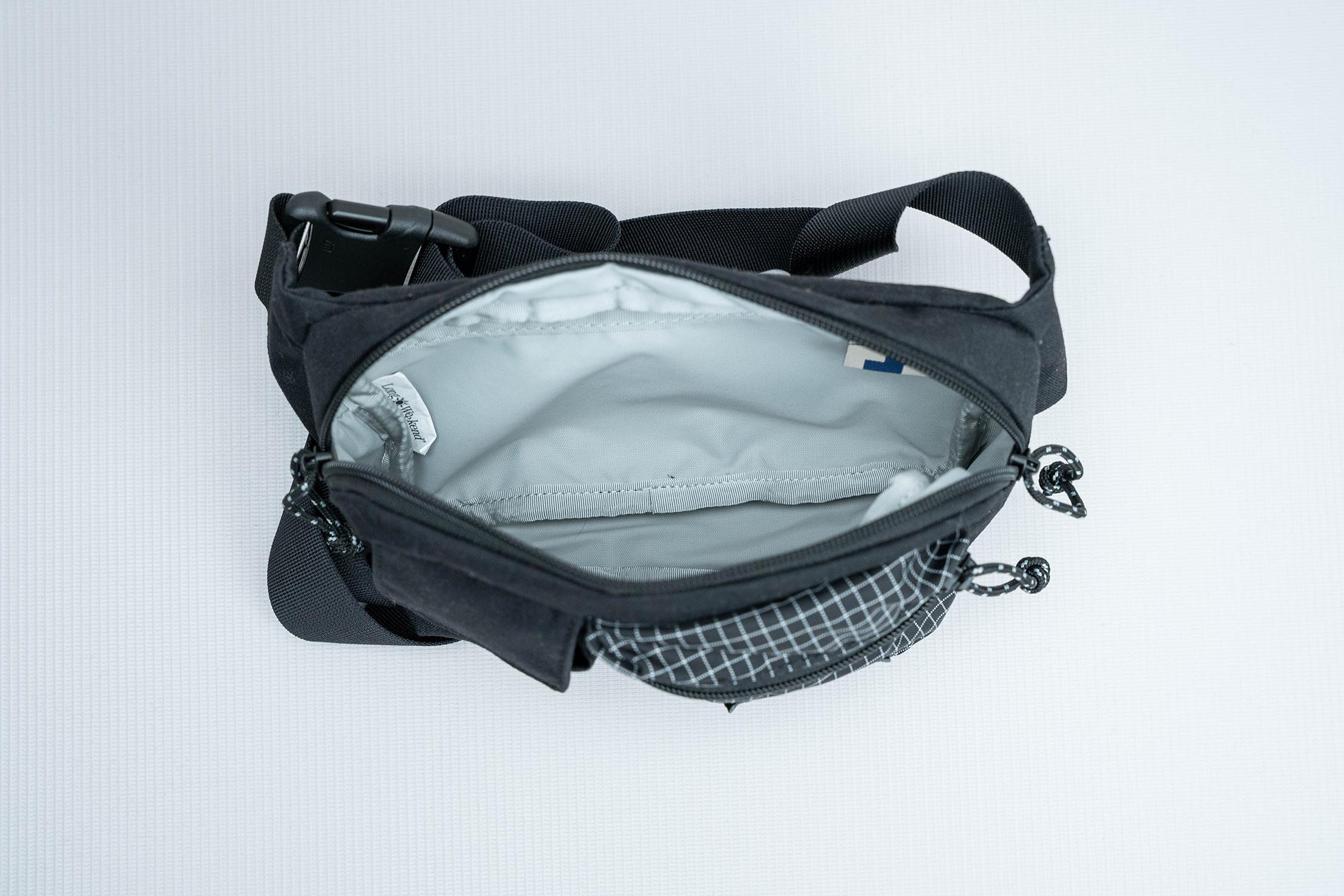 The main area isn't huge, but you can fit a lot of gear here, especially more flat items. A Nintendo Switch won't work—but it's more than capable of holding a compact camera like a Fuji X100, RICOH GR, or 35mm point and shoot. Anything with a detachable lens will be a tough fit because it isn't very deep. The front wall can get cramped if you've stuffed the front two pockets full, but this isn't a huge issue.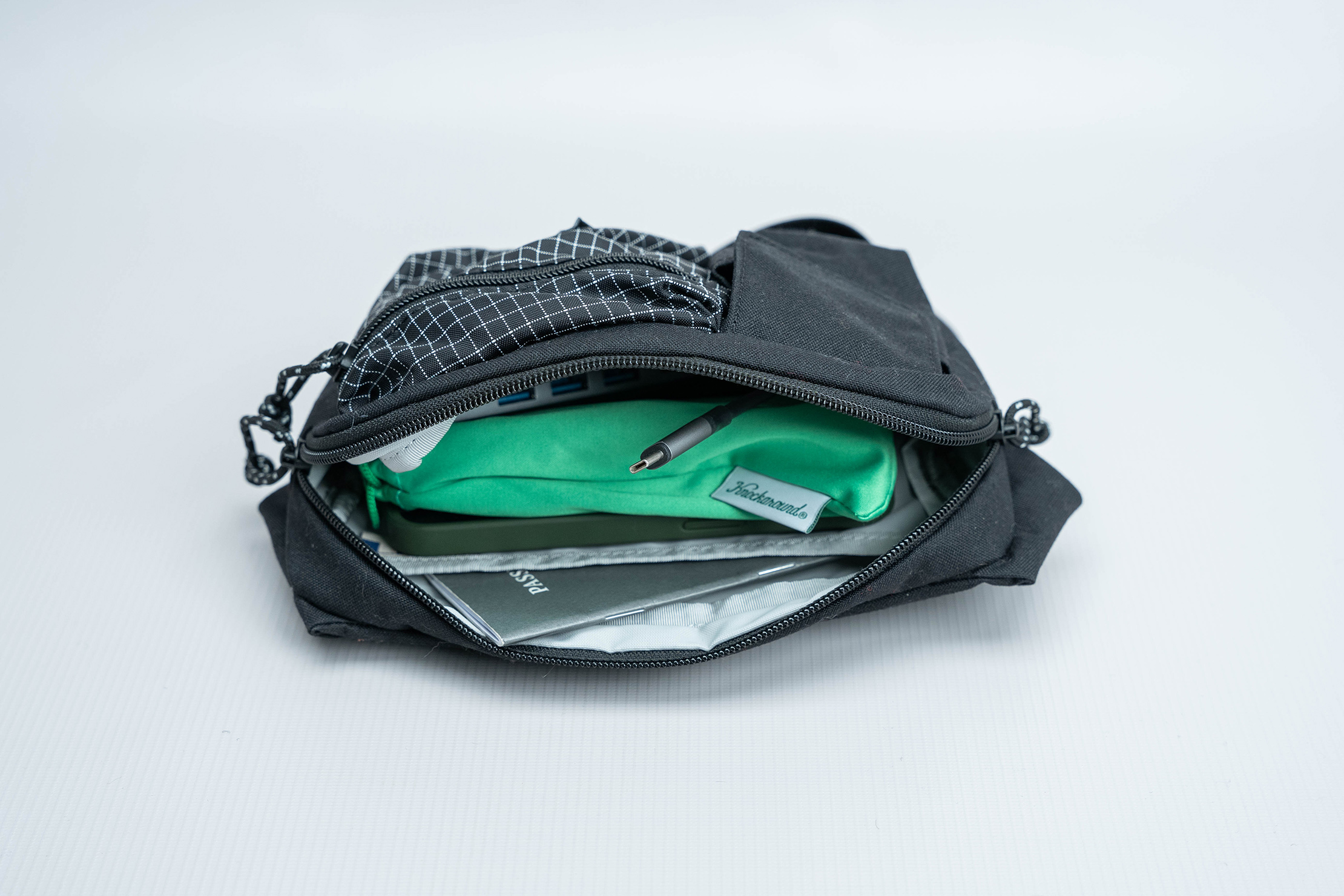 The small size of this sling pairs nicely with a larger camera backpack, daypack, or even a travel backpack. You can keep your daily essentials in the sling and everything else in your backpack. That way, you have access to your phone, wallet, keys, and if you're a photographer, your film, lightmeter, and other accessories.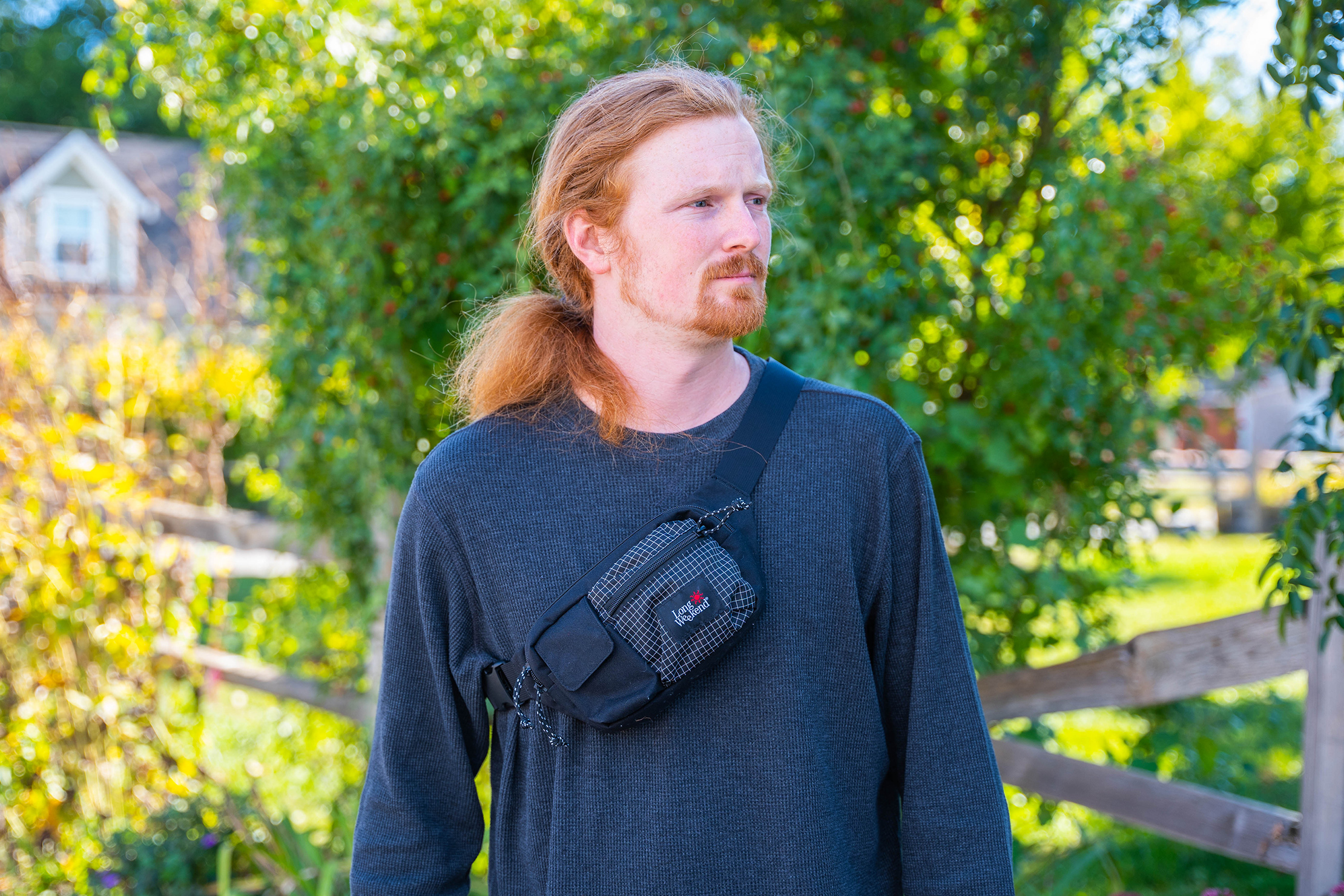 As a travel sling, the Long Weekend Monterey Sling is a capable but non-unique offering. If you're into photography, the additional exterior pockets make keeping your accessories close by easy and seamless. We wouldn't call it a tool for professionals (think wedding or rugged landscape photographers), but if you love shooting, this is an excellent shout for you.
Usage Timeline
Initial Usage
Condition: Excellent
There isn't any padding on the back panel, but the sling isn't huge, so we aren't sure it's an issue
We're curious whether the lack of padding or aeration will get warm or uncomfortable
The accent material design is fun and adds some contrast
2 Weeks of Use
Condition: Excellent
No issues with the materials; everything is holding up well
Sometimes, the strap can dig in a little, but it's still comfortable
We dig the exterior pockets for stowing quick-access gear
Access the Pro Community Discussion
Get your questions about the Long Weekend Monterey Sling answered from our team and the Pro Community right here on the page. Plus, join discussions with other members about gear, guides, and more.
Other Bags & Luggage Reviews