Lo & Sons Rowledge (Large) Review
The Lo & Sons Rowledge is on the heavier side, but even with the extra weight, we're digging its efficient, customizable organization and versatile carry.
Our Verdict
Unlock the Pro Summary
Save time. Get access to brief summaries of our reviews so you can browse and make decisions more efficiently.
Pros
Customizable to your use case
Comfortable, versatile carry
Front pocket is super handy, doesn't eat up space inside the pack
Cons
Bag is heavy, even when empty
Zippers are unbranded (though we haven't had any issues so far)
Doesn't work as well on larger frames
Recent Pack Hacker Video
Technical Details
Capacity

20l

Estimated

Weight (lb)

3 lb (1.4 kg)

Dimensions

16.5 in x 11.5 in x 6.75 in (41.9 x 29.2 x 17.1 cm)

Notable Materials

Leather, Nylon, Metal

Manufacturing Country

Cambodia

Laptop Compartment Size

13"

Warranty Information
Full Review
Lo & Sons was born out of Founder Helen Lo's desire that we at Pack Hacker and most gear enthusiasts share—to find the right gear, with the right functionality, and the right style for her use case.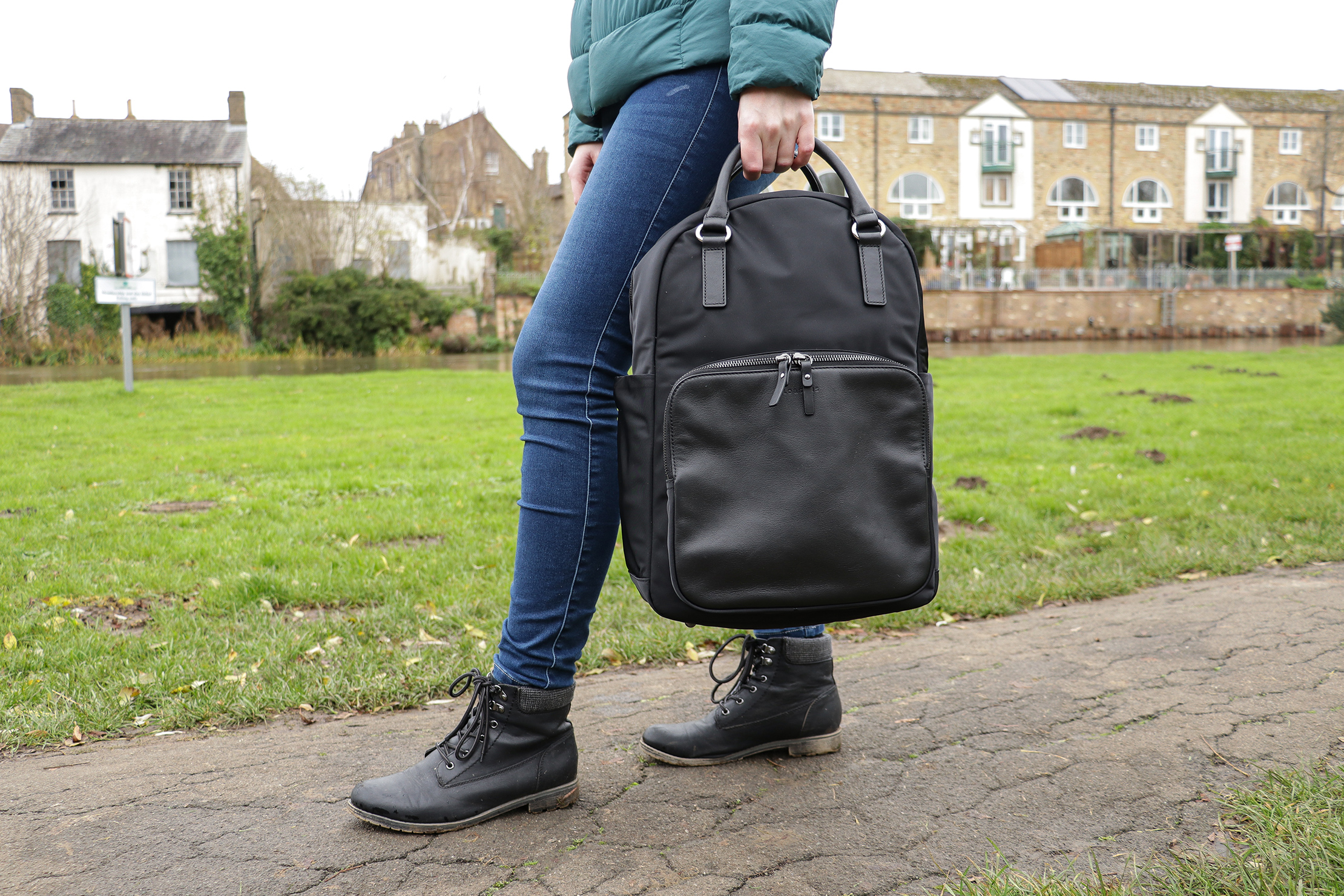 With the help of her sons, Helen has not only been able to fulfill this desire but helps others do the same by creating versatile bags, packs, and other products that seamlessly mold to many circumstances of carry.
The Rowledge is a prime example of this mission. This daypack is highly customizable to your preferences and ventures, whether you're using it to commute, work remotely, or explore everything your local area has to offer.
There's a whole review waiting down below that documents our testing phase for you to check out. Happy reading!
Materials & Aesthetic
According to our Instagram poll, only around 42% of our followers seemed to appreciate the Rowledge's professional aesthetic. It definitely touts a more high-end, stylish look that some will love, though it might not interest someone who prefers a more casual or rugged demeanor.
Not only can you choose between colorways like Black, Grey, Deep Navy, and Santa Fe (red), you can also opt into what kind of hardware and shade of interior you prefer depending on which colorway you choose. There's Gold or Silver for hardware, and Lavender, Camel, Grey, etc., for the lining, so you can style this bag how you want from the inside out.
There's minimal branding on this bag, except for a small Lo & Sons wordmark debossed in the leather on the front pocket, and their logo on the metal zipper pulls around the main compartment. Both are so subtle that they're easy to miss, helping to keep an air of sophistication around the bag.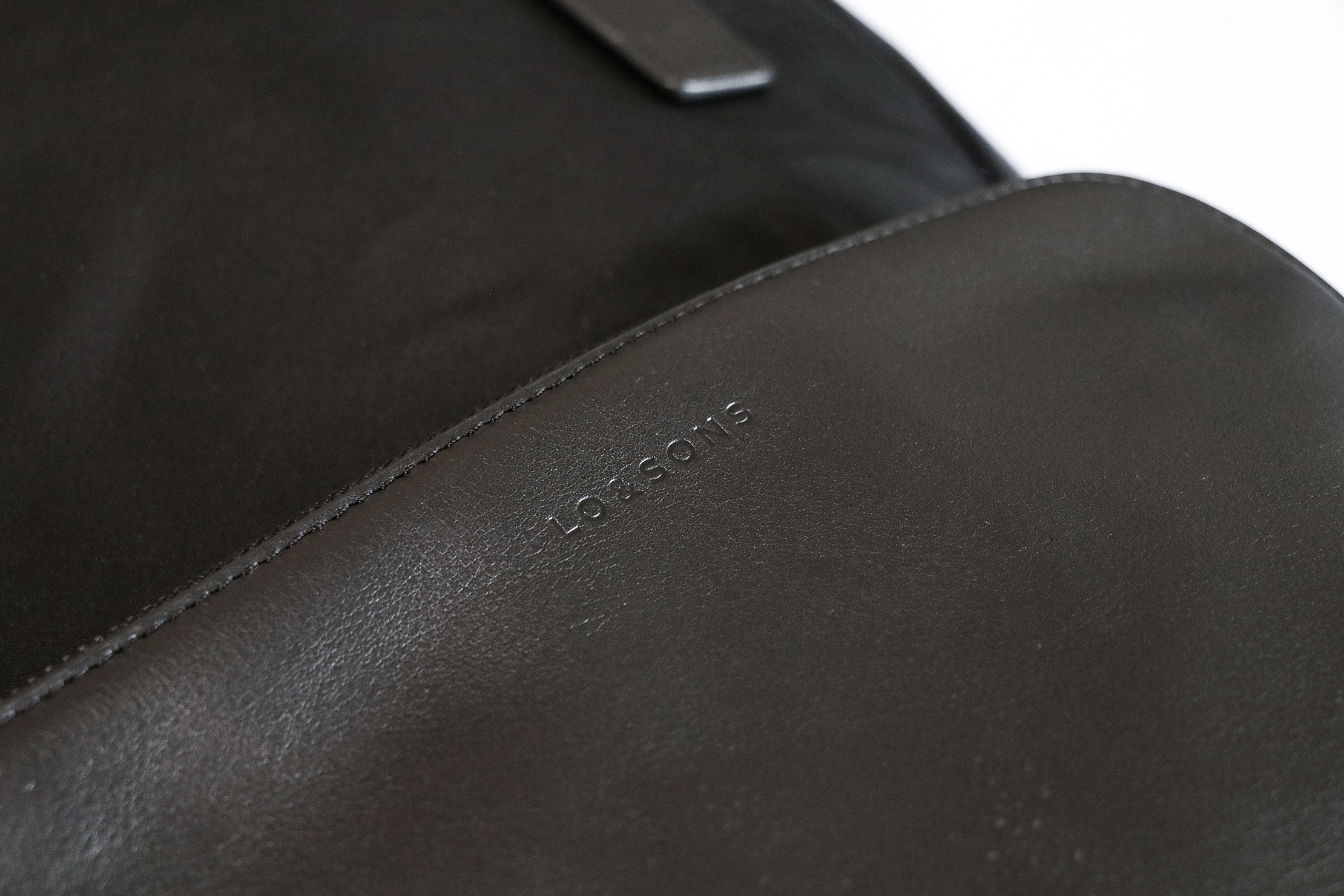 Like the title of this section implies, we'll be digging into the materials on this bag. First up is the Rowledge's scratchy nylon exterior. Lo & Sons doesn't offer a ton of information about it, like what denier or possible coating it's treated with: it simply states that it's "lightweight, fine-weave, water-resistant nylon."
We did encounter some heavy rain at one point with this bag in tow, and we're happy to report everything inside remained dry. The main upside to this material that we've experienced during testing, though, is how well it deters fluff compared to other fabrics.
We've been around two particularly fluffy cats for the bulk of our testing, and while we've had to lint roll ourselves before leaving the house, the bag has retained a clean, smart look. We're digging the fact we can grab it on our way out the door without having to assess for hair, dust, and other debris.
You'll also find leather—Nappa leather, to be exact—on the pack's exterior that's a more sophisticated, aesthetic addition than anything else. It's sustained some marks during testing, but Lo & Sons does offer tips and tricks to keeping it clean and helping it last its full lifespan, like making sure you don't expose the leather to too much moisture. AKA, this isn't the bag to bring to the beach or to carry your gear in particularly rainy climates.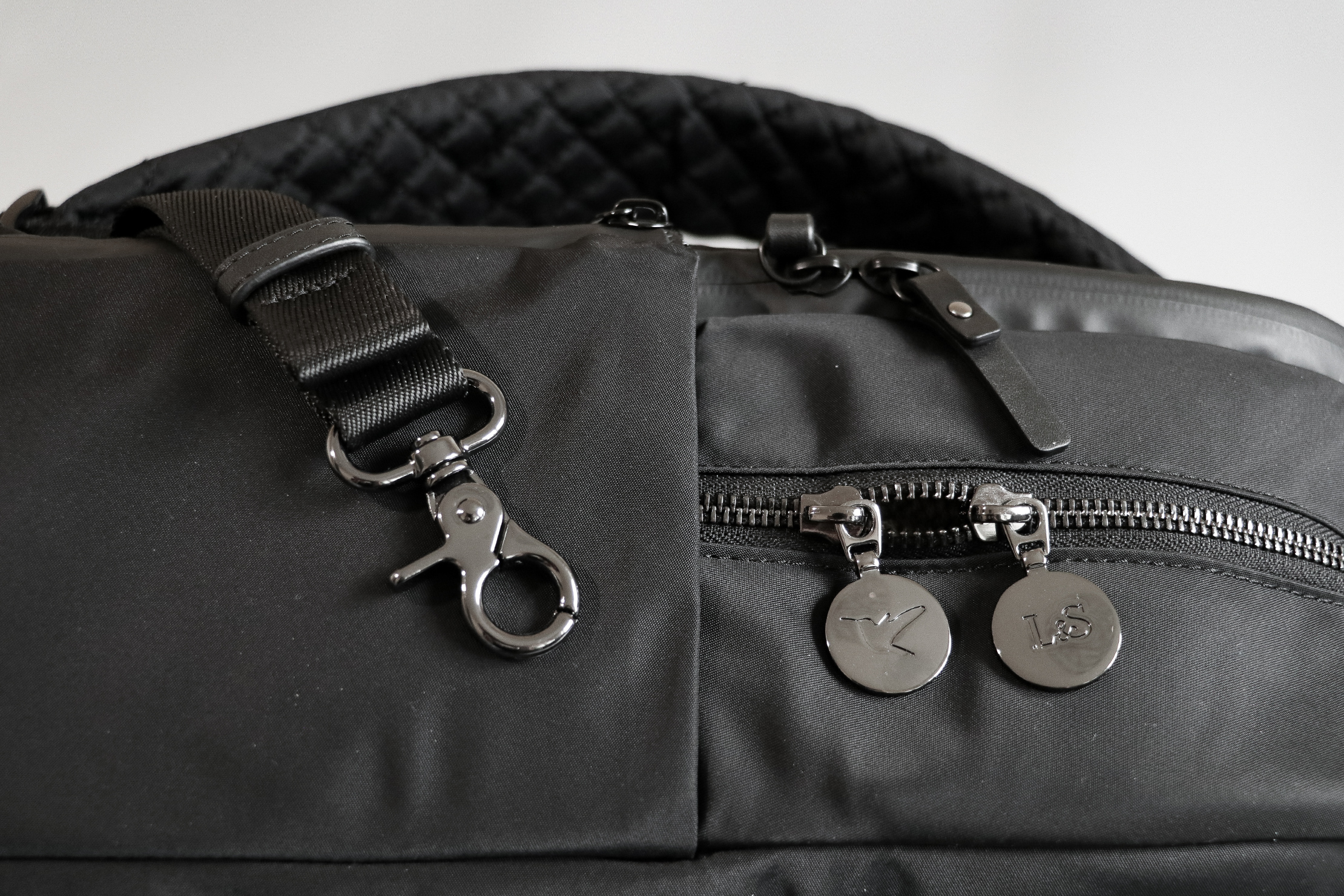 Some of the zippers on this pack are weather-resistant—like those on the water bottle pockets—while others are not. Both kinds have been performing nicely throughout our testing, and we appreciate the way they compliment the hardware to bring about a premium look and feel in this bag.
Speaking of hardware, all the adjusters and clips throughout the Rowledge are metal and, again, contribute to the high-quality vibe of the bag as a whole. This hardware also aids in the customization of the pack's carry and organization, which we'll cover in the next two sections of the review.
External Components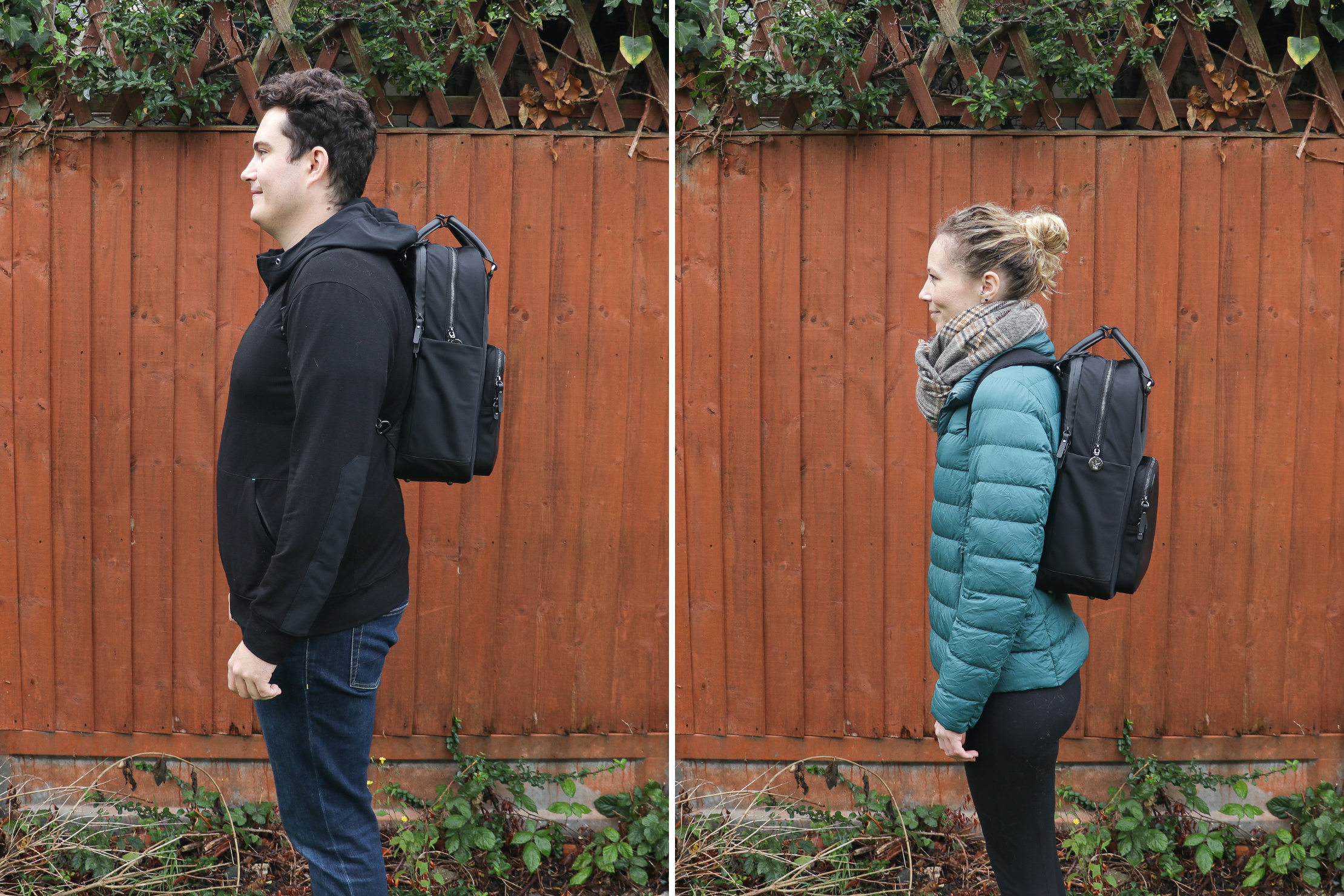 When you're looking to carry this thing as a pack, you can use the metal clips on the ends of the shoulder straps to secure them to the metal rings toward the bottom of the bag. Overall, we've found their padding level to be still comfortable when carrying this bag's full capacity (around 20L). They also feature some webbing on the underside that offers some degree of ventilation, but not the kind you'd get from a more pronounced mesh lining.
These straps stow away inside a zippered sleeve against the back panel when not in use. The neat thing here is that this sleeve is also zippered at the top and on the bottom. So, when the straps aren't inside, it can function as a luggage pass-through if you're using the bag as a carry-on. This is just one example of the customizability this bag offers, allowing you to switch it up depending on your use case.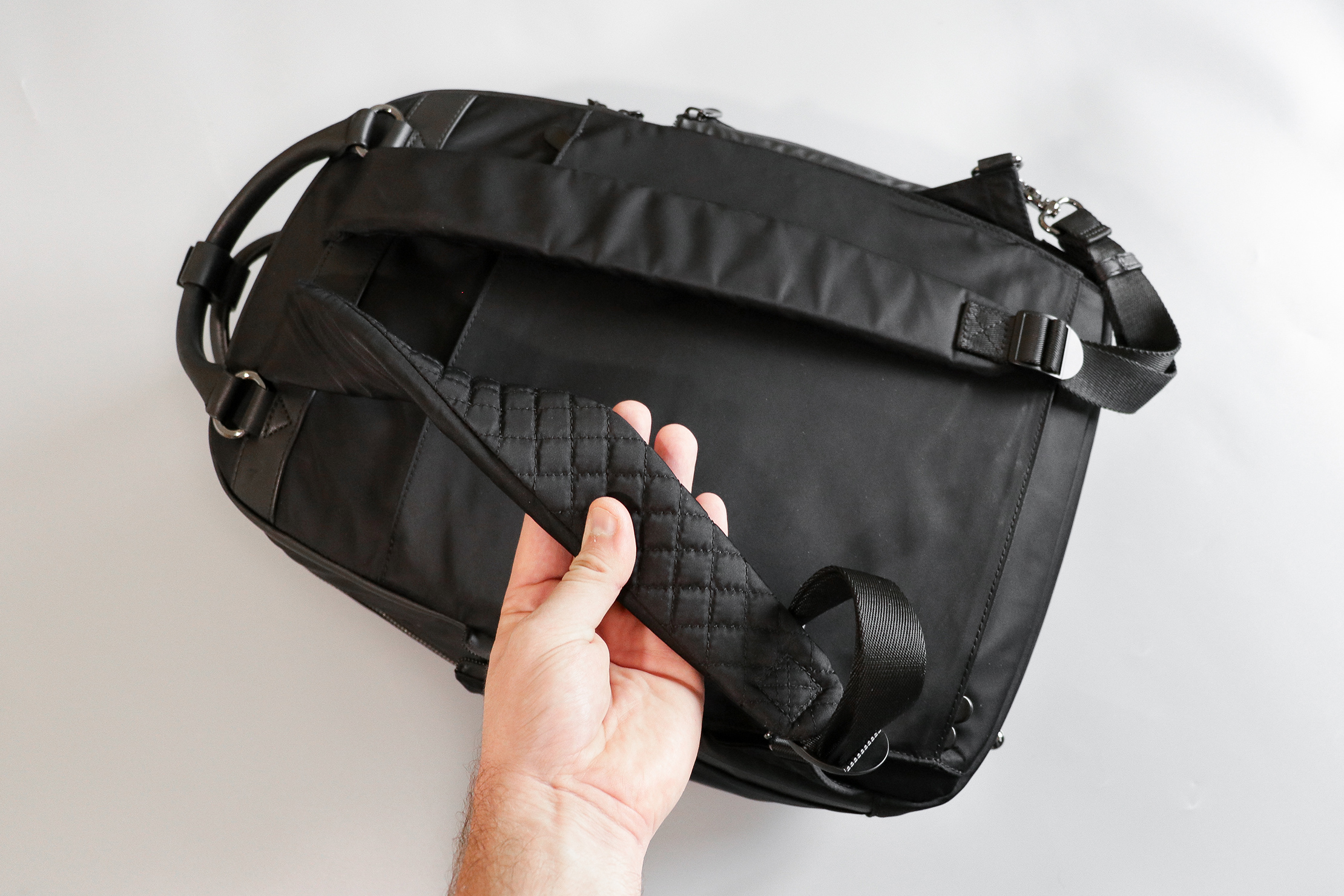 The handles at the top of the Rowledge are well-structured and connect via a snap fastener that's easy to maneuver. These handles allow you to tote this thing as a brief when you're heading into a more serious environment like a meeting. Of course, you can also opt for this mode of carrying when your back and shoulders are begging for a break (because again, this bag is pretty heavy even when it's empty).
If a water bottle is a staple in your daily lineup, you'll be happy to know that you get not one, but two water bottle pockets with this pack—one on each side. They secure with water-resistant zippers that not only keep your bottle in place but also protect your clothing from getting caught or scuffed on the opening, which is a nice touch if you ask us.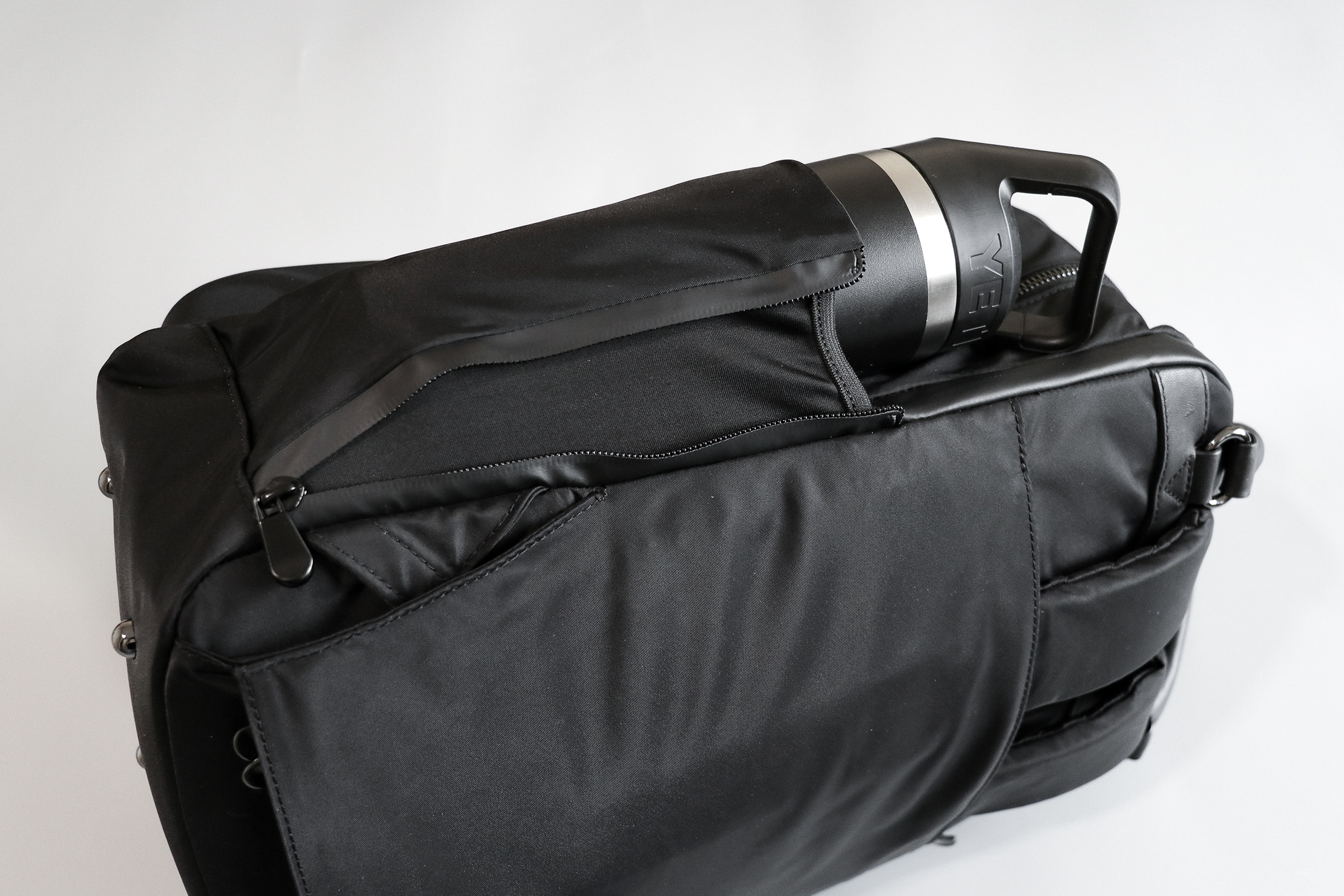 The pockets themselves are elasticated at one end to help them accommodate your bottle and lie flat against the bag when not in use so that it retains its characteristic clean look. Just be aware that unlike the front pocket, the bottom of these pockets may start to eat into the main compartment, affecting what you're able to pack.
Inside The Pack
Pockets are one thing that can make or break a pack, so let's discuss what the Rowledge has to offer in this department, starting with the front quick-grab pocket.
The first thing we want to note about this pocket is that its capacity is almost entirely separate from the remainder of the bag. What we mean by that is you can pack it full of items without it eating up an excess of space in the other compartments.

Secondly, this pocket features its own organization for your more frequently-used items. Against the back wall is a large zippered pocket where we've been keeping a medium-sized notebook to keep it separated and easy to grab when we need it. Then, in front of this pocket are two smaller liner pockets and a pen sleeve in-between them to keep writing utensils and personal care items compartmentalized.
There's still plenty of free space opposite of this organization that you can fill up with your wallet, a charger, snacks, and the like. Plus, this pocket has a bright grey, patterned liner that creates a ton of visibility of everything inside. This way, you can find what you're looking for without having to reach around with your hands blindly.
We can't forget the extra-long key leash that's also inside. Because it's situated in this external pocket and has a pretty considerable length, pulling your keys out and unlocking your car or door is a piece of cake. It's attached to one of two clips in this compartment, so if you're using one for this key leash, you have the other free to secure additional accessories.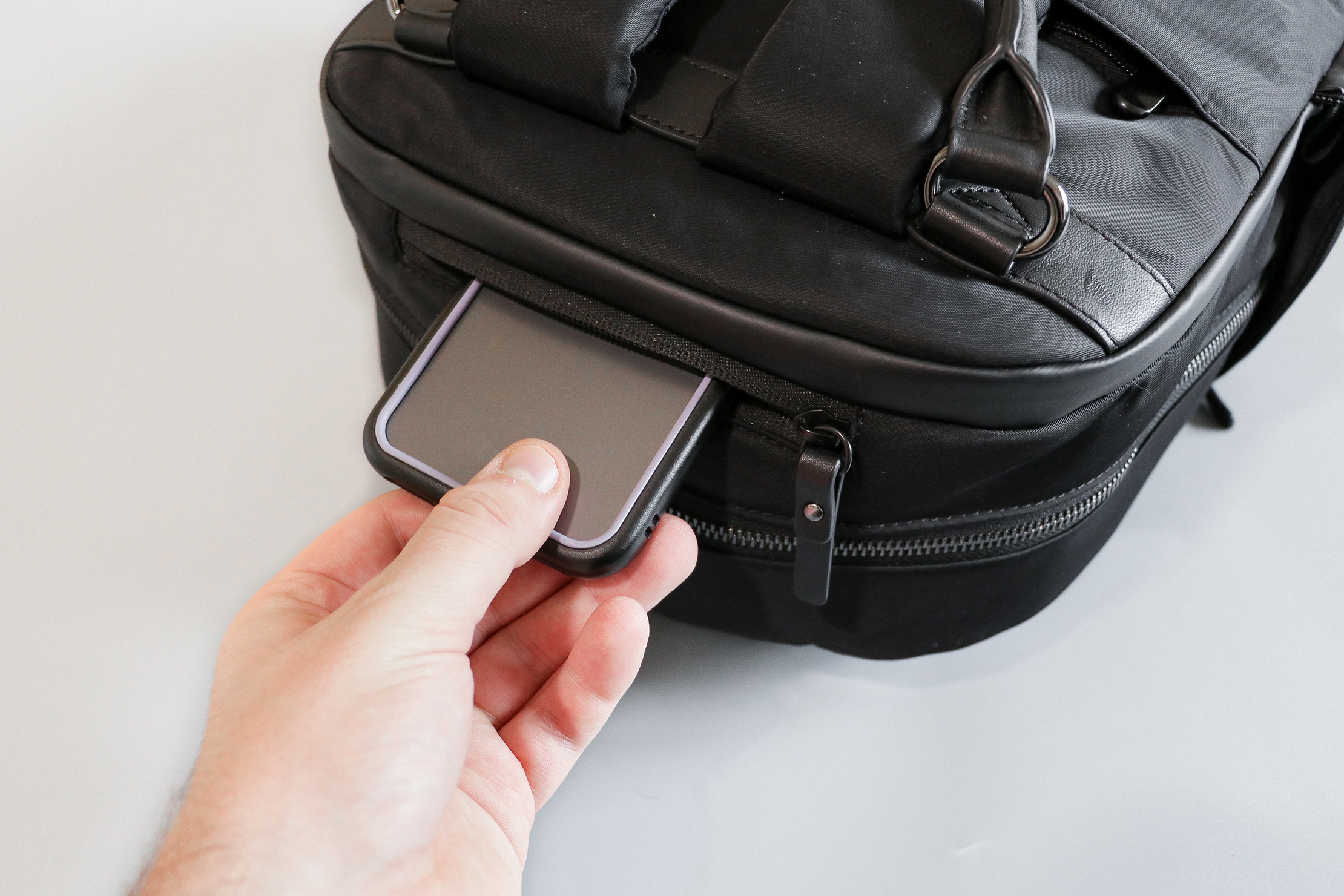 If this isn't enough room, note that there's another quick-grab pocket located on the top of the bag. It's quite deep and can comfortably fit a standard iPhone 11 or smaller. We're a fan of its low-profile position, as this makes it harder for any pickpockets to spot. Like we noted with the water bottle pockets, this pocket does take up some room inside the bag, which is something to be aware of when you're packing it out.
Funnily enough, the main compartment is next on our list for this section. It opens up horseshoe-style, and once inside, you're met with the same bright liner we mentioned before in the front pocket that creates convenient visibility of the gear inside. We also want to mention that this bag is pretty weighty on its own (3 lbs, or 1.4 kg depending on where you are), so stuffing it full of, well, stuff is going to make this thing especially heavy.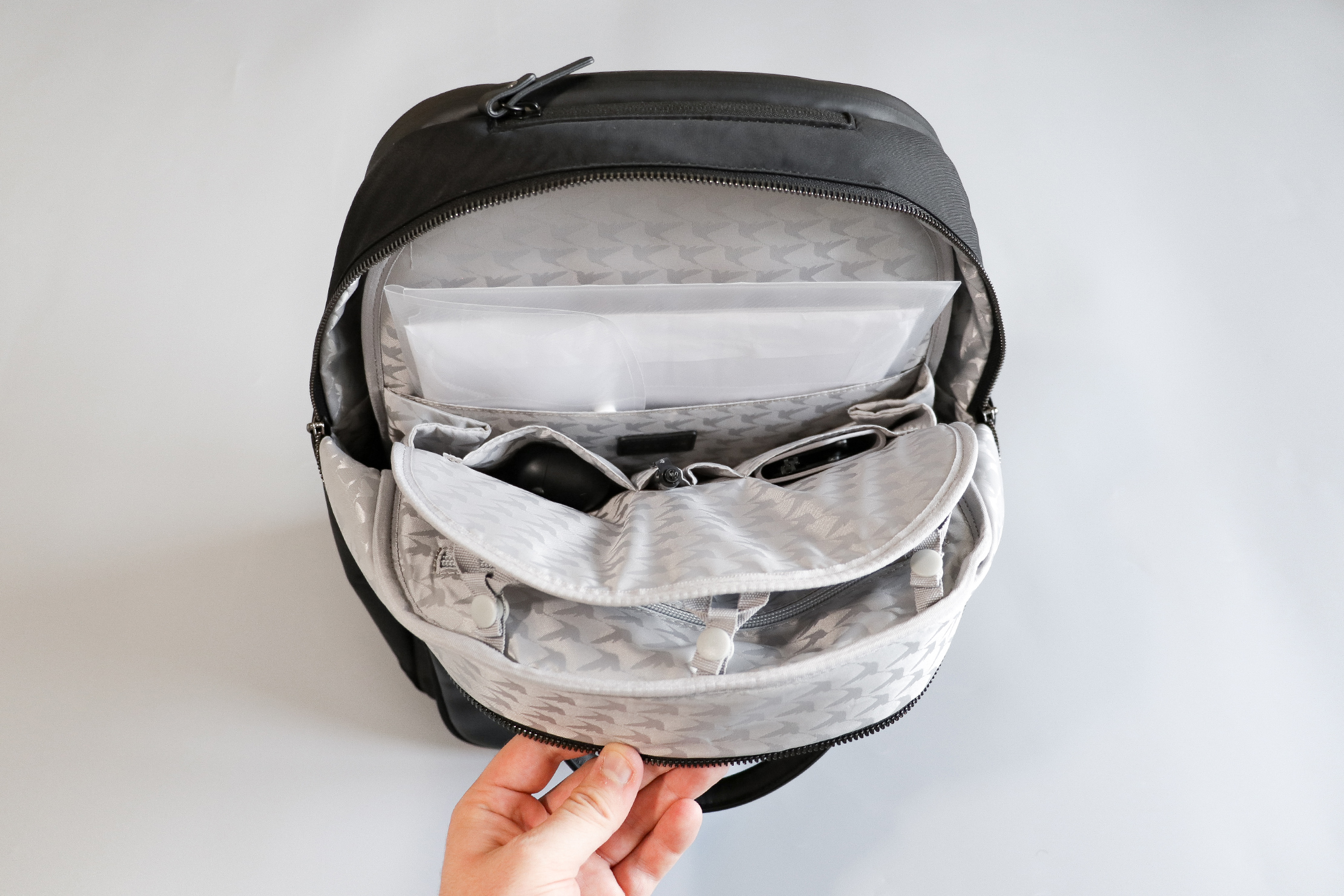 We love the level of organization here, but what we love even more is that it's another part of this bag that can be altered to our needs. Against one side is a similar set up to the front pocket with two liner pockets and pens sleeves between them for easy separation of your pens, accessories, or tech items. On the other wall lies a much bigger, longer sleeve that works well for documents, folders, notebooks, and other flatter items you're traveling with.
In addition to all this, you also have two internal water bottle pockets if you'd rather keep them inside your pack. We're not sure why you'd opt for this as it's always a little risky keeping water near your other gear, but if you have stuff you want to pack in the external pockets instead, then you still have these at your disposal to store your bottle.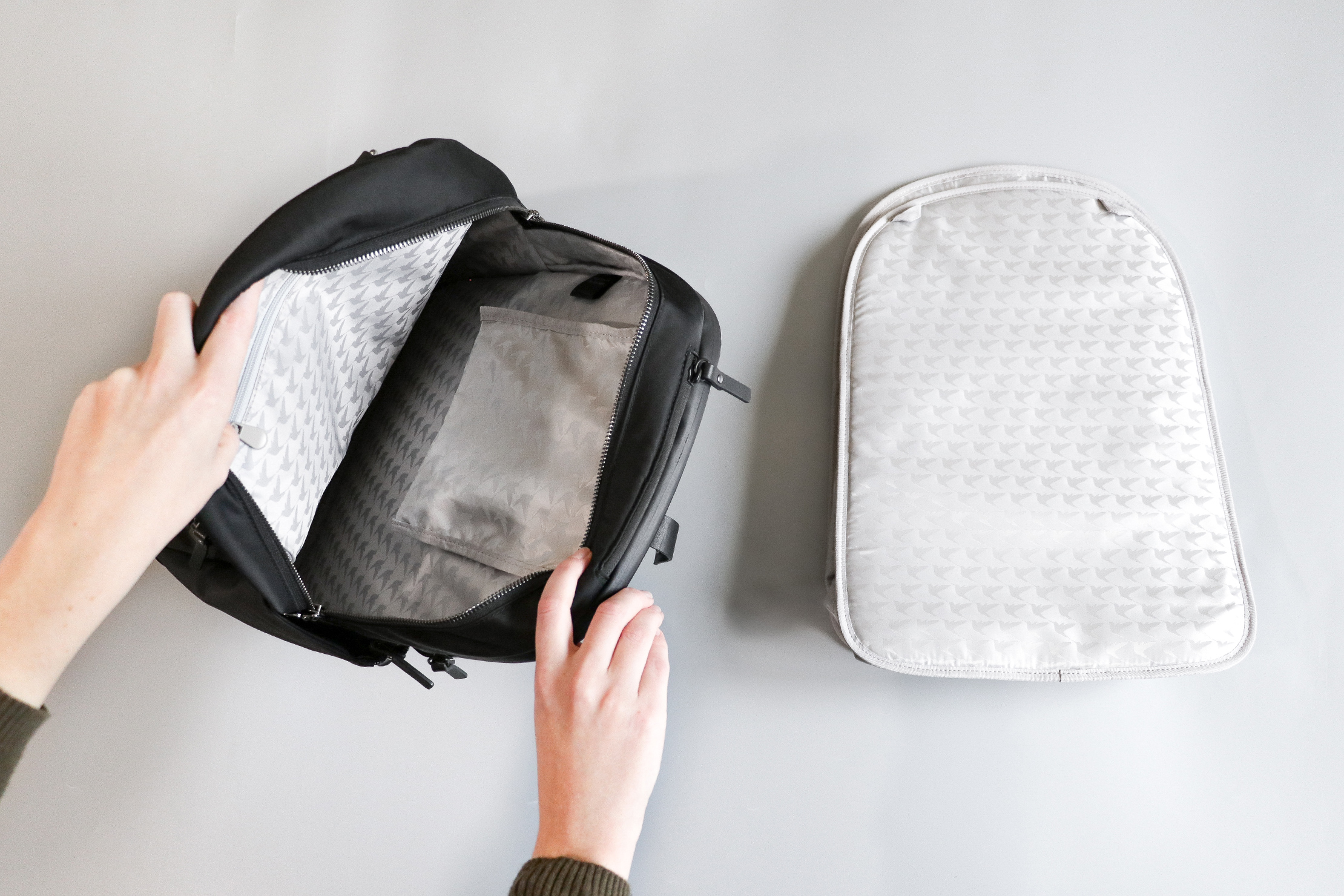 Now, another great thing about this organization is that it's completely removable. That's right: you can take the entire organizational panel out of the bag and pack out the open space with packing cubes or let your gear free-float. This is especially helpful when you have an excess of bulkier items that won't work in the pockets we mentioned above.
All you have to do is disengage the three snap fasteners on each side that secure it in place and pull it out, leaving you with one big bucket of room. Even with the insert removed, you still have a zippered pocket built into each side of the compartment to utilize for any smaller items you may be carrying.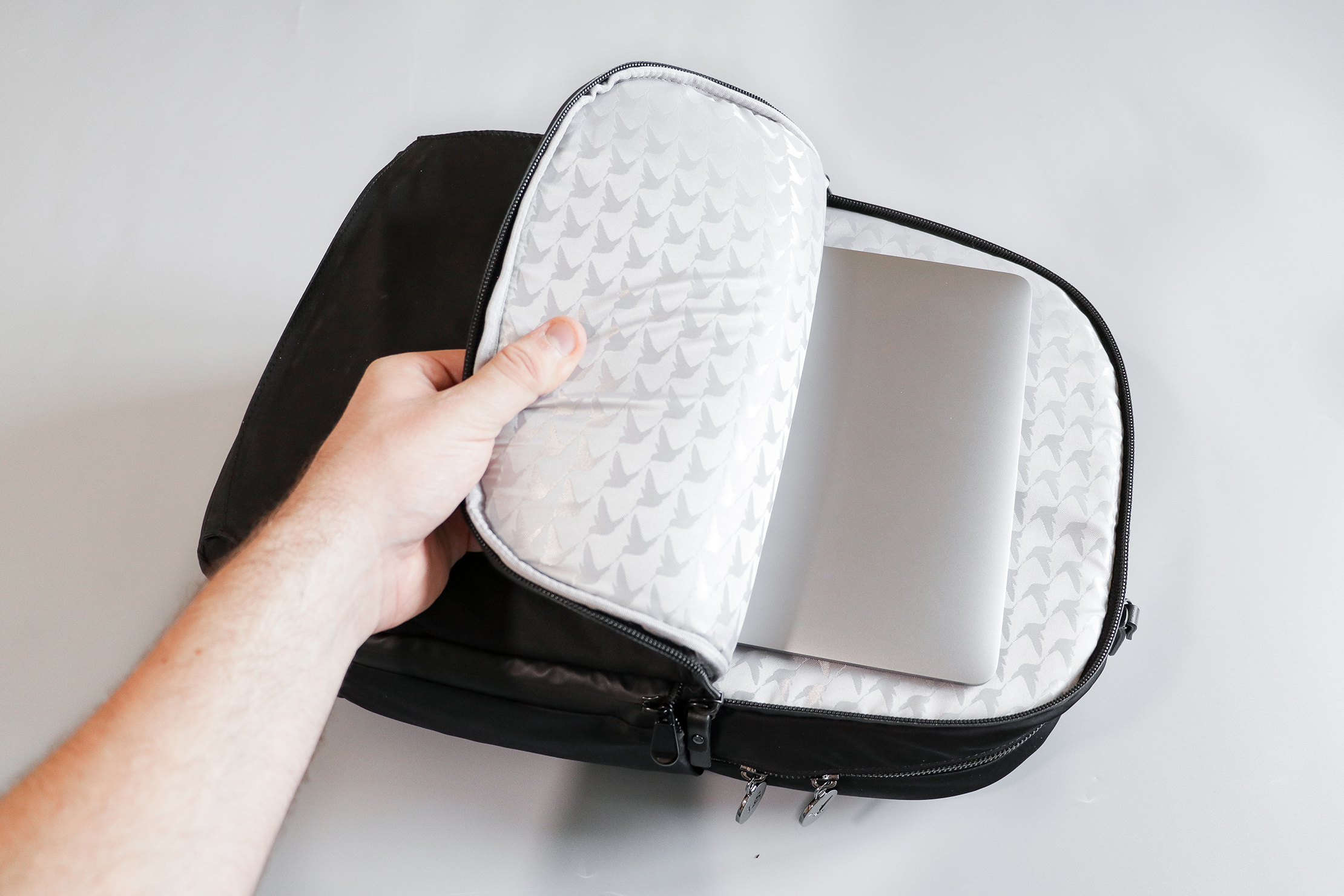 Lastly, we have a separate laptop compartment at the back, capable of fitting a 13″ laptop or smaller. We've been storing a 13″ MacBook Pro inside a protective sleeve while in this compartment ourselves during testing. This addition offers some added protection from any accidental drops and when the bag gets jostled up, down, and around our commute.
Usage Timeline
Initial Usage
Condition: Excellent
Removable insert has extra organization for pens, tech, and other smaller items
Dedicated laptop compartment
Shoulder straps can be packed away and the bag can be carried by the top handles
2 Weeks of Use
Condition: Good
We're really digging the customization as there are lots of options you can use to make this pack work better for you and your use case
We found it really easy to hide away the backpack straps so that we can carry this bag briefcase style
The removable insert comes in handy for when we needed extra organization and it was great that we could remove it when we needed the extra space
The pack is holding up well, but we have noticed a loose thread and some marks on the leather pocket on the front
There's a lot of space for your quick access items around this pack from the compartment on the front, the zippered pocket on the top and the water bottle pockets on the sides
The front compartment was great for larger items that you need to access quickly such as chargers and notebooks
The light interior material really helps with visibility inside the pack
The backpack straps have some padding which makes for a comfortable carry, but they do lack breathability as does the back panel
Access the Pro Community Discussion
Get your questions about the Lo & Sons Rowledge (Large) answered from our team and the Pro Community right here on the page. Plus, join discussions with other members about gear, guides, and more.
Other Bags & Luggage Reviews