Kelty Women's Redwing 40 Backpack Review
Although the Kelty Women's Redwing 40 is far from minimal, we've been impressed with the comfortable harness system and quick access pockets.
Our Verdict
Unlock the Pro Summary
Save time. Get access to brief summaries of our reviews so you can browse and make decisions more efficiently.
Pros
Comfortable harness system that fits well on a women's body
Lots of quick access compartments and pockets
Lightweight
Cons
Lots of dangling straps on the outside
The laptop compartment can be hard to access when the bag is full
The thin polyester fabric isn't that durable when compared to similar packs on the market
Recent Pack Hacker Video
Technical Details
Capacity

40l

Weight (lb)

2.65 lb (1.2 kg)

Denier

420D

Dimensions

23 in x 14 in x 12 in (58.4 x 35.6 x 30.5 cm)

Notable Materials

Aluminum, Polyester, YKK Zippers, Duraflex Hardware

Manufacturing Country

Philippines

Laptop Compartment Size

15"

Warranty Information
Full Review
Known for their packs, tents, sleeping bags, shelters and more (the list goes on) Kelty aims to create gear that gets people having fun outdoors. From backpacks to duffels and even a sling, Kelty claims to produce equipment that's built to last for any adventure.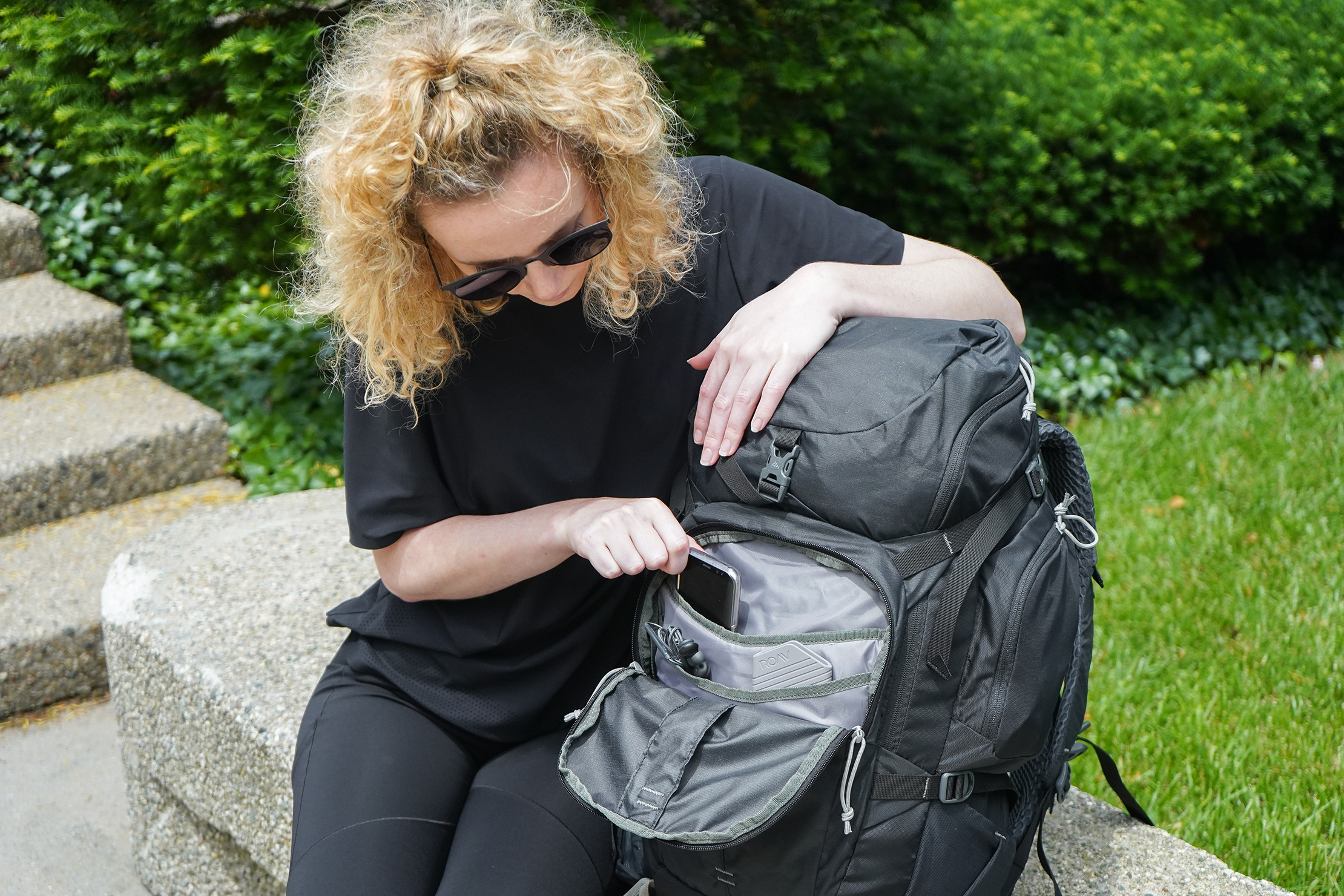 In this review, we'll be taking a look at the Kelty Women's Redwing 40. Although it might be given away in the name, we figured we might as well clarify that the Redwing is a 40-liter pack that's been designed with women in mind. After testing this pack for over a month, we're ready to let you know how it works for hiking up a mountain in Nepal and city-hopping across Europe.
Let's dive into the review for all the juicy details.
Materials & Aesthetic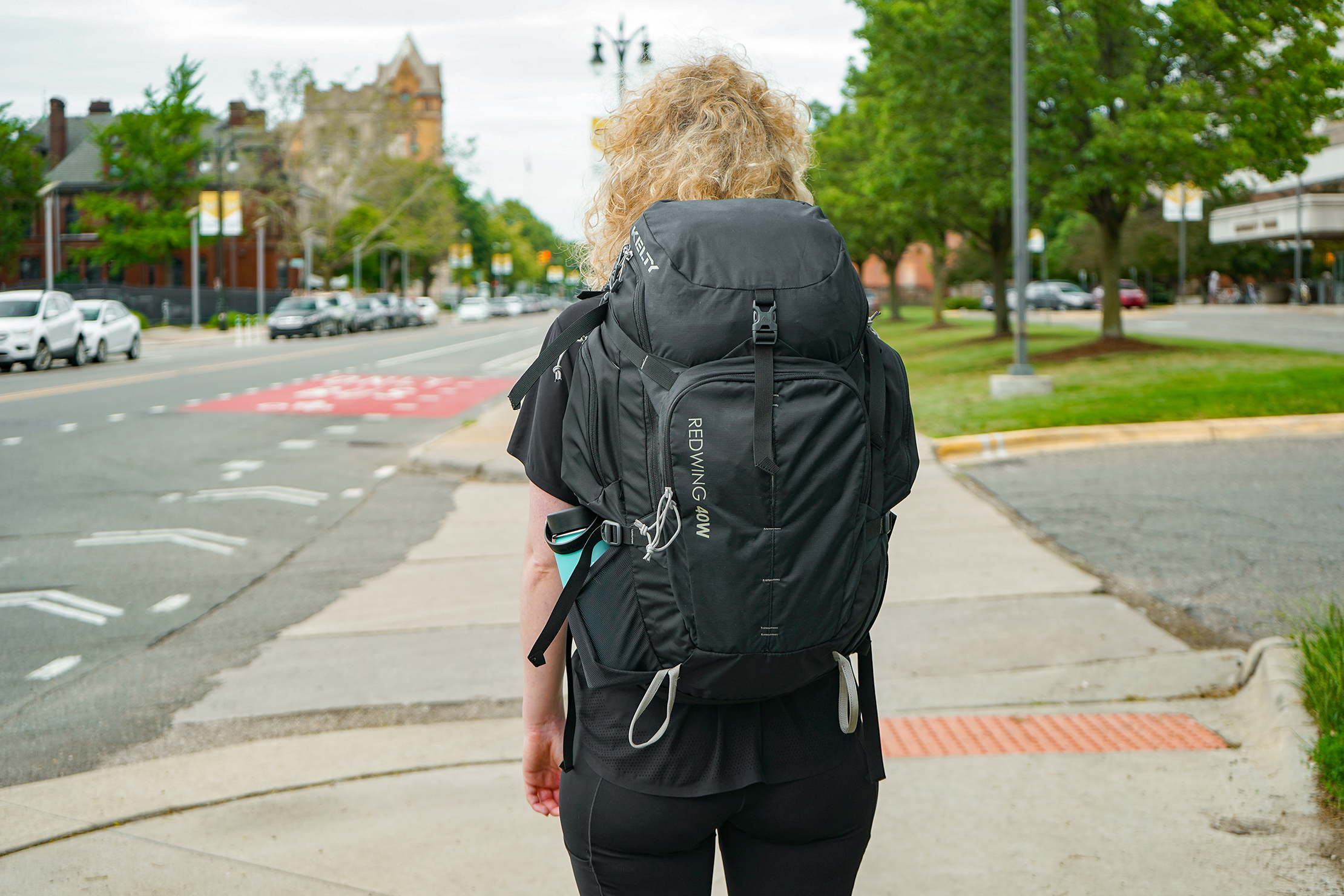 First, let's talk about the aesthetic of this pack. You've probably already noticed, but this bag isn't exactly Pack Hacker's signature style. The streamlined, urban look we usually go for is taken over by an abundance of straps, pockets, and various other features. The aesthetic of this pack is certainly geared more towards the great outdoors than a coworking space in the city, but all the stuff that makes this pack look "messy" also provides some significant advantages (we'll get more into this later on). So, despite the overall outdoorsy vibes going on here, and because most of the pack is black on black, we feel like we can pull it off in most environments.
At the time of this review, the Kelty Redwing 40 comes in two colors: Black and Deep Lake (which is pretty much a light blue). There aren't many choices, but sometimes we kind of like that, as it's easy to decide. We went for the black (no surprise there) because we feel it works the best for travel as it'll show less dirt and marks when you're on the road. Plus, we felt like this color would be more inconspicuous, which is an advantage if you're planning on taking this pack to more urban environments.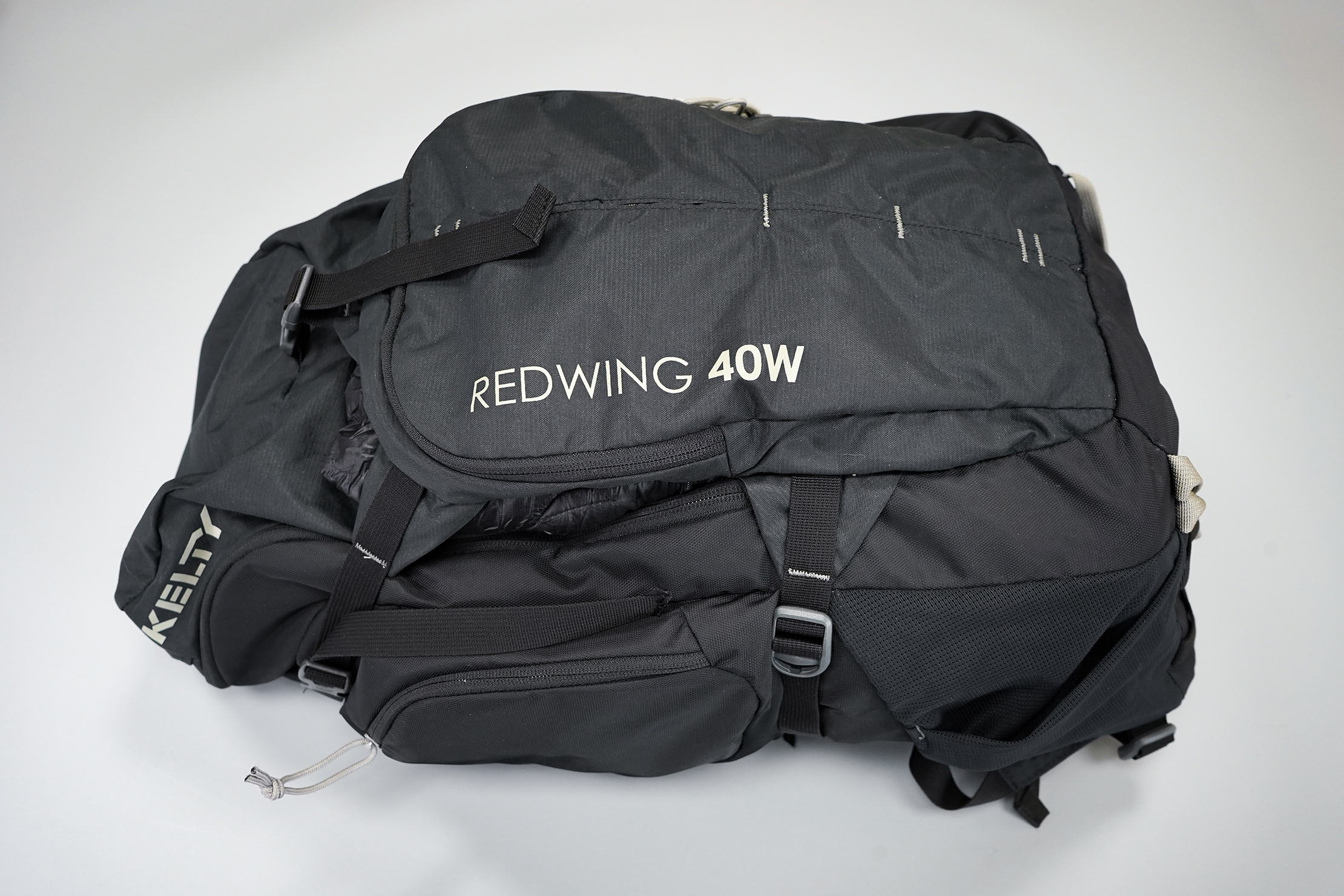 Moving on to the branding, the words "Kelty" and "Redwing 40W" are written down the side of the pack, so we're pretty sure no one will be left wondering what pack you're carrying. However, because this is off center, we think it's slightly less offensive—and we prefer it that way. Apart from this, the rest of the branding is pretty minimal with another small "Kelty" written on the shoulder strap, a "Kelty Built" tag on the back panel, and their logo on the buckles.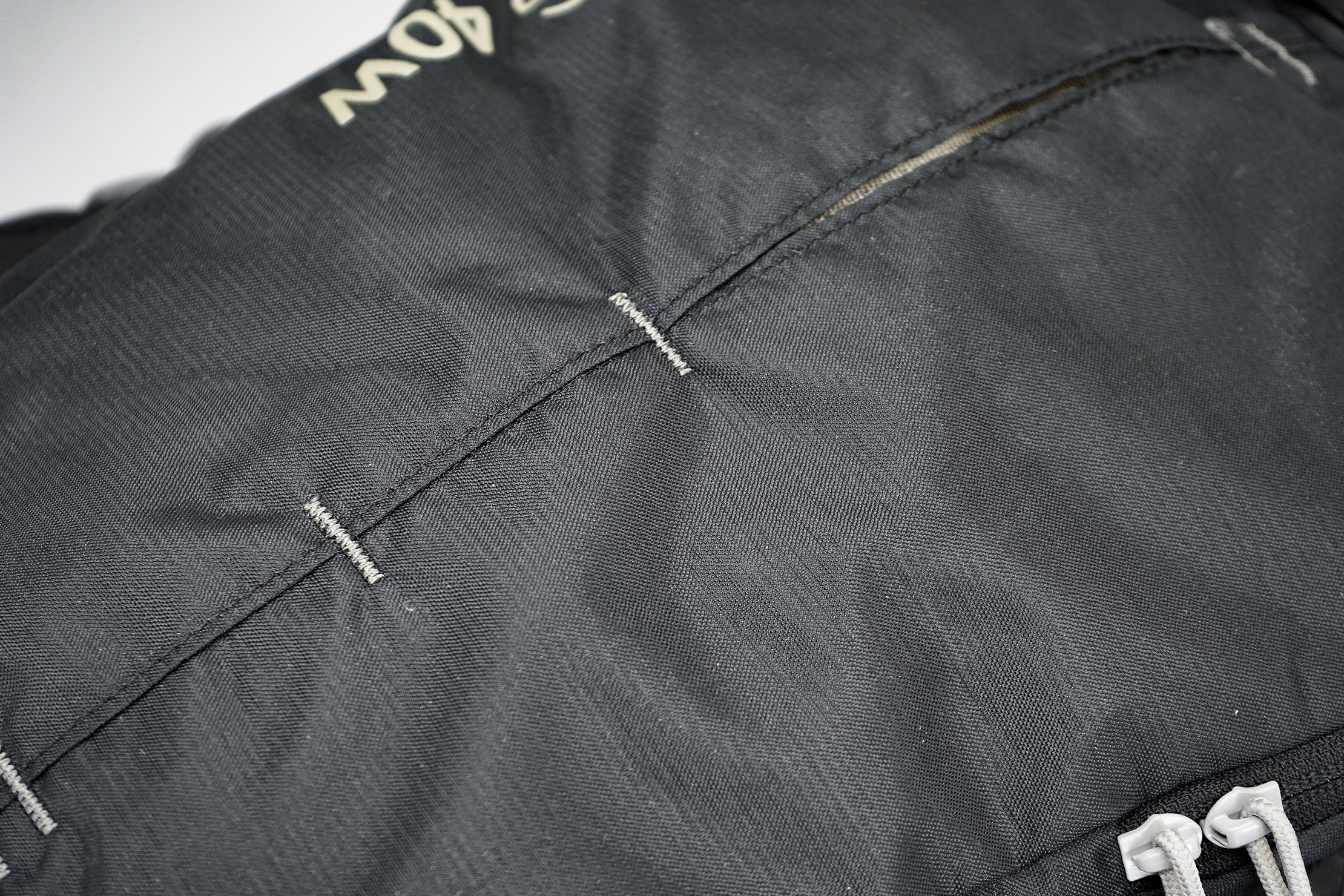 When it comes to materials, this pack is made from a combination of Poly 420D Small Back Stafford and Poly 75x150D Tasser Coal with Aluminum and HDPE in the frame. We have't come across these materials before and, to be honest, we weren't able to find out much about them. What we can tell you is that this is a low denier polyester and, while it's not the best or the most innovative material around, it's still strong and should do the job well enough. Plus, a major advantage of this material is that the pack is super lightweight. This is great for your back, and it's especially crucial if you're into one bag travel.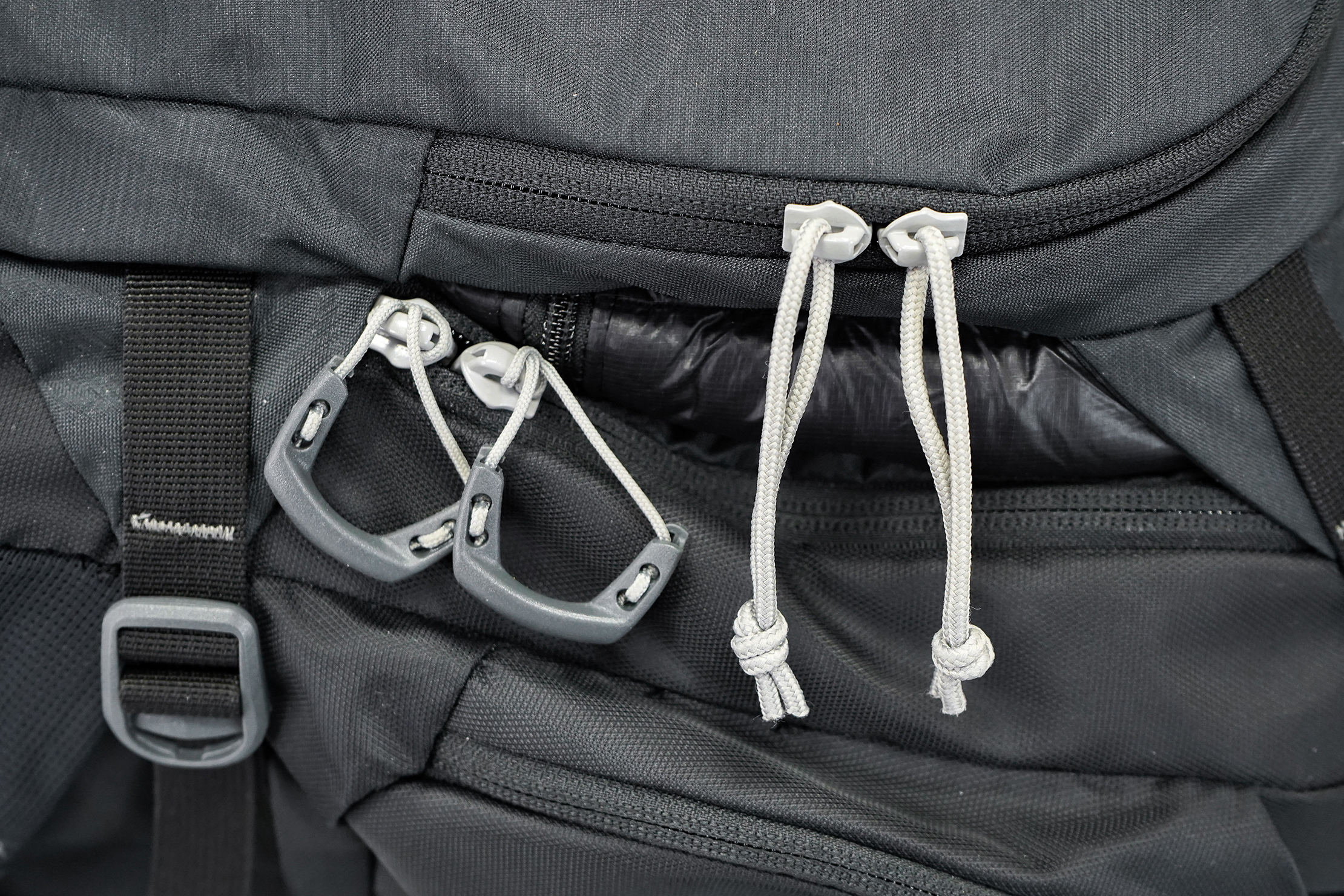 On a backpack, hardware is a crucial component that can really make or break the bag. With that in mind, we're happy to report that all the zippers on this pack are YKK. The main zipper is a YKK #8 RCz and the zippers for the smaller compartments are YKK #5 RCz. From years of testing across many backpacks and brands, we've found that YKK zippers are durable and reliable—which is essential for any type of travel pack.
There are also two types of zipper pulls on this bag. On the main compartment, the plastic zipper pulls work wonders for getting the zipper around the top of the pack easier and the zippers pulls on the smaller compartments make accessing them a breeze. The buckles are all Duraflex—once again, a reliable brand that's worked well for us in testing. They have a solid reputation for being very durable.
External Components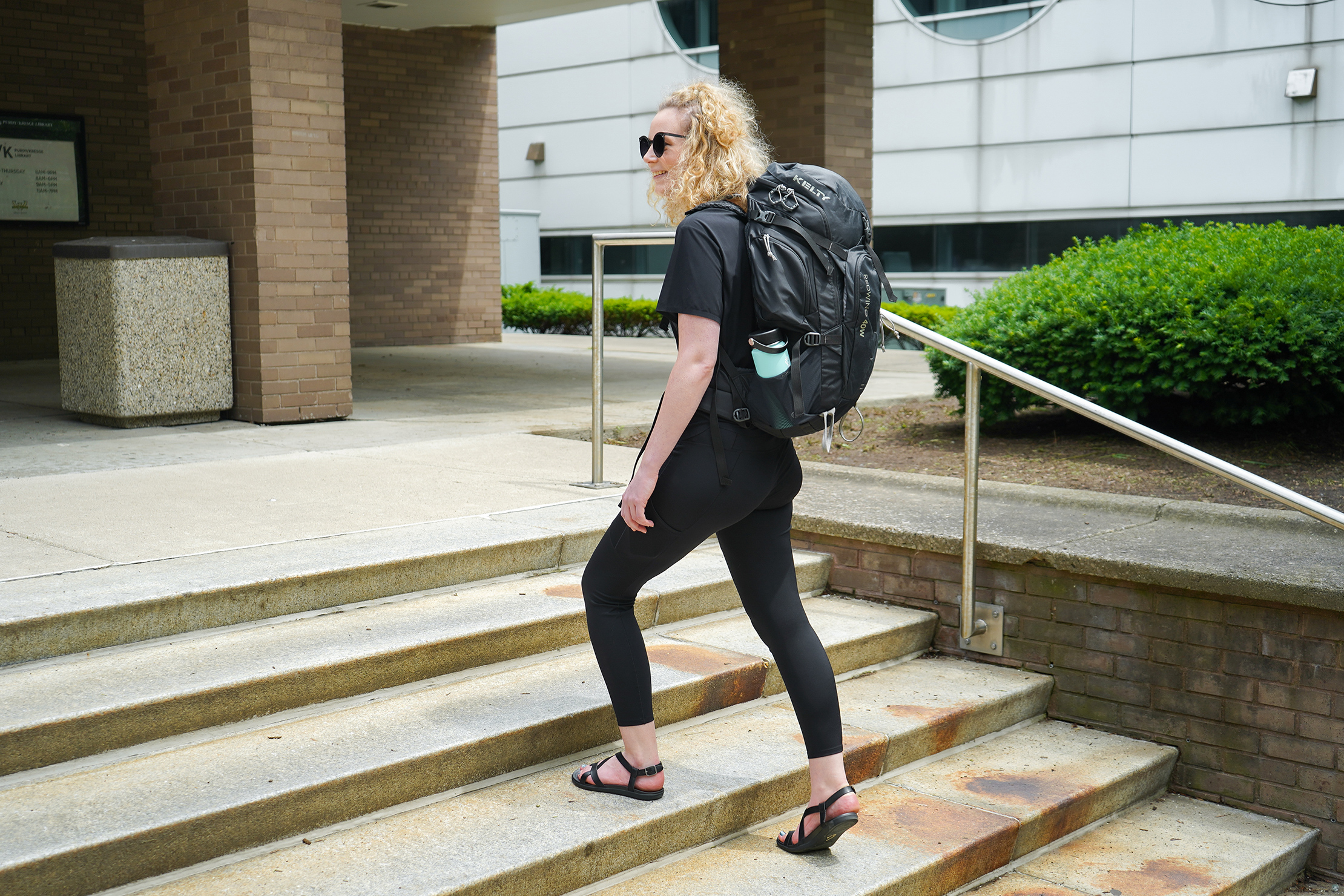 Moving on to the external components, the harness system on the Kelty Redwing 40 is designed with women's bodies in mind.
A big advantage of this female-focused harness system is that it's very adjustable. The shoulder straps, sternum strap and hip belt all have multiple adjustments points, meaning you can always find the right fit for you. While having a women's specific pack is excellent in itself, it's clear to see that Kelty understand that every woman's body is different—so curves or no curves, this pack has some "wiggle" room which we really like.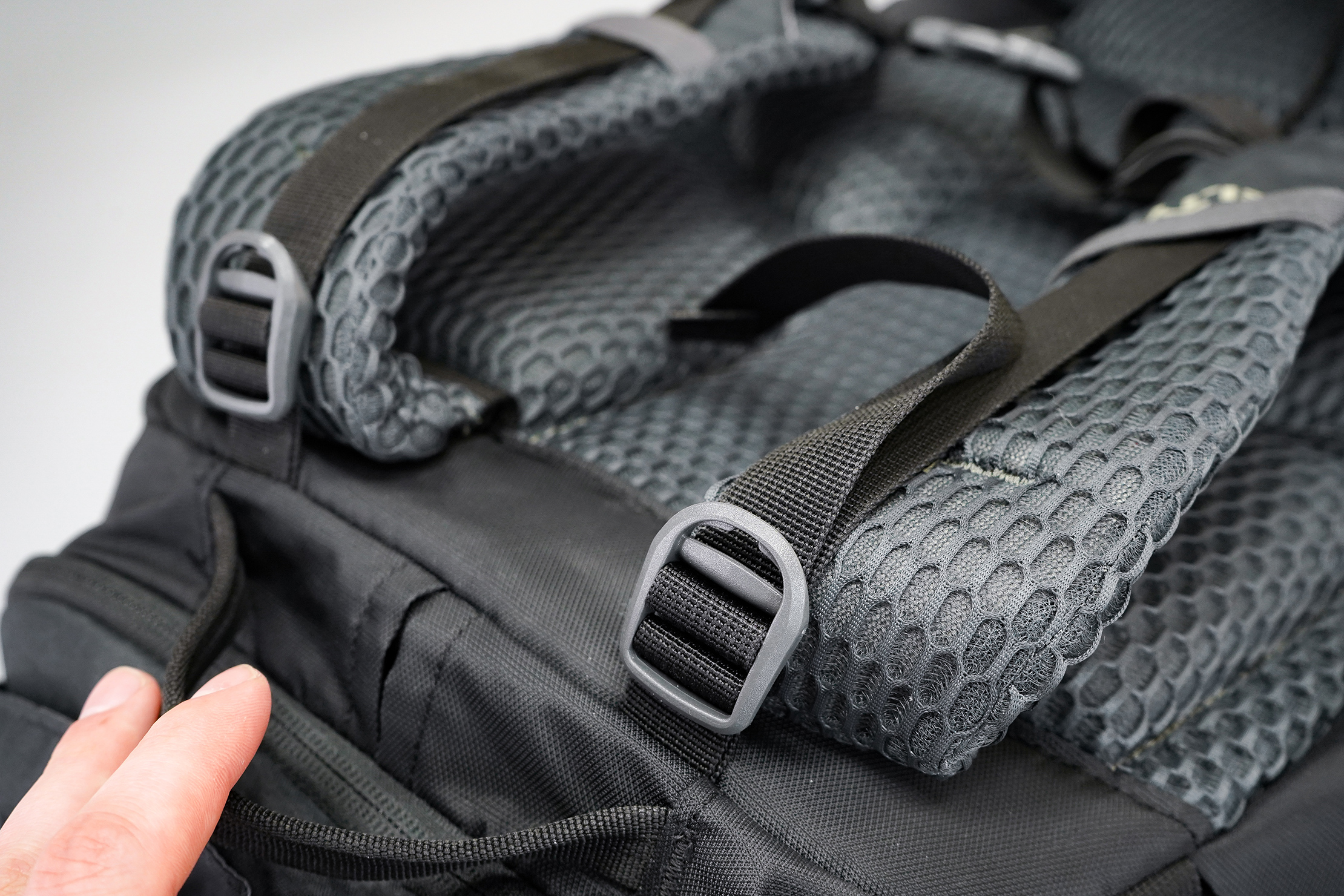 The adjustable shoulder straps are designed to fit around your curves, with load lifters on the top so that you can pull the pack close to your back. In addition to this, the shoulder straps are positioned close together and lower down on the pack, meaning the bag will sit higher on your back. All these features come together to distribute the weight better on a smaller frame, which is precisely what we'd hope for on a women's-specific backpack. There's also an elastic band on each shoulder strap which can be used for tucking away the load lifter straps or even the sternum strap—a great touch!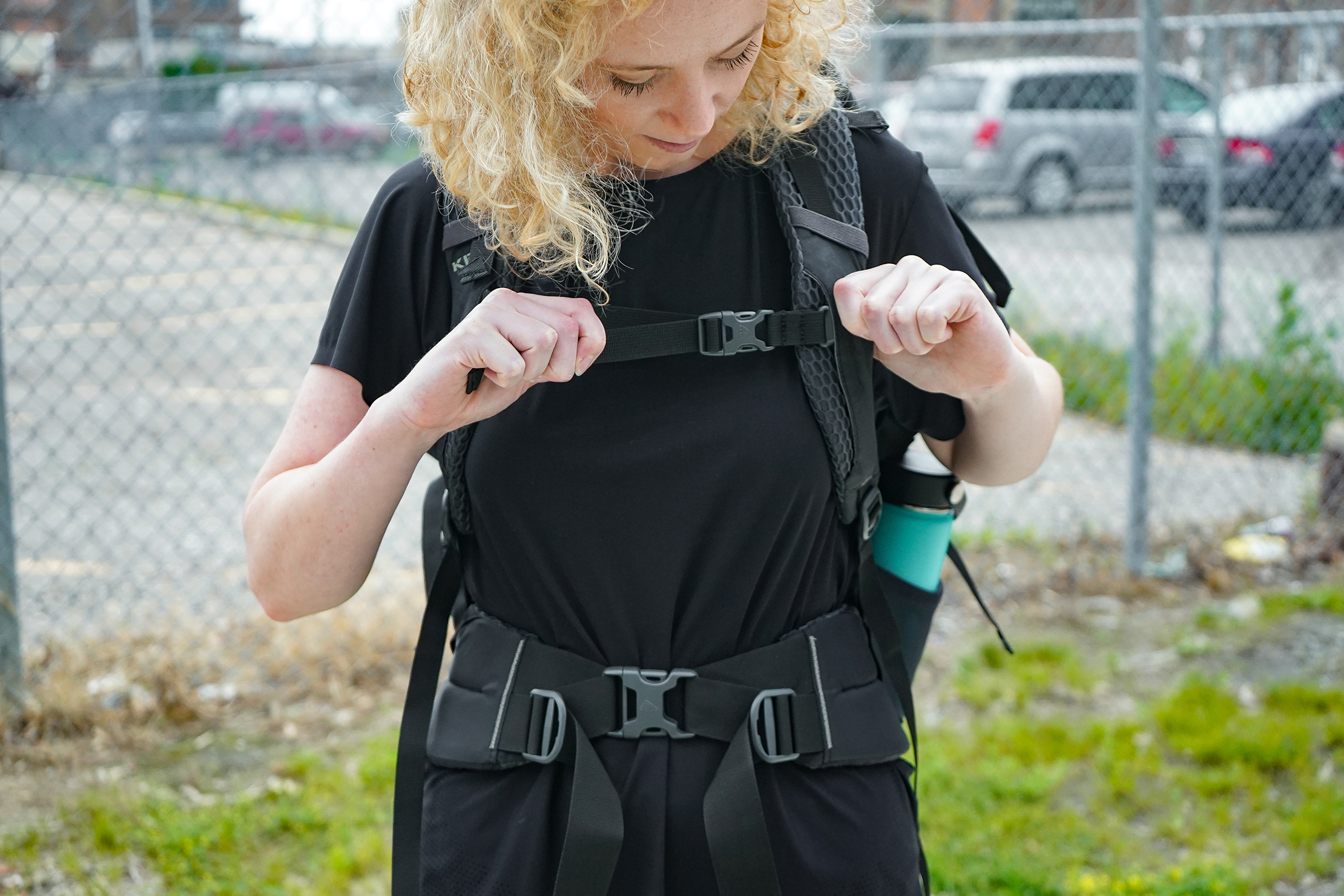 Attached to the shoulder straps is an adjustable sternum strap. This can be moved up or down to find a comfortable fit. We're also digging the elastic section on this strap, as it gives you some flexibility when you're on the go.
The hip belt on this pack almost deserves its own section because there is a LOT going on here. On first impression, this thing is pretty chunky—but the ability to remove it is a great bonus. However, this thing has some awesome redeeming qualities that make it stand out. First of all, it does its job well. Like any hip belt should, it distributes the weight of the pack across your body, allowing for a far more comfortable carry. That, in addition to the multiple adjustment points, really ups the comfort factor here.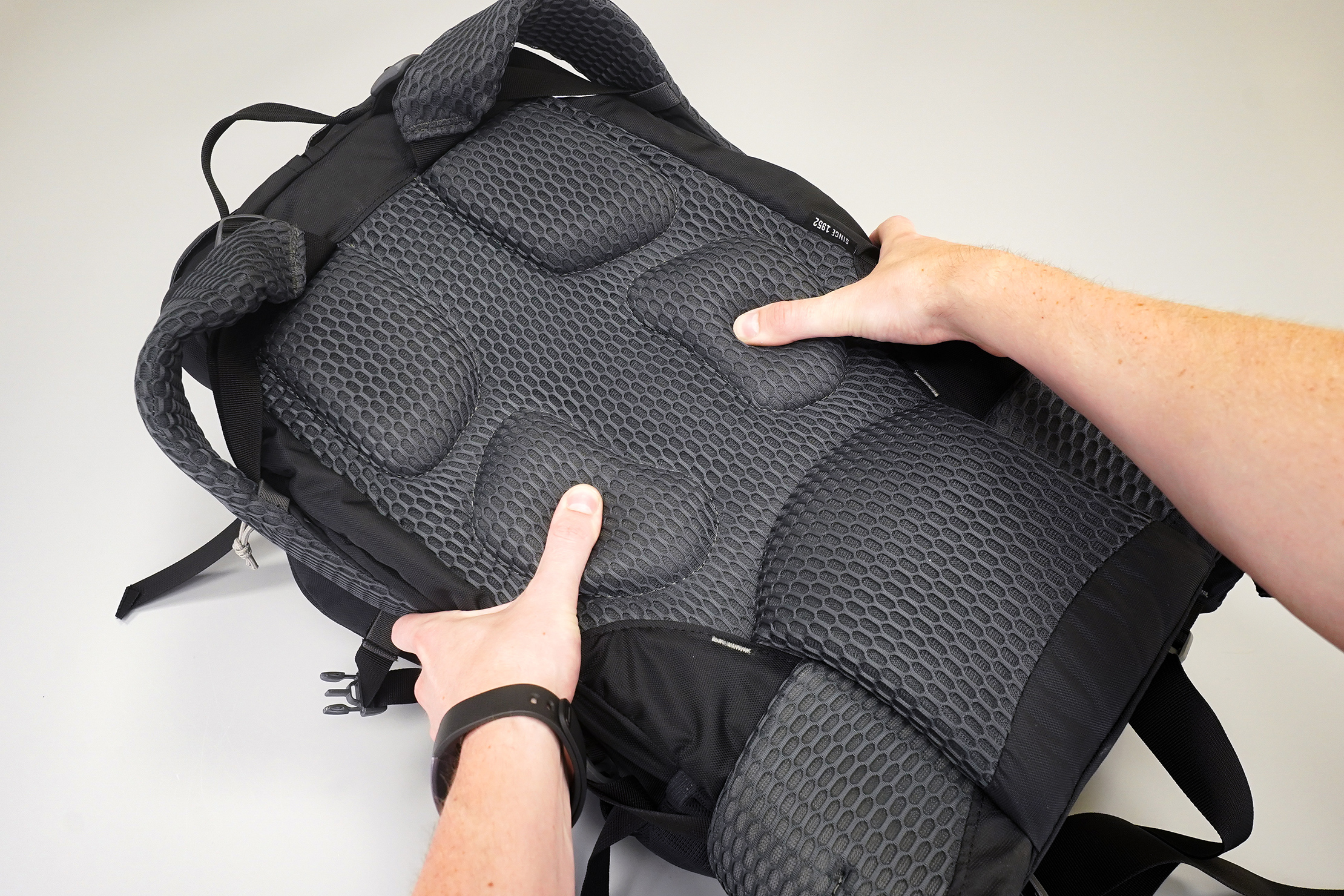 Now, let's talk about the back panel. The padding here is no joke—we think it really hits the spot in all the right places. Those parts of your back which take extra weight are well protected and with the Hex Mesh, you'll have plenty of ventilation as well. This mesh also covers the shoulder straps and the inside of the hip belt, so this pack gets a big thumbs up for breathability.
To keep the back panel sturdy, there's an HDPE frame sheet and a single LightBeam aluminum stay here. These both do a great job at keeping the back panel solid without adding much to the overall weight. Just a note: this frame sheet is not removable, and we did run into a few problems with this feature. We'll cover this more in the durability and testing section.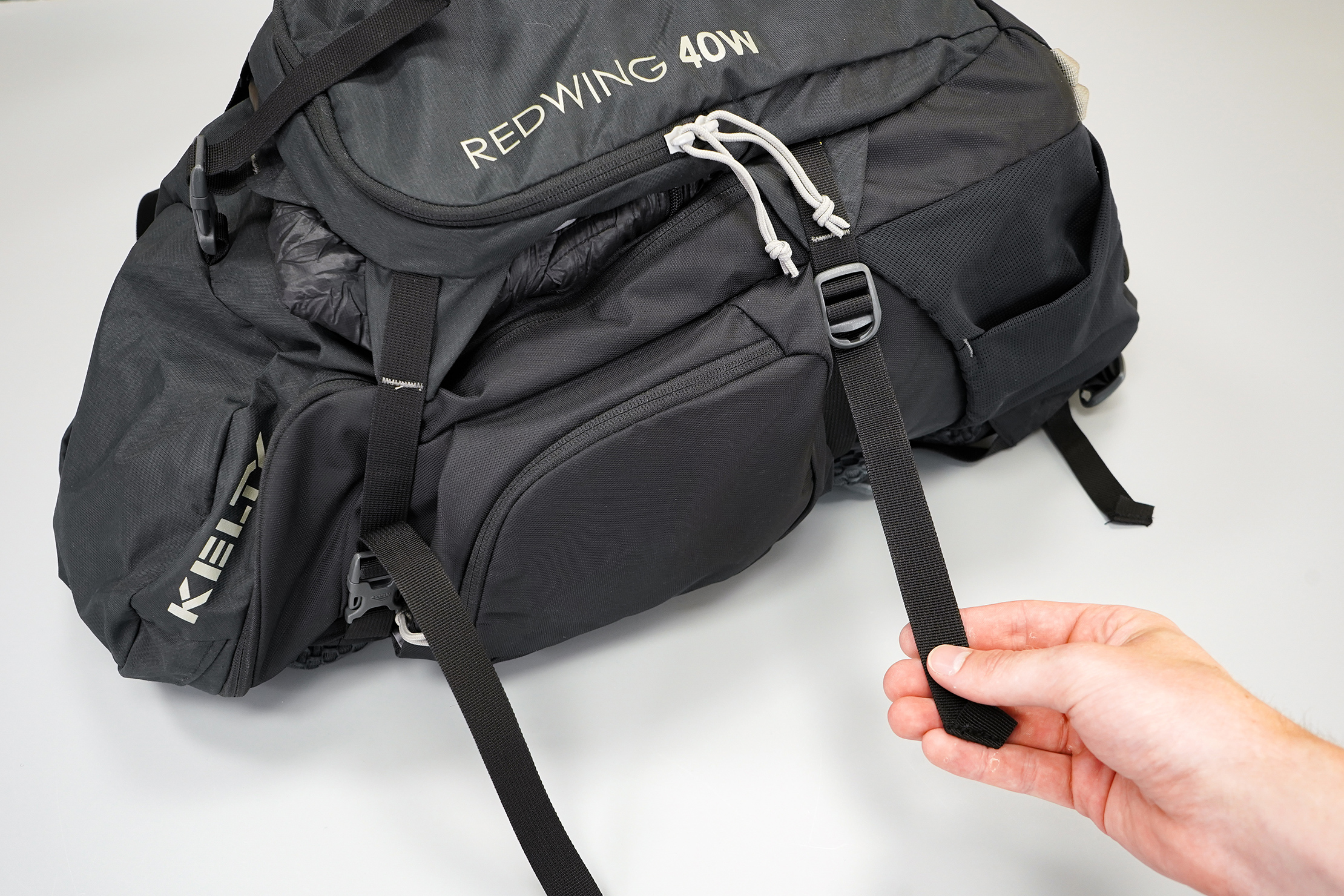 If you're also looking for a bag you can use as a daypack, then you're in luck. The Redwing 40 has four compression straps around the pack. These are super easy to use and do a great job at compressing the bag, however the same can't be said for the aesthetic or the "dangle-free" experience.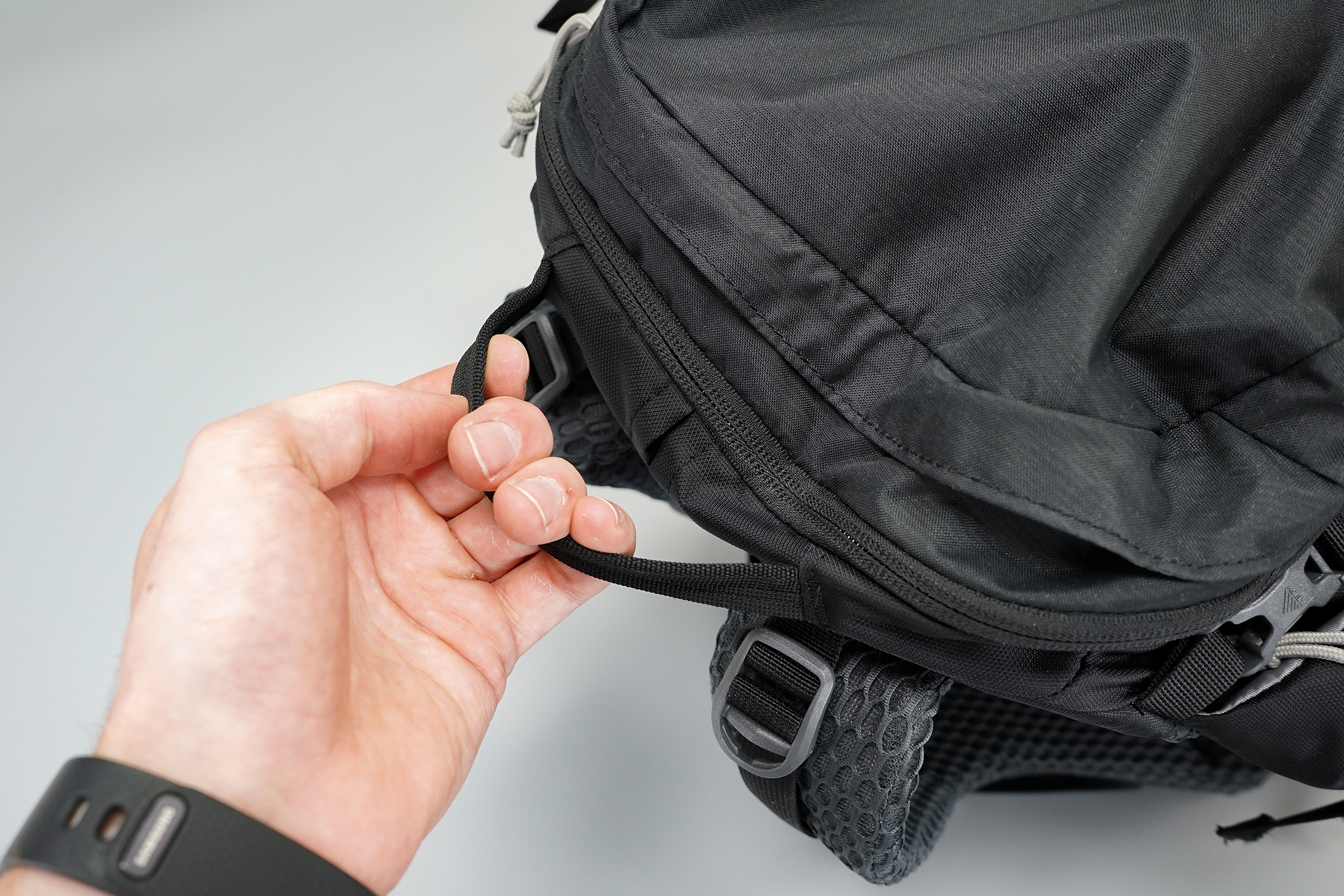 On the top of the pack, you'll also find a quick grab handle. This is pretty discreet, but it comes in handy if you need to pick up your pack in a rush. This handle can also be used to hang the pack up, so you won't need to lay this bag on the floor of a dirty airport bathroom!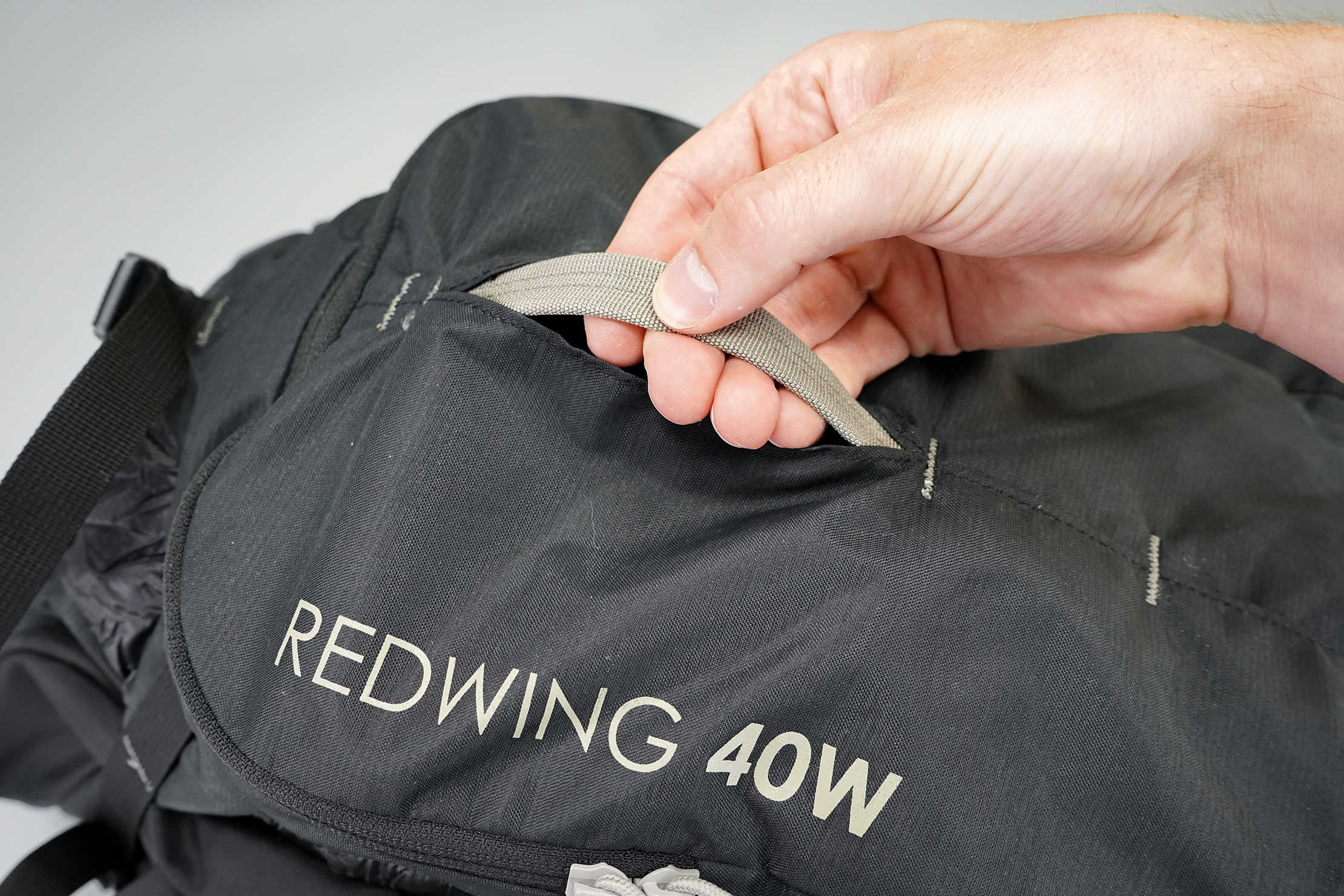 Moving on to the front of the pack, there's a hide-away daisy chain that doubles up as a handle. It's interesting that Kelty has decided to make this so discreet compared to some of the other features on the bag. While this is an innovative feature and it seemed like a great idea because there's so much going on, we often forgot it was even there.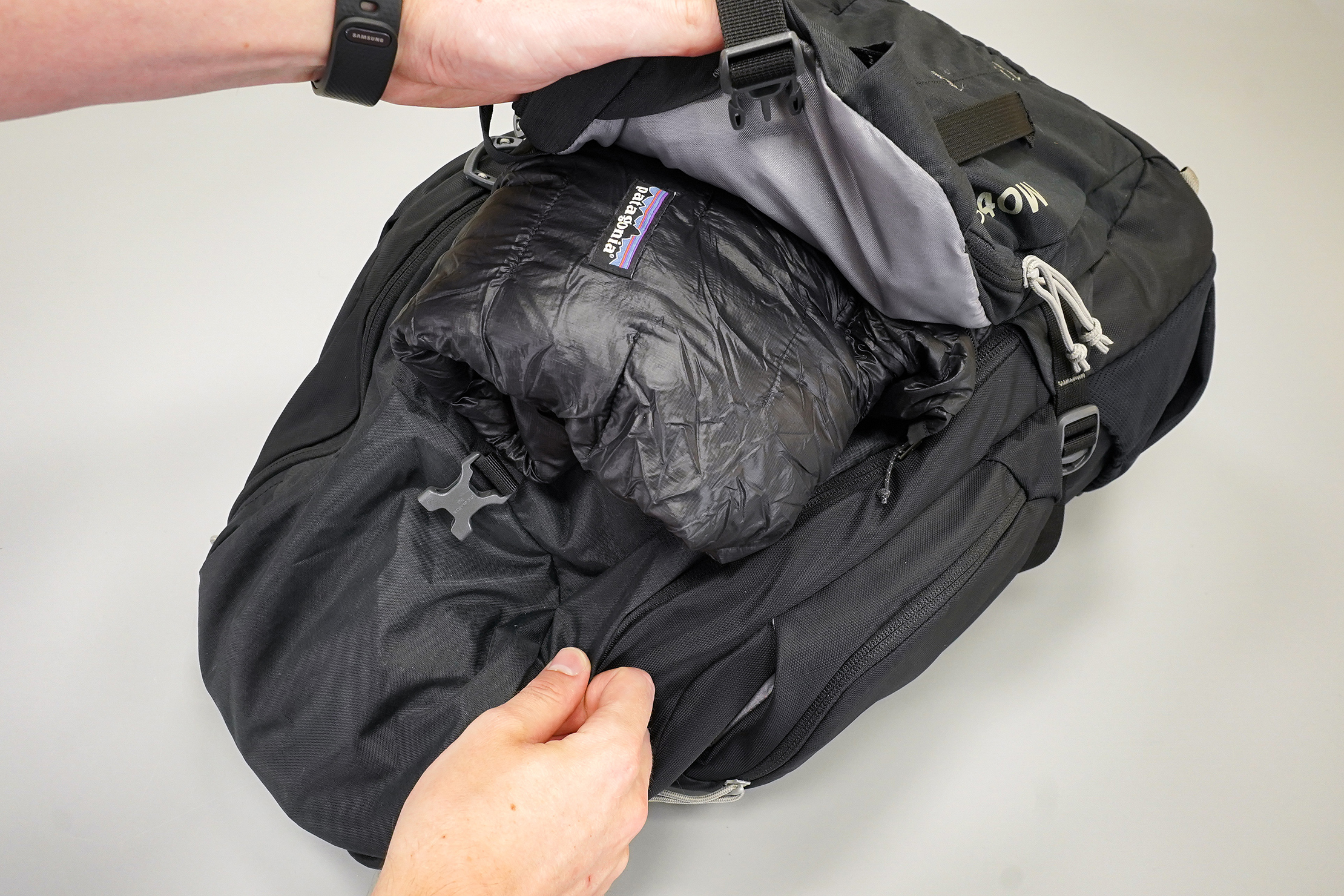 Behind this, there's a stasher pocket which can be accessed via a buckle. This comes in handy for "stashing" your jacket that you may want to grab quickly when you're out and about. It saves you accessing the main compartment and makes your experience more streamlined. This is similar to the stash pocket on the Osprey Daylite Plus.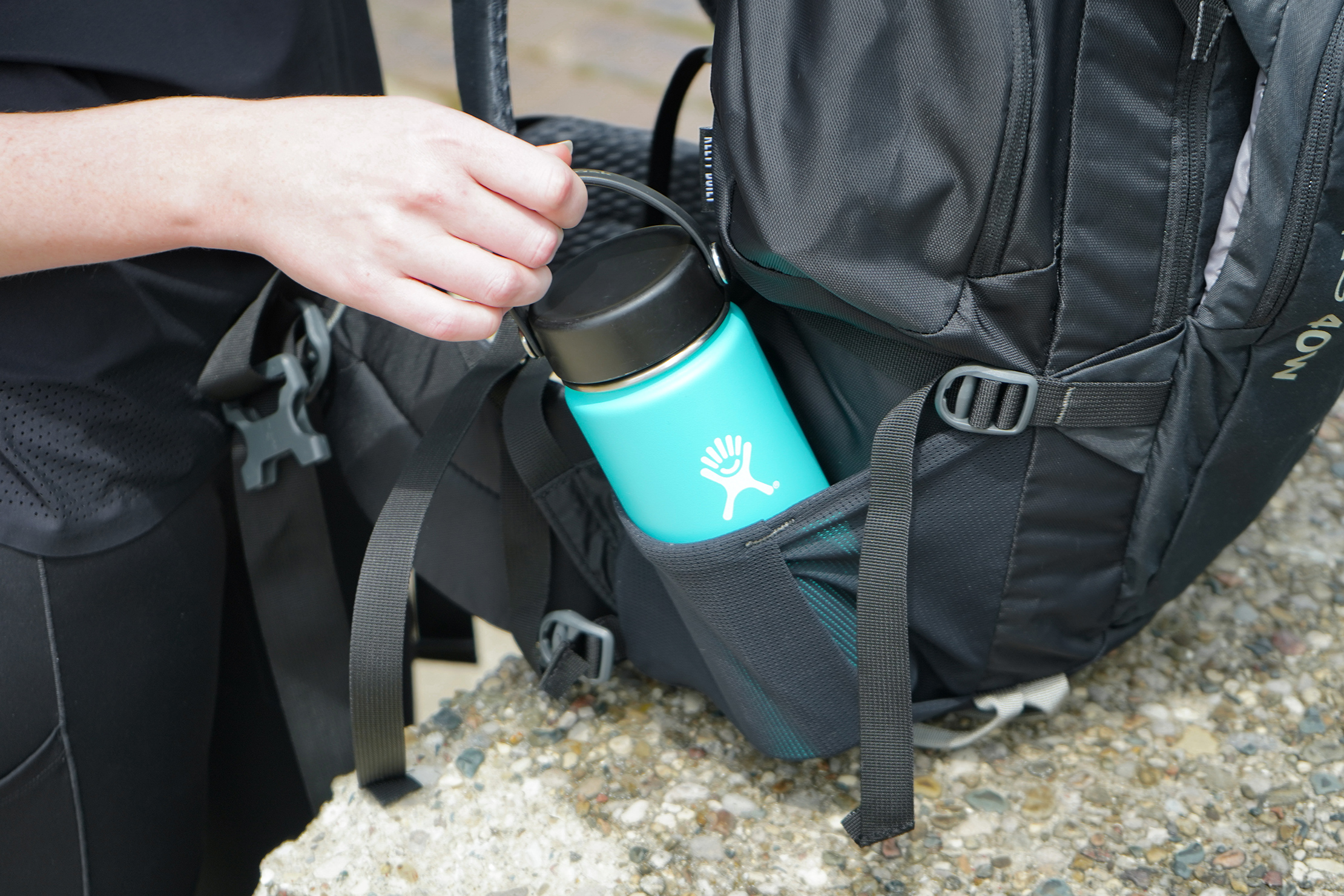 On either side of the pack, there are also two elasticated mesh water bottle pockets. These pockets are wide enough for bigger bottles and, while they're not very deep, you can use the compression straps to secure taller bottles or even a tripod.
Across the bottom of the pack, there are two rows of MOLLE. While we never found the need to use these ourselves, it's good to know they're there if you need them. Plus, they don't get in the way when not in use—so there's really no downside, other than the look.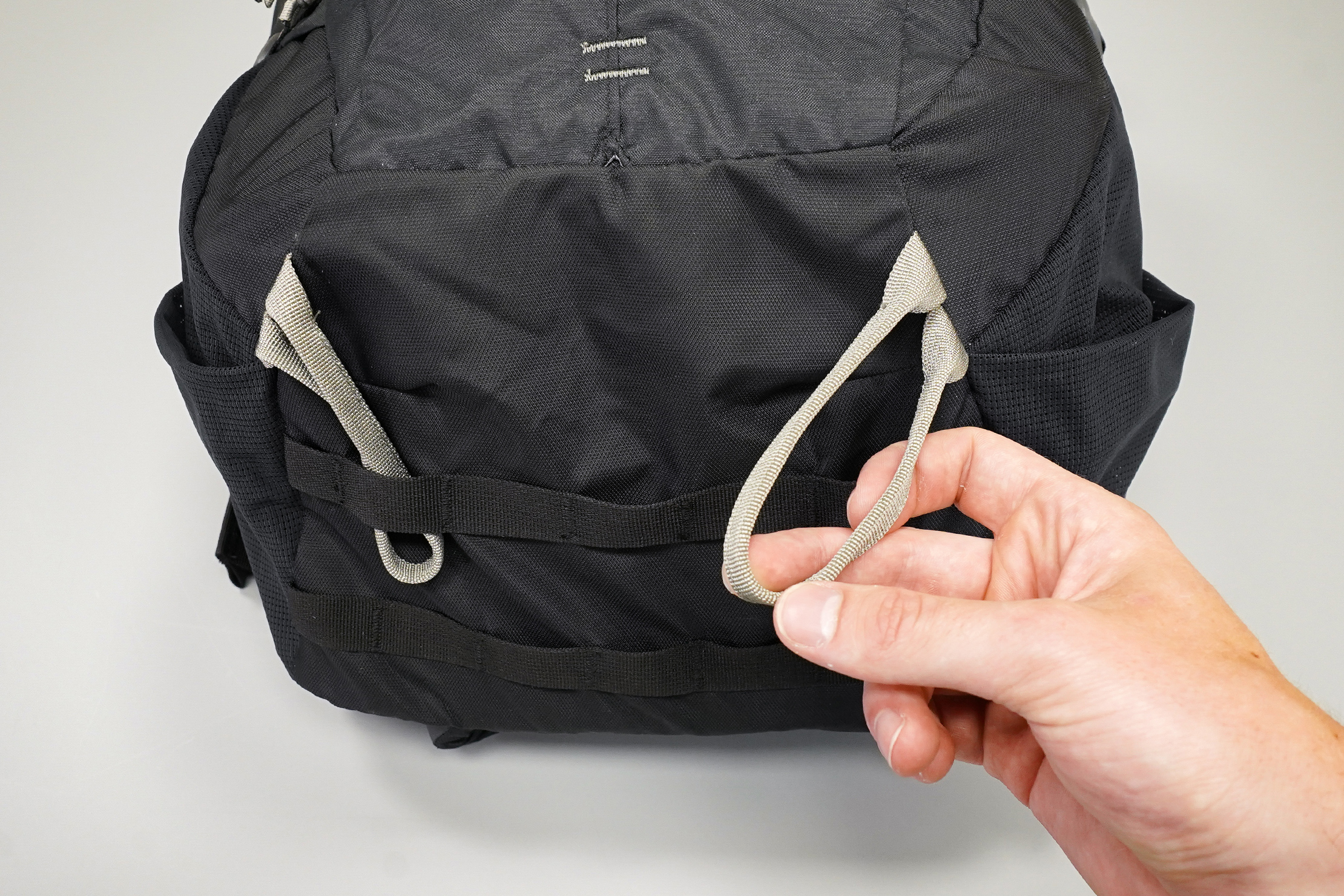 On either side of the MOLLE, there are two pole loops. These can be used to attach your ice axe or trekking poles to the side of the pack, using the compression straps to secure them. Again, we never found ourselves using these because we weren't exploring the Arctic during our testing. If anything, we thought they were pretty annoying as they're always dangling around the bottom of the pack. Luckily, you can easily tuck them into the MOLLE to keep everything nice and tidy—or if you really have a vendetta against pole loops, you could always cut them off.
Inside The Pack
If you're into organization as much as we are, you're going to dig this next section. Let's not waste any time and "dive" right "into" this pack. (Get it? We're going inside the bag!)

Right off the bat, you'll notice that the main compartment is essentially a large bucket that you can throw you a whole bunch of stuff into. Using the Hybrid-loading U-zipper design you have the option to access this compartment as a top loader or from the side. Due to this opening, we've found that packing cubes work well for keeping everything organized. And while the gray material inside this compartment helps to improve visibility, bright colored packing cubes would be even better for quickly finding your items.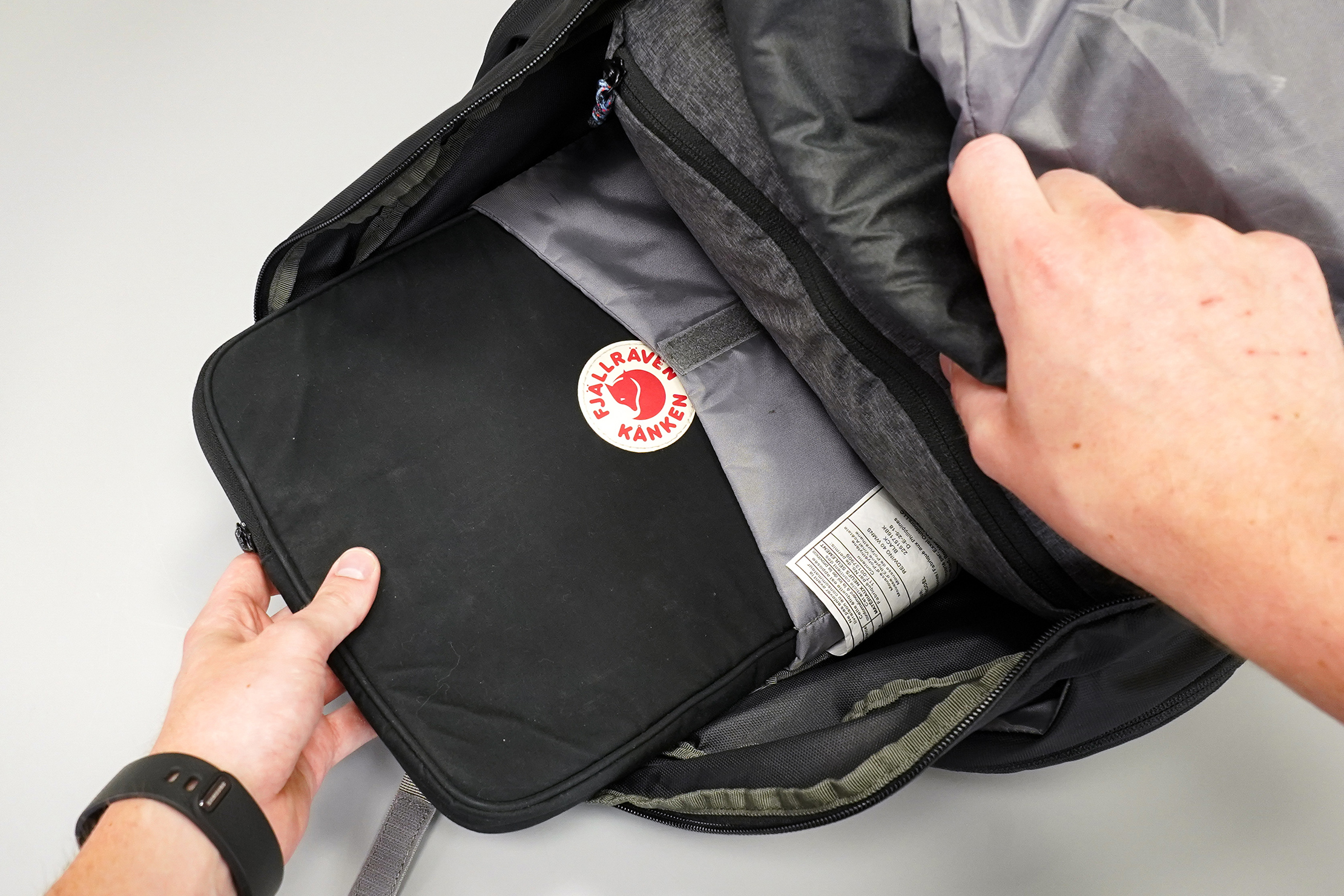 Inside the main compartment is a padded laptop sleeve that can also be used as a hydration sleeve. When used as a hydration sleeve, there's also a pass-through hole that leads to the outside of the pack underneath the quick grab handle and clips inside to stop it from falling to the bottom of the sleeve. As we've been using this pack in more urban locations, we've never utilized this feature—instead, we chose to use it as a laptop sleeve. This sleeve is big enough to hold laptops up to 15" and, providing your pack isn't at full capacity, it can be accessed from the top of the pack.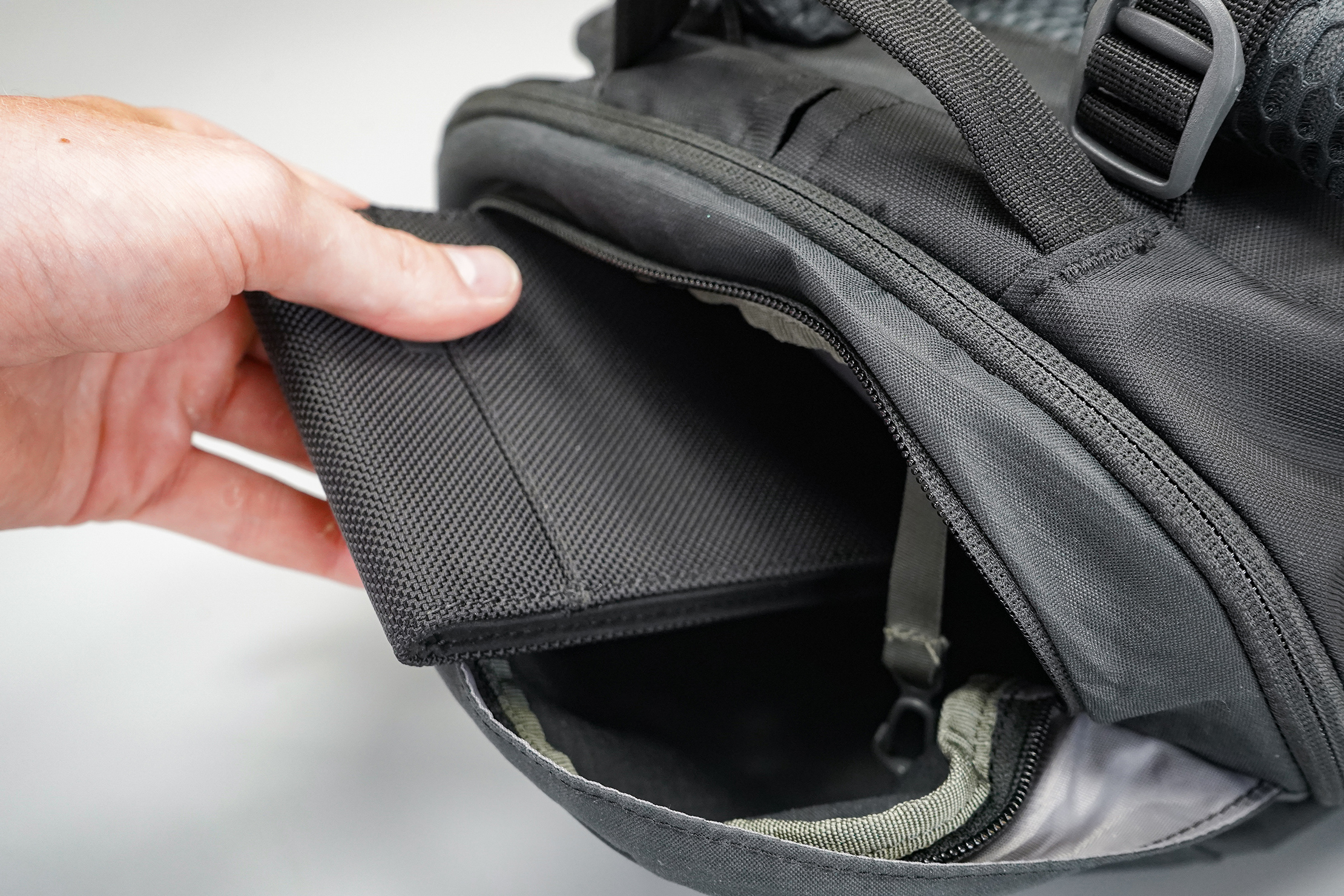 At the top of the pack is a stash pocket—basically, a compartment you can throw almost anything into. The size of this compartment has worked well for bigger items (we use it for our headphones) but it does lack some protection—unlike on a bag like the Thule Landmark, which has a "Safe Zone." That being said, we do like how discreet and secure it is, considering the opening is against your back while you're wearing the bag. This pocket also includes a key clip for keeping track of your keys, if that's your thing.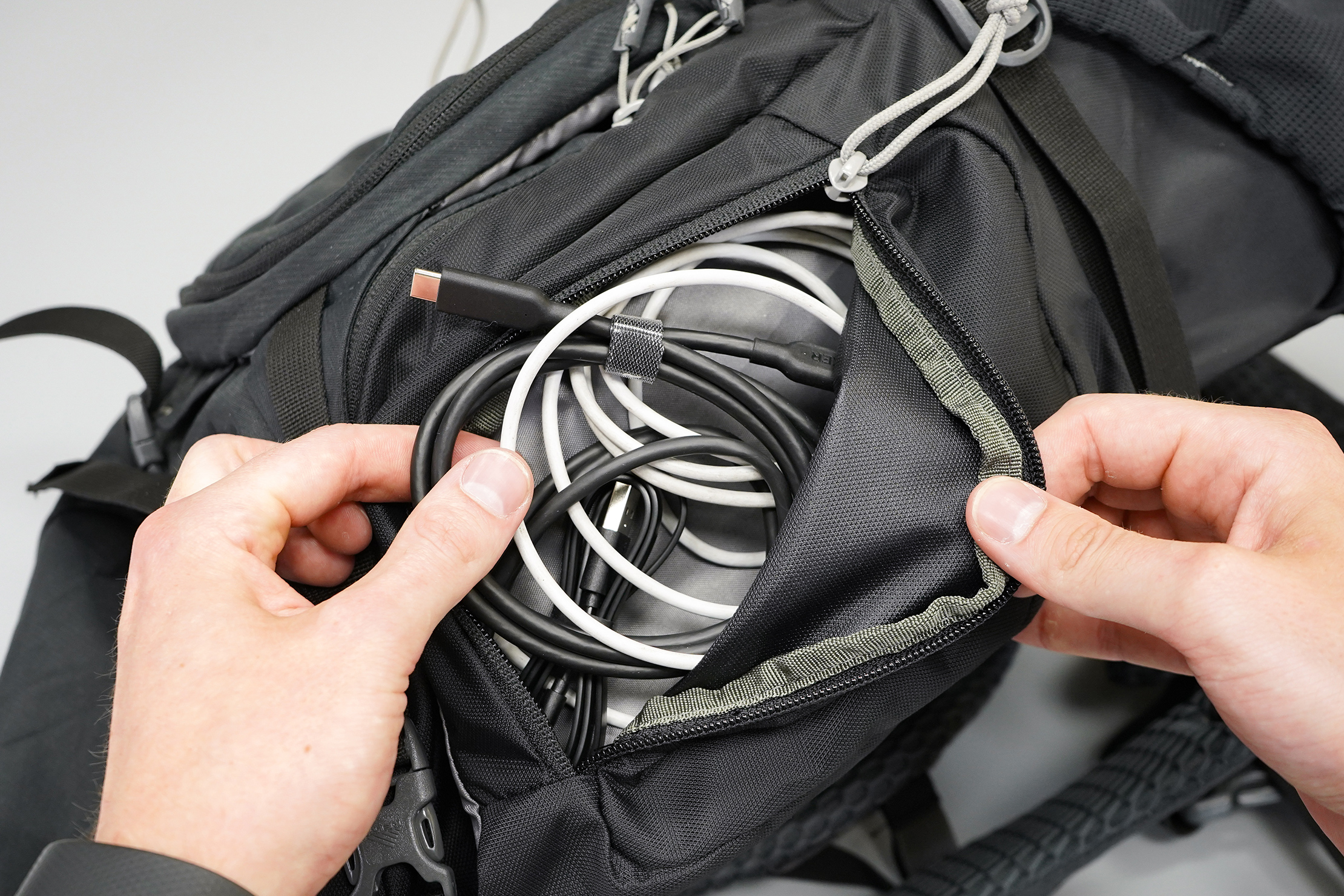 On either side of the pack are two zippered compartments above the water bottle pockets. We've found these handy for storing cables and chargers that you might need to access quickly.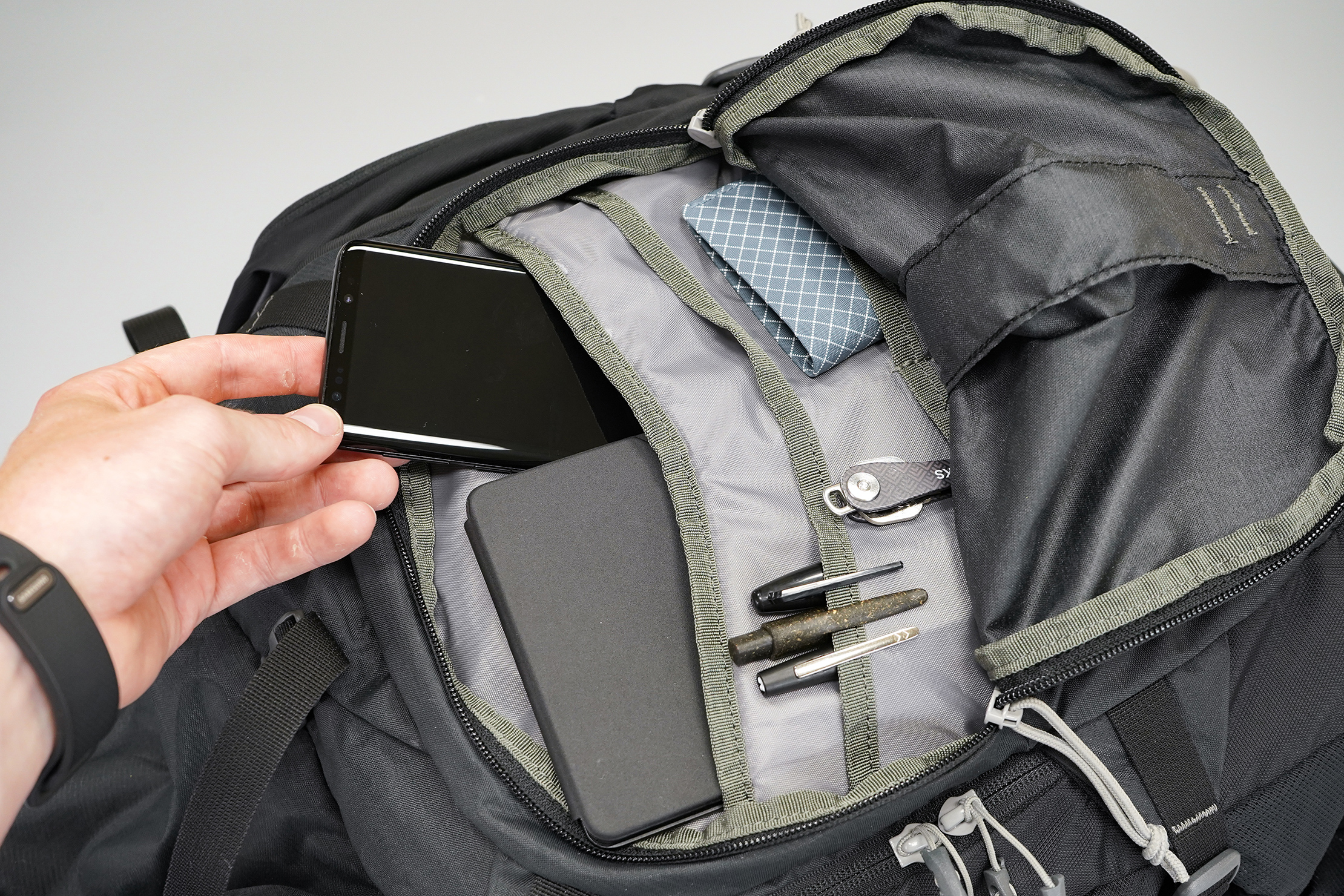 Now, on to the front pocket! Inside this pocket, there's some extra organization. The bigger fleece-lined pocket at the back will work well for tablets, books or flatter items. The two pockets underneath are the right size to hold a smartphone, wallet or a small notebook. And below this are two more pockets. These are smaller, and we've found ourselves using them for earphones, ROAV sunglasses and (you guessed it) snacks! In front of all this organization, there's some extra space where you can throw a compressible jacket or even a sling.
And if you've made it this far, then you get a crisp virtual high-five from all of us on the Pack Hacker team! This is a long one!
Durability & Testing
At the time of this review, we've been testing the Kelty Redwing 40 for around a month in and around Detroit. From our testing, it's clear to see that this wasn't designed with digital nomads in mind, but that's the reason it's sold as a backpack for adventures rather than for business.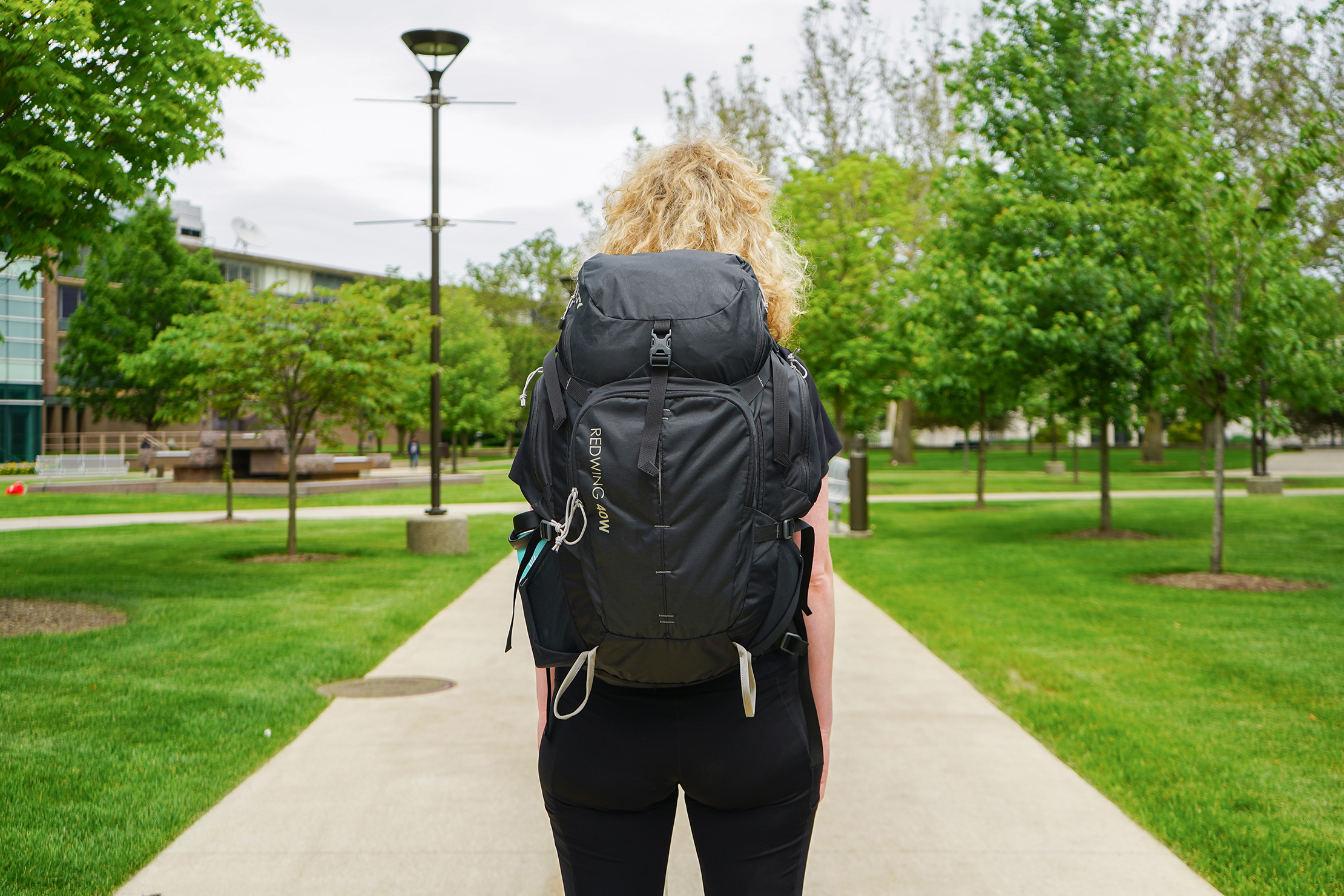 We've settled on the idea that this pack is suited more to the great outdoors, and that's okay. But regardless, if you're carrying a pack for long periods of time, you'll be happy with this one. The harness system is super comfortable and distributes weight evenly. Plus, it's fully adjustable so that you can find a fit that works for you and your body.
We do have to cover a few gripes, however. We've had some issues with the lack of padding in the rear compartment (the hydration sleeve/laptop compartment). Due to the curve in the frame sheet, we didn't want to risk using this compartment without a laptop case. It also left us concerned when we packed the bag to its full capacity because it puts a lot of pressure on the laptop. So far, we haven't actually seen any damage to a laptop, but it's important to note that some added protection would be welcome here.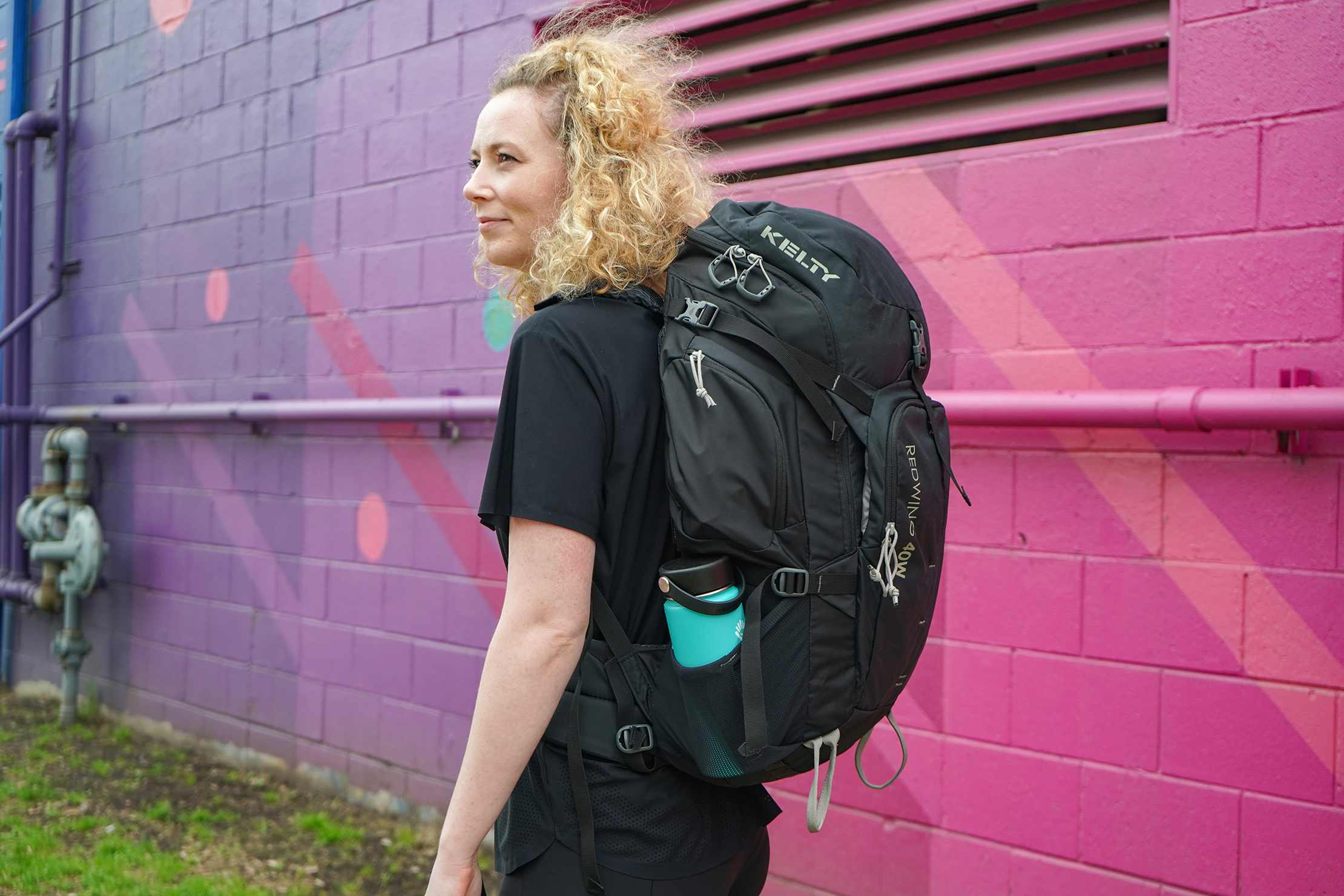 As we've mentioned before, this pack does not deliver a #danglefreeexperience. We've found ourselves gradually getting used to the busy-ness during testing, but…would we prefer a more minimal design? Yes. Is this more important than all of the other features this bag offers? For us, it isn't.
In the main compartment, when the compression straps are attached, the only access is through the top. If you want to use the side access the straps can be easily detached, but packing items you need quick access to at the top of the pack will make things easier for you.
And while the multiple pockets and compartments may look far from minimal, they do a damn good job. With all these compartments, you'll have quick access to all your essentials if you plan things out correctly—we rarely, if ever, needed to access the main compartment while out and about with this bag.
Usage Timeline
Initial Usage
Condition: Excellent
The harness system is quite comfortable and fits well.
Definitely has an "outdoorsy" aesthetic vibe going on.
We dig that the hip belt has multiple adjustment points.
The frame sheet is great, but we're wondering how the curve will feel with a laptop inside for prolonged periods of time.
2 Weeks of Use
Condition: Excellent
The dangling straps on the outside are a pain and do get in the way at times.
1 Month of Use
Condition: Excellent
Durability is looking good, and the harness system sure is comfortable.
Access the Pro Community Discussion
Get your questions about the Kelty Women's Redwing 40 Backpack answered from our team and the Pro Community right here on the page. Plus, join discussions with other members about gear, guides, and more.
Other Bags & Luggage Reviews