Hyperlite Mountain Gear Versa Ultralight Fanny Pack Review
Ultralight and durable, the Hyperlite Mountain Gear Versa is a great sling bag for EDC and travel—as long as you don't mind simple organization.
Our Verdict
Unlock the Pro Summary
Save time. Get access to brief summaries of our reviews so you can browse and make decisions more efficiently.
Pros
Durable, ultralight, and water-resistant
Versatile—can be a waist pack, sling bag, or accessory pouch
Stowable/detachable strap is a nice touch
Cons
Fabric is crinkly
Organization may be too simple for some
Plastic-bag vibe
Technical Details
100 %
Carry-On Compliance
Capacity

2.25l

Weight (lb)

.18 lb (0.1 kg)

Dimensions

6 in x 9 in x 2.25 in (15.2 x 22.9 x 5.7 cm)

Notable Materials

Dyneema®, Nylon, YKK Zippers, YKK Buckles

Manufacturing Country

United States
Full Review
The Hyperlite Mountain Gear Versa Ultralight Fanny Pack isn't afraid of labeling itself as a fanny pack. Because the Maine-based company knows that fanny packs—also called waist packs—are super convenient for daily carry, outdoor adventures, and urban travel alike.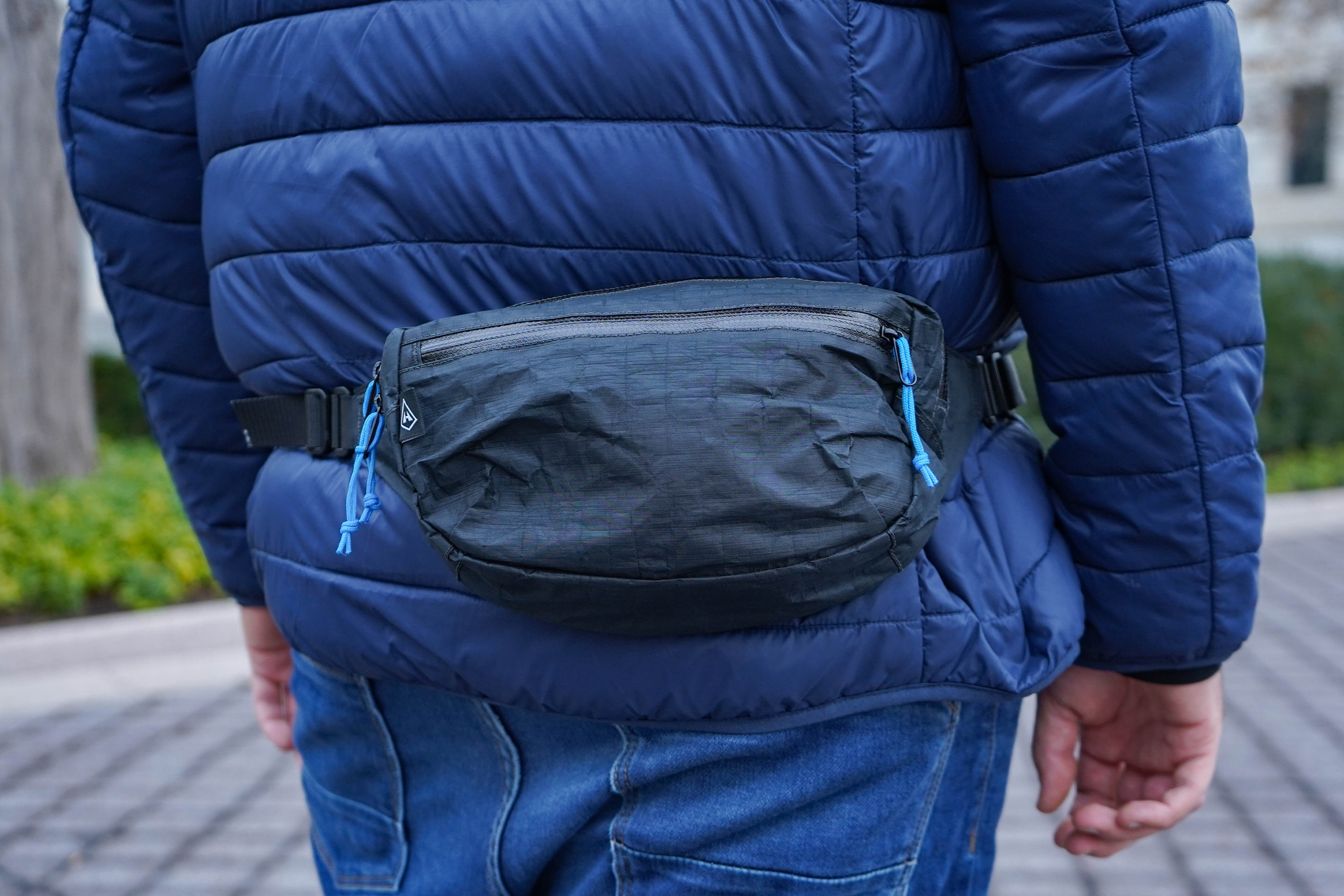 But if you're not ready to embrace the fanny pack trend, don't click away just yet. The Versa has also been designed to work as a sling bag, organizer pouch, or an external accessory you can attach to a backpack.
And—as its name suggests—this thing is ultralight (2.9oz), which you have to admit is awesome. But we're getting ahead of ourselves. First, let's take a look at this waist pack's aesthetic.
Materials & Aesthetic
Beauty is in the eye of the beholder—a phrase couldn't be more fitting when talking about waist packs, which are nearly as controversial as the man bun. You either love that they're back in style or feel embarrassed when you see someone rocking one out in the wild.
And the fact that the Hyperlite Mountain Gear Versa is made of a crinkly material means it's even more polarizing. Even the team here at Pack Hacker is split. Some of us see this waist pack and think plastic bag, while others don't mind it. Especially considering all of the benefits of the material, which we'll discuss in a moment.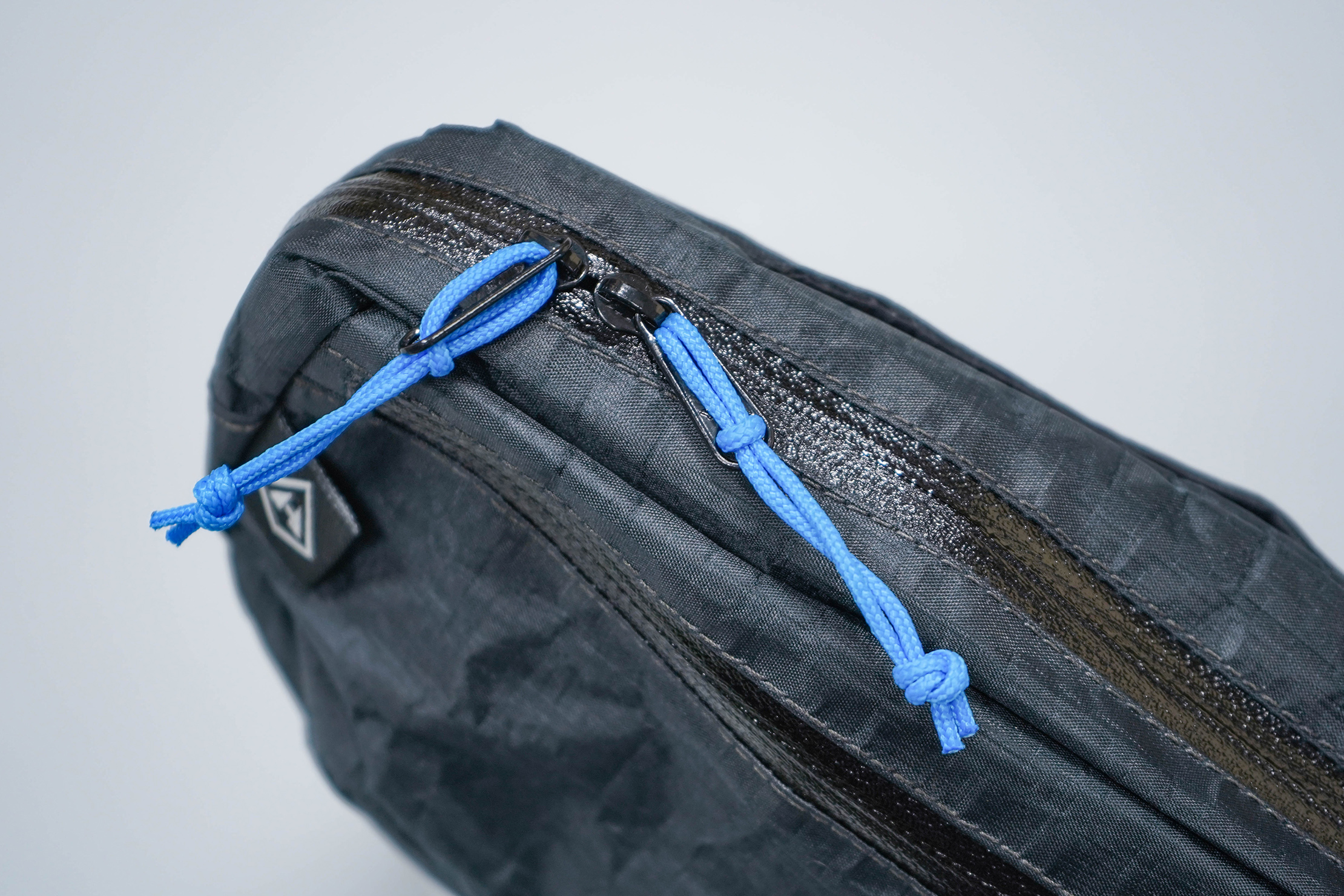 All of us like its shape and size. It's not oversized, so it sits nicely slung around the hips or across the chest/back. At the time of this review, it's only available in one colorway—a grayish black. We're digging it, as well as the blue accent color on the zipper pulls.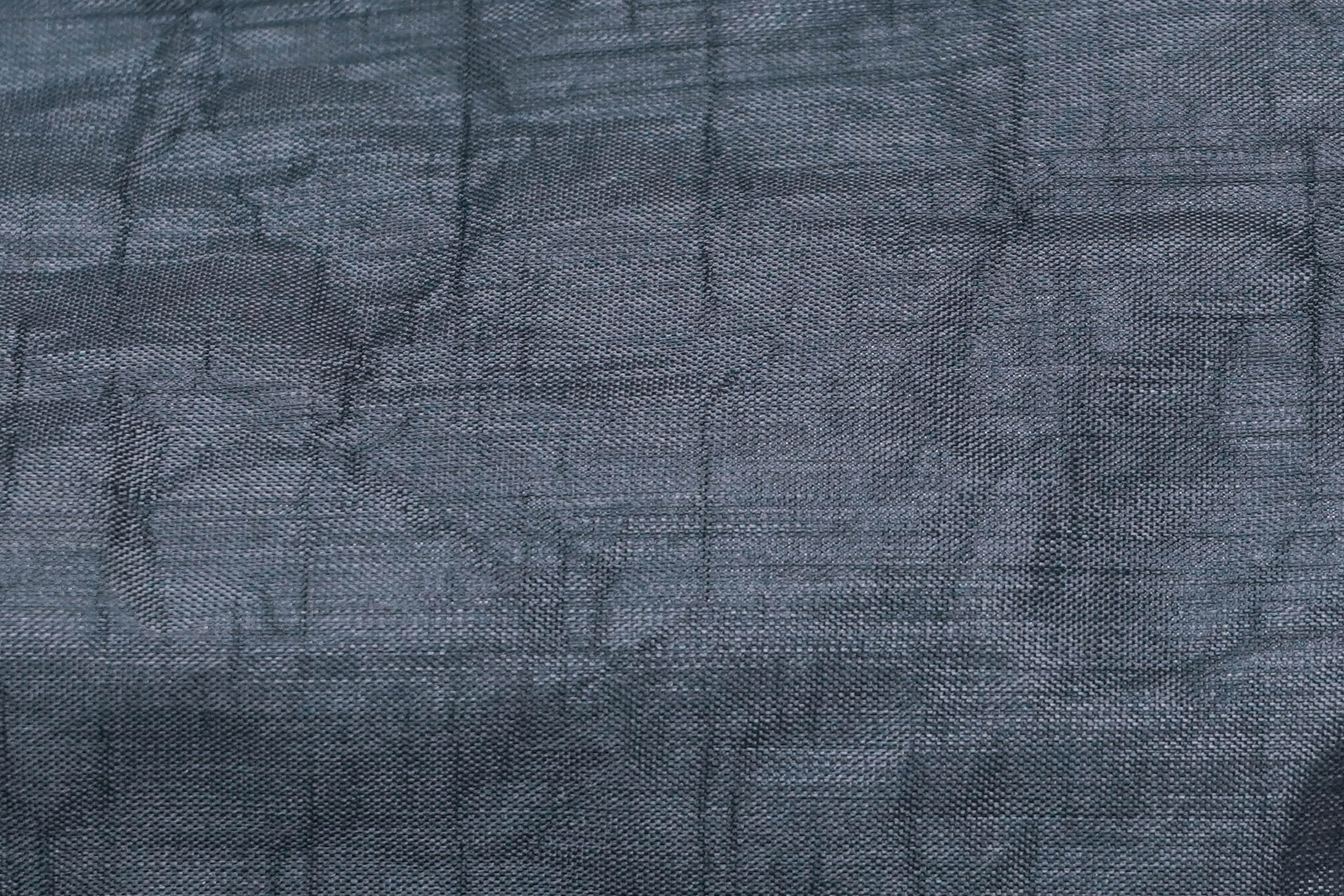 Alright, let's talk about the crinkly fabric that's oh-so polarizing. This waist pack is made of 50D polyester that's been laminated with Dyneema® Composite Fabric backings, which makes it incredibly tough, durable, water-resistant, and lightweight. The strength-to-weight ratio of Dyneema® is extraordinary—its tensile strength is 15 times greater than steel (!).
Built with outdoor junkies in mind, the Versa should last you quite a long time—even though it's so lightweight that it doesn't feel like it would.
The water-resistance is helped by the YKK #3 AquaGuard® zippers on the front and main compartments. To be clear, it's not a waterproof dry bag. Don't take it white water kayaking and expect your phone to stay dry. But you should be all set if you get caught in a rainstorm. Beyond being water-resistant, the zippers are high-quality. They have a great seal and zip smoothly.
Finishing off the materials, you'll find a YKK buckle. YKK is a trusted brand, so you likely won't run into any problems here.
External Components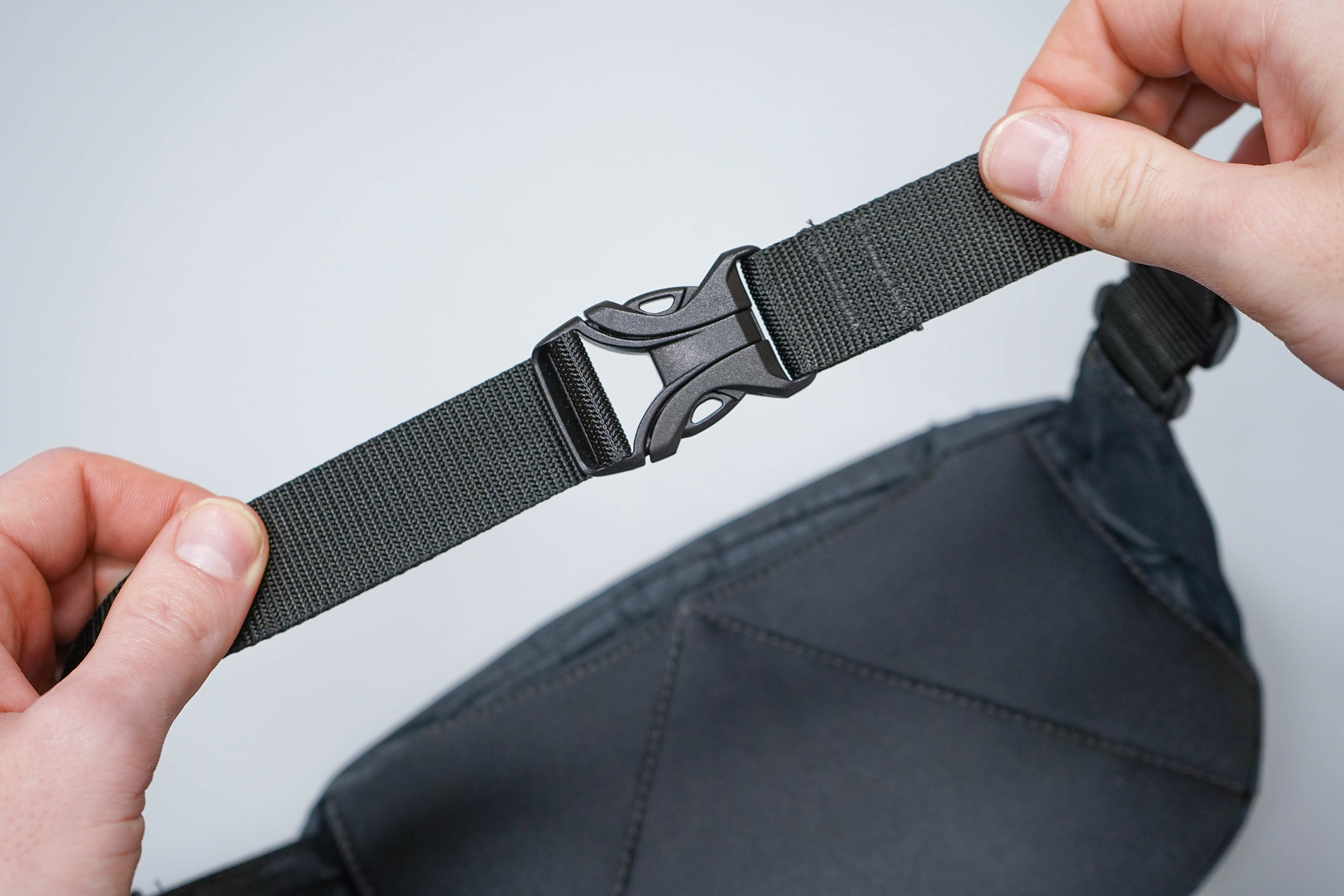 First up, let's talk about the strap. It's a solid 1'' strap that's comfortable whether you're wearing this thing across your back, chest, or hips. Of course, it's adjustable, so you can find the best fit for you, and it's removable. Best of all, it has a strap keeper for that precious #DangleFreeExperience.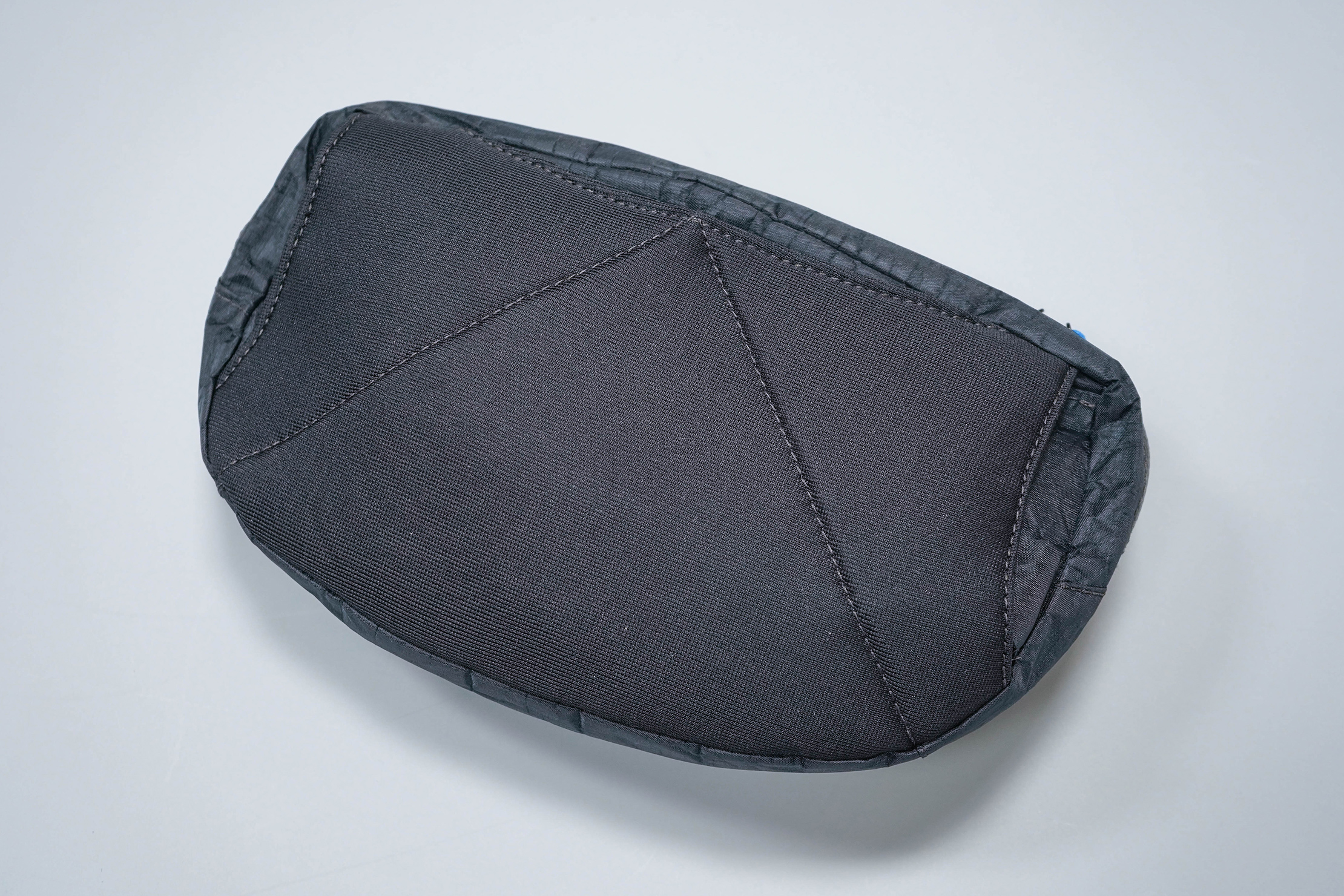 The back panel has a small amount of padding and coupled with the flexibility of the waist pack, the Versa wears really well. It conforms to the shape of your body—no matter which way you wear it.
Tucked into the back panel is a stash pocket that's large enough to fit oversized smartphones. Smaller items may fall out of the pocket since it's also been designed for you to stuff the entire strap when you want to convert this thing into an accessory pouch. Or, if you've detached the strap, you can tuck the attachment wings/tabs here too.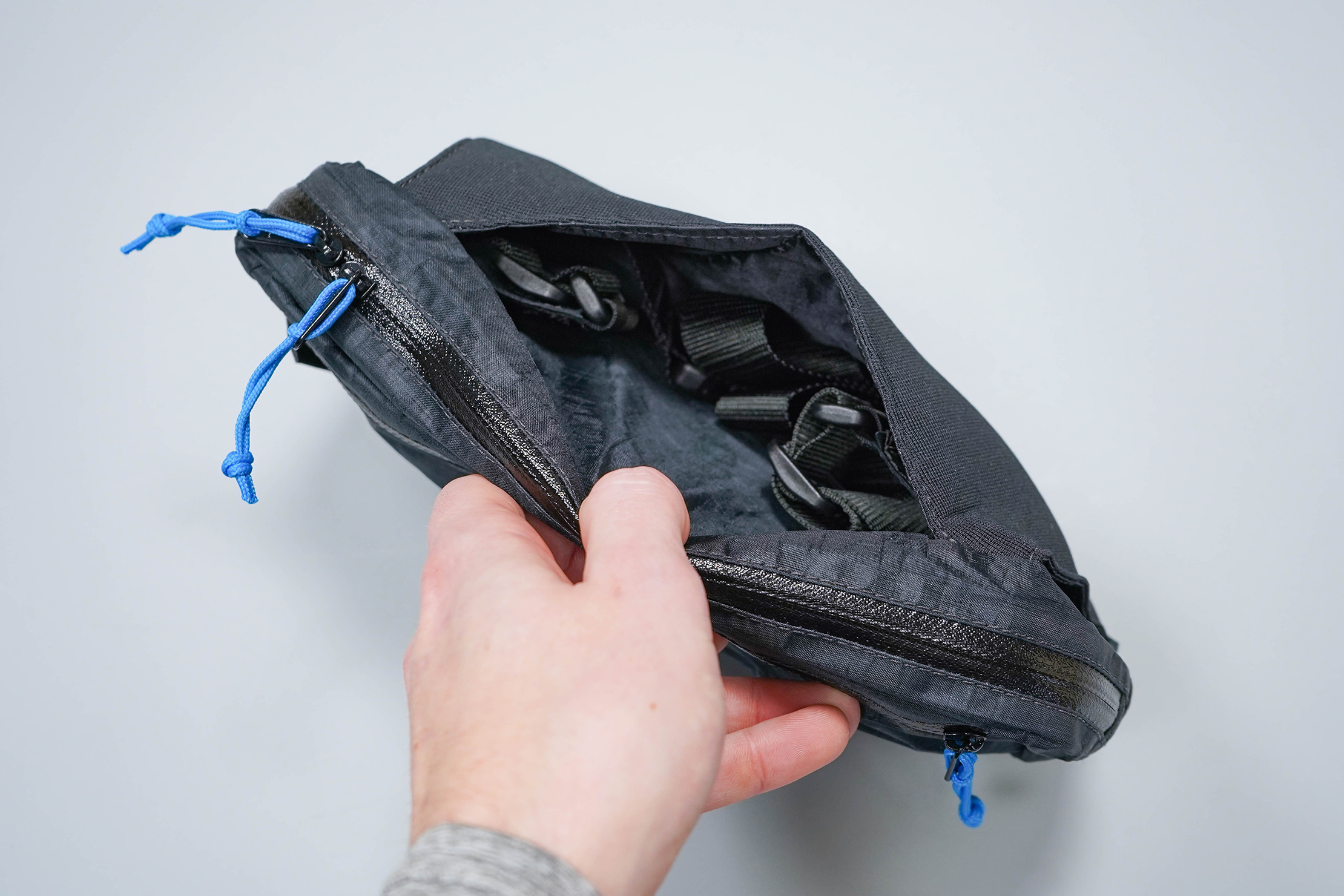 We dig this feature—it makes packing your sling bag so much easier. The straps on sling bags and waist packs can take up space or get caught on things in your backpack, so being able to either remove or hide the strap is a major plus. And, considering how lightweight this pack is, it really is an ideal travel companion.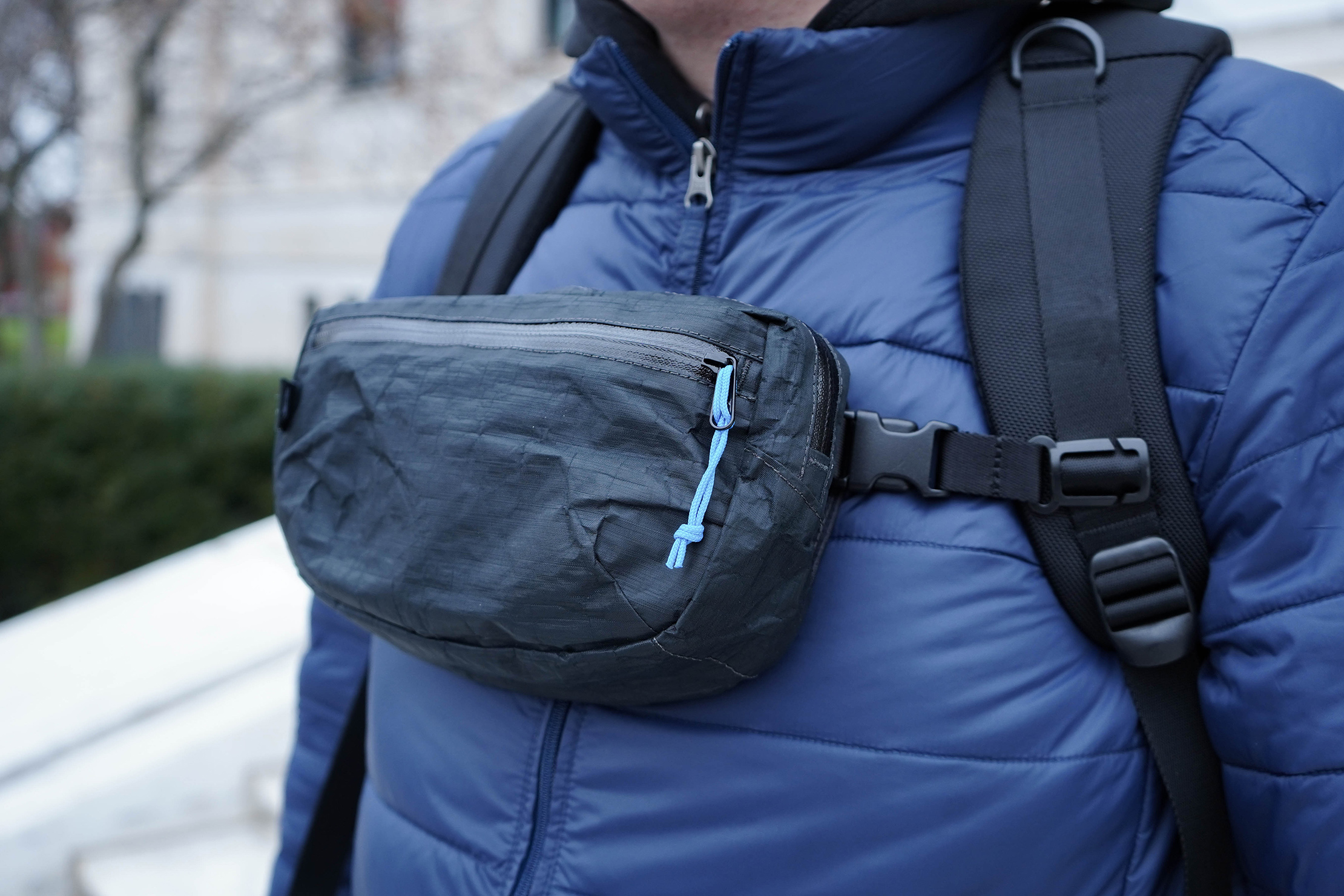 You can also feed a sternum strap or hip belt through this stash pocket, securing it to your pack. In testing, this has worked well. It's been designed so that when you have this thing attached to your hip belt or sternum strap, the open-top gives you access to the buckle so you can take your pack on and off easily.
It's not the best aesthetic for urban travel—it does look a little odd—but all the more power to you if you're willing to rock it while strolling the streets of Tokyo. It's especially great for hikes or other outdoor adventures. Say what you will about bears, but they're very nonjudgmental when it comes to fashion choices (or at least we can't understand them when they make fun of us).
Inside the Waist Pack
The folks at Hyperlite Mountain Gear have kept things simple…perhaps a little too simple. Especially if you're the type of person who likes to have a spot for everything.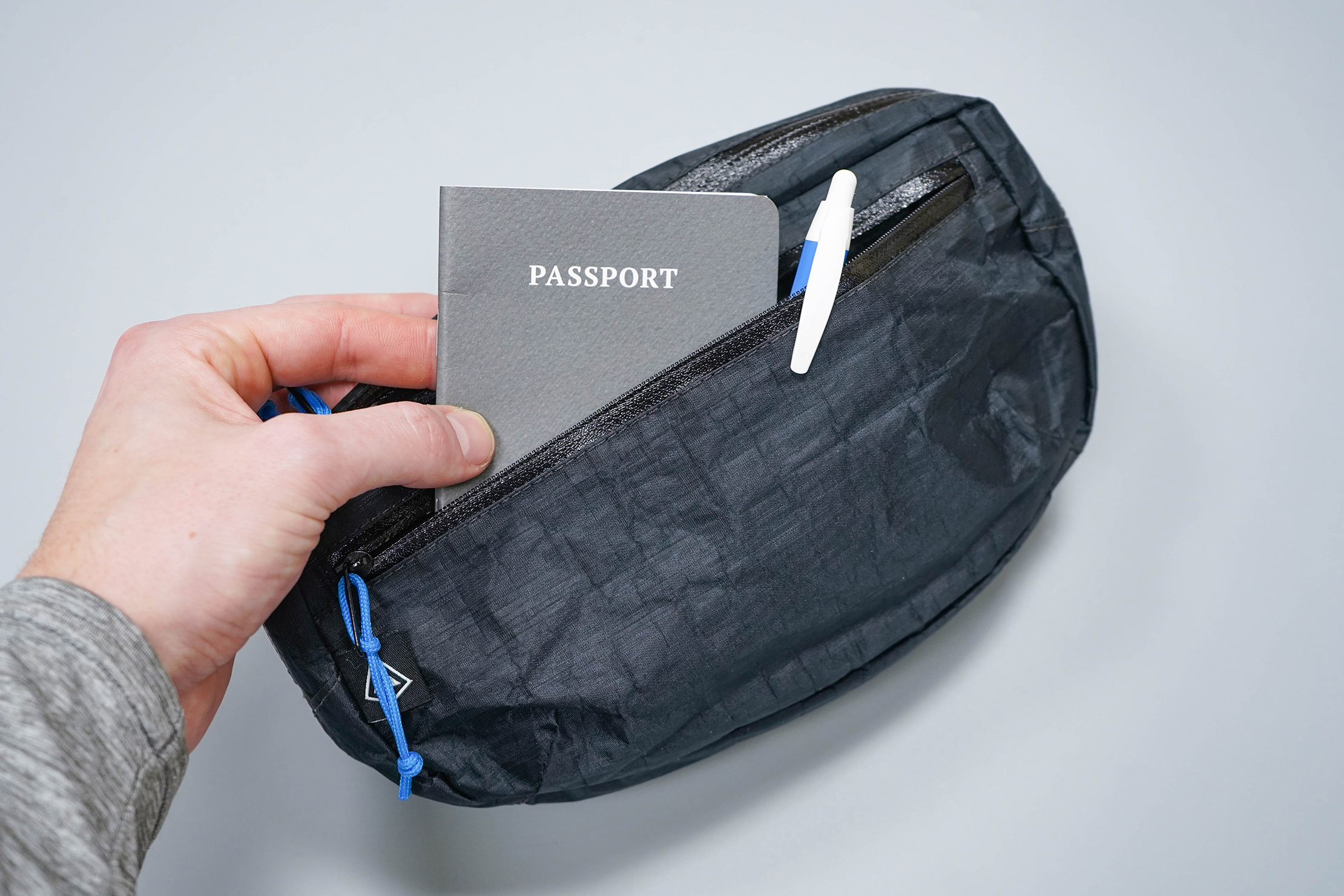 The front pocket is a great spot for those quick-grab essentials: wallet, snacks, AirPods, chapstick, etc. It has no further organization inside of it—which we're okay with—though, again, you may find it annoying.
And that brings us to the main compartment. While the waist pack does a nice job laying flat when not fully packed-out, it expands enough to hold a decent amount of stuff. There's plenty of space inside for those everyday essentials and then some.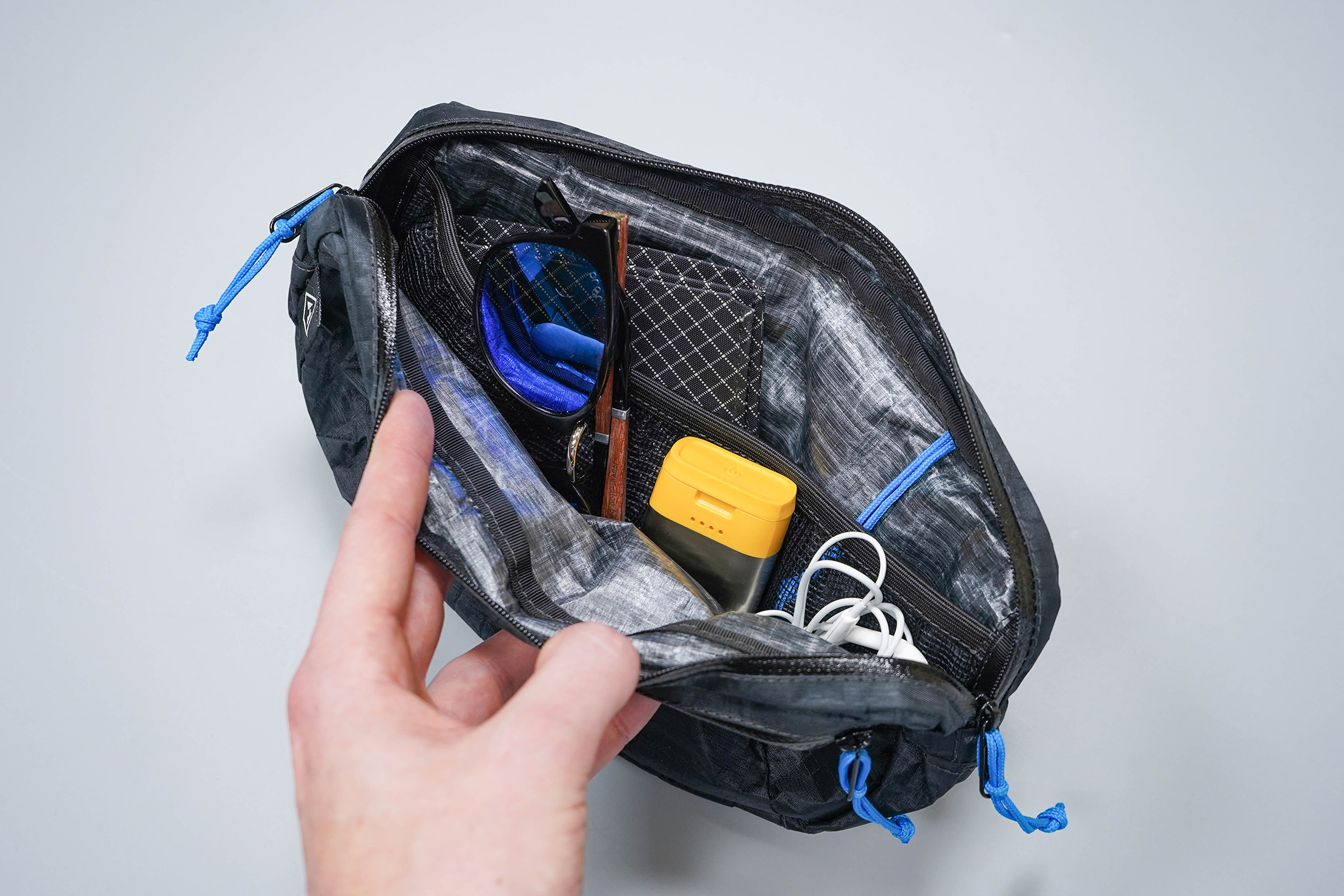 Hyperlite Mountain Gear says you can carry camera batteries, bear spray, medicine, and maps in this compartment. But if you're not going to be using it in the Great Outdoors, it's also a good spot for your keys, sunglasses, tech chargers or cables, a small notebook, etc.
Inside, there's not much going on as far as organization is concerned. There's a long mesh sleeve against the back, which helps you arrange some of your stuff. But your smaller accessories may still get lost or trapped in the corners of the compartment.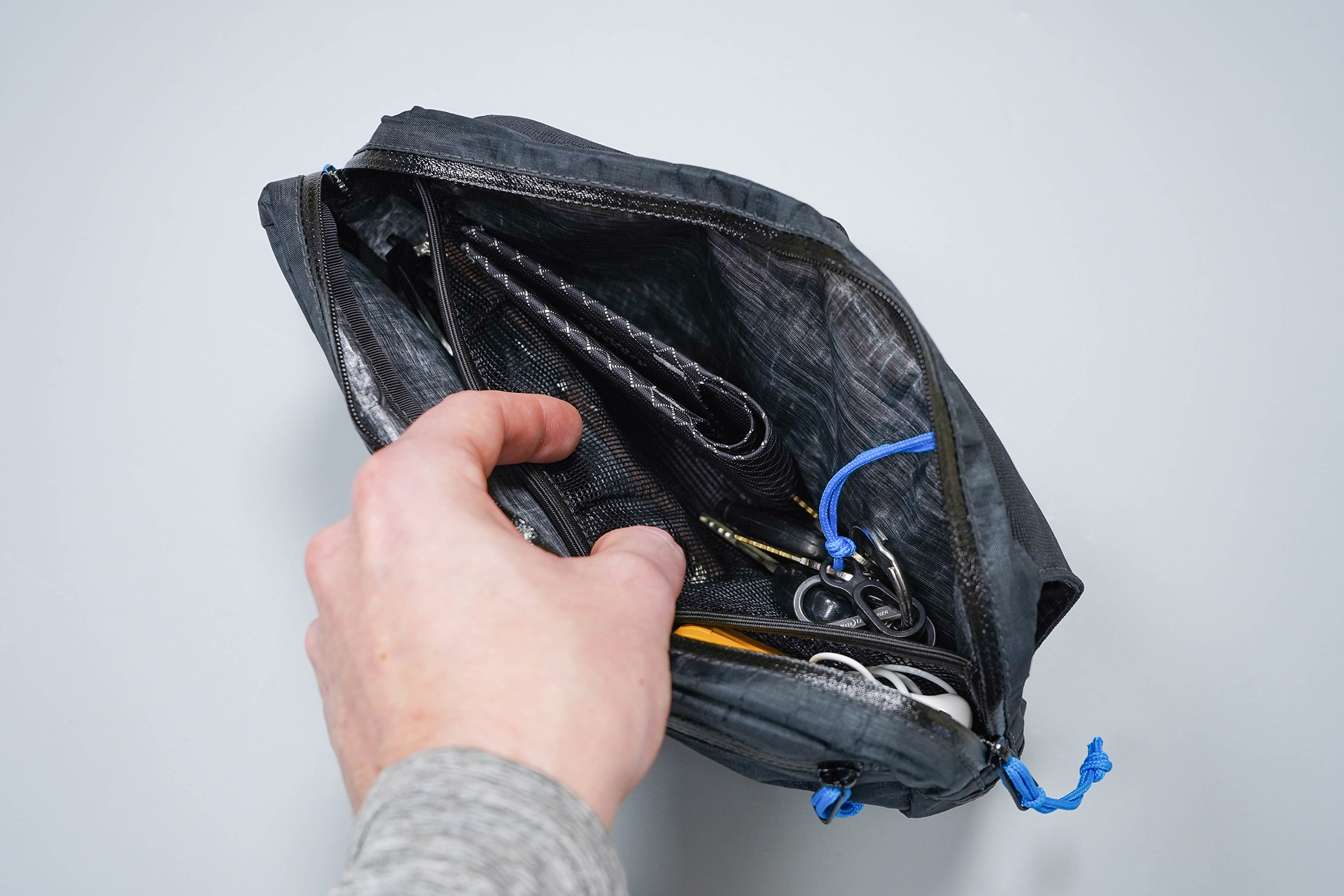 We like that you can throw whatever you want inside this space, so we wouldn't want too much more going on, but we would've liked at least one more pocket. Perhaps the long mesh pocket could be split into two, smaller pockets. At the end of the day, though, we're not too bothered by this lack of organization. You can always throw in small accessory pouches if you want to get super organized.

There's also a plastic key clip in this compartment. We're not usually fans of plastic key clips—we worry about longevity—but we'll let the folks at Hyperlite Mountain Gear off since this waist pack has been designed to be ultralight. A metal key clip would definitely ruin that. And we love that it's attached with the same fun blue cord as the zipper pulls.
Durability & Testing
We've been testing the Hyperlite Mountain Gear Versa Ultralight Fanny Pack for approximately three weeks in Detroit, Michigan, wearing it as both a sling and a waist pack. It's a great size for holding the essentials and a little extra—phone, wallet, keys, headphones, with plenty of space to spare. It would make a great personal item on a flight.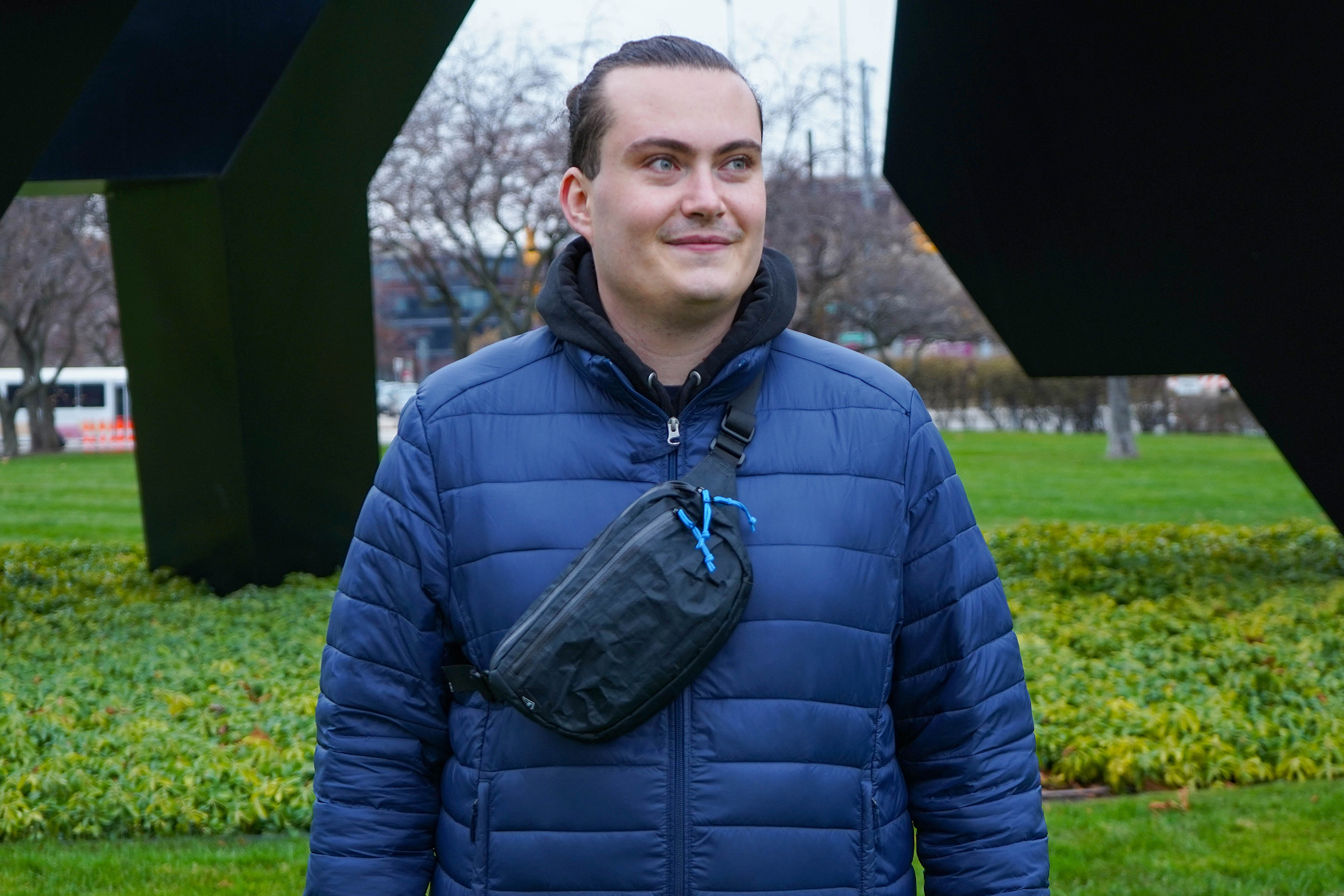 We're really digging its overall versatility—that you can wear it as a fanny pack and a sling, but also use it as an accessory pouch or attach it to your backpack.
Everything is still looking as good as new, which isn't a surprise coming from Hyperlite Mountain Gear. The craftsmanship on this waist pack is great and it's made of some tough stuff—it should treat you well for years to come.
Usage Timeline
Initial Usage
Condition: Excellent
Unbelievably lightweight
Waterproof and durable materials
The material is crinkly and a little loud when accessing the pack
2 Weeks of Use
Condition: Excellent
Impeccable craftsmanship—everything is looking good so far.
Access the Pro Community Discussion
Get your questions about the Hyperlite Mountain Gear Versa Ultralight Fanny Pack answered from our team and the Pro Community right here on the page. Plus, join discussions with other members about gear, guides, and more.
Other Bags & Luggage Reviews