Herschel Supply Co. Tour Hip Pack (Small) Review
Simple and durable, the Herschel Supply Co. Tour Hip Pack (Small) is great for carrying the bare-minimum essentials—we only wish it had interior pockets.
Our Verdict
Unlock the Pro Summary
Save time. Get access to brief summaries of our reviews so you can browse and make decisions more efficiently.
Pros
Versatile carry
Made from quality, durable, water-resistant materials
Zipper pulls are grippy and ergonomic
Cons
Lacks internal organization
Front compartment access is slow
Won't hold more than the bare-minimum essentials
Recent Pack Hacker Video
Technical Details
100 %
Carry-on Compliance
Capacity

1l

Dimensions

5 in x 7 in x 2.5 in (12.7 x 17.8 x 6.4 cm)

Notable Materials

Ballistic Nylon, Nylon Dobby, YKK Zippers, Duraflex Hardware

Manufacturing Country

Vietnam

Warranty Information
Full Review
Today we're going to take a look at the Herschel Supply Co. Tour Hip Pack (Small), a small (1L) and simple waist pack that'll hold the essentials—and only the essentials.
Note that there is a medium-size if you need some more room, although we'll be focused on the small size in this review.

We've been testing the small Tour Hip Pack as a daily driver for a couple of weeks in the Motor City, rocking it as both a waist pack and sling bag (across the chest/back). It rides comfortably both ways.
So how has it fared? Read on.
Materials & Aesthetic
So the Tour Hip Pack (Small) looks like your quintessential waist pack, if a bit squarer. If you like the waist pack (hip pack, fanny pack) trend then you'll probably embrace the look of this little guy. If you're less enthusiastic then we're not sure why you're reading about a waist pack? (It's our beautiful prose and exquisite photography, isn't it?)
Anyway, it's available in six colorways at the time of this review, including the understated black we've been testing and a Woodland Camo that's more of an attention-grabber.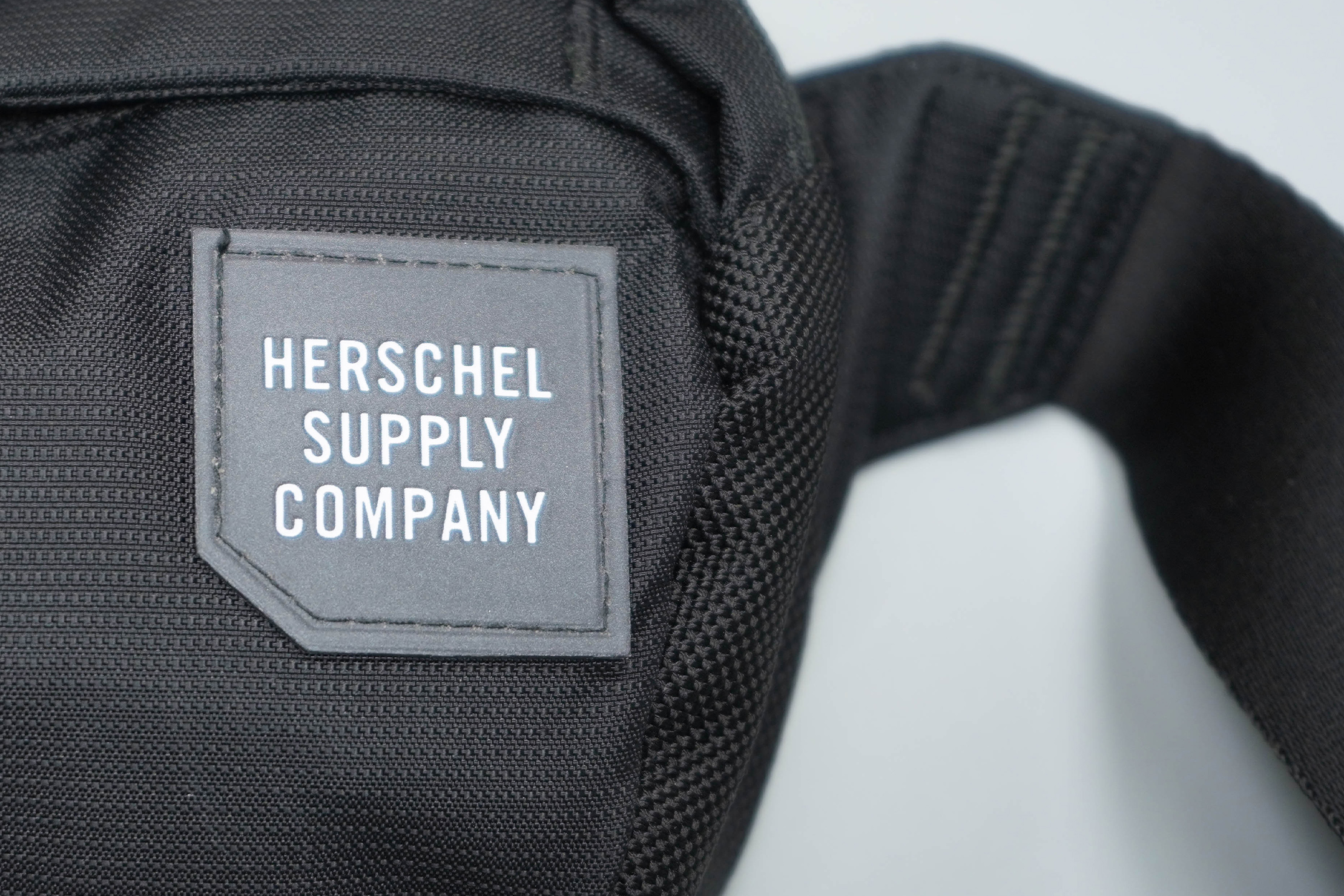 On some of the colorways the logo tag is bright white and a bit too noticeable for our taste, but we're digging the black logo tag on the black bag we've been testing. The dimensions of the bag are embroidered into the front of it, which is…okay. We're not sure why that's a thing—so you'll know the exact dimensions if someone asks?—but it doesn't detract from the overall look.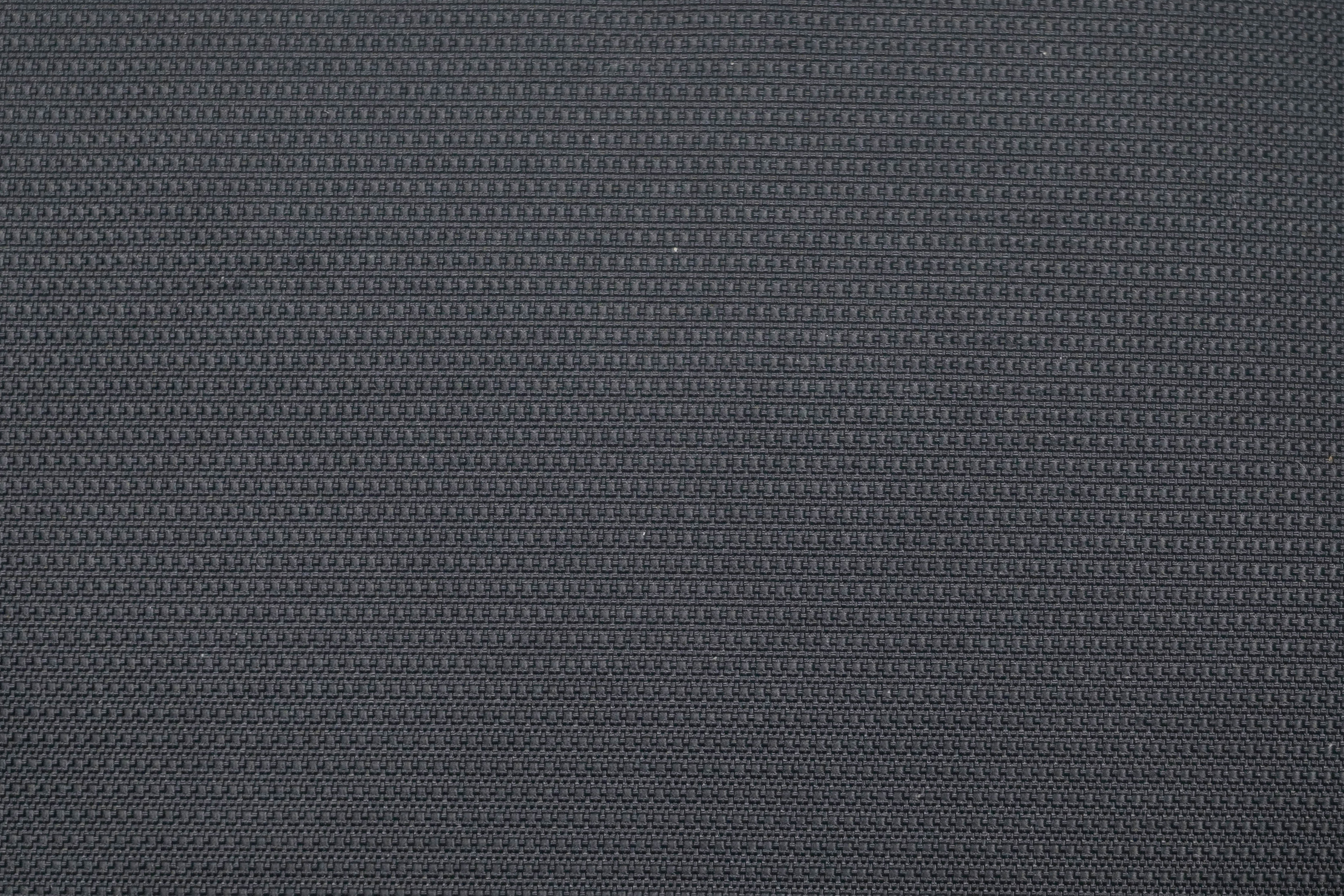 The exterior of the pack is 210 Nylon (or 300D polyester on the aforementioned Camo print) with a water-resistant coating. The base is reinforced with 1680D Ballistic nylon. These fabrics are durable and should treat you well.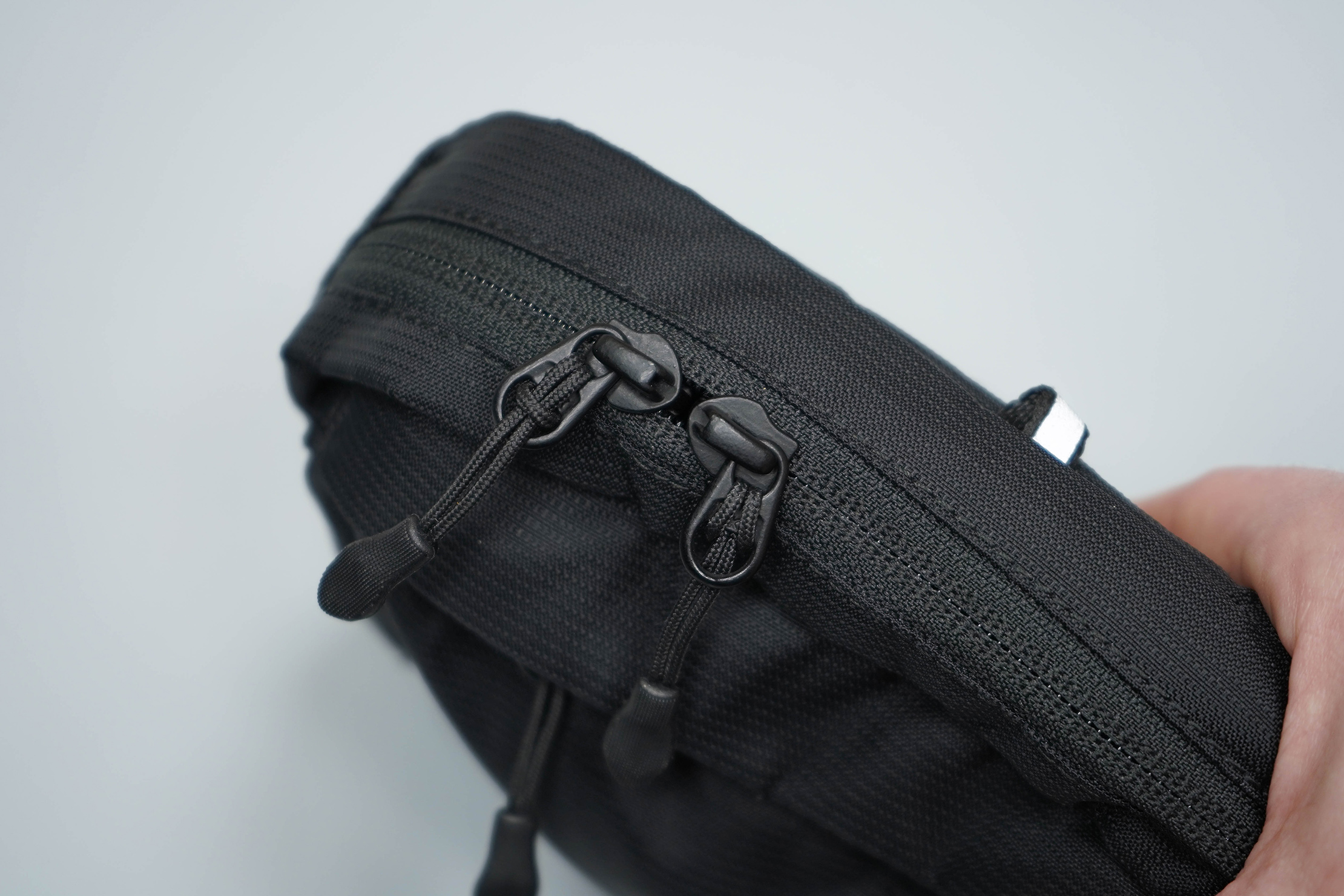 The zippers are from YKK, so they're also durable. Plus, the zipper pulls are exceptional. They have the perfect amount of texture, an ergonomic shape, and are a joy to use. The beefy buckle is from Duraflex, so we don't foresee any problems there either.
External Components
There's not much on this bag as far as external components go. Remember, this is a waist pack.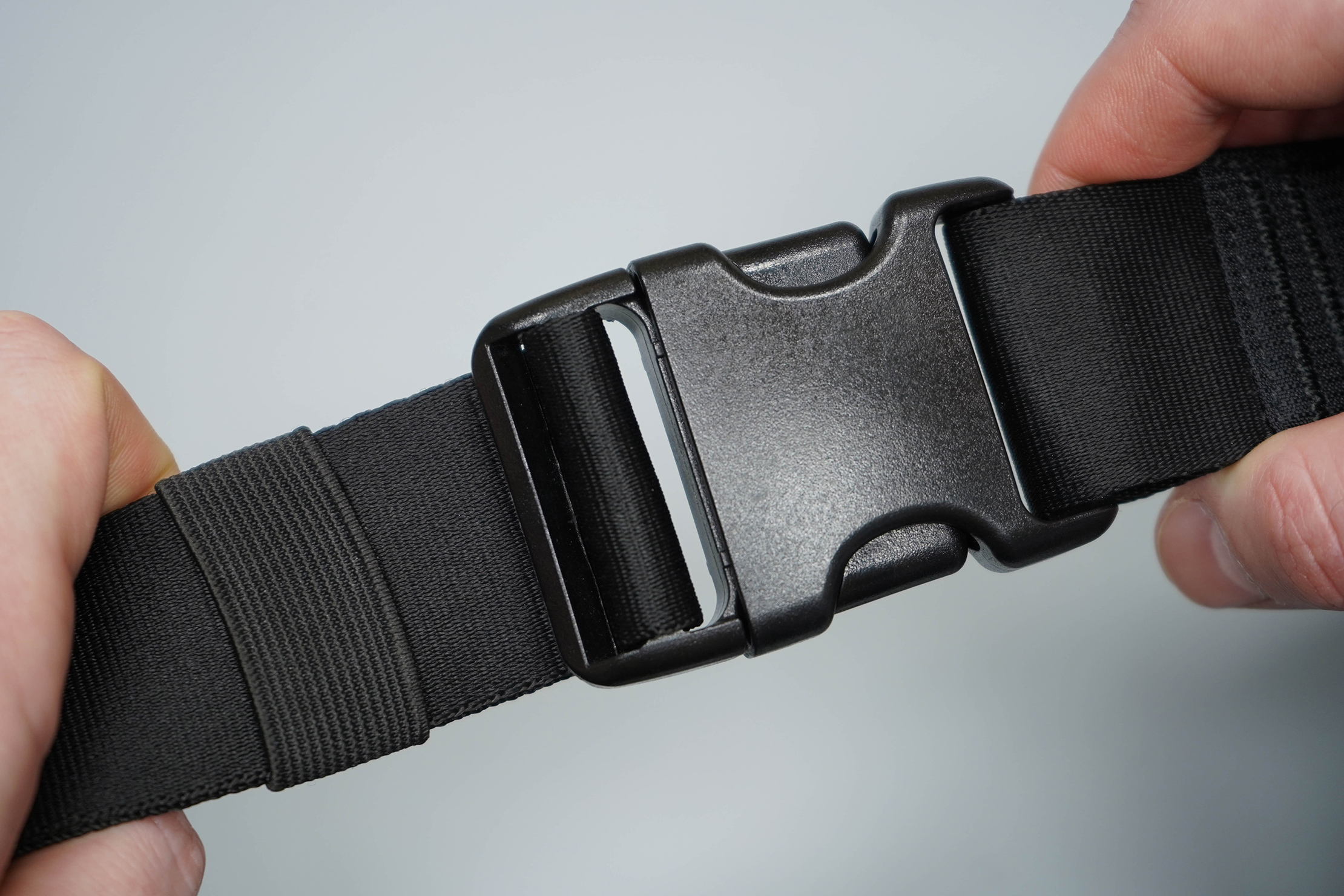 Basically, there's the strap. The seatbelt style of strap is as simple as it gets—there's no mesh or padding—which we've been fine with since this pack is so little. You'll find an elastic strap keeper to keep everything looking tidy, although we've had some problems with it. When you're slinging this thing back and forth, the strap can come loose of its keeper and the #DangleFreeExperience is no more. This has happened multiple times during testing and, yes, it's a small complaint but it's frustrating.
As we mentioned at the beginning of this review, the Tour Hip Pack wears well as both a waist pack and sling bag (crossbody on your chest or back). How you decide to wear it will come down to your style or preference. The strap is comfy either way.

The buckle sits off-center, which helps you sling this thing around your body. But it works slung around your hips too.
The back panel is slightly padded—but not overly thick—which is the perfect middle-ground for a waist pack.
And that's it.
Inside the Waist Pack
You'll find two pockets on the Herschel Supply Co. Tour Hip Pack (Small), which is exactly what we like to see on bags of this size. So let's open this thing up.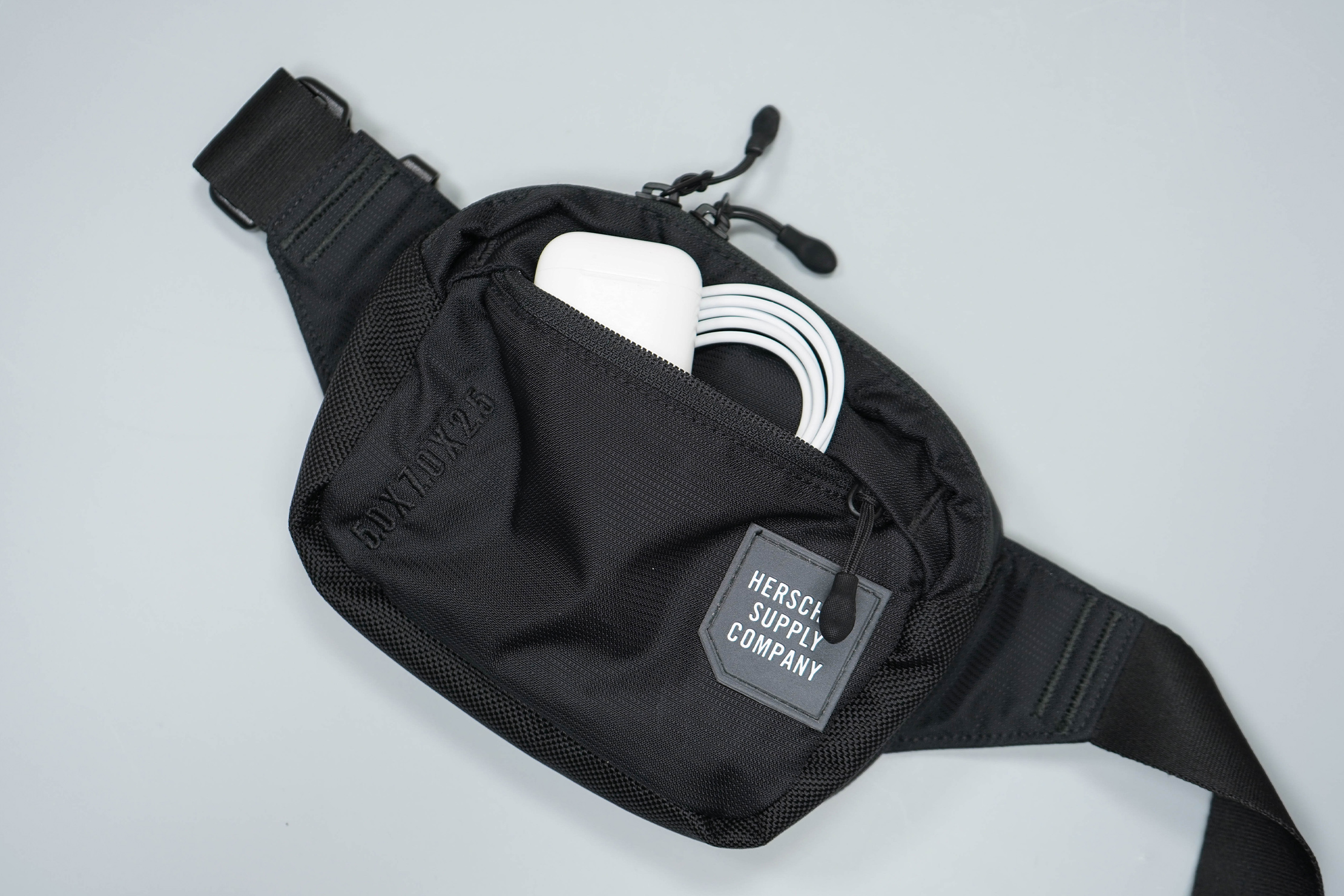 The front pocket is quite small and difficult to get inside—and that's because of the welted fabric that lays over the zipper. It's nice for protection against the elements, but not so nice for access. Still, this pocket is alright for the little things: a pack of gum, some change, lip balm.
And that brings us to the main compartment. Inside, you'll find a key clip and that's it. There are no interior pockets. We're not sure why there's a key clip here—this compartment is so small that your keys can't get too lost, even if they are pushed to the bottom of the bag. And we think it would've been better off in the smaller, front pocket.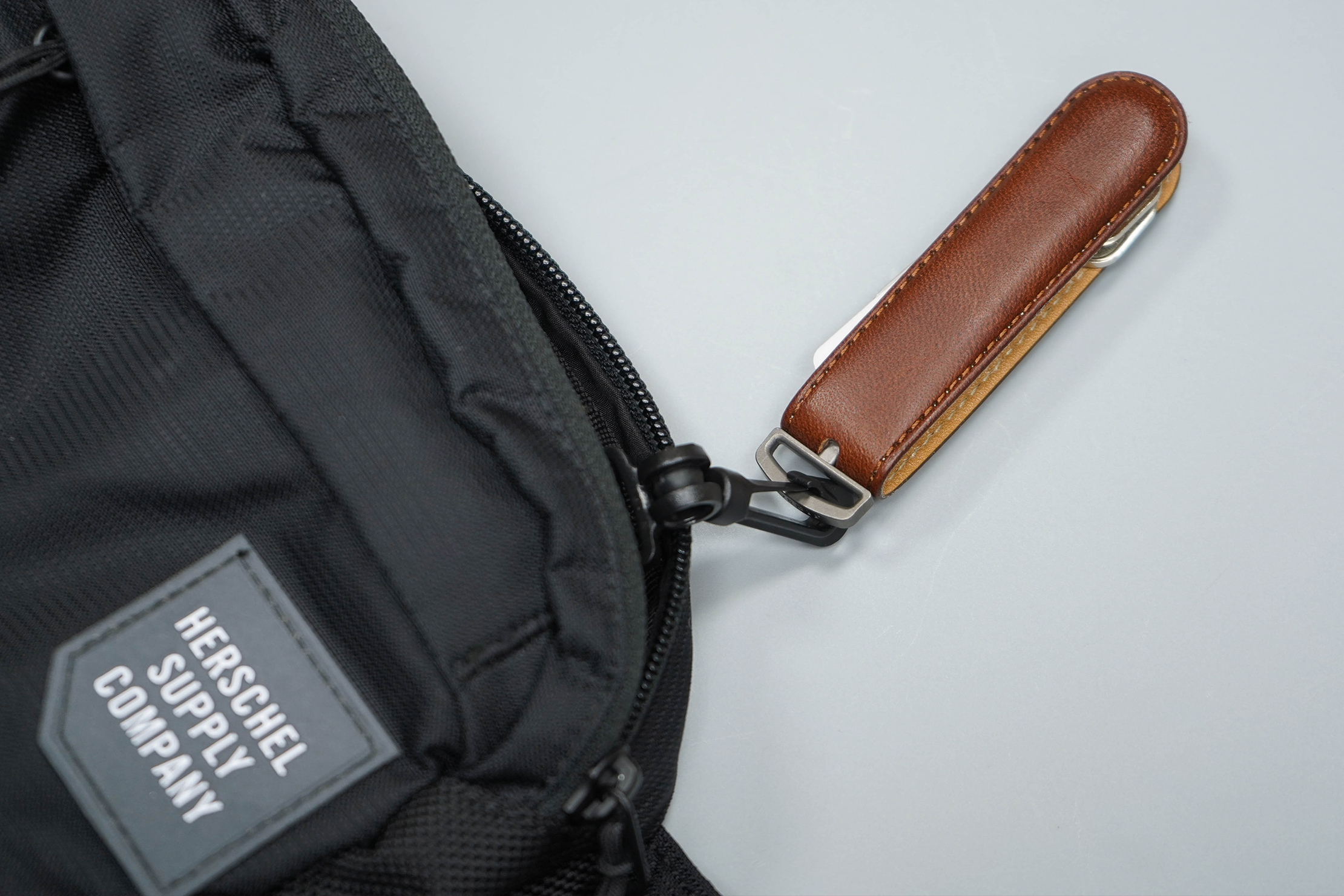 We've stashed our keys (not hooked to the key clip), wallet, and sunglasses here. You could also fit your phone, but we don't like having our phone and keys next to each other in such a small space. They have a tumultuous history and constantly bicker. Kidding—they're actually too in love with each other…It's kind of uncomfortable.
All jokes aside, your keys may scratch up your phone. We've even been a little wary about stashing sunglasses here—if our sunglasses were any nicer, we definitely wouldn't. A key organizer, like the Jibbon Key Organizer, may help keep your keys from scratching more delicate items. But an internal pocket or two would've been nice to separate those items that need to be separated and to add at least a little bit of organization.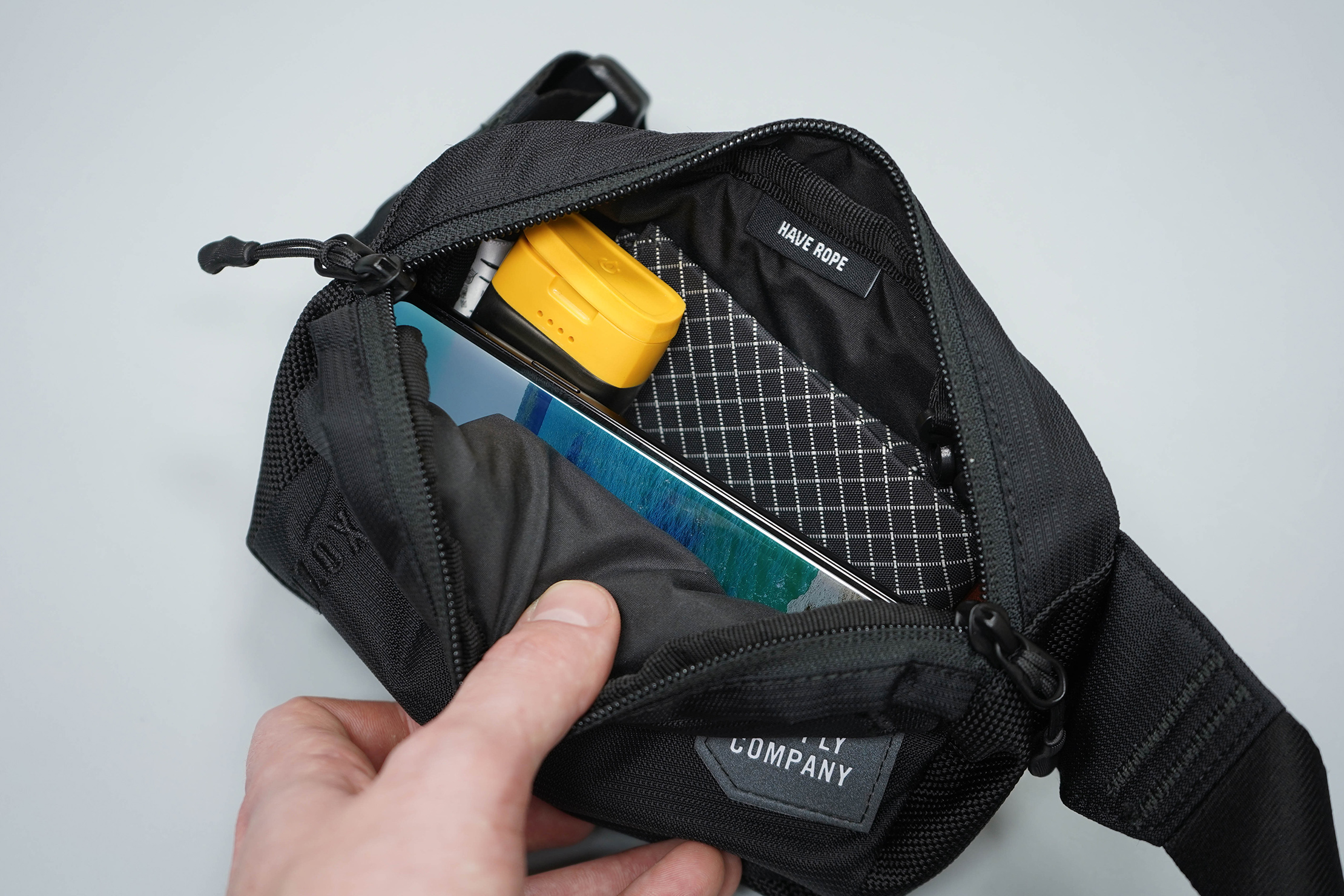 And that's everything. So, all in all, we've been able to fit a pack of gum, lip balm, a couple dollars worth of change, keys, wallet, and sunglasses inside of this waist pack… which is not much. It's only a little bit more than we usually store in pants' pockets.
We're not sure it's worth carrying something extra just to have a pack of gum and lip balm always on us. We'd prefer to just use our pockets and throw said gum and lip balm in a backpack, car, desk, or wherever.
But we also know that usable pockets are rare on women's pants. Or, you know, skinny jeans. So if you don't usually have usable pockets, or you prefer to keep your pockets empty and/or full of crumpled up receipts—then you may love this pack. Otherwise, you may want to just stick with your pockets or opt for a larger waist pack that'll hold more than the bare essentials.
If that's the case and you like the look of this one, the Tour Hip Pack comes in a medium size. Which should give you more space.
Durability & Testing
As we mentioned earlier, we've been testing the Herschel Supply Co. Tour Hip Pack (Small) for almost a month in Detroit, Michigan. We've been wearing this thing as both a waist pack and a sling bag—and it's pretty comfortable either way. Because it's so small, it doesn't get heavy (unless you're carrying around a small fortune in gold coins) so you hardly notice it.
And, apart from a few loose threads, we're happy to report that we haven't had any durability issues so far.

Usage Timeline
Initial Usage
Condition: Excellent
Made from high-quality, durable materials.
The small size is great for carrying the essentials.
Can be worn as a hip belt & a sling.
Lacks internal organization.
2 Weeks of Use
Condition: Excellent
The pack is in good shape, but it's more annoying than convenient to use. At least for us. We'd prefer to use our pockets—and maybe miss out on having lip balm with us—then have to carry the pack around. But we could see how someone without pockets would like this thing.
Access the Pro Community Discussion
Get your questions about the Herschel Supply Co. Tour Hip Pack (Small) answered from our team and the Pro Community right here on the page. Plus, join discussions with other members about gear, guides, and more.
Other Bags & Luggage Reviews