Herschel Supply Co. Little America Backpack Review
The Herschel Supply Co. Little America Backpack offers versatility & comfort, but lacks organization—especially for smaller gear.
Our Verdict
Unlock the Pro Summary
Save time. Get access to brief summaries of our reviews so you can browse and make decisions more efficiently.
Pros
Densely-padded harness system
Enough space for everyday gear and overnight/shorter trips
Soft fleece lining and false bottom in laptop compartment
Cons
Not much organization for smaller gear
The front flap can come undone easily when the bag is fully packed
Material isn't as durable as others that we've tested (feels crispy/cheap in the hand)
Recent Pack Hacker Video
Technical Details
Capacity

25l

Weight (lb)

2.35 lb (1.1 kg)

Dimensions

19.25 in x 11.25 in x 7 in (48.9 x 28.6 x 17.8 cm)

Notable Materials

Polyester, YKK Zippers, Duraflex Hardware

Manufacturing Country

Cambodia

Laptop Compartment Size

15"

Warranty Information
Full Review
If you're looking for a daypack with a versatile capacity, a comfortable harness system, and a modern look with classic accents, then the Herschel Supply Co. Little America should be on your radar (if it isn't already due to brand popularity).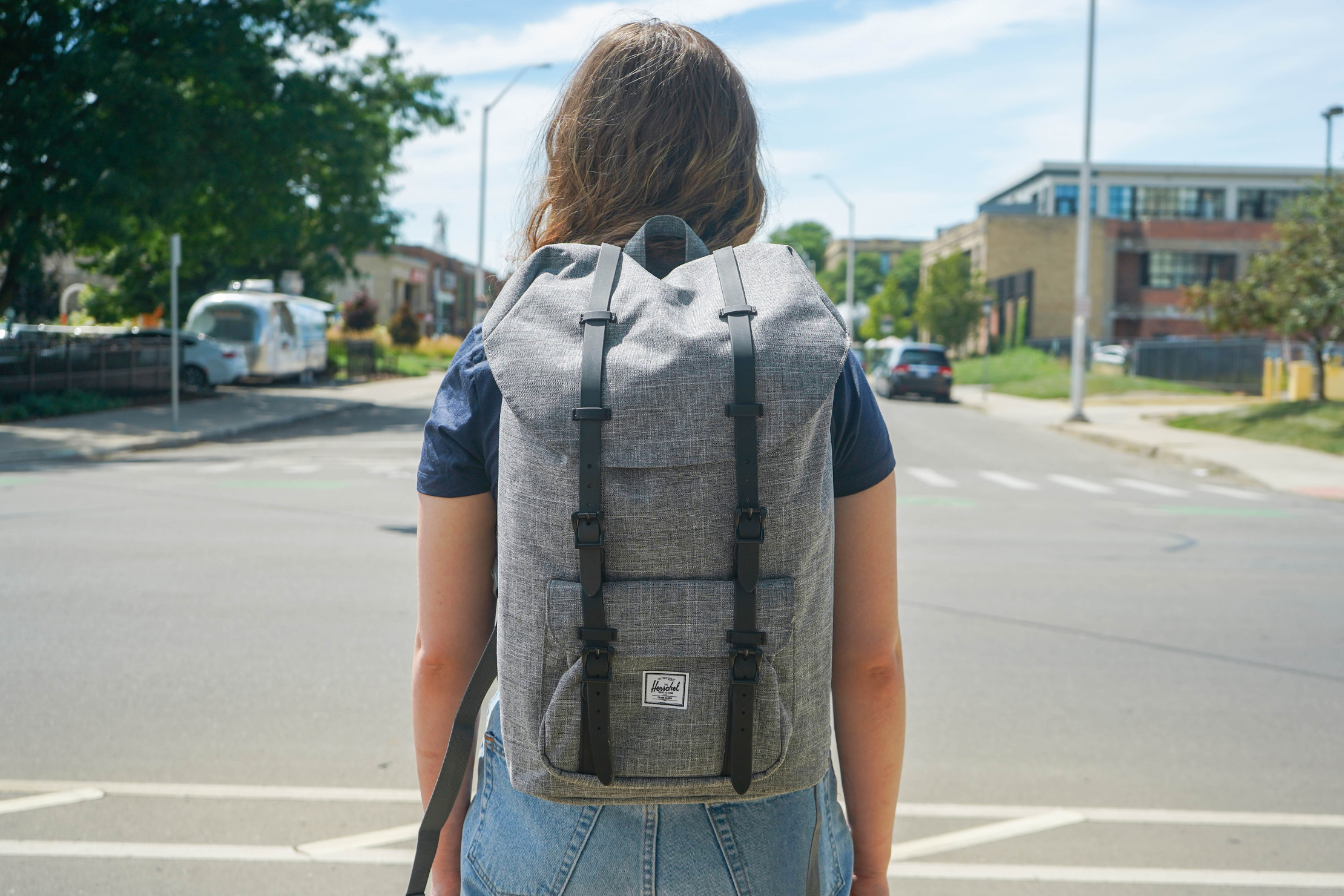 This pack isn't going to wow the hardcore bag enthusiasts out there, but we've found it to be a simple, versatile bag that's comfortable to carry and gets the job done well.
After two weeks of testing, we're ready to share our experience—so let's get to it!
Materials & Aesthetic
We're digging the modern aesthetic of this bag, including the stealthy magnetic straps that look just like classic buckles. These straps are made of a rubber-like material that's soft in the hand and offers a heritage accent. We've had experiences with other Herschel bags in the past where the materials felt cheaper and the faux-leather chipped away during use—but we haven't noticed that with this bag so far, which is a great sign.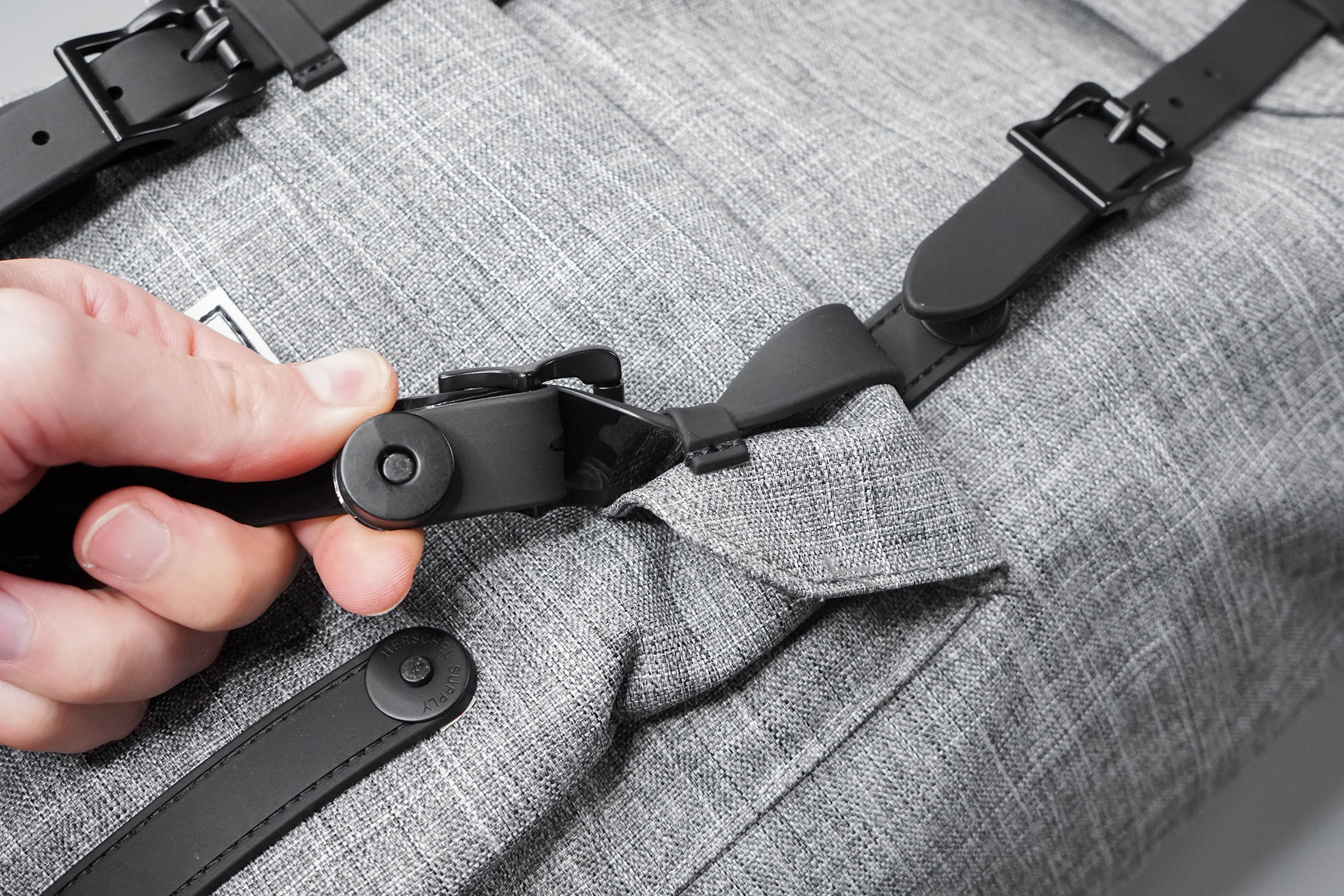 We've been testing the Raven Crosshatch/Black colorway for two weeks, and dig the casual vibe. If you're looking for something with a little more color, don't fret—at the time of this review, the Herschel Supply Co. Little America Backpack is available in a couple of other sizes and a lot of other colorways, so it's likely you'll find one that works for you.
You'll see the classic Herschel Supply Co. logo on a patch toward the bottom-front of the bag. It's square, black-on-white, and isn't the most subtle wordmark we've ever seen. So if you're a fan of minimal branding like we are, it may not be appreciated. But thankfully, the only other tag you'll find is much smaller, black-on-white, and inside the bag.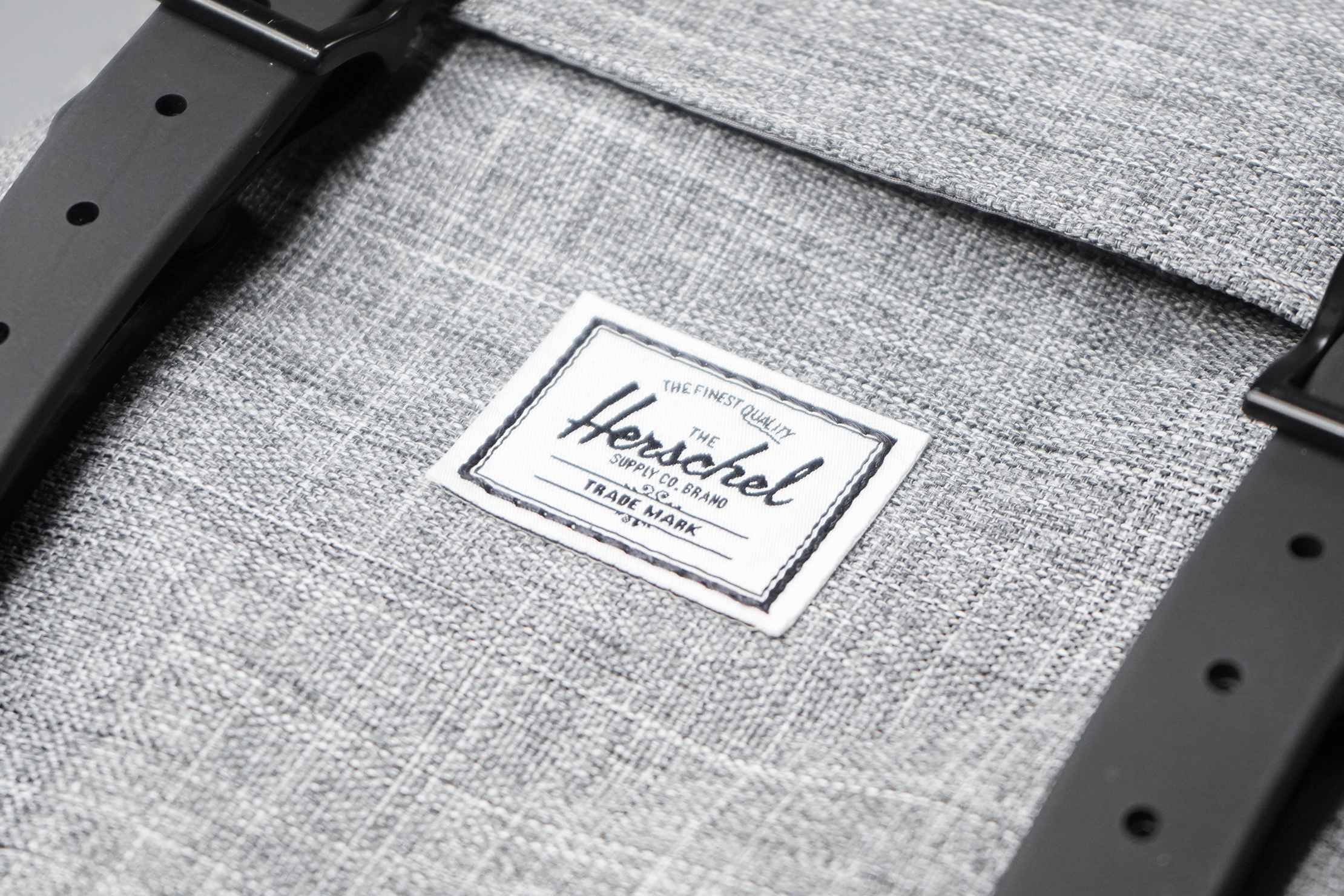 As for material, this thing is made with 100% polyester. It's not quite as durable as other materials we've tested, and it also feels almost crispy in hand—it reminds us of Dyneema fabric, but without the added strength. That said, we haven't had any issues with scuffs, scratches, or other damage so far, which means it's doing its job.
There's only one zipper on the bag since it's a top-loader, but it's from the trusted brand YKK—which we've had lots of positive experiences with. As expected, this zipper has been working smoothly so far in our testing.
And to wrap up materials, you'll also find some Duraflex hardware on this bag, which we have lots of positive experience testing with. We have had some issues with the magnetic snap fasteners coming undone, but we'll get to that later in the review.
External Components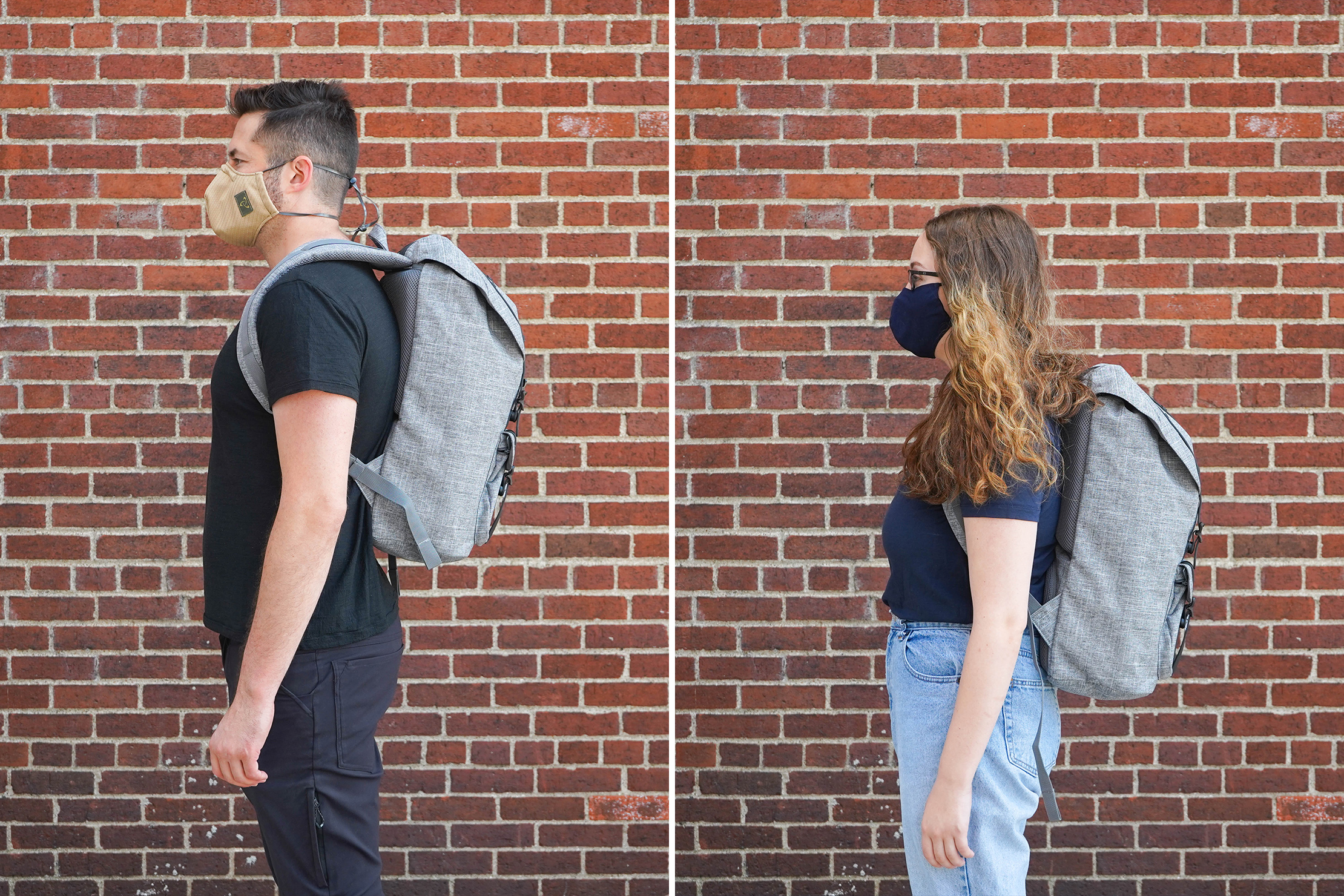 We have a few things to cover before we get inside this backpack, starting with the harness system. It's missing a few components, like a sternum strap and a hip/waist belt, but overall we've still found it to be comfortable for our daily haul—and when we've loaded it up for an overnight trip.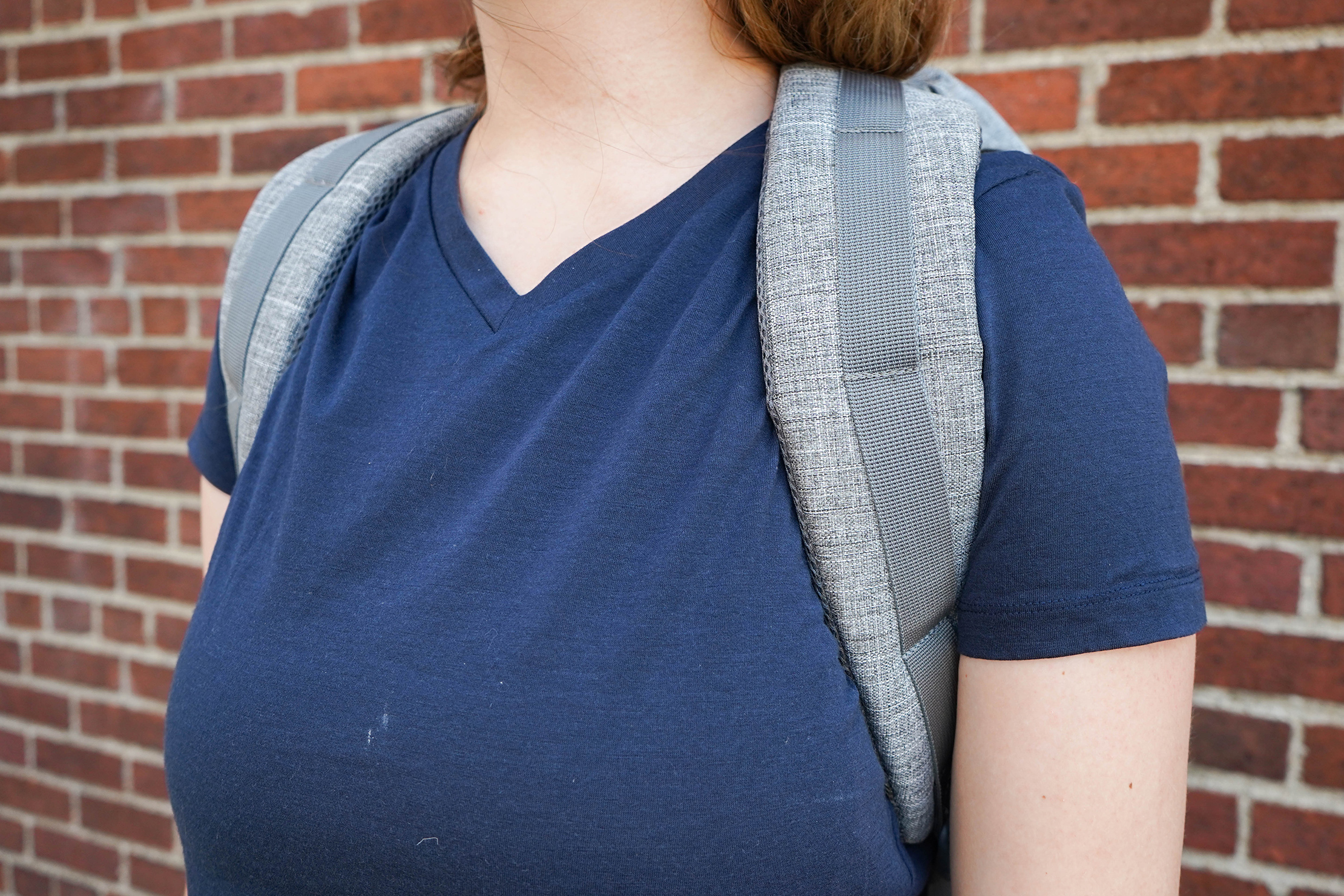 The Little America Backpack's shoulder straps are densely padded and lined with mesh for a comfortable, breathable carry. They have some curvature at the top that helps them contour to our shoulders, which we appreciate. And on each strap, you'll find several attachment points where you can clip a carabiner to use for some external storage. Plus, the elastic keepers on here keep all that excess strap managed, so you're getting a #DangleFreeExperience every time.
You won't find a sternum strap on this bag, which wasn't a big issue for us during testing—we don't think sternum straps are necessary for bags of this size, but if you like to have that extra stability, it may be a concern for you. There's also no hip belt (and no place to add one), which, again, isn't a requirement on this bag (more so for bags 30L+ and up), but your mileage may vary.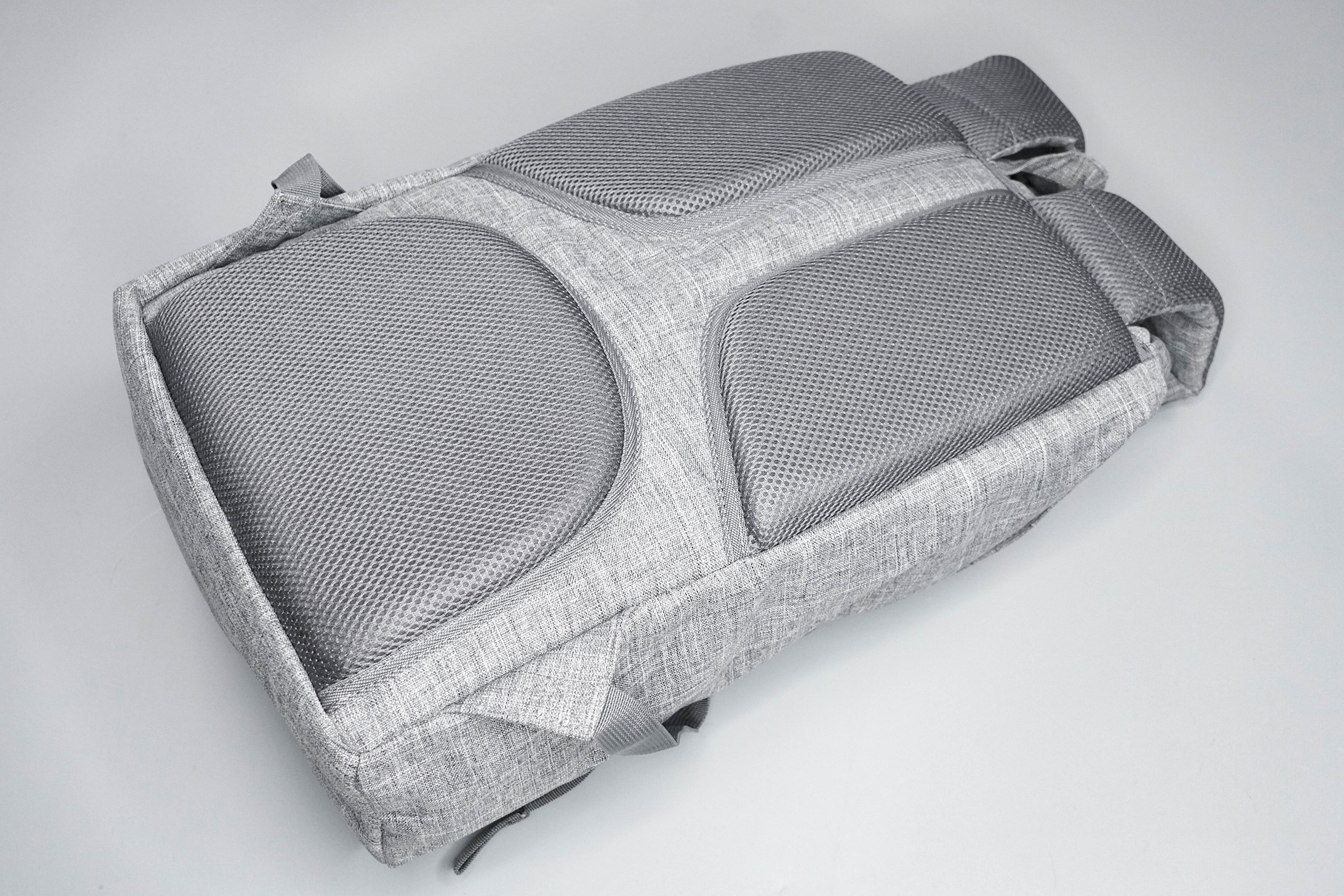 Flipping it over, the back panel is also nicely padded. The air channels between the padding have worked to keep things well-ventilated. It's a pretty tall bag, and takes up a lot of your back—so it's difficult to avoid that dreaded Swamp Back entirely.
You have a handle at the top of the bag that works to pick it up or hang it when needed. It doesn't have any padding—it's essentially just some folded material—but it's comfortable enough. The folding and stitching of the material is a little hack that makes things a little more "padded" without adding "padding" due to the doubling up of the fabric.
There's no external water bottle pocket on here either, which hasn't been a deal-breaker for us. But if a water bottle is part of your daily lineup, it may be a dealbreaker for you—especially if you're not comfortable keeping one inside the pack near your tech. Anyone want a wet laptop…? No takers?
Inside The Pack
Let's take a look inside this bag, shall we? At 25L, it's a great size for both your everyday gear and shorter trips. However, there's not a ton of organization for your smaller items.

We'll start with the front pocket. The top fabric welt sits over the zipper and secures with magnetic snap fasteners. We like how this not only helps with water-resistance but also promotes a clean look. We've been using it to store things like a phone charger and pens—but it's large enough to fit things like your phone or wallet, too, if you want to keep them handy.
Inside this pocket, you'll also find a handy key clip. It's plastic, so it's not as robust as a metal clip, but it's been working well for keeping our keys handy. It's also bright red, which makes it easy to spot in darker areas/later in the day—and we appreciate it.
Now, on to the main compartment. It's secured by a cinch top, with a larger fabric welt that sits overtop and fastens via the same kind of magnetic snap fasteners that you see on the front pocket. These offer some added weather resistance and security for our gear, which we dig.
That said, they can also be a hassle to undo every time you need to get inside. Since this bag sits upright all on its own, you can put it a convenient "Access Mode" by bending the fabric welt back and loosening the top. This way, you can reach inside and grab whatever you need easily. Pro tip: when you cinch it back up, you can tuck the excess cord into the opening so it's not dangling around on the front of the bag—it makes for a cleaner look.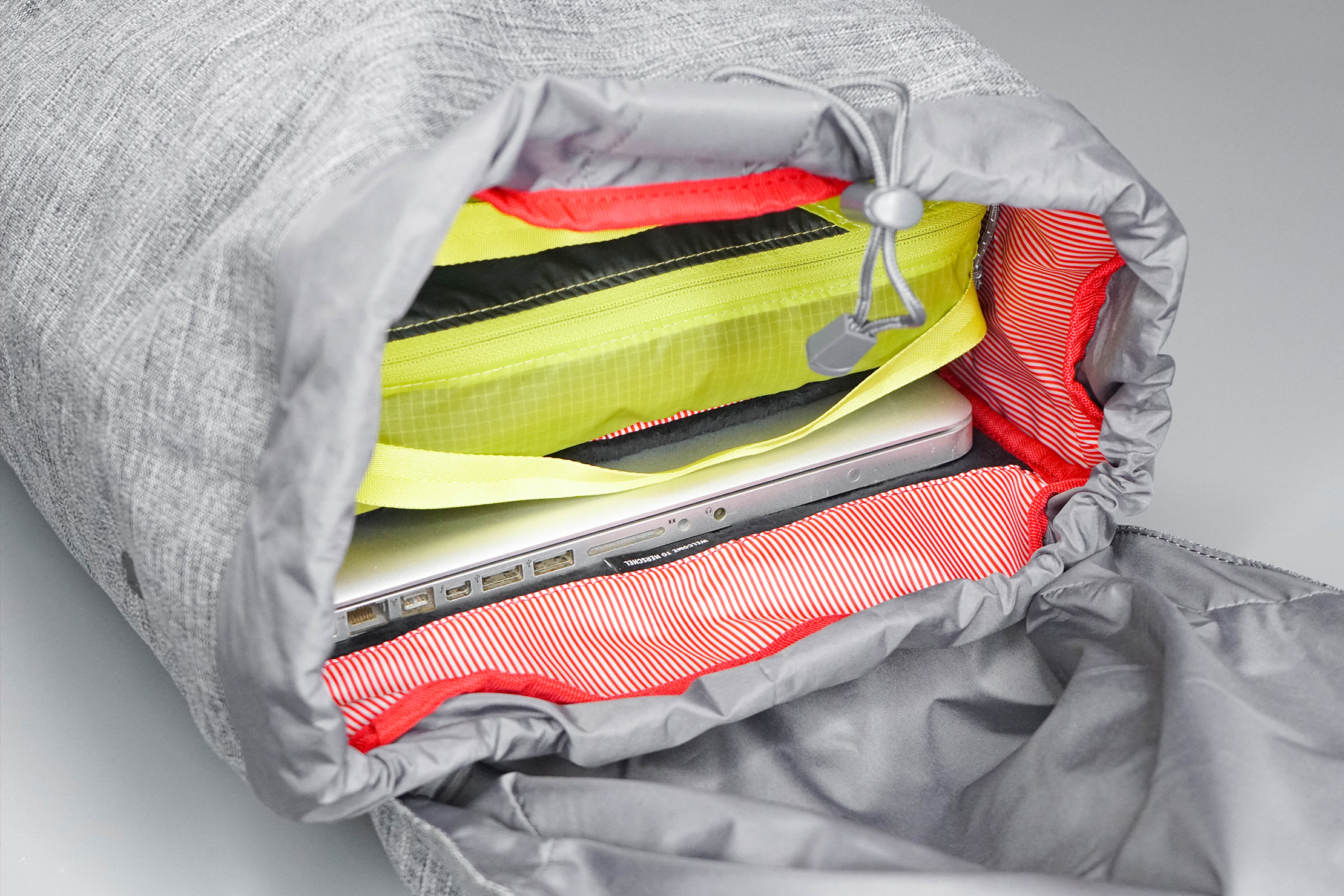 Once you're inside, you'll notice that this compartment is pretty simple. There's a bright red-and-white striped liner that offers some added visibility, which is convenient since, in a top-loader bag like this one, visibility is already limited. On our everyday commutes, we've just been keeping things like a laptop, charger, and medium-sized notebook inside. Again, there's not much organization in here, but you can always supplement with pouches/packing cubes to keep your gear segmented.
We've also packed this thing with a change of clothes and some basic toiletries (a toothbrush, deodorant, and some perfume) for an overnight trip. We did find that when this bag is fully packed out, the magnetic snap fasteners that secure the top flap can come disengaged. They look as if they're adjustable, so we've tried loosening them—turns out they're sewn to the actual bag toward the top, so we can't move them any higher to help accommodate the load.
The cinch top still stays intact—but if you have smaller items free-floating inside (since there's not a place to put them unless you use pouches/packing cubes), they could slip out when bending over or if the bag gets overturned. The biggest hassle for us during testing has just been having to re-secure them more often than we'd like, but the security of your gear is always something to note.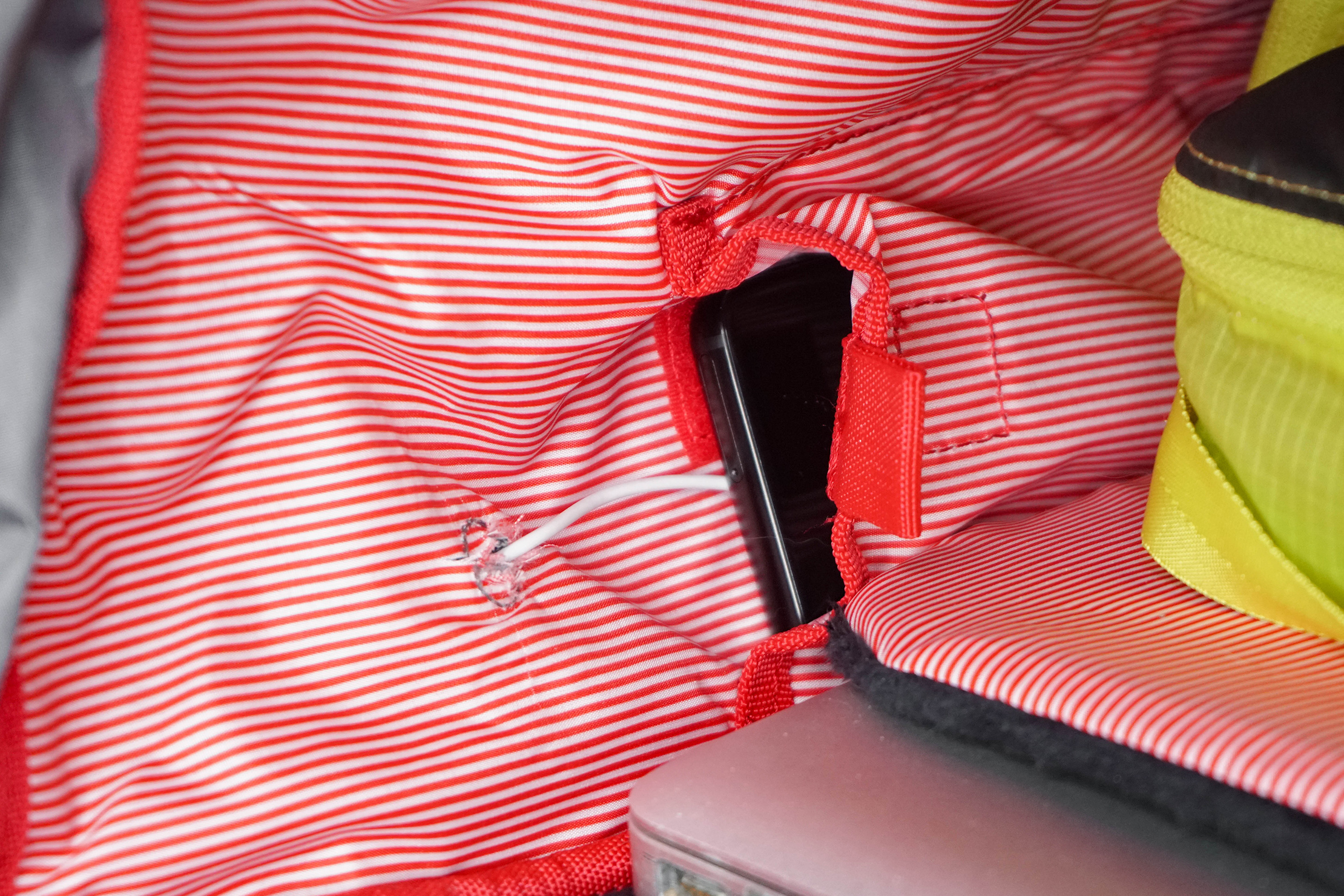 You'll find a media pocket against one side that just narrowly fits a large iPhone—which you can slip inside and use in conjunction with the headphone port above it, to listen to your music or podcast hands-free. We didn't get a bunch of use out of it during testing, as we prefer to keep our phones in spots where they're quicker to access. That, and we're entering the age of wireless headphones (wireless everything, really), which are already hands-free—though your mileage may vary.
On the opposite side of the compartment is another similar pocket that we didn't get much use out of either. It's a very narrow, long pocket, so any smaller items that you keep in here fall to the bottom and become much harder to get out. Which, who has the time to dig through a tiny pocket all day? (Not us). It's great for storing an extra battery bank, or even some pens (as long as slip the clips over the edge to stop them from sinking), but we've seen more versatile-sized pockets in our day.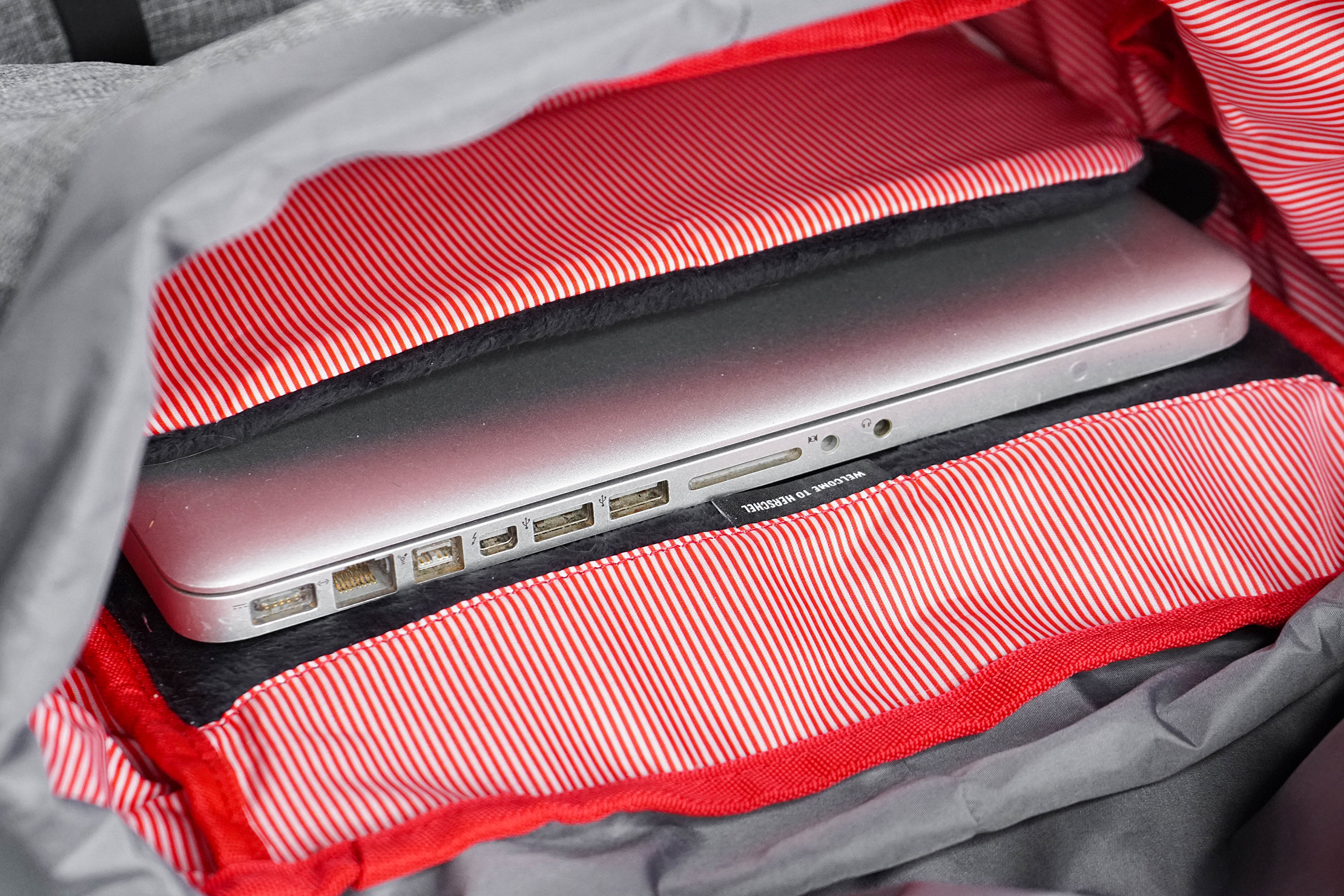 Of course, this backpack has a dedicated laptop compartment. We've been keeping a 13″ MacBook Pro with a protective case inside, and you can fit up to a 15″ laptop with ease. We're digging the fleece lining that's super soft and protects our tech from scratches. Plus, it has ample padding and a false bottom that help protect your laptop when setting the bag down (or lightly dropping it).
Usage Timeline
Initial Usage
Condition: Excellent
Thick padding on the shoulder straps and back panel make for a comfortable carry
Top closes with a cinch-top underneath the top flap
All the straps connect with magnets but have the look of classic buckles
2 Weeks of Use
Condition: Excellent
Not much organization in the main compartment (but you can create your own with pouches/packing cubes)
Super soft fleece lining in laptop compartment to protect against scratches
Magnetic clips can come undone easily if the bag is fully packed
Access the Pro Community Discussion
Get your questions about the Herschel Supply Co. Little America Backpack answered from our team and the Pro Community right here on the page. Plus, join discussions with other members about gear, guides, and more.
Other Bags & Luggage Reviews