Heimplanet Neck Pouch A5 Review
Carefully packing the Heimplanet Neck Pouch A5 fixes its lack of structure, while the removable strap transitions it from everyday carry to travel-ready.
Our Verdict
Unlock the Pro Summary
Save time. Get access to brief summaries of our reviews so you can browse and make decisions more efficiently.
Pros
Versatile carry options
Durable, weather-resistant materials
Pouches are liter-independent and flexible to pack out
Cons
Doesn't have much built-in structure
Not a lot of organization for its larger size
Space between individual pouches takes some getting used to
Recent Pack Hacker Video
Technical Details
100 %
Carry-on Compliance
Weight (lb)

.31 lb (0.1 kg)

Denier

420D

420Dx330D Nylon

Dimensions

5.9 in x 8.3 in x .4 in (15 x 21.1 x 1 cm)

Notable Materials

Nylon, Polyurethane, Ripstop Nylon, YKK Zippers, Aluminum

Manufacturing Country

Vietnam

Warranty Information
Buying Options

$49.00
$59.00
Full Review
Get up to 30% off Heimplanet • Join Pack Hacker Pro
Heimplanet has a lot of roots when it comes to outdoor gear—especially tents. They've also produced many backpacks, accessories, and packing cubes—many of which we've had the pleasure of testing out. So, in this neck-xt review, we're going to be taking a look at the Heimplanet Neck Pouch A5.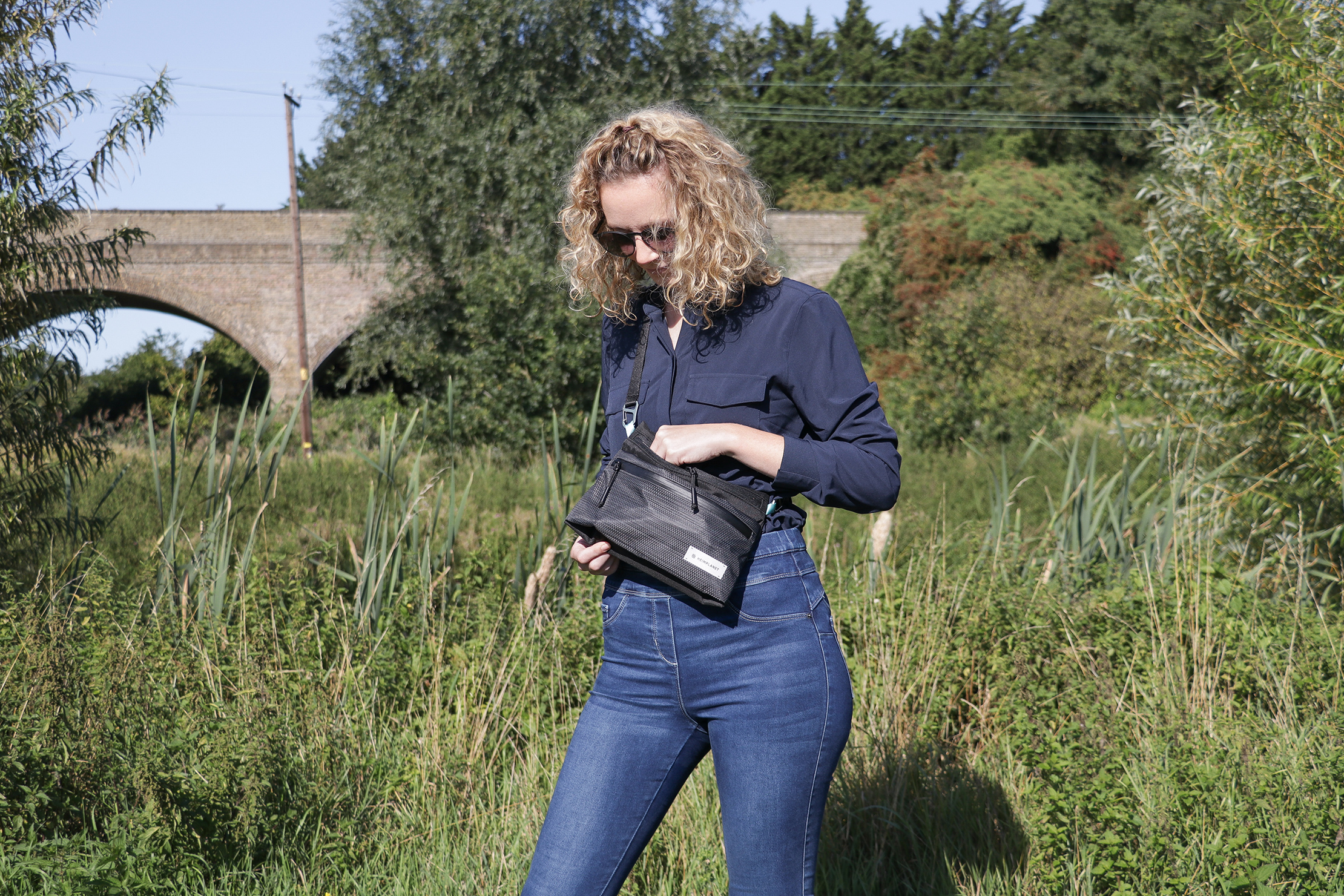 This pouch has a unique look and durable, weather-resistant construction to safeguard your gear wherever you go. There's also the Neck Pouch A6, which is about half the size, though we'll be focusing on the larger A5 in this review.
Without further ado, let's jump in!
Materials & Aesthetic
This pouch has a techy, almost futuristic aesthetic, with its bright accents and dark, smooth, robust fabric. Only about half of you (55%) are digging the look, according to our Instagram poll, but if we flashed forward a thousand years, this pouch might very well be all the rage.
At the time of this review, the Neck Pouch A5 is available in the Dark colorway, whose grid-like pattern and subtle mix of black and darker grey works well in urban environments. It looks at home in the city but may look a little lost out on the trail.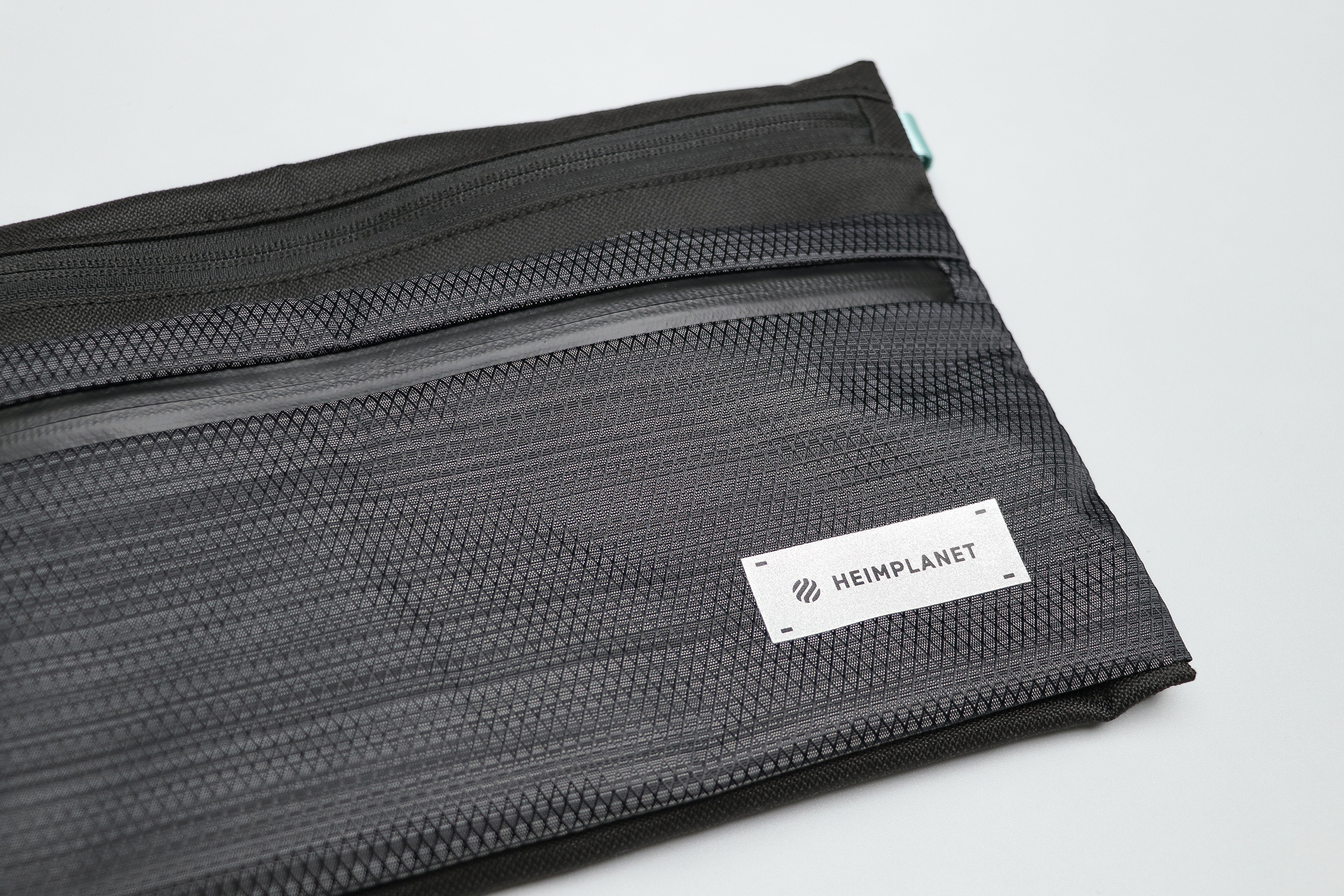 As for branding, the Heimplanet wordmark appears on a black-on-white tag on the bottom corner of the front of the pouch, and their logo can be spotted on the zipper pulls as well as the neck strap. Their wavy, planet-like symbol is reflective to add some nice visibility when you're out later at night or earlier in the morning, and serves to reinforce the idea that this pouch looks ahead of its time—we're digging it.
This pouch is made with Heimplanet's environmentally-friendly DYECOSHELL II material, a combination of 420D and 330D nylon with PU (polyurethane) coating for a smooth, water-resistant finish. There's also some 210D Ripstop nylon on the inside, with a PEVR lamination to add a sleek look and help keep water away from your gear. This way, you don't have to panic when you get caught in some surprise showers.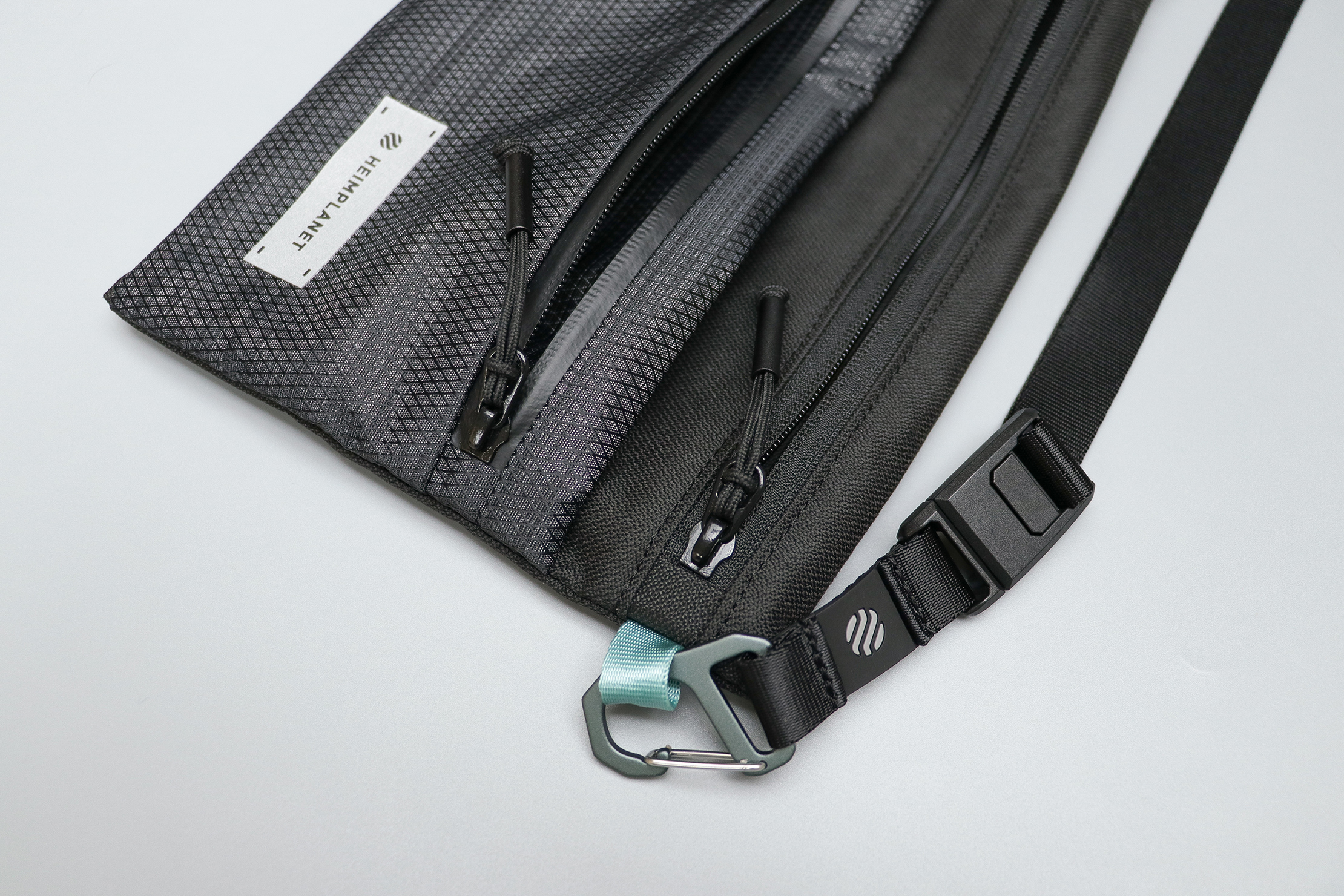 You'll find some AquaGuard YKK zippers on this pouch. We appreciate the clean look and added weather-resistance these zippers offer to the different parts of this pouch, and love that we're getting a smooth zip every time.
Lastly, this pouch also features some aluminum hardware, which adds a premium look and feel that we're really digging. It's on par with the pouch's overall look, and everything has been working as it should be.
External Components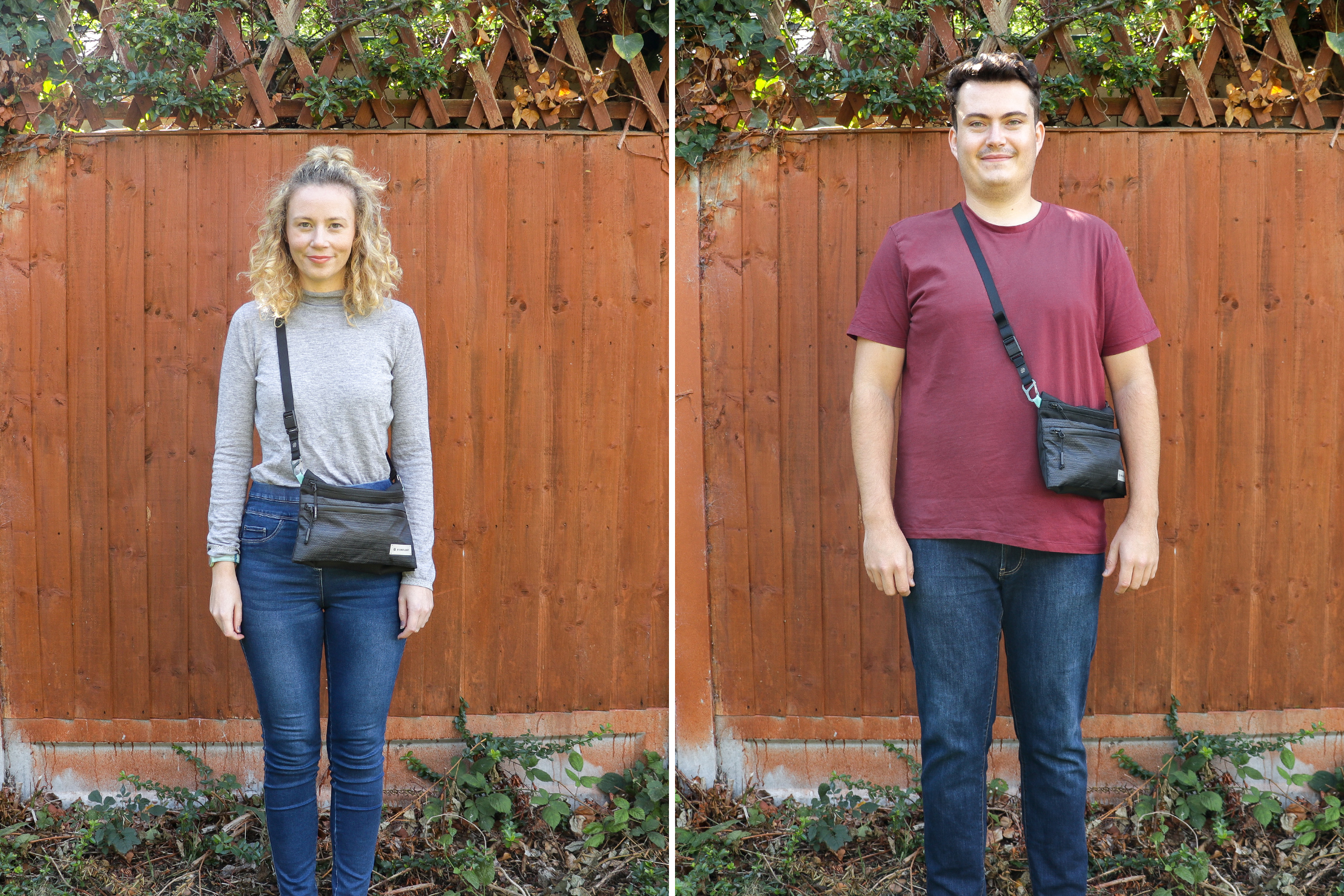 If you're wondering the best way to wear this thing, the "neck" in Neck Pouch A5 should be a helpful clue. That said, you're not limited to just this mode of carry. You can rock it over the shoulder, crossbody, or even around your waist if you're feeling it.
The strap is made of a glossy, seat belt-like material that's smooth in the hand and feels comfortable in all forms of carry despite a lack of padding. It's easily adjustable and has an elastic keeper to keep all that excess strap managed for a #DangleFreeExperience. There's also a magnetic buckle you can disengage when you need to get this pouch on and off quicker and easier, which has stayed secure throughout testing.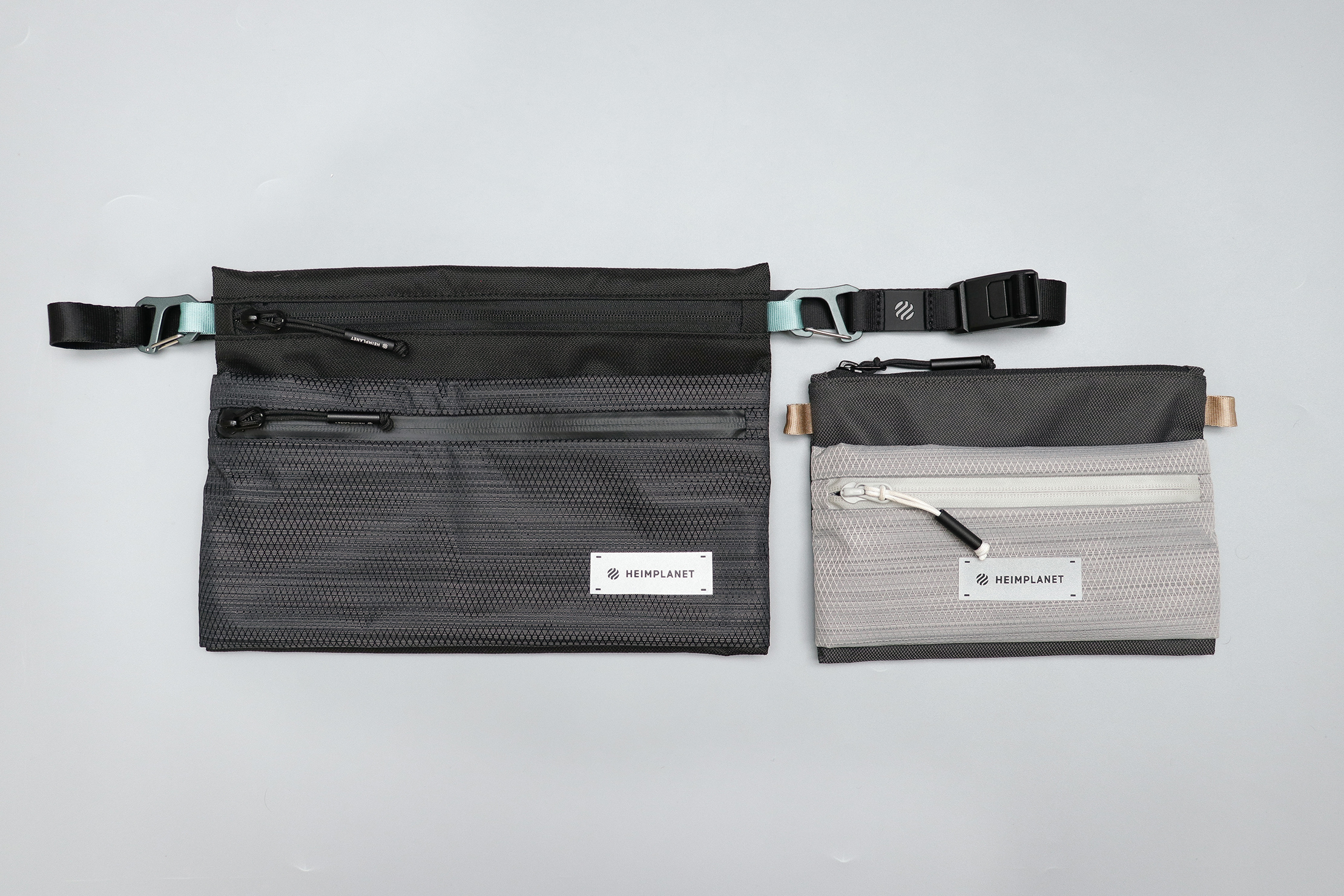 You'll notice some aluminum G-hooks that connect the strap to the pouch as well, which makes removing this strap an easy maneuver. This is an option for when you want to use this thing as a stand-alone pouch, whether you're filling it up with tech gear or using it to segment your toiletries inside your daypack or travel pack.
We've been utilizing this function a lot with the Neck Pouch A6. It's a great size for organizing tech accessories or some basic toiletries and other smaller items inside our daypacks. The Neck Pouch A5 offers the same functionality with around twice the storage, so it works well in your travel pack, as you likely have more stuff to stash when you're embarking on lengthier travel. We're digging the versatile design, Heimplanet.
That said, when you go to reattach the strap, you have to make sure both G-hooks are positioned correctly (facing away from the pouch). Otherwise, the strap can get twisted during the transition. If you were able to rotate these G-hooks, this wouldn't be as big of an issue, as it would save you the time you spend on making sure the clips are facing the right way.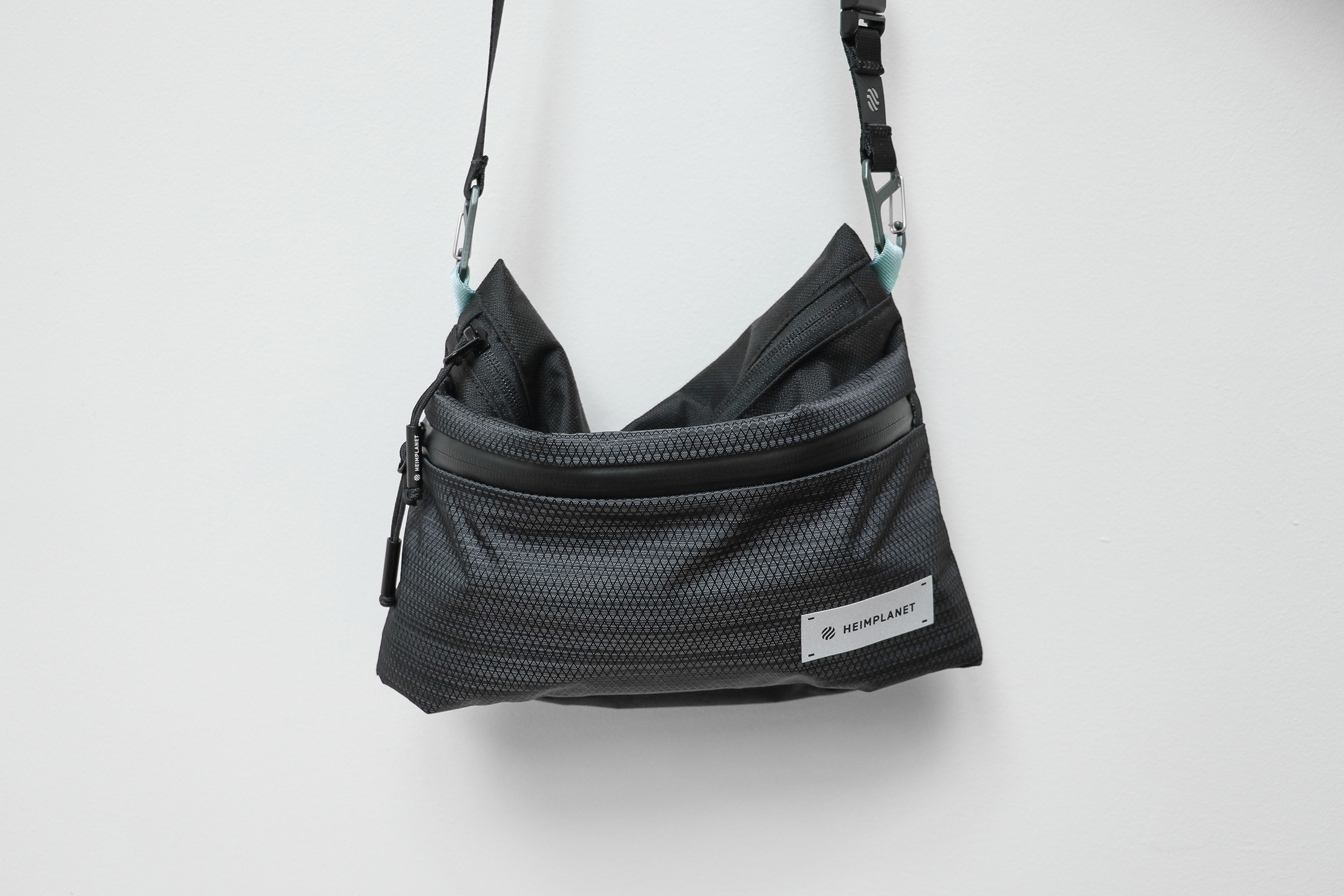 Something we noticed while testing with the A5 is that it doesn't have any actual structure to it—there's no frame sheet or built-in dimension that gives it any shape, which can cause it to sag and crease in the middle if it's not packed with something stiff like a book, or small tablet or e-reader.
This doesn't make for the best look when you have the pouch on; however, this lack of structure allows it to pack flat when you're storing it away to use as a sling while traveling. So truthfully, this can be a positive or a negative, depending on your use case.
Inside The Pouch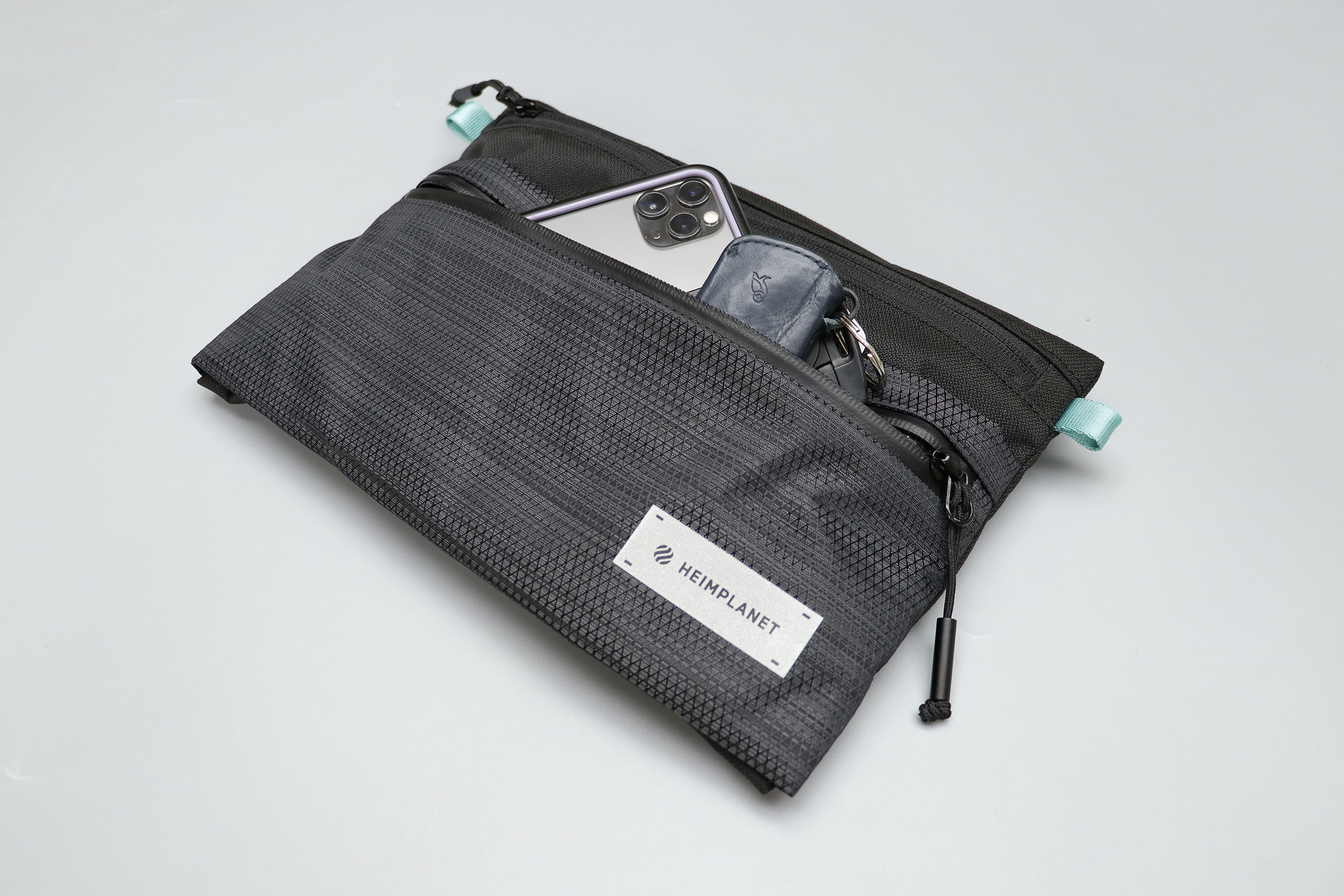 Let's talk about the front pouch on this thing, or the "hover pocket," as Heimplanet would call it. It's sewn to the main compartment on both sides with open space in the middle, making it liter-independent. That's right. You can pack this pouch out without taking away any other space at your disposal, which is much more efficient than the other way around.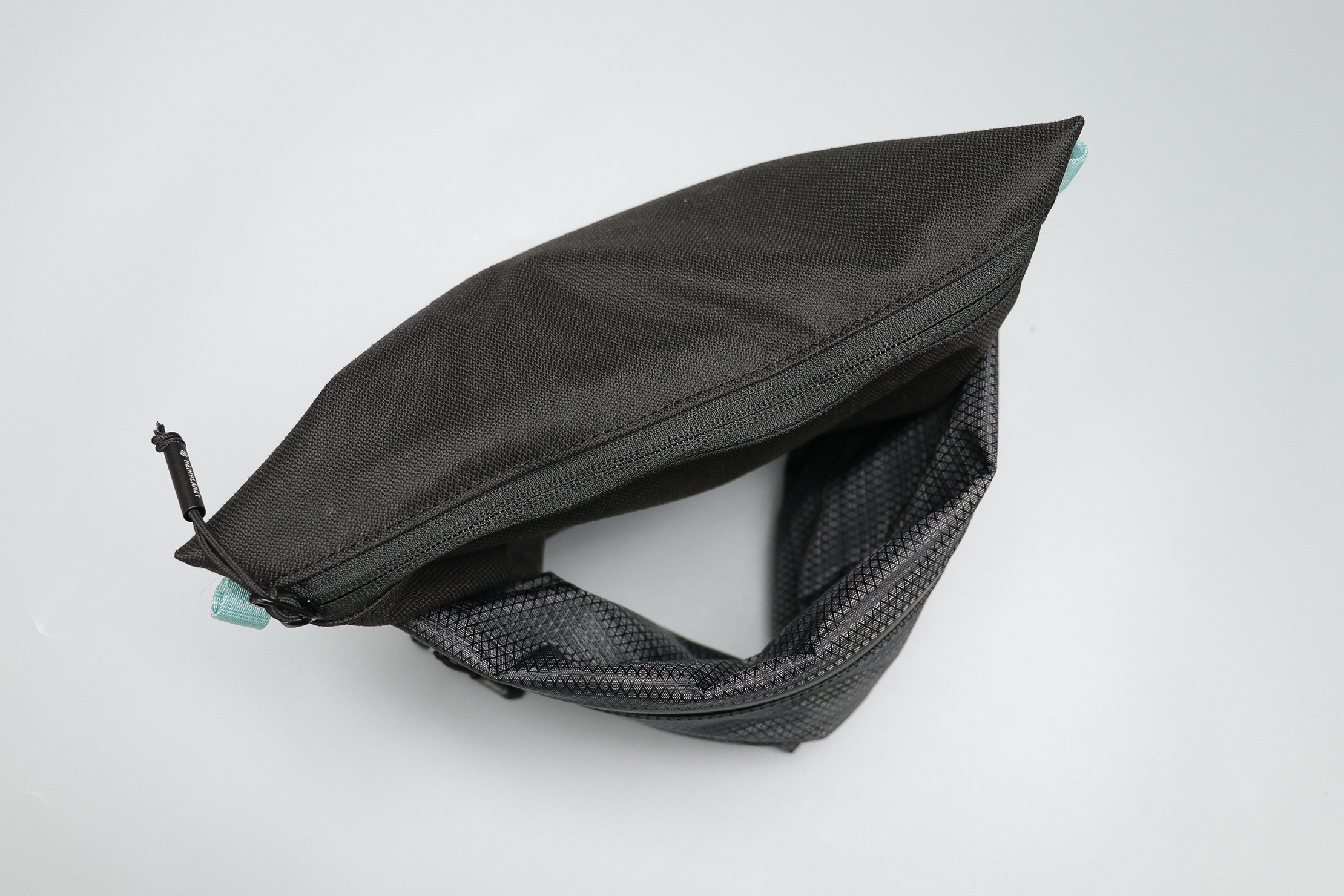 We will say that this space has taken some getting used to. Many times when we've been in a hurry, we've mistaken this spot for another sleeve and tried dropping gear inside, at which point it falls through. It's not a huge deal, just something we experienced and wanted to make you aware of.
It's an ideal spot to store things like your keys, wallet, chapstick, and anything else you're constantly using throughout the day. There's nothing in the way of organization, but it's not a very deep pocket, so your gear isn't sinking anywhere that you can't spot or grab it. You can always incorporate some small pouches if desired, though, if you don't want your stuff free-floating inside.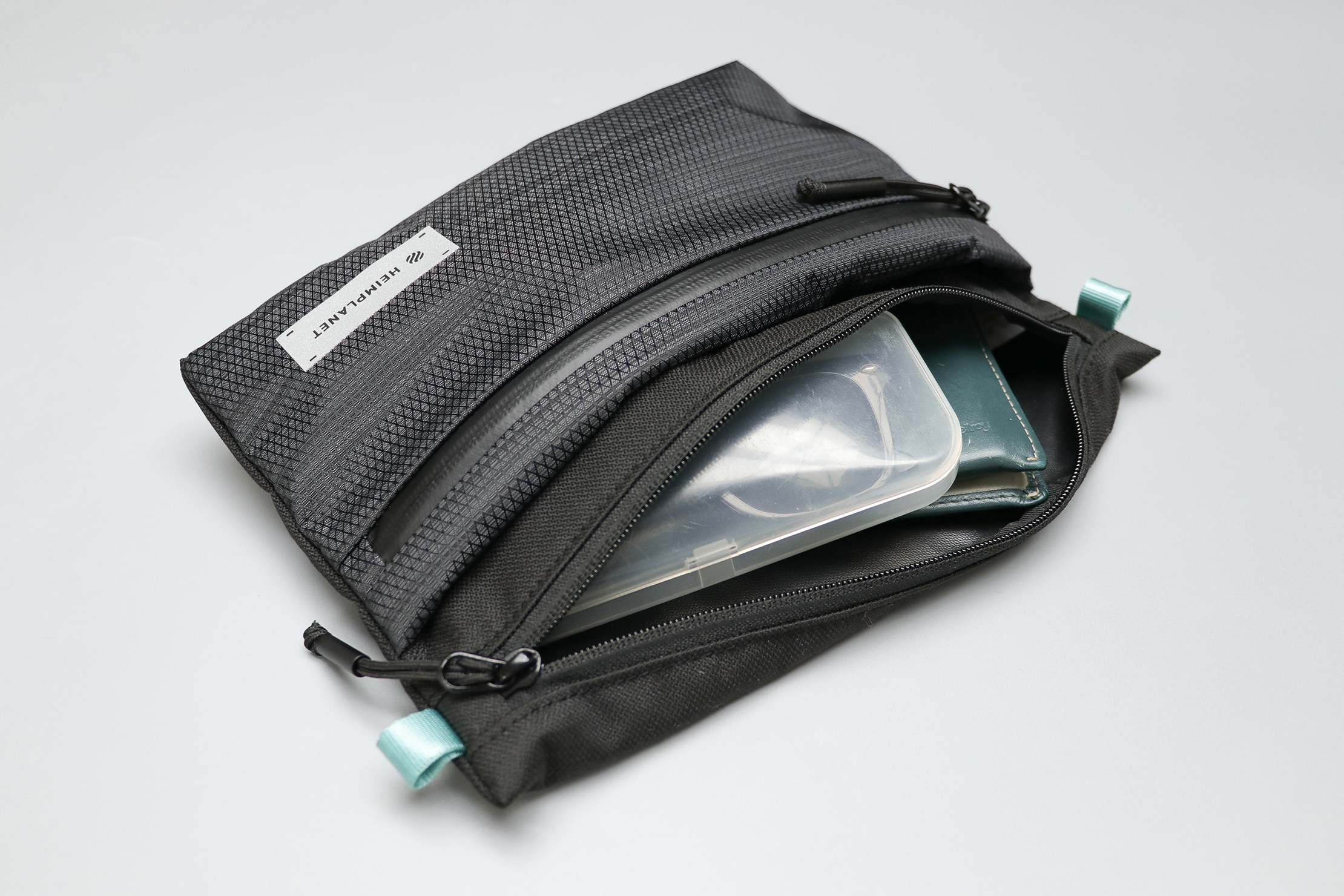 Moving on to the main compartment, you'll notice right away that it's also pretty simple. There's no organization here either, so it operates as one big dump pouch for your stuff—a dark dump pocket, at that. Again, if you're someone who prefers more segmentation for your gear, integrating some pouches will supplement the lack of pockets or dividers and make it easier to grab your stuff when you need it.
You can fit a surprising amount of gear inside this little pouch. It's got room for all the essentials, whether you're using it for your everyday ventures or as part of a comprehensive travel system. We've enjoyed testing it these last two weeks, and are happy to report that its materials have held up well so far—nothing new to report!
Usage Timeline
Initial Usage
Condition: Excellent
"Hover pocket" lets you pack out both pockets fully without them getting in each other's way
Durable and water-resistant materials
Strap keepers make this a dangle-free experience
2 Weeks of Use
Condition: Excellent
The material is holding up well with no durability issues to report so far
It's lightweight and packs flat which is handy when you're carrying fewer items or carrying it inside another bag
Being able to remove the strap and use this as a pouch adds some awesome versatility to this sling
Would be nice if the clips on the strap rotated as we found this ended up getting twisted between transitions
The main compartment lacks some visibility inside and it's best to use pouches if you prefer some internal organization
If this sling isn't packed out fully the middle can sink and sag due to the lack of structure
Access the Pro Community Discussion
Get your questions about the Heimplanet Neck Pouch A5 answered from our team and the Pro Community right here on the page. Plus, join discussions with other members about gear, guides, and more.
Other Bags & Luggage Reviews