GRIP6 Forged Carbon Fiber Belt Review
The Grip6 Forged Carbon Fiber Belt's simple two-piece design takes some practice to tighten down securely, but it won't set off any metal detectors.
Our Verdict
Unlock the Pro Summary
Save time. Get access to brief summaries of our reviews so you can browse and make decisions more efficiently.
Pros
Can leave on through airport security
Simple, two-piece design
Soft fabric doesn't dig in when sitting down
Cons
Threads inwards; a bit slow to wear and take off
Adjustments get trickier as it gets tighter
High-tensile nylon has little to no stretch
Recent Pack Hacker Video
Technical Details
Weight (oz)

1.76 oz (49.9 g)

weighs up to 2.82 oz depending on size

Notable Materials

Carbon Fiber, Nylon

Manufacturing Country

United States

Warranty Information
Full Review
In a perfect world, one of the few humbler wishes we have in mind is for all pants to fit perfectly regardless of how much or how little we chow down. The closest thing we have to this is stretchable pants, but for the rest of the pants family tree that's less willing to stretch, a belt is the way to go.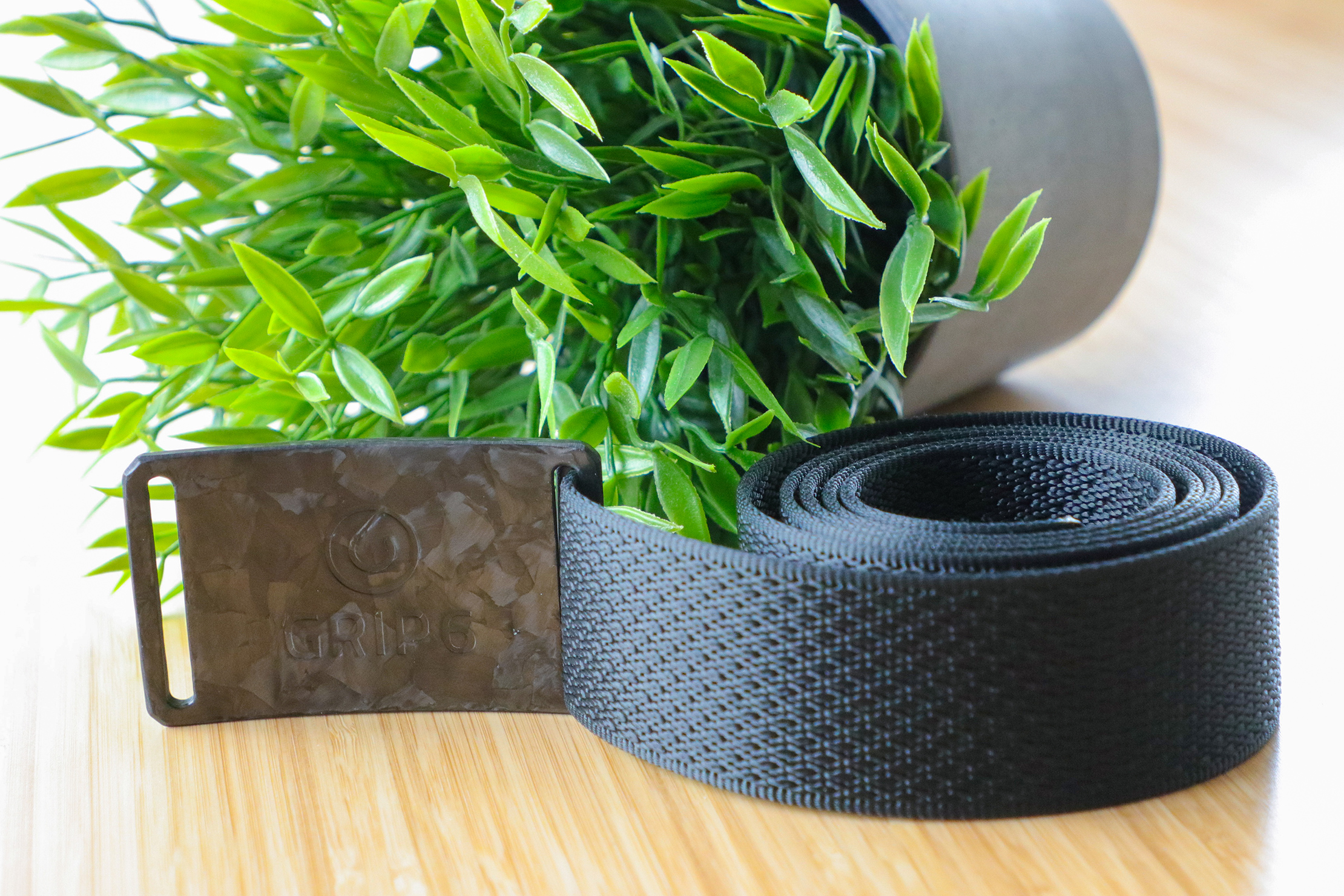 It doesn't have to be complicated either. The Grip6 Forged Carbon Fiber Belt only has two interchangeable parts: strap and buckle, and the latter of the two is basically a solid chunk of carbon fiber. It's the type of belt that slides to lock and doesn't rely on prongs or clips. However, the simple design does take a bit of practice to master. The good news is it does a good job of keeping your pants up once it's in place. So strap in, and let's see how this belt comes together.
Materials & Aesthetic
Whenever we first take something out of the box, there's one trait of newness that isn't necessarily good or positive. We're talking about how hard or stiff the material can be, such as the leather on shoes or zippers on bags. It usually takes a few days or weeks of use to smooth things out and break it in for a more comfortable experience.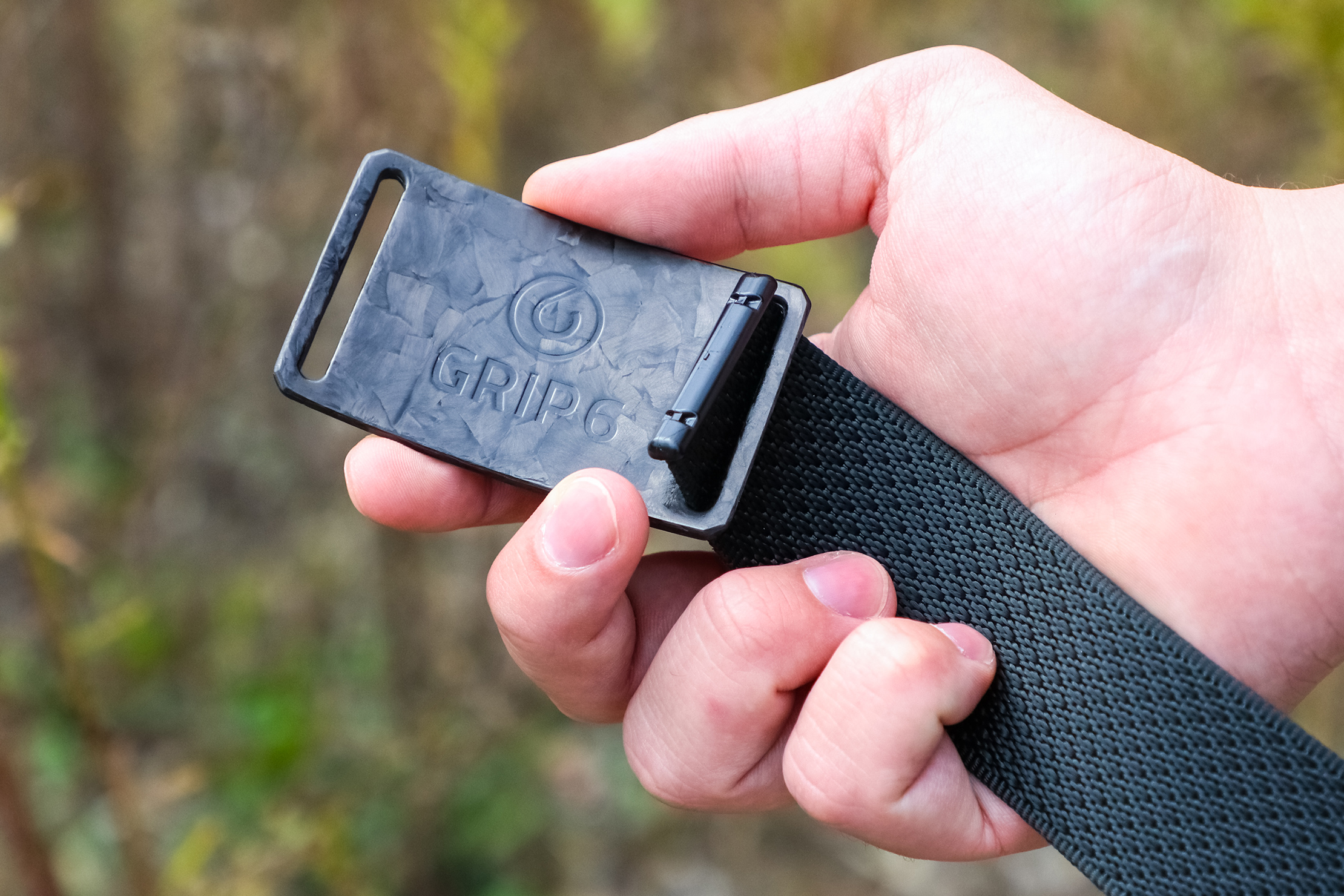 For the Grip6 Belt, we were expecting its high-tensile nylon fiber weave to be stiff and fairly rigid. However, the fabric is soft and malleable when worn, which is a huge plus, as you'll find out later. That's not to say the belt isn't durable, either. The strap is aptly described as high-tensile, and it even has an impressive-sounding number behind it: over 2000 pounds breaking strength. That means the strap can handle the entire combined weight of the entire Pack Hacker team if we ever use it to hang our team-sized indoor hammock.
As tough-looking as the Grip6 Belt is, it's a rather simple design with only two parts: strap and buckle. Both come in black, though to be more specific, the colorway we have here is Forged Carbon Fiber for the buckle and Raven for the strap. We actually prefer the Forged Carbon Fiber's pattern over the more typical carbon fiber pattern of the Dark Matter variant. But other than colors and patterns, the belt has an overall simple design which adds to its aesthetic appeal. Grip6 even goes as far as debossing their logo on the inner side of the buckle where only the user can see it.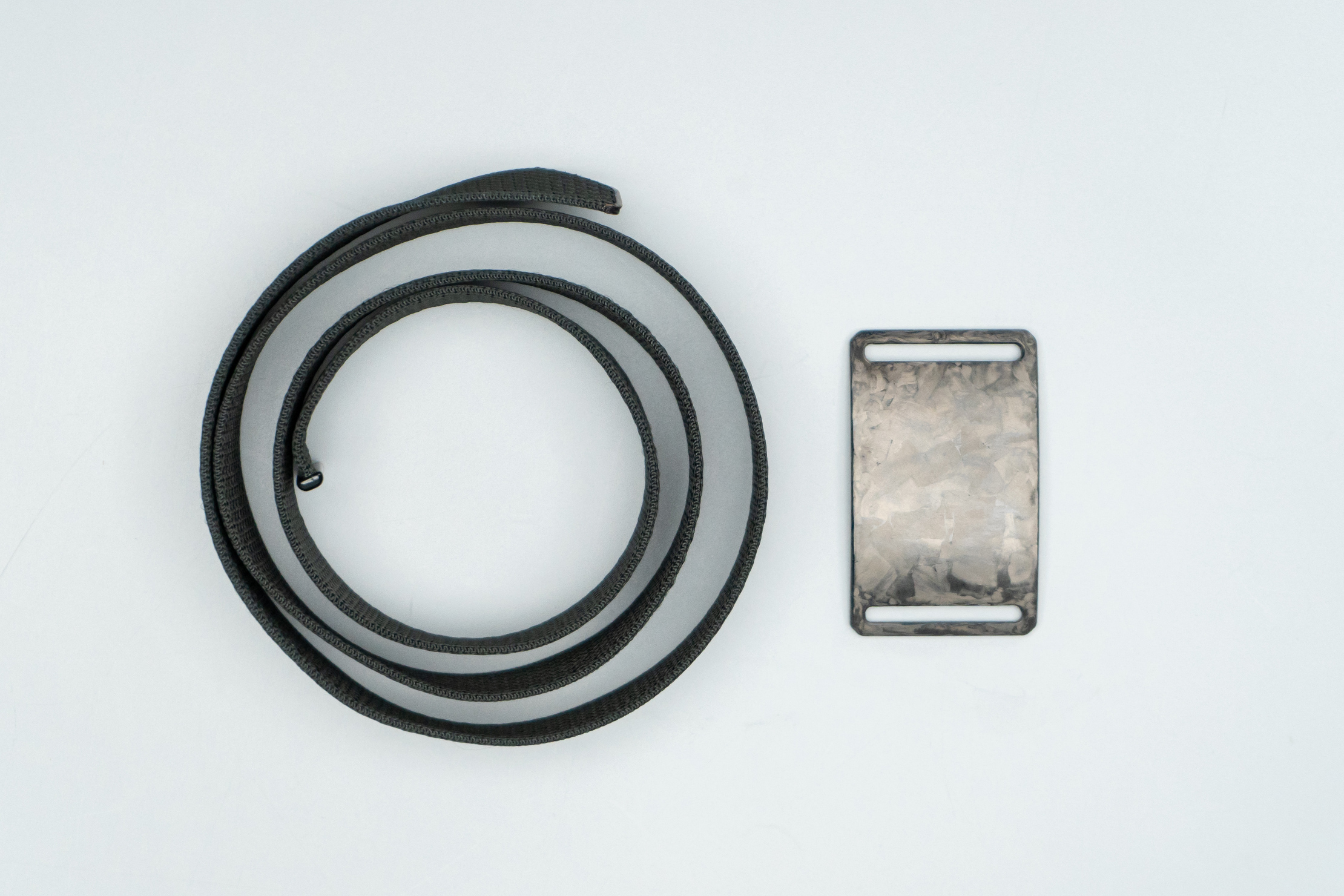 The buckle's currently available in other colorways and styles as well, such as Honeychrome, Chrome Classic, Copper Classic, Buffalo Copper Antique, and Obsidian Carbon Fiber. Bear in mind, though, that only the Forged Carbon Fiber, Dark Matter, and Obsidian Carbon fiber get carbon fiber, while the rest are made of 6061 T6 Aluminum. The strap is also available in multiple colorways: Raven, Timber, and Silver. We'll leave it to you to mix and match buckles and straps. For us, the Forged Carbon Fiber buckle works great with the Raven strap. You can never go wrong with black since it's easy to match with other colors.
Usage & Features
The Grip 6 Belt can take some getting used to for those more used to the typical belt buckle design. As stated earlier, there are really only two pieces to speak of: the buckle and the strap. The strap has a plastic stopper at one end, while the other end is cut and tapered. The way it's tapered looks and feels reassuring enough that we're not concerned about fraying. It's not an unheard-of issue for belt straps, be they leather or nylon, to fray at the edges, so we're happy to see this kind of reinforcement.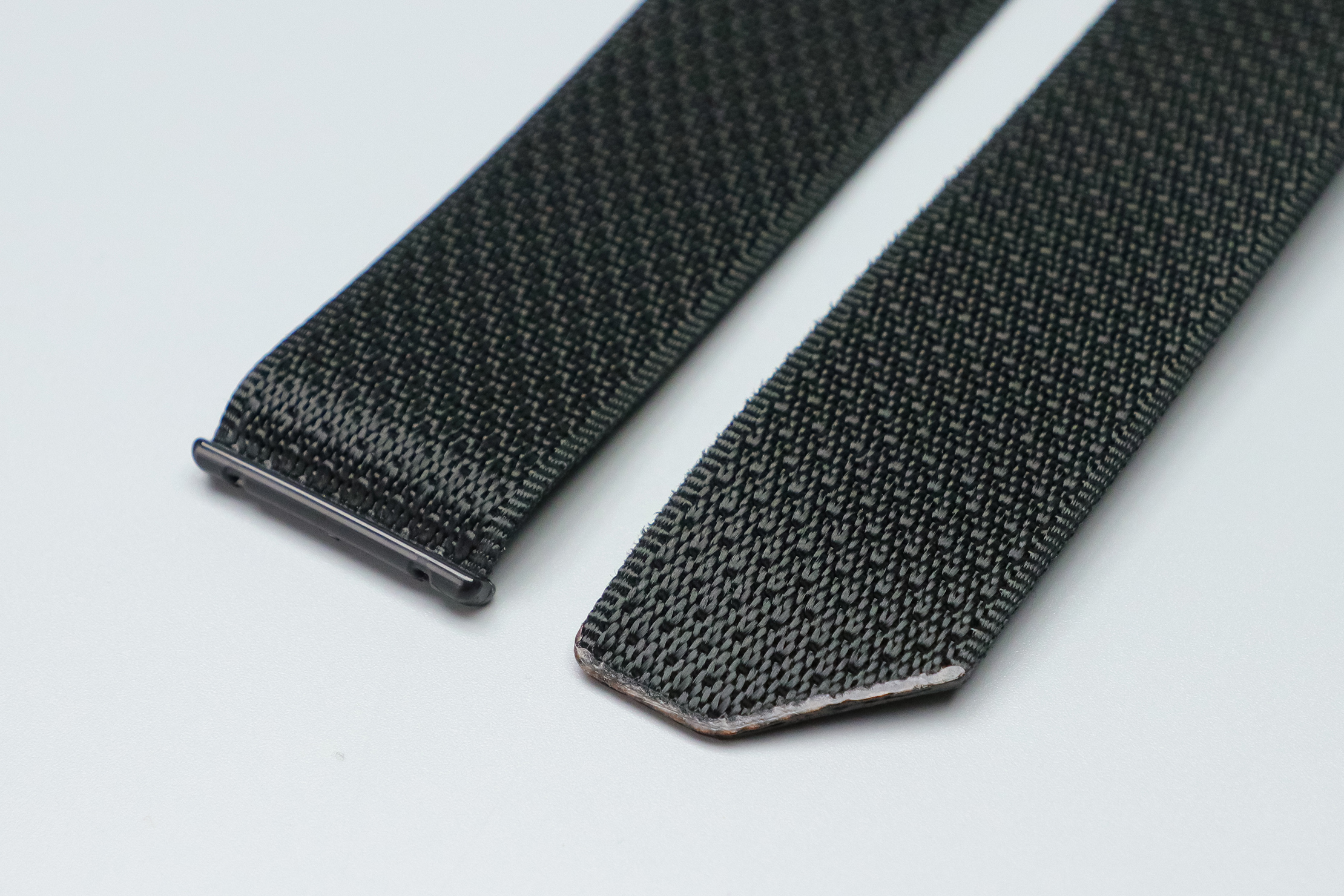 The buckle itself has slits at either end where the strap can thread through. Yep, you can thread the strap through either slit for your preferred orientation. That said, the entire belt itself is symmetrical—save for the angled cut at the end—so it can be reoriented easily. The angled cut makes threading the strap through the slit easier, especially during those groggy mornings. Since the buckle and the strap are really only kept together by tension and a stopper, they're easily separated and swapped out—a huge win for those who may want to switch things up down the line and/or in case Grip6 decides to release new buckle and strap designs.
Down below is a GIF of how to put the belt on. Those who are more used to typical belt designs may find how it comes together strange—but trust us, it works. Once you have the belt around your waist, instead of threading from the inside-out, the strap threads from the outside-in. This positions the slack behind the rest of the strap. The folks over at Grip6 recommend holding onto it as you shimmy and tighten the belt.
The whole process can take some time to get used to, but it's pretty simple at its core. There are no prongs, clips, snaps, or fasteners to worry about, just sliding the strap and buckle into place. This lack of too many parts is great for another reason as well. We've heard of belts with buckle mechanisms that have a tendency to catch on the skin if they're leaned on too hard. Needless to say, that's a painful experience that, fortunately, the Grip6 Belt avoids.
The Grip6 belt is more comfortable than its "Forged Carbon," and "High-tensile" descriptors lead on. Apart from the soft strap, the slight curve of the buckle also helps it sit better along the waist. It's also not bulky and over-the-top in terms of size, shaving off a tiny bit of space for one bag travel while minimizing discomfort. As awesome as championship belt-sized buckles are, they're not the most comfortable to sit down with when you're waiting for your flight.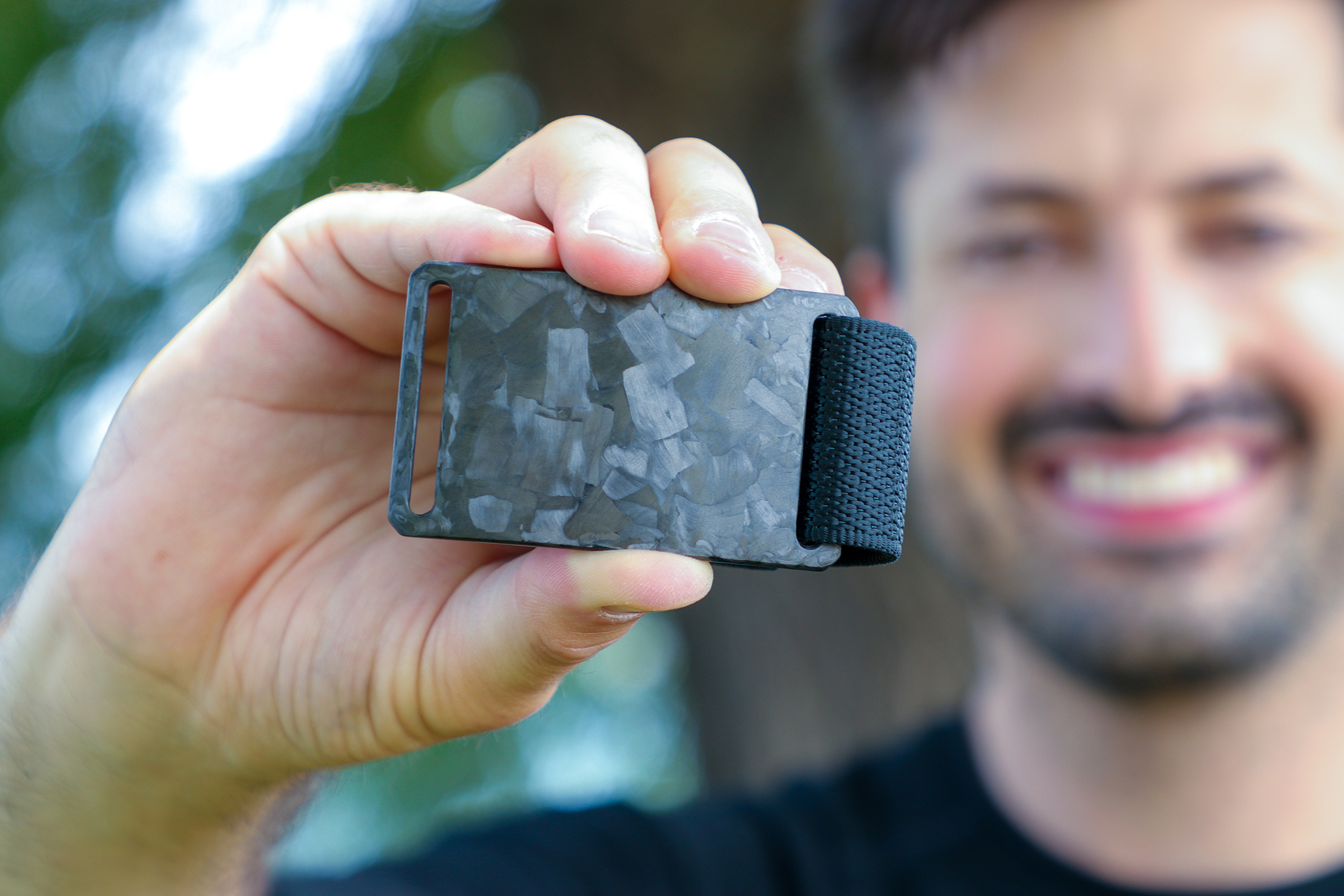 Thanks to the use of carbon fiber, the Grip6 Belt has another trick under its sleeve belt: keeping our pants on through airport security—no, really, that is how Grip6 spins it. Because there is no metal involved, it doesn't set off alarms when you go through the metal detector, so you won't have to take it off—which really works in the Grip6 Belt's favor. We got to test this out on two flights, and both times we got through without fussing over our buckles—let your travel bag go through the scan alone, sans the belt.
Because of the simple but unusual way the Grip6 Belt secures, it's kind of slow to put on and take off. As you adjust the belt tighter and tighter, it also becomes trickier because you're holding the slack in place while the rest of the belt tightens around the hand holding it. It's sort of like holding your hand up to stop a dog from following you through a door while you close it; there's definitely a trick to it, but not a complicated one.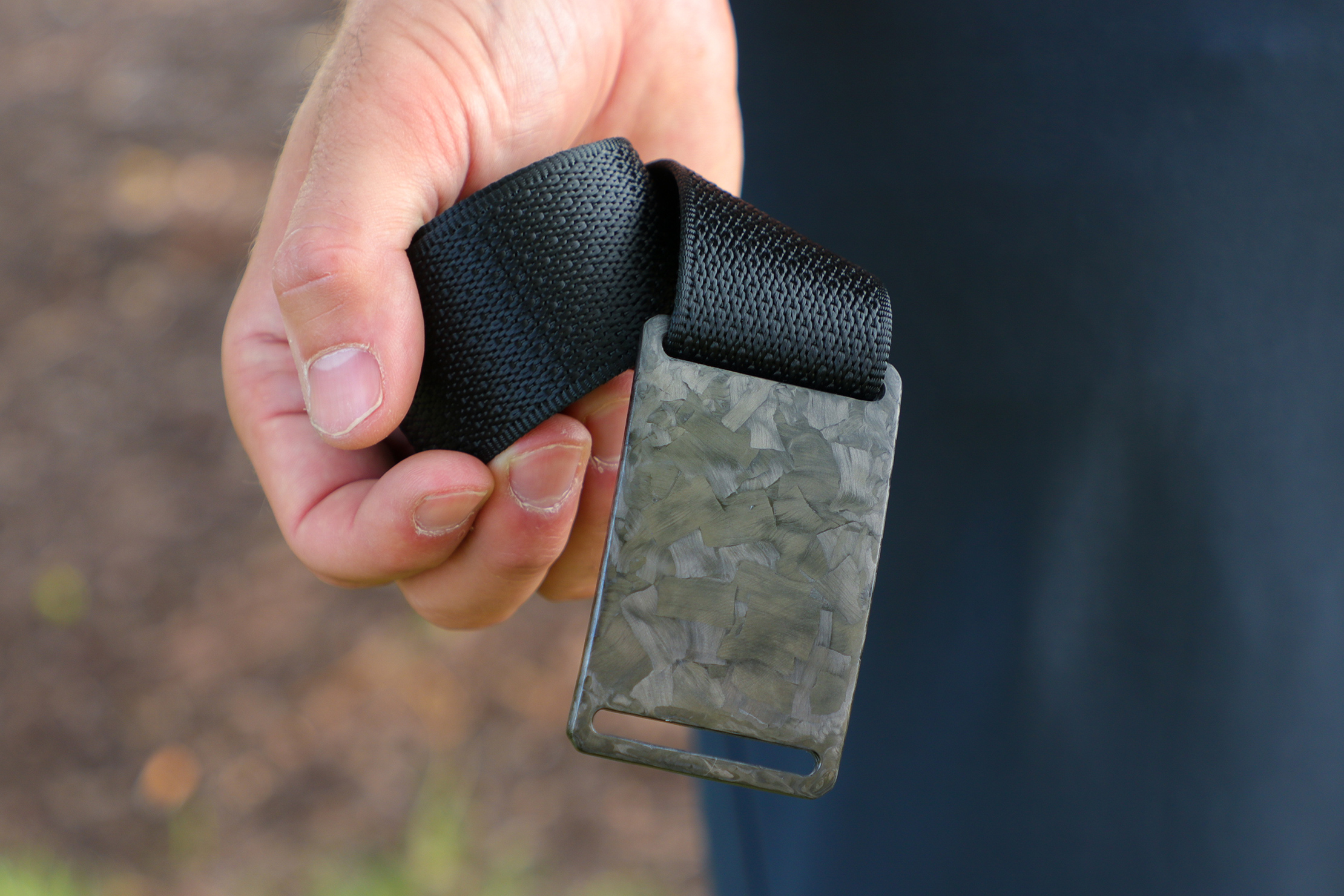 Despite the simplistic design of the Grip 6 Belt, we think it's a clever one. It does take a bit of practice right out of the box to get the fit and adjustment right. Since it's a sliding belt that doesn't rely on prongs or clips, getting the correct tightness is key to a secure fit. Its carbon fiber is also definitely a huge plus for the frequent flyer that goes through as many metal detectors as they do doors.
Usage Timeline
Initial Usage
Condition: Excellent
Feels light for a belt
Carbon fiber buckle feels especially light, but very rigid
Buckle doesn't slip even when tightly fitted
2 Weeks of Use
Condition: Excellent
Carbon fiber is great since you don't need to take it off when heading through airport security
There are many patterns and colors available, but we're digging ours
Belt can take a bit of getting used to since you thread excess belt behind
It's a bit slow to get on and off compared to other belts

We love the quick, interchangeable belt design

It's more comfortable—and softer—than we initially thought it would be
Access the Pro Community Discussion
Get your questions about the GRIP6 Forged Carbon Fiber Belt answered from our team and the Pro Community right here on the page. Plus, join discussions with other members about gear, guides, and more.
Other Clothing & Accessories Reviews