Gregory Juxt 34 Review
With a removable electronics caddy that is swappable for a hydration bladder, the Gregory Juxt 34 goes from travel pack to hiking the trails in a snap.
Our Verdict
Unlock the Pro Summary
Save time. Get access to brief summaries of our reviews so you can browse and make decisions more efficiently.
Pros
Plenty of zippered pockets and pouches for organization
Zippered pouches on hip belt keep snacks within reach
Electronics caddy is easy to remove to use on its own
Cons
Padded back prevents the bag from sitting upright
Large hip belt gets in the way
Amount of zippered pockets can slow down security checks
Recent Pack Hacker Video
Technical Details
Capacity

34l

Weight (lb)

3.65 lb (1.7 kg)

Denier

420D

Dimensions

20.7 in x 13 in x 11 in (52.6 x 33 x 27.9 cm)

Notable Materials

Nylon, Polyester, Steel, YKK Zippers, Duraflex Hardware, Hypalon®, EVA Foam

Manufacturing Country

Philippines

Laptop Compartment Size

15"

Warranty Information
Full Review
Backpacking through Europe, hiking the Appalachian Trail, or going on "The Amazing Race"? Then the Gregory Juxt 34 Adventure Travel Pack is the bag you may want to grab. The 34L capacity has plenty of room for clothes, shoes, tech, accessories, and snacks, along with plenty of places to stash it all.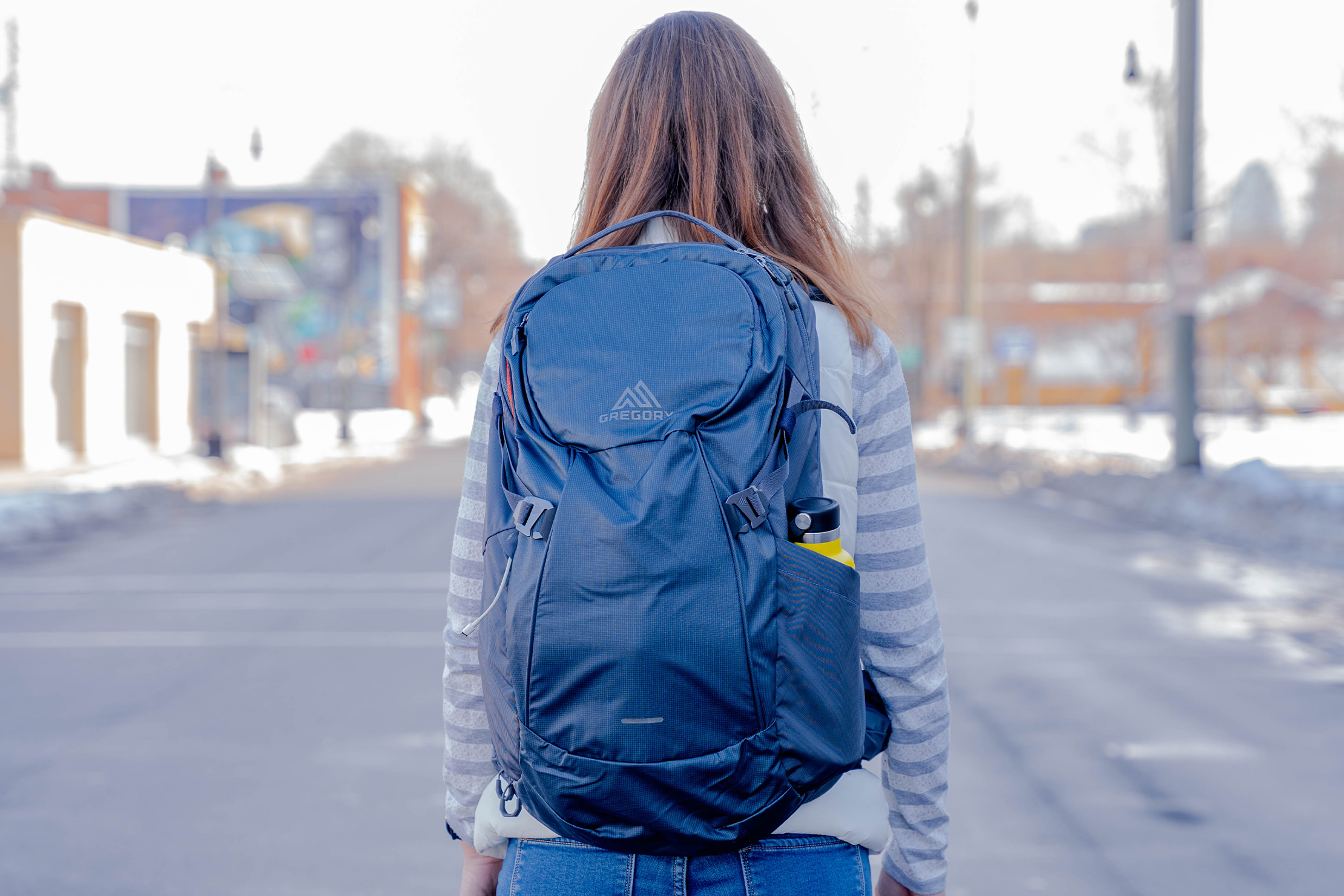 From the outside, it seems to be designed as a day pack for hiking or a weekend trip but, inside, features like the removable electronics caddy that can be swapped for a hydration pack make us want to use it for so many other occasions. Its large size and capacity, however, can be a detriment as it is too big to shove under most airplane seats and takes up its own seat in a car. Let's dig into its other benefits and features.
Materials & Aesthetic
The Gregory Juxt 34 is no flimsy backpack. With a perimeter frame that spans its 20.7-inch height and EVA foam padding to cushion the back, it can stand up and protect whatever we throw inside. The exterior is nylon, and we like the water resistance and durability of the fabric. While it weighs over 3.5 pounds, the weight is supporting sturdy construction to help last through years of hikes, travel, and outdoor use. The Juxt 34 is built for function, not beauty, so we feel a bit conspicuous while wearing it around town. On the trails, it fits right in as a day pack that helps us be prepared for anything.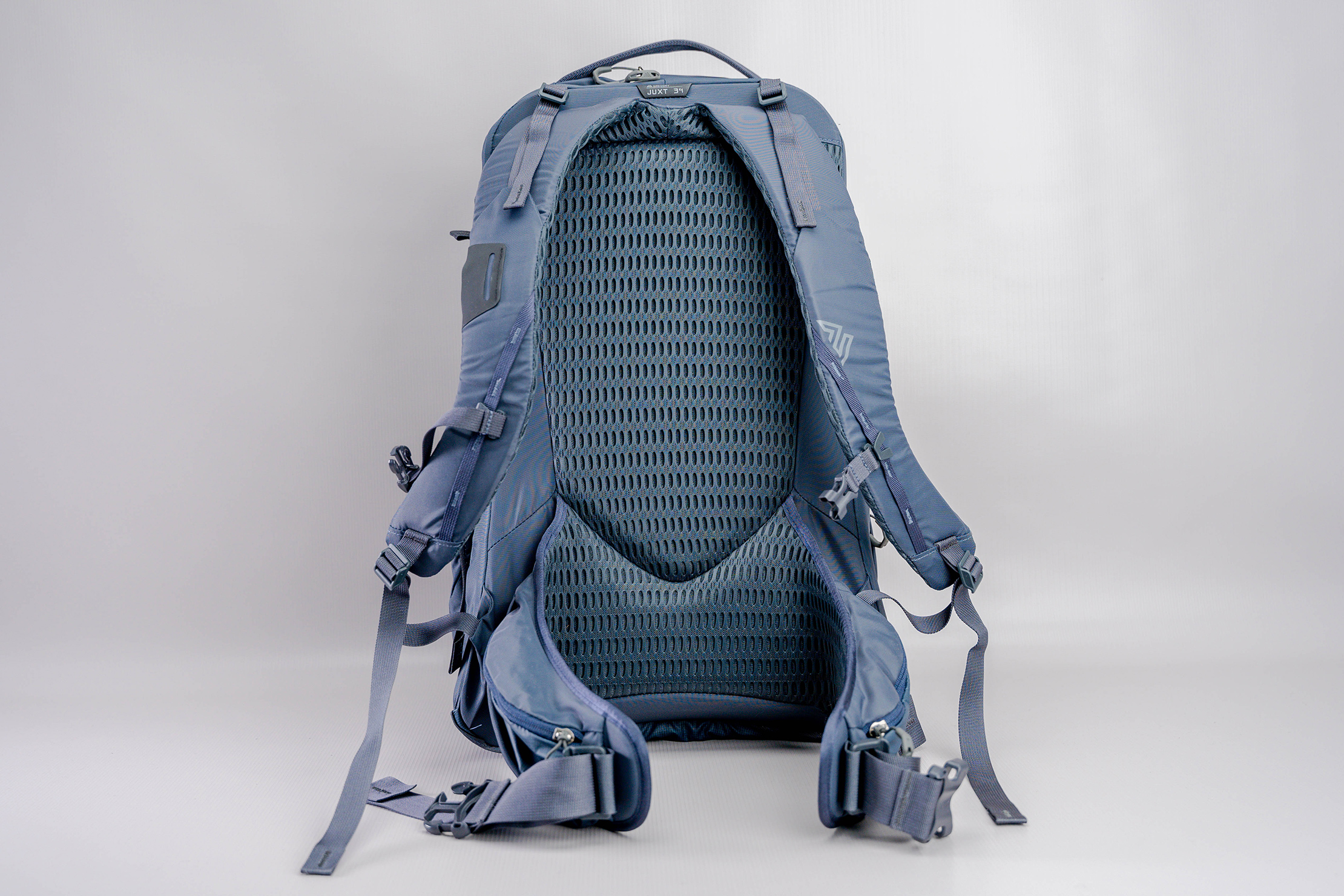 As of this writing, it comes in two colors—Obsidian Black and Spark Navy—both with a bright orange liner that makes it easy to spot items inside the bag. There is minimal branding, with one Gregory logo centered in the top portion of the pack and a small logo with the Juxt 34 name on the top of the back, but they don't detract from all the bells and whistles scattered around this bag.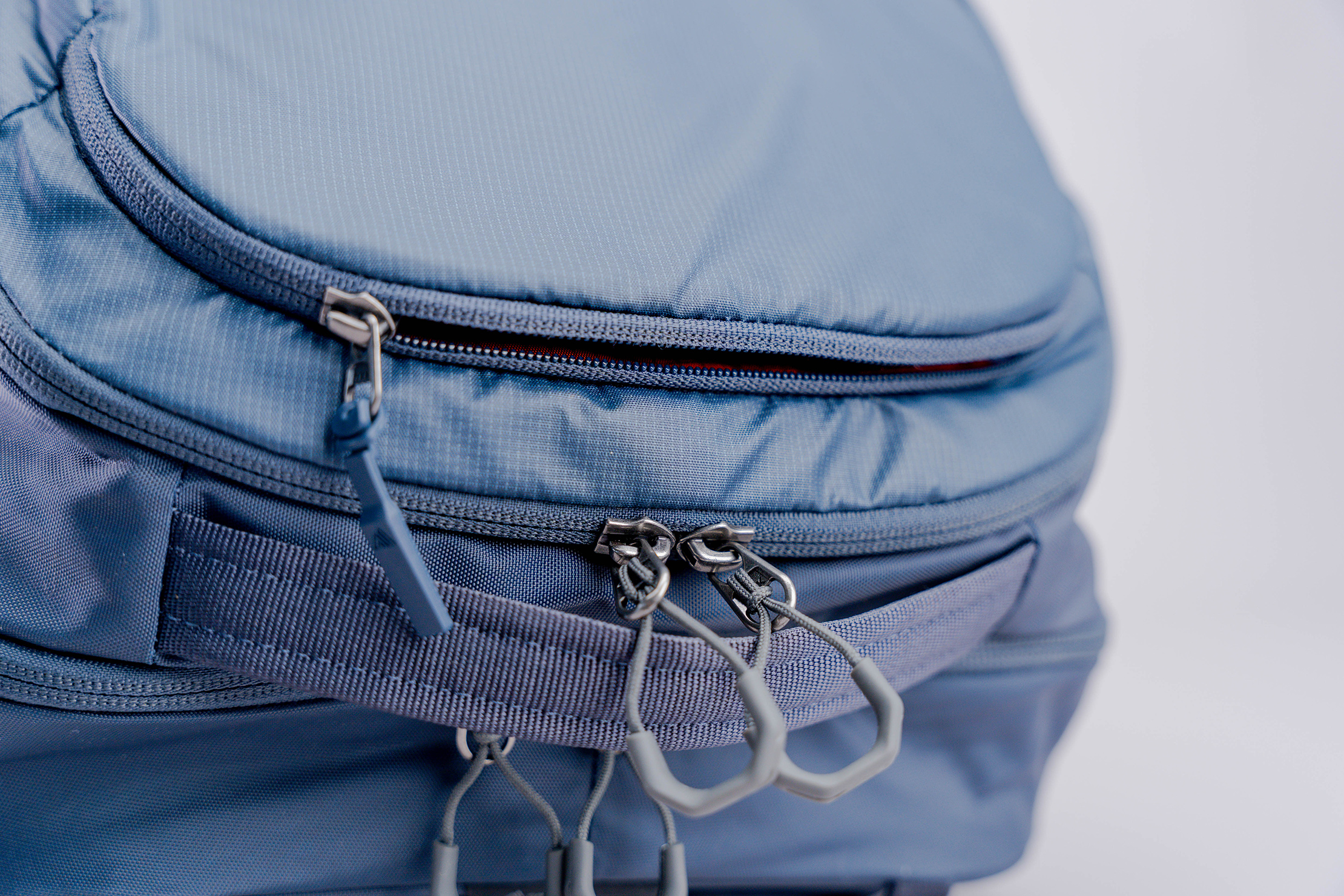 Gregory uses YKK zippers for the Juxt 34, and many of them have zipper pulls with sturdy plastic loops that make them easy to grab. The quick-access compartment's zipper has a locking loop that we find somewhat difficult to use, but it unzips better than the same setup on the Gregory Detour. It's still not a feature we use much, though, as the quick-access pocket should be quick to access, and this is not. Additionally, the pocket stays zipped just fine without the use of the locking loop, so it seems an unnecessary addition. But if you're more concerned with security from pick-pockets, this may be a feature you like.
External Components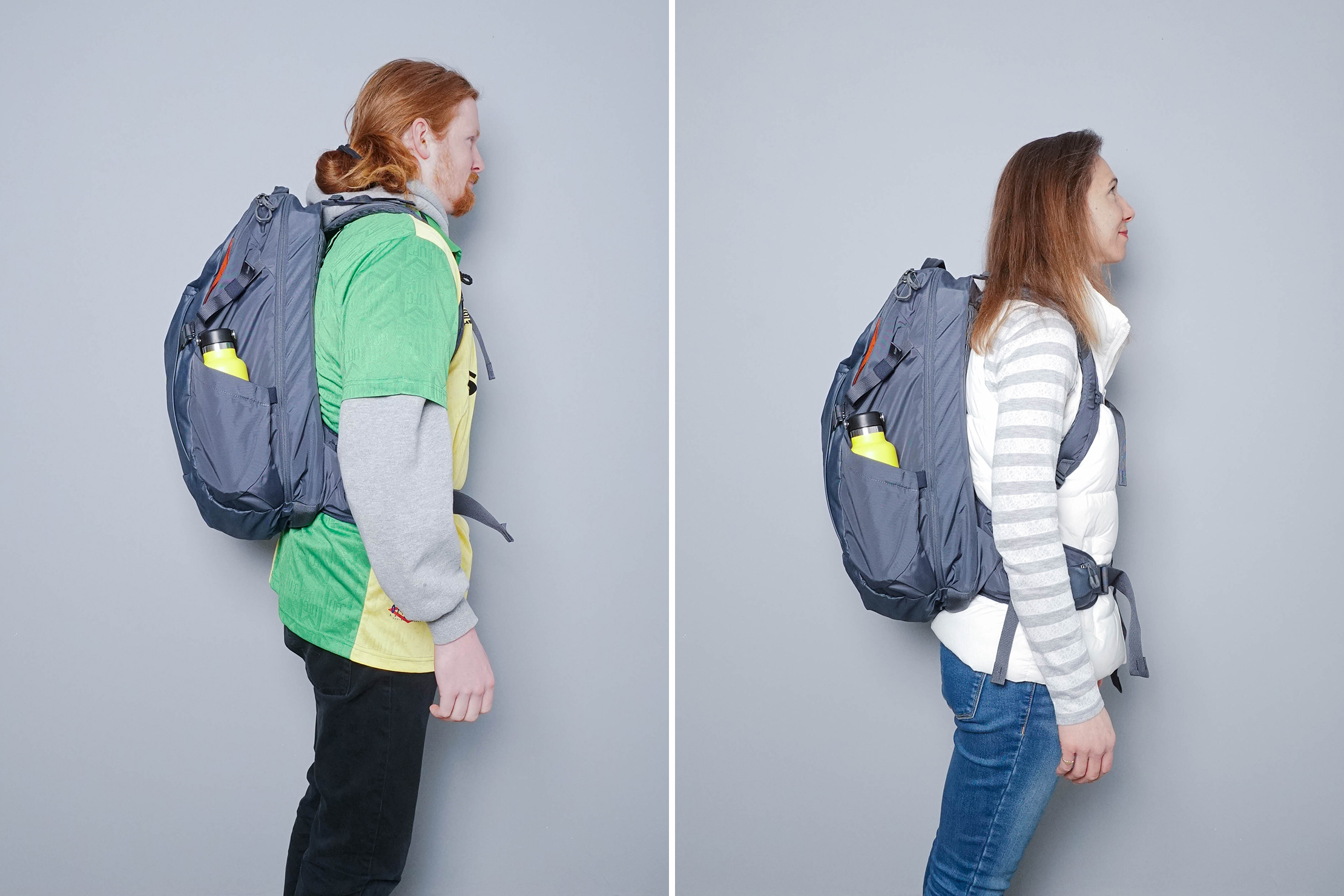 The Juxt 34 has well-padded shoulder straps that comfortably conform to a variety of body types thanks to their contoured shape and multiple adjustment points. Load lifter straps at the top bring the top of the pack closer to our body and adjustment points at the bottom snug the base of the bag to our backs. The lower straps are easy to adjust while on the go, but to fix the load lifter straps properly, we need to take the bag off entirely.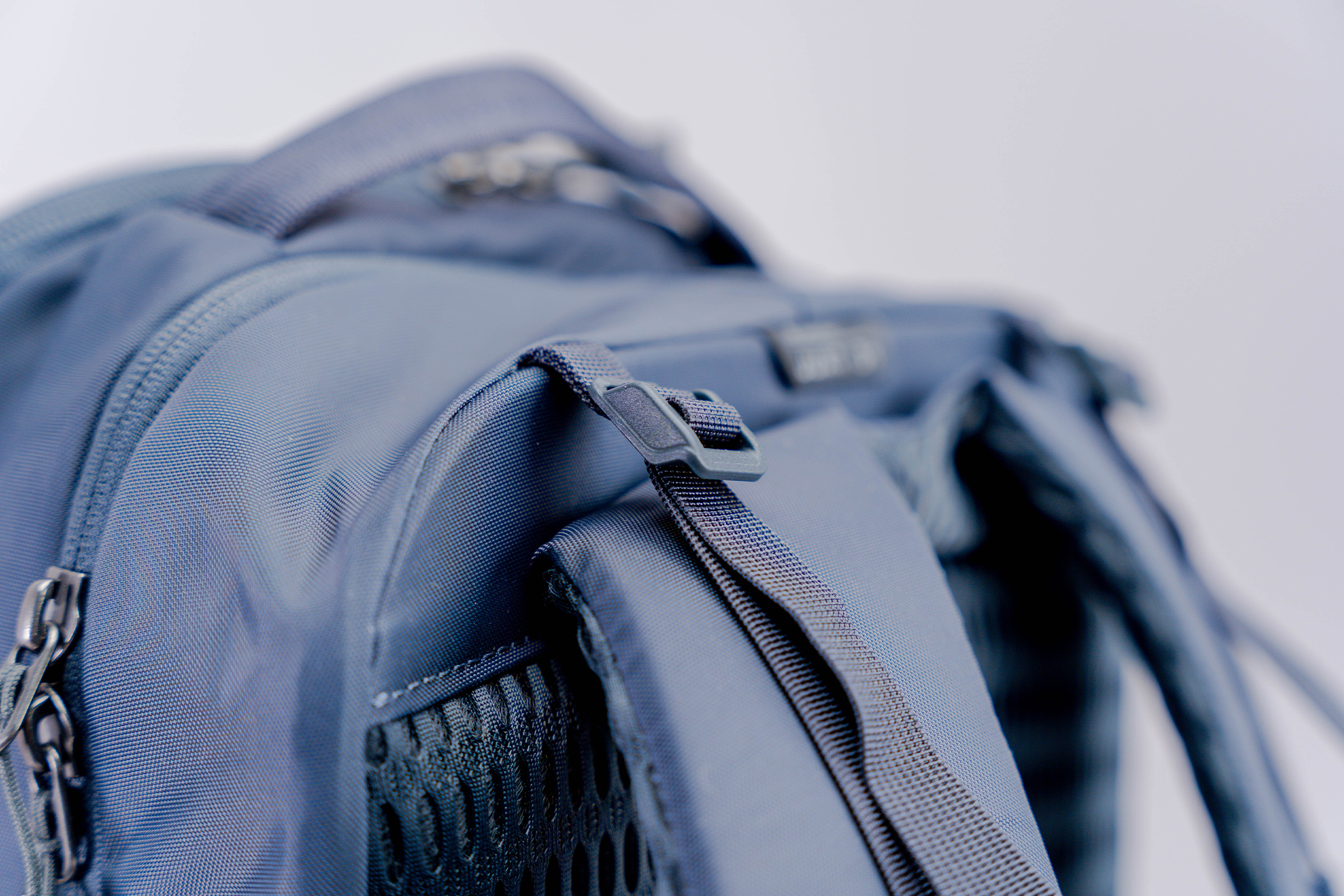 Right at the point where the shoulder straps return to the bag is a hip belt with zippered pouches on each side large enough to stash a granola bar, hand sanitizer, or a small bug spray. While this may be convenient on a long hike, the padding on the pouches causes them to extend out from the bag, no matter what. They're comfortable around our waist, but they get in the way when slinging the pack over the shoulder. We like the idea but wish they were less obtrusive.
A removable sternum strap can be placed along one of several points along the shoulder strap to ensure a proper fit and, with the heft of this bag, it's needed. Also, a Hypalon clip on the user's right shoulder strap is an excellent place to clip an action camera for filming our adventures.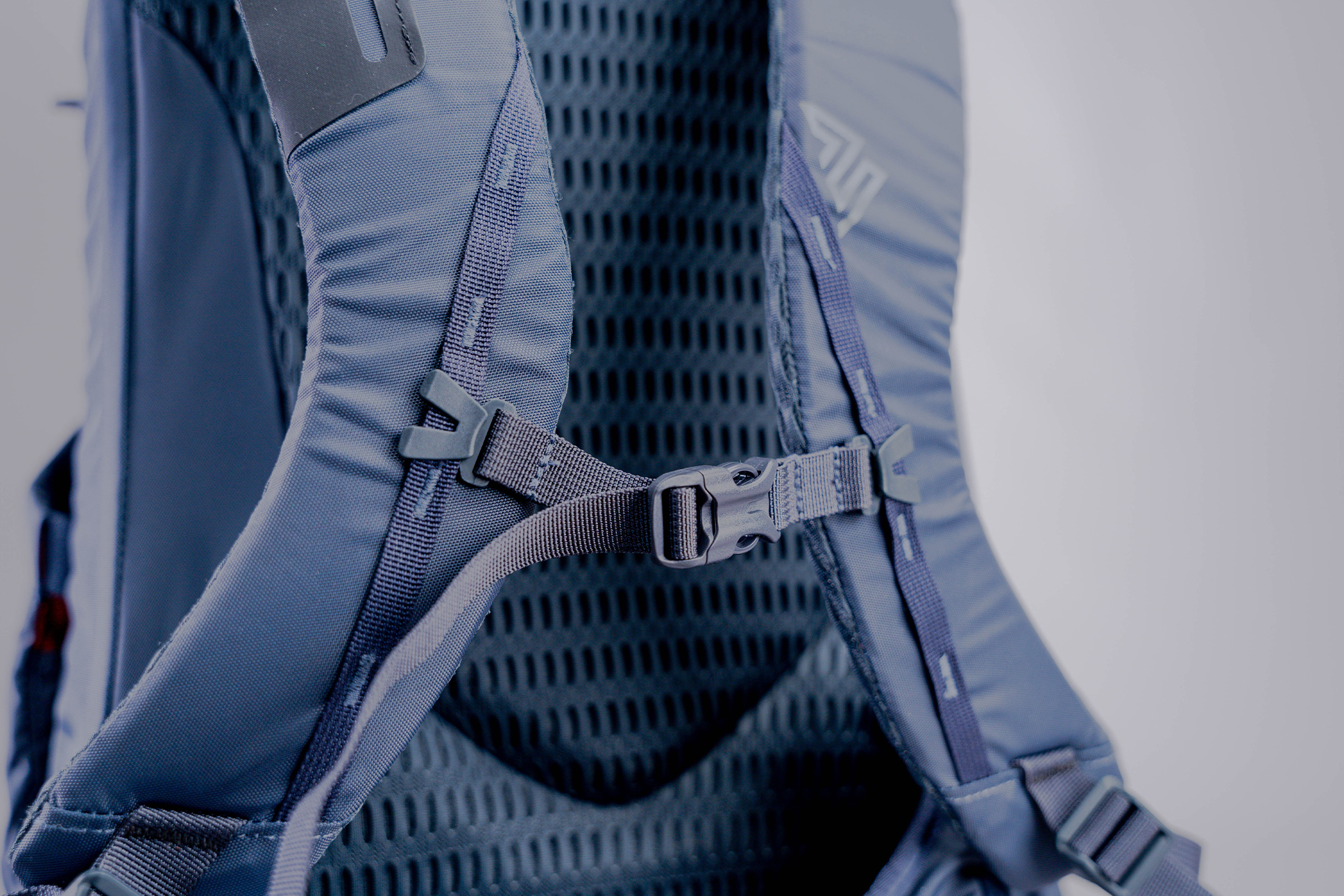 On the same side of the bag is a large water-bottle holder. Its size means even a 3- or 4-inch bottle can fit inside, but the lack of a cinch leaves our bottles rattling around during use. This isn't such an issue when the bag is fully packed, but if it's only half-full, we worry our bottle could easily slip out when the bag is set down without care. An elastic gusset helps the pocket expand even further, so we take advantage and bring the widest bottle we own for a snug fit.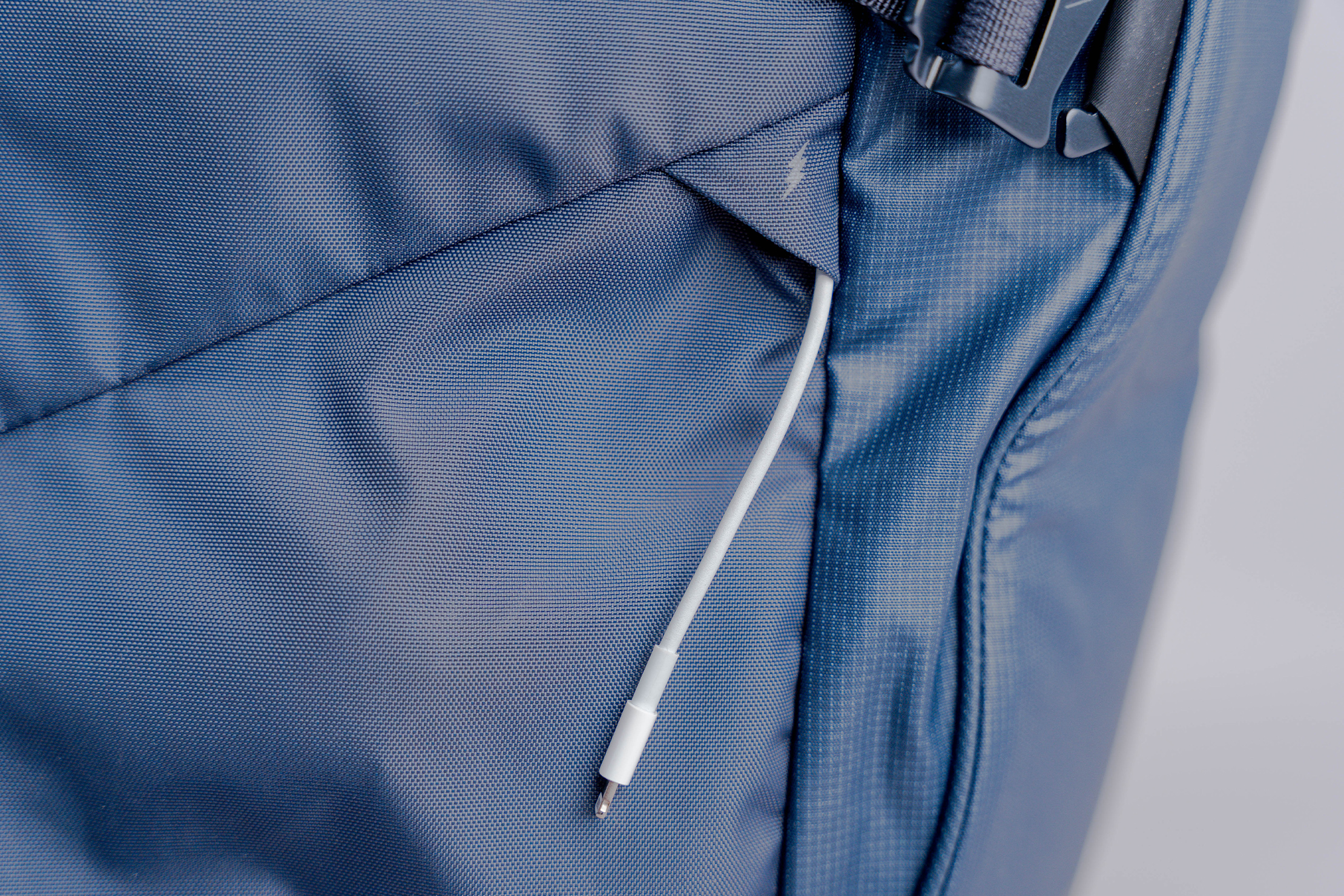 On the opposite side of the pack's exterior is a small zippered pocket that's intended for a phone battery pack. A small lightning bolt logo alerts us to a tiny hidden access point for a cord to slide through, allowing us to carry our phone while it's charging. This can be a handy feature if we're planning to be out all day navigating and taking photos and video with a phone but we recommend sliding the cord through before leaving home; it's a little tricky to get through that small slot and not something we like to have to wrangle in the woods.
When it's not fully packed, there are compression straps that can be attached via aluminum hooks to Hypalon straps. We do appreciate the strap keepers holding back the excess straps and keeping them from dangling off the front of the bag, which would look unseemly. They function well, and it would be nice if the hip belt and sternum straps had similar ways to tuck away excess. Instead, those straps dangle uselessly like an undone belt when we're wearing them properly.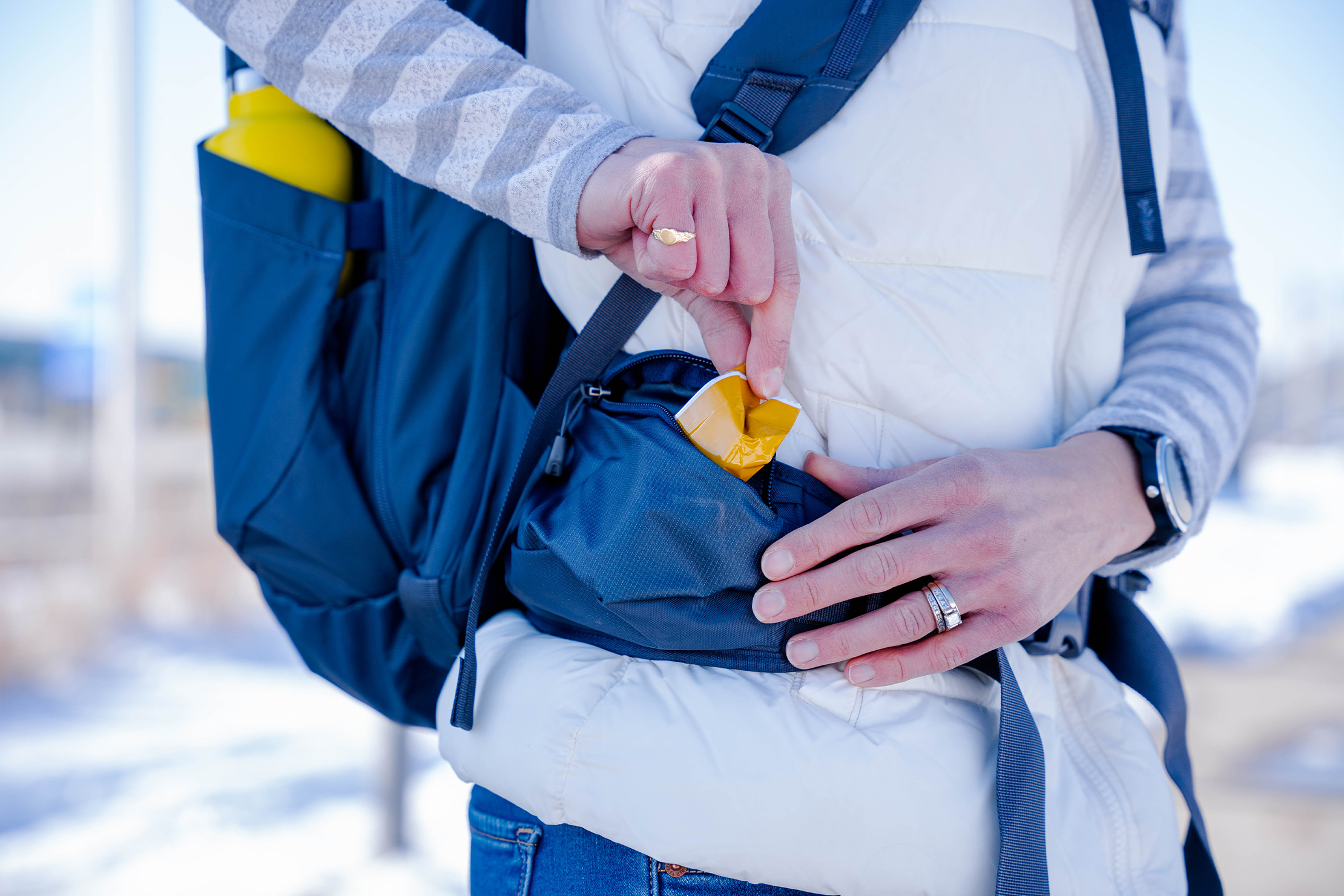 A 7-inch handle constructed of thick webbing at the top of the pack is easy to grab when tossing it in the car and a useful way to hang it up in between use. Now let's take a look inside.
Inside The Pack
The Gregory Juxt 34 has a nearly 8-inch square front access pocket, separated into two with a padded divider. It easily fits a wallet, passport, phone, hand sanitizer, and more and can be easily accessed while wearing the pack.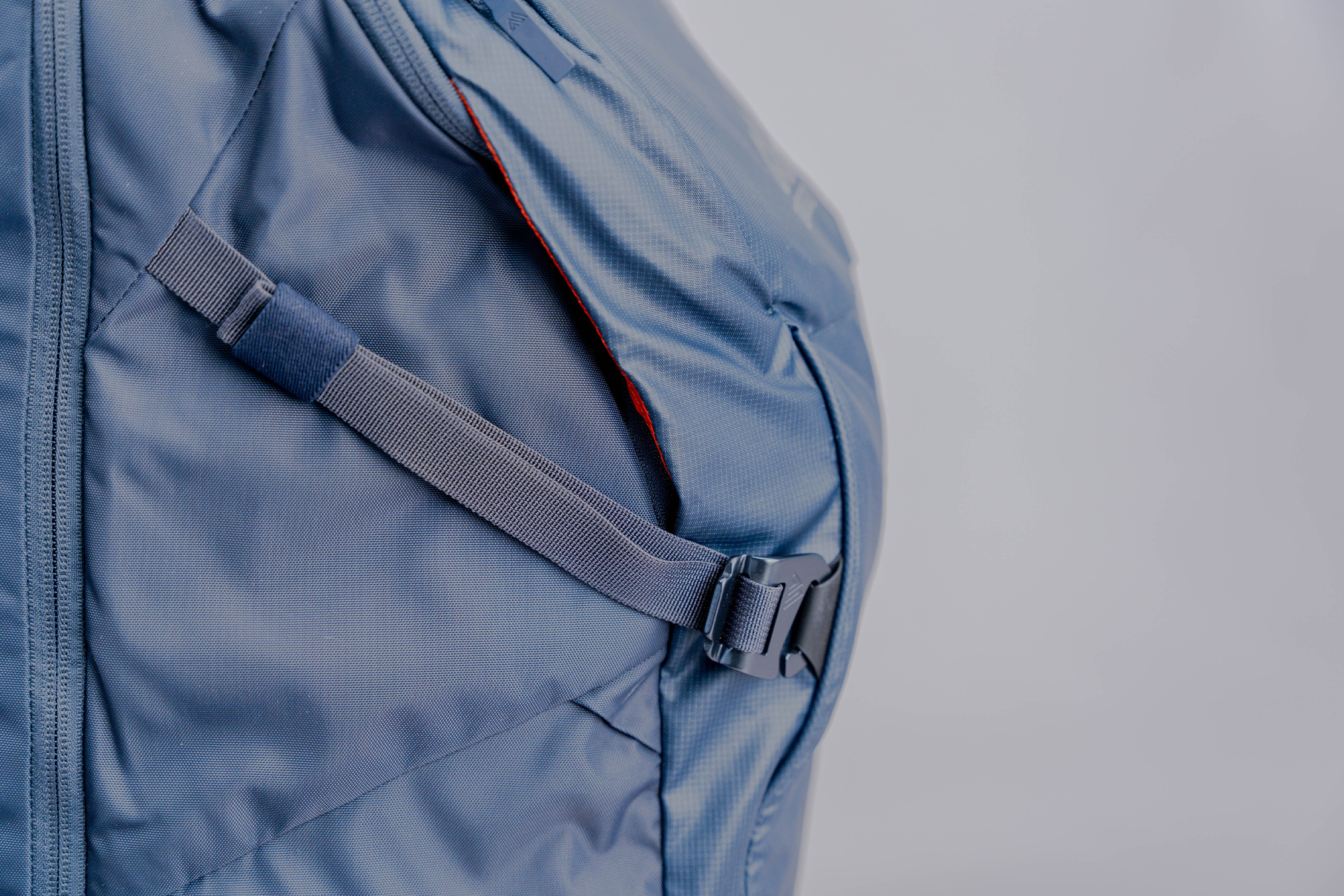 The main compartment opens with a dual-sided zipper in a U-shape that extends to the compression straps. This cavernous compartment has minimal organization—just one 8-by-5-inch mesh zippered pouch. There is plenty of room for us to pack an extra pair of shoes, a change of clothes, a rain poncho, snacks, and more, but we recommend investing in some packing cubes or pouches to make packing easier when jetting away for the weekend. That isn't necessary if heading out on a day hike, but we would like more organizational features to keep snacks and bug spray within reach.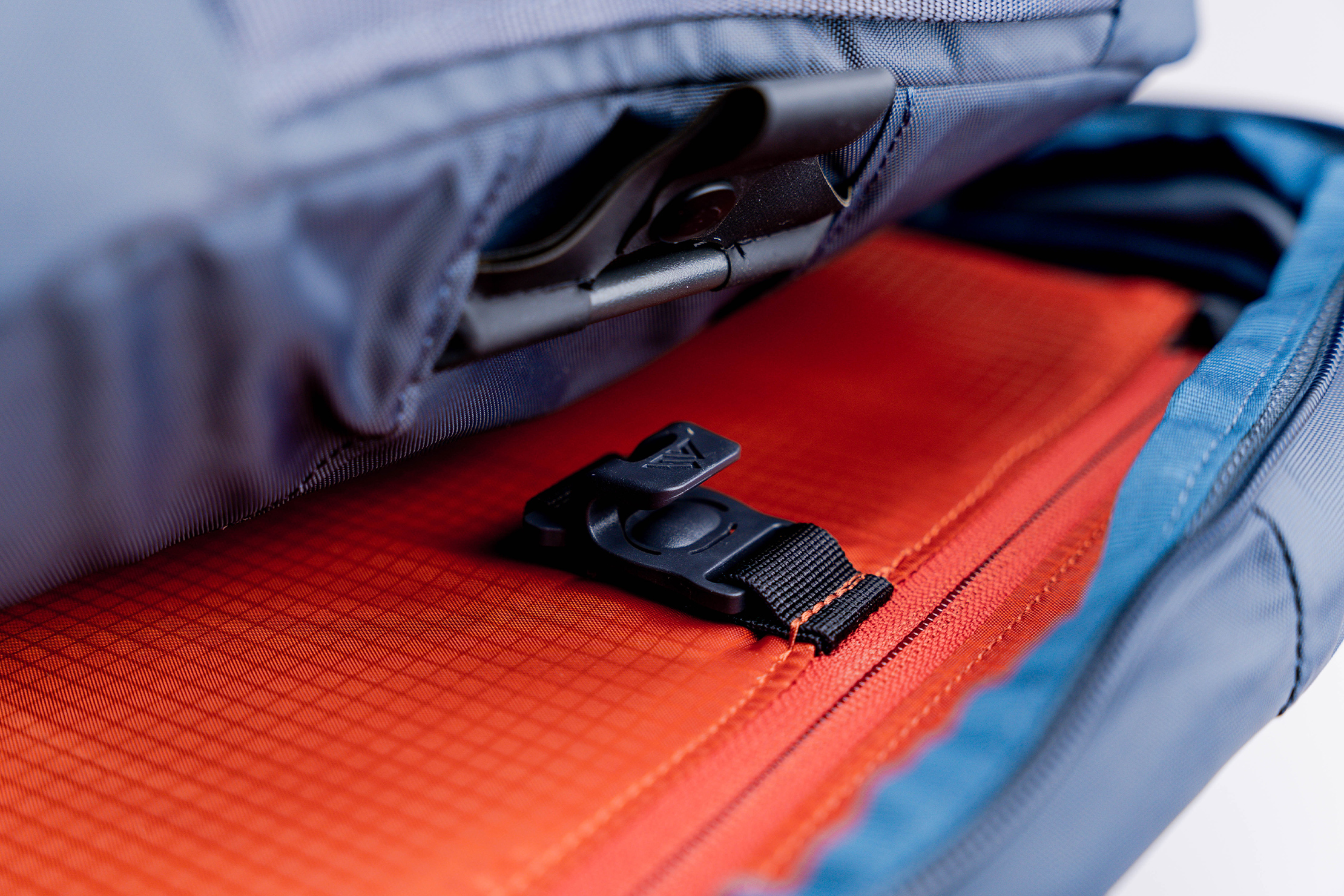 The back compartment opens completely clamshell with a dual-sided zipper to allow easy access to the removable electronics caddy included with the Juxt 34. The caddy is easy to clip into the rear of the compartment and remove, and we can swap it with a hydration bladder once we reach our destination. It doesn't come with the bag, but it seems like purchasing the Gregory Hydro Reservoir might be helpful if we were planning to use this for more than just a few hot summer hikes.
There are ways to carry extra tech and gear located opposite the electronics caddy: two pencil loops and four small mesh pouches, as well as an 8-by-4-inch zippered mesh pouch at the bottom. We liked to store headphones, medication, and other small items in these pouches because they were easy to access with the compartment only partially unzipped.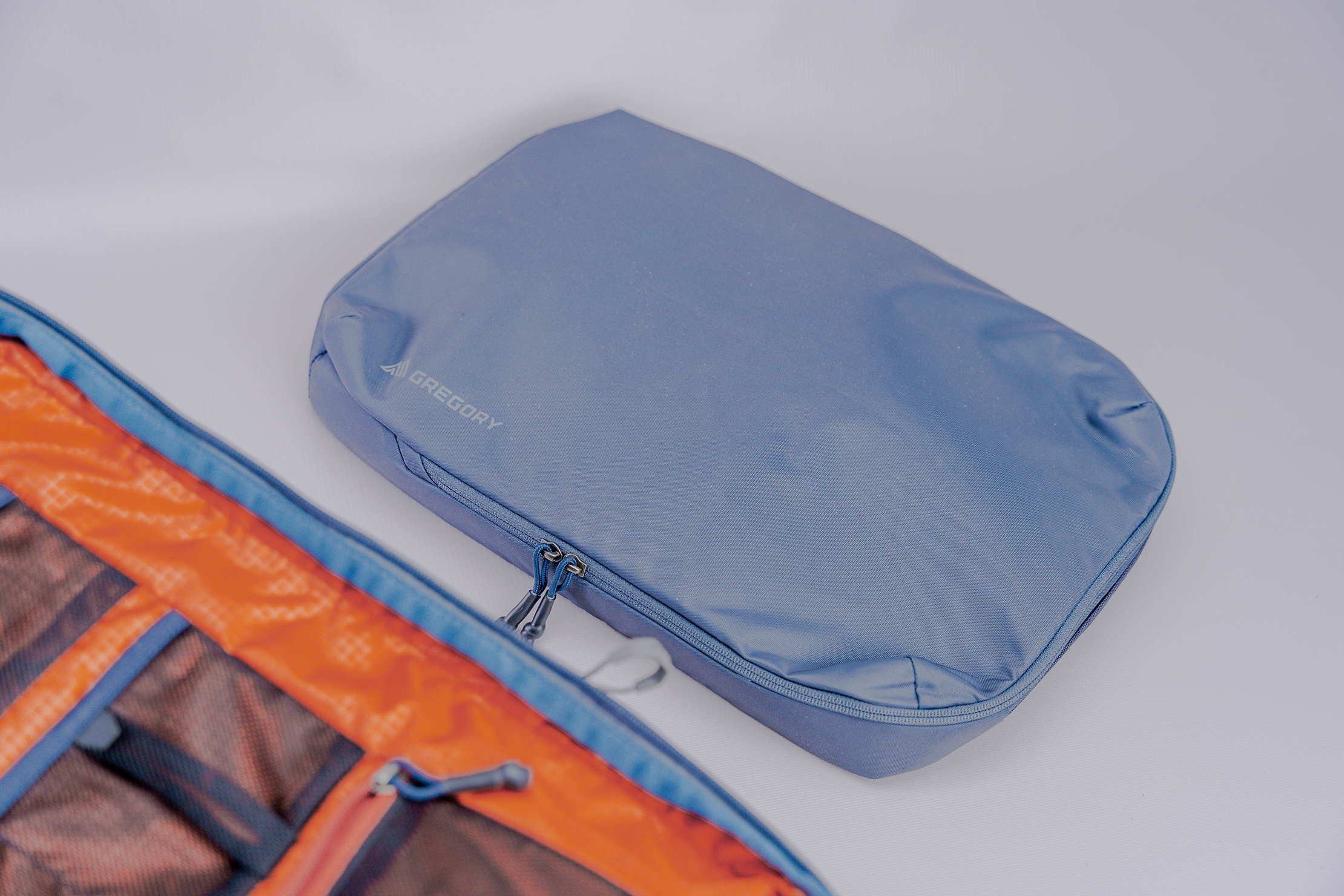 The well-padded, removable electronics caddy is a great piece of its own. Its handles allow for easy carrying apart from the Juxt 34. Inside is room for up to a 15-inch device, plus dividers for toting another small tablet, notebooks, or folders, all at the same time. The caddy includes slots for three pens or pencils and a 7.5-by-5-inch zippered mesh pocket that easily fits a mouse, cord, and charger for a device. On days we are heading into the office, we appreciate just grabbing this smaller piece out of the Juxt 34 as it has space to carry nearly everything we needed.
Overall, the Gregory Juxt 34 is a large bag with plenty of features, but those options don't always seem to work in conjunction with one another. But when knocking off work early to head to an outdoor adventure, it is great to travel with what we need to stay connected to the office and easily transition to exploring the great outdoors.
Usage Timeline
Initial Usage
Condition: Excellent
Hip belt's padded sides extend outwards quite substantially
Outer shell looks and feels slick
There is a built-in hook for a hydration bladder
2 Weeks of Use
Condition: Excellent
Removable electronics caddy convenient for short trips
Adjustability of straps makes bag extremely comfortable
Unwieldy to get charging cord through access in side pocket
Access the Pro Community Discussion
Get your questions about the Gregory Juxt 34 answered from our team and the Pro Community right here on the page. Plus, join discussions with other members about gear, guides, and more.
Other Bags & Luggage Reviews