Greenroom136 Rainmaker Review
The Greenroom136 Rainmaker is a clever, durable backpack that's far more functional than it is sleek—and it's highly customizable.
Our Verdict
Unlock the Pro Summary
Save time. Get access to brief summaries of our reviews so you can browse and make decisions more efficiently.
Pros
A ton of customizability options
Clever organization
Durable, water-resistant exterior
Cons
The zippers are super jingly and loud (optional zipper pulls may help combat this)
There are a lot of dangling straps
The pack isn't particularly sleek or cohesive (it's very utilitarian)
Recent Pack Hacker Video
Technical Details
Capacity

27l

Denier

1000D

Weight (lb)

4.2 lb (1.9 kg)

Dimensions

17.3228 in x 11.0236 in x 7.87402 in (44 x 28 x 20 cm)

Notable Materials

CORDURA®, Ripstop Nylon, EVA Foam, YKK Zippers, Fidlock Hardware, YKK Buckles

Manufacturing Country

Malaysia

Laptop Compartment Size

15"
Full Review
The Greenroom136 Rainmaker is a utilitarian, tank of a backpack that prioritizes function over, well, pretty much everything else. That's to say the Rainmaker is full of great features, but it's not what we would call streamlined or sleek.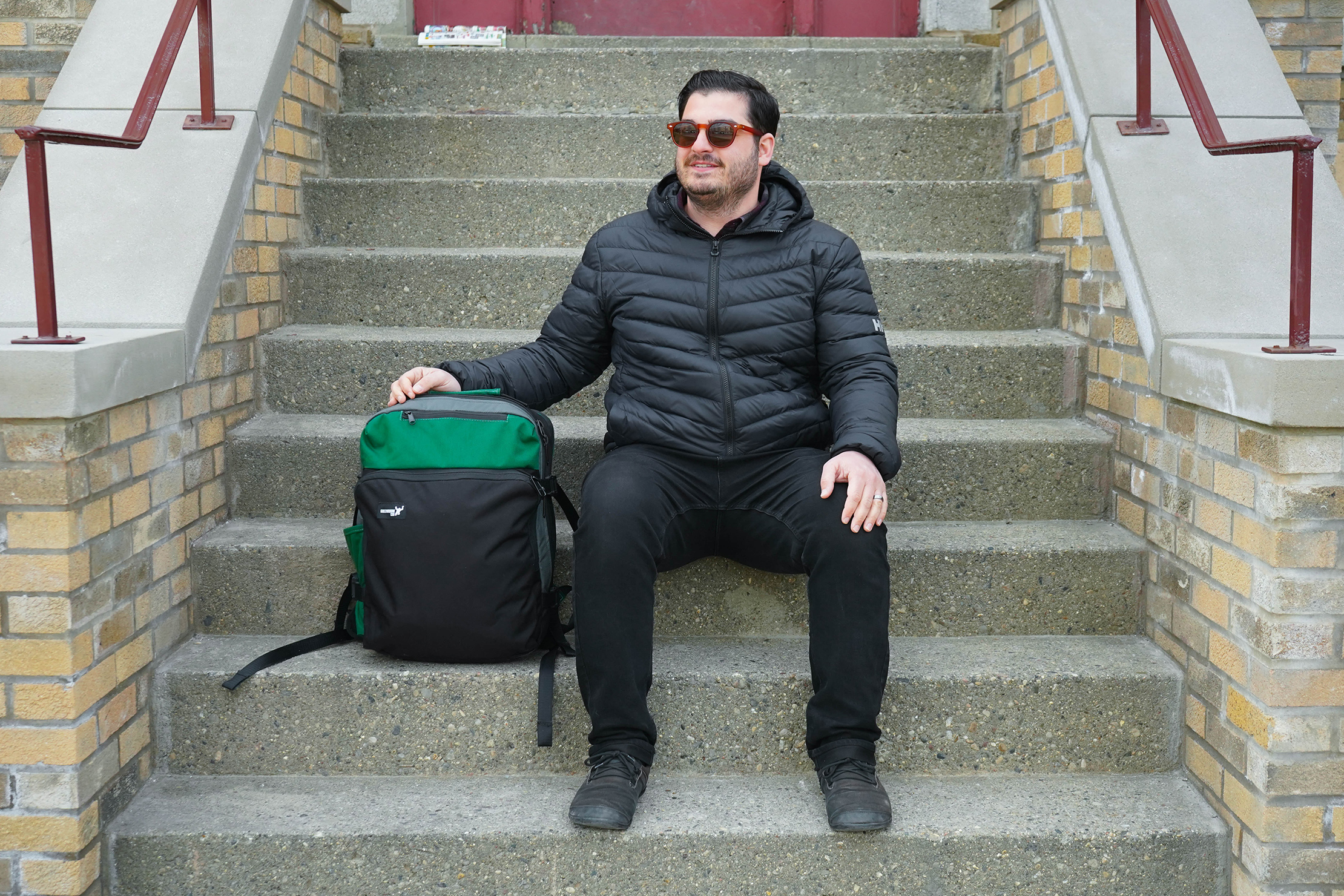 You can pick up a stock version of the Greenroom136 Rainmaker or, as we have, opt to customize it, essentially creating a backpack tailored specifically for your wants and needs. If you choose the latter, just know that it's very customizable. To the point that it's overwhelming. You can spend hours (days?) on the Greenroom136 website tweaking your bag to your liking.
One of the first things you'll "customize" is the size of the pack—it's available in Medium (22L), Large (27L), and LargeX (34L) sizes. We've been testing the Large, so we could use this thing not only as an everyday carry bag, but a minimal travel bag too.
And that's exactly what we've done for the past three weeks, using the Rainmaker as a daily driver around the Motor City and taking it on a short trip to northern Michigan. So read on to learn how it's fared (and how we've tricked it out).
Materials & Aesthetic
As we said, the Greenroom136 Rainmaker is full of features. But all of that clever organization and top-notch materials are hidden behind a pretty nondescript package. It looks like a simple, square backpack.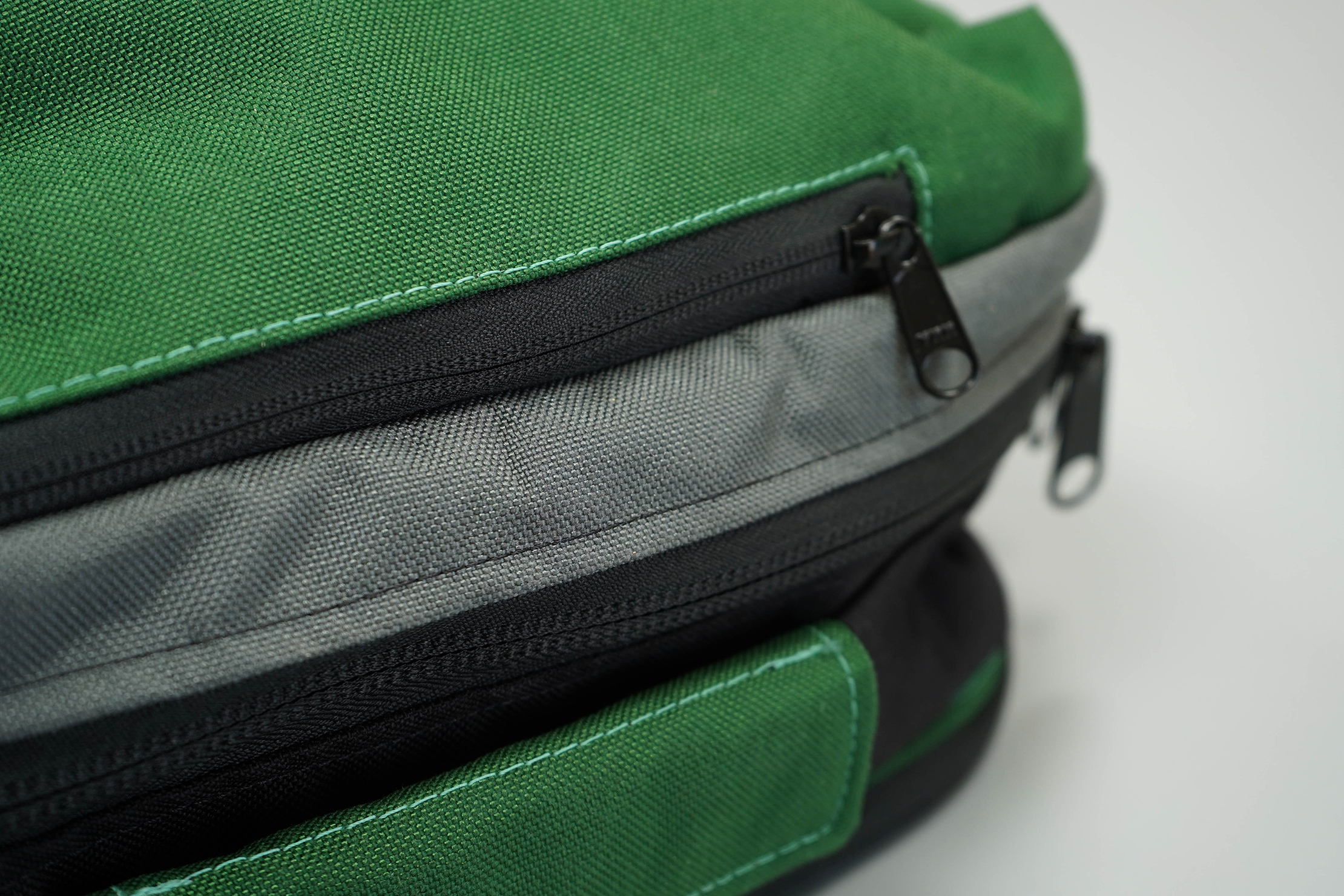 But you can add some color by literally adding some color. At the time of this review, you can pick it up in four different solid colorways. But you can also create a custom colorway by mixing and matching 12 available colors on the pack's multitude of panels. On the front of the pack alone, you have the option of one, three, or five panels. There are six other panels on the rest of the pack. In theory, you can choose a different color for each panel. It might not look good in the end, but it is possible.
You may also choose different colors for the optional side pocket, zipper pulls, and GrabPad (more on what these are later). We kept it simple with our pack—it's mostly black with Forest Green and GunMetal Grey accents. But the sky's the limit here, truly.
You can also add a velcro patch and exterior webbing attachment points for a more tactical aesthetic.
Phew. See, it's a little overwhelming. And we've only touched on aesthetics.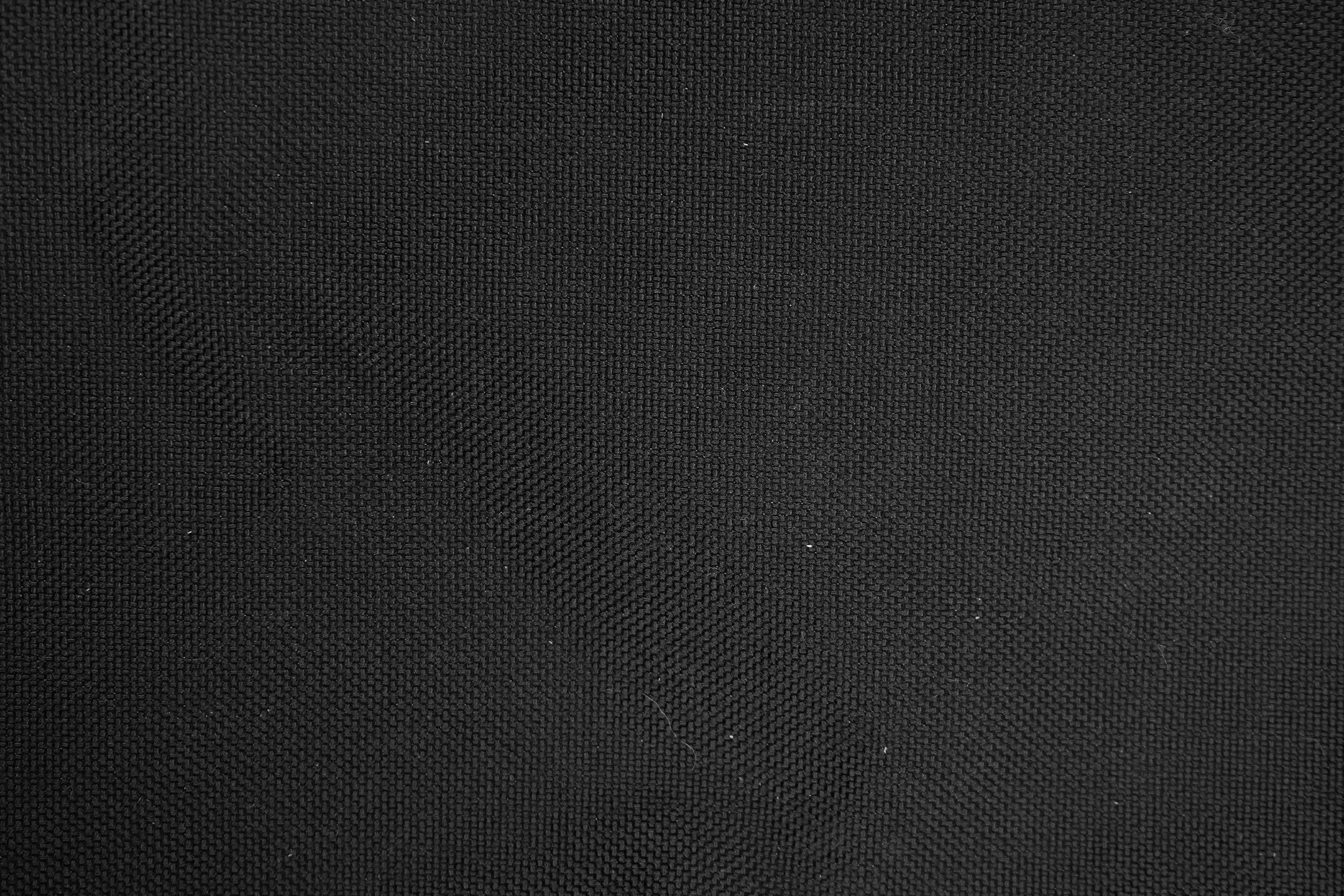 The materials on this thing aren't as customizable. The Greenroom136 Rainmaker has a 1000D CORDURA® nylon exterior, which is a super durable fabric that should keep up with whatever adventures you throw at it. And it's lined with a 420D Ripstop nylon. As the name suggests, Ripstop stops small rips from turning into backpack-ruining tears.
The fabric is also water-resistant, so you can get caught in a rain shower without worrying about ruining your stuff. You can add some additional water-resistance by opting for zipper rain flaps on the front, main, and laptop compartments. If your travels will take you through rainy places—or you live in a drizzly place already—this may be a good idea.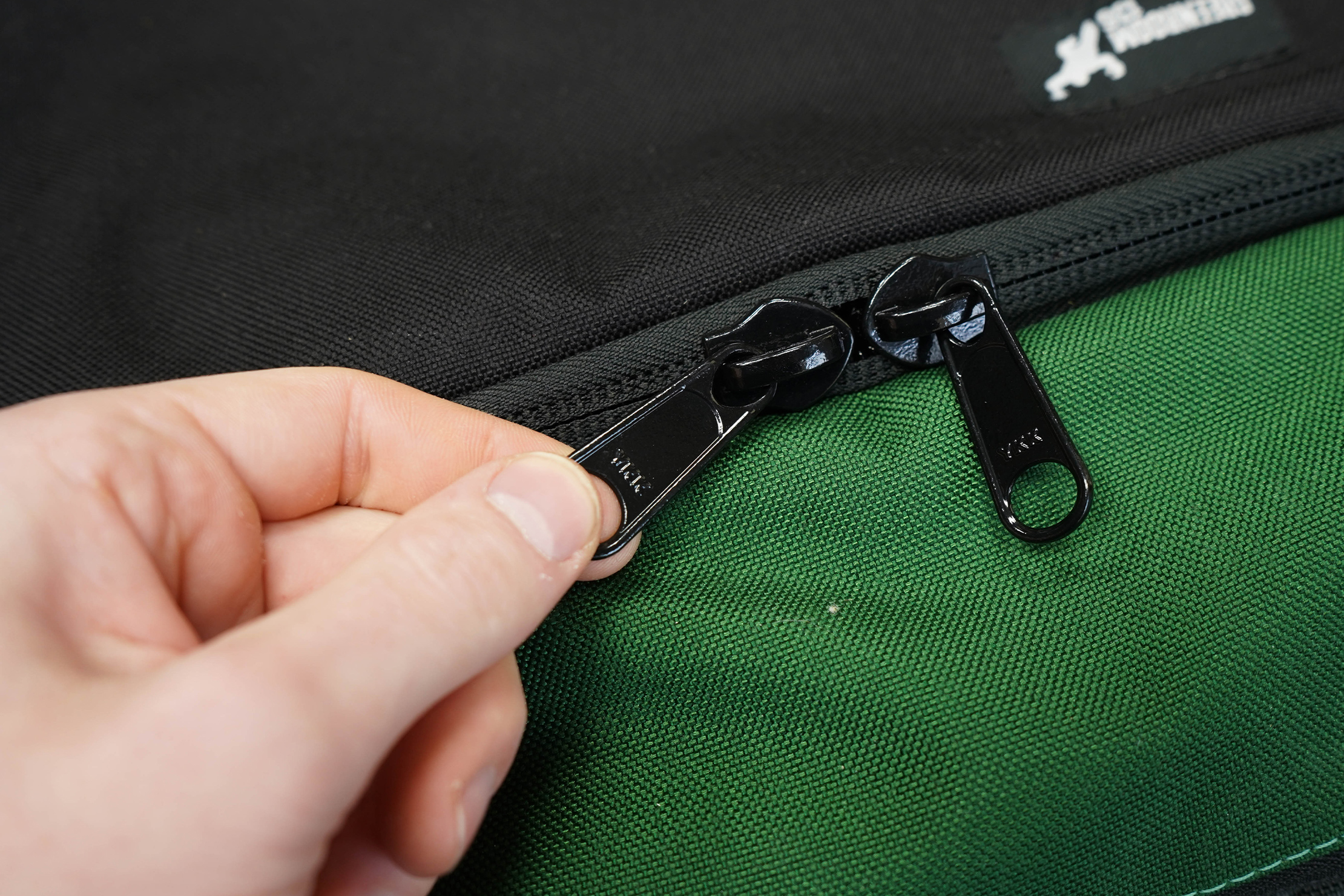 The zippers are all from reputable brand YKK, as are the buckles…well, sort of. One of the customizable options is to change all buckles on this thing to Fidlock Magnetic buckles, which is what we've opted to do because magnets (and because they're quick and easy to work with one hand). One note about the zippers is that they're jingly and loud. But you can opt to add on zipper pulls, which should help dampen the sound, at least a little bit.
Finally, you'll find dense EVA foam on the shoulder straps.
External Components
The harness system on the Greenroom136 Rainmaker is more-or-less standard. By that we mean, there's not much to customize here. You can opt for quick-release shoulder straps, which allow you to detach the straps and tuck them into the back panel, or stick with your run-of-the-mill shoulder straps as we have.

The straps are nice and wide with a decent amount of padding. They're not too squishy or dense, but they're functional and comfortable enough. There are load-lifters to help pull the pack closer to your body, eliminating any droopiness and making the overall carry more comfortable. You can tuck any excess strap from the load-lifters into small sleeves on each strap, keeping the aesthetic nice and clean. There's also a D-ring on each strap, so you can attach gear externally.
We're digging the adjustable sternum strap. As we mentioned earlier, we decided to go for a Fidlock buckle here instead of your standard plastic buckle, simply because it's easier to take on and off. Okay, and because it's fun to fidget with.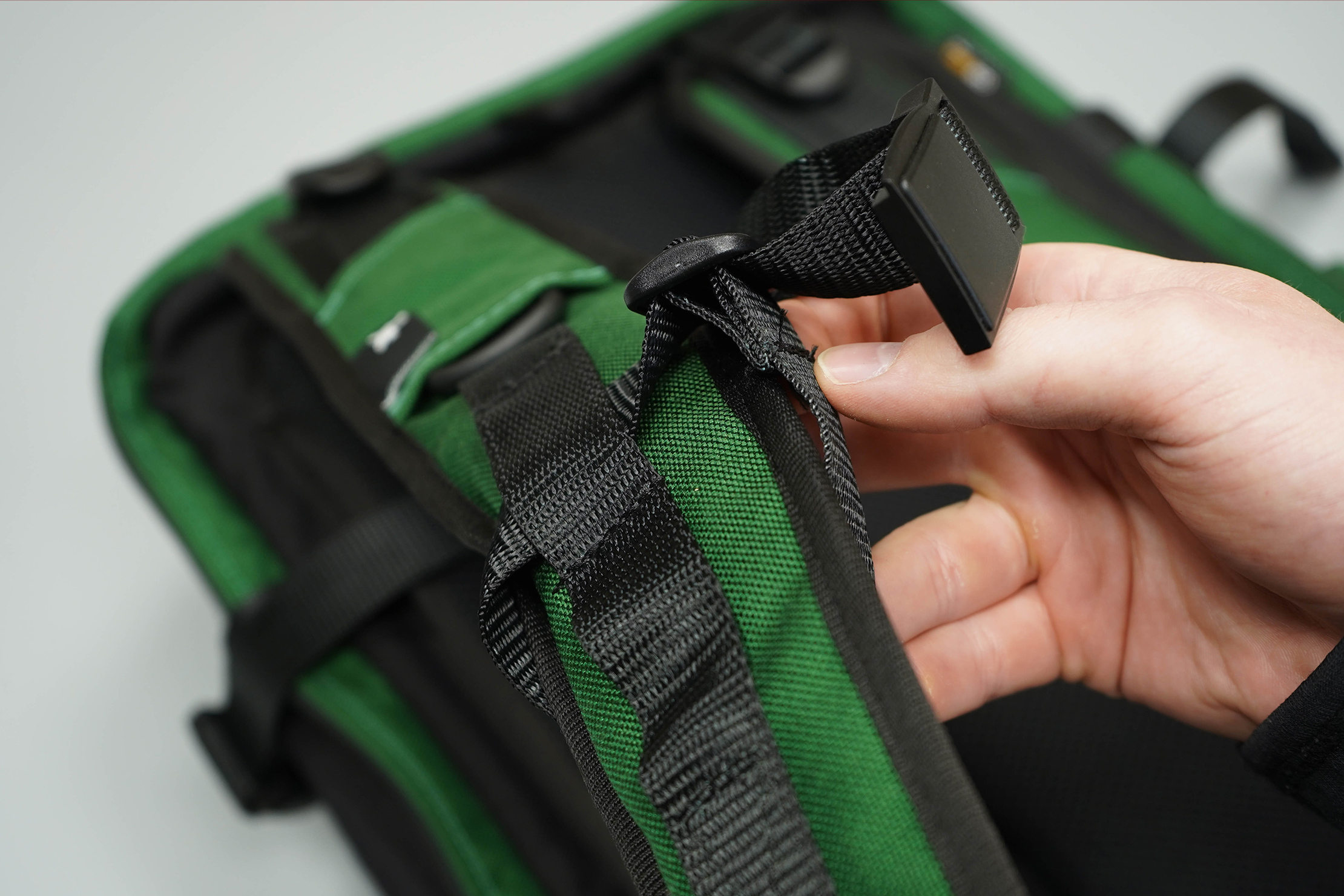 The sternum strap adjusts in a unique way—it loops around the entirety of the shoulder strap. The good thing about this is that it's a very secure design. The sternum strap probably won't be going anywhere anytime soon. But it's slow to adjust since you have to take everything off and clip it back on to get it where you want it. Plus, it seems to get twisted or in the way if you take the pack on and off often.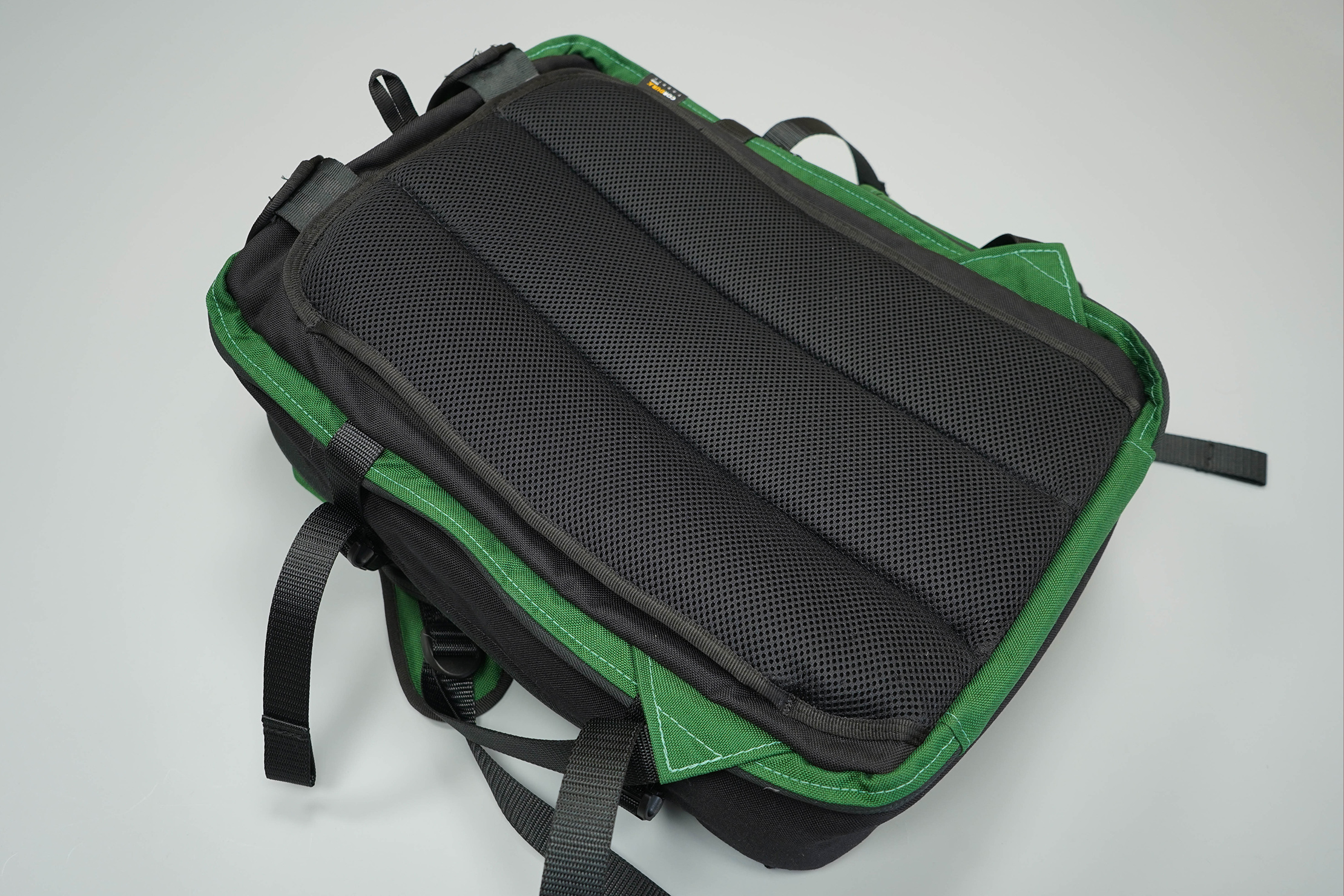 The back panel has some thick foam and mesh. That mesh helps keep the dreaded swamp back to a minimum, although it's not going to eliminate it altogether. You can choose to add a luggage passthrough behind the back panel if you plan to travel in conjunction with roller luggage.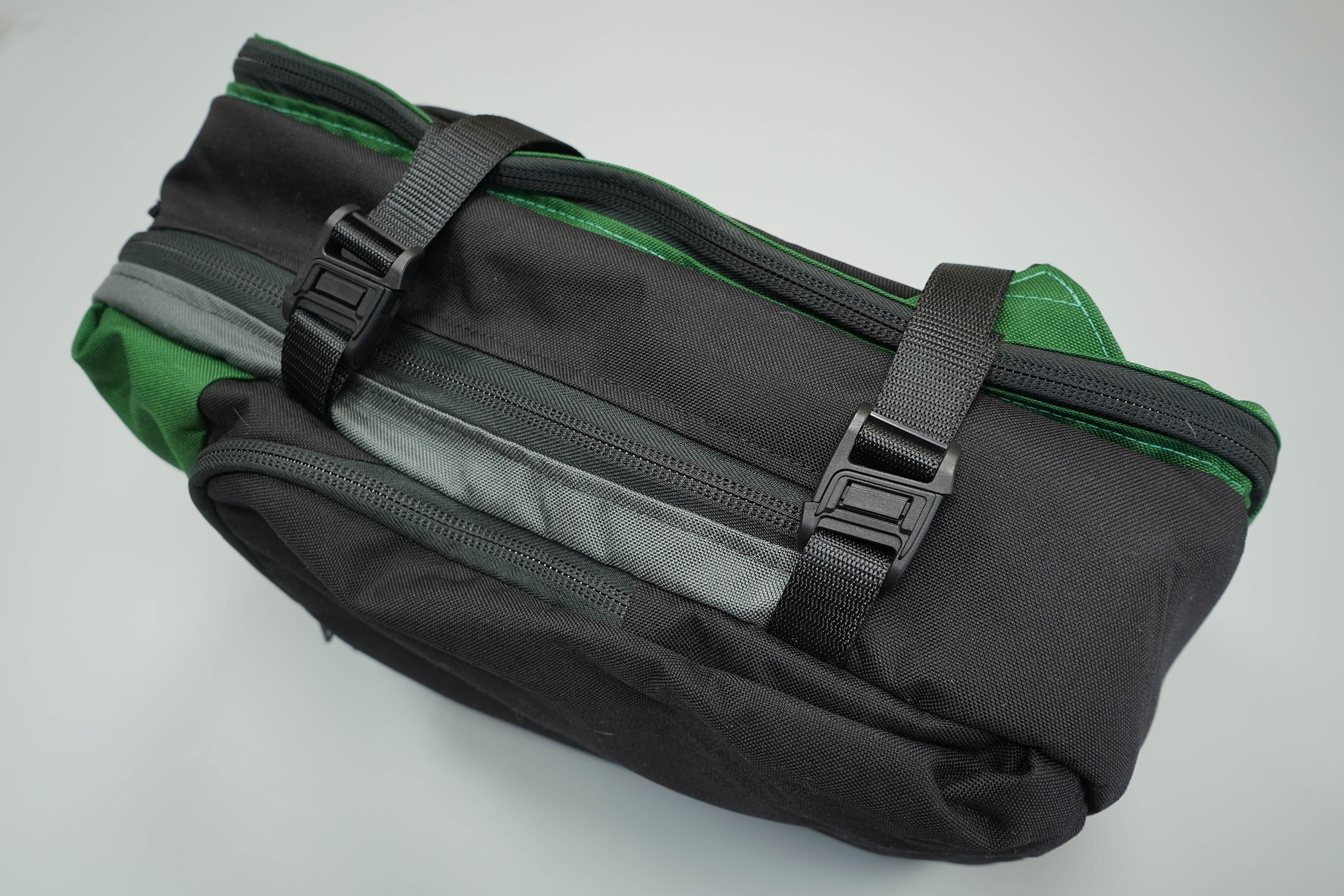 There are four compression straps on this pack—two on each side—which help keep everything cinched up. Plus, they'll hold gear externally, say a tripod or jacket. The Fidlock buckles come into play here once again, which are helpful in this case as the compression straps block the zippers. It's quick to undo the Fidlock buckles to gain access to the main and laptop compartments.
We're huge fans of a #DangleFreeExperience, so we're not excited about the fact that there's a lot of dangle going on with the compression straps. But you can pick up some strap keepers from, Greenroom136, which is nice.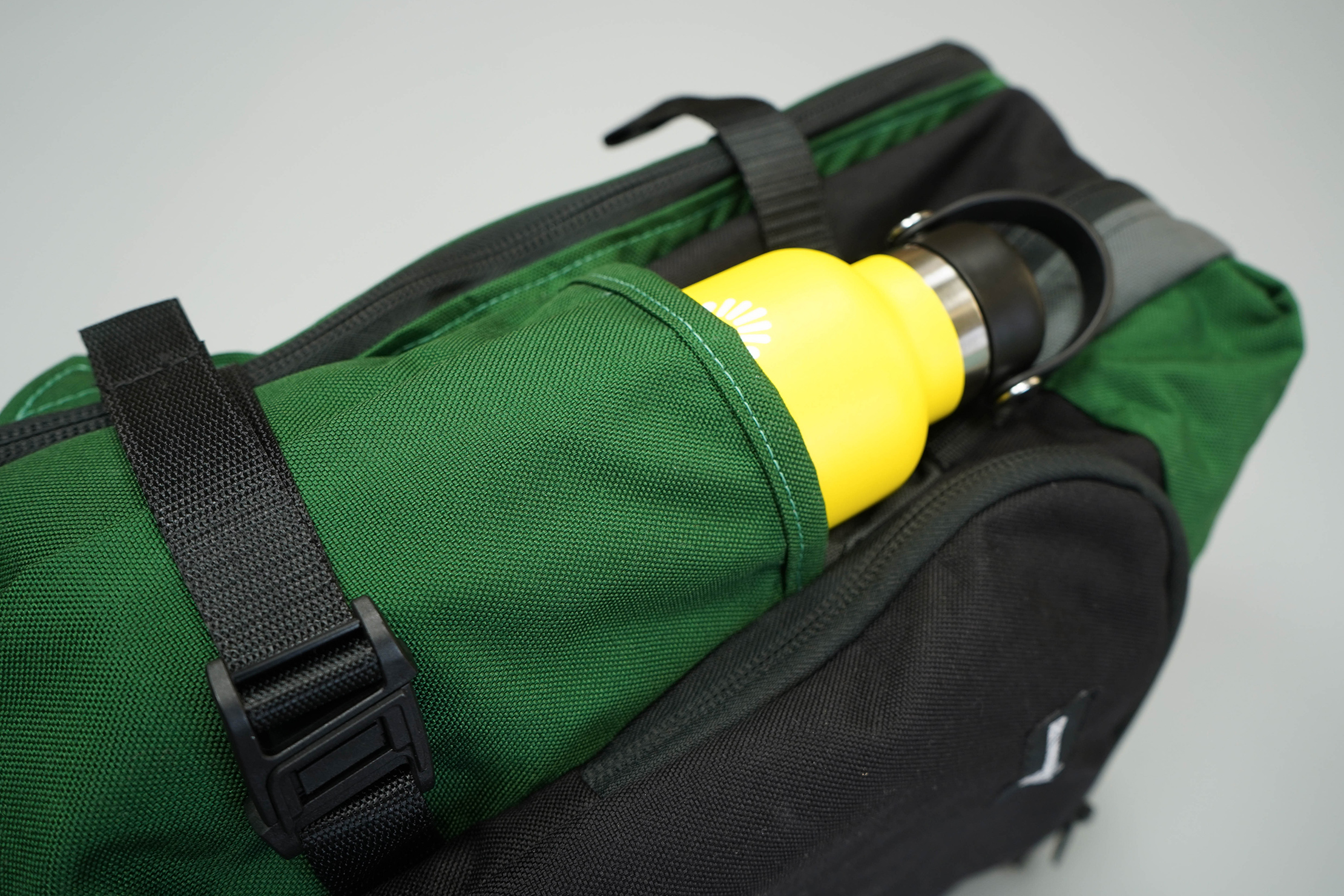 Most of us here at Pack Hacker carry around water bottles on the daily, so we decided to add on a water bottle pocket. Although it doesn't stretch, there's plenty of room inside for larger water bottles/thermoses. Opting for the water bottle pocket means we sacrificed having a clamshell-style of opening for the main compartment, but the tradeoff is worth it for us.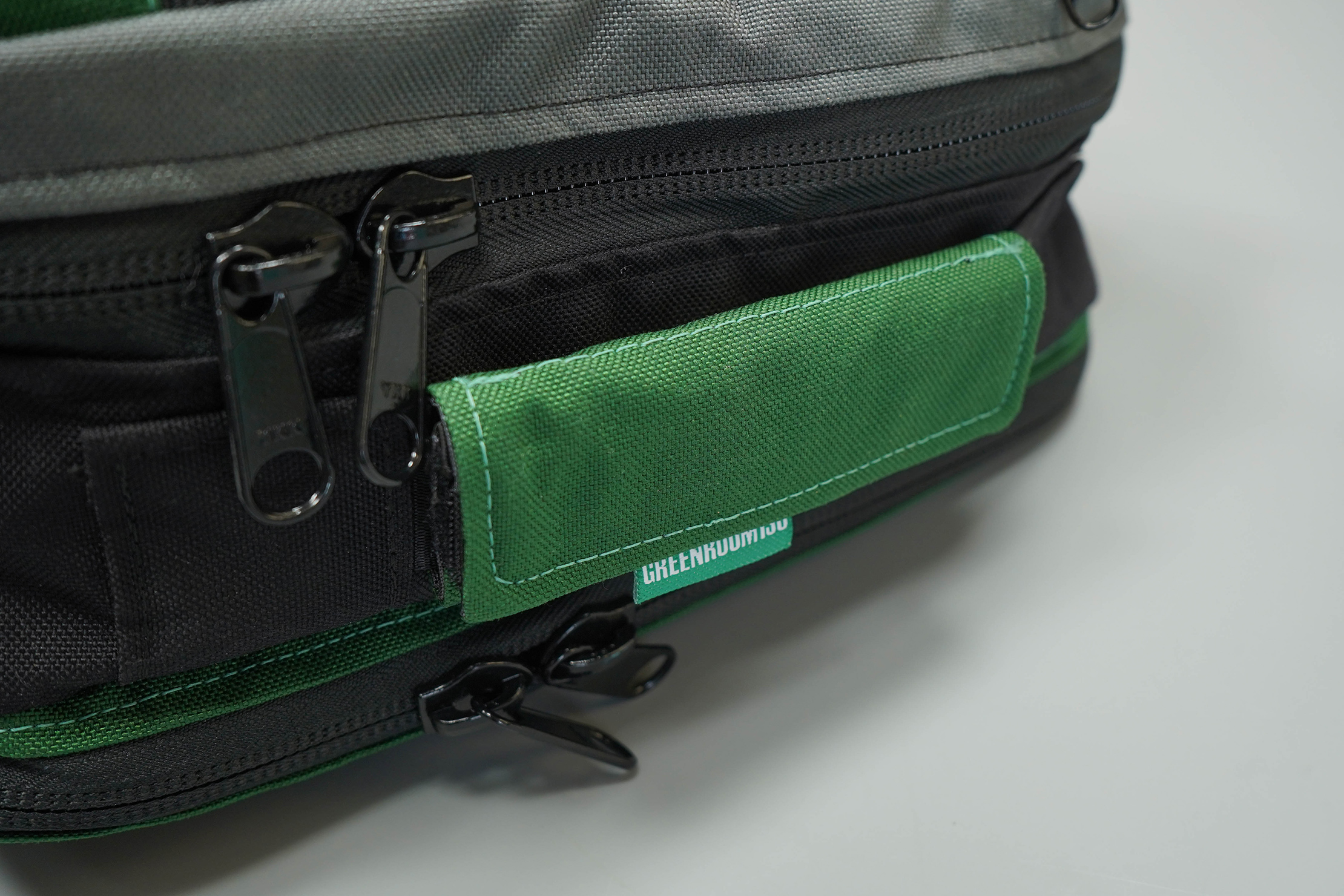 Rounding out the external components, there's your standard backpack top handle. It's a simple seatbelt style of strap that's ideal for hanging this pack up or maneuvering it around. We decided to add a GrabPad, which is a wrap that goes around the handle that's secured with velcro. It adds a small amount of padding, making the handle more comfortable to, er, handle.
Inside the Pack
Let's start with the laptop compartment, which stays consistent across the board (i.e. you can't customize it). It opens up in a clamshell-style, although you'll have to undo some of the compression straps to achieve that.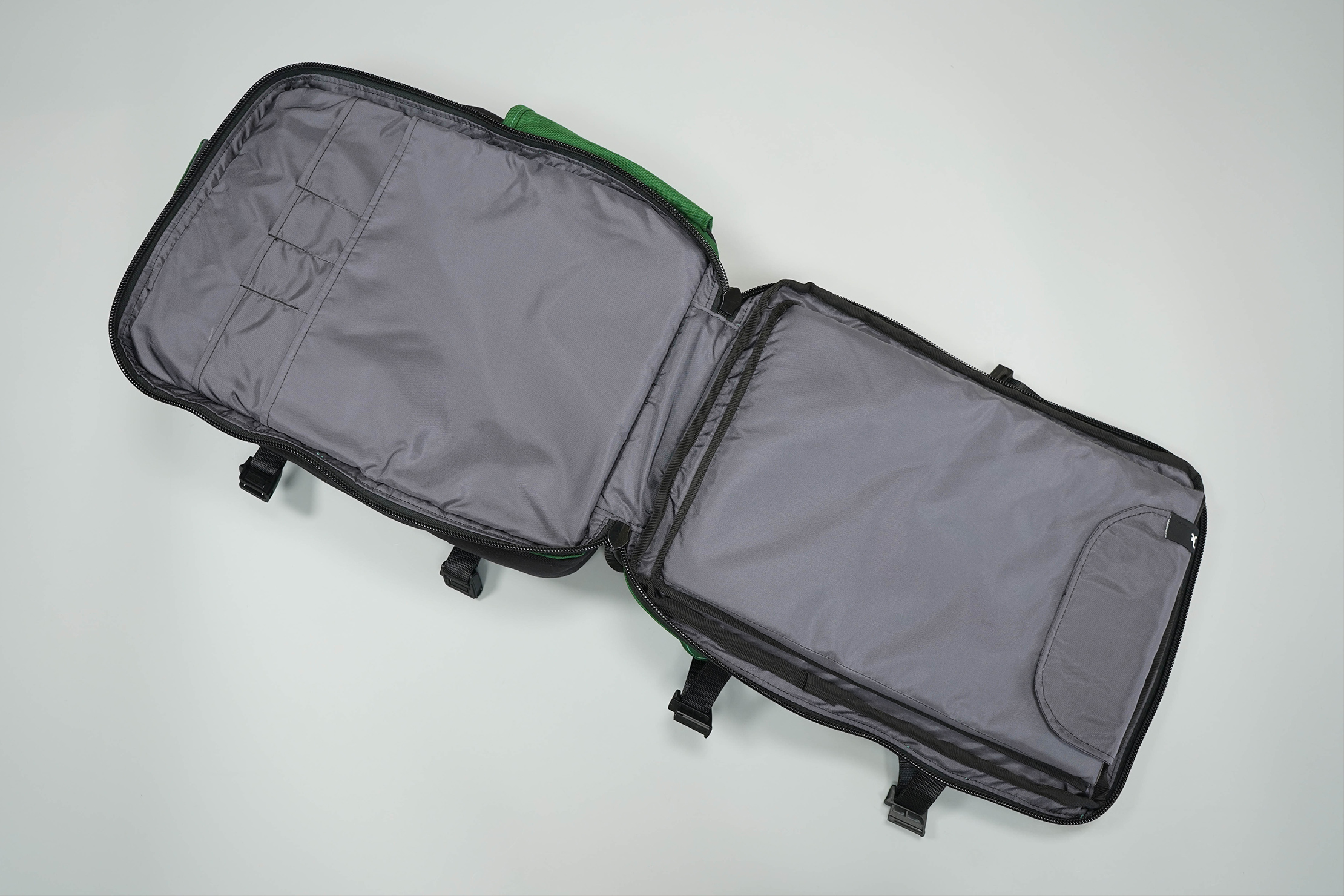 Now, the folks at Greenroom136 say this compartment is TSA-friendly. That is, you can lay the compartment flat, which effectively separates your laptop from your bag, so you don't have to take it out. Of course, your mileage may vary. Whether this will work for you depends on the TSA agents working airport security that day. In our experience, it's usually just as quick to pull your laptop out and not worry about holding up the line if they ask you to remove it. But feel free to give it a try (and let us know your results!).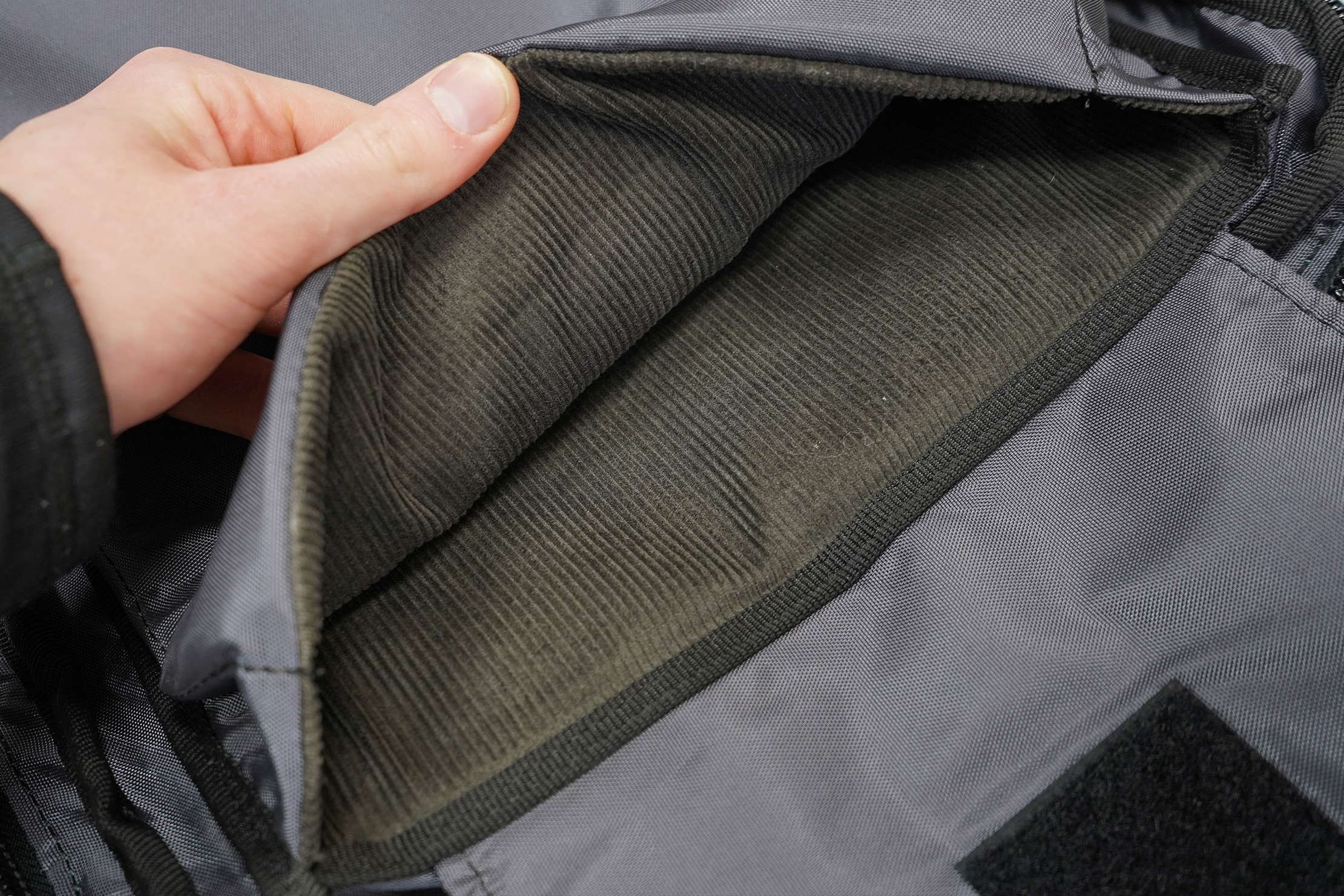 Opening aside, this compartment has a ton of room inside of it. On one side, there's the laptop sleeve, which fits up to 15'' laptops. The sleeve is well padded and has a little bit of a false bottom, but nothing too substantial. It's lined with corduroy, which is softer and nicer than we expected it would be.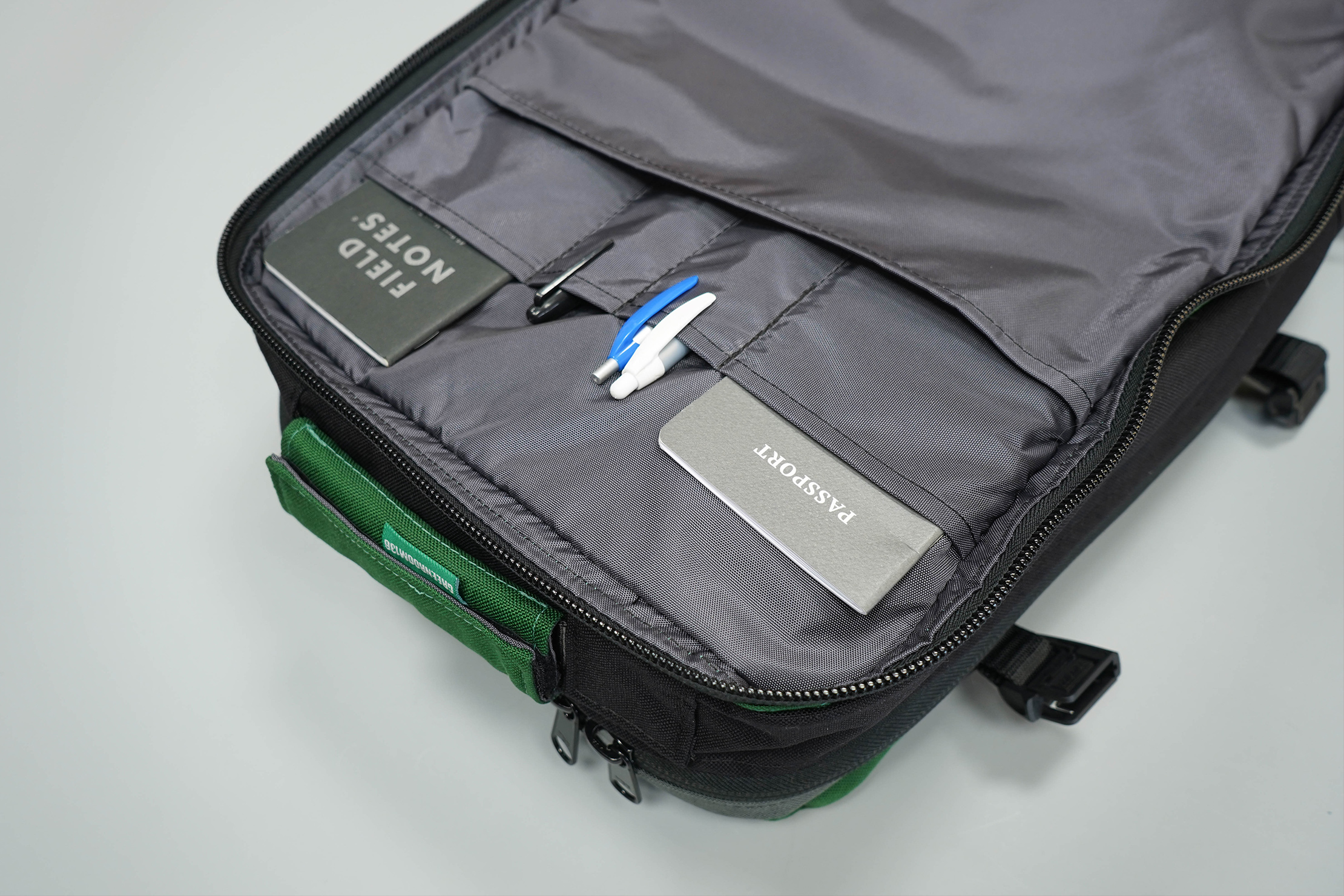 On the opposite side, there's a large pocket for documents, folders, books, things of that nature. You could throw a tablet in here, but it's there's no padding to protect it. We've mostly used it for a wireless keyboard and Roost Laptop Stand 2.0. There are also a few liner pockets for those random tech bits and bobs.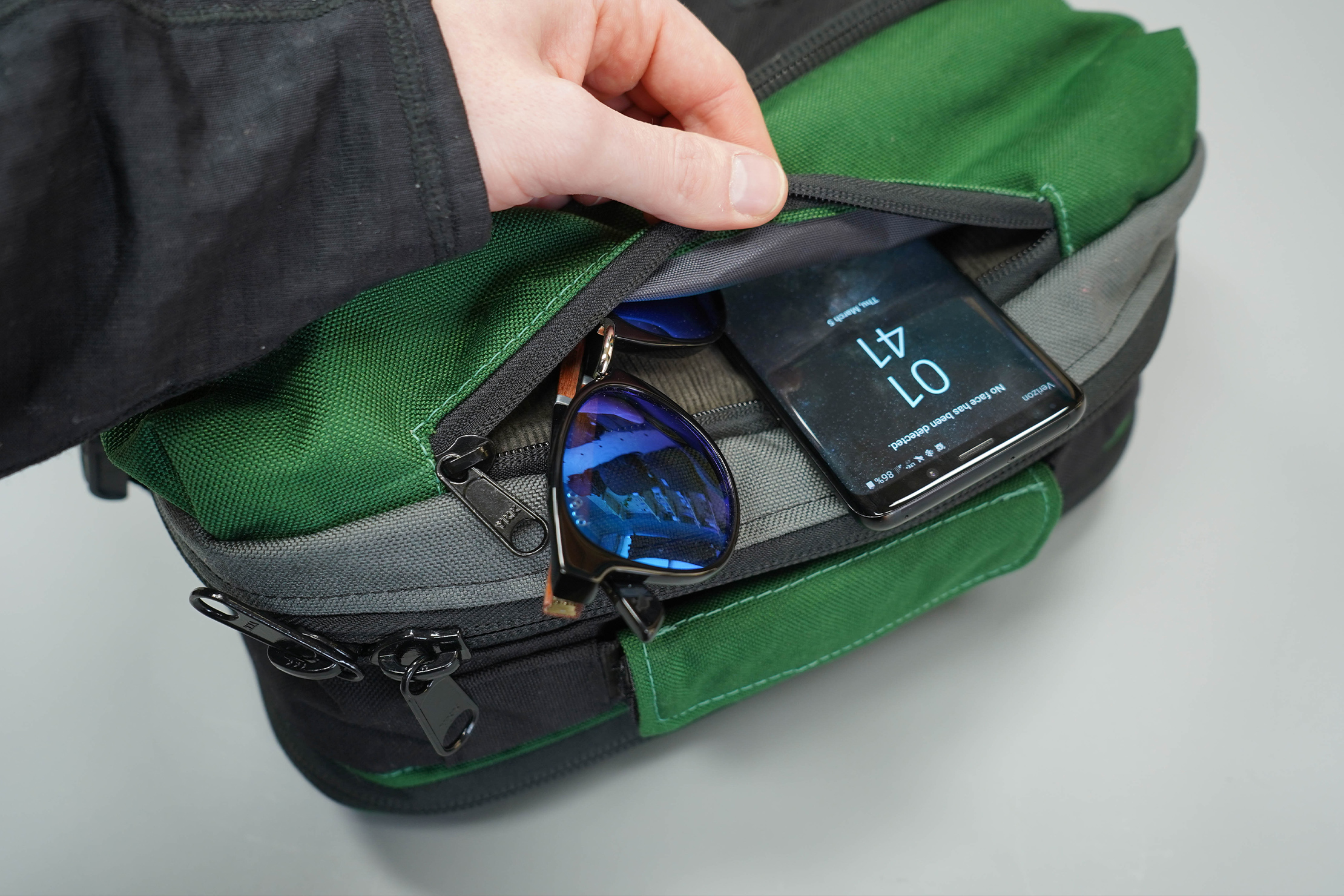 Moving along to the front of this pack. The standard version comes with one front compartment, but we added on a quick-grab pocket at the top (Greenroom136 calls this the sunglass compartment). The quick-grab pocket is lined with the same soft corduroy as the laptop sleeve, so it's great for fragile items you don't want to get scratched up (sunglasses, phone, your glass figurine collection, etc). This pocket has some built-in dimension and spans the entire width of the pack—the zipper does not. You still have a lot of room to play with, but just note that while your longer items may fit in the pocket, but could be tough to get in and out.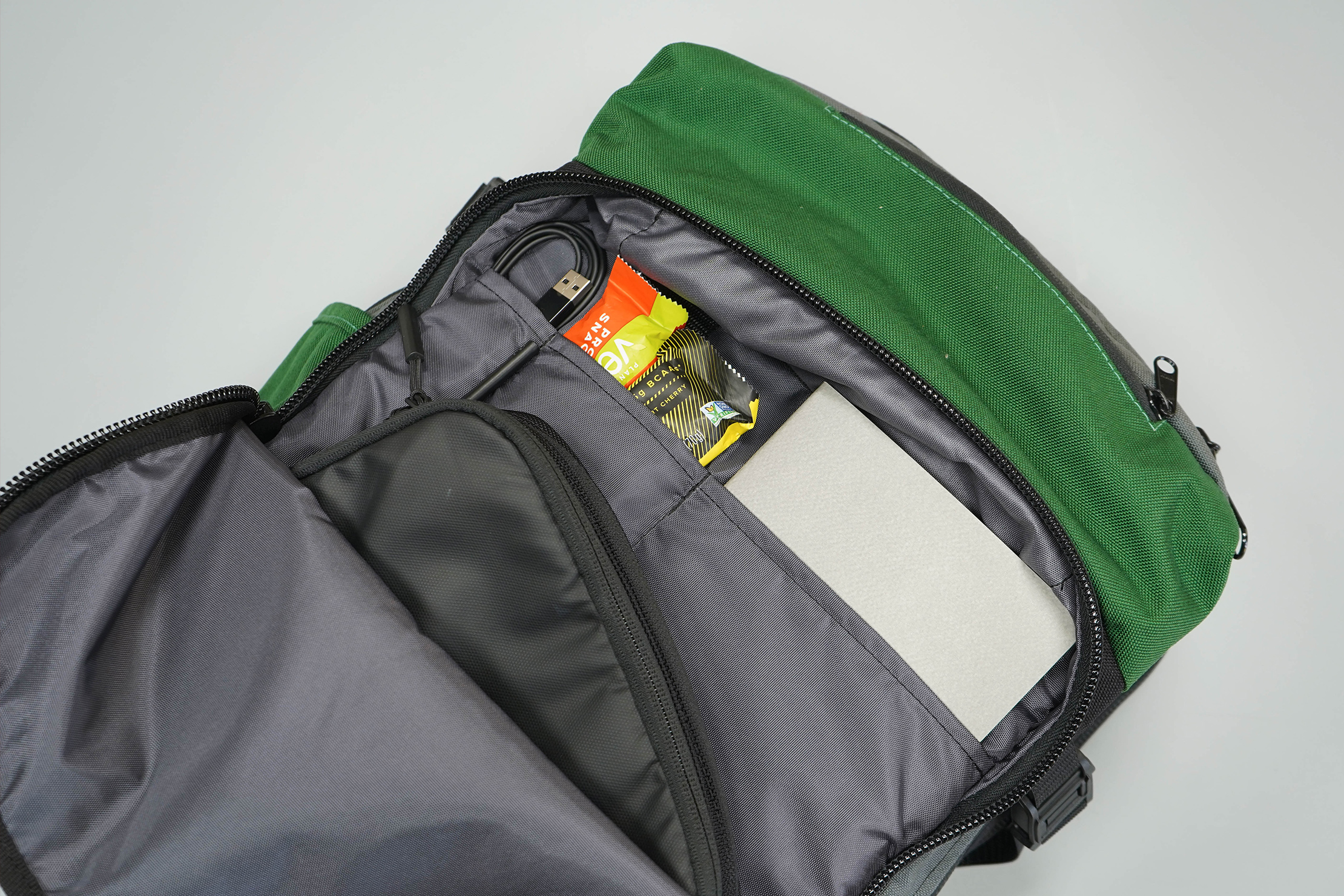 The standard front compartment also has its own dimension, meaning you can fit a ton of stuff inside of it without eating into the space of the main compartment. Inside, there's a small amount of organization—a couple of sleeves for your pens, snacks, or quick-grab tech items (like headphones). There's also a D-ring for keys (and you can add on a key loop or link). The rest is open space. Between this compartment and the laptop one, you'll likely be able to fit all of the tech stuff you use daily, so you don't need to get into the main compartment unless you want to.
Speaking of the main compartment, let's zip it open. As we mentioned earlier, you have the option to make this compartment open in a clamshell-style. But, because we chose to have a water bottle pocket, we had to stick with the traditional, horseshoe style of opening. But it's a big horseshoe opening—you can really get in there.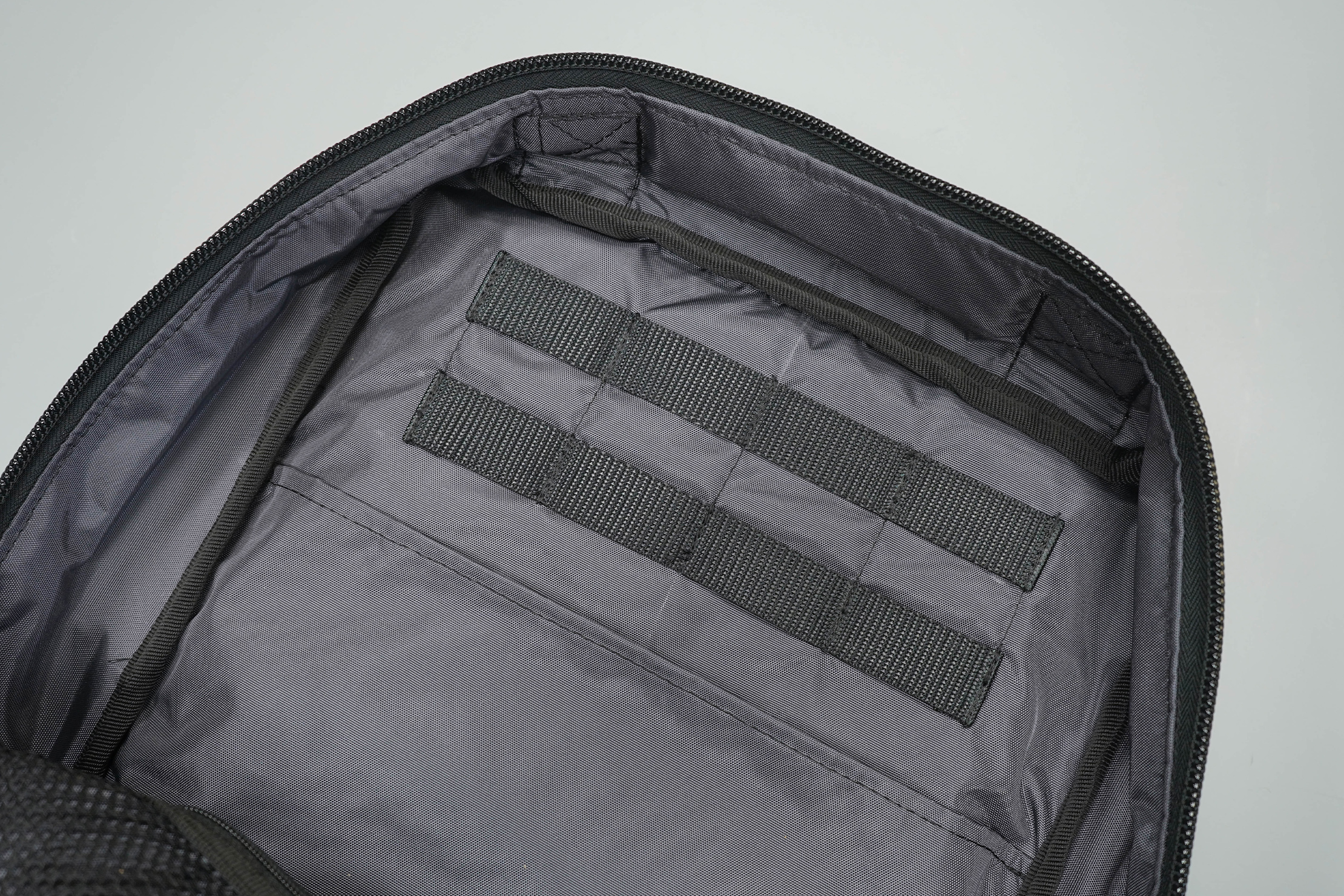 Inside, there are straps on the top to clip gear to or attach some compatible pouches. There's also a sleeve that has a little bit of dimension to it. On the opposite side, there are two zippered mesh pockets, which are relatively flat, so they're not great for bulky things. We've found they work for undergarments, socks, or some toiletries.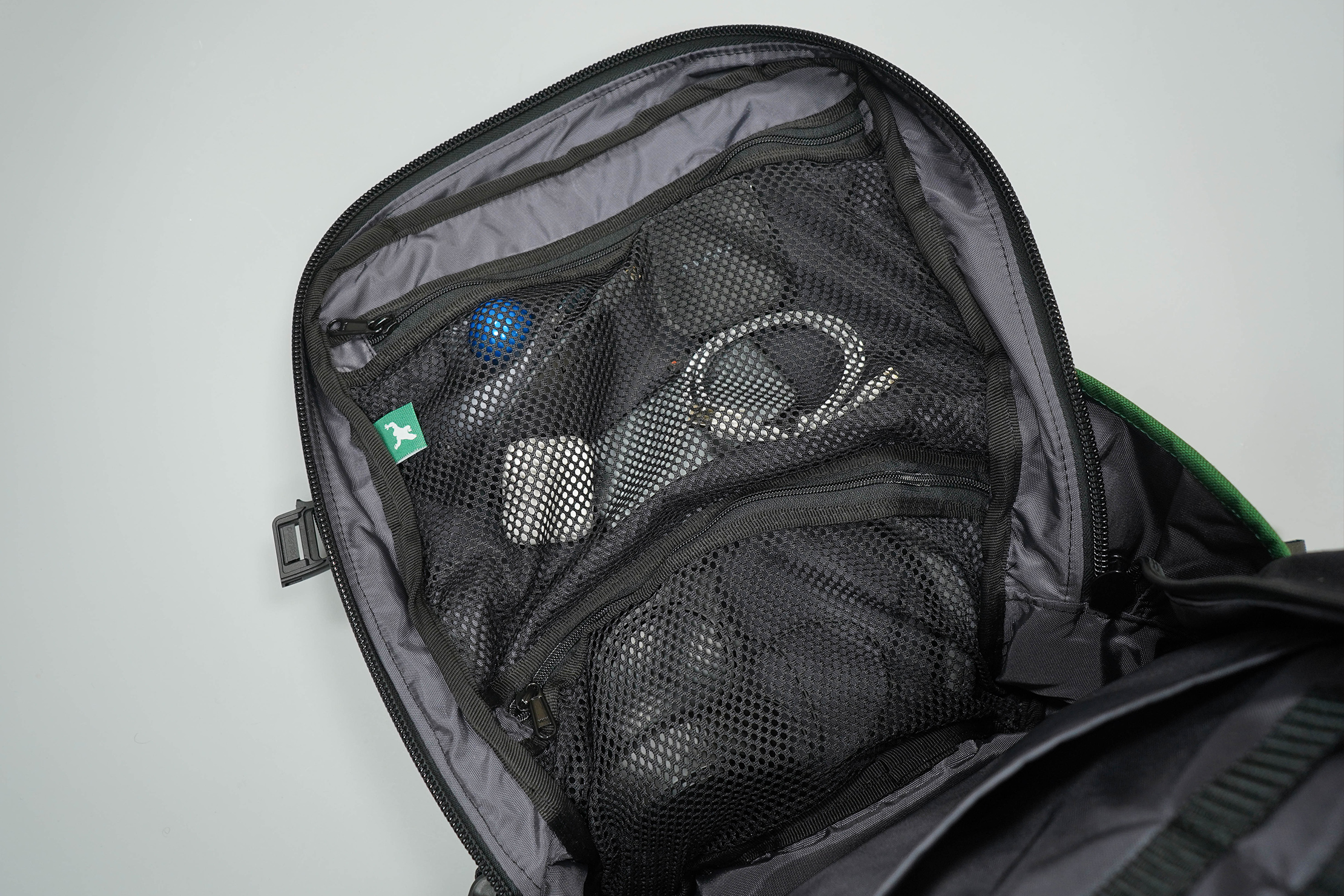 The rest of the main compartment is open space to fill up with what you will. We've found that it works well with packing cubes, which keep everything nice and tidy.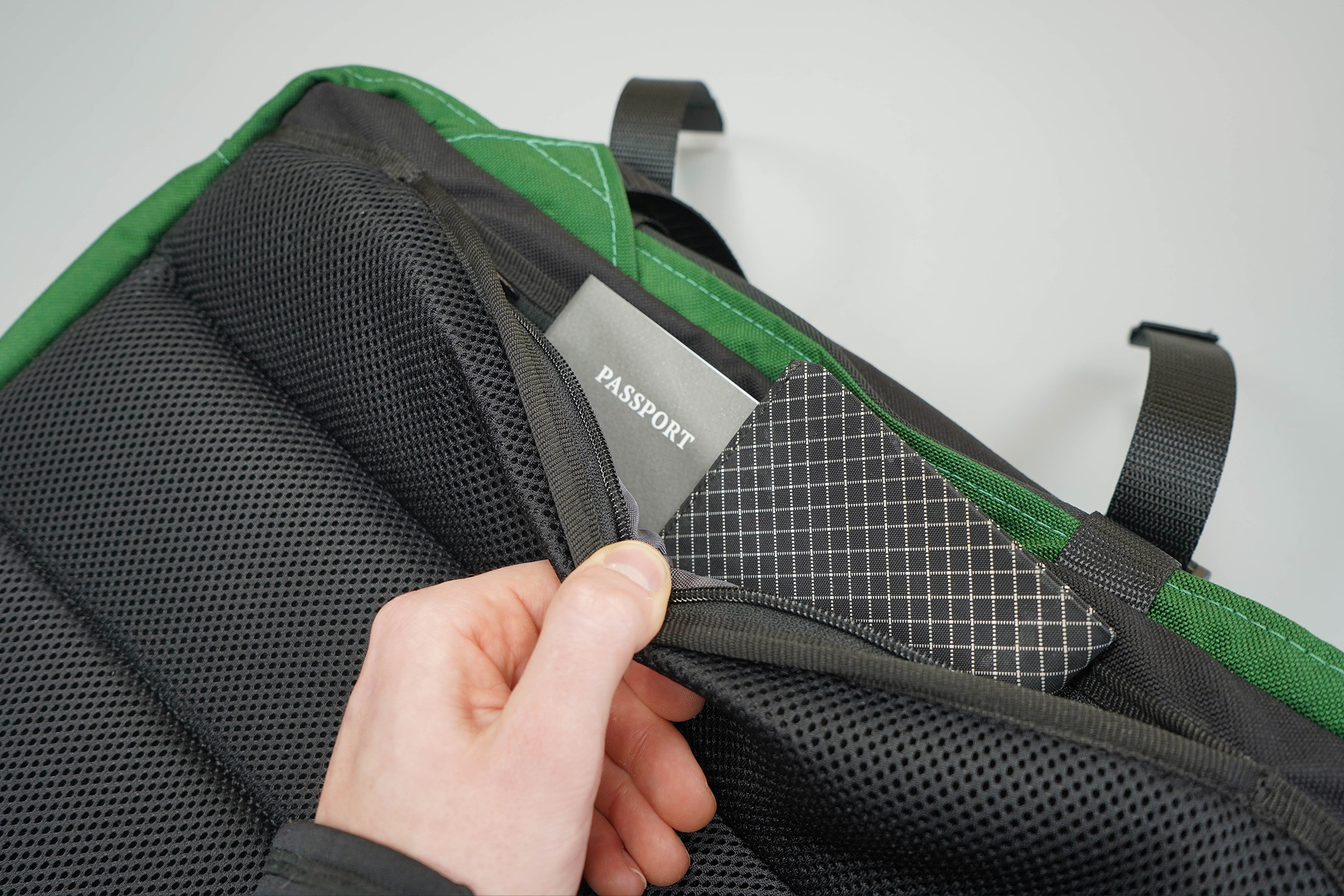 Lastly, there's a hidden pocket tucked behind the back panel. It's a great spot for a passport, cash, a love note to your secret admirer…anything you don't want to be stolen. You can also choose to expand the capacity of this pocket, which we've done. Expanded, it's large enough to hold a tablet.
And that's it!
Durability & Testing
Like we said oh-so-long-ago at the beginning of this review, we've been testing a customized version of the Greenroom136 Rainmaker for approximately three weeks as a daily driver around Detroit, Michigan. Plus, we've used it for a weekend excursion to northern Michigan—jamming the main compartment full of clothes and packing all our tech stuff in the back laptop compartment and front pockets.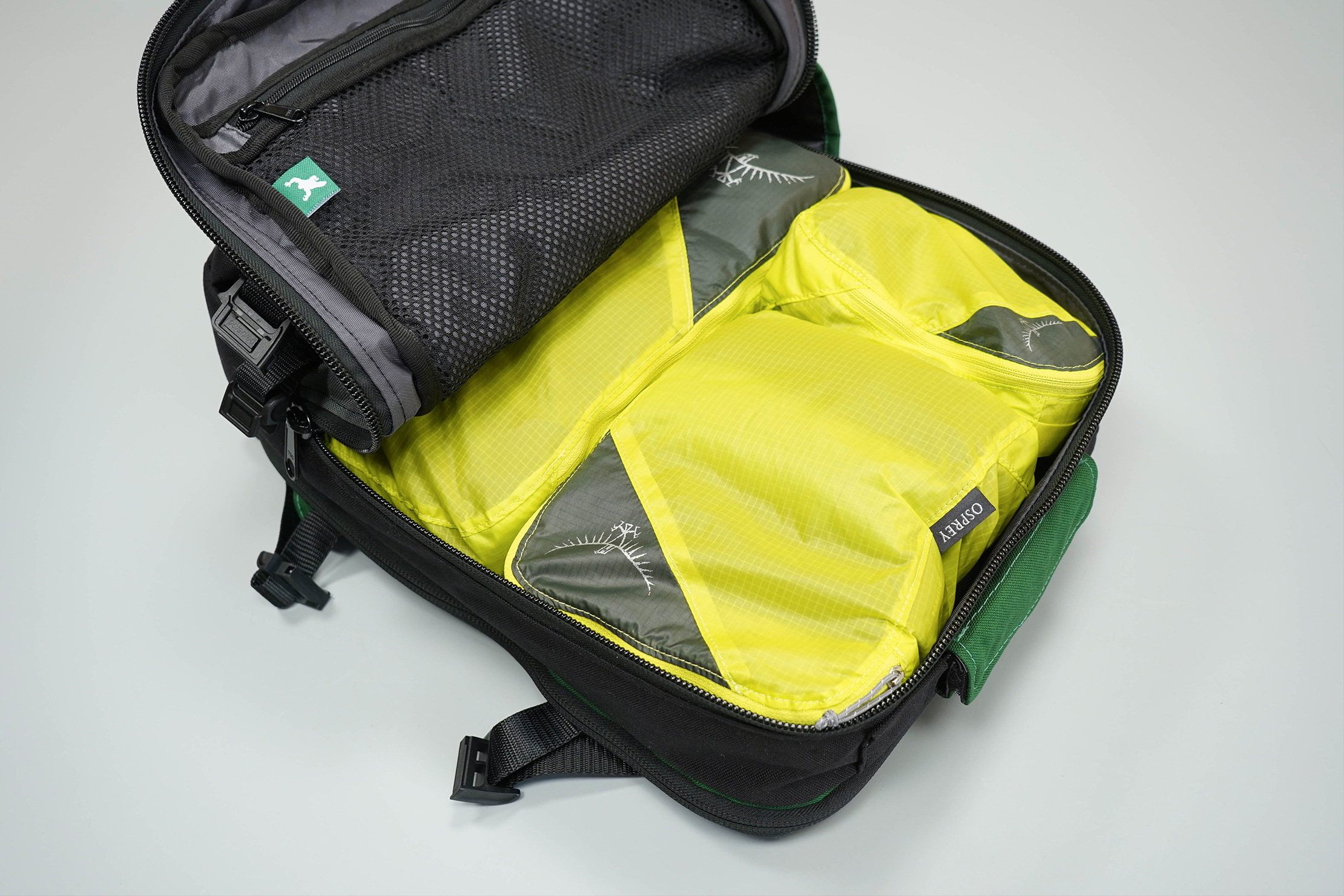 Overall, it's a solid pack that values function above all else. And all of the customizability options are incredible. But if you do decide to customize it, expect to play around for a few hours (at least) on the Greenmaker136 website. While we touched on most of the options available in this review, there are a few we didn't get to (the option of a side handle, side pouch, and personalized stainless steel tags to name a few).
Because it's custom made, Greenroom136 says you should expect it to take 21 business days to build from design confirmation—and that does not include delivery time. So keep that in mind.

As far as durability is concerned, we've noticed a few loose threads, but that's it. Everything else is looking good.
Usage Timeline
Initial Usage
Condition: Excellent
Completely customizable including the colors, hardware, and even the amount and style of pockets
Made of sturdy, durable materials
Corduroy lined quick-grab pocket and laptop compartment is a unique material choice, and we'll be interested to see how it holds up
2 Weeks of Use
Condition: Excellent
Been using this bag as a daily driver around Detroit, plus on a short trip to northern Michigan. And the organization has been solid—we've packed all our frequently-used tech into the laptop compartment and front pocket, and filled up the middle with clothes and toiletries. Apart from a few loose threads, everything is holding up just fine.
Access the Pro Community Discussion
Get your questions about the Greenroom136 Rainmaker answered from our team and the Pro Community right here on the page. Plus, join discussions with other members about gear, guides, and more.
Other Bags & Luggage Reviews