EVERGOODS Transit Packing Cube 8L (TPC8) Review
The EVERGOODS Transit Packing Cube 8L is intuitive and has extra organizational features, but it may leave you wishing you could stow more clothing inside.
Our Verdict
Unlock the Pro Summary
Save time. Get access to brief summaries of our reviews so you can browse and make decisions more efficiently.
Pros
Materials are durable and easy to work with
No issues with hardware
Segmentation helps with clothing organization
Cons
Weighs a lot for a small packing cube
Attachment loops seem superfluous
Logo stitching problematic for storage in main compartment
Recent Pack Hacker Video
Technical Details
Capacity

8l

Weight (oz)

6 oz (170.1 g)

Dimensions

9.75 in x 5.5 in x 6.25 in (24.8 x 14 x 15.9 cm)

Notable Materials

Nylon, Polyurethane, Polyester, Silicone, YKK Zippers

Manufacturing Country

Vietnam

Warranty Information
Full Review
As packing cubes become more popular, we continue to get new options. Some keep things simple, but others have pockets, segmentation, and additional features. The EVERGOODS Transit Packing Cube 8L feels like a solid middle ground between the two, but we're unsure whether those extras will be useful while traveling. Let's dive in!
External Components
The primary material we're working with on this packing cube is 210D nylon. It feels durable but remains relatively lightweight; however, it's heavier than we're typically used to for a packing cube. It comes in black and, well, that's it. Just black. If you're looking for a vibrant color, look elsewhere. The design is sleek and stylish, but it doesn't pop.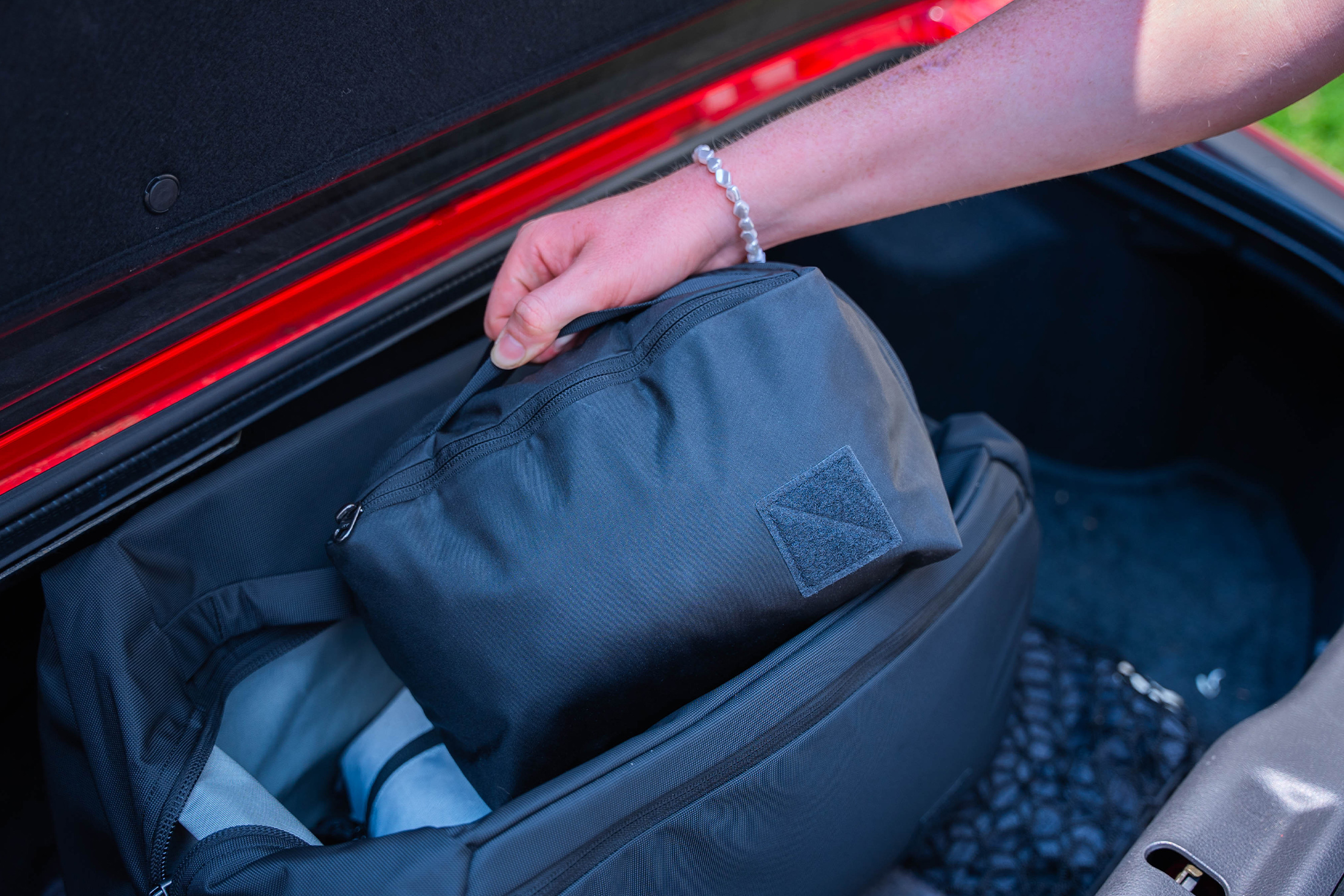 The packing cube has the EVERGOODS logo on the front—a unique addition. If you aren't familiar, their logo is crafted from a hook and loop fastener, so you can add your own patch to cover it up or leave it as is. While you can customize your packing cube to tell one apart from another, most people will probably leave it be.
The zippers on this cube are from YKK. They work as you'd expect a piece of equipment from one of our favorite zipper brands to work. Nothing negative to report here!
There's a daisy chain on the bottom of the cube with attachment loops. We're not really sure what their purpose is, but they help if you want to attach the cube inside your daypack or travel backpack.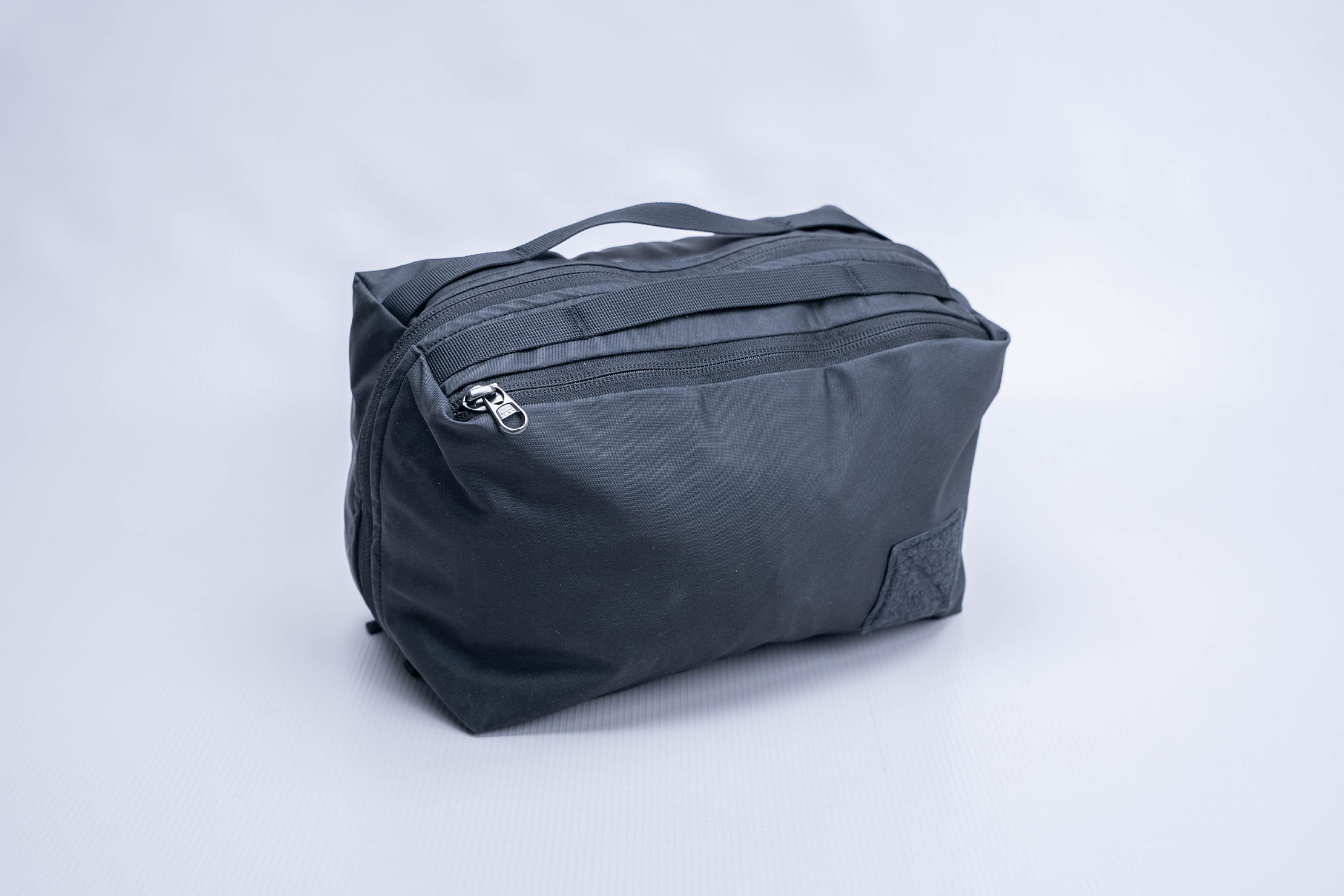 There are two handles on the top of the cube, which feels superfluous, but they work well. You can hang the cube from either side when it's open, which is a nice perk. On either side of the handles are more attachment loops, a unique but often useful addition. If you run out of room inside your pack, you could attach the cube to the exterior using one of the attachment loops. Or, use a carabiner to connect all your packing cubes together.
This 8-liter packing cube comes in at 6 ounces, which is relatively heavy as far as we're concerned. You probably won't notice a few extra ounces, though it's worth comparing it to another of our favorite products. The Osprey Ultralight Packing Cube Set has three pouches that weigh 2.2 ounces all together, just a fraction of the EVERGOODS model. This gives you more space, segmentation, and weight to work with. The EVERGOODS iteration has more segmentation and is more durable, which are worthy additions. However, for most travelers, weight is typically top of mind.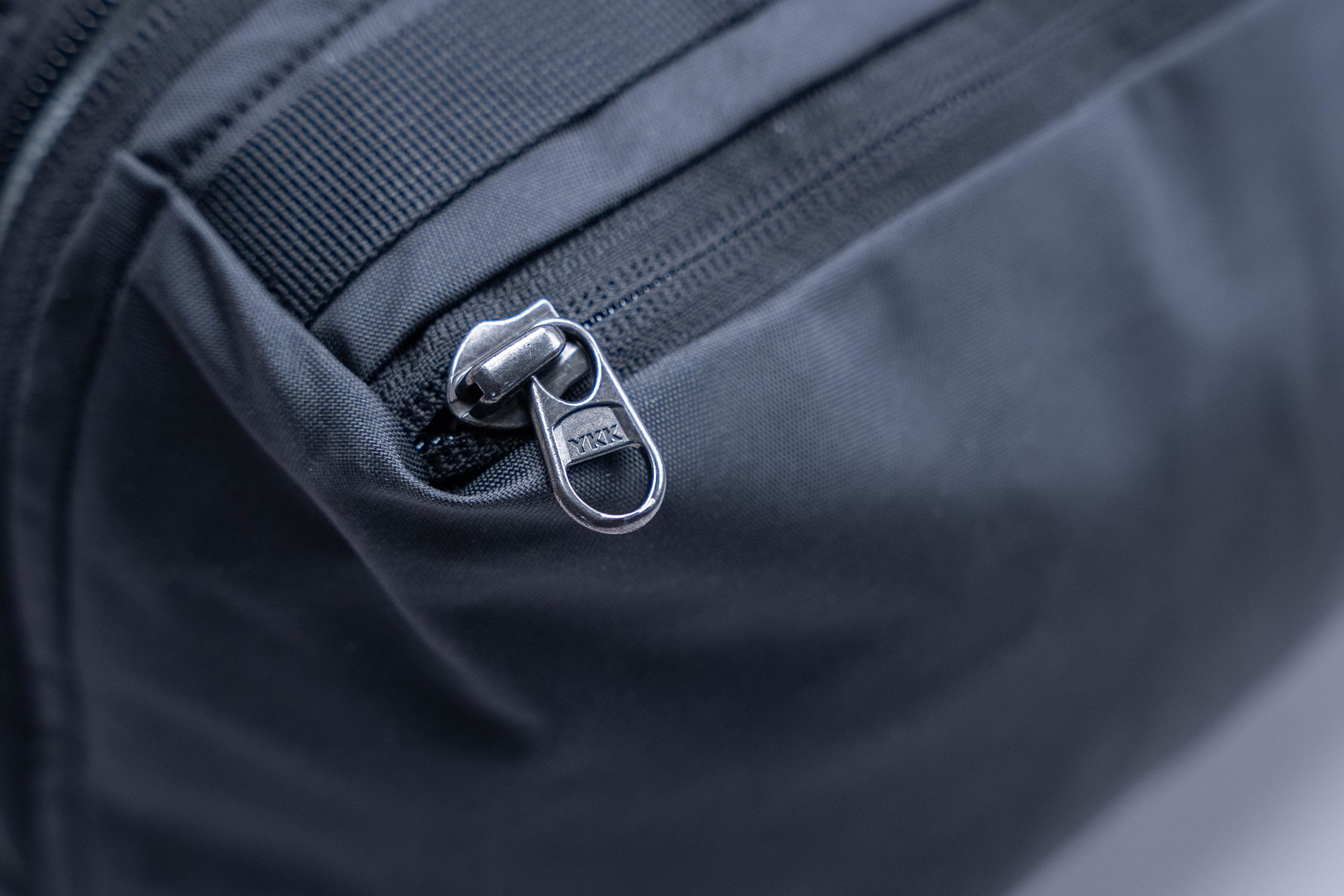 So, where exactly is all that weight coming from?
Inside The Packing Cube
First, we've got a secondary pocket on the outside of the cube. It's larger than we initially thought it would be. There's no organization inside, but it isn't a bad place to stow things you want quicker access to. You can plan out an outfit to put on after a red-eye or use it to store an extra pair of socks and underwear. You won't be able to fit larger clothing inside, though. It shares space with the main compartment, so it can be hard to use if you've got the cube fully packed.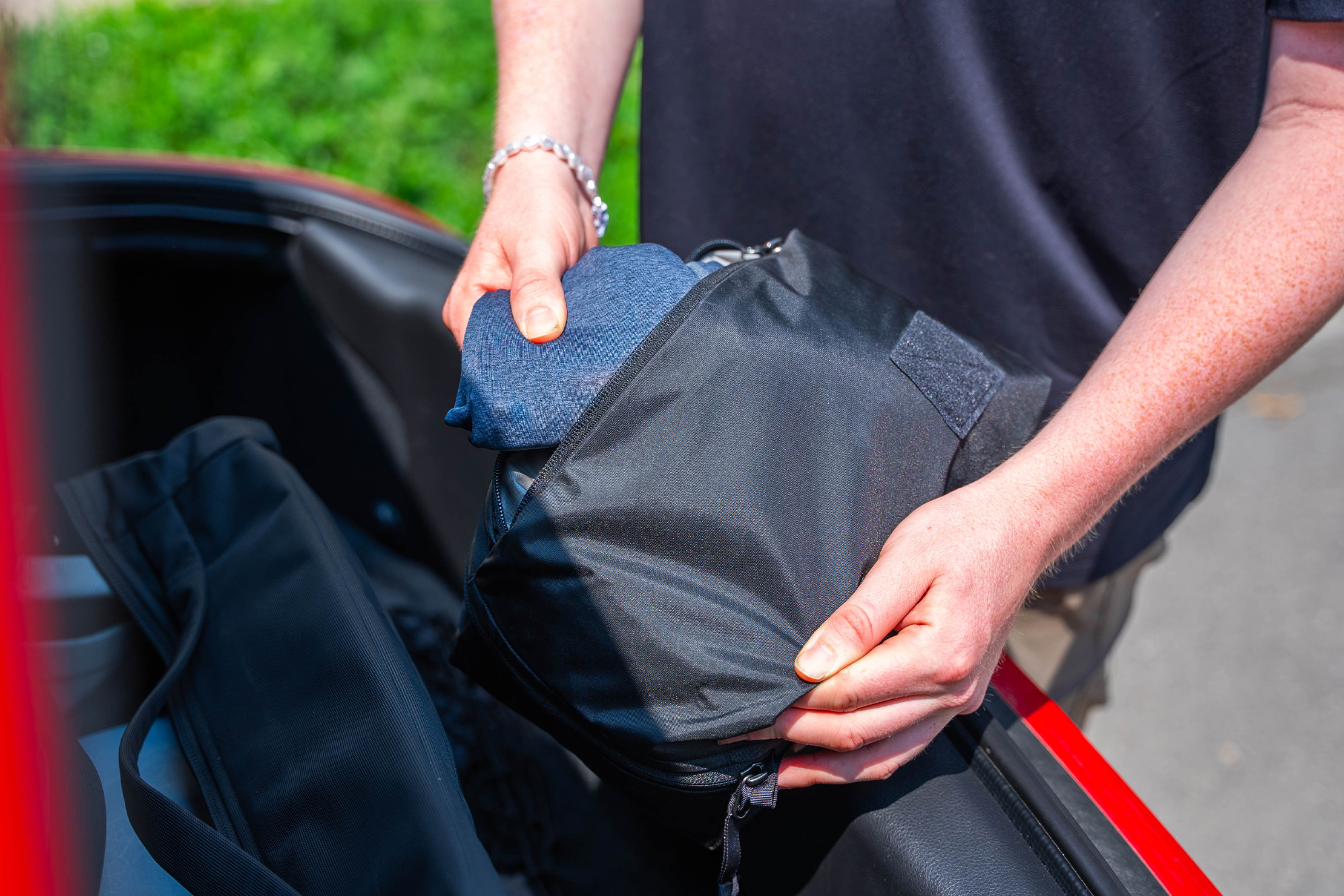 Moving into the main compartment, you'll find that this cube feels like a miniature rolling luggage bag. Both sides have a mesh topper that closes with a YKK zipper. The mesh is a 250D polyester leno weave, which is durable and doesn't stretch.
One of the sides has an orange zipper, and the other has a gray one, which helps you remember what you've stowed on which side. Orange you glad we made this zipper pull colorful so you know these clothes are dirty? Don't look so gray; this clothing is clean! Jokes aside, it's a small detail that's helpful while traveling.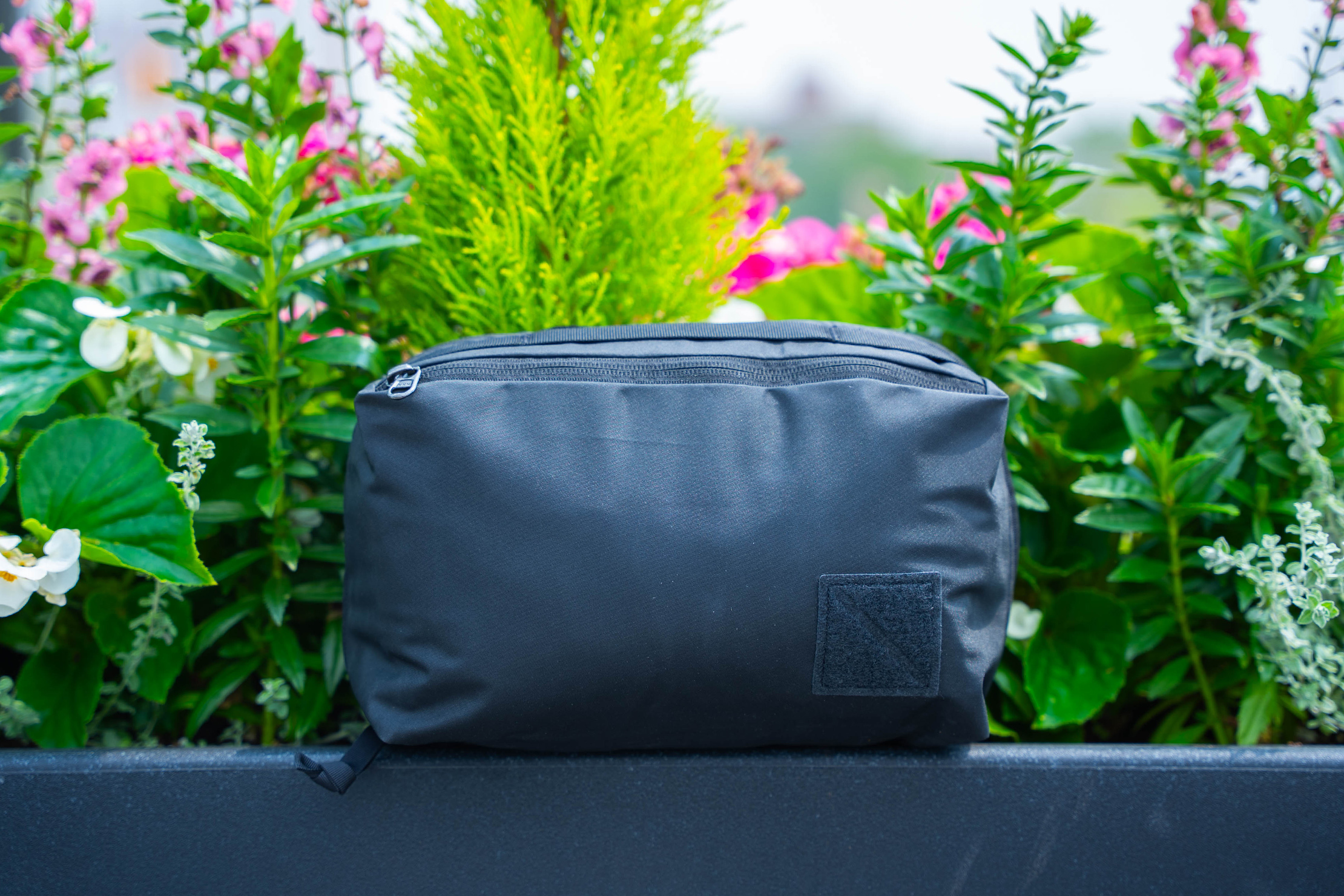 The front side pocket has the liner from the external compartment we just went over. It's only stitched into place in one area where the logo is on the exterior. This seems like an odd move because it makes it harder to organize your gear. The pocket can act as a divider as long as it isn't overpacked, but you can't use it for that very well because it's stitched in one area.
The other side has a clean-looking patch on the mesh with information about the packing cube. There's no organization in this compartment, just open space to work with. This is where the bulk of your clothing will go because it isn't hindered by the external secondary pocket.
Compared to other similarly sized packing cubes, it doesn't feel like we can fit as much gear inside this one. However, once the gear is inside, it's much more organized, and finding equipment is quick and easy.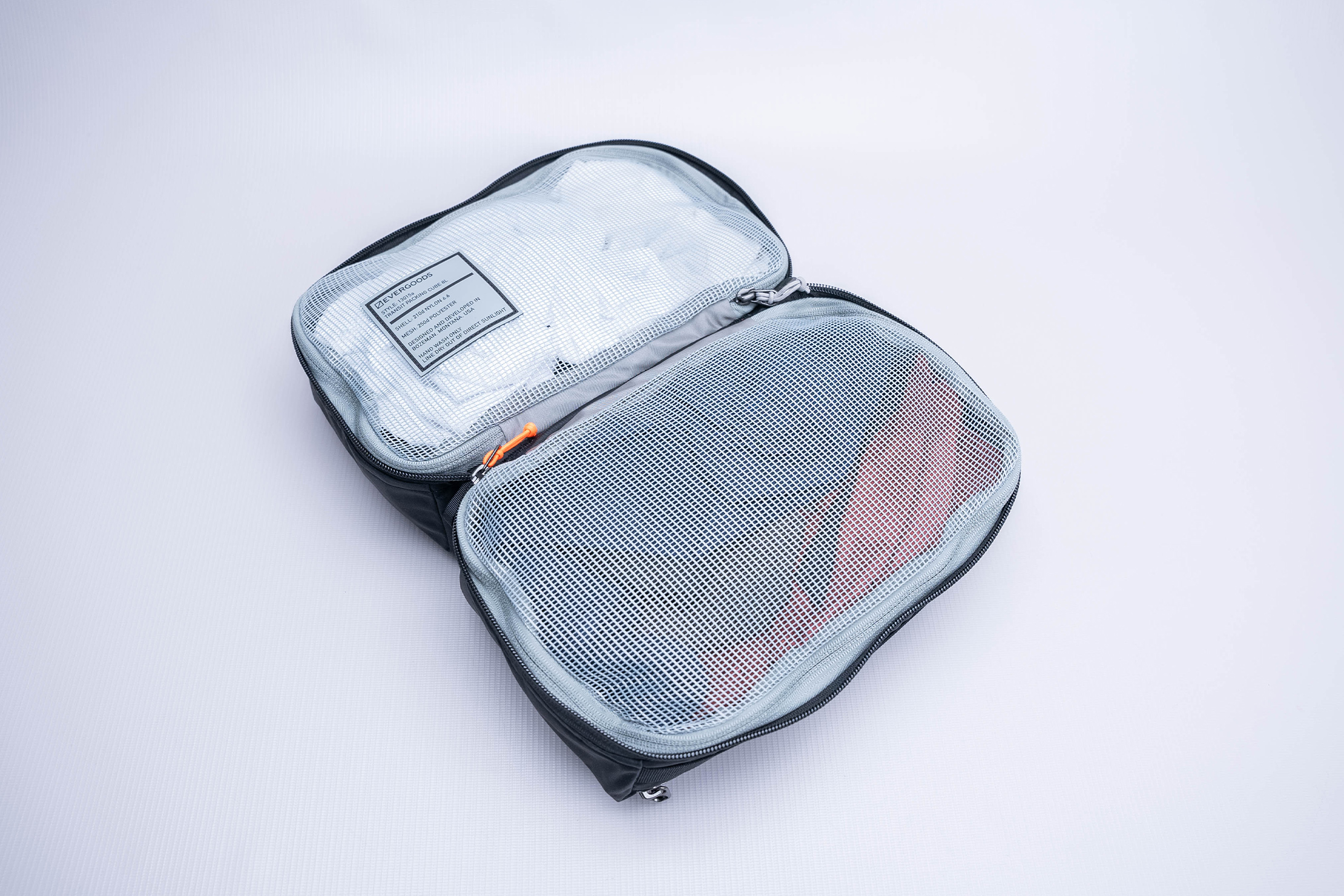 Overall, this packing cube feels very versatile. It looks sleek, and the organization utilized here is unique and worth commending. It'll match your other EVERGOODS gear and hold up well long-term, which we dig. However, it doesn't feel like the most capable packing cube regarding overall capacity.
Orange you glad we didn't make any more bad jokes?
Usage Timeline
Initial Usage
Condition: Excellent
Materials and hardware feel durable
Curious about how well the internal organization works to segment gear
The hook and loop fastener on the exterior is unique
2 Weeks of Use
Condition: Excellent
The materials are higher quality than we're used to for packing cubes
More organization than you typically see in a cube of this size
No issues with the zippers or opening and closing the cube
Access the Pro Community Discussion
Get your questions about the EVERGOODS Transit Packing Cube 8L (TPC8) answered from our team and the Pro Community right here on the page. Plus, join discussions with other members about gear, guides, and more.
Other Organizers & Pouches Reviews