Encircled The Chrysalis Cardi Review
For a versatile garment that can be worn as a dress, scarf, or cape, look no further than the Chrysalis Cardi. Nailing the styles is challenging, though.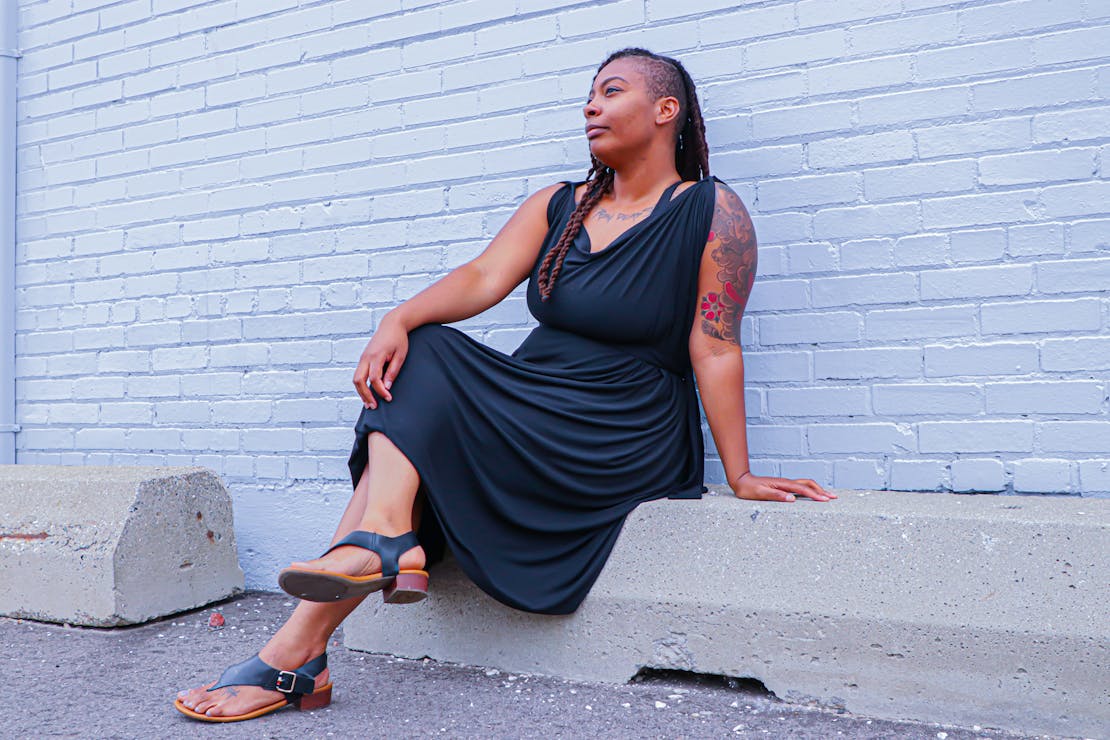 Our Verdict
Unlock the Pro Summary
Save time. Get access to brief summaries of our reviews so you can browse and make decisions more efficiently.
Pros
Fabric is buttery soft
Can be worn eight different ways, so you can pack less clothing
Material doesn't add much weight to your bag or luggage
Cons
Some styles are difficult to figure out even with instructions
Snaps sometimes come apart while wearing
Fabric can get snagged easily
Recent Pack Hacker Video
Technical Details
Notable Materials

Spandex, Modal, Metal

Manufacturing Country

Canada

Warranty Information
Full Review
What's a girl to pack when she's traveling to a wedding, wants a separate dress for a night on the town, and needs a cape to keep her shoulders warm? Packing different clothing for all these occasions is not a great option when you're trying to travel minimally. In comes the Encircled Chrysalis Cardi to the rescue. This multifunctional garment can be styled in eight ways, including a scarf, wrap, and three different dresses.
That's the good news. The bad news is that it takes a while to figure out the styles. After two weeks of testing and a few fabric snags, we're still not sure we've got it right. Most unfortunate is that the snaps that keep it together unsnapped several times while wearing it. You can imagine how embarrassing it is when you're talking to someone and your dress comes apart at the shoulders. Once, the Chrysalis Cardi unsnapped as we were trying to use the bathroom—a much less serious offense, but still as frustrating. Sometimes the Chrysalis Cardi feels like a cute dress. Other times, it feels like you've wrapped yourself up like a mummy in a massive piece of fabric.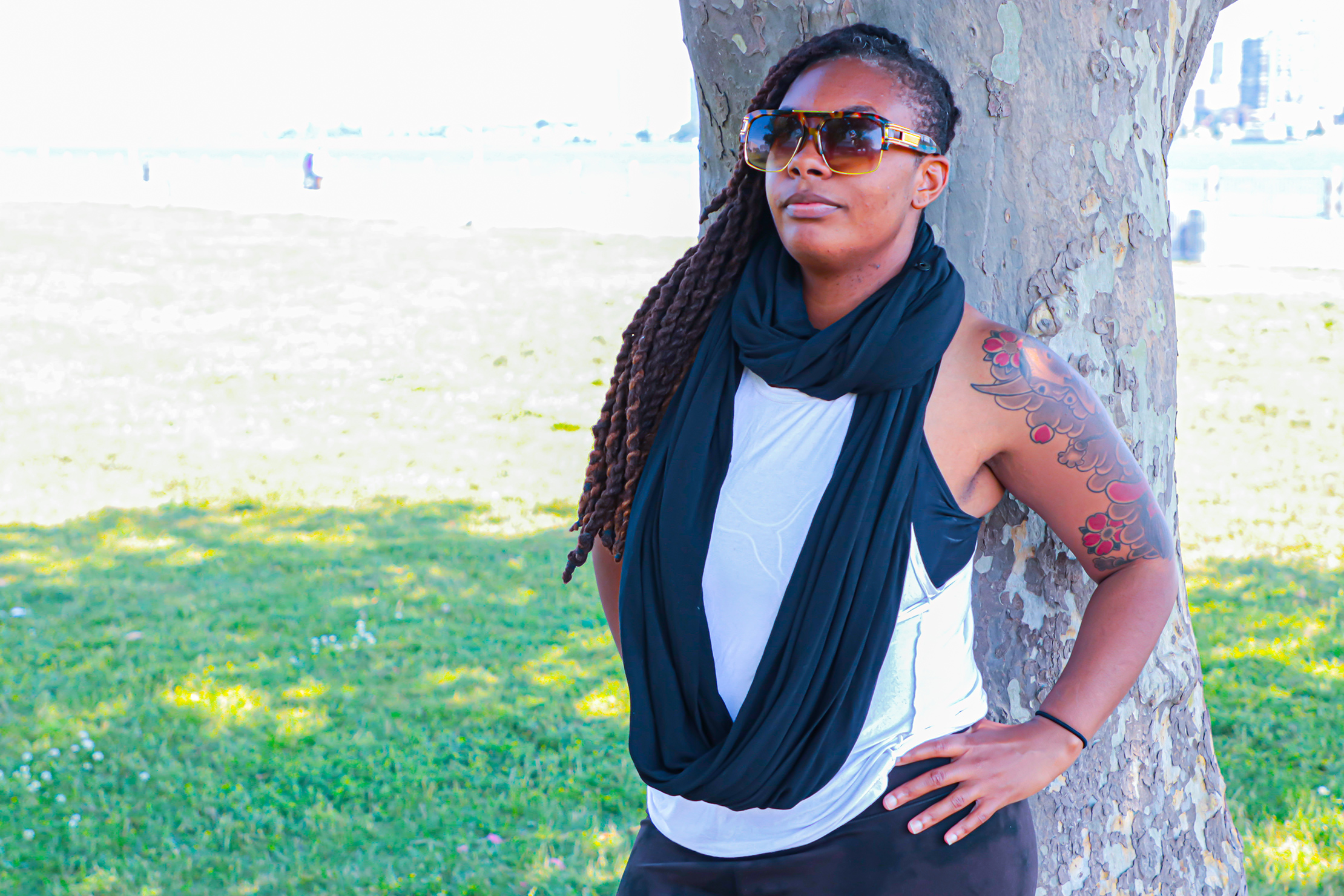 At a glance, the Chrysalis Cardi literally is a huge piece of material. It has several snaps on each end—four on top and two on the bottom, to be exact. The snaps are numbered from F1 to F3 and M1 to M3. Sound confusing? Without any labels on the garment itself, we were confused too. Our girl Cardi comes with an instruction card that features a snap diagram to help you out. Encircled has some video tutorials on their website, too. Unfortunately, the tutorials are not always clear. Some of the written instructions are entirely different from the video, and the videos go so fast that you may have to pause and rewind a few times. You'll probably want to hold on to the instruction card just in case, especially if you're traveling somewhere you won't always have internet access.
The eight ways you can style the Chrysalis Cardi (from easiest to most difficult) are as follows:
Scarf
Grecian tunic
Cocoon
Cape
Wrap
One shoulder dress
Wrap dress
X-back halter
Encircled ranks the styles easy, medium, and adventurous. For us, it was more like "I got this," "this doesn't look quite right, but I'll wear it anyway," and "it's gonna be a no from me, dog." It takes a lot of practice adjusting and fiddling around with the fabric to get it to look right. So don't think you're going to just pack up the Chrysalis Cardi and try it for the first time after you've already arrived on vacation. You'll be frustrated and sorry.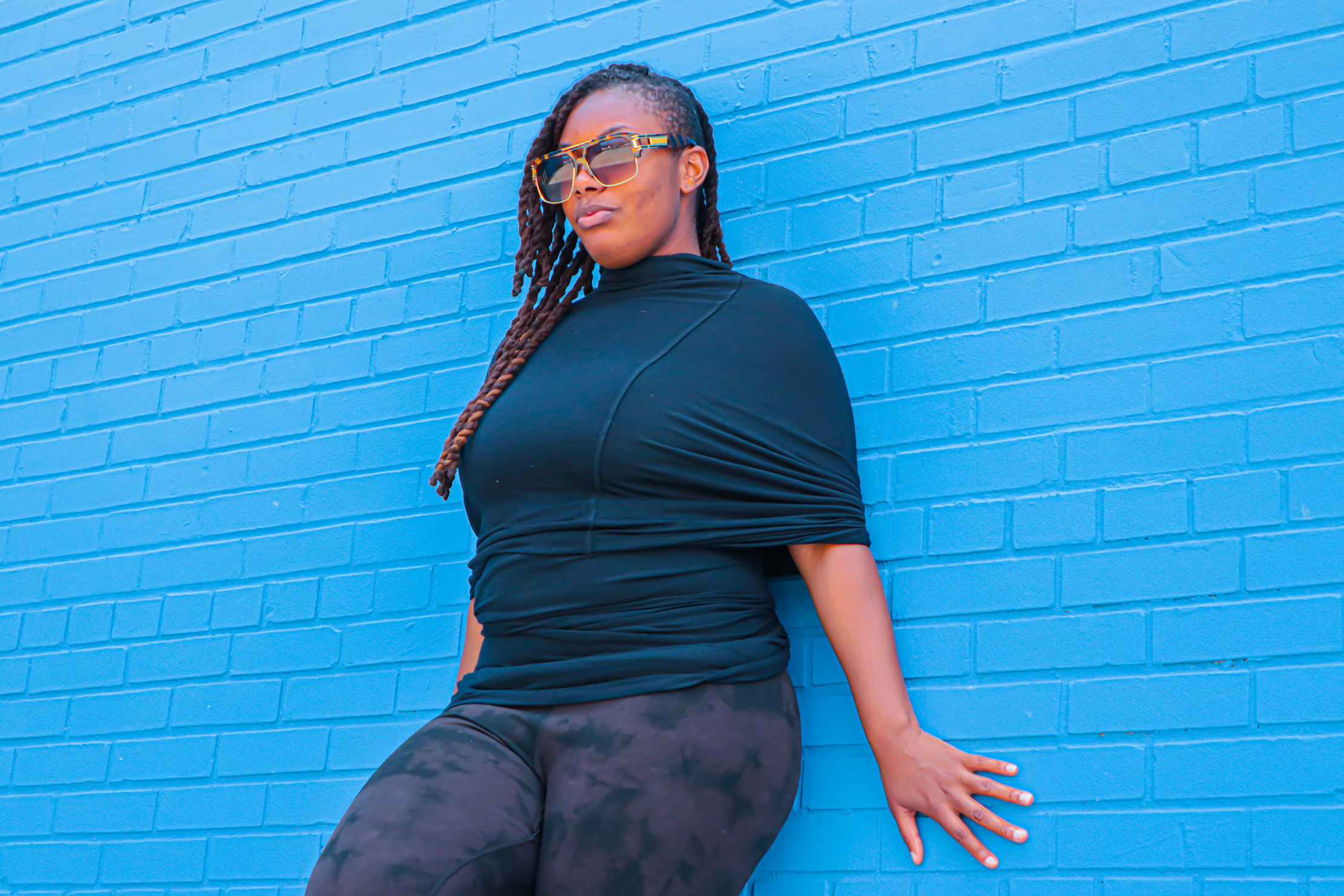 The Grecian tunic and scarf styles were the easiest to figure out and quickly became our go-to's. Next came the cape and cocoon, but they both draped in awkward ways. It seemed impossible to hide the tag with the cocoon style, so we just flipped it inside out and called it a day. It still sat firmly within the "this doesn't look quite right, but I'll wear it anyway" category. Honestly, we got fed up pretty early on and almost gave up on the Chrysalis Cardi, but once we took the time to figure out how to style it, we came around. The soft, buttery feel of the fabric is its biggest saving grace.
Materials & Fit
Yes, the Chrysalis Cardi's material is fantastic enough to warrant its own section in this review. It's a Lenzing Modal Spandex blend that is flowy and so lightweight it feels like you're not wearing anything at all. It's as if you're the goddess of air, walking through clouds with the wind caressing your skin as you stride.
That sounds highly romanticized, but what the heck is Modal exactly? Modal is a fiber made from the pulp of Beech trees. This plant-based fabric is sustainably sourced in Austria and neighboring countries. Beyond just being made from trees, the process used to make Modal is also environmentally conscious. Ninety-five percent of the water and other materials used during the manufacturing process is recycled.

The metal snaps used to keep the garment together are also recyclable since they're lead and nickel-free. The snaps themselves are hand-sewn in place, and we've seen some other reviews that say the stitches have come loose, causing them to ultimately fall off. We haven't had any issues with the snaps falling off (just unsnapping), but it's something to look out for after extensive use. We'll keep an eye on that and update the usage timeline below if that does happen—though we sincerely hope that it doesn't!
On their website, Encircled ranks Modal fabric five out of five stars for softness and stretch, while durability gets three out of five stars. It's interesting that they acknowledge the material is not remarkably durable, and we have to agree. We noticed a snag in the fabric after our third time wearing the Chrysalis Cardi, right on the front when worn Grecian tunic style. "Soft and durable" is a bit oxymoronic, we suppose, because there's definitely a tradeoff between durability and comfort going on here.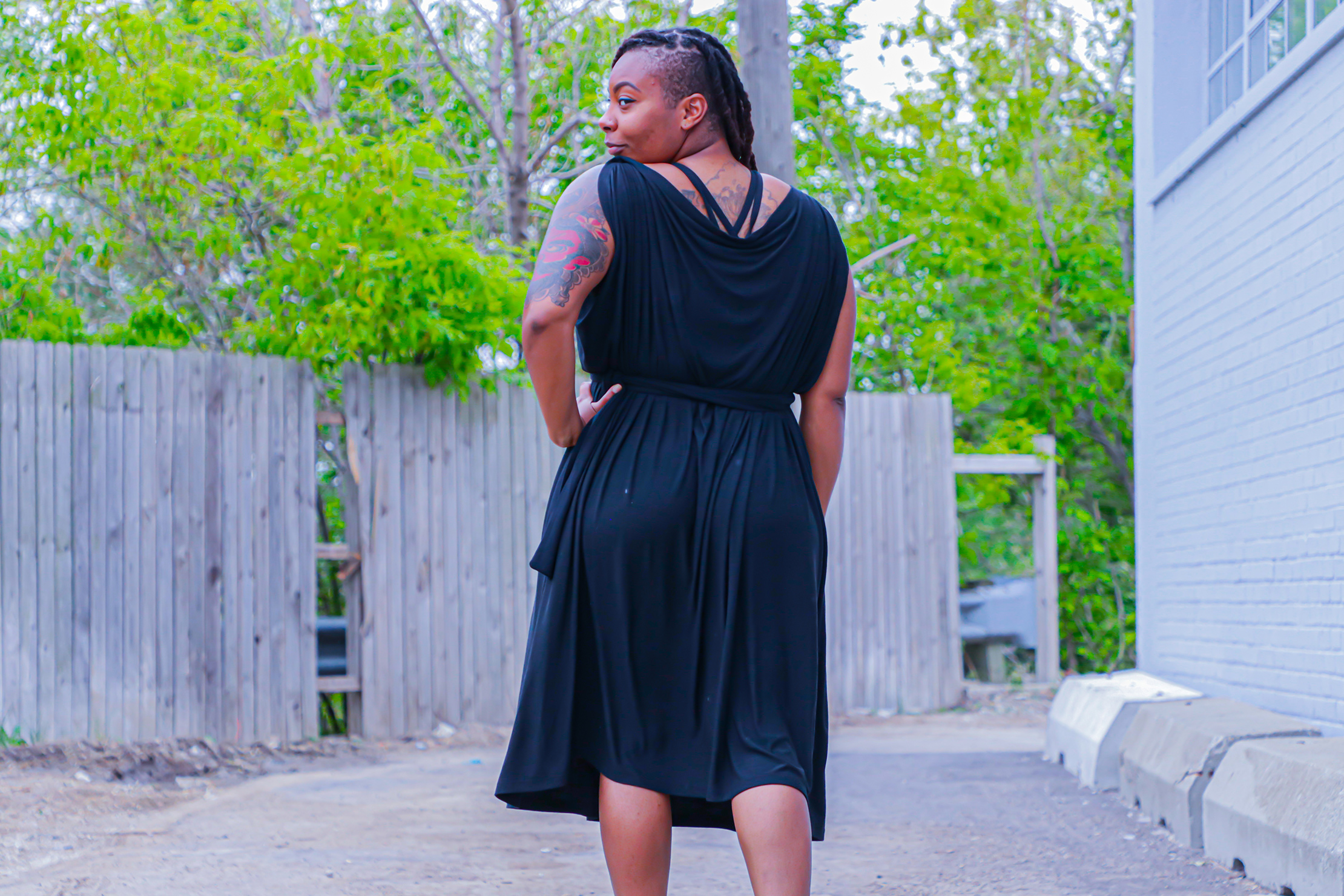 Depending on how tight or loose you prefer dresses to fit, you may want to size up or down. The Chrysalis Cardi comes in petite, regular (or medium), and maxi. Based on Encircled's size chart, we ordered the regular Cardi, and the fit was quite loose. That's good if you like drapey, loose-fitting dresses, but not if you prefer something more form-fitting. Encircled recommends the petite Cardi for women 5'4" and under with smaller frames and the maxi Cardi for taller, curvier women. The regular Cardi is supposed to be a one-size-fits-all garment for anyone between a US size 2 and 14. Based on our experience with the regular, we recommend the petite if you're on the shorter side. Otherwise, it may feel like the Chrysalis Cardi is swallowing you whole.
We really wanted to like the Chrysalis Cardi. We're not saying that we don't—we've gotten more than a few compliments on it, and the Grecian tunic and cape styles are super fly. We also dig that Encircled is a woman-owned brand that manufactures all their garments right in Canada, where their headquarters are located. However, function is always more important than aesthetics and brand culture. Suppose there was somehow a way to make the Chrysalis Cardi easier to style, with stronger snaps and more durable fabric that's just as soft as the original. In that case, we'd be buying one in every color.
Usage Timeline
Initial Usage
Condition: Excellent
Can be worn in eight different styles
Material feels buttery soft
Comes with a guide on how to do the different styles
2 Weeks of Use
Condition: Good
Material is lightweight and feels like you're barely wearing anything in dress mode
Some styles are pretty difficult to figure out, even with instructions
Since the material is so long, some styles drape around the body in a way that's difficult to move in
The snaps have come apart several times while wearing it
Got a snag in the fabric after just two weeks
Access the Pro Community Discussion
Get your questions about the Encircled The Chrysalis Cardi answered from our team and the Pro Community right here on the page. Plus, join discussions with other members about gear, guides, and more.
Other Clothing & Accessories Reviews