eBags TLS Mother Lode Weekender Convertible Review
The eBags Mother Lode Weekender Convertible is a popular travel bag at a reasonable price, but it lacks cohesiveness.
Our Verdict
Unlock the Pro Summary
Save time. Get access to brief summaries of our reviews so you can browse and make decisions more efficiently.
Pros
Nice organization options, especially inside the main compartment
Some unique features we haven't seen in other bags
Good laptop protection, as long as you can fit your laptop in the hammock
Cons
Exterior zippers can difficult to use
Strap attachment points can stick into your back
Cheaper feel overall
Recent Pack Hacker Video
Technical Details
Capacity

40l

Weight (lb)

3.9 lb (1.8 kg)

Dimensions

22 in x 15 in x 9 in (55.9 x 38.1 x 22.9 cm)

Notable Materials

Polyethylene, Polyurethane, Polyester, YKK Buckles

Manufacturing Country

Vietnam

Laptop Compartment Size

17"

Warranty Information
Full Review
If you're a frequent traveler on a budget, you've probably come across the eBags Mother Lode Weekender Convertible. It's a popular bag from the Colorado-based online retailer known for selling travel bags and accessories. As its name suggests, the Mother Lode is built to pack everything you need for travel without a trip to baggage claim. And, eBags boasts, it "packs like a suitcase, carries like a backpack." We've been testing the eBags Mother Lode Weekender Convertible for two weeks in Detroit and Minneapolis, and we've got all the nitty-gritty details you're looking for.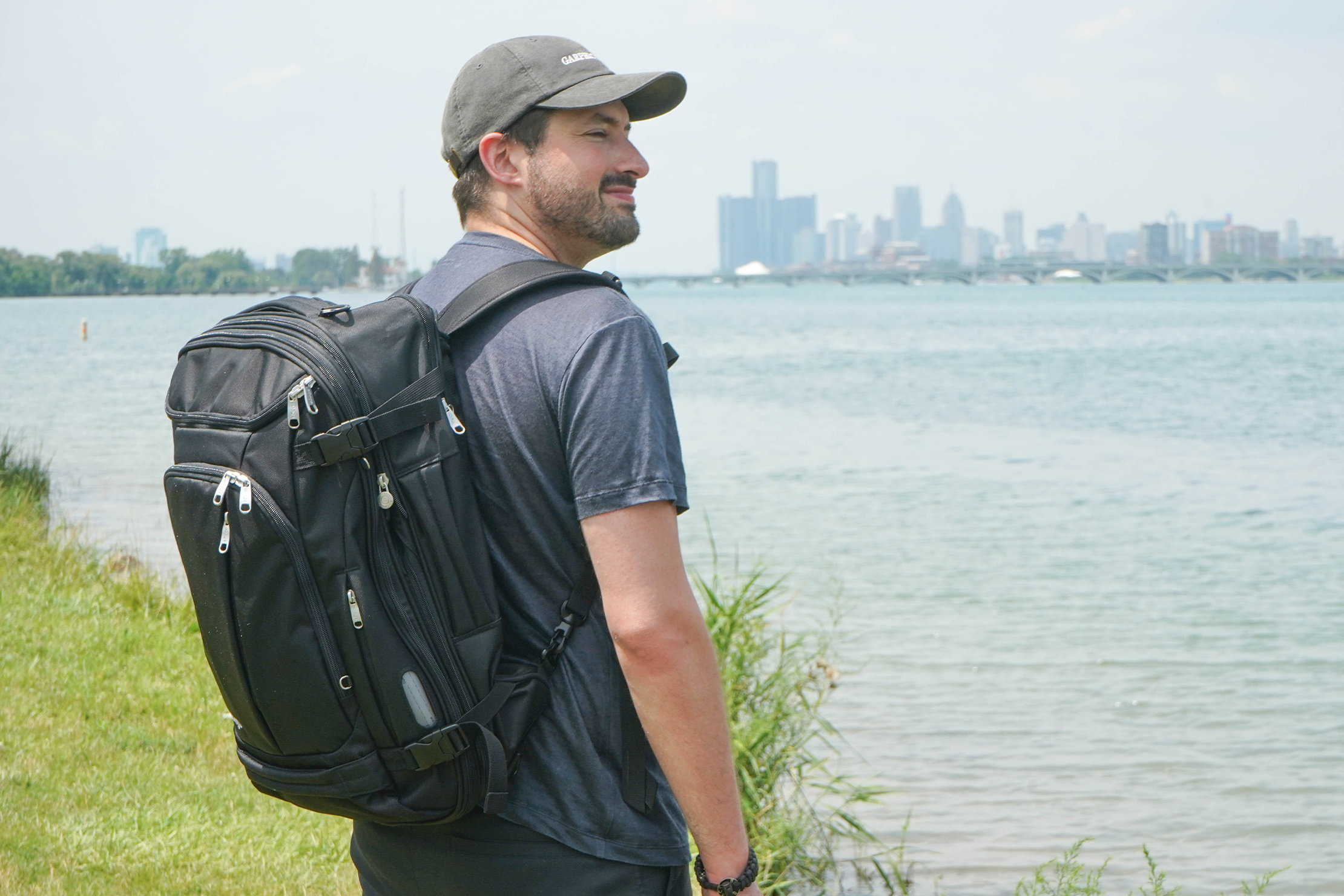 Materials & Aesthetic
The eBags Mother Lode Weekender Convertible essentially looks like a big travel backpack—which, of course, is exactly what it is. Although eBags doesn't list this on its website, the primary material—at least on the black version of the bag—appears to be around a 1000 denier polyester, which is a decent thickness for a pack of this size. That said, polyester isn't exactly the most robust material when compared to the likes of ballistic and ripstop nylon—but it is inexpensive!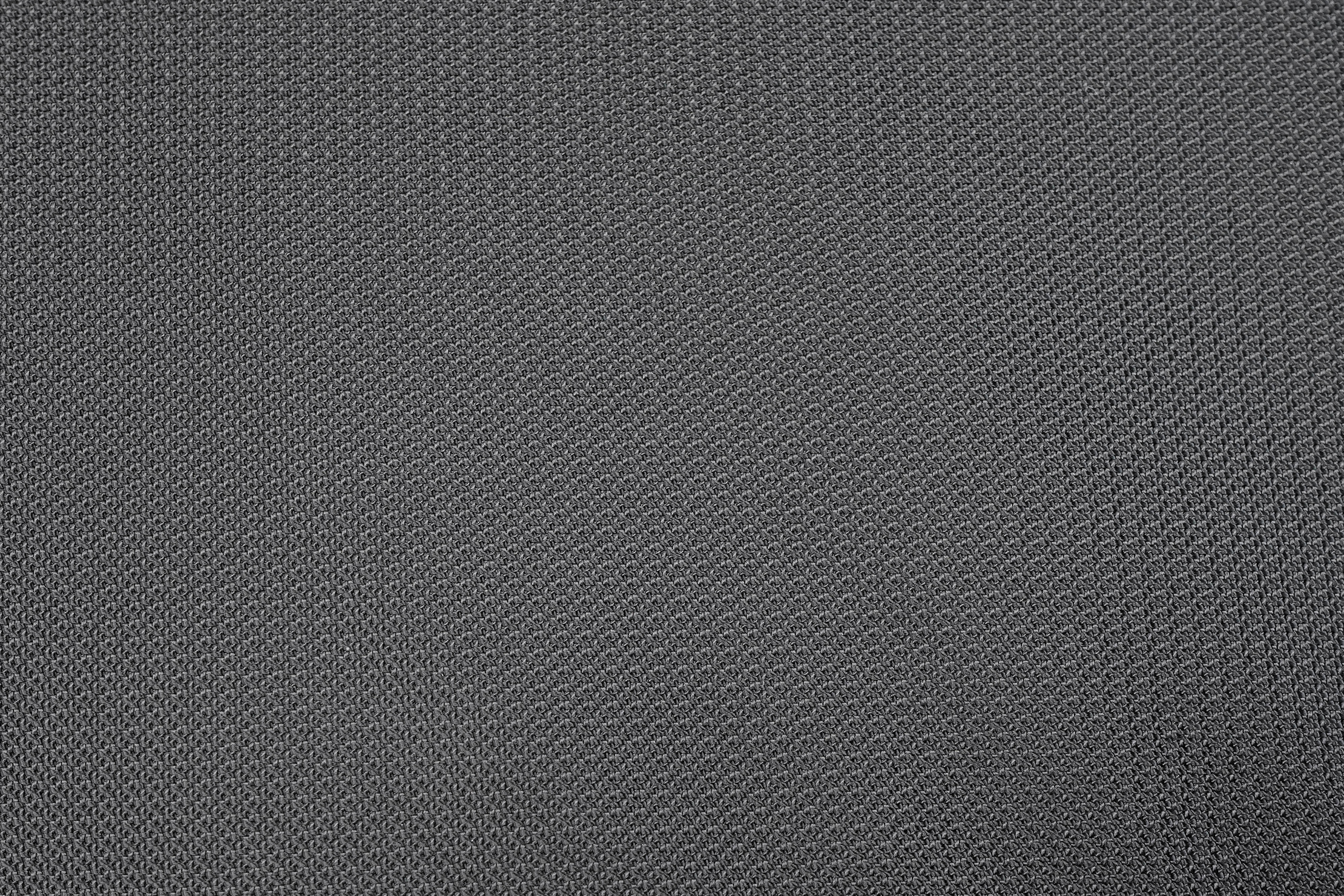 The exterior features some big silver zipper pulls that jingle around quite a bit. We think these are a little much as far as looks go, but they're certainly easy to spot.
While fully expanded, the eBags Mother Lode Weekender Convertible can seem a bit large. To be blunt, we're not the biggest fans of how this bag looks. It's got a kind of "back-to-school" vibe that we're not super into. But hey, that's just us—and let's not forget this thing is about a third of the price of some of the more "stylish" travel bags out there.
At the time of this review, the eBags Mother Lode Weekender Convertible comes in the Solid Black color we've been testing along with five additional colors: Eggplant, Heather Graphite, Sage Green, Sinful Red (yeah, you read that right) and Tropical Turquoise. We think the black looks the best out of all the available colorways—it's just more polished and more professional. The others look a bit cheap, in our opinion, but your mileage may vary.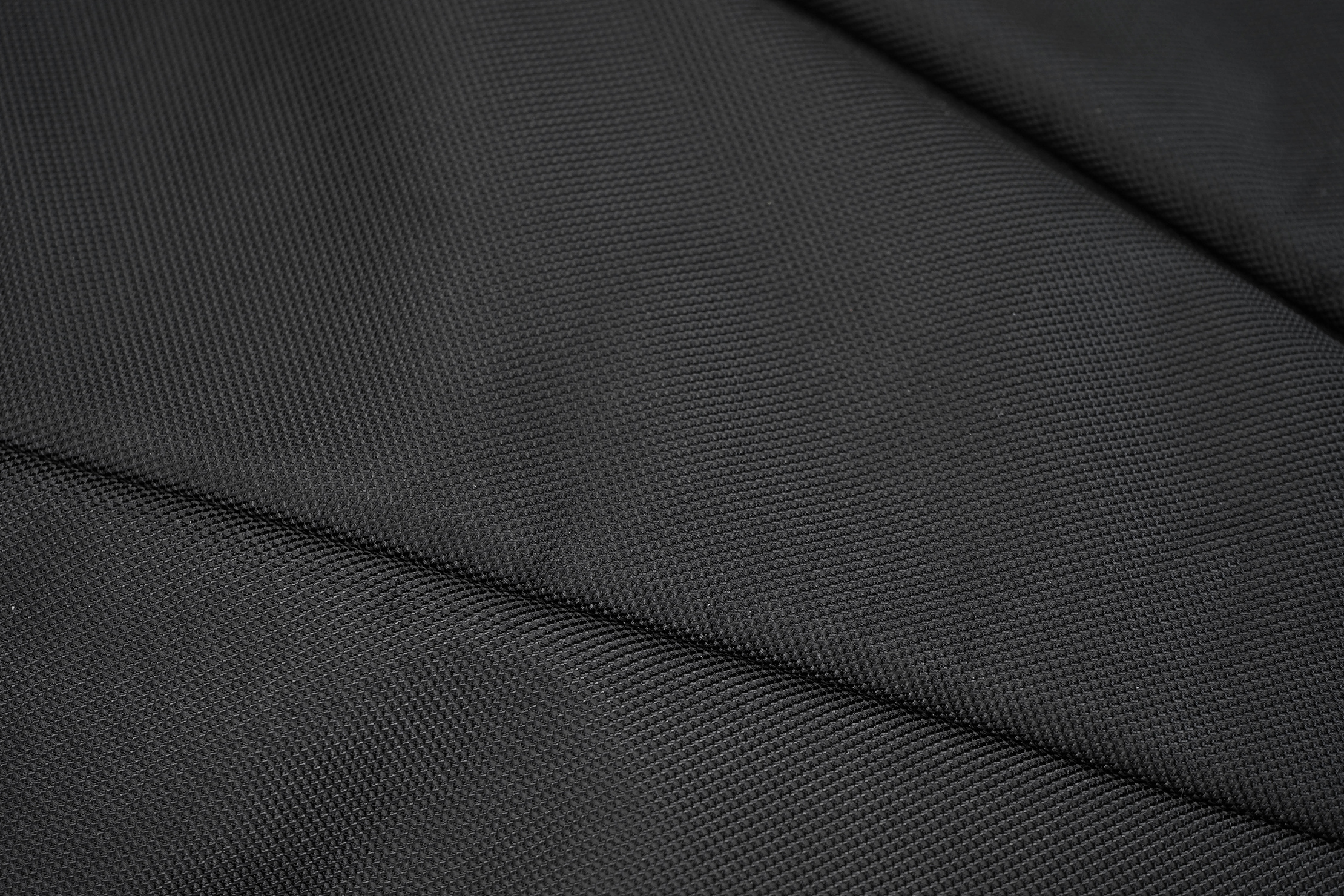 When it comes to branding on the Mother Lode, there's a large gray embroidered eBags logo at the bottom of the bag and several eBags logos on the zipper pulls.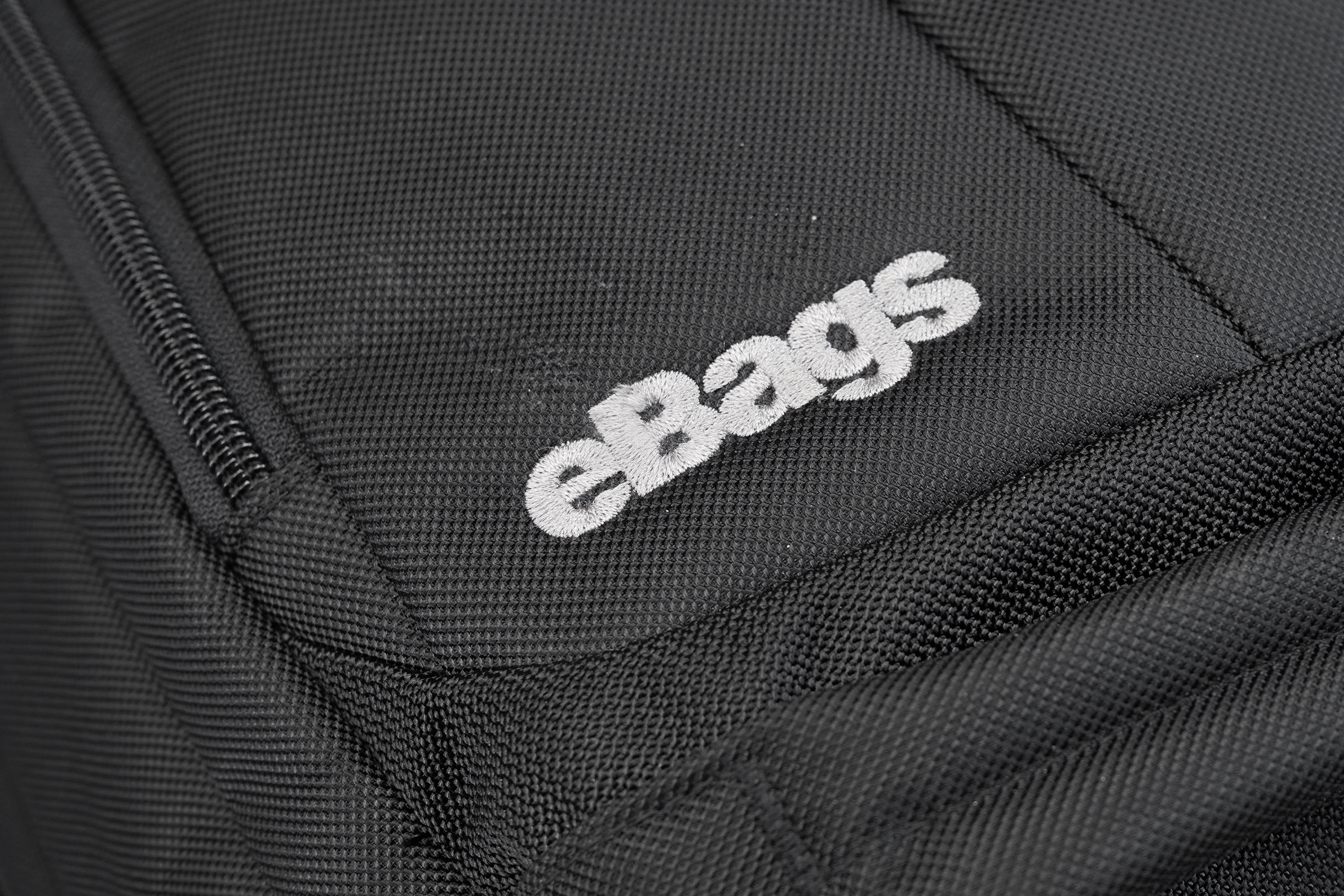 Wrapping up the rest of the materials on this thing, you'll find some lockable Zoom Zippers on the exterior and polyurethane for additional weather resistance.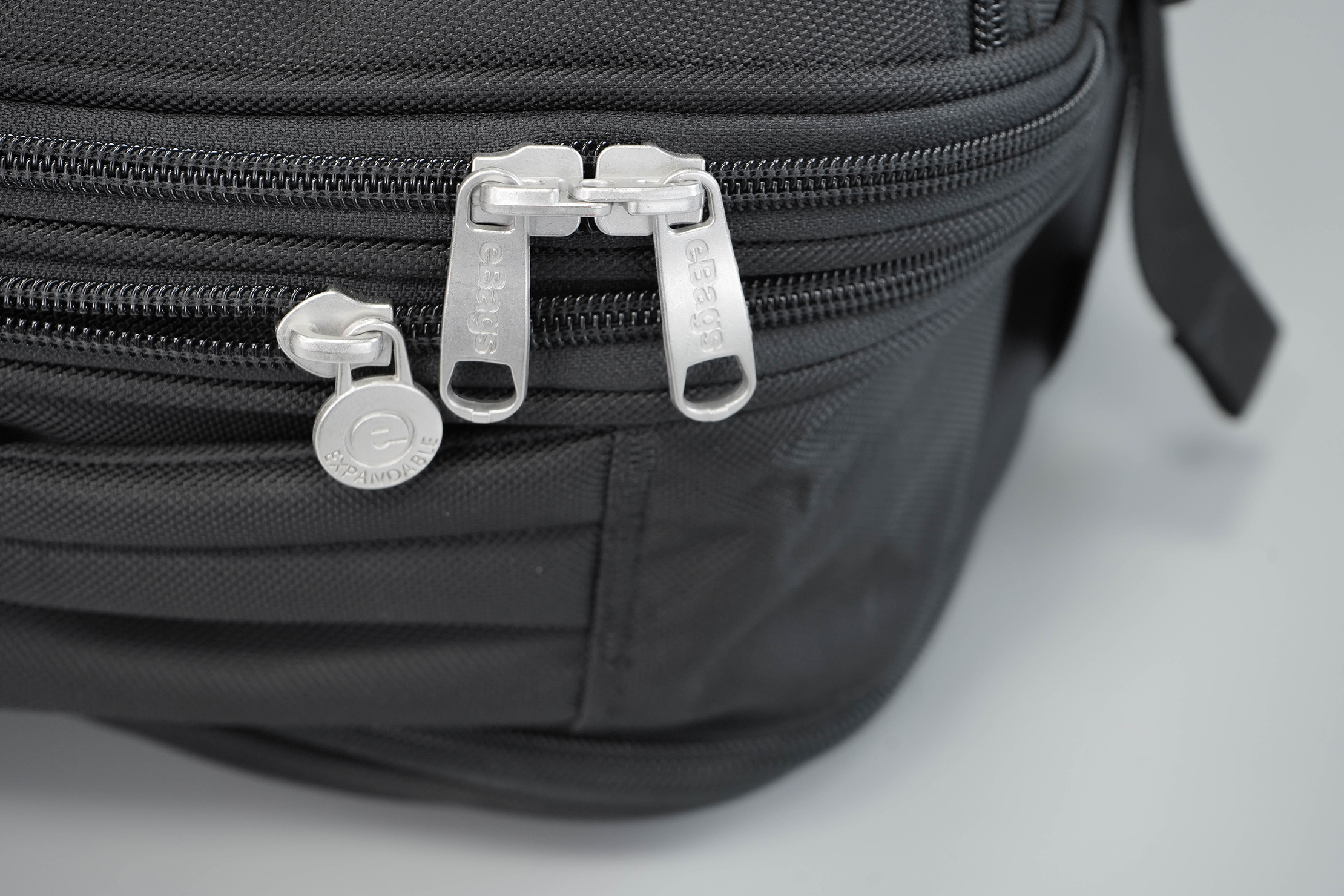 The compression straps have YKK buckles, which are super easy and satisfying to buckle. That's always a bonus.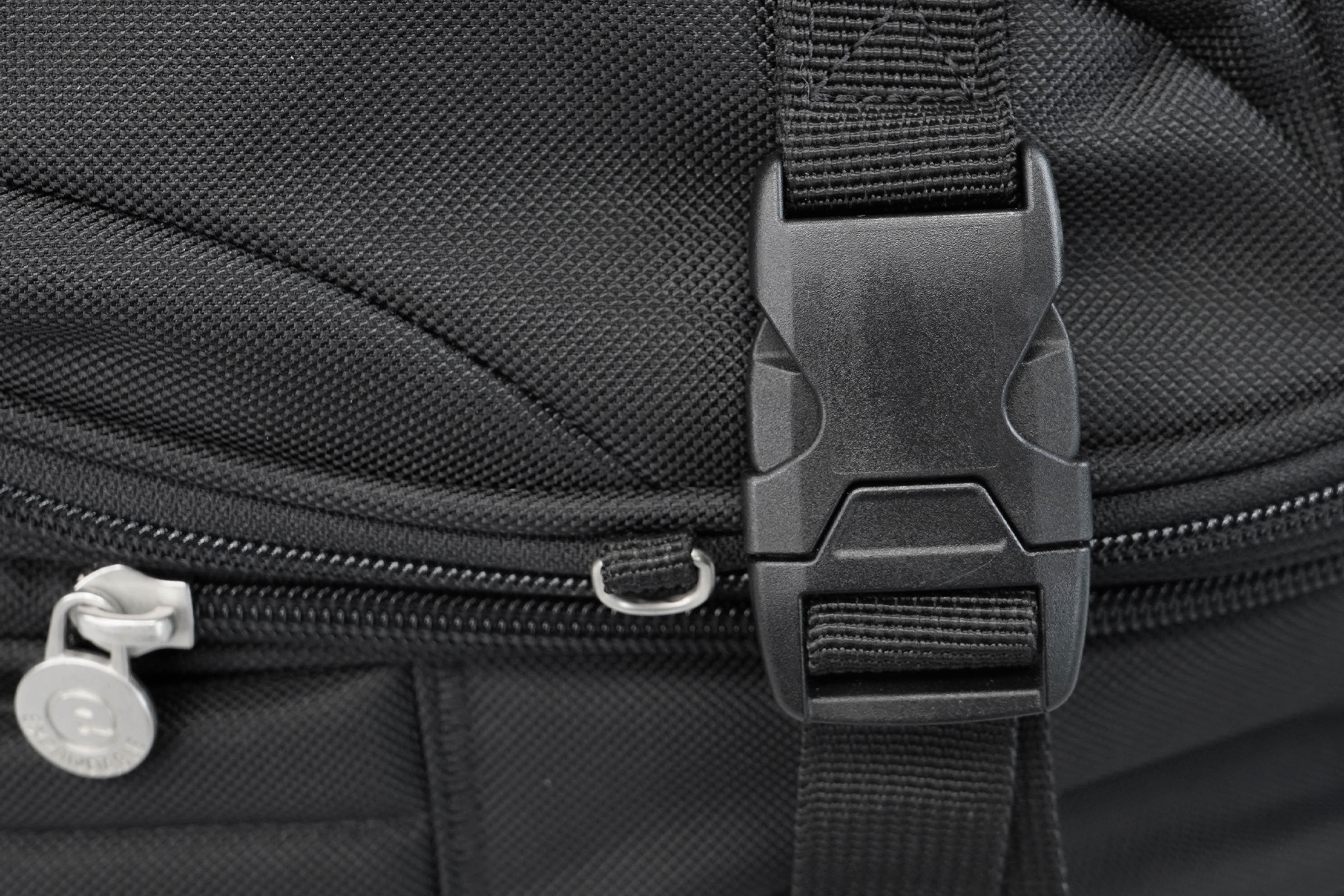 All in all, the materials on this bag are "decent"—especially compared to most of the bags we test. As a result, the bag has a cheap feel overall. This isn't a dealbreaker for us, considering the price point, but it's something to be aware of.
External Components
Moving on to the outer bits, let's take a look at the harness system—which isn't exactly this bag's strongest point. We've found it to be uncomfortable under heavy loads, although the shoulder straps themselves have some decent padding throughout—they're thick and dense with foam.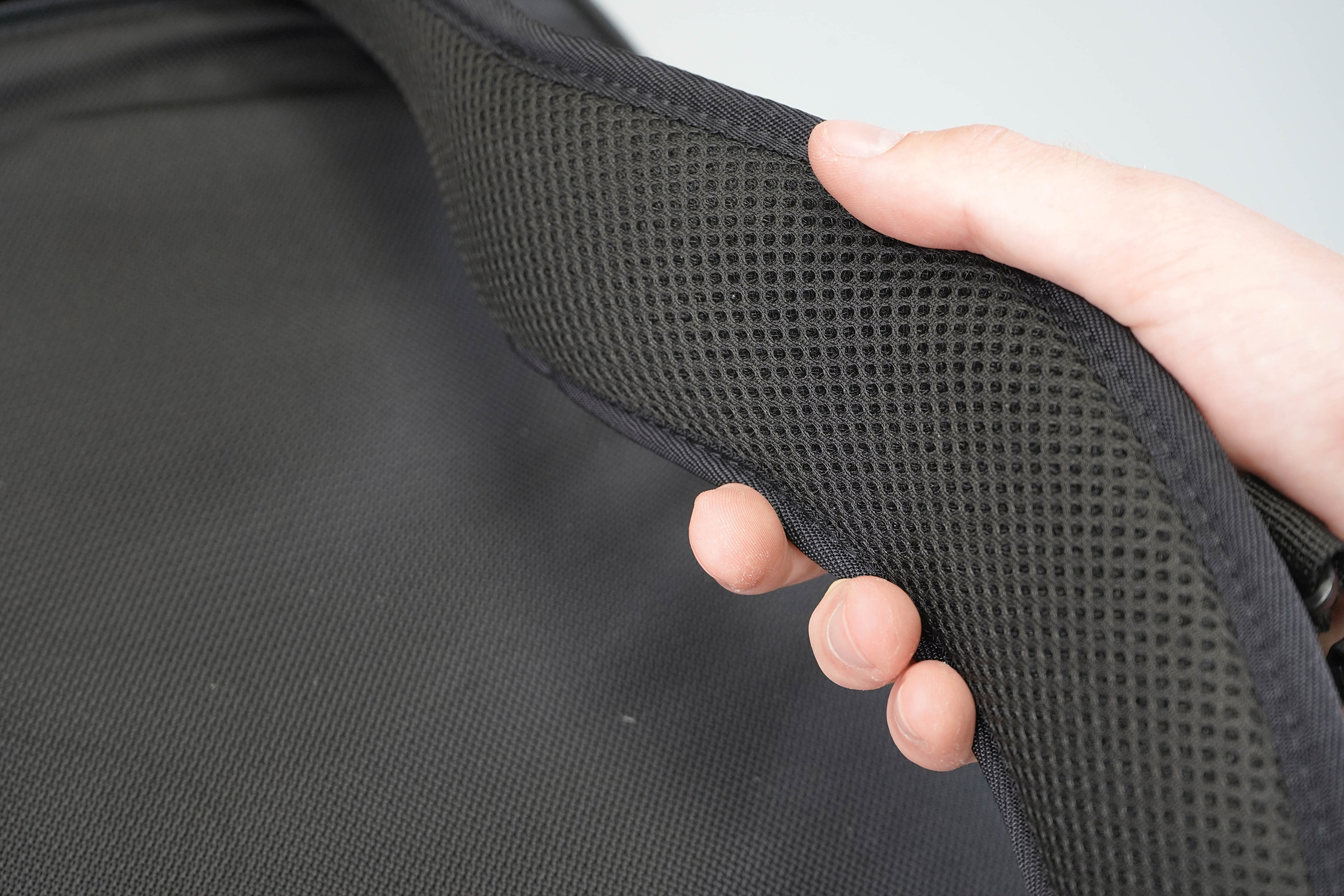 There are some additional components here, including plastic loops for attaching accessories and a rail for the sternum strap that's hidden by a flap of fabric. We like that the sternum strap has some flexibility when you're wearing it—thanks to the elastic, it's not just a stiff piece of webbing across your body.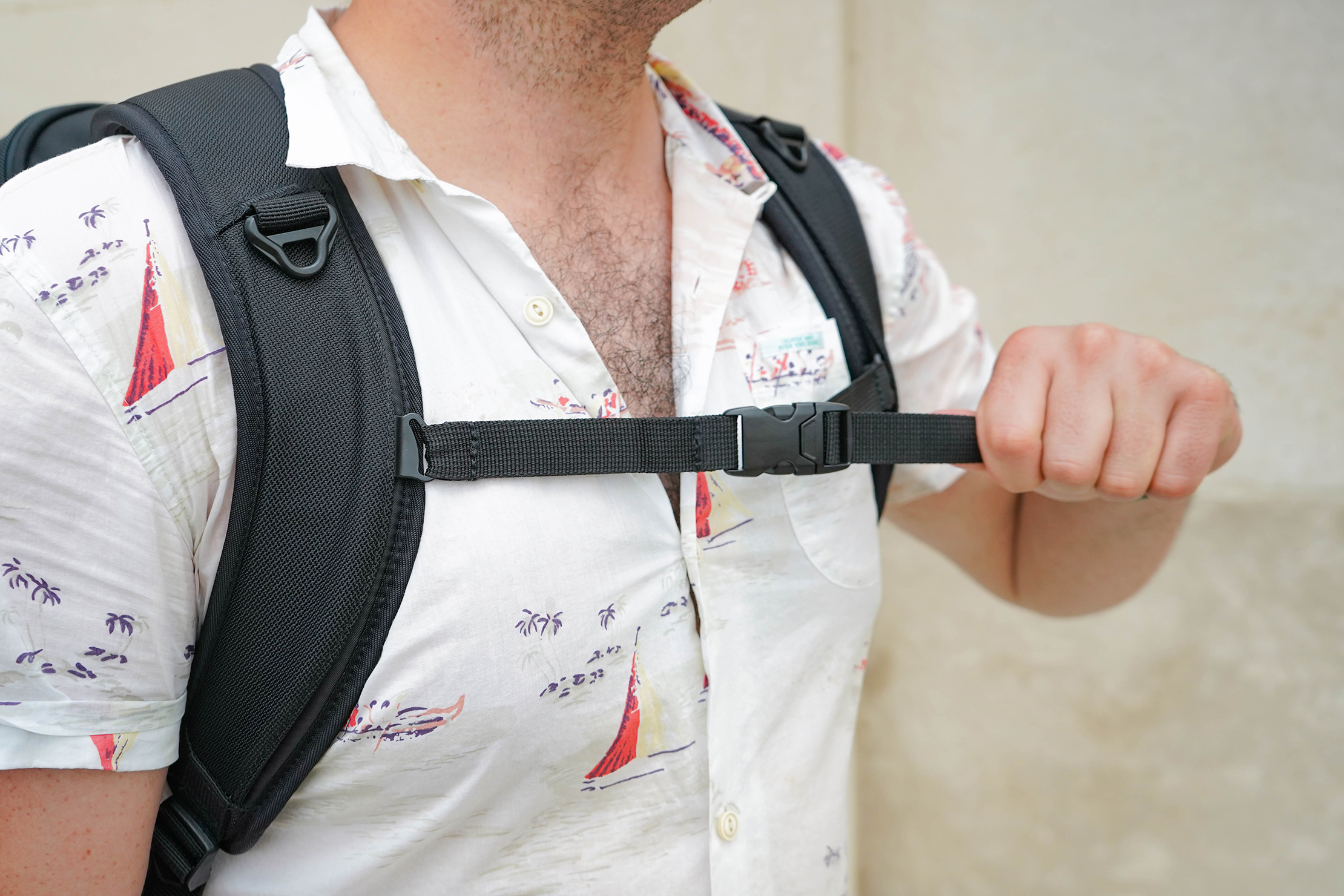 The strap adjusters are pretty straightforward, but we do wish there were some elastic loops to hold the excess strap together.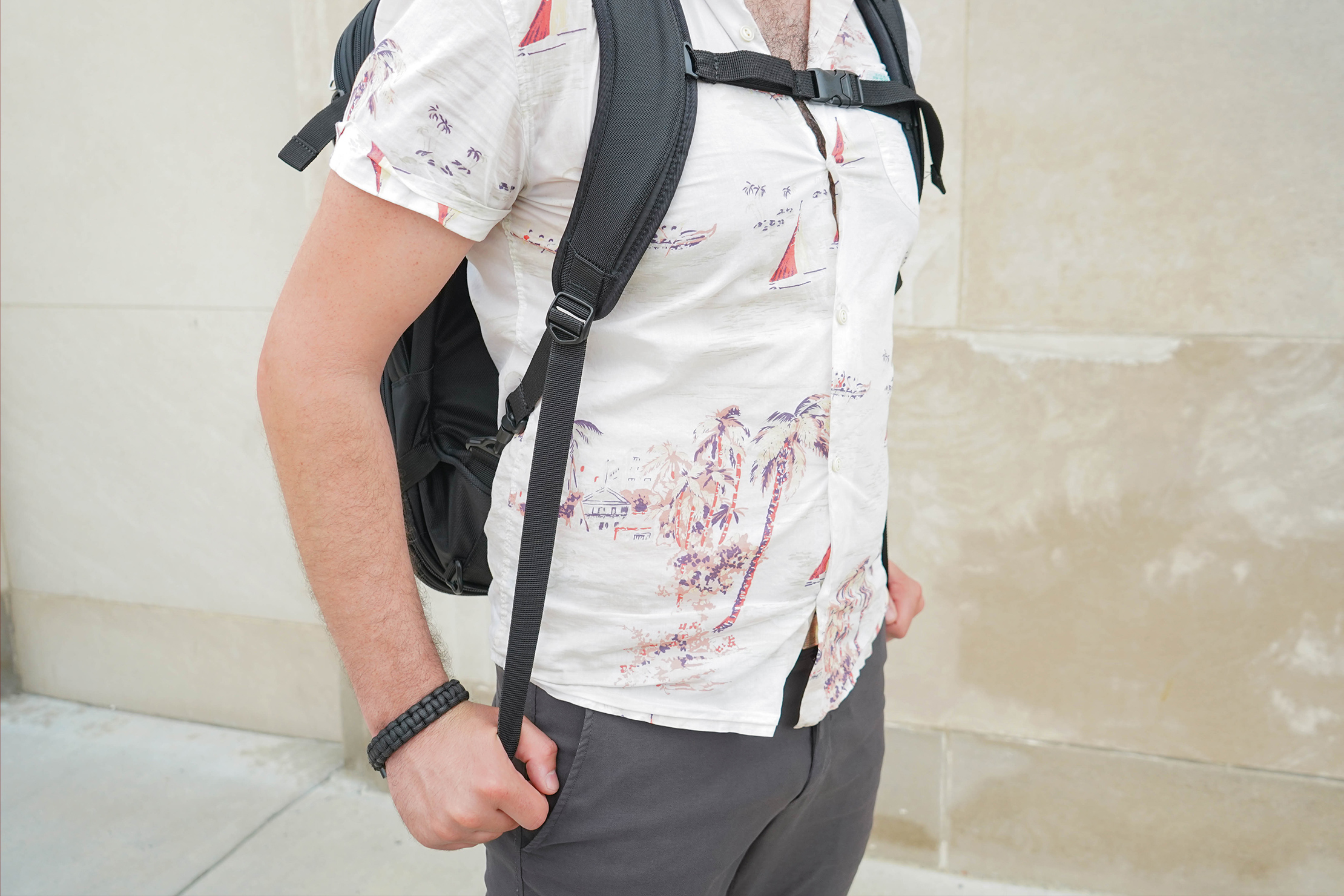 Getting back to that discomfort we mentioned above, the main problem we've found with the harness system is that when the bag is fully loaded, the plastic hardware can stick into your back and become uncomfortable after about ten minutes of use.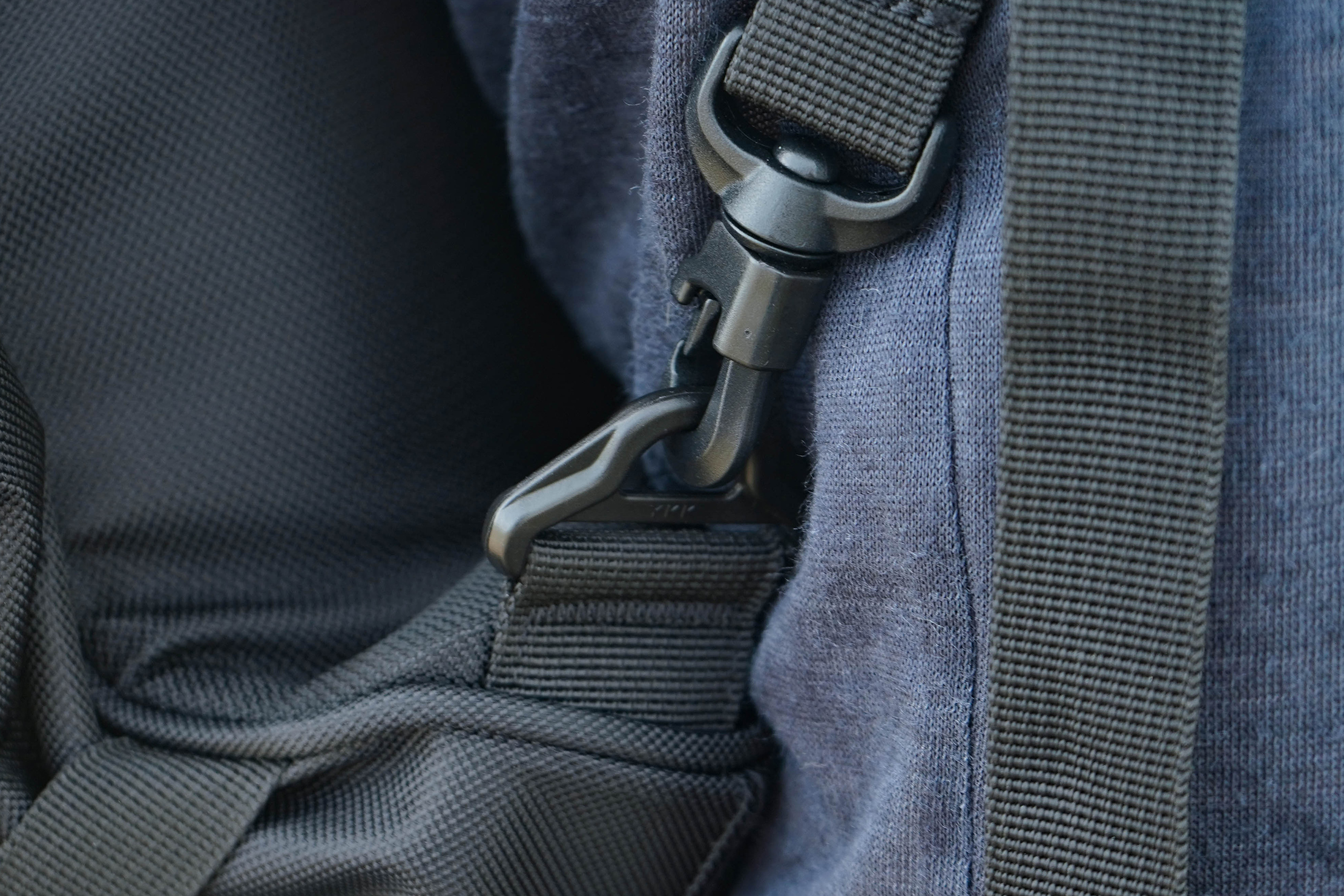 Since we had two testers checking out this bag, we can offer some additional insight. Tom, who noticed this issue, has a slightly wider frame than Mark, who didn't have this problem at all. So essentially, your experience may depend on your body type. For Tom, traveling with this bag would be out of the question—and the only other pack he's had this issue with in the past is the AmazonBasics Carry-On, which has an eerily similar design.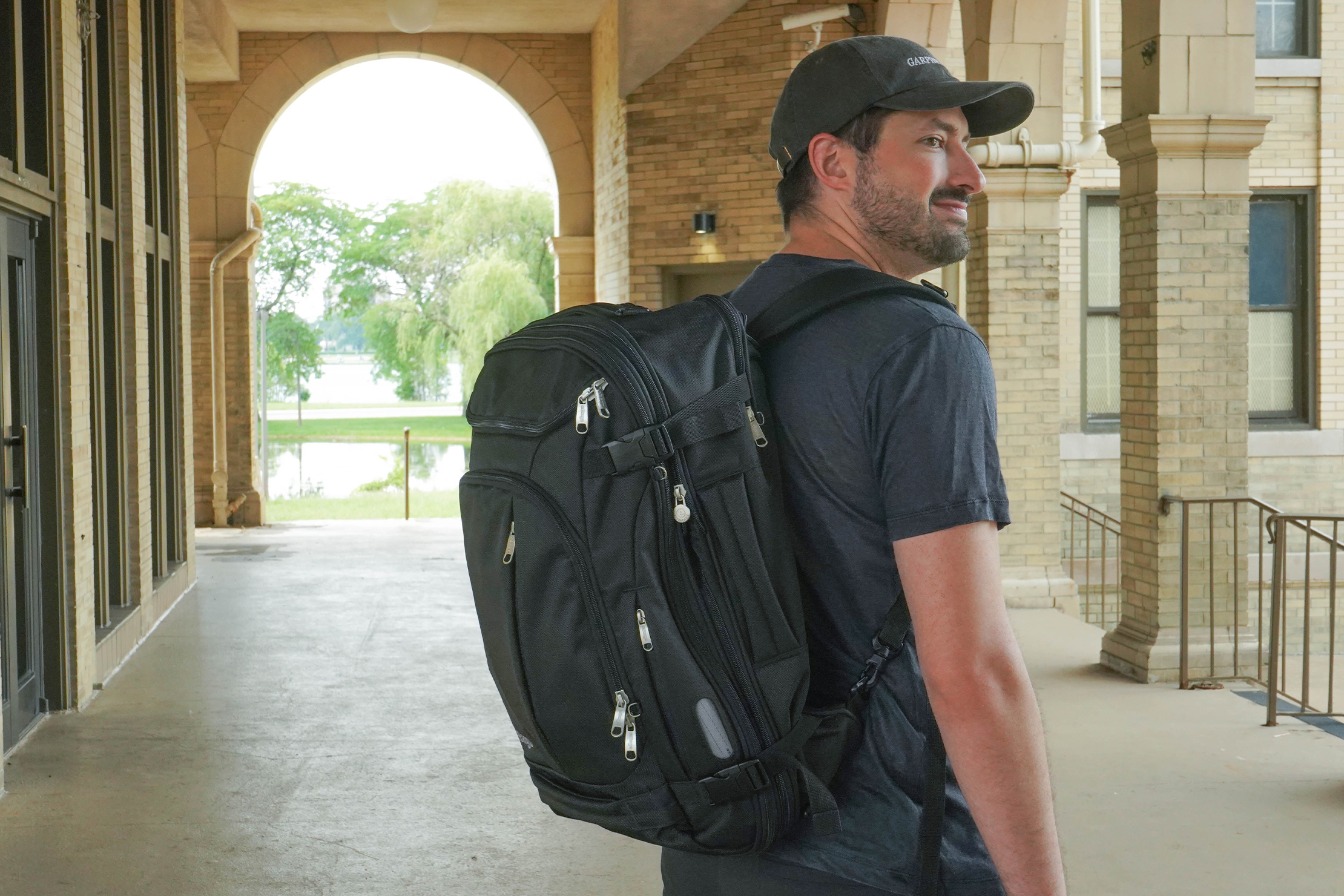 There's an option for a detachable waist belt on the eBags Mother Lode Weekender Convertible, which is pretty much a must with a bag of this size. The waist belt, however, is pretty flimsy—it offers limited support and has no padding whatsoever. We were hoping for something more substantial here, considering the size of this pack.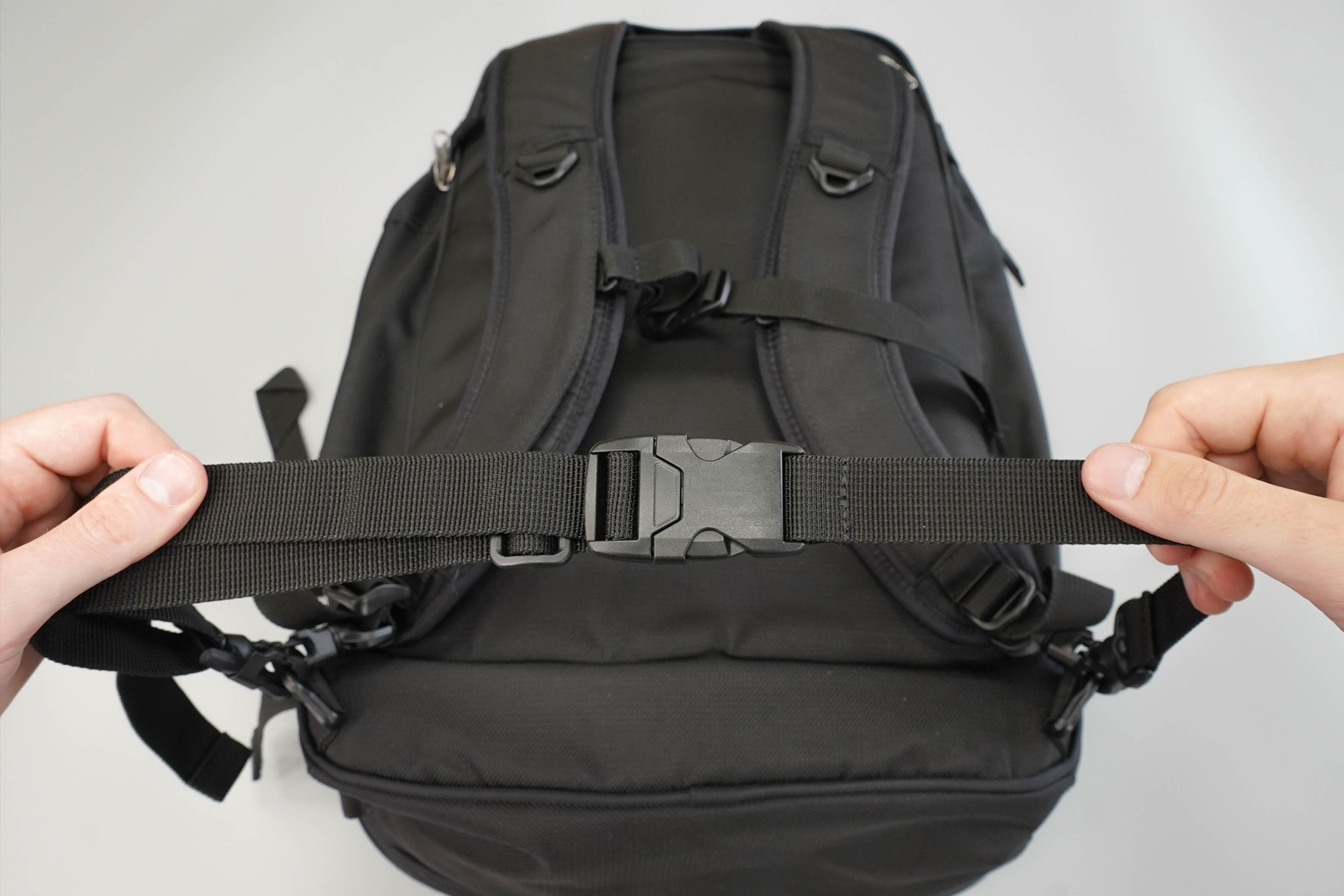 If you like to keep a lower profile while boarding an airplane or train, you'll appreciate that the entire harness system of this bag detaches, allowing you to stuff it into an area on the top of the bag to hide away the straps.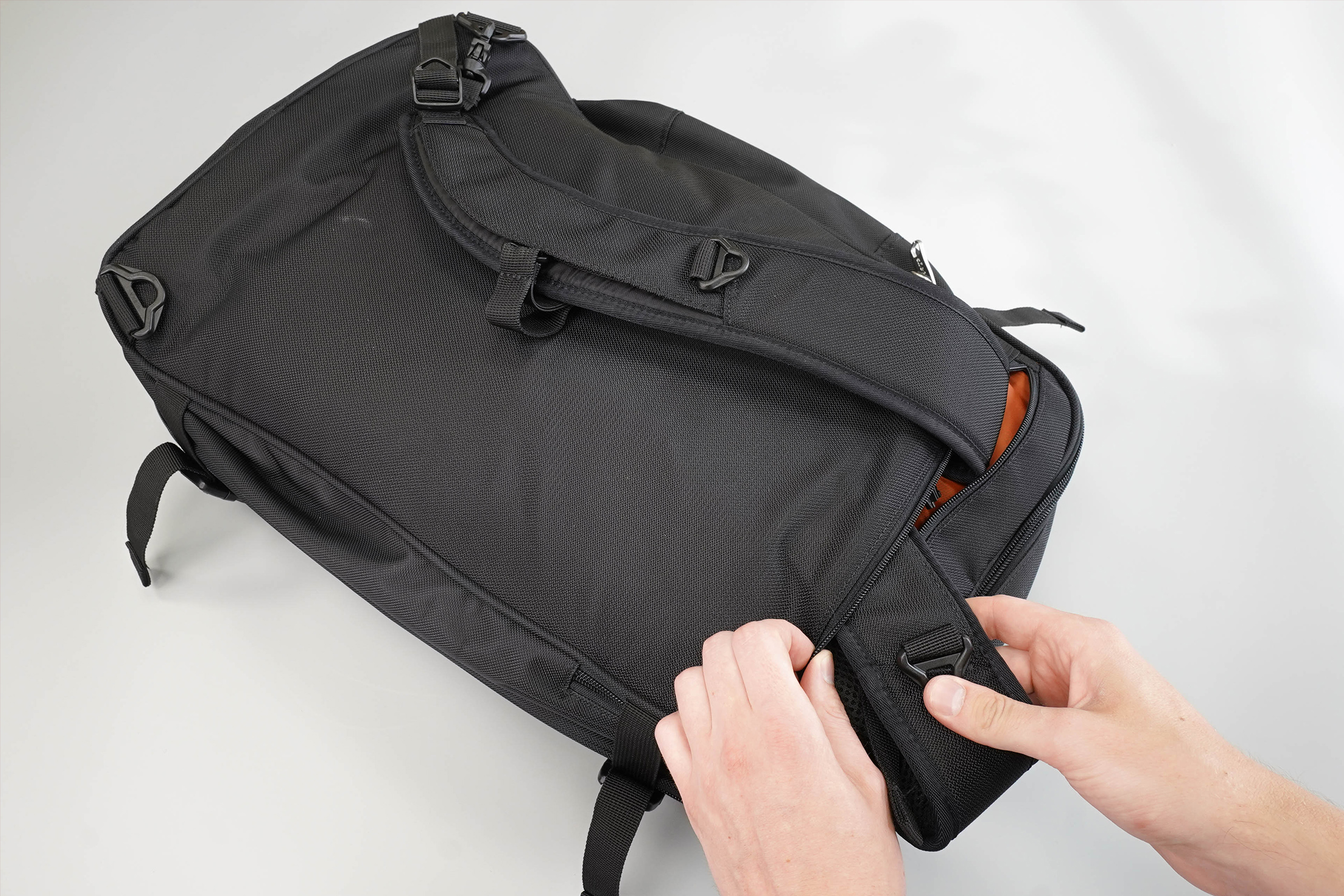 We also like that you can see the reinforcement on the straps at the top when you look inside the zipper compartment—we're suckers for that kind of stuff, though.
On the wearer's right-hand side, the eBags Mother Lode Weekender Convertible has two additional clips you can use to wear it as a duffel or shoulder bag. This is a pretty large bag to wear in that mode, especially if it's expanded, but it's always nice to have options. That said, we won't be using this feature any time soon.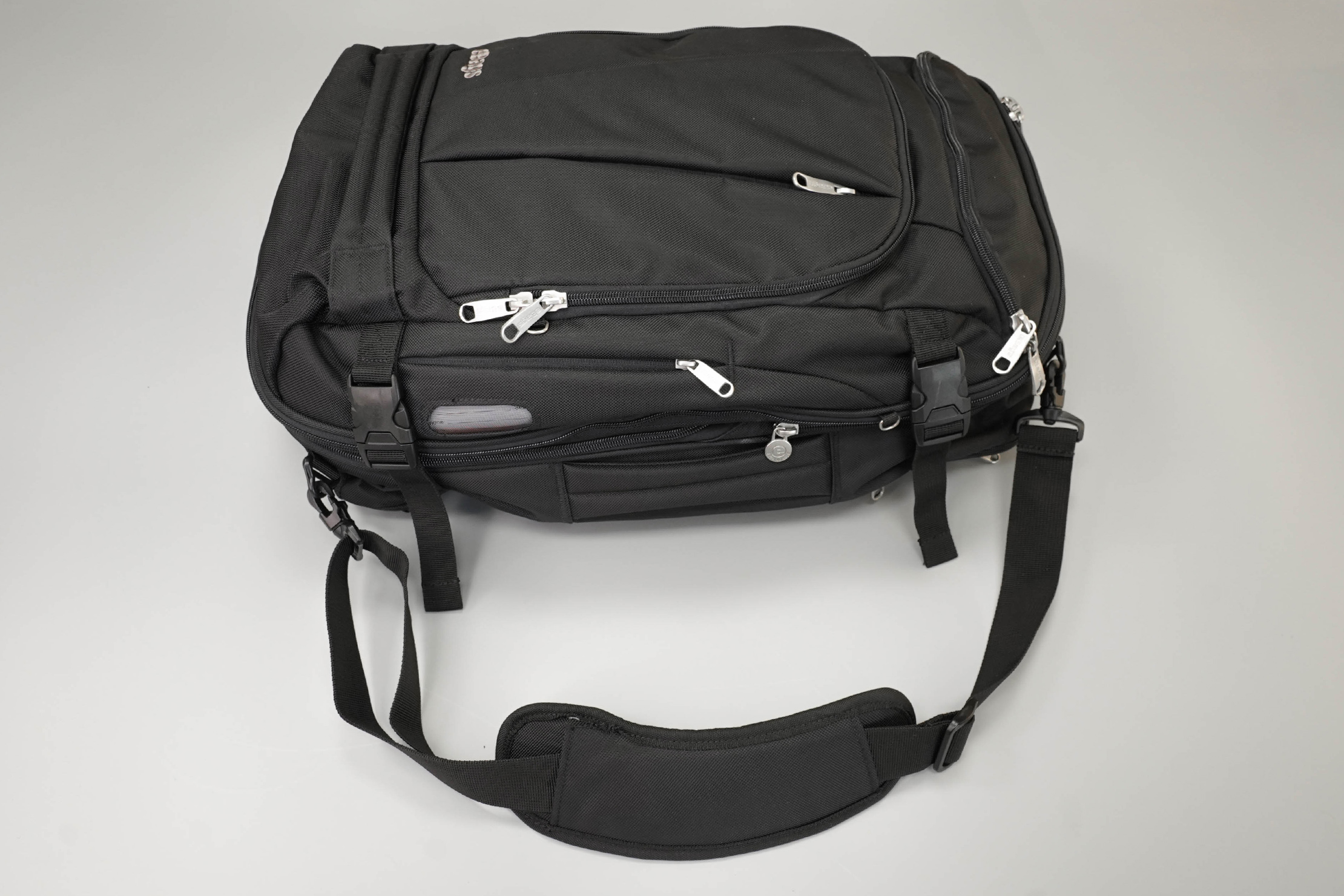 The Mother Lode features three nicely padded handles: one at the top, one on the wearer's right side and one on the back of the bag. These handles have the perfect foam density and they're perfectly grabbable (we just used "perfect" twice, and that doesn't happen much around here).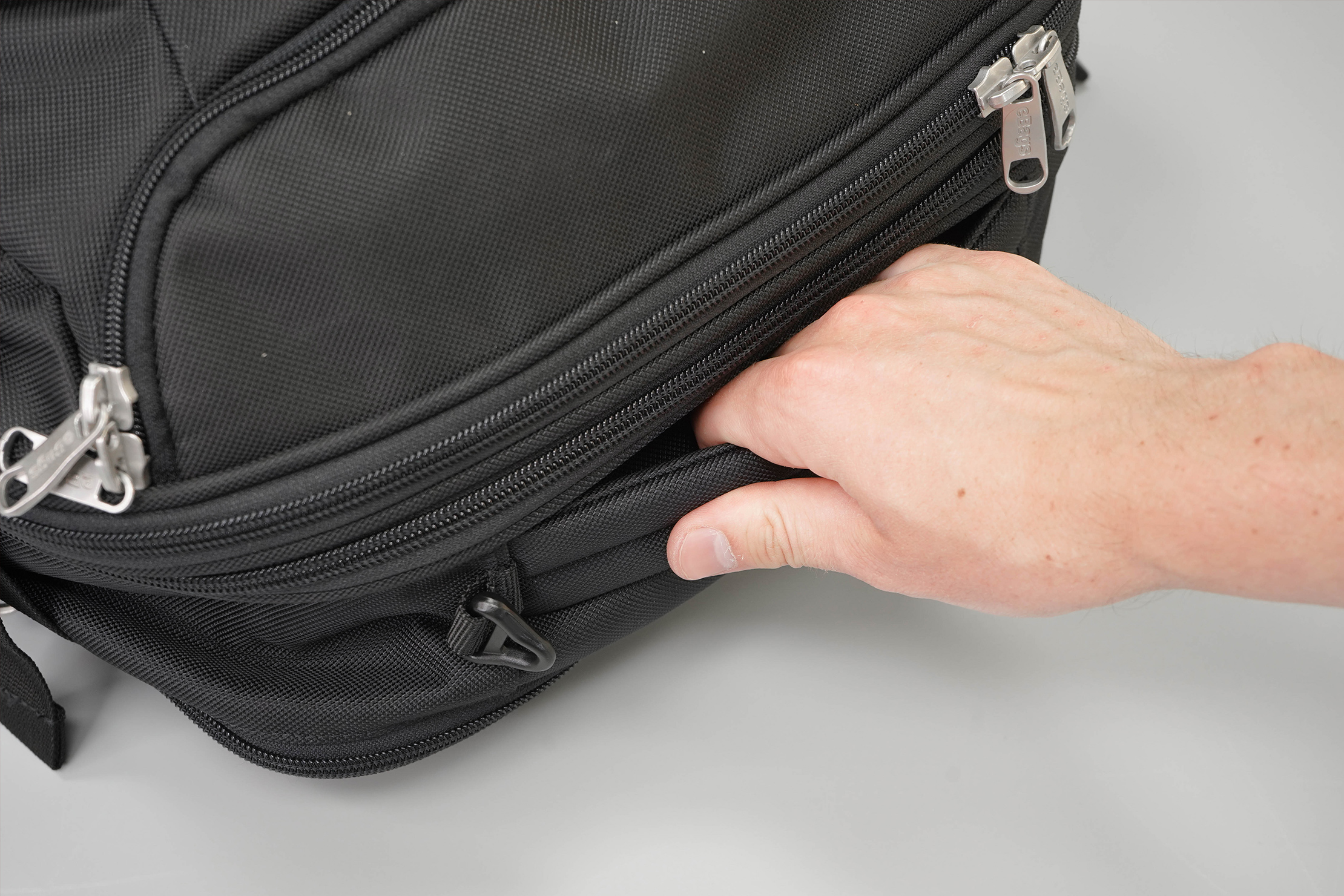 We like that the laptop frame sheet gives some structure to the bag, which makes the bag easy to grab. Sometimes on other bags, the excess fabric can flap around when you grab the bag. With this pack, there's enough structure that it feels solid when you pick it up.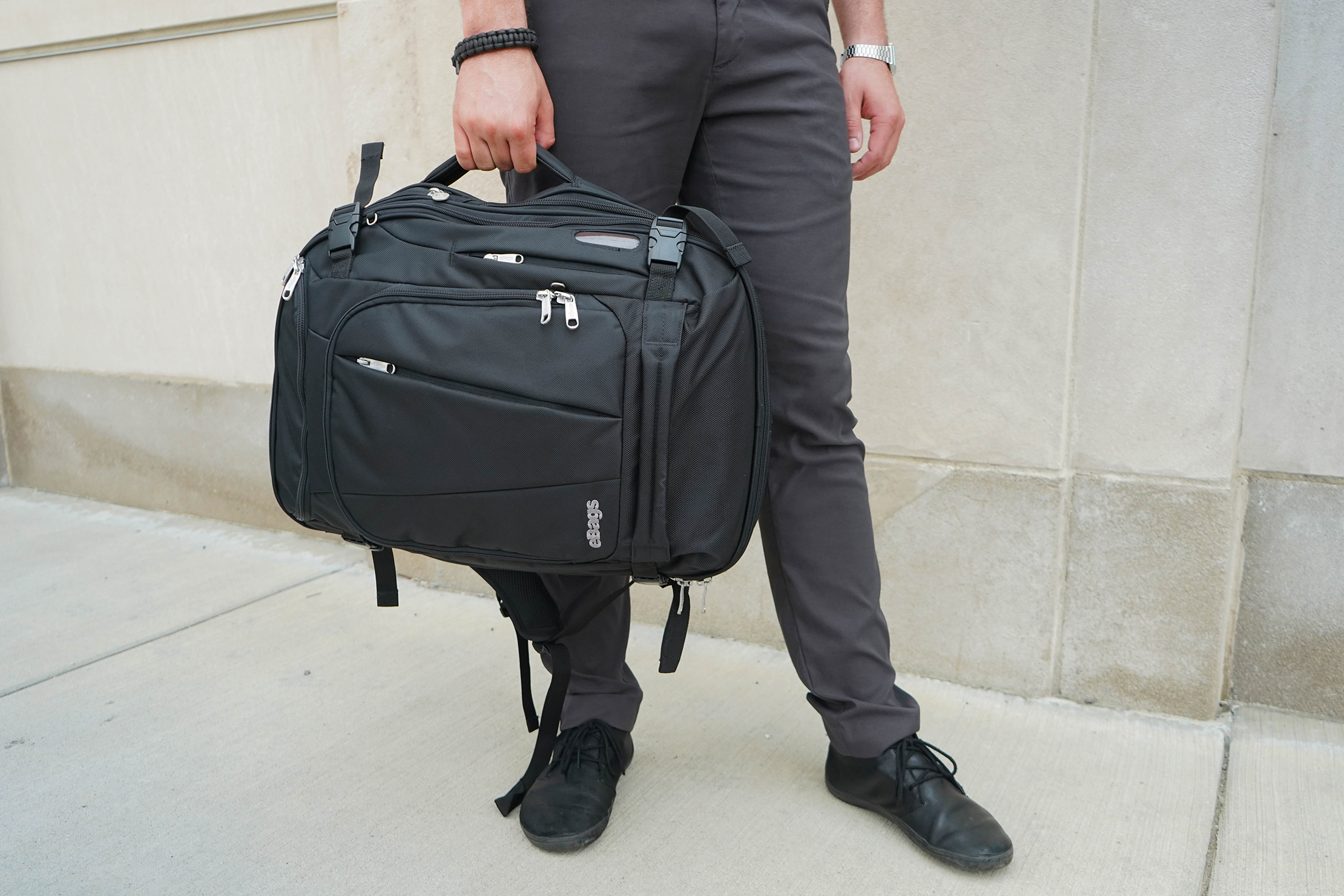 There are two main ways to expand and compress the eBags Mother Lode Weekender Convertible. The straps on the outside—four in total—are one option. The other is the zipper expansion feature, which will add 1.5 inches to the interior of the bag so you can pack more inside. Then, you can use the compression straps to fine-tune the compression—whether that zipper compression is all the way zipped or fully unzipped. These are used to finely tune the compression once you have the zipper where you want it.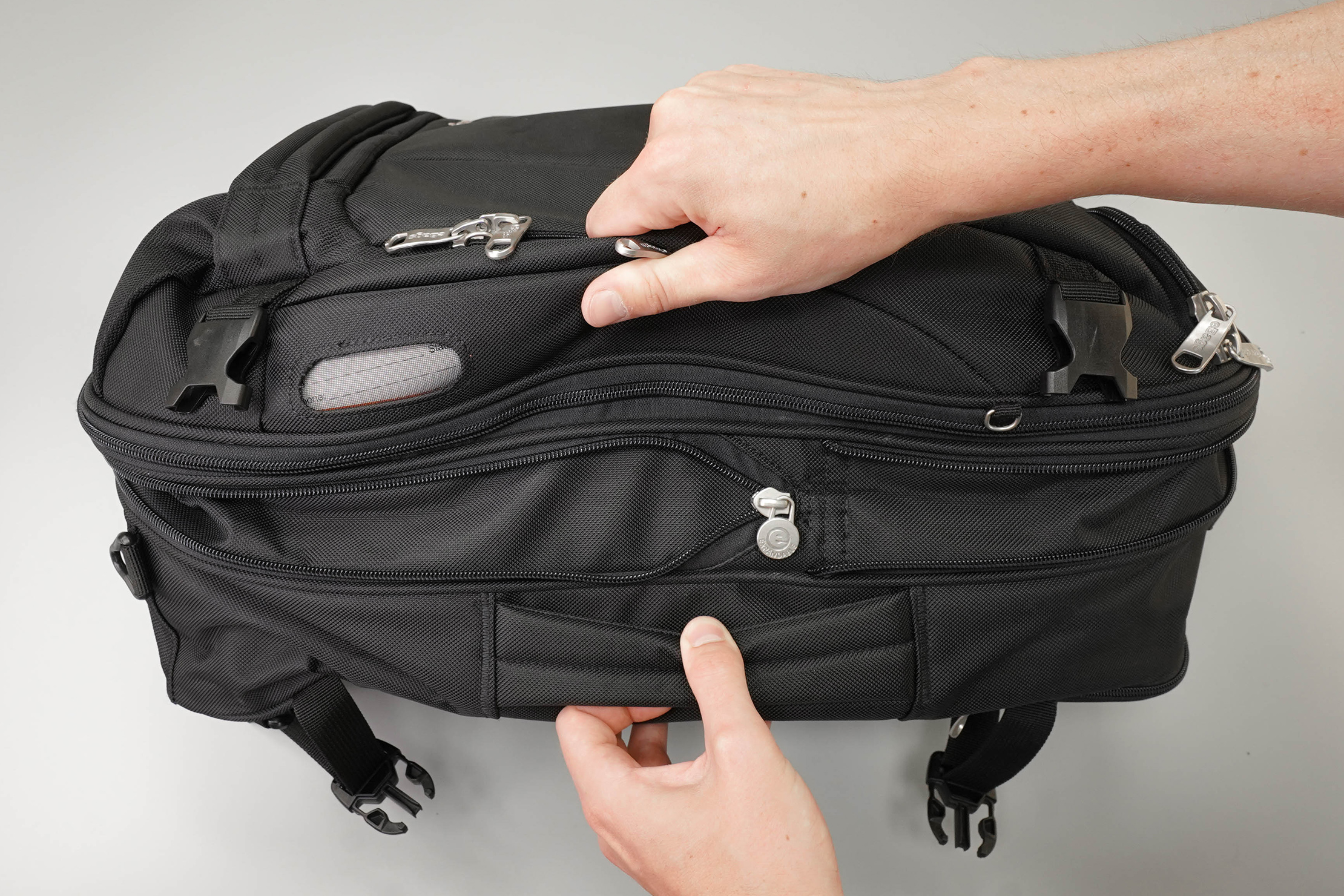 There's also a sneaky pocket on the outside that holds two other external components: the water bottle pocket and the luggage identifier tag. We do have a few thoughts on these components (which should come as no surprise)…
The water bottle pocket is pretty flimsy and doesn't have a lot of structure, so your water bottle may flap around on the side of the bag, which isn't exactly ideal. On the other hand, we do like the adjustable drawstring on the top, which accommodates water bottles of different sizes.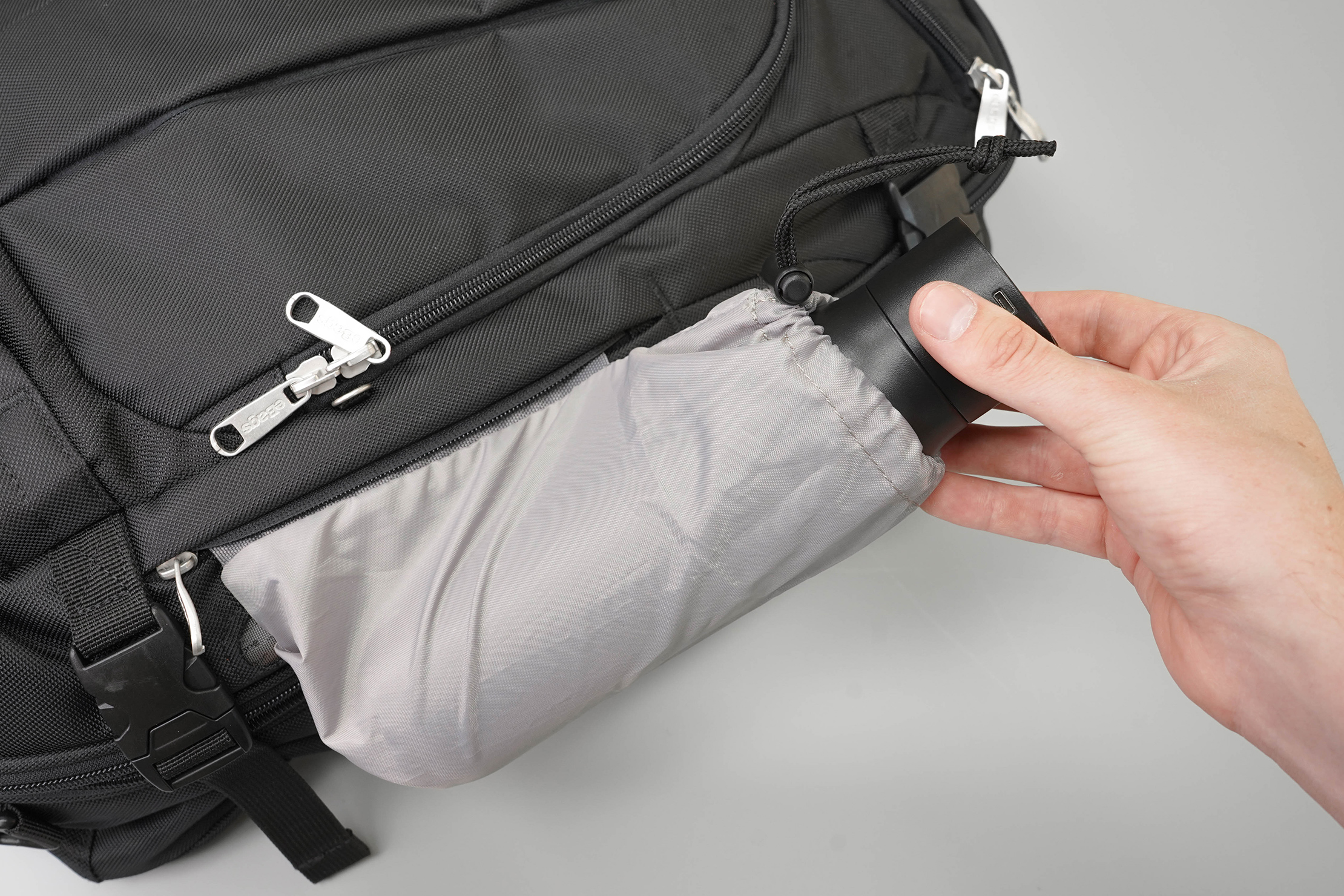 The luggage tag is visible from the exterior of the Mother Lode, which we love, although it can be difficult to get that card perfectly inside and positioned correctly within the pocket. But once it's in there, it should be easy to find for anyone who happens upon your misplaced bag. (But you'd never misplace your all-important travel bag, would you?)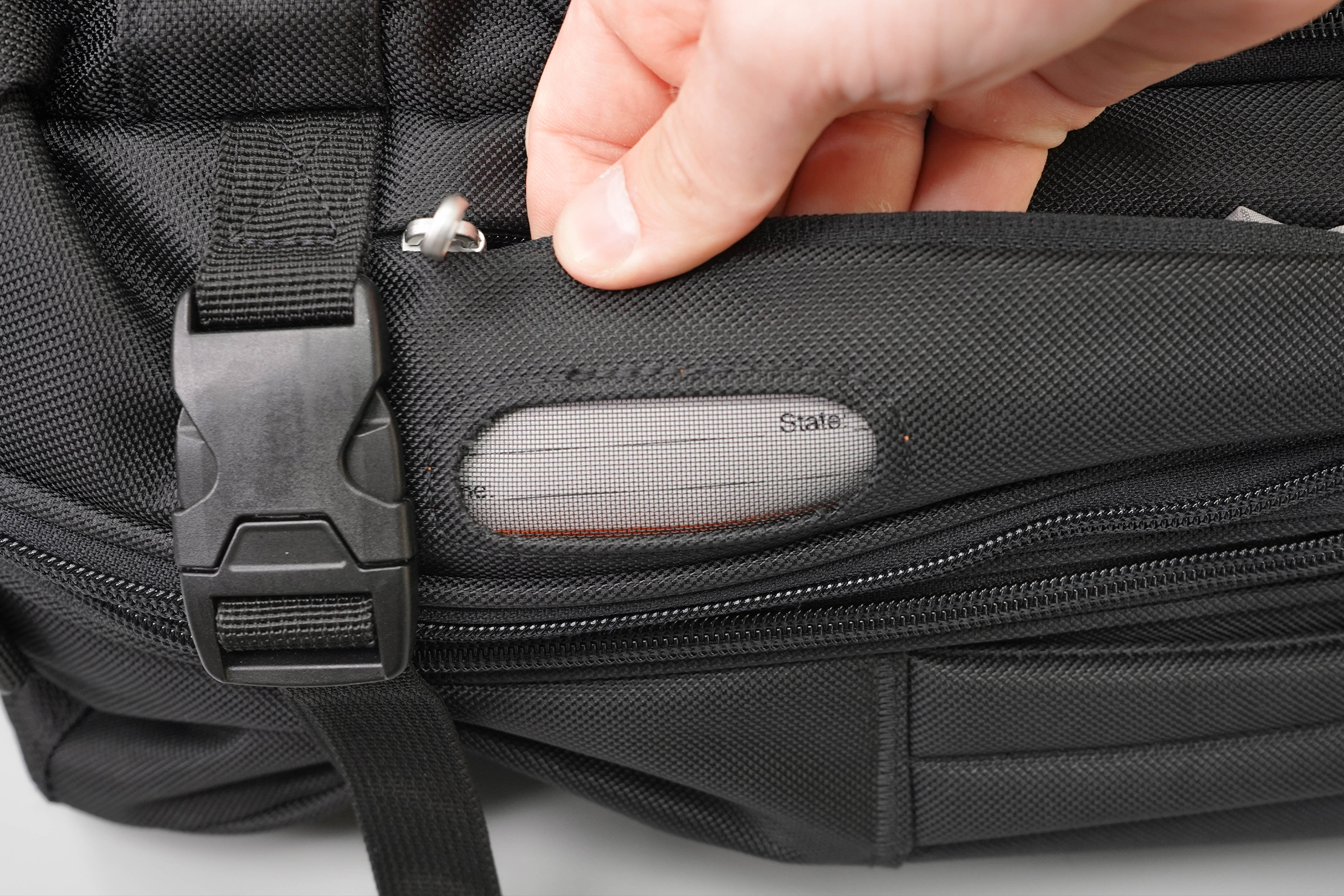 Inside the Pack
Starting with the front pocket of the eBags Mother Lode Weekender Convertible, this section offers a diagonal zipper that opens up for a decently sized stuff pocket. There's a seam opposite the zipper at the same angle that adds some visual uniformity to the bag and helps with the flexibility of this pocket as well.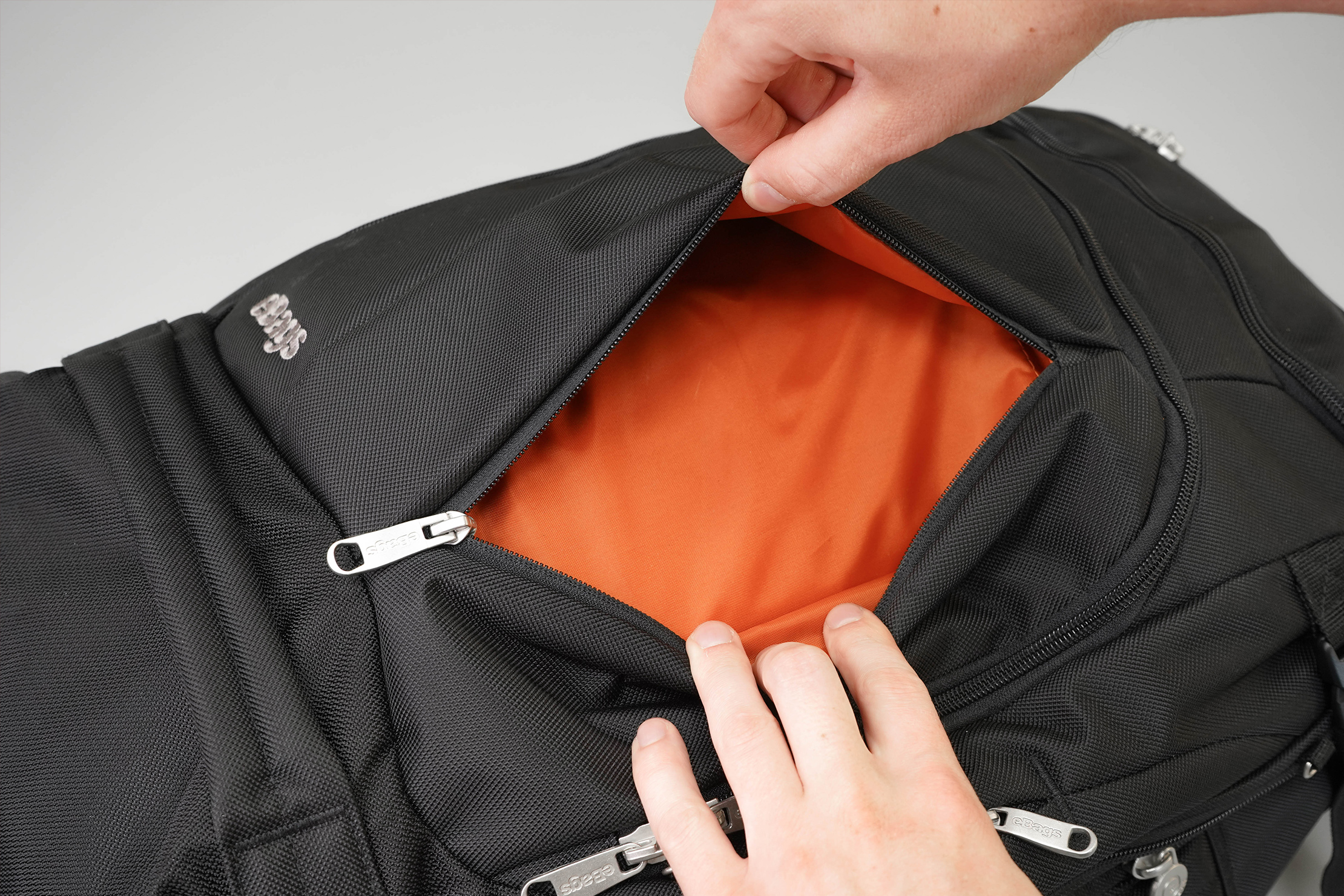 The polyester fabric folds over the zipper coil and creates a nice seamless look, but it almost sounds like you're going to rip the bag every time you zip and unzip it. Needless to say, it can get annoying—but it's not a dealbreaker.
Right behind that pocket, there's a sizeable horseshoe-shaped zipper that opens up to a thin-but-wide compartment. There's nothing here except for a keychain, which has a metal clip for your keys. We loved this feature, until it broke a day later. Then we didn't love it so much.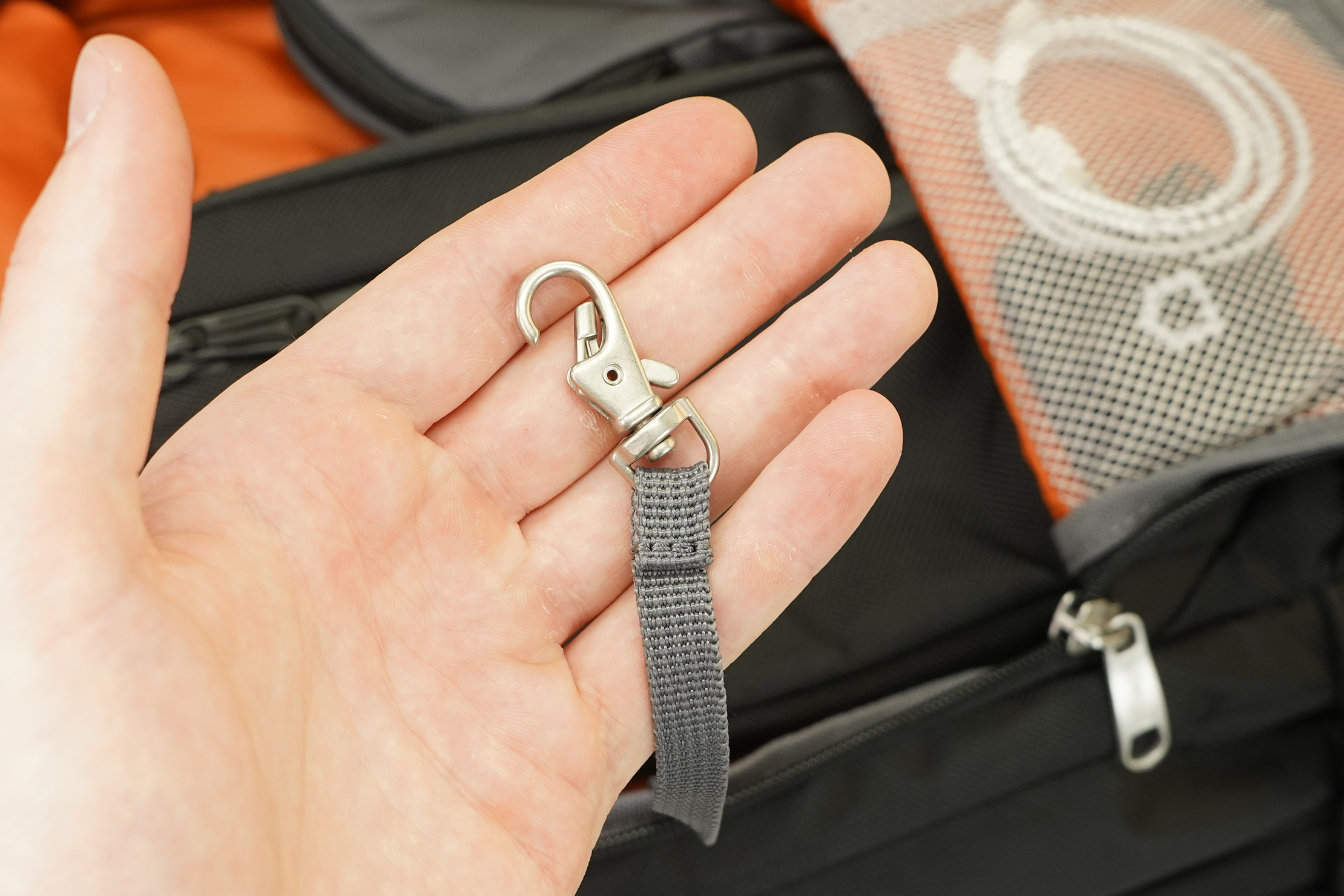 The orange interior does feel a bit on the cheap side, but we like the color because it makes everything inside easier to spot, especially if you have darker-colored gear.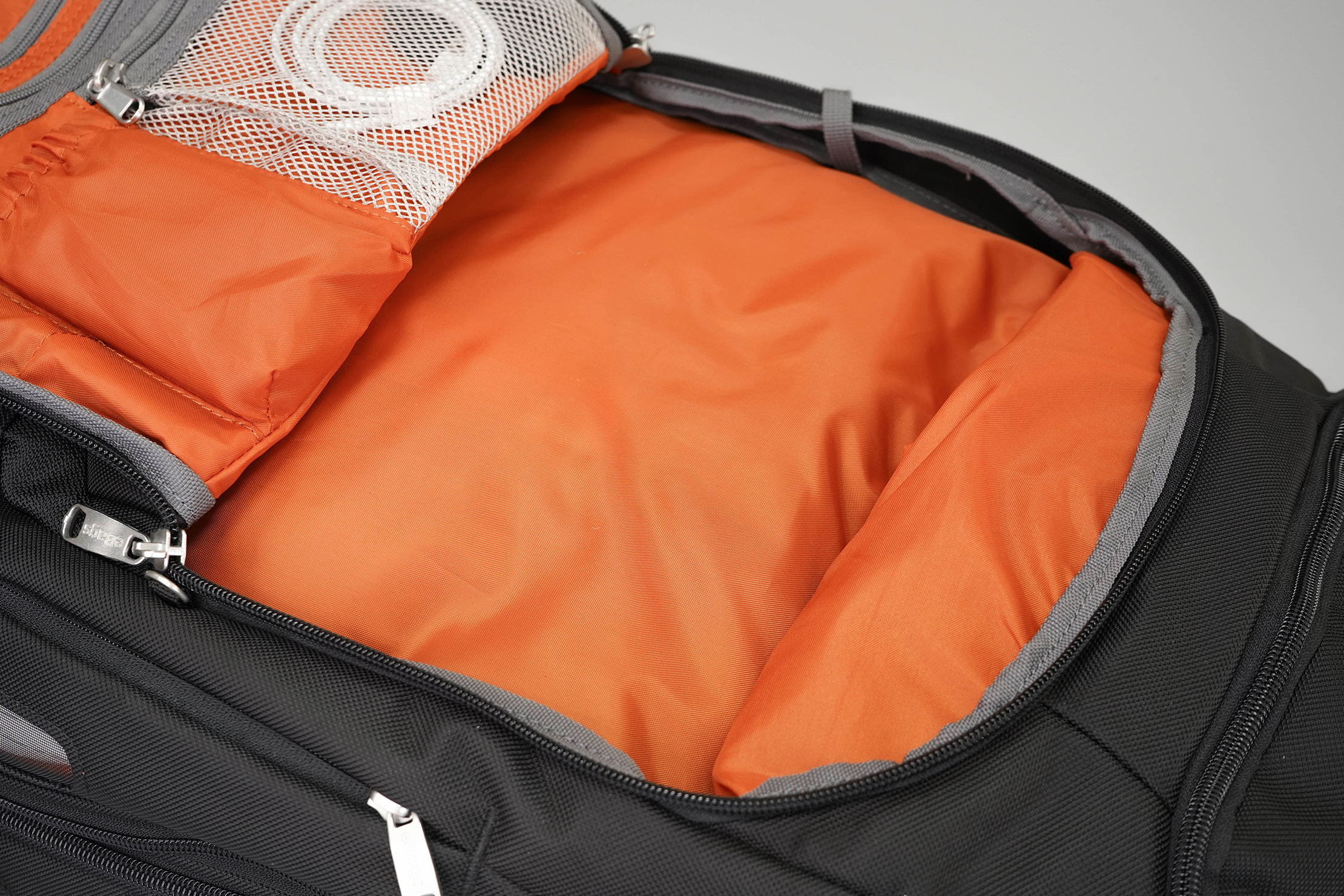 Although there's nothing in the actual pocket itself here, the back flap does have some decent organization going on. There are two levels of zippered pockets that go all the way down to the bottom of the flap. We like that the zipper pulls are positioned on opposite sides from each other so they stay apart—though this isn't the case on the exterior of the bag.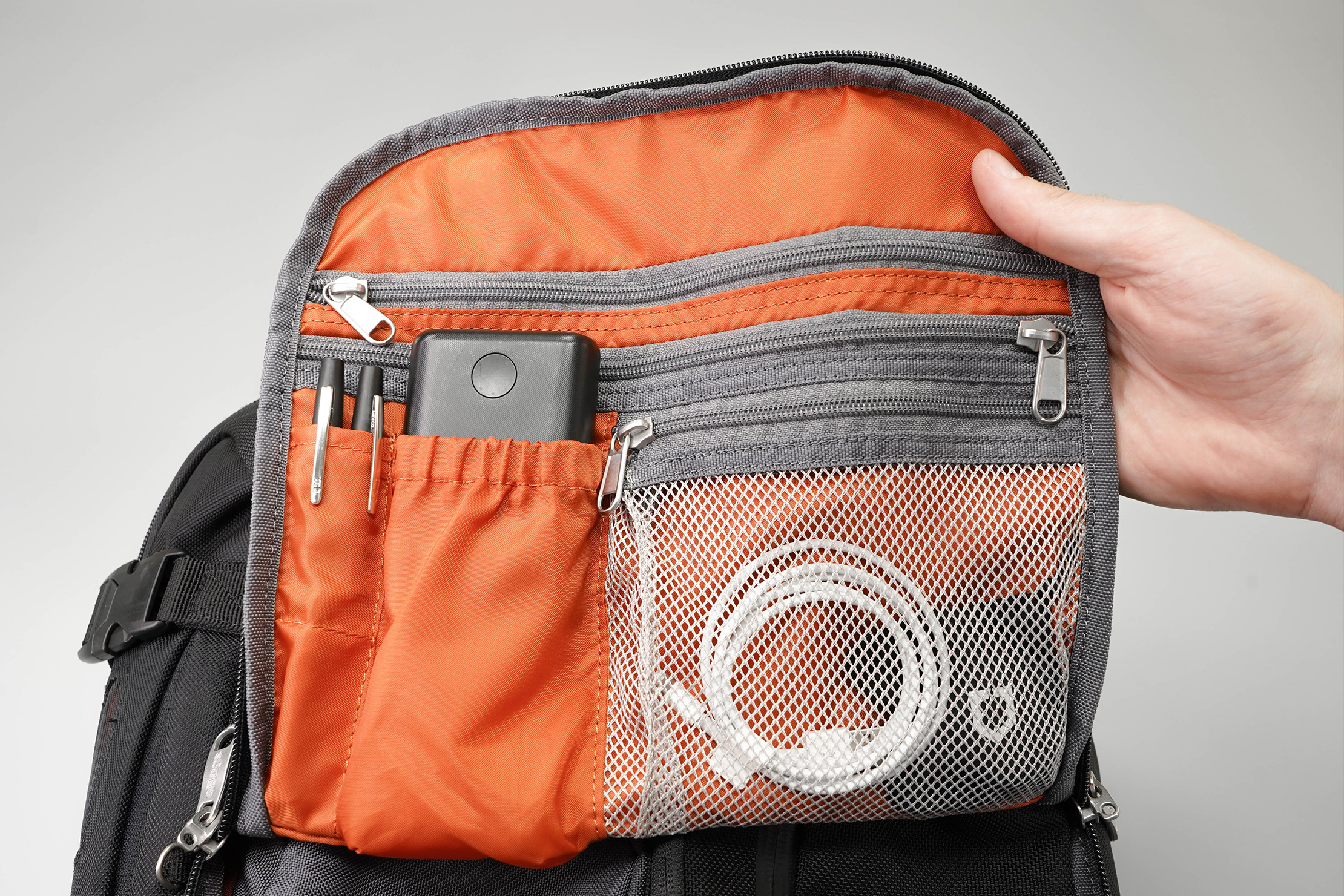 A mesh pocket here offers a bit of 3D functionality, with some extra fabric on the sides allowing you to stuff larger items. There's also a highly elastic pocket for longer, smaller items, plus a pencil or stylus pocket on the left-hand side, too. This pocket is a good area for flat/thin items and small tech gear you'd like to keep organized, but you won't want to (or be able to) stuff anything super bulky here.
Right above that outer U-shaped pocket, you'll find what eBags likes to call its "forehead pocket," which is a new term for us, but one we're ready to embrace. When the pocket is empty, it looks more like a vertical-opening zipper pocket, but when fully packed out the zipper is more horizontal, if that makes sense. This ends up being a nice quick-grab pocket to stow items in as you're going through airport security or for things you want to access quickly.

The laptop compartment is located on the backside of the Mother Lode Weekender Convertible, accessed by a large U-shaped zipper. The compression straps obstruct it, so just know that you'll have to take those off to get full access to the zip. This is also a good time to note that this bag features self-locking security zippers. You'll notice some small metal rings on certain areas of the bag—just thread the zipper through that ring to lock it. This provides a nice theft deterrent, although it's by no means impenetrable.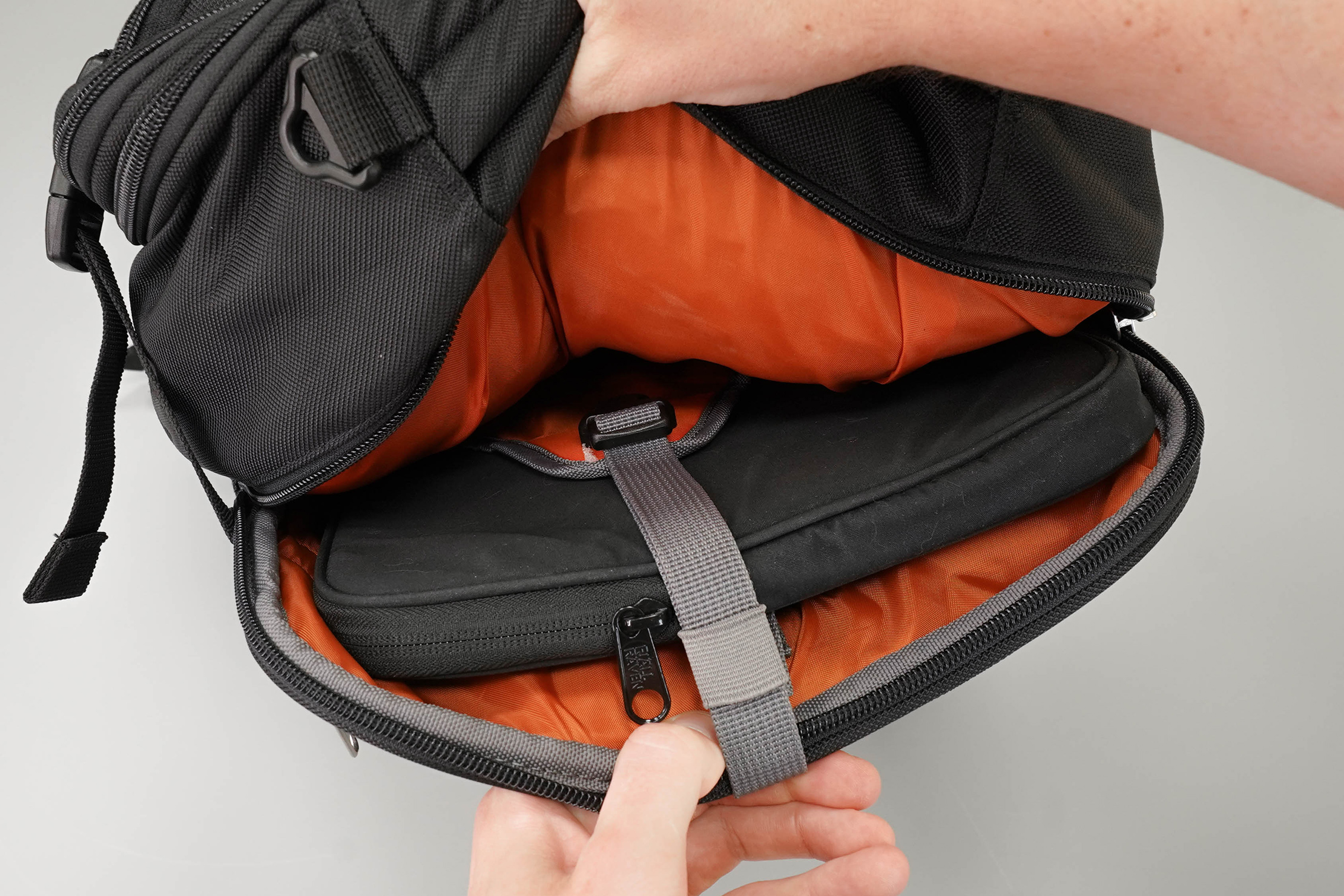 The overall laptop compartment takes up pretty much the entire back panel of this bag. There's a strap inside that has an elastic keeper—which would have been great on the exterior straps we mentioned earlier—and there's a pouch (well, really more of a laptop hammock) meant to hold your laptop.
Opening up the compression buckles on the wearer's right-hand side gives you access to the main compartment with two zippers. On the top flap, there's a nice mesh divider pocket that's great for flatter items like T-shirts, socks and underwear, or anything you want to keep tidy at the top.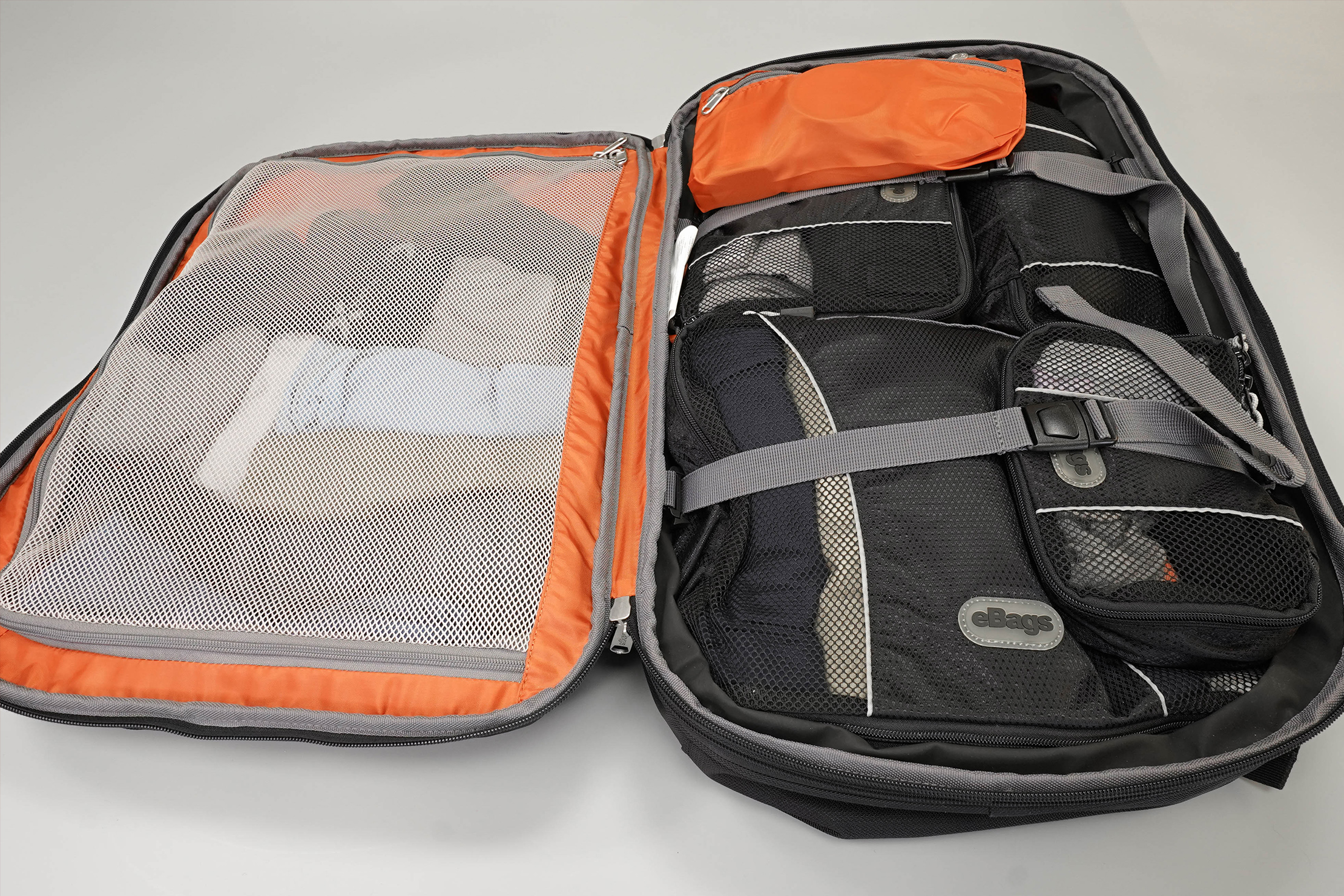 Opposite that, there's actually quite a lot going on in the main compartment. There's a small detachable pouch on the top that's great for items you want to keep secure, such as your passport or liquid toiletries, since it's essentially behind two zippers. We've been loving this feature.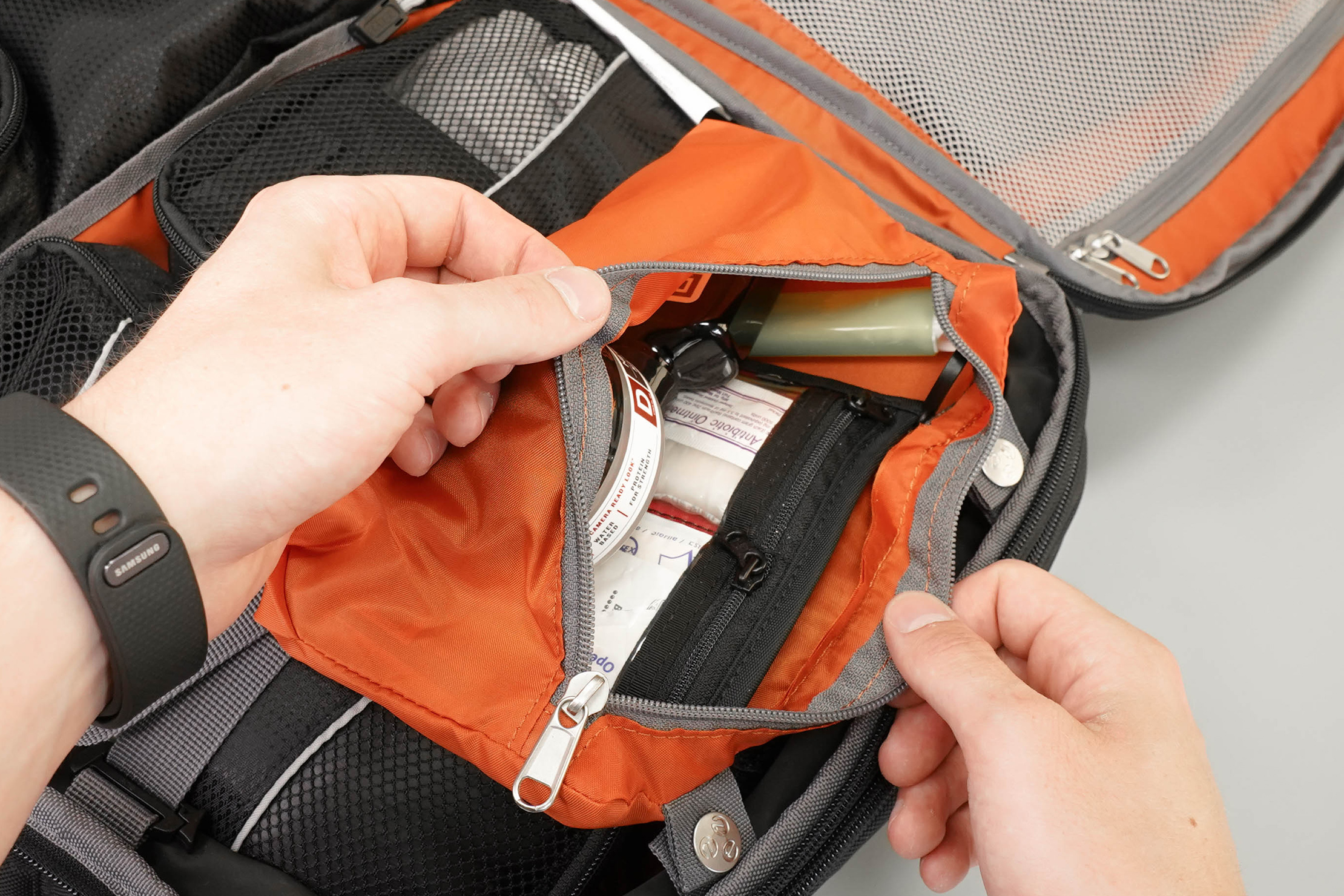 There's also a liner divider pocket in the middle of the main compartment, which gives you a left- and right-hand side for your clothes. This is especially useful if you're not using packing cubes, although we still prefer to use packing cubes with a bag of this size. If you don't want to use the divider, you can simply lay it flat by unbuckling the small YKK buckles, which is great.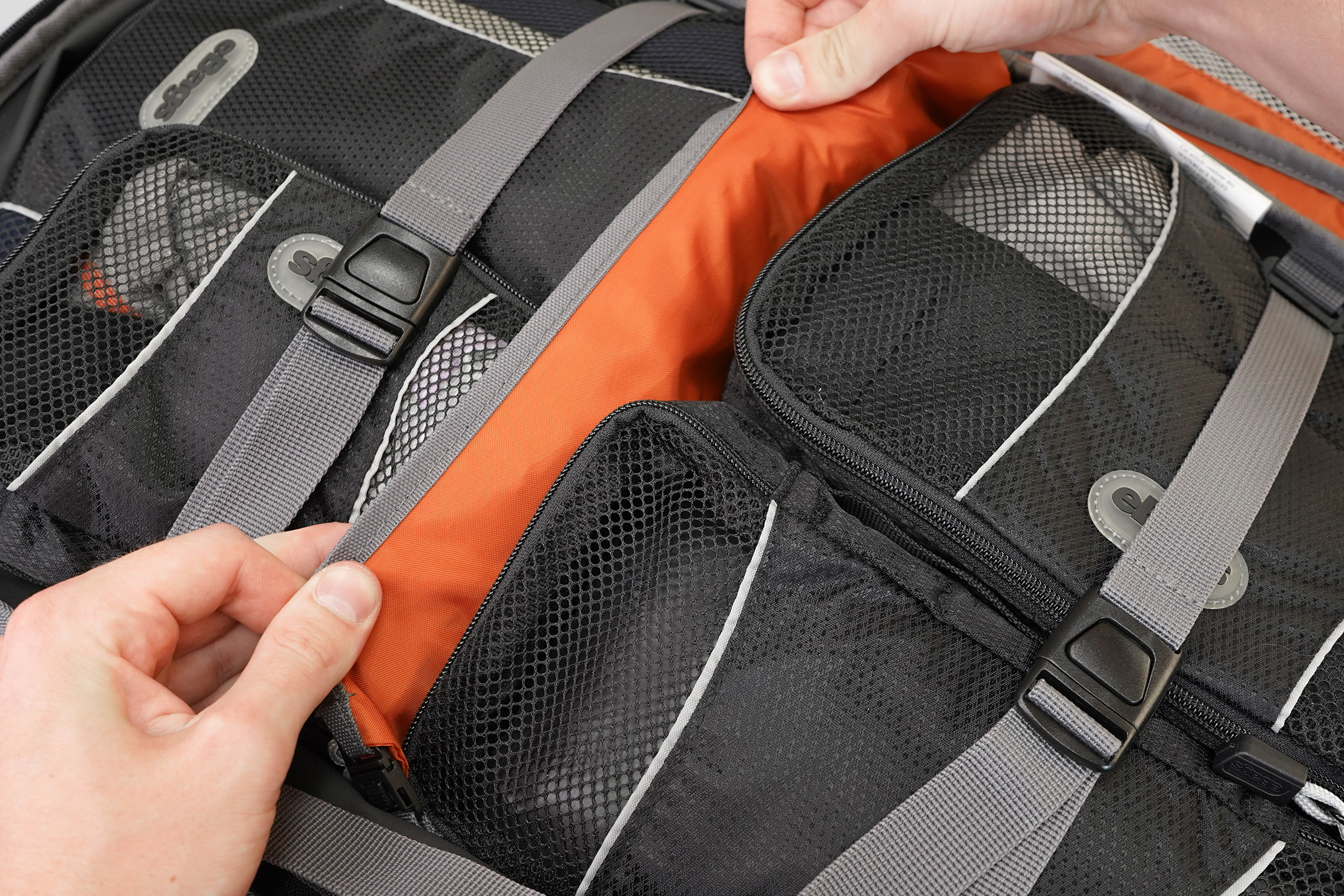 Each side of the divider features compression straps, and we like that you can easily push down on them to release. These straps will definitely be useful if you're packing a lot of clothing.

Lastly, there are some clips on the side that can help hold packing cubes, camera cubes, or other eBags accessories in place inside of this bag.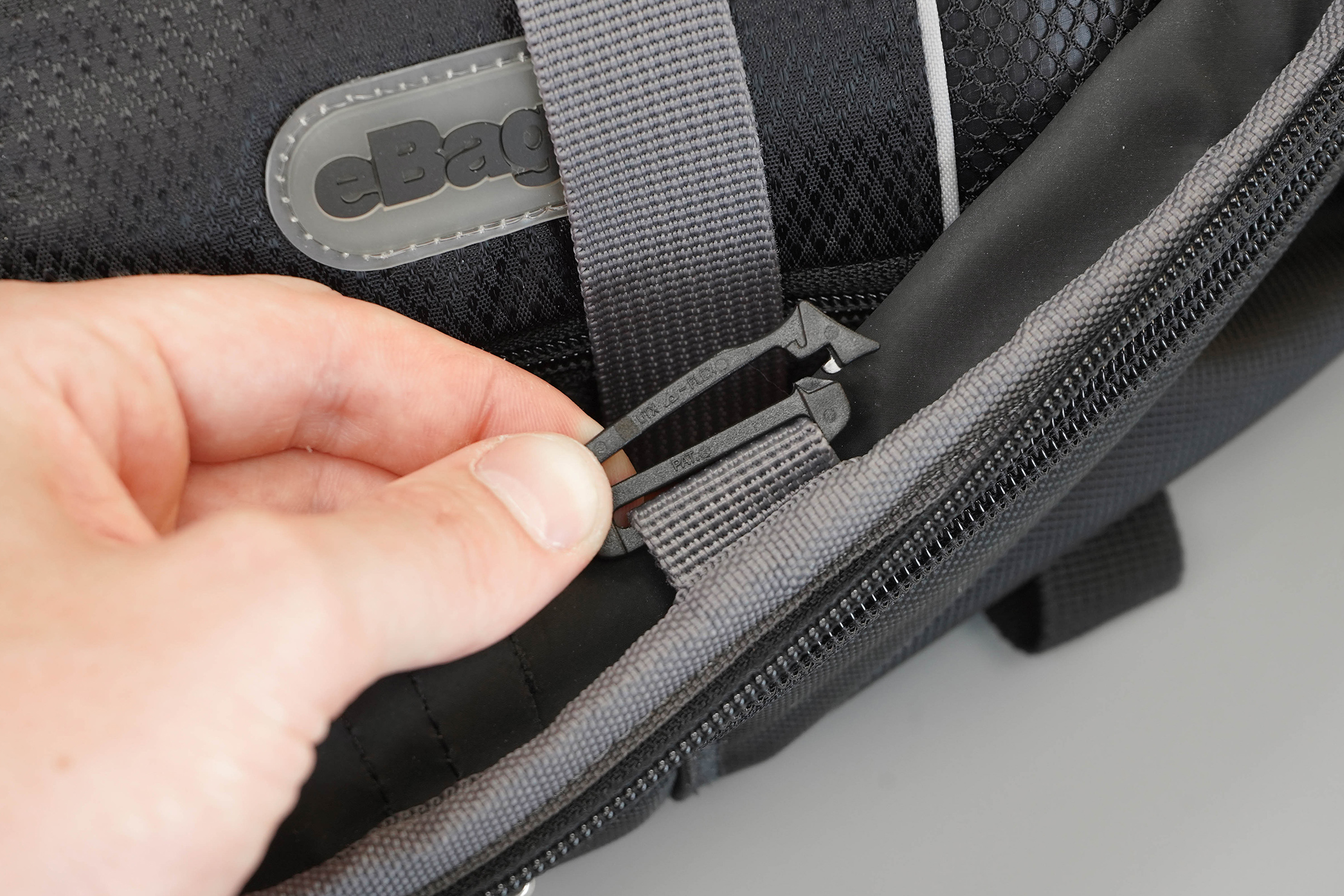 All things considered, we think there's just enough organization in this main pocket. It's not overwhelming, and it won't get in your way if you choose not to use it—but if you're a fan of internal organization, you'll be able to utilize all of this stuff nicely.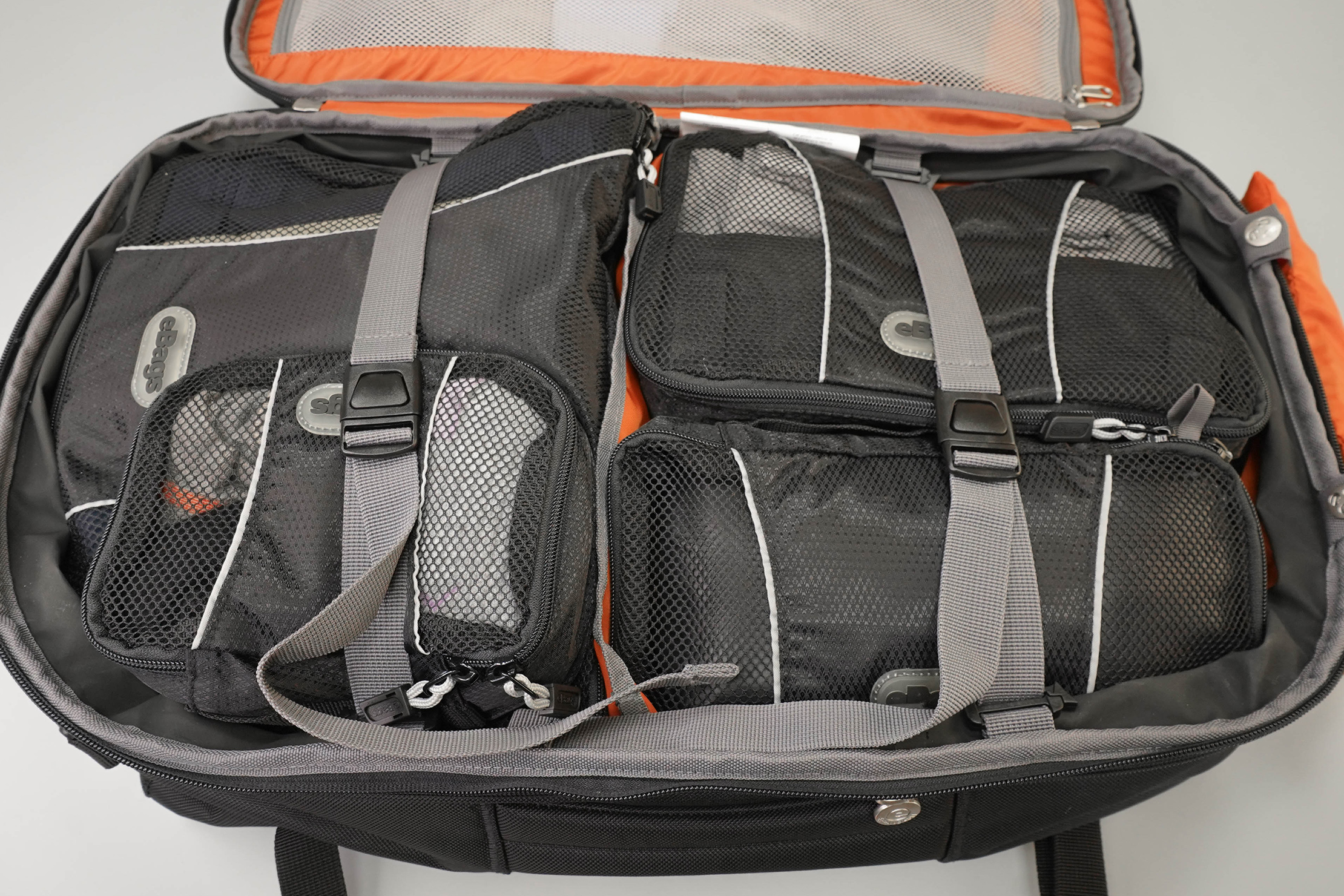 Durability & Testing
At the time of this review, we've been testing the eBags Mother Lode Weekender Convertible for about two weeks between Detroit and Minneapolis, Minnesota, including one plane ride. Overall, our experience with this bag has been so-so.

There's a lot of interesting thinking going on with the design, but the look and feel of the bag doesn't feel like anything special to us. The list of features is very similar to other bags, but in usage, we didn't feel like these features came together in a holistic sense like we've seen on other bags.

From a durability perspective, we do have to point out that the messenger carry strap came out of the box ripped, and the metal keychain broke the day after we shot our video review. There are also a couple of loose threads, but beyond that, we have nothing major to report after two weeks of use.
Usage Timeline
Initial Usage
Condition: Fine
Lots of quick access pockets and internal organization (possibly too much).
Curious to see how well the unbranded zippers hold up.
This looks and feels like a budget backpack, interested to see how durable this pack is.
Duffel carry strap has a rip in it

eBags TLS Mother Lode Weekender Convertible Ripped Duffel Strap
2 Weeks of Use
Condition: Good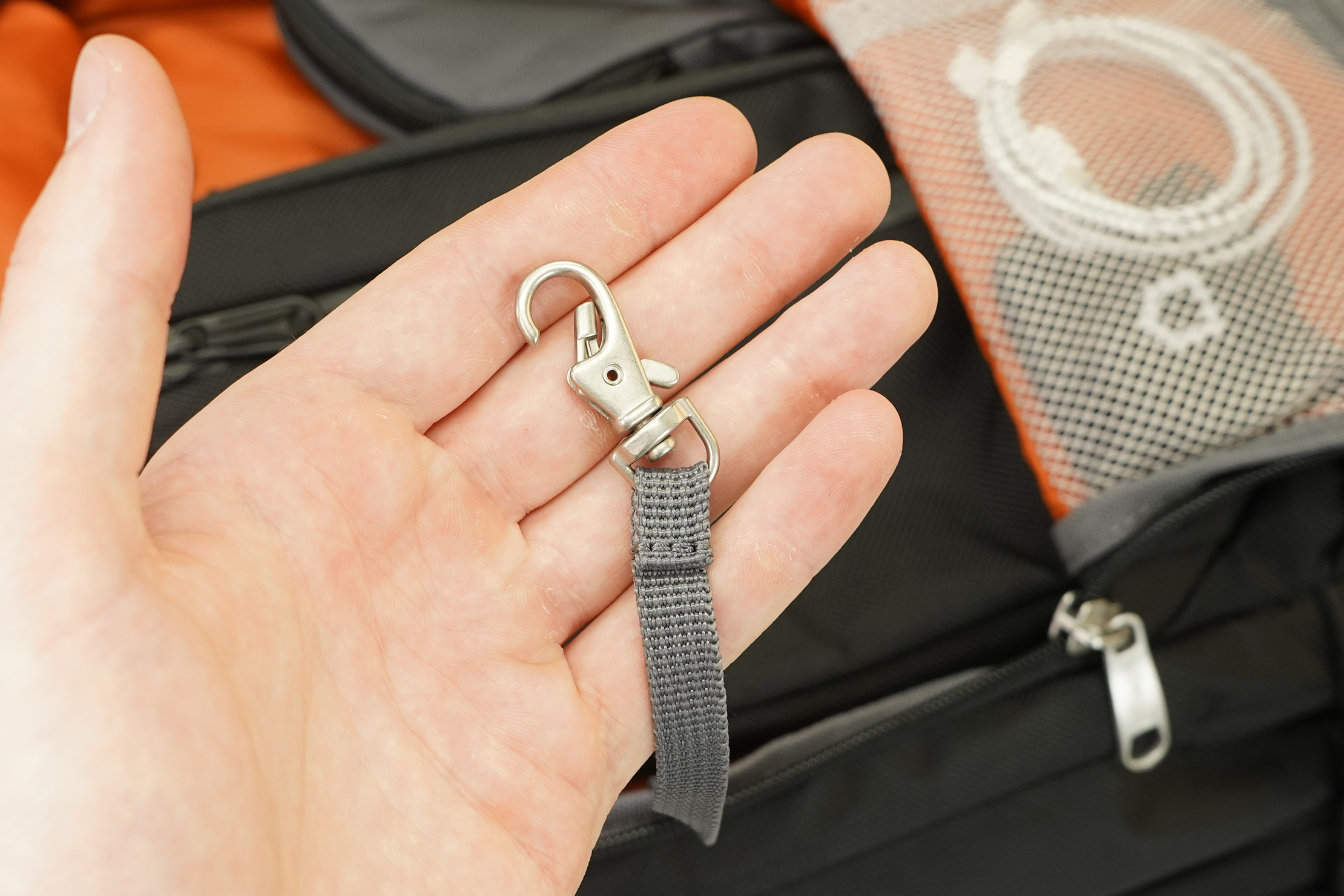 The key clip spring broke and will not stay closed. It is now useless for holding keys.
Access the Pro Community Discussion
Get your questions about the eBags TLS Mother Lode Weekender Convertible answered from our team and the Pro Community right here on the page. Plus, join discussions with other members about gear, guides, and more.
Other Bags & Luggage Reviews