Eagle Creek Wayfinder Backpack Mini Review
The Eagle Creek Wayfinder Backpack Mini may be small in size and minimal in organization, but we've found it comfortable and functional enough for carrying everyday basics.
Our Verdict
Unlock the Pro Summary
Save time. Get access to brief summaries of our reviews so you can browse and make decisions more efficiently.
Pros
Lightweight, comfortable carry
Hidden pocket offers extra security for valuables
Attachment points make for easy accessory additions
Cons
Could use more in the way of organization
Key clip is short, doesn't feel super durable
No strap keepers to manage excess strap
Recent Pack Hacker Video
Technical Details
Capacity

12.5l

Weight (oz)

14 oz (396.9 g)

Denier

300D

Dimensions

16 in x 11 in x 5 in (40.6 x 27.9 x 12.7 cm)

Notable Materials

Ripstop Nylon, Polyester, Duraflex Hardware, RPVB Coating

Manufacturing Country

Indonesia

Warranty Information
Full Review
Get up to 20% off Eagle Creek • Join Pack Hacker Pro
In this review, we'll be taking a look at the Eagle Creek Wayfinder Mini, which is essentially the "fun-size" version of the larger Eagle Creek Wayfinder Backpack 20L—and an even smaller version of the Eagle Creek Wayfinder Backpack 40L.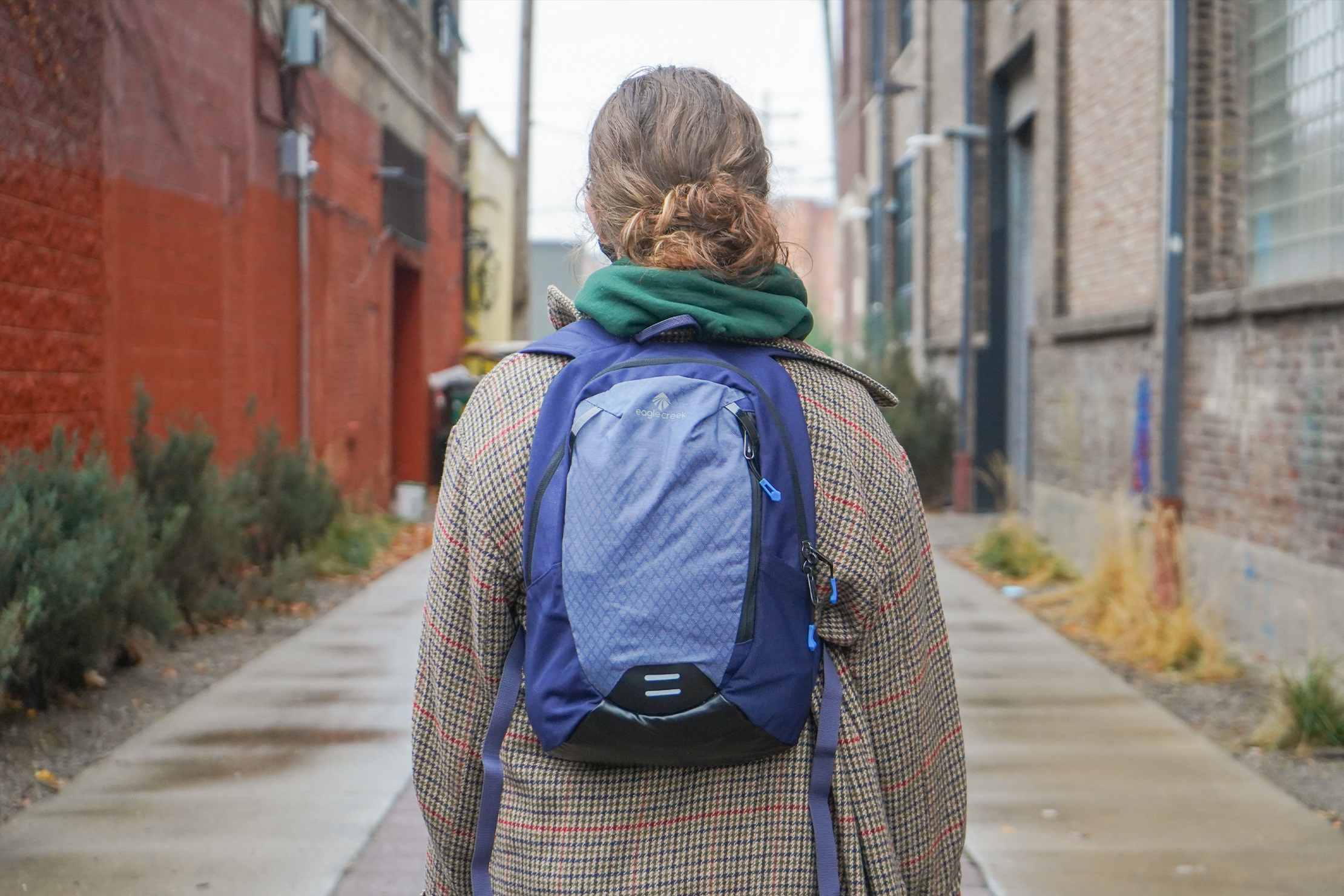 This pack is best suited for those who don't need all of the bulk and extra features of a standard daypack or travel pack—the Wayfinder Backpack Mini holds the basics, and that's about it, but that's the beauty of it.
We've culminated all of our experiences from our testing phase into the words below, so feel free to read all about it.
Materials & Aesthetic
Our Instagram audience appears to be just about evenly split on whether they like this bag's aesthetic, with our poll reporting a 48% approval rating. It's definitely on the smaller side, causing it to look out of place on larger frames, which may off-put larger folks. But strictly based on its looks, this pack has a sporty vibe that intrigues some and turns off others.
At the time of this review, the Wayfinder Backpack Mini is available in many different colorways that you can choose from—some of which include Jet Black, Sahara, Arctic Blue, and the Indigo/Navy colorway we've been testing.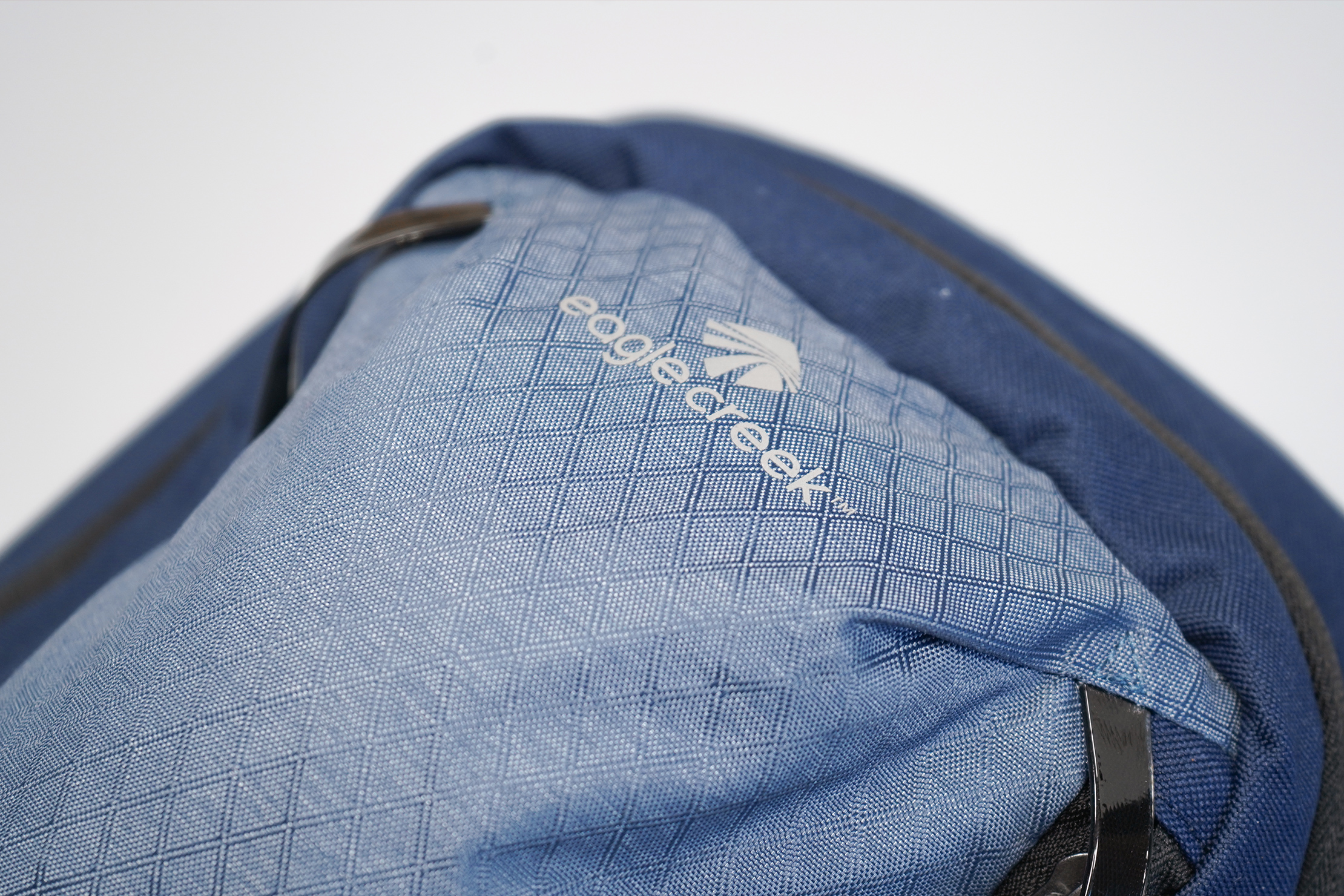 If you're hoping to blend into the crowd, then Jet Black is one to consider, as it's going to keep this thing as low-profile as possible. But, if you're heading to Antarctica or the Sahara desert anytime soon and don't want your pack to clash with scenery, then these other two shades are worth your consideration.
A white Eagle Creek logo and wordmark appear at the top of the bag's front for everyone to see. However, this branding is still more subtle than what you'll see on other colorways—some have it printed in much larger letters along the side, so if you're more into minimal branding, you'll appreciate the attempt at a more discreet design.
You'll be happy to know that every product in Eagle Creek's Wayfinder line uses Bluesign-Approved materials, meaning they're produced much more sustainably than other fabrics. This creates less harmful effects on the environment without sacrificing any durability. In particular, this bag is constructed with a 300D dual-diamond heather ripstop nylon, as well as a 500D Poly RPVB Coating on the bottom.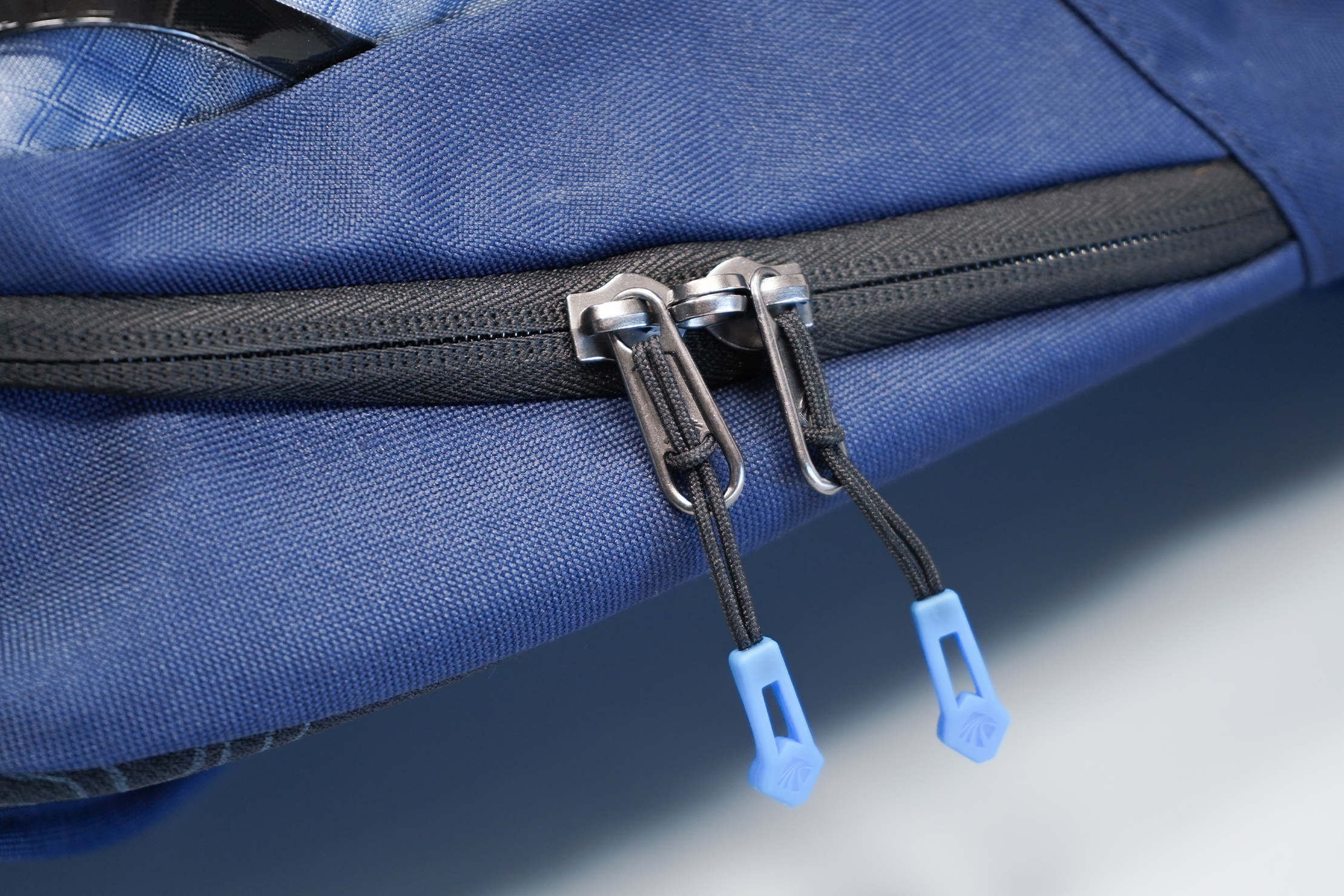 These fabrics are stiff in hand, making them feel more rugged to the touch—not to mention that they aid the bag in overall durability and water-resistance. Plus, the RPVB Coating on the exterior fabric comes from old car windshields sitting in junkyards. This method utilizes what would have otherwise been thrown away, adding oil and water-resistance (and durability, too).
We're familiar with Duraflex hardware and think it's a natural integration for this pack. Like most of our experience with this brand, we haven't noticed any issues so far regarding their look or functionality—but once again, we will update our Usage Timeline if anything changes.
External Components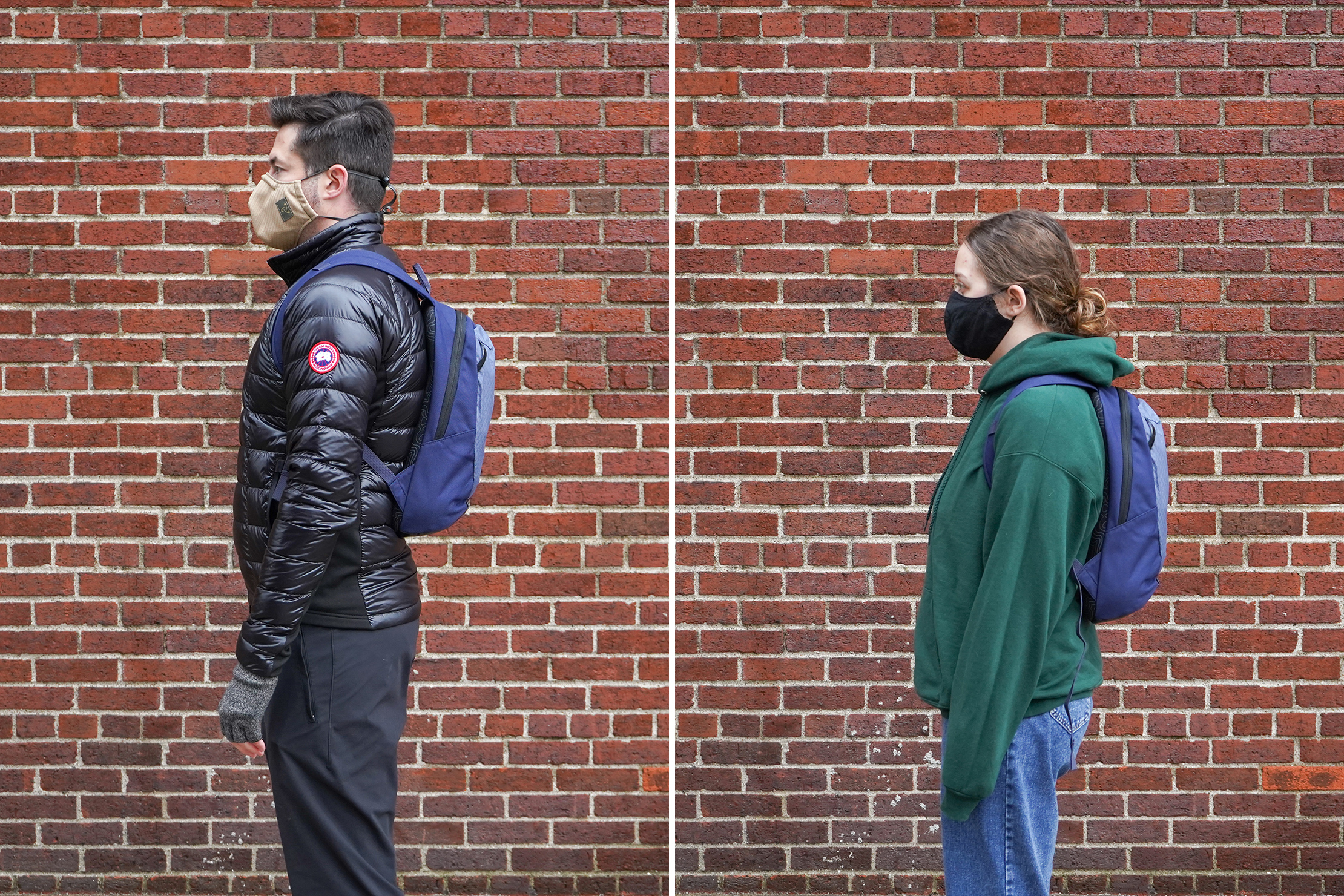 The Wayfinder Backpack Mini's shoulder straps are thin overall but feature some minor dense padding that's the right level of comfort for a bag of this size—when your pack only holds about 12.5L of gear, you don't need anything crazy.
They don't have any mesh lining, which is a bummer, as we're not getting that extra breathability, but even so, we haven't been drowning in sweat after carrying this thing around all day—it's just something to note. That, and there aren't any elastic keepers to better deal with excess dangling strap; you can incorporate your own if this is a nuisance.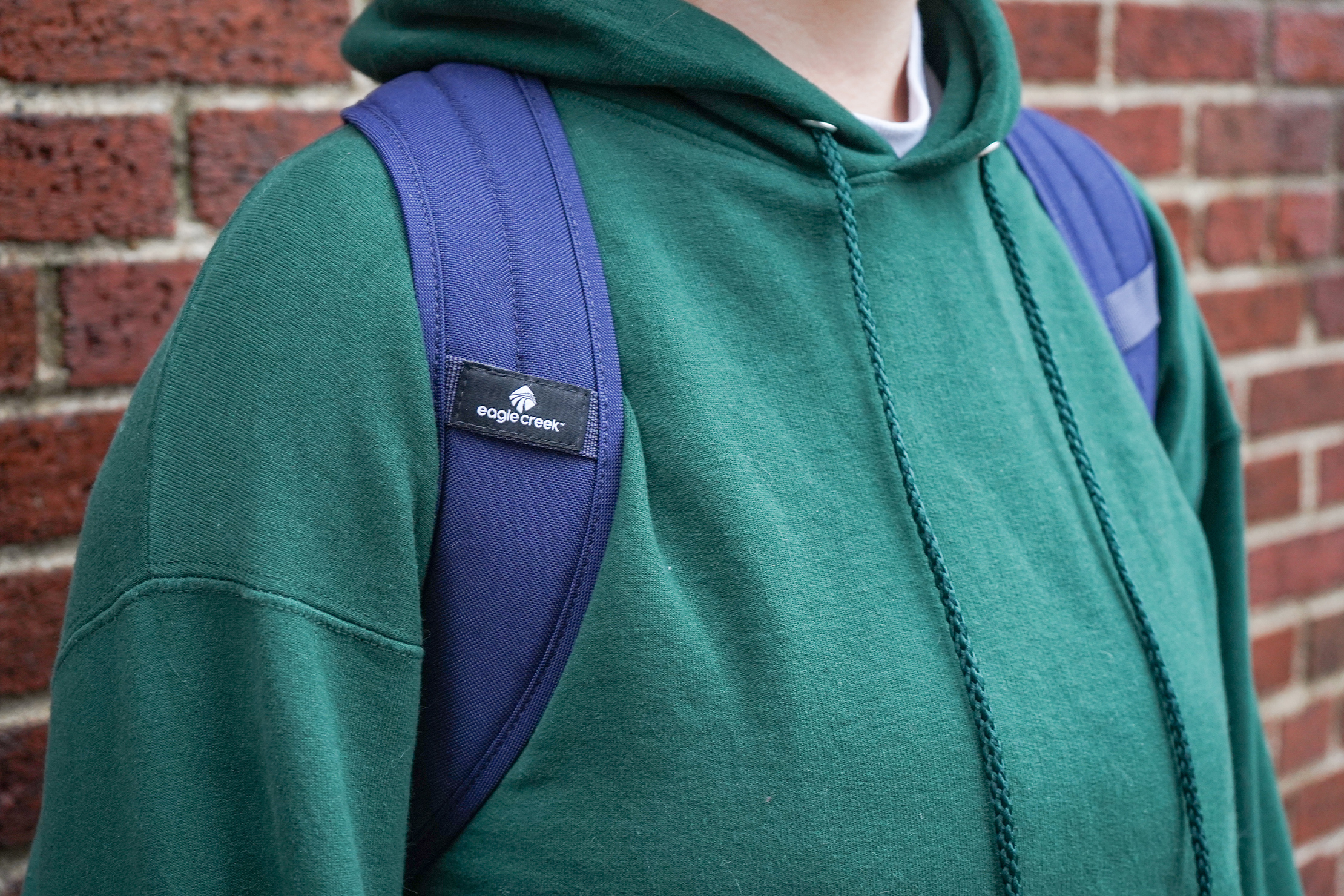 There's no sternum strap or hip belt or anything like that on this pack, which means we can jump straight to the back panel. Right away, you'll notice its wavy, almost geographical-looking pattern that we think is a nice touch (even if no one but you will see it). In terms of padding, we've also found the support level back here to be just fine for the load we're usually carrying. Although, we'll repeat it: a mesh lining would help mitigate some sweat.
You also have a super small handle at the top of the bag you can grab onto to move it around or pull it close when you need to get something out. Because it's particularly narrow, we haven't found it super easy to fit a whole hand through—instead, it's easier to loop one or two fingers underneath and move it that way, which is something to keep in mind. It's also not super comfortable as it's basically just some folded-over nylon, so this handle doesn't really deliver on any front.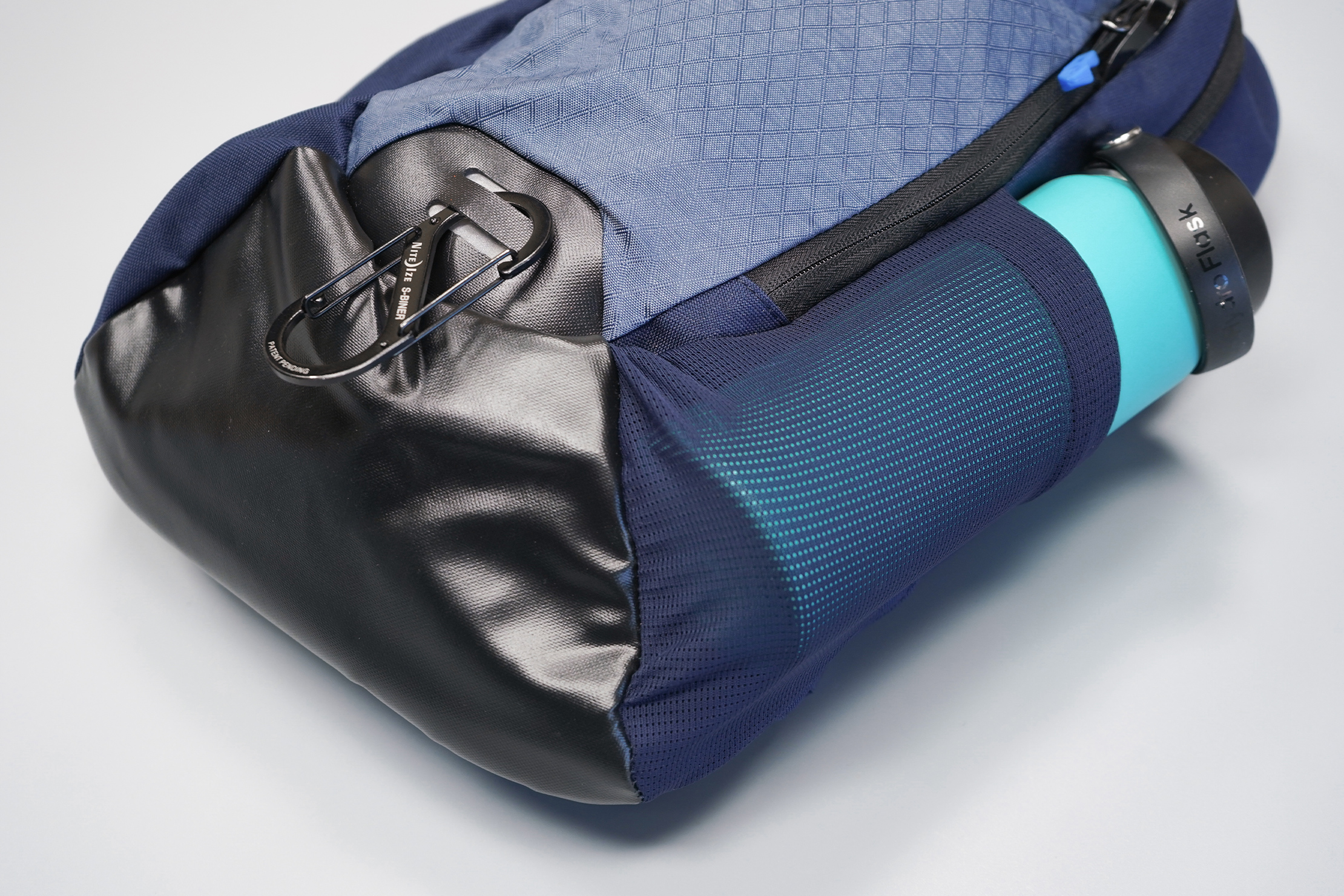 We can't forget the water bottle pocket on the side! It's a mesh pocket with elastic at the top that helps it flex to your bottle, although you don't be able to fit anything too big inside. We've mostly been testing with a standard 16.9 oz bottle, and it's worked nicely, but you won't be able to go much bigger than that.
Lastly, we want to make you aware of the attachment points on the front of the bag. Toward the bottom is a loop that's convenient for attaching a bike light for added visibility when you're on a late-night cruise through town. There are two more pronounced loops toward the top that work for hooking carabiner clips or other accessories you want to keep close by.
Inside The Pack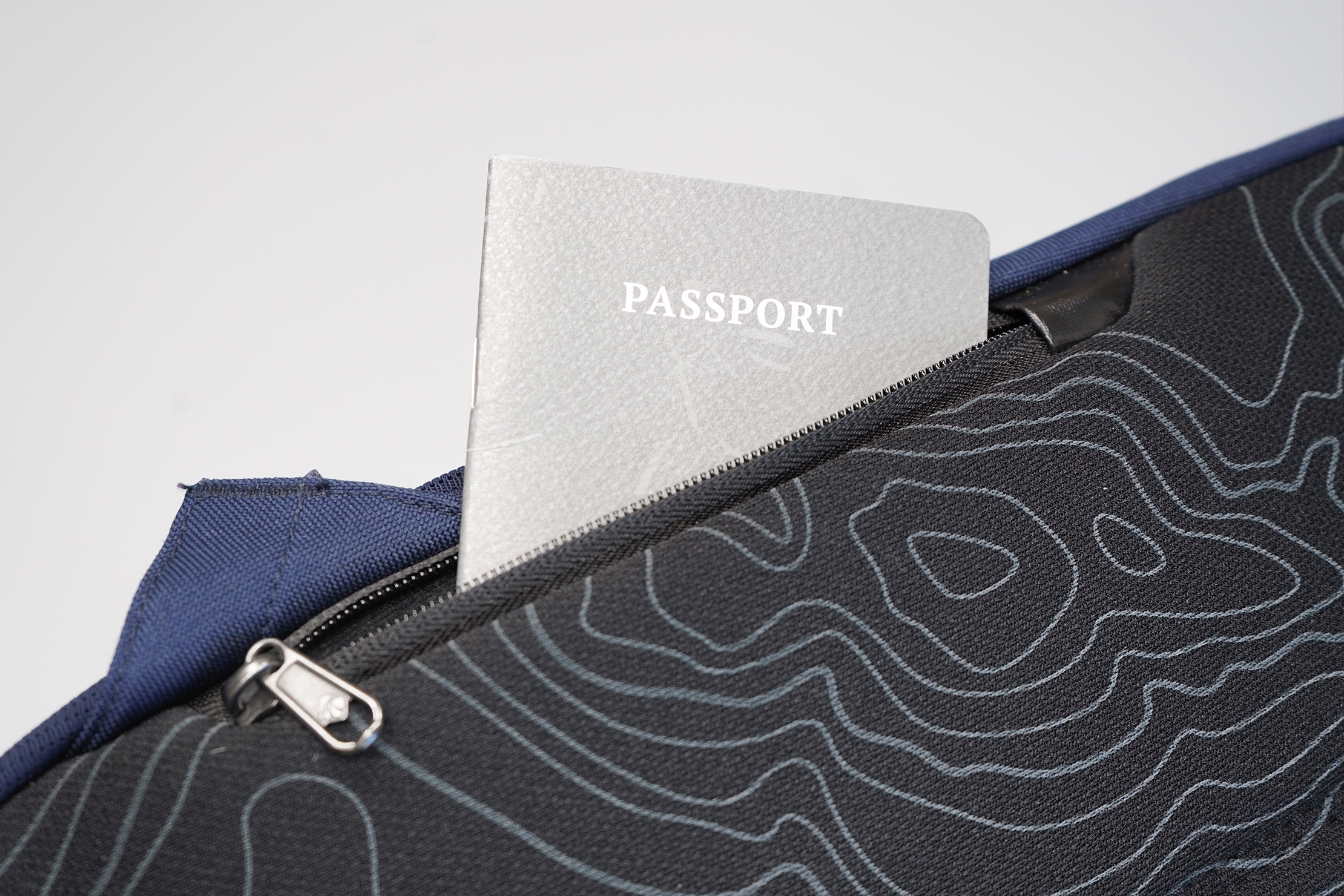 Overall, this is a simple pack. That said, we do have some pockets to go over, and the first one on the list is the hidden pocket on the back panel. This pocket's zipper sits directly against the back to keep it protected from any pickpockets that are on the prowl. The added security makes it a great place to stash your phone, passport, or wallet when you're not using it, as these are likely some of the most valuable items you're carrying daily.
Next is the front pocket that extends most of the height of the bag. Inside, you're met with a bright blue liner that makes maneuvering stuff in and out an easy task. This pocket also features a standard plastic key clip, so yours don't have to free float around with your other quick-grab items—a small notebook, personal care items, glasses, a charger, you name it.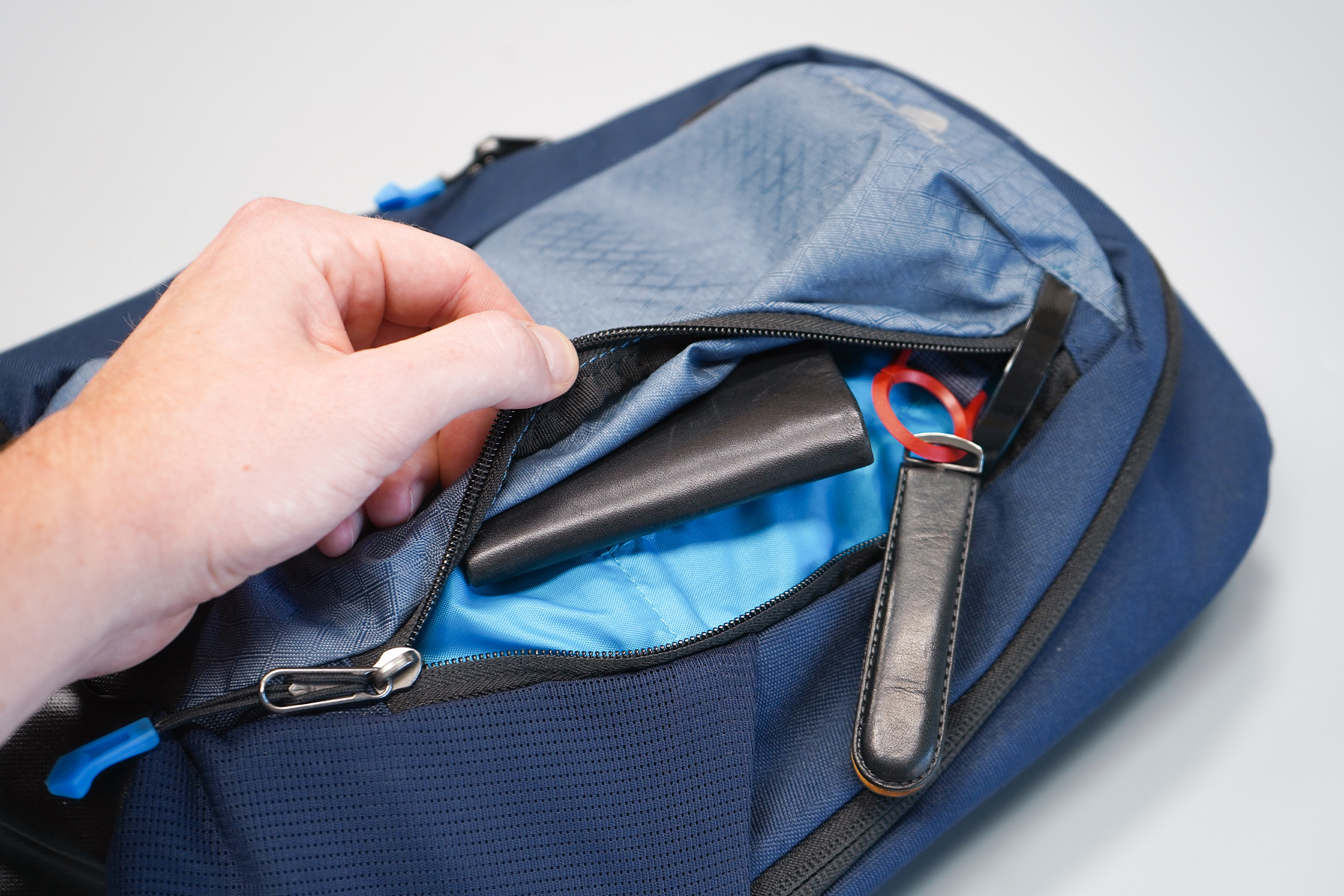 Now, on to the main compartment. When you first open it up, you're met with a medium-sized divider pocket and two sleeves to slip in any writing utensils you'd like to keep handy. We've been using the divider pocket to store a charger, so it's not free-floating around, but you can keep any accessories you'd like inside.
Against the back wall is a sleeve that's mainly intended for organizing documents or folders, so they're not in the way of your other gear. We've been able to fit a 13″ MacBook Pro inside, albeit tightly, and not with an included protective case. It's not a great bag for hauling around your laptop in because of this (that, and it's lack of extra pockets), so we recommend checking out our laptop bag guide if that's what you're in the market for. Of course, tablets will do just fine in this bag, too.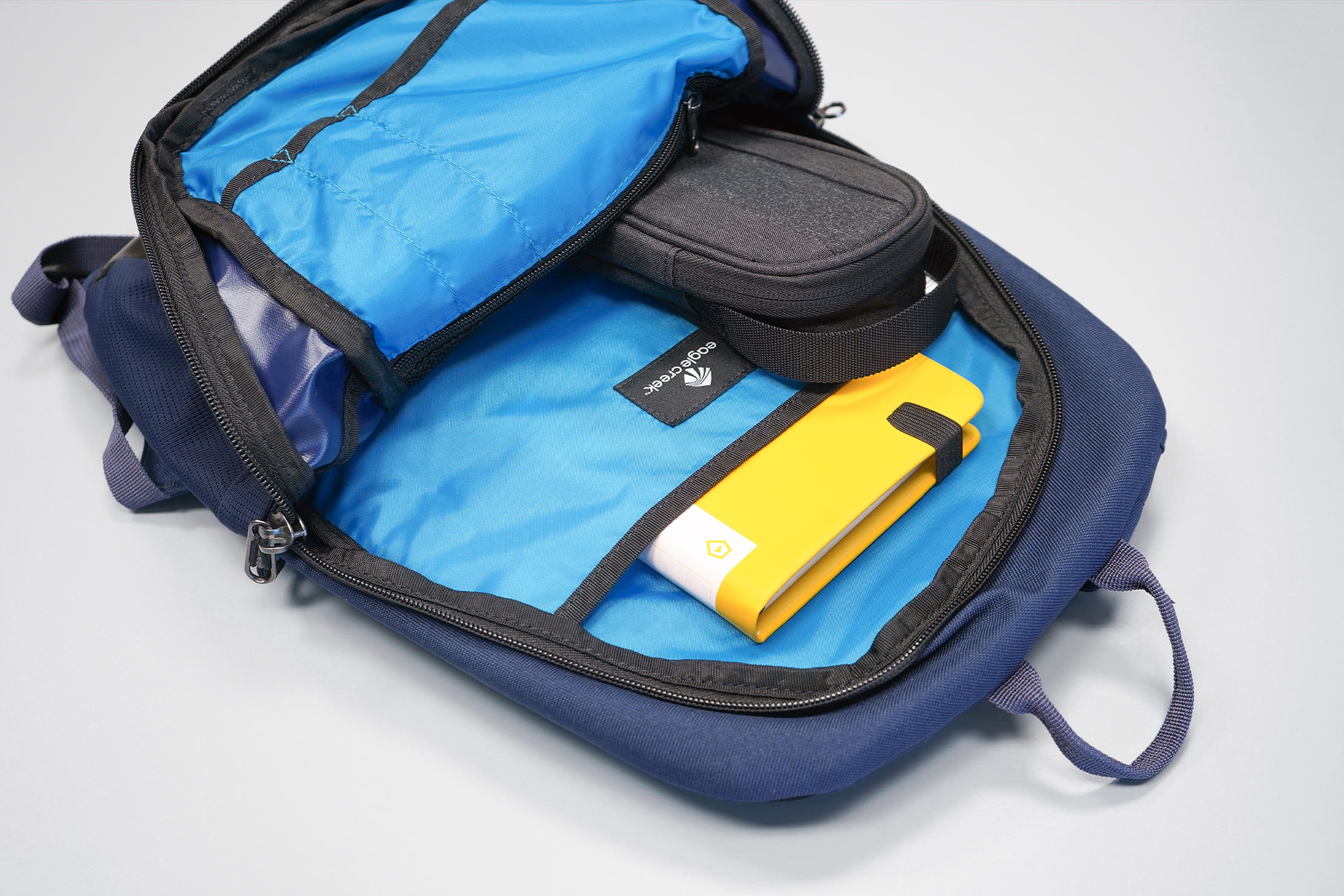 This compartment isn't one you can fill up with a bunch of packing cubes, but incorporating the occasional pouch or two can really help keep your smaller accessories organized and easy to find. Otherwise, throw in an extra hoody, umbrella, lunch, and whatever else is essential for you in your day-to-day.
Usage Timeline
Initial Usage
Condition: Excellent
Everything we like about the Wayfinder Backpack 40L in a tiny package
Fleece-lined tech pocket for a smartphone, e-reader, or travel documents
Thick and cushioned back panel makes for a comfortable carry
2 Weeks of Use
Condition: Excellent
This bag is really only built to hold the basics—we've been able to keep a laptop, sweatshirt, and some smaller quick-grab items inside, but that's about it
The top handle is very small, and if you have larger hands, you may find it difficult to grab when you need to move the bag around quickly
The harness system is simple, but we've found it to be more than comfortable for the load we're usually carrying—we almost forget this thing is on our back when we're carrying it
Access the Pro Community Discussion
Get your questions about the Eagle Creek Wayfinder Backpack Mini answered from our team and the Pro Community right here on the page. Plus, join discussions with other members about gear, guides, and more.
Other Bags & Luggage Reviews