Eagle Creek Convertabrief Review
The Eagle Creek Convertabrief is a versatile, well-structured bag for all your business ventures—but its zippers can be difficult to maneuver.
Our Verdict
Unlock the Pro Summary
Save time. Get access to brief summaries of our reviews so you can browse and make decisions more efficiently.
Pros
Great level of organization
Well-structured to protect gear
Versatile carry options
Cons
Zippers are sticky, especially around the laptop compartment
Gear can slip out of pockets when worn as a backpack
No mesh on the back panel to aid with airflow
Recent Pack Hacker Video
Technical Details
Capacity

26.5l

Weight (lb)

3.06 lb (1.4 kg)

Denier

1000D

Dimensions

17.75 in x 12.75 in x 8 in (45.1 x 32.4 x 20.3 cm)

Notable Materials

Polyester, Polyethylene, Duraflex Hardware, Nifco Hardware

Manufacturing Country

Vietnam

Laptop Compartment Size

17"

Warranty Information
Full Review
Get up to 20% off Eagle Creek • Join Pack Hacker Pro
The Eagle Creek Convertabrief is an excellent multitasker—it's a brief, messenger bag, and backpack all in one. Not only that, it has tons of organization you can pack out with your tech accessories and other everyday essentials.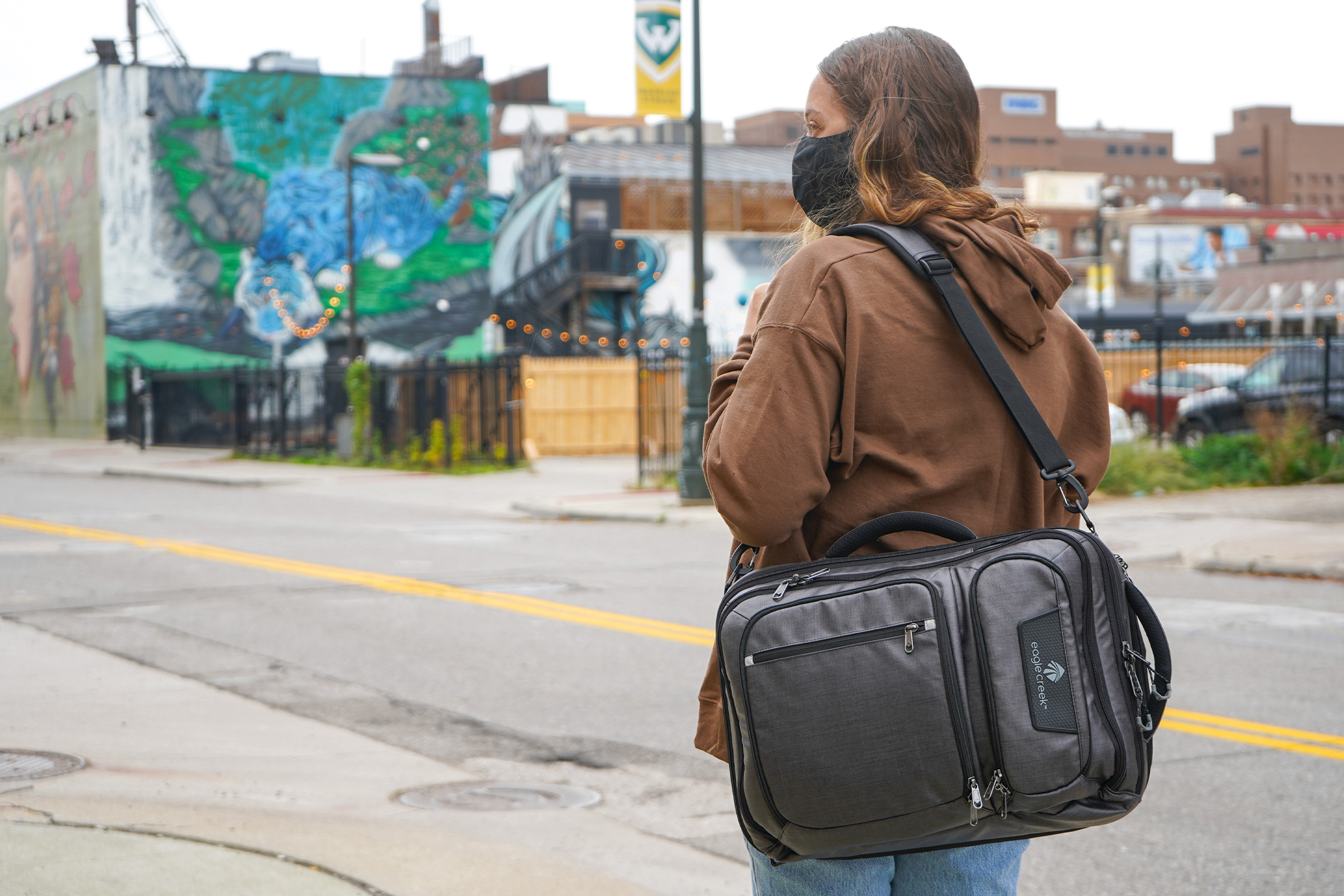 This daypack's versatility, storage, and high level of organization lend itself to all your business-bag needs, whether you're commuting to the office every day, working remotely, or heading out on work-related quick trips—if you're okay with a less-than-professional look, that is.
If you're wondering what we have to say after real-world testing, keep reading on!
Materials & Aesthetic
This brief is designed with professional settings in mind but appears more tacky than sophisticated. This is echoed in our Instagram poll, as only 31% of you claimed to like this brief's look. While we're fans of what the brief's square-like structure has to offer in terms of protection, it does make for an oversized and overstuffed look; yet another possible reason why it scored so low.
At the time of this review, the Convertabrief is only available in Asphalt Black. This colorway tries to give the brief a more serious look but to no avail. So, if you're planning on taking this thing to and from the office, you may want to opt for something more streamlined. However, if you're more concerned with functionality, then don't take this brief off the table just yet.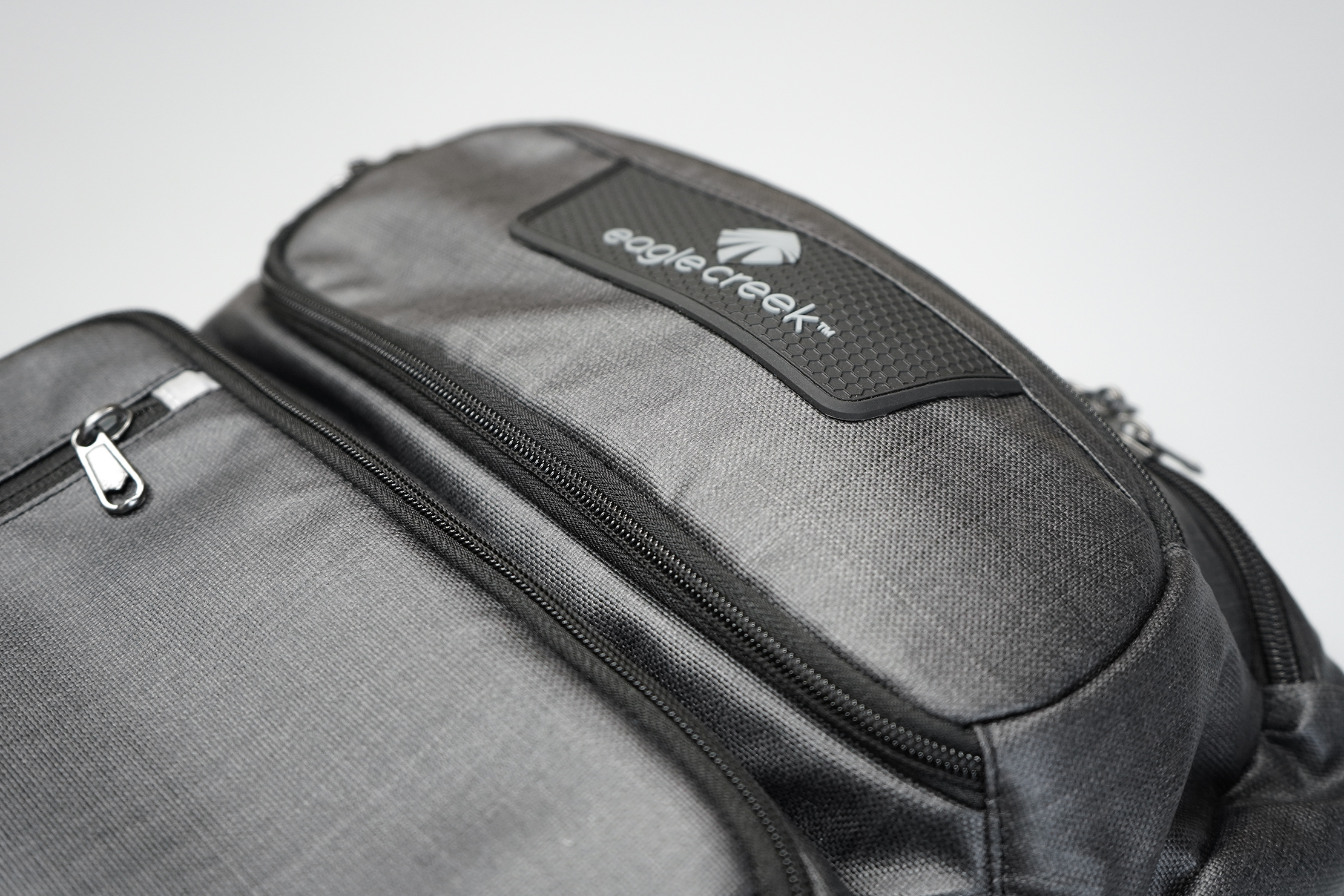 Anyone you pass by will know you're toting an Eagle Creek bag, as it's displayed on a large rubber tab on the front. It stands out quite a bit, which you might not appreciate if you prefer a subtle approach. Of course, your mileage may vary.
The Convertabrief is constructed with Eagle Creek's Bi-Tech™ fabric, which consists of 1000D poly twill fabric coated in polyethylene for a smooth, durable, water-resistant finish—you'll be just fine if you get caught in some drizzly weather. The material itself has held up well throughout our testing also, as we don't have any scratching, scuffing, or tearing to report at this time.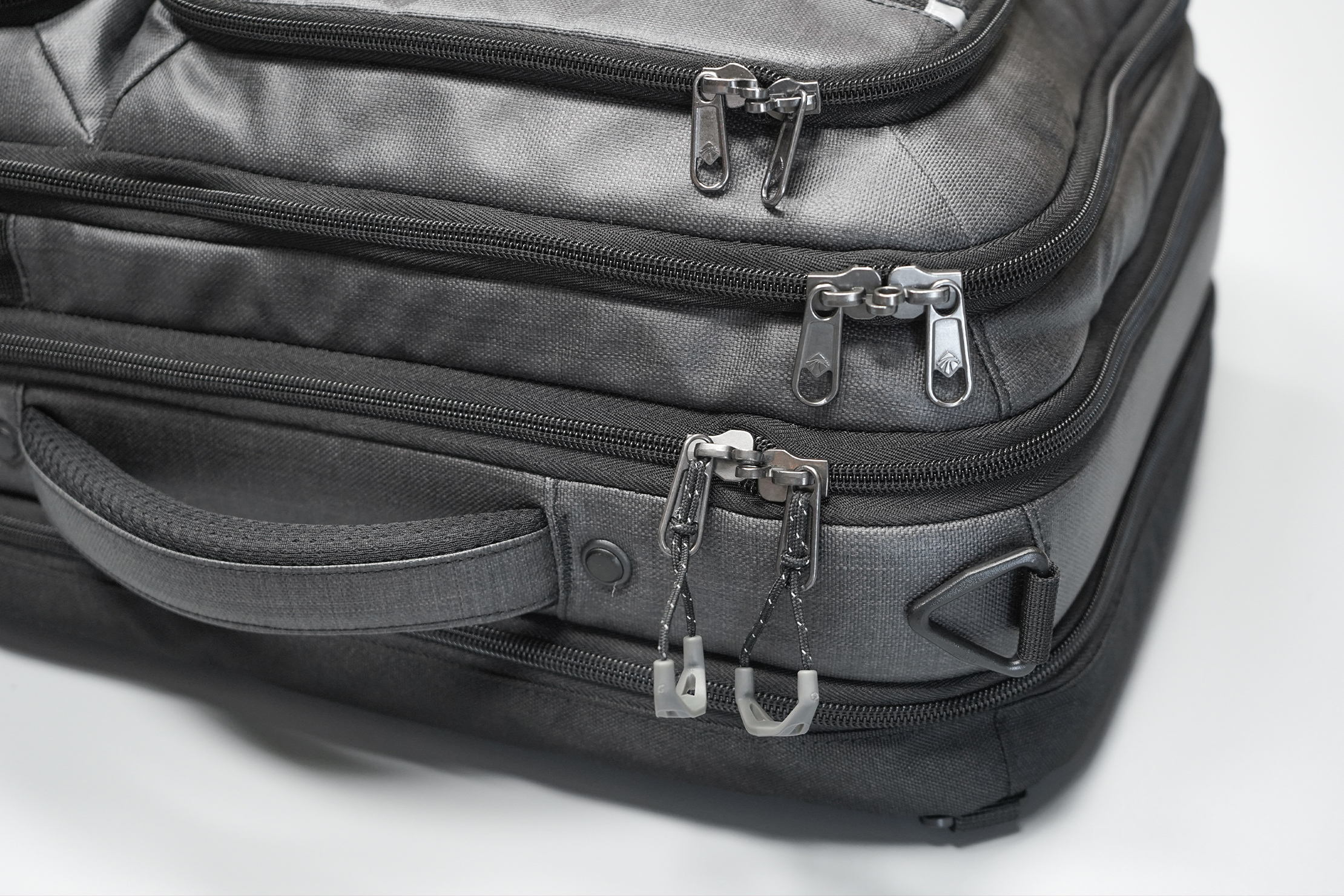 The zippers on this brief have been giving a lot of difficulty during testing, specifically those around the laptop compartment. They're nice and large and feel robust in hand, but are often getting stuck, especially around the bag's sharp corners. We're not so much concerned with their durability as we are with how much they slow down our access.
As for the hardware, we have Duraflex and Nifco to thank. We've really appreciated the rotating gatekeeper buckles on the shoulder straps. Still, we haven't had as positive experiences with the plastic key clip, which we'll discuss later in this review.
External Components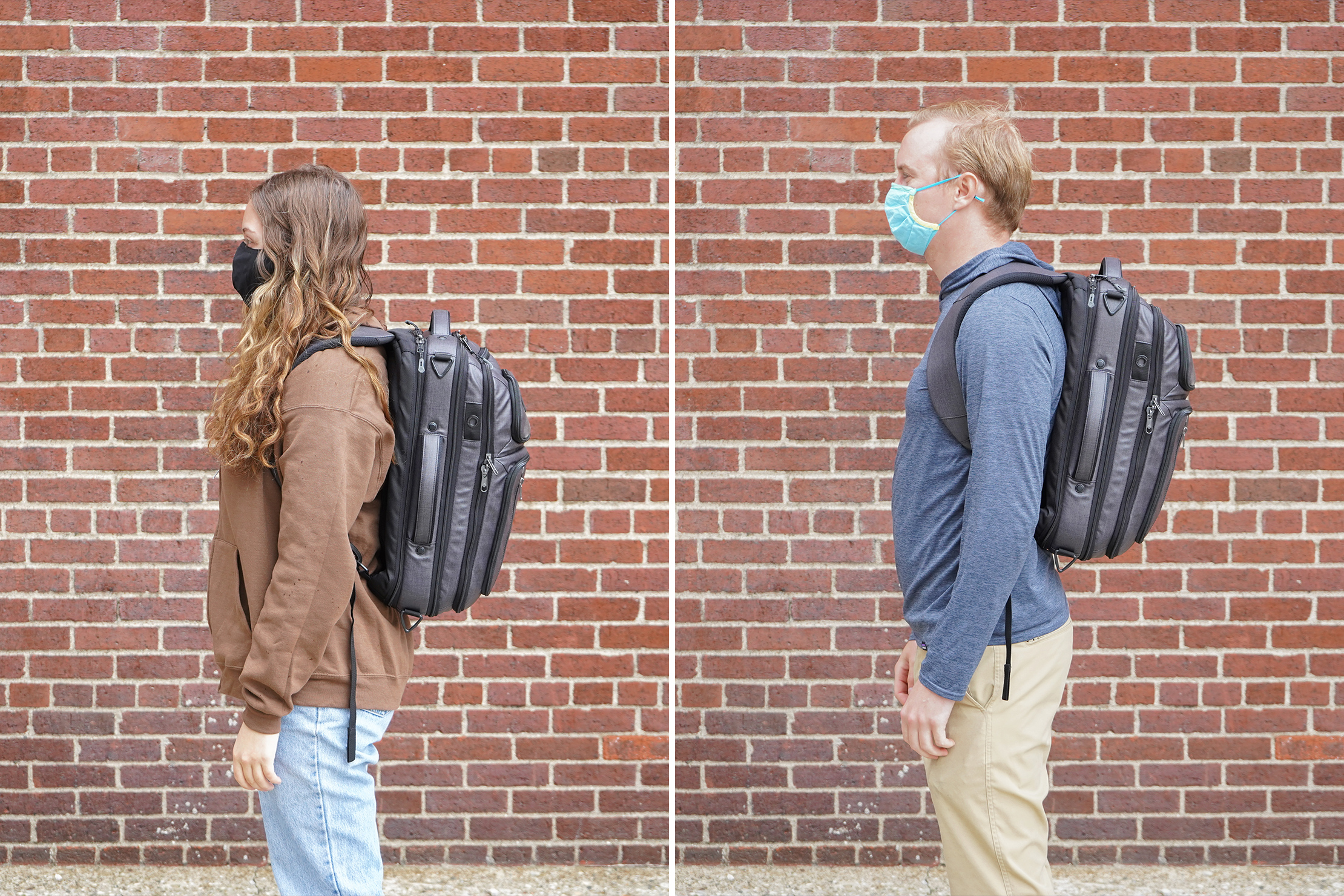 The "convert" in Convertabrief refers to your ability to carry this bag as a backpack, messenger bag, or a briefcase. We've found all three modes of carry to be relatively comfortable, and appreciate the option to switch among the three depending on our use case.
The shoulder straps are pretty simple overall. There's a decent level of padding that provides enough comfort when we're wearing this thing as a backpack, and nice mesh lining to keep us well-ventilated. They don't feature any attachment points or elastic keepers, so you can't take advantage of any external storage or manage any dangling excess strap, but they've worked well overall.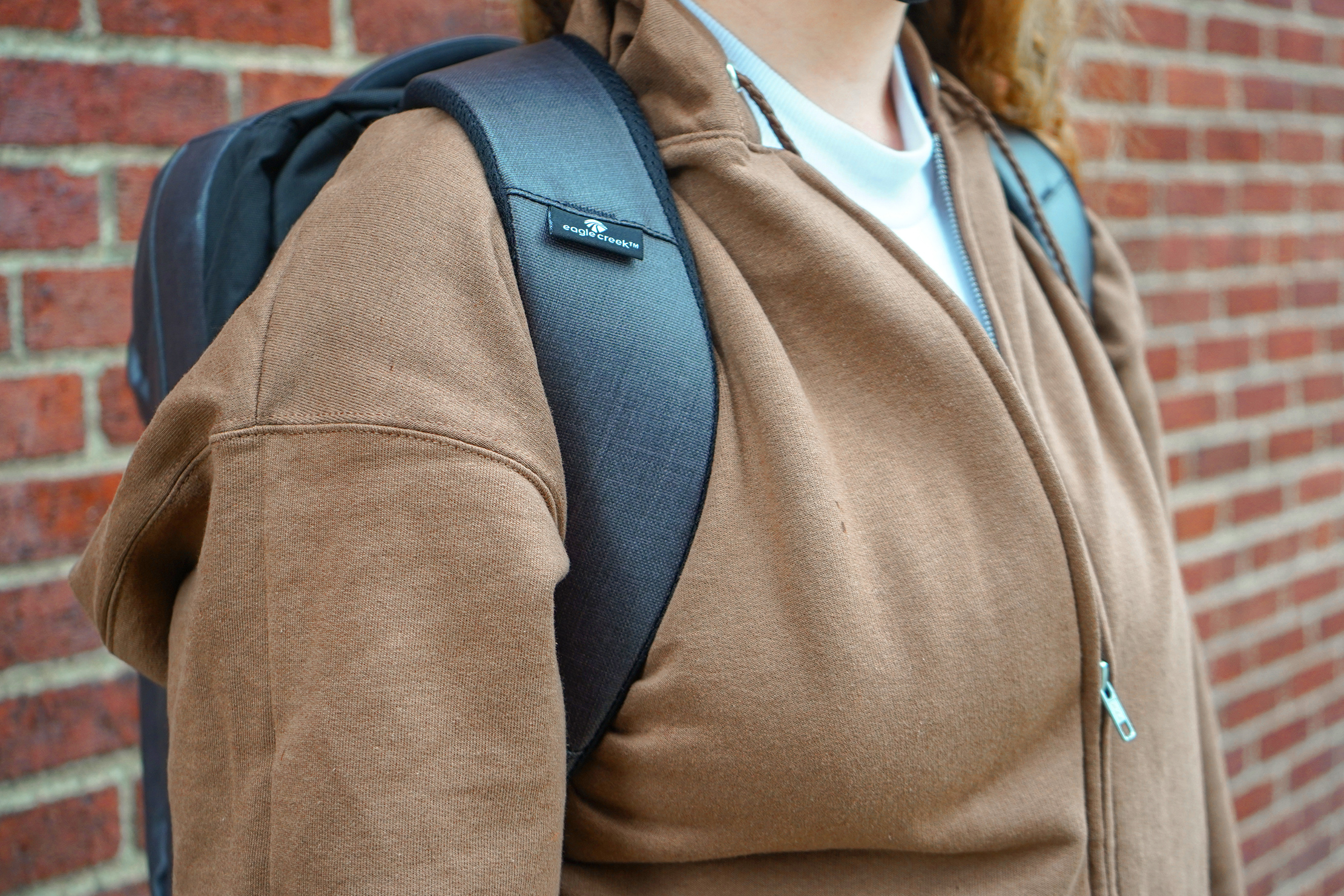 When you're transitioning out of backpack-mode, you can easily unclip the buckles at the bottom where the shoulder straps attach and slip them into the sleeve on the back panel. It secures with a snap fastener, so you don't have to worry about these straps slipping out when you're bending forward. We appreciate the integrated spot for them, so they're not flailing around when we're carrying as a messenger bag or brief.
You even have a singular removable shoulder strap you can attach to the hardware on the side of the bag to carry it in true messenger-style fashion. It secures to the bag via rotating gatekeeper buckles, so you don't have to worry about attaching it a certain way to avoid twisting and tangling.
It also has some dense, adjustable padding you can position on the shoulder, so it's comfortable to carry—even when you've got this thing loaded with gear. When you're not using this strap, you can pack it away inside the bag for safekeeping.
There's no sternum strap on this bag and no place to attach one. We haven't had much need for it during our testing, but because this bag is more of an in-between size (26.5L), you might appreciate the extra stability that a sternum strap offers—it all depends on your preferences.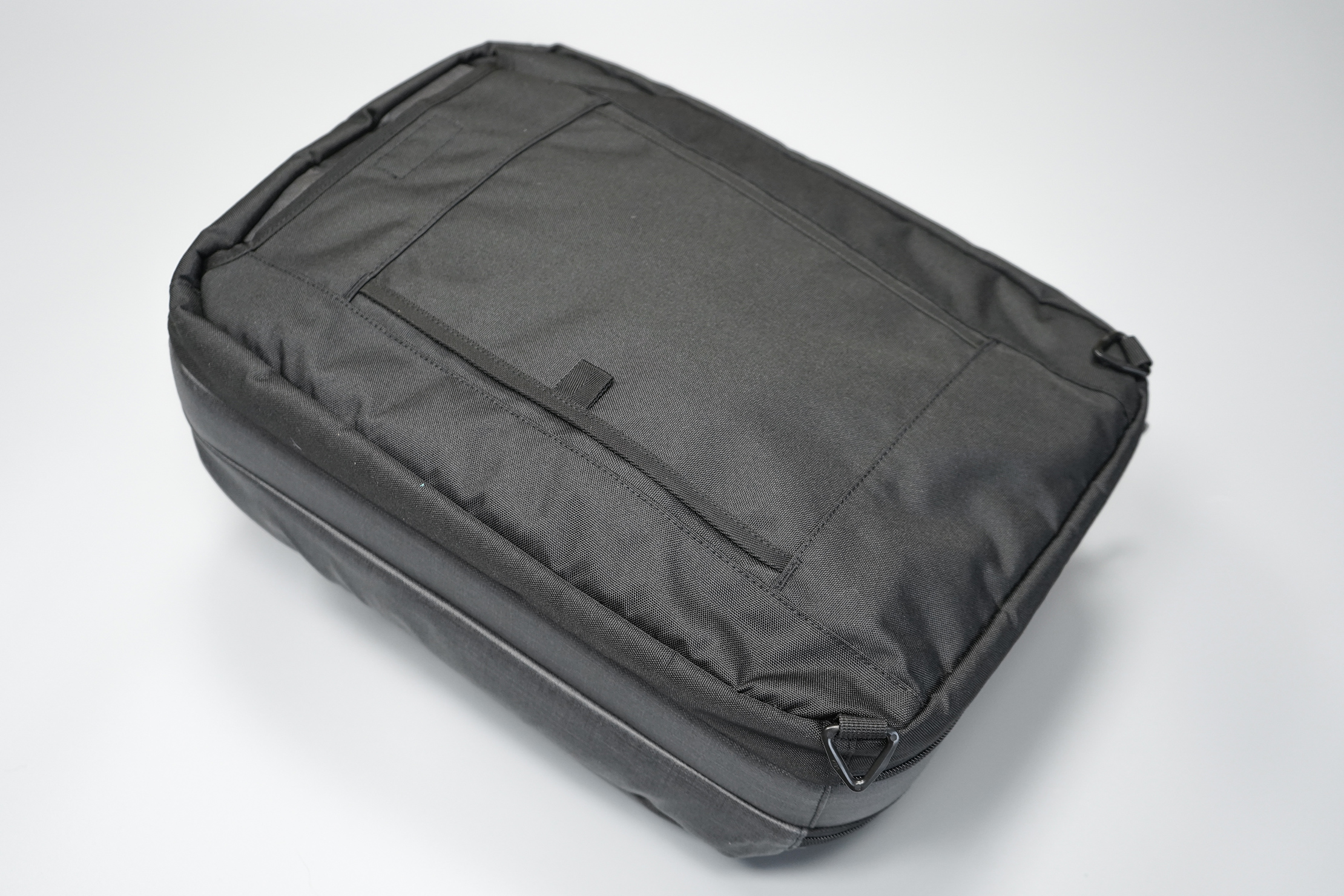 This bag has a very stiff frame that provides it with a lot of structure, but not so much that it feels uncomfortable against the back. In fact, we appreciate the support it provides. We'll often test bags that don't have this built-in structure or lack a frame sheet, and they'll pull away from the back in spots. With this bag, we don't have to worry about it.
That's not to say it's perfect, though. We would've liked some mesh lining back here, similar to what's on the shoulder straps, to keep the back cool when we're out in warmer weather or have it on for lengthier periods. What Eagle Creek didn't forget is a luggage passthrough. You can slip this over your roller luggage when using it as a carry-on for easy maneuvering around the airport. When not in use, it lies flat against the back panel and out of the way.

You have two handles you can use as well. We've found the top handle most convenient for grabbing and sliding the bag around when we need to move it or get something out. It's densely-padded and, like the bag as a whole, has a nice level of structure that makes it easy to grab. There's also some mesh lining, which is great for when it's hotter out, and your hands get sweaty.
The side handle is just as densely padded and well-structured, with the same thoughtful mesh lining underneath. You can use this handle to carry the bag as a brief for shorter ventures, like when you're heading into the office, a meeting, or other more serious settings—if you can get past its tacky look, that is.
Inside The Pack
We have a few pockets and compartments to get through before we head into the main compartment, so sit back, relax, and let's take a look at all the organization that this bag has to offer!
One thing we want to note before we get started is that a lot of this brief's organization caters to a briefcase and messenger-style carry. What we mean by that is, the pouches and sleeves in the front pockets and front compartment are horizontal so that you don't have to flip this bag around to grab stuff out. This can also be convenient when carrying as a backpack because you can sling it around the front and quickly grab what you need.
However, most of the pouches inside don't have any closure, causing items to slip out when you are carrying this thing as a backpack, and it gets jostled around. You'll want to be conscious of what you're packing next to what, as something sharper like keys could make its way out and scratch your other gear.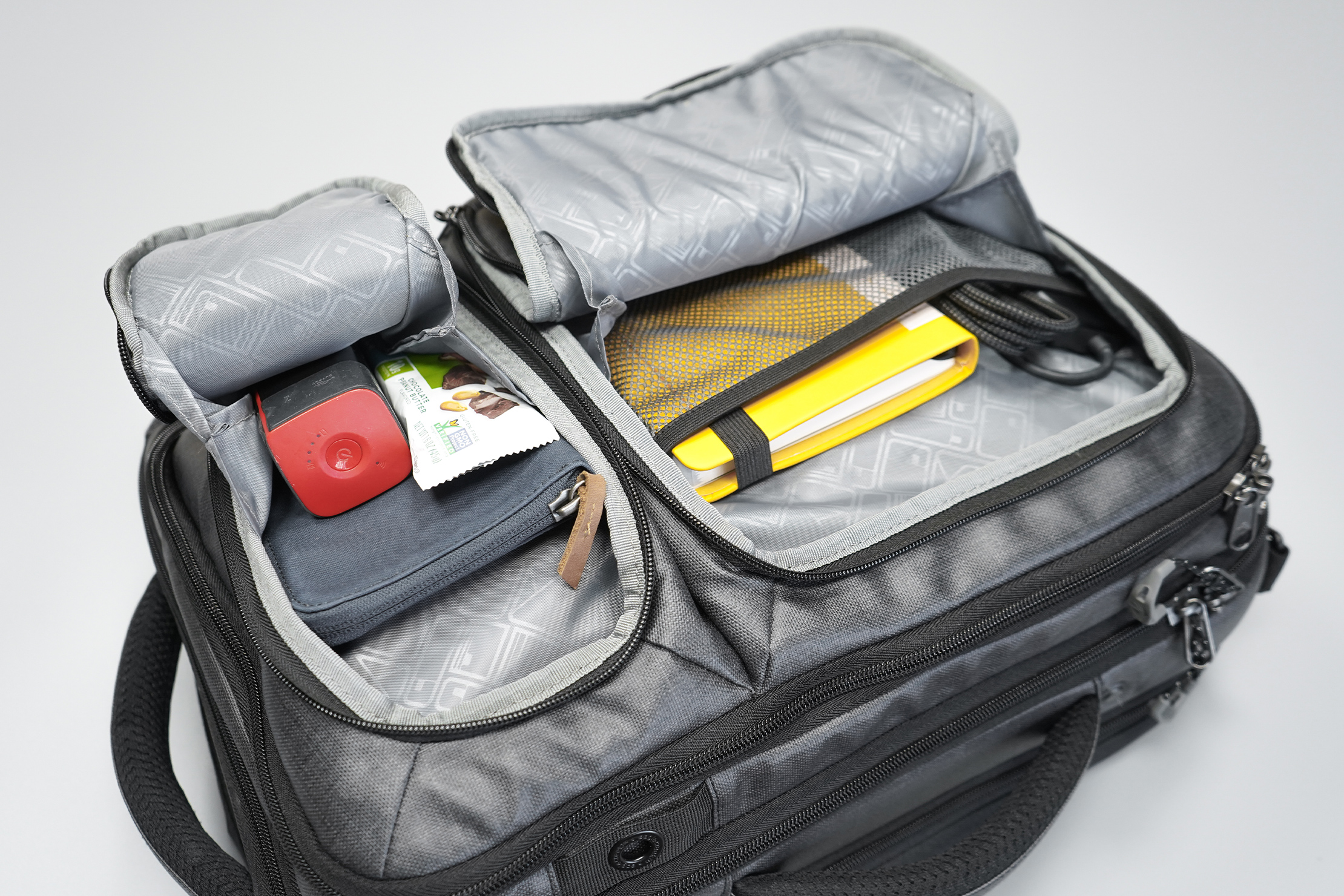 Starting at the top, you have a long, narrow pocket (or short, wide pocket depending on how you have the bag), where we've been keeping some personal care items. There is a dedicated spot for your phone in the front compartment, but if you don't want to go all the way inside the bag to grab it, you can also keep it in here.
This pocket has some gusseted fabric on the sides that makes it really easy to fold back and see and grab whatever is inside. Plus, if you do happen to open the pocket while the bag is standing upward, this fabric also acts as a kind of net if anything were to fall out. We love to see thoughtful integrations like this that make our everyday experiences that much more streamlined.
Below this pocket is a larger, square pocket that integrates the same gusseted fabric, making it easy to spot and grab everything inside. As for its organization, you have one wide mesh pouch that can accommodate things like bulkier cables, dongles, and other tech accessories. It's not the highest-quality mesh we've ever seen, but we're able to pack it out quite a bit, and it offers a lot of visibility of our stuff.
You have another zippered pocket that sits on top of this one that works well for flatter, more frequently-used items, whether you're using it as a spot to stash some snacks, a wallet, or even a small notebook.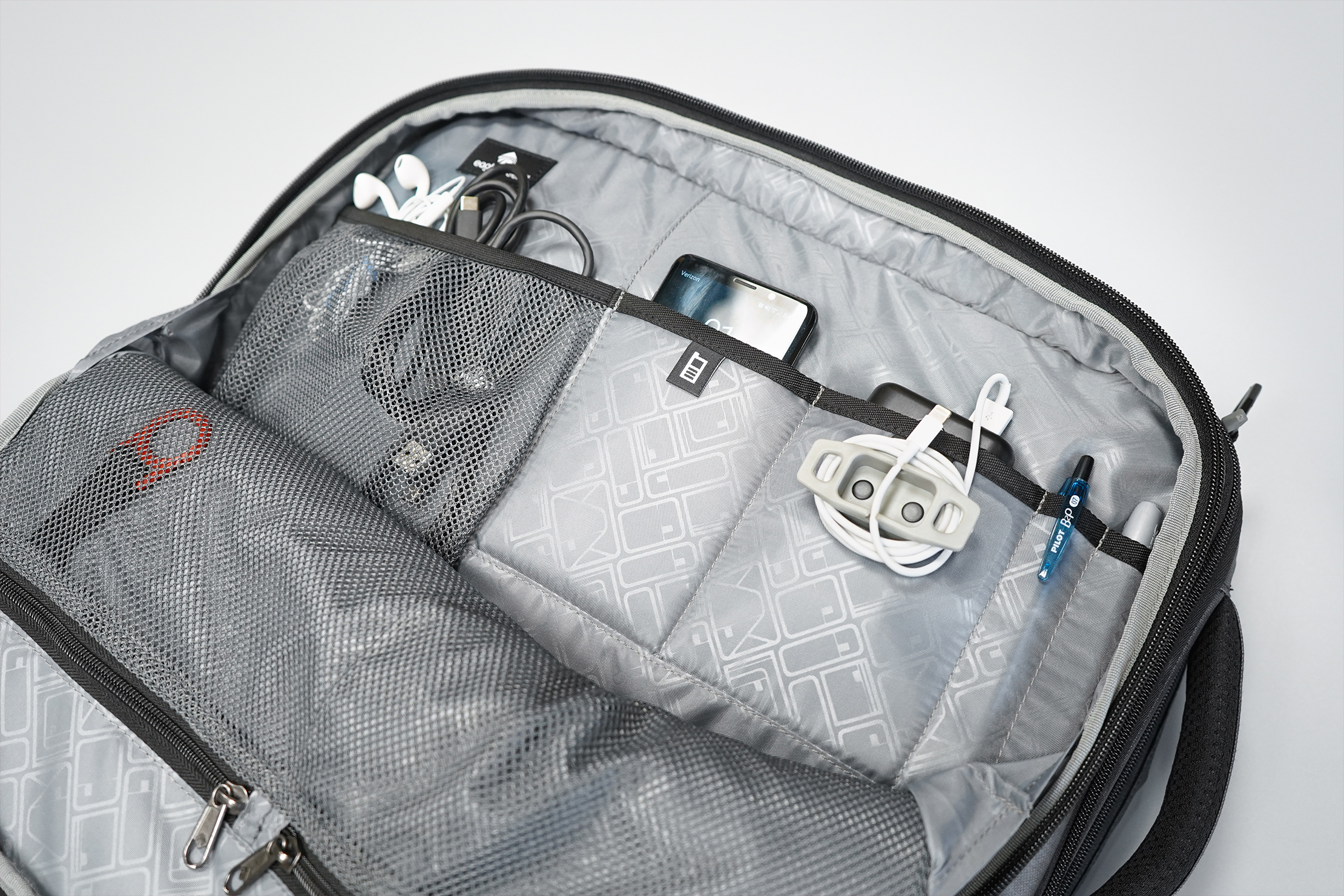 Next, we have the front compartment, which opens up almost entirely clamshell (but not quite). Against the back wall are several pockets at your disposal to compartmentalize your other tech accessories. Starting from one end, you have a mesh pouch that's similar to what you saw in the front pocket. It's a great spot for larger cables, like a laptop charger, for example.
Next to that is the dedicated phone sleeve we mentioned earlier. We've been able to fit a standard iPhone 11 with a smaller case inside, but it's tight. So if you have a thicker case or a larger phone, it's likely not going to work well here.
Like we said before, it's already not the most convenient spot, so you're better off keeping it in one of the front pockets for easier access. That said, this sleeve is more secure, so it's nice and secure if you're out and not always grabbing your phone.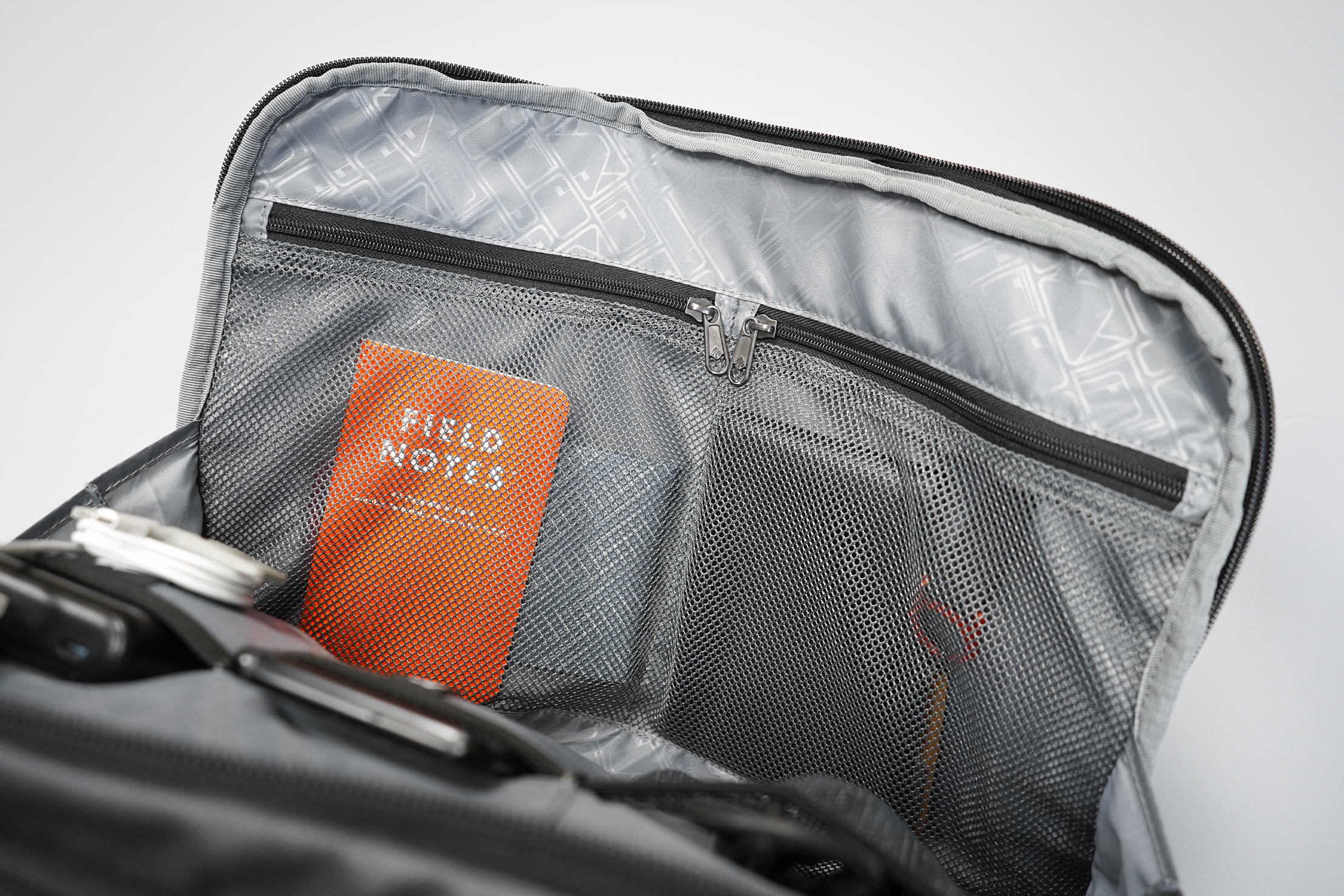 Beside the phone sleeve is another sleeve of similar size you can slip a power bank into, as long as it's on the slimmer side. In front of this sleeve, you also have some hardware that you can wrap a pair of corded headphones around to keep them from getting tangled while sitting in a pocket. We haven't had much use for it as we're moving in more wireless directions, but your mileage may vary. Then, you have some pens sleeves after that to keep any pens, markers, pencils, or a stylus handy when you need to write, sketch, or design.
On the opposite side of the compartment are two other larger mesh pockets that you can use for any remaining gear, whether it be extra cables, notebooks, adaptors, you name it. Inside one of them is the bag's key clip, which hasn't been the most effective during testing. It's easy for our keys to slip off the plastic clip, and its location isn't the quickest to get to when we're unlocking our car or door. That said, we like that it sits inside the mesh pouch to keep our keys away from our other stuff, preventing any scratching or scraping.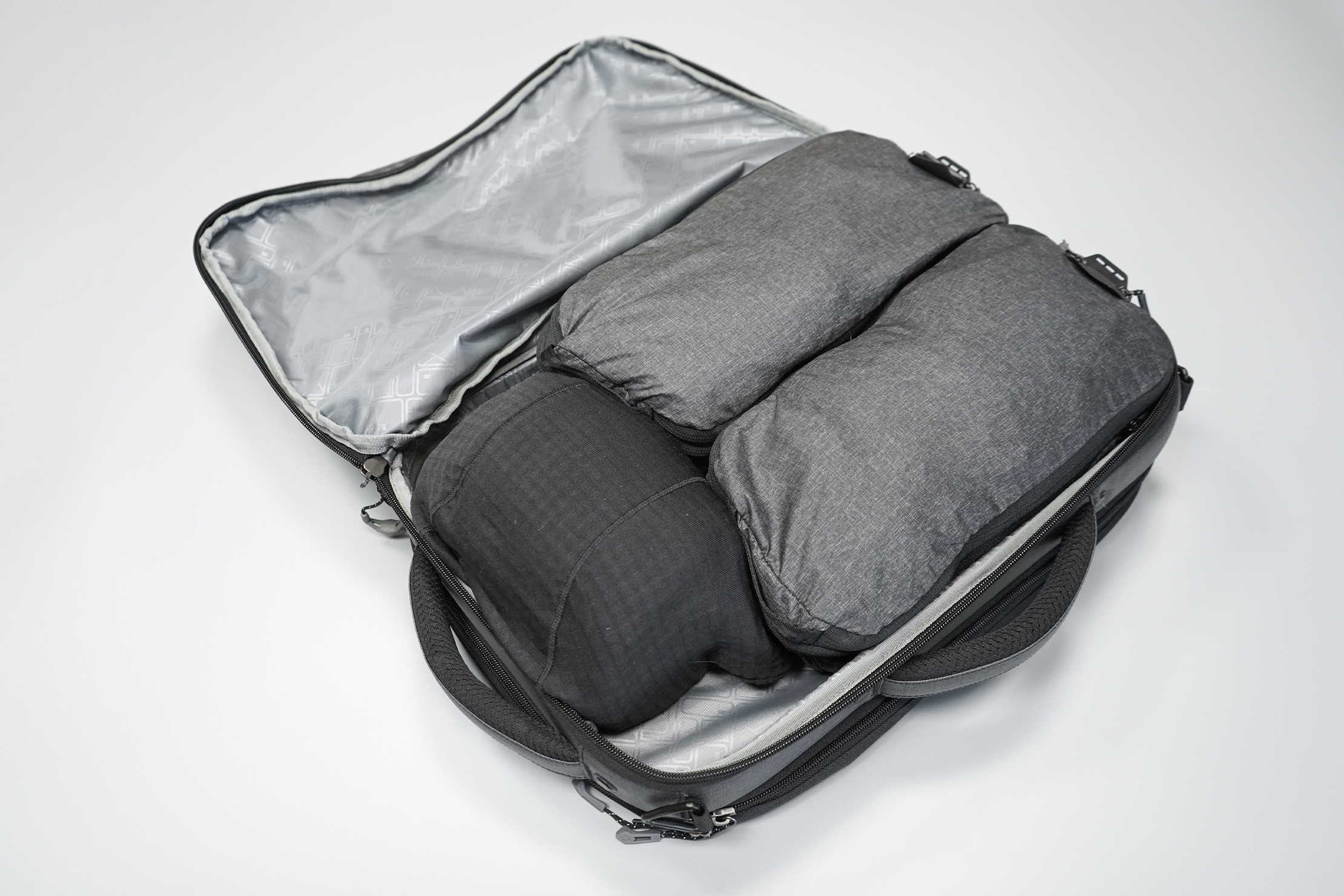 Now we can finally get into this main compartment! This compartment does open up fully clamshell, so you have all the visibility and ease of access that you need. The only organization in here is a sleeve against the back wall you can use to hold important documents or your passport even if you're not comfortable keeping them in the quick-grab pockets. Other than that, you have a lot of open space to pack out, whether your gear is free-floating or stuffed in some packing cubes to add more segmentation.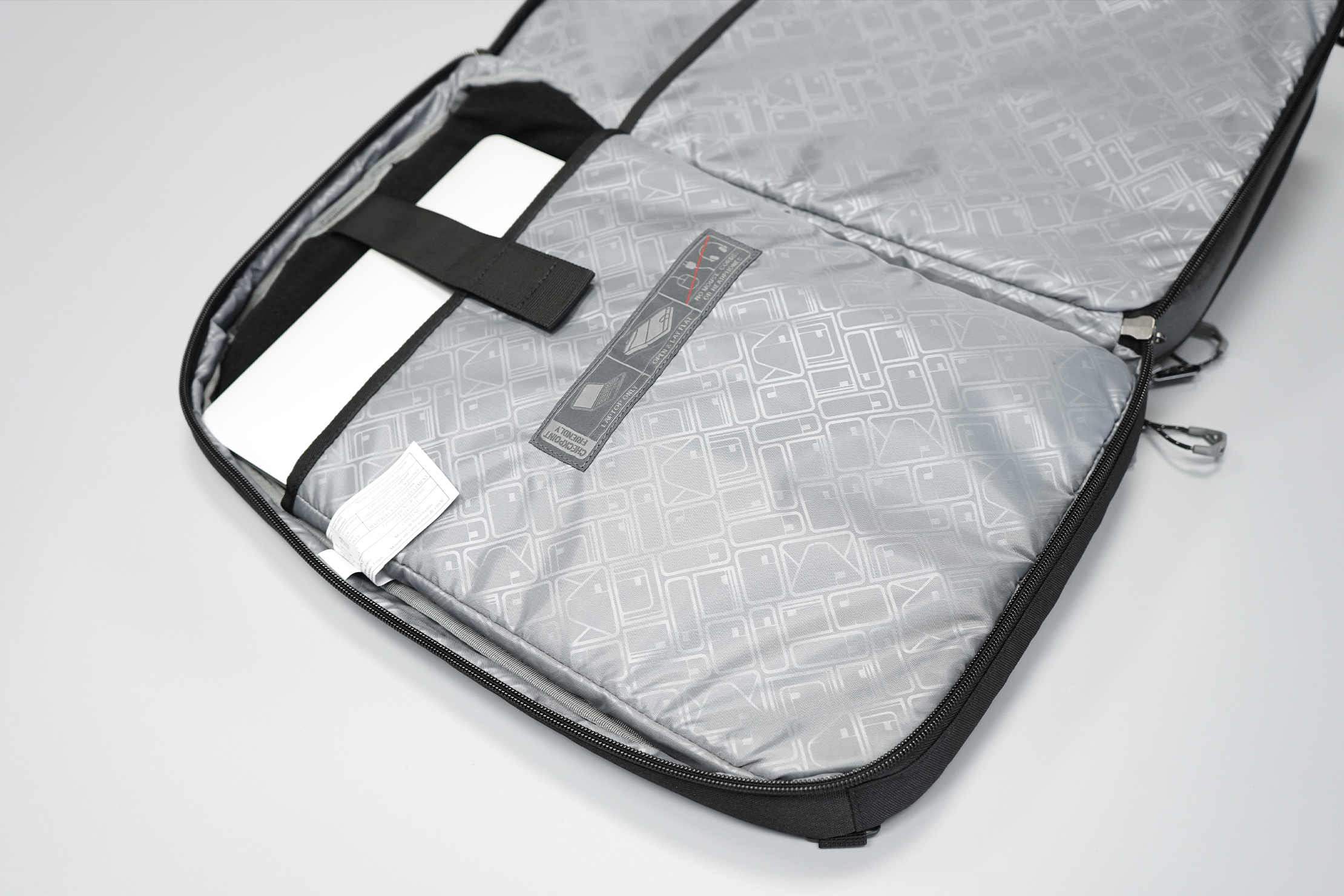 Lastly, you have the laptop compartment at the very back of the bag. On one side is a long sleeve similar to what you saw in the main compartment that can hold any extra documents, notebooks, or even a tablet. However, if you keep your tech here, we recommend keeping it in a protective case as this isn't a suspended sleeve.
On the other side is the dedicated laptop sleeve that can hold a 17″ laptop or smaller. It has a nice and soft fleece-like liner to protect your laptop from scratches, which is always appreciated, as well as some padding at the bottom to guard it against accidental drops.
The bag's stiff frame in general acts as a bumper for the gear inside when the brief is dropped or jolted around, so you can feel confident about keeping your tech and other gear inside. This compartment is also checkpoint-friendly, meaning you can send it through airport security with your laptop inside and not have to worry about taking it out and putting it back in, saving you some time.
Usage Timeline
Initial Usage
Condition: Excellent
Can be carried comfortably as a backpack, briefcase, or messenger bag
Incredibility stiff frame provides lots of structure and protection for your tech
Great tech organization, no pouches needed
2 Weeks of Use
Condition: Excellent
We're digging the gusseted fabric on the external pockets that allow us to easily see and get inside to grab gear
The zippers are nice and robust but have been really sticky, especially around corners
We've primarily been testing in backpack-mode, but like being able to switch to a briefcase or messenger-style carry when heading into work for a more professional look
Access the Pro Community Discussion
Get your questions about the Eagle Creek Convertabrief answered from our team and the Pro Community right here on the page. Plus, join discussions with other members about gear, guides, and more.
Other Bags & Luggage Reviews