Deuter AViANT Access 38 Review
The Deuter AViANT Access 38 doesn't have many extra features or organization, but its ample, easy-to-use space makes it a worthy companion for one bag travel.
Our Verdict
Unlock the Pro Summary
Save time. Get access to brief summaries of our reviews so you can browse and make decisions more efficiently.
Pros
Materials are durable and water resistant
High-quality hardware makes for a solid construction
Thoughtful organization in main compartment
Cons
No water bottle storage
Fabric over zipper can get in the way
Lack of organization takes some getting used to
Recent Pack Hacker Video
Technical Details
Capacity

38l

Weight (lb)

3.48 lb (1.6 kg)

Dimensions

21.7 in x 13.8 in x 9 in (55.1 x 35.1 x 22.9 cm)

Notable Materials

Polyamide, Recycled Polyester, YKK Buckles, YKK Zippers

Manufacturing Country

Vietnam

Laptop Compartment Size

13"

Warranty Information
Full Review
A lot of the packs that arrive at Pack Hacker HQ have a ton of features and organization. We're here for that and think both have a place in a bag. However, some of the highest-rated gear received such praise because they nailed one thing—simplicity. The Deuter AViANT Access 38 boasts a simple carry solution for one bag travel. However, will it work for you? Let's find out!
External Components
On this pack, we've got a 600D polyester that's bluesign approved and a 240D polyamide fabric to work with. Both have a PU coating, which adds extra water resistance for trips into rainy and snowy climates. The materials look sleek and are durable enough to handle the bumps and knocks of travel.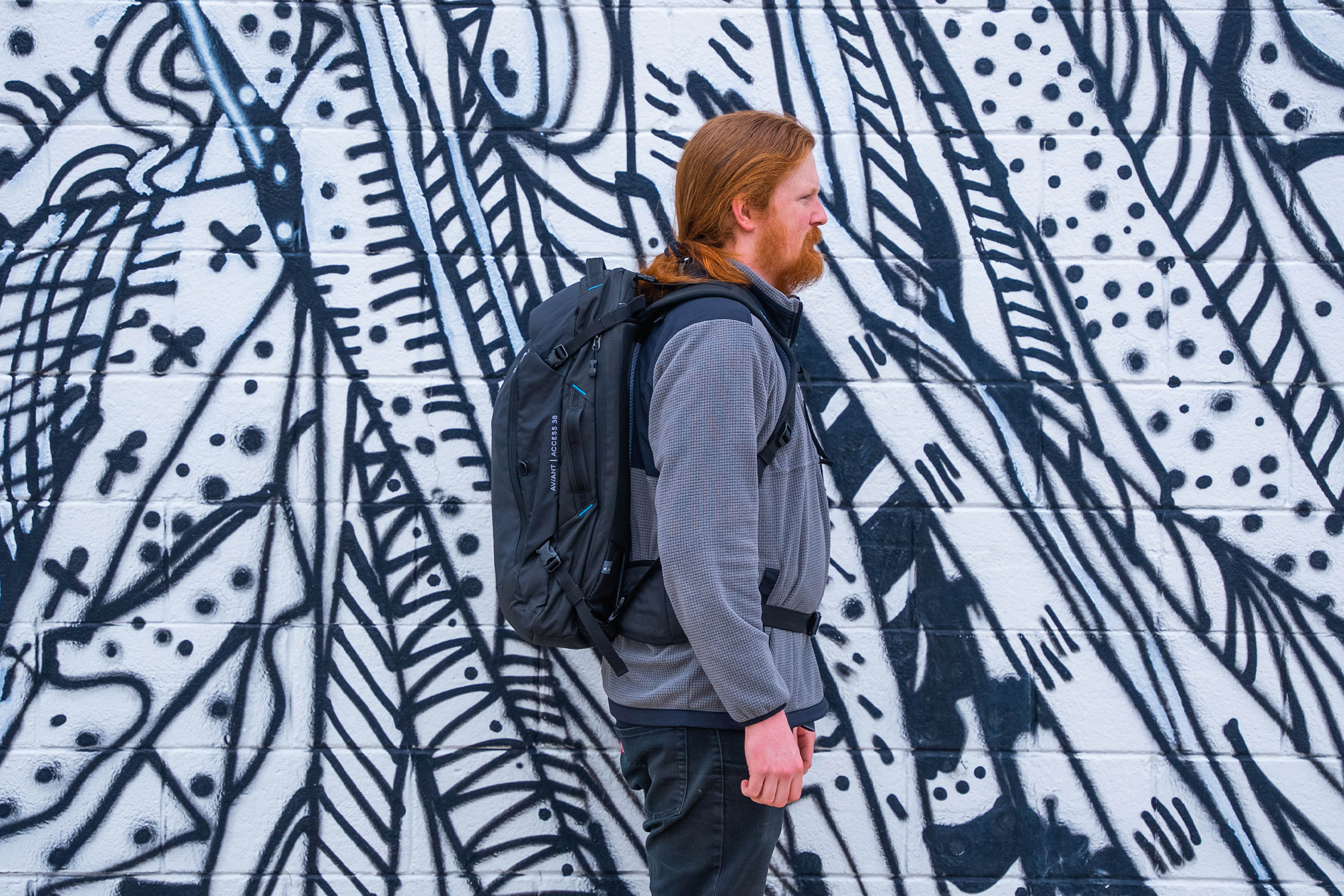 The materials on this pack are PFC-free, which is a great shout from an environmental standpoint. Seeing more pack companies removing these chemicals from their bags is excellent, so thank Deuter for that!
Throughout the pack's construction, there are YKK zippers. The main compartment features lockable heads, offering peace of mind for travelers who want extra security. There aren't many zippers on this pack, but the ones there operate smoothly.
The hard plastic hardware is from YKK, too, and there's nothing negative to report here. Everything functions how we'd like!
We've got three handles to go over, so hang on tight. There are well-secured handles on the top and side of the pack for carrying purposes. They're amply padded, so they stay comfortable in transit. They come in handy at the airport, on the train, or when grabbing your pack from the boot of the taxi in London.

On the top, there's another thin handle. This one is smaller and has no padding; however, it's just as stable. This one is designed for hanging the pack, so it has no padding and is harder to hold onto. Because it's so thin, it's easy to hang on a hook. Thicker handles are harder to hang on smaller hooks because they have too much depth. This small handle adds nearly no weight and is super helpful at the hotel and in public bathrooms.
Both sides of the pack have compression straps. There are two on either side, so you can cinch this thing down well to save space at the airport. They sit diagonally, which may help for compression, although it makes it hard to use them for anything else. If they were parallel, you could stow gear inside them easier. However, because of the angle, that becomes difficult.
Fit Notes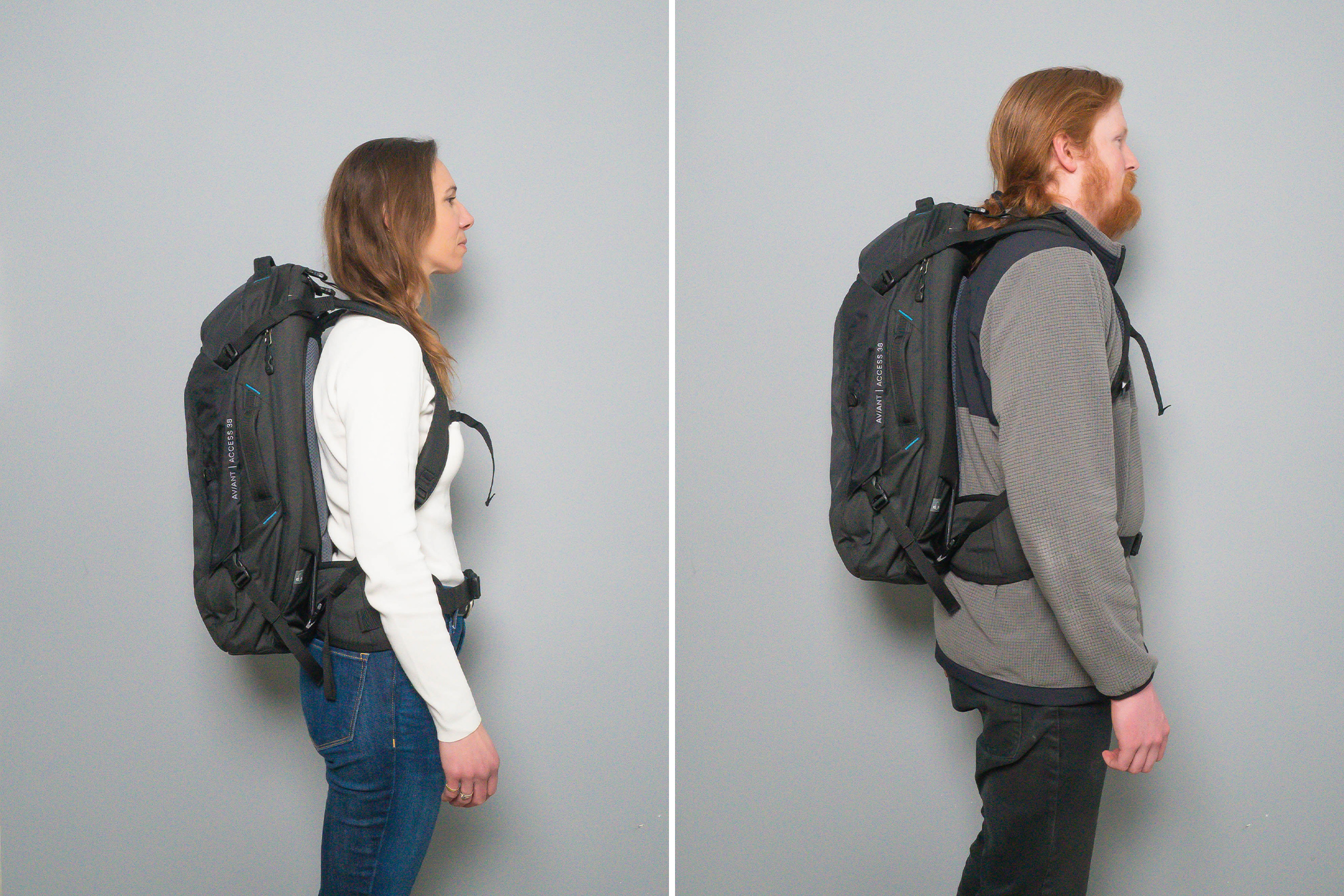 The shoulder straps are pretty malleable and include padding and aeration to keep things comfortable and cool, no matter how long you wear the pack. Given the size of this travel backpack, you'll still accumulate some sweat on warmer days, though.
On the top, load lifters on either side make it easier to move the pack's weight around to find the perfect fit or stay comfortable on a travel day where you must wear it for a few hours.
There's a removable sternum strap with elastic, so the shoulder straps will stay tight but not claustrophobic. It isn't on a rail, so you can't make micro-adjustments, but you can move it up or down to your liking.
The shoulder straps are stowable, so you can slide them away when you don't want them to get in your way. This works well in the overhead airplane bin and when stowing the pack in your hotel room or closet at home. They zip away, too, so they won't pop out if the journey gets rough. If you have a packable daypack, you can carry the Deuter as a carry on and use the daypack as your personal item bag to bring more souvenirs home.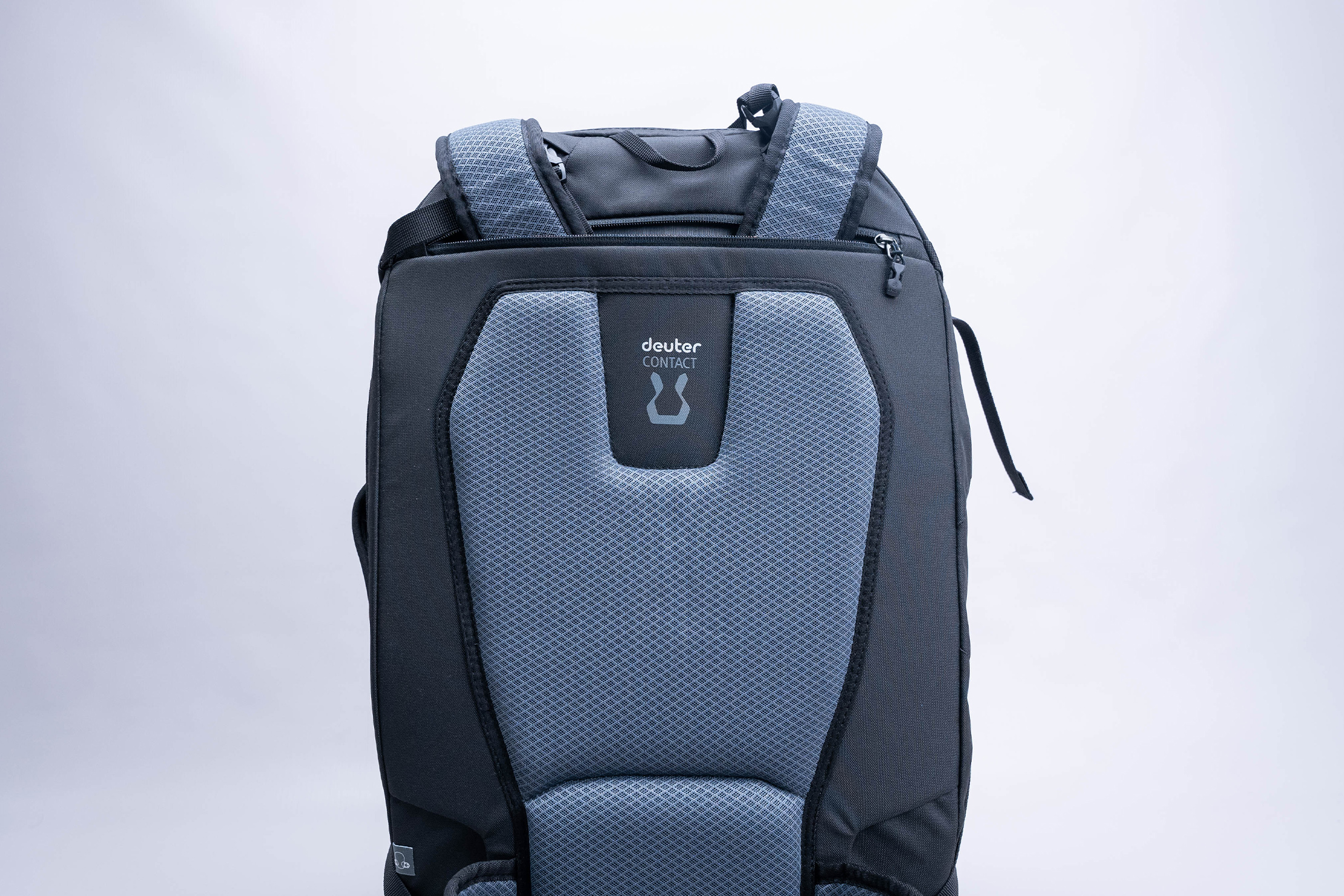 The hip belt covers a lot of ground, but the material is malleable, like the shoulder straps. It has padding and aeration to keep things comfortable and is stowable behind the back panel. While you can feel a small bulge, it's not uncomfortable.
The back panel padding is much more stable than the shoulder straps or hip belts; it's firm and comfortable. There's mesh here, too, so you can count on it to stay reasonably cool, even in warm weather.
It's worth noting that this pack is quite large. Not more than other 38-liter packs we've tested—yet shorter frames may find the length a bit too long for their torso. If you don't like packs that ride further down your backside, this might not be the pack for you!
Inside The Pack
There's only one secondary compartment on this pack besides the laptop compartment, and we're here for it. We want as much space in the main compartment as possible on a travel pack, although this might not work out for those who live for segmentation in a backpack.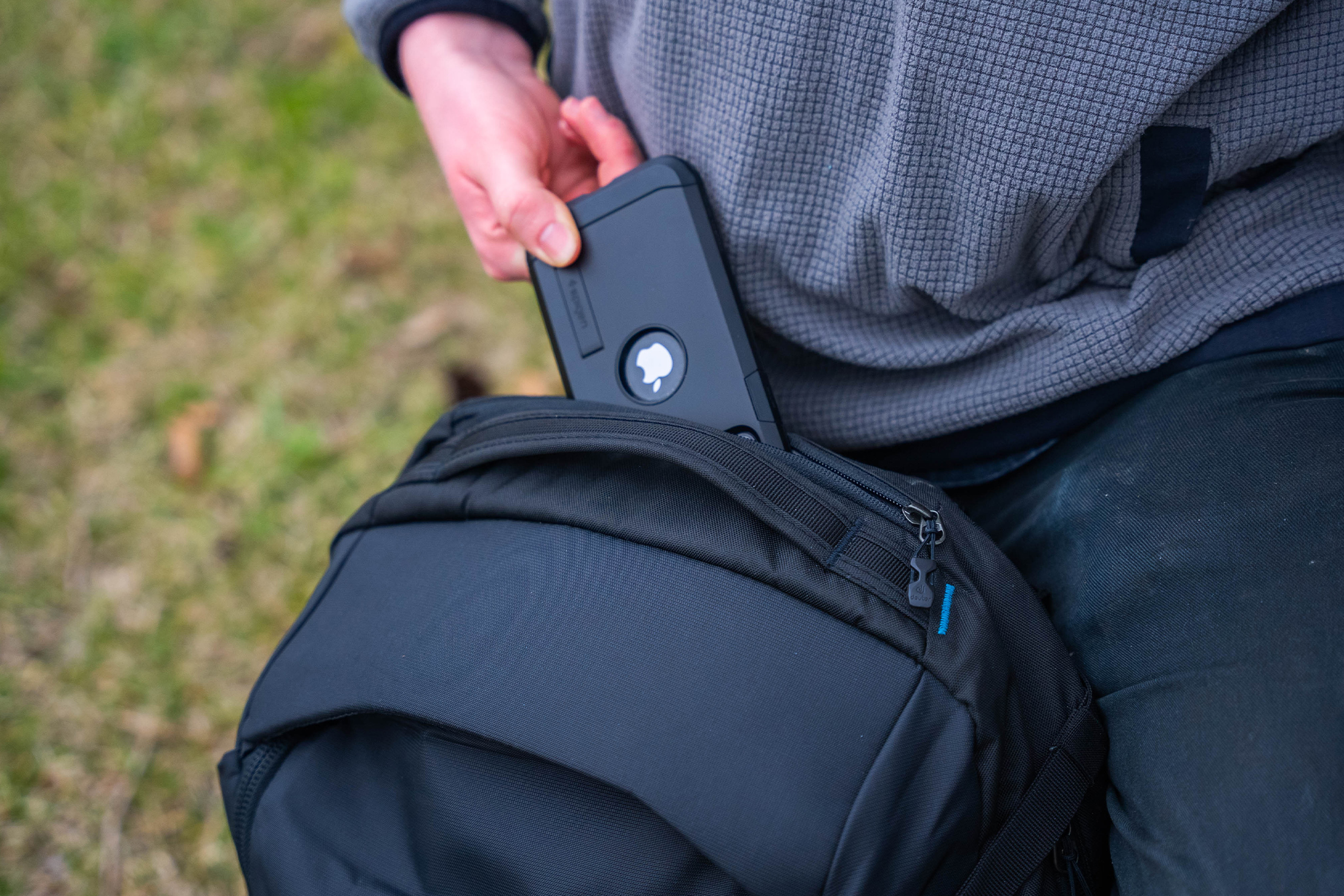 The quick-access pocket on the top of the pack is quite large and easy to access. It shares space with the main compartment, so it can be hard to load up when the pack is fully stuffed. There's no built-in organization, but it's large enough to stow a small tech pouch. A short key clip works fine for most uses.
On the side of the pack, there's a laptop compartment, and it's enormous. It says you can stow up to a 13-inch computer inside here, but it fits a 15-inch with loads of room to spare. There's no organization inside, but ample padding on either side protects your laptop from bumps and knocks while traveling.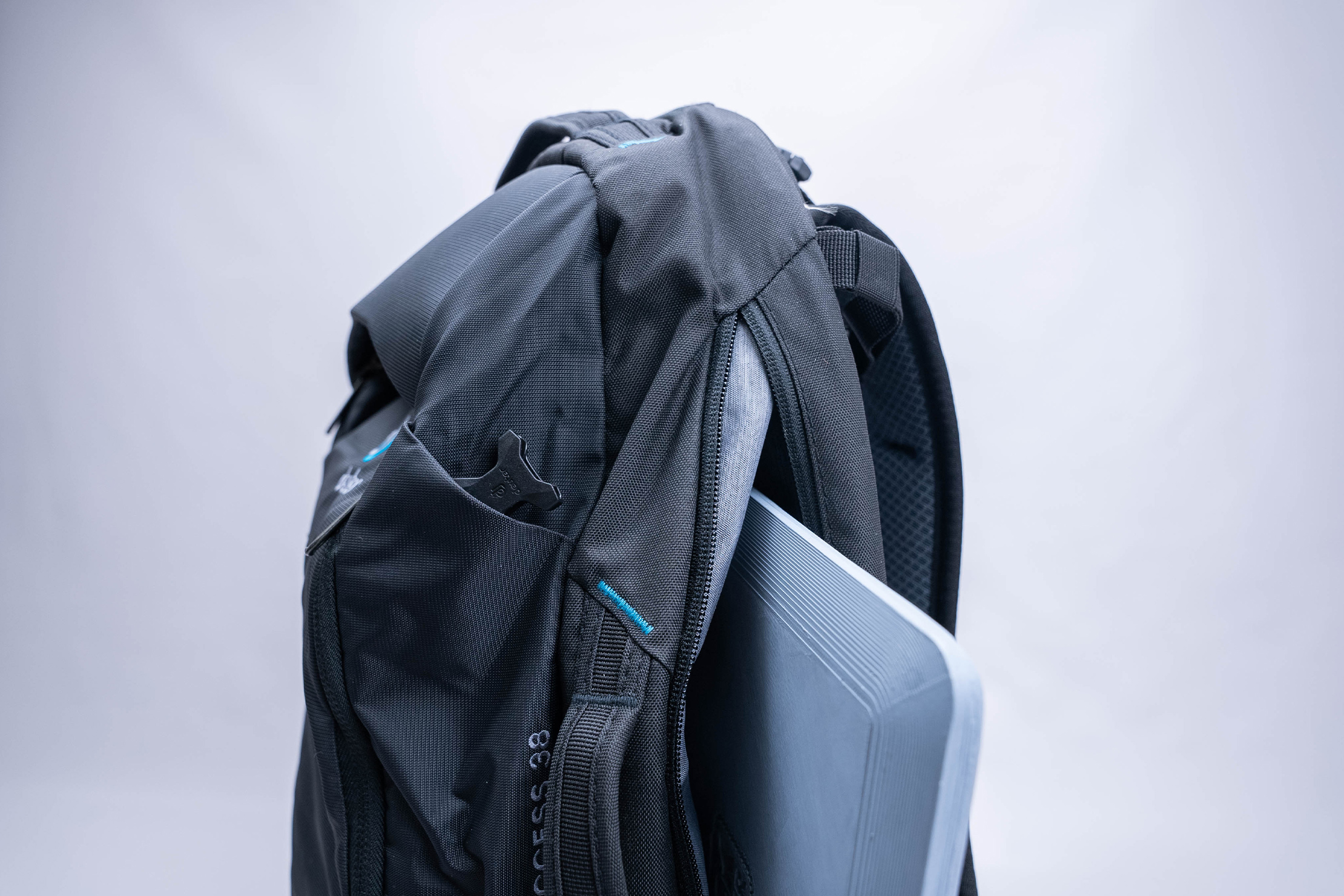 The main compartment is where the real party is at. Before we dive inside, let's chat about the zipper. On the top of the pack, an overhang covers the top of the zipper track for the main compartment. It adds some extra security, as it's harder to access the main compartment in a quick motion. However, getting used to pulling the zipper through that section is difficult. It makes accessing the interior slow and tedious, which is worth noting. Okay, let's get inside.
Because of the main compartment's clamshell opening, you can get into the nitty-gritty of packing your bag from the ground floor up. There's almost no organization here, so you're left to your own devices. There's one small zippered compartment on the side wall of the pack. It's tall and skinny, so it won't work for larger items, but you can lock down smaller things you don't want bouncing around with your packing cubes in the main compartment.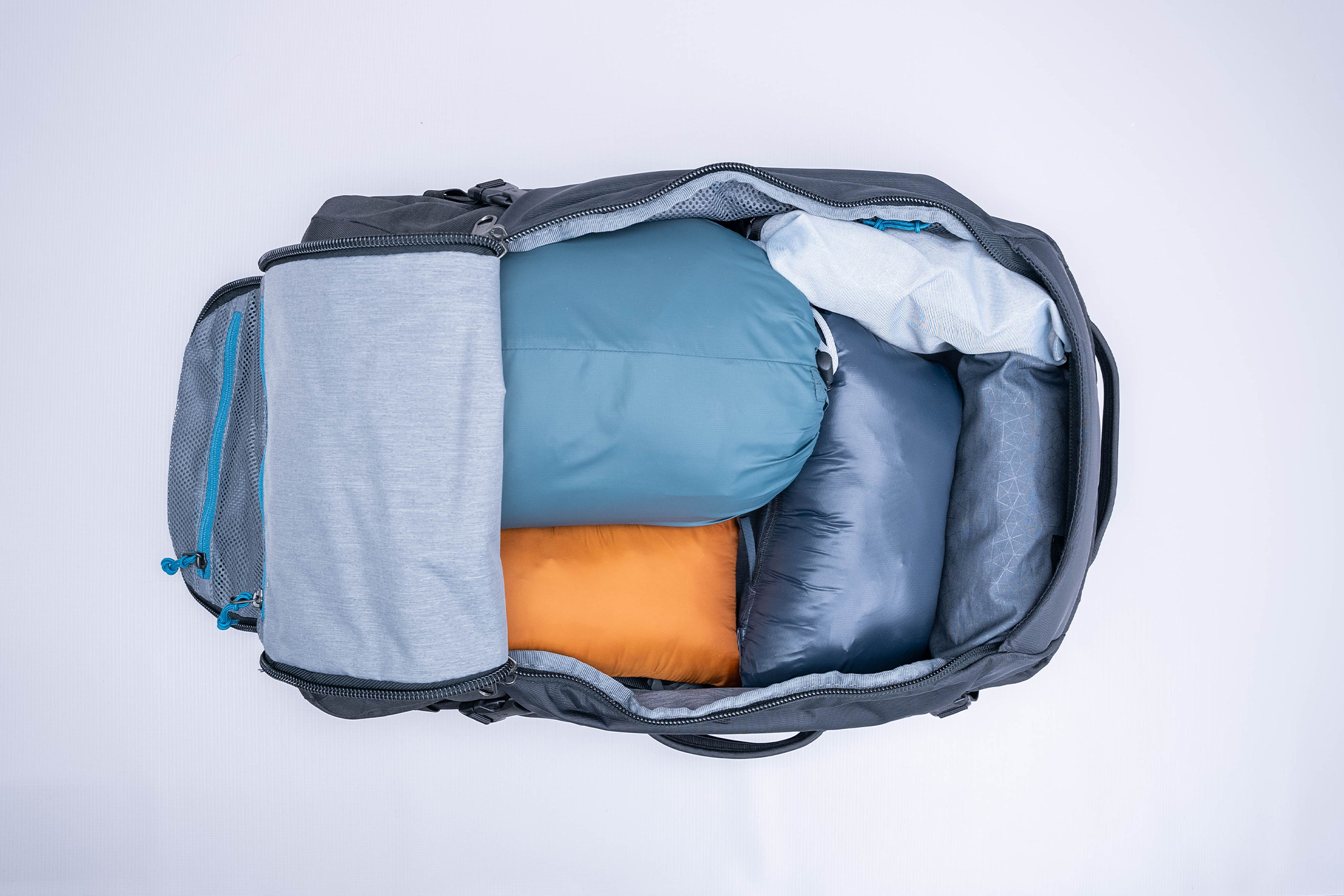 Speaking of packing cubes, you'll want them for this pack. Two compression straps on the back wall help secure your clothing if you choose not to use organizers. However, these compression straps work well with cubes and organizers, too. Without segmentation, the interior of the pack becomes muddy pretty quickly.
You can see the laptop compartment on the back wall, and it secures to the back panel using a hook and loop fastener. Once you unhook it, you can see the metal frame of the pack. While it adds structure and distributes weight, you can remove it if you want to, saving a little weight and making the pack slightly more smush-able.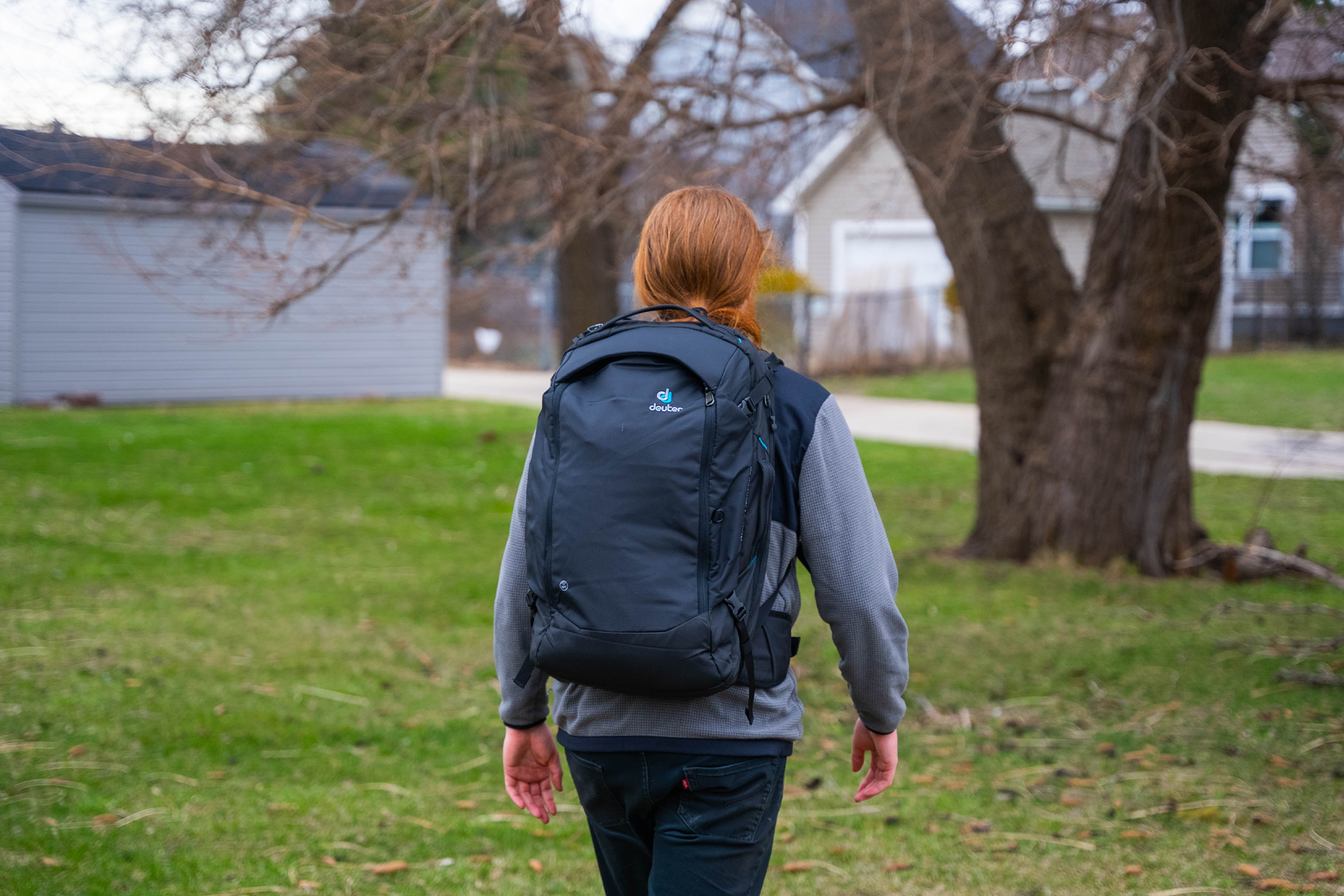 As you can tell by the length of this review, there isn't much going on inside this pack, and we dig that. Sometimes, it's nice to be left to your own devices when packing. I don't need a backpack to tell me where everything goes—just load it up and hit the road! That said, if you like organizational features that cater to your specific needs, this pack might not be the one for you.
Usage Timeline
Initial Usage
Condition: Excellent
The materials, from fabric to hardware, are durable and well constructed
Hiking-style harness system appears comfortable and adjustable
Design is sleek and fits in most environments, from the trail to the city center
2 Weeks of Use
Condition: Excellent
Materials and hardware are durable and keep out water well
The carry is comfortable, even for extended periods
Zipper covering makes accessing the main compartment challenging
Access the Pro Community Discussion
Get your questions about the Deuter AViANT Access 38 answered from our team and the Pro Community right here on the page. Plus, join discussions with other members about gear, guides, and more.
Other Bags & Luggage Reviews