Crafted Goods SIMPLON 18L Review
The Crafted Goods SIMPLON 18L is versatile in its carry and intentional in its organization, but it lacks carry comfort.
Our Verdict
Unlock the Pro Summary
Save time. Get access to brief summaries of our reviews so you can browse and make decisions more efficiently.
Pros
Helpful organization for smaller gear
Versatile carry options
Dimension of front pockets allows for ample packing
Cons
Would've appreciated more of a false bottom in the laptop sleeve
Zippers get sticky around sharp corners
Shoulder straps can dig into the back of your shoulders with a heavier load
Recent Pack Hacker Video
Technical Details
Capacity

18l

Weight (lb)

2.42 lb (1.1 kg)

Denier

600D

Dimensions

15.74 in x 11.81 in x 4.33 in (40 x 30 x 11 cm)

Notable Materials

Ballistic Nylon, YKK Zippers, Duraflex Hardware

Manufacturing Country

China

Laptop Compartment Size

15"

Warranty Information
Full Review
Crafted Goods is a brand with Swiss design roots that strives to cultivate collections of daypacks that not only match the look of urban environments but function well within them.
Simply put, the Crafted Goods SIMPLON 18L is a great example of this. It's a convenient size for an everyday bag with an efficient level of organization for your smaller items—and, not to mention, a fashionable urban look.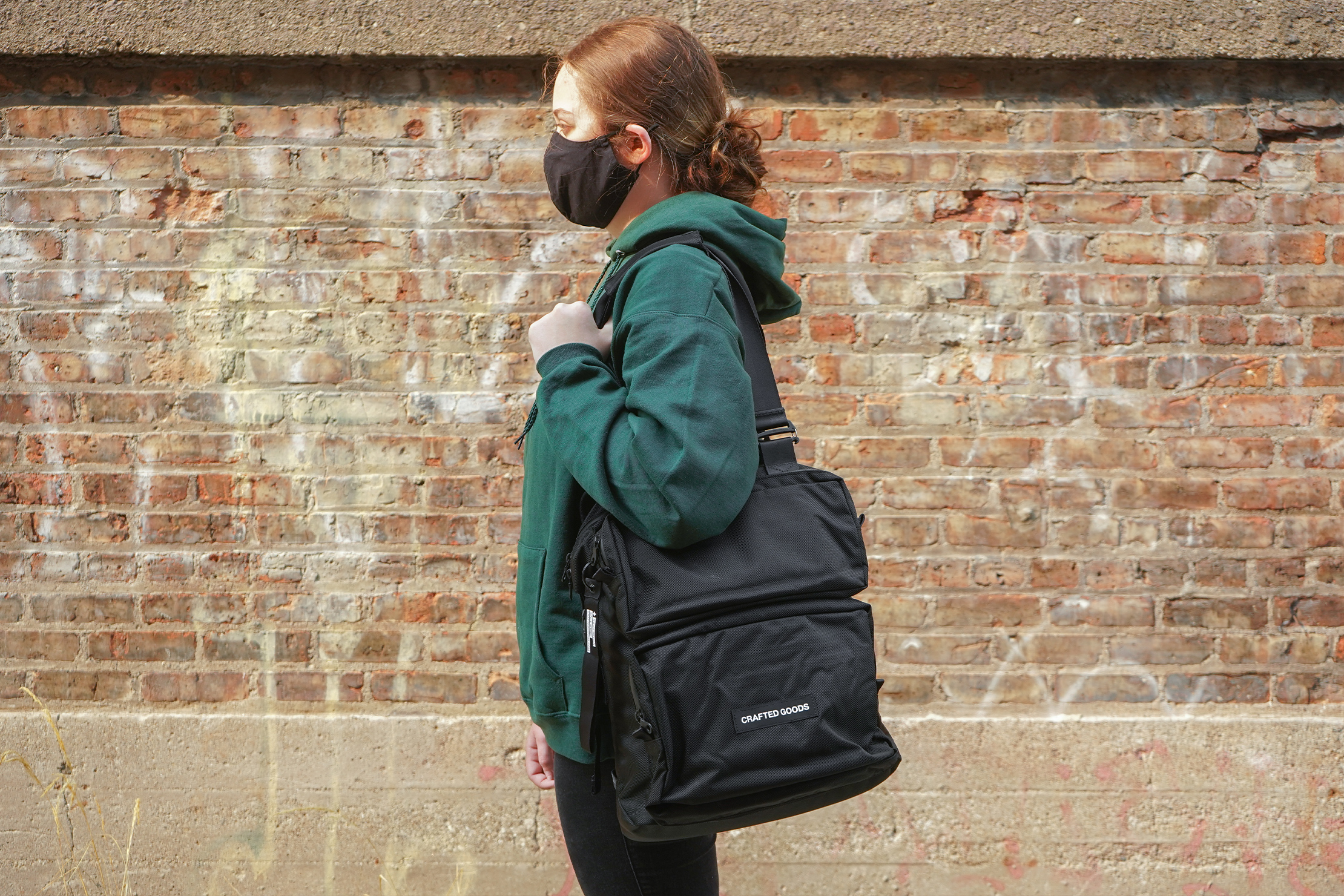 Let's get right into the nitty-gritty. Follow us into the review!
Materials & Aesthetic
With one glance at this bag, it's easy to see that its muted aesthetic looks at home in the city. It's also distinctly boxy, which you either appreciate or feel is a little intense, hence the dismal 29% approval rating from our Instagram poll on the bag's look.
You can only pick up this pack in Black at the time of this review, which may or not be a problem, depending on whether you prefer a more serious or more vibrant look. We like that this colorway helps the bag retain a more low-profile vibe, but we understand the desire to throw in a splash of color now and then. Unfortunately, you don't have that option with this pack at the moment.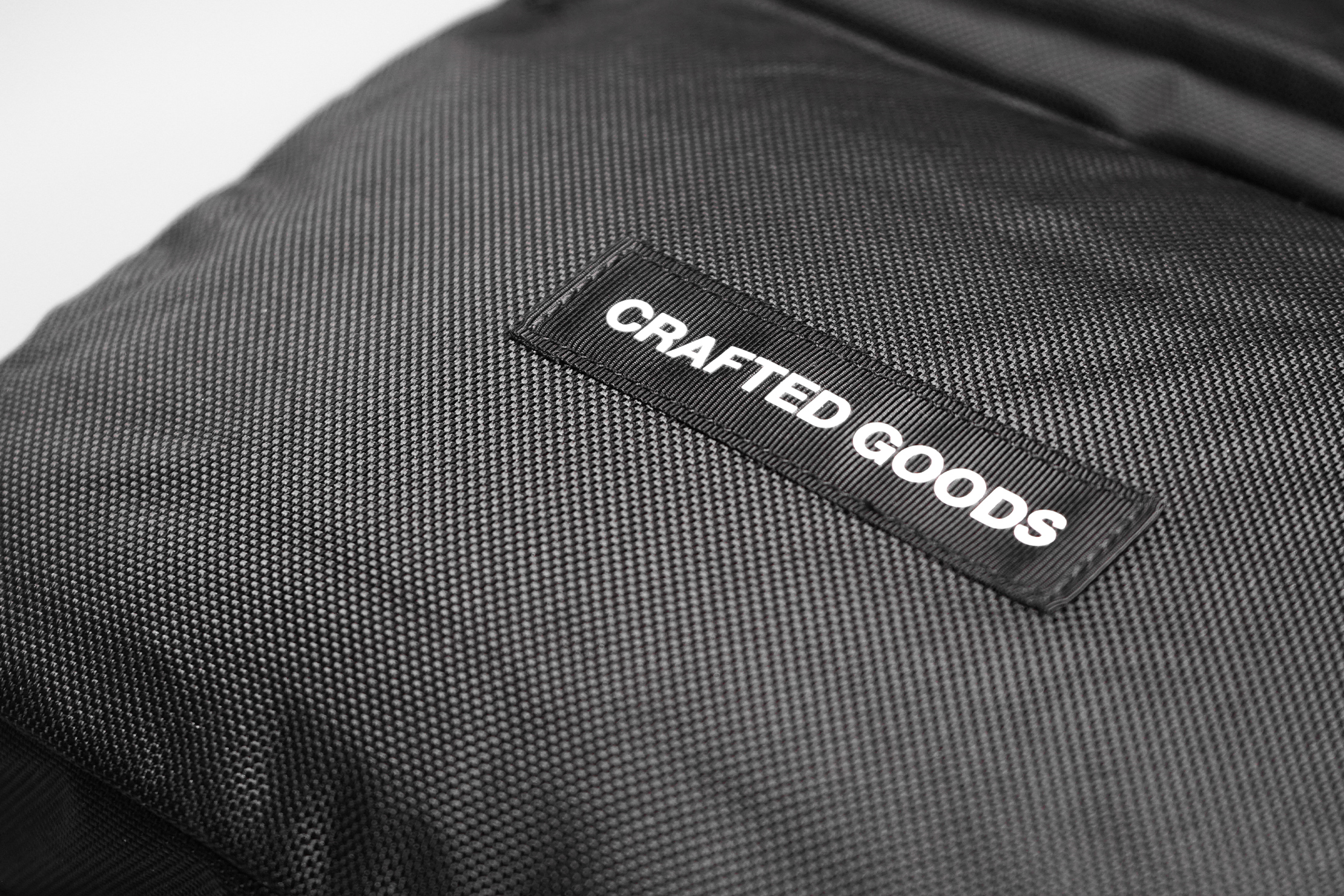 As for branding, you'll spot the Crafted Goods wordmark on a white-on-black tag on the front of the bag. There's also a ribbon you can attach to the side that displays the same Crafted Goods name. We've been digging how they add to the SIMPLON's urban aesthetic without drawing too much attention.
If you're wondering what this pack is made of, it features a 600D Ballistic nylon fabric that feels robust in hand and has held up nicely throughout testing. We also had a run-in with some sprinklers, and we're happy to report that all of our stuff inside remained dry, and the bag itself dried off pretty quickly. So, you'll be just fine should you also find yourself in some sprinkling weather.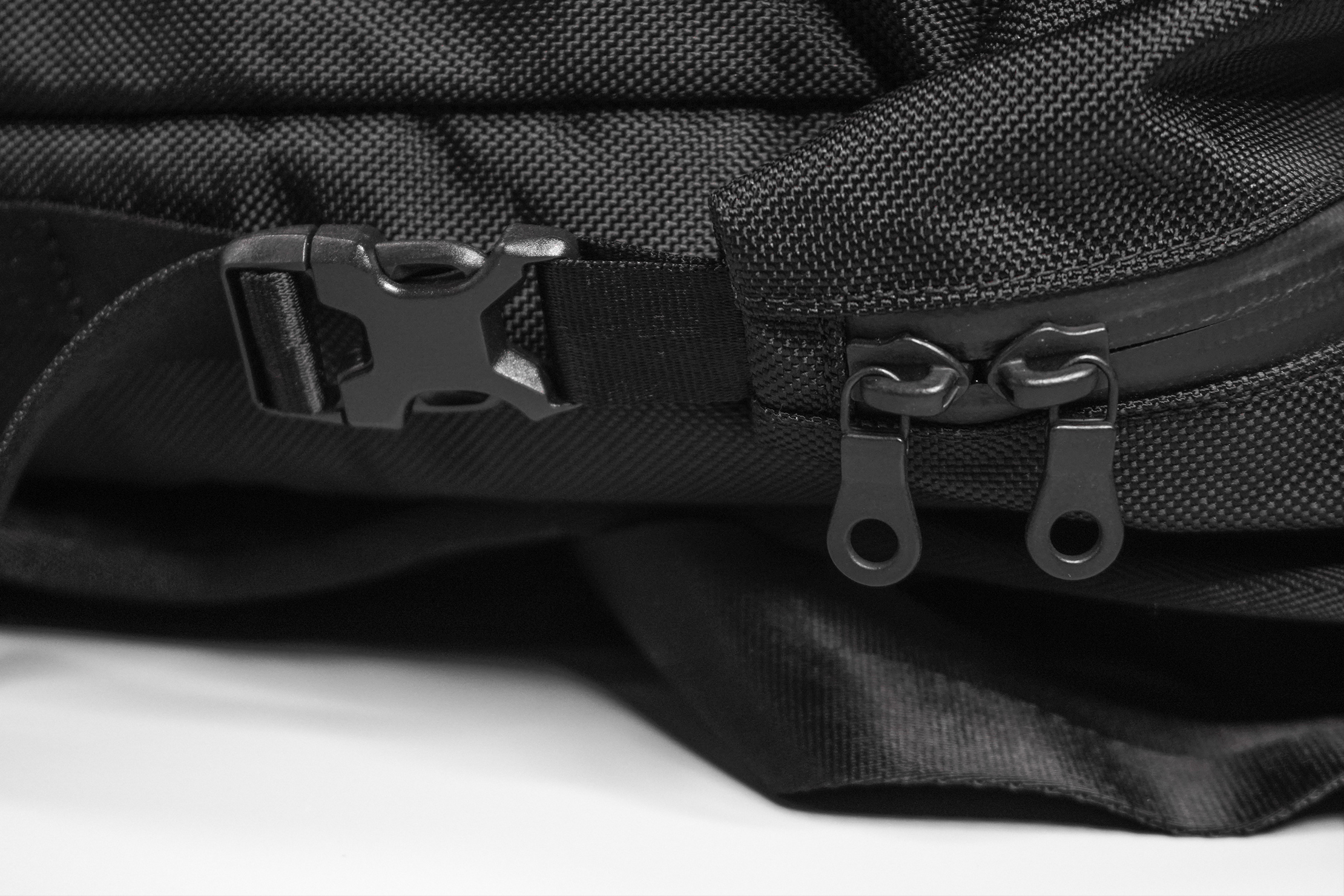 This bag is also equipped with YKK AquaGuard zippers that have done a great job so far of keeping water away from our gear. They have been a little sticky around the sharp corners of the front pockets, which is something to note, but have been nothing but smooth on the main compartment opening.
Last on the list for materials is the Duraflex hardware. All the buckles on this bag have been working properly, and we've been really impressed with how easy it is to maneuver the gatekeeper buckles that secure both sets of straps. We don't have any complaints in this department.
External Components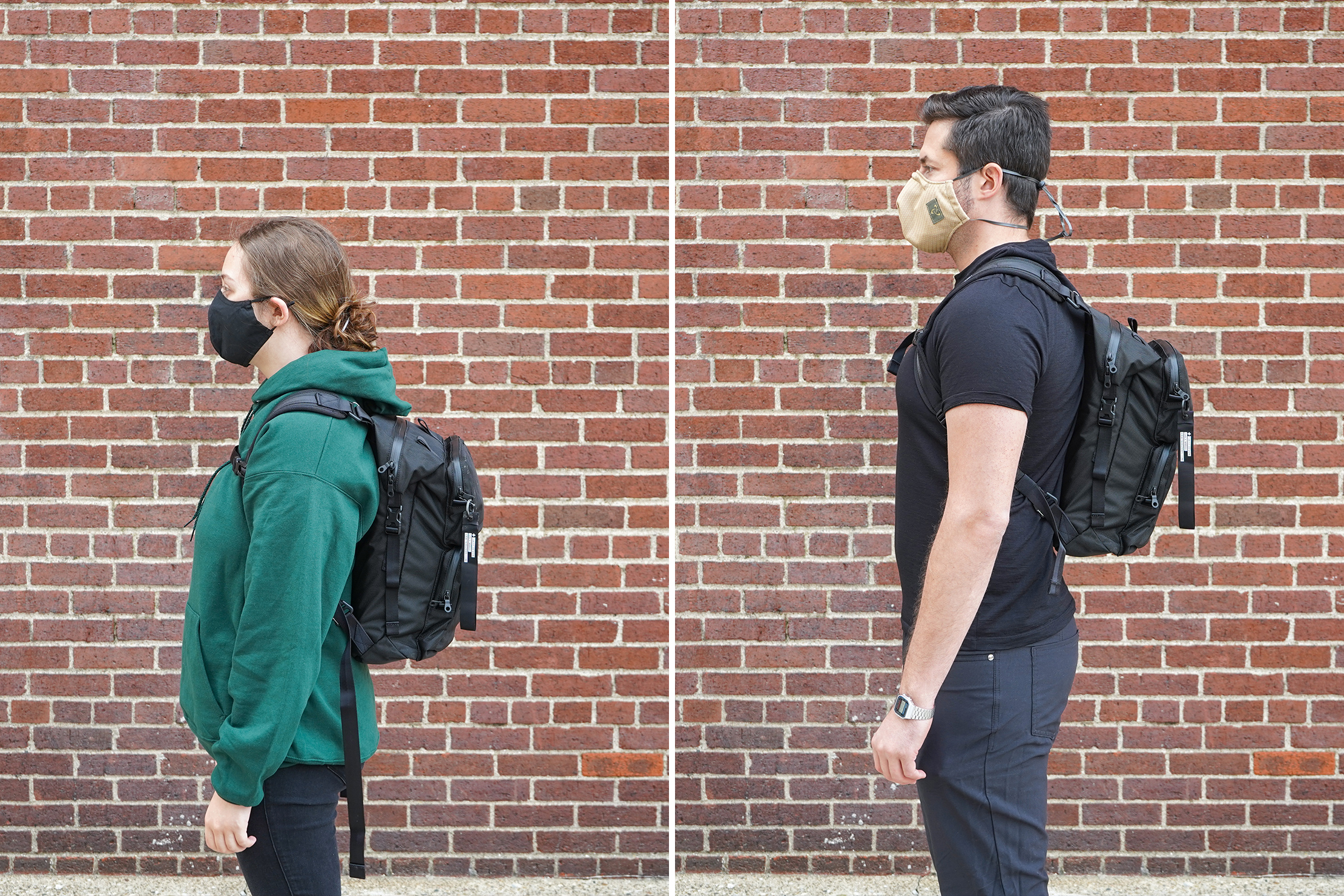 The SIMPLON 18L is advertised as a duffel bag-backpack hybrid, but it strikes us more as a tote with backpack capabilities. You can carry it by the two top handles or throw on the shoulder straps, both of which are removable, meaning you can swap these straps in and out with ease, depending on your use case.
First, we'll talk about this bag when it's in backpack-mode. The shoulder straps secure to attachment points at the top and bottom of the bag via plastic gatekeeper buckles, which we've had mixed experiences with in the past. However, we're happy to report that we've found the buckles on this pack to work well during real-world usage. They're painless to remove but have still stayed secure throughout testing.
The straps themselves aren't the most heavily-padded ones we've ever worn, but they do have a small amount of spongy padding to help cushion your shoulders. Our issue more lies in the ends of the strap, which can dig into the back of your shoulders when worn for longer periods of time. There's also no elastic keepers to prevent the excess strap from dangling, though we are fans of the smooth seat belt-like material the straps are made with.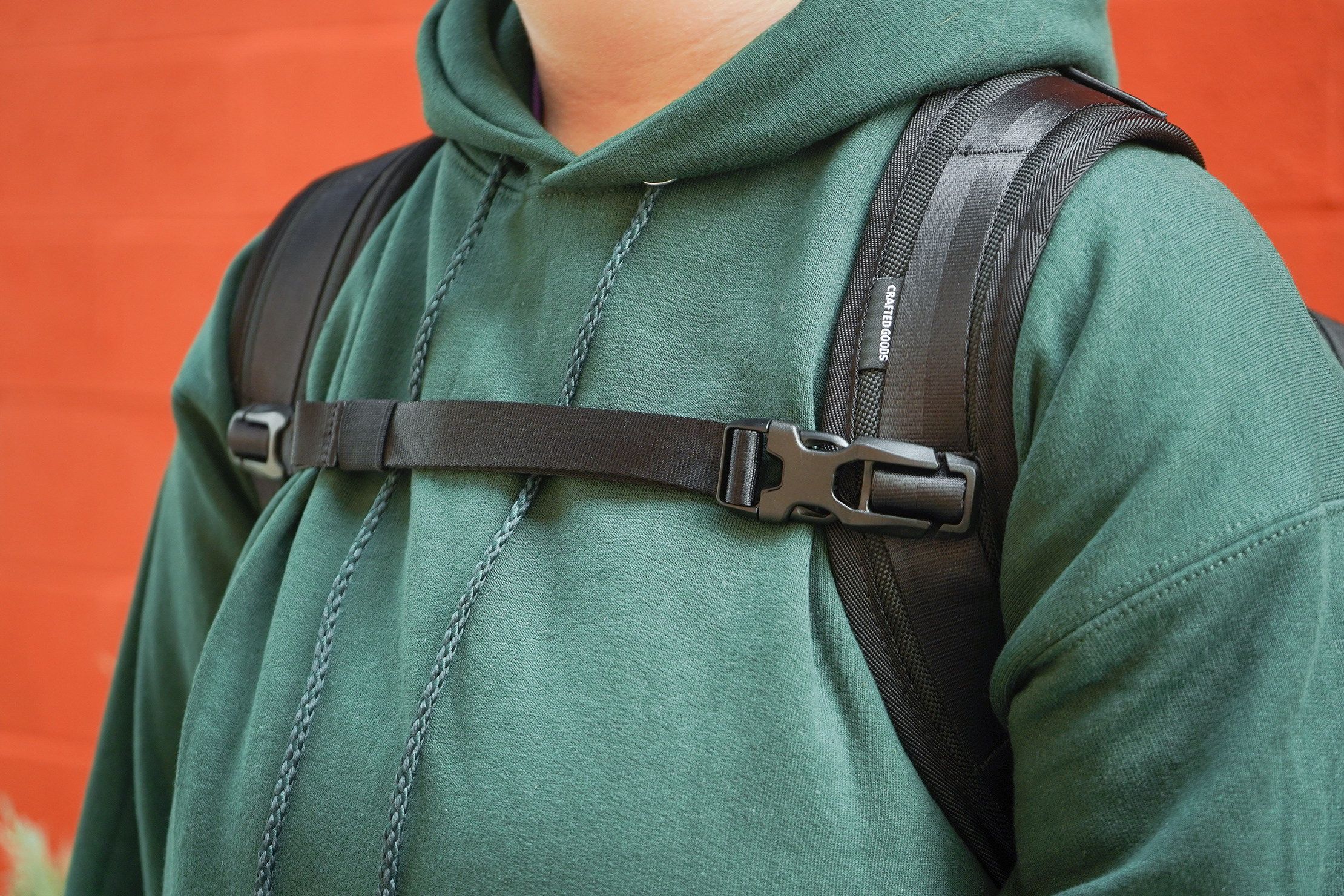 Next up, we have the sternum strap. It's made with the same smooth material as the shoulder straps but features an elastic keeper that secures the remaining strap flat against the chest. One note is that while this sternum strap is securely attached, it can be a hassle to adjust to different attachment points, as you have to feed the fabric through tiny slots in the hardware. Once you have it adjusted to where it's comfortable, though, this won't be as big of an issue.
The back panel doesn't have any mesh lining to keep you ventilated, so some back sweat is inevitable—more likely when you're out in hotter, humid climates when wearing this bag for longer periods. We've also been carrying our laptop inside, and it sits very close to this back panel, making it feel stiff when we're wearing the pack. Altogether, this mode of carry hasn't been the most comfortable, but it's nice to have the option to throw this thing on your back when you're tired of carrying it as a tote.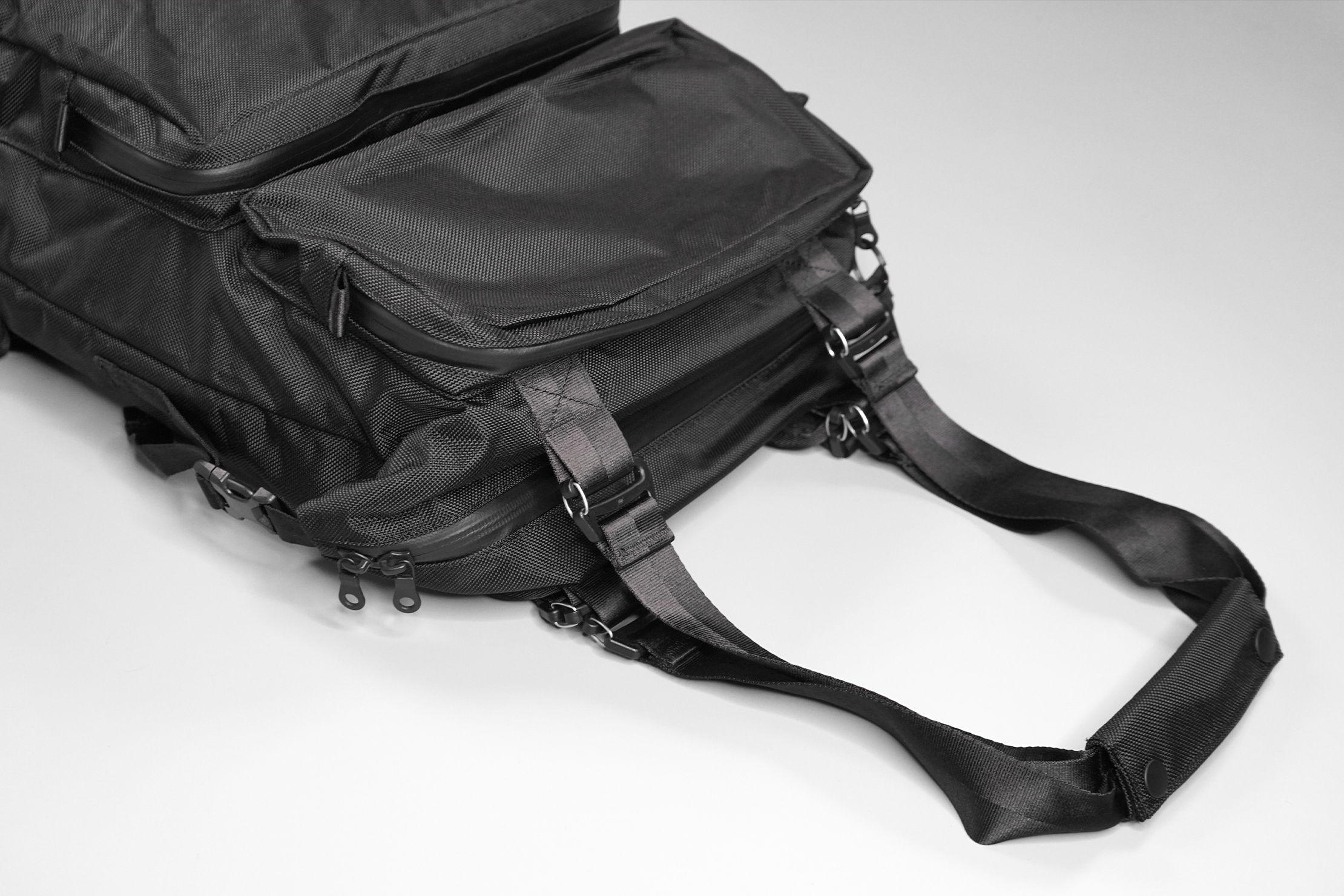 Speaking of totes, when you do want to carry the SIMPLON this way, you can do so by the long top handles. They're secured together by a fabric welt with snap fasteners, which makes them easy to grab and prevents that one rogue handle from slipping off of the shoulder. Like the shoulder straps, they can easily be attached and removed via gatekeeper buckles when you're switching in and out of tote-mode.
Also, like the shoulder straps, the fabric welt isn't that densely padded, so it's not comfortable for longer wears. However, you can sling this thing over one shoulder or carry it at your side if you're using it for something like a quick trip into the store, picking out some books, or even a short outing with friends for a more casual look.
You'll spot a compression strap on either side of this bag that you can let loose to pack this bag out as much as possible or cinch down for a more minimal look. These straps are vertical rather than horizontal, so when you do tighten them, they scrunch the top of the bag down. We're not huge fans of this look, so we've mostly been using them as handles to pick the bag up when we need to move it or get something out. Of course, your mileage may vary.
Inside The Pack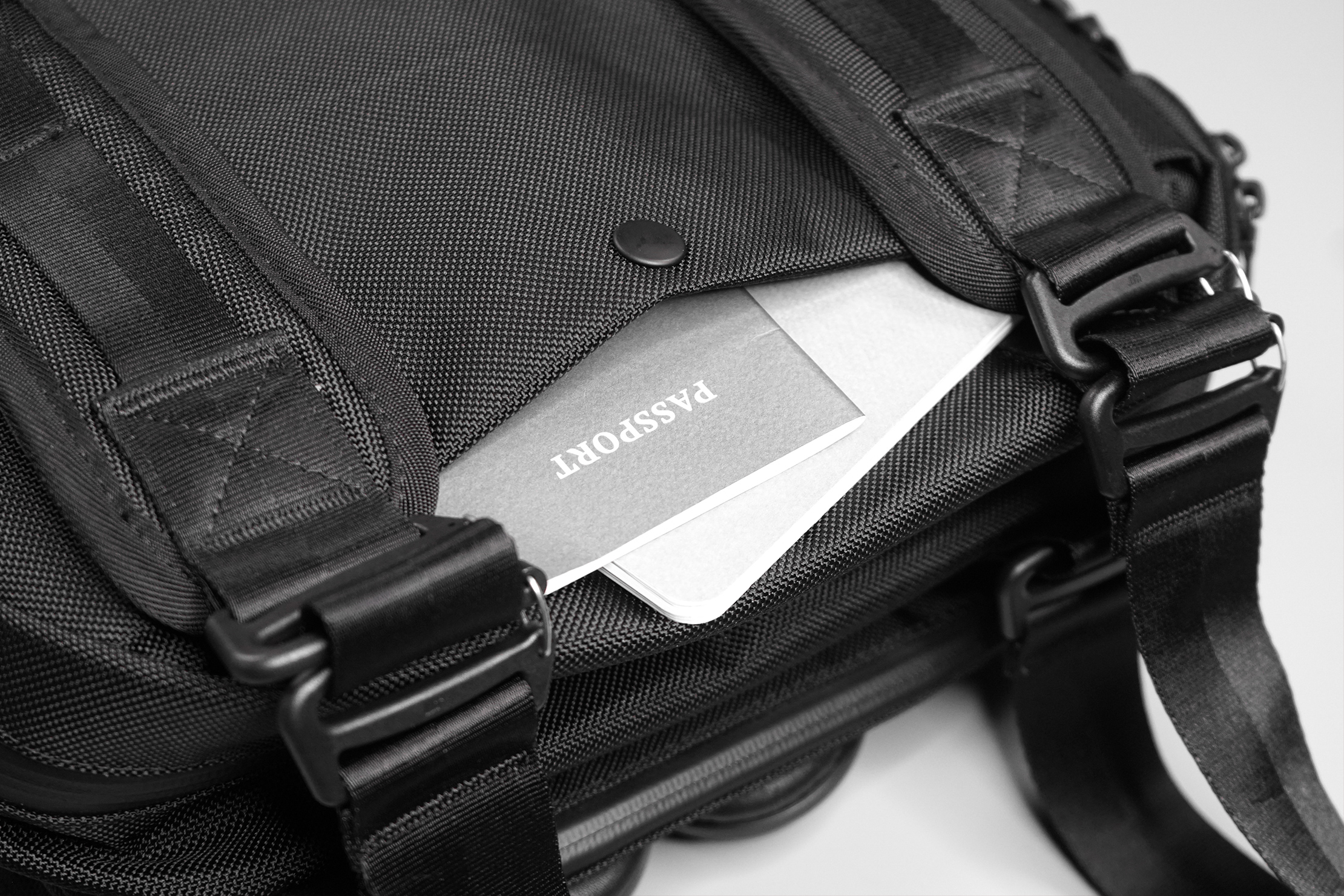 There are three pockets we need to get into before the main compartment, the first of which you'll find on the back of the bag. Because it takes up almost the entire back panel, flatter items work best—documents, notebooks, a minimal wallet, and the like—as anything too bulky can stick into your back. Also, keep in mind that this pocket only secures with a snap fastener, so there are gaps where water can slip in, which is something to note if you do have papers back there.
Flipping back to the front, there are two more pockets you can use to compartmentalize your stuff. Inside the top pocket, you have three liner pockets with some elastic that offers flexibility for larger items. We've been able to keep a laptop charger and power block in the largest of the three pockets with room to spare, while we've been stashing a notebook and an extra cable in the smaller ones.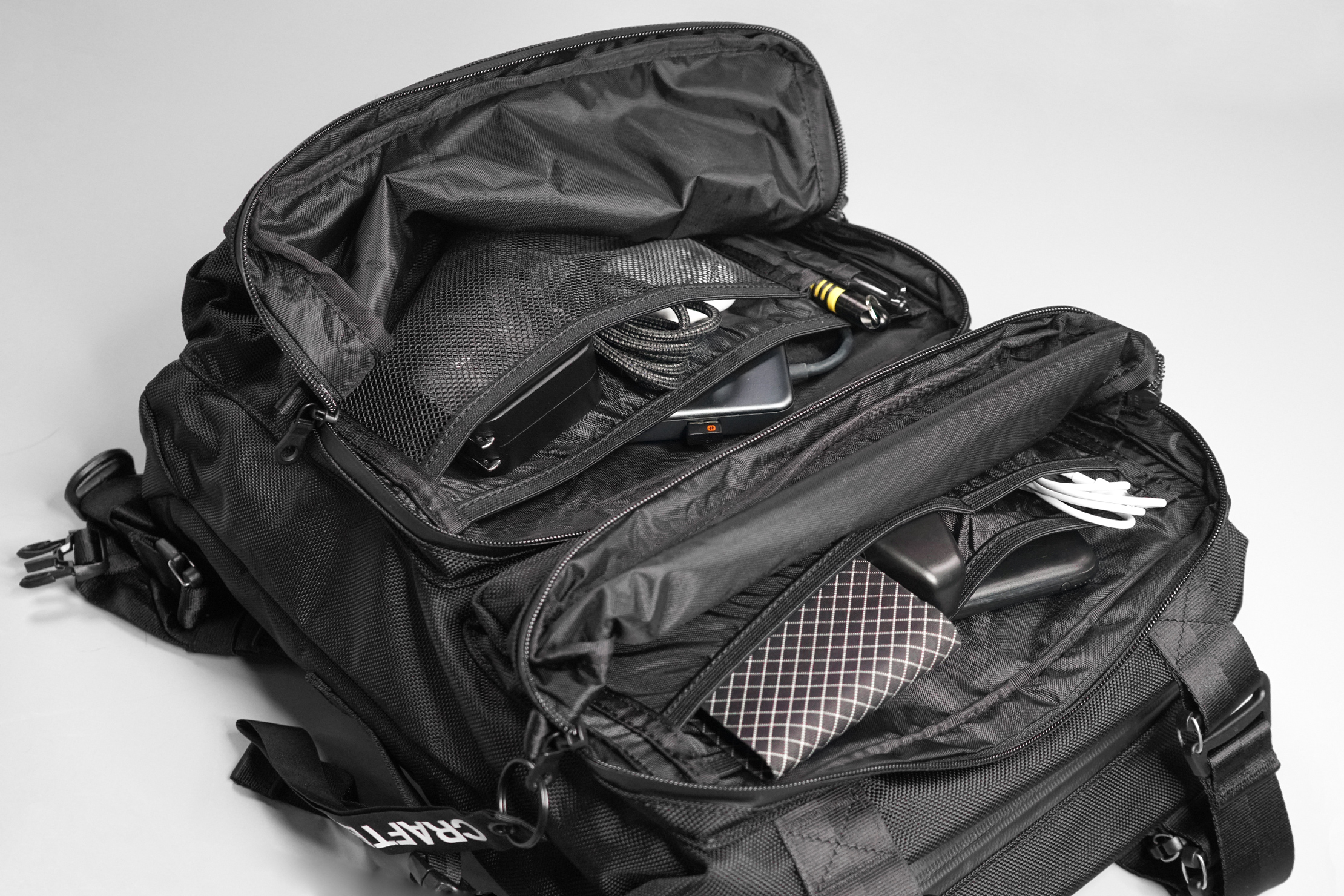 This pocket has a lot of dimension to it, so you can pack out the remaining free space without worrying about it affecting the main compartment. Keeping frequently-used items like your phone, keys, and wallet is your best bet here, as they'll be easy to grab when you need them.
The pocket below this one also has a lot of space and is slightly larger than the one above it. We've been stashing the remainder of our tech accessories in this pocket's mesh pouch. It doesn't feel like the most luxurious mesh in hand, and it's not super stretchy, but it still does a fine job of holding cables, dongles, and whatever else you have with you. Next to it are two pen sleeves for jotting down notes on the fly as well, which we've been taking advantage of.
Behind the mesh pouch is a sleeve that we've found to be an excellent spot for our Rite in the Rain Outdoor Journal (Large) or another notebook of a similar size. The rest of the pocket is free space to fill with whatever the heart desires—in our case, that's meant the Matador Pocket Blanket 2.0 for all of our impromptu picnic needs.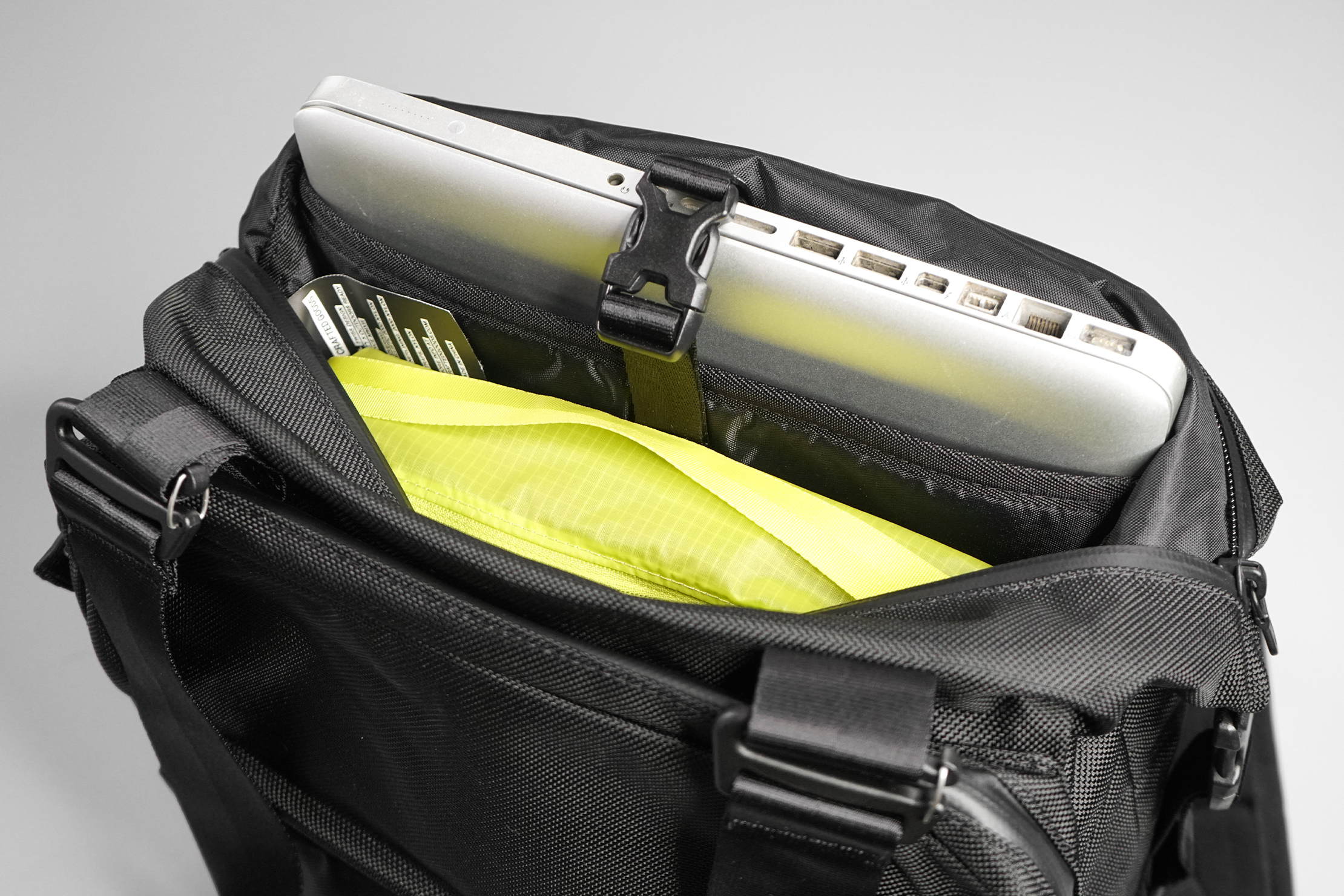 Now, finally, we can get into the main compartment! When the handles are secured, they sit directly over the zipper, which can slow down your access. So, if you plan on frequently going in and out, we recommend just letting them hang loose or removing them altogether.
The one duffel-like aspect of this pack is the main compartment's lack of organization. You do have two liner pockets to use for anything that didn't work in the front pockets, but otherwise, it's essentially one big dump pocket.
While it keeps a pretty slim profile on the outside, you can pack it out with quite a bit of gear. Integrating pouches or packing cubes, or maybe even a combination of the two will supplement the lack of segmentation. They'll also make your gear easier to spot, as the dark liner inside this compartment can make things hard to find.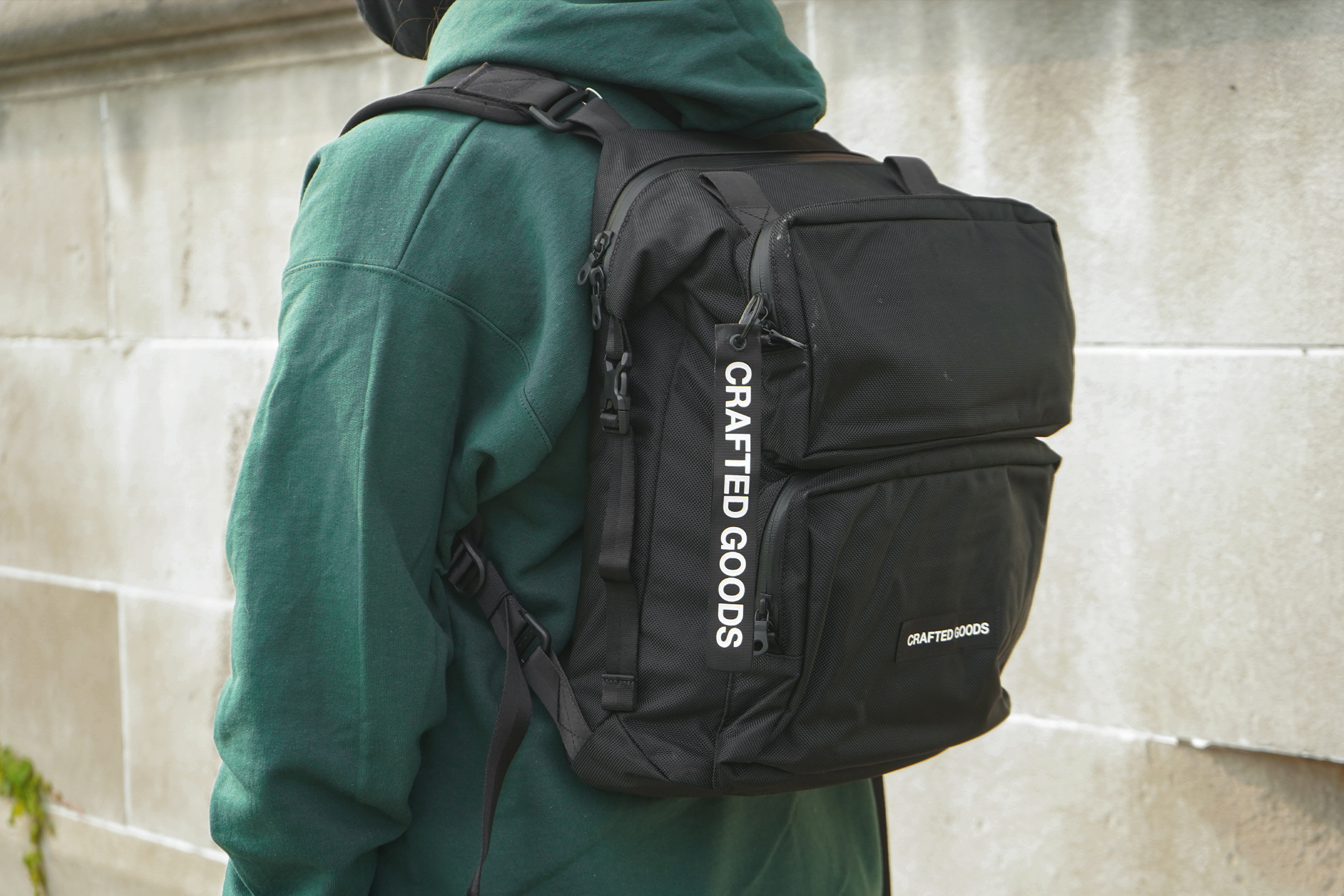 The SIMPLON 18L is a great size for carrying the daily basics plus a little extra. You have plenty of room to throw in a lunchbox, an extra change of clothes, a water bottle (as there's no place to store it on the outside), and other everyday essentials.
You also have a sleeve where you can slip up to a 15″ laptop that secures with a buckle to keep it from bobbing in and out of place. This sleeve does have a false bottom but a slight one, so we recommend keeping your tech in a protective case to shield it against any jostling around or accidental drops.
Usage Timeline
Initial Usage
Condition: Excellent
Can be carried as a backpack or tote and both sets of straps are removable
Two front compartments are like having two tech pouches attached to the front
Durable materials and construction
2 Weeks of Use
Condition: Excellent
We've done most of our testing in backpack-mode, and have found the straps can dig into the back of our shoulders after awhile
You can really pack out the front two pockets and not have to worry about taking away space from the main compartment
The waterproof YKK zippers have done a nice job of keeping our gear dry but are a little sticky around corners
Access the Pro Community Discussion
Get your questions about the Crafted Goods SIMPLON 18L answered from our team and the Pro Community right here on the page. Plus, join discussions with other members about gear, guides, and more.
Other Bags & Luggage Reviews