Cotopaxi Coso 2L Hip Pack (Cada Dia) Review
The Cotopaxi's Coso 2L Hip Pack's (Cada Día) size is both its biggest strength and biggest weakness—it's spacious but can feel imposing on smaller frames.
Our Verdict
Unlock the Pro Summary
Save time. Get access to brief summaries of our reviews so you can browse and make decisions more efficiently.
Pros
Spacious enough to accommodate even an 18-ounce bottle
Seamlessly integrated compression and harness system
Front pocket is convenient for quick stashes
Cons
A bit lacking in organization relative to its size
Strap can obstruct the zippers
Main compartment's zippers are difficult to access sometimes
Recent Pack Hacker Video
Technical Details
100 %
Carry-on Compliance
Capacity

2l

Weight (oz)

10 oz (283.5 g)

Denier

630D

Dimensions

7 in x 11 in x 3 in (17.8 x 27.9 x 7.6 cm)

Notable Materials

Recycled Nylon, Polyurethane, YKK Zippers, Duraflex Hardware, Woojin Hardware

Manufacturing Country

Philippines

Warranty Information
Full Review
Two liters may not seem all that much, but the Cotopaxi Coso 2L Hip Pack's size surely feels like a lot. Its largeness and 840-denier front fabric make it a somewhat imposing waist pack on smaller frames, completely unexpected given the friendliness of its colorful appearance. On the flip side, it also means it has the space to accommodate even bulky gear that would otherwise stump smaller slings and waist packs.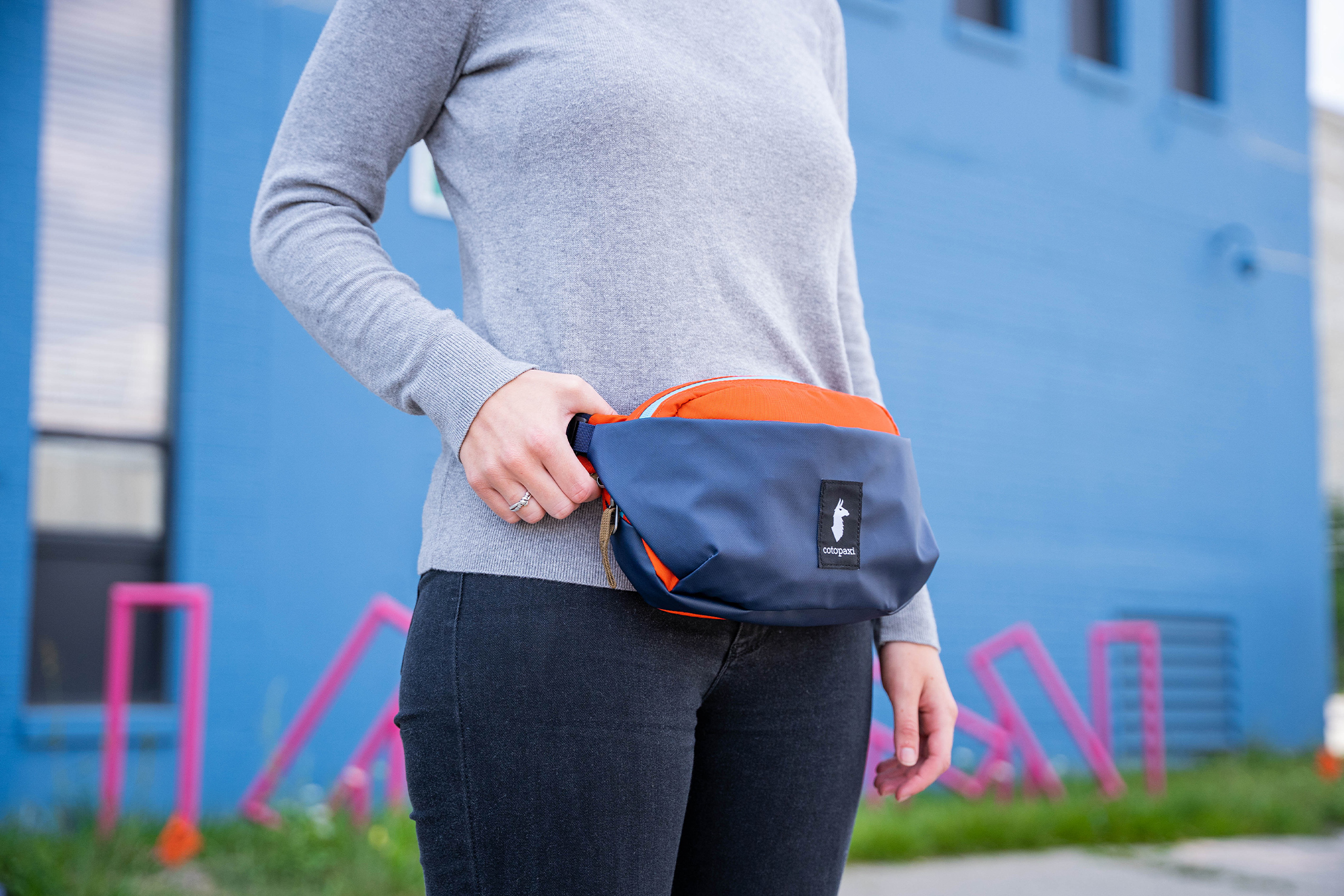 You know it's getting a bit serious when waist packs come with a compression system, which the Coso has. It's integrated seamlessly into the bag's design, extending from its front fabric to its strap. Accessibility is a bit tricky, however, since it can sit at a steep angle in sling mode, and the zippers can go past the strap where it's obstructed. It's certainly waist pack with lots of nuances, and that's why we're here. So let's get on with the review!
External Components
Forget the Coso's colorful design element for just a moment, and you begin to realize that it's a rather modest-looking sling. There are no excess hardware or attachment points littered around the exterior. The only landmark here is the Cotopaxi logo, which sits front and center but in a tasteful way.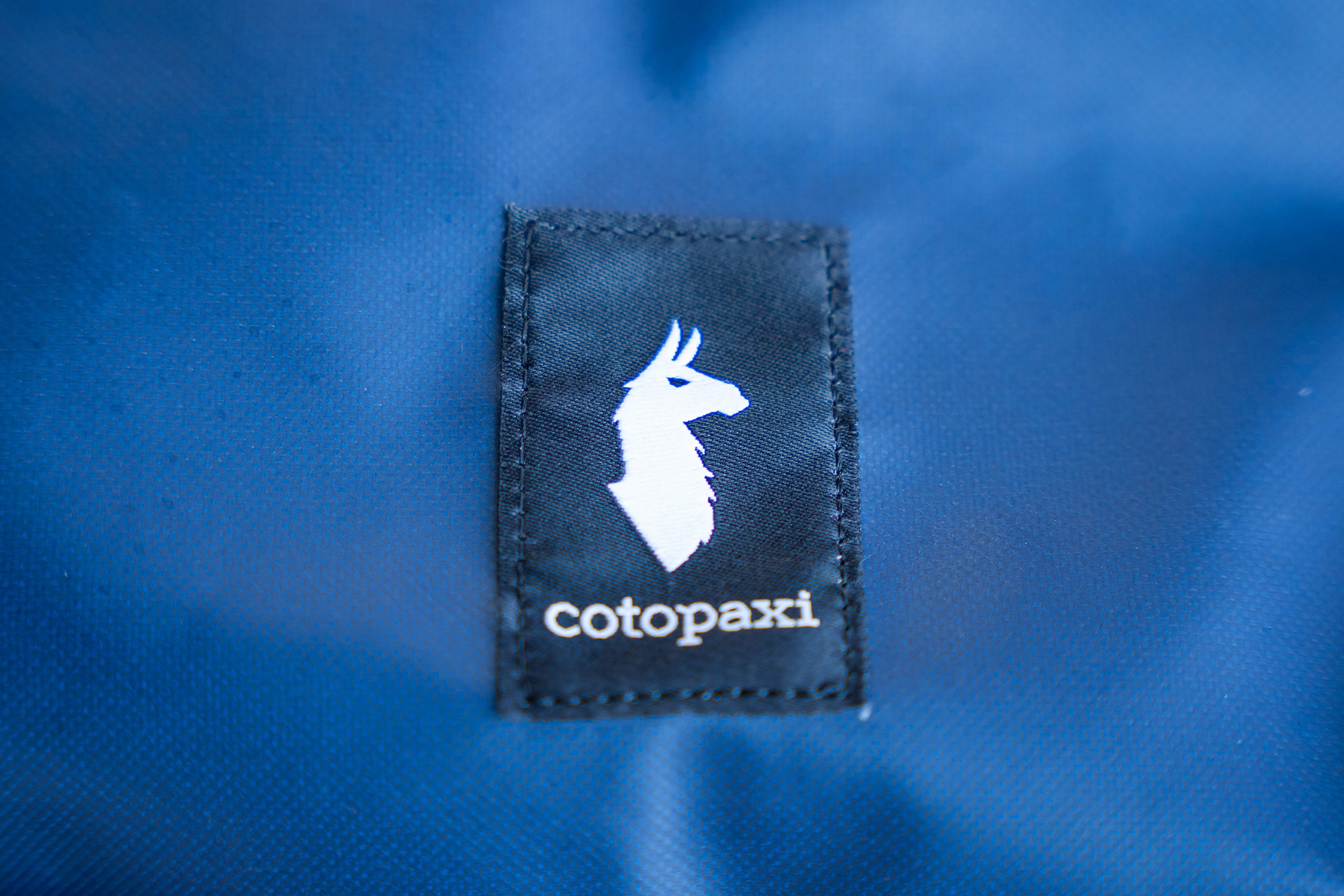 Okay, now put the blue and orange color scheme back into the equation because we have to talk about the fabric. This is arguably a large part of the draw for Cotopaxi's gear, especially within the Cada Día lineup. The defining part is the use of 840-denier TPU-coated nylon and 630-denier nylon, both of which are recycled and environmentally friendly.
In the case of the Maritime/Canyon colorway sample we have, the blue part is the 840D fabric, while the orange part is the 630D fabric. The swishy finish of the former hints at its weather resistance thanks to its TPU coating. It also gives the Coso a fair amount of structure, in addition to forming this shield-like facade that neatly wraps around the softer orange interior.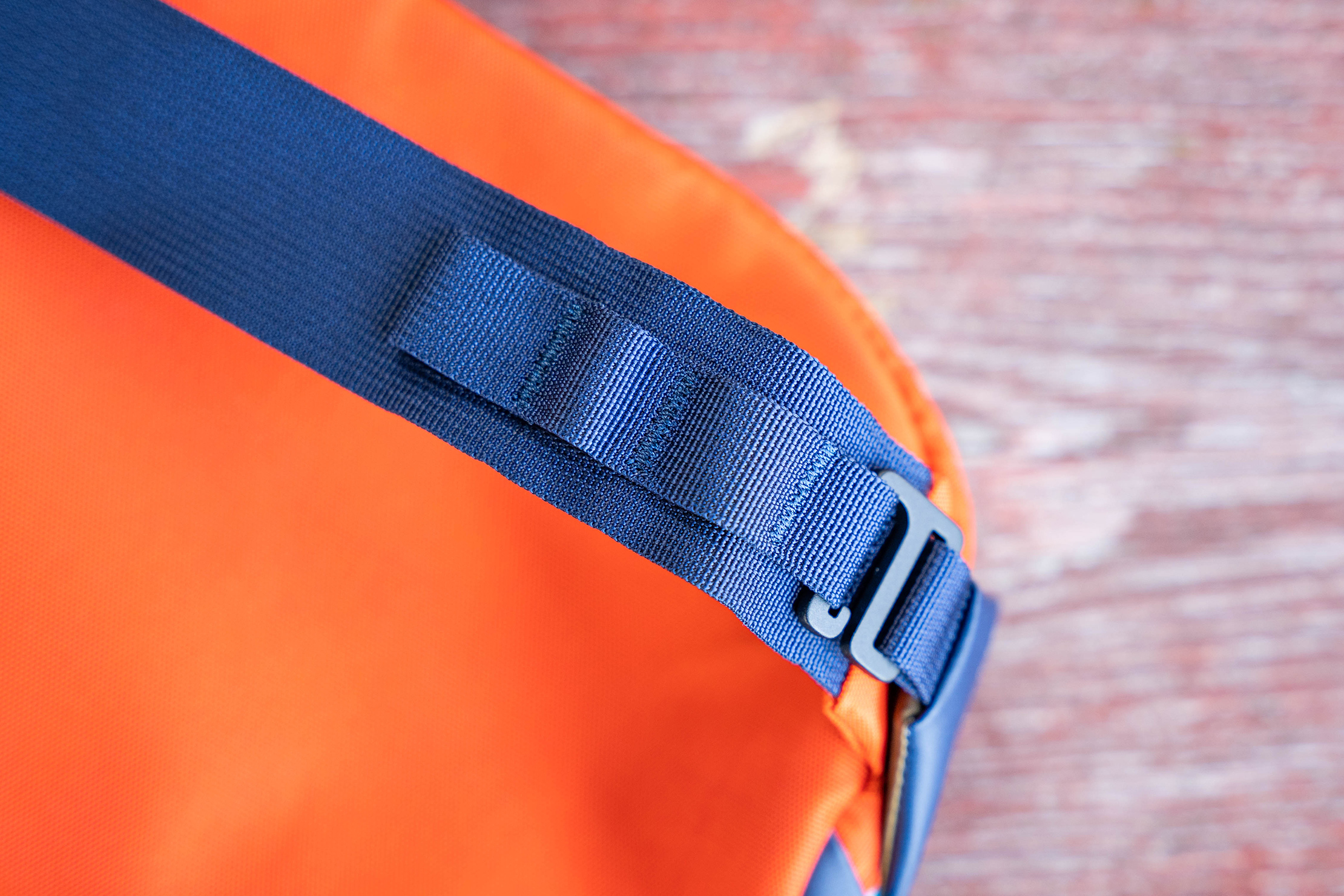 The wrap-around style of the front fabric isn't solely for styling's sake, either. The Coso's strap is attached to wingtips that each have a set of loops. In turn, the front fabric's edges hook into these loops to compress the entire sling. Overall, it's a neat and clever way to implement a compression system that doesn't involve extra straps that dangle and mess up the looks.
As for the strap itself, it's simple, made of nylon, non-removable, and features a relatively large buckle in the middle. There's enough width to distribute weight comfortably and prevent it from digging in. Length adjustments can be made from both sides of the buckle, meaning you have some flexibility as to which side you can bring it closer to. For us, though, having the buckle in the middle is the most optimal.
The strap's slack does dangle, but fortunately, there are strap keepers to keep those in check. As eye-catching as the Coso is already, we don't want the looks spoiled by a few dangling parts.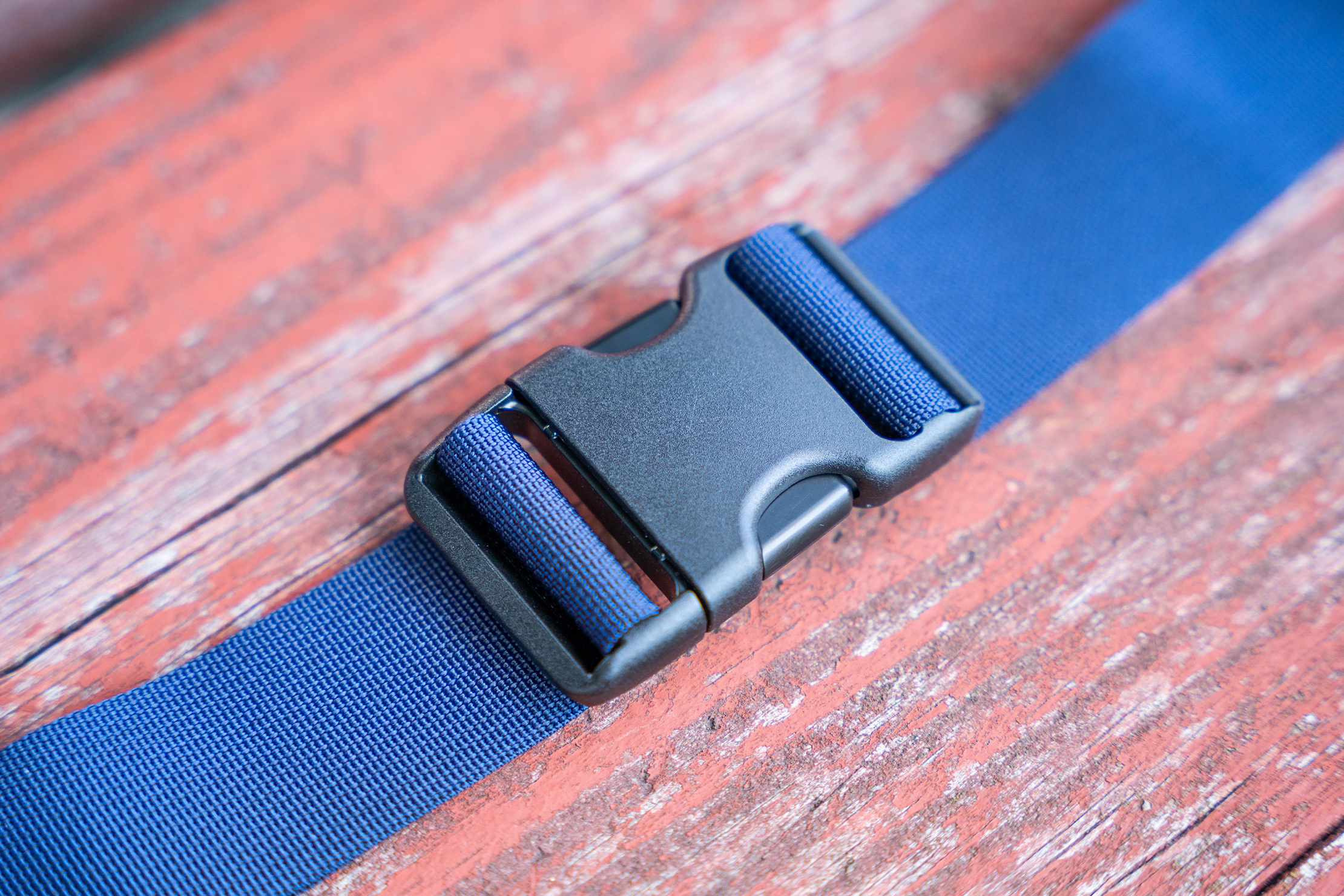 Lastly, while there may be no visual indicator that the Coso has a back panel, some padding gives it rigidity there. It's a shame that there's no mesh material to help with the breathability, but in all honesty, it's not that necessary.
Fit Notes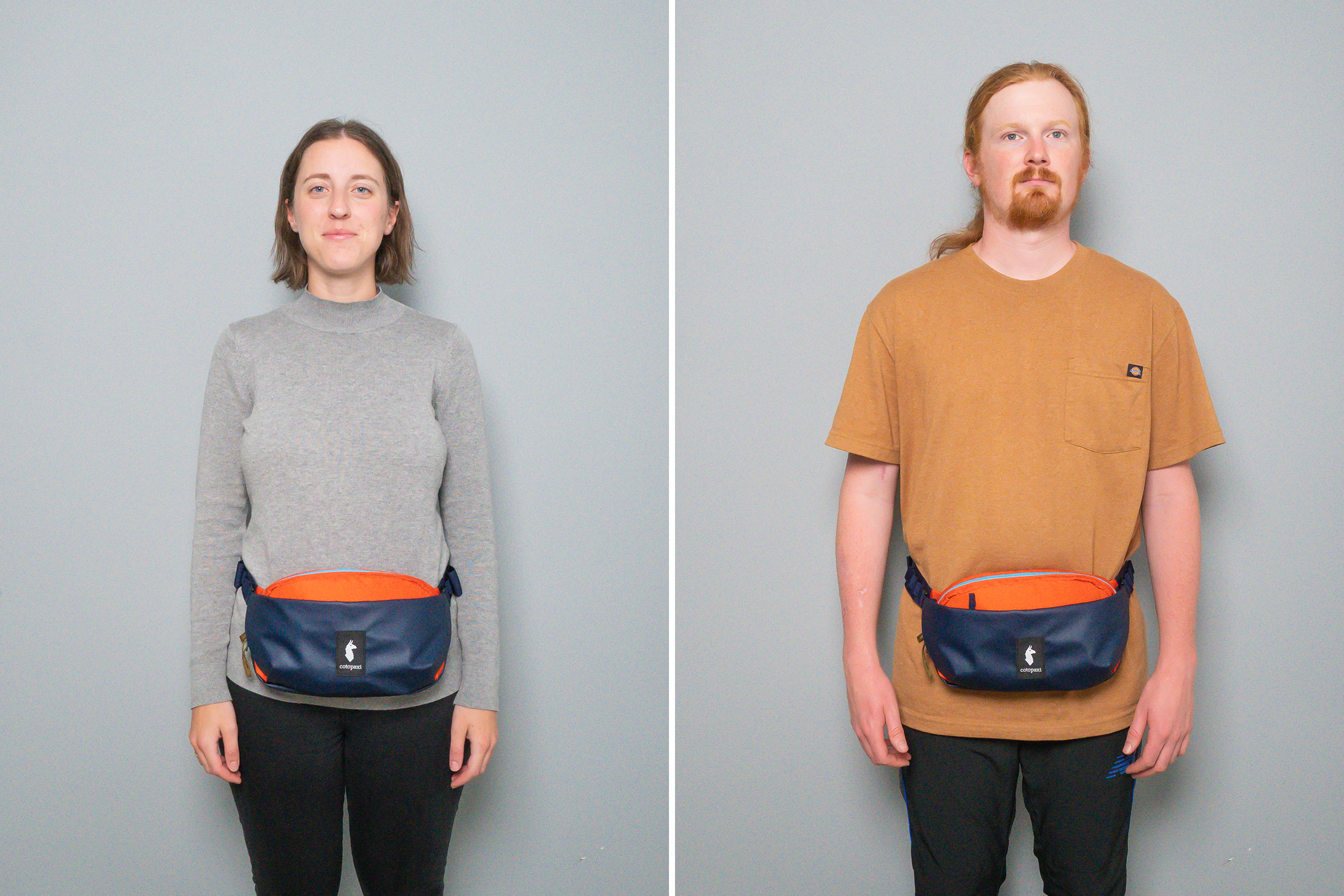 There's really no escaping Cotopaxi's colorful designs, so it wouldn't be fair to knock off points for visual flare. If you're into less conspicuous designs, you'll have to look elsewhere. For those who want to blend in very festive locales where the sun never seems to set, the Coso is the way to go.
In waist pack mode, the Coso wears comfortably—not surprising given that Cotopaxi designed it primarily as one. Despite the simple harness system, the strap copes with the weight competently. If there's any issue, it's with the Coso's size itself. It feels a bit too big on smaller frames, leading to a somewhat clunky feel as you walk along.

We'd also like to point out that since the strap has a fairly large amount of adjustment, we got a ton of extra slack once we had the length dialed in. This more or less makes using the strap keepers a must. Otherwise, we'd be walking around with a handful of inches of strap dangling at the back.
The Coso fares better as a crossbody sling than a hip pack due to its size, but it still feels large to wear at the front. However, the bigger issue with using the Coso in sling mode is in regards to ergonomics. With it mounted at the front, it sits at a steep angle that makes accessing gear inside rather tricky. It also doesn't help that the strap obstructs the zippers. A looser adjustment can help so that it sits lower, but then you're also trading in some comfort.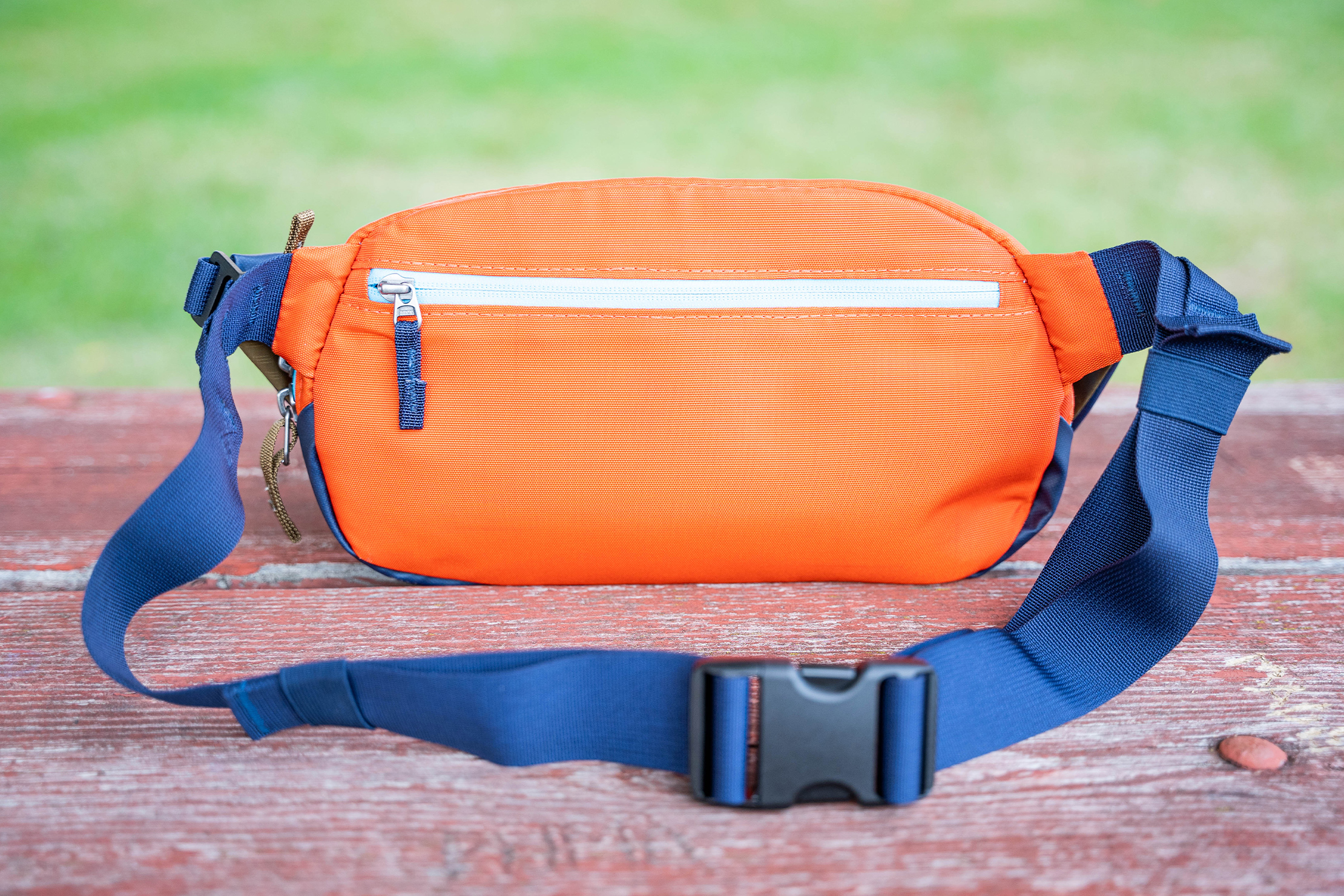 Overall, the Coso's size makes it tricky to recommend to users with small frames. Those with larger frames may find it more comfortable to wear, and if you're willing to play around with the strap's length, problems with accessibility may also be overcome with a minimal tradeoff in comfort.
Inside The Waist Pack
We'll circle back to the Coso's front fabric once more because it serves another major function. It's also a stash pocket and a rather large one at that. In fact, this stash pocket is primarily the reason for the Coso having a compression system in the first place.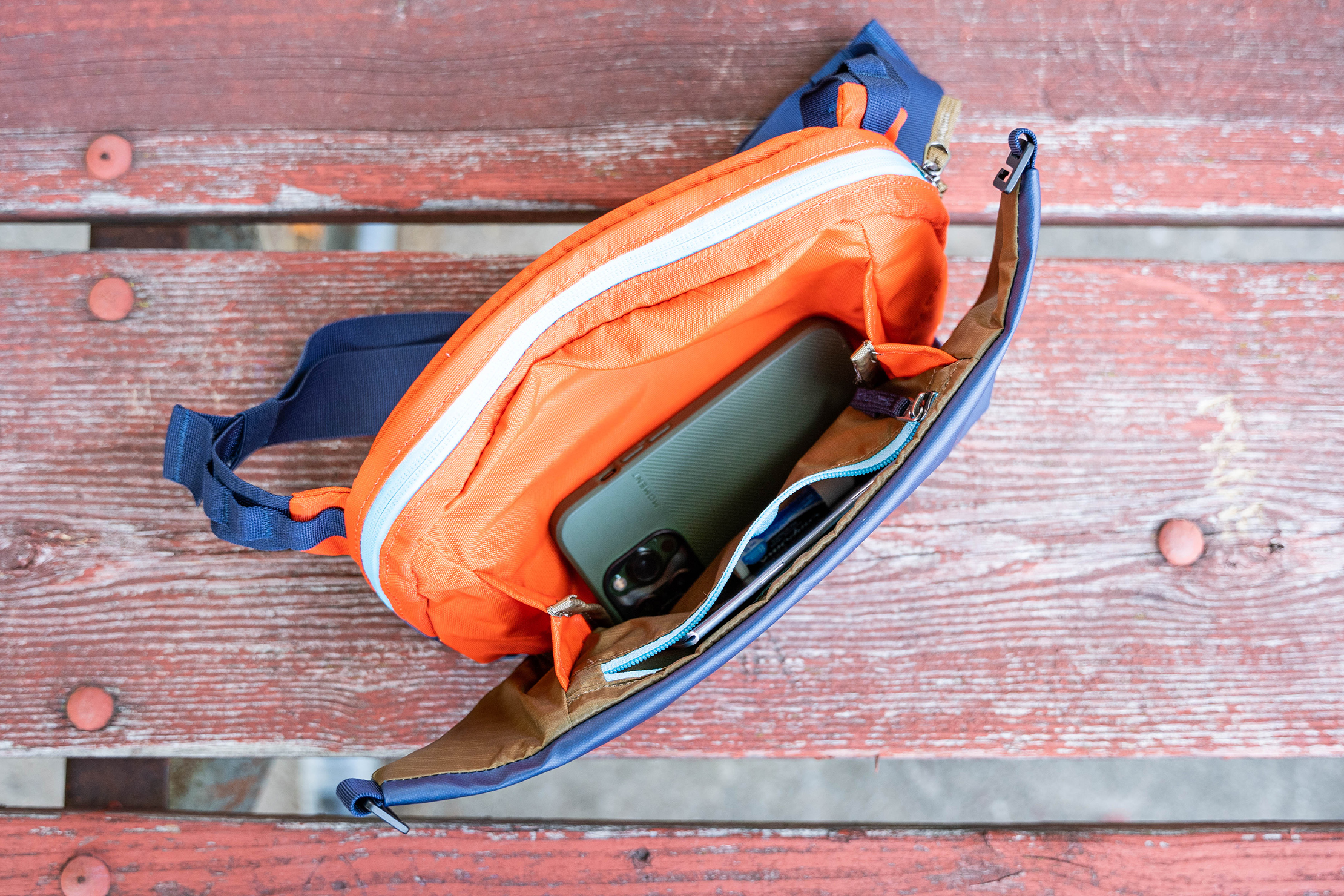 There are gussets along the sides of the pocket, giving it a huge amount of expansion. Consequently, it's also quite open and roomy, making it less than ideal for small accessories that may fall out. As a quick stash spot for an iPhone 13, though, it works wonderfully, especially when we're busy carrying multiple things during trips. If you do have smaller gear, however, there is still a small zippered pocket on the front side of the fabric.
Next up, we have the back pocket. Like other slings with a back pocket, space is mostly limited to flat items. Because it's also located at the back, it's the Coso's de facto security pocket, perfect for important items like travel documents and money. Since the back panel does have a bit of foam padding for reinforcement, items inside don't jut out and affect comfort unless they're super bulky.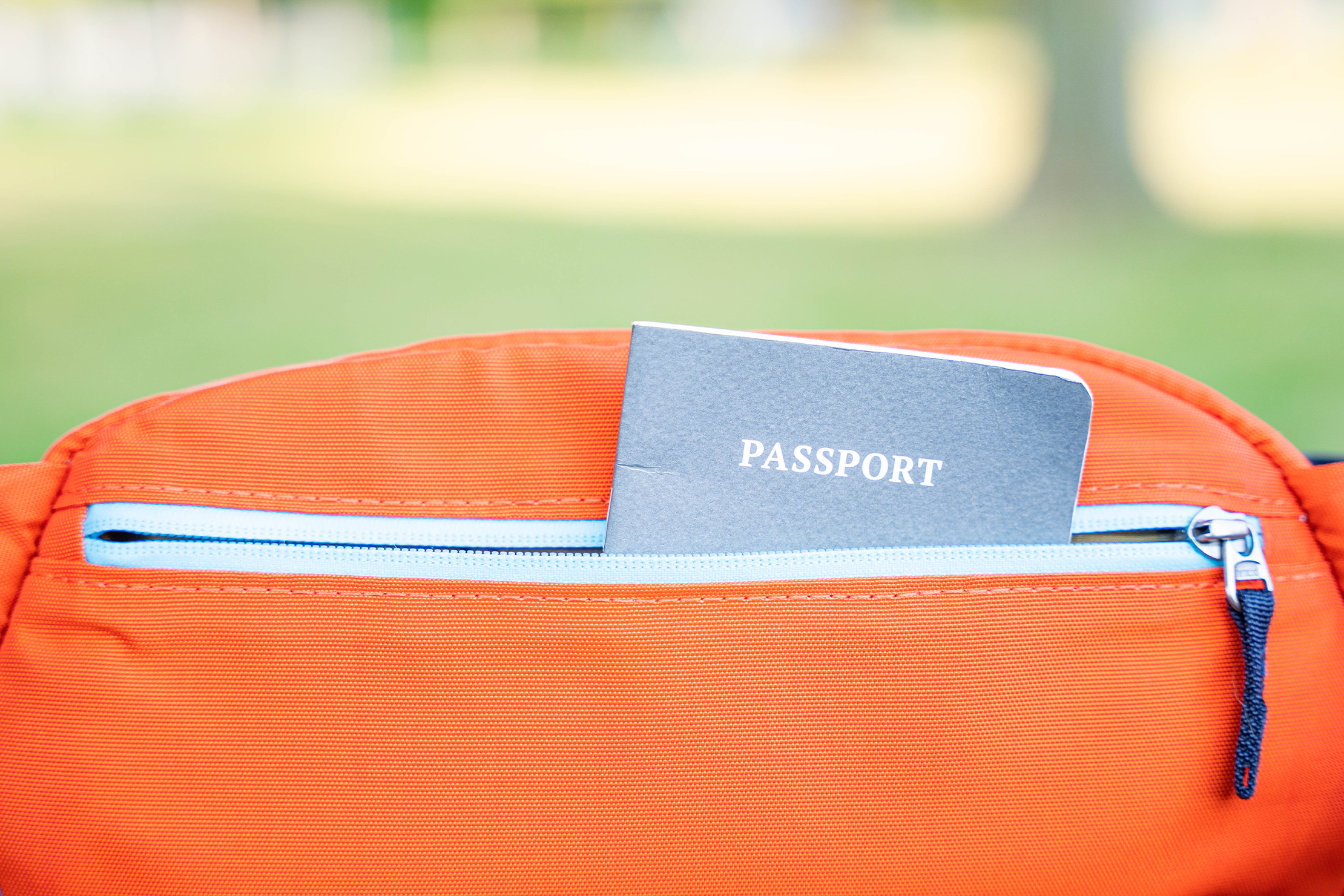 The main compartment's zippers go about halfway down the sides. As mentioned earlier, this means they're obstructed by the Coso's strap. This adds to the bag's accessibility woes, so we recommend keeping both zippers along the top. On the other hand, having them obstructed does mean they're also relatively secure from would-be pickpockets.
As an aside, we found some sticky residue along the reverse coil zipper's track. We're not quite sure if it manifested from the track itself or if something spilled onto it. It was there when we first got the Coso, so it seems like a manufacturing defect more than anything, but it's still worth noting. Either way, it's a residue that's not easily wiped off and is still here at the time of writing.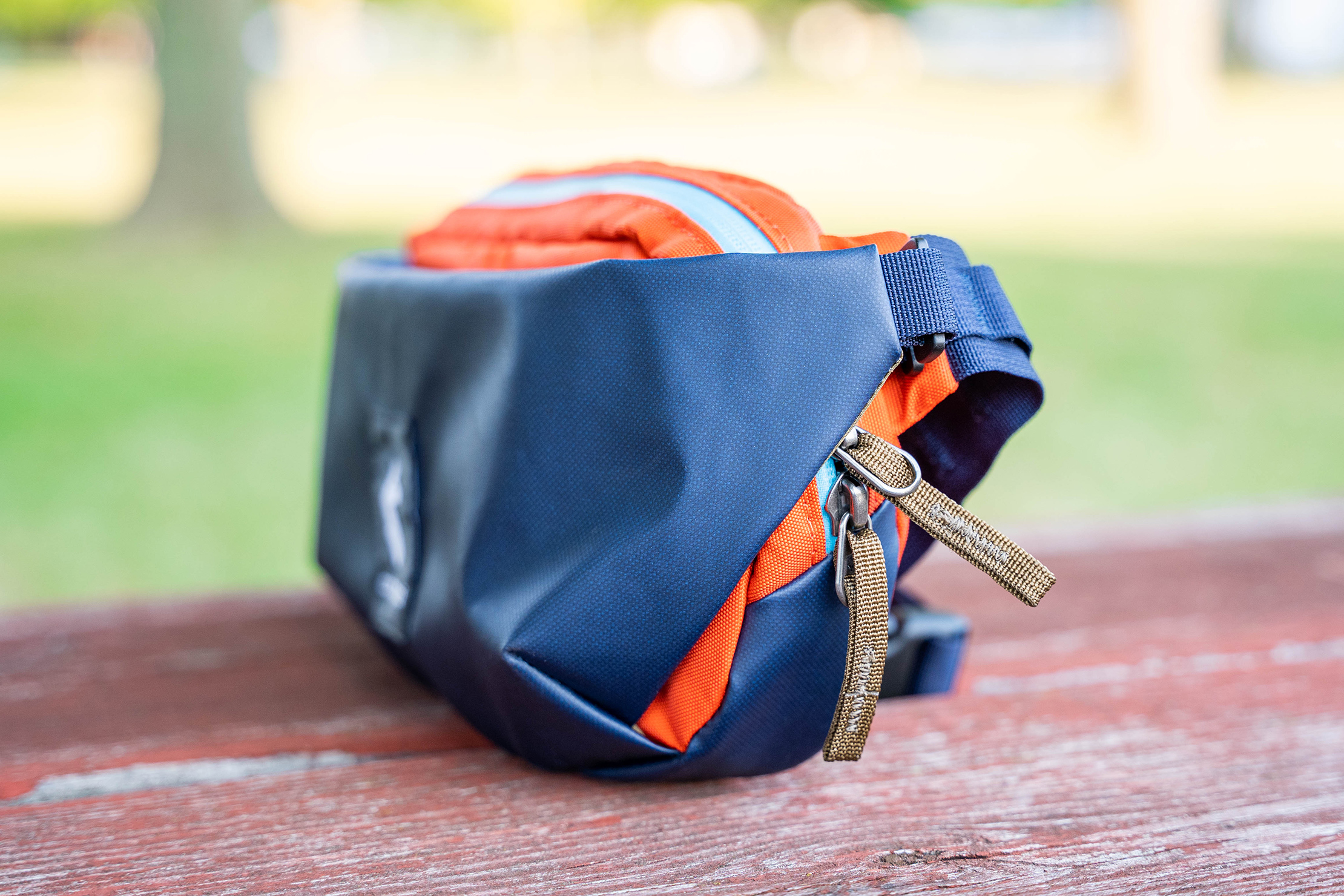 Another reason—actually the main reason—why you would want the Coso's zippers to go all the way down the sides is to maximize the opening. It's a very wide opening once you have it fully unzipped, and combined with the colorway's bright interior liner, visibility is very good.
The main compartment's interior is fairly open, without too much compartmentalization to get in the way. At the back is a phone pouch. But since we're already fond of using the front stash pocket for an iPhone 13, this pouch becomes a sunglasses pocket instead since it comes with soft liner anyway.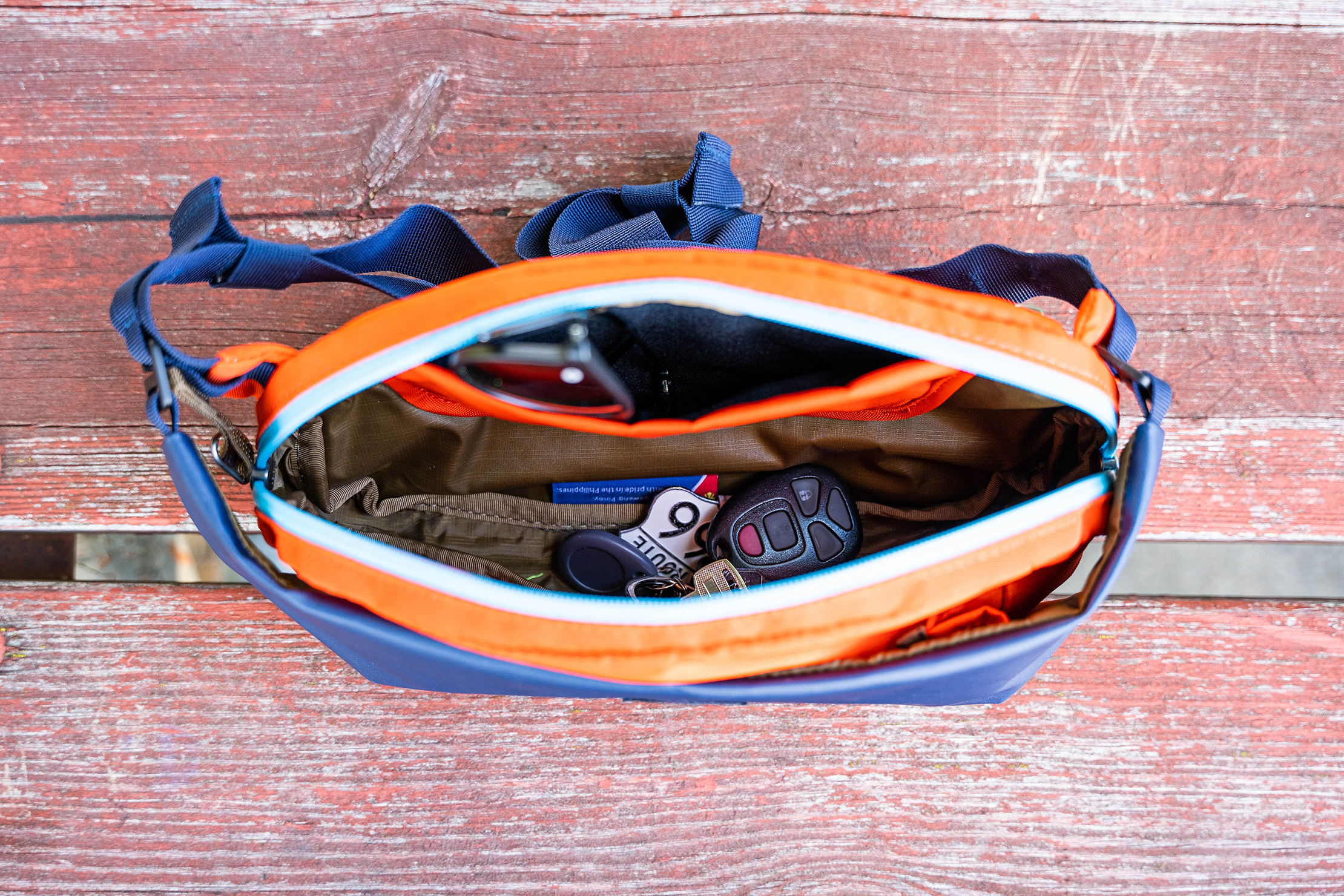 At the front side of the compartment is a built-in key leash. It's short, which sounds like a bad thing, but not really. It keeps a set of keys just above the rest of the gear and prevents them from getting lost in the mix.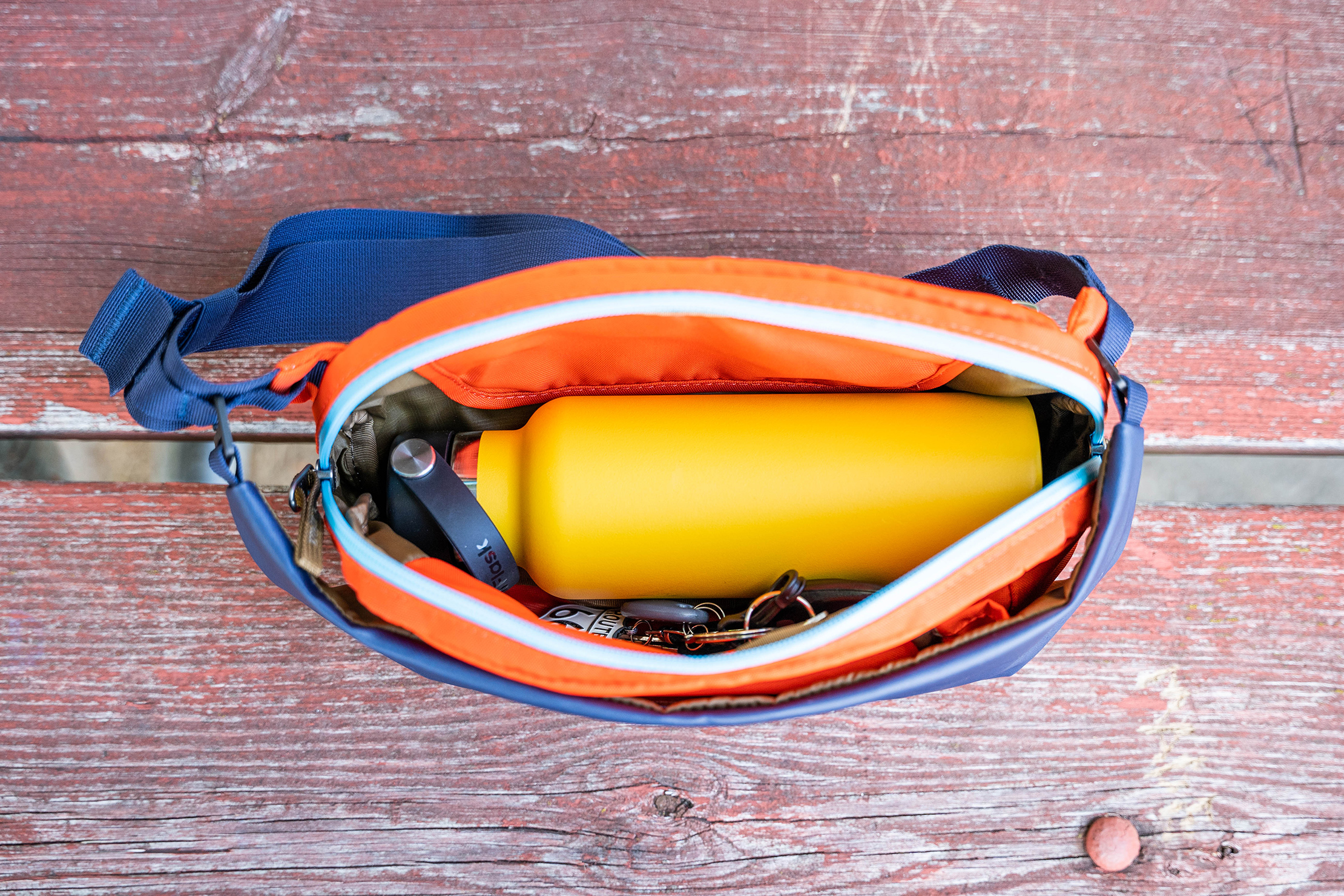 As we said earlier, the Coso has mostly open space inside. Given the two-liter capacity, the balance between space and organization largely favors the former. While we would've liked to see a few liner or even mesh pockets, the amount of raw space has an appeal all on its own. Being able to take large items like an 18-ounce Hydro Flask or any other bulky gear you may want to take on a lengthy hike is a huge plus for sure.
Usage Timeline
Initial Usage
Condition: Excellent
Digging the mix of materials and fabric colors (in true Cotopaxi fashion)
Carry strap and buckle feel sturdy
Seems pretty roomy for 2L of space
2 Weeks of Use
Condition: Excellent
Can be hard to get to gear when it's in sling mode because of the angle
Digging the front stash pocket, though it feels a bit too open for storing small gear, so you really need to utilize the zippered pocket inside
Stash pocket inside the main compartment is also great for holding a pair of sunglasses
Access the Pro Community Discussion
Get your questions about the Cotopaxi Coso 2L Hip Pack (Cada Dia) answered from our team and the Pro Community right here on the page. Plus, join discussions with other members about gear, guides, and more.
Other Bags & Luggage Reviews