Chrome Industries Tech Accessory Pouch Review
The Chrome Tech Accessory Pouch offers a safe, compact place for your charging or memory needs, but it can slide down your shoulder strap if you aren't careful.
Our Verdict
Unlock the Pro Summary
Save time. Get access to brief summaries of our reviews so you can browse and make decisions more efficiently.
Pros
Internal organization is well thought out and easy to use
Exterior materials are durable and look professional
Hook and loop fastener is large and strong
Cons
No room in the middle for extra items
Smaller shoulder straps cause it to slide down
Small hole created between two zipper heads
Recent Pack Hacker Video
Technical Details
Capacity

0.5l

Weight (lb)

0.24 lb (0.1 kg)

Dimensions

7.25 in x 5 in x 1.5 in (18.4 x 12.7 x 3.8 cm)

Notable Materials

Nylon, Polyester, Thermoplastic Elastomer (TPE), YKK Zippers

Manufacturing Country

Thailand

Warranty Information
Full Review
Get up to 10% off Chrome Industries • Join Pack Hacker Pro
Here at Pack Hacker, we've reviewed a lot of shoulder strap pouches. Big, small, and in the middle, we've seen them all. At the time of writing, this is the first one we've seen that is marketed as a tech pouch. We're excited to see how this offering from Chrome works the same and different from others we've tested and whether it works as a tech pouch from your shoulder strap. Let's dive in!
External Components
The exterior of the pouch is crafted from nylon. The front face has a TPE laminate, which is noticeable from sight and touch. It's smooth and offers extra waterproofness for the front side of the pouch. The five other sides don't have this protection, but if you were using it to commute on your shoulder strap in classic Chrome fashion, it helps immensely.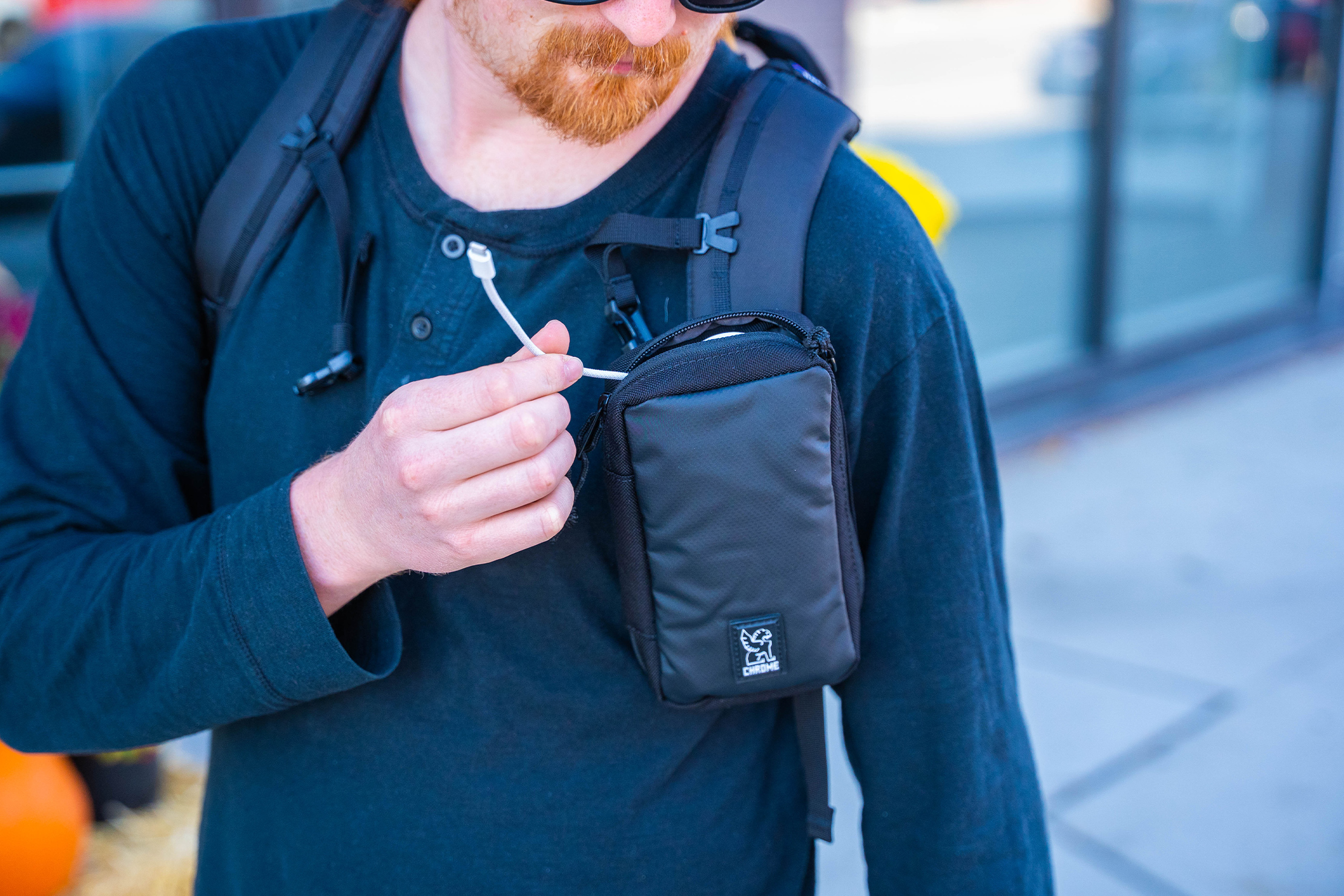 The pouch uses YKK zippers which work as we'd expect them to. The pulls are a paracord-like material that ends in a knot. There are two zippers, which gives you a little more freedom. You can leave them on the top, bottom, side, or in between. This also enables you to open just a portion of the pouch more easily.
Two zipper heads do come with a drawback. There's a small hole between the two when you close them, so, in theory, water could sneak inside the pouch. This isn't ideal, especially considering you are supposed to stow tech inside. You can navigate this by placing the zippers on the bottom of the pack when you aren't using them. This can make accessing the pouch while you're in transit a bit harder, but most of the time, we had the pouch stowed inside a pack, so it wasn't a huge deal.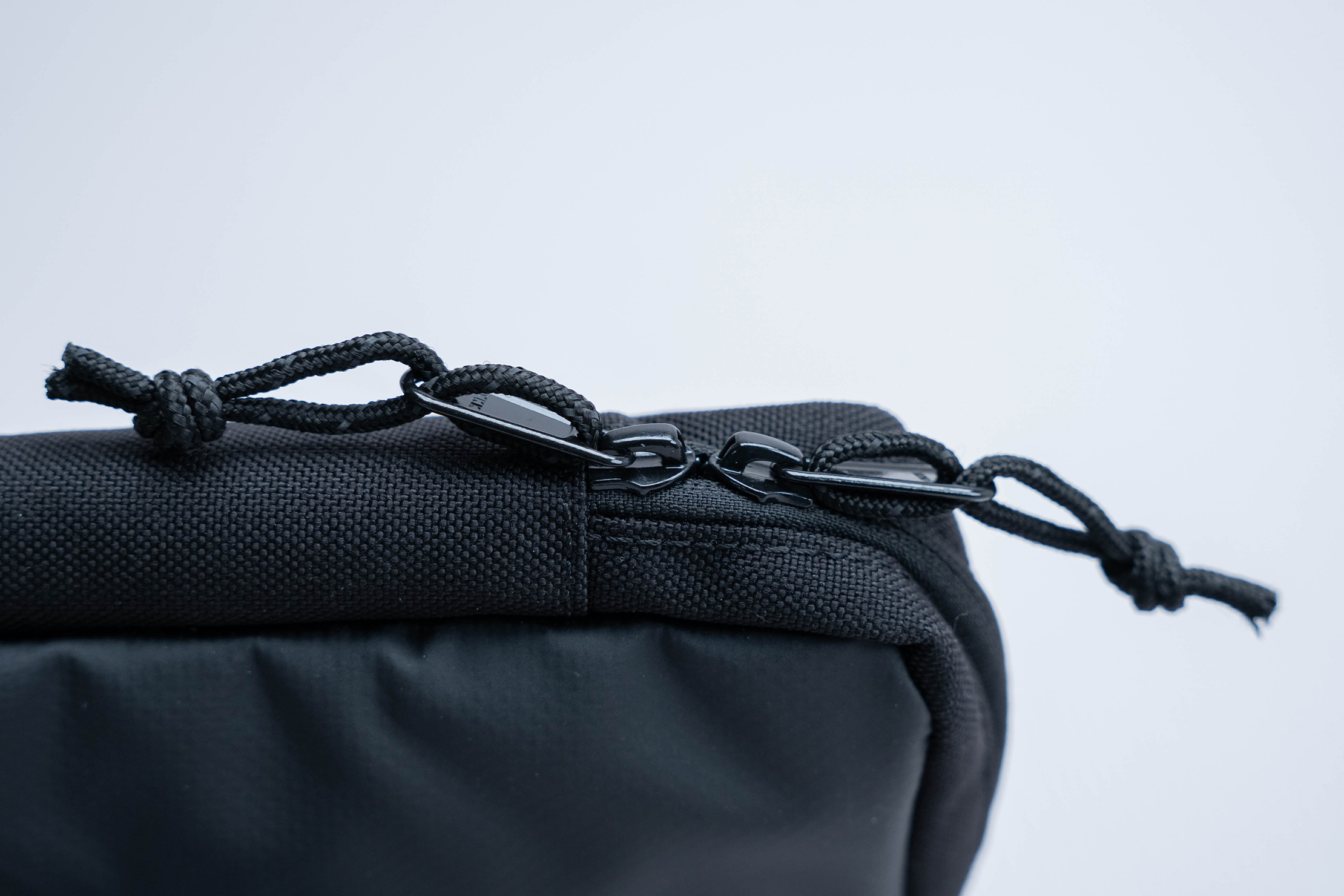 The backside of the pouch has a large hook and loop fastener that can accept vertical straps. The most common thing to place here is the shoulder strap from a daypack or travel backpack, but you could use it on a messenger pack or even a sling with a larger strap. The smaller the width and depth, the more likely it is to slip down because the hook-and-loop fastener can only tighten so much. It's solid and has a lot of surface area, but it's still better suited for larger straps.
Behind the hook and loop fastener is a mini daisy chain. You can thread a strap through the three loops to attach the tech pouch inside your pack. This is ideal for keeping your tech from bouncing inside while in transit.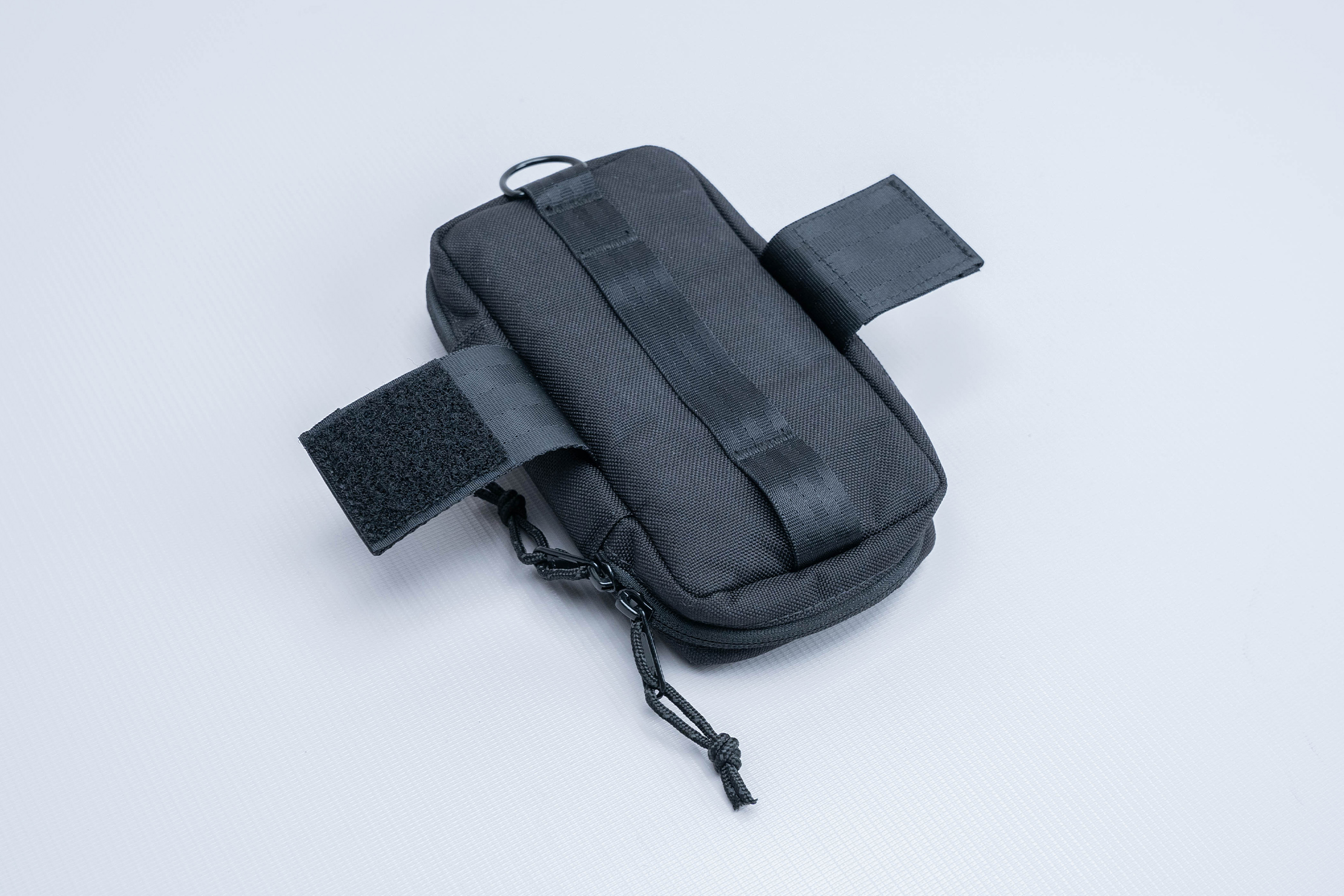 You can't easily use both attachment points simultaneously because the daisy chain is in the center of the pouch, not on the edge. If it were, you could loop the sternum strap through and use the hook and loop fastener, but that isn't possible here. The hook and loop fastener does a pretty good job though should you want quick access to the contents of the pouch while on the go.
There's a metal D-ring on the bottom of the backside to which you can attach your keys for quick access if you choose to have the pouch on your exterior. You could hang the pouch from it, but then the main compartment's contents would be upside down and might get unorganized.
Inside The Pouch
There's a fair amount of internal organization inside the pouch, and it's hard to get much gear inside without using it. There's ample padding between the interior and exterior to keep your equipment safe, which is a plus. If you put valuable tech items inside, you might as well protect them adequately.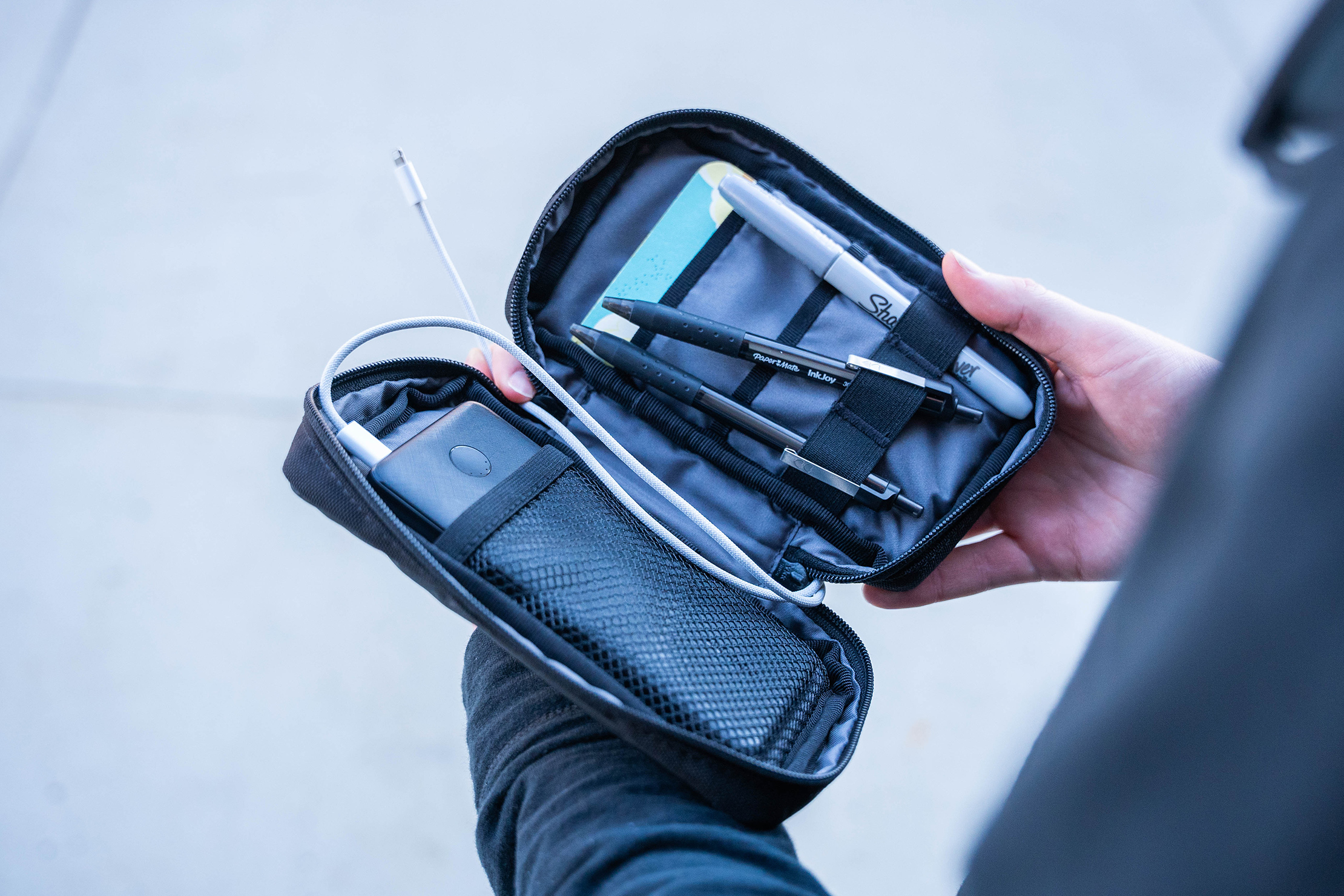 There are two sides to this pouch.
On the left, there's a large mesh pocket. The mesh is structured but is also topped with elastic, so there's a bit of stretch to it. The pocket takes up most of the left side, so it's a good place for a battery bank or an external hard drive. Not all drives and banks will fit inside, namely wide ones. Tall and skinny models do well here, and you may be able to slide a cable inside the pocket with your device should it be tall and skinny enough.
We've got a bit more organization for smaller items on the right side. There's a liner pocket that's roughly the same size as the mesh one we just went over, but you can't fit as large of items inside due to the materials. It's a perfect spot for a small notebook like Field Notes, a larger charging cable, or similar-sized items.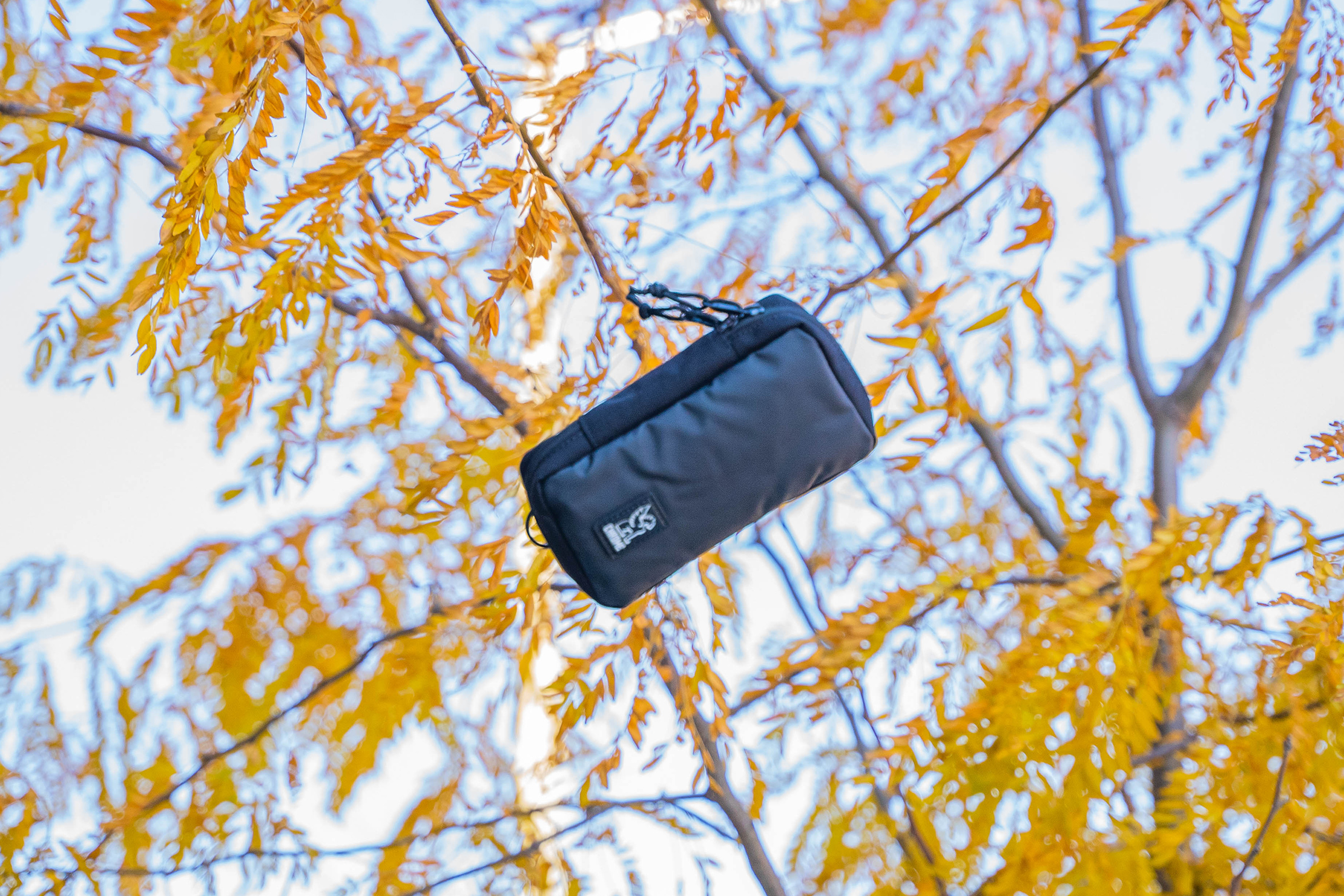 There's another liner pocket roughly two-thirds the size of the larger one just below that. It's a good spot for a camera or regular batteries, smaller cables, or smaller items in general. The two pockets share space, so you won't be able to fit wide objects in both of them simultaneously.
Below that, there are three elastic loops. The stretchiness is snappy and is an excellent spot to slide pens, sharpies, or small cables that you use frequently. Depending on how tall the items you slide in here are, they may cover the top liner pockets and make it difficult to access them without removing whatever you have stowed in the elastic.
If you have a battery bank or hard drive stowed inside the left side, it is difficult to fit a wall charger inside due to the size constraints and rigid outer materials. If your device doesn't go to the top of the pouch, you can slot it in there, but it isn't perfect.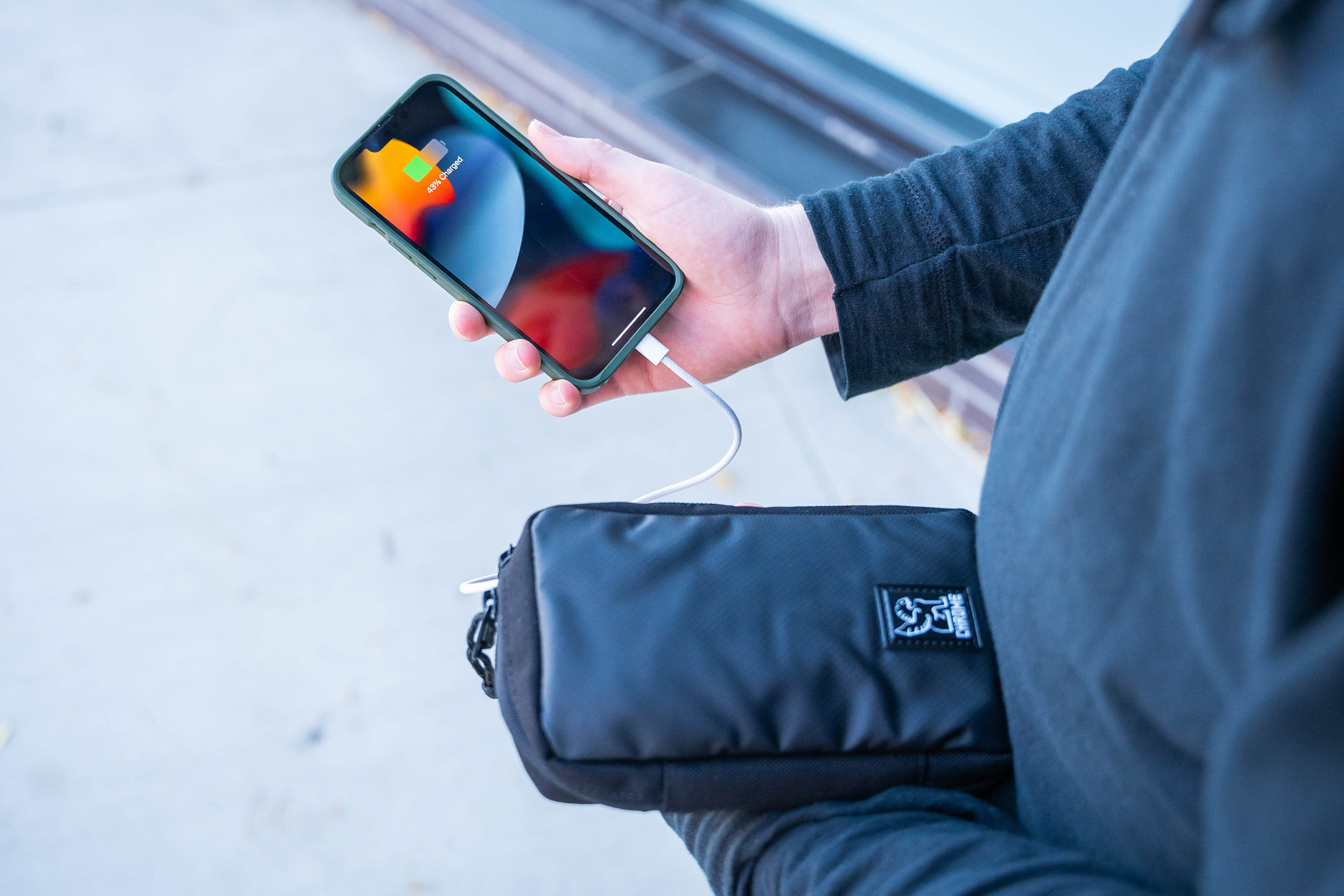 Another important note is that because there are two zipper heads, it's easy to run a cable out of the zipper track without leaving it open. You can feed a phone cable out to charge your phone or thread headphones through if you haven't moved onto Bluetooth yet.
Overall, Chrome Tech Accessory Pouch is a compact option for those looking to bring along a few things from their desk. It can feel a little heavy on a shoulder strap, but it sneaks into your daypack or travel pack nicely without much fuss. The option to mount it on your shoulder strap is a nice inclusion and doesn't affect usage. Unless you're terrified of hook-and-loop fasteners and fear they might be plotting to take over the free world, the inclusion is a win.
Usage Timeline
Initial Usage
Condition: Excellent
TPE laminate material on the front adds some extra protection from splashes and spills
Construction appears to be sound throughout, from the zippers to the hook and loop fastener
Lost of internal organization—so much that we aren't entirely sure what to do with some of it at first glance
2 Weeks of Use
Condition: Excellent
Materials are durable and feel as if they're going to last
Hook and loop fastener is very grippy and doesn't come unhooked
On specific shoulder straps, it can slide downward in use
Access the Pro Community Discussion
Get your questions about the Chrome Industries Tech Accessory Pouch answered from our team and the Pro Community right here on the page. Plus, join discussions with other members about gear, guides, and more.
Other Organizers & Pouches Reviews